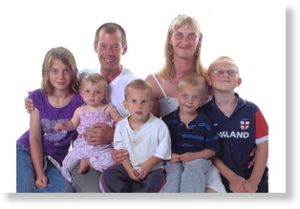 Mystery surrounds the horrific death of a placid family man who went berserk and attacked his wife before stabbing himself in the heart.
The inquest into Howard Webb's suicide could find no reason for his sudden decision to kill himself.
After he and his wife Michelle went to bed he started mumbling something she could not hear, then punched her in the face and put his hands around her neck as if to strangle her, the inquest heard.
Mrs Webb, who still lives at the family home in Mersey Road, Whaddon, Cheltenham, told Assistant Deputy Gloucestershire Coroner Tom Osborne that she had no idea what had sparked her 57-year-old husband off and he had never been violent towards her before.
She told the inquest that they had been married for five years and lived with their three children and two of her children from previous relationships.
On the evening of June 6, 2010, she said, they went to Parklands Community Centre and her husband had a few drinks, while the children played in the garden.
After going to bed, she said he started mumbling, then added: "Then he came round to my side of the bed and punched me in the face. He put his hands around my neck. It was completely out of character.
"He could be stroppy and moody, but he had never been violent and this was the first time he ever assaulted me."
The assault continued out into the street as she tried to escape from him, she said. They shouted at each other but Mr Webb gave no reason for his attack.
"He went back into the house and my daughter Maxine saw he had a knife when he came back out. Then he simply walked away up the road."
Former PC Mark Williams said he and two other officers responded to a call to search for him, and spotted him in Pittville Circus Road.
"I was catching him up and shouting at him to stop when I saw him pull out a large kitchen knife," he said.
"He darted to the right into the Driving Test Centre car park and I shouted at him to drop the knife. He didn't say anything at all during the chase. I was about four metres away from him, shouting at him to put the knife down when he took it in both hands with the point towards his chest.
"He leaned forward and pushed it into himself."
The whole incident took less than 20 seconds, leaving no time to prevent what happened.
The hearing was told that an extensive police investigation could find no reason for Mr Webb's actions.
Summing up, Mr Osborne recorded a verdict of suicide, adding: "He could have had no other intention than to take his own life."