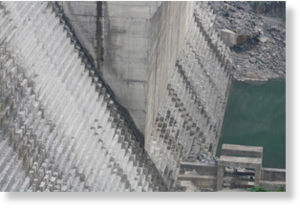 VietNamNet Bridge - In the morning of September 6, thousands of residents of Bac Tra My district, Quang Nam province, panicked because of four consecutive quakes up to 3.4 on the Richter scale. In the last four days, this region suffered from 12 quakes.
While attending a ceremony to see recruits off, many officials of Bac Tra My district heard big explosions in the earth and fell tremors. "After the explosion, the ground shook and my car was also shaken," said Ms. Dung, a district official. Mr. Tran Van Anh in Phuoc Hiep commune, Phuoc Son district, where is very close to Song Tranh 2 hydro-power plant, said: "At 7.20am, when I was drinking tea with my neighbors, an underground blast exploded. After that the ground shook strongly. We had to run out of the house immediately."
In Hiep Duc and Nam Tra My districts, hundreds of people fled from their houses because of underground blasts and tremors in the early morning. The Geo-physic Institute verified that four quakes occurred near the Song Tranh 2 plant in the morning of September 6. The strongest tremor is 3.4 Richter and its epicenter was in Phuoc Hiep commune, which is very close to Song Tranh 2.
According to the institute's statistics, up to 58 tremors were recorded around Song Tranh 2 plant over the last year. From September 3-6, up to 12 quakes occurred. The strongest tremor was 4.2 Richter. Tremors may come from the Tra Bong or Hung Nhuong-Ta Vi faults, around 3km from Song Tranh 2 dam.
According to a research work by the Geophysics Institute, Song Tranh 2 hydro-power plant is built on the weak layer of the earth's crust. If strong earthquakes occur, they will cause danger for both the plant and people in the downstream area.
According to the Institute of Science and Technology of Vietnam's initial conclusion, underground explosions in the region were caused by reservoir induced earthquakes of 3-4 Richter scale from the fault on the left bank of Tranh River.
The capacity of Song Tranh hydro-power plant's reservoir is over 730 million of cubic meters, which is located over 100m higher than the downstream area. Experts worry that if the dam is broken, it will cause disaster to the downstream region. It is predicted that the reservoir can cause maximal earthquake of up to 5.5 Richter scale.
Prof. Cao Dinh Trieu from the Geophysics Institute says it needs to set up five fixed quake observing stations around the Song Tranh hydro-power plant.