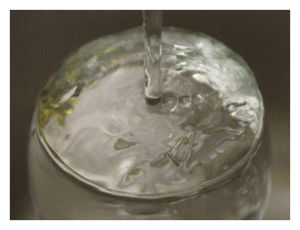 Scotland's drinking water may be partly to blame for the nation's high rates of liver disease, new research suggests. A link has been discovered between water hardness and the risk of damage to the organ by drinking too much alcohol.
The study found softer water, which is plentiful in Scotland and the north of England, increases the risk of alcoholic liver disease (ALD), a major killer.
Experts believe those living in soft-water areas may be more at risk because of lower levels of magnesium. The mineral can help to protect the liver from alcohol.
It is the first time a link between water softness and the disease has been established.
In the UK, hard water is found in the south and east of the country, where the principal rock is limestone. Soft water is found in the north where the rock is millstone grit and ALD rates are consistently higher.
The research may explain why rates of the disease in Scotland are almost double those in England, despite average alcohol consumption being approximately the same.
Last night there were calls for ministers to ditch their alcohol minimum-pricing strategy.
John Duffy, a public health lecturer at Birmingham University and former Scotland Office adviser, said: "I have my doubts over the efficacy and legality of the policy of minimum-pricing of alcohol so if it were proved that there are problems relating to the water supply then we could see liver disease dealt with a different way."
Official statistics show 6,733 people in Scotland were diagnosed with ALD in 2009-10 and 6,761 in 2008-09.
In 2010, there were 8,790 alcohol-related deaths across the UK though in Scotland, the rate was 22.3 per 100,000 population compared to the UK average of 12.9.
The new study co-authored by Prof Roger Williams, who was George Best's liver transplant surgeon, examined hospital admissions in English regions between 2003 and 2006. Six areas with soft water had rates of ALD above the national average.
Prof Williams, director of the Institute of Hepatology, said: "We have never understood why some people will consume large amounts of alcohol and be unscathed while others drink more moderately and develop ALD.
"These results suggest that the water supply may be a significant factor."
Scottish Tory health spokesman Jackson Carlaw said: "This research is fascinating and suggests there may be other ways to help offset the consequences of high levels of consumption."
Andrew Langford, chief executive of the British Liver Trust, said treating the water supply would be controversial but people might agree if any health benefits were explained.
A Scottish Government spokesman said: "There are currently no plans for artificial hardening of water beyond that which is required to comply with legal standards."
A spokesman for Scottish Water said: "Scottish drinking water is currently at it highest quality ever."