More than 500 aftershocks, including one as strong as 5.1 on the Richter scale, continued to rattle Costa Rica one day after a 7.6-magnitude quake jolted northwest Guanacaste province early Wednesday. According to the latest report from Costa Rica's Volcano and Earthquake Watch (Ovsicori), issued at 7:30 am local time (1330 GMT) Thursday, some 530 aftershocks stronger than 2 on the Richter scale have been registered, with the strongest occurring before dawn on Thursday, at 3:07 am (0907 GMT).
The epicenter of the 5.1 quake was also located in Guanacaste, 151 kilometers west of the capital San Jose, and 14 kilometers beneath the earth's surface, seismic experts said. Aftershocks as strong as 6 on the Richter scale are normal as shifting tectonic plates release energy following an earthquake of major magnitude, like the quake on Wednesday, said the experts.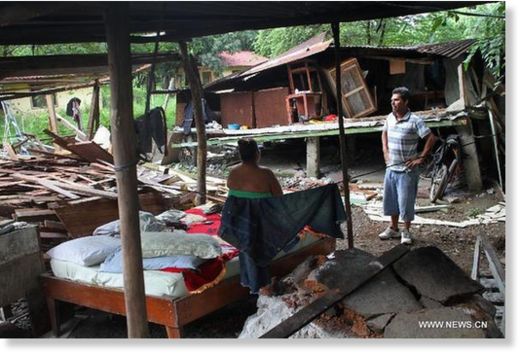 The Ovsicori said it was studying the seismic data from Wednesday's quake, which hit at 8:42 am (1442 GMT), to determine the extent of tectonic activity along the so-called Nicoya Fault, which had not registered movement this strong since Oct. 5, 1950.
Only one man was killed by the 7.6 tremor, when a wall collapsed on him, though officials said Wednesday that two elderly women suffered heart attacks from the fright.
Costa Rica's Red Cross said Thursday a total of 112 people had received medical treatment, mostly for anxiety and high blood pressure.
But the quake did cause material damage to some 100 homes as well as at least two historic landmarks at the site of the quake's epicenter in Nicoya, Guanacaste, according to officials.
A preliminary report from the Culture Ministry's Cultural Heritage Conservation Research Center, said the cloisters of San Blas and Quebrada Honda sustained some damage, including falling plaster for the former, dating from around 1544, and damage to the facade of the latter, built in 1911.
Research center director Adrian Vindas said his agency would carry out an "exhaustive" investigation to determine whether structural reinforcement was needed at the two buildings.
Social Security officials said several medical centers sustained considerable damage in and around the vicinity of the quake's epicenter, in Guanacaste and Puntarenas.
Several buildings in San Jose known for their cultural or architectural value suffered minor damages, including Costa Rica's National Theater, built in 1890, and the National Museum housed in the Old Customs buildings.