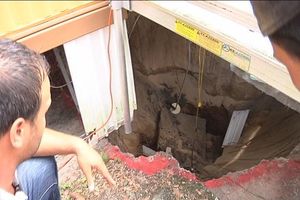 A Polk County family may be forced out of their home after a sinkhole opened up and began threatening to swallow the structure.
The 22-foot wide, 17-foot deep sinkhole has made the mobile home unsafe to live in and already swallowed part of their sidewalk.
The couple who lives there is waiting to find out if filling the hole will save the home.
If filling the hole doesn't help, the homeowners will have to move out for good. They said the home is too old and would likely fall apart if they moved it.
The Red Cross was paying for the couple to stay in a hotel, but their assistance ran out Saturday and they have nowhere to go.