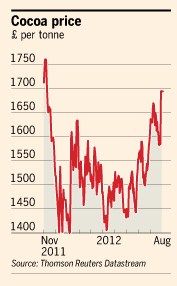 Cocoa prices hit a 10-month high on Wednesday as uncertainty about supplies from Ivory Coast, the world's largest exporter of the commodity used to produce chocolate, triggered a rush to cover bearish positions among investors.
The benchmark cocoa price in London has jumped almost 8 per cent this week on worries that the west African country, which has overhauled the way it markets the beans, would not be able to meet its contracts, leaving trading firms without enough supplies.
NYSE Liffe December cocoa hit £1,715 a tonne on Wednesday, rising above the £1,700 level for the first time since November last year.
Cocoa traders noted the absence of natural sellers of the commodity after Ivory Coast and Ghana, which account for nearly 60 per cent of the world's production, already sold most of their crops for the 2012-13 season.
"There's not much left to stop the market going higher," said Eric Sivry, head of agricultural options at London-based brokers Marex Spectron.
The Ivorian government embarked on a major reform of the cocoa sector at the start of 2012, auctioning beans to be harvested this autumn to lock in the price.
The Ivorian cocoa regulator sold the bulk of its 2012-13 crop when the market fluctuated between £1,450 and £1,550 a tonne. But since then, prices have risen because of weather concerns, particularly fears that the El Niño weather phenomenon could bring unfavourable dry conditions to west Africa. Moreover, sporadic civil unrest in the Ivory Coast has also contributed to higher prices.
The cocoa market in London fears that Ivorian farmers will choose to sell their cocoa through other routes using "spot" prices, and benefit from the recent rise in the market, rather than delivering their beans at a lower price to the Ivorian authorities.
Kona Haque, agricultural commodities analyst at Macquarie Securities, said the market was nervous about Ivorian supplies. "There is concern of a potential supply squeeze, especially with regards to how farmers will respond to the new fixed price regime and whether they actually deliver on their forward sold contracts".
The lack of clarity about the Ivorian system, which is facing its first real test, is contributing to the market volatility, said Mr Sivry of Marex Spectron. "No one really knows how things will pan out," he added.
Analysts said the global supply and demand balance does not support the sharp rise in prices, especially with consumption being affected by the sluggish economy.
The International Cocoa Organization, the intergovernmental group representing the commodity's leading producers and consumers, this week cut the global supply deficit forecasts for the current 2011-12 season from 43,000 to 19,000 tonnes due to lower than expected consumption estimates.