Authorities are considering a controlled breach of a dam along the Mississippi-Louisiana border due to rising water levels after Hurricane Isaac made land fall. NBC's Thanh Truong reports.
Up to 50,000 people in Louisiana's Tangipahoa Parish were ordered to evacuate Thursday morning when water from Tropical Storm Isaac threatened to overwhelm a dam across the state line in Mississippi.
Buses were being sent to help the evacuation, parish spokesman Jeff McKneely
told NBC affiliate WDSU-TV
, adding that if the dam broke the nearest homes would only have 90 minutes before the water hit.
Located about 100 miles north of New Orleans, the parish initially said "imminent failure" of the dam was expected
but later emphasized
that the dam was "damaged but has not failed" and that the evacuations were "out of caution."
Mississippi officials, for their part, said they didn't think the volume of water in the 700-acre lake at Percy Quin State Park near McComb, Miss., would add enough flow to threaten communities downstream.
Experts were weighing whether to create a small breach in the dam so as to control the release.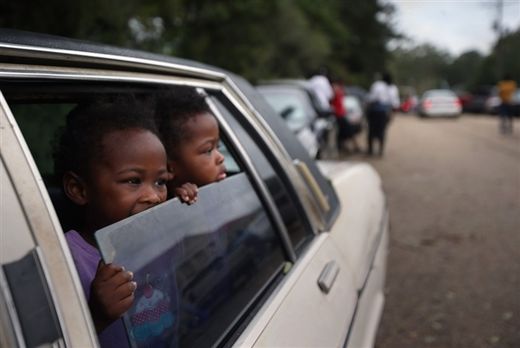 Earlier, hundreds of people were evacuated in darkness overnight while new areas in southern Louisiana flooded as slow-moving Tropical Storm Isaac crawled north. Its eye was heading toward Arkansas, but its heaviest rain bands were now moving over Mississippi.
"We still have people penned in both (Plaquemines and St. John) parishes," Lt. Col. Michael Kazmierzak, a Louisiana National Guard spokesman, told The Weather Channel Thursday morning. "We're still assisting with evacuations in both of those parishes."
"The big thing we've been doing through the night is with St. John's," he said. "We've assisted locals with evacuations of more than 3,000 people" there.
"The weather was definitely a major part of the difficulty," he added, "but when you get into darkness that creates a problem of its own, just being able to see and identify where the people are located."
NBC's Lester Holt reports from Braithwaite, La., where Isaac left flooded streets, downed lines and people stranded.
Protected by federal levees, central New Orleans appeared to have escaped the worst of the storm, but rural areas of Louisiana and neighboring Mississippi were swamped and power outages widespread.
The first death from Isaac was reported in Mississippi early Thursday. A tow-truck driver died after a tree fell on his cab while he was trying to move a large tree from a main street in Picayune.
In Slidell, La., areas that had never flooded, including during Hurricane Katrina in 2005, saw up to five feet of water after drain pumps were overwhelmed.
Numerous homes and businesses were swamped, and police rescued 145 residents, NBC's Gabe Gutierrez reported from the scene.
"Water is currently backing up into the city through Bayou Pattasat," Mayor Freddy Drennan said
in a statement on the city's website
. "The pumps are currently unable to pump the water out as fast as it's coming in. It is anticipated that until Bayou Bonfouca recedes, the city will continue to be inundated with water."
Slidell is on the north side of Lake Pontchartrain, north of New Orleans.
Around 850,000 homes and businesses across Louisiana and Mississippi were without power Thursday.
The Red Cross said almost 4,000 people were being accommodated in emergency shelters across Florida, Alabama, Mississippi, Louisiana and Texas.
Isaac is expected to weaken into a tropical depression later Thursday, but it will still be a soaker for days.
NBC's Kate Snow checks out New Orleans' streets and neighborhoods for damage.
"It's still pulling up all kinds of Gulf moisture, producing a large shield of rain," said Weather Channel hurricane specialist Carl Parker.
"The worst of the rain has spun off to the east and north into Mississippi," added the Weather Channel's Mike Seidel, who reported from Baton Rouge, La., where rainfall was light.
President Barack Obama declared federal emergencies in Louisiana and Mississippi late Wednesday to supplement state and local recovery efforts beginning on Aug. 26, according to a White House statement.
In Plaquemines Parish, a sparsely populated area of south of New Orleans that is outside the post-Katrina federal levee system, dozens had to be rescued when a levee was overtopped Wednesday.
The storm pushed water over the 18-mile levee and put so much pressure on it that authorities planned to intentionally puncture the floodwall to relieve the strain.
The $14 billion spent improving Louisiana's levee system did not include the levees near Plaquemines Parish. Residents who decided to stay behind when Isaac hit the region had to be rescued from their flooded homes. NBC's Gabe Gutierrez reports.
Along the shores of Lake Pontchartrain just north of New Orleans, officials sent scores of buses and dozens of high-water vehicles to help evacuate residents.
Isaac arrived seven years after Hurricane Katrina and passed slightly to the west of New Orleans, where the city's fortified levee system easily handled the assault. But, low-lying areas outside the city were harder-hit.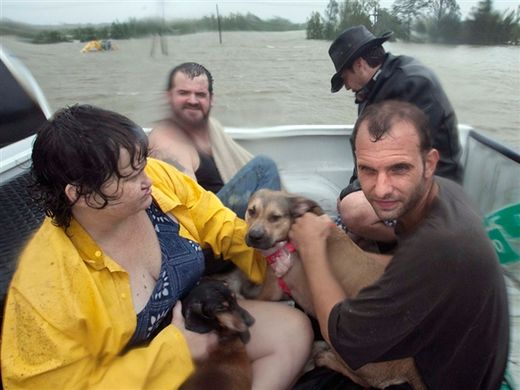 New Orleans set a daily record of 7.86 inches of rain on Wednesday, The Weather Channel reported, breaking the previous record for an August 29 -- 4.5 inches set by Katrina in 2005.
On Thursday, the rain was finally letting up in New Orleans but 60 percent of the city was still without power.
"We're hearing from stores here that they're planning to open later today," reported NBC News' Danielle Lee. "This area relies on tourism, and they don't want to miss out on that Labor Day weekend travel."
"The mayor has been calling other stores who are able to sell emergency supplies, generators, things that may help people without power, asking them to please get open as quickly as possible," Lee added.
Police reported few problems with looting, after New Orleans Mayor Mitch Landrieu ordered a dusk-to-dawn curfew.
Forecasters expected Isaac to move farther inland over the next several days, dumping rain on drought-stricken states across the nation's midsection before finally breaking up over the weekend.
In coastal Mississippi, officials used small motorboats Wednesday to rescue at least two dozen people from a neighborhood Isaac flooded in Pearlington. In addition, the National Weather Service said there were reports of at least three possible tornadoes touching down in coastal counties. No injuries were reported.
The Associated Press, Reuters and NBC's Alastair Jamieson contributed to this report.