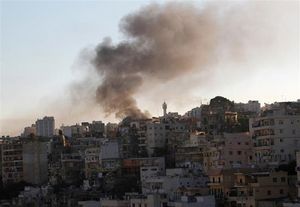 The number of people killed in fighting between pro- and anti-Syrian factions in the northern Lebanese port city of Tripoli this week has risen to 15, a security official said Saturday.
A 16-year-old boy died of wounds suffered during clashes on Friday night, the official told AFP, adding that a total of 112 had also been wounded since street battles first erupted in the city on Monday.
The fighting has pitted residents of the Sunni-dominated Bab el-Tebbaneh district and those of adjoining Jabal Mohsen, who mainly adhere to the Alawite offshoot of Shiite Islam _ the sect of Syrian President Bashar al-Assad.
A ceasefire brokered by local officials was supposed to take effect Wednesday, but violence was reignited when a sniper killed a Sunni cleric on Friday.
"There is now a cautious calm in the city, with sporadic sniper fire. Army foot patrols are responding to the sources of the shooting,'' the security source said.
He said shops were shut on Syria Street, which acts both as a dividing line between the rival neighbourhoods and as the frontline when fighting erupts.
The latest violence in Tripoli came on the heels of a spate of kidnappings in Lebanon linked to the conflict in neighbouring Syria.