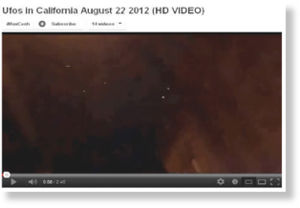 A weird video posted to YouTube shows a crowd of onlookers along a California street reacting to the startling sight of a squadron, for lack of a better word, of UFOs hovering above them.
The witnesses are confused by the sight. Why do city dwellers seem surprised at flashing lights in the sky? Presumably, Californians are used to seeing objects hovering above them in the sky, day or night?
In this UFO video, more than half a dozen steady lights seem to bump into each other without making a sound. They can't be helicopters or airplanes, and if they are parachutes, it would be one risky maneuver. And why would they be dropping over a busy city?
The people heard commenting in the clip are obviously puzzled, some even resorting to some profane language. But they may be excused by the amazing sight, as it's not something most people see every day.
The unidentified flying objects are obviously not any known type of aircraft and there's no evidence of rotor blades, wings, flashing navigational lights or engine exhaust. Why they seem to be colliding with each other is another mystery.
At the end of the video, most of the lights wink out and disappear. What are these things? And why do the witnesses seem so surprised?
What do you think?