Earth is exiting the debris stream of Comet Swift-Tuttle, source of the annual Perseid meteor shower. According to the International Meteor Organization, the shower peaked on August 12th with ~120 meteors per hour. NASA's network of
all-sky meteor cameras
photographed and measured the orbits of nearly 300 Perseid fireballs: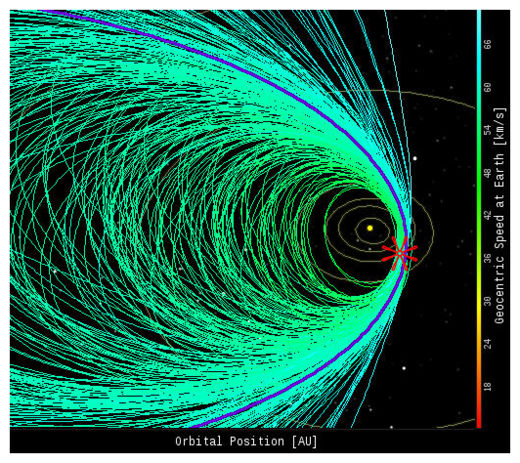 In the diagram, above, the location of Earth is denoted by a red splat. The orbit of parent comet Swift-Tuttle is traced in purple. The comet itself does not intersect Earth (good thing), but many of its meteoroids do hit our planet.
"The plot contains data from July 26th to the present," says Bill Cooke, the head of NASA's Meteoroid Environment Office. "There are 289 fireballs, 183 on peak night alone." To illustrate the intensity of the shower, Cooke offers a composite image of
all the fireballs
over the Marshall Space Flight Center on August 12th. "It was a great show."
For more snapshots from around the world, browse the
Realtime Perseid Photo Gallery.