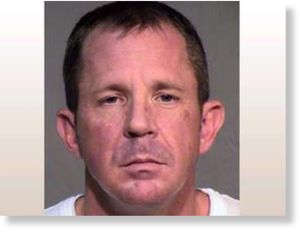 Phoenix police say one of their officers was arrested Tuesday night for sexual misconduct with minors. Chief Daniel Garcia of Phoenix police identified the officer at a news conference Wednesday morning as 43-year-old Christopher J. Wilson.
A 14-year-old boy told his parents about the allegations of sexual misconduct, Garcia said. The investigation began when another victim, a 17-year-old boy, contacted police, he said. The relationship with the 17-year-old lasted three to four months, and the relationship with the 14-year-old was about three weeks long, Garcia said.
Wilson was a community relations officer that worked with a youth group, police said. He was arrested just after 8 p.m. Tuesday at his home without incident. Wilson admitted to the relationships and resigned, police said.
He was a 13-year veteran.
Chief Garcia said he is "very disturbed" about this incident. Stay with ABC15 News and ABC15.com for more information.