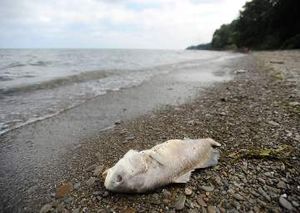 Hundreds of dead and dying sheepshead showed up along the Lake Erie shore in recent days.
The fish, also known as freshwater drum, were spotted over the weekend along North East Township near the Pennsylvania-New York state line and also in western Erie County between Elk Creek in Girard Township and Crooked Creek in Springfield Township.
Pennsylvania Department of Environmental Protection officials said the die-off was due to a "natural phenomenon" called a seiche and was unrelated to pollution or other stresses caused by humans.
Jim Grazio, a Great Lakes biologist with the state DEP, investigated, spokesman Kevin Sunday said.
"His investigation led DEP to the conclusion that the event was likely the result of a recent 'upwelling' of cold water in Lake Erie," Sunday said.
Similar die-offs were reported in the Ohio waters of Lake Erie, he said.
"Recent strong winds from the east/northeast forced Lake Erie surface waters toward the western end of the lake. When the winds calmed, gravity pulled the water back setting up the classic 'sloshing' of water that is the surface seiche," Sunday said.
"Amazingly, Lake Erie can simultaneously experience internal seiches during the summer, when cold bottom waters slosh into the overlying warmer surface waters. These internal seiches or gravity waves are barely visible from the surface but are much larger in magnitude," he said.
Some fish, like the drum, get trapped in the seiche and are killed by the temperature change, Sunday said.