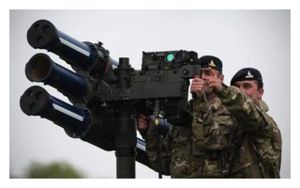 The armed forces have been told to find an extra 3,500 personnel to protect the Olympic Games to cover a shortfall in recruitment by a private security firm just a fortnight before the games open.
The extra personnel, the equivalent of an infantry brigade, means that

20,000

servicemen and women will be on duty - that is
a fifth
of the Army
.
Whitehall and defence sources confirmed that G4S, the private company contracted to organise security at the 100 sites for the Olympics had "failed to meet the recruitment and training targets".
They explained: "This means that we have been forced to ask the forces to deliver more people."
A G4S spokeswoman said: "This has been an unprecedented and very complex security recruitment, training and deployment exercise which has been carried out to a tight timescale.
"We have encountered some issues in relation to workforce supply and scheduling over the last couple of weeks.
"But (we) are resolving these every day and remain committed to providing a security workforce for the start of the London 2012 Games.
"We accept that the Government has decided to overlay additional resources."
On Monday, Home Secretary Theresa May was forced to defend G4S in the Commons, saying she was "confident our partners will deliver a safe and secure Games".
"G4S are the culprits," a defence source said.
All those involved have insisted that there was no extra threat to the Olympics.
The private security firm contract is worth £284m from a £553m security budget. A further £600m has been set aside for the police operation.
But the Home Office hopes to be able to deliver the police operation for £475m.
"There has been no decision on who is going to pay for the extra troops," a Home Office source said.