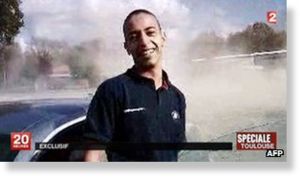 It appears Canada is still under threat from a potential al-Qaeda attack.
The
Globe and Mail
is reporting that Mohamed Merah -- the French gunman who killed French soldiers and attacked a Jewish school last spring in Toulouse -- was told at a terrorist training camp that he should launch strikes against Canada.
Merah made the claim to a French counter-terrorism officer during the 32-hour standoff which ultimately ended in a shootout and his death. His comments were revealed in an
audio recording
leaked to the public on Sunday.
"I was sent by al-Qaeda. I was trained by the Pakistani Talibans. There's a whole organization behind this," Merah is heard saying.
Describing how he spent two months in a camp in Pakistan, Merah said he met French, Chinese, Tajik, Afghan, Pakistani, American, German and Spanish jihadists.
"There are brothers who deal with sending brothers to other countries. They proposed to me to launch strikes in America, in Canada, et cetera," Merah said.
He told the police officer that they wanted him to target diplomats, including the Indian ambassador or a female ambassador whose name he couldn't remember, along with media bosses.
But Merah, a French national of Algerian descent, said he felt it would be easier for him to operate in Toulouse, in southern France, where he grew up.
Terrorism expert Joshua Kilberg says while it's certainly troubling that Merah named Canada, it's not a surprise.
"For some time now, along with other western countries, Canada has been identified as a priority target for al-Qaeda," the Postdoctoral Fellow from Carleton University told Yahoo! Canada News.
"[Osama] Bin Ladin indicated in 2006 that Canada was a "designated target" for its involvement in Afghanistan."
The threat, nevertheless, underscores al-Qaeda's evolving strategy. All but incapable of organizing another mass attack like 9/11, Islamist terrorists have instead begun encouraging acts of "individual jihad," in which a lone fanatic plans and carries out an attack close to home.
In
April
, Richard Fadden, director of the Canadian Security Intelligence Service, acknowledged that he is aware of at least 45 Canadians - and possibly as many as 60 - who have left this country to seek terror training abroad, travelling or attempting to travel to Somalia, the Afghanistan-Pakistan tribal areas or Yemen.
"These individuals represent a threat both to the international community and to Canada, as some have returned, or may, eventually, return to Canada after having acquired terrorist training, or even having engaged directly in acts of terrorism," he told a Senate Committee.
"My colleagues in Britain, Australia and the United States are of the same opinion: We are seeing an increase in the number of people who are acting on their own."
Kilberg says this poses a significant challenge for Canadian law enforcement.
"The security services (police and intelligence) record in thwarting Islamist attacks on Canadian soil since 9/11 has been flawless," he insists.
"That said, a so-called lone wolf can be extremely difficult to find - precisely because they don't need to rely on outside help. With groups there is always the possibility of intercepting communications between group members; a single actor has a better chance to fly under the radar, undetected.
"My own research suggests that the threats facing wealthy countries are likely to come from highly decentralized, small groups - or individual actors."
As a means to counter the 'lone-wolf' scenario, the Tories' have proposed
Bill S-7,
which aims to thwart budding Canadian terrorists who wish to visit foreign training camps.
The so-called 'Combating Terrorism Act' -- which recently passed first reading in the House of Commons -- would make it a federal crime to leave, or try to leave, Canada for the purpose of committing terrorism.