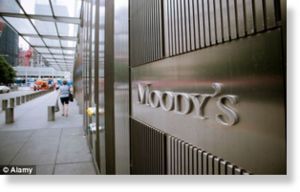 Moody's Investors Service has lowered the ratings of some of the world's largest banks, including Bank of America, JPMorgan Chase, Citigroup and Goldman Sachs.
The ratings agency said late Thursday that the banks were downgraded because their long-term prospects for profitability and growth are shrinking.
The ratings agency said it was especially concerned about banks with significant capital market activities during a time of increased volatility in markets.
A downgrade usually means that it becomes more costly for banks to raise money by selling debt. Investors demand higher interest for riskier debt, which is what the downgrades represent.

Comment: The ratings agency Moody's is complicit in the whole fraudulent fiat Ponzi scheme that is in the process of destroying the livelihoods of millions worldwide. Moody's were an active participant in the 2008 economic crisis by giving top ratings to sub-prime mortgage derivative products. When these products collapsed in value - because they were high risk and essentially worthless - the resulting collapse of Lehman brothers lead to the 'miraculous' FED-driven money-printing programs know as "quantitative easing". At the FED's last meeting a much anticipated QE3 didn't materialise much to the disappointment of market participants. We wouldn't be surprised to learn that the banks have schemed with Moody's to downgrade them so that the FED will 'HAVE' to step in and give them Billions of dollars to 'SAVE' them.

The circus continues...


Moody's had said in February that it was considering downgrading the credit ratings of major banks.
Bank stocks were down Thursday in afternoon trading. Bank of America shares fell more than 3 percent to $7.87, while Morgan Stanley shares slumped 1.9 percent. The KBW Banks Index was down about 1.9 percent.
There has been speculation the downgrades were imminent for several days.
"The rating agencies are doing their best to point out that government support may not be what it used to be," said Peter Hahn from Cass Business School.
The effects of the Moody's action are probably already factored into stock and bond prices, but they could widen the division between the strongest banks and their weaker competitors.
Reuters contributed to this report.