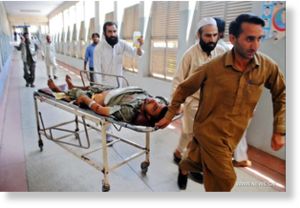 Islamabad -- At least 25 people were killed and over 45 others injured when a bomb ripped through a busy market in Pakistan's northwest tribal area of Khyber Agency on Saturday, local media reported.
The blast took place at about 11:00 a.m. local time near a bus stop at a market area in Landi Kotal, a town in Kyber Agency, which is only some five kilometers away from Torkham, a border checkpost along the Pakistan-Afghanistan border, said local Urdu TV channel Express.
The bomb was hidden inside a car parked at the market and was detonated by a remote-controlled device, said police, adding that several shops and vehicles near the blast site were also destroyed.
Security forces and rescue team quickly arrived at the scene after the blast.
All the injured people have been shifted to hospitals in Landi Kotal and neighboring city of Peshawar.
Hospital sources said that some of the injured including kids were still in critical condition and the death toll could further rise.
Initial investigations showed that the target of the bomb attack was local pro-government peace militiamen who are helping the army in the fight against local militant group Lashkar-e-Islam.
So far, no group has claimed responsibility for the attack.