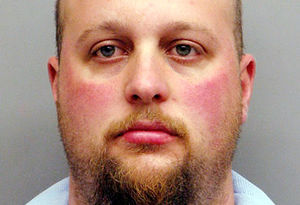 A Louisiana man has been arrested for decapitating his 7-year-old disabled son and leaving his head by the side of a road for his mother to see, cops said.
Jeremiah Lee Wright, 30, told police he did it because he was tired of taking care of the boy, who suffered from cerebral palsy and required a wheelchair and feeding tube, authorities told
The Daily Comet
newspaper.
The grisly slaying was discovered Sunday afternoon when a passing motorist spotted Jori Lirette's severed head lying by the side of a road in Thibodaux, La., the paper reported.
Lirette's devastated mother, Jesslyn Lirette, called Wright - her live-in boyfriend of 10 years - the "devil" who took her "angel" away.
She said Jori loved his father "more than anything ... and he still killed him. He killed my baby."
Cops found Jori's body in a white trash bag near where his head was discovered. The boy's feet and one hand were cut off and stuffed inside the bag.
Police said Wright admitted chopping the boy's head off with a meat clever while his mother was out getting her pickup truck repaired.
Thibodaux Police Chief Scott Silverii said Wright placed the boy's head on the curb to taunt his mother.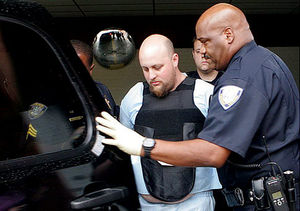 "He said when he put his head out by the side of the road it was so the mother would see it when she came by," Silverii told The Associated Press. "He wanted her to feel stupid when she saw the head."
Wright was charged with first-degree murder and held on $5 million bond. If convicted he faces a possible death sentence.
Thibodaux police said the couple had a history of domestic problems and that officers had been called to the house in the past, most recently just a month ago.
Officials said the horrific nature of the crime was hard for the small community to bear. It was the first homicide in Thibodaux - which is about 60 miles west of New Orleans - since 2008, the
Comet
reported.
"It's a sad day for everybody in Thibodaux," said Mayor Tommy Eschete. "It hits hard. [Jori] has classmates and other children who are his friends."
Jesslyn Lirette said the boy was born three months premature and doctors had not expected him to survive.
Jori was confined to a wheelchair and had limited motor function, but he had started to form words in the past couple of years, she said.
Wright's friend, Mark Chatagnier, told the paper that much of the tension in the house stemmed from the fact that Jesslyn Lirette left Wright to care for the boy most of the time.
"She would take off and totally expect Jerry to do everything," he said.
Jesslyn Lirette said that is just not true.
"I never struggled with my son," she told
The Comet
. "He was happy. Everything I could do, I did."