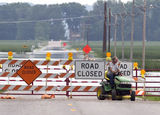 Union, Nebraska - Crews along the Missouri River kept a cautious eye on Nebraska's man-made flood barriers Tuesday, with a focus on a lakeside community 25 miles south of Omaha where a levee recently broke.
Officials are most concerned about a levee break at Lake Waconda about 25 miles south of Omaha, said Mike Wight, an acting spokesman for the Nebraska Emergency Management Agency. Wight said crews are monitoring that levee and others for water seepage, boils, or any other structural trouble signs.
Wight said officials were urging the public not to walk on levees anywhere along the river, in case they fell or the flood barrier suddenly ruptured. Levee workers have seen only a scattering of onlookers climbing on top, he said.
"It's that one-in-a-million shot that we just don't want to take," Wight said. "I think that, generally speaking, we have just have to monitor the levees, along the with the Corp of Engineers and everyone else involved. We need eyes on the levee to make sure we're not having issues."
Crews continued reinforcement work on the inner levee that protects the community along Lake Waconda. Dump trucks piled gravel on top of an erosion mat designed to strengthen the flood barrier. The Missouri River broke through an old agricultural levee that sits further from the houses and closer to the river.
Flooding remains a concern all along the river because of the massive water release by the U.S. Army Corps of Engineers from upstream reservoirs. The river is expected to rise as much as 5 to 7 feet above flood stage in much of Nebraska and Iowa.
Lake Waconda includes 228 houses, 38 of which are full-time homes, said Cass County Emergency Management Director Bill Cover. Cover said the river level Tuesday in Plattsmouth, the nearest flood gauge, placed the Missouri River nearly 10 feet above the 26-foot flood stage.
Cover said the river pushed through an old agriculture levee that hadn't been maintained for decades.
Mary Goodell Roberts, a Papillion resident who owns a vacation home in the area, said crews were piling rock around the inner levee to reinforce it against the flood water. Residents have scattered as far as Arizona and Colorado, she said, with some renting apartments or living in trailers. One family parked an RV at a friend's farm.
"Everybody's still very concerned," Roberts said. "The hard part is not knowing how long the water's going to stay high, and how high. Like we've heard before, these levees were not designed to hold water for this long."
Heather McKinney and her husband, Jamie, evacuated their full-time home late last week for an already-planned family vacation to Colorado. Heather McKinney said the family moved all of their furniture to a storage unit on higher ground, not knowing when they might be able to return.
If they do, she said, the family will use lawn chairs and mattresses until the flood threat subsides. If it floods, the family may reconsider whether to stay in the house her in-laws had owned for 30 years.
"I'm hoping everything will be OK when we get back," she said. "We're trying to keep life as normal as possible, regardless of where we're sleeping - whether it's on a mattress, or a bed."