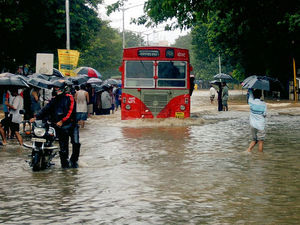 At least 12 persons were killed in rain-related incidents as heavy to moderate rains lashed several parts of Uttar Pradesh since yesterday.
While nine presons were killed in Farukkhabad district in separate incidents of roof collapose, drowning and lightning, two persons were killed in Fatehpur and one in Jaunpur district of the state, official sources said here.
Four persons were killed when the roof of a house collapsed due to heavy rains in Gangapar area and two children were struck down by lightning at village Achara yesterday, they said.
In Fatehpur, two persons, including a 38-year-old woman, were killed in separate incidents of wall collapse triggered by heavy rains, the sources said.
A 16-yar-old girl was killed and three girls perished after being hit by lightning in Baksha area of Jaunpur district, they said.
Jhansi recorded the maximum rainfall of 39.6 mm followed by 35 mm at Fursatganj and 22 mm in Agra, Met office said.
In Lucknow, which recorded a rainfall of 6.8 mm, mercury dropped considerably and the maximum temprature was 31.4, six notches below normal, they said
.