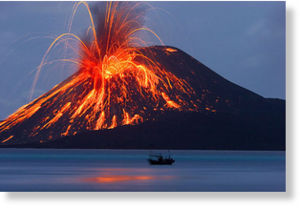 Jakarta - The crater of Anak Krakatau in the Sunda Strait has expanded to a diameter of 25-26 meters, an Indonesian volcanologist says.
The news comes as the frequency of eruptions of the volcano increases.
On Friday there were 615 eruptions, on Saturday there were 623 and on Sunday 668.
Anton S. Pambudi, a Banten province official who monitors the volcano, said the latest eruptions had changed the shape of the crater and his team would continue to monitor it.
Banten Governor Ratu Atut Chosiyah said Anak Krakatau (Child of Krakatau) did not pose a threat and the eruptions, which can be seen from the western tip of Java, were spectacular to watch.
Krakatoa exploded in 1883, with the resulting tsunamis killing an estimated 40,000 people, though some estimates put the death toll much higher.
The explosion is still considered to be the loudest sound ever heard in modern history, with reports of it being heard nearly 4,800 kilometers away.
The shock wave from the explosion was recorded on barographs around the globe.
Eruptions at the volcano since 1927 have built a new island in the same location, named Anak Krakatau.
"The volcanic activity in Anak Krakatau is indeed increasing. However, it's all within normal level," Raden Sukhyar, chief of the geology department at the Ministry of Energy and Mineral Resources, said on Tuesday.
Experts said the lava and molten rocks were unlikely to reach the closest residential areas, 42 kilometers from the peak.
However, the public has been warned to remain at least two kilometers away as a precaution.
Sukhyar said Anak Krakatau was a growing volcano and eruptions were only normal.
He said the volcano had thin magma that could easily be spewed out.
Banten is the province in which the nearest residential areas from the volcano is located.
Sukhyar said there was no need to panic as long as people complied with the boundary set by the government.
"Its better to stay alert, because the temperature of the material spewed from the volcano can reach 1,000 degrees Celsius," he said. "Even a small rock can cause serious injury."
Sukhyar also said there was no connection between the Merapi eruption that has killed more than 140 people and forced tens of thousands of others to flee, or the heightened status of other volcanoes throughout the country.
Authorities have warned that several other volcanoes are showing increased signs of activity.
They include Mount Karangetang on Siau Island in North Sulawesi and Mount Ibu on Halmahera Island in North Maluku.