Signs of the Times for Sat, 11 Mar 2006
Have you ever wanted to make a difference in the way the world works? If you were to find yourself in a position to enact real change, to spread truth to the world at large, imagine the ways that you would get it done. Once you begin to think back to a time when you first started to question the lies, and when you felt that need to find the truth and help others to find it too, you will begin to see that you can really make a difference today.
Now is the time to rise up for the truth!
That is where we are right now, with our constant efforts in the past to push forward and get our material out to the world, we have positioned ourselves to go to the next level. Lobbying the Neo-Cons is useless, the only way to effect real change is to act now and give people the truth.
We are nearing the final stages of starting the unstoppable ball rolling, and now is the time that you begin to find yourself poised to help bring the world to the truth, and to expose the Matrix like reality!
If you were to donate €100 to help the project to expand and reach more and more people, we know that you would feel proud of the immense results that occured thanks to supporters like you in our network!
New Signs of the Times Podcast!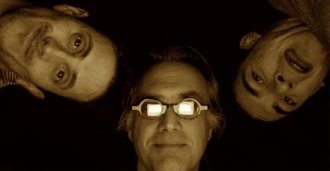 Welcome to the Signs of the Times Podcast with editors (from left to right) Joe Quinn, Henry See, and Scott Ogrin.
Signs of the Times editors Scott Ogrin, Joe Quinn, and Henry See receive noted author Stanley B. Stillingfleet to discuss the subject of his forthcoming book on the trafficking of humans, drugs, and arms, a glimpse into the dark side of pathocratic society. The book will be published by Red Pill Press later in 2006.

- Click on the title of each podcast below for more information or to download and save the file. -
- Click the play button to stream a podcast from your browser -

Governments, Conspiracies and You
Joe Quinn
Signs of the Times
11/03/2006
There are approximately 6 billion of us on this planet, the lives and fortunes of whom are directed in various ways by a relatively small group of elected, or unelected, individuals who together make up what is called 'government'.


Iran Shock & Awe Spin Moves into Hyperdrive
Kurt Nimmo
9 Mar 06

It is interesting to follow the corporate media's take on Iran's response to threats of military action, most recently amplified by John Bolton and Dick Cheney in speeches delivered to the primary constituency of the United States government, AIPAC. Iran's "President Mahmoud Ahmadinejad's [comments about retaliating if his country is attacked] came as Tehran struck an increasingly threatening tone, with the top Iranian delegate to the U.N. atomic watchdog agency warning a day earlier that the United States will face 'harm and pain' if the Security Council becomes involved," according to ABC News.


Cheney's Got a Gun: Part 2
NEWSLETTER #79
March 10, 2006
Dave McGowan
Center or an Informed America
One of the most amazing things about this case is that even if we accept without question the tale told by Cheney and Armstrong - if we accept that this 'accident' occurred exactly as we have been told it happened - it is perfectly obvious that the consensus media opinion that there was no misconduct or negligence is simply untrue. By his own account, Cheney was hunting by vehicle, a decidedly unsafe, and unethical, practice. By his own account, he was out in a three-man hunting party. By his own account, he made no effort to ascertain the whereabouts of anyone else in his party before firing away. By his own account, he was firing at a bird that would have had to have been flying ridiculously low. By his own account, he swung his gun far beyond "the mid-point" to take his shot. By his own account, he had been drinking that day (undoubtedly far more than he has admitted to). By his own account, he was hunting in flat terrain with a party that included a hostess, two other hunters, several guides and outriders (scouts on horseback), a medical team, and a Secret Service team -- and yet he swung his gun around blindly a full 180º to take a shot at an alleged bird that was supposedly flying just a few feet off the ground.


Cheney's Got a Gun: Part 3
NEWSLETTER #80
March 10, 2006
Dave McGowan
Center for an Informed America
It's hard not to notice, by the way, that two alleged members of the hunting party just happen to have the same last name as the police constable who determined in record time that "this in fact is an accident." Small world, isn't it? It's also hard not to notice that the name of another member of the party contains the names of two of the handful of towns that make up Kenedy County, Texas: Armstrong and Sarita. One wonders if Kenedy County is little more than the Armstrong family's private fiefdom. Perhaps this is a good time to take a quick look at some Armstrong family history.

Have a question or comment about the Signs page? Discuss it on the Signs of the Times news forum with the Signs Team.

Some icons appearing on this site were taken from the Crystal Package by Evarldo and other packages by: Yellowicon, Fernando Albuquerque, Tabtab, Mischa McLachlan, and Rhandros Dembicki.

Remember, we need your help to collect information on what is going on in your part of the world!
Send your article suggestions to:

---
Fair Use Policy
Contact Webmaster at signs-of-the-times.org
Cassiopaean materials Copyright ©1994-2014 Arkadiusz Jadczyk and Laura Knight-Jadczyk. All rights reserved. "Cassiopaea, Cassiopaean, Cassiopaeans," is a registered trademark of Arkadiusz Jadczyk and Laura Knight-Jadczyk.
Letters addressed to Cassiopaea, Quantum Future School, Ark or Laura, become the property of Arkadiusz Jadczyk and Laura Knight-Jadczyk
Republication and re-dissemination of our copyrighted material in any manner is expressly prohibited without prior written consent.