New Signs of the Times Podcast!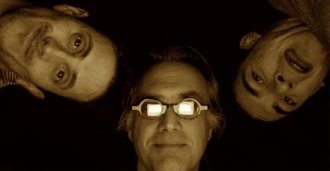 Welcome to the Signs of the Times Podcast with editors (from left to right) Joe Quinn, Henry See, and Scott Ogrin.
In the aftermath of this summer's Israeli slaughter of innocent civilians in Palestine and Lebanon, the Bush Administration has adopted the extremist slogan of "Islamic Fascism" from Zionist and Christian fundamentalist propagandists. For years we have been programmed by the mainstream media to consider Muslims and Arabs as less than human, a demonisation that permits the pathocrats in Israel, the US, and Britain to kill Arabs with impunity, and without a word of protest from their citizenry. This week we discuss the significance of the move to the label "Islamic fascism" and how the term has no relation to the regimes in question in the Muslim world. At the same time, fascism very accurately describes the situation in the US, Britain, and Israel. The REAL Axis of Evil, the US, Britain, and Israel, are in fact announcing their own plans for the rest of humanity.

- Click on the title of each podcast below for more information or to download and save the file. -
- Click the play button to stream a podcast from your browser -