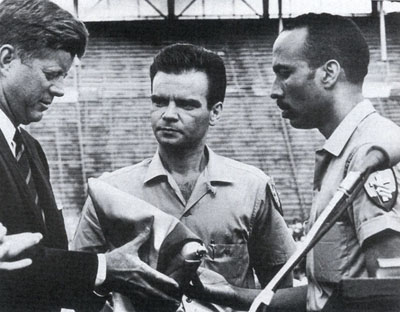 President Kennedy receives the flag of the cuba exiles (Brigade 2506) in Miami in Dec. 29, 1962 and declares: "I promise to return this flag in a free Havana." Kennedy had been misinformed about the exact details of the planned Cuban invasion.
On November 18th, 1963, John F. Kennedy predicted that the month of April, 1964, would bring "the longest and strongest peacetime economic expansion in our Nation's entire history." And he added: "The steady conquest of the surely yielding enemies of misery and hopelessness, hunger, and injustice is the central task for the Americas in our time . . . 'Nothing is true except a man or men adhere to it -- to live for it, to spend themselves on it, to die for it . . . '"
Time was slipping through his hands . . . he had four days to live.