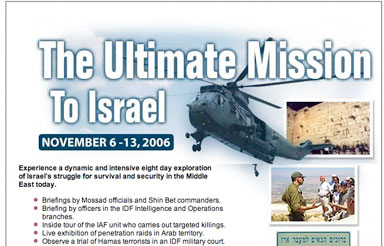 Click on image to see original
"Experience a dynamic and intensive eight day exploration of Israel's struggle for survival and security in the Middle East today." Israel Law Center
We know that Israel is beseiged. Facing a Palestinian population armed to the teeth with deadly rocks and rusting weapons, and Hizbullah to the north in Lebanon with its powerful katyusha rockets, a powerful techology dating back to the Second World War, Israel remarkably refuses to fall, backed solely by the strongest army in the Middle East, an arsenal of somewhere between 200 and 1400 nuclear weapons, false flag operations, unlimited funding and arms from the United States whenever they are required, a permanent veto via the US on any UN Security Council resolution, and a compliant Western press.
The web site linked from the above image invites supporters of Israel to come and see Israel's 'weapons of mass security' for themselves. Included in the tour are a "Live exhibition of penetration raids in Arab territory" and a meeting with "Israel's Arab agents who infiltrate the terrorist groups and provide real-time intelligence". As you can see, the page offers an antiseptic language that whitewashes the true horrors of Israeli brutality.
Therefore, we decided to translate the above out of 'Zionish' security speak and into English. Judge for yourself which of the two descriptions more accurately reflect the situation on the ground...