Signs of the Times for Mon, 02 Oct 2006

America's Nervous Breakdown
Laura Knight-Jadczyk
02/10/2006
Recently it has come to my attention that there are a number of so-called "Historical Revisionists" who have taken up the idea that Adolf Hitler was a "good guy" and that, as one of them wrote to me recently, "we now need an American Leader like Hitler."


Torture and fascism
Monday, October 02, 2006
Dave Neiwert
Orcinus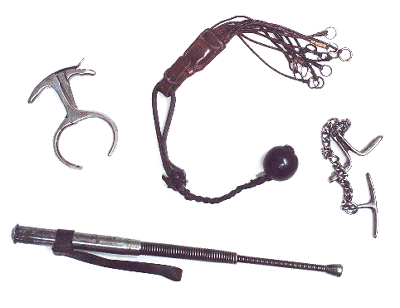 [Nazi torture implements. From Museum of World War II.]



It wasn't exactly a coincidence that my Adbusters piece earlier this year on fascism and the American right ran in the magazine's issue on torture. Though the piece doesn't specifically discuss torture, the subject of the piece -- "Is right-wing America becoming fascist?" -- constitutes the bottom line of the ramifications of the emergence of the United States as a bona fide torture state.


Habeas Corpus, R.I.P. (1215 - 2006)
Molly Ivins
TruthDig
09/29/06
[The Military Commissions Act] is not a national security issue - this is about torturing helpless human beings without any proof they are our enemies. Perhaps this could be considered if we knew the administration would use the power with enormous care and thoughtfulness. But of the over 700 prisoners sent to Gitmo, only 10 have ever been formally charged with anything. Among other things, this bill is a CYA for torture of the innocent that has already taken place.

I'd like those supporting this evil bill to spare me one affliction: Do not, please, pretend to be shocked by the consequences of this legislation. And do not pretend to be shocked when the world begins comparing us to the Nazis.


Republican Torture Laws Will Live in History
By Larisa Alexandrovna
AlterNet
October 2, 2006.
If we learned anything from the Nuremberg trials it is that citizens are responsible for what their government does in their name. The right wing of Congress, which has shed any last vestige of being anything remotely conservative in substance or American in spirit, has, like a deranged peacock, proudly shown the world that it can and did "happen here." The passing of the pro-torture bill is a full handover of everything democratic into the arms of fascism.


Signs Economic Commentary for October 2, 2006
Donald Hunt
Signs of the Times
October 2, 2006
The past week saw the release of numbers showing a clear slowing of the U.S. economy. But the stock market seemed to view that as good news for interest rates.

Putting Party Before Predators: Why Didn't GOP Leaders Stop Foley?
By Cenk Uygur
HuffingtonPost.com
October 1, 2006
In a scandal that will likely take down the entire House Republican leadership, everyone is wondering why Rep. Mark Foley, Chairman of the Missing and Exploited Children's Caucus was allowed to carry on his predatory behavior with a teenage boy a year after his relationship was revealed to party leaders.

Watch a video of Rep. Foley giving an interview on child predators, in which he states "If I were one of these sickos, I'd be nervous with America's Most Wanted on my trail."


Sixth Anniversary of al-Aqsa Mosque Intifada Passes Still Unresolved
by Stephen Lendman
1 October 2006
September 28 marked the sixth anniversary of former Israeli Prime Minister Ariel Sharon's provocative visit to the al-Aqsa Mosque in occupied East Jerusalem (the Noble Sanctuary for Muslims and Temple Mount for Jews and Christians) that caused the eruption of the al-Aqsa Intifada still raging today with Palestinians on the painful receiving end of most of it. From that time till now, the Israeli Defenses Forces (IDF) committed unending and egregious war crimes and breaches of international law against defenseless Palestinian civilians in Gaza and the West Bank. Instead of abating, the assaults have intensified over the past year.

Have a question or comment about the Signs page? Discuss it on the Signs of the Times news forum with the Signs Team.

Some icons appearing on this site were taken from the Crystal Package by Evarldo and other packages by: Yellowicon, Fernando Albuquerque, Tabtab, Mischa McLachlan, and Rhandros Dembicki.

Remember, we need your help to collect information on what is going on in your part of the world!
Send your article suggestions to:

---
Fair Use Policy
Contact Webmaster at signs-of-the-times.org
Cassiopaean materials Copyright ©1994-2014 Arkadiusz Jadczyk and Laura Knight-Jadczyk. All rights reserved. "Cassiopaea, Cassiopaean, Cassiopaeans," is a registered trademark of Arkadiusz Jadczyk and Laura Knight-Jadczyk.
Letters addressed to Cassiopaea, Quantum Future School, Ark or Laura, become the property of Arkadiusz Jadczyk and Laura Knight-Jadczyk
Republication and re-dissemination of our copyrighted material in any manner is expressly prohibited without prior written consent.

Signs Editorials By Author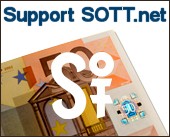 ---
Donate once - or every month!
Just click "Subscribe"!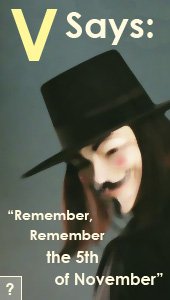 by a QFS member
Seen by over 1 BILLION people!
Books by Signs of the Times
Books by Red Pill Press