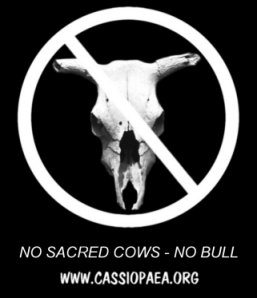 AlltheWeb indexes over 2.1 billion web pages, 118 million multimedia files, 132 million FTP files, two million MP3s, 15 million PDF files and supports 49 languages, making it one of the largest search engines available to search enthusiasts. AlltheWeb provides the freshest information because we update our index every 7 to 11 days and index up to 800 news stories per minute from 3,000 news sources.
IMPEACH GEORGE BUSH! - Articles of Impeachment and the FAX number of your representative. Download, print and FAX.
The maker of this flash presentation deserves a medal.
Pentagoon: I Feel Like I'm Fixin' to Die Rag
February 1, 2003
President Bush was briefed at Camp David, Maryland, and cut short his stay at the retreat to return to the White House. The administration was preparing to convene a "domestic event" conference among all domestic and military agencies that may be involved in the next step. An administration official said the shuttle's altitude -- over 200,000 feet -- made it "highly unlikely" that the shuttle fell victim to a terrorist act. [...] Video of the shuttle tracking over Dallas showed multiple vapor trails, but NASA spokesman Kyle Herring said it was too early to determine the source. [...] Jim Hubbs of New Boston, Texas, said he heard police discussing over a police scanner "a smoking object going southeast" that disappeared in the Bowie County area near the Arkansas state line. [...] Officials said no tracking data were available. The Israeli Embassy in Washington has dispatched a small team to Florida to be with Col. Ilan Ramon's wife, four children and his parents, a spokesman for the Israeli embassy told CNN. Ramon's family members had traveled from Israel to watch the planned return of the shuttle to the Kennedy Space Center Saturday morning. Ramon's father was at a television station watching the unfolding coverage. Ramon, 48, took part in the 1981 bombing of the nuclear reactor in Iraq. Columbia is the oldest of NASA's shuttle fleet, first launched in 1981. It was on its 28th mission. The shuttle underwent an extensive, 17-month overhaul that began in September, 1999.
Comment: "No tracking data available?" Does that mean they weren't tracking the shuttle coming in, under threat of "terrorism," or does it mean they just aren't going to show it to us????
Shuttle Apparently Breaks Up Over North Texas Shuttle Was Carrying 7 Astronauts - NASA lost contact with space shuttle Columbia Saturday morning over Texas as it was planning to make a scheduled landing in Florida. The shuttle was scheduled to land at 9:16 a.m., NASA officials said. Columbia was at an altitude of 200,700 feet, traveling at 12,500 mph when mission control lost contact. There was no further communication and no further tracking data. A plume of smoke was seen over Texas shortly after the shuttle went missing. NASA officials immediately ordered flight controllers to begin emergency procedures and retain all their records. There were seven crewmembers aboard Columbia and they were returning from a 16-day science mission. The shuttle was carrying the first Israeli astronaut, and authorities had feared it would be a terrorist target.
Shuttle Blows Up? Our new "terrorist attack?" - NASA lost communication with space shuttle Columbia shortly before its scheduled landing on Saturday. It was unclear whether there were any other problems. Mission Control reported no communication with the shuttle after 9 a.m. EST. The shuttle was carrying the first Israeli astronaut and six Americans, and authorities had feared it would be a terrorist target. Fifteen minutes after the expected landing time, and with no word from the shuttle, NASA announced that search and rescue teams were being mobilized in Dallas and Fort Worth areas. NASA, while not saying the shuttle had exploded, broken up or crashed, warned that any debris found in the area should be avoided and could be hazardous. Inside Mission Control, flight controller hovered in front of their computers, staring at the screens. The wives, husbands and children of the astronauts who had been waiting at the landing strip were gathered together by NASA and taken to separate place.
Ilan Ramon, a colonel in the Israel Air Force and former fighter pilot, became the first man from his country to fly in space, and his presence resulted in an increase in security, not only for Columbia's January 16 launch, but also for its landing. Space agency officials feared his presence might make the shuttle more of a terrorist target. Along with Ramon, the shuttle - which was on its 28th mission - carried commander Rick Husband, pilot Willie McCool, mission specialists Dave Brown, Laurel Clark, Kalpana Chawla and payload commander Mike Anderson. The crew completed all of their 80-plus experiments in orbit. They studied ant, bee and spider behavior in weightlessness as well as changes in flames and flower scents, and took measurements of atmospheric dust with a pair of Israeli cameras. An Israel Air Force officer, staying at the NASA center in Washington, told Israel Radio on Saturday that the experiment conducted on dust clouds over the Middle East were very successful, and that Ramon and his colleagues managed to photograph dust storms over the Atlantic Ocean. [...]
Local witnesses reported hearing a loud boom where the craft appeared to break up, around 100 miles south of Dallas. NASA, while not saying the shuttle had exploded, broken up or crashed, warned that any debris found in the area should be avoided and could be hazardous. Television footage showed multiple trails that could reflect a shuttle breakup. Gary Hunziker in Plano said he saw the shuttle flying overhead. "I could see two bright objects flying off each side of it," he told The Associated Press. "I just assumed they were chase jets." "I was getting ready to go out and I heard a big bang and the windows shook in the house," said another local resident. "I thought it was a sonic boom."
Prime Minister Ariel Sharon's office said it had no immediate comment.
The shuttle's seven astronauts had closed out science experiments conducted on the 16-day mission, which had been deemed a success by scientists and NASA officials. Columbia orbited Earth while astronauts conducted more than 80 experiments on behalf of NASA and the European, Japanese, German and Canadian space agencies, as well as numerous student and commercial investigations. The shuttle did not visit the International Space Station on this trip. Scientists announced unprecedented results, including calibrated photographs of unusual electrical phenomena above thunderstorms, record-setting flame balls used to study pollution and production of a cancer tumor so large that scientists back home will have to dismantle the growth chamber to retrieve it in one piece.
NASA declared an emergency on Saturday morning after the shuttle space shuttle Columbia apparently blew up as it headed for a landing. Television pictures on CNN showed several streaks in the sky over Texas. NASA has yet to say what happened to the shuttle, but advised the public to avoid any debris that may have come from the space shuttle because the shuttle uses toxic substances as propellants. Search and rescue teams have been alerted in the Dallas-Fort Worth area. The shuttle was due to land at 9:16 a.m. ET at the Kennedy Space Centre in Florida. Controllers lost contact with the shuttle at about 9 a.m. as it soared over Texas. The shuttle It was at an altitude of about 61,170 metres, travelling at about 20,000 km/h. The shuttle flight began on Jan. 16 under heightened security. Among the crew was Ilan Ramon, the first Israeli astronaut. Ramon's presence on the flight, officials feared, would make the shuttle's takeoff and landing more a target for terrorists.
Comment: According to the news reports, this shuttle mission was "top secret." It also had an Israeli astronaut on board... and one is compelled to ask the question: could he have also been a member of MOSSAD?
We have repeatedly pointed out that many of the so-called "Palestinian Sucide bombers" just sort of "mysteriously" commit their acts of violence just in time to enable Israel to implement something they were planning anyway but needed public support to carry out. Palestinian intelligence services have even reported that these activities are "faked" by Israeli covert operations.
Well, Bush has said that "Iraq will be dealt with in weeks," and the suggestion was planted that the shuttle with an Israeli on board just might be a "terrorist target," and now, lo and behold, it has happened! How handy. How interesting that the first shuttle mission with an Israeli aboard just sort of "blows up...."
But then again, it IS interesting that it blew up over TEXAS!!!! A little "hint" to Bush and Co????
"There is no information at this was a terrorist incident," said Gordon Johndroe, spokesman for the Homeland Security Department. "Obviously the investigation is just beginning but that is the information we have now." A senior law enforcement official, speaking on condition of anonymity, said there had been some intelligence that raised concerns about a previously scheduled flight of Columbia, which was to have carried the same crew. The intelligence, related to Ramon, was termed not credible, but the flight was postponed for other reasons. There had been no troubling intelligence regarding this flight, officials said, and they do not believe terrorism was involved. Local witnesses reported hearing a loud boom where the craft appeared to break up, around 100 miles south of Dallas and television footage showed multiple trails that could reflect a shuttle breakup.
Comment: We are also very interested in the extreme "toxicity" of the debris... hmmm... just what were those guys doing up there????
Astronauts videotaping thunderstorms from the space shuttle Columbia captured what scientists said on Thursday was a never-before-seen red glowing arc of light paralleling the curve of the Earth. "Two nights ago over Africa was an extraordinary image. We saw a huge horizontal line of air glow which has been brightened by lightning below it which extended to several hundred miles horizontally and we feel it may be something new," said Dr. Yoav Yair.
Yair, project coordinator for Israeli experiments on board the Columbia in its current mission, said analysis would attempt over the next few weeks to confirm scientists' initial impression that the glow is neither a sprite nor an elf, two other electrical phenomena associated with thunderstorms. "It is raw data hot from the oven," Yair said. "It's a grainy and noisy image but for scientists it's a treasure trove. That's what we like."
Scientists were excited by the news that astronauts on Sunday captured the first-ever pictures of elves taken from space with a calibrated camera. The shuttle and its seven-member crew, which includes Israel's first astronaut, Ilan Ramon, are on a 16-day science mission that began on Jan. 16. The study of sprites, elves and other luminosities associated with thunderstorms is part of what Yair described as a new discipline in the field of upper atmospheric physics. Sprites, which are red flashes shooting up from thunderstorms, were discovered only as recently as 1989, followed by elves, which are spreading red doughnut shapes, in 1994.
The latest luminosity, Yair said, was a narrow limb-like glow, hundreds of miles in length, red in color and probably made of nitrogen. Yair said the band was especially bright. "It seems that the atmosphere still holds surprises for us," Yair said. Yair said scientists studying these electrical discharges were looking to further basic science rather than develop specific products. "But if you understand the global electrical circuit, and if you want to fly certain high flying aircraft or even satellites or if you want to move things through this layer of atmosphere then you have to know really well what's going on up there in terms of electricity," Yair said.
NASA scientists have made the first "full-body scan" of an evolving tropical thunderstorm, using advanced radar to probe the storm's inner workings, the U.S. space agency said on Wednesday. The new images are pictures of an unusual storm over the Amazon rainforest in 1999, according to the National Aeronautics and Space Administration's Goddard Space Flight Center outside Washington. NASA meteorologists likened the images to a "full-body scan" of the storm, analogous to a doctor's image of a patient observed with sophisticated medical scanning equipment. Storms often form precipitation either by forming rain at lower altitudes or by forming frozen particles high in the atmosphere. The 1999 storm did both as the storm evolved, according to David Atlas of NASA's Goddard center. "The 'full-body scan' also provides new insight into the intensity and hazards within storms, which should be avoided by aircraft," Atlas said in a statement. "Even the aircraft used in this study did not go into the core of the storm because of the hazards." Scientists from NASA, the National Oceanic and Atmospheric Administration and the National Center for Atmospheric Research used radar equipment sensitive enough to detect the different kinds of particles from the storm's base up to its top, 8-1/2 miles above the jungle floor. A jet aircraft operated by the University of North Dakota also made measurements within the storm.
Video cameras aboard the space shuttle Columbia captured an image over Brazil that scientists said proved a scientific theory about how a major fire on Earth can alter global climate. The picture shows a large plume of smoke rising from a fire in the rain forest on a cloudy day in the Amazon Basin. Israeli scientist Joachim Joseph said the picture demonstrated the scientific theory that smoke dissipates cloud cover in its vicinity, allowing more sunlight to enter. "We just made one pass over the jungle and low and behold we get textbook confirmation of a hypothesis," Joseph said.
Comment: Yeah, right! Now maybe we know why Bush wants to set so many "big fires" in Iraq!
Conflicts rage across the globe - The analysis and views presented in this project are based on interviews with experts at the Council on Foreign Relations, a nonpartisan national membership organization, think tank and publisher, with headquarters in New York, offices in Washington, D.C., and programs nationwide. - Iraq and North Korea have dominated the world's attention in recent months, yet in countries and regions around the globe, strife smolders with sporadic notice. Civil war. Mutilations. Threat of nuclear deployment. Human trafficking. Starving babies. Those are some of the seeds and harvest of conflicts in Africa, Asia, Europe and South America. Neglecting these conflicts is dangerous, said Arthur Helton, director for peace and conflict studies at the Council on Foreign Relations, a national think tank and publisher with headquarters in New York and offices in Washington. [...] Each of these regions is a former colony or has evolved from the breakup of another entity. Yugoslavia's 1991 demise following the collapse of the Iron Curtain, for example, created six Balkan countries. Britain once controlled Zimbabwe and Kashmir. Uzbekistan emerged from the collapse of the Soviet Union. Others are former colonies. [...] In his comments at the United Nations in January, U.N. Secretary General Kofi Annan expressed optimism and said these conflicts across the globe represent opportunities for the international community to work toward peace. "Nations working together can make a difference. Nations upholding the rule of law can advance the cause of a fairer world," he said. "Yes, the world is a messy place. But the instruments are there to deal with these problems."
Carter Says Bush Has Not Proven Case for Iraq War - The Bush administration has not convinced Americans or Europeans that a military attack on Iraq is necessary, Nobel Peace Prize laureate Jimmy Carter said on Friday. "Our government has not made a case for a pre-emptive military strike against Iraq, either at home or in Europe," the Democratic former president said in a statement. "It is sobering to realize how much doubt and consternation has been raised about our motives for war in the absence of convincing proof of a genuine threat from Iraq." - Carter said the United States and the world would be better off if the White House supported the strengthening of the inspection process in Iraq.
Walter Cronkite some weeks back warned that the American President was leading the planet toward World War III. John le Carre has called the U.S. 'mad'. The list of credible and famous persons speaking up in unprecedented ways is considerable in fact -- though purposefully muted and muffled by government and corporate media in the US. Some months back now, an extremely important article written by a journalist working at the Carnegie Endowment of International Peace in downtown Washington concluded that the U.S. has become 'a great danger to itself, and to the world" -- but it had to be published in the London Review of Books, not in the U.S. where it is so vitally needed.
So let's be very clear and blunt about what's going on here. At the top of the list are the U.S. and Israel (with other Anglo countries -- the UK and Australia -- in tow) who are the real culprits and dangers here. It is their policies these past decades which have provoked the multiple crises of the present. And it is their policies of the moment which threaten, in the words of Nelson Mandela, a modern-day 'holocaust'. The occasional crafty and soothing rhetoric from some quarters at times is worth little when compared to the grossly dangerous acts, warmongering jargon, and military preparations coming from these parties. And oh yes, let's not forget that it is both the U.S. and Israel -- the two parties who are armed to the teeth with all kinds of multiple weapons of mass destruction -- who have quite publicly threatened to use their vast quantities of sophisticated nuclear weapons on Arab and Muslim countries.
The Bush administration continued its drive for support on its Iraq policy by sending senior State Department officials to Capitol Hill to explain the case against Saddam Hussein. But influential senators have asked for Secretary of State Colin Powell himself to appear before Congress before he reports to the United Nations on 5 February to explain what new evidence there is to link Saddam Hussein with terrorism.
US is misquoting my Iraq report, says Blix - Days after delivering a broadly negative report on Iraq's cooperation with international inspectors, Hans Blix challenged several of the Bush Administration's assertions about Iraqi cheating and the notion that time was running out for disarming Iraq through peaceful means. In an interview on Wednesday, Dr Blix, the United Nations chief weapons inspector, seemed determined to dispel any impression that his report was intended to support the United States' campaign to build world support for a war to disarm Saddam Hussein. "Whatever we say will be used by some," Dr Blix said, adding that he had strived to be "as factual and conscientious" as possible. "I did not tailor my report to the political wishes or hopes in Baghdad or Washington or any other place."
Dr Blix took issue with what he said were US Secretary of State Colin Powell's claims that the inspectors had found that Iraqi officials were hiding and moving illicit materials within and outside of Iraq to prevent their discovery. He said that the inspectors had reported no such incidents. Similarly, he said, he had not seen convincing evidence that Iraq was sending weapons scientists to other countries to prevent them from being interviewed. Nor had he any reason to believe, as President George Bush charged in his State of the Union speech, that Iraqi agents were posing as scientists, or that his inspection agency had been penetrated by Iraqi agents and that sensitive information might have been leaked to Baghdad. Finally, he said, he had seen no persuasive indications of Iraqi ties to al-Qaeda. "There are other states where there appear to be stronger links," such as Afghanistan, Dr Blix said. "It's bad enough that Iraq may have weapons of mass destruction."
Comment: Why, oh why, are we not surprised? If Bush ever spoke the truth, his tongue would turn black and his eyeballs would spontaneously combust!
Bush administration to release tapes that could incriminate Iraq. 'Hold onto your hat,' says one U.S. intelligence official, 'we've got it.'- THE DECISION TO allow Secretary of State Colin Powell to use the electronic intercepts in his speech next Wednesday to the U.N. was described by U.S. intelligence officials as extraordinary. Electronic intercepts by the NSA are considered the most jealously guarded of all U.S. intelligence secrets and government officials are normally loath to even refer to their existence for fear of tipping off targets and drying up invaluable sources of information.

But in this case, officials said, the intercepts are so damning and dramatic that officials say their release outweighs the potential harm—especially given the increased likelihood that the United States will shortly be launching an invasion of Iraq anyway. For the past two months, ever since the U.N. inspectors re-entered Iraq and began searching for weapons of mass destruction, the NSA has been closely monitoring the conversations of Iraqi officials. The NSA intercepts establish conclusively that the Iraqis have been "hiding stuff" from the inspectors, the U.S. intelligence official said. "They're saying things like, 'Move that,' 'Don't be reporting that' and 'Ha! Can you believe they missed that'," the official said. "It's that kind of stuff." Comment: Since it took them so long to come up with this idea, one has to wonder if it isn't more of the following...
FLASHBACK! - Bin Laden tape a fake, Swiss lab says - The latest audiotape statement attributed to accused terrorist mastermind Osama bin Laden is not authentic, a Swiss research institute said. The Lausanne-based Dalle Molle Institute for Perceptual Artificial Intelligence said it is 95-per-cent certain the tape does not feature the voice of the long-absent terrorist leader.
Comment: Now, after reading the above article, go back and read: Osama Is Under Your Bed and again consider the following: Officials confirm bin Laden's voice on tape - U.S. intelligence officials have formally concluded that the voice on the audiotape broadcast last week by the Qatar-based, Arabic-language TV network Al-Jazeera is "almost certainly the voice of Osama bin Laden" and that it was recorded in the last several weeks. Comment: Sounds convincing, right? Look at the following:
" Gentlemen! We have called you together to inform you that we are going to overthrow the United States government." So begins a statement being delivered by Gen. Carl W. Steiner, former Commander-in-chief, U.S. Special Operations Command. - But it is not Steiner. It is the result of voice "morphing" technology developed at the Los Alamos National Laboratory in New Mexico. - Most Americans were introduced to the tricks of the digital age in the movie Forrest Gump, when the character played by Tom Hanks appeared to shake hands with President Kennedy. For Hollywood, it is special effects. For covert operators in the U.S. military and intelligence agencies, it is a weapon of the future.
Why is the United States Government Using such a Weapon against its own people?
Debunking the bin Laden tape Voice detective wonders why U.S. called it genuine - "You will be killed just as you kill," threatens the voice, purportedly that of Osama bin Laden, specifically naming Canada and other Western countries as targets. The sound lights up a computer screen with clusters of vertical lines and patches of blues and greens, making a "voice print" that is matched against others confirmed to be the Al Qaeda leader's.
"The more I work on this, the more I'm confident that it's not him," says Hervé Bourlard, director of the Dalle Molle Institute for Perceptual Artificial Intelligence, one of the world's leading voice-recognition institutes. Bourlard's conclusion — that the tape is probably the work of an imposter — caused a worldwide sensation on Nov. 29 and rekindled the mystery of whether bin Laden is dead or alive. It also raised questions about U.S. intelligence, which declared the mystery solved by describing the audiotape, broadcast Nov. 12, as "genuine" and recently recorded. Bourlard stresses he's no political analyst. Still, he wonders if U.S. officials have ulterior motives when they insist it's bin Laden's voice on the tape.
Comment: Important question, indeed. But you won't see this FACT get any real play in the mass media. Nor will anything of significant truth be covered by them. Indeed, we are fortunate to have the internet, what is unfortunate is that so many people still do not, and they are programmed to "trust" the talking heads over an above any other authority. If Peter Jennings or Tom Brokaw don't say it, it just isn't real for them. That, in itself, suggests an agenda by the Jewish controlled media.
Foreign Minister Alexander Downer says he believes the United Nations will authorise an attack on Iraq if weapons inspectors continue to deliver bad reports to the UN Security Council. In a report to the council this week, UN chief weapons inspector Hans Blix said Iraq continued to defy international demands to disarm. He said weapons inspectors found no convincing evidence Iraq had destroyed thousands of chemical and biological weapons. Mr Downer, speaking on ABC radio from France, said if similar reports continued to be delivered, the UN would likely give the go ahead for a war on Iraq.
A War Crime or an Act of War? - It was no surprise that President Bush, lacking smoking-gun evidence of Iraq's weapons programs, used his State of the Union address to re-emphasize the moral case for an invasion: "The dictator who is assembling the world's most dangerous weapons has already used them on whole villages, leaving thousands of his own citizens dead, blind or disfigured." The accusation that Iraq has used chemical weapons against its citizens is a familiar part of the debate. The piece of hard evidence most frequently brought up concerns the gassing of Iraqi Kurds at the town of Halabja in March 1988, near the end of the eight-year Iran-Iraq war. President Bush himself has cited Iraq's "gassing its own people," specifically at Halabja, as a reason to topple Saddam Hussein.
I am in a position to know because, as the Central Intelligence Agency's senior political analyst on Iraq during the Iran-Iraq war, and as a professor at the Army War College from 1988 to 2000, I was privy to much of the classified material that flowed through Washington having to do with the Persian Gulf. In addition, I headed a 1991 Army investigation into how the Iraqis would fight a war against the United States; the classified version of the report went into great detail on the Halabja affair. This much about the gassing at Halabja we undoubtedly know: it came about in the course of a battle between Iraqis and Iranians. Iraq used chemical weapons to try to kill Iranians who had seized the town, which is in northern Iraq not far from the Iranian border. The Kurdish civilians who died had the misfortune to be caught up in that exchange. But they were not Iraq's main target.
And the story gets murkier: immediately after the battle the United States Defense Intelligence Agency investigated and produced a classified report, which it circulated within the intelligence community on a need-to-know basis. That study asserted that it was Iranian gas that killed the Kurds, not Iraqi gas. The agency did find that each side used gas against the other in the battle around Halabja. The condition of the dead Kurds' bodies, however, indicated they had been killed with a blood agent — that is, a cyanide-based gas — which Iran was known to use. The Iraqis, who are thought to have used mustard gas in the battle, are not known to have possessed blood agents at the time.
These facts have long been in the public domain but, extraordinarily, as often as the Halabja affair is cited, they are rarely mentioned. A much-discussed article in The New Yorker last March did not make reference to the Defense Intelligence Agency report or consider that Iranian gas might have killed the Kurds. On the rare occasions the report is brought up, there is usually speculation, with no proof, that it was skewed out of American political favoritism toward Iraq in its war against Iran. I am not trying to rehabilitate the character of Saddam Hussein. He has much to answer for in the area of human rights abuses. But accusing him of gassing his own people at Halabja as an act of genocide is not correct, because as far as the information we have goes, all of the cases where gas was used involved battles. These were tragedies of war. There may be justifications for invading Iraq, but Halabja is not one of them.
One has to go back to the lesser Roman emperors of the second century to find an imperial suzerain as dismal as Bush. Tuesday's was surely the worst State of the Union address to Congress in the past thirty years, as the commander-in-chief stumbled through a thicket of brazen fictions towards the proposed rendez-vous with destiny of February 5, the day Secretary of State Colin Powell is scheduled to make his way to the United Nations to present the administration's latest "intelligence" confection on the topic of Saddam's deceits. If you want to get a taste of how these ramshackle "intelligence" reports are assembled, take a look at "Apparatus of Lies: Saddam's Disinformation and Propaganda, 1990-2003", recently issued by the White House and invoked Tuesday night by the 43rd President.
By a way of illustrating the all-round deviousness of Saddam's propaganda machine, the White House document cites on page 23 the Pakistani news outlet Inqilab as having reported on January 27, 1991, that "The American pop star Madonna was in Saudi Arabia, entertaining US troops." The White House comments triumphantly: "Madonna never went to Saudi Arabia." Moral: if Saddam can lie about Madonna, he can certainly bring the Big One out of some bunker in Tikrit and drop it on Jerusalem.
Bush's speech, if one can dignify same with a word intended to designate ordered rhetoric, was a backhanded compliment to David Frum, the former White House speech writer who was fired last year after his wife proudly disclosed that he had invented the phrase "Axis of Evil". No such exciting phrases adorned Bush's second State of the Union address. In the first half of the address Bush stumbled through his prescriptions to make the rich richer with the timbre of an inexperienced waiter reciting the Daily Specials. He even blew the opening and most outrageous lie of all, that "We will not pass along problems" to future generations, a pledge launched amid a vista of red ink as far as the eye can see, as those future generations pick up the tab for Bush's hand-outs to the super-rich today, to the arms companies, the drug industry and other prime contributors.
The assembled hacks and pundits of the Fourth Estate made haste to praise Bush for his impassioned resolve, but across the country and around the world the speech was a bust. Next morning CNN went searching for Hails to the Chief in a diner somewhere along the Atlantic seaboard, but the increasingly frayed reporter could only elicit grumbles about Bush's unconvincing performance on the economy and on why exactly the US had to go to war with Iraq. In Tokyo the Nikkei sank abruptly, followed by falls on exchanges as they came on line in every time zone.
On the likelihood of a US attack on Iraq I've tended to be a maybe-not type of guy. But now, after all the hoopla and the build-up, how can G. Bush not launch his attack in Baghdad? He's got no Exit strategy, even as he and the mad Rumsfeld shove their feet ever deeper into their mouths. Suppose the troops all come home with not a missile or a bullet fired? Won't there be pressing questions to the effect of: What was all that about? Then people will look around and start noticing the mess the homeland is getting itself into on the economic front. [...]
The coverage of anti-war protests round the world on January 18 has been scandalously bad. Many reporters and editors opted for demure phrases such as "tens of thousands", which scarcely does justice to turn-outs in excess of quarter of a million. Friends of mine at the demonstration in Washington DC said the one last October was double that of the first, in the spring of 2002, and that the January 18 demo had doubled the crowd in October, giving a rough Jan 18 total of 300,000 (the estimate of a cop who'd been at all three). There were anywhere from 50,000 to 200,000 people in San Francisco, and 20,000 in downtown Portland. There were big demonstrations in Montreal, Toronto, Vancouver, Edmonton and Halifax and others in France, Japan, Pakistan, Britain, Sweden, Syria, Belgium, Egypt, Lebanon, New Zealand. -
War Clouds Gather Over Stocks - While brewing geopolitical events will likely shove nearly everything else to the back burner, a flood of economic reports -- particularly data on the manufacturing sector and the labor market -- could help determine Wall Street's mood. The Institute of Supply Management's closely watched gauge of the factory sector, set for release on Monday, and the U.S. payrolls report on Friday will give investors some early glimpses of the state of the economy in January. Evidence that the U.S. economy is pulling out of its soggy patch has been spotty, at best, and the increasing possibility of war has whipped up fears growth could stumble as corporate America puts off investment decisions and stubbornly high oil prices bite into corporate profits. -
War worries have helped drive the broad Standard & Poor's 500 index .SPX down about 8 percent from its high for the year hit on Jan. 14 and into negative ground for the year. Year-to-date, the S&P 500 and the blue-chip Dow Jones industrial average .DJI are both down around 3 percent, and the tech-packed Nasdaq Composite Index .IXIC is down about 1 percent. All three finished the week lower after the S&P 500 and Dow posted their lowest closes since mid-October and the Nasdaq ended at its worst level since mid-November on Thursday. Wall Street will be watching on Wednesday when Secretary of State Colin Powell goes before the United Nations Security Council to try to persuade doubters Iraq has weapons of mass destruction. Iraq denies it possesses banned arms.
Comment from Reader on Bush's State of the Union Address: For the first time in over twenty years I actually watched and listened to a State of the Union address. Observing the man in action, his speech and the Jack-n-the-Box audience of government officals and invited visitors was an experience. My impression is that his steely eyed gaze of strength had been practiced for weeks. The speech was aimed to a fifth grade vocabulary which, considering the education the vast majority of US citizens have received, was a necessity. For every point he made I can probably find three federally funded references which state the exact opposite. It was a scam, a sham, and a shame. The Republicans sitting in the audience will be sore for days after all that jumping up and down. The Joint Chiefs of Staff seemed to be stuck to their chairs with super glue and had very somber, blank faces. Actually, they looked sick, stared straight ahead and hardly moved, similar to the prisoner in an electric chair waiting for the final shock. The gist of this speech is, imho, how magnanimous the US Government is to the world and to the commom folk known as US citizens.
Latvia will back up the United States in the war against Iraq even if it is not authorised by the United Nations, Latvia's President Vaira Vike-Freiberga said speaking on the national television. She believes that most European countries will do the same, including the now hesitating Germany and France. Vike-Freiberga explained the need to back up the US war against Iraq by saying that the United States was "most supportive of Latvia." Comment: That's a telling remark. Seems that the countries that ARE supporting the U.S. have a lot of "foreign aid" to lose if they don't. Let's just call it "thirty pieces of silver."
U.S. spy satellites show North Korea is moving fuel rods around a key nuclear complex, including possibly some of the 8,000 spent fuel rods that experts consider a key trip-wire in bomb-building, U.S. officials said. But there was no sign that crucial reprocessing of those spent fuel rods had begun, they said. In another ominous sign that North Korea's nuclear crisis might be deepening, the commander of U.S. forces in the Pacific had asked the Pentagon for more troops, aircraft and warships to deter any "adventure" by North Korea if the United States goes to war against Iraq, other U.S. officials said.
US warns Saddam has only weeks to disarm - President George W. Bush on Friday warned Saddam Hussein that the US would give the diplomatic process a matter of "weeks not months", but left the door open for a second United Nations resolution demanding that Iraq disarm. Speaking at the White House with Tony Blair, his most stalwart ally, Mr Bush told a news conference that both men agreed that diplomacy only had weeks to run its course. Acknowledging the pressure from more hesitant European allies reluctant to rush to war, Mr Bush said a UN decision to pass a second resolution would be welcome if it demonstrated that the international community was intent on disarming Iraq. But both the US president and Britain's prime minister noted that UN resolution 1441, passed last November, authorised them to use force without another vote.
Their ultimatum to the Iraqi leader followed the opening of another front in the battle against "rogue states" when the White House warned North Korea not to take "another provocative action" after satellite photographs indicated that the communist state might be about to produce the plutonium for several nuclear bombs. Spy pictures revealing activity at the Yongbyon nuclear facility delivered a stark reminder to Mr Bush that North Korea could be just months away from developing its nuclear arsenal, while he and Mr Blair were discussing invasion plans for Iraq.
There is mounting US concern that Kim Jong-Il, the North Korean leader, believes that while the US and its allies are tied up with Iraq, he has a chance to push on with his nuclear ambitions and develop a stronger negotiating position. US officials confirmed reports that spy satellites detected covered trucks at the Yongbyon plant apparently loading material from a nuclear storage facility holding 8,000 spent fuel rods. North Korea expelled UN nuclear inspectors and removed their cameras and seals from Yongbyon in December, announcing it would restart the reactor for civilian purposes - after the US decision to halt crucial supplies of fuel oil. The US decision followed its discovery that North Korea had a secret uranium enrichment programme.
Nelson Mandela sez: "If there is a country that has committed unspeakable atrocities in the world, it is the United States of America." "What I am condemning is that one power, with a president who has no foresight and who cannot think properly, is now wanting to plunge the world into a holocaust. Why does the US behave so arrogantly? Their friend Israel has got weapons of mass destruction. But because it's their ally they won't ask the UN to get rid of them." "It is a tragedy what Bush is doing in Iraq. All he wants is Iraqi oil. We must expose this as much as possible. He is making the greatest mistake of his life by trying to cause carnage."
Bush approves nuclear response - A classified document signed by President Bush specifically allows for the use of nuclear weapons in response to biological or chemical attacks, apparently changing a decades-old U.S. policy of deliberate ambiguity, it was learned by The Washington Times. "The United States will continue to make clear that it reserves the right to respond with overwhelming force — including potentially nuclear weapons — to the use of [weapons of mass destruction] against the United States, our forces abroad, and friends and allies," the document, National Security Presidential Directive 17, set out on Sept. 14 last year. A similar statement is included in the public version of the directive, which was released Dec. 11 as the National Strategy to Combat Weapons of Mass Destruction and closely parallels the classified document. However, instead of the phrase "including potentially nuclear weapons," the public text says, "including through resort to all of our options." - A White House spokesman declined to comment when asked about the document last night and neither confirmed nor denied its existence. A senior administration official said, however, that using the words "nuclear weapons" in the classified text gives the military and other officials, who are the document's intended audience, "a little more of an instruction to prepare all sorts of options for the president," if need be.
Kennedy raises alarm bells over nuclear option Fears `green light' to other nations Danger to world deepening, he says - The United States would become "a symbol of death, destruction and aggression" across the globe if it drops a nuclear bomb on Iraq, says senior Democratic Senator Ted Kennedy. On a mission to slow or stop his government's march to war, Kennedy issued the stark warning today in a Los Angeles Times opinion article he wrote about administration plans to use nuclear weapons against Iraqi leader Saddam Hussein.
"By raising the possibility that nuclear weapons could be part of a first strike against Iraq, the administration is only enhancing its reputation as a reckless unilateralist in the world community," Kennedy wrote. "This policy also deepens the danger of nuclear proliferation by, in effect, telling non-nuclear states that nuclear weapons are necessary to deter a potential U.S. attack and by sending a green light to the world's nuclear states that it is permissible to use them. "Is that the lesson we want to send to North Korea, Pakistan and India, or any other nuclear power?"
The debate began a year ago with the leak of the Pentagon's "Nuclear Posture Review," which recommended consideration for using nuclear weapons as part of a pre-emptive strike. President George W. Bush has not commented on the issue. Concerns have been heightened in recent days by reports that U.S. military planners have been actively studying lists of potential Iraqi targets and considering the use of so-called "bunker-buster" nuclear weapons against deeply buried military targets.
Arming for Armageddon US Military-Industrial Complex Reigns Supreme - The News Insider Commentary read more commentary articles contact J. Stanton Arming for Armageddon US Military-Industrial Complex Reigns Supreme By John Stanton 27 January 2003 In 2001, the US weapons industry controlled approximately 50 percent of the world arms market. The Federation of American Scientists (FAS) reports that for fiscal year 2001, the US government exported $12.2 billion in weapons and was awarded $13.1 billion in new foreign contracts through its Foreign Military Sales program. - The US weapons industry is an equal opportunity death merchant. It supplies weapons to totalitarian and democratic regimes of all flavors, all over the world. Robert Mugabe of Zimbabwe is a customer as is King Fahd bin Abdul Aziz, custodian of the Two Holy Mosques and Head of State of Saudi Arabia. Tony Blair of the United Kingdom is an eager customer as is Hugo Chavez of Venezuela. China, Cambodia, Kazakstan and Laos receive military assistance. Need weapons to quell that pesky domestic rebellion? The US weapons industry is there for you. For years it supplied weapons and gear to Indonesia to assist it in the killing of at least 100,000 East Timorese. Protestors all over the US have been subjected to weaponry and tactics developed by the US weapons industry and the US military. Need landmines? Human Rights Watch estimates that the US has stockpiled 11.2 million landmines for use in conflict. The Bush Regime has indicated it will use them in Iraq if necessary.
Win or lose, war's aftermath is filled with nauseating rituals, as if the stench of the dead must be out-stenched by the triumphalism of the living. Think of the parades, the monuments, the medals of honor, the ostentation of "EX-POW" or "purple heart" license plates, the "Patton"-like movies of carnage-ennobled patriotism. Think of the "unknown soldier" ceremony, that worldwide fetish of wreaths and grief dangled around an empty tomb by the very men who would not hesitate to shovel anonymous soldiers by the battalion into death's maws at the next opportunity. Reverence for soldiers returning in one or many pieces shouldn't be trivialized, much less reverence for the memory of fallen soldiers. But even the focus on soldiers conveniently denies the overriding fact of modern warfare -- that civilians suffer, sacrifice and die in incalculably greater numbers than soldiers, who are at least equipped for atrocity. There are no tombs for the "unknown civilian" because they're everywhere underfoot, no more remarkable than history's landfill. [....]
Writing letters to peace marchers (for lack of worthy Congressmen), to support them at least until all else has failed, seems to be a reflex strangely alien for an avowedly peace-loving, Christian nation. In any case kids are always war's first draftees. Might as well warm them up to the fact in grade school, get them used to the stench and inoculate them against the more dangerous subversions of peace. They're not lacking for role models. German officers in World War II used to call the stench of the dead "the perfume of battle." To hear President Bush and his junta's officers talking, they can't wait to inhale and douse the rest of us with it.
A wave of protest against the US plans to settle the "Iraqi issue" in a military way has reached Ukraine. Saturday, more than one thousand of representatives from different political parties (among them Green Party, Progressive Socialist Party, Russian Bloc, Labor Confederation, Chernobyl of Ukraine Union and others) organized a meeting in Sofia Square, in Kiev against a war in Iraq. The Progressive Socialist Party leader, Natalia Vitrenko also attended the meeting. After the meeting, the demonstrators went in a peace march to the US embassy to express their negative position on the Bush plans to the representatives of the US administration. According to the information agency Obozrevatel, the demonstrators held placards which read "No to War in Iraq!" "Yesterday Yugoslavia, Today Iraq, Tomorrow Ukraine!" "No to US Aggression in Middle East!"
Bush and Hitler Compare and Contrast - Adolf Hitler would be proud that an American President is emulating him in so many ways. Hitler, it will be remembered, routinely ignored his military, other world leaders, and the clergy. Bush seems to think that this policy, which ultimately failed for Hitler, will work for him. First, we should consider what Christian leaders are saying about Bush. The Presiding Bishop of the Episcopal Church in America, Frank T. Griswold III, says "I'd like to be able to go somewhere in the world and not have to apologize for being from the United States" and blasts George W. Bush for his saber rattling. Apparently, poppy Bush, an Episcopalian, believes that the head of his church is wrong and his wayward son is right.
From the Vatican, Pope John Paul II fires a shot over the bow of the Bush administration by declaring, "war cannot be decided upon, even when it is a matter of ensuring the common good, except as the very last option and in accordance with very strict conditions." In a television ad, the chief ecumenical officer of the United Methodist Church, Bishop Melvin Talbert, says that his fellow Methodist's rush to war "violates God's law and the teachings of Jesus Christ.''
The Anglican House of Bishops has warned, "without compelling new evidence to confirm that Iraq was stockpiling chemical or biological weapons, war could not be morally justified." Bush, who, during one of the presidential debates, said his favorite philosopher was Jesus Christ, has apparently decided to ignore his teachings.
Who Would Jesus Bomb? - Many people know deep down that this war makes no sense. They are starting to speak up and make themselves heard. You can add your voice to activities in your own community. In the rhetoric of our President Bush, a proclaimed Christian, one must wonder, has he ever thought-"Who would Jesus bomb?' The response surely would not be the innocent people of Iraq who have already suffered greatly because of Saddam, along with the U.N. sanctions supported and controlled by the United States.
The World Health Organization (WHO) has warned that terrorist groups could try to contaminate food supplies and has urged countries to strengthen their surveillance. In a special report, the leading UN health agency, said an attack using chemical or biological agents in food could lead to people dying or contracting serious illnesses like cancer. Comment: Gee, you mean that terrorists might try to do stuff that the U.S. gov secret projects have been doing for years? What a shocker!!!
Incidente diplomático en la ONU entre México y EU - From a reader: Here's a tiny example of what the US government really thinks of the rest of the world. It's in spanish, so I translate a bit: 'An indiscreet remark made by the US spokesman at the UN, Richard Grenell, caused a diplomatic incident with Mexico in the middle of the discussions about Iraq... According to witnesses, while the Mexican ambassador Adolfo Aguilar Zinser spoke of Mexico's position on Iraq, Grenell told the UN officials: "tell him to hurry up... who cares what Mexico has to say?"' I guess that's exactly what they're thinking of the world's civil society and the Iraqis they want to bomb: "Who cares what they have to say?"
India Raps U.S. Over Iraq, Pakistan Policy - India urged the United States on Saturday not to attack Iraq, even if it has evidence Baghdad is hiding weapons of mass destruction, saying a war must be avoided at all costs. Indian Deputy Prime Minister L.K. Advani, on a swing through Southeast Asia after visiting Europe and the Middle East, said there was growing opposition around the world to any unilateral U.S. action. "Iraq must give up its weapons of mass destruction, but even if it fails to do so the action that should be taken should be decided by the United Nations, not by any country unilaterally," Advani told a news conference in Bangkok. "A war should be avoided," he said. "When I visited Paris, I found that France and Germany had similar views." Advani's appeal came after President Bush rejected on Friday any bid to delay disarming Iraq, saying a new Security Council resolution authorizing war would be welcome but not necessary. Bush, along with his main ally, British Prime Minister Tony Blair, warned that the Iraq crisis would come to a head in a matter of weeks, rather than months. Advani also said India was disappointed by Washington's support for Pakistan as a key ally in its war on terror in neighboring Afghanistan. "We are disappointed with their approach," he said. "We do expect countries which have sworn to fight against terrorism, wherever it is, at least not to help any state, financially or otherwise, which promotes terrorism directly or indirectly." New Delhi accuses Pakistan of supporting militant groups in the Indian-controlled section of disputed Kashmir.
Comment: And of course, we already know about the U.S. links to the Pakistani terrorist training camps, as well as the fact that Pakistan was the go-between for the alphabet soup guys to pay off their handy Arab attackers. See: The Secret Cult
Sooner of later Russia, Belarus and Ukraine will be together, forming either a union or a community, the RIA Novosti correspondents quote Belarussian President Alexander Lukashenko as saying at a press conference on Friday. He did not rule out that a conversation to this effect between the three presidents would very soon be resumed in Ukraine. "We will maintain the dialogue with great caution so as not to stir agitation and to be put in isolation from other states of the Commonwealth of Independent States", said Alexander Lukashenko. The three Slavic peoples must not separate off from Uzbekistan, Kazakhstan, Tajikistan and the Caucasian republics, he emphasized. Alexander Lukashenko set high store by Vladimir Putin's position on the matter of bringing closer together the three Slavic states. He also called it symbolical that at the Kiev summit meeting on Wednesday the three leaders exchanged editions of the Tale of Igor's Regiment in the three Slavic languages.
Rush Limbaugh calls War Protesters "Anti-American, Anti-Capitalist Marxists and Communists"!! - Haven't we had enough of this bellicose burden on the American airwaves? Are you sick and tired of the Hateful chortling and guffawing - while smearing everything that most decent people consider the very Freedoms our ancestors or Founding Fathers Died to Protect and Honor? - There is something we can do about it. We can complain directly to the companies that sell advertising on his show. We can also boycott the same products or institutions he promotes with his hateful, abhorrent speech and behavior. We've made a list for your convenience below. Please write to each and every one of these companies. Tell them why you are no longer purchasing their wares, foods, or products. Tell them that you won't support people like Limbaugh who insult honest working Americans of all races, creeds and sexual orientation - or his advertisers. Tell them you'll change the station. Turn the channel off. Tell them when he's OFF the air you will return to buying their products.And please DO what you say, don't buy what they are selling, make them feel the pressure of those who can vote with their dollars.
The Greatest Battle of World War II Took Place 60 Years Ago - The battle of Stalingrad became the crucial moment of the bloodiest war in history - Almost one million soldiers and officers, 1260 tanks, more than 17 thousand units of arms and 1640 planes were involved in the battle. The Soviet troops had no way to retreat, the fate of the country was hanging by a thread.
Fireball stuns sky watchers - (Jan 22) A BRIGHT flash in the sky captivated scores of people across Western Australia last night, who witnessed what may have been dust shed by a comet thousands of years ago. Perth Observatory astronomer Jamie Biggs said the event was seen as far north as Dandaragan, 170 kilometres north of Perth, and as far south as Albany, 410 kilometres south of Perth. Dr Biggs said the specific incident was what's called a fireball - a bright shooting star. "We're not sure, but there is a meteor stream that the earth has just started passing through last night, and this is the dust and junk that has been shed by a comet, possibly thousands of years ago," Dr Biggs said. "We're ploughing through what's left of its orbit, and so we get hit by all this dust so we get an increase in meteor activity and it looks like it's from one point in the sky.
Is Hussein Owner of Crashed UFO? - "An UFO-related incident that occurred four years ago poses a troubling question whether any kind of cooperation is possible between Iraqi dictator Saddam Hussein and extraterrestrials," UFOlogist Joseph Trainor declared in his review UFO Roundup (issue 51 of December 17, 2002). "On December 16, 1998, during Operation Desert Fox against Iraq, a video clip aired on CNN showed a UFO hovering over Baghdad; it moved away to avoid a stream of tracer anti-aircraft fire. At that time we all thought it was another UFO sighting, although captured on videotape. But now, ufologists think it was much more than a mere incident."
Jack Sarfatti reported that Friday evening, December 6, 2002 "someone called the Art Bell radio show, claimed his connection with the military and informed that a UFO crashed in Iraq several years ago. The USA is currently searching for any pretext to invade Iraq. In fact, the USA is motivated by the greatest fear that Saddam will reverse-engineer the crashed alien spacecraft." It is allegedly said that the craft crashed during the Gulf War (1990-1991), or more recently (probably in December 1998). This became some kind of Iraq's Roswell. The USA is currently reverse-engineering the Rosewell craft and fears that Saddam's scientists may become even more successful than Americans in this or that sphere. It was said that these researches may give Iraq a considerable advance and even make it a leading super power.
Arab journalists failed either to confirm or to deny these rumors. Aiasha al-Hatabi replied to Joseph Trainor that "he heard nothing about a UFO crash in Iraq." In the words of Mohammed Daud al-Hayyat, "there are talks about extraterrestrials in Iraq, but nothing is said about any crash. It is rumored at a market in Sulaimaniya, to the south of Zarzi, that aliens are Saddam's guests. Where do they stay then? People mention some underground base. But Saddam has a palace in this valley, an old stronghold Qalaat-e-Julundi. Earlier it belonged to the royal family. After the revolution, the government took possession of the fortress, and now, like every palace in Iraq it is "a summer residence" of Saddam Hussein. The fortress is mentioned here for a very simple reason: it is practically impossible to penetrate into it. The citadel stands on a hill surrounded with vertical precipices on three sides; the precipices plunge down to the Little Zab river. It is said that Saddam lets aliens stay there." -
Joseph Trainor came to a conclusion that something strange is actually happening in the valley of the Little Zab river, but it is not clear what exactly. It is not ruled out that Saddam intentionally spreads these rumors so that to scare people away from some important military object located in the old fortress of Qalaat-e-Julundi. [...]
Nevertheless, it is not the only information about a UFO crash in that area. Many years ago, on June 20, 1993, an information was published on FIDOnet's MUFONET BBS NETWORK, it was a letter of some Steve from Britain. He openly warned: "The following information was published in Amateur Radio Packet BBS on June 13 by some short-wave transmitter for spreading all over the world. I know nothing about the man who published the information, I also cannot say whether his information is true. The man reported that some aircraft was found after it was brought down by F-16 over Saudi Arabia during raids in Baghdad." The information itself said: "A high-ranking source admitted that US Air Force's F-16 brought down a UFO over Saudi Arabia during the Operation Desert Storm, and five countries are trying to conceal information about this fact. I don't know details, but it was some plane unknown to me. Saudis who were with me at that moment, were scared so much that they asked American, British and French investigators to come to the crash site immediately." Colonel Petrokov said that at that moment he was on a visit to Er Riyadh, where together with a Russian group he managed to examine the crashed aircraft before American troops participating in Desert Storm came to the crash site. He said: "The aircraft was round and made of some material that I never saw myself. About one third of the craft was torn out by blasts of American missiles. Saudis didn't let us touch anything, but we managed to see appliances, mechanisms and other things that bewildered us absolutely." Inscriptions on the control panel and on the scales were in some unknown language.
The Bush administration will join an international consortium that plans to build a $5 billion fusion machine to produce power, the U.S. energy secretary announced Thursday. The United States will be responsible for about 10 percent of the cost of the project, expected to begin construction in 2006. The other partners are China, Japan, the European Union, Russia and Canada. The first machine to be built will be an experimental version. More research and development will be needed before scientists learn how to harness the fusion reactions.
Assembly steps up hunt for `big cat' evidence - THE National Assembly is to call together representatives of all police forces in Wales to discuss claims that big cats are living and breeding in the countryside. Officials will consider the catalogue of 170 sightings reported to police in the past eight years and the numerous reports of animal kills, including countless sheep, several dogs and two horses. "Our wildlife experts are already working with police to collate all the data," said a National Assembly spokeswoman yesterday. "But so far our experts have concluded that the horses and sheep were killed by dogs, alleged big cat paw prints have proved to be dogs', and video and audio evidence sent to us have been foxes." The conclusions are in stark contrast to those reached by an American tracker who is certain that big cats are alive and breeding in Carmarthenshire. Tom Brown and Kevin Reeve of the New Jersey-based Tracker Inc say the cats are getting bolder and warn that a potentially fatal encounter is possible in the near future.
Vibration complaints mounting in Royal Oak - Voucher bought a house on Knowles Street three months ago and has been annoyed by vibrating sensations, especially when he is sitting or lying down, ever since. The new home buyer said he thinks he could have a non-disclosure case against the seller, but for now he would be happy if the city would intervene and help solve the problem. "I've been in California and experienced earthquakes," Voucher said. "There's no difference whatsoever. The only thing that's missing is the rush of air." Laura Robb, who has a house on the market on Hudson Street, said the vibrations aren't a good selling point and she is worried any buyer will seek recourse against her and her husband in court if something isn't done soon. "New homeowners are threatening to sue sellers for non-disclosure of this problem," Robb recently complained to City Hall officials. City Manager Larry Doyle said he hears everybody loud and clear but needs more time to identify the problem, which many residents suspect is coming from the baler at Royal Oak Waste Paper & Metal Co., 414 E. Hudson.
The people who control the world - Every generation gets its world-controlling cabal. The Middle Ages had the Knights Templar. The 18th century had the Masons and the Illuminati. Our modern age has golf-playing businessmen and 12-foot lizard-men. Or so Jon Ronson was led to believe. Ronson, a 35-year-old British writer, humorist and documentarian, kept reading and hearing about the "tiny elite [that] rules the world from inside a secret room" -- so he decided to go in search of it. He met with extremists of many stripes: Ku Klux Klansmen with a PR bent, Muslim rabble-rousers, a wacky Hollywood director, the Northern Ireland political leader and cleric Ian Paisley, and others convinced that a New World Order meant the end of the world. He sought out the industrialists of groups such as the Bilderberg Group and Bohemian Grove. He wrote about his experiences in "Them" (Simon & Schuster/Touchstone paperback). If a reader is looking for foaming-and-ranting psychotics, "Them" ain't them. -
Jon sez: Sometimes the extremists have a point. As the saying goes, just because you're paranoid doesn't mean someone's not out to get you. "I wanted to de-demonize the demons, and shine a light on the way governments sometimes deliberately use demonizing language for their own nefarious ends," he adds. Ronson demonstrates his point with an affecting meeting with Ruby Ridge victims Randy Weaver and his daughter Rachel, whose clash with federal agents left Randy Weaver's wife Vicki and son Sammy dead. Ronson came out convinced that the clan, if eccentric -- indeed, Randy visited a nearby Aryan Nations summer camp for the camaraderie, not the rhetoric -- had been mislabeled as monsters: "I certainly believe the Weavers were utterly innocent, were a threat to nobody, and if you can't believe crazy things on top of a mountain in Idaho, where can you believe crazy things?" [...]
Meanwhile, the leaders of corporations and countries do meet as part of conferences sponsored by organizations such as the Trilateral Commission and the Bilderberg Group. They may not be the cackling puppet masters the extremists imagine, as Ronson found out when he spoke to a Bilderberg invitee who'd turned the group down -- "I don't want to rule the world," Ronson was told whimsically, "I like to do the gardening and play Scrabble and have sex" -- but they do try to exercise influence, and hope their ideas become policy. Still, that's a far cry from meeting in a tiny room. Or from being a 12-foot lizard, as imagined by one of Ronson's subjects, David Icke, who really believes that. In fact, he's accused everyone from Bob Hope to Al Gore to Queen Elizabeth of hiding their reptilian selves underneath human suits. "When David says that 12-foot blood-drinking child-sacrificing pedophile lizards secretly rule the world, he really is referring to lizards," says Ronson. Ronson, of course, doesn't buy into that theory. On the other hand, while researching a Bilderberg Group meeting, he was chased through parts of Portugal by shadowy security men, and says he found out just how thin the membrane between "us" and "them" may be. "My paranoia made me realize just how fragile my liberal, cosmopolitan baggage is," he says. "A few more car chases like that and I'll be believing that lizards rule the world."
Dominators rule - Dominators believe in leading by example, not by consensus or building coalitions. They are unapologetic about the primacy of U.S. power and the ineffectuality of treaties. Conciliators are protective of treaties by nature. They seek to devalue weapons of mass destruction—by example, by multilateral diplomacy, and by strengthening arms control regimes. Conservative columnist Charles Krauthammer has described the differences between the two groups as those who believe in power pitted against those who believe in paper.1
Thanks to Osama bin Laden, [note, actually, thanks to the Bush Junta and their alphabet soup guys] dominators now rule the roost in Washington. The terrorist attacks against the World Trade Center and the Pentagon gave President George W. Bush, Vice President Dick Cheney, and Defense Secretary Donald H. Rumsfeld wide latitude to implement their preferred remedies. [A clue to the origins of the "terrorist attacks," no doubt.] Notwithstanding the close division on Capitol Hill between Republicans and Democrats, U.S. national security policy is now heavily lopsided toward power projection and away from treaty regimes and preventive diplomacy. The resulting imbalance is not sustainable.
By elevating preemption from a military option to a doctrine, the administration has made coalition-building increasingly difficult. And the more the Bush administration wages war, the harder it will become to recruit followers. Power-projection capabilities, combined with the celebration of triumphant American values, constitute far too narrow a base on which to maintain U.S. diplomatic leadership. The hubris reflected in the Bush administration's National Security Strategy invites not just the scorn of diplomatic historians, but also a serious reckoning ahead. Overreaching will eventually generate a corrective balance, which could come at considerable cost. When military options are strengthened at the expense of other instruments of national protection, lives are unnecessarily placed at risk. Battles against proliferators cannot be truly won when treaties embodying disarmament norms are scorned or systematically weakened.
Far too many American do not have a good handle on what is really happening. Is it because they are addicted, as to dope, on the oil-soaked, spy-riddled monopoly press? A hopeful sign, however, lately is that a growing number of ordinary Americans are seeking additional data from certain internet websites they have come to more and more respect. Still in all, far too many click on nytimes.com, washingtonpost.com, and chicagotribune.com, for supposed "news". That is, what we prefer to call "The Liars and Whores of the Press" (both men and women press prostitutes). Left out by what we call the "news fakers" are historical as well as other related items to help explain current events.
When George W. Bush's first choice to head an "independent" probe into the Sept. 11 attacks--suspected war criminal Henry Kissinger--went down like a bad pretzel, he quickly plucked another warm body from the stagnant pool of Establishment worthies who are periodically called upon to roll out the whitewash when the big boys screw up. Kissinger's replacement, retired New Jersey Governor Thomas Kean, was a "safe pair of hands," we were assured by the professional assurers in the mainstream media. The fact that he'd been out of public life for years--and that he hadn't collaborated in the deaths of tens of thousands of Cambodians, Chileans and East Timorese--certainly made him less controversial than his predecessor, although to be fair, Kissinger's expertise in mass murder surely would have given the panel some unique insights into the terrorist atrocity. But now it seems that Kean might possess some unique insights of his own. Fortune Magazine reports this week that both Kean and Bush share an unusually well-placed business partner: one Khalid bin Mahfouz -- perhaps better known as "Osama bin Laden's bagman" or even "Osama bin Laden's brother-in-law."
A powerful earthquake splits the California desert floor, killing a toddler and crumbling homes. Years later and a dozen miles away, another huge tremor on a different fault rocks the area. Scientists now believe the two events were related -- and they are beginning to understand how. In a study published in Thursday's issue of the journal Nature, researchers say they have directly measured for the first time how strong seismic shaking can weaken an adjacent and unrelated geologic fault.