---
Sections on today's Signs Page:
---
SOTT Focus
---
Signs Economic Commentary for 31 December 2007

Donald Hunt
sott.net
2007-12-31 07:53:00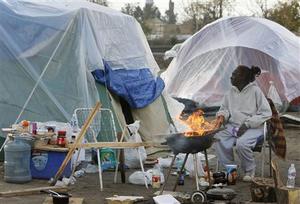 ©2007 REUTERS/Lucy Nicholson
Bessie Washington, 65, sits by the cooking area outside her tent at "tent city", a terminus for the homeless in Ontario, a suburb outside Los Angeles, California, December 19, 2007.


Summary: The most striking change of the past year in the markets is the sharp rise in gold (32%) and oil prices (57.5%) and the 11.5% drop in the value of the dollar against the euro. The past year also saw the end of economic optimism in the media as the housing bubble finally burst. The consequences of the collapse in housing prices have not fully played out. The aftershocks in the credit system will likely shape the economy in 2008. Looking ahead, it looks likely that 2008 will differ from 2007 far more significantly than 2007 differed from 2006.


Comment on this SOTT Focus
---

Flashback: First They Came For The Arabs

Joe Quinn
Sott.net
2004-12-12 10:30:00



Continuing the Time-honored tradition of picking the person who has had the most "influence on the world" during the course of the year - and thereby manufacturing a certain status for the person in question in the minds of the general public, whether merited or not - for the year 2004, Time magazine nominated George W Bush as their "Man of the Year". In a eulogy to make your stomach churn, filled as it is with nauseating platitudes and obsequious psychophantic panderings, Time said they had chosen Bush for the second time in four years for:




"sticking to his guns (literally and figuratively), for reshaping the rules of politics to fit his ten-gallon-hat leadership style and for persuading a majority of voters this time around that he deserved to be in the White House for another four years. For sharpening the debate until the choices bled, for reframing reality to match his design, for gambling his fortunes - and ours - on his faith in the power of leadership."


Comment on this SOTT Focus
---
Best of the Web
---
The Post-Bush Regime: A Prognosis

Richard K. Moore
Global Research
2007-12-27 19:34:00

I suggest that we can see the focus of the next US administration by paying attention to Al Gore. He's going around preaching the gospel of climate change, and that is rapidly becoming the new cause celebre for the 'international community'. It's more than a campaign by Gore, we're seeing a campaign being supported by the mass media, by the powers that be. We are clearly being prepared for a 'new show', after the 'Bush show', and the 'new show' is going to be about carbon taxes and credits, new energy sources, more efficient cars, biofuels, and all those other things that are allegedly related to climate change and peak oil.

A Gore agenda is simply genocidal imperialism hiding under a new mask, a new show. Instead of killing off the Indians by killing their buffalo, it kills off populations by removing their access to food in other ways. Once again, 'they' must be sacrificed so that 'our' way of life can continue and expand. We might note here that more Iraqis died under Bill Clinton's sanctions that have been killed in the current Iraq war. In Bill Clinton's time the pattern was invisible genocide, rather than the more violent Bush variety. Apparently in Hillary Clinton's time we are to return to that earlier invisible pattern.

Comment on this SOTT Focus

---

Benazir Bhutto: US Policy Causes World Terrorism


The Existentialist Cowboy
2007-12-29 20:57:00

Benazir Bhutto paid the ultimate price for stating that the US imperial policy of propping up tin horn dictators causes world terrorism. She dared to say so. Condemning what she called "A False Choice for Pakistan", the late Benazir Bhutto laid "terrorism" at the White House doorstep, blaming US policies for causing, fueling and inspiring what US regimes call "terrorism".

Comment on this SOTT Focus

---

Benazir Bhutto: Daughter of Courage

Ruchira Paul
Accidental Blogger
2007-12-28 06:21:00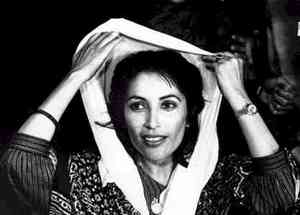 ©DigiSchool
Benazir Bhutto: "I can't live with fear in my heart. I can't fight terror scared of the terrorist. And if ordinary people have to face up to death, then politicians must be ready to face that situation first."



In my reading of numerous articles about Benazir Bhutto in the last 24 hours, I came across a common thread running through several columns by journalists who knew or had met her in person. All mention Bhutto's remarkable and unusual physical courage. It is interesting that Indian journalists have noted this fact prominently, perhaps because they are well acquainted with the bloody nature of politics in that part of the world. Compared to most security conscious politicians, Bhutto's disregard for her own physical safety struck the journalists as singularly brave and now in hindsight, also a bit reckless. It is possible that women leaders in male dominated societies must prove not just their political acumen but also the lack of physical fear in order to be taken seriously by their supporters as well as detractors. Elected women leaders in the west like Angela Merkel, Margaret Thatcher and any future female US president must bear heavy political burdens and exhibit unwavering resolve in times of crises. But women like Corazon Aquino of the Philippines and Bhutto in Pakistan have to additionally walk into physically perilous situations to earn their leadership spurs.

Comment on this SOTT Focus

---
U.S. News
---
Huckabee stands by 'Christ' comment

Liz Sidoti
Associated Press
2007-12-31 15:51:00

Mike Huckabee, a Republican relying on support from religious conservatives in Thursday's hard-fought presidential caucuses, on Sunday stood by a decade-old comment in which he said, "I hope we answer the alarm clock and take this nation back for Christ."

Comment on this SOTT Focus

---

Rudy official resigns after Muslim comment

Domenico Montanaro
MSNBC
2007-12-31 15:44:00

The New Hampshire co-chair of Veterans for Rudy resigned Saturday amid video remarks in which he suggested Giuliani would deal with the "rise of the Muslims" and that the United States should "defeat or chase them back to their caves".

Comment on this SOTT Focus

---

Calif. man saves year's-worth of trash


Associated Press
2007-12-31 11:24:00

Ari Derfel leads a trashy life. He just wants to remind everyone else that they do, too.

Comment on this SOTT Focus

---

Trucker Drives Off San Diego-Area Pier


Associated Press
2007-12-30 23:24:00

National City, California - A trucker hauling a load of Volkswagen cars drove his cab and several cars into San Diego Bay after blacking out at a marine terminal, authorities said.

The unidentified driver suffered some kind of medical emergency and drove off a pier at the terminal Saturday afternoon, said fire department Capt. Sergio Mora.

Comment on this SOTT Focus

---

Pennsylvania: Infant Skeleton Found in Suitcase


Associated Press
2007-12-30 16:17:00

An infant's skeleton was found in a suitcase by adult siblings cleaning out their elderly mother's house after she died, state police said.

The siblings did not recognize the suitcase as their mother's, but said clothes found inside belonged to her, Trooper Lisa Jobe said.

Comment on this SOTT Focus

---

Plane makes emergency landing in Florida


Associated Press
2007-12-30 16:15:00

A jetliner flying from Atlanta to Mexico made an emergency landing in Florida on Saturday after crew members smelled smoke in the cockpit.

Comment on this SOTT Focus

---

Search Helicopter Crash Kills 3 in Ala.


Associated Press
2007-12-30 13:26:00

TUSCUMBIA, Ala. - A helicopter crashed in thick woods early Sunday during the search for a missing hunter, killing all three people on board, according to the company that owns the aircraft.

The cause of the crash was under investigation, said Jeff Davis, a manager of Air Evac EMS, based in West Plains, Mo.

Comment on this SOTT Focus

---

Tasers, Pepper Spray, and Arrests: The Struggle for Affordable Housing in New Orleans

Bill Quigley
Information Clearing House
2007-12-29 11:20:00

In a remarkable symbol of the injustices of post-Katrina reconstruction, hundreds of people were locked out of a public New Orleans City Council meeting addressing demolition of 4,500 public housing apartments. Some were tasered, many pepper sprayed, and a dozen arrested. Outside the chambers, iron gates were chained and padlocked even before the scheduled start.

The scene looked like one of those countries on TV that is undergoing a people's revolution -- and the similarities were only beginning.

Comment on this SOTT Focus

---

Tennessee: One killed as customer opens fire at Hooters


News.com.au
2007-12-30 10:02:00

An angry customer who was upset over his bill has opened fire at a Hooters restaurant in Knoxville, Tennessee, killing one person and seriously injuring another.

Managers had asked the man to leave after he refused to pay his bill, the Associated Press reports.

Hooters is a chain of restaurants known for its scantily-clad waitresses.

Comment on this SOTT Focus

---

NYPD Officer Told Teen Sex Was Part Of Obedience Oath, Police Say


wnbc.com
2007-12-30 01:05:00

A New York City police officer has been arrested on charges of raping a 15-year-old girl, authorities said. Trent Young, 39, of Middletown, New York, was arrested in his home Thursday morning, police said. He faces charges of second-degree and third-degree rape.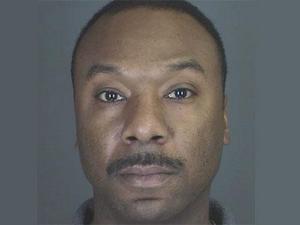 ©wnbc.com
Trent Young
Comment on this SOTT Focus
---

Protesters Could Disrupt Rose Parade

Solvej Schou
Associated Press
2007-12-29 23:54:00

PASADENA, Calif. - There could be some discord during the Tournament of Roses Parade as demonstrators promise to raise issues during the holiday spectacle that has been going on for more than a century. Human rights advocates plan to protest a float honoring the 2008 Beijing Olympic Games and anti-war activists, including "Peace Mom" Cindy Sheehan, intend to rally for peace.

Comment on this SOTT Focus

---

Divided States: Immigration Hardliners Try to Unhinge America

Peter Schrag
The Nation
2007-12-29 19:53:00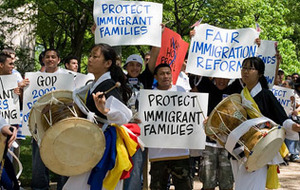 ©Unknown



Widespread uncertainty about immigration has splintered the U.S., creating an unnecessary panic similar to the Red Scare or the McCarthy years.

In the past year, we've become a nation of a thousand immigration laws and policies -- a confusing mosaic of fear, anger and nativism, of generosity, reason and self-defeating silliness. Although some of those laws were enacted before the Senate failed to pass comprehensive immigration reform in June, that failure greatly expanded the vacuum that local efforts sought to fill. It has also nourished the demagoguery that helps drive them, made immigration a prime domestic issue in the 2008 presidential campaign and intensified the fears those laws in turn produce.

Comment on this SOTT Focus

---

Defense bill stalls at president's desk

James Gerstenzang and Noam N. Levey
Los Angeles Times
2007-12-29 18:43:00

President Bush said Friday that he would effectively veto a $696-billion defense bill because it included a provision that the administration feared could be used to tie up billions of dollars in Iraqi assets in U.S. lawsuits.

Comment on this SOTT Focus

---

'Carnation killer' apologized to children


Associated Press
2007-12-29 01:47:00

Seattle - After slaughtering their parents, Joseph McEnroe apologized to his girlfriend's young niece and nephew before shooting both in the head to end a Christmas Eve massacre, prosecutors alleged Friday.

But even as they filed aggravated first-degree murder charges against McEnroe and Michele Anderson, prosecutors could not say what might have driven the couple in the violent killing spree.



Comment on this SOTT Focus

---

Militarization Of Schools Draw Critics


RawStory
2007-12-28 22:36:00

In a controversial new program, the city of Chicago has opened five public schools since 1999 based on a military academy model. Over 10,000 students attend the schools, which offer college preparatory courses combined with a military curriculum.

According to the Chicago Tribune, "military personnel work at the schools as teachers and administrators, and all academy students must enlist in the Junior ROTC, wear a military uniform and take a daily ROTC course that includes lessons on leadership, character development, drug prevention and military history."


Comment on this SOTT Focus

---
UK & Euro-Asian News
---
Pilot dies after light aircraft crash in Scotland


Belfast Telegraph
2007-12-30 16:26:00

A pilot has died after his light aircraft crashed in the Scottish Borders.

It went down in an area of remote farmland near Selkirk this afternoon.

It is believed the man was the only person on board.

Comment on this SOTT Focus

---

Belarus leader Lukashenko threatens to "kick out" U.S. ambassador


RIA Novosti
2007-12-30 16:06:00

Belarusian President Alexander Lukashenko threatened U.S. ambassador Karen Stewart with expulsion from the country should Washington introduce new sanctions against the republic.

Stewart said in mid-December new economic sanctions which would be added to the existing restrictions could be imposed against Belarusian state-run companies.

"She [the ambassador] would be the first to be kicked out. She attends opposition hangouts and says economic sanctions could be introduced against Belarus, heating up the situation. Let the American ambassador deal with her own problems, for otherwise she may leave her post in Belarus ahead of time," Lukashenko told journalists.

The controversial Belarusian leader, dubbed "Europe's last dictator" by Washington, promised to react toughly in the economic sphere. "We will survive even without U.S. dollars. We don't have many of them... If Americans don't want us to work with their currency, we will stop using it," he said.

Comment on this SOTT Focus

---

"Al-Qaeda" denies role in Bhutto Murder


The Hindu
2007-12-30 11:53:00

Against our tradition to attack women, it says.

A commander of pro-Taliban militants in Pakistan rejected government claims that he was behind the assassination of former Prime Minister Benazir Bhutto, his spokesman said.

The spokesman for Baitullah Mehsud, whom Pakistani authorities describe as an al-Qaida leader, dismissed the allegations as ''government propaganda.''

''We strongly deny it. Baitullah Mehsud is not involved in the killing of Benazir Bhutto,'' the spokesman, Maulana Mohammed Umer, told The Associated Press by phone.

Comment on this SOTT Focus

---

Sarkozy to halt links with Syria


BBC News
2007-12-30 11:52:00

France is to suspend diplomatic contacts with Syria, French President Nicolas Sarkozy has announced.

Links will be restored only when France has proof that Syria is not blocking progress towards installing a consensus president in Lebanon, Mr Sarkozy said.

Comment on this SOTT Focus

---

Russia beefs up North Caucasus border


RIA Novosti
2007-12-29 16:46:00

Russia has enhanced border security in the turbulent North Caucasus, the country's security chief Nikolai Patrushev told President Vladimir Putin on Saturday.

Putin said earlier that to prepare itself for a visa-free regime with the European Union, Russia must ensure the security of its external borders, and guarantee European partners that the country is secure from outside terrorist and criminal elements.

Putin previously described the North Caucasus as "the most dangerous" region that posed the highest threat to the country.

Comment on this SOTT Focus

---

Blaze at fireworks warehouse kills two in east Siberia


RIA Novosti
2007-12-29 16:45:00

Two people have been killed following an explosion and fire at an illegal fireworks warehouse in the east Siberian city of Krasnoyarsk, the regional emergencies service said on Saturday.

The blaze at a disused bomb shelter, where at least 400 kg of illegal fireworks were being stored, has been contained and the fire service expects it will be fully extinguished within an hour.

Comment on this SOTT Focus

---

Six convicted French aid workers fly home from Chad

James Mackenzie
Reuters
2007-12-29 07:59:00

PARIS - Six French aid workers sentenced to eight years hard labor in Chad for trying to kidnap 103 children arrived on Friday in France where they are due to serve their sentences in jail.

France invoked a judicial cooperation treaty with its former colony to obtain the quick transfer home of the six, who were convicted of abduction by a Chadian criminal court on Wednesday.

Comment on this SOTT Focus

---

Student wins lottery, leaves school


Reuters
2007-12-29 01:22:00

Beijing - A college student withdrew from school after winning the 5 million yuan ($683,000) jackpot in a lottery in China' eastern city of Nanjing, local media reported on Thursday.

The second-year student at the Jiangsu Maritime Institute, identified by the nickname Yong to protect his identity, was the sole first-prize winner in the "Double Colour Ball" issued by the China Welfare Lottery on Tuesday, the Beijing News said.

Comment on this SOTT Focus

---
Around the World
---
Update: 130 killed in Kenyan election violence

Xan Rice and Haroon Siddique
The Guardian
2007-12-31 13:29:00

The death toll from violent clashes in Kenya has today risen to more than 130.

Violence erupted after the ruling president, Mwai Kibaki, declared himself victorious in disputed elections and was sworn back into office almost immediately.

Some of the worst clashed took place in Kisumu, the country's third-largest city and a stronghold of the opposition.

A morgue attendant told the AFP news agency that police had brought in 46 bodies, including three women and two children, overnight. He said more than 20 of the dead had multiple bullet wounds.

Comment on this SOTT Focus

---

Kenya: Police Claim Shoot to Kill Orders

Katherine Houreld
Associated Press
2007-12-31 08:08:00

Police battled thousands of opposition supporters across Kenya who charge President Mwai Kibaki stole his way to re-election, and several officers said Monday they had orders to shoot to kill to quell the violence that has already led to dozens of deaths.

Comment on this SOTT Focus

---

South Korea pardons Daewoo founder, death-row inmates


Reuters
2007-12-31 00:35:00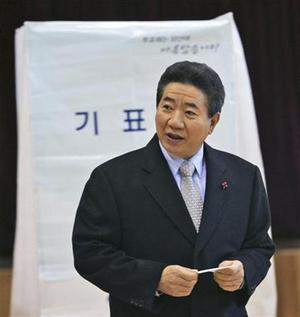 ©REUTERS/Ahn Young-joon/Pool
File photo shows South Korean President Roh Moo-hyun talking to his staff before casting his ballot at a polling station in Seoul Dec. 19, 2007.



South Korea's president on Monday commuted the death sentences of six inmates on death row and pardoned the founder of the Daewoo conglomerate, convicted of fraud in one of the biggest corporate bankruptcies in history.

Comment on this SOTT Focus

---

Pakistan awaits election decision

Robert Birsel
Reuters
2007-12-30 23:29:00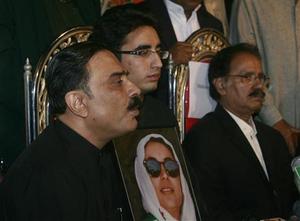 ©REUTERS/Zahid Hussein
Asif Ali Zardari (L) and Bilawal Bhutto Zardari, husband and son of slain opposition leader Benazir Bhutto, with party's vice chairman Makhdoom Amin Fahim (R) attend a news conference in Naudero December 30, 2007.



Pakistani electoral officials hold an emergency meeting on Monday to decide whether to go ahead with a January poll in a nation plunged into crisis by the assassination of opposition leader Benazir Bhutto.

Comment on this SOTT Focus

---

Video: 'The most conclusive evidence' Bhutto was shot

David Edwards and Katie Baker
Raw Story
2007-12-30 21:36:00

On Sunday, UK's Channel 4 news broadcasted a new video of the Bhutto assassination which they say "provides the most conclusive evidence yet that Benazir Bhutto was shot."

Although the Pakistani government officially claims that Bhutto died from hitting her head on the sunroof as she ducked into her car, evidence in the video drastically contradicts that account.

Comment on this SOTT Focus

---

Rigged elections! Kenya in turmoil as riots greet Kibaki re-election


Agence France-Presse
2007-12-30 21:21:00

NAIROBI - Mwai Kibaki was sworn in for a second term as Kenyan president Sunday but was quickly forced to order a media blackout as allegations of vote-rigging fuelled widespread riots.

Police shot dead seven civilians as furious opposition supporters went on the rampage in major cities, bringing to 20 the number of people to have died in poll-related violence since Thursday's ballot.



Comment on this SOTT Focus

---

Seven killed in fierce Mogadishu fighting


Agence France-Presse
2007-12-30 21:20:00

MOGADISHU - Seven Somali civilians were killed on Sunday as fierce fighting erupted between Ethiopian-backed government forces and insurgents in the Somali capital, witnesses told AFP.

Five members of the same family died when a mortar shell struck a populated area in northern Mogadishu, witnesses said.

Comment on this SOTT Focus

---

Pakistan Stares Into the Abyss

China Hand
CounterPunch
2007-12-30 19:18:00

Beyond the immediate shock of Benazir Bhutto's death by violence in Rawalpindi, the greater tragedy for Pakistan is that the opportunity for a peaceful transfer of power-one that did not involve assassination, judicial murder, or legal vendetta -- has been lost.

What was going to happen after January 8 parliamentary elections was probably not going to be fair, democratic, or ungrudging, but the consensual shoehorning of some combination of Bhutto and elements of Sharif's PML-N into Pakistan's governing arrangement seemed imminent.

Now these hopes have been dashed, brutally and seemingly totally.

Comment on this SOTT Focus

---

World Outsources Pregnancies to India

Sam Dolnick
Associated Press
2007-12-30 13:18:00

ANAND, India - Every night in this quiet western Indian city, 15 pregnant women prepare for sleep in the spacious house they share, ascending the stairs in a procession of ballooned bellies, to bedrooms that become a landscape of soft hills.

Comment on this SOTT Focus

---

Bhutto's son takes mantle as party leader: officials


Agence France-Presse
2007-12-30 09:28:00

NAUDERO, Pakistan - Slain Pakistani opposition leader Benazir Bhutto's son Bilawal on Sunday was named chairman of her party, with her husband named co-chairman, two top party officials told AFP.

The decision came just three days after Bhutto was assassinated, leaving a void at the head of the Pakistan People's Party (PPP).

Comment on this SOTT Focus

---

Baitullah Mehsud denies hand in Bhutto's assassination

Mushtaq Yusufzai & Javed Afridi
The News
2007-12-30 08:25:00

PESHAWAR: Militant commander Baitullah Mehsud, accused of masterminding the suicide attack that killed former prime minister and PPP chairperson Benazir Bhutto in Rawalpindi, has rejected the allegations as baseless.

Comment on this SOTT Focus

---

Police abandoned security posts before Bhutto assassination

Nick Juliano
The Raw Story
2007-12-28 20:57:00



No autopsy performed on body; docs say bullet wounds not found



Police abandoned their security posts shortly before Pakistani opposition leader Benazir Bhutto's assassination Thursday, according to a journalist present at the time, and unanswerable questions remain about the cause of her death, because an autopsy was never performed.

Comment on this SOTT Focus

---

Propaganda Alert! Pakistani govt reveals how Benazir was killed


IBNlive.com
2007-12-28 20:26:00

New Delhi: Mystery shrouds the death of former Pakistan prime minister Benazir Bhutto. In an explosive revelation, Pakistan's Interior Minister Hamid Nawaz on Friday said that Bhutto did not die of bullet wounds.

Nawaz said that Bhutto died from a head injury. At least seven doctors from the Rawalpindi General Hospital - where the leader was rushed immediately after the attack - say there were no bullet marks on Bhutto's body.

Comment on this SOTT Focus

---

A face in the crowd: Benazir Bhutto's assassin

Massoud Ansari and Julian Kossoff
Telegraph
2007-12-29 21:18:00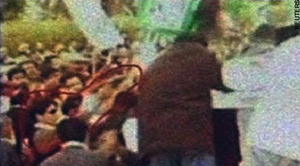 ©Reuters
An image taken by an amateur photographer shows a man [circled] aiming a handgun toward's Benazir Bhutto's vehicle



"Long live Bhutto," Benazir Bhutto shouted, waving to the crowd surging around her car. They were her last words before three gunshots rang out and she slumped back on to her seat.

"She did not say anything more," said Safdar Abbassi, her chief political adviser, who was sitting behind her.

Comment on this SOTT Focus

---

Pakistan offers to exhume Benazir Bhutto

Isambard Wilkinson and Bonnie Malkin
Telegraph
2007-12-29 17:58:00

The Pakistan government today offered to exhume the body of Benazir Bhutto, as the row over the murdered opposition leader's cause of death intensified.

The Interior Ministry claims the former leader died after hitting her head on her car's sunroof during the suicide attack, a version of events that the UK Foreign Secretary, David Miliband, has said he has no reason to contradict.

Comment on this SOTT Focus

---
Big Brother
---
Video Surveillance Market Goes Digital

Dave Pelland
KPMG Digital Insider
2007-12-20 05:48:00

The mass deployment of digital surveillance equipment is creating market opportunities for technology companies with strengths in data networking and storage.

Like consumers replacing VCRs with digital video recorders, surveillance is shifting from analog to digital. Most of the market still relies on analog cameras, but many of those are being phased out as digital cameras and recorders offer sharper resolution, increased recording capabilities and have more advanced features than analog.

Comment on this SOTT Focus

---

Individual privacy under threat in Europe and U.S., report says


Associated Press
2007-12-30 22:49:00

LONDON: Individual privacy is under threat in the United States and across the European Union as governments introduce sweeping surveillance and information-gathering measures in the name of security and controlling borders, an international rights group has said in a report.

Greece, Romania and Canada had the best privacy records of 47 countries surveyed by Privacy International, which is based in London. Malaysia, Russia and China were ranked worst.

Both Britain and the United States fell into the lowest-performing group of "endemic surveillance societies."

Comment on this SOTT Focus

---

Israel, West 'regularly violate people's privacy'


Press TV
2007-12-31 01:15:00

Israel regularly violates individual privacy rights on grounds of national security, a report released by Privacy International says.

Comment on this SOTT Focus

---

Mexico to track migrations with electronic chipped cards


KGBT4 / Associated Press
2007-12-28 12:55:00

Mexico is going high tech to better track the movements of Central Americans who regularly cross the southern border to work or visit.

Starting in March, the National Immigration Institute will distribute cards containing electronic chips.

Comment on this SOTT Focus

---

US: Voter ID Law Heads to Supreme Court


Associated Press
2007-12-30 13:28:00

WASHINGTON - The dispute over Indiana's voter identification law that is headed to the Supreme Court next week is as much a partisan political drama as a legal tussle.

Comment on this SOTT Focus

---

German citizens plan lawsuit against phone and Internet data retention law


Deutsche Welle
2007-12-28 21:24:00

More than 20,000 Germans plan to launch a mass lawsuit against a controversial data retention law that allows the storing of telephone and Internet data for up to six months as part of efforts to combat terrorism.

The bill, which was passed by the German parliament in November and is to go into effect on Jan. 1, makes it mandatory for telecommunication and Internet providers to store numbers and even IP addresses for up to six months to aid investigations.

Comment on this SOTT Focus

---

New UK super-cameras capture drivers who smoke, eat or use a phone

Ray Massey
Daily Mail
2007-12-29 09:39:00

Digital speed cameras which capture drivers smoking or eating at the wheel are being introduced nationwide in a new move to hammer motorists.

Drivers will also face fines, bans and even jail for infringements such as driving without a seatbelt, using a hand-held mobile phone or overtaking across double white lines.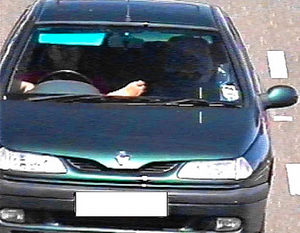 ©Unknown
The DVD camera snapped a driver apparently steering by his feet
Comment on this SOTT Focus
---

US firms eager to help China build one of world's largest surveillence systems

Keith Bradsher
International Herald Tribune
2007-12-28 23:37:00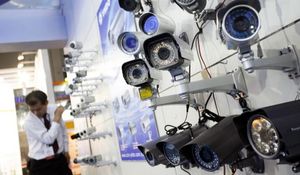 Security cameras on display at the 11th China Public Security Expo. in Shenzhen, China.



Beijing - In preparation for the Beijing Olympics and a host of other international events, some American companies are helping the Chinese government to design and install one of the most comprehensive high-tech public surveillance systems in the world.

Comment on this SOTT Focus

---
Axis of Evil
---
110 US Troops Die in Afghanistan in 2007

Jason Straziuso
Guardian/Associated Press
2007-12-31 16:45:00

Kabul, Afghanistan - U.S. military deaths, suicide bombings and opium production hit record highs in 2007. Taliban militants killed more than 925 Afghan police, and large swaths of the country remain outside government control.

Comment on this SOTT Focus

---

Evidence of extremism in mosques 'fabricated'

Martin Hodgson
The Guardian
2007-12-13 15:11:00

A rightwing thinktank which claimed to have uncovered extremist literature on sale at dozens of British mosques was last night accused of basing a report on fabricated evidence.

The report by Policy Exchange alleged that books condoning violent jihad and encouraging hatred of Christians, Jews and gays were being sold in a quarter of the 100 mosques visited.

But BBC2's Newsnight said examination of receipts provided by the researchers to verify their purchases showed some had been written by the same person - even though they purported to come from different mosques.

Several receipts also misspelled the names or addresses of the mosques where the books were supposedly sold.

Comment on this SOTT Focus

---

The ironic twists and turns of the CIA torture tapes

Steve Benen
The Carpetbagger Report
2007-12-30 10:30:00

As it turns out, the reasoning behind the CIA's decision to record interrogations on video, stop recording interrogations on video, and destroy the interrogation videos was all exactly the same: officials were hoping to avoid a public-relations nightmare.

Comment on this SOTT Focus

---

Bush's Twilight Year Looks Grim

Jim Lobe
Inter Press Service
2007-12-31 10:24:00

If the last days of 2007 are any indication, U.S. President George W. Bush's last year in office is shaping up as grim and lonely.

Comment on this SOTT Focus

---

Guantanamo prisoner dies of cancer: U.S.


Reuters
2007-12-31 00:24:00

An Afghan detainee has died from cancer at the prison camp at the U.S. naval base in Guantanamo Bay, Cuba, authorities said on Sunday.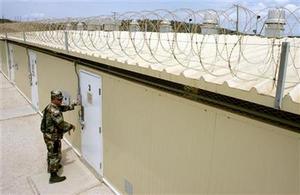 ©REUTERS/Mark Wilson/Pool
A U.S. Army soldier locks a cell at Camp Delta at Guantanamo Naval Base, Cuba, August 23, 2004.
Comment on this SOTT Focus
---

Israeli Human rights abuses increased in 2007: report

Rebecca Harrison
Reuters
2007-12-30 21:03:00

JERUSALEM - The number of people killed in the Israeli-Palestinian conflict dropped sharply in 2007, but human rights abuses in the Gaza Strip and occupied West Bank increased, an Israeli human rights watchdog said on Monday.

Israeli troops killed 373 Palestinians in Gaza and the West Bank in 2007 up to December 29, compared to 657 last year, B'Tselem said in its annual report.

Comment on this SOTT Focus

---

Rudy Campaign Official: He's The Guy To Chase "The Muslims" Back "To Their Caves"

Greg Sargent
Talking Points Memo
2007-12-28 02:36:00

This has already gotten some attention, but it deserves a lot more.

The Guardian of London is conducting video documentaries up in New Hampshire. And they did a segment on Rudy in which they got a very off-kilter quote about Muslims from a Rudy campaign official in the state. The Guardian identifies him as John Deady, the co-chair of state Veterans for Rudy.

Deady -- and the key here is that he is a Rudy campaign official -- says that Rudy should be our President because he has what it takes to tackle one of our "most difficult problems," which he identifies as the "rise of the Muslims." Deady adds that we need to "chase them back to their caves" or otherwise "get rid of them."

Take a look at our video excerpt of The Guardian's vid:



Comment on this SOTT Focus

---

Turkey's Bombing of Iraq: A Case Study in Media Manipulation

Anthony DiMaggio
CounterPunch
2007-12-28 08:35:00

The U.S. delivered an early Christmas present to the people of Iraq this year in the form of logistical support for Turkey's war against the Kurds. The Turkish government has succeeded Saddam Hussein as the primary oppressor of the Kurdish people, and it undertook its most recent round of U.S. supported attacks this last week with a renewed round of bombing of Kurdish areas in Northern Iraq. U.S. support for the Turkish campaign has been justified under the rubric of fighting terrorism, as Turkish officials claimed the December 23rd bombing targeted only Kurdish secessionist rebels, and resulted in no civilian deaths.

Turkey's war on the Kurds provides an ideal test of Edward Herman and Noam Chomsky's "propaganda model." Mass media coverage, they argue, is characterized by a dichotomy between "worthy" and "unworthy" victims of state violence. Those who are "abused in [communist or other] enemy states" receive substantial attention in the news, as their oppressors are subject to the "high moral and self-righteous tone" of reporters, columnists, and editors. Herman and Chomsky analyze news coverage in the New York Times, CBS, Newsweek, and Time of religious leaders killed in Soviet-dominated countries such as Poland, contrasting it with coverage received by religious figures killed in U.S. allied capitalist states in Latin America.

The propaganda model continues to be relevant today when reviewing the "newsworthiness" of Kurds killed by enemies and allies of the U.S. Under the expectations of the propaganda model, civilian deaths caused by the U.S. and its allies receive little to no media attention, while coverage of the violence of "enemy" states or groups is extensively highlighted. This work examines U.S. media coverage of three types of victims: Iraqi Kurds killed by the Turkish government, Iraqi Kurds killed by the government of Saddam Hussein, and Turkish Kurds killed by the Turkish government. A propaganda model would predict that coverage of Kurdish civilian deaths will be prominent in regards to the violence of the enemy government of Saddam Hussein, while the violence of the Turkish military against Kurds will be downplayed, ignored, or framed as a relatively minor problem (when compared to the killings of Hussein).

Comment on this SOTT Focus

---

New fake Bin Laden tape threatens Iraq, Israel

Salah Nasrawi
Yahoo News! / Associated Press
2007-12-29 21:27:00

Osama bin Laden warned Iraq's Sunni Arabs against fighting al-Qaida and vowed to expand the terror group's holy war to Israel in a new audiotape Saturday, threatening "blood for blood, destruction for destruction."

Most of the 56-minute tape dealt with Iraq, apparently al-Qaida's latest attempt to keep supporters in Iraq unified at a time when the U.S. military claims to have al-Qaida's Iraq branch on the run.

Comment on this SOTT Focus

---

Vermont town seeks Bush, Cheney arrests for war crimes

Dave Gram
Associated Press
2007-12-29 08:18:00

President Bush may soon have a new reason to avoid left-leaning Vermont: In one town, activists want him subject to arrest for war crimes.

Comment on this SOTT Focus

---

Bhutto Sent Blitzer Security E-Mail

DAVID BAUDER
Associated Press
2007-12-28 22:03:00

It was a story CNN's Wolf Blitzer hoped he'd never have to report - an e-mail sent to him through an intermediary by Pakistani opposition leader Benazir Bhutto complaining about her security. Conditions of use: only if she were killed.

Comment on this SOTT Focus

---
Middle East Madness
---
Flashback: Olmert admits Israel has nuclear weapons

Ben Quinn and agencies
The Telegraph
2006-12-13 16:48:00

A decades-long silence about Israel's possession of nuclear weapons has been broken in an apparent slip of the tongue by the Israeli Prime Minister, Ehud Olmert, during a visit to Europe.

Comment on this SOTT Focus

---

'Israel has megaton nuclear bombs'


PressTV
2007-12-31 11:59:00

A Washington-based military think tank has revealed that the Zionist regime has produced nuclear weapons with 'a yield of one megaton'.

A new report complied by the Center for Strategic and International Studies (CSIS) claims Israeli nuclear warheads have both air and sea capabilities.

The study, authored by former US Defense Department strategist Anthony Cordesman, disclosed that Israel is currently 'in possession of 200 nuclear warheads'.

Megaton nuclear bombs are about twice the size of MK 18, the most powerful US-made fission bomb, which used 60kg of enriched uranium.

Comment on this SOTT Focus

---

2007 Worst Year Yet in Iraq

Dahr Jamail
Inter Press Service
2007-12-30 08:11:00

Despite all the claims of improvements, 2007 has been the worst year yet in Iraq.

Comment on this SOTT Focus

---

Ten Saudis return home from Guantanamo Bay prison

Lin Noueihed
Reuters
2007-12-29 13:39:00

Ten Saudis returned home on Saturday from detention in the U.S. prison camp at Guantanamo Bay where al Qaeda militants are held, the Saudi Interior Ministry said.

Washington has returned dozens of Saudis over the past year in an effort to reduce the numbers detained at the controversial camp ahead of finally closing it but around 13 are still held at the facility.

Comment on this SOTT Focus

---

Two Israelis and two Palestinians killed in West Bank

Mamoun Wazwaz
Reuters
2007-12-29 00:44:00

Hebron, West Bank - Palestinian militants killed two off-duty Israeli soldiers who were hiking on Friday near the West Bank city of Hebron, in a clash that left two of the gunmen dead, Israeli and Palestinian security sources said.

An Israeli army spokeswoman said Palestinian gunmen opened fire at the soldiers who live in a nearby Jewish settlement and were on leave at the time of the incident. The Israelis shot back at the gunmen, the spokeswoman said.

Comment on this SOTT Focus

---

Shameful! Saddam Provided More Food Than the U.S.

Ahmed Ali and Dahr Jamail
uruketnet.info
2007-12-28 22:57:00

BAQUBA - The Iraqi government announcement that monthly food rations will be cut by half has left many Iraqis asking how they can survive.

Comment on this SOTT Focus

---

Lebanon in Search of a Government

Rannie Amiri
CounterPunch
2007-12-26 22:13:00




"Bush, your orders will not be implemented and your tutelage is rejected."

- Hezbollah Deputy General Sheik Naim Kassem, in response to President Bush's call for Prime Minister Fouad Siniora to ignore the constitution and push through his candidate for president.




Maybe the 11th time will be the charm.

After 10 failed attempts to elect one, Lebanon still remains without a president since the term of Emile Lahoud expired on Nov. 23. The next parliamentary session has been scheduled for Dec. 29 in the hope of finally filling the vacancy.

Comment on this SOTT Focus

---
The Loan Gunmen
---
Merrill in secret weekend talks in desparate bid for more funds to avoid crisis

James Doran in New York and Richard Wachman
The Guardian
2007-12-31 09:44:00

John Thain, the new chief executive of Merrill Lynch, is this weekend in talks with Chinese and Middle Eastern sovereign wealth funds that could lead to the sale of another big stake in the US bank in a desperate bid to raise capital, according to sources in London and New York.

The discussions come just days after Thain was forced on Christmas Eve to sell $4.4bn (£2.2bn) of stock to Singapore investment firm Temasek as part of a wider plan to raise some $7.5bn.

Comment on this SOTT Focus

---

Gold hits 7-week high on dollar


Reuters
2007-12-30 22:00:00

SINGAPORE - Gold rallied to its highest level in more than seven weeks on Monday, hovering near a record high of $850, on a weak U.S. dollar and tensions in Pakistan after the killing of politician Benazir Bhutto.

-- Spot gold hit a high of $842.90 an ounce before dipping to $841.10/841.90 an ounce, still higher than $837.80/838.50 late in New York on Friday.

Comment on this SOTT Focus

---

Biofuels, the Biggest Scam Going

Jim Goodman
CounterPunch
2007-12-28 08:47:00

Where is agriculture headed? Can we feed a growing population and meet the demand for biofuels in the Industrialized North? Supporters of biofuel agriculture, (grain and chemical companies, Wall St. investors, politicians and most University researchers) avoid mentioning the cost of inputs, the fossil fuels, the environmental damage, the physical toll on animals and humans, and the growing problem of hunger that will accompany the switch from food to energy crop production. They want us to believe the switch to energy crops will be so easy and so practical.

Comment on this SOTT Focus

---

US Fed: An enigma wrapped in mystery

S. Gurumurthy
The Hindu Business Line
2007-12-28 05:23:00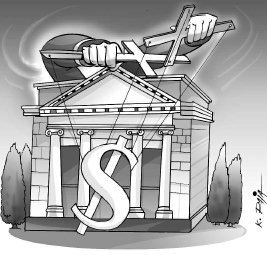 ©Unknown
The US Fed, which is the de facto central bank of the world, is an enigmatic institution whose origins are shrouded in mystery. Its shareholding pattern remains a secret. The US Government has only marginal control over it. Given the Fed's influence on the world economy, it is imperative to have a global watch on its policies and actions, says S. Gurumurthy.
Comment on this SOTT Focus
---

Credit Crunch: China to the Rescue?

Jill Treanor
Guardian Unlimited
2007-12-20 21:49:00

That the biggest names on Wall Street are staying afloat thanks to huge injections of cash from China reveals how hard the credit crunch has hit.

The idea of China rushing to the rescue of the capitalist world seems so unlikely as to be unbelievable.

Except that it is happening. The China Investment Corporation - a newly-formed fund which helps control £100bn of China's foreign exchange reserves - yesterday ploughed $5bn into Morgan Stanley, the Wall Street firm. It has also taken stakes in US private equity firm Blackstone - owner in the UK of Cafe Rouge restaurants, Madame Tussauds and Center Parcs. Closer to home, the Chinese Development Bank, controlled by the Chinese state, owns 3% of Barclays.

Comment on this SOTT Focus

---
The Living Planet
---
Bedbug epidemic attacks New York City

Douglas Feiden
Daily News
2007-12-30 22:31:00

A bedbug epidemic has exploded in every corner of New York City - striking even upper East Side luxury apartments owned by Gov. Spitzer's father, the Daily News has learned.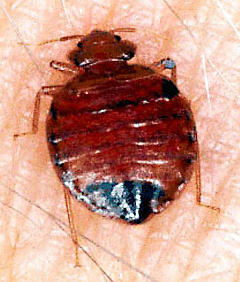 ©Daily News
Unfed bugs are 1/4 to 3/4 inch long. They are brown or red-brown in color and the upper surface of the body appears crinkled. Recently fed, they are engorged with blood, dull red in color.
Comment on this SOTT Focus
---

Hundreds Stung by Jellyfish in Brazil


Associated Press
2007-12-30 13:23:00

SAO PAULO, Brazil - Swarms of jellyfish stung nearly 300 swimmers looking to cool off from a heat wave in a southeastern beach city, Brazilian media reported Sunday.

At least 15 people including children and teenagers were treated in Praia Grande for severe stings, doctor Adriano Bechara told the Tribuna newspaper, though their lives were not in danger.

Comment on this SOTT Focus

---

Greek island of Zakynthos rattled by 5.2 magnitude quake; no damage or injuries reported


PR-inside.com/Associated Press
2007-12-29 10:59:00

Athens, Greece - A magnitude 5.2 earthquake struck the western island of Zakynthos early Sunday, causing no injuries or damage, authorities said.
The Athens Geodynamic Institute said Saturday's undersea quake occurred at 8:42 a.m. (0642 GMT), about 250 kilometers (150 miles) west of Athens. The epicenter was south of Zakynthos, the Institute said.
Locals were somewhat concerned by the duration of the earthquake, authorities said, but there was no widespread panic as the area produces frequent strong earthquakes.

Comment on this SOTT Focus

---

U.S. Midwest Storm to Bring Blustery Conditions East

Kelly Riddell
Bloombert.com
2007-12-30 00:56:00

Northern New England may get as much as a half-foot of snow in the next two days as a wave a low pressure and cold air blows in from the U.S. Midwest and Plains.

The storm yesterday dumped 8 inches (20 centimeters) of snow in Farwell, Michigan, said AccuWeather on its Web site. Farwell is 90 miles (145 kilometers) north of Lansing, Michigan.

''Southern New England and the mid-Atlantic region will escape with nothing but rain this time,'' said John Kocet, an AccuWeather meteorologist. ''Just like the snow up north, the rain will come and go over a six- to eight-hour period.''

Comment on this SOTT Focus

---

Let it snow: December snowfall nears all-time record for city

Doug Zellmer
The Northwestern
2007-12-30 00:29:00


©Oshkosh Northwestern/Shu-Ling Zhou
Andy VanKeuren, 6, and his sister, Maddy, 8, play at the snow at their backyard Friday, December 28, 2007.



Another round of snow blanketed Oshkosh, Wisconsin with about four inches of the white stuff which fell Friday adding to a near record snowfall for the month.

Comment on this SOTT Focus

---

2007 a Year of Weather Records in U.S.

Seth Borenstein
AP Science Writer
2007-12-29 19:27:00

WASHINGTON - When the calendar turned to 2007, the heat went on and the weather just got weirder. January was the warmest first month on record worldwide - 1.53 degrees above normal. It was the first time since record-keeping began in 1880 that the globe's average temperature has been so far above the norm for any month of the year.

And as 2007 drew to a close, it was also shaping up to be the hottest year on record in the Northern Hemisphere.

Comment on this SOTT Focus

---

Bluetongue spreads to Scotland: government


Agence France-Presse
2007-12-29 13:46:00

A new case of bluetongue has been detected in Britain, for the first time in Scotland, the Scottish government said Saturday.

Comment on this SOTT Focus

---

US: Winter storm disrupts holiday travel

Michael Tarm
Associated Press
2007-12-28 22:50:00

CHICAGO - A winter storm hit the Great Lakes on Friday, blanketing the region with several inches of snow and disrupting holiday travel.

Comment on this SOTT Focus

---

Philippines work to save giant clams


upi.com
2007-12-28 21:40:00

A new effort is under way in the Philippines to stem the declining population of the world's largest clams, called taklobos.

A "clam garden" was built about 250 feet off the shore of Pico de Loro Cove in Batangas to provide new habitat for the giant clams, which can reach five feet in diameter and weigh up to 570 pounds, The Manila Times reported Thursday.

The reseeding was accomplished using clams brought from Bolinao, Pangasinian, the newspaper said. The conservation project is a joint effort of the Hamilo Coast, SM Investments Corp. and the World Wide Fund for Nature.

Comment on this SOTT Focus

---

Strong earthquake shakes New Zealand North Island resort


Deutsche Presse-Agentur
2007-12-28 19:30:00

Wellington - A strong earthquake measuring 5.6 on the Richter scale rattled thousands of mid-summer holidaymakers at the New Zealand North Island lakeside resort town of Taupo on Saturday morning.

Comment on this SOTT Focus

---
Health & Wellness
---
Egyptian woman dies of bird flu, 2nd in week


Reuters
2007-12-31 00:46:00

A 25-year-old Egyptian woman died of bird flu on Sunday, the second fatality among humans in Egypt in less than one week, the Health Ministry said.

Fatma Fathi Mohamed died in hospital in the Nile Delta city of Mansoura, three days after she was admitted to a smaller local hospital with a high temperature and difficulty breathing, it said in a statement carried by the state news agency MENA.

Comment on this SOTT Focus

---

When a Rose Is Not Red: Simultanagnosia


Mind Hacks
2007-12-30 17:13:00

There's an interesting article in January's Journal of Cognitive Neuroscience about a brain injured patient who has a curious form of simultanagnosia - the inability to perceive more than one object at once.

In this case, he also seemed unable to report more than one attribute, like colour or name, at a time, while looking at the object.

Comment on this SOTT Focus

---

Empathy: Could It Be What You're Missing?

Douglas LaBier
Washington Post
2007-12-30 07:24:00

A Washington Psychotherapist Suggests How to Tell . . . and How to Treat the Symptoms

You may not realize it, but a great number of people suffer from EDD.

No, you're not reading a misprint of ADD or ED. The acronym stands for empathy deficit disorder.

Comment on this SOTT Focus

---

Have a Heart; Here's How

Douglas LaBier
Washington Post
2007-12-25 07:18:00

A few exercises to help increase your feelings of empathy:


Building empathy for your intimate partner

Envision a characteristic or behavior of yours that you know your partner dislikes. Imagine shifting your consciousness into your partner's perspective, even though you may disagree with that perspective.

Comment on this SOTT Focus

---

Snorting a Brain Chemical Could Replace Sleep

Alexis Madrigal
Wired
2007-12-28 00:00:00

A nasal spray of a key brain hormone cures sleepiness in sleep-deprived monkeys. With no apparent side effects, the hormone might be a promising sleep-replacement drug.

In what sounds like a dream for millions of tired coffee drinkers, Darpa-funded scientists might have found a drug that will eliminate sleepiness.

Comment on this SOTT Focus

---

Anthrax Blamed for Deaths of 8 Afghans

Jason Straziuso
Associated Press
2007-12-29 15:17:00

KABUL, Afghanistan - Eight Afghans who ate an infected camel as part of a religious celebration died of what health experts suspect is a rare case of naturally occurring anthrax, officials said Saturday.


Comment on this SOTT Focus

---

Studies show yoga has multiple benefits

C. Vidyashankar, MD
Reuters
2007-12-29 01:14:00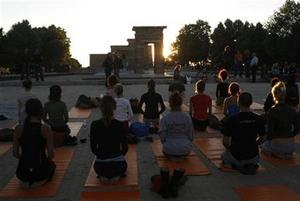 ©REUTERS/Susana Vera
People take part in a free yoga class at the Parque del Oeste in Madrid September 27, 2007.



Yoga induces a feeling of well-being in healthy people, and can reverse the clinical and biochemical changes associated with metabolic syndrome, according to results of studies from Sweden and India. Metabolic syndrome is a cluster of heart disease risk factors such as high blood pressure, obesity and high blood sugar.

Comment on this SOTT Focus

---

High-fat, high-carb meals more harmful to obese

Anne Harding
Reuters
2007-12-29 01:05:00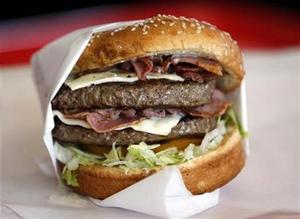 ©REUTERS/Lucy Nicholson
A hamburger is displayed in Hollywood, California October 3, 2007.



Eating a high-fat, high-carb fast food meal produces damaging cellular changes that are greater and longer-lasting in obese people than in normal-weight people, a new study shows.

Comment on this SOTT Focus

---

Rare genetic marker in Choctaw blood


upi.com
2007-12-28 21:45:00

Researchers at the Oklahoma Blood Institute are collecting blood from American Indians to see if a rare genetic marker linked to the Choctaw tribe shows up.

In 1997, researchers in Oklahoma City discovered by accident an antibody, ENAV MNS42 or "Avis," on the walls of red blood cells donated by a Choctaw. Only two other donors, both of Choctaw descent, have been found to carry the antibody, the Tulsa World reported.

OBI Medical Director Dr. James Smith said the finding is significant because it helps the blood bank find blood for patients with the rare antibody.

All three of the Choctaws with the antigen lived in southeastern Oklahoma. The Choctaw Nation has fewer than 200,000 registered members.

Comment on this SOTT Focus

---

Drug helps boost blood-platelets in Hep C


upi.com
2007-12-28 21:35:00

A report in the New England Journal of Medicine says the drug eltrombopag appears to significantly boost platelet counts in hepatitis C patients.

A low blood platelet count is a frequent complication associated with advanced disease, a problem compounded by the fact that standard antiviral treatment for the disease can further reduce platelet numbers to dangerously low levels, Dr. Samuel Sigal of Weill Cornell Medical College said Friday in a release.

Sigal said tests show eltrombopag increased platelet counts, allowing more patients to complete antiviral therapy.

Comment on this SOTT Focus

---

Brain Turns to Positive Thoughts When Faced With Death

E.J. Mundell
livescience.com
2007-12-28 19:11:00

When thoughts of death intrude, the human mind isn't paralyzed with negativity or fear. Instead, the brain instinctively moves toward happier notions and images, a new study suggests.

The finding supports the notion that people are stronger, emotionally, when faced with their own or a loved one's death than they may have ever thought possible.

"It again speaks to how resilient humans are and how this tendency to cope with threats is some sort of indicator of mental health," said study co-author Nathan DeWall, assistant professor of psychology at the University of Kentucky.

DeWall and co-researcher Roy Baumeister, of Florida State University, published their findings in a recent issue of Psychological Science.

Comment on this SOTT Focus

---

Your Baby is Watching (and Judging) You

Meredith F. Small
livescience.com
2007-12-28 19:06:00

Next time the baby shoots you a dirty look, it might not be gas. Instead, the baby might be really disgusted by your behavior.

Interpersonal interaction is a major survival feature of the human species and so it's not surprising that we come hard-wired with the mental power to track relationships. The big news is that we also start very early to track how others play out those rules, even when the interaction has nothing to do with us.

Babies have far more social smarts than we give them credit for. For instance, research on babies has shown for years that they recognize and prefer a human face. Put a Picasso face arrangement - with eyes where the nose should be - in their line of vision and babies look away in disgust. But present them with a real face or a picture of a real face, and they are captivated. Also, as early as 3 weeks of age, a baby can tell the difference between an object and a person, and they prefer the person.

Comment on this SOTT Focus

---
Science & Technology
---
Solar activity alert, Dec. 31st 2007


SpaceWeather.com
2007-12-31 16:01:00

A sunspot located just out of sight over the sun's eastern limb has unleashed two strong C-class solar flares in the past 24 hours. The sun's rotation should bring this active region into view later today or tomorrow allowing us to evaluate its potential for more explosions. If you have a solar telescope, monitor the limb.

Comment on this SOTT Focus

---

Antarctica May Contain "Oasis of Life"

Christine Dell'Amore
National Geographic News
2007-12-31 01:00:00

Antarctica is not a barren polar desert but a rich, complex environment that may contain a thriving "oasis of life," experts say.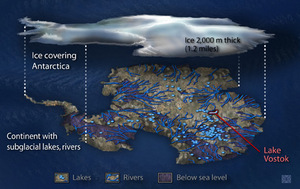 ©Zina Deretsky/NSF
If scientists peeled back the Antarctic ice sheet, a complex system of complex rivers of lakes similar to Earth's surface would emerge. To date little is known about this inaccessible environment, although preliminary research suggests subglacial bodies of water may harbor some basic life-forms.

Comment on this SOTT Focus
---

Stranger than fiction: parallel universes beguile science


Agence France-Presse
2007-12-30 16:29:00

Is the universe -- correction: "our" universe -- no more than a speck of cosmic dust amid an infinite number of parallel worlds?

A staple of mind-bending science fiction, the possibility of multiple universes has long intrigued hard-nosed physicists, mathematicians and cosmologists too.

Comment on this SOTT Focus

---

Largest galactic diamond found


Press TV
2007-12-30 14:21:00


Lucy, the space diamond



Harvard astronomers have discovered 'Lucy' the largest diamond in the galaxy located at a distance of 50 light years from the Earth.


Comment on this SOTT Focus

---

The Enduring Mysteries of Comets

Charles Q. Choi
Space.com
2007-12-29 17:04:00

For millennia, comets were believed to be omens of doom. Instead, solving the mysteries regarding these "dirty snowballs" could help reveal the part they played in the birth of life on Earth, as well as secrets concerning the rest of the galaxy.

Comment on this SOTT Focus

---

Asteroid Impact on Mars: Collision Probability Increased

Leonard David
Live Science
2007-12-29 16:56:00

The chance that a rogue mini-world - asteroid 2007 WD5 - will smack into Mars on January 30th has increased from 1.3 percent to 3.9 percent.

That's the new estimation from officials at the Near Earth Object Program at the Jet Propulsion Laboratory (JPL), stemming from several sky watching teams in Alaska, New Mexico, and in Arizona.

Comment on this SOTT Focus

---

Can plants think? This slime solved a maze

Cameron Smith
The Star
2007-12-29 16:49:00

For scientists, a maze has been a useful tool for examining the analytic capacity of animals - chiefly mice and rats.

Seven years ago, however, a simple experiment demonstrated that a plant can identify the shortest route to food in a maze, prompting researchers to conclude that, "This remarkable process of cellular (analysis) implies that cellular materials can show a primitive intelligence."

The plant was one of the lower fungi, a slime mould, which is a thin organism that spreads across cool, shady, moist places. There are 550 different species of this type of mould in a variety of colours, some of them spectacularly beautiful. The experiment, led by Toshiyuki Nakagaki at the Bio-Mimetic Control Research Centre in Nagoya, Japan, is reported in Nature, 2000, 407:470.

Comment on this SOTT Focus

---

Ancient mammoth carcass arrives in Japan


Associated Press
2007-12-29 10:37:00

The frozen carcass of a 37,000-year-old baby mammoth unearthed this summer in Siberia arrived in Japan on Saturday for tests that researchers hope will shed new light on the internal structure of the ancient beasts, an official said.

Comment on this SOTT Focus

---

Quadrantid Meteor Shower Will Sparkle on January 3rd

Tammy Plotner
universetoday.com
2007-12-28 21:50:00

Beginning each New Year and lasting for nearly a week, the Quadrantid Meteor Shower sparkles across the night sky for nearly all viewers around the world.

Its radiant belongs to an extinct constellation once known as Quadran Muralis, but any meteors will seem to come from the general direction of bright Arcturus and Boötes.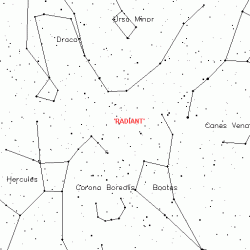 ©Unknown
Comment on this SOTT Focus
---

Beer Brewed Long Ago by Native Americans

Heather Whipps
livescience.com
2007-12-28 18:51:00

Ancient Pueblo Indians brewed their own brand of corn beer, a new study suggests, contradicting claims that the group remained dry until their first meeting with the Europeans.

Archaeologists recently found that 800-year-old potsherds belonging to the Pueblos of the American Southwest contained bits of fermented residue typical in beer production.

Before the discovery, historians thought a pocket of Pueblos in New Mexico did not have alcohol at all, despite being surrounded by other beer-making tribes, until the Spanish arrived with grapes and wine in the 16th century.

The tests were done using a highly sensitive set of scanning technologies at Sandia National Laboratories, a U.S. government facility that usually employs the gadgetry for national defense.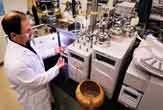 ©Randy Montoya
Sandia researcher Ted Borek used gas chromatography and mass spectrometry to analyze vapors produced by mild heating of pot samples.
Comment on this SOTT Focus
---
Our Haunted Planet
---
Jude Law 'Haunted' By Frank Sinatra Ghost Raiding His Mini-Bar


The Daily Star
2007-12-31 16:10:00

NOBODY likes having their hotel mini bar ransacked during a holiday.

And Jude Law is no exception, especially when the tiny tipples are being spirited away by the spectral paws of Frank Sinatra.

Comment on this SOTT Focus

---

UK: Mystery over UFO sighting


Flintshire Standard
2007-12-31 15:49:00

A Flintshire man is looking for answers after seeing five unexplained lights in the sky on Christmas Day.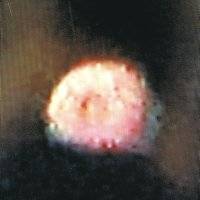 ©Unknown
Mr Hughes says the objects were like those captured on camera near Wrexham earlier this year.
Comment on this SOTT Focus
---

Berwyn UFO puzzle to be solved at last

Steve Bagnall
Daily Post
2007-12-29 11:12:00

Ministry of Defence files on what conspiracy theory fans believe may have been a UFO crash in North Wales are expected to be released next year.

Comment on this SOTT Focus

---

Sightings soar in South Wales UFO hot spot

Laura Wright
South Wales Echo
2007-12-29 19:10:00

Sightings of unidentified flying objects have soared in the last month, with at least two a week seen by airline pilots in South Wales.

Dancing lights, large craft and mysterious flashes are among dozens of UFOs sighted above Cardiff and the South Wales Valleys in the last few years.

And only four days ago, on the night of Christmas Day, a couple saw spherical orange lights in the sky above their home in the capital.

Comment on this SOTT Focus

---

Couple films mystery dark spiral


Canadian Broadcasting Company
2007-12-29 07:33:00

Environment Canada and the Transportation Safety Board of Canada can't explain just what it was a P.E.I. couple filmed in the Island skies on Wednesday evening.

Comment on this SOTT Focus

---
Don't Panic! Lighten Up!
---
Driver blames crash on pterodactyl

Rachel Schleif
Wenatchee World
2007-12-29 08:21:00

A 29-year-old Wenatchee man told police a pterodactyl caused him to drive his car into a light pole about 11:30 p.m. Thursday.


Comment on this SOTT Focus

---

"Holy smoke" in nunnery tops 2007 weird news

Erik Kirschbaum
Reuters
2007-12-31 00:50:00

From a Greek nunnery turned into a marijuana farm by two men posing as gardeners to a South African man with a gunshot wound told by a doctor to "walk the pain off," the world was full of weird news in 2007.

A Moscow woman set fire to her ex-husband's penis as he sat naked watching television and drinking vodka. The couple divorced three years ago but continued to share a small flat.

"I was burning like a torch," the wounded ex-husband told Tvoi Den newspaper. "I don't know what I did to deserve this."

Comment on this SOTT Focus

---

Pope's exorcist squads will wage war on Satan

Nicke Pisa
Daily Mail
2007-12-30 15:58:00

The Pope has ordered his bishops to set up exorcism squads to tackle the rise of Satanism.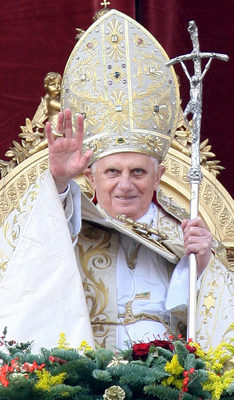 ©Daily Mail
Satanism on the rise: Pope Benedict has unveiled plans to set up specialist exorcism squads
Comment on this SOTT Focus
---

India: Man 'marries' hill to end Maoist menace


IANS
2007-12-30 10:06:00

A tribal man married a hill in a symbolic gesture to end Maoist insurgency in Jamshedpur district of Jharkhand. The man is already married with two children.

The 'marriage' was solemnised in Bomaru village of Ghatshila block in Jamshedpur on Thursday, 170 km from the state capital Ranchi. According to reports in the local media, Nandi Munda, 30, 'married' a hill named Lakhasaini to end the Maoist terror in the area.

Munda, dressed as a traditional bridegroom, went to marry the hill accompanied by hundreds of baratis (revellers). A tribal priest presided over the wedding rituals. The wedding was followed by a feast attended by hundreds of people. The menu included mutton and handia, a local rice brew that tribals love.

Comment on this SOTT Focus

---

Bush's days are numbered in 'Office' calendar

Maria Puente
USA Today
2007-12-29 14:06:00

Polls may show George W. Bush as the most unpopular president in modern history, but a different kind of measurement shows he's the most popular president ever for selling calendars.

As the Bush presidency winds down, the Bush Out of Office Countdown 2008 desk calendar ($11.99) is winding up as the No. 2 humor calendar (behind The Far Side Scared Silly 2008 Wall Calendar) for the new year, according to Calendars.com, the largest purveyor of calendars online and at retail kiosks.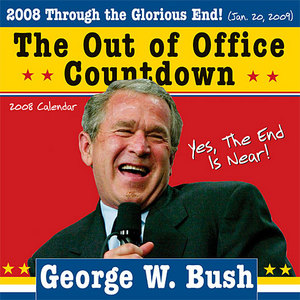 ©Hillel Levin
As the Bush presidency winds down, the Bush Out of Office Countdown 2008 desk calendar is just winding up.
Comment on this SOTT Focus
---

US town escapes 666 phone prefix


BBC
2007-12-29 14:02:00

A town in the US state of Louisiana is to be allowed to change its telephone prefix so that residents can avoid a number many associate with the Devil.

Christians in Reeves have been unhappy since the early 1960s about being given the prefix, 666 - traditionally known as the Biblical "number of the beast".

For the next three months, households will be able to change the first three digits of their phone numbers to 749.

Mayor Scott Walker said CenturyTel's decision was "divine intervention".

However, he admitted it helped that Louisiana's two senators had also lobbied for the change with the phone company and the state Public Service Commission.

Comment on this SOTT Focus

---

Man rescued from Australian pub chimney after 10 hours: police


Agence France-Presse
2007-12-29 13:49:00

Police said Friday they were waiting to question a man who had to be rescued by firefighters after he got stuck in the chimney of an Australian outback pub.

Comment on this SOTT Focus

---

Hollywood squirrels get birth control


upi.com
2007-12-28 21:29:00

Forget killing pesky pests -- Hollywood's feeding birth control kibble to its pigeons.

The program is one of a number of experiments in giving contraceptives to nuisance animal populations including deer, squirrels and pigeons, which may carry disease, damage farmland or compete with native species for food, the Los Angeles Times said.

Some 300 Hollywood pigeons are eating OvoControl P in pill-shaped kibbles in a pilot program that hopes to half the city's pigeon population by 2012, the Times said.


Comment on this SOTT Focus

---

Chihuahua Helps Police Find Suspect


Associated Press
2007-12-28 18:31:00

AUBURN, Calif. - A three-pound Chihuahua mix named Tink helped police put a fugitive in the clink.

The dog's Christmas Day adventure began when four suspects who were fleeing police crashed a stolen minivan into a hillside in this Sierra foothill town east of Sacramento, and one of them fled.

Comment on this SOTT Focus

---
---

Remember, we need your help to collect information on what is going on in your part of the world!
Send your article suggestions to: sott(at)signs-of-the-times.org

---
Click here to return to the Signs of the Times Archive
Click here for today's Signs Page