Printer Friendly Version
New Page! Translations from other sites
New Travel Log! The Quantum Future Group Goes to Rennes-le-Chateau
New Article! Fallen Stars
Pentagon Strike Flash Presentation by a QFS member
New Publication! 'The Wave' finally in book form!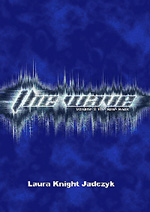 The Wave: 4 Volume Set
Volume 2
by Laura Knight-Jadczyk
With a new introduction by the author and never before published, UNEDITED sessions and extensive previously unpublished details, at long last, Laura Knight-Jadczyk's vastly popular series The Wave is available as a Deluxe four book set. Each of the four volumes include all of the original illustrations and many NEW illustrations with each copy comprising approximately 300 pages.
The Wave is an exquisitely written first-person account of Laura's initiation at the hands of the Cassiopaeans and demonstrates the unique nature of the Cassiopaean Experiment.
---
Picture of the Day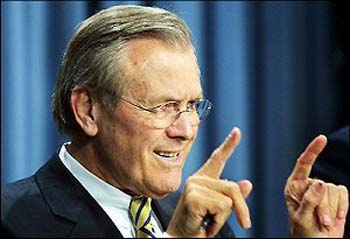 "You see, what I really meant to say was that there were two planes, and one was a missile inside a specially modified plane...no wait...I mean it was a missile that shot down one of the planes over Pennsylvania that crashed after it landed...but that has nothing to do with the missile... I mean plane that hit the Pentagon. You see what I mean? Look, just read the 9/1 Commission report!"
CNN News Transcript
25/12/2004
NGUYEN: We want to go back now to that video that we're just getting in from Donald Rumsfeld's visit to Iraq, a surprise visit, he is at Camp Victory here in Baghdad in this video speaking to soldiers in the mess hall. Let's take a listen.
(BEGIN VIDEOTAPE)
DONALD RUMSFELD, SECRETARY OF DEFENSE: And to change that way of living, would strike at the very essence of our country.
And I think all of us have a sense if we imagine the kind of world we would face if the people who bombed the mess hall in Mosul, or the people who did the bombing in Spain, or the people who attacked the United States in New York, shot down the plane over Pennsylvania and attacked the Pentagon, the people who cut off peoples' heads on television to intimidate, to frighten -- indeed the word "terrorized" is just that. Its purpose is to terrorize, to alter behavior, to make people be something other than that which they want to be.
Poison Pen
Global Eye
By Chris Floyd
Published: December 24, 2004
According to agents of the U.S. Federal Bureau of Investigation, President George W. Bush has signed a secret executive order approving the use of torture against prisoners captured in his "war on terror" -- including thousands of innocent people rounded up in Iraq and crammed into Saddam Hussein's infamous Abu Ghraib prison.
FBI documents, obtained in a lawsuit by the American Civil Liberties Union and reported this week in the Los Angeles Times, detailed the agents' "disgust" at the "aggressive and improper" methods used by military interrogators and civilian contractors against prisoners, and the widespread, ongoing pattern of "serious physical abuses" they found at the American concentration camp in Guantanamo Bay, Cuba, and in Iraq.
Most of the offences occurred long after the initial public scandal over "a few bad apples" at Abu Ghraib. For example, in June 2004, an FBI agent informed top officials in Washington that he had witnessed such torture techniques as "strangulation, beatings, [and] placement of lit cigarettes into the detainees' ear openings." The agent added that military officials "were engaged in a coverup of these abuses."
Also in June, the FBI reported that a prisoner in Abu Ghraib was cuffed, trussed up in a "stress position," then "doused with cold water, dropped onto barbed wire, dragged by his feet and punched in the stomach."
In August 2004, the date of the latest reports, an FBI agent reported that detainees in the Guantanamo concentration camp were often kept chained in "stress positions" on the floor, "with no chair, food or water. Most of the times they had urinated or defecated on themselves and had been left for 18-24 hours or more." One detainee was found "almost unconscious on the floor, with a pile of hair next to him," said the agent. "He had apparently been literally pulling his own hair out throughout the night."
The Guantanamo abuses occurred in front of FBI witnesses at what is considered the showcase of the new worldwide prison system Bush has established to process his captives in the "terror war." But there are a number of "secret prisons" -- including a special enclosed facility at Guantanamo itself -- where "special" interrogations are carried out by the CIA without any outside witnesses, The Washington Post reports. By presidential order, the CIA does not have to say who these prisoners are, how or why or where they were taken prisoner, or what happens to them behind the impenetrable walls.
According to the official documents, FBI agents said that military interrogators and their corporate mercenaries in Guantanamo and Iraq routinely went "far beyond the restrictions of the Geneva Conventions prohibiting torture," but were acting under an executive order signed by Bush authorizing the use of dogs and other aggressive physical and psychological techniques on prisoners.
Bush officials denied such an executive order exists; they say the agents confused it with an earlier order for "aggressive techniques" issued by Pentagon chief Donald Rumsfeld, which was then supposedly rescinded and softened in March 2003 after complaints from military lawyers. But the abuses described in the new FBI memos occurred long after the first Rumsfeld order was invalidated. Thus the Administration's denial is based on a clear falsehood.
What's more, the FBI papers state repeatedly and unequivocally that Bush himself had authorized the aggressive techniques. They also note that in May 2004, after the scandal at Abu Ghraib, Bush had specified that "certain techniques can only be used if very high-level authority is granted." Thus some of the most disturbing abuses -- actions which the interrogators nonetheless felt comfortable enough to commit in front of FBI agents -- have been carried out with direct White House or Pentagon approval.
Earlier this year, a cache of White House memos was uncovered revealing a systematic effort to provide "legal" underpinning for the abrogation of the Geneva Conventions on treatment of prisoners and support for a deliberate policy of disregarding U.S. laws forbidding torture, kidnapping, assassination and indefinite detention, The Washington Post (and many others) report. These memos also claimed an unprecedented extension of presidential powers, arguing that the "Commander-in-Chief" cannot be constrained by any law whatsoever in the prosecution of a war. One main goal of this legal analysis, the memos admitted, was to help Bush and his top officials avoid prosecution for war crimes, since the actions being recommended by Bush and the Pentagon were clearly criminal under international and U.S. law.
When the memos surfaced, the White House declared that the Bush Administration would never do anything illegal. However, they never directly repudiated the memos -- which, after all, argue that nothing a president orders in wartime, including torture, is actually illegal. As the documentation of prisoner abuse grows larger and larger with each passing month, it is obvious that such a system of widespread -- and ongoing -- atrocities could not be sustained without approval at the very highest levels.
Now FBI agents, in official reports, have traced the responsibility for these crimes directly to the pen of George W. Bush. Despite the patently false White House denials, the torture directive cited by the FBI not only echoes the legal briefs cited above, it also perfectly complements Bush's earlier executive orders allowing the secret execution of anyone on earth, including American citizens, whom Bush or his designated agents arbitrarily declares a "terrorist" -- without charges, evidence or trial. These orders were first reported in November 2001 by The Washington Post and have been repeatedly confirmed by Administration officials.
The evidence is credible, compelling and abundant. The lines of authority are clear. The blood of the tortured is on Bush's hands.
Three Palestinian resistance fighters have been shot dead after Israeli occupation forces followed them into a refugee camp in the West Bank.
According to a Palestinian security source on Friday, Iyad Ranin, Kamal Sabarini and Jamal Azzam all died in a skirmish after attempting to avoid capture when 20 Israeli armoured vehicles pursued them into Tulkarim.

All three men, aged between 19 and 20, are thought to have belonged to al-Aqsa Martyrs' Brigades.

The latest deaths have brought the overall toll since the September 2000 start of al-Aqsa Intifada to well over 3500 Palestinians, about 20% of whom are children.

Some 970 Israelis have also died in the same period.
UNITED NATIONS, - A renowned Islamic scholar of Egyptian origin is barred from taking up a post in one of the most prestigious institutions in the United States -- the University of Notre Dame -- after the U.S. State Department invokes an anti-terrorism law to keep him out of the country.
A nationwide survey discovers that nearly one-half of all Americans believe the U.S. government should restrict the civil liberties of Muslim-Americans.
The growing new phenomenon labelled "Islamophobia" -- the paranoid fear of Muslims -- is fast spreading, both in the United States and in Western Europe, warn academics, Middle East experts and senior U.N. officials.
Alarmed at the rising racial and religious intolerance, the United Nations is expressing ''deep concern'' over the increase in anti-Semitism, Christianophobia and Islamophobia worldwide.
A resolution adopted by the 191-member U.N. General Assembly this week calls upon all states to cooperate with the U.N. Commission on Human Rights to eliminate the growing new trends in racial and religious discrimination.
For the first time, the United Nations earlier this month hosted a seminar zeroing in on the subject of Islamophobia, symbolising the gravity of the situation.
''When a new word enters the language, it is often the result of a scientific advance or a diverting fad,'' said U.N. Secretary-General Kofi Annan. ''But when the world is compelled to coin a new term to take account of increasingly widespread bigotry, that is a sad and troubling development. Such is the case with Islamophobia,'' he added.
Addressing the seminar, which was attended by religious leaders, academics and senior U.N. officials, Annan said that efforts to combat Islamophobia must also contend with the question of terrorism and violence carried out in the name of Islam.
''Islam should not be judged by the acts of extremists who deliberately target and kill civilians. The few give a bad name to the many, and this is unfair,'' he added.
''The Christian West has feared Islam both religiously and politically,'' according to Seyyed Hossein Nasr, professor of Islamic Studies at George Washington University and keynote speaker at the seminar. ''Today, the paradox of Islamophobia remains that many people afraid of Islam know very little about it. They feel a great need to see 'the other' as the enemy."
In the United States, the targeting of Muslims was triggered by the terrorist attacks of Sep. 11, 2001 (9/11) because all of the attackers were of Middle Eastern origin. [...]
Tegucigalpa, Honduras — Unknown assailants opened fire on a public bus in northern Honduras late Thursday, killing at least 28 passengers and wounding 16 others, mostly women and children, police said.
The shooting took place about 7:30 p.m. local time in the northern Atlantic city Chamelecon, 200 kilometres north of the capital Tegucigalpa, said police spokesman, deputy commissioner Wilmer Torres.
"It was an unbelievable massacre," he said in a telephone interview.
"We don't know yet who did it."
The bus was driving through the heavily populated neighbourhood San Isidro, when a car carrying an unknown number of armed attackers cut in front of it and other assailants fired from behind the bus, Mr. Torres said. He said officials did not yet know how many people were aboard the bus but that the majority of the passengers were women and children.
Sixteen of the victims died aboard the bus, while the seven others died after being taken to a public hospital in the nearby industrial city San Pedro Sula, he said.
The attackers left a message containing "vulgar words against the president of the congress," Porfirio Lobo Sosa, and Security Minister Oscar Alvarez, Torres said.
"In the note, the killers present themselves as a revolutionary group that opposes the death penalty," something Lobo has promoted in political ads, he said.
Lobo Sosa is one of four candidates competing in a primary Feb. 20 to determine the governing National party's presidential candidate.
The note added: "People should take advantage of this Christmas, because the next one will be worse," Mr. Torres said.
Police have arrested a suspect, believed to be a member of the violent Mara Salvatrucha gang, who was driving a vehicle similar to that said to have participated in the attack. Authorities seized a .38-calibre pistol and several automatic weapons from the suspect and had begun interrogating him, Mr. Torres said.
The gangs Mara Salvatrucha and Mara 18 claim more than 100,000 members in Honduras. The gangs are known for extorting protection money from residents, as well as committing robberies, homicides and other crimes.
IPOH, Malaysia : Five people including two foreigners died after a passenger bus plunged into a deep ravine in Malaysia's northern Perak state, a police official said Thursday.
Perak police chief Asari Mokhtar said one Briton, one Nepalese and three locals died, while 17 were injured in the crash near Ipoh.
Six other foreigners - one from Austria, three from the Netherlands, a Briton and a Bangladeshi - were among the injured, he said.
He declined to provide details of the dead until the next-of-kin had been informed.
Asari said those hurt in the crash, including the driver, were admitted to Ipoh hospital with non-critical injuries.
Another police official earlier said the bus with 21 passengers was heading down from the Cameron Highlands hill resort to Ipoh, 12 kilometres away, when it fell into a 20-metre ravine.
"We believe the driver lost control of the vehicle as it was coming down a steep slope at a sharp bend," he said.
The highland area is popular with tourists sightseeing at its tea plantations and flower farms.
BANGKOK, Thailand - Militants set off a bomb near a market frequented by soldiers Friday, killing two people and wounding eight others in southern Thailand, where a Muslim insurgency has left nearly 580 people dead this year.
The blast in Sungai Kolok near the Malaysian border targeted government soldiers, but many of the victims were from the local Muslim majority, including the man who was killed, police officials said.
It was the latest in a spate of violence in three southern provinces since early this year, when Thai Muslim militants rekindled a decades-old dream of a state separated from the Buddhist-dominated country.
The bomb Friday was planted on a motorcycle and triggered by a mobile phone signal just after a military truck stopped at a nearby market where soldiers eat daily, said police Col. Krajang Suwanarat in a telephone interview. Four soldiers were wounded, including one who one died later at Sungai Kolok Hospital, Dr. Wichai Wichienwattanachai, the hospital's deputy director said. [...]
LVOV, - A hurricane with a wind speed reaching 30 metres per second disrupted electricity supply in 34 populated localities of the Lvov and Ivano-Frankovsk Regions of Ukraine on Thursday night, a representative of the Ukrainian emergencies ministry told Itar-Tass on Friday.
Teams of the Lvovenergo Company are restoring electricity supply, working in an emergency regime, in order to complete the repair operation by the beginning of the repeat voting within the framework of the second round of presidential elections, which is scheduled for December 26.
CHICAGO, Dec. 23 - Snow, ice and high winds extended from the Great Lakes to the Texas Panhandle on Thursday, tying up traffic, delaying flights and disrupting holiday travel plans for thousands of people.
At least 13 people were killed in weather-related traffic accidents in Illinois, Ohio, Oklahoma and Texas.
As much as two feet of snow fell, and drivers like Joe Bartlett of Alexandria, Ky., was clutching his steering wheel. It took Mr. Bartlett five hours on Wednesday night to drive home from Lexington, usually an hourlong trip.
"I saw a car off the road about every 200 feet," he said. "So it was white knuckles for me."
More than 300,000 homes in Kentucky and Ohio were without power.
Records for snowfall were broken in cities like Paducah, Ky., with 14 inches, and Dayton, Ohio, with 16 inches. As many motorists took off for the long weekend, icy roads and poor visibility caused traffic accidents and congestion. Hundreds were stranded on major roadways, and parts of Interstates were closed in several states.
An inch of snow and poor visibility contributed to a 22-car pileup near Cheyenne, Wyo., on Wednesday that sent nine people to the hospital. Amarillo, Tex., with almost eight inches of snow in two days, reported at least 100 weather-related crashes.
In Indiana, 40 counties declared local emergencies. Gov. Joseph E. Kernan declared disaster emergencies in some regions and closed state offices in 44 counties. He urged travelers to stay off the roads.
Along Interstate 64, which was closed eastbound from the Illinois line to Evansville, Ind., the state sent helicopters, and National Guard troops searched for stranded motorists. The Red Cross provided emergency assistance and set up shelters. Travelers were taken to National Guard armories in Evansville and Salem, Ind., and to shelters in at least three cities.
More than a foot of snow covered the Interstate when tractor-trailers overturned on Wednesday night. When temperatures fell into the teens, travelers worried about warmth and food. They abandoned their vehicles as they were rescued, leaving behind presents and luggage.
Mr. Kernan later closed sections of Interstates 64, 65 and 74.
Greyhound closed three bus stations and canceled service on 12 routes between Tennessee and Ohio. Stranded riders bedded down in the coaches, whose engines were left running to provide heat. The company said that it gave riders vouchers for food and that Red Cross delivered food and other supplies for mothers and babies.
Airplane passengers were also affected. Flights involving Atlanta, Chicago, Cincinnati, Cleveland, New York, Philadelphia and Washington were among the many that suffered delays of up to two hours.
More than 200 flights were canceled on Wednesday at Dallas-Fort Worth International Airport. A spokesman for the airport, David Magana, said conditions improved on Thursday.
"We're hopeful," Mr. Magana said, "everything will work out and everyone will get to grandma's house."
(Allen County-WANE-December 23, 2004) - During the summer and early fall, dozens of Fort Wayne residents complained about loud "booms" that were rattling windows and shaking houses.
Theories on what caused them ranged from train cars colliding to a local scrap yard shredding used propane tanks. The mystery of what's causing them hasn't gone away, but this week, a Fort Wayne man told Newschannel 15 he has the answer.
This man didn't want to be identified, but gave Newschannel 15 a demonstration of detonating "black powder" in a home-made cannon. These demonstrations aired on Newschannel 15's 6 p.m show on Thursday, December 23.
"The more you use, the more you pack it, the louder it's going to be," he said.
Black powder is used as propellant for high powered rifles and available at your local sporting goods store. When it's packed tight and detonated with a wick, the resulting boom can be heard for blocks and shakes the ground.
The resulting boom violates the city noise ordinance, which is why he gave Newschannel 15 the demonstration in an open county field. The man said he knows a family who has a similar cannon that lives in the neighborhood right by Parkview hospital, where a lot of the complaints came from.
Sharon Churchward lives there and has heard the boom dozens of times. She was at the demonstration. "I'm glad I've heard this sound, because it kind of puts me at ease, because it's so close to what we've been hearing...if not exactly what we've been hearing," Churchward said.
A lot of people have pointed fingers at a shredder at Omnisource as the source of the noise...but Churchward said hearing the black powder blast convinced her otherwise. "This is what we've heard," she said. "it's not Omnisource. I really don't believe that."
The man says black powder isn't dangerous--people detonate it purely to make a loud noise.
According to Subhra Jain, a freelance reporter in New Delhi, she bumped into a very senior Indian Military official in a nightclub in New Delhi. While talking what she came to know will make the rest of the world sit up all night. According to her, Extra Terrestrials have been visiting India and the rest of the world for thousands of years. In recent days most of the super powers have been formally contacted. India is no exception in recent days.
"They always contact through the ground radar stations of the military", she says. Indian Himalayas and Ladakh (China-India) border is where they first made their recent contact. They want to let India know the laws and regulation of the multidimensional Universe.
India is planning an un-manned moon and later an unmanned Mars expedition. Indiaís premier Space Research Organization (ISRO) has been told "dos and don'ts".
Almost in the same week, a Flight Commodore who just retired from Indian Air Force, was requested in Bangalore, India, to provide a little talk on any topic to his youngest son's class mates in the school environment. Guess what he picked as the topic - yes you got it right - it was the underground landing base for UFO crafts in Ladakh. He first started by saying new technology is evolving and new achievements are being made in Aerospace. The students stared questioning him on different aspects of this new technologies and where this technology came from! Then the students started challenging him as if he was really joking - at that moment he started providing vivid descriptions of the landing base. [...]
In Leh, Ladakh, according to Tsering Spalzang, a senior official, all paranormal activities are happening with the knowledge of the Indian Army. There are zones that Indian Army and Air Force block for security reasons. The Ladakh valley is heavily secured by the Indian Government. It is a sensitive area and no one is allowed in these sensitive areas - neither from Indian side nor from the Chinese side. The terrain is such that it is impossible to find hidden underground structures under massive mountains - you are looking at the core Himalayas. [...]
According to rumors in New Delhi, UFOs made formal contact with Indian Government. The Government was initially baffled without knowing how to react. Later things became quiet and it seems all understand now that these Extra Terrestrials are friendly.
Kargil and Ladakh are hotspots in Kashmir India, which will probably see first Nuke exchange if that ever happens. Three countries face each other there with Nuke capabilities - India, China and Pakistan.
In 1999, Pakistan and India almost went head to head in exchanging Nukes for a war on Kargil. Indian Army fought with full vigor against an enemy holding higher grounds. Pakistan planned to go all out on Kargil. India at that moment has no choice but to apply the nuclear arsenal.
At the insistence of US President Bill Clinton, Pakistan at the last moment backed out and the Nuke war was avoided.
From that time onwards, according local residents and Indian Army personnel, that area has seen the maximum numbers of UFOs and Extra Terrestrial presence.


Readers who wish to know more about who we are and what we do may visit our portal site Cassiopaea.org
---
Remember, we need your help to collect information on what is going on in your part of the world!
We also need help to keep the Signs of the Times online.
---
Send your comments and article suggestions to us

---
Fair Use Policy
Contact Webmaster at signs-of-the-times.org
Cassiopaean materials Copyright ©1994-2014 Arkadiusz Jadczyk and Laura Knight-Jadczyk. All rights reserved. "Cassiopaea, Cassiopaean, Cassiopaeans," is a registered trademark of Arkadiusz Jadczyk and Laura Knight-Jadczyk.
Letters addressed to Cassiopaea, Quantum Future School, Ark or Laura, become the property of Arkadiusz Jadczyk and Laura Knight-Jadczyk
Republication and re-dissemination of our copyrighted material in any manner is expressly prohibited without prior written consent.
.