Printer Friendly Version
Back to Signs Supplements
Today's Signs Page
Signs Supplement: Anomalous Phenomena - Part 1
---
January 2003 - March 5, 2004

The "ghost ship" was found last week drifting aimlessly off the Western Australian coast and has since been towed to a quarantine bay close to the fishing port of Broome. However, police say that despite an extensive search there is no sign of the ship's crew, or any indication of what might have happened to them. "We have insufficient evidence at this stage to even speculate on what has occurred," federal agent Bill Graham told reporters. The mystery has deepened further after investigators revealed Tuesday that the ship, the High Aim 6, had recently been some 3,500 nautical miles (6,500 kilometers) away in the Marshall Islands, halfway between Papua New Guinea and Hawaii, The Australian newspaper reported. Shortly afterwards the owner reported to U.S. authorities that the ship was missing after he had been unable to contact its captain.
On January 11, 2003, Heather Johnson and I conducted an investigation in the "Avenues" area of Salt Lake City. This is where the mysterious cat mutilations, which have been reported nationally, have been occuring. We photographed numerous orbs and the following unique ectoplasm. Not that I believe there is a direct connection, but the site of the Elizabeth Smart kidnapping is also nearby.
Australian police said on Tuesday they were baffled by the discovery of a ghost ship full of rotting fish -- but no crew or life rafts -- drifting off the remote northwest coast of Australia. The 65-foot High Aim 6, registered in Taiwan and flying an Indonesian flag, was intercepted and boarded by the Australian navy last week about 185 miles west of the fishing port of Broome after it was spotted drifting aimlessly. A massive search in the area has turned up no survivors, life rafts or clues, but the presence of up to three tons of rotting mackerel and tuna in the hold has convinced police the boat was used by fisherman, not people smugglers. "There weren't any indications on board that anything untoward had happened. The conditions on board were quite good," a spokeswoman for the Australian Federal Police in Perth told Reuters. She said the long-line fishing boat, ! which would have a crew of around 12, appeared well-equipped and seaworthy. The weather in the area has been calm for weeks.
In the bone-chilling deep-freeze of northern Minnesota, there are dozens of lakes and one deepening mystery. - Smack in the middle of North Long Lake, surrounded by eight miles of ice thick enough to drive on, there is a gaping black hole nearly a half-mile long. It is a lake within a frozen lake - a huge crescent of open water that, for some reason, refuses to freeze over. "I've never seen anything like it," said lakefront resident Joan Rush, standing on her back porch as clouds of steam rose from the hole. "I don't go out there," she said, "I just stay here and watch." The hole first appeared last winter, and returned this year. Since then, more than a dozen snowmobilers have fallen in. One died.
Local authorities ordered an investigation, and have spent $10,000 trying to figure out why this section of the lake seems to defy the forces of nature. Divers with cameras probed the 20-foot depths looking for currents and seismic activity, but found nothing unusual. A team of scientists have tested for just about everything, but still have no idea what is causing the phenomenon. "It's uniformly warm from the bottom to the top, surprisingly so. That's what's keeping the lake open," said scientist Alan Cibuzar. "I have never seen anything like this." Since the black hole opened up last year, it has frozen over only once. Not in sub-zero temperatures, but on a balmy 40-degree day.
The mystery of the two-acre hole in the ice on North Long Lake is getting deeper and pulling more people in. On Jan. 8, divers from the Minnesota School of Diving studied every aspect of the water from the lake bottom to the thin sheet of ice on top under the watchful gaze of at least four TV stations, three newspapers, two news helicopters and one small plane. All for a hole in the ice. To date, the Thirty Lakes Watershed District has spent approximately $6,000 studying the hole, with no conclusions. [...]
"People love a mystery," Finé said. "We all recognize that we're very blessed to have what we have and we want to take care of it. Obviously something that we don't understand is going on." Unlike some who believe the hole appeared randomly, Finé has talked to local residents who began noticing a "squishy" spot on the ice in the 1980's. "Whatever's going on has been going on for awhile," Finé said. "It may have accelerated, though." [...]
While no definitive cause of the "black hole" on North Long Lake has been determined, there are some popular scientific theories. Mike Finé believes the cause may be friction between tectonic plates below the lake. "I think there's a fault line that follows the Mississippi River from in Minnesota down to the triangle area of Kentucky, Illinois and Tennessee where it's called the New Madrid Fault," Finé said. "I think there's plate activity that generates friction and causes the temperature here to really spike in relation to water at the same depth in other places." [...]
Local Ojibwe legend holds that after the natural resources of the Earth had been used up and society was nearing the last days, a hole would open near Hole-In-The-Day Lake. Could the "black hole" be part of this prophecy? There is no scientific data to back this theory up; however, there are some strange and eerie coincidences. First of all, North Long Lake is within a few miles of Hole-In-The-Day Lake. Second, the road to get to the public access nearest the "black hole" is Ojibwe Road. Third, and perhaps most eerie, as the prophecy pertains to the depletion of natural resources, is that the only fatality of the dozen people to accidentally go into the hole was a bid estimator for a lumber company.
In late April 2002, the morning after strange lights had been seen over the city of Salliquelo - about 135 miles (225 km) southwest of Buenos Aires - cattle ranchers found three freshly dead cows bearing all the hallmarks of a classic 70s-style animal mutilation. By early August - deep winter in Argentina - the number of mutilated reports had reached 400, and was still rising, with no clues as to the perpetrators. The animals - the odd wild boar, Argentinean llama and domestic animals said to be among them - bore the now all-too-familiar marks of the mutilators: tongues, ears, eyes and internal organs including the lungs, larynx, pharynx and saliva glands have been excised. Genitalia and udders have been removed, strips of flesh have been peeled off, but the edible prime cuts remain untouched.
As the weeks progressed, the mutilations grew in number and became increasingly bizarre. . A green humanoid dwarf was spotted in the General Acha area and has been blamed for the attacks. It was seen on at least two occasions skulking around in people's backyards, but darted off at speed when approached. Around 11 June in La Adela, La Pampa province, 11 cows were found mutilated, their bodies were arranged in a large circle. Other animals were found in areas accessible only on foot, or by air…
Argentina's cattle mutilations occurred during a period of heightened UFO activity. On 1 May an 'enormous' 100-metre (330 ft) long cigar-shaped object was seen by three motorcyclists on Highway 33 near the town of Cahci in Salta province, 750km (450 miles) northwest of Buenos Aires. The object was described as metallic and reflecting the setting sun. It hovered silently about 200m (660ft) over the witnesses before shooting up into the sky at great speed. [...]
While many witnesses and the press connected these UFO sightings with the cattle mutilations, others stressed that they had been seeing the lights regularly for years, as in the case of the remote town of Campamento Vespucio, Salta province. It might be that these, at least, could have some natural explanation. B ut not everyone found the mutilations so puzzling, some vets remained adamant that the animals had died of natural causes before being attacked by scavengers. [...]
Mice or no mice, the mutilations continued unabated, if anything increasing in their intensity. Perhaps the most bizarre case took place on the very day that the SENASA report was released, 28 June. [...]
The killings, and the speculation as to their cause, continue, with many of the usual suspects raising their ugly heads: aliens, el chupacabras, Satanists, rival ranchers, the government. Tales are circulating in La Pampa of US scientists and soldiers arriving in the region in large trucks carrying unspecified expensive equipment. That the mutilations should take place during a time of unprecedented economic woes for Argentina just adds to the confusion.
An obscure Jewish sect in New York has been gripped in awe by what it believes to be a mystical visitation by a 20lb carp that was heard shouting in Hebrew, in what many Jews worldwide are hailing as a modern miracle. Many of the 7,000-member Skver sect of Hasidim in New Square, 30 miles north of Manhattan, believe God has revealed himself in fish form.
According to two fish-cutters at the New Square Fish Market, the carp was about to be slaughtered and made into gefilte fish for Sabbath dinner when it suddenly began shouting apocalyptic warnings in Hebrew. Many believe the carp was channelling the troubled soul of a revered community elder who recently died; others say it was God. The only witnesses to the mystical show were Zalmen Rosen, a 57-year-old Hasid with 11 children, and his co-worker, Luis Nivelo. They say that on 28 January at 4pm they were about to club the carp on the head when it began yelling.
Nivelo, a Gentile who does not understand Hebrew, was so shocked at the sight of a fish talking in any language that he fell over. He ran into the front of the store screaming: 'It's the Devil! The Devil is here!' Then the shop owner heard it shouting warnings and commands too. 'It said "Tzaruch shemirah" and "Hasof bah",' he told the New York Times, 'which essentially means that everyone needs to account for themselves because the end is near.' The animated carp commanded Rosen to pray and study the Torah. Rosen tried to kill the fish but injured himself. It was finally butchered by Nivelo and sold.
However, word spread far and wide and Nivelo complains he has been plagued by phone calls from as far away as London and Israel. The story has since been amplified by repetition and some now believe the fish's outburst was a warning about the dangers of the impending war in Iraq. Some say they fear the born-again President Bush believes he is preparing the world for the Second Coming of Christ, and war in Iraq is just the opening salvo in the battle of Armageddon. Local resident Abraham Spitz said: 'Two men do not dream the same dream. It is very rare that God reminds people he exists in this modern world. But when he does, you cannot ignore it.' Others in New Square discount the apocalyptic reading altogether and suggest the notion of a talking fish is as fictional as Tony Soprano's talking-fish dream in an episode of The Sopranos .
Stand-up comedians have already incorporated the carp into their comedy routines at weddings. One gefilte company has considered changing it's slogan to: 'Our fish speaks for itself.' Still, the shouting carp corresponds with the belief of some Hasidic sects that righteous people can be reincarnated as fish. They say that Nivelo may have been selected because he is not Jewish, but a weary Nivelo told the New York Times : 'I wish I never said anything about it. I'm getting so many calls every day, I've stopped answering. Israel, London, Miami, Brooklyn. They all want to hear about the talking fish.'
A devout Christian, he still thinks the carp was the Devil. 'I don't believe any of this Jewish stuff. But I heard that fish talk.' He's grown tired of the whole thing. 'It's just a big headache for me,' he added. 'I pull my phone out of the wall at night. I don't sleep and I've lost weight.'
On March 11th 2003 an 'Ice Circle', or 'Ice Ring', appeared in a private residents' back yard pond in Norwalk, Connecticut, USA. Precisely etched into thin ice, 'about 1/4 inch thick', the mysterious circle was reported to measure about 25 feet 9 inches in diameter. It formed during the night, in a section of a tributary that feeds the Silvermine River in Norwalk, and amazingly, touched one side of the pond wall! Discovered by the owner at about 6:00am, after night temperatures fell 'to about 16' degrees Farenheidt, the circle remained frozen until later that afternoon, melting only after most of the ice around it had disappeared. No trees overhung the Ice Circle, and nothing unusual was reportedly heard or seen by the residents, or neighbours, in association with its creation.
The Virgin Mary usually arrives about 7:30 in the evening. Every day but Friday, believers say, she appears at Gianna Talone Sullivan's home overlooking a golf course near Emmitsburg to dispense words of wisdom, advice and, sometimes, warning.
To believers, the details of Mary's apparitions are well known: She wears a veil, has brown hair and blue eyes, and emerges from a bright light. Her visits vary in timing and duration. "It depends on what's going on," said Michael Sullivan, 53, Talone Sullivan's husband and spokesman. "If we're at home and were not going anywhere, it's usually between 7:30 and 8:30."
Sullivan, a tall, bearded doctor who favors polo shirts and tasseled loafers, does not see the Blessed Mother when she appears to his wife. Neither have the thousands who have flocked to Emmitsburg over the years to receive Mary's messages, transcribed by Talone Sullivan on spiral notebooks.
Farmers in a Chilean village are reportedly blaming vampires or aliens for the deaths of 40 chickens.
According to El Diario Austral newspaper, the chickens were found dead with their insides scattered all over their owner's backyard in Perquenco. Juana Raasch, owner of the farm, said: "It was a horrible scene. But the strangest thing was that there was no trace of any other animal that could have done it. "I have owned this farm for seven years and I have never seen anything like that. "I would know if it were the work of a pig, dog, wolf or cat. What happened here was out of this world."
Police sent to the farm were puzzled by the fact that there was no evidence of an intruder, either animal or human. A spokesman said: "It seems silly to talk about vampires and aliens, but you never know around here.
A BLAZE gutted a garage wrecking everything except a bottle of holy water. Doug and Anne Mangan were amazed to find the plastic bottle of holy water virtually untouched among the charred remains of their garage, which was destroyed after a neighbour's touring caravan exploded and sparked an inferno. The blaze gutted next door's conservatory and garage before spreading to the Mangan«s home on Winchester Drive, Prestatyn. It took firefighters hours to control the fire, which was caused by faulty electrics in the caravan.
The devastated couple believed everything in the garage had been destroyed including a beloved £6000 Yamaha Dragstar motorbike until Doug made the miracle discovery as he started clearing the debris. His mother had brought the vial of water back from Lourdes, France more than 10 years ago and it was kept in a canvas bag in the garage.[...]
It's not exactly a crop circle, but some East Texans in Lone Star are baffled by some strange markings on the ground. In the quiet neighborhood, folks are looking skyward. Residents of Lone Star feel they've had an encounter. Lone Star resident Gayle Tigert thinks that someone or something made a strange circle pattern on her front lawn that she discovered on Monday.
Odd dusty burned grass in regular intervals has many thinking of outer space. We often here[sic] tales of circles in crop fields, but did a U.F.O. actually land in an apartment section?
City authorities are explaining it as fungus, but don't really have an answer. Whether a prank or a natural phenomenon, it remains a mystery.
A village in India is planning to hold a Hindu religious ceremony to drive away a ghost from a school toilet.
Residents of Kapurawala village, near Jaipur, are so scared they have stopped sending their daughters to the government middle school for girls.
It is reported three students suffered epileptic fits after visiting the toilet.
One of the teachers obtained a quick transfer after being "gripped by fear" of a spirit that prowled near the toilet.
Sub-Inspector of Police Hakim Singh told United News of India: ''Nobody has seen the ghost, but the school toilet, suspected to be the devil's den, was brought down by villagers.''
The villagers, who believe the ghost is still haunting the school, say they are determined to hold a yagya (a fire purification ceremony) to exorcise the ''ghost'' and to bring girls back to school.
Residents of Kudkwang village in Khon Kaen have invested part of their village fund on hiring a ghost-buster following several mysterious deaths.
Fifteen "ghosts'' have been targeted.
Three ritual ceremonies have already been held to try rid the village of the ghosts, with a third one scheduled for this morning.
Residents of the Muang district community are convinced they "killed'' nine of the ghosts at the previous ceremonies.
Village headman Bunchoo Khamthun said that last month alone more than 10 villagers had died of unknown causes, with autopsies revealing most had died from internal bleeding.
Bunchoo said the village had spent about Bt30,000 on the ceremonies, with the money coming from the village central fund and contributions from residents.
What's more, villagers are convinced they know the identity of one of the ghosts - and she is still alive.
The unidentified spirit' lives in isolation with her husband in a shed close to the village.
The woman's mother said she could not understand why villagers had accused her 48-year-old daughter, whom she described as religious, of being a ghost.
"I told my daughter not to be afraid of the ritual ceremony. But if any other residents try to physically assault her, I'll immediately file a complaint with police," she said.
"We live not so far from the city. People are educated, but still obsessed about black magic," she added.
Aurora police will hold a news conference on Wednesday to announce that they will no longer release details on the cat mutilation cases that have plagued the metro area because they believe that media coverage may actually provoke more mutilations.
At the conference, police will also introduce the members of the multi-city task force created last month to crack the case. Officers will also explain how the public can help in the investigation, and how pet owners can keep their cats safe by keeping them indoors.
Four mutilated cats were discovered over the weekend, bringing the number to 40 cats discovered in Aurora, Denver and surrounding areas in the past year. [...]
MILTON, Mass. (Reuters) - First the Virgin Mary turned up in a hospital window. Now Jesus is apparently on the chimney. [...]
TEMUCO.- Since Thursday, residents of Pillanlelbun, a town some 15 km from this city, have been shutting down henhouses, mangers and pigpens under lock and key and using crosses made of "palqui" after news of the mysterious deaths of 15 animals at the Ty Koyam Mini-Zoo became known.
The origin of a chunk of yellow ice that fell from the sky and put a dent in a car parked on a Brandon street is still a mystery today. [...]
(Delano, California) July 22, 2003 - The Virgin Mary of Guadeloupe is a cherished sight for Catholics, and now hundreds of believers are gathering in a California town to see what they're calling a miracle.
They say they can see an image of Mary on the chimney of a house. It appears from about 8:45 at night until about 5:30 in the morning.
Ahmedabad, July 23: Police and forensic officials are baffled about the 'blood like' liquid that allegedly oozed out of the walls and floors of a house in Maninagar area of the city on Wednesday morning.
An unidentified liquid, red in colour began oozing out of the bathroom of a house inhabited by 14 persons and spread to other parts of the two-storeyed building within half an hour starting at 8.45 am, police said.
Ahmedabad, July 23: This could be straight out of a horror film. A red liquid oozing from the floor of kitchen, bathroom and verandah of a house in Maninagar on Wednesday morning made the blood of its 14 inhabitants run cold. The liquid was later identified as human blood by forensic officials. [...]
General Acha (Agencia) - On Wednesday, July 16, three calves and a cow were found mutilated in fields adjacent to this city. "Until one sees it, or it happens to [ones animals], one doesn't believe it," said a cattleman whose property is located some 30 kilometers from Genera Acha and who asked El Diario to keep his identity confidential.

The cattleman said than on July 16, "two calves and a 'masked' calf, weighing some 200 kg. each, were found mutilated some 500 meters away from his house in a flat open field. The males were missing an eye, an ear and their tongues, while the female was had its nipples sheared off with surgical precision," he noted, betraying his surprise when he said "when we found them, they were still issuing some sort of smoke or vapor from their carcasses, as though recently dead."

"All of the animals had their heads pointed southward," he pointed out, noting that "he was certain that the animals had been alive the previous evening." "We did not dare get close to them or touch them, but on the fourth day, no animal, predador, fox or chimango (vulture) came close," he said. Finally, the confused cattleman said: "We plucked up our courage, got them together and burned them."

Another cattleman who told a similar story explained that that very same Wednesday, "a very docile cow that was near the house vanished, and was later found two secions away from where it normally grazed." [...]
Louis Saia III says a vision of the Virgin Mary marked a turning point in his battle with a corporation over control of his freight invention.
[...] at Ballyconneely, Connemara coast of Ireland, was seen a phantom city of different-sized houses, in different styles of architecture; visible three hours. It is said that no doubt the appearance was a mirage of some city far away--far away, but upon this earth, of course. [...]
Gulf experiment seeks to explain the Bermuda Triangle BY MITRA MALEK BRADENTON BEACH -- Some scientists wonder if giant gas bubbles could be sucking ships beneath the Bermuda Triangle. [...]
[...] Rhode Island is America's vampire capital, the site of the country's most famous sightings and legends. Bell calls it "The Transylvania of America." And although it's been more than a century since the last "vampire" corpse was dug up and burned, Bell is still trying to figure out why one of the area's legacies is blood and pointed teeth. [...]
LITTLE EGG HARBOR TOWNSHIP - There's a "gelatinous," "ocra-green" "biological mass" that's the size of a small car in the lagoon behind Robert Masterson's house.
"I've never seen anything like it," state Department of Environmental Protection emergency response official Robert J. Schrader told Masterson on Tuesday.
"It's a pretty good Scooby mystery," Schrader said. [...]
"Possessed" students suffer bizarre attacks
Prasit Tangprasert
Bangkok Post
A religious ceremony to drive away evil spirits was held at a Huai Thalaeng school yesterday, where a number of students had been "possessed''.
Nine Buddhist monks organised the merit-making ceremony for spirits at Baan Thab Sawai school, where over the past three months several students had acted strangely, uttered rude words and threatened to hurt themselves. [...]
[T]he activities of the nuisance tommyknockers were meant to bedevil. These tommyknockers would blow out candles, upset lunch buckets and hide tools. Some miners told of reaching around rock ledges and encountering the handshake of tiny hands.
Mischievous tommyknockers, miners believed, sometimes held all-night jamborees in the mine's mule barns. Thus, on days of low productivity, miners could report to critical shift bosses that their tired mules had been kept up all night by reveling tommyknockers. [...]
Strange occurrences have happened over the years at the Musser and Weyerhaeuser homes, now called the Linden Hill Conference and Retreat Center in Little Falls.
A music box suddenly starts to play. Items wished for suddenly appear. Things move. A warm feeling suddenly overtakes visitors. And then there are the photos which contain ghostly anomalies. [...]
No one's quite sure, but they're spooking pilots and air traffic controllers alike. Images of airplanes that either do no exist or are very far away are popping up on radar that controls traffic at O'Hare International Airport, according to reports.
And on a few occasions, controllers at Terminal Radar Approach Control center in Elgin unnecessarily ordered pilots to make sudden, dangerous moves to avoid the false images.
'The ghosting is a complete terror for the air traffic controllers,' Charles Bunting, president of the Elgin local of the National Air Traffic Controllers Association, told the Chicago Sun-Times. [...]
An Investigation is under way after parts of Ellon were covered in a mysterious white powder.
Residents in the Craighall and Meiklemill areas found their homes, cars and gardens coated in the dust. [...]

Whatever the explanation, the statue continues to draw crowds.
[T]he church will determine what the statue is made of and how it was constructed to see if there is a scientific explanation [...]
Text Australia may not have a Stonehenge or an Abominable Snowman, but over the years our nation has well and truly accumulated it's fair share of mysteries, as 936 afternoon presenter Trevor Jackson recently discovered when he spoke to author and columnist John Pinkney. [... ]
[...] About 10 a.m. he was sitting on his porch reading a newspaper when he heard a sudden burst.
"I thought it was hail and I said to my wife, 'Ginger, it's hailing,'" he said. "I went back to reading my paper and then I saw the things were still there and were not melting. I went out and saw hundred of these white things."
The 'things' appeared to be eggs of some sort, the size of a pearl, he said. [...]
A crowd thronged a peepal tree near Sharda school at Memnagar late Wednesday as news spread of Ganesha "appearing" out of a tree trunk.
The form of Ganesha evolving out of the tree trunk was first noticed by one Romesh Sopaji. "I was sitting near the peepal tree in the morning and I was surprised to see the form of Ganesha appearing out of the trunk. The form was not very clear then. When I told others about the phenomenon people did not believe me thinking that I was imagining things. But, by evening the form became clear and eyes, ears and trunk of Ganesha could be clearly seen," he said. [...]
[...] The C.D.F., as it is called, was perhaps the most exquisite and expensive stopwatch ever built. Dr. Spiropulu was hoping to use it to time not the flight of flapping little cousins, but the flight of particles going right out of this world altogether, disappearing into another dimension, like a billiard ball popping straight up off the table or the phantom voices conjured by 19th-century mediums.
The discovery would confirm some of the boldest and most far-reaching theories in physics, which imply that nature has 10 or 11 dimensions, not the 3 of space and 1 of time that frame our normal experience.
In a control room upstairs, the air was humming with imagined energy of a trillion volts; 50 computer screens were lit up, and one laptop lay open on a desk.
The screens showed the progress three stories below where 36 batches of protons were whirling around a 4-mile racetrack 40,000 times a second. Now, as a disembodied computerized female voice ticked off every step of the process, antiprotons, the antimatter mirror antagonists of protons, were being inserted, batch by batch, into the same racetrack but in opposite directions. [...]
BERLIN -- Eggs that mysteriously fell from the sky after Hurricane Isabel onto one single porch in town Sept. 19 have been identified as coming from frogs.
"We have found that they are probably some kind of egg, but we do not know what species (of frog)," said Ruth Rollin, chairman of the Central Connecticut State University biology department. "In order to be sure, they would have had to live." [...]
Sometimes it's the minor stories that reveal a great deal about the mainstream press.
On October 1, AP reported that a man named Primo D'Agata, in Berlin, Connecticut, found a whole bunch (hundreds or thousands) of little eggs on his porch in the wake of Hurricane Isabel, on September 19th.
Presumably, these eggs had been carried from the south by the storm.
What were they?
Biologists from Central Connecticut State University say the eggs are probably from frogs.
Probably? No one seems too interested, beyond the fact that the hail of eggs was a rather mind-boggling event.
St. Louis Globe-Democrat, Oct. 16, 1888 -- dispatch from Brownsville, Texas -- that, on the night of the 12th, the lighthouse, at Point Isabel, occupied by Mrs. Schreiber, widow of the keeper, who had departed not long before, had been struck by a rain of nails.
The next night, about dark, came another shower of nails. More variety -- also down pelted clods of earth and oyster shells. Bombardments continued. People gathered and saw showers, mostly of nails, but could not find out where they were coming from.
A tiny community is gripped by the mystery that lies beneath the earth. Sparks are flying and smoke seeps strangely. Its all happening at the village of Bodibe near Lichtenburg and its getting so curious that the experts have moved in.
The people of Bodibe village are baffled by what's going on underneath their dam. First it dried up, then it cracked up. Then for no reason smoke began rising.
At night sparks have been seen flying. In the absence in an explanation many of the people here have turned to superstition blaming rituals carried out at the dam. Geologists have taken a good look and taken soil samples in a bid to unlock the mystery.
Environmental health officials will dig trenches around the dam to prevent fires from spreading. However no one knows how or why the fire from below is raging.
SEATTLE - Everyone had a theory as to what was making the ground shake Saturday night, and nerves tremble into Sunday morning. Even the experts seemed stumped by the mysterious thump. But on Monday, they found the answer.
A check valve on an effluent pump checked out for a bit and the shock absorber on the hatch to help control the flow didn't absorb the shock.
Officials with King County Solid Waste said when the 14-inch valve slammed shut it couldn't seat well so it just bounced in there, and that's what people were hearing.
To fix it, the air was drained out of the damper that wasn't allowing the hydraulics to work right.
Officials say there was no damage to the line or to the valve system.
[...] "Every night, at 7:30," Roberts said. "You could set your watch by it. I was scared at first, but after awhile, I just started saying, 'Oh, well, there goes the woman again.' One night, I got bold and stood in front of the kitchen door. She disappeared before she got to me. Then, she reappeared behind me." [...]
Something unnatural is going on in Yellowwood State Forest.
The mystery began a few years ago when a turkey hunter, scouting in a remote area of the 23,000-acre forest, discovered a large boulder in the top of an 80-foot-tall chestnut oak tree. What he saw wedged among its branches was a boulder about 4 feet wide and a foot thick.
The boulder was eventually dubbed Gobbler's Rock after the turkey hunter. It sits high on a south-facing slope overlooking a ravine near Tulip Tree Road in western Brown County and is thought to weigh at least 400 pounds.
After the initial sighting of Gobbler's Rock, hikers have found at least two more giant sandstone boulders sitting in the top limbs of two sycamores. One boulder is nearly 45 feet off the ground and both rocks appear to weigh about 200 pounds. The trees are 100 yards apart growing near the banks of Plum Creek in a seldom-visited part of Yellowwood State Forest, just southwest of Helmsburg.
Known to locals as URBs, or Unexplained Resting Boulders, officials can't explain how the boulders got wedged into the branches in the first place. The huge rocks couldn't grow upward with the trees because the saplings could not have withstood their weight. The boulders must have been placed high in the trees after their trunks were sturdy enough to support them. [...]
NASHVILLE, Tenn., Oct. 24 - John Bell didn't tell anyone in 1817 when he first spotted strange-looking animals in his cornfield that mysteriously vanished when he tried to shoot them.
THEN CAME THE rapping, gnawing and scratching sounds in the night, and complaints from his children that an unseen hand was pulling their hair, tugging at their bedcovers and slapping their faces.
As Bell eventually invited people to stay in his home in hopes of solving the mystery, they told of a spirit who whispered, whistled, quoted Scripture and sang hymns. Even Andrew Jackson, who later became the nation's seventh president, was said to have had a haunting encounter.
When Bell died in 1821, the family blamed a spirit known as the Bell Witch for poisoning him. They also say it broke up his youngest daughter's engagement to a neighbor. [...]
WASHINGTON (Reuters) - The White House at night is a dark and spooky place, haunted, according to legend, by ghosts of dead presidents and a former British soldier. [...]
JOS - THE Plateau State Government has sent a team of geologists to a village in the central part of the state where strange noises have been reported from rocks in the area. Residents of Humbul village in Bokkos Local Government Area were said to have reported strange rustling noises from the rocks which dot the area, creating panic.
Vanguard gathered that although such noises from the rocks were not entire strange as they have experienced them for years, the increase in the noise level is said to be disconcerting to them. As is usual in such situations, various explanations, some weird, were being given for the phenomenon.
While some blame it on the existence of some spirits inhabiting the rocks, some more scientific minded ones describe it as a usual occurrence resulting from various climatic factors.
However, following the increase in the level of the noise, the villagers, it was gathered decided not to leave anything to chance and reported the matter to the state government. In response, the state government constituted a team led by the Commissioner for Science and Technology, Mr Maurice Dallen to investigate the development. The outcome of the team's investigations is expected to guide government's further actions. A similar incident was recorded at Maza village in Jos North local government area of the state some years ago when muddy liquid accompanied by some strange noises was oozing out of a mountain in the area.
Doctors and traditional healers reach remote jungle community where 60 people are suffering from mysterious collective mania [...]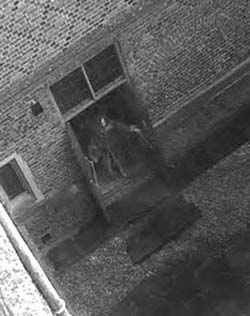 LONDON - Are there ghostly goings-on at Henry VIII's palace, or is that hazy image of a fellow in fancy robes just a bit of Christmas cheer?
Closed-circuit security cameras at Hampton Court Palace, the huge Tudor castle outside London, seem to have snagged an ethereal visitor. Could it be a ghost?
"We're baffled too - it's not a joke, we haven't manufactured it," said Vikki Wood, a Hampton Court spokeswoman, when asked if the photo the palace released was a Christmas hoax. "We genuinely don't know who it is or what it is."
Wood said security guards had seen the figure in closed-circuit television footage after checking it to see who kept leaving open one of the palace's fire doors.
A FRIGHTENED television crew had to be rescued from the dark depths of Epping Forest after stumbling upon the ghost of Dick Turpin during a live night-time broadcast. [...]
Charles Fort, decrying the state of anomalies investigation , wrote in LO!:
Our data have been bullied by two tyrannies. On one side, the spiritualists have arbitrarily taken over strange occurrences, as manifestations of the departed. On the other side, conventional science has pronounced against everything that does not harmonize with its systematization's. The scientist goes investigating, about as, to match ribbons, a woman goes shopping. The spiritualist stuffs the maws of his emotions. One is too dainty, and the other is gross. Perhaps, between these two, we shall some day be considered models of well-bred behavior.
Over the years, Fortean Times has published many first-hand accounts of strange phenomena, but few as terrifying as Gavin Craig's close encounter with a relatively unknown force of nature - a giant wave.
RAPID CITY, S.D. - Experts aren't sure if it was an earthquake that caused some shaking and a loud sound west of Rapid City about 9 p.m. Friday.
The Pennington County Sheriff's Office took calls from about 20 people asking about the noise. The sound lasted about 10 seconds.
The National Weather Service checked with the National Earthquake Information Center in Colorado. Officials there said the event registered a 1.8 on its seismic equipment, a very mild earthquake - if that's what it was.
A National Weather Service official, meteorologist Susan Sanders of Rapid City, said the experts didn't think it was caused by an earthquake but that they also didn't suggest what might be the cause. There was no storm, and the noise didn't sound like a sonic boom, she said.
"There was a little bit of shaking, but it was the noise that really got our attention. It sounded like an airplane coming toward the house," Sanders said.
There have been some recent earthquakes in the region. On Jan. 4, a 2.8-magnitude quake was recorded in northeastern Wyoming. And last May, an earthquake that registered a 4.4 was noted near Pine Ridge.
When a mysterious ball of ice crashed through Jan Robertson's house, the 80-year-old had no idea she would plunge New Zealand into the centre of a scientific frenzy.
Geochemists, astrophysicists, meteorologists and geologists in Brazil, China, Spain and Russia believe the intrusion may have been New Zealand's first " megacryometeor".
To the layman that is hailstones - jumbo hailstones.
Early investigations by the Civil Aviation Authority suggest that the ice contained chlorine, an indication that it had been treated by man. [...]
However, inspections of both aircraft have revealed no signs of where the ice could have come from.
Mrs Robertson got used to phone calls from scientists around the world but yesterday, 10 days after the incident, she said things had quietened down.
There have been 50 documented cases around the world. Ice balls have punched holes in roofs, smashed car windshields and whizzed past people's heads.
The group's founder, Jesus Martinez-Frias, a planetary geologist, began investigating the ice falls after a spate in Spain three years ago.
It started with a soccer-ball-sized chunk plummeting from the sky on a sunny Madrid day and smashing through a parked car.
In something resembling a biblical plague, pieces of ice weighing up to 3kg rained on Spain out of cloudless skies for 10 days, then the phenomenon ended as suddenly as it began.
At first, scientists thought the giant hail was unique to Spain. But they have accumulated evidence that megacryometeors are a global event and have documented ice balls falling from cloudless skies everywhere from China to the United States.
They believe the 50 confirmed falls are a fraction of the actual number - most may hit unoccupied areas or melt before discovery.
The average weight is 12 to 15kg, but one whopper in Brazil tipped the scales at 200kg - the size of a V8 car engine.
Alarming as this may be for people's homes, cars and health, the scientists have a different concern.
"I'm not worried that a block of ice may fall on your head," said Professor Martinez-Frias, speaking from Madrid. "I'm worried that great blocks of ice are forming where they shouldn't exist."
The worry is that, if megacryometeors are a result of global warming, they are likely to increase. [...]
LIHU'E, Kaua'i - The earth shook on Kaua'i Thursday night, but no one is sure what caused it.
Residents from Ha'ena on the north shore to Wailua on the east side reported an extended shudder several seconds long that shook windows, walls and beds shortly before 8 p.m. Calls poured in to news media offices, police, civil defense and other county offices, the Navy at the Pacific Missile Range Facility and other agencies.
"Oh, my God! Our whole house shook, more than it ever has. We went downstairs to check whether things were OK," said Wainiha resident Barbara Robeson.
Princeville resident Donn Carswell said he felt a shaking about the same time.
"I felt a trembling and I thought I heard light thunder. It sounded like somebody was moving heavy sliding doors, but nobody was," he said. He thought it lasted less than 10 seconds.
Kaua'i Civil Defense officials said they received numerous calls, and the first thoughts were earthquakes and sonic booms, but they could confirm neither.
Agnes Tauyan, Navy public affairs officer, said neither the Navy at Pearl Harbor nor the Pacific Missile Range Facility had operations off north or east Kaua'i that could account for the tremors.
Donn Walker, Federal Aviation Administration regional public affairs officer, said there was no report in Honolulu FAA logbooks that might indicate a cause for the event. Tyler Johnson, Coast Guard 14th District public affairs officer, said the Coast Guard logs showed no activity at that time.
It could have been a small local earthquake, said Stuart Weinstein, geophysicist with the Pacific Tsunami Warning Center on O'ahu, but he said the center has no sensors on Kaua'i and could not detect any temblor from its O'ahu equipment.
"It wasn't large enough to trigger our alarms," he said. "I went back and looked at the screens, and it didn't get above the noise level." [...]
Residents of a suburban street in Pembury, Kent, have been mystified by the appearance of a sapling in each of their gardens.
Someone has painstakingly dug six-inch holes in the borders of as many as 100 gardens and planted the 2ft 6in ash saplings. The Daily Mirrorsays police have been notified, but the only clue so far has been a single muddy footprint.
Resident Mary Roe said: "As I walked out the front door I saw the sapling. It would have taken them hours to do all the trees and the weather overnight was awful. I have not got a clue who would want to do this."
Council official Daniel Docker said: "It's refreshing to see someone planting trees rather than what we all too often see, which is people wanting to take them out."
Police say they have no idea where the saplings have come from. The Woodland Trust says it will find new homes for any of the trees that are unwanted.
More than 10,000 birds died mysteriously in eastern China's Jiangsu province, dropping like rain from the sky, state media reported on Thursday.
Farmers and other witnesses in Sangongdian village in Taizhou city saw flocks of bramble finch suddenly fall from the sky on Tuesday, the Beijing Youth Daily said.
Most of the birds were dead when they hit the ground and some were injured, it said. The birds look like sparrows and are small in size.
Officials from the local centre for disease prevention and control rushed to the scene. Samples from the birds were taken to a laboratory in nearby Nanjing city for testing to determine the cause of death. [...]
Wildlife experts in the German city of Stuttgart are baffled after a flock of starlings made a mass suicide attempt leaving dozens of birds dead.
Pedestrians watched as hundreds of birds flew over the city before suddenly nose-diving to the ground from a height of 65 feet.
Bird expert Guenther Schleussner, from the Wilhelma Zoological and Botanical Gardens in Stuttgart, said the scenes were like something from a horror film.
"I've never seen anything like it in my life," he added.
Around 100 dead and injured birds covered the busy Steinhalden Street. Residents out for a Sunday stroll reporting a loud "thud" as the flock of kamikaze starlings hit the pavement.
The ornithologist added: "It's unbelievable, I'm stunned. This kind of behaviour in birds is very, very unusual."
Schleussner said the incident could have been down to a sudden squall or simply a "freak accident".
LINCOLN CITY, Ore. - Thousands of dead birds have washed up on West Coast beaches this fall in a die-off that has stumped experts.
The birds are northern fulmars (a smaller cousin of the Albatross) and beachgoers in Lincoln County have counted more than 400 dead ones this fall. [...]
And experts don't know why. Some worry that man-made causes, such as plastic or toxins are to blame. Others dismiss the die-off as cyclical.
But this year's death toll dwarfs any other on record in Oregon. [...]
One of the stranger reports of mysterious bird deaths, occurred in Hartsville, Tennessee:
[A] mysterious, destructive power surge killed dozens of birds and damaged transmitter, phone lines and computer equipment at country music radio station WJKM (1090 AM) on Friday, July 6, 2001 at 10:45 a.m. CST.

WKRM Nashville TN carries a video news report establishing the fact that the Franklin mystery boom registered as seismic activity at 1005hrs on July 7. The epicenter was pinpinted to four miles SE of the community. In spite of this, authorities could not confirm it was due to an earthquake, or even a underground cave collapse. However, a sonic boom has definitely been ruled out. To view the newscast click: News 2 - Franklin Boom Clue Uncovered. See also a similar story of the TVA report from The Review Appeal & Brentwood Journal of July 18 2001. G-fs.

Folks in Franklin felt a boom on July 7th. Now, there's a new clue in the mystery. Was it an earthquake? Or an explosion? Or an underground cave collapse? Whatever it was, it was strong enough to register 2.6 on the Richter scale. News 2's Jay Korff brought you the details live from Franklin.

Some Williamson County residents are all shook up and everyone is asking what happened. It was around 10:20 Saturday night when people living near Franklin got quite a scare. It has been described as a blast, a tremor or a rumble, and right now it has the experts stumped.

The officer at TEMA was flooded with phone calls starting at about 10:30 Saturday night. People wanted to know if they were in danger. The good news is there have been no reports of injury, and damage is minimal. What esactly caused the boom is still unknown.

"I was watching a movie and all of a sudden the house shook and my son comes running out and he just went what was that?"

Rebecca Duval is like many Franklin residents whose quite neighborhoods came to life Saturday.

"I was just playing then everything shook. I heard glass rattling then it stopped," said Dylan Duval.

"Well I felt a deep boom and I came out and said to my husband, 'What was that,'" said Scarlett Pierce.

Neighbors filled the streets. Everyone was wondering what was going on.

"Everybody was kinda congregating out in the street going what in the world was that," said Jon Coggins.

TEMA says damage has been reported at homes in the Polk Place subdivision. Neigbors say it felt very close by.

"I mean not a real big shake and it didn't last a long time, but there was definitly a rumble and it was like what was that," said Todd Carter.[...]
At one point the Air Force was blamed for this "surge": U.S. Air Force Linked to Electronic Warfare Attack in Tennessee
Let's take a look at other natural phenomena that may help us in further examination of some of these mysterious bird deaths. Apparently our planet and its oceans occasionally"belch":
Geologists have now noted that there is a widespread occurrence of a layer of gas hydrate can contain 180 cubic centimeters of methane gas. Geologists have now noted that there is a widespread occurrence of a layer of gas hydrate beneath some hundreds of metres of ocean deposit. [...] It would seem that there is actual potential for release into the atmosphere of large quantities of gas from the ocean floor; all we may need is some tectonic movement as a trigger. [...] [ Exodus to Arthur: Catastrophic Encounters With Comets, Mike Baillie, London 1999, p. 150]
The chapter continues with potential examples of ocean outgassing:
[O]n 1 November 1755, A British Ship was crossing the Atlantic. The captain felt a strange agitation as if the ship had been jerked and suspended by a string from the masthead. He dashed up on deck and observed 'within a league three craggy pointed rocks of various colours resembling liquid fire. This phenomenon ended in about two minutes with a black cloud which ascended very quickly.

[I]n 1986 a crater lake in Cameroon, Lake Nyos belched out a cloud of hydrogen sulphide gas which sat close to the ground and ran downhill for some 15 kilometres. It poisoned/asphyxiated thousands of people and animals.[...]

Imagine a cloud of H2S or a mixture of these gases blowing onshore. What surviving description might there be? Or perhaps there is no description, simply an area 'where people die'. [...] For example, there is a record of just such an occurrence in the 1920's off the African coast. An entire fishing fleet was killed by H2S outgassing from the sea around them. Reconstruction of the event suggested that everyone had jumped into the sea and were either poisoned or drowned; the boats were empty. We know that it was H2S because, apart from being poisonous, it is highly corrosive and the paint was stripped off the metal boats.[...]

Browsing through ancient descriptions of earthquakes, it is easy to find a couple of other possible outgassings. In Ad 526, there was a terrible earthquake at Antioch where ancient sources refer to fire coming down from the sky like rain, or fire issuing from the earth and more coming down from the heavens 'like a shower of sparks'.[...]

In another description of this earthquake there is talk of liquid mud (sea sand as it were) boiling and bubbling up from the nether regions. [...]Is this a direct description of an outgassing associated with the great earthquake? It certainly would appear to be. The contemporary estimate by John Malalas puts the death toll at Antioch at about 250,000 persons.[...]
We posted an article on the January 30th Signs page about a " boiling sea" in Panarea off the coast of Italy. Don't worry, "experts" declared it a "normal phenomenon". Although, "the boiling surface, which started in November 2002, seemed to have become more so ..." Meanwhile, Italy is paying people to move away from the long shadow of Vesuvius. Back to Exodus to Arthur:
Moving up to the fourteenth century [...]. One source specifically states that the 'fire falling from heaven consumed the land of the Turks for 16 days.' This latter statement fits well with one of Ziegler's references to events on neighbouring Cyprus, where in 1347:

While the plague was just beginning a particularly severe earthquake came to complete the work of destruction. A tidal wave swept over large parts of the island ... A pestiferous wind spread so poisonous an odour that many ... fell down suddenly and expired in dreadful agonies ...

Rosemary Horrox has translated a German scholar writing in the generation after the Black Death. [...] He describes in some detail his belief that the cause of the Black Death was the 'corrupt and poisonous earthy exhalation'[...] He thought the pestilence was actually a poison cloud from an earthquake on a specific day, 25 January 1347. For all we know, he could have been right. [ Exodus to Arthur: Catastrophic Encounters With Comets, Mike Baillie, London 1999, pp. 150-152]
In New Zealand, home of the originating stories of "duck muck", we posted this strange story:
A Rotorua house has been covered in mud and ash after a bore blew within 10 metres of its front doorstep. [...]
MEMBERS of a Gravesend family say they have been forced to flee their home after a ghostly apparition turned rooms cold and burned candles black.
Even a blessing from a vicar - called in by Gravesham Council - has failed to deter the spirit from spooking the family.
Now Lisa Bruce is concerned for her 24-year-old sister and six-year-old niece after the unexplained happenings at their flat in St Patrick's Gardens, Gravesend.
Lisa, 30, of nearby Raphael Road, said: "Since just after Christmas there has been some sort of poltergeist or presence in her flat."
The ghostly goings-on have included:
* Shadows in the hallway
* Rooms suddenly turning from hot to cold
* A feeling someone else is in the room
Most recently the letter M appeared scratched on a toy blackboard and patterns have been appearing in sheets after beds have been made.
Even the family's usually confident Staffordshire bull terrier Rusty is reluctant to go into the flat.
Gravesham Borough Council brought in a ghostbusting vicar to bless the council flat after a visit from staff last week.
A Gravesham council spokesman said: "A council officer visited the property and made a full assessment, noting the tenant's queries. These were followed up on return to the council, but we could not find any realistic conclusion.
"As this was the case we made enquiries on behalf of the tenant with St Aidan's Church to see if they could offer any suggestions."
Vicar Peter Rich from St Aidan's visited to bless the flat and placed candles and crosses in some of the rooms.
He said: "The council did contact me and we are trying to do what we can to help the family. You do get this sort of situation happen from time to time."
But it was when the candles given to the family began to burn black, with black smoke plumes and the wicks changing colour, that the family decided enough was enough.
Lisa's sister, who asked not to be identified, took the decision to move her and her daughter out of the flat. They are now sleeping on the floor in her disabled mother's bungalow.
Gravesham council has said it had no plans to move the family into temporary accommodation. But Lisa said: "We never believed in any of this but until it happens to you, you don't know. My sister loves her flat and would like to return when whatever it is goes away, but my sister and my niece can't sleep on the floor forever."
Local medium Linda Rowden Allen said: "It is hard to speculate without knowing the family. They could move back in and ignore it or they could try and find out what or who it might be.
RESIDENTS of a Victorian country town hope to identify a ghost they believe is haunting their historic pub.
And they believe an unidentified mystery man in a 96-year-old photograph is the presence lurking in the hotel's corridors.
The unusual quest was ignited after a sighting at Kyabram's Commercial Hotel, in the state's north, less than a month ago.
Hotel employee Pauline De Boer said she could not believe her eyes when she saw a human figure disappear while closing the pub early one morning.
"We were all sitting at the back having a knock-off drink when he just walked past," Ms De Boer said. "It was a figure with a hat on. I just said to the owner, 'there is a ghost'.
"He walked past as if he was looking to see who was in the room and then he just vanished." [...]
LAST year, Jeffrey (not his real name) checked into a room in a hotel in Singapore. He began to have this uneasy feeling that there was someone else in the room and on the third day, his suspicions were confirmed. But the brave sales executive decided to stay on after striking a "deal" with the ghost. [...]
(WEDNESDAY, FEB 18) THE manager of a pub on Bedgrove, Aylesbury, who believes he has more than just alcoholic spirits on his premises is calling in a medium. [...]
The 22-year-old has arrived at the pub first thing in the morning to find the cellar completely reorganised with heavy items, including crates full of drinks, having seemingly been moved to the top of a staircase in the middle of the night.
It has left staff puzzled as the premises in Queensmead have been locked and empty.
Customers have also complained about feeling a cold presence close to them and as if something unnatural is standing behind them.
The couple became convinced something unworldly was around them when Ms Ward saw what she believes was the ghost for the first time, dressed in black in the bar. [...]
The Thames is home to over a hundred species of fish but never, until now, has a piranha been found in its murky waters.
One of the deadly Amazonian fish, shoals of which can devour big prey in seconds, mysteriously landed on a moored vessel in Dagenham, east London, having apparently fallen out of the sky.
The three crew of the Thames Bubbler environmental boat, which pumps oxygen into the river, identified the razor-toothed fish as a piranha and called in marine experts to investigate.
Tom Cousins, a fisheries officer at the Environmental Agency, immediately recognised the specimen as a red-bellied piranha. He surmised that the fish had been accidentally dropped by a passing seagull which had plucked it out of the water.
Was it the storm clouds, sun spots or Area 51?
By late Friday afternoon, some locksmiths, car dealerships and towing companies had been flooded with calls about mysteriously malfunctioning keyless vehicle entry devices.
There were nearly as many theories as there were lockouts. But there were no firm answers as to why the remote devices stopped working.
"Maybe it's those little green men up north," said Nellis Air Force Base spokesman Mike Estrada, whose own keyless entry system failed. "Are there sun spots? I've been trying to figure it out. It happened to me right after lunch."
Estrada resorted to using his key to unlock his car door, but that set off his alarm.
ABC Locksmiths received 30 calls from drivers stumped by the failure of the key systems. Quality Towing received about 25 calls, and two Ford dealerships reported receiving scores of calls about the problem.
But ABC dispatcher Milo Ferguson didn't need to field any calls to know something was amiss.
"My car is one of them," Ferguson said. "It's some kind of electrical disturbance. Either that or a nuclear bomb went off a few miles from here."
Jerry Bussell, Gov. Kenny Guinn's adviser on homeland security, ruled out terrorism and described the phenomenon as a "frequency problem."
"This is an anomaly that we're going to check out," Bussell said.
The Country Ford dealership in Henderson, which had handled more than 100 calls by late Friday afternoon, contacted the national Ford headquarters for an explanation.
Katie Baumann, service operator for the dealership, said the Ford company headquarters informed her that "a lot of static electricity in the air could be messing up the radio waves" the devices use.
Local forecasters said they doubted the widespread failures could be attributed to any strange weather patterns.
"We've heard about it, and we don't think so," said Steve Johnson of the National Weather Service in Las Vegas.
Friday's cloudy weather made Bill O'Donnell doubt the theory of static interference. O'Donnell, a research associate at the University of Nevada, Las Vegas Physics Department and an electrical engineer, said that in "damp weather like we're having today, there won't be much of a static charge in the air. The charge just won't build up in these conditions."
Another possible source of the problem: the sun.
"Solar flares can produce and eject large numbers of charge particles, and usually the Earth's magnetic field deflects them before they enter the atmosphere," said chemistry and physics Professor Malcolm Nicol, the director of the High Pressure Science and Engineering Center at UNLV. "But if they are very large, they have been known to destroy the electronics systems in satellites and cause other problems down here."
However, the Big Bear Solar Observatory in Big Bear, Calif., reported low solar activity Friday.
According to the Federal Communications Commission, the low-power radio frequency transmitters inside keyless entry devices are similar to those found in other everyday items such as garage door openers, remote-controlled toys, cordless telephones, building alarm systems and the rapidly spreading wireless fidelity computer networks, which are commonly referred to as "wi-fi."
Paul Oei, an electronics engineer with the Los Angeles office of the FCC, said keyless entry systems operate on unlicensed frequencies. The devices can fail when they are near an antenna emitting high radio frequency energy. But that scenario would affect only vehicles in a limited area, he said.
Oei said he has never investigated a problem similar to Friday's phenomenon, but he recalled hearing about an incident years ago in which garage-door openers stopped working in an area when Air Force One was nearby.
"Who knows what the military could be using at any given time?" he said.
At least some Ford and General Motors keyless entry systems use the same radio spectrum bands that are used in military operations, according to the Web site of the U.S. Commerce Department's National Telecommunications and Information Administration.
"These bands are heavily used worldwide for critical military air-traffic control and tactical training communications," the site states.
John Pike, director of globalsecurity.org, a defense and intelligence policy organization based near Washington, D.C., said military technology could easily be responsible for Friday's phenomenon. One such operation is jamming, which involves the release of electromagnetic energy to interfere with an enemy's radar detection capability.
Pike noted that particularly in Nevada, the military has a number of unacknowledged programs in jamming and radar and high-powered microwave weapons, any of which might have the potential to bring chaos to certain frequencies.
Estrada said Nellis officials checked into the possibility that military aircraft capable of sending out electronic jamming signals were involved, but they didn't believe that was the case.
"We've got a jammer in the inventory, but I don't think we've got any out here, let alone flying," he said.
Even if electronic warfare aircraft were flying, they operate at much different frequencies than commercial devices, such as garage-door openers and remote keyless entry systems, Estrada explained.
"The military is certainly capable of fibbing about these things," Pike said. "But, for the military to have done it, they would have to have seriously miscalculated the effects of some test."
Friday's phenomenon occurred as Nellis officials were preparing for next week's Red Flag air combat training exercise. The exercise, which involves dozens of fighter jets, bombers and other military aircraft from around the world, begins Monday and runs through March.
Chuck Clark, of the rural Lincoln County community of Rachel, is an Area 51 watchdog and researcher who monitors the government's classified installation near the dry lake bed of Groom Lake, 90 miles north of Las Vegas.
Clark said some of the high-tech equipment that he and other Area 51 buffs believe exists at the installation routinely cause odd occurrences in Rachel similar to what many people in Clark County experienced Friday.
"We get electronic jamming all the time," he said by telephone. News reports of a similar phenomenon several years ago inWashington state suggested the outages were linked to the arrival of military aircraft carriers to Bremerton.
In March 2001, the keyless entry failures began at the same time the aircraft carrier USS Carl Vinson returned to Bremerton. Then in April of that year, the outages began one day after the carrier USS Abraham Lincoln arrived at Puget Sound Naval Shipyard.
COLORADO SPRINGS - Next time NATO officials say they're doing a lockdown, the folks in the luxury Broadmoor neighborhood will take them seriously.
Very seriously.
Last week, NATO workers erected security and communications towers in the area in advance of this week's defense ministers' conference.
By 9 a.m. Friday morning, all 10 lines at Overhead Door Company of Colorado Springs were lit up with calls from the Broadmoor and the nearby town of Security complaining that their garage- door openers had jammed.
More than 400 calls from frantic, frustrated and flustered residents came on that day alone. They haven't stopped since, said the company's receptionist, Tina Oetken.
Coincidence? [...]
GHOSTLY goings-on at reputedly haunted Tulloch Castle Hotel in Dingwall were this week put down to "extreme high levels of electromagnetic-induced energy" from a minor earthquake which took place in the Moray Firth. But the Dutch scientist who travelled to Dingwall to investigate the terrifying experience reported by a hotel guest admitted that one of the occurrences has left him baffled.
[...] Scientist John W Dijkslag and his team heard of the Tulloch Castle incident and travelled to Dingwall to carry out their own investigations. Mr Dijkslag believes that the reason for Tulloch Castle being the subject of so many apparent hauntings can be explained scientifically as the site lies between two natural faultlines in the earth, the Tor Achilty fault and the Strathglass fault. He says that through a process known as tectonic strain, caused either by a seismic event (earthquake) or human activity, energy is released through a faultline or faultlines. While passing through the faultline a certain amount of pressure is released which fractures rocks creating an electromagnetic discharge to the surface.
Three days before Tommy Tan's experiences at Tulloch, said Mr Dijksalg, there was a recorded earthquake in the Moray Firth basin, at a depth of 4.8km and not able to be felt by local residents. He believes that the suffocating sensations experienced by Tommy Tan can be explained by extremely high levels of electromagnetic activity stimulating the brain stem and causing minute fluctuations of electric currents in the brain itself. The sensation of a presence in Mr Tan's room can also be explained by this, he said, as could the flickering of lights in the Grand Hall which was was also experienced by others in the hotel.
His team surveyed residents in Marybank, Contin, Dingwall, Evanton and Alness, and 94 per cent reported interference in TV and radio reception, telephone lines and also flickering lights around that time.
However, regarding Tommy Tan's recognition of the two little girls in the painting, the scientist reported, "This has to remain unexplained within current parameters." And in the foreword of his findings, Mr Dijkslag wrote, "I would like to dedicate this Survey to 'The Green Lady of the Castle' which managed to keep the last aspect of this survey still a secret."
SAO PAULO, Brazil (Reuters) - Nearly 60 animals have been killed at the Sao Paulo Zoo since last month and police expect to track down the suspected killers soon, a Brazilian official said on Friday.
Laboratory tests have shown the animals were killed with a rat poison banned in Brazil.
Joao Carlos Meirelles, a Sao Paulo state minister, said investigators had ruled out the deaths being an accident, mainly because the dose was so high in most of the dead animals.
The 59 victims so far include an elephant, dromedaries, monkeys and porcupines.
"We can say with almost total certainty that the suspects will be identified by next week, give or take," Meirelles said
The zoo management has put 15 workers on leave while they are under investigation. It has also ordered all staff to work in pairs.
The latest victims have been the porcupines. In all, 36 were killed, of which six were ready to be donated to another zoo.
"If it's someone from inside of the zoo, I can't understand what is going through this person's mind," said a security guard, who asked to be identified only by his first name, Ronaldo.
"If this is an outside job, I can't understand how they are managing to do it, given our strict security measures."
The public is just as frustrated.
"The poor things are defenseless. Clearly, they are paying the price for some personal vendetta," said Simone Oka Filho, visiting the zoo with her son and nephew on Friday.
The zoo killings have attracted international attention.
Montreal - St. Laurent building manager discovers portrait of Mary that sheds drops of oil [...]
"It's a miracle, and many people have seen it," Mehdi said yesterday as he allowed the devout, drawn by word of mouth, into his ground-floor apartment. [...]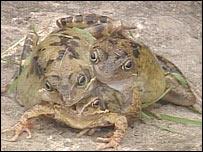 Children in a nursery were shocked when they spotted a three-headed frog hopping in their garden.
The creature - which has six legs - has stunned BBC wildlife experts who warned it could be an early warning of environmental problems. [...]
Continue to Part 2

Readers who wish to know more about who we are and what we do may visit our portal site Cassiopaea.org
---
Remember, we need your help to collect information on what is going on in your part of the world!
We also need help to keep the Signs of the Times online.
---
Send your comments and article suggestions to us

---
Fair Use Policy
Contact Webmaster at signs-of-the-times.org
Cassiopaean materials Copyright ©1994-2014 Arkadiusz Jadczyk and Laura Knight-Jadczyk. All rights reserved. "Cassiopaea, Cassiopaean, Cassiopaeans," is a registered trademark of Arkadiusz Jadczyk and Laura Knight-Jadczyk.
Letters addressed to Cassiopaea, Quantum Future School, Ark or Laura, become the property of Arkadiusz Jadczyk and Laura Knight-Jadczyk
Republication and re-dissemination of our copyrighted material in any manner is expressly prohibited without prior written consent.