---
Printer Friendly Version
New Movie Review: Alien vs. Predator
Picture of the Day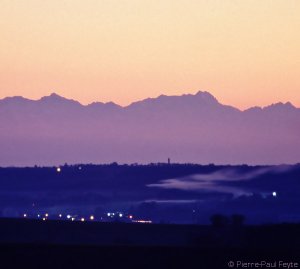 Le Vignemale au crépuscule
©2004 Pierre-Paul Feyte
UPDATE: The Exclusive SOTT 'Pentagon Strike' Flash Presentation created by a QFS member has been so popular that the maximum bandwidth for the original site where it was located has been easily surpassed.
We are working on a solution and hope to have the presentation posted again tomorrow.
In the meantime, if any of our readers have a copy and are able to pass it along or post it to other sites, please do so and let us know!
Let's face it. Things are not getting any better here on the Big Blue Marble. But then, after thousands of years of the same old same old, who should expect things to improve? Progress down here is measured in the GNP, advances in technology, lands conquered and natural resources brought under control. Small wonder that things of the soul have no importance - and having no importance, small wonder that we have created hell on earth, for what would hell be other than a place with no soul?
Meteor sighting resembles fireworks display
Thursday, August 26, 2004. 10:26am (AEST)
There were reports of a meteor in the skies over central and southern New South Wales and Victoria last night.
Police stations from the New South Wales central coast to Shepparton in Victoria received calls about the object.
Sergeant Joe Fitzpatrick from Goulburn Police saw the object at 11.30pm AEST while on patrol.
"To the north of the town, I saw a very bright light in the sky - similar to a very large flare. It just illuminated the entire sky for a very brief time and disappeared," he said.
Sergeant Fitzpatrick says it looked like a fireworks display.
"Well it had a slight tail...it was like a skyrocket, but extremely large."
Comment: Yup. Another one. Must just be a late Perseid, right? Nothing to worry about, after all, it was in Australia. Don't want to hurt no kangaroo, but better it fall there than some place really important. Heck, they're all descendents of criminals, right?
Click here to comment on this article
Holding the Pentagon Accountable: For Religious Bigotry
New York Times
Published: August 26, 2004
The first reports sounded like an over-the-top satire of the Bush Pentagon: the deputy secretary of defense for intelligence - the ranking general charged with the hunt for Osama bin Laden - was parading in uniform to Christian pulpits, preaching that God had put George Bush in the White House and that Islamic terrorists will only be defeated "if we come at them in the name of Jesus." But now a Pentagon inquiry has concluded that Lt. Gen. William Boykin did indeed preach his grossly offensive gospel at 23 churches, pronouncing Satan the mastermind of the terrorists because "he wants to destroy us as a Christian army."
It was stunning last fall, after the general's lapse into brimstone bigotry became public, when Secretary of Defense Donald Rumsfeld, far from disturbed, praised General Boykin for an "outstanding record" and kept him at the highly sensitive intelligence post during the inquiry. Now it is simply mind-boggling that Pentagon reports suggest the general may survive with only a reprimand for having failed to clear his remarks in advance.
General Boykin has to be removed from his current job. He has become a national embarrassment, not to mention a walking contradiction of President Bush's own policy statement that the fight against terror is bias-free and not a crusade against Islam. (General Boykin preached of a 1993 fight against a Muslim warlord in Somalia: "I knew that my God was bigger than his. I knew that my God was a real God, and his was an idol.")
The sense of offense among Islamic Americans is already deep. Removal of the preacher-general should be a no-brainer, however much the president's campaign generals might fear offending the Christian right voting bloc.
Comment: This over-the-top satire has been going on since before Bush took office. Finally the New York Times is taking notice. Unfortunately, the Times only sees Boykin as a "national embarrassment". Such penetrating stuff! We hope that the Times will now bring its new-found perspicacity to other problems such as Iraq, the genocide of the Palestinians, and the truth about 9/11.
Click here to comment on this article
UN condemns Israel's use of Palestine school as detention center
www.chinaview.cn 2004-08-27 00:18:50
UNITED NATIONS, Aug. 26 (Xinhuanet) -- A leading UN humanitarian agency on Thursday "strongly protests" Israel's use of Palestine refugee schools as detention and interrogation center for hundredsof suspects.
The abuse is "a flagrant violation of UN privileges and immunities," The UN Relief and Works Agency for Palestine Refugeesin the Near East (UNRWA) said in a press release issued at the UN headquarters in New York.
The agency said that Israeli military forces broke into its girls' school in Askar Refugee Camp in the West bank on Tuesday. "This was not the first such abuse of the agency's humanitarian installations in the West Bank and Gaza Strip, with at least 10 schools having previously been occupied," it said.
"In all these cases, the Agency has also protested to the Israeli authorities, but without result, as the most recent violation reflects," it added.
Meanwhile, the New York-based Bureau of the UN Committee on theExercise of the Inalienable Rights of the Palestinian People has expressed "grave concern at the systematic violation of the rightsof Palestinian prisoners" in Israeli prisons, where over 3,000 detainees, including hundreds of ailing prisoners, are now on hunger strike.
"The prisoners are routinely subjected to inhumane conditions of incarceration, including arbitrary and indiscriminate beatings,humiliating strip searches, solitary confinement for excessive periods of time, and severe restrictions on family visits," the bureau said in a statement.
Click here to comment on this article
Israel to expel detained Briton
An Israeli court has ordered the expulsion of a UK journalist who has been held in Tel Aviv since challenging Israel's refusal to grant her entry.
The Israelis say Ewa Jasiewicz, 26, is a political activist whose journalism is biased. They denied her entry at Ben Gurion Airport on 11 August.
The court said she could be exploited by militant groups as a result of her "naivety and convictions".
Ms Jasiewicz has denounced the ruling as "an insult to my professionalism".
Israeli authorities say Ms Jasiewicz is an activist with the International Solidarity Movement, a Palestinian led organisation which stages protests against the Israeli occupation.
Tel Aviv District Court judge Drora Pilpel said Ms Jasiewicz did not pose a direct threat to Israeli security but Palestinians could manipulate her "naiveté".
The court said: "Although the International Solidarity Movement was established for a humanitarian cause, it has been exploited, whether consciously or unconsciously, for different and dangerous goals."
In a statement, Israel's ambassador to the UK, Zvi Heifetz, said: "Ms Jasiewicz was open enough to admit her involvement in ISM activities and not to argue that her press card should grant her automatic entrance to the country.
"The court verdict was based on evidence that she might be unconsciously exploited by terrorists, as has already happened with ISM activists."
But Ms Jasiewicz said: "I have been a journalist for five years and no one will manipulate me into any sort of agenda or violence."
'Bail'
On Friday the Israeli authorities had offered to free her on bail, saying that they had no case to hold her.
A friend paid the 30,000 Israeli shekels (£3,600) price.
She was to be freed on condition she did not enter the occupied territories.
Once released Ms Jasiewicz was to appeal these conditions as she was due to go and report on living conditions in the occupied territories.
But then the Israeli state appealed against the court's decision to free her and she remained in detention.
Red Pepper magazine and the National Union of Journalists (NUJ) have called on UK Foreign Secretary Jack Straw to protest in the strongest terms to the Israeli government at her detention.
In response, the Foreign and Commonwealth Office spokesman said it was giving Ms Jasiewicz consular assistance, which included ensuring she had legal representation.
'Witness'
Her colleagues at Red Pepper suspect Ms Jasiewicz has been singled out because she witnessed and reported on the killing of a 13-year-old Palestinian boy, Baha al-Bahesh, by the Israeli Defence Force soldier in Nablus.
Her account of the death received considerable press coverage.
A spokesman for the Israeli prime minister told BBC News Online on Friday that the country had a right to determine who entered it.
"A country has a legitimate right to question the intentions of an individual on entering a country.
"The authorities will behave in accordance with the decision of the court," the spokesman added.
Click here to comment on this article
Comment: Ah, freedom of the press, a wonderful thing. We wonder if we will ever have it. The following is Ewa Jasciewicz's own account:
A personal bias: I'm happy to declare the loaded agenda for which I was imprisoned - human rights and social justice
Ewa Jasciewicz
Thursday August 26, 2004
The Guardian
Life for journalists wanting to report from Israel has just become harder. I was detained two weeks ago by the Israeli authorities while trying to enter the country in order to complete a number of commissions for the British magazine Red Pepper. I have been held in custody at Ben Gurion airport ever since, while appealing against deportation. Yesterday, an Israeli judge ruled that the evidence against me, which has not been seen by my lawyer, is admissible, and so my appeal will be heard by the supreme court in the near future.
During my initial interrogation at the airport in Tel Aviv I was asked if I knew any violent Palestinians. Responding in the negative, I was told: "We think you do, but we can accept that you don't know that you do."
It shouldn't have come as a surprise to me that the Israeli state sees all Palestinians as potential terrorists. Thus anyone who associates with them is, at best, an unwitting associate. This view now seems to be extended to include politically engaged journalists such as myself.
To write well you must write about what you know well. In the course of my political activism I have visited the Palestinian communities in Gaza and the West Bank on many occasions. Ironically, however, this time I had planned to write about the Israeli side of the struggle.
I believe it is hugely important to diversify the representation of Israel both within the peace movement and within the national media. For many on the left, Israelis are seen only as soldiers, killers and snipers. Civil disobedience by peace and justice movements within Israel is largely invisible. Groups like Tay'Ush, the Arab-Jewish partnership for peace, and the growing refuseniks' movement represent a mounting Israeli consciousness, are vital to resolving the conflict. This is, of course, anathema to the political right within the country.
Israel likes to define itself as the only democracy in the Middle East. But democracy means a plurality of views, of voices and of positions. The fact that I write from a leftwing position should not render me voiceless.
When what can be said, or heard, or read, is decided by those in power, it can lead to a social psychosis, a false reality; and this is not only undemocratic but also totally destructive to any society. I believe that I was particularly targeted because of my involvement with the International Solidarity Movement, a non-violent, Palestinian-led organisation that stages protests against the occupation. I am proud to be associated with it. White westerners are not supposed to leave their comparative comfort zones and get involved in violent conflicts in the Middle East. Nor are they supposed to put their bodies between bullets, tanks and children. They are not meant to dismantle government security walls, accompany ambulances, live and laugh with, and grow attached to, "security threat" families and communities.
Yet by doing all this, the ISM volunteers have catalysed genuine relationships between internationals and Palestinians, and also between Israelis and Palestinians, contradicting the belief of the Israeli state that coexistence between Palestinians and Israelis is impossible.
The human rights violations committed by the Israeli army are a reality that many supporters and citizens of the country would like to ignore. Recently, when I told a former soldier about the killing of Baha al-Bahesh, a 14-year-old boy from Nablus, that I witnessed two years ago, I was told: "You dreamt it." Yet my eyewitness account of the death received considerable press coverage at the time. Writing about life in the occupied territories is a form of activism, and communicating those human rights abuses to a wider audience is an essential part of my advocacy journalism.
Yesterday I accepted in court that I had interviewed terrorists as part of my journalistic work, but maintained that I had not been duped into helping them. I am a journalist and I know when people are being manipulative. I know myself.
I am happy to declare that my writing has a biased and loaded agenda: the promotion of human rights and social justice. I am motivated by the belief that writing can serve as an agitational tool for those who wish to challenge oppressive realities, demand grassroots power and reclaim lives lost to racist and colonialist agendas.
None of this is dangerous to the people of Israel. Rather, it holds out a hope that Israelis will not always be prisoners in their land. As the grassroots peace and anti-capitalist movement swells across the world, new borders - ideological and physical - are crossed, and new alliances, politics and consciousness can be forged.
The struggle to allow engaged journalism within Israel is a fight to create real Israeli democracy, in the hope that the country's social movements can, together with the Palestinian social movements, create real peace.
Comment: We can't have peace breaking out between Israelis and Palestinians, now, can we. That'll mess up the plans to wipe those Arabs off the face of the earth. Can't have the truth about what is really going on in Israel reported in the international press. Then the Israelis and their supporters won't be able to hide behind the victimhood enshrined in the Holocaust.
Click here to comment on this article
Dershowitzian Logic or The Ultimate Chutzpah
By Kam Zarrabi
8/25/04
Responding to the article by Alan Dershowitz in Forward Newspaper Online, August 20, 2004: "Amend International Law to Allow Preemptive Strike on Iran"
The renowned defense attorney and Harvard Law School professor, Alan Dershowitz, needs no introduction to the American public, and not just for his involvement with the so-called Dream-Team of defense lawyers in the O. J. Simpson trials. Dershowitz is also the author of several books, among them Chutzpah and The Case For Israel.
Dershowitz is also greatly admired for championing the Jewish cause, Zionism, and for his unwavering support for Israel. His detractors call him an Israel apologist, and more often, the penultimate personification of chutzpah. Chutzpah is a Yiddish word that means unmitigated gall. To better illustrate the point, chutzpah is exhibited when the kid who has just been convicted of the double murder of his parents, asks the judge for clemency because he is now an orphan!
But one thing that nobody, friend or foe, could dispute regarding Mr. Dershowitz is the fact that he is a fantastic defense attorney, one of the best. Harvard doesn't employ lightweights as professors.
That said, let us define the job description or duties and responsibilities of defense attorneys. First, of course, is a solid education and a degree from a reputable law school. From then on it is the matter of specialization. Some law school graduates become district attorneys and prosecutors whose job is to level charges against the accused, utilizing all the legal arsenal at their disposal to convince the jury and the judge. Defense attorneys, on the other hand, use the same legal weaponry to present all conceivable loopholes and justifications to torpedo the prosecutors' case by disputing and discrediting their allegations and evidentiary arguments.
Neither the prosecutors, nor the defense attorneys are, or are even expected to be, interested in flushing out the truth or to help justice prevail. That is the job of those law school graduates who become judges and preside at the bench.
When Mr. Dershowitz decided to offer his expertise in the defense of O. J. Simpson, it was not for his sense of justice as a Good Samaritan, or because he truly felt that Mr. Simpson was innocent of the charges. He got involved in that high-profile case because it offered him a wonderful opportunity to demonstrate his legal skills to prevail against formidable odds. To Dershowitz and others in similar positions, the guilt or innocence of the accused is of absolutely no significance; they are simply doing their job of arguing on the defendant's behalf.
For Mr. Dershowitz, championing the Jewish cause in general, and Israel in particular, has been a life-long pursuit. Again, is matters little what Israel does or is accused of doing, for Dershowitz to mobilize all his legal resources and to rise in its defense. To be quite clear, his passion for what he certainly believes to be his heritage, his roots, is not object of any criticism here; his ruthless methodology is. But when we recall his field of expertise, his professional background and experience, this methodology, as ruthless as it truly is, becomes more understandable.
Let us examine the article in Forward, a Jewish publication in New York, where Mr. Dershowitz has expressed his very cavalier opinions.
He starts by: "Intelligence reports about Iran's capacity to produce nuclear weapons aimed at Israel are becoming ominous. Unless diplomatic pressure causes the Iranian mullahs to stop the project, Iran may be ready to deliver nuclear bombs against Israeli civilian targets within a few short years. Some Iranian leaders, such as former president Hashemi Rafsanjani, have made it clear that this is precisely what they intend to do. Killing 5 million Jews would be worth 15 million Iranians in a retaliatory Israeli strike, according to Rafsanjani's calculations."
After setting the premise based on several shrewdly chosen presuppositions, our world-class attorney and law professor begins to build his case. His thesis can be summarized as follows:
1- Fact: Iran is actively engaged in developing nuclear weapons and their delivery vehicles.

2- Fact: Once these weapons are ready, the Israeli civilian centers will be targeted, even if the deaths of five million Israelis would cost Iran fifteen million Iranian lives in retaliation.

3- Conclusion: If diplomacy doesn't result in Iran abandoning its aggressive intentions, preemptive strikes against Iran become imperative, even if that would mean causing major civilian casualties.

4- Since Iran has strategically located its nuclear installations in the proximity of population centers, Iran should bear the responsibility for such casualties.

5- International laws should be amended in such a way as to allow such preemptive attacks.
There are two separate issues that need to be addressed here: One issue has to do with the initial paragraph in Mr. Dershowitz's article quoted above. The second issue is Mr. Dershowitz's solution to the problem as he sees it.
The first sentence of his opening paragraph states that Iran, according to intelligence reports, has the capacity to produce nuclear weapons. But he very cunningly adds that such weapons would be aimed at Israel. What he fails to say is the fact most countries have the capacity to create nuclear weapons, and that any nuclear weapon from any source, be it Pakistan, India, China, France or North Korea, could conceivably be aimed at Israel. In the second sentence the visionary attorney projects that Iran's nuclear bombs may be ready to strike at Israeli civilian targets within a couple of years. Again, what he fails to say is how he reached the conclusion that Iran would aim at Israeli civilian targets. In the last sentence he cleverly misquotes Hashemi Rafsanjani by putting the cart before the horse in such a way that a/ Israeli civilian population become the target of an Iranian nuclear attack and, b/ such an attack becomes the official policy of the Iranian regime as soon as it succeeds in creating the bomb.
Mr. Rafsanjani's remarks were actually just the reverse of Dershowitz's quotes. The former Iranian president had commented that, should Israel attack Iran with its entire nuclear arsenal, killing fifteen million Iranians, Iran's retaliatory attack could wipe out five million Israelis, meaning the entire population of Israel.
Dershowitz writes that "Israel has the right, under international law, to protect its civilians from a nuclear holocaust, and that right must include preemptive military action…." Question is: Why doesn't he grant other nations the same right?
Well, this is exactly what Iran's defense chief, Shamkhani, said recently in response to the renewed threats of preemptive strikes against Iran by Israel. He agrees that any nation has the right to defend itself against military attacks. He also suggested that the right to preemptive strikes against an imminent threat is not exclusive to only some states and forbidden for others.
For Alan Dershowitz Israel's interests always come first. Reading his book, Chutzpah, it is easy to conclude that the author is accusing the whole world to be anti-Semitic. He believes that the Jewish people must learn to be more assertive and proactive in standing for their rights; in short, Jews need more chutzpah, hence the title of his book, to get their fair share. It is, therefore, no surprise that Dershowitz is dismayed at the global attitude against Israel's decades-long policies that have been in clear violation of international laws. Dershowitz does not like that, even though he knows that international laws have never stopped Israel from following its desired course. As a professional lawyer and a renowned Harvard Law School professor, Mr. Dershowitz sees only one solution to this dilemma; amend international law to suit Israel!
His logic is indeed impeccably Dershowitzian: he simply wants Israel to pursue its agendas regardless of what they might be, pursue them with impunity, and look good doing it.
Now, that's real chutzpah!
Comment: The defense attorney works to get his client declared innocent even when he is guilty. Any means to this end are justified. We see that Dershowitz, who brought the issue of torture back into the arena for discussion when, after 9/11, he proposed that torture was justified when dealing with people who perpetrate such crimes.
Does he really think that the people responsible should be tortured for their role in 9/11 and the immense cover-up since? Would he like to see Dick Cheney at the top of a pyramid of naked men? George Bush on a dog leash? Arial Sharon's private parts being given the thumb's up or down by a female soldier?
Click here to comment on this article
Gaza Gunmen Shoot Palestinian Intelligence Chief
Wed Aug 25, 2004 02:56 PM ET
By Nidal al-Mughrabi
GAZA (Reuters) - Gunmen ambushed the commander of the Palestinian intelligence service in the Gaza Strip on Wednesday, wounding him, killing two bodyguards and fueling fears of spreading chaos.
The apparent attempt to kill Tareq Abu Rajab, acting head of the General Intelligence Service, was the latest sign of unrest amid a power struggle ahead of an Israeli pullout from occupied Gaza and growing demands for anti-corruption reforms.
Hours after the attack, Palestinian legislators voted for a package of widely-demanded reforms. But sponsors feared nothing would come of it because President Yasser Arafat had withheld approval.
Abu Rajab, 58, was close to Arafat, but not widely seen as taking sides in a power struggle that pits younger leaders -- who say they want change -- against an old guard accused of corruption and failing to win a state.
Gunmen fired from two moving cars as Abu Rajab drove to his office in Gaza City, witnesses said. Then they peeled off in different directions in what looked like a carefully plotted attack.
Two of Abu Rajab's bodyguards were killed and another wounded. Medics said the commander was in serious condition and had been moved to a hospital in Israel.
"It's a sinful crime and it is condemned by everybody," said Rashid Abu Shbak, head of internal security in the Gaza Strip.
"The Palestinian Authority must carry out decisive procedures to stop the security deterioration, which has started to harm Palestinian leaders," he told Reuters.
Palestinians face the worst internal strife since gaining a measure of self-rule a decade ago. Gunmen demanding change briefly kidnapped local officials and foreign aid workers in the Gaza Strip last month, then set security posts ablaze.
The then head of General Intelligence, Amin al-Hindi, resigned over the chaos. Arafat refused to let him go, but al-Hindi has not returned to his job.
Click here to comment on this article
US charity arrests raise questions regarding 'war on terror'
By Hussein Ibish
Daily Star staff
Thursday, August 26, 2004
WASHINGTON: In a case with profound implications regarding the nature and focus of the US "war on terror," on July 27 US authorities arrested the leadership of one of the largest Muslim charities in the United States, the Holy Land Foundation for Relief and Development.
Three additional indictments handed down on Aug. 20 were said by US authorities to also be part of efforts to stop the flow of money from the United States to the Palestinian militant group Hamas. A Hamas senior official who was indicted on Aug. 20, Moussa Abu Marzook, told the Associated Press in Syria: "Hamas did not take a penny from the Holy Land Foundation. Hamas has its own means of funding and that is not connected to any institution in the West."
The 42-count indictment accuses the senior officers and fundraisers of Holy Land of using the charity to "provide financial and material support" in excess of $12.4 million to "Hamas-controlled organizations in the West Bank and Gaza, as well as for direct payment to individuals whom (Holy Land) supported on behalf of Hamas, including family members of martyrs and prisoners." The case appears to rely heavily on information provided by Israeli intelligence, with federal authorities citing "critical assistance from our foreign allies and partners."
Among the accused arrested on July 27 were Holy Land's founder, Shukri Abu Baker, its executive director Ghassan Elashi, Mohammed al-Mezain, Mufid Abdel-Qader and Abdel-Raham Odeh. Also indicted were Haitham Maghawri and Akram Mishal, both said to be outside the United States. A former fundraiser, Abdel-Jabbar Hamdan, was also detained, and is presumed to be a material witness in the case.
Indicted along with Abu Marzook in the second case, and arrested on Aug. 20, were Mohammed Salah, whose Chicago-based Koranic Literacy Institute was the subject of a controversial civil asset forfeiture in the late 1990s, and Abdel-Haleem Ashqar, who has previously been held on contempt of court charges for refusing to testify in other cases. Neither man has been connected to the charity.
John Boyd, a lawyer for Holy Land, told The New York Times: "This is completely unfounded, and if the Holy Land Foundation is given an opportunity to defend itself, it will be able to rebut every charge made in this indictment.''
The American Muslim community was shocked when the federal government in December 2001, froze the assets of Holy Land, along with two lesser known charities. With outstanding assets estimated to be in excess of $7 million, and having been listed as a suggested charity on the State Department's website, Holy Land was among with most respected American Muslim institutions.
But for years it had been the subject of accusations, mainly from journalist Steven Emerson and his one-time associate, the self-described "terrorist hunter" Rita Katz, that it was a "front" or fundraising arm of Hamas-related social service organizations. These charges were not taken seriously by many people, because of the long history of false accusations from Emerson and his associates against Arab and Muslim Americans.
Holy Land challenged the seizure of its assets, filing a suit in federal court against the government in March 2002. In response, the government declared its intention to re-designate Holy Land as a "terrorist organization" itself, rather than merely treating it as a supporter or fundraiser. Lawyers for the charity say they were given two weeks to challenge the accusations in a voluminous memo from the Justice Department. They say they declined to try to meet what they call an impossible deadline. In May 2002, the government officially re-classified the group a "specially designated terrorist."
Holy Land's lawsuit proved a complete failure, as neither the federal district court judge nor the appellate court would allow the charity to introduce evidence challenging the government's claims. Though these rulings created a minor uproar among legal scholars, the Supreme Court refused to hear Holy Land's appeal and the rulings stood.
Civil liberties groups insisted that since Holy Land had never been allowed to defend itself, the government should either bring criminal indictments against its leaders, or unfreeze the assets. On July 27, the indictments came.
The accusations against Holy Land and the other charities have created a conundrum for American Muslims regarding how to perform their religious obligation of zakat - charitable giving - when some of the best known charities, implicitly endorsed by the State Department and enjoying federally-approved tax-free status, are now accused of being criminals.
Arab-American and Muslim groups have repeatedly suggested that the government provide some mechanism to assure Muslim donors that the groups to which they contribute are not suspected of any crimes, but to no avail. Additionally, the effort, spearheaded by Salam al-Marayati, executive director of the Muslim Public Affairs Council, to get the remaining Holy Land funds, estimated to be about $5 million, released to a mutually acceptable third party charity has met with little success.
Central to the Holy Land case are key civil liberties and foreign policy issues defining development of the US war on terror.
Free speech and freedom of conscience in the United States could be compromised if giving money to humanitarian operations overseas run by people with the wrong opinions becomes a serious crime. Few Americans are aware of the vast social-service network run by Hamas in the Gaza Strip, and - like the Israeli government but unlike many others - US authorities seem to recognize no difference between the humanitarian, political and para-military branches of the movement.
The indictments against Holy Land suggest the money in question was allegedly passed to "charitable fronts" for Hamas, and in part provided as aid for the families of its activists who were jailed or killed. "In this manner, defendants effectively rewarded past, and encouraged future, suicide bombings and terrorist activities on behalf of Hamas," the government says.
If the case proves to be based solely on support for humanitarian groups run by people with the wrong opinions or the wrong associations, or aid to people who have the wrong relatives, then otherwise lawful activity will be a crime more because of the opinions being implicitly expressed than any violent acts. Since "material support" laws were enacted, civil liberties scholars have warned that they could develop into a form of "thought crime" in the US.
In July, the US government was rebuffed by a jury in Idaho that acquitted a Saudi student of "supporting terrorism" by setting up websites that allegedly praised terrorism in Chechnya and Israel. He was charged under a provision of the US Patriot Act makes that makes it illegal to provide "expert advice or assistance" to terrorists.
The recent arrests suggest that just as US foreign policy has become difficult to distinguish from Israeli attitudes, US law enforcement increasingly sees little difference between nationalist groups fighting Israeli occupation and Al-Qaeda's worldwide terrorist network.
Opponents of Israel are thus increasingly treated as opponents of the US by American law enforcement, while the same standard is not applied to other nationalist groups such as Irish, Basque, Tamil, Iranian, Colombian that engage in terrorism.
Click here to comment on this article
Operation Garden Plot

The United States Civil Disturbance Plan 55-2
The following information was obtained under the Freedom of Information Act. The original printing was of June 1, 1984. The information herein is UNCLASSIFIED and does not come within the scope of directions governing the protection of information affecting the national security.
It took a little more than three years to obtain a full copy of Operation Garden Plot from the U.S. Government, and was done so under the freedom of information act for unclassified documents. The implications within the full context of this document should make the hair on the back of your head stand on end.
In this document signed by the Secretary of the Army, is hereby assigned as DOD Executive Agent for civil disturbance control operations. Under Plan 55-2 he is to use airlift and logistical support, in assisting appropriate military commanders in the 50 states, District of Columbia, and the Commonwealth of Puerto Rico and US possessions and territories, or any political subdivision thereof.
The official name of this project is "Operation Garden Plot."
Under this plan for the deployment of Operation Garden Plot, the use of CIDCON-1 will be mandatory. This direct support of civil disturbance control operations is to be used by the Army, USAF, Navy, and Marine Corp. with an airlift force to be comprised of MAC Organic Airlift Resources, airlift capable aircraft of all other USAF major commands, and all other aerial reconnaissance and Airborne Psychological Operations. This is to include control communications systems, aeromedical evacuation, helicopter and Weather Support Systems.
If any civil disturbance by a resistance group, religious organization, or other persons considered to be non-conformist takes place, under Appendix 3 to Annex B of Plan 55-2 hereby gives all Federal forces total power over the situation if local and state authorities cannot put down said dissenters.
Annex A, section B of Operation Garden Plot defines tax protesters, militia groups, religious cults, and general anti-government dissenters as Disruptive Elements. This calls for deadly force to be used against any extremist or dissident perpetrating any and all forms of civil disorder.
Under section D, a Presidential Executive Order will authorize and direct the Secretary of Defense to use the Armed Forces of the United States to restore order.
2 TAB A APPENDIX 1 TO ANNEX S USAF CIVIL DISTURBANCE PLAN 55-2 EXHIBIT POR:SGH, JCS Pub 6, Vol 5, AFR 160-5 hereby provides for America's military and the National Guard State Partnership Program to join with United Nations personal in said operations. This links selected U.S. National Guard units with the Defense Ministries of "Partnership For Peace." This was done in an effort to provide military support to civil authorities in response to civil emergencies.
Under Presidential Decision Directive No. 25, this program serves to cement people to relationships between the citizens of the United States, and the global military of the UN establishments of the emerging democracies of Central and Eastern European countries. This puts all of our National Guardsmen under the direct jurisdiction of the United Nations.
Section 3:
This plan could be implemented under any of the following situation: (1) Spontaneous civil disturbances which involve large numbers of persons and/or which continue for a considerable period of time, may exceed the capacity of local civil law enforcement agencies to suppress. Although this type of activity can arise without warning as a result of sudden, unanticipated popular unrest (past riots), it may also result from more prolonged dissidence.
This would most likely be an outgrowth of serious social, political or economic issues which divide segments of the American population. Such factionalism could manifest itself through repeated demonstrations, protest marches and other forms of legitimate opposition but which would have the potential for erupting into spontaneous violence with little or no warning.
(2) Planned acts of violence or civil disobedience which, though arising from the same causes as (1) above, are seized upon by a dedicated group of dissidents who plan and incite purposeful acts designed to disrupt social order.
This may occur either because leaders of protest organizations intentionally induce their followers to perpetrate violent acts, or because a group of militants infiltrates an otherwise peaceful protest and seeks to divert it from its peaceful course.
Subsection C:
(2) Environmental satellite products will continue to be available. (d) Responsibilities. Meteorological support to civil disturbance operations will be arranged or provided by AWS wings.
The 7th. Weather Wing (7WW) is responsible for providing / arranging support for Military Airlift Command (MAC) airlift operations. The 5th Weather Wing (5WW) is responsible for supporting the United States Army Forces Command.
(3) SITUATION. Civil disturbance may threaten or erupt at any time in the CONUS and grow to such proportions as to require the use the Federal military forces to bring the situation under control.
A flexible weather support system is required under control. A flexible weather support system is required to support the many and varied options of this Plan. ANNEX H: XXOW, AWSR 55-2, AWSR 23-6, AFR 23-31, AR 115-10, AFR 105-3.
Subsection B:
Concept of Environmental Support. Environmental support will be provided by elements of Air Weather Service (AWS) in accordance with refs a-f. The senior staff meteorologist deployed in the Task Force Headquarters (TFH) will be the staff weather officer (SWO) to the TFH.
Centralized environmental support products are requested in accordance with AWSR 105-18.
(4) Weather support is provided by weather units located at existing CONUS bases or by deployed SWOs and/or weather teams to the objective areas.
(5) Support MAC source will be provide in accordance with the procedures in MARC 103-15. MAC forces will be provided in accordance with the procedures in AFR 105-3. (a) Air Force Global Weather Central: Provides centralized products as requested.
REFERENCES: JCS Pub 18 - Doctrine for Operations Security AFR 55-30, Operations Security
1. GENERAL: Opposition forces or groups may attempt to gain knowledge of this plan and use that knowledge to prevent or degrade the effectiveness of the actions outlined in this plan. In order to protect operations undertaken to accomplish the mission, it is necessary to control sources of information that can be exploited by those opposition forces or groups.
OPSEC is the effort to protect operations by identifying and controlling intelligence indicators susceptible to exploitation. The objective of OPSEC, in the execution of this plan, is to assure the security of operations, mission effectiveness, and increase the probability of mission success.
2. RESPONSIBILITY FOR OPERATIONS SECURITY (OPSEC):
The denial of information to an enemy is inherently a command responsibility. However, since the operations Officer at any level of command is responsible to his commander for the Overall planning and execution of operations, he has the principal staff interest in assuring maximum protection of the operation and must assume primary responsibility instibility for ensuring that the efforts of all other staff elements are coordinated toward this end. However, every other individual associated with, or aware of, the operation must assist in safeguarding the security of the operation.
3. OBJECTIVES:
a. The basic objective of OPSEC is to preserve the security of friendly forces and thereby to enhance the probability of successful mission accomplishment. "Security" in this context relates to the protection of friendly forces. It also includes the protection of operational information to prevent degradation of mission effectiveness through the disclosure of prior knowledge of friendly operations to the opposition. b. OPSEC pervades the entire planning process and must be a matter of continuing concern from the conception of an operation, throughout the preparatory and execution phases, and during critiques, reports, press releases, and the like conducted during the post operation phase.
4. Specific operations orders and standard operating procedures "MUST be developed with the awareness that the opposition may be able to identify and exploit vulnerable activities.
Reference Material:
Released under Freedom of Information Act on March 30th, 1990. All material presented here has been declassified and supersedes USAD Operations Plan 355-10 of July 16, 1973. Information released by USAF under supervision of Alexander K. Davidson, BRIG. GEN, USAF, Dep. Director of Operations.
APPENDEX 5 TO ANNEX E TO USAF CIVIL DISTURBANCE PLAN 55-2 Annex Z. Other References: 10 United States Codes 331,332,333,8500,1385, MARC 105-1, MARC 105-18, AR 115-10, AFR 105-3, PDD-25.
Comment: "Today Americans would be outraged if U.N. troops entered Los Angeles to restore order; tomorrow they will be grateful. This is especially true if they were told there was an outside threat from beyond, whether real or promulgated, that threatened our very existence. It is then that all peoples of the world will plead with world leaders to deliver them from this evil. The one thing every man fears is the unknown. When presented with this scenario, individual rights will be willingly relinquished for the guarantee of their well being granted to them by their world government." - Henry Kissinger speaking at Evian, France, May 21, 1992. Bilderburgers meeting. Unbeknownst to Kissinger, his speech was taped by a Swiss delegate to the meeting.
Click here to comment on this article
Lethal Weapon star arrested in US
Lethal Weapon star Danny Glover was arrested on Wednesday outside the Sudan Embassy in Washington during a protest over Sudan's humanitarian crisis.
Glover was speaking to a crowd who were calling for a peacekeeping force to stop violence in western Sudan.
"We want an end to the hostility," said Glover. The actor was later charged with disorderly conduct and unlawful assembly, the US Secret Service said.
Comment: Once more, the people who should be in jail aren't, and the people who are war criminals are free...not only free, they are running the whole show.
Click here to comment on this article
Teacher says he lost course for using Iraq photos

By Megan Tench, Globe Staff | August 25, 2004
A Bellingham High School teacher sued his principal and school superintendent yesterday, contending they unfairly took away one of his classes because two parents complained that students had to study graphic photographs of American soldiers abusing Iraqi prisoners.
One parent complained to school officials about nudity in the photos after a class in May, while the other said the images from Abu Ghraib prison in Iraq portrayed America in a negative light, teacher Brian Newark said yesterday.
Newark, 51, said he believes he was removed from the class as retaliation for his protest of an order to stop using the photos for assignments. He had been teaching the current events class since 2000. Newark will teach history this year and plans to return to work tomorrow to prepare for the school year.
''If public schools are going to be subjected to this kind of censorship, only bad things can happen," he said.
In the suit filed yesterday in US District Court in Boston, Newark's lawyers contend that school officials violated his right to free speech.
The suit argues that the removal violates precedents that protect teachers' academic freedom, especially when covering pertinent yet controversial subjects, said Leonard Singer, a lawyer handling the case for the American Civil Liberties Union of Massachusetts.
The school officials' action ''shocks me in a lot of ways," said Newark, a 25-year teacher who has spent the past 12 years at the high school in southeastern Massachusetts.
''I expected the principal to protect me as a teacher from individual parents who are upset over one thing or another," he said. ''The class was called Current Events, and it [the prison abuse scandal] was the number one current event at the time. The photos were being displayed everywhere, on television news programs, in newspapers. I was doing my duty as a teacher. At least that's what I thought."
Bellingham school officials did not return calls seeking comment yesterday. [...]
''When teachers are punished for having given appropriate assignments on controversial subjects, there is a chilling effect on all teachers who learn to be cautious and timid," Singer said.
With the school year set to begin Monday, Newark's lawyers are asking the court to let him continue teaching the class, a popular elective taken by juniors and seniors.
Last spring, 24 seniors and four juniors enrolled in the current events class, which aims to introduce students to contemporary social, political, economic, and social issues.
According to court documents, on May 10, Newark asked his students to look up the photos at the center of the Abu Ghraib scandal on CNN and MSNBC websites and write a description of the photos.
The prison scandal, which erupted earlier this year, provoked widespread outrage around the world and prompted US authorities to charge six American guards at the prison with abusing Iraqi detainees.
Newark said he warned his students that the photographs, many depicting smiling Americans soldiers apparently abusing naked Iraqi detainees, might be upsetting and offered to give an alternative assignment.
None of the students asked for the alternative assignment, Newark said, but the parents of one student complained to him and school administrators, including superintendent Theodore C. Mattocks.
Two days later, on May 12, Trudeau ordered Newark to cease any work involving the photos.
''They didn't give a reason, they just said a parent complained," Newark said. ''I stopped temporarily under protest, but I didn't promise to not use them again."
Instead, Newark contacted the ACLU lawyers, who immediately faxed school administrators a letter notifying them that they were violating the teacher's rights. Trudeau retracted his ban on the photo use, Newark said.
Newark, who was scheduled to teach the course again this fall, thought the issue was over. But in June school officials told him that he would not teach the current events class, he said.
''My department head came in the second week of June and told me there was 'more fallout' from the incident," he said.
While the teacher defends his position, a spokeswoman for a social conservative group said parents need to know when such graphic images are to be shown in class.
''Just because it's accessible doesn't mean it's appropriate," said Genevieve Wood of the Family Research Council in Washington, D.C.
''You can talk about the prisoner abuse without showing graphic images," she said. ''And clearly that is something that should be cleared with parents before involving students."
Comment: Whatever American teachers do, they should never present the truth - it might cast America in a negative light. We can't have the lambs think that they are being led to the slaughter, now can we? Never mind that the rest of the world knows damn well what the US is up to...
Click here to comment on this article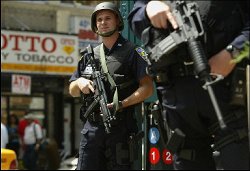 Central New York an armed fortress for Republican convention
August 26, 2004
NEW YORK (AFP) - New York authorities are turning central Manhattan into an armed security fortress for the four-day Republican National Convention that opens next Monday to nominate President George W. Bush for a second four-year term.
"The city and the state as well as many agencies and thousands of individuals have come together in partnership to provide an unprecedented, comprehensive level of security to protect this great city and the convention," said US Homeland Security Secretary Tom Ridge.
Ridge's declaration of both the Republican convention, and the Democratic convention held in Boston last month -- the first political conventions since the September 11, 2001 attacks -- as "National Special Security Events" cleared the way for heavy federal participation in what would otherwise have been a security headache for the Big Apple's 37,000-strong police force.
"Working in partnership with the New York City Police Department and other local and state organizations, the Department of Homeland Security has invested substantial resources and personnel to ensure a safe and secure event," said Ridge.
Some 50,000 participants are expected at the convention, including delegates, journalists and elected officials, including Bush and Vice President Dick Cheney.
"New York is protected by land, sea and air," said Mayor Michael Bloomberg, adding that the security cordon around Madison Square Garden, the convention venue, would be so tight that, "If you aren't in the area around the Garden, you probably won't even know the convention is in town.
"Unless a delegate asks for directions," he added. "In that case, do as Ed Koch says, and 'Make Nice'," referring to a television commercial in which the former mayor urges New Yorkers to welcome the delegates.
Police say the area around the Garden will be sealed off to an 18-block radius, and only vehicles with special police permits will be allowed to enter.
That security perimeter will be patrolled around the clock by a 10,000-strong security force including New York City police, New York State police, FBI agents, SWAT teams and attack dogs.
The city security force will be reinforced by the US Coast Guard, US Immigration and Customs Enforcement agents, US Secret Service agents and the Port Authority of New York and New Jersey.
Security will be doubly tight along the three streets and three avenues abutting the Garden, access to which will be strictly limited to local residents and those accredited to the convention.
Inside that perimeter is the west side's Pennsylvania Station, to which a transit corridor has been set up to accommodate the half million workers who commute into and out of the city through the huge railway station each day.
"We are prepared," declared New York Police Commissioner Raymond Kelly. "Our officers have been trained to respond in a disciplined and effective way. The coverage will be more than adequate. We will be using in essence the entire department." [...]
Click here to comment on this article
NY Court Says Anti-Bush Protesters Can't Use Park
By Grant McCool
Aug 25, 7:04 PM (ET)
NEW YORK (Reuters) - A judge on Wednesday denied anti-Bush protesters permission to rally in Central Park on the eve of the Republican National Convention, leaving open the question of where possibly hundreds of thousands of demonstrators will go after a march through midtown Manhattan.
The decision by New York Supreme Court Justice Jacqueline Silbermann is the latest in a running legal battle between the protest group and the city. She sided with city officials, who say they fear the grass on the park's Great Lawn would be damaged and security could not be ensured for the huge crowd.
The lawn was restored seven years ago at a cost of $18 million.
"We fully recognize the vital importance of First Amendment rights," said Jonathan Pines, lead attorney for the city, in a statement following the ruling. "However, when dealing with an event of this magnitude, the city must balance all relevant factors, including the availability of other demonstration areas and the potential damage to Central Park."
Leslie Cagan, national coordinator for organizers United for Peace and Justice, said they would abide by the ruling and not rally in the park but would stage a rally nonetheless after the march, which is estimated to draw 250,000 demonstrators.
"We will not end at Madison Square Garden," said Cagan. "We are planning to have a rally some place else. We are talking about a location some distance away from the Garden."
The protest group had argued that their constitutional rights of free speech were being violated. The group is a coalition of organizations opposed to the U.S. war in Iraq and Bush administration policies.
They noted that the city has given permission to huge events in Central Park such as the Metropolitan Opera and a concert by the Dave Matthews Band sponsored by AOL last year.
"We believe the court is wrong and we believe this is actually a violation of our constitutional rights to assemble," Cagan said after the decision was announced.
Leveling criticism at Republican Mayor Michael Bloomberg, she added: "A Republican mayor hosting a Republican convention has done everything designed to undermine the demonstration against policies of a Republican administration."
The group has a permit to march under the banner "The World Says No To The Bush Agenda" on Sunday past Madison Square Garden.
Republicans are holding their convention in the famed arena Aug. 30 to Sept. 2 under strict security amid a series of government warnings of a possible terrorist attack to nominate President Bush for a second term in the race against Democratic nominee Sen. John Kerry.
In a separate case on Monday, a federal judge declined to order the city to issue a permit for a joint civil rights rally in Central Park on Saturday by another anti-war group and an Arab-American organization.
Click here to comment on this article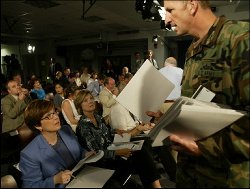 A soldier explains that the Pentagon has conducted a thoroughly unbiased investigation of itself regarding Abu Ghraib. The eager reporters responded, "Baa! Baa!"
Army implicates 27 in Abu Ghraib abuses
Thu Aug 26, 1:49 AM ET

WASHINGTON (AFP) - Twenty-seven military intelligence specialists "encouraged" or "participated" in abuses of inmates at Abu Ghraib prison in Iraq, according to a US army report.
"There is no single, simple explanation for why this abuse at Abu Ghraib happened," the report said.
"The primary causes are misconduct -- ranging from inhumane to sadistic -- by a small group of morally corrupt soldiers and civilians, a lack of discipline on the part of the leaders and soldiers of the 205th (military intelligence brigade) and a failure or lack of leadership" among US troops in Iraq.
Abuse of Iraqi inmates at Abu Ghraib prison sometimes amounted to torture, said the general who wrote the report.
"There are a few instances where torture was being used," General George Fay told reporters.
The report said 27 military intelligence specialists "encouraged" or "participated" in abuses, some of which was captured in photographs that touched off a worldwide scandal in April.
Pentagon officials released to key lawmakers in the US Congress the internal report drafted by Fay investigating abuses of Iraqi inmates during interrogations by military police.
"From 25 July 2003 to February 2004, 27 ... (military intelligence) personnel allegedly requested, encouraged, condoned or solicited military police personnel to abuse detainees and/or participated in detainee abuse and/or violated established interrogation procedures and applicable laws and regulations during interrogation operations at Abu Ghraib," the report said.
The release of the investigation's findings came just one day after another independent probe concluded that leadership failures at the top levels of the Pentagon contributed to the chaotic environment in which detainees were abused.
The blue-ribbon panel headed by former defense secretary James Schlesinger on Tuesday cited leadership shortcomings among the Joint Chiefs of Staff and the military command in Iraq that contributed to the abuse at Abu Ghraib.
General Paul Kern, who presented the Fay report, said that 23 members of the armed services and four civilian working under contract were involved.
He said that four other service members and two medical workers were also implicated for knowing about the abuses without having directly participated.
Colonel Thomas Pappas, commander of the 205th military intelligence brigade, was the highest-level officer whose case was recommended for disciplinary action.
Kern, who presented the report, said, "We found no one above that grade culpable of abuse."
Kern said that he regretted the abuses and that besides those who were responsible for the abuses, others knew about them and did nothing.
He said that the report listed some 9,000 documents and interviews with 170 persons during eight visits to Iraq.
The report focused on the responsibilities of military intelligence and military police, many of whom appear in the photographs that launched the scandal.
Click here to comment on this article
Comment: Remember when we were told that the torture at Abu Ghraib was just a few bad apples - just a few disgruntled soldiers? Perhaps the Pentagon felt it needed to do some damage control...
FLASHBACK: Rumsfeld can be faulted for Iraq abuse: panel
www.chinaview.cn 2004-08-25 11:18:47
WASHINGTON, Aug. 24 (Xinhuanet) -- US soldiers guarding the Abu Ghraib prison near Baghdad are mainly blamed for the Iraqi prisoners abuse, but senior commanders and defense officials up to Defense Secretary Donald H. Rumsfeld can be faulted for failed leadership and oversight, a four-member investigation panel said in a report released on Tuesday.
"There is both institutional and personal responsibility at higher levels" over the abuses, and "military and civilian leaders at the Pentagon share this burden of responsibility," the panel headed by James Schlesinger, the former US secretary of defense, said in the report.
The report said there was direct responsibility on soldiers and commanders in the field rather than in Washington.
"There was direct responsibility for those activities on the part of the commanders on the scene up to the brigade level," because they did not adequately supervise what was going on at Abu Ghraib, and there was indirect responsibility at higher levels, because the weaknesses at Abu Ghraib were well-known and corrective action could have been taken and should have been taken, Schlesinger said at a Pentagon press conference.
There was "chaos at Abu Ghraib" and "sadism on the night shift," he said.
Schlesinger said Rumsfeld's office could be faulted for inadequate supervision, but he objected to the suggestion that Rumsfeld should step down.
The report did not suggest that Rumsfeld ordered any of the abuses or encouraged them, but indicated that his policies created some confusion at lower levels of the military.
Click here to comment on this article
Comment: This is only the latest maneuver in a long line of lies to the public regarding US use of torture and the responsibility of numerous government officials. Remember the following articles?
FLASHBACK: Ashcroft Says Bush Rejects Use of Torture
JOHN J. LUMPKIN, Associated Press Writer
June 8, 2004
WASHINGTON - Attorney General John Ashcroft said Tuesday he was not aware of any order by President Bush that would violate U.S. laws or treaties banning torture of military prisoners captured in Iraq or elsewhere in the war on terrorism.
"This administration rejects torture," Ashcroft declared under tense questioning by members of the Senate Judiciary Committee. But he steadfastly refused to comment directly about a policy paper on this issue, or say whether Bush ever responded to it.
But, Ashcroft did say, "The Department of Justice will both investigate and prosecute individual who violate the law. The Torture Act is a law that we include in that violation."
The lawyers who wrote the policy paper were not identified by name and were part of a working group writing a policy governing interrogation techniques to be used at the prison for terrorist suspects at the U.S. naval base at Guantanamo Bay, Cuba.
Said Ashcroft: "The president of the United States has not ordered any conduct that would violate the Constitution of the United States, that would violate not one of the laws enacted by the Congress, or that would violate any of the various treaties."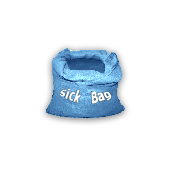 Ashcroft would not comment directly on the 2002 departmental memo that laid out a rationale in which the president was not necessarily bound by anti-torture laws or treaties because of his authority as commander in chief to protect national security.
Sen. Joseph Biden, D-Del., asked Ashcroft whether there is any presidential order that "immunizes (from prosecution) interrogators of al-Qaida suspects?"
"The president has issued no such order," Ashcroft replied.
The attorney general said the policy memo on this issue would not be made available to the committee, however. And Ashcroft said that while he respected the constitutional right of Congress to ask questions, "there are certain things that, in the interest of the executive branch operating effectively, that I think it is inappropriate for the attorney general to say."
"Do you think torture might be justified - not a memorandum - just a question to you, attorney general of the United States?" Biden asked.
"I am not going to issue or otherwise discuss hypotheticals. I will leave that to academics," Ashcroft replied.
"John, you sound like you're in the State Department," Biden shot back.
"I condemn torture. ... I don't think it's productive, let alone justified," Ashcroft responded.
Biden told Ashcroft "there's a reason why we (Congress) sign those (anti-torture) treaties" and it is to protect U.S. military personnel.
Sen. Edward Kennedy, D-Mass., blamed the memorandum for the prisoner abuses in the Abu Ghraib facility. [...]
Click here to comment on this article
The issue of breaking the Geneva Conventions goes back several years. Obviously, the Bush Administration had plans to commit war crimes all along. Given the experience of the Neocons in Israeli politics and the unending series of war crimes committed against the Palestinians -- the most obvious being that of "collective guilt" -- we shouldn't be surprised at what is happening now.
Remember this from September 2002?
US wants wider exemptions from war crimes court

By Robert Verkaik Legal Affairs Correspondent
21 September 2002

America is negotiating with Britain and other European Union countries to expand blanket immunity to cover civilian as well as military personnel who might fall foul of the new international war crimes tribunal in the Hague.
The US ignores international law. It views international law as a violation of its "freedom", that is, its "freedom" to do as it pleases without having to face the consequences of being judged by the rest of the world. For the US, the rest of the world is not good enough to "judge" the US.
But the sorry truth is starting to come out. Bush was seeking ways to circumvent international law because he knew all along that he wanted to torture the victims of his "war on terror."
Bush Advised to Condone War Crimes

By Andrew Buncombe in Washington
08 June 2004

Lawyers for the Bush administration concluded last year that the President was not bound by international laws banning the torture of prisoners and that anyone carrying out his orders could not be prosecuted, it was revealed yesterday.

A classified report prepared just weeks before Mr Bush ordered his forces to invade Iraq concluded that no international law was more important than "obtaining intelligence vital to the protection of untold thousands of American citizens".

While it is not clear precisely what effect the legal ruling had on the interrogation of prisoners captured in Iraq, its revelation was seized on last night by those who claim the abuse of Iraqi prisoners at Abu Ghraib prison and elsewhere was not an isolated episode but rather part of a systematic approach to dealing with detainees.

"It's doing away with international law," said Reed Brody of the New York-based group Human Rights Watch. "It's one more piece that shows this pattern of abuse at Abu Ghraib ... resulted from decisions made by the Bush administration to throw out the rules."

The report, a draft of which was obtained by The Wall Street Journal, had been prepared by the staff of Donald Rumsfeld, the Defence Secretary, to answer complaints of commanders at the Guantanamo Bay prison camp that they were not obtaining "actionable" intelligence from alleged Taliban and al-Qa'ida fighters held there.

The paper was prepared by a working group headed by Air Force General Counsel Mary Walker. It outlined a number of US laws and international treaties that forbid torture but said these could be legally side-stepped in the needs of national security. In November 2001 Mr Bush signed an executive order that established military tribunals to deal with the Guantanamo Bay prisoners, who have not been afforded rights granted to prisoners of war by the Geneva Conventions.

The document said that "the prohibition against torture must be construed as inappropriate to interrogations undertaken pursuant to [President Bush's] commander-in-chief authority". It added: "[The Justice Department has] concluded that it could not bring a criminal prosecution against a defendant who had acted pursuant to an exercise of the President's constitutional power."

The working group's conclusions appear to directly contradict international law. For instance, the Convention against Torture, ratified by the US in 1994, states that "no exceptional circumstances whatsoever, whether a state of war or a threat of war, internal political instability or any other public emergency may be invoked as justification for torture ... [and that orders from superiors] may not be invoked as a justification for torture".

Michael Ratner, president of the Centre for Constitutional Rights, said: "The claim that the commander-in-chief power includes the authority to use torture should be unheard of in this day and age. Can one imagine the reaction if those on trial for the atrocities in the former Yugoslavia had tried this defence?"
So we see that contrary to international law, which explicitly states that "no exceptional circumstances whatsoever, whether a state of war or a threat of war, internal political instability or any other public emergency may be invoked as justification for torture ... [and that orders from superiors] may not be invoked as a justification for torture", this is exactly the excuse given to Bush by his advisors.
The following article suggests that this memo was written in August of 2002, which is right at the time that Bush was telling the Europeans that he wanted civilian Americans to be exempt, not only the military.
Bush knew damn well what he was planning.
Justice Department advised White House torture "may be justified"

Tue June 8, 2004 4:39 AM ET

WASHINGTON (AFP) - The US Justice Department advised the White House in an August 2002 memo that torture during interrogations in the war against terrorism could be justified, The Washington Post said.

The memo, sent by the Justice Department's office of legal council in response to a Central Intelligence Agency request for legal guidance and addressed to White House Counsel Alberto Gonzalez, said international laws against torture "may be unconstitutional if applied to interrogations" conducted in the war on terrorism.

It said torturing a suspect in captivity "may be justified" if the US government employee applying the torture "would be doing so in order to prevent further attacks on the United States by the Al-Qaeda terrorist network."

Arguments centering on "necessity and self-defense could provide justifications that would eliminate any criminal liability" later, said the 50-page document signed by Assistant Attorney General Jay Baybee that was obtained by The Washington Post.

The memo, the daily said, served as basis for a March 2003 classified report Pentagon lawyers prepared for Defense Secretary Donald Rumsfeld, after commanders at Guantanamo Bay, Cuba, complained that they were not getting enough information from prisoners. The Wall Street Journal on Monday revealed the 2003 report.

The August 2002 memo, The Washington Post said, also argued that inflicting moderate or fleeting pain did not necessarily constitute torture, which "must be equivalent in intensity to the pain accompanying serious physical injury, such as organ failure, impairment of bodily function, or even death".

The Post said US Army manuals on interrogations were more restrictive, banning such practices as pain induced by chemicals or bondage; forcing an individual to stand, sit or kneel in abnormal positions for prolonged periods of time; and food deprivation.

A Human Rights Watch official expressed dismay at the 2002 memo.

"It is by leaps and bounds the worst thing I've seen since this whole Abu Ghraib scandal broke," said Tom Malinowski, referring to the prison outside Baghdad where US military guards abused Iraqi prisoners.

"It appears that what they were contemplating was the commission of war crimes and looking for ways to avoid legal accountability. The effect is to throw out years of military doctrine and standards on interrogations," he added.
So Bush knew all along, and his Neocon cronies knew along. What did they know? That they were going to commit war crimes.
The pictures from Iraq are not documentation of a small number of US soldiers gone bad as Bush would like you to think. They are the result of policy, ordered by Bush himself. Bush is guilty of war crimes.
And that's just the tip of the iceberg:
FLASHBACK: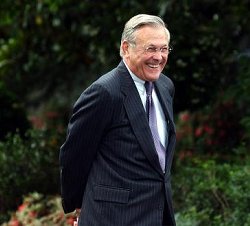 Rummy cackles at the idea of secret arrests.
Rumsfeld Ordered Secret Arrest in Iraq
By MATT KELLEY, Associated Press Writer
June 17, 2004
WASHINGTON - At the request of CIA Director George Tenet, Defense Secretary Donald H. Rumsfeld ordered the military to secretly hold a suspected terrorist in Iraq, a Pentagon spokesman said.
The suspected terrorist has been held since October without being given an identification number and without the International Committee of the Red Cross being notified, Pentagon spokesman Bryan Whitman said. Both conditions violate the Geneva Accords on treatment of prisoners of war.
Rumsfeld ordered the Joint Chiefs of Staff to have the prisoner secretly detained on the day last October, when Tenet made the request, Whitman said.
"The director of central intelligence requested he not be assigned an internment serial number while the CIA worked to determnine his precise disposition," Whitman said. [...]
The prisoner will be given a number and the Red Cross will be formally notified soon, Whitman said.
"The ICRC should have been notified about the detainee earlier," Whitman said. "We should have taken steps, and we have taken the necessary steps to rectify the situation."
The Iraqi prisoner is so far the only individual Defense Department officials have acknowledged shielding from the Red Cross. Before Wednesday's admission, Pentagon spokesmen would not confirm or deny if anyone was being held in secret. [...]
Maj. David Kolarik, a spokesman for the military's Joint Task Force-Guantanamo, said all prisoners are treated "in accordance with the principles" of the Geneva Conventions "to the extent appropriate and consistent with military necessity."
The secret prisoner in Iraq is believed to be a high-ranking member of Ansar al-Islam, a radical group which had been based in northern Iraq before the U.S. invasion last year. U.S. officials believe the man was involved in attacks on coalition troops, Whitman said. [...]
Comment: Once again, the US openly admits that it is completely disregarding the Geneva Conventions. And once again, the American people do absolutely nothing about it. All of these articles come from mainstream news sources from around the world, including US sources. The facts are all there. The data is easily accessible to anyone who bothers to take the time to look.
Apparently, no one in America is looking. No one wants to know the truth. They do not want to face the fact that their government is composed of crooks who will do whatever it takes to achieve their nefarious goals. To admit these facts to themselves would be to acknowledge that the arrests of American citizens in the war on terror was a mistake. To admit these facts would mean that the killing or torture of all those Iraqis was a mistake. Worst of all, all of the people's pride in America would have to be reevaluated at best, and completely thrown out the window at worst.
Most Americans are simply too deeply invested in the illusion of their "Great Nation" - and, like Hitler's government, Bush and the Neocons know it.
Click here to comment on this article
Kerry renews call for Rumsfeld to resign
www.chinaview.cn 2004-08-26 11:13:32
WASHINGTON, Aug. 25 (Xinhuanet) -- US Democratic presidential candidate John Kerry on Wednesday called on Defense Secretary Donald Rumsfeld to resign, saying an investigation into prisoners abuses at Iraq's Abu Ghraib prison demonstrated a failure of civilian leadership.
Click here to comment on this article
Comment: Kerry can't talk about war crimes as he most likely committed them himself when he went into Cambodia on Kissinger's orders and will likely commit then again should he be elected. So let's all be civil about this. People make 'mistakes' after all. Just fire the guy.
With the "left" hand of the American body politic covering the posterior of the "right" hand, how can we expect things ever to change?
'Staggering Amount' of Cash Missing in Iraq
by Emad Mekay
Three U.S. senators have called on Defense Secretary Donald Rumsfeld to account for $8.8 billion entrusted to the Coalition Provisional Authority (CPA) in Iraq earlier this year but now gone missing.
In a letter Thursday, Senators Ron Wyden of Oregon, Byron L. Dorgan of North Dakota and Tom Harkin of Iowa, all opposition Democrats, demanded a "full, written account" of the money that was channeled to Iraqi ministries and authorities by the CPA, which was the governing body in the occupied country until June 30.
The loss was uncovered in an audit by the CPA's inspector general. It has not yet been released publicly and was initially reported on the Web site of journalist and retired U.S. Army Col. David Hackworth.
The CPA was terminated at the end of July to make way for an interim Iraqi government, which is in turn scheduled to be replaced by an elected body early in 2005.
"We are requesting a full, written account of the $8.8 billion transferred earlier this year from the CPA to the Iraqi ministries, including the amount each ministry received and the way in which the ministry spent the money," said the letter.
The senators also requested that the Pentagon designate a date by which it will install adequate oversight and financial and contractual controls over money it spends in Iraq.
They accused the CPA of transferring the "staggering sum of money" with no written rules or guidelines to ensure adequate control over it.
They pointed to "disturbing findings" from the inspector general's report that the payrolls of some Iraqi ministries, then under CPA control, were padded with thousands of ghost employees. They refer to an example in which CPA paid the salaries of 74,000 security guards although the actual number of employees could not be validated.
The report says that in one case some 8,000 guards were listed on a payroll but only 603 real individuals could be counted.
"Such enormous discrepancies raise very serious questions about potential fraud, waste and abuse," added the letter.
This is not the first time that U.S. financial conduct in Iraq has come under fire, specifically over funds slated for reconstruction after the U.S.-led attack in March 2003, which then went unaccounted for.
In June, British charity Christian Aid said at least $20 billion in oil revenues and other Iraqi funds intended to rebuild the country have disappeared from banks administered by the CPA.
Watchdog groups have complained before about the opaque nature of the CPA's handling of Iraqi money and the lack of transparency of U.S. and Iraqi officials.
Halliburton, a giant U.S. company that has been awarded $8.2 billion worth of contracts from the Defense Department to provide support services such as meals, shelter, laundry and Internet connections for U.S. soldiers in Iraq, has been targeted for allegedly overcharging for those services.
"Continued failures to account for funds, such as the $8.8 billion of concern here and the refusal, so far, of the Pentagon to take corrective action are a disservice to the American taxpayer, the Iraqi people and to our men and women in uniform," the senators wrote.
Groups critical of the lack of transparency in the CPA's spending have been particularly angry that the authority used Iraqi money to pay for questionable contracts – some awarded without a public tendering process – with U.S. companies.
Washington initially restricted the most lucrative reconstruction contracts in Iraq to gigantic U.S. firms that appeared able to reap huge profits, fueling accusations the Bush administration was seeking to benefit a select few U.S. companies rather than find the best, and possibly the cheapest, options to help rebuild Iraq.
After loud complaints, the contracting process was officially opened to firms from other nations, but many of them still insist they are not competing on a level playing field with U.S. businesses.
A Pentagon spokeswoman told IPS that the CPA administered the money transparently and that Iraqi ministries used the $8 billion in ways that directly "benefited the people of Iraq."
"The CPA provided these funds to Iraqi ministries from the Development Fund for Iraq through a transparent and open budget process," said Lt. Col. Rose-Ann L. Lynch of the Office of the Assistant Secretary of Defense for Public Affairs. "This is Iraqi money – revenue from such sources as oil sales – not U.S. funds."
The official added that the money was used to pay the salaries of hundreds of thousands of government employees, teachers, health workers, administrators and government pensioners, as well as to fund the Iraqi defense ministry and police forces.
Click here to comment on this article
US missile hit metres from shrine
12:42:47 August 25, 2004
Najaf, Iraq - A US plane fired a missile just metres (yards) to the west of Najaf's revered Imam Ali (A.S.) shrine on Wednesday, shaking the mausoleum and filling it with dust, said an AFP correspondent.
At around 10:30 am (0630 gmt), the deafening explosion shook the mausoleum.
Click here to comment on this article
Iraqi cops round up dozens of journalists at gunpoint
AFP
Thursday, August 26, 2004
NAJAF, Iraq, (AFP) - Iraqi policemen late yesterday rounded up dozens of journalists at gunpoint in a Najaf hotel and took them to police headquarters before later releasing them, an AFP correspondent said.
Firing their guns in the air, the dozen odd policemen, some masked, stormed into the rooms of journalists in the Najaf Sea hotel and forced them into vans and a truck.
An AFP correspondent, who was also forced into a van, said the police pushed and pulled many reporters at gunpoint.
After a two-minute drive from the hotel, where journalists from across the world are based while covering the battle between Shiite militiamen and US-led Iraqi forces in the holy city, the reporters were taken to the office of the police chief.
"You people are not under arrest," Najaf police chief Ghaleb al-Jezari told them.
"You are brought here because I want to tell you that you never publish the truth. I speak the truth, but you never broadcast what we are."
The reporters, packed into the office, with some sitting on the floor in front of the police chief, protested at their detention.
"You have kidnapped us at gunpoint," said one reporter.
The police chief complained that reporters have been misreporting the proposed visit to Najaf by Grand Ayatollah Ali al-Sistani, the revered Iraqi Shiite Muslim leader.
Naming a Middle East television News channel, he said the cleric had not decided as to when he would come to Najaf, adding "but the channel has gone ahead and said he is already in Najaf."
He said the news had triggered a march by people of Kufa to Najaf which turned violent forcing police to fire as some "bad elements in the march fired at the police."
Two people were killed and five wounded in the shooting.
After the unexpected press conference at gunpoint, the police chief kissed some of the journalists' Iraqi translators and had the reporters dropped back to their hotel.
Yesterday, a spokesman for radical Shiite cleric Moqtada Sadr called on Muslims worldwide to intervene urgently to save the holy Iraqi city of Najaf and warned US soldiers against entering the sacred Imam Ali shrine, Al-Arabiya television reported.
"All Muslims in the world should intervene urgently now to save Najaf," Abdel Hadi al-Darraji, the imam of a mosque in Baghdad's Sadr City, told the Dubai-based channel.
The call came as Iraq's top Shiite cleric, Grand Ayatollah Ali al-Sistani, returned to Iraq from London after undergoing medical treatment, having earlier called on Iraqis to be ready to march on Najaf to save the city.
Click here to comment on this article
Smell of Burned Flesh, Blood Smeared on Najaf's Streets
Jay Deshmukh, Agence France Presse
NAJAF, Iraq, 26 August 2004 — The smell of burned flesh filled the air and blood smeared the deserted streets of Najaf's Old City yesterday after heavy US airstrikes on Shiite militia positions around Iraq's revered Imam Ali shrine. From early yesterday, heavy US artillery fire followed fighter plane missile attacks, devastating neighborhoods in the historic heart of the central city.
As the US campaign lessened in the hot afternoon sun, frightened residents barricaded themselves indoors, determined to bear the brunt of the crippling summer heat rather than wander the empty streets. Those who did venture out, or peep through the broken windows or blasted door frames, could barely disguise their fear.
"It was the heaviest attack in many days especially the first during daytime," said Ali Jasim, a36 -year-old civil servant holed up in one house.
"Not only did airplanes drop missiles, but Apache helicopters fired at suspected militiamen in our area and tanks crawled all over the place firing at whatever they saw. All the three at the same time."
One young man who was standing outside his house shot by soldiers from the helicopter, he said. "You can see his blood all over that corner in the mud," Jasim said pointing. Shiite militia holed up in the neighborhood fought against the American and Iraqi soldiers.
"The militia has a lot of snipers around. They shot at a lot of Iraqi soldiers who have been moving around in the area since Tuesday," he said. Hundreds of heavily-armed Iraqi National Guardsmen and US Marines had fanned out across the Old City around the shrine late Tuesday.
But the Iraqi security troops were invisible in the afternoon. Some residents thought they would return later for another overnight assault. Instead, US tanks crawled through the streets and Humvees were stationed at various intersections. Thick black smoke rose from a nearby residential block.
"The worst thing is that all entries to the city were blocked. Many of us who have families and had gone out early in the morning were worried as they could not get back to their homes," said Sayed Haider Al-Yasiri.
Guiding an AFP correspondent to a nearby street corner, Yasiri pointed out an unexploded bomb lying outside a shuttered shop. "Look at this and see what has happened out here. Imagine if a child picks it up," he said, dressed in a white robe and chewing on a mouthful of tobacco.
Scared residents of the Old City, who have born the burned of the battle since fighting first flared three weeks ago, were yesterday helpless and angry with the US military. "We want to get rid of the militia, but not in this way. Such heavy pounding would destroy whatever is left of our homes," said Mohammed, a taxi driver.
The mute spectators to the fight are dozens of those broken lampposts, hanging electric wires, spent cartridges and glass splinters, gaping holes and the fear etched on people's faces. "Why can't there be a peaceful solution to this whole issue?"
Click here to comment on this article
Man Burns Marine Van After GI Son's Death
By JOHN PAIN, Associated Press Writer
August 26, 2004
HOLLYWOOD, Fla. - Melida Arredondo said she and her husband knew what was coming as three uniformed Marines approached their front door.
While she started to cry, police say Carlos Arredondo simply snapped.
Distraught after being told his Marine son was killed in combat in Iraq, Carlos Arredondo climbed into the Marine Corps van parked outside his home and set it ablaze Wednesday afternoon, suffering severe burns.
"My husband immediately knew that his firstborn son had been killed — and my husband did not take the news well," Melida Arredondo said before police escorted her to the hospital.
"It doesn't surprise me that he was so traumatized. He went crazy," she said.
The three Marines went to the house to tell the father and stepmother of Lance Cpl. Alexander Arredondo that their 20-year-old son had died Tuesday in Najaf, family members said.
The father then walked into the garage, picked up a propane tank, a lighting device and a can of gasoline he used to douse the van, police Capt. Tony Rode said. He smashed the van's window, got inside and set it ablaze, despite attempts by the Marines to stop him, Rode said.
The Marines, reservists who are members of a military Casualty Assistance Calls Officer team, pulled Arredondo, 44, from the burning vehicle and extinguished the flames on him, police said. None of the Marines was injured but the van was gutted by the fire, Marines spokesman Maj. Scott Mack said.
"The father was in disbelief, same as any of us would be after hearing this kind of news," Rode said. "But then the father basically loses it. You can only imagine what this father was going through. He snapped, to say the least."
Arredondo was initially taken to Memorial Regional Hospital in Hollywood with burns over as much as 50 percent of his body, emergency officials said.
He was later moved to the major burn unit at Jackson Memorial Hospital in Miami, about 20 miles south of Hollywood. He was listed in serious condition with severe burns to his arms and legs.
Melida Arredondo told the Miami Herald that her husband, an immigrant from Costa Rica, "was very proud of Alex serving," though he wished his service would have been during a "more peaceful" time.
But Luz Marina Arredondo, Alexander's grandmother, felt the government was at fault for her grandson's death.
"I blame them a lot," she said. "They send them like guinea pigs over there."
Marine spokesman Capt. Patrick Kerr in New Orleans told the Herald that the incident was "one tragedy on top of another tragedy."
"Our foremost concern is for the welfare of the father who was burned," Kerr said. "We will do everything we can to help the family through this very difficult situation."
Rode said it was too early in the investigation to discuss possible charges against Arredondo. "We'll see how he recovers before doing anything," he said.
U.S. forces in Najaf have been battling for nearly five months against Iraqi militiamen loyal to radical Shiite cleric Muqtada al-Sadr.
Comment: Right here, dear readers, is the true nature of "freedom and democracy" in the US, and the so-called "civilised world" as a whole. A father's son is manipulated and lied to, in order that he give up his life for the gain of a small group of power hungry animals known as our "leaders".
When the father realises that his son is dead, his grief is so great that he attempts to kill himself. The state's henchmen stop him and then consider the possibility that he will be prosecuted under the "law" for expressing his anger, frustration and grief. It is also rather interesting that the title of the article only mentions that the van burned, and not that Arredondo burned himself after hearing the news of his son's death.
Click here to comment on this article
Italy prepared to pull troops out of Iraq if Baghdad government asks
Thu Aug 26
DOHA (AFP) - Italy is prepared to pull its troops out of Iraq if the interim government in Baghdad requests it, Foreign Minister Franco Frattini said on the Al-Jazeera television news channel.
His message was delivered the day after the family of kidnapped Italian journalist Enzo Baldoni appealed to his Iraqi captors, also via Al-Jazeera, to release him.
"We are ready to pull out of Iraq, even tomorrow, if the government of Mr (Iyad) Allawi asks us." said Frattini, speaking just hours ahead of the expiry of a deadline set by Baldoni's captors, a group calling itself the Islamic Army in Iraq, for Italy to withdraw its 3,000 troops from Iraq.
Comment: How apparently "democratic" of Berlusconi and his mafia friends in the Italian government to make such an offer. The reality, of course, is that to leave it up to the "interim Iraqi government" to decide if US troops should be withdrawn is exactly the same as leaving it up to the warmongers in the White House and Pentagon, given that they installed and fully control the wholly unrepresentative Iraqi interim government. Is it not true that in a democracy, the benefits of which we are repeatedly told the Iraqi people are not enjoying, it is the will of the people that should be done? We wonder then if the Italian government would be prepared to ask the Iraqi people their opinion on the Italian troops currently occupying their country and whether they should leave or not...
Click here to comment on this article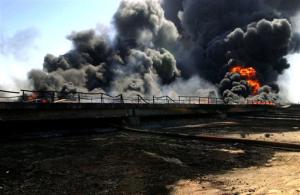 Saboteurs Attack About 20 Iraq Pipelines
By ABBAS FAYADH, Associated Press Writer
August 26, 2004
BASRA, Iraq - Saboteurs have attacked about 20 oil pipelines in southern Iraq, reducing exports from the key oil producing region by at least one third, a top oil official said Thursday.
The cluster of pipelines was attacked late Wednesday in Berjasiya, 20 miles southwest of the southern city of Basra, an official with the state-run South Oil Co. said on condition of anonymity. The pipelines, which connect the Rumeila oilfields to Berjasiya, were still ablaze Thursday.
Associated Press Television News footage showed huge plumes of black smoke and flames leaping from the Zubayr 1 pumping station, south of Basra.
Oil exports out of southern Iraq average about 1.85 million barrels a day. The oil official said Wednesday's sabotage cut exports to 1.2 million barrels.
Squadron leader Spike Wilson, a spokesman for British troops helping maintain security in the area, said he was only aware of one pipeline breach 12 miles west of Zubayr.
He said it was not clear if that pipeline had been attacked, however.
"It's a minor pipeline, it hasn't impeded the export of oil at all," Wilson said. "Because the infrastructure of the pipelines are so old, they frequently just give way."
Insurgents have repeatedly sabotaged Iraq's crucial oil industry, its main source of income, in an effort to hamper reconstruction efforts here. The threats to the oil infrastructure have increased in recent weeks amid a violent uprising by Shiite militants in southern Iraq, where much of the oil industry is located.
Click here to comment on this article
All leads open on Russian plane crashes; press screams terrorism
August 26, 2004
MOSCOW (AFP) - Russian authorities said they were still pursuing all leads in their investigation of mysterious twin plane crashes that killed 89 people while the press attributed the tragedies squarely to terrorism.
"Ahead of presidential elections in Chechnya, authorities do not want to admit the obvious fact: only Chechen rebels can organize attacks of this scale in Russia," the respected business daily Kommersant commented on its front pages.
The centrist daily Izvestia took a similar tone, accusing officials of "failing to see the links" between the plane downings and controversial elections scheduled to take place in war-torn Chechnya on Sunday.
"An inexplicable tragic coincidence -- that is how the official special services tried to explain the events," Izvestia said.
The hard-hitting commentary from Russia's major printed dailies was an unusual show of contempt for the government and stood in stark contrast to reporting by state-run broadcast media which hewed strictly to official accounts of the crashes.
Meanwhile, Transport Minister Igor Levitin, speaking to Russian reporters, vowed that all loved ones of the crash victims would receive compensation, but he offered no indication that investigators were narrowing their leads.
"No version is today being ruled out," Levitin was quoted by ITAR-TASS news agency as saying.
Terrorism was among the possible explanations for the crashes under study, along with a range of other "technical and human factors," he said.
The two planes, a Tupolev 134 carrying 43 people and a Tupolev 154 carrying 46, went down within minutes of each other Wednesday hundreds of kilometers apart soon after taking off from a Moscow airport bound for separate cities in southern Russia.
President Vladimir Putin abruptly cut short a vacation at the Black Sea resort of Sochi and rushed back to Moscow where he met with top members of an emergency state investigative committee and demanded "honest" results from their probe.
The fact that Putin named the transport minister rather than a law enforcement chief to head the investigation suggested that the government was focusing on regulatory infractions rather than potential motives in the crashes.
Late Wednesday however, the Russian leader also ordered the government to take responsibility for airport security out of the hands of local facility administrators and turn it over to the interior ministry.
That move, combined with announcements throughout the day Wednesday that steps were being taken to boost security at airports and railway stations, suggested the government saw a strategic threat in Thursday's crashes.
There was no early word of any news conferences planned for Thursday to update on the crashes. Investigators said they were continuing their work and said analysis of the planes' "black box" flight recorders would itself take several days.
Meanwhile friends and relatives of the victims gathered and the two crash sites, one in the southern region of Rostov, the other south of Moscow in the Tula region, for identification of the remains, Russian news agencies said.
Click here to comment on this article
Strike continues in Costa Rica
www.chinaview.cn 2004-08-26 11:22:51
SAN JOSE, Aug. 25 (Xinhuanet) -- The Costa Rican police restored traffic in the country after carrying out a large-scale joint operation to clear up road-blocks on early Wednesday morning, but the strike continues amid disputes between the government and trade unions.
Click here to comment on this article
Chile strips Pinochet of immunity
Chile's Supreme Court has ruled that the country's former military ruler, Augusto Pinochet, should be stripped of immunity from prosecution.
A court spokesman said the ruling was passed by nine judges to eight.
The decision paves the way for the former president, now 88, to be tried for an alleged campaign of repression in the 1970s and 1980s.
Relatives of alleged victims cheered the decision, which confirmed a lower court's ruling.
[...] The ruling means Gen Pinochet could now face trial for charges of human rights abuses committed during his 1973-1990 military rule.
During this time, more than 3,000 supporters of the previous government were killed, thousands more tortured, and many thousands more again forced into exile.
Click here to comment on this article
Comment: 3000 people killed during Pinochet's rule, approximately the same number killed in the fall of the WTC. Will criminals like Henry Kissinger be brought to trial for their role?
Speaking of war criminals...
Thursday 26 August 2004, 18:43 Makka Time, 15:43 GMT
A group of British parliamentarians plans to invoke a parliamentary procedure last used more than 150 years ago to impeach Prime Minister Tony Blair over the invasion of Iraq.
Eleven members of parliament (MPs), mainly Scottish and Welsh nationalists who opposed the war, plus two opposition Conservatives, want to use the dated practice to force Blair to defend himself at Westminster over his decision to go to war.
"Although no one voted in this country for george Bush, we have fought his war and followed his disastrous foreign policy," said Angus Robertson, and MP with the Scottish Nationalist Party (SNP).
"Going to war in Iraq was a done deal made behind the back of parliament and the people."

Although it has almost no chance of success, the plan will throw the spotlight back on the reasons Blair gave the country for going to war, British newspapers said on Thursday.

The backlash over Iraq has seen Blair's trust rating plummet, and although opinion polls say he is on course to win a third general election expected next year, opponents hope to use the issue to question his credibility.
Comment: Impeachment is hardly the price that Blair should have to pay for his participation in the rape of Iraq. He lied to his citizens and to Parliament. He, along with Bush and his Reich hand men, are responsible for the barbarism that now reigns in Iraq. The whole gang should be arrested and tried for war crimes.
Click here to comment on this article
Cole Attack Suspect 'Had Top-Level Security Clearance'
Khaled Al-Mahdi, Arab News
SANAA, 26August 2004 — A lawyer defending five Yemenis charged with the October 2000attack on the warship USS Cole told a court in Sanaa yesterday that authorities had granted a security clearance to the main suspect in the attack.
The lawyer, Abdul-Aziz Al-Samawi, presented a document to the court giving the suspected mastermind of the attack Abdul-Raheem Al- Nashri a permit to pass military checkpoints without being subjected to inspection.
Al-Samawi said the laissez passer was issued by the office of the former Interior Minister Hussein Muhammad Arab.
Al-Nashri and five other Yemenis were charged with the attack when the trial began on July7 . Five of the suspects were present in the court, while Al-Nashri is being tried in absentia.
Currently in US custody, Al-Nashri was arrested in the United Arab Emirates in November 2002 and handed over to US authorities. He was described at the time as Al-Qaeda's chief of operations in the Gulf.
Al-Nashiri is also suspected of involvement in attacks on the US embassies in Kenya and Tanzania in August 1998 that killed224 people, and in the October 2002 attack on the French supertanker Limburg off south Yemen in which one Bulgarian crew member was killed and 12 were wounded.
The security clearance, valid from April to December2000 , was granted to Muhammad Omar Al-Harazi, an alias for Al-Nashri, the document showed.
"Sheikh Muhammad Omar Al-Harazi shall be permitted to pass through all military checkpoints along with his three bodyguards, and he shall not undergo checks or be obstructed," the document read. It urged all security bodies to cooperate with Al-Harazi and extend facilities to him.
Al-Samawi told the court the document was clear proof that there were other people behind the attack. The next hearing is scheduled for Sept.1 .
Prosecutors said two suicide bombers, identified as Ibrahim Al- Thour, alias Al-Nibras, and Hassan Al-Khamri carried out the attack. The two men allegedly drove a dinghy laden with more than 200 kilograms of explosives ramming it into the destroyer as it stopped at the southern Yemeni port of Aden to refuel.
Washington has accused Al-Qaeda leader Osama Bin Laden of ordering the attack. Bin Laden applauded the bombing in remarks broadcast on Al-Jazeera TV in February2001 but denied his involvement.
Click here to comment on this article
Feds recover stolen TSA laptops containing sensitive security information
By Mike Carter
Seattle Times staff reporter
Federal agents have recovered six laptop computers containing sensitive security information that were stolen last month from a Transportation Security Administration contractor.
FBI Special Agent Robbie Burroughs said the bureau was contacted by an individual who had been offered a chance to buy the laptops. That individual, who was not identified, had seen news reports of the theft, connected that incident with the computers, and called the FBI. Agents recovered the laptops late Monday.
Burroughs said no arrests have been made and the FBI is still attempting to determine whether to investigate the case as a theft of government property. The laptops were owned by Lockheed Martin, a private company which contracts with TSA to train airport security screeners.
The Dell-brand computers were stolen July 28 from a storage room of the Doubletree hotel in SeaTac airport. The trainer, a Lockheed Martin employee, told King County sheriff's deputies at the time that the theft amounted to a "breach of national security."
TSA and Lockheed Martin have said the material was sensitive, but that its theft was not a security risk. The information was password-protected and consisted of training materials for screeners, including the standard operating procedures for that job, according to TSA employees.
Burroughs said she did not know whether any material was downloaded from the machines. The investigation, she said, is continuing.
TSA officials have said the agency also has launched an internal investigation. TSA requires that security-sensitive materials be kept in a secure location. A similar theft of a single laptop from a hotel in Philadelphia last October prompted the TSA to review security procedures for off-site training classes, according to news reports.
Click here to comment on this article
Computers, software taken from homes in FBI raids
Curt Anderson, Associated Press
August 26, 2004
WASHINGTON, D.C. -- The FBI seized computers, software and equipment as part of an investigation into illegal sharing of copyrighted movies, music and games over an Internet "peer-to-peer" network, Attorney General John Ashcroft said Wednesday.
Search warrants were executed at residences and an Internet service provider in Texas, New York and Wisconsin as part of the first federal criminal copyright action taken against a P2P network, in which users can access files directly from computers of others in the network.
The warrants sought evidence about the operators of five "hubs" of the "Underground Network," an organization of about 7,000 users who, prosecutors charge, repeatedly violate federal copyright laws by swapping feature films, music, software and computer games.
"The message is simply this: P2P or peer-to-peer does not stand for 'permission to pilfer,' " Ashcroft told reporters at a Justice Department news conference. [...]
Click here to comment on this article
Death of the Internet greatly exaggerated
By Robert Lemos
CNET News.com
August 25, 2004, 12:16 PM PDT
Security experts downplayed media reports that an "electronic jihad" aimed at Israeli Web sites will start Thursday.
The reports came after the Russian news service RIA Novosti published comments made by Eugene Kaspersky, a noted antivirus researcher, saying that several Web sites had posted a call to arms for mass Web defacements to occur Aug. 26.
Security researchers stressed that calls for Internet attacks have become a staple of extremist sites and usually amount to little.
"There has been a lot of occasions of people saying, 'Hey, let's have a party and deface a lot of Web sites,' and not much has come from it," said Jose Nazario, worm and denial-of-service attack researcher for security company Arbor Networks.
According to Nazario, security researchers frequently see increased online activity when attack preparations have started. There are no indications that such preparations are happening now, Nazario said Wednesday. "We honestly haven't heard anything," he said. "There have been no precursors to a large-scale attack." [...]
Click here to comment on this article
U.S. Prepares for Possible Flu Outbreak
Aug 25
By LAURAN NEERGAARD
WASHINGTON (AP) - The United States may have to close schools, restrict travel and ration scarce medications if a powerful new flu strain spurs a worldwide outbreak, according to federal plans for the next pandemic, obtained Wednesday by The Associated Press.
It will take months to brew a vaccine that works against the kind of super-flu that causes a pandemic, although government preparations include research to speed that production.
The federal plans have been long-awaited by flu specialists, who say it's only a matter of time before the next pandemic strikes and the nation is woefully unprepared.
There have been three flu pandemics in the last century, the worst in 1918, when more than half a million Americans and 20 million people worldwide died.
Concern is rising that the next pandemic could be triggered by the recurring bird flu in Asia, if it mutates in a way that lets it spread easily among people.
"We're all holding our breath," Dr. Julie Gerberding, head of the Centers for Disease Control and Prevention, said in an interview Wednesday.
About 36,000 Americans die from regular flu every winter. Pandemics strike when the easily mutable influenza virus shifts to a strain that people have never experienced before.
It's impossible to predict the next pandemic's toll, but a bad one could kill up to 207,000 Americans, says the Pandemic Influenza Response and Preparedness Plan.
Millions of sick patients could swarm doctors' offices and hospitals, says the plan, which stresses that states and hospitals must figure out now how they would free up hospital beds and perform triage.
There could also be an economic and social wallop from disruption of transportation, commerce, even routine public safety, warns the plan, to be released Thursday by the Health and Human Services Department.
Among its suggested preparations to limit the spread of infection and care for the ill, the plan stresses major federal research to create "seed strains" of worrisome flu types as potential vaccine candidates. Such work might shave a few months off the typical six to eight months it now takes to brew a new flu vaccine, said Dr. Anthony Fauci, the National Institutes of Health's infectious disease chief.
The plan is a first draft, open for public comment through October. Some big questions remain, including how to ration scarce vaccines and anti-flu drugs during such a crisis. Doctors and public safety workers may be just as important to treat early as frail patients, the HHS plan notes.
"This is a very sensitive issue," said Dr. William Schaffner of Vanderbilt University, who advises the federal government on flu vaccine issues. "Should it be like the Titanic - women and children first - or should it be police and firefighters first? You can see the dilemmas."
Other preparations are under way:
_The CDC is increasing surveillance to better spot dangerous flu strains as soon as they emerge anywhere in the world.
_First on the list of potential pandemic vaccine candidates is the bird flu, which has killed 27 people in Asia this year and prompted destruction of 100 million poultry. Although this H5N1 flu has struck periodically for a few years now, "we've never seen so many birds infected with this virus at one point in time," Gerberding said Wednesday.
The NIH is funding production of a few thousand doses of experimental H5N1 vaccine; safety testing is set to begin in November.
_Four drugs can treat the flu if given soon after symptoms begin, and decrease chances of catching it. One, Tamiflu, is considered the top choice for a pandemic, particularly as it seems effective against bird flu, but supplies are limited. HHS has stockpiled enough to treat 1 million people, with more on the way, said Dr. Bruce Gellin, the National Vaccine Program's director.
Depending on where a pandemic begins and how virulent it seems, the first protections probably will include travel restrictions, schools closures, restrictions on public gatherings and even quarantines to limit the spread of infection, Gerberding said.
"Good, old-fashioned isolation and quarantine have a special role to play in any pandemic," she said. "One of the things we have to do now, before we're in the middle of this situation, is do our very best to make sure people understand what would be the first steps, why they'd be necessary and what they can do to minimize the disruption."
Comment: See our Signs Flu Supplement for an in depth look at the Flu threat - the conditioning of our minds can take many forms.
Click here to comment on this article
Simple Telescopes Discover New Planet
By JOSEPH B. VERRENGIA, AP Science Writer
Wed Aug 25, 8:48 PM ET
Astronomers using telescopes not much larger than the spyglass Galileo wielded 400 years ago have discovered a new Jupiter-sized planet orbiting a bright, distant star.
It is the first planet to be discovered by an international network of astronomers using telescopes no larger than those sold at Wal-Mart for the same price as an iPod.
"This portends a new era in planet hunting," said Geoff Marcy of the University of California-Berkeley, whose team has discovered nearly 60 new planets, but was not involved in this survey.
It was only a decade ago that the world's most sophisticated telescopes with mirrors more than 30 feet across were beginning to notice celestial hints - a star's wiggle here, a brief dimming there - that planets orbit stars far beyond our solar system.
Now telescopes with optics just 4 inches wide are scanning the heavens for signs of these new worlds. The instruments are custom-built, but they use some commercially available parts also found in department store telescopes that cost a few hundred dollars.
Still, the discovery suggests it won't be long before the hunt is joined by backyard astronomers armed with off-the-shelf equipment, loads of time and enough caffeine to stay awake. Just last winter a Kentucky man in his backyard found a new nebula, or star nursery, that had been overlooked by scientists at major observatories.
"You might think that you need a big telescope to do this, but that's not really true," said Guillermo Torres of the Harvard-Smithsonian Center for Astrophysics in Cambridge, Mass.
Torres is one of 12 astronomers from six institutions that collaborated to find the new planet. Details are online in Astrophysical Journal Letters.
"The follow-up work requires very specialized techniques, so this is something that most people couldn't buy in a shop and do right away," Torres said. "But the hardware is fairly simple."
Other planet hunters say the small telescopes' success is "quite significant" because it makes the search cheaper and simpler, which could accelerate the pace of planet discoveries. [...]
In a separate announcement Wednesday, European astronomers said they had discovered yet another new planet using more conventional techniques. Their new planet is interesting, they said, because its dimensions are more Earth-like. It is the second planet to be found orbiting a star in the constellation Altar 50 light-years from Earth.
But it is the new "little telescope that could" method that has researchers buzzing.
The new planet in the constellation Lyra 500 light-years from Earth was the first to be spotted by the Trans-Atlantic Exoplanet Survey. (An exoplanet is one that orbits a star other than the sun.)
Small telescopes assembled with off-the-shelf parts were set up at Palomar Mountain in California, the Lowell Observatory in Arizona and Astrophysical Institute of the Canary Islands near Africa. The instruments examined 12,000 bright stars over a three-year period.
The telescopes looked for a brief dimming in a star's brightness, indicating a planet might have moved across the star's face. This method previously has been used to confirm planet sightings, but this is the first time it has been used to detect a new planet using such modest instruments, researchers said. [...]
Click here to comment on this article
By Elizabeth Weise and Traci Watson
USA TODAY
8/25/2004 8:46 AM

One third of the nation's lake waters and one-quarter of its riverways are contaminated with mercury and other pollutants that could cause health problems for children and pregnant women who eat too much fish, the Environmental Protection Agency said Tuesday.
States issued warnings for mercury and other pollutants in 2003 for nearly 850,000 miles of U.S. rivers — a 65% increase over 2002 — and 14 million acres of lakes. The warning level is the highest ever reported by the EPA. It is partly a result of states taking a more aggressive role in monitoring for mercury, according to environmental officials.
The warnings do not apply to fish caught in the deep seas that are sold in stores and restaurants. An extremely small percentage of commercially sold fish come from inland lakes and rivers.
"This is about trout, not tuna. It's about what you catch on the shore, not what you buy on the shelf," said EPA Administrator Michael Leavitt. "This is about the health of pregnant mothers and small children."
Adults seldom suffer health problems from eating fish laden with mercury. But a diet rich in mercury-tainted fish can severely damage the nervous systems of children and fetuses. That's why states issue fish warnings not only to children but also to women young enough to have children. Many states advise that women and children eat no fish at all from the most heavily contaminated lakes and rivers, which are listed in state Web sites. Recommended consumption limits on fish from other water bodies range from once a week to once every two months.
Eighteen states have issued warnings on eating fish caught from all lakes and rivers. In Minnesota and Michigan the advisories apply only to lakes and in Indiana only to rivers.
Another 23 states warn that fish caught in some lakes and rivers could be contaminated. Utah, Wyoming, Iowa, Oklahoma, Hawaii and Alaska issued no mercury warnings.
The warnings apply to well-known water bodies ranging from Lake Champlain and Lake Michigan to San Francisco Bay and the Columbia River in the Pacific Northwest.
Mercury is emitted primarily by incinerators and power plants that burn coal. The EPA plans to publish rules restricting mercury from power plants by mid-2005, although environmentalists say the preliminary draft of those rules does not go far enough.
The statistics released Tuesday are based on data the EPA collected from states for 2003. The states are responsible for issuing warnings about fish caught in local streams and lakes.
Click here to comment on this article
Water 'wake-up call' given by UN
By Imogen Foulkes
BBC correspondent in Geneva
The UN says the world faces a silent emergency because of the continued lack of clean water and sanitation.
A new report reveals that more than 40% of the world's population does not have even the most basic sanitation.
More than one billion people have no access to clean water sources, the document adds.
The report was prepared by the UN's children's fund, Unicef, and the World Health Organisation to assess progress towards reaching millennium goals.
A key development goal is to cut by half the number of people without clean water and sanitation by the year 2015.
The report makes depressing reading.
If things continue as they are, half a billion people will still have no sanitation nine years from now.
[...] Unicef points out that it is the young who suffer most.
Some 4,000 children die every day from illnesses caused by lack of clean water.
Click here to comment on this article
Earth warned on 'tipping points'
By Alex Kirby
BBC News Online environment correspondent
The world has barely begun to recognise the danger of setting off rapid and irreversible changes in some crucial natural systems, a scientist says.
Professor John Schellnhuber says the most important environmental issues for humans are among the least understood.
He told a briefing in Sweden that the Asian monsoon was one of the "tipping points" that could change very quickly.
He said a better understanding of the risks was as important as the programme to prevent collisions with asteroids.
Professor Schellnhuber is research director of the UK's Tyndall Centre for Climate Change Research.
High stakes
He was speaking at the EuroScience Forum in Stockholm, at a briefing by the International Geosphere-Biosphere Programme entitled Beyond Global Warming: Where On Earth Are We Going?
Professor Schellnhuber said 12 "hotspots" had been identified so far, areas which acted like massive regulators of the Earth's environment.
If these critical regions were subjected to stress, they could trigger large-scale, rapid changes across the entire planet. But not enough was known about them to be able to predict when the limits of tolerance were reached.
"We have so far completely underestimated the importance of these locations," he said.
"What we do know is that going beyond critical thresholds in these regions could have dramatic consequences for humans and other life forms."
One example of a hotspot was the North Atlantic current, the ocean circulation pattern responsible for bringing warmer air to northern Europe, the collapse of which could lead to a very large regional climate shift.
Faltering monsoon
Others were the West Antarctic ice sheet, the Sahara desert, and the forests of the Amazon basin. Yet another hotspot, Professor Schellnhuber said, was the Asian monsoon system.
[...] "That means we have to know where they are, and they've been off the radar screen for far too long.
"Scientists have begun to realise that change could be sudden, not gradual - in some cases it could happen within a few decades."
Professor Schellnhuber urged a coordinated global effort to improve understanding and monitoring of Earth's "Achilles' heels".
He said: "Such an effort is every bit as important as Nasa's valuable asteroid-spotting programme designed to protect the planet from collisions.
"If we can afford to gaze up at the sky looking for asteroids, we should be able to watch our own planet with as much care."
Click here to comment on this article
Magnitude 5.2 Earthquake in the Banda Sea
USGS
2004 August 25 08:54:58 UTC
A moderate earthquake occurred at 08:54:58 (UTC) on Wednesday, August 25, 2004. The magnitude 5.2 event has been located in the Banda Sea near Indonesia.
Click here to comment on this article
Quick-Spreading Wildfire Erupts in Nev.
By TOM GARDNER, Associated Press Writer
Thu Aug 26, 1:16 AM ET
RENO, Nev. - A wind-whipped wildfire sparked by a target shooter erupted near Reno and quickly spread to at least 2,600 acres, destroying at least four homes, threatening hundreds of others and forcing evacuations.
At least 16 structures, including the homes, burned Wednesday in the Pleasant Valley area, about seven miles from Reno, according to fire officials. Because of dense smoke, it was not immediately known exactly how many of the structures were homes or outbuildings.
"When we left, the flames were coming right down the canyon," resident Joseph Martin said. "They were just saying, 'You might have to evacuate,' and 10 minutes later, they said, 'You got to get the hell out of there.'"
At least 350 homes were threatened by the fire, which was being whipped by winds gusting to 35 mph.
Firefighting crews on the ground were being assisted by helicopters and air tankers, officials said.
"They're doing a great job, but it's kicking our butt right now," Reno Fire Marshal Larry Farr said.
Farr said the fire was sparked by a man who was target shooting and fired a bullet that ricocheted off a rock.
Residents were urged to evacuate. Crews cut electricity to the area to help decrease the possibility of power lines snapping and sparking more fires.
A section of U.S. 395, which links Reno with Carson City, was closed for several hours before reopening at nightfall.
Click here to comment on this article
Migrating Storks Die in Israel Chemical Waste Pool
Mon Aug 23
JERUSALEM (Reuters) - Some 200 storks migrating from Europe to Africa flew to their deaths in Israel Monday, landing in an acid-filled pool of waste outside a chemical plant, veterinary officials said.
Media reports said the chemical dump, in the southern town of Dimona, is covered during the migration season to prevent such accidents but the storks made their stopover in Israel early this year.
Comment: Symbolic? Perhaps, but then so are most things here on the BBM.
Click here to comment on this article
Freak storm hits Anchovy, Roehampton
VIVIAN TYSON, Observer staff reporter
Wednesday, August 25, 2004

WESTERN BUREAU - A freak storm on Monday swept across Anchovy and Roehampton in St James, leaving thousands of dollars worth of damage.
Residents said the storm tore off roofs, uprooted trees and flattened acres of crops, including bananas.
Egbert Kerr, an 83 year-old farmer of Bueno Vista in Roehampton, told the Observer that his crop of 150 banana plants, most of which were due for harvesting in weeks, were wiped out by the wind. He said he lost more than $50,000 in crop damage.
Vaughn Birch, 25, of Spring Bottom, also in Roehampton, said a tree fell on his house and that a section of the roof was torn off by the wind. He also lost his Digital Satellite System (DSS) dish.
"I was at work when the storm past through, and when I got home I saw the tree on top of my house. A whole lot of things inside the house were damaged," Birch said.

Birch said he was yet to find out if all the electrical appliances in his house were working, as the wind caused trees to fall on power lines which left the more than 80 residents in the communities without electricity.
Ireta Robinson, 55, said a one-room house which she had just completed a few days ago was blown from its spot. A huge ackee tree in Robinson's yard was also uprooted by the strong wind. She said no one was in the house at the time of the incident.
Beres Housen, a farmer and father of six, said he was at Granville, about eight miles away, when he received a phone call that his house at Anchovy was affected by the freak storm. According to Housen, when he reached home, he saw sections of his roof blown off and his family apparently in a state of shock. [...]
Click here to comment on this article
Woman killed by falling bank sign
WINNIPEG - An 80-year-old woman who was crushed when a large sign fell off the side of a bank has died.
Lucienne Labossiere had just stepped out of the Royal Bank branch in Somerset last Thursday when the sign bearing the bank's name, as well as part of the building's exterior cladding, came crashing down on her.
She died Monday at a Winnipeg hospital.
Labossiere regularly went to the bank in the afternoon to meet one of her daughters, who works there, for coffee. Her daughter was only steps behind her when the sign fell.
The local fire chief says it appeared the 450-kilogram sign had been improperly mounted.
Click here to comment on this article
Ohio Woman Grateful for Hang-Up Call
AP
Thu Aug 26, 7:32 AM ET
SUMMERFORD, Ohio - A woman says her life was likely saved when she answered a hang-up phone call.
Mary Dhume was watching television Monday night when the phone in the next room rang. She got up to answer it, but there was no one at the other end of the line.
Suddenly, she heard breaking glass and saw her living room wall collapse onto the chair where she'd been sitting.
A pickup truck had missed the curve on the road in front of Dhume's home and smashed into the century-old house. Dhume said she saw the driver run away as she dialed 911.
Three hours later, State Highway Patrol troopers arrested Carlos Cummings, 41, of Mechanicsburg, on a charge of failing to control a vehicle.
"The phone ringing at that particular time? That's one of those things people would never believe," Dhume said. "Maybe it was God calling to tell me to get out of my living room."
Click here to comment on this article
The State
Posted on Thu, Aug. 26, 2004
(South Carolina) - Sightings in Lee County's Scape Ore swamp of a slimy green, red-eyed swamp monster sent news of the Lizard Man flashing across South Carolina and the nation in July 1988. The 7-foot-tall, two-legged creature —with three-fingered hands and three-toed feet — had hundreds of people searching the swamp near Bishopville.
NBC news sent a crew to town to do a "Today" segment and Sheriff Liston Truesdale was interviewed by media from as far away as Australia.
Lizardmania produced a lot of T-shirts, talk of a movie (never produced) and eventually a children's book. But the Lizard Man vanished and never reappeared after that summer.
Click here to comment on this article
---
Remember, we need your help to collect information on what is going on in your part of the world!
We also need help to keep the Signs of the Times online.
---

Check out the Signs of the Times Archives

Send your comments and article suggestions to us

---
Fair Use Policy
Contact Webmaster at signs-of-the-times.org
Cassiopaean materials Copyright ©1994-2014 Arkadiusz Jadczyk and Laura Knight-Jadczyk. All rights reserved. "Cassiopaea, Cassiopaean, Cassiopaeans," is a registered trademark of Arkadiusz Jadczyk and Laura Knight-Jadczyk.
Letters addressed to Cassiopaea, Quantum Future School, Ark or Laura, become the property of Arkadiusz Jadczyk and Laura Knight-Jadczyk
Republication and re-dissemination of our copyrighted material in any manner is expressly prohibited without prior written consent.
.