---
New Article: Jupiter, Nostradamus, Edgar Cayce, and the Return of the Mongols - Laura Knight-Jadczyk
Part 1, Part 2, Part 3, Part 4, Part 5, Part 6, Part 7, Part 8, Part 9, Part 10
Picture of the Day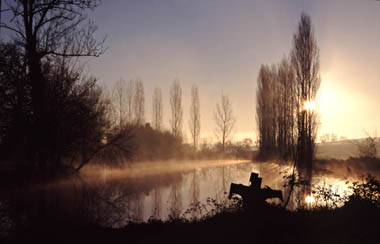 Small lake near Terraube at dawn
©2004 Pierre-Paul Feyte
We have discussed the topic of thinking before. For many people, the automatic associations that arise in the mind are considered thought. However, this is nothing but the stream of consciousness, images following one after another through no conscious effort. In order to learn to think, one must learn to stop the arising of images automatically and mechanically associated with one another and replace it with ordered thought.
A teacher in New York state had an original idea for forcing her students to think.
Teacher ordered to apologize for lesson

Wednesday, February 11, 2004

VOORHEESVILLE, N.Y. — A high school teacher here has been ordered to apologize for asking students to debate the pros and cons of Adolf Hitler.

Anne Lyons instructed her global history students to debate the positive and negative effects of Hitler, Benito Mussolini and Joseph Stalin as part of a Feb. 5 lesson exploring how dictators rise to power.

When students asked how they could possibly defend Hitler, Lyons pointed to medical experiments conducted on Nazi concentration camp prisoners, which she said led to medical advancements, the Times Union of Albany reported in Wednesday's editions.

"I believe it was inappropriate and insensitive to the Jewish students," said Mark Diefendorf, principal of the suburban Albany high school. "She has been asked to apologize to the class. If that will save her job, I don't know."

Several angry parents called the school demanding that officials investigate the lesson. Three parents asked that their children be removed from Lyons' class.

"We don't think the teacher is anti-Semitic," district Superintendent Allan McCartney told the newspaper. "We think what she said may have been misunderstood."

Still, Diefendorf said the lesson was probably unsuitable to present to 14- and 15-year-old students.

Shelly Shapiro, who heads Albany's Holocaust Friends and Survivors Education Center, said the center will hold a previously scheduled workshop for school districts across the region in April.

An attempt to reach Lyons Wednesday at the high school for comment was unsuccessful.
If leaders like Hitler, Stalin, or Mussolini come to power, it is because they are able to convince large numbers of people that they have the answers to the problems facing them. It is therefore very instructive for students to look at the "positive" sides of these men. It helps them to see how people can be fooled into voting for the likes of George Bush. The administrators of the school system may not want their students to develop the degree of reflection that would lead them to question support for Bush. Of course, Bush stole the election, and no one is talking about this in the mainstream press, either. A consequence of a population unable to think.
For the school officials, 14 and 15 year old Americans are still too young to learn to think. Perhaps they are worried that these minds would become malformed if they had to concentrate of something other than having a good time. They may consider that US high school students are still at that age when Britney Spears is a better model than Plato or, god forbid, Paul Feyerabend. Compare the story above with the following quote from Feyerabend's Three Dialogues on Knowledge:
It is quite true that some of my discussions with Popper are reflected in my early writings -- but so are my discussions with Anscombe, Wittgenstein, Hollitscher, Bohr, and even my reading of Dadaism, Expressionism, Nazi authorities has left a trace here and there. You see, when I come across some unusual ideas I try them out. And my way of trying them out is to push them to the extreme. There is not a single idea, however absurd and repulsive, that has not a sensible aspect and there is not a single view, however plausible and humanitarian, that does not encourage and then conceal our stupidity and our criminal tendencies.
In learning to think, it is quite normal to look at all sides of issues, especially issues that are at first glance so black and white, such as Hitler. But looking at Hitler with the benefit of 20/20 hindsight does nothing to help us understand how he came to power. Seeing only the negative pole of Hitler does not allow us to understand how he was able to convince so many German's to vote for him. (An interesting account of Hitler, written for the US government during the Second World War, is available elsewhere on the site.) He did not run on a platform of exterminating the Jews. He spouted political pablum about the homeland, law and order, and the special character of the German people.
Sounds like Bush and Kerry.
The teens in New York, 14 and 15 years old. They are considered too young to confront issues, even in a speculative manner, such as the "positive side" of Hitler. The voting age in the US is now 18. That would only give them a few more years to begin thinking about issues that are more complex than which club to party at on Saturday night and whether JLo is to blame for Ben's current depression. When exactly do these school officials believe that the students should learn to think? Or is this no longer a consideration of the educational system?
The students in New York and the idea in Feyerabend's quote should be kept in mind when reading this next item. In response to the call to lower the voting age in the UK from 18 to 16, the Liberal Democrats are suggesting other changes:
Let 16-year-olds visit sex shops and see explicit porn, say Lib Dems

By Andy McSmith, Political Editor
21 March 2004

Youngsters aged 16 and 17 should have the right to watch and appear in explicit pornography, the Liberal Democrats decided yesterday.

[...] The vote also commits the party to campaigning for teenagers from 16 upwards to be allowed to visit sex shops, which would be made easier to set up and run. The party's culture spokesman, Don Foster, said that it was inconsistent to allow 16-year-olds to have children, and be treated as adults in other respects, but to bar them from watching or taking part in explicit material - which they could access, anyway, from the Internet.
Our first reaction to this was that the Lib Dems were trying to show the absurdity of the idea of lowering the voting age by drawing out the implications, that is, pushing the idea to its extreme. Unfortunately, this does not appear to be the case. "Let's open the dens of iniquity to our youth!" is the way they are going to try and win the youth vote in the next election.
The Powers That Be don't want a thinking electorate, either in the UK or the US. There are too many stories out there that might fall apart under scrutiny: the hunt for WMD in Iraq, the Madrid bombings, the World Trade Center and Pentagon attack, the role of the neocons in US foreign policy, the invasions of Afghanistan and Iraq, the overthrow of Aristide, the constant pressure on Hugo Chavez, the way the veil become an issue in France, the "suicide" of Dr. David Kelly, global warming, and the absurdity that Ariel Sharon is a man of peace.
This last item is in the news today. Certainly anyone who is able to think, free from the emotional blinders of ideology, should be able to see through the following, today's assassination of the spiritual leader of Hamas, Shaikh Ahmad Yasin.
Tens of thousands march in funeral procession for Yassin
By Amos Harel and Arnon Regular, Haaretz Correspondents, News Agencies and Haaretz Service
22/03/2004 12:50
Hamas spiritual leader Sheikh Ahmed Yassin was killed at daybreak Monday when Israel Air Force helicopters fired missiles at a car carrying the wheelchair-bound head of the radical Islamic group as he left a mosque near his house in Gaza City.
Witnesses said Israeli helicopters fired three missiles at Yassin and his bodyguards around 5 A.M. local time as they left the mosque. Yassin was killed instantly and up to seven bodyguards, reportedly including Yassin's son, were also said to have been killed. Hamas officials confirmed that Yassin had been killed.
Within hours, tens of thousands of mourners jammed the streets of Gaza City for the funeral procession of Yassin and the seven others killed in the air strike. Twenty-one Palestinian police officers formed an honor guard as the coffin holding Yassin's mangled body was carried out of Shifa Hospital in Gaza City. [...]
Click here to comment on this article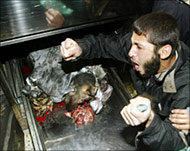 Palestinians mourn Yasin
Monday 22 March 2004
Tens of thousands have accompanied the cortege

The body of Hamas spiritual leader Shaikh Ahmad Yasin has been carried through the streets of Gaza City by resistance fighters at the start of his funeral.
Tens of thousands of mourners accompanied the cortege on Monday as it made its way through the streets of the main Palestinian state with his coffin draped in the green flag of the movement that he founded.
The procession left Gaza's al-Shifa hospital, heading first towards Yasin's house in Gaza. A brief funeral service was then due to be held at a mosque in the centre of the city.
Many of the mourners from a cross-section of Palestinian factions chanted "vengeance, vengeance" while resistance fighters fired off piercing volleys into the air.
Among the crowds gathered outside Yasin's house were three women brandishing M-16 assault rifles. One of the women, who was in her 60s, said she was prepared to take part in an attack in retaliation.
"We are all fighters, all martyrs. We are all prepared to be martyrs," she told AFP.
The 67-year-old Yasin was later expected to be buried in the city's "martyrs' cemetery" just hours after he was killed in an Israeli helicopter attack.
Assassination
Israeli helicopter gunships fired missiles at Yasin as he left a mosque after dawn prayers, killing the Hamas leader and at least six other people.

One witness who lives near the mosque told reporters what happened moments after the first explosion.
"I looked to see where Shaikh Ahmad Yasin was," he said. "He was lying on the ground and his chair was destroyed. People there darted left and right. Then another two missiles landed."
The Israeli army later admitted it had carried out the killings.
"The shaikh is dead. The shaikh is dead," sobbed Hamas resistance fighters who gathered at the scene.
Thousands of Palestinians, many in tears, poured into the streets and fighters fired into the air. Palestinian Authority officials condemned the attack.
"This is a crazy and very dangerous act. It opens the door wide to chaos. Yasin is known for his moderation and he was controlling Hamas and therefore this is a dangerous, cowardly act," said Prime Minister Ahmad Quraya.
Yasin has been confined to a wheelchair since an accident as a teenager paralysed him. He was also partially blind.
He was sentenced by Israel in 1989 to a life term for founding Hamas and inciting Palestinians to attack Israelis. But Israel released him in 1997 as a goodwill gesture to Jordan's King Husayn after an attempt to assassinate Hamas leader Khalid Mishal in Jordan failed.
An Israeli minister said Yasin had been "marked for death". "Yasin and the others were behind the terror framework in the Gaza Strip," Deputy Defence Minister Zeev Boim told Israel Radio.
Israeli Prime Minister Ariel Sharon personally supervised the attack on Yasin, Israeli public radio reported. Sharon had given the green light to Yasin's assassination and supervised the operation, the radio said.
Hamas resistance fighters vowed to "bring death to every house" in Israel in revenge.
"Shaikh Ahmad Yasin rest in peace. They will never enjoy rest. We will send death to every house, every city, every street in Israel," Hamas resistance fighters shouted through loudspeakers in the streets of Gaza City.
Click here to comment on this article
Israeli attack triggers retaliation
Monday 22 March 2004, 12:38 Makka Time, 9:38 GMT
This morning's killing of Hamas' spiritual leader Shaikh Ahmad Yasin by Israel has triggered angry reaction among Palestinians.
Hours after the assassination, an axe-wielding Palestinian wounded three people outside an army base near Tel Aviv on Monday.
[...] A 13-year-old Palestinian boy was killed by Israeli troops during a mass demonstration in the southern Gaza Strip town of Khan Yunis in support of the slain Yasin.
Medics named him as Musab al-Khalban and said he had been fatally hit in the head when troops opened fire from a watchtower in the nearby Jewish settlement of Ganei Tal.
They said four other people were moderately wounded during the demonstration.
Click here to comment on this article
Flashback: Hamas fury over Israeli Yasin-threat
Sunday 18 January 2004

The Palestinian resistance group Hamas has threatened to drown Israel "in a sea of blood" if it tries to kill its spiritual leader Shaikh Ahmad Yasin.
"Israel will pay a high price for any attempt to hurt Sheikh Yasin or any other Hamas leader," the Izz al-Din al-Qassam Brigades, the armed wing of Hamas said in a statement on Saturday.
The strident Hamas rhetoric was in response to a recent remark by Israel's Deputy Defence Minister Zeev Boim that the elderly spiritual leader "deserved to die."
"We will make the Israeli Zionists drown in a sea of blood," the statement said.
Besides hinting Israel was contemplating a resumption of its policy to assassinate Hamas leaders, the Israeli deputy defence minister on Thursday had said Sheikh Yasin was a marked man.
"Sheikh Yasin is marked for death, and he should hide himself deep underground where he will not know the difference between day and night. And we will find him in the tunnels, and we will eliminate him," Boim said.
Comment: The conclusion to be drawn, of course, must be that Sharon actually wants as many dead Israeli Jews as possible. Why else would he order the assassination of Yassin? He had been warned by Hamas, and was clearly aware that there would be a very violent backlash from the Palestinians, yet he ignored every principle of peaceseeking and stirred up the hornet's nest. Let it be understood, when the retaliatory attack(s) take place, that the blood of the Jews that die will be on Sharon's hands, along with the blood of the thousands of Palestinian innocents for whose deaths he is also responsible.
Click here to comment on this article
World reacts to Yassin killing
Monday, 22 March, 2004

The killing of Sheikh Yassin has drawn widespread condemnation in the Arab world and Europe, while the US State Department has appealed for calm.
Egyptian President Hosni Mubarak described it as cowardly and King Abdullah of Jordan called it a crime.
Iranian officials said the killing would trigger an even bigger struggle against Israel and the US.
British Foreign Secretary Jack Straw described the assassination as "unacceptable" and "unjustified".
Mr Straw said he did not think Israel would benefit from an attack on an old man in a wheelchair.
Comment: Mr Straw is wrong. What he fails to make clear is that, this was no ordinary "old man in a wheel chair". To many Palestinians Yassin was what the Pope is to Catholics and Bush is to the evangelical Christians in the US. If a country wanted to provoke the full destructive fury of the American war machine, killing the American president would be the surest way to do it. Or, let's put that another way. If the US wanted to utilise the full destructive power of the US war machine to destroy another nation or group of people, the best way to achieve this would be to kill the president or carry out some other form of attack on the US and then BLAME it on the nation or group that it wants to destroy.
Sharon wants war, he wants to destroy the Palestinians. For many years now, he has been arming and then provoking Palestinian military groups by killing innocent men, women and children, even as they lie in their beds asleep. Other than satisfying his bloodlust and hatred for Arabs in general, his goal in killing Palestinians, is to incite them, often allowing them, to kill Jews. In this way Sharon fuels the conflict, pushing it ever closer to it's inevitable disastrous finale when he can finally provide himself with the justification necessary to implement his "final solution" to the Palestinian problem.
Indeed, as we have commented in the past, it is very likely that Sharon is playing both sides of the Palestinian/Israeli conflict. It is very likely that Hamas has been infiltrated by Israeli intelligence, and it is very probable that Israel itself is behind many of the "Palestinian suicide bombings". From the point of view of Ariel Sharon, anything that pushes the Israeli Palestinian conflict closer to the brink of all out war, serves his goal.
If the ordinary Israeli Jew continues to support Sharon and the "Zionists" in achieving their goal, by default it also becomes the goal of ordinary Israeli Jew, and they too will share in the destruction - Sharon is sowing the wind...
If the culmination of Sharon's plan results in the deaths of massive numbers of BOTH Palestinians AND Jews, we cannot easily dismiss the idea that this also formed a part of Sharon's plan. We must also consider the fact that, without the continued financial and military support of the US, Israel, in it's present extremely militarised form, would not even exist.
French Foreign Minister Dominique de Villepin said such acts could only "feed the spiral of violence".
The European Union's foreign policy chief, Javier Solana, said the killing was "very, very bad news" for the Middle East peace process.
And the Russian foreign ministry said it was "deeply concerned" at the assassination, which it feared would cause "a new wave of violence".
The US was among the first countries to issue an official reaction in the wake of the killing of Sheikh Yassin by Israeli forces.
State Department spokesman Lou Fintor said: "The United States urges all sides to remain calm and exercise restraint."
An Australian foreign ministry spokesman also urged efforts to "try and prevent any further decline into violence".
Egyptian President Hosni Mubarak said he had cancelled a visit by Egyptian members of parliament to Jerusalem in protest at the assassination.
The delegation was to have taken part in celebrations to mark the 25th anniversary of the Camp David peace treaty between Egypt and Israel.
Mr Mubarak described the killing as "regrettable and cowardly".
When asked about its possible impact on the Middle East peace process, he said: "What peace process?"
Comment: Look again at the comments from world leaders in response to the Israeli assassination of Yassin. Almost no one condemns the murder. What is it about Israel, that it can command such a muted response to a clearly criminal act that threatens to destablise the entire western world?
Iran's ex-President Akbar Hashemi Rafsanjani warned that Sheikh Yassin's "martyrdom" would trigger an "even more serious struggle by the oppressed Palestinians against the Israeli terrorist occupiers and their US supporter".
Kuwaiti Prime Minister Sheikh Sabah al-Ahmad al-Sabah said: "Violence will increase now because violence always breeds violence."
Lebanese President Emile Lahoud said Israel was "mistaken" if it thought that by killing resistance fighters, it could kill the Palestinian cause.
The spiritual leader of Egypt's outlawed Muslim Brotherhood, Mohammed Mehdi Akef, said Sheikh Yassin had fallen as a "martyr" in a "cowardly operation".
BBC diplomatic correspondent Barnaby Mason says the world's big powers are likely to be dismayed that Israeli Prime Minister Ariel Sharon has chosen to escalate Israeli military action against Hamas.
Our correspondent says there will also be concern, especially in the British government, that the killing might further hinder the progress of the international roadmap peace plan for the Middle East.
Comment: The roadmap peace plan was designed for one thing only - public opinion. Peace is as meaningful to Sharon as calculus is to a cat.
Click here to comment on this article
Sharon took huge gamble in killing Yassin

By Karin Laub, AP
22 March 2004
The Israeli Prime Minister Ariel Sharon took an enormous gamble in ordering the assassination of Hamas founder Sheik Ahmed Yassin.
Sharon hopes to score a decisive victory against the violent group ahead of an Israeli withdrawal from the Gaza Strip, but risks unleashing a wave of Palestinian revenge attacks that could easily spin out of control.
Yassin was an attractive and relatively easy target for Israel.
The quadriplegic had a high profile as the spiritual leader of the group, even if he was not seen as being involved in the day-to-day planning of attacks on Israel.
Comment: This is pure nonsense. This was no gamble. Sharon knows very well what the result of this assassination will be, that is exactly why he ordered it.
Click here to comment on this article
Carter savages Blair and Bush: 'Their war was based on lies'

22 March 2004

Jimmy Carter, the former US president, has strongly criticised George Bush and Tony Blair for waging an unnecessary war to oust Saddam Hussein based on "lies or misinterpretations". The 2002 Nobel peace prize winner said Mr Blair had allowed his better judgment to be swayed by Mr Bush's desire to finish a war that his father had started. [...]
Click here to comment on this article
Iraqis united in their fury toward U.S.
HAROON SIDDIQUI
TORONTO STAR
Set aside the arguments over how George W. Bush invaded Iraq under false pretences. Forget the mirage of the weapons of mass destruction and the missing link between Al Qaeda and Saddam Hussein. Ignore the inconsistency of toppling one dictator but sparing others.
On the first anniversary of the American occupation, concentrate instead on what is happening in Iraq — the resistance, the spreading terrorism and the presumed imminence of a civil war between religious, ethnic and tribal factions.
What does the future hold for Iraq's 25 million people and, by extension, all Arabs and indeed the larger Muslim world of 1.3 billion, especially their toxic relationship with America?
The answers lie partly in the response to another question, the one American soldiers in Iraq often ask, when not sitting in armoured vehicles with machine guns pointing outward: "Why do they hate us?"
Fighting erupts in Herat after Afghan cabinet minister slain; up to 100 dead
05:59 AM EST Mar 22
STEPHEN GRAHAM
KABUL (AP) - Forces loyal to Herat's governor claimed to have retaken control in the western city Monday after fierce factional fighting that killed Afghanistan's aviation minister and left as many as 100 people dead.
The governor's troops fought against those of militia Cmdr. Zaher Naib Zada, who said his forces were responsible for Sunday's fatal shooting of Aviation Minister Mirwais Sadiq, which sparked the clashes.
Fighters loyal to Gov. Ismail Khan - the aviation Minster's father - retook Zada's militia barracks and detained 25 of his fighters but the commander himself escaped capture, police Chief Zia Mauddin Mahmud said by telephone.
Mahmud said 50 to 60 people died in what were hours of fighting with guns, rockets and tanks.
Click here to comment on this article
France's ruling conservatives suffer major setbacks in regional elections
05:59 AM EST Mar 22
ELAINE GANLEY
PARIS (AP) - Voters dealt a solid blow to France's governing conservatives in Sunday's first round of regional elections, giving the leftist opposition some 40 per cent of the vote and boosting the extreme right, according to unofficial results.
Exit polls showed the party of President Jacques Chirac receiving 34 per cent of the vote, while the extreme right received about 17 per cent. In a personal blow to Prime Minister Jean-Pierre Raffarin, his hand-picked candidate in his home region of Poitou-Charentes in western France took a beating from a high-profile Socialist candidate.
Click here to comment on this article
French government dealt poll blow
[...] The polls were seen as a mid-term test for the government, which has faced high unemployment and strikes.
The French media expressed doubts about the prime minister's future, after the second round of voting next week.
The business daily Les Echos said: "There are strong chances that the days of the Raffarin government are numbered."
But Prime Minister Jean-Pierre Raffarin said he would "take into account the message" of the elections and he called on the French to "rally together" for the second round.
[...] Defence Minister Michele Alliot-Marie said the voters' message was to speed up those reforms.
"The message reflects the impatience, even the exasperation, of some French at the reforms ... that they find are going too slow," she told RTL radio.
"It's not going fast enough."
[...] AFP's Hugh Schofield says the government is banking on the hope that the first round of two-round elections is customarily used by French voters to express their discontent and that many of its supporters who failed to turn out Sunday will do so in a week.
Comment from a QFS member in France: The Signs team gave yesterday the overview of the French governing system, and as the first round of our regional elections is just done, I propose to give you some additional information, related to it.
Context of the current elections: these are elections for regions, and will be the last elections before next presidential one in 2007, if one excludes the European elections to come. Last national wide elections 2 years ago were presidential and were an earthshaking as the extreme right party, the National Front, reached the second round, and electors were left with the choice of right or extreme right. There are plenty of analyses of these available, mine was at the time that we really had fallen asleep to have not seen this coming as the score was due to a low participating level and a spread of votes over many parties, which was risky as in those elections only the 2 first candidates could go on. So a lack of understanding and interest of our own democracy. Note that these are direct elections, every citizen has the right/duty to vote.
The regional election is quite different: all lists with at least 5% can unite with other ones for the second tour, those with 10% or more can maintain as is. So "first round you chose, second round you eliminate" as I heard yesterday in the election comments.
Now to the results:
There is a still a poor participating rate (abstention = 39%) even if all the commentators claimed it was in progression. I find this very telling of the times: people are just letting other minds make choices for them
There is a come back from the opposition which was foreseen (to the left this time) and the region that was previously run by our prime minister, Jean-Pierre Raffarin, is very likely to change from the right to the left.
So all the commentary during the evening went about analysing this and that, and all possible scenarios, and how the extreme right was still there with about 16% (of course, those people do vote), and how the left party will probably gain many regions in the second round next Sunday.
And it is only this morning that I saw the results of the second elections that happened yesterday: those of the cantons, and a result which still surprises me is the high score of our Minister of Interior Nicolas Sarkozy at Neuilly sur seine: 80% which is very, very high. I know that people are glad that he took some very drastic measures on road security, but such a score is worrying me. His politics will lead us to accept more and more checking and restrictions for our own security. As the Signs team already pointed, he is looking toward the American example. I heard him at a meeting saying that he was very happy that in the US, a citizen not born in the US had been elected at the head of the biggest state, talking about Arnold. It would be his case as well. People have been underestimating him, but I think he is very clever, unfortunately. But this is of course only my view of it.
Next week will be round two, but the real point is now toward the presidential elections within 3 years.
Click here to comment on this article
Firebombs thrown at US embassy in Tokyo
AFP
Monday March 22, 4:09 PM
Bottles of inflammable liquid and firecrackers were hurled at the US Embassy here on the weekend of the anniversary of the Iraq war, an embassy spokesman told AFP.
No damage or injuries were reported in the attack on the building in central Tokyo early on Saturday.
"This incident apparently took place as has been reported, which was early Saturday morning," embassy spokesman Michael Boyle said, without going into details. "We actually don't discuss our security situation." he added. [...]
Click here to comment on this article
Taiwan voters demand proof of shooting
Pro-independence president allegedly staged pre-election attack to win sympathy
Jonathan Watts in Taipei
Monday March 22, 2004
The Guardian
Tens of thousands of furious opposition party supporters staged an illegal rally outside the presidential palace in Taiwan yesterday to demand an investigation into allegations that president Chen Shui-bian staged his own shooting in order to win reelection on Saturday.
With violent demonstrations in several other cities after Chen's razor-thin victory, the president's office attempted to end the turmoil by releasing footage of him being operated on in a hospital after the attack.
Chen, who wound up cross-straits tensions during his first term by pressing for democracy and independence from China, beat his only opponent Lien Chan of the Kuomintang party, with a majority of less than 0.2% of the 16.5 million electorate.
The 30,000-vote margin of victory has convinced the Lien camp that the result was determined by the 330,000 invalidated ballots and a sympathy vote generated by the mysterious assassination attempt on the president and vice-president Annette Lu on the final day of the campaign.
No suspects have been named, but the mystery is not so much a whodunnit as a whatwasit: a genuine attempt to kill Chen or a stage-managed piece of political drama designed to swing a close race? [...]
Comment: Bush set the scene with his coup 'd'etat in 2000, now it appears that everybody is getting in on the act. Is there anything in life that is Real?
Click here to comment on this article
U.S. Will Retain Power in Sovereign Iraq
By JIM KRANE
Sunday March 21, 2004 8:01 PM
BAGHDAD, Iraq (AP) - The United States says Iraq will be sovereign, no longer under military occupation, on June 30. But most power will reside within the world's largest U.S. Embassy, backed by 110,000 U.S. troops.
The fledgling Iraqi government will be capable of tackling little more than drawing up a budget and preparing for elections, top U.S. and Iraqi officials say.
"We're still here. We'll be paying a lot of attention and we'll have a lot of influence," a top U.S. official said on condition of anonymity. "We're going to have the world's largest diplomatic mission with a significant amount of political weight."
In just over three months, the mantle of sovereignty in Iraq will be passed to an interim government. Its composition and the manner of its choosing will be decided after a United Nations team arrives this week.
But with Iraqi elections scheduled for December or January, the interim government will last a fleeting seven months at most: a butterfly's life, in legislative terms.
Since the U.S.-led occupation regime will have a hand in choosing Iraq's next government, the body will lack a mandate for anything but administrative tasks. Many envision a team of nonpartisan Iraqi technocrats who concentrate on keeping the country functioning.
"We don't expect them to enact any laws unless there is absolute need for them," Iraqi Governing Council member Adnan Pachachi said Sunday. "We're not going to enter into any big contractual obligations - either diplomatically or economically - because those things should be done by an elected government." [...]
Comment: Of course not - the economic contracts have already been awarded. Companies such as Shell and Halliburton and its subsidiaries have already made money off of Iraq's suffering. Diplomacy is a moot point. No one in Iraq can so much as sneeze without Paul Bremer's seal of approval.
Click here to comment on this article
Inquirer News Service
9:25 PM (Manila Time) | Mar. 21, 2004
THE GOVERNMENT of President Macapagal-Arroyo has endorsed a program requiring Muslims in Metro Manila to carry identification cards to help thwart terrorist attacks in the metropolis.
Presidential spokesperson Ignacio Bunye told RMN radio that the ID system for Muslims was a "good initiative."
Bunye noted that the suggestion requiring residents of Islamic communities in Metro Manila came from Muslim leaders themselves. [...]
Muslim leaders volunteered to issue IDs to their members in an effort to disprove belief that they had anything to do with terrorists. [...]
Click here to comment on this article
Arabs Can Handle Their Own Affairs, Says Prince Saud
Khaled Al-Mahdi, Arab News
Monday, 22 March, 2004
SANAA — Foreign Minister Prince Saud Al-Faisal yesterday slammed Washington's calls for reform in the Middle East and said Arab countries could tackle their problems by themselves.
The US proposals "include clear accusations against the Arab people and their governments that they are ignorant of their own affairs," the Saudi Press Agency quoted Faisal as saying in the Yemeni capital.
"Those behind these plans ignore the fact that our Arab people have cultures rooted deep in history and that we are able to handle our own affairs," the Saudi chief diplomat said.
Prince Saud said calls for Arabs to join the modern world were being made "as if for all these years we had not been doing anything and had just been waiting for direction from outside".
He said any foreign help should be concentrated on settling the Palestinian-Israel conflict and forming a "genuine economic partnership" with the Arab world.
Prince Saud's statement comes two days after his talks in Riyadh with US Secretary of State Colin Powell. [...]
Click here to comment on this article
Terror: Misdiagnosis Can Kill the Patient
John V. Whitbeck, Arab News
Monday, 22 March, 2004

JEDDAH — The gruesome train bombings in Madrid and the stunning regime change which followed should be seized upon to rethink whether the "war on terrorism", as conceived and conducted since Sept. 11 , 2001, is really the most effective way to deal with a problem that shows no signs of going away.
If a patient is ill, a doctor who misdiagnoses the source and nature of the illness and prescribes a course of treatment for a different disease risks killing the patient. After two and a half years of a "war on terrorism" which is widely perceived in the Middle East as an expansion of a long-running Western war against Muslims or, worse, as a Judeo-Christian crusade against Islam, it is worth reconsidering whether the initial diagnosis and the subsequent treatment are more likely to kill the patient than to save him.
Americans have tended to view the Sept. 11 attacks as a bolt from the blue, inexplicable, based on pure malevolence and carried out by people willing to sacrifice their lives out of an incomprehensible, irrational and incurable fanaticism unconnected to any concrete grievances or goals. Few Americans have dared to suggest that, however awful the attacks were, they might have constituted a response or a reaction to policies that the United States (or Israel, widely viewed by Muslims — and, apparently, by most Americans — as indistinguishable from the United States) has pursued in the region.
The immediate American response to such appalling violence was to resort to superior violence, and the continuing American reaction to the fear installed by the attacks has been to try to instill a still greater fear in potential adversaries. This has proven to be a "bleeding" cure for an anemic patient. [...]
The problem of "terrorism" can be viewed as a moral issue, a scourge toward which no effort at understanding is conceivable and shock, awe and overwhelming force are the only possible response. This approach has been tried for two and a half years. It has failed, and there is no reason to believe that "more of the same" will succeed.
Alternatively, the problem could be viewed as a practical one. What is most likely to "work", to reduce the violence, which can never be totally extinguished, to tolerable levels? The West could make a serious and sustained effort to reduce the injustices that feed the fury that produces the "terrorism", starting with the cancerous, 37 -year-long occupation of Palestine. This approach has not yet been tried. It should be. [...]
Click here to comment on this article
Statistics lie on the true cost of living
By Robert Kuttner, 3/17/2004
The Boston Globe
WHAT IS THE MATTER with the whiny American voters? They keep telling pollsters that they think America is on the "wrong path." But don't they read the statistics? Don't they know that unemployment is at a comfortable 5.6 percent, that inflation is almost nonexistent, that the economy is growing smartly at around 4 percent?
These happy statistics, alas, don't accurately capture the economic reality of ordinary people. Take inflation. It's true that measured inflation is very low, but look at all that's left out.
In the case of health care, the government's consumer price index tracks the cost of medical services. But it is less precise about tracking who pays for them. If your employer's health plan is increasing your share of premiums and cutting the company's contribution or if the plan is increasing out-of-pocket charges or reducing what drugs it will cover, this shift is accounted for indirectly, after a lag of two years. But it hits your pocketbook immediately. And if rising medical costs deter you from seeing the doctor, that doesn't show up in the index at all.
Or consider housing. There are parts of the country where housing prices have been declining for a decade because few people want to move there. Statistically, these declines get averaged with astronomical housing costs in major metropolitan areas to show only modest average housing inflation. Around big cities, prices have plateaued at very high levels that are plainly outstripping incomes. Try telling a young person in Greater Boston or New York or LA that there's no serious housing inflation or that rents have not increased faster than earnings.
Another case of hidden inflation: A great many people in late middle age find themselves subsidizing their newly launched young. The causes of this trend are multiple: low starting salaries, skyrocketing rents, and the high cost of college tuitions and health insurance. Is this a dent in the cost of living for the middle aged? You bet. Does it show up in government statistics? Nope. [...]
Then we have the unemployment numbers. Nominally, unemployment is a nice, manageable 5.6 percent -- about where it was during much of the booming 1990s. But that statistic leaves out all the people who left the labor force because they gave up on ever finding a job. If you include those, the real unemployment number is more like 7.7 percent. The proof of the soft job market is that earnings have not kept up with inflation. In 2003, the official inflation rate was 2.3 percent. The median wage increase was just 2 percent. And the 2004 statistics are likely to be worse. [...]
Click here to comment on this article
'Dawn of the Dead' Debut Tops 'Passion'
Click here to comment on this article
Patient given appointment...in 192 years
Ananova.com
March 22, 2004
A hospital patient has been told he'll have to wait 192 years for a minor operation.
Robert Smith has been sent a letter by Dewsbury District Hospital saying the waiting time is 9,999 weeks.
The Mirror says bosses at the Mid-Yorkshire Hospitals NHS Trust have apologised for the gaffe, blaming an admin error.
A Trust spokesman said: "We are happy to confirm no one has ever had to wait 9,999 weeks."
Mr Smith, 48, has now been told the waiting time for the operation to have a spot removed from beside his eye is actually 17 weeks.
Click here to comment on this article
No-smoking forces taking new territory: the beach
By Daniel B. Wood | Staff writer of The Christian Science Monitor
LOS ANGELES – Ten years after California set a national precedent by banning smoking in restaurants and bars - and months after prohibiting it within feet of government buildings and playgrounds - many of the state's coastal cities are now banning smoking at the beach.
Health and environmental officials say the moves are a logical extension of smoking bans in other public places and are necessary to meet state and federal antipollution requirements.
Some legislators, however, fear the government is prying too far into private lives, with unnecessary and overly puritanical dictums.
Comment: Right. With all the industries that are pumping pollutants into the air, with the relaxing of already lax enivronmental standards by the Bushites, they want us to blame smokers for polution. Is anybody thinking out there?
Click here to comment on this article
Surgeons 'should be able to practise on live pigs and sheep'
By Jeremy Laurance, Health Editor
22 March 2004
The Royal College of Surgeons is calling for trainee surgeons to be allowed to practise on animals such as pigs before being let loose on people.
Senior doctors say that rising patient expectations and cuts in the time available for training have increased the need for practice on live animals.
The animals would be "terminally anaesthetised" - put to sleep - during the operation and humanely killed afterwards without being revived. The doctors say pigs and sheep have a similar anatomy to humans and would offer trainees relevant experience without the catastrophic consequences of a mistake in a person.
Click here to comment on this article
Test could lead to time travel: A physics professor will try to turn back time in an experiment at the Miami Museum of Science.
BY RAFAEL SANGIOVANNI
Herald Writer
It's back to the future all over again -- at least, that's what Carlos Dolz has in mind.
The Florida International University physics professor plans to take time to task at 10 a.m. Wednesday, when he presents an experiment that involves using acceleration to speed up a digital clock by four seconds.
[...] The experiment involves putting a digital clock under immense force by spinning it on a centrifuge. The basic idea behind the experiment is to speed up the frequency of the pulses, or ticks, produced by the clock with force to push it ahead. Dolz said it takes about six hours to move the clock ahead four seconds.
Comment from Ark: I did some small calculations: to get four seconds in six hours the centrifuge, assuming it is a small one, radius 20 cm, would have to rotate one million times in one second. The clock would be then be experiencing pressure of billion tons. Impossible to survive.
Assuming centrifuge radius 1m, the centrifuge needs to rotate 100,000 per second. The force acting on the clock would be 100,000,000 tons. Impossible to survive either.
With the existing centrifuges the effect, if any, will be much much smaller. Unless the battery breaks under the pressure!
Comment from a reader this evening:
I suppose, in the first place, the moving clock should LAG behind, rather than being pushed forward in time.
The proper time between two events along an accelerated path is always smaller than along the geodesic path ...

Click here to comment on this article
Fireball in night sparks excitement
By NATALIE PONA, STAFF REPORTER
Mon, March 22, 2004
Ambulances and RCMP cruisers were sent scrambling last night in search of a ball of fire that fell from the sky east of Winnipeg. "We were the first ones to see it, my partner and I," said Oakbank RCMP Const. Patrick Therrien. "We were coming out of the detachment area and we couldn't help but see it."
Therrien said he and his partner, Cpl. Mark Bingham, saw a turquoise object split into pieces and rocket toward Earth about 7:30 last night.
"It was kind of scary, something that bright and that big coming down with a trail like that," Therrien said.
METEORITE OR SPACE JUNK?
They watched it for about 10 seconds.
"It was a brilliant colour, really beautiful."
Once they lost sight of the object behind some trees, Bingham said they called the Winnipeg airport to make sure they hadn't seen a plane crashing.
"Then we headed east to see if we could go find it," Bingham said.
Calls began pouring in to police from the southeastern part of the province. After 30 minutes without finding anything, the hunt was called off.
Both men said they think the object was a meteorite or space junk.
Researcher Chris Rutkowski said it was likely a bolide, a scientific term for fireball.
"Even though it looks like a plane on fire crashing behind the next hill, it's actually ... about 100 to 150 to 200 kilometres away."
Comment: For more on fireballs in the night, please see our Meteor Supplement.
Click here to comment on this article
Tycoon funds hunt for alien life
Monday, 22 March, 2004

Allen's Microsoft millions hunt for aliens
Paul Allen, the cofounder of software titan Microsoft, is ploughing a slice of his fortune into the search for life on other planets.
Mr Allen is donating $13.5m to the California-based Seti Institute.
The money will be used to create a radio telescope array comprising more than 200 dishes which will measure signals from space. [...]
Click here to comment on this article
Villagers in Madhya Pradesh face mysterious enemy
By Rohit Ghosh, Ratria
(Madhya Pradesh)
Mar 21
People of a village in Madhya Pradesh are facing hostility from an unseen and a mysterious enemy.
The people of Ratria village in Neemuch, a district in western Madhya Pradesh, for the last one week have been coping up with unexplained fires and stone pelting. And they do not know who is behind them.
Not only the villagers, even the district administration and the police have till now failed to provide any solace to the villagers.
The villagers feel that if their problem is not solved soon, they may soon face shortage of water. "Our wells have started drying up fighting the fires," said a villager.
Ratria is a village around 20 km from the district headquarters of Neemuch, with a population of 1,000 people. Most of the villagers are farmers.
It all started a week back when a fire suddenly broke out in the village.
The villagers did not find anything unusual in the fire. Assuming that the fire resulted from the stub of a cigarette, short-circuit or a matchstick, they doused it.
But to the horror of the villagers, breaking out of fires soon became very common. "Fire breaks out anywhere in the village and at anytime of the day," said Sardar Singh Gurjar, the headman of Ratria village.
"We draw water from the wells of the village to douse the fire. The wells have started drying up. Major fires have broken out in the villages 11 times in a span of few days," said Gurjar.
But the villagers of Ratria do not have to have to cope with fire only. "Stone pelting is another problem," said Gurjar.
According to the villagers, they suddenly have to face shower of stones. "Many people have been injured in the stone pelting till now," said the chief of Ratria.
"I was going to my fields in a usual manner a couple of days back when suddenly the stones started hitting me from all directions. I ran for cover," said Ram Deo, a farmer of the village.
"I thought that it was a mischief. But the same thing happened on the following day also," he said.
The harassed villagers informed Neemuch Police about the matter.
Taking the incidents seriously, district police chief Yogesh Deshmukh visited the village. But much to the surprise of Deshmukh, he and his men also came under the shower of stones and had to scamper for saving themselves.
Once the "rain of stones" subsided, Deshmukh sent his men to all directions of the village. He was suspecting the hand of some mischievous person. But all his men returned empty handed.
"We have deployed policemen in plainclothes in the village. Secondly we have decided to take scientists to the village to allay the fears of the villagers. We have also deployed cameramen on rooftops," said additional superintendent of police N P Varkade, while talking to IANS. "We believe it's a mischief," he said.
Comment: These strange fires are similar to those happening recently in Sicily.
Click here to comment on this article
---
Remember, we need your help to collect information on what is going on in your part of the world!
We also need help to keep the Signs of the Times online.
---

Check out the Signs of the Times Archives

Send your comments and article suggestions to us

---
Fair Use Policy
Contact Webmaster at signs-of-the-times.org
Cassiopaean materials Copyright ©1994-2014 Arkadiusz Jadczyk and Laura Knight-Jadczyk. All rights reserved. "Cassiopaea, Cassiopaean, Cassiopaeans," is a registered trademark of Arkadiusz Jadczyk and Laura Knight-Jadczyk.
Letters addressed to Cassiopaea, Quantum Future School, Ark or Laura, become the property of Arkadiusz Jadczyk and Laura Knight-Jadczyk
Republication and re-dissemination of our copyrighted material in any manner is expressly prohibited without prior written consent.
.