---
Picture of the Day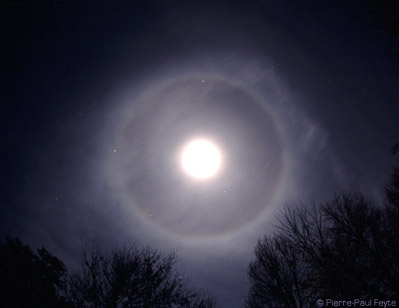 Moon Halo Dec 2003
©2004 Pierre-Paul Feyte
"Great Balls of Fire" over Spain takes top billing today.
France insists again that the airliner that crashed in the Red Sea was not caused by a bomb, while an Italian holiday maker reported seeing a "fireball" at the time of the crash.
The new security system for travelers to the US went into effect today. Citizens of most countries will now be photographed and fingerprinted when they arrive. How long will it be before they begin taking DNA samples? Meanwhile in the US, the signs of a totalitarian regime are increasingly hard to ignore, but leave it to the American citizenry to push cognitive dissonance to the limit.
It has just been declared that Europe is a source of great and festering evil that threatens to overwhelm all. That evil is anti-Semitism. We have discussed anti-Semitism on these pages, and from our point of view it is a ridiculous state of hostility toward or prejudice against Jews or Judaism. It is being claimed that "the dominating assumption of contemporary anti-Semitism is still that of a Jewish world conspiracy".
Bronfman and Benatoff, presidents of two organizations that do little but look for anti-Semitism, are attempting to shut down all examination of objective reality, and are given the pages of Financial Times from which to do their dirty work. As a result of their influence, we find ourselves in the ridiculous situation where it is permitted to discuss and condemn any tyrant in the world without being considered racist, but it is forbidden to discuss Sharon's war crimes for fear of being labeled an anti-Semite. Imagine not being able to discuss Idi Amin's or Saddam's crimes against their own people because of the fear of being called a racist. It is now also considered anti-Semitic to examine Mossad's assassination policy. At no point does the article discuss the long and illustrious list of Jews who have opposed Israel's policies. These people are usually ignored by the US media, except when being attacked with slurs.
Israel has just completed a $1 million road to an illegal outpost, and they expect us to believe that they are going to dismantle the outpost. Israeli troops invaded Tulkarem, a Palestinian refugee camp. An Israeli Likud MP proposes "ethnic cleansing" for the Palestinians. Ethnic cleansing has been the unofficial policy for years, but rarely publicly examined. Israeli nukes fall under the same policy of censorship. Despite the lack of Israeli acknowledgement, almost everyone knows what the Israelis are doing, but the West remains "polite" and doesn't talk about it. Five Israeli pacifists have been sentenced to one year in a military prison for refusing to carry out this "cleansing." Military tribunals are something all Americans can look forward to when the Constitution is scrapped after the next terrorist attack.
In the US, the FBI demanded guest lists for the New Year's holiday. None of the hotels objected out of concern for the privacy of their customers, but one hotel did ask for a "cover" in case any guests asked questions.
Jack Straw announces that UK troops will have to remain in Iraq for "years." They'll be able to help the new secret police force the CIA is installing. He also tells us that the new Osama single is the genuine article.
A Dutchman takes over as head of NATO. The leaders of Pakistan and India have their first meeting in years.
Winter storms wreak havoc, the dollar continues its plunge in the new year, Indiana police sight a strange flying object, and Britain opens up their "X-Files".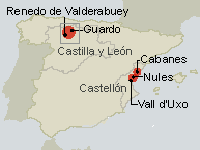 Impact sites of the meteorites that crashed into Spain January 4 2003
Great balls of fire over Spain
January 5, 2004 - 11:54AM
Hundreds of Spaniards reported seeing balls of fire or incandescent objects fall from the sky today, emergency centres said.
Some of the objects were believed to have sparked fires. The phenomenon was reported on a stretch reaching from Galicia in the north-west to the Balearic Islands in the east.
The National Meteorological Institute said it had not observed anything unusual. Aviation authorities said they had no knowledge of any plane crash.
Astronomers at the University of Santiago de Compostela said they suspected a meteorite. No injuries were reported.
In northern Leon province, residents reported seeing a ball of fire light up the sky and explode in a mountainous area, igniting a fire and shaking house windows.
A similar explosion was heard near Palencia in the north.
Firefighters extinguished a blaze behind a roadside discotheque in the Castellon area.
Rescuers searched for wreckage of airplanes or unusual rocks in several places, but found no clues.
The National Meterological Institute said that its radars and satellite images showed nothing abnormal.
Astronomer Jose Angel Docobo said he suspected a meteorite weighing from 50 to 100 tonnes, which would have disintegrated on entering the atmosphere. [...]
Comment: El Mundo reports that it is estimated that the meteorite was the "size of a house" and up to 100 tons. It was reported across the full width of Spain with hundreds of witnesses seeing fireballs with "silver trails" streaking across the sky. Many also heard loud explosions that rattled windows and doors and felt the ground shaking.
Kendrapara (PTI): Three months after a meteor shot across the sky in Orissa's coastal belt, fragments of its debris are still being recovered in Kendrapara district.
Four pieces, picked up by locals who had preserved them out of curiosity, have been recovered by panchayat representatives in Mahakalapada block, official sources said. The fragments when put together weigh 3 kg and are with panchayat officials now. Sarpanch Gagan Bihari Pradhan has been instructed to keep the fragments in safe custody and hand them over to the district administration.
The district administration had warned residents not to keep the meteorite pieces in their possession as they fell in the national treasure category. Private possession of such material would amount to penal offence, the administration warned.
So far, 10 fragments have been found from villages and paddy fields, the sources said.
Comment: While pieces were still being picked up in India, Iran was hit with a meteorite on Jan. 2nd, in the northern town of Babol in the Mazandaran province, as we reported here. We have been looking, but so far, it appears that all follow up information has been "hushed."
See our Signs Supplement: Meteors, Asteroids, Comets, and NEOs with five pages of mainstream coverage of this phenomenon. The fifth page has the most recent reports of an AMAZING spate of fireballs and lights in the skies since September 2003 in: India, New Orleans, Australia, Salt Lake City, San Francisco, Wales and more. Laura's article Independence Day discusses the science behind what may be ahead... and if the C's are right about the comet swarm, then they are probably right about the wave... and what one needs to do to prepare, all of which is covered in the newly revised book, Ancient Science.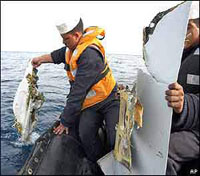 "I saw a fireball crash into the sea"
Il Messaggero
Sunday Jan 4 2004
Rome - "First I heard a sound like distant thunder, then suddenly I saw a fireball that sank perpendicular towards the sea. I heard no explosion, there was just absolute silence. later I heard the dramatic news. It was an airplane".
That is the story of Alessandro Paganini, son of Raffaele, the famous Italian dancer, returned yesterday to Rome from Sharm El Sheikh in Egypt and witness to the tragedy of the Red Sea crash which claimed the lives of 148 people. Paganini was on vacation with a group of friends in Egypt where he stayed at the "Tower One" hotel, the same Red Sea resort where English PM Tony Blair was staying with his family.
"It was approximately 4a.m., Egyptian time - Paganini reports - I had spent a magnificent evening with friends. We decided to take a walk down to the beach, the sky was ablaze with stars, everything appeared immovable. Then suddenly we saw the fireball, a luminous sphere that sank into the waters of the Red Sea. At the beginning we thought we had seen a comet or a missile. Unfortunately, some time later we discovered the truth. We awakened to the din of the military helicopters, you can only imagine what happened in the hours to come, with the boats making the journey back and forth between the beach and the area of the sea in which those poor bodies floated".
Comment: Could a possible cover up of the real events of the crash have been so complete as to obliterate almost all evidence of an explosion or fireball? The official reports of the "Air Flash" crash claimed that there was no explosion, that the tragedy was due to a mechanical fault that forced the pilot to attempt to return to the airport, sometime after which it crashed into the sea.
The timing of the crash was given as seven minutes after take off. Interesting also is that the rescuers have not yet found a complete corpse. An explosion in mid air would likely result in only body parts being found, but would a crash into the sea from 5,000 feet at a relatively low speed cause this? If the cause was a mechanical failure would the pilot have been able to attempt a crash landing from this height? Obviously there are more variables but perhaps some of our readers with more knowledge about this can help to provide more clues.
- The above report is quoted by an Italian correspondent from the print version of the Italian daily "Il Messaggero", an abridged version in Italian can be read at the above link.

Crash plane passed French tests
Monday, 5 January, 2004

The plane which crashed in Egypt on Saturday had passed a French safety check only months earlier, BBC News Online has learned.
The plane failed Swiss safety checks in October 2002, when a random test found problems severe enough to spark a complete ban from Switzerland.
But the same plane passed a French check in Toulouse in October 2003, the European Civil Aviation Conference (ECAC) said on Monday.
"This was the same plane, and nothing was found to justify taking the same decision," ECAC executive secretary Raymond Benjamin told BBC News Online.
The nature of the problems found by the Swiss was not being revealed at this stage, he said, but removing an airline's authorisation to fly was the most serious step in a sliding scale of possible responses to faults.
"It is possible that between the Swiss check and other countries' checks they amended the problem," he added.
The ban by Switzerland meant Flash planes could not cross its airspace or land at its airports, although an emergency landing was later permitted at Geneva.
The BBC's Caroline Wyatt in Paris says many people are asking why Flash Airlines was allowed to continue flying to and from France after the Swiss ban.
French Transport Minister Gilles de Robien has confirmed that a total of three Flash airline inspections were carried out after the Swiss ban.
The first found a small problem with signs to an exit door, but the two subsequent checks "gave rise to no observation and the civil aviation authorities therefore gave permission for the aircraft to fly," he told French radio. [...]
Power Loss Cited as Probable Cause for Plane Crash
Opheera McDoom, Reuters
SHARM EL-SHEIKH, Egypt, 5 January 2004 — Search teams hunted with nets yesterday for the remains of 148 people, mostly French tourists, who died in an Egyptian plane crash France said was most likely due to a loss of power.
[...] "There was no explosion before the crash, no one has claimed responsibility for (an) attack," he said. "The arguments most commonly set out show that it was simply a loss of power," he told French radio Europe1 .
'No bomb attack' on Red Sea crash jet
Associated Press
10:30 Monday 5th January 2004
French investigators looking into the Red Sea passenger jet crash have ruled out a bomb attack as the cause. [...]
Renaud Muselier, the French Foreign Ministry's secretary of state, said everything would be done to obtain "clear and precise" reasons for the crash off the Egyptian Red Sea resort of Sharm el-Sheik. [...]
Mr Muselier said: "In less than 50 seconds, the plane had a major problem, did a nose dive and crashed into the sea."
He added that he thought "very sincerely that this was an accident".
Egyptian officials said the 11-year-old Boeing 737 jet checked out normally before the flight. But Swiss aviation authorities said they had banned Flash, a private Cairo-based carrier, over technical worries.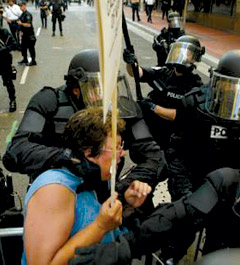 Quarantining dissent
How the Secret Service protects Bush from free speech
James Bovard Sunday, January 4, 2004
When President Bush travels around the United States, the Secret Service visits the location ahead of time and orders local police to set up "free speech zones" or "protest zones," where people opposed to Bush policies (and sometimes sign-carrying supporters) are quarantined. These zones routinely succeed in keeping protesters out of presidential sight and outside the view of media covering the event.
When Bush went to the Pittsburgh area on Labor Day 2002, 65-year-old retired steel worker Bill Neel was there to greet him with a sign proclaiming, "The Bush family must surely love the poor, they made so many of us."
The local police, at the Secret Service's behest, set up a "designated free-speech zone" on a baseball field surrounded by a chain-link fence a third of a mile from the location of Bush's speech.
The police cleared the path of the motorcade of all critical signs, but folks with pro-Bush signs were permitted to line the president's path. Neel refused to go to the designated area and was arrested for disorderly conduct; the police also confiscated his sign.
Neel later commented, "As far as I'm concerned, the whole country is a free-speech zone. If the Bush administration has its way, anyone who criticizes them will be out of sight and out of mind."
At Neel's trial, police Detective John Ianachione testified that the Secret Service told local police to confine "people that were there making a statement pretty much against the president and his views" in a so-called free- speech area. [...]
Comment: So this is "the land of the free" eh? Truly the American jingoism that has been force-fed to the whole world is one of the biggest and sickest jokes ever played. Finally the truth is beginning to reveal itself, but we have little hope that even these flagrant displays of the dictatorial nature of the Bush administration will awaken the sleeping American sheeple.
Pentagon to Washington Post Reporter Ricks: Get Lost

When George Bush's Pentagon doesn't like what a reporter writes, it attempts a preemptive strike.
In the case of Tom Ricks, military reporter for the Washington Post, the Pentagon took the attack right to the heart of the enemy. Defense Department spokesman Larry DiRita first sent a letter of complaint to the Post; then he met with the paper's top editors to press his points.
Ricks is one of the most senior defense reporters in the country. He covered military affairs for the Wall Street Journal for 17 years and has been doing the same for the Post since 1999. He's written two books about the military, one about the Marines and a novel about the US intervention in Afghanistan, published four months before the United States sent in troops.
In his more than two decades covering the military, Ricks has developed many sources, from brass to grunts. This, according to the current Pentagon, is a problem.
The Pentagon's letter of complaint to Post executive editor Leonard Downie had language charging that Ricks casts his net as widely as possible and e-mails many people. [...]
Ricks has not exactly been a cheerleader for the war in Iraq. The Pentagon was not pleased with his March 27 piece quoting military brass that they had trained for the wrong war against a different enemy that would take longer to defeat.
"Tell me how this ends," one senior officer told Ricks.
The Pentagon did not complain when the Post ran story after story that seemed to support the Bush administration's run-up to the Iraq invasion. It is unusual, if not unprecedented, for a Pentagon spokesman to complain in person about one reporter's coverage.
Visitors face US security checks
New US security regulations are coming into force that will see most foreign visitors having their photographs and fingerprints taken.
The rules apply to visa holders and cover all but 28 countries.
Those arriving under the visa waiver programme - which includes most Europeans - are not affected.
The measures replace the old special registration programme, which was said to discriminate against Muslims and people of Middle Eastern origin.
But claims of discrimination are still being made by some of those countries whose nationals are affected.
[...] All 115 US airports that handle international flights and 14 major seaports are covered by the programme, under which customs officials can instantly check an immigrant or visitor's criminal background.
ENTERING THE US
Visitors will still face travel document checks and questions regarding their stay

Visa holders will now also have two fingerprints scanned and a digital photo taken

Decision will then be taken on whether to admit them to US

Eventually, fingerprint and photo checks will also take place on departure
A similar programme is to be launched at 50 land border crossings by the end of next year
Homeland Security Secretary Tom Ridge will formally launch the programme at Hartsfield-Jackson Atlanta International Airport in the southern state of Georgia.
Called US-Visit, or US Visitor and Immigrant Status Indicator Technology, it will check an estimated 24 million foreign visitors who enter the US each year through airports or seaports on tourist, business and student visas.
Digital technology will be used to take fingerprints and photographs, which will be electronically checked against a national digital database for criminal backgrounds and any terrorist lists.
Eventually, the process will be repeated when the foreigners leave the country as an extra security measure, and to ensure they complied with visa limitations.
Three men detained at Rome airport after joke about threat was heard on KLM flight
Sunday, January 4, 2004
(01-04) 08:03 PST ROME (AP) --
Three passengers aboard a KLM flight from Amsterdam to Rome were detained Sunday after one of them allegedly said the aircraft was being hijacked, then quickly said it was all a joke, an airline official said.
"Yes, it was a joke, but in these times we don't find that kind of joke so funny," KLM spokesman Bart Koster told The Associated Press in Amsterdam. "We handed them directly over to Italian police and it's up to them what else will happen, if anything."
Singapore Deploying More Armed Guards on Flights
Air travellers face years of chaos
Transport secretary warns of long-term security alerts as BA flight 223 is delayed again
David Pallister
Monday January 5, 2004
The Guardian
The airline security alerts which have caused more than a dozen delays and cancellations over the past 10 days could afflict air travellers for years to come, the transport secretary, Alistair Darling, warned yesterday.
Before BA's flight 223 from Heathrow to Washington was again delayed for more than three hours for security checks last night, Mr Darling said: "I fear that for many years to come, we are going to be living in an age where there is going to be a heightened state of alert. Sometimes it will be quite severe, at other times perhaps less so.
"We are going to have to get used to increased security at airports."
Comment: We repeat, isn't it curious that it is only non-US carriers that seem to have these problems?
UK troops in Iraq for years - Straw
Matthew Tempest and agencies
Monday January 5, 2004
British troops will stay in Iraq for at least three or four more years, the foreign secretary confirmed today.
[...] He said they were playing a vital role in ensuring stability and security in Iraq, as they had in Afghanistan. Lives would be put at risk by a security vacuum if the troops were suddenly pulled out, he told the BBC.
Mr Straw also insisted the government had not shifted away from justifying the war on the basis of weapons of mass destruction to humanitarian grounds.
Can the US keep Iraqi Shiites happy for long?
British officials publicly worried recently that the United States-led coalition occupying Iraq had only about a year before the Shiites of Iraq turned against it.
Shiites, the majority in the country, so far have been more welcoming of the coalition military and civilian presence than have the Sunni Arabs. But the Shiite community, which is more religious than most outside observers had anticipated, is deeply ambivalent about the occupation. Like most Iraqis, Shiites dislike the idea of occupation, but most also want the security provided by coalition troops, at least for now. If very many Shiites turn hostile, they might begin listening to radical voices. This would make Iraq ungovernable for the coalition.
Saddam's capture: was a deal brokered behind the scenes?
When it emerged that the Kurds had captured the Iraqi dictator, the US celebrations evaporated. David Pratt asks whether a secret political trade-off has been engineered
For a story that three weeks ago gripped the world's imagination, it has now all but dropped off the radar.
[...] Then along came that story: the one about the Kurds beating the US Army in the race to find Saddam first, and details of Operation Red Dawn suddenly began to evaporate.
US Army spokesmen – so effusive in the immediate wake of Saddam's capture – no longer seemed willing to comment, or simply went to ground.
But rumours of the crucial Kurdish role persisted, even though it now seems their previously euphoric spokesmen have now, similarly, been afflicted by an inexplicable bout of reticence.
[...] Whatever the full extent of their undoubted involvement in providing intelligence or actively participating on the ground in Saddam's capture, the Kurds, and the PUK in particular, would benefit handsomely.
Apart from a trifling $25 million bounty, their status would have been substantially boosted in Washington, which may in part explain the recent vociferous Kurdish reassertion of their long-term political ambitions in the "new Iraq".
For their own part the Kurds have already launched a political arrangement designed to secure their aspirations with respect to autonomy, if not nationalist or separatist aspirations.
To show how serious they are, the two main Kurdish groups, the PUK and the Kurdistan Democratic Party (KDP), have decided to close ranks and set up a joint Kurdish administration, with jobs being divided between the two camps. They have made it clear to the Americans that their leadership has a responsibility to their constituency.
Last week Massoud Barzani, leader of the KDP, called for a revision of the power-transfer agreement signed between the US-led coalition and Iraq's interim governing council to recognise "Kurdish rights".
The November 15 agreement calls for the creation of a national assembly by the end of May 2004 which will put in place a caretaker government by June, which in turn will draft a new constitution and hold national elections
"The November 15 accord must be revised and 'Kurdish rights' within an Iraqi federation must be mentioned," Barzani told a meeting of his supporters.
"The Kurds are today in a powerful position but must continue the struggle to guard their unity," he added.
Secret police force to be set up in Iraq
By Julian Coman
Washington
January 5, 2004
Nine months after the end of Saddam Hussein's regime and his feared intelligence force, Iraq is to get a secret police force again - courtesy of Washington.
The Bush Administration will fund the agency in its latest bid to root out the Baathist loyalists behind the insurgency in parts of Iraq. The force will cost up to $US3 billion ($A4 billion) over the next three years.
Its ranks will comprise Iraqi exile groups, Kurdish and Shiite forces - and former agents who are now working for the Americans. CIA officers in Baghdad will play a leading role in directing their operations.
A former US intelligence officer said: "If successfully set up, the group would work in tandem with American forces but would have its own structure and relative independence. It could be expected to be fairly ruthless in dealing with the remnants of Saddam."
The US hopes to organise the various groups into one force with the local knowledge, motivation and authority to hunt down resistance fighters. According to Washington, the new agency could number 10,000. Initially, salaries will be paid by the CIA, which has 275 officers in Iraq. The force is intended to have a crucial role in post-Saddam Iraq.
"The presence of a powerful secret police ... will mean that the new Iraqi political regime will not stray outside the parameters that the US wants to set," said John Pike, an expert on classified military budgets at the Global Security organisation. "To begin with, the new Iraqi government will reign but not rule."
Bin Laden tape 'probably genuine'
UK Foreign Secretary Jack Straw has said a new audiotape purportedly recorded by al-Qaeda leader Osama Bin Laden is probably genuine.
[...] The US has said its intelligence officials are still trying to verify whether the tape is authentic.
Comment: It's got a beat and you can dance to it. Any new release by Osama is sure to create a stir. Only, can we be certain that it didn't come from the CIA?
Influential advisers at the Pentagon
One of the principal engines of neoconservative influence in the Bush administration is a collection of unpaid outside experts formed "to provide the secretary of defense with independent, informed advice and opinion concerning major matters of defense policy."
Its name is the Defense Policy Advisory Board, usually referred to as the Defense Policy Board (DPB). While the board has some centrist Republican members, like former Secretary of State Henry Kissinger, and at least one hawkish Democrat, it tilts undeniably to the right: Seven of its 31 members have ties to the conservative Hoover Institution at Stanford University. Many others have business relationships with companies that are prominent defense contractors.
The scope of the board's focus has broadened since its founding in 1985. Under Defense Secretary Donald Rumsfeld, it has become more involved with issues relating to the overall objectives of US foreign policy.
Comment: The Zionists in power in Washington aren't fooling anyone except for a large portion of the US public, largely due to a well controlled media. It often appears to the outside world that US and Israeli interests converge, yet this alliance seems to be merely strategic, liable to break down at any minute. To discuss such issues however is to open oneself to accusations of anti-Semitism. For those who are willing to SEE, this situation is no coincidence. It consitutes the endgame of a plan formulated long ago with the pieces having been put into place with great care over the centuries, and its details are very likely worse than any of us can imagine.
Iran's Earthquake of Jew-Hatred
By Dennis Prager
FrontPage
If you want to understand the Middle East conflict, Iran has just provided all you need to know.
A massive earthquake kills between 20,000 and 40,000 Iranians, and the government of Iran announces that help is welcome from every country in the world . . . except Israel.
This little-reported news item is of great significance. It begs commentary. [...]
Comment: Indeed it does. The author of this article attributes it to anti-Semitism, when it could just be that little technicality of Israel holding a loaded gun at Iran's head...
FLASHBACK: Israel ready to launch preemptive strike on nuclear sites in Iran
BERLIN, Oct 11 (AFP) - Israel's spy agency Mossad has drawn up preemptive attack plans on six sites in Iran it suspects are being used to prepare nuclear weapons, Der Spiegel magazine says in its Monday edition, citing Israeli security officials.
A special Mossad unit received orders two months ago to prepare plans for attacks on half-a-dozen targets, the magazine said.
Complete destruction of the targets by F-16 fighter bombers was deemed achievable by Mossad, it said.
Israel, which is accused by Arab neighbours of possessing nuclear weapons of its own, has come to regard Iran as its chief military threat since the downfall of Saddam Hussein's regime in Iraq.
The UN nuclear watchdog, the International Atomic Energy Agency, has imposed an October 31 deadline on Iran to prove it is not secretly developing nuclear weapons and also urged it to suspend enriching uranium, which the United States claims could be used to make nuclear bombs.
FLASHBACK: Israeli Subs Have Nukes Aimed at Iranian Sites
Exclusive to American Free Press
By Gordon Thomas
American-made Harpoon missiles, armed with nuclear warheads, are now aimed by Israel's fleet of Dolphin-class submarines against Iran's nuclear facilities.
Following September's exclusive report in American Free Press about Israel's submarine nuclear attack capability, over 100 Harpoon cruise missiles have been secretly airlifted to the remote island of Diego Garcia, a joint UK-U.S. base in the Indian Ocean.
The three Israeli submarines that arrived at the base early this month were each loaded with 24 Harpoon missiles. They then set sail for the Gulf of Oman—bringing Iran's nuclear facilities all within range of the submarines' payloads.
The decision to launch them is entirely in the hands of Israeli Prime Minister Ariel Sharon. Just as Sharon gave Washington only a short warning before he gave the order to attack an alleged terrorist camp deep inside Syria, he has made it clear to Washington that the same rule of engagement will apply if it comes to launching the Harpoons.
Sharon made his position clear in a telephone call to President Bush the day after the attack on Syria.
According to one Israeli source, Bush said he "just wanted to be kept informed."
Credible intelligence sources say the reality is that Sharon believes he would have the support of Bush if he did launch an attack. [...]
Comment: "Neither Jewish morality nor Jewish tradition can be used to disallow terror as a means of war...We are very far from any moral hesitations when concerned with the national struggle. First and foremost, terror is for us a part of the political war appropriate for the circumstances of today." -- Yitzhak Shamir Israeli Prime Minister-- Quoted from in an August 1943 article titled "Terror" written for "Hazit" the journal of Lehi, the organization to which he belonged.
Europe's moral treachery over anti-Semitism
Edgar M. Bronfman and Cobi Benatoff
Published: January 4 2004 18:25
Financial Times
Anti-Semitism can be expressed in two ways: by action and inaction. Remarkably, the European Commission is guilty of both.
First, the Commission released a flawed and dangerously inflammatory poll, which purported to name Israel as the greatest threat to world peace. Then, it censored a study commissioned by its own Monitoring Centre that reported on the involvement of Muslim minorities in incidents of mounting European anti-Semitism.
Let us not mince words: both of these actions were politically motivated, demonstrating a failure of will and decency. Facts indeed are stubborn things and they are ignored at great peril. In this instance, those placed in greatest danger are not the obstructionists who withheld the study for nearly a year, but the Jews of Europe: witnesses and victims of the most barbaric act of slaughter and inhumanity to occur within the living memory of those who reside there.
Inaction must be countered by action, and transparency must be the hallmark of democratic institutions, which is why we made public the Monitoring Centre report. The Talmud teaches that silence implies agreement and that is why we will not rest until every European parliamentarian, member state and inter-governmental body has a copy of this report in their hands.
The significance of this study is clear to anyone who reads it. Just consider its most fundamental finding, that "one cannot deny that there exists a close link between the increase of anti-Semitism and the escalation of the Middle East conflict". The report explains that Israel's policies toward the Palestinians provide an excuse to "denounce Jews generally" throughout Europe.
The report correctly assesses that "factors which usually determine the frequency of anti-Semitic incidents . . . such as the strength and the degree of mobilisation extremist far right parties and groups can generate, have not played the decisive role" in the spread of anti-Semitic incidents since the beginning of the second intifada. The study found that anti-Semitic incidents in the monitoring period were committed above all by rightwing extremists, radical Islamists, young Muslims and the pro-Palestinian left. It points out that "the dominating assumption of contemporary anti-Semitism is still that of a Jewish world conspiracy". [...]
Israeli MP proposes 'ethnic cleansing'
By Khalid Amayreh in the West Bank
Sunday 04 January 2004, 21:49 Makka Time, 18:49 GMT
A member of the Israeli parliament has proposed "massive ethnic cleansing" of non-Jews in Palestine-Israel as a "final solution" of the Palestinian-Israeli conflict.
Uzi Cohen, a member of Ariel Sharon's right-wing Likud party and a deputy in the Knesset, told Israeli public radio on Sunday there was widespread support in Israel for "the idea of ethnic cleansing".
"Many people support the idea but few are willing to speak about it publicly."
Cohen, an influential figure in Likud, proposed that Israel, the United States, the European Union as well as oil-rich Arab states make concerted efforts to create a Palestinian state in northern Jordan.
He suggested the Hashimi royal family in Amman "might view favorably this idea".
Cohen, who is also deputy mayor of the town of Raanana, said Palestinians should be given 20 years to "leave voluntarily".
"In case they don't leave, plans would have to be drawn up to expel them by force."
'Israel's ugly face'
Cohen's racist ideas have drawn strong reactions from Palestinian leaders in Israel. Israeli Arab Knesset member Ahmad Taibi described Cohen as representing "Israel's ugly face".
"This man espouses Jewish fascism and he is trying to foster his venomous ideas, and I must say he is achieving remarkable success," Taibi told Aljazeera.net.
"The idea of ethnic cleansing is no longer confined to the far-right parties in Israel; many in the Likud support ethnic cleansing."
Taibi said tabling a racist proposal for discussion is in itself a grave development.
"It is not important what the result will be. The important thing is that they are going to dignify a fascist proposal like this by discussing it in a formal meeting."
Deconstructing the Psychoanalytic Base
by Chad Powers
[...] The very serious problem for the Jewish Lobby today, of course, is that with the current right-wing Ariel Sharon government, the state of Israel's many moral crimes against the Palestinians are frequent, blatant, obscene, immoral, and well-publicized (at least in Europe). They are more and more difficult to hide. And they are very, very difficult to explain away, even with the usual Jewish victimhood rhetoric. While everywhere Jewish pundits still decry criticism of Israel's moral depravity as "anti-Semitism," more and more commentators (although few Americans) are withstanding the Jewish defensive assault.
Intensive Jewish propagandizing in all social spheres (mass media, government, the educational apparatus, etc.) since the so-called "Holocaust" of World War II has successfully framed Jewish power, Jewish history, Jewish political activism, and Jewish identity itself to be beyond the realm of reasoned critical inquiry. Anyone who has dared to mount a sustained critique of anything Jewish has faced, at worst, an avalanche of smears, threats, and character assassinations and, at best, the silent treatment: a virtual banishment from the realm of what is declared to be reasoned public discourse. [...]
We live in a kind of Alice in Wonderland world that declares making any kind of critical generalization about Jewry is moral crime. One may, however, make gratuitously positive generalizations, of course. Hence, Jews are smart. Jews are studious. Jews are hardworking. Jews are family-oriented. And so forth, into infinity.
Conversely, the ideology of today's "Antisemitismology" says this: it is entirely kosher (acceptable) to paint in broadly negative generalizations other ethnic and religious groups, at least in the context of the Jewish issue. Hence, Christians are deemed to be generically anti-Semitic. Muslims? Increasingly so. Poles? Russians? Argentineans? The French? And many, many others? Condemned by Jewry as "anti-Semitic," yes, as an entire people .[...]
The crucial premise in Jewry's conception of "anti-Semitism," which has been thoroughly propagandized throughout Western culture, is that "anti-Semitic" bigotry is a one-way street. "Anti-Semites" "hate" Jews and it has never been the other way around. In fact, there is never any forum anywhere, ever, to even pose the question: what have Jews thought about non-Jews throughout Jewish history? [...]
The Jewish Choice: Human Equality or Israel?
by Susan Abulhawa
I gave a talk on Thursday to a group of bright students from Council Rock South HS. Of course, it was about the Palestine/Israel conflict. I knew that most of the students were Jewish and likely to have strong opinions, but I was not prepared, initially at least, for an onslaught before I had presented less than five minutes of my talk. The gist of their questions and comments boiled down to a belief that the land between the Mediterranean and Jordan River rightfully belongs to Israel and that Palestinians, who have existed on that land for centuries, millennia even, are but trespassers, squatter, mere accidents of history.
From the corner of my ear, I caught the smiling comment of one boy, "Israel kicked their butts and the rest is war booty." While I pretended not to hear, I will admit that I felt a burning at my core. With such ironic, unrepentant racism, a Jewish American high school student had reduced my entire family and the whole nation to which we belong, to "war booty." For a good few moments, I struggled to subdue images bubbling in my mind: Of my grandmother, the heir to a beautiful stone home inside the Old City wall, rotting away as a refugee in a bug infested shack, while an immigrant Jewish family enjoyed the fruits of her heritage, her furniture, money and personal belongings; The ancient olive farms, passed on from one Palestinian generation to the next like family heirlooms, confiscated and then uprooted to make way for another Jews-only settlement; The countless images of ineffable suffering of human beings dispossessed of home and heritage, of dignity and freedom, of water and life.
The most vociferous students were battle ready. Of these, few came with open ears. And I conceded that anyone is entitled to believe that an immigrant population from Europe, Russian and New York has the right to forcefully take possession of property belonging to the indigenous population; that a soldier has the right to shoot an unarmed child for throwing rocks at an occupation military; or that it is acceptable to promote the welfare of a select group based on their religion, to the terrible detriment of those who do not belong to that religion. But such beliefs do not stand on moral ground, certainly not on legal ground.
I have never understood how an abused child grows up to be an abuser of children, and I shall never understand how a people who endured the foulest racism should come to violate and oppress another people as the Israelis have done for the past half-century. I believe that I shan't ever understand how American Jews, liberal and compassionate defenders of Civil Rights, continue to defend and excuse Israel's horrendous abuses of Palestinians. [...]
Defiant Jewish settlers dedicate seminary in unauthorized West Bank outpost
07:16 AM EST Jan 05
STEVE WEIZMAN
WEST TAPUAH, West Bank (AP) - Defiant Jewish settlers held a gala ceremony at an unauthorized outpost, underlining conflicting pressures on Israeli Prime Minister Ariel Sharon - his obligation to remove the tiny settlements despite stiff opposition from his own supporters.
Hundreds of the most extreme among the West Bank settlers, dancing, singing and carrying assault rifles, gathered at the outpost of West Tapuah on Sunday night to bring a Torah scroll into their synagogue in a show of stubborn permanence.
State funding $1m road to Kahane seminary at illegal outpost
By News Agencies
The state is footing the bill for the paving of a $1 million road leading to an illegal outpost in the West Bank, after a seminary dedicated to the teachings of the former leader of the extremist Kach party, Rabbi Meir Kahane, was built at the site.
[...] The Tapuach West outpost, situated close to the settlement of Tapuach, consists of a wooden structure covered with stone. It is also used as center to perpetuate the memory of the extremist rabbi, as well as to commemorate Kahane's son and his wife, Benjamin and Dalia Kahane, who were killed in a shooting attack in December 2000.
[...] Meanwhile, David Haivri, a settler interviewed by Channel Two next to the new building, scoffed at the government's stated intention of removing all the unauthorized outposts. "We are the law here," he said.
Critics of the government charge that its outpost removal program is a sham, since most of the outposts taken down so far are uninhabited, consisting of a temporary structure or a container, while populated outposts have been largely untouched.
Security official: Fence to annex 6 percent of W. Bank
By Gideon Alon, Haaretz Correspondent and Haaretz Service
Six percent of West Bank territory will effectively be annexed into the Green Line with the completion of the separation fence planned for the end of 2005, a security official said on Sunday.
The official, speaking to a forum in support of the West Bank fence, said that the first and second phases of construction have already transferred 1.7 percent of West Bank territory to the west side of the fence.
Israeli forces invade Tulkarem
Monday 05 January 2004, 12:38 Makka Time, 9:38 GMT
Israeli soldiers exchanged gunfire with Palestinian resistance fighters in the northern West Bank early on Monday as troops invaded the Tulkarem refugee camp.
Palestinian security sources said about 25 tanks and jeeps entered the camp and troops surrounded a number of houses, using explosives to blow the doors in.
There were no reports of any arrests or injuries.
Five Israelis jailed for a year for refusing to serve in territories

TEL AVIV (AFP) Jan 04, 2004
A military tribunal sentenced five young Israelis to a year in prison Sunday for refusing to serve in the occupied Palestinian territories, one of those convicted said.
The five, all aged around 20, had already been convicted on December 16 of insubordination after a court martial in Jaffa, near Tel Aviv, rejected their refusal to serve on grounds of conscience, saying their motives were political.
Matan Kaminer, Noam Bahat, Shimri Tsameret, Adam Maor and Hagai Matar have already served 13 months on remand but they will now have to serve a further 12 months behind bars.
"We did not expect anything else from the tribunal of an army which occupies and oppresses a whole people and from a regime which has forgotten the meaning of democracy," Matar told AFP. [...]
Abbas secretly meets Palestinian factions' leaders: sources
www.chinaview.cn 2004-01-05 20:35:00
GAZA, Jan. 5 (Xinhuanet) -- Former Palestinian Prime Minister Mahmoud Abbas (Abu Mazen) held recently close-door talks in Gaza city with representatives of different Palestinians factions, Palestinian sources revealed on Monday.
Abbas, who is also Secretary General of the Palestine Liberation Organization (PLO) executive committee, had convened during the past few days with leaders of the Palestinian factions, the sources said.
They said that Abbas met with representatives of the hard-line Islamic Jihad (Holy War) and Islamic Resistance Movement (Hamas) as well as representatives of the leftist Popular Front for the Liberation of Palestine (PFLP).
The Ramallah-based Al-Ayyam daily said that the talks focused on the current situation in light of the Israeli military escalations against Palestinians, particularly in Rafah and Nablus.
In Riyadh, Obeid stresses Palestinians' right of return
Khalil Fleihan
Daily Star correspondent
Foreign Minister Jean Obeid met Sunday with Saudi King Fahd bin Abdel-Aziz, after meeting with other high-ranking Saudi officials to discuss relations between the countries and various facets of the Palestinian issue.
Obeid relayed a message to the Saudi monarch from President Emile Lahoud, but the contents were not revealed to the public.
During meetings with the monarch, Obeid emphasized Lebanon's commitment to the Palestinian refugees' right of return. Obeid said that the Lebanese supported this right unanimously.
FBI Checked Las Vegas Hotel Lists in Terror Alert
By Jim Wolf
Jan 4, 3:30 PM (ET)
WASHINGTON (Reuters) - The FBI demanded Las Vegas hotels turn over their guest lists leading up to New Year's Eve to check against a U.S. master list of suspected terrorists, a law enforcement official said on Sunday.
The demand for "patron information" went to all major hotels in the Nevada casino and entertainment city, said the official who declined to be named. [...]
A second U.S. government official said to his knowledge only one hotel had balked at providing its bookings list. Newsweek, the first to report the FBI demand, said one big hotel had refused and was "slapped with a subpoena."
The unspecified hotel apparently wanted some "cover" against any privacy-related guest complaints, the official told Reuters. The FBI sent a letter linking the demand to a national security investigation or hinting at a "friendly" subpoena to meet the hotel's concerns, he added. [...]
U.S. Army buys $30 million in anthrax shots

Reuters, 01.02.04
By Jim Wolf
WASHINGTON (Reuters) - The Defense Department announced Friday a $29.7 million order for anthrax vaccine based on the assumption that a federal judge's ban on mandatory inoculations will be reversed.
Privately held BioPort Corp. of Lansing, Michigan, was awarded the Army order Wednesday as part of a $245.6 million contract, the Pentagon said.
The move demonstrates confidence "we will resume the anthrax vaccination program as it existed before the judge's order," said Bryan Whitman, a Defense Department spokesman.
On Dec. 22 U.S. District Judge Emmet Sullivan barred the Pentagon from "inoculating service members without their consent."
In a preliminary injunction, he ruled the vaccine used in the Pentagon's mandatory program was an "investigational drug" being used for what was an unapproved purpose.
The Pentagon said the next day it would administer the vaccine only on a voluntary basis until the legal issues were sorted out. [...]
Comment: Isn't that nice of the Pentagon! They will abide by the rule of law which forbids them to pump a potentially harmful "vaccine" into unwitting troops, but only until they can work their magic to get the law overturned. Then they will restart their program of forced vaccinations. Those US recruits really are a lucky bunch!
Dollar Tumbles Again to Begin Year
By Jeremy Gaunt
January 5, 2003
LONDON (Reuters) - The dollar continued its downward spiral Monday, hitting yet another low against the euro, helping send gold prices to 14-year highs and pushing Japanese authorities to step in to protect the yen. [...]
Dutchman takes over as Nato boss
By Geraldine Coughlan
BBC correspondent in The Hague
Former Dutch foreign minister Jaap de Hoop Scheffer replaces Lord Robertson as Nato secretary general on Monday.
Mr de Hoop Scheffer takes up his post as the head of the world's biggest military alliance at a turning point in its history.
Observers say he will need all his diplomatic skills to restore Nato's credibility.
Trans-Atlantic relations within the alliance were badly damaged by the divisions over Iraq.
France and Germany were strongly opposed to the US-led war.
New tensions have emerged over US concerns at European Union plans to create its own military command.
Mr de Hoop Scheffer will also need to press ahead with George Robertson's campaign to modernise Europe's armed forces.
Nato is in acute need of hardware as it prepares to expand its peacekeeping mission in Afghanistan. But many of the resources are already deployed in Iraq.
Washington may increase pressure on Nato members to contribute more, at the Nato summit in June, when the 19-member alliance welcomes seven new members.
Castro slams nuclear powers on anniversary
Monday 05 January 2004, 12:43 Makka Time, 9:43 GMT
Cuban leader Fidel Castro celebrated the 45th anniversary of the revolution that brought him to power, criticising nuclear powers which he said were holding humanity "hostage".
"The lives of millions of human beings who inhabit the planet depend on what a few people think, believe and decide," he said in a 50-minute speech at the solemn event in the Karl Marx theatre.
"A smaller group of countries that monopolises these weapons boast the exclusive right to produce and develop them."
"We have the right to denounce, to pressure and to demand changes and an end to this ridiculous and absurd situation that has turned us into hostages," he said.
India hails Pakistan 'progress'
India has hailed "progress" made at historic talks with Pakistani leaders at a regional summit in Islamabad.
Indian Foreign Minister Yashwant Sinha said he hoped ties between the nuclear rivals would continue to improve.
Pakistan's President, Pervez Musharraf, met Indian Prime Minister Atal Behari Vajpayee for an hour on Monday - their first meeting in nearly three years.
Both countries are cautiously talking peace, after having narrowly averted a war over disputed Kashmir in 2002.
Afghan leaders agree on constitution
Last Updated Sun, 04 Jan 2004 22:02:16
KABUL - Afghanistan's ethnic leaders Sunday agreed on a historic new constitution that implements a presidential system and enshrines equal treatment for men and women.
[...] The constitution establishes a presidential system, a key demand of interim President Hamid Karzai. The president becomes commander-in-chief of the armed forces and has strong powers to determine national policies.
Minorities, such as the Uzbeks and Turkmen, were granted official language status in areas where they are most commonly spoken. The convention had come close to collapse Saturday over the minority language issue.
The charter also says men and women should be treated equally, a demand of human rights organizations.
The document reaffirms an Islamic presence within government and could include a ban on alcohol. Several Islamic countries neighbouring Afghanistan also ban alcohol.
Revolution leader claims victory in Georgia
Last Updated Sun, 04 Jan 2004 22:26:16
TBILISI - The leader of a popular uprising that toppled President Eduard Shevardnadze two months won Sunday's presidential vote in the former Soviet republic of Georgia, unofficial results suggested.
Mikhail Saakashvili captured more than 85 per cent of the vote, according to an exit poll conducted by a group of independent monitors.
The World Health Organization (WHO) has said that an independent laboratory test has confirmed a case of Sars in southern China's Guangdong province.
Earlier, the Chinese health ministry issued its own diagnosis of Sars in the case of a 32-year-old man in hospital in the city of Guangzhou.
It is China's first confirmed case of the illness in six months.
[...] The researchers added that they had found a virus very similar to this new strain in civet cats, suggesting it had jumped from the animals to humans.
Mr Zhong said the suspected Sars carrier had claimed not to have eaten any wild animals before he fell ill, but did admit to touching at least one rat.
Many researchers believe the strain of Sars which killed hundreds of people last year could have jumped species to humans from an animal like the civet.
Two bombs have exploded in southern Thailand's Pattani province, killing two policemen and injuring others.
The policemen died when a bomb they were trying to defuse, which had been placed on a motorcycle, went off.
The incident came as martial law was declared in Pattani and two other provinces following weekend raids blamed on separatists turned bandits.
Jihad Al Khazen Al-Hayat 2004/01/4
Actor Mel Gibson is facing the battle of his life after being accused of anti-Semitism; the respond to this charge requires a heroic role superior to that of great Scottish hero William Wallace and his battle against English occupation in Braveheart, for which he received an Academy Award (Oscar) for best director.
Gibson's new film, The Passion of Christ, is about the last 12 hours of Jesus Christ's life. The subject in itself is old, and ever since I was a young child in Lebanon, movie theaters have been playing old black and white films about this subject during Christmas and Easter.
The religious story is famous, and it appears in a different manner in all four Gospels. I read that Mel Gibson, a Catholic, literally followed biblical scriptures in the production of the film, which incited against him Jewish organizations from around the world, and lead to the discontent of some Catholic academicians.
Arab fixation on 'terror' hinders flow of capital
Leaders give low priority to developing financial markets
Dania Saadi
Daily Staff staff
BEIRUT: Arab governments' preoccupation with fighting "terror" is impeding the development of the financial markets and could scare away Arab capital that fled Western markets after the Sept. 11 attack on the United States, a leading financial market analyst has said.
"The stock markets are taking a back seat to the political turmoil in the region," said Beshr Bakheet, managing partner in Riyadh-based Bakheet Financial Advisors. "It is difficult to talk about what will happen to economies if you are not sure the leaders of the countries are going to be there next year."
He said the US "war on terror" is unlikely to stop in Iraq and could enflame other Arab countries, increasing investor jitters over pooling cash into the underdeveloped Arab stock exchanges.
"We're still in the middle of the war on terror and its spillover effect of who's next," said Bakheet. "This reflects on the sentiment in the market as the political risk factor is part of the investor's decision process."
Heavy snowfall forces Prague airport to close
Midwest Storm Blamed for Wisconsin Pileup
AP
Sun Jan 4, 8:27 PM ET

MADISON, Wis. - A storm that brought whiteout conditions to Wisconsin was blamed for two freeway pileups involving more than 50 vehicles Sunday, authorities said. The storm also forced the cancellation of hundreds of flights in Chicago. [...]
Winter "guest birds" decreasing as Bangladesh loses wetlands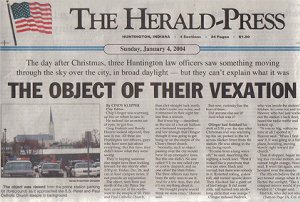 The Object of Their Vexation
By Cindy Klepper
The Herald Press
Sunday, January 4, 2004
(Huntington, Indiana) - Chip Olinger was warming up his car when he saw it. He radioed for an extra set of eyes; he got two.
Greg Hedrick and Randy Hoover looked skyward; the saw it, too. All three are Huntington law officers, guys who have seen just about everything. But this time, they didn't know what they were seeing. [...]
The object, seen from just north of the city Police Station, came out of the northwest to the steeple of the SS. Peter and Paul Catholic Church, then shot straight back north. It didn't make any noise, and it remained in their sight for less than a minute.
But it was big - described as the size of a hot air balloon or a backyard trampoline - and low enough that Olinger thought it was going to get hung up on the steeple of the Cherry Street church.
Normally, such an object passing over the city would have lit up emergency lines. But this one didn't. No one called 911; no one called city or county dispatch; and no one called the State Police.
The three officers may have been the only ones to see it. And for a few days, they didn't say anything about it. [...]
"It came from a long ways off," he said, describing the sighting a week later. "First it looked like a parachute that you can steer, black and curved, but there was nobody in it. It started rolling, a slow roll, and turned upside down. Then it looked like a giant set of bird wings. It did more rolls, and turned into an oblong circle that was orange." [...]
"It was so big, within no time at all I spotted it," Hoover said. "When I first saw it, it was going in a flat plane, hovering, moving slowly right toward the church."
Then it stopped, began moving in a circular motion, and turned bright orange, Hoover said. It went flat again, and hovered over the steeple. [...]
Olinger said the object changed shape three or four times. It moved in a straight line, tumbling as it moved, and made no noise. [...]
Jackie Brown
EDINBURGH EVENING NEWS ONLINE
The bizarre and intriguing history of Britain's UFO phenomenon opens a new series of Timewatch.
Britain's X Files examines the amazing true stories of Britain's most famous UFO sightings and opens up the Government's secret files on UFO investigations.
Charting this extraordinary cultural phenomenon from the Fifties onwards, the programme takes in royal believers Prince Philip (who used his equerry, Peter Horsley, as his unofficial UFO investigator) and Lord Mountbatten, sceptical Prime Ministers and senior RAF officers.
Timewatch explores how flying saucers exploded into the national consciousness more than 50 years ago and finds out why the Government took so long to admit that something remarkable was going on.
In Britain's X Files, the Timewatch team also track down the eyewitnesses to Britain's most famous UFO cases and reveals the incredible true story of an encounter in 1955 between Prince Philip's equerry and a mysterious "alien" called Mr Janus. Charting the investigation and cover-up by the British Government, Timewatch explores whether rational explanations stand up to scrutiny. [...]
Avocado accident chef sues for £25,000
Ananova.com
09:26 Monday 5th January 2004
A chef has launched a £25,000 compensation claim after cutting his finger while attempting to slice an unripe avocado.
Michael McCarthy, 21, is suing the Dalmunzie Hotel in Perthshire, claiming no-one warned him about the danger posed by the avocado.
He claims he had been shown how to cut the fruit, but had not been told the avocado might not be ripe.
The writ states: "He had not been given any instruction that this may happen. The knife went through the avocado and sliced his finger. The knife was 10 inches long." [...]
---
Remember, we need your help to collect information on what is going on in your part of the world!
We also need help to keep the Signs of the Times online.
---

Check out the Signs of the Times Archives

Send your comments and article suggestions to us

---
Fair Use Policy
Contact Webmaster at signs-of-the-times.org
Cassiopaean materials Copyright ©1994-2014 Arkadiusz Jadczyk and Laura Knight-Jadczyk. All rights reserved. "Cassiopaea, Cassiopaean, Cassiopaeans," is a registered trademark of Arkadiusz Jadczyk and Laura Knight-Jadczyk.
Letters addressed to Cassiopaea, Quantum Future School, Ark or Laura, become the property of Arkadiusz Jadczyk and Laura Knight-Jadczyk
Republication and re-dissemination of our copyrighted material in any manner is expressly prohibited without prior written consent.
.