Signs Supplement - Meteors, Asteroids, Comets, and NEOs
September - December 2003
---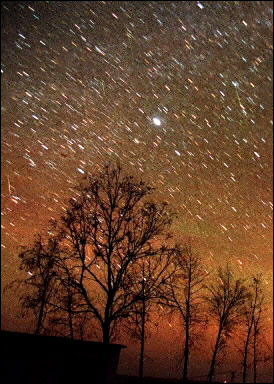 Meteorite shoots across Orissa sky
The Statesman
BHUBANESWAR, Sept. 27 A huge meteorite shot across the sky this evening causing panic in coastal Orissa particularly Kendrapara, Jagatsinghpur, Bhadrak and Jajpur.
Villagers saw a huge ball of fire falling from the sky. For a few seconds, it appeared to be daylight. District officials received frantic messages and in some villages like Mendhakia and Kandia, the fire brigade was mobilised on information that the "ball of fire" had landed and caused considerable damage.
Three people were admitted to hospital at Kendrapara after they fell unconscious on seeing the meteorite Along National Highway No. 5 drivers said they were dazzled for a few seconds.
False alarms were raised in almost every coastal district after 6.30 p.m. when it was first seen in the sky. Hundreds of people rushed out to cross check. Some said they could hear a rumbling sound while others vouched for the fact that the windows and glass panes had rattled.
Phones kept ringing as people from distant places wanted to ascertain facts and the well being of their relatives living elsewhere in coastal districts.
When contacted sources at the planetarium here said it was a huge meteorite which was visible across the coastal belt. It is different from the meteor shower which is small in size and can be predicted, Dr Jayadeb Kar of the planetarium here said.
Five hurt as meteorite crashes to earth in India
ABC Radio Australia
Officials in eastern India say five people were injured and two houses gutted when a meteorite crashed to earth.
The meteorite hit a remote village near the Bay of Bengal in the state of Orissa.
The local media said five people were sent to hospital with injuries.
A local resident said the meteorite lit up the sky and caused windows to rattle as it passed overhead, sending hundreds of people rushing outside.
PRESS TRUST OF INDIA
BHUBANESWAR, SEPTEMBER 28: The search for the remnants of the huge meteorite, which sped across the sky in coastal Orissa last night by district authorities continued today amid reports of villagers in Kendrapara district stumbling upon two strange objects this morning.
Officials in Kendrapara said they had received reports about the findings in Paschima Suniti and Benakanda villages under the coastal Mahakalapada block. Efforts were on to retrieve the objects from the villages, they said.
Revenue Minister Biswabhushan Harichandan had last night directed the collectors of all districts where the phenomenon had been sighted to inquire and submit their reports to the government.
The villagers spotted the two stones in a paddy field, Gagan Bihari Pradhan, the sarpanch of Suniti Gram Panchayat said. While the object at Benakanda village was blown to smithereens, the one found at Paschima Suniti — supposedly weighing 5.7 kg — had been preserved at the local panchayat office, he said. The ball of fire, described by scientists as a meteorite, streaked across the sky from west to east at about 6.30 pm yesterday and was witnessed by people in at least 11 districts in the coastal belt.
Meanwhile, one of the 11 people admitted to hospitals in Kendrapara, Jajpur and Mayurbhanj districts after witnessing the spectacle died in the SCB Medical College Hospital at Cuttack today.
Sukadeb Singh (75), who along with two others, had been shifted from Kendrapara hospital to Cuttack, died this morning, the sources said. Five persons, including three from one family, were admitted to hospitals in Jajpur district while three others were hospitalised in Mayurbhanj district.
People at Sudusudia village had claimed to have seen the ball of fire landing on a thatched house in their village last evening. SP Y.B. Khurania said preliminary investigations had not yielded any remnants of the suspected meteor though the house had been completely burnt. The three persons who fell unconscious after the incident were recovering in hospital. A 75-year-old man, Harekrushna Behera, said he had lost his vision after seeing the fire.
Scientists scotch rumours on meteor
Sunday, 28 September , 2003
Kolkata : After reports of a very bright object streaking across the twilight sky poured in from parts of coastal Orissa and West Bengal, scientists confirmed today that the luminous body was a meteor and scotched rumours that it could bring climatic changes in the region.
The small streak of luminuous yellow light which turned to orange and finally brilliant blue before disappearing from the sky at around 6.15 pm was a typical meteor, though it came a wee bit closer to the earth than the normal ones, senior scientist and director of the research division of M P Birla Planetarium Dr Debi Prasad Duari told PTI here.
"The classical light pattern of a meteor was unmistakable -- yellow and orange signifying medium heat, and blue meaning the hottest form when the meteor came closest to earth before disappearing about 15 degrees above the south-south west horizon," he said.
On prelimnary analysis of reports that poured in from Kendrapada, Mayurbhanj, Jagatsinghpur and Jajpur in Orissa as well as Midnapore and Bankura districts of West Bengal, astrophysicists said chances of finding any fragments of the meteor were rare.
"Any big meteorite that could strew fragments or minor cosmic body that comes dangerously close to the earth is generally tracked down by NASAs Near Earth Asteroid Research (NEAR) programme and intimated to astrophysical organisations by the Smithsonian Institute. But this one has no mention," he said.
Pointing out that it was a normal cosmic phenomenon and had nothing to do with the tidal ebb or rise in coastal Digha of East Midnapore district, Duari appealed to the masses not to believe in rumours.
GSI team finds fragments of meteorite in coastal Orissa
Press Trust of India
Bhubaneswar, September 29
A team of the Geologicial Survey of India (GSI) has stumbled upon certain fragments of the meteorite that dazzled the sky in coastal Orissa on Saturday night, official sources said.
The team, which visited the Sudusudia village in Mayurbhanj district, had reported about the findings which resembled metallic flakes.
Villagers had witnessed the fireball landing on a thatched house which was completely burnt.
District authorities had earlier said that though the house had been gutted, no remnants of the meteorite had been found.
The GSI team was also scheduled to visit some places of Balasore and Bhadrak districts in search of the debris.
Officials had reported finding of two unusual-looking rocks in different villages of Mahakalapada block on Sunday. A GSI team had also gone there to examine the rocks, the sources said.
In a rare occurrence, the meteorite streaked across the night sky dispelling the darkness for a few seconds. People in 11 Orissa districts and two districts of West Bengal had reported to have seen the spectacle.
Geologists examine meteorite that led to one man's death and injured 11
September 30, 2003
AFP
Bhubaneswar, India: Geologists travelled yesterday to India's eastern coast to hunt for the debris of a meteorite that crashed to earth, injuring 11 people and leading to an elderly man's death, officials said.
A team arrived in Mayurbhanj village in the state of Orissa to examine a 6kg "stone-like object" recovered in a rice paddy field, a scientist from Geological Survey said.
The massive ball of fire panicked hundreds in Orissa, home to India's main missile testing range.
The debris fell on two houses in Mayurbhanj, slightly injuring three people, said a district official.
Sukdev Singh, a 70-year-old man panicked by the meteorite, died in hospital on Sunday from a heart attack. Eight others also received treatment for temporary blindness or for losing consciousness after seeing the spectacle.
Orissa villagers stumble upon meteorite debris
October 01, 2003 00:40 IST Orissa villagers, still dazed at the rare sight of a flaming meteor screaming across the night sky of September 27, stumbled upon more debris even as the Geological Survey of India said the rock-like materials found in Kendrapara district were extra-terrestrial objects.
Unusual looking objects were recovered from two villages of the district, Sanamarichapalli under Rajnagar police station and Subarnapur under Pattamundai police station, on Tuesday morning, official sources said.
The objects are solid and rock-hard, have a black exterior while broken pieces are grey in colour. They were found in unmanned areas and the two largest weighed over three kg each.
Villagers of Paschima Suniti and Benakanda villages had found such objects in paddy fields within hours of sighting the fireball shooting across the sky dazzling at least 11 Orissa districts.
Dr K C Sahu, senior GSI scientist who had arrived in Kendrapara on Monday, said the rocks had created deep craters wherever they fell.
The villagers are depositing the debris with the police at Rajnagar and Pattamundai. The latter have been instructed by the district authorities to hand the debris over to the emergency wing of the collectorate.
According to Dr Sahu, the objects would be taken to the GSI's well-equipped laboratory in Bhubaneswar on Wednesday and later to the organisation's headquarters in Kolkata for scientific study.
Sahu revealed that remains of meteorites found elsewhere in the nation were kept in Kolkata's National Museum.
Officials investigating a meteorite that crashed in eastern India say it was part of the most spectacular meteor shower in the country's recent history. [...]
"I have never seen a meteor covering such a large area with a huge fireball and roaring sound," said Basant Kumar Mohanty, senior director of the Geological Survey of India. [...]
[L]ocals in Orissa have been describing what they saw.
"I first mistook it for... a crashing aircraft, when I saw the huge fireball with so much bright light," said Bandita Das, a housewife.
"For about 10 seconds, the evening on Saturday got lighted up. I panicked and took my kids inside the house."
Bishwa Bhushan Harichandan, a minister in Orissa's state government, told the BBC the fireball was seen by people in "seven to eight districts, covering about 14,000 to 15,000 square kilometres". [...]
The people of Orissa are familiar with cyclones and floods, and according to correspondents, they feel Saturday's meteor shower has added a new threat to their lives.
Scientists say, however, the risk of being killed by a falling meteorite is not worth worrying about.
From correspondents in Bhubaneshwar, India
September 29, 2003
HUNDREDS of people fled their homes when a meteor struck their village in eastern India at the weekend, injuring three people and destroying two houses.
The fireball hit the village of Sudusudia in Orissa state on Saturday night local time, said BB Harichandan, the state revenue minister.
"One person has sustained burn injuries and two houses have been burned down. The injured has been hospitalised," the minister said.
Another two were hospitalised after falling unconscious, apparently from shock, local newspaper Dharitri reported. [...]
City student recorded meteors a week before Orissa incident (India)

Press Trust of India
Mumbai, October 7

A city based amateur astronomer had observed and photographed a huge fire ball-- the meteorites of the same origin as those hit Orissa villages on the evening of September 27, from suburban Mulund in south Mumbai, exactly a week before.
Rahul Patil, who also made an important observation that the meteor shower was associated with "Aquarid" (originated from the constellation Aquarius) meteor shower, had sent the observations to Nehru Planetarium in Mumbai and the International Meteor Organisation, Germany.
Confirming the claim, Solar Astronomer of Nehru Planetarium and Vice-President of Mumbai Amateur Astronomer's Association, Bharat Adur said "Strangely, no planetaria and none of the leading institutes doing research in astronomy in the country were found to be studying this meteor shower".
Patil said the cosmic shower was not yet over as there were 534 near-earth meteors in the sky currently, of which 30 asteroids were passing very close to earth from September 11 to November 16, 2003.
"Another strike is expected anytime but where and when depends on the keen observers", he told PTI.
Uptown resident finds his roof, floors ripped through by fallen rock; Tulane scientists say tests indicate rare, otherworldy object: a meteorite
Saturday September 27, 2003
By Mark Schleifstein
When Roy Fausset walked into his Joseph Street home after work Tuesday evening, he knew immediately that something was very, very wrong.
"The powder room door was open and it looked like an artillery shell had hit the room," he said.
Something had fallen with enough force to punch a hole through the roof and two floors before coming to rest in the crawl space beneath the house.
It was a sandy-colored rock that appeared to have been burned around its edges. Preliminary tests by scientists at Tulane University indicate this particular rock came from outer space. [...]
Comment: Meteorites don't seem particularly rare these days, as this supplement seems to show with up to five pages of coverage so far. Also related: Sonic or Mystery Booms. (Newly updated: October 17, 2003)
From Mirror Session, July 5, 2001:
Question: Can you show Laura so she can describe to us, the catastrophic situation in our future, our near future?
Laura: It seems as though it will be a progression. Like the beginning of rain, when the first few big, cold drops fall; and then a pause followed by a few more drops; and then, a downpour. [...] I see rocks - but they aren't very large. They are like the size of your fist. Just a few. And they make something of a stir. An uproar. People will be excited... very upset. It looks like just two - two small rocks. And then nothing else happens for awhile, and then they forget about it. It all dies down. And then, a third, a fourth, a fifth and a sixth - and maybe even a seventh... isolated events, or so it seems. Still small. And then, a big one. All this will go on over a period of months.
Follow up to yesterday's meteor crash in Tulane, Louisiana
"I'm in shock," Fausset said after learning the rock had been identified as a meteorite. "Oh, that's scary. I will certainly go to church this Sunday, because the Lord was certainly sending me a message."
Comment: Meteorites seem to put the fear of god in people. We don't recommend feeling so special about one's self that one believes it is a message from god, but the universe seems to be letting us know that something is up. These reports pop up some what regularly these days. It is becoming more and more obvious that knowledge of the real dangers are kept hidden to maintain the status quo. On September 9, 2002, CNN ran a story that stated:
A space rock big enough to cause widespread damage and death will hit the Earth only about once every 1,000 years, but experts say the destruction would be so extreme that nations should develop a joint defense against asteroids. - Such a rock, estimated at 180 feet across, scorched through the atmosphere over Tunguska in Siberia in 1908 and flattened trees across 800 square miles of forest land. No crater was found and experts believe the damage came from atmospheric shock.
'A meteorite smashed through my roof'
The chances of being hit by a chunk of space rock are measured in the billions-to-one. Roy Fausset, 59, had the closest of escapes last month when what scientists now say was a meteorite crashed through his New Orleans home.
I walked through my front door and it was like a mortar bomb had fallen on my house.
[...] Whatever it was, it had passed through the attic, then my daughter's bedroom, through the powder room and into the crawl space under the floor.
I thought it must have been some frozen waste that had fallen from a passenger airliner - they are carrying out improvements at our local airport, so planes have been diverted over our house.
I called the police. An investigator went down into the crawl space and he found some rock fragments. There are no rocks in New Orleans, it's all silt. He said: 'It's a meteorite.'
I took a sample over to the nearby Tulane University, where Stephen Nelson - the head of earth and environmental sciences department - examined it.
He said the rock was rhyolite - which is found in Mexico and Texas. He thought it must have been thrown out of a plane by a vandal or become attached to a plane somehow and then fallen off.
But now, after further analysis, it seems it has a profile consistent with that of a meteorite. The police investigator was right.
[...] I've been very disorientated by the whole thing, especially when I consider what a narrow escape we all had and what could have happened.
I keep asking: Why me? Maybe God was telling me something? I certainly went to church on Sunday and I will never mock Him as I did in my foolish youth.
Comment: Should the rocks start falling from the heavens at an even steadier pace, we can expect more and more Americans running back to the false protection of the Christian churches.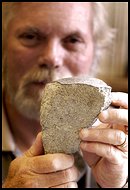 Meteorite Falls, and Peace Goes Through the Roof
By Lee Hockstader
Washington Post Staff Writer
Sunday, October 12, 2003
NEW ORLEANS -- So a meteorite crashes through your roof, pulverizes a bedroom upstairs, obliterates a powder room downstairs and splinters into pieces in the crawl space beneath your house.
Now what?
You are not necessarily having a bad day. Provided you are not flattened like a pancake, you might even get rich. But you may want to start screening your calls and doing some homework, because you have just become a bit player in a multimillion-dollar enterprise -- the strange, impassioned, big-budget commerce in interplanetary objects. [...]
'Meteorite' probably just space junk: astronomer
An astronomer believes some of the 15,000 pieces of space junk orbiting the earth were seen disintegrating over south-east Queensland overnight.
A Gold Coast resident reported seeing what looked like a meteorite followed by a tail of stars.
But the director of Nanango's Stuart Range Observatory, Jim Barclay, says he believes it was a satellite burning up about 80-90 kilometres above earth. [...]
Comment: Just space junk, now get back to sleep. We do not have enough evidence to have a basis for a belief, so for now, the jury is still out on this one.
Comet debris cited as fireball
METEOR SEEN MONDAY OVER THE SOUTH BAY
By Glennda Chui
Mercury News
A bright fireball that streaked over the South Bay on Monday evening may have been debris from a comet, according to an astronomer.
The meteor -- commonly called a shooting star -- traveled east to west at 7:57 p.m. Observers said it flared several times from three to 10 seconds before disappearing over the horizon.
"It's by far the brightest and longest I've ever seen," said Jake Burkart, 29, of San Jose, an amateur astronomer who has been watching shooting stars since he was a child. "It was really amazing."
Meteors are streaks of light left by bits of space dust as they enter the upper atmosphere and evaporate. The dust may come from a rocky asteroid or from a comet, which is a loose conglomeration of rock and ice.
Peter Jenniskens, an astronomer with the SETI Institute at NASA/Ames Research Center, said the meteor's appearance is typical of comet dust, which is more fragile than the dust from an asteroid and more likely to break up and flare.
Five hours earlier, he said, another bright meteor was seen over Europe, where it reportedly glowed green or blue, broke into fragments and left a persistent, shining trail.
"So maybe we have a bit of a shower of bright fireballs going on at the moment, which is interesting," Jenniskens said.
Although showers of meteors periodically light up the skies as the Earth passes through a thick patch of cometary dust, no such shower was expected on Monday night, he said. The next one, called the Draconids shower, is supposed to arrive Oct. 9.
Jenniskens said whatever caused Monday's fireball appears to have landed in the ocean.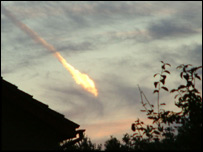 A Daytime Fireball Over South Wales
A schoolboy has impressed experts at American space agency Nasa after capturing a rare picture of a meteor burning out above his home town in south Wales.
Jonathan Burnett, 15, was taking snaps of his friends performing skateboarding stunts near his home in Pencoed near Bridgend when a bright light in the sky caught his attention.
He took two photographs of the fiery ball before it burned out and rushed home to show his parents.
Later, he emailed the picture to Nasa asking for an explanation and was amazed to discover that the space experts were so impressed with his snap they had published it on their website.
Comment: What we find amazing is not that the boy took the photo but rather the fact that most mainstream news sources are NOT CARRYING any of the increasing number of similar events over the past few months.
We have been watching the news for some time regarding these sightings and can't recall so many dramatic displays being reported in such a short span of time.
Nasa in a spin over meteor shot
Oct 3 2003
A STUNNING picture of a meteor burning up in the sky snapped by a schoolboy out on his skateboard has divided some of the world's top scientists.
Nasa says the image is one of the best the institution has ever seen, but Welsh astronomers claimed last night the photograph could be bogus.
Jonathan Burnett's picture has caused a global frenzy among space anoraks who have been tracking him down to quiz him about the meteor.
But some have started questioning his amazing snap even claiming that it may have been manufactured using a computer. The remarkable shot has made 15-year-old Jonathan a star at Nasa, which made his photo Astronomy Picture of the Day - beating off pictures from professional competitors from around the world.
Jonathan, from Pencoed, near Bridgend, was taking action photographs of his skateboarding friends when they spotted the orange ball of fire tearing across the evening sky.
The quick-thinking teenager grabbed his new digital camera to capture the once-in-a-lifetime frame. Then he e-mailed his picture to the Nasa space centre in Houston, Texas - where experts said it was one of the best shots of a meteor they'd ever seen. [...]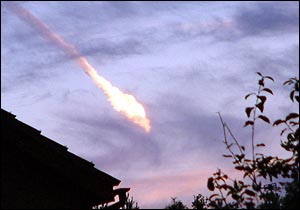 Meteor pick a "fake"
By PAUL SUTHERLAND
Sun Spaceman
NASA boffins who hailed a British lad's photo as a dramatic snap of an exploding meteor were exposed as duffers last night.
Jonathan Burnett, 15, had emailed them a picture of what looked like the trail of a blazing meteor.
NASA saluted it as "Astronomy Picture of the Day" on their website. But other experts spotted it for what it really was — SUNLIGHT reflecting off the white trail of a jet.
Robin Scagell, of Britain's Society for Popular Astronomy, said: "The trail must have been a spectacular sight but it clearly was not a meteor.
"It was not a hoax and Jonathan is not to blame — he did the right thing in sending his snapshot to NASA."
"It is surprising NASA jumped to the conclusion this was a meteor before they examined other possibilities."
The space agency had told Jonathan, of Pencoed, South Wales, that his picture showed a sofa-sized meteor exploding in a fireball.
Yesterday, they admitted getting it horribly wrong.[...]
Burning meteor 'was supersonic Concorde'
Oct 7 2003
The Western Mail

IS IT a bird? Is it a plane or is it even a meteor?
The intense debate about what a schoolboy snapped burning up in the sky while out skateboarding last week rages on.
But the latest in a long line of explanations comes from aircraft enthusiast Mike Stradling, who claims 15-year-old Jonathan Burnett actually took a picture of supersonic Concorde and not a galactic space rock.
Mr Stradling, from Brackla, near Bridgend, said Concorde regularly flew over South Wales on its flight path to and from the United States. He said the flames and long smoke trail were from the jet's engines hitting full power.

When scepticism is just refusal to face facts
The Sunday Telegraph, 5 October 2003
Everyone has limits to their credulity, and I reached mine last week while looking at a photograph taken by Jonathan Burnett, a 15-year-old living in Pencoed, South Wales. It shows the evening sky near his home being rent apart by a spectacular burning object hurtling to Earth, followed by a huge trail of smoke.
Now, I know as well as the next person that such things can and do happen. I have seen "shooting stars" flit across the night sky. I even have a tiny piece of an iron meteorite in a cupboard somewhere. Yet my first reaction on seeing the photograph (which can be found on the Web by typing "Pencoed meteor" into Google News) was one of incredulity, followed by the suspicion I was being hoaxed. Only after I had checked the date of the email for tell-tale "1/4/03", traced the source to a Nasa website and read the full report on the BBC's website did I begin to feel a bit happier. [...]
Astronomers in northern Europe and California have also reported seeing brilliant fireballs over the past week.
Intriguingly, there were similar sightings in the UK, America and Siberia this time last year - hinting that the Earth is running through some trail of debris left by an asteroid or comet. Whatever: my response to the photograph has made me feel a lot more sympathy for those who once dismissed as ludicrous reports of "stones falling from the skies".
Such scepticism held sway until almost exactly 200 years ago. On July 17, 1803 the French scientist Jean-Baptiste Biot read his paper before the Institut de France, confirming reports that thousands of stones had fallen out of the skies over the village of l'Aigle, near Alencon, Normandy, in April that year.
Until then, the great and the good thought nothing of ridiculing those who made such claims, with some museums being ordered to remove the "stones" as worthless proof of the stupidity of the masses.
All this shows the power of cognitive dissonance, by which we struggle to accept things that don't conform to our world-view. First identified in 1957 by the psychologist Leon Festinger at Stanford University, cognitive dissonance leads to a kind of psychological tension that people resolve in a variety of ways, from mild scepticism to outright denial of reality. Nor is it some rare mental condition; millions of people routinely deny reality every day rather than endure the cognitive dissonance triggered by their actions. [...]
The real problems with cognitive dissonance come when it emerges in relationships with others. Festinger identified three ways in which people try to deal with it. First, they may simply alter their own views to reach agreement (what one might call the "anything for a quiet life" approach). Alternatively, they can try to persuade others to their way of thinking.
Then there is the third way: simply define those who have triggered the cognitive dissonance as not worth bothering with - as mad, bad or dangerous to know. The people most likely to reach for such a resolution are those made most uncomfortable by cognitive dissonance, and Festinger suspected that such people are likely to manifest "authoritarian" personalities, who like bossing people about.
A dismissive attitude towards opponents, refusal to face reality, power-mad: does this remind you of a certain type of person?...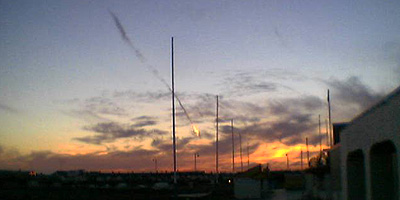 Digital snap backs up meteor story
Oct 3 2003
Is it a bird? Is it a plane? No, it's a meteor - and although he didn't know it at the time that's exactly what Julian Heywood snapped on his digital phone in Porthcawl.
The sight of the blazing meteor was striking enough for the 27-year-old Scotsman to whip out his phone and point. Then, after reading about the 'bogus' meteor shot taken by Pencoed's Jonathan Burnett, Julian knew he had just the thing to back up the schoolboy's story. [...]
Comment: Can't let the cat out of the bag. It is much easier to attempt to say it is a hoax. It didn't work this time. The above link to The Planetary Society lists the meteors that have been sighted recently and includes one in the list that we missed:
September 29, 2003 - Western Europe: Just after 10:00 p.m. local time, people in France, Germany, Belgium, and the Netherlands were witness to a giant fireball. It appears the large meteor passed over Northern France, in the area of Verdun.
The Sky Isn't Falling, But Pieces Sure Are
By Robert Roy Britt, Senior Science Writer
Space.com
01 October 2003 11:35 am ET
A host of mostly coincidental recent events make Chicken Little sound ever-so-slightly more credible. In the past eight days, stuff falling from space rocked a village in India and a bathroom in Louisiana, while lighting up the skies over the San Francisco Bay area, Europe and Australia.
The most spectacular visitor from beyond was a meteorite initially said to set a village afire in India and injure 20 people this past weekend. Later reports by the BBC and elsewhere put the injuries at three.
The fireball streaking through the sky turned night into day, witnesses said. It was reported visible across a nearly 5,800-square-mile (15,000-square-kilometer) region. Two pieces about 11 pounds each (5 kilograms) were said to be recovered. [...]
A QFS Member writes:
"The asteroid, designated 2003 SQ222, came from inside the Earth's orbit and so was only spotted after it had whizzed by. "
Whew, things are going to get interesting pretty me thinks.. I think I finally understand what Spirograph means in regards to direction.
"The asteroid's 1.85-year orbit is quite eccentric, indicating it cannot be a man-made object, Marsden says. He estimates the asteroid measured less than 10 metres. This is too small to have posed a danger to Earth, although it would have made a spectacular fireball had it entered the atmosphere."
1.85 year orbit? Something that swings around us that often is just now being 'discovered'? Typical of the media in not stating the hypothesis that it could be a new arrival.
"The passage came at about 2300 GMT, only 10 hours after a bright fireball streaked over the Orissa region of India. Indian villagers have found pieces of the meteorite, which reportedly cause two house fires. However, this event was not connected to the fly past of 2003 SQ222, says Marsden."
Oh I think they might be connected in a very big way!!
Laura responds:
Yeah! Can you believe such a stupid remark? How the heck does he know it was "not connected?" Especially when you consider that we are talking about a couple of hits and a miss???? Excuuuuse me???
Sheesh! What is so totally amazing is the ongoing sleep of humanity at large. It's hard not to keep thinking about the passage in II Thessalonians:
2:3 Let no man deceive you by any means: for that day shall not come, except
there come a falling away first, and that man of sin be revealed, the son of
perdition; 2:4 Who opposeth and exalteth himself above all that is called God,
or that is worshipped; so that he as God sitteth in the temple of God, shewing
himself that he is God.
2:5 Remember ye not, that, when I was yet with you, I told you these things?
2:6 And now ye know what withholdeth that he might be revealed in his time.
2:7 For the mystery of iniquity doth already work: only he who now letteth will
let, until he be taken out of the way.
2:8 And then shall that Wicked be revealed, whom the Lord shall consume with
the spirit of his mouth, and shall destroy with the brightness of his coming:
2:9 Even him, whose coming is after the working of Satan with all power and
signs and lying wonders, 2:10 And with all deceivableness of unrighteousness in
them that perish; because they received not the love of the truth, that they
might be saved.
2:11 And for this cause God shall send them strong delusion, that they should
believe a lie: 2:12 That they all might be damned who believed not the truth,
but had pleasure in unrighteousness.
As for the "Lord coming," sure sounds like a comet to me!
Strange object lights up sky over northern Alberta
EDMONTON (mytelus.com) – There was a spectacular light show in northern Alberta Wednesday night after a mystery object made a fiery arc across the sky.
The eye-popping, whitish-greenish ball with a red or orange tail blasted into the night sky about 11:40 p.m. Witnesses said it took about 30 seconds for it to zoom across in a northerly trajectory.
The North American Air Defence Command (NORAD) and the Canadian Space Agency are trying to find an explanation.
Comment: Yet another meteorite fireball?
Meteor over WA creates sonic boom
By Selina Day
October 7, 2003
A SPECTACULAR meteor streaked across the skies of south-west Western Australia overnight, creating a sonic boom as it broke the sound barrier and startling many country residents.
The meteor vaporised near the Wheatbelt town of Dowerin, 157km north-east of Perth, about midnight (WST).
It was seen by scores of people between Perth and Bunbury in the south to Geraldton in the north and Dowerin in the east.
Perth Observatory astronomer Peter Birch said the meteor was brighter than a full moon as it broke the sound barrier and woke Dowerin residents.
It is rare for a meteor to create a sonic boom. One was heard over southern WA on May 1, 1995, and there had been one between then and last night, Mr Birch said.
Meteorite Spotted Over Salt Lake Valley
LAST UPDATE: 10/16/2003 10:50:14 PM
If you think you saw a UFO over the Salt Lake valley Thursday morning, you may not have been too far off.
NORAD is saying they think the unidentified object was a meteor but they have yet to confirm their findings.
ABC 4's Andrew Stack has been close on the tail of this meteor all day and has more.
Thursday morning, a soldier on the firing range at Camp Williams looked up to see a blinding flash, and then a long con trail. It was a tail many others would see over the next few minutes.
"All of a sudden, my eyes saw something fantastic," describes one.
"NORAD right now is researching all their records," explains another.
Around 10:30 Thursday morning, some caught a glimpse of a bright, white light.
"I thought, you know, I'm sitting out here taking UFO pictures," says Brad Gygi, an eyewitness.
"At the present time, they figure this is the high time of the season for meteor showers and that's what one of the suggestions has been, but right now, it is undetermined to exactly what it is," says one.
First it flew over Camp Williams.
"...saw an airplane going over and then he saw a white trail that appeared to be coming from the south about two o'clock and heading to the north at about eight o'clock," describes LTC Rick West, Camp Williams Training Site.
Then it was seen over downtown Salt Lake.
"It looked like it was heading for downtown Bountiful," says Richard Law, another eyewitness.
But it never made it that far.
"Naturally, with the war going on, I thought, 'oh, oh, what do we got here?' And then I recognized it immediately as a comet or a meteor because of its shape and the way it was going and then when it exploded and just disappeared, I figured it just burned out in the atmoshpere."
"I was lucky to get a couple that did turn out," says Gygi, of his pictures.
Brad Gygi was on his way to work and was lucky enough to snap a few photos before 'it' exploded.
"It looked really big, a lot bigger than when you see a plane flying across or something and it was pretty bright and it looked like a pretty long tail," says Gygi.
"I just feel like anybody who didn't see it, missed out. It was beautiful. It was just wonderful to see it."
The soldier who first saw this meteor reported it through his chain of command because he feared the meteor might hit one of the commuter flights preparing to land at Salt Lake International.
As it turns out, air traffic controllers at Salt Lake International took immediate action to ensure safety as soon as they heard about this explosion in the sky.
They changed incoming landing approaches for a couple of flights to avoid the area.
There were no close calls, all planes landed safely and everything shortly returned to normal.
College Student Finds Asteroid
Sep 17, 2003 3:11 pm US/Eastern
GRAND RAPIDS, Mich. (AP) Calvin College senior Andrew Vanden Heuvel recently made a stellar find when he came across a previously unobserved asteroid.
Now, if he only could decide what to call it.[...]
Asteroids are small, rocky objects that measure several hundred feet to several hundred miles in diameter. More than 1 million are believed to orbit the sun in the main asteroid belt between Mars and Jupiter.
The asteroid that Vanden Heuvel found measures about five-eighths of a mile across.[...]
Row erupts over asteroid press scare

18 September 03
Exclusive from New Scientist

Astronomers have been so horrified by press scares over asteroids that they are toning down the scale they use to rate the threat posed in an attempt to discourage journalists from covering potential collisions. The most prominent recent furore involved asteroid QQ47, which briefly had a one-in-a-million chance of crashing into our planet in 2014.

Some astronomers even want the way asteroids are assessed to be completely overhauled. The Torino scale, developed in 1999 by Rick Binzel of the Massachusetts Institute of Technology, is used to inform the public about potential impacts. It rates an asteroid's threat on a scale of zero to 10, based on its speed, size and probability of impact with Earth
No asteroid has ever exceeded a hazard rating of one - the same chance as a random object of the same size hitting Earth in the next few decades. Despite that, last week's category-1 asteroid made headlines. And as searches for near-Earth asteroids grow more systematic, sightings of potentially dangerous rocks are becoming routine.

Brian Marsden of the Harvard-Smithsonian Center for Astrophysics in Cambridge, Massachusetts, worries that the public will stop taking the asteroid threat seriously if false alarms continue. He says altering the scale is not enough: "It's time we got rid of it." [...]
Comment: The campaign to supress the public knowing about scientific discovery goes into full swing, making an example of anyone who releases information the puppet masters wish to keep to themselves.
F.R. Sarker
[...] Whether astronomers assure or reassure that asteroids would not strike the earth in 2014 or in 2028 still the gamut is not out of danger. Evidences are there that over 1 kilometer wide asteroid hits the earth once in every half a million years and smaller sizes in 300 years , so the danger is still there to encounter the devastation caused by killer asteroids at any time . Of course, NASA has undertaken a project to keep the lists of the asteroids which are likely to be hitting the earth and already about 800 asteroids have been identified so far. Still there are some more which might come as a surprise, thus it has been crystal clear that the earth is quite vulnerable to be mauled by asteroids and the catastrophe might be regional as well as in global in parameter. [...]
Comment: Another major crater has been discovered in Kentucky. An entire town has been built inside of it, and no one knew until now. These collisions may have happened more often than we think.
Stargazing Hiroshima fan names asteroid after Carp
An ardent Hiroshima Carp fan has named an asteroid he discovered four years ago somewhere between Mars and Jupiter after his favorite baseball team.[...]
No place to hide from an asteroid strike
Oct 3 2003
Paul Carey, The Western Mail
[...] There are probably thousands of asteroids with orbits overlapping that of the earth's. Experts say that if an asteroid measuring 10km struck Earth there would be nowhere to hide.
An electro-magnetic pulse would destroy all electrical equipment, followed by global earthquakes which would result in a fireball that would kill everything.
If the asteroid landed in the Pacific it would cause a tidal wave which would sweep back and forth for weeks. Finally, the fire would result in a nuclear winter and darkness where plants would be unable to flourish.
Meteorite strike zone pinpointed in research
A grant for more extensive drilling could bolster extinction theory.
By Mike Penprase
News-Leader
Osceola — They never knew what hit them.
Denizens of the shallow sea covering much of Missouri more than 300 million years ago were slammed by a meteorite 1,200 feet across and moving five times faster than a bullet, leaving a geological puzzle to solve in what is now St. Clair and Hickory counties, Kevin Evans said Friday as he and more than 100 fellow geologists and students searched for signs of that mighty collision. [...]
Evans was serious about the implications of the research, bolstering extinction theories based on meteorite strikes and letting astronomers know what a strike from a small meteorite might do. [...]
Sep 27 2003
BRITISH - built satellites which can raise the alert about a disaster on Earth are being launched by rocket into space today.
Costing £4.5 million each, they are an early-warning system for such events as forest fires or earthquakes. They have been dubbed "International Rescue" satellites after the 60s TV show Thunderbirds.
Britain, Turkey and Nigeria have paid to send three up from Russia today - and along with others they will form the Disaster Monitoring Constellation.
Audrey Nice, of the University of Surrey spin-off firm which designed the satellites, said: "They have more uses than we thought.
Comment: Of course they are not looking for anything in particular, they just have a feeling that it might be a good time to keep a watch out for "disasters".
Asteroid Gets Within 52,000 Miles of Earth
By MICHELLE RUSHLO
Associated Press Writer
Tue Oct 14, 9:10 AM ET
PHOENIX - An asteroid discovered by Arizona astronomers last month passed within 52,000 miles of Earth — the closest documented approach of an asteroid that didn't collide with the atmosphere.
Close encounters with asteroids of its size, about 3 to 6 meters in diameter, are not unusual, astronomers believe, but catching images and documenting orbits of those asteroids are difficult. [...]
Comment: There are enough worries regarding asteroids that the various plans to nullify asteroids filter into the media now and then, particularly the more fantastic concepts like 'Tugboat' could push away asteroids.
Famous "lost" asteroid found again -- after 65 years

PARIS (AFP) Oct 16, 2003
Hermes, a large asteroid that skimmed by the Earth in 1937 but has never been seen again, has been spotted once more after years of effort by astronomers, the International Astronomical Union (IAU) said.
"A bright near-earth candidate" reported by astronomer B.A. Skiff early Wednesday, was confirmed within four hours as Hermes by a visual sighting by another astronomer, the Paris-headquartered IAU's Minor Planet Center said in a circular received here Thursday.
Further calculations are being done to determine its orbit, although early estimates suggest that the rock, formally called 1937 UB (Hermes), takes a little more than two years to go around the Sun, the circular said.
Hermes created a stir when it flew by close to the Earth in October 1937 at a distance of less than a million kilometers (650,000 miles), just 60 percent further than the distance of the Earth to the Moon.
Estimated at the time to be about 800 metres (yards) across, Hermes swiftly disappeared from view, leaving doubts about whether its orbit would ever bring so close, or even closer, to the Earth.
Asteroids are speculated to be the rubble left over from the making of the Solar System -- space rocks that orbit the Sun, although sometimes at long and highly elliptical orbits.
Swedes discover massive meteorite
STOCKHOLM, Sweden (AP) - Swedish researchers said Tuesday that they've dug up the biggest meteorite ever found in the country.
It took two days to unearth the 158-kilogramme (348-pound) meteorite, one of only nine found in the Scandinavian country of 9 million in the last 100 years.
The meteorite, made up mostly of nickel and ferrous iron, was found nearly 140 kilometres (87 miles) north of the Arctic Circle near the town of Kitkiojarvi, in early September.
It's now in the Swedish Museum of Natural History in the capital, Stockholm, where tests are being conducted on it, museum spokesman Jan-Olof Nystroem told The Associated Press.
The largest meteorite ever found is at the Hoba farm near Grootfontein, Namibia. Discovered in 1920, it weighs more than 50 metric tons (55 tonnes) and has a volume of 9 cubic metres (317 cubic feet). Scientists believe it hit the ground about 80,000 years ago.
Hubble Uncovers Smallest Moons Yet Seen Around Uranus
Astronomers have discovered two of the smallest moons yet found around Uranus. The new moons, uncovered by NASA's Hubble Space Telescope, are about 8 to 10 miles across (12 to 16 km) — about the size of San Francisco. [...]
"Not all of Uranus's satellites formed over 4 billion years ago when the planet formed," Lissauer says. "The two small moons orbiting close to Belinda, for example, probably were once part of Belinda. They broke off when a comet smashed into Belinda." [...]
Bright lights in tri-county night sky were caused by meteor showers, experts say (South Carolina, USA)
No confirmed reports of fragments hitting, emergency officials say
By Wendy Bigham
The Herald
October 21, 2003
If you saw bright lights in the sky Monday night, it wasn't a UFO or a crashing plane. It was a meteor shower.
The lights in York, Lancaster and Chester county skies were from meteor showers generated from the constellation Orion, said meteorologist Rick Neal with the National Weather Service.
The showers began about 9 p.m. and were expected to continue through the early hours this morning, meteorologists said. Meteorologists predicted 10 to 15 meteors would streak across the sky per hour.
Meteor showers are caused by fragments left over from passing comets that heat up as they fall through the atmosphere.
No one reported any damage from the meteors, emergency officials said.
Sgt. Carson Neely with the York County Sheriff's Office said dispatchers fielded several calls about bright lights. Some thought a plane had crashed, he said.
Many residents also felt their houses shake and some said items fell off shelves in their homes, authorities said.
The Sheriff's Office and the York County Office of Emer-gency Management is working with other agencies to see if something actually hit, said Ralph Merchant, the center's 911 director.
"There have been no solid reports of damage or something hitting the ground," Merchant said. It may not be until sometime today when an airplane can see for sure if a meteor hit the ground, he said.
In Chester, callers reported flashes that made the night appear like daytime for a moment, said a supervisor at Chester County's 911 center. [...]
Comment: Previous reports from the article 6 report UFO in Durham skies:
It flashed across the sky like a shooting star, trailing a tail of green streaks.
But what Durham police Lt. Morris Taylor saw Monday night on Erwin Road was different from any shooting star he had ever seen before.
"It was pretty wild looking," Taylor said of the unidentified flying object. "It looked comparable to the size of the moon in the sky." [...]
O'Briant said the object was moving too fast to discern its color, but its tail had a distinctive greenish-white hue to it, he said.
"It just went across the sky and disappeared as it got toward the horizon area," he said. "It was a lot larger than a shooting star would be. It was almost like a firework going to the ground or something."
Air traffic controllers at Raleigh-Durham International Airport said they hadn't seen the object, but several pilots reported catching glimpses of it Monday night.
Taylor said the object was "humongous" compared to a shooting star. [...]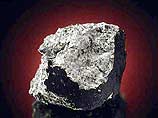 Meteorite of a Football Size Discovered in Morocco
10/24/2003 20:56
The unearthly origin of the find is proved by its crystal structure
A large meteorite has been discovered near the city of Oujda to the north-east of Morocco. Local mass media reported on Thursday that the meteorite's weight was 22 kilograms. The size of the meteorite is a bit less than a football. [...]
Orissa: Mad rush for meteorite remnants
Kendrapara, Oct 27. (UNI): It is all for the remnants of the meteorite, which crash landed at Suniti village in coastal Orissa on September 27.
A mad rush has been on for the past few days, both in Suniti as well as adjoining villages, for pieces of the celestial object.
With spades and crowbars in their hands, villagers are searching virtually each inch of the land where the meteorite had landed, with the hope of getting smaller pieces strewn around the field. [...]
Meteorite-like object lands in UP village
Last Updated: November 03, 2003
A huge solid object fell from the sky in Kasoli village of Muzaffarnagar district on Sunday night and created an approximately three feet deep crater in the western Uttar Pradesh hamlet.
The object, and the crater it created, has evoked considerable curiosity among residents and scientists.
Orissa villagers stumble upon meteorite debris District Magistrate R K Singh told PTI on Monday that villagers claimed to have seen the object, weighing about 19kg, falling from the sky around 1900 IST with a loud noise.
Later, they found an 8x9 sq inch black-coloured solid object in the field of a farmer, Kishan.
Following receipt of the information, police rushed to the village and took the object to Muzaffarnagar, the district headquarters, which is about 30km away.
Experts from the Roorkee Engineering College have been asked to examine it.
November 4, 2003
JONESBORO, ARKANSAS, USA- Many [...] residents are still wondering what caused Monday night's terrific light show in the sky and the explosion that followed.
The K8 Newsroom was flooded with literally hundreds of calls that began pouring in around 9:45 p.m. with questions and reports of seeing brilliant flashes of blue and yellow light in the skies. The Jonesboro 911 dispatch office was flooded with similar calls. "9:56 p.m., we got the first call at the 911 communications center. A large boom in the area, then after that we were flooded with phone calls," said dispatch center coordinator Bob Andrews.
Flight instructor Lea Thompson was in the air when she spotted the flying debris. "All of a sudden, we just saw a bright white light coming in front of the plane. It came right over the front of the nose and descended down...kind of looked like a shooting star. It disappeared and we didn't think anything about it," Thompson said. "We were about 3,000 feet on final, coming in to land. First I was really confused, didn't know what it was. Then I just assumed it was a falling star. I got a bird's eye view this time, instead of on the ground. So, I didn't think much of it until I got on the ground.
A large "boom" soon followed. "Explosion and a boom. We got calls from the Lawrence County area, all the way down to the southern Craighead County area," said Andrews. The KAIT newsroom received calls from as far south as Brinkley and Oil Trough and as far north and west as West Plains, Missouri. [...]
Dr. Andrew Sustich is the Dean of Humanities & Social Sciences at Arkansas State University, and feels certain the event was a meteorite. [...]
Object that fell from the sky was a meteorite: Scientists
Scientists on Wednesday said the object that fell from the sky in Kasauli village in Muzaffarnagar on November 2 is a meteorite. [...]
Gupta and his colleague Kamaudi Joshi examined the 17.9 kg black-coloured meteorite at Muzaffarnagar said a preliminary investigation suggested it is made of iron and some other elements. Its surface was burnt due to the friction generated when it entered the Earth's atmosphere. The chiselled portion inside is grey in colour.
The meteorite is 29cm in diameter and 11cm thick. It had created a 15-inch deep crater when it landed in Kasauli village. [...]
A mystery in Monday night's sky
Mysterious "night lights" lit up the skies over the Mid-South Monday night. Reports of a huge fireball and a loud explosion that shook houses came flooding into police all around the Mid-South. Scientists have an idea what it was, but there was no evidence left behind to prove it.
A mystery in Monday night's sky was the hot topic over dinner in Wynne, Arkansas. "The sky lit up, it was like lightening." Teriann Dildane saw it from her car around 10 o'clock Monday night. "It looked like an airplane was on fire, I thought an airplane had crashed and it went over the trees." And Dildane wasn't alone.
At the same time the sky lit up, Detective Larry Jones says the phones lit up at the Cross County Sheriff's Department. "Quite a few at one time it was overwhelming." Action News 5 knows of calls from more than a half a dozen counties where people not only saw something, they heard something.
Dispatcher: 911 do you have an emergency?
Caller: I was calling about a big explosion
Then another call.
Dispatcher: 911 do you have an emergency?
Caller: I'm not sure it sounded like a large explosion here in town.
"For the next 20 minutes or so we continuously got those phone calls."
Whatever was falling was never found.
Jim Greenhouse from the Sharpe Planetarium suspects it was a variety of meteor called a bolide. "Meteors are objects in space that are burning up in the earth's atmosphere, and bolides enter the atmosphere at a steep angle and explode in the air above us." But since most objects from space are so small, they disintegrate before they ever hit the ground. [...]
'Paul Revere' scientist suggests unusual asteroid warning system
Just last month, a meteorite slammed into a village in eastern India.
Eleven people were injured and two homes were destroyed by fire.
Perhaps more unsettling, in 1908, a space rock screamed into Earth's atmosphere, exploding in the sky over a remote Siberian forest with a force greater than a 10-megaton nuclear blast.
Fires started, wildlife perished and trees fell for miles in every direction.
These days, efforts underway to detect comets and asteroids on a potential collision course with Earth include an unassuming scientist from Ridgewood, N.J., with an idea for a better method.
William A. Hoffman III doesn't have a company, or investors for his detection system, called "Looking out for you." But he received a patent (U.S. No. 6,452,538), and some distinguished astronomers say his idea is intriguing.
Hoffman wants to place telescopes on the outer-space side of telecommunications satellites where they can continuously scan the heavens, free from cloud cover that often hampers earthbound telescopes, to look for what astronomers call NEOs, or Near Earth Objects.
The data would beam down to a ground station and be sent - for a fee - to schools or institutions or individuals who could use it to pinpoint the rocks' orbit.[...]
Hermes makes its return to Earth
Nov. 10, 2003
BY CAROLE RUTLAND
Special to the Ledger-Enquirer
It is Oct. 28, 1937, and unbeknownst to anyone, a small rocky body is sailing toward Earth in an orbit that comes within 500,000 miles of us. It zooms quickly around the sun and heads back to a place in the great beyond. [...]
We now know that every 777 days, Hermes approaches Earth. Fortunately for us, our planet has always been in another, more distant part of its orbit when Hermes crosses. [...]
Study suggests asteroid that killed dinosaurs was a sequel
Friday, November 21, 2003
BY PAUL RECER
Associated Press
WASHINGTON -- A mysterious cataclysm 251 million years ago, which resulted in the extinction of 90 percent of all life, may have been caused by a mountain-sized asteroid striking the Earth, researchers report this week in the journal Science.
The effect of the Permian-Triassic Extinction was broader than the meteorite impact that snuffed out the dinosaurs 66 million years ago.
The new study, based on meteorite fragments found in Antarctica, suggests the event was triggered by a space rock that smashed into a southern land mass. "It appears to us that the two largest mass extinctions in Earth history ... were both caused by catastrophic collisions," the report says. [...]
Comment: Of course, such an event would never happen to us, right? We mean, we are so much more evolved and somehow special, aren't we? So just keep listening to the mainstream media and go back to sleep.
Mysterious rock in insulation may be from space
Associated Press
December 11, 2003
SHELBYVILLE, Indiana -- Bob and Brian Weddle have seen a rock or two in their line of work, but the home builders suspect what they found imbedded in foam insulation is a meteorite.
Evidence mounts of earlier asteroid annihilation
Meteorite fragments, metal from Antarctica may boost theory
Statesboro man find meteor while picking butter beans
The Associated Press
December 20, 2003
An strange-looking rock that a Statesboro man tossed between two freezers and left there for three years may be a meteoric discovery.
In the summer of 2000, produce grower Harold Cannons bean picker machine lifted the 5 1/2-pound lump out of the ground while he was picking butter beans. He tossed the rock aside and kept working.
Three years later, Cannons wife asked him to clean up a bit, and he found the rock where he had chucked it between the freezers. He chipped off a little of the rock to see what it looked like inside and discovered that it was no ordinary rock. [...]
Test results determining its official classification are pending, but the meteorite has been classified as an L-chondrite, which is the type most commonly found, Kelley said.
The find is exciting because only 22 documented meteorites have been discovered in Georgia, one of which destroyed a Claxton mailbox in 1984, he said. [...]
---
Check out the Signs of the Times Archives
Send your comments and article suggestions to us.
---
Fair Use Policy
Contact Webmaster at signs-of-the-times.org
Cassiopaean materials Copyright ©1994-2014 Arkadiusz Jadczyk and Laura Knight-Jadczyk. All rights reserved. "Cassiopaea, Cassiopaean, Cassiopaeans," is a registered trademark of Arkadiusz Jadczyk and Laura Knight-Jadczyk.
Letters addressed to Cassiopaea, Quantum Future School, Ark or Laura, become the property of Arkadiusz Jadczyk and Laura Knight-Jadczyk
Republication and re-dissemination of our copyrighted material in any manner is expressly prohibited without prior written consent.
.