Printer Friendly Version
Back to Signs Supplements
Today's Signs Page
Signs Supplement: Sonic or "Mystery" Booms
---
"At around 4:05 PM today, I was on the computer and the electric power dipped way down. The lights dimmed and my computer crashed. PRECISELY at that instant, there was a "sonic boom" that originated, I perceived, from south of my location, here in northern New Jersey. The boom lasted for about five seconds. The skies were clear blue and the sun was very bright. Later, my friend who lives near Cleveland, Ohio called me, told me she had no electricity, and that a man called in to her local radio station and reported that he heard two sonic booms shortly after 3 PM at the same time the whole northeast United States lost power."
It's easy, for example, to discount all reports of non-grid-connected car radios suddenly going out as the blackout began, by saying that an EM pulse would also have taken out these cars' ignitions-which event did not, as far as I know, occur. [...]

I have witness statements from several states about non-grid-connected electronic devices that went out just before or as the blackout began. I'm not about to throw them all out because "they don't make sense." They do make sense. [...]

Time and time again, the same trick is used. Nullify reports from the public. Make the public think it must be crazy.

"You didn't see that. You just think you did."

"If your report were true, then X,Y, and Z would have happened too. And they didn't happen. Therefore, you're wrong." [...]
Q: Is there a correlation to the massive power blackouts on the West Coast that have been happening recently, to the government messing around with the HAARP Project, and other related weapons testing systems?

A: Not HAARP.

Q: (T) OK, not HAARP. Something else that they're messing with? (L) Well, why don't we just ask, what's the cause of the blackouts? (T) OK, what's the cause of the blackouts? Good question!

A: 4th density bleed through has many "fun" possibilities.

Q: (L) Oh, fun! (T) 4th density Bleed through? This is part of the bleed through from the different bases on the West Coast?

A: More or less.
Beginning in December 1977, offshore detonations heard along the Atlantic Coast from Canada to South Carolina captured the media's fancy. Newspapers and TV news programs all over the country described these unidentified explosions. However, not a word about the detonations appeared in most of the scientific publications we regularly monitor, with the exception of the British New Scientist and a recent article in Science , 199:1416, March 31, 1978.
Comment. The detonations were rather strong, shaking houses and even causing picture windows to fall out. In some instances, flashes of light and other luminous phenomena were reported. The sounds were characterized as "air quakes" by some scientists because they did not always register on seismographs, although they were usually recorded on air-pressure monitoring equipment.
One's first inclination is to attribute such detonations to supersonic aircraft and missles, but the U.S. military immediately denied they were to blame. Seismic noises come to mind next, but the frequent failure to register the events on seismographs suggested an atmospheric phenomenon. The National Enquirer (January 24, 1978) rather predictably linked the booms to UFOs. In the federal government, the Naval Research Laboratory (NRL) was assigned the task of tracking down the booms. In March, NRL reported that all of the 183 detonations they investigated were due to supersonic aircraft. That seemed to end the matter -- just as the Condon Report signalled the demise of UFOs!!
The booms had an interesting side effect: they triggered urgent requests for the two Strange Phenomena sourcebooks from several universities, think-tanks, and intelligence agencies. There may be more to this than meets the ear. For more information, see Walter Sullivan's articles in the New York Times of January 13 and 19, 1978. [...]
The cause of a sharp boom that rocked parts of eastern Sussex County late last week remains a mystery.
A spokesman for the Patuxent River Naval Air Station in southern Maryland said Wednesday that officials at the military base have determined none of their aircraft was in the area when residents reported a loud bang about 3:15 p.m. Friday.
Some speculated that what they heard was a sonic boom, the phenomenon that occurs when aircraft travel faster than the speed of sound. The speed of sound at sea level is approximately 758 miles an hour.
Patuxent spokesman John Romer said the air station received nearly two dozen calls about the boom, most from eastern Delaware and parts of Maryland. But officials couldn't pinpoint what caused the noise.
Romer said a sonic boom was caused earlier in the day by a training aircraft over parts of the lower Maryland Eastern Shore.
Dover Air Force Base officials last week said none of its aircraft was responsible for the boom. The C-5s based at Dover cannot travel faster than the speed of sound.
Sound rumbled through the Victoria area Thursday morning, but it was not due to an earthquake.
Several phone calls and e-mails came into the Pacific Geoscience Centre after a cluster of rumbles were heard in this area about 9:45 a.m.
"It is some kind of source of sound energy," said seismologist Garry Rogers.
It was definitely not an earthquake.
The sound appears to have originated somewhere to the west, but the Geoscience Centre could not be more specific. These sorts of sounds occur occasionally and can be caused by a variety of events such as aircraft creating sonic booms, meteorites blasting into the atmosphere, military gunnery practice, or blasting.
"At the moment it is a mystery and we do not often solve these things," said Rogers.
This is the second sound mystery on the Island this month.
A blast that shook Nanaimo last Wednesday around 1 p.m., was heard and felt as far south as Chemainus, and as far north as Nanoose.
It was not an earthquake, and military spokesmen said at the time that there was no gunnery practice and there were no jets in the area that would have been capable of creating a sonic boom.
AHMEDABAD: Panic gripped several areas in Ahmedabad other parts of the state on Monday morning as a mysterious blast was heard around 10.20 am.

Window panes and doors rattled while in certain areas multi-storeyed apartments shuddered and people thronged to the streets in panic.

Rumours of Mumbai-like bomb blasts went around in Ahmedabad, a city already on its edge because upcoming Navratris beginning on Thursday. Frantic calls to hospitals and the police control room yielded no explanation about the cause and the location of the blast.

There were however speculations that the blasts may have been triggered off by tectonic movements, on the lines of similar blasts which were heard in some parts of Jamnagar in western Gujarat last month. [...]
The cause of a series of loud explosions is still perplexing people.
Since breaking the story in last week's Guardian the newsroom has been inundated with reports of residents hearing the noise.
The Guardian reported a mysterious noise described as a "bang like a firework but a thousand times louder" had been heard on September 20 at about 6pm.
But now we can reveal there has been a spate of bangs in the last month some loud enough to shake windows and set car alarms off.
Neither the council nor the police have been able to shed any light on the cause.
Spokesman for Croydon council's environmental services said: "We haven't any idea what could be causing the noises. It could be a series of very loud fireworks, perhaps the new type of air bomb fireworks which cause quite a loud noise." The MET office has confirmed that the explosions are not due to the weather, while the Civil Aviation Authority has discounted the idea that the noise could be due to an aeroplane's sonic boom. [...]
The earthquake experts say it wasn't a shaker, and military authorities say they didn't have the kind of planes in the air that can make a sonic boom.
But whatever it was, the noise that rattled Lowcountry communities about 1:30 p.m. Friday commanded a lot of attention.
"There was this extremely loud, percussive noise," said Reynolds Pommering of Mount Pleasant. "My sister (on James Island) said she heard it, too, and that's eight miles across as the crow flies. I first thought somebody had run into the building." [...]
The mystery 'boom' that hit the Sunshine Coast of Queensland on Thursday afternoon about 3.15 pm will remain a mystery until reports of the incident can be analysed.
The QUAKES Earthquake Research Centre at The University of Queensland has been inundated with reports of the incident but will require more data to reach a conclusion about its origins. Possible origins include an earthquake, a sonic boom, a quarry blast, or an unusual incident such as the destruction or detonation of explosives.
Initial indications are that the disturbance was equivalent to an earthquake of magnitude 2-3.5 on the Richter scale.
Few working seismographs remain in Queensland and none of those operating picked up any sign of earthquake activity. However, the closest monitoring station on Mt Nebo outside Brisbane may have been too far away to register a relatively small earthquake.
Using the old-fashioned techniques of analysing public reports of the incident, Col Lynam of QUAKES will produce a map of effects that should give an indication of possible causes. [...]
It was the boom heard -- and felt -- around the county.
From downtown Bradenton to the outskirts of Palmetto to Longboat Key, folks heard a noontime noise that rocked their world. Literally.
But emergency officials couldn't account for the source of the noise that shook Bradenton, Palmetto, and other parts of Manatee County around noon Monday.
"I was sitting in my office, and it felt like somebody hit our building," said Will Horner of Southern Supply, 606 19th Ave., Bradenton. "The doors shook. The building shook. It was almost like an earthquake." The workers next door emptied out, trying to figure out what happened, Horner said. "The whole neighborhood was out."
Horner said his wife told him it "shook the house" at their home in north Palmetto.
Courthouse employees who heard the noise dismissed it as thunder. Diana Hughes, who works in the courthouse's basement, said she also heard rumbling after the initial boom.
Dennis Carlson of Chicago was loading luggage into his car at the Holiday Inn when he looked skyward. "Come to think of it, I thought I heard thunder," Carlson said. "I thought we might get more rain."
Reports of the noise came from as far as Ellenton and Longboat Key, even Sarasota, officials said.
Process of elimination has so far ruled out a sonic boom, gas explosion or power plant incident, at least according to the official spokespeople.
Florida Power & Light Co. spokesman Mel Klein said nothing happened at the Parrish power plant that could have caused the commotion. Emergency officials and police and firefighters said there were no calls or responses to explosions Monday. Air traffic controllers said there were no aircraft overhead that could have broken the sound barrier.
Bruce Hall, air traffic manager at Sarasota-Bradenton International Airport, said the sound did not come from anything Tampa International Airport was tracking. "We don't know what it was," Hall said. "It wasn't us."
MacDill Air Force Base in Tampa said the noise was not caused by its operations. "It's not coming from the base up here," said Sgt. Chris Miller, a public affairs officer with the 6th Air Mobility Wing at MacDill.
The base wasn't doing any flight exercises, he said. "The only thing in our fleet that makes that noise is the fighter jet." [...]
COLUMBUS -- Neither City authorities nor Ft. Benning officials could explain the loud 'boom' that shook the area about 5:20 p.m. February 5, 2000. Many concerned callers directed their inquiries to Ft. Benning officials and Columbus 911 searching for answers.
"We don't believe it was anything on Fort Benning," said Captain John Hollar. "What a lot of people outside are saying is that it was a sonic boom. But we had no planes in the area."
A 911 dispatcher said she had four calls since arriving to work two hours after the incident." But they got a lot more earlier." There have been no reports of injuries or explanations of what may have caused the boom. The boom was also felt and heard in Alabama and is similar to one heard on August 2, 1999, that included UFO sightings.
The usual suspect, the military have denied it was their aircraft. Seismic earthquake activity was not detected, so a sonic boom is most likely responsible. A full investigation was made of the 8/2/99 blast and was submitted to GEMA [...]
Hartsville, Tennessee, about 30 miles northeast of Nashville, where mysterious, destructive power surge killed dozens of birds and damaged transmitter, phone lines and computer equipment at country music radio station WJKM (1090 AM) on Friday, July 6, 2001 at 10:45 a.m. CST.

WKRM Nashville TN carries a video news report establishing the fact that the Franklin mystery boom registered as seismic activity at 1005hrs on July 7. The epicenter was pinpinted to four miles SE of the community. In spite of this, authorities could not confirm it was due to an earthquake, or even a underground cave collapse. However, a sonic boom has definitely been ruled out. To view the newscast click: News 2 - Franklin Boom Clue Uncovered. See also a similar story of the TVA report from The Review Appeal & Brentwood Journal of July 18 2001. G-fs.
Folks in Franklin felt a boom on July 7th. Now, there's a new clue in the mystery. Was it an earthquake? Or an explosion? Or an underground cave collapse? Whatever it was, it was strong enough to register 2.6 on the Richter scale. [...]
Pittsfield, Mass -- Something went boom Saturday, and people in four states are wondering just what it was.
Some people also spotted something in the sky yesterday afternoon.
Calls to emergency officials in western Massachusetts described a fireball, a sonic boom and an explosion. There were similar reports in Vermont, New York and Connecticut.
The Federal Aviation Administration has ruled out a plane crash. And the National Weather Service said it has no weather-related explanation.
One astronomer guesses a meteoroid was likely the cause for all the commotion
Several reports from last night, 2/2/99, at about 7:30p.m. the town of Elk City, Oklahoma, (100 miles w. of Oklahoma City) was rocked by a "Mystery Boom" similar to what has been reported in other locations recently.
I contacted the local police and they reported multiple phone calls from concerned citizens, all reporting windows being shaken and a loud booming sound. I was monitoring the area military aircraft bands at the time and I noted no unusual activities.
This report comes on the heals of last week's report of a sound described as being similar to a "rocket taking off" heard over a large area of western Oklahoma.
By coincidence, Elk City is 15 miles w. of the old SAC Air Force base, which is under consideration as a possible launching facility for NASA's new X-33 Space plane...
Another guessed he was hearing rolling thunder. When a woman feared it was a bomb or an earthquake, she called the police. But they had no answers, either. No one in the Massachusetts Avenue Heights neighborhood of Northwest Washington knows what is going on at the house of their neighbor, the vice president of the United States. But one thing is certain: They're tired of the daily blasting at the Naval Observatory that has shaken houses, rattled windows and knocked mirrors off the walls.
The blasts, which last three to five seconds apiece, have been going off two or three times a day -- as early as 7 a.m. and as late as 11 p.m. -- for nearly two months, residents say. But neighbors have received so little information from government officials about the top-secret project that speculation is running wild. The leading theory: A security bunker is being built for Vice President Cheney. The second most-popular guess: The government is digging tunnels to spy on nearby embassies. In third place: A helicopter hangar is under construction.
Was it a bird, a plane, a sonic boom?
Dozens of Hilton Head Islanders called the Emergency Operations Center and Beaufort County Sheriff's Office on Friday asking where "the earthquake" hit. The calls started at 10:03 a.m., after some roofs seemed to rattle and glass seemed to shake. Deputies at the Sheriff's Office on Hilton Head felt it too.
"We were like, 'Oh my gosh, what was that?' " said Beaufort County Sheriff's Office Spokeswoman Debbie Szpanka. "The whole roof shook. For us, it sounded like something landed on our roof with a big thud." Others described it as the sound of a giant fist hitting outside walls or a giant gust of wind that lasted only a second or two. Outside, some looked around, trying to spot a wreck. "What was that?"
No one seemed entirely sure Friday, but emergency management workers knew what it wasn't. "All I can tell you is it was not seismic in nature," said Steve Fields, deputy director of Beaufort County Emergency Management. "Maybe Godzilla, I don't know, but it wasn't seismic."
Plane Causes Sonic Boom, Rattles Four-County Area
A loud noise rattled windows and shook buildings in a four-county area Saturday before last around 4:20 p.m. Authorities aren't sure what caused the noise, but it was suggested it might have been an aircraft sonic boom. The boom was heard and felt by persons throughout Coffee, Moore, Franklin, Marion and Lincoln counties while many were focusing their attention on the football game underway in Nashville between the Titans and the Pittsburgh Steelers. Scott Ulm, an employee at the Tennessee Corrections Academy in Tullahoma, said several employees heard the "boom" but exactly what caused it remains a mystery. "It was probably a sonic boom," he said. "But you can't tell for sure. All we heard is that there was a big blast."
Mysterious rumble shakes up Florida area residents
"It wasn't your typical sonic boom," said Woolford, an artist for Blue Dolphin at Ellyson Field. "It just kept going and going, about five or seven seconds. It shook the whole building. My pedestal computer monitor was rocking and rolling back and forth." When he felt the ground beneath his feet tremble, he thought it was an earthquake. Residents from Century to Perdido Key and east to Milton flooded emergency call centers in Escambia and Santa Rosa counties reporting the boom that rattled doors and shook pictures off walls.
The source of the vibration remained a mystery after emergency management and law enforcement officials ran into dead ends looking into the cause. The strongest indication pointed to a sonic boom. They ruled out a space shuttle flight over Northwest Florida. Military officials at Eglin and Hurlburt Field said they had no bombing or training missions that would have caused the rumble.
Officials with the Geological Survey of Alabama say seismic data does not point to an earthquake. "I have nothing showing an earthquake has occurred," said Dorothy Raymond, a geologist with the Survey in Tuscaloosa.
If the military is responsible for the boom, Catherine Olsen, who ran outside to investigate what shook her home near Cordova Mall, said, "they need to fess up. Everyone is so scared with everything going on in the world." This is not the first time the area has experienced a mysterious jolt. Similar unexplained tremors were reported in 1990 and 1991.
GREECE - A loud sound shook houses in town Sunday morning and sent some residents scurrying into the street. However, area fire departments reported that there was nothing wrong on the ground.
Several area residents in the Ridgewood Road and Benjamin Avenue area said they heard a house-rocking sound about 10:47 a.m. Sunday.
Calls to two area firehouses turned up no known source of the noise; no fire calls were received at North Greece fire stations No. 1 and No. 2. [...]
Mysteries, Marvels and Things That Go Boom at the Beach
J. Fisher via L. Farish
Asheville Citizen
September 4, 1990.
Just because we don't report them don't think that unexplained detonations are no longer heard along the world's seacoasts. These "waterguns" are still booming away, as they have for centuries. Take the Carolina beaches for example.
"Sunset Beach -- Just what is that noise that residents along the coast have been hearing?
"Reverberations powerful enough to shake beach cottages are heard several times every autumn along the coast in New Hanover and Brunswick counties.
"'It moves the earth, I tell you,' Minnie Hunt of Sunset Beach said. 'Sometimes you get two or three in a row.' [...]

"Residents who are now grandparents say their own grandparents remembered the rumbles, so they predate the sonic booms of jets breaking the sound barrier. .....
"The noises clearly emanate from the sea, she said...'It's not a land phenomenon.' [...]
"The sounds occur most often in the fall and spring, though they occasionally shiver across the beaches in other seasons. Sometimes they shake the coast more than once a day. Sometimes they happen a few days in a row. Sometimes they are weeks apart. They have been reported as far north as Carteret County, but are most frequent near Wilmington and southward."
CAPE CANAVERAL, Fla. For 30 seconds Tuesday morning, Brevard County rumbled and roared just like it always does during a space shuttle launch.
Only there was no launch Tuesday.
Then, 12 minutes later, it happened again.
What was it that caused windows to rattle and citizens to hear what sounded like a sonic boom?
Nobody knows. Or they're not telling.
Either way, it's easier to say what it wasn't. It wasn't a supersonic jet, the military said. It wasn't an explosion, the police said.
And it probably wasn't an earthquake, geologists said.
Don't laugh at that last one. Florida has had eight quakes in 115 years with one striking Brevard as recently as 1973, according to the Florida Almanac.
One thing many north Brevardians knew, and it was this: They were scared.
"It was unbelievable," said Norm Johnson, owner of Normano Pizza in Port St. John. "I heard this rumbling and thought, 'This is it,' when the whole house shook. It was really, really weird."
Residents inundated the switchboards of the Titusville Police Department and the Brevard County Sheriff's Office with calls.
Some callers thought somebody was trying to break into their homes, police spokespersons said.
"We've had all kinds of sonic booms and engine testing out at the industrial center (in the past), but we've never had anything like this," said Jay Cullen, Titusville police spokesman.
The noises and tremors, which occurred 9:36 a.m. and 9:48 a.m., both lasted about half a minute, witnesses said.
It was felt and heard most strongly around Titusville and north Merritt Island, witnesses said.
But it also was felt as far south as Palm Bay, as far north as Daytona Beach in Volusia County and in Orange County, according to Brevard Emergency Management officials.
Some speculated the sound may have emanated from a fighter jet breaking the sound barrier, but officials at Patrick Air Force Base said they didn't know of any such activity.
"We've checked with everyone," Patrick spokeswoman Lila Edwards said. "Nothing. We know of no flights, no tests, no drills, nothing. Zero."
Ditto for Kennedy Space Center and Cape Canaveral Air Station.
NASA spokesman Bruce Buckingham heard and felt the noise himself.
"It was two distinct booms, one of which shook the building, with a loud rumbling, almost like thunder," he said.
He said the lights in NASA buildings were swaying during an operations conference, causing space officials to pause to ensure everything was all right.
NASA then checked to see whether its operations somehow caused the noise but didn't find anything, Buckingham said.
"We wish we knew," he said. "We were afraid at first that it was something that would affect us. We called Patrick and they said it was nothing they were doing."
Besides the eight earthquakes since 1881, Florida has experienced 32 sonic booms and explosions that caused similar rumbling during that time, the Florida Almanac reports.
The most recent in Brevard occurred in October 1973 when Brevard residents were shaken awake at 2:18 a.m.
Centered in St. Johns Valley, the earthquake also was felt in Indian River, Orange, Polk, Osceola and Volusia counties.
Measuring 3.0 on the Richter scale, the quake didn't cause any damage but jammed police phone lines with calls from concerned residents.
Geologists seemed to discount Tuesday's phantom visit as anything related to a quake.
Douglas Smith, professor of geology at the University of Florida in Gainsville, which possesses the sole seismograph in the state, said the machine picked up two anomalies in the morning.
But Smith doubted it qualified as an earthquake.
"What people felt was something other than seismic, something generated from above rather than below ground," he said. "We didn't think it was anything seismic at all."
The National Earthquake Center in Colorado concurred.
With everyone at wit's end, a UFO investigator's guess may be as good as anyone's.
Joe Jordan, a Port St. John resident who does research for the Mutual UFO Network, said unexplained sonic booms have been reported off and on since the late 1970s from New Jersey to Florida.
He and other UFO hunters label them "skyquakes." Due to the lack of seismic activity, they think the sounds emanate from the sky.
The most recent "skyquake" over Florida occurred a year ago in the Gulf Breeze region, which is notorious for UFO sightings, Jordan said.
The cause? Classified military operations, Jordon says. But local military officials scoff at the notion. Of course they would, UFO buffs said. That's why they're classified.
Bradford Sturtevant
Joseph E. Cates
Graduate Aeronaut. Labs., California Inst. of Technol., Caltech 301-46, Pasadena, CA 91125
Hiroo Kanamori
California Inst. of Technol., Pasadena, CA 91125
Seismographs are sufficiently sensitive to detect ground motions induced by atmospheric pressure waves, so seismic networks have the potential to monitor sonic booms over large areas of the United States. They are especially well suited for the analysis of long-range sonic-boom propagation. Ground motion or displacement data provide accurate arrival times and useful estimates of wave amplitude and waveform.
The instrumentation is most sensitive to the disturbance produced by the arrival of sonic booms at the measuring station, thus serving as sonic-boom event recorders, but seismographs have also detected seismic waves remotely generated by anomalous coupling of sonic boom into soil. Direct and indirect sonic booms from aircraft operations are routinely detected by the Southern California Seismic Network which consists of 250 seismic stations covering 50 000 sq km. Indirect booms from space shuttle landings has been observed at ranges of hundreds of kilometers from the flight path.
Data from the network identified "mystery booms'' heard in 1992--93 to be long-range indirect sonic booms from offshore operations. Sonic booms generated by space shuttle reentry at Mach 20 and by meteoritic entries into the atmosphere have been detected by seismic networks in the Northwest and Canada.
[Original headline: Space debris ominous sign: expert]
A barrage of mysterious burning space debris over the New South Wales south coast was a sign of more danger to come, according to a space junk expert.
A celestial sound and light show complete with flares, explosions and a sonic boom lit skies across parts of south-east Australia for two hours on Tuesday night.
Police said they received a substantial number of reports about the strange lights and loud bangs, which were described as more powerful than fireworks or thunder.
Scientists said the light show was caused by either a meteor or space junk burning up as it entered the earth's atmosphere. No debris was found.
Batemans Bay's Bay Post newspaper editor Chris Graham said he heard what sounded like an explosion, and which he could only describe as a sonic boom, triggered when an object breaks the sound barrier.
"I still haven't heard (another) credible explanation for it," he told AAP.
Australia Institute Director Clive Hamilton said the rapidly increasing amount of space junk left in space made random and dangerous collisions with earth increasingly likely.
"There are over a million pieces of space junk orbiting the earth, and some of them are going to come crashing to earth sooner or later," he told AAP.
"There's certainly a lot of alarm about it in space circles. They now have to put extra armour plating on satellites and space stations and so on because of collisions with space junk.
"It's also alarming when you see these events which could be meteor showers, could be space junk reentering the atmosphere, could be the Mir Space Station.
"No one really knows, or at least they're not saying - we really are kept in the dark when there's some particular threat."
The space show came a month before Russia begins its controlled dumping of the troubled Mir Space Station over the Pacific Ocean, off the east coast of Australia.
Experts have warned that plan could easily go wrong, after a 1979 deorbiting scattered the US Skylab over Western Australia instead of the South Atlantic as planned.
Some scientists said the meteorite would have been the size of a coffee cup, others said it was as big as a fridge, while another said the earth may have passed through a comet's tail.
They disagreed about the possibility a series of grass fires around Canberra and Batemans Bay were started by flying embers, a theory played down but not ruled out by emergency services.
UFO Research Centre Director Diane Harrison said a burning ember could easily start a fire in dry scrub, before burying itself in sand so it could not be traced. • Originally published by • NineMSN News / Australia - December 27 2000 [Original headline: Speculation 'space junk' caused fire]
Unexplained reports of sonic booms, flying silver objects and flares seen falling from the sky were made to emergency services throughout the ACT and South Coast last night [December 26] .
"Space junk" sighted over Calwell was believed to have sparked a grass fire beside the Monaro Highway, an ACT Fire Brigade spokesman said.
The fire, near the intersection with Isabella Drive, was quickly contained by six fire-brigade units, but speculation about the cause ran rife through the ACT emergency services.
"An eyewitness at the Calwell shops said she saw a piece of something silver crashing into the ground," an ambulance spokesman said.
ACT police confirmed that a flare had been seen falling from the sky near the Monaro Highway, and said they had received similar reports of floating space junk from the South Coast.
Batemans Bay police were also fielding calls last night about sonic booms, flares, and "big comets in the sky", but no damage was reported and no objects were found, a spokesman said.
A total fire ban in the ACT had been extended until midnight tonight, ACT Emergency Services said yesterday.
Householders have been warned that gas and electric barbecues may be used but that wood, charcoal and spirit-burning appliances are banned.
• Originally published by • The Canberra Times / Australia | By Stacey Lucas - December 27 2000
Story last updated at 7:35 a.m. Saturday, August 2, 2003
At around 7am on a Thursday morning in June 1991, people all over Southern California were awakened by a loud boom. It was enough of a shock to make people call their local radio stations to ask whether the noise had been caused by an earthquake; but it had not.
The boom was unusual in that military pilots know booming urban areas is bad for public relations. It was also unusual in that it could be tracked and measured unlike any other way anywhere else in the world. Waiting for signs of the next massive release of tension in the San Andreas fault is a full-time job for United States Geological Service (USGS) seismologists based at the California Institute of Technology in Pasadena. The CalTech seismologists monitor and record every slight movement in the ground with an array of over 220 remote seismographs from the southern coastline to the eastern Mojave Desert.
During the 1980s, the USGS found that their instruments would respond when NASA space shuttles descended overhead on their supersonic approach to Edwards AFB. They also realized that they could track the shuttle's track and speed by comparing the time at which the boom arrived at different points.
The USGS calculated that the June 1991 boom, and other booms tracked between October 1991 and June 1992, were produced by something moving between Mach 3 and Mach 4. The space shuttle flies much faster during re-entry, but no shuttles were landing on those dates. The track calculated ran northeast over Los Angeles, across the Mojave Desert and towards somewhere between Death Valley and Las Vegas. Indications of its destination was that of the Nellis Range, the largest area of military testing and practise in the world.
The unidentified aircraft that boomed L.A. in 1991 and 1992 were not heard from again beyond Nevada. They were most likely headed for the top-secret Groom Lake installation. If they were headed for Groom Lake, some 300 miles from Los Angeles, even at their record-breaking speed they were already deccelerating.
The Los Angeles booms weren't an isolated incident. They were the first corroborated evidence to support rumors, sightings and hearings that had accumulated since the mid-1980s. The first reports were heard in 1986, not long after a large section of land was sealed off to observers on public land. Clearly, it was felt that the base's security was inadequate.
In February 1988, the New York Times reported that the USAF was working on a stealth reconnaissance aircraft capable of Mach 6. Early in 1990, Aviation Week also made reference to such an aircraft, reporting that witnesses had heard an incredibly loud aircraft departing from Edwards AFB at night.
Considering the coincidental timing of the retirement of the SR-71 Blackbird in 1990, the newspaper and magazine reports of aircraft characteristic of hypersonic propulsion, the expansion of the Groom Lake facility and the Los Angeles booms, it isn't unreasonable to assume that a secret hypersonic plane is operating from a secret Nevada location, and now flying operations aroung the world.
Residents of Goolwa and Victor Harbour, south of the state capital Adelaide, inundated police with reports of a flash of blue light, smoke trails and two sonic booms. Bryan Boyle of the Anglo-Australian space-watching telescope in the eastern state of New South Wales told the Australian Broadcasting Corp that the sightings suggested the object was a meteor which came within 19 miles of the ground.
1981 18 Oct
A bright fireball with sonic booms. This fireball fly from NE to SW over western cost of Finland at 22.23 local time. It fade away somewhere north from Kokkola. North from Kokkola sonic booms were heard. I also saw this fireball. It was about -16 magnitude and turn night into day. If something came down, it unfortunately landed in sea.
1976 15 Nov
A bright fireball with sonic booms. A astonishing bright fireball light up the sky in eastern Finland at 23.15 local time. A sonic boom which shook windows was also heard afterwards. This meteorite was searched in Palosenmäki area but without any success.
1957 Dec
A very bright fireball was observed in Savukoski, Lappland. Also sonic booms were heard. There has been rumors and even search of a crater this meteor produced. No crater has been found so far.
1803 21 Dec
The most probable observation of fall of the Åbo meteorite . A fireball was seen traveling south from Vaasa towards Turku (=Åbo) between 19.00 and 20.00 local time. Sonic booms have been heard. From Turku this meteorite was visible as a bright ball on the sky. It seems that it came straight toward Turku. It was observed also in Oulu, which is 540 km NNE from Turku. See also June 1804 and 6 Aug 1820 cases.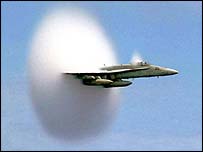 An FA18 Hornet was photographed breaking the sound barrier in 1999
The mystery of the twin booms that have startled people from Chattanooga to Huntsville since June has been solved.
The culprits are new F/A-22 Raptor fighters and chase planes making supersonic test flights over the region. So far 17 of the futuristic jets have been built at Lockheed Martin's plant in Marietta, and all must show they can break the sound barrier before being handed over to the Air Force.
The only problem is that no one let folks in the flight path know the sonic booms were coming. When residents asked the military about the alarming noises, every branch denied having any planes in the area.
"Each boom sounds like an explosion," said Jess Hornsby, 61, of Signal Mountain, Tenn., a Chattanooga suburb. He estimates he's heard 10 in the last three months. "There's no rumbling like thunder. It's a loud crack that really rattles the windows. People here have been wondering what in the world was going on."
Hornsby, a self-described aviation buff, said he looked up the first time he heard the booms and saw two white contrails streaking overhead. Each F/A-22 is shadowed by an F-16 chase plane.
U.S. Rep. Zach Wamp (R-Tenn.) said the first time he heard the twin booms, he thought a coal mine had exploded.
"I thought I was going to have a heart attack," Wamp said. "It was such a high impact."
Greg Caires, a spokesman at the Marietta plant, said the planes typically fly about 40,000 feet on a route that takes them from Crossville, Tenn., to Scottsboro, Ala. The planes cover the 110-mile route in about four minutes.
The flights follow an existing FAA-approved "supersonic corridor," so rules that prohibit breaking the sound barrier over the continental United States don't apply.
Lockheed says it tries to minimize disruptions by avoiding Sunday flights and keeping the planes high. Caires says security rules prohibit the company from telling residents in advance when supersonic flights will take place.
Caires and Randy Neville, an F/A-22 test pilot and University of Tennessee grad, traveled to Chattanooga and Huntsville last week to let residents know what the planes have been doing in the skies overhead -- and to expect more booms in the future. Lockheed is accelerating F/A-22 production and plans to build more than 300 of the fighters.
Once residents learned the planes were on their side, Caires said, Lockheed got a warm reception.
"People are very supportive and think the supersonic flights are really cool," Caires said. "I tell them to look to the southwest next time they hear the booms -- but they better look fast, because the planes won't be there long."
In 1934, Science printed several letters describing and speculating about the socalled "Seneca Guns". (Lake Seneca is one of New York State's Finger Lakes.) The locals and Indians of bygone days have repeatedly testified about the eerie, unexpected booms heard around the shores of Lake Seneca. It seems that the phenomenon is not restricted to this Finger Lake, for a letter from G. Kuchar describes a modern "bombardment" of "lake guns" heard at Lake Cayuga about 15 miles east of Lake Seneca.
"In the early morning hours of August 8th, 1996 (maybe about 6:30 or 7:00 AM), I was awoken by what I thought were loud explosions of thunder. It was a very loud, abrupt sound, sort of like close-by thunderclaps except that they seemed somewhat distant and yet had no reverberations or rumblings. I went to the window which faced a large building across the way...The early morning appeared warm, humid, and overcast. The explosive "thunderclaps" happened again, a whole series of them, and they seemed to originate up in the air and to my right, but I could detect no flashes of light, and the blasts seemed to come at random points in the sky (which was not very visible to me because of the big building looming across the lawn). I couldn't figure out where the storm cloud was that was producing these blasts, since everything was uniformly overcast, and there was no darkness moving in or evident in my field of view. From the sound of the blasts, which were very impressive, powerful noises, I pictured in my mind's eye that huge cloud-to-ground bolts of lightning must be erupting somewhere aloft and to the right and out of sight of my position at the window. But they seemed too scattered about, and then one boomed to the rear of my position, and that was soon followed by a blast slightly to the left of that one and way to the left of all the previous ones. Yet, there was no flash of lightning and no dark mass of cloud moving from right to left. [...]
You heard them.. then you called us to complain.
This week Lockheed-Martin is taking responsibility for the sonic booms that have rocked the Tennessee Valley over the last few months.
But they aren't promising to stop them. [...]
Natural sound of Congressman at simulator..."We've made it through here 'cause we're stealthy..."
IT ALMOST LITERALLY TOOK AN ACT OF CONGRESS TO PRY THE INFORMATION FORM LOCKHEED MARTIN... CONGRESSMAN ZACH WAMP HAS HEARD THE BOOMS TOO.
Rep. Zach Wamp, (R) Chattanooga "I was out on Saturday afternoon at Lookout Valley and a sonic boom happened it juist, my heart almost exploded."
LOCKHEED MARTIN'S EXPLANATION FOR THE RAPTOR'S BOOMING THROUGH THE VALLEY?
Rep. Zach Wamp, (R) Chattanooga "We just happen to b e here without much going on in the airspace west of Chattanooga."
COMPANY OFFICIALS SAY THE F.A.A. MADE THAT DECISION... AND UNLESS THE AIR FORCE RELAXES TESTING GUIDELINES, WE MAY HEAR 2, 3, OR 4 SONIC BOOMS A MONTH...POSSIBLY FOR YEARS. [...]
Cheney's Home Sending Bad Vibrations
Construction Blasts Have D.C. Folks Shuddering, Speculating
By David Nakamura, Washington Post Staff Writer
Sunday, December 8, 2002; Page A01
One man thought the noise was a sonic boom.
Another guessed he was hearing rolling thunder.
When a woman feared it was a bomb or an earthquake, she called the police. But they had no answers, either.
No one in the Massachusetts Avenue Heights neighborhood of Northwest Washington knows what is going on at the house of their neighbor, the vice president of the United States.
But one thing is certain: They're tired of the daily blasting at the Naval Observatory that has shaken houses, rattled windows and knocked mirrors off the walls.
"None of the neighbors object to any construction that is necessary in the Navy's view," said Nancy Nord, a community activist who lives on Observatory Circle. "What we do object to is that there is no sense of the magnitude, no warning about something so intrusive to our lives and no clear sense how long this is going to go or when it's going to stop."
The blasts, which last three to five seconds apiece, have been going off two or three times a day -- as early as 7 a.m. and as late as 11 p.m. -- for nearly two months, residents say. But neighbors have received so little information from government officials about the top-secret project that speculation is running wild.
The leading theory: A security bunker is being built for Vice President Cheney. The second most-popular guess: The government is digging tunnels to spy on nearby embassies. In third place: A helicopter hangar is under construction.
As the government roots out terrorists around the globe and gears up for a possible military confrontation with Iraq, nothing is out of the realm of possibility, neighbors say.
"After 9/11, when you hear a big blast for the first time, you wonder what is going on," said Iza Warner, who had a mirror fall off the wall of her home on Davis Street, a few blocks away from the construction site. Warner called the police after guests at a dinner party became frightened by the racket.
"One guest said, 'Oh, my God, what is going on -- an earthquake?' " Warner recalled. "She said it sounded just awful. I called the police, and they looked around but they couldn't tell us anything."
Thus far, the federal government's only response to the residents has been a three-page letter that the observatory's superintendent, David W. Gillard, sent to the advisory neighborhood commissioner, Rosalyn P. Doggett, on Nov. 20.
The blasting could last eight more months, Gillard said in the letter, but the Navy has attempted to limit noise by silencing backup alerts on trucks and removing most diesel-powered electric generators from the construction site.
He did not disclose the nature of the project, however. [...]
WATSEKA -- Watseka police are looking for the origins of the big booms that have been heard around town for a couple of weeks.
Police Chief Donny King said Monday at the Public Safety Committee meeting that some loud booms happened late Sunday night and over the weekend. Alderman Ron Price reported three in his neighborhood in West Watseka Monday afternoon.
There were six booms Sunday and two Monday on the east side of town, King said.
"Have you checked the absentee list at school?" asked Alderman Silas Light.
"That's an idea," King said.
Captain Roger Lebeck said he doesn't think the booms are firearms but are probably fireworks. He opined they will probably find out who the culprit is when someone turns up with fingers missing.
It's time to admit that my friend and office-mate Jennifer Weaver and friend and radio host Steve Miner are not the only people with unusual UFO experiences recently.
I haven't seen anything funny in the sky, but I sure have heard some strange rumblings -- and I know it's for real because my wife has heard them and even my dogs have been startled from their napping a couple of times over the past few weeks by strange noises from the sky.
Not long ago, another friend told me he saw the B-2 bomber flying over Cedar Mountain. This guy is about to become a pilot and has a set of eyes on him that an eagle would covet, so I don't doubt his report.
The B-2, however, doesn't sound like some of the things that have shaken my home and ears.
Whatever it is, it's flying very high -- out of my eyesight at least -- and fast. And with the sound seemingly echoing around the valley, it's difficult to pinpoint the spot in the sky where this aircraft is flying.
Now just because we can't identify it doesn't mean there are aliens patrolling the neighborhood, to be sure, although it would be interesting to cover an extraterrestrial landing.
I have noticed that there have been a number of corkscrew contrails flowing across the sky, indicating some sort of jet propulsion. Normal jet engines do not produce that kind of pattern, at least in my experience. Calling the U.S. Air Force would be futile, especially since we are so close to Area 51 and Nellis Air Force Base where the military does things we're not supposed to know about. But if anybody else has heard or seen something strange in the skies, let me know. I hate to sound like Art Bell, but there is definitely something odd going on above us.
The Moore County 911 center was flooded with calls early Sunday morning from residents who reported hearing loud explosions.
Two sets of explosions were heard throughout the county in the early morning hours. Similar reports poured into 911 centers in Anson, Chatham and Orange counties as well.
In Moore County, calls started coming in from residents in the Robbins area at 1:17 a.m. Residents reported hearing two loud explosions, said Mike Cameron, supervisor of the Moore County E-911 center.
The calls died down but picked up again about 5:20 a.m. This time, the calls came from Pinehurst and Aberdeen residents. Callers reported hearing the same noise that people in the northern part of the county heard a few hours earlier — two loud booms.
County dispatchers answered nearly 300 calls about the explosions. Many callers reported the explosions set off burglar alarms, knocked picture frames off the walls, and shattered windows.
"They heard stuff falling on the roof, "Cameron said. "People asked if it was safe to go outside, if we were under attack."
Some people initially thought an exploding methamphetamine lab could have been the source of the loud booms. Local law-enforcement officers who were patrolling the area could not find any evidence of an explosion.
"If there had been an explosion, we would have found evidence of that," Cameron said.
The cause of the booms remains a mystery.
One possibility could be a sonic boom, which is caused when an aircraft flies faster then the speed of sound.
Master Sgt. Bob Blauser, public affairs superintendent for Pope Air Force Base, said the base has no planes that could produce a sonic boom.
"Whatever it was, it wasn't a result of anything at Pope Air Force Base," Blauser said.
Officials from Seymour Johnson and Shaw Air Force bases and Cherry Point Marine Air Station said they had no aircraft capable of creating a sonic boom flying in the area at those times.
Ben Nelson of Westmoore, an off-duty 911 dispatcher, was lying on his couch talking on the phone with his girlfriend when he heard and felt a thunderous boom followed by a smaller one.
"It shook my house and actually moved the couch several inches off the wall," Nelson said.
He thought a plane had crashed in his yard. He ran upstairs to check on his mother, who he said was already out of bed. Then he ran outside to see if a plane had crashed.
He saw a commercial jet flying in the distance.
"It wasn't military," he said
Nelson, who was in the Air Force for four years and heard sonic booms before, said this was not a sonic boom.
"A sonic boom is a low-pitched thump," he said. "This was more concentrated. This was louder and sounded closer."
Because the sound was heard twice and four hours apart in surrounding areas also leads him to believe the sound was not a sonic boom.
"I've sat and thought about it, thought about it, talked about it with work people and friends," he said. "I don't know what it was…. But somebody knows something."
Buildings shook, windows rattled and terrified residents thought their homes were crashing around them - but nobody has any idea what caused a mysterious explosion that shook Sydney's north and west late last night.
Police began receiving phone calls about 10.20 of an enormous explosion, with reports coming from an area stretching from Wiseman's Ferry to the lower Blue Mountains.
In about 20 minutes, Riverstone police station alone received more than 100 calls from worried residents.
Sergeant John King of Riverstone said reports of the noise were widespread but that nothing had been found to indicate its cause. "There's no doubt in the world there was some sort of noise. Everyone thought it was an explosion. It sounded like a bomb."
Police stations at St Marys, Richmond and Mount Druitt were among others swamped by calls. One officer said she had heard and felt the explosion.
"The windows moved and the ground shook," she said.
"I thought it had happened right where I was, in the building I was in.
"Everyone who felt it said it felt like their house was going to implode. We had so many calls it was ridiculous."
Police were still investigating the cause of the explosion but had found no signs of any damage. Neither the Bureau of Meteorology or the Department of Seismology could shed any light on a natural cause.
"I've had a look at the seismic records and there's nothing there," said David Jepsen, the duty seismologist for Geoscience Australia.
He said there was a seismic station at Riverview, which would have registered any unusual activity. "It really could not be an earthquake."
Earlier last night, Sydney had been swamped by a fierce storm accompanied by heavy rain and lightning, but a Bureau of Meteorology spokesman said that the bad weather had cleared long before reports of the explosion.
BY GREGORY A. SUMMERS - Staff Writer
The Lancaster News
No one knows the exact origin of the loud boom that shook part of the city Sunday night.
But when Robert McClain saw his neighbor's lights come on shortly after 10:30 p.m., he said it was comforting to know he wasn't the only one with rattling window panes.
McClain said at first, he thought his daughter, 5-year-old Arianna, had fallen out of her new bed. But that wasn't the case.
"I didn't know what was going on," said McClain, who lives on Marion Sims Drive. "It shook the whole house, but it didn't sound like thunder." [...]
Earthquake experts at the University of South Carolina's Seismic Network have ruled out any tremors in the area. Pradeep Talwani said nothing showed on network seismographs. [...]
The Air Force, S.C. Air National Guard and Marines all have planes stationed in South Carolina that can break the sound barrier, but SCANG Lt. Col. Les Carroll said he couldn't think of any military unit in the area that would be flying at 10:30 p.m. Sunday.
"That time of night is just an unusual time to be flying," Carroll said. "I know it wasn't us - we didn't have any aircraft in the area and it wasn't a drill weekend." [...]
The aircraft that caused a sonic boom over North Norfolk was a passing foreign warplane flying up the North Sea, it emerged tonight.
But defence officials are staying tight-lipped over the identity of the offending military pilot and his nationality.
People across a stretch of east and north Norfolk from Sheringham to Halvergate heard Monday's big bang at about noon.
The window-rattling boom sparked fears it was huge gas explosion, but it was later confirmed as a sonic boom caused by an aircraft that was not British.
Ministry of Defence spokesman Lt Col Stuart Green said last night the aircraft involved was from another country, and had not been taking off, landing or involved in an exercise in Britain. [...]
A suspected sonic boom heard across north-east Norfolk today was not caused by a British aircraft, it was confirmed tonight.
The loud bang, heard at least from Sheringham to Halvergate near Yarmouth, startled hundreds of people going about their daily business at around noon.
But a Ministry of Defence spokesman said it was not a domestic fighter that caused the incident, although he was unable to confirm the source of the sonic boom.
"We believe there was a sonic boom, but it was not a British aircraft that caused it," said Lt Col Stuart Green. "It was not one of ours."
Whether the aircraft was European or American was not clear, but they would be the most likely suspects. But it would have been a military aircraft, as no civilian plane is capable of going fast enough to make a sonic boom.
A spokesman for the UK Civil Aviation Authority said the now out of service Concorde was the only civilian craft that had ever been able to travel fast enough to create the phenomenon.
North Norfolk MP Norman Lamb described how he had been sitting in his office in North Walsham when he heard an "incredible boom".
"The building shook and like many people I was shocked. I thought 'has there been some sort of gas explosion?'"
Mr Lamb said he felt the "disturbing" incident begged questions that needed to be answered. He pledged to approach ministers for an explanation.
Ben Dunnell, assistant editor of Aircraft Illustrated and formerly from Norfolk, said sonic booms were rare in the UK. "There are regulations governing supersonic flight, but it is not clear what happened on this occasion."
When the sonic boom was heard, windows and homes shook while some people were reported to have been running for cover.
"I heard this enormous explosion," said John Hilton, who was in Stalham at the time. One or two people were very worried, although most realised fairly quickly what it probably was. But I don't feel things like this should be happening."
Police and RAF bosses received scores of calls from those concerned at the explosion. [...]
(Fort Wayne, Indiana) - After about a month of silence, Fort Wayne's mysterious "boom" has returned.
"You can't describe it," said Helene Lilly, who heard it almost 10 times Tuesday night and Wednesday morning. "You think you're in a war."
Newschannel 15 and the Fort Wayne Police Department have each received dozens of phone calls about the noises. This time, the loudest ones seem to have come from near Parkview Hospital on eEst State Boulevard.
The people in that neighborhood said their houses were rocked and their windows were rattled repeatedly sinceTtuesday night. According to residents, there were four loud booms between 9:30 p.m. and midnight, and another round of four between 6 a.m. And 8:15 a.m. Wednesday.
As of right now, neighbors are concerned. "I need help because I can't sleep, it scares me, and it scares my whole neighborhood and the children over there, they're upset, too. And it just isn't right you know?" Lilly said.
The Fort Wayne Police have no answers. "It's a rabbit we're still trying to chase down the hole right now," said PIO Michael Joyner. "We don't know what the source is." Joyner said the FWPD has already increased patrols of the area to try to identify the source.
Reports of the mysterious booms first felt in North Side neighborhoods are now coming from other city sections and beyond.
Folks from the Fan District, Lakeside, Short Pump and New Kent County all say they have sensed the shock.
Richmond leaders have even been contacted by officials from Fort Wayne, Ind., and several Canadian provinces where similar booms have been felt recently, city emergency services spokesman Bill Farrar said.
"We've gotten anecdotal stories, suggestions and theories from all over the place," he said. "But from what has been described to me, I don't believe we are dealing with the same things."
Tier 1 Data Center.
What exactly the city is dealing with remains unclear.
The booms began Nov. 2 and have occurred several times a week since. Most have been localized in North Side neighborhoods. After one of the bigger booms - Sunday about 12:45 p.m. - authorities logged 250 calls to 911 in 90 seconds.
City officials have dismissed construction firms, quarry outfits and railroad companies as the source of the noise. They have ruled out military exercises and aviation activities. Public utility personnel have turned up no evidence of a problem in gas, water or sewer lines.
And scientists say their instruments show no signs of earthquakes in the Richmond area.
"If a human being felt an earthquake in the Richmond area, and it was indeed an earthquake, we would record it on one of these [seismograph] stations," said Waverly Person a geophysicist with the U.S. Geological Survey's National Earthquake Information Center in Golden, Colo. "And we recorded nothing."
The region's long-inactive coal mines are not likely the cause of the reported booms and shaking because none are near North Richmond, the Fan or the near West End, said geologist David Spears with the Virginia Division of Mineral Resources in Charlottesville.
"There's nothing resembling gas- or coal-bearing [rock] strata in the area," he said.
The collapse of old, man-made underground structures, such as shallow subway tunnels or water conduits, could cause a shake perceptible to people but not deep enough to register on seismic scales, ventured James Beard, Virginia Museum of Natural History geology curator.
"Whatever this is," he said, "it is happening relatively close to the surface because they are not picking it up on nearby seismographs."
Another possibility, Beard said, is shifting earth from saturation of the ground from recent rain events, including the remnants of Tropical Storm Gaston. But in that case, he explained, the booms would be followed by landslides.
For now, city officials are considering all options.
Advanced audio equipment that will help pinpoint the origin of the booms will be set up to monitor North Side neighborhoods and a seismic activity device is on its way to Richmond, Farrar said.
"There's a lot of energy being expended," he said. "We're continuing to look for anything that might explain this."
Did you see on the news a couple weeks back the bunch of idiots from North Side, standing out in the street at midnight, saying they practically had been bounced out of their beds by a series of "booms" that rocked the neighborhood?
Well, if you did, I was the idiot on the far left, and that was Barb standing next to me.
I refer to me and my, I assure you, mostly sound-of-mind neighbors as "idiots" because that's one hypothesis advanced by some of the folks in a few city departments downtown.
Nobody exactly said that to us, of course, but they did hint to members of the media after a few days of investigating that we might be exaggerating.
Rarely does your old close-to-home columnist here get to be right in the heart of the news, able to give you the true skinny, but let me assure you this time I couldn't have been any closer - and we were not exaggerating.
The event that brought a bunch of people to the intersection of Palmyra Avenue and Gloucester Road in Greater Ginter Park around midnight on election night seemed to have occurred directly under my home.
A canvas of the neighborhood the next day showed that residents from Brookland Park to Laburnum, Chamberlayne to Hermitage, each would have made the same claim about their homes. We all thought our furnaces had exploded.
I've lived in this house for 18 years, and I've never felt anything like the explosive forces we experienced that night and then again early the next morning. (Barb and some others had heard booms the previous night as well, but those had not been as great on the rocked-her scale.)
I might as well tell you now that there is still no explanation for what our explosions might have been.'Tis still a mystery.
Barb had worked at the polls for 16 hours that day. So when she finally got home - after 9 o'clock - and shared a few poll-worker stories with me, she headed to bed.
When the first explosion came, the pillow under her head fell to the floor, and the furniture - not the knick-knacks, mind you, but the end tables - danced around like cartoon furniture at Wile E. Coyote's place.
Our phone rang almost immediately. "What the Sam Hill was that?" a neighbor asked, advising us to get the heck out of the house.
Before I could reply, the second blast went off. The neighbor said later that that one knocked the phone right out of her hand.
By the time we got to the street, several other neighbors had assembled in their nightwear. Firetrucks and police officers also were there very quickly, as several people had called 911.
The firefighters checked out a couple of basements, including ours, to smell for gas leaks, but they found nothing. Someone suggested sewer gas as a possibility, and the city representative who showed up promised to have that checked the next day.
It was right around this time that we first suspected we might be idiots. Someone from public works asked if we were sure we hadn't just heard someone shooting off a firecracker to celebrate the election results.
"Nobody in this neighborhood would be celebrating THOSE results," said someone in the group. (Both our precinct and the one adjoining are liberal strongholds.)
"That being the case," said a fellow from down the street who obviously had not voted with the neighborhood majority, "maybe that boom was a message from God for the rest of you to straighten up."
More people walked up, this time from streets to the west, where I noticed they wear a better grade of pajamas.
Everyone had a theory. Could it have been an earthquake? Most thought not, because earthquakes don't go "BOOM," do they?
A methamphetamine lab gone bad? Probably not in a neighborhood that leans toward Merlot.
A series of sonic booms? Unlikely that they would fall over the same six- or eight-block radius three days in a row.
The sewer-gas theory was revisited after a neighbor said his basement had smelled bad of late. Someone asked helpfully, did he own cats?
My personal theory has something to do with flying saucers, but I am not at liberty at present to give you any details.
Richmond Times-Dispatch
Nov 23, 2004
Investigators trying to unravel the cause of mysterious North Side explosion noises said this afternoon they found several "pressure-producing devices" that could have been used to create the booming heard over the past month.
Richmond Fire Capt. Mike Martin told reporters gathered on a corner near Laburnum Avenue and Hermitage Road, a few blocks west of a roped-off area, that several of the devices had been found, above ground and below ground.
Police had the neighborhood cordoned during the morning, blocking eastbound traffic on Laburnum and north-south traffic from Laburnum to Wilmington Avenue on at least two side streets. Police said the neighborhood was safe and there was no need for evacuations.
"We found some items that are of a suspicious nature," Martin said. "We have found evidence. It is a crime scene," he added, referring to the areas where the objects were found.
He described the objects found as "sort of an explosive device," but "more of a pressure-producing device." He said the objects are designed to create sound, and "damage if you are close to it." He said it was possible but generally unlikely that the items could be considered lethal.
They were found at "several locations in the general area," Martin said, but declined to give more specifics on the locations.
Martin stressed that all investigative avenues are being kept open, but that the devices found are being considered "some type of contributing factor" to the explosion noises that have rocked the neighborhood.
The pressure-producing devices, he said, would not create "a crater," but rather a "large amount of noise." Asked to describe the devices, Martin said they could be as small as four to five inches in diameter, or up to a foot. He said he knew of no known commercial applications for such equipment.
He indicated the items could have been home-made, but declined to answer further questions about their nature, citing the police investigation.
Martin said authorities had a meeting Monday night at which numerous possible causes were brought up, and discussion at that meeting led to the search this morning for the pressure devices.

Readers who wish to know more about who we are and what we do may visit our portal site Cassiopaea.org
---
Remember, we need your help to collect information on what is going on in your part of the world!
We also need help to keep the Signs of the Times online.
---
Send your comments and article suggestions to us

---
Fair Use Policy
Contact Webmaster at signs-of-the-times.org
Cassiopaean materials Copyright ©1994-2014 Arkadiusz Jadczyk and Laura Knight-Jadczyk. All rights reserved. "Cassiopaea, Cassiopaean, Cassiopaeans," is a registered trademark of Arkadiusz Jadczyk and Laura Knight-Jadczyk.
Letters addressed to Cassiopaea, Quantum Future School, Ark or Laura, become the property of Arkadiusz Jadczyk and Laura Knight-Jadczyk
Republication and re-dissemination of our copyrighted material in any manner is expressly prohibited without prior written consent.