---
At LAST! Laura's popular series on the Holy Grail is BACK! Click here to read
---
Meteorite shoots across Orissa sky
The Statesman
BHUBANESWAR, Sept. 27 A huge meteorite shot across the sky this evening causing panic in coastal Orissa particularly Kendrapara, Jagatsinghpur, Bhadrak and Jajpur.
Villagers saw a huge ball of fire falling from the sky. For a few seconds, it appeared to be daylight. District officials received frantic messages and in some villages like Mendhakia and Kandia, the fire brigade was mobilised on information that the "ball of fire" had landed and caused considerable damage.
Three people were admitted to hospital at Kendrapara after they fell unconscious on seeing the meteorite Along National Highway No. 5 drivers said they were dazzled for a few seconds.
False alarms were raised in almost every coastal district after 6.30 p.m. when it was first seen in the sky. Hundreds of people rushed out to cross check. Some said they could hear a rumbling sound while others vouched for the fact that the windows and glass panes had rattled.
Phones kept ringing as people from distant places wanted to ascertain facts and the well being of their relatives living elsewhere in coastal districts.
When contacted sources at the planetarium here said it was a huge meteorite which was visible across the coastal belt. It is different from the meteor shower which is small in size and can be predicted, Dr Jayadeb Kar of the planetarium here said.
Five hurt as meteorite crashes to earth in India
ABC Radio Australia
Officials in eastern India say five people were injured and two houses gutted when a meteorite crashed to earth.
The meteorite hit a remote village near the Bay of Bengal in the state of Orissa.
The local media said five people were sent to hospital with injuries.
A local resident said the meteorite lit up the sky and caused windows to rattle as it passed overhead, sending hundreds of people rushing outside.
Uptown resident finds his roof, floors ripped through by fallen rock; Tulane scientists say tests indicate rare, otherworldy object: a meteorite
Saturday September 27, 2003
By Mark Schleifstein
When Roy Fausset walked into his Joseph Street home after work Tuesday evening, he knew immediately that something was very, very wrong.
"The powder room door was open and it looked like an artillery shell had hit the room," he said.
Something had fallen with enough force to punch a hole through the roof and two floors before coming to rest in the crawl space beneath the house.
It was a sandy-colored rock that appeared to have been burned around its edges. Preliminary tests by scientists at Tulane University indicate this particular rock came from outer space. [...]
Comment: Meteorites don't seem particularly rare these days. See our Signs Supplement: Meteors, Asteroids, Comets, and NEO's. Four pages of coverage. Also related: Sonic or Mystery Booms.
From Mirror Session, July 5, 2001:
Question: Can you show Laura so she can describe to us, the catastrophic situation in our future, our near future?
Laura: It seems as though it will be a progression. Like the beginning of rain, when the first few big, cold drops fall; and then a pause followed by a few more drops; and then, a downpour. [...] I see rocks - but they aren't very large. They are like the size of your fist. Just a few. And they make something of a stir. An uproar. People will be excited... very upset. It looks like just two - two small rocks. And then nothing else happens for awhile, and then they forget about it. It all dies down. And then, a third, a fourth, a fifth and a sixth - and maybe even a seventh... isolated events, or so it seems. Still small. And then, a big one. All this will go on over a period of months.
'Meteorite' probably just space junk: astronomer
An astronomer believes some of the 15,000 pieces of space junk orbiting the earth were seen disintegrating over south-east Queensland overnight.
A Gold Coast resident reported seeing what looked like a meteorite followed by a tail of stars.
But the director of Nanango's Stuart Range Observatory, Jim Barclay, says he believes it was a satellite burning up about 80-90 kilometres above earth. [...]
Comment: Just space junk, now get back to sleep. We do not have enough evidence to have a basis for a belief, so for now, the jury is still out on this one.
28 Sept. 2003

Thousands of Romans were left in the dark - and in the rain.
Italy has been hit by a massive power cut - and many parts remain without electricity hours after the unprecedented blackout.
Only the island of Sardinia escaped the power cut, which struck at about 0330 (0130GMT) on Sunday morning.
It is the latest in a series of major blackouts to affect national power grids - north-east United States and Canada were hit last month, and Denmark and southern Sweden on Tuesday.
A power cut left London's underground transport in chaos last month.
The Italian national grid authority blamed the blackout on a malfunction of two major supply lines from France.
"Four hours no telephone - no television and no public lighting. No police service into street of the city - no public awareness" said Giuseppe Michieli in Italy.
French officials confirmed there had been a brief interruption of supply - "probably because of stormy conditions in the zone" - but denied this was the cause of the Italian blackout. [...]
Stormy weather blamed for massive power failure in Italy
www.chinaview.cn
2003-09-28 15:56:09
PARIS, Sept. 28 (Xinhuanet) -- France's national grid on Sunday confirmed that two high-votage powerlines supplying electricity to Italy were cut briefly early Sunday, causing a widespread power outage in most parts of Italy.
Power supply was cut at 3:25 am (0125 GMT) probably as a result of stormy conditions in the zone, the national grid said in a communique.
Power supply is progressively getting back to normal in northern Italy after the huge blackout.
[...] The sudden power outage was caused by an interruption in electricity supply from France, a spokesman for the Italian electricity company ENEL was quoted by Italian media as saying.
[...] Another ENEL spokesman said that two of the four power lines through which Italy imports electricity from France were cut for an unknown reason.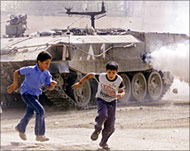 Israeli heavy armour invades Jenin
Sunday 28 September 2003, 11:31 Makka Time, 8:31 GMT
Palestinians in Jenin have woken up on the third anniversary of the al-Aqsa Intifada to fresh street clashes between Israeli soldiers and Arab youths.
The disturbances broke out when an Israeli army unit on Sunday carried out its latest raid in the West Bank town, where a curfew was imposed, Palestinian security sources said.
They said about 15 jeeps or armoured vehicles took part in the operation, which triggered stone-throwing protests by Palestinian youths. Gunshots were also heard, but there have been no reports of casualties.
The soldiers were searching houses in Jenin for wanted resistance fighters or arms, the sources said.
Fatah approves formation of new cabinet; Islamic Jihad claims settlement attack
28-09-2003,08 :39
Fatah approved a new Palestinian Cabinet on Saturday that included several longtime allies of Yasser Arafat.
The incoming Palestinian prime minister, Ahmed Qurei, has given the Arafat-controlled Fatah movement considerable say in forming the Cabinet. Early Saturday, Qurei met with Arafat to review his Cabinet choices before presenting them to Fatah.
Protesting Pilots Key to Mideast Peace
By Daoud Kuttab
The protest statement signed by 27 Israeli airmen could go a long way in unlocking the puzzle that has kept the Middle East violence from abetting. By publicly stating their opposition to air strikes against Palestinian civilian targets and their refusal to carry out such missions, these brave Israelis can make a key contribution to reaching a lasting cease fire, an important step on the way to reaching a comprehensive peace. Much regional and international support will be needed to reach this important goal but the airmen's protest could help close a missing piece of the puzzle.
Thousands march for Palestine and Iraq

Sunday 28 September 2003, 0:22 Makka Time, 21:22 GMT
By Arthur Neslen in London
The seismic shifts in public opinion rocking Tony Blair's administration again shook Whitehall on Saturday, as up to 100,000 anti-war protesters paraded through London calling for the prime minister to resign.
The suspended Labour MP and anti-war campaigner George Galloway summed up the mood of the demonstrators when he told Aljazeera.net: "Britain is on the march here today, and I believe Tony Blair is on his way out."
Thousands march in Europe, Mideast against Iraq war
AFP
Sunday September 28, 2:33 AM

Tens of thousands of people demonstrated without incident across Europe and the Middle East against the US-led occupation of Iraq and to voice support for the Palestinians.
The largest rally took place in London, where police estimated 20,000 demonstrators, although organisers put the tally at five times higher.
Demonstrations, attracting leading politicians, also took place in France, Belgium, Austria, Greece, Poland, Turkey and Lebanon, although turnout paled compared to the massive rallies earlier this year ahead of the Iraq conflict. [...]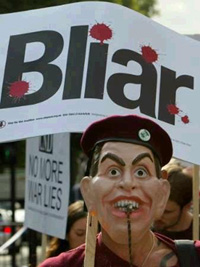 Blair heckled over Iraq

27/09/2003 - 16:32:56
British Prime Minister Tony Blair got a taste of what could be a tough week ahead today when he was heckled for his policy on Iraq.
Mr Blair was with Britain's Deputy Prime Minister John Prescott visiting a community project in the deprived Weston area of Southampton when residents caught up with him as he toured around. [...]
In a short address Mr Blair said he had been inspired by what he had heard about people making their lives better. He told the assembled group: "The scheme is not just for children, it's for the parents as well. For parents it's a ladder of opportunity to get some skills, get a job and make something of your life."
Comment: Perhaps, by way of example, Mr. Blair chould explain to the British public, and the world, just what "making something of your life" entails? Would he perhaps promote lying to the people that elected you to lead them? Or perhaps he would advocate aiding and abetting the murder of 10,000 innocent civilians as a way to "make something of yourself..."

Inside the mind of a psychopath
New Zealand Herald
28.09.2003

Tim Watkin talks to the man who knows how the real Hannibal Lecters think.

When Dr Robert Hare starts a seminar he likes to play a simple name association game. "What's the first thing you think when I say psychopath?" he asks. The answers are almost always the same; names, both real and created, are recited time and again. Hannibal Lecter, Ted Bundy, Charles Manson, Norman Bates.
They are the public face of psychopathy and, says Hare, each fits the type. But it worries him that they limit people's idea of psychopaths to extreme examples.
"It makes them more likely to ignore the psychopath next door or at work," he explains, pausing for the implication of what he's said to sink in.
"The majority of psychopaths are not in prison. They could be a psychiatrist, used-car salesman, a mechanic. And they function pretty well from their own perspective, but people generally suffer from them. One way or another, you suffer."
Hare knows his psychopaths better than just about anyone. Professor emeritus in psychology from the University of British Columbia, and author of Without Conscience: The disturbing world of the psychopaths among us, he has spent a long career peering into the cool darkness of their minds. At the crux of his study was the publication in 1991 of the Psychopathy Checklist, now a standard tool worldwide used to both diagnose psychopaths and assess their risk of offending by criminal justice authorities, including the Department of Corrections in New Zealand.
While his warnings of psychopaths in our midst might seem terrifying, given that popular culture and the media typically talk about psychopaths and serial killers in the same breath, he's keen to dispel that illusion. Although most, though not all, serial killers are psychopaths, most psychopaths do not kill. They are neither necessarily violent nor criminal.
Imagine instead the worst heart-breakers, the con-men, the ruthless businessmen. He estimates that psychopaths make up about 1 per cent of the population.
"If they've got the breeding, the intelligence, know how to dress and talk, many of these people don't have to break the law to get what they want. There might be circumstances when violence is required, but for them that's just part of the repertoire," he says.
He defines psychopathy as "a personality disorder characterised by a cluster of personality traits and associated behaviours, including lack of empathy or remorse, a grandiose approach to the world, superficiality, concern with number one, impulsivity, things of that sort".
Other core characteristics are shallow emotions, lying, glibness and great skill at manipulation.
Hare's checklist rates a person according to 20 such characteristics - carefully defined - scoring them with either 0 (definitely not like that), 1 (sometimes), or 2 (mostly). Those who score 30 or more out of 40 are regarded as psychopaths; the people who frighten and fascinate us because their cruelty is not born of insanity or rage, but comes from a shrugging lack of empathy, clinical reasoning and self-obsession. [...]
In Without Conscience, he writes, "They selfishly take what they want and do as they please, violating social norms and expectations without the slightest sense of guilt."
The book offers examples, such as Jack Abbott, the murderer famous for writing the best-seller In the Belly of the Beast, based on letters he wrote from prison to author Norman Mailer.
"There are emotions - a whole spectrum of them - that I know only through words, through reading and in my immature imagination. I can imagine I feel these emotions ... but I do not," Abbott wrote.
Or Kenneth Taylor, a dentist who beat his wife, cheated on her, then battered her to death. "I loved her so deeply. I miss her so much," he said afterwards. "Why doesn't anybody understand what I've been going through?"
"These are essentially people with a lack of conscience," Hare says. "They intellectually work out how you feel, but really they have no idea of emotion at all. They're a colour-blind person trying to understand colour." [...]
The Canadian's latest research has taken him into the corporate world, developing a checklist he calls the b-scan as a way to find psychopaths in the office.
"We're going to smoke them out," he grins. He points to Andrew Fastow, the former head of Enron, and the destruction he and other CEOs caused through their cold-blooded greed. "We could probably have prevented most of that if they had been screened beforehand."
A book, Snakes in Suits, due out next year, will push the b-scan as a way to help businesses screen psychopaths out. Or in.
"You might find that some companies want a lot of psychopathic traits," he says. Some are useful in certain jobs - detached emotions in surgeons, for example - but the whole cut-throat package seems most valued in business. If Hare couldn't do research in prisons, he says his next choice would be the Vancouver Stock Exchange. [...]
Yet his research since the early 60s has helped to define the term psychopath and shown that psychopaths' brains work differently from others. In one study, he measured the brainwaves of psychopaths and others as they were shown both neutral and emotional words.
Non-psychopaths responded with more speed and brain activity to emotion-charged words such as rape or cancer than to neutral words such as tree. To psychopaths, there was no difference.
For all the research, two crucial questions remain unanswered. No one knows whether psychopaths are created by their genes or by their environment. Hare can only say he's sure it's a mix of both.
What research has shown is that psychopathic characteristics have been identified in children as young as 13 and they "look exactly the same" as in adults.
There's also no clear treatment or rehabilitation programme. The few studies that have been done show psychopaths benefit little from traditional therapy sessions. They may even make things worse. Being part of a group where others reveal deep emotions may, like a drunk in a brewery, simply encourage their behaviour and teach them how to better play their victims. [...]
Yet Hare's talk of treatment, his diagnosis by checklist and his description of psychopathy as "a medical syndrome" is still hotly disputed by psychologists.
Despite the Greek meaning of psychopathy, literally mental illness, most countries consider psychopaths mentally sane. Some consider Hare's checklist a flawed tool - itself grandiose - that turns mere bad behaviour into symptoms and diagnoses a disorder that doesn't exist.
Psychopathy can't be treated because it can't be isolated - the characteristics, from lack of empathy to glibness, are just part of human behaviour.
"And human behaviour just is," says Richard Howard, associate professor at Victoria University's school of psychology. "You can't be cured of it. To put a quasi-medical label on it and call it psychopathy is dangerous."
Psychopathy is just a label for "the extreme end of bastardry", not a tangible disease like cancer.
"It's just a social construct. It's a medicalisation of what we call, not just bastards, but complete and utter bastards." [...]
But Hare insists that unless we identify psychopaths we will always be vulnerable to their machinations.
"The social and financial costs to society of failing to solve the deadly mystery of the psychopath will be staggering," he concludes in Without Conscience.
One last question before he goes. Of the thousands of people tested worldwide, has anyone ever scored 40?
"Nine or ten," he replies. "They're not drooling monsters the way you might think, but there's certainly something there that's scary."
Comment: See our article on Psychopathy and read Dr. Hervey Cleckley's book "The Mask of Sanity" available for download here. Let's continue with our look at psychopaths in society...
Blair 'proud' of invading Iraq

28/09/2003
Tony Blair says he has nothing to apologise for over the invasion of Iraq.
As delegates arrived in Bournemouth for the Labour Party conference, the Prime Minister said he was "proud" of the achievement of British troops.
"I think we did the right thing in removing Saddam Hussein. I think the world is a safer place," he told BBC1's Breakfast With Frost.
"I don't think we have anything to apologise for as a country. I think our soldiers did an absolutely magnificent job. I think they are absolute heroes in what they have done.
"I believe as powerfully as I did at the time that making sure that that man is no longer in charge of Iraq is a good thing for his country, the region and the world.
"I don't apologise for Iraq. I am proud of what we have done."
Comment: Notice in the above the attempt by Blair to shift the burden of blame onto the country as a whole. The truth is that the vast majority of British citizens OPPOSED the war in Iraq. Up to 2 million people marched against it in February of this year.
Blair IGNORED his mandate to carry out the will of the majority and took the decision to illegally invade Iraq, leading to the deaths of 10,000 Iraqi civilians and many British troops. As such it is Blair who is responsible and should be tried as a war criminal accordingly.
Iraqi Resistance Strikes at Heart of Occupation
Naseer Al-Nahr
Asharq Al-Awsat

BAGHDAD, 28September 2003 — Guerrillas struck a glancing but bold blow at the heart of the US occupation yesterday, firing three rockets or grenades at a Baghdad hotel filled with American soldiers and civilians. To the west, in flashpoint Fallujah, US troops killed at least four Iraqi civilians in yet one more nighttime encounter on the local highway.
The US military said the Fallujah victims had tried to run a checkpoint, but later altered that to say the Iraqis had fired on American soldiers. Wounded survivors said the American fire was unprovoked and came from troops lying in ambush. They said four Iraqis were killed, latest in a string of dozens shot by US troops in the Euphrates River town.
U.S. soldiers fire on Iraqi checkpoint
Last Updated Sat, 27 Sep 2003 18:12:42
BAGHDAD - Two missiles were fired at a Baghdad hotel used by American officers on Saturday, hours after U.S. troops reportedly opened fire on a civilian checkpoint.
Iraqi police in Fallujah say the Americans shot at two vehicles Friday night, killing four Iraqis and wounding three others, including a child.
But the U.S. military said only two people were killed, and that the civilians opened fire first. American officials say soldiers shot at a car that failed to stop at the checkpoint.
Fallujah, west of Baghdad, has been a hotbed of anti-American protests. The latest incident triggered more anger as about 2,000 people gathered outside the town's hospital and chanted anti-U.S. slogans.
American Football Is Pitched to Iraqi Orphans
By Ian Simpson
Sat September 27, 2003 08:51 AM ET
BAGHDAD (Reuters) - U.S. soldiers sought to put "offense" and "defense" to good use in Iraq on Saturday when they introduced Iraqi orphans to the game of American football. [...]
"These are our future leaders and we want to show that the United States is their strong ally," said Cox, a senior adviser to Iraq's Justice Ministry and a Vietnam War veteran from Shreveport in Louisiana.
"Basically, we want to show them that freedom is great." [...]
The boys puzzled over the unfamiliar ball which is carried and thrown, not kicked along the ground as in soccer, Iraq's national sport.
"It's a tougher game," said Mushtaq Zeki, 11.
The children were shown how to hold and throw a football and kick from a tee and raced each other cradling a ball. Some tried to dribble it soccer-style or lost interest and wandered off to play or do somersaults on their own.
The orphanage's director Amira Hassan al-Sharaf said the outing was welcome and helped create closer ties, but relations would be even better if the United States fulfilled its promise to help draft a constitution and create a new government.
Comment: Forget about murdered parents and the lack of food, clean water, and electricity - the important thing is to teach Iraq to play American football. After all, we can't have the Iraqis playing the Chocolate Makers' favorite sport. In the words of GWB: "We are coming with a mighty force [and footballs] to liberate your people."
'You lied, they died,' US parents tell Bush
Duncan Campbell in Los Angeles
The Guardian
Saturday September 27, 2003
The father of a soldier killed in Iraq accused President George Bush yesterday of being responsible for his son's death. Fernando Suarez, whose 20-year-old son, Jesus, was one of the first fatalities, said: "My son died because Bush lied."
Mr. Suarez, from Escondido, California, speaking at a press conference to publicise tomorrow's anti-war demonstrations in eight US cities, said that about 1,300 parents of troops stationed in Iraq were involved in a movement against the occupation. "It is time for these troops to come home," said Mr Suarez. "Neither my wife nor my family want more children to die in this illegal war. We are no less patriotic for wanting peace. Bush wants $87bn [£52m] for this war, but what does he give us for our schools?" he asked.
In another sign of the growing protest movement, the father of two soldiers serving in Iraq used a full page advertisement in yesterday's New York Times to demand the sacking of the US defence secretary, Donald Rumsfeld. [...]
Army Reservist Struck, Killed On Highway 69
KMBC-TV
11:43 a.m. CDT September 26, 2003
OVERLAND PARK, Kan. -- An Army reservist home on leave was struck and killed as she walked along Highway 69 early Friday morning.
Authorities said that shortly before 4 a.m., dispatchers received calls from drivers alerting them to a pedestrian on the highway. A few minutes later, police received calls about the accident. [...]
Armies as a Mirror of Civilization
Amr Mohammed Al-Faisal
The idea of finding one simple principle or theory to explain the essence of existence is a particularly Western fascination. An example of this is the search for a general unified theory of physics, which is the Holy Grail for Western scientists. It is a simple idea and like all simple ideas is very powerful. So the idea of discovering fundamental rules of management that can be applied across the board to all human activities is one that is particularly seductive to a Westerner.
This led to another highly dangerous development that occurred during World War II in the US, when methods widely used in industry and commerce began to be applied wholesale to military matters, culminating with the war in Vietnam. Managing an armed force was and (unfortunately) still is regarded as fundamentally no different from managing a public utility or a corporation.
This has resulted in armed conflicts of unbelievable brutality and cost in human and material terms.
America Is Held More Accountable
Dr. Khaled M. Batarfi

A British diplomat asked me recently: "Why do the Arab media spare us in their campaign against the US even though we are partners?"
I told him that history, culture and a proper reading of politics lead us to differentiate between an aggressive leader and a reluctant follower; a long record of blind support for Israel and the typical European line. As an older, more experienced player in world politics, the British are generally wiser in their approach to complicated problems.
Iraq: Experts Warn of Radioactive Battlefields
NEW YORK (Interpress Service News Agency) -- Concerns are growing about the presence of depleted uranium and other toxins in Iraq following a rash of illnesses among U.S. troops and the discovery by a reporter that radiation levels in parts of Baghdad are extremely elevated.
[...] DU munitions vaporize on contact, dispersing particles over wide areas, where they settle as dust that can be inhaled or ingested.
The Pentagon has portrayed DU munitions as indispensable in giving U.S. soldiers an edge on the battlefield. The high density of DU shells allows them to punch through walls and armored vehicles.
But some see a more cynical reason for their popularity: the United States is the largest generator of DU in the world, with a stockpile of 700,000 tons and growing. Since the supply is controlled by the Department of Energy, it is readily available and free of charge.
Transforming DU into weaponry has the added advantage of easing the DOE's burden to safely store the spent nuclear fuel.
[...] The White House and Pentagon have repeatedly denied that DU munitions pose any threat to human health. One recent State Department report titled "Apparatus of Lies" has a section called "The Depleted Uranium Scare" which accuses the Iraqi government of exaggerating the toxicity of DU in order to generate international sympathy.
"In recent years, the Iraqi regime has made substantial efforts to promote the false claim that the depleted uranium rounds fired by coalition forces have caused cancers and birth defects in Iraq. Iraq has distributed horrifying pictures of children with birth defects and linked them to depleted uranium," the report says.
By Matt Frei
BBC Washington correspondent
First some perspective - yes President Bush's approval rate has slipped to 50% from 75% just after Saddam Hussein's statue was toppled. But at this stage in his presidency he is still looking more popular than Bill Clinton, Jimmy Carter, Richard Nixon, Gerald Ford and even Ronald Reagan.
There are only two presidents who fared better in the polls. John F Kennedy, who was of course assassinated shortly afterwards, and Mr Bush's father who scored an amazing 68% and then stormed on to lose the election.
Shocking New York Times Revelation: Democracy Requires A Level Playing Field
by Paul Street
Among the many unpleasant aspects of the American Empire, few are more disturbing than the way it reflects and reinforces many Americans' dangerous and self-satisfied indifference, ignorance, and/or denial as to the nature of their own society and history. For an excellent example, see a recent commentary in the New York Times. The thought-piece in question, written by Times writer David Rhode for the paper's reflective "Week in Review" section, bears the interesting title "Managing Freedom in Iraq - America Brings Democracy: Censor Now, Vote Later" (June 22, 2003, Section 4, page 1).
The basic Bush-sympathetic premise of this thought piece is that the United States faces a dangerous and difficult conundrum in its effort to export democracy to Iraq. "The United States isn't," Rhode notes, "perceived as a cultivator of democracy" in Iraq (imagine!). "It is seen," rather, "as a military occupier that supports democracy and free speech when they serve its interests, but suppresses them when they don't." This skeptical Iraqi perspective is reinforced, Rhode acknowledges, by American officials' recent decisions to cancel key elections and censor political groups seen as embracing resistance to the US occupation. "At first glance," Rhode notes, "even some Americans saw both moves as, well, anti-American."
"But," Rhode argues, America's "decisions here in Iraq are not easy. Is instant democracy," he asks, "the right thing, for example, when the contestants aren't standing on a level playing field and many of them don't even know the rules? Some argue," Rhode notes with approval, "that holding a vote now would favor a handful of groups in Iraq - well-organized religious fundamentalists, politically sophisticated exile groups and anyone with cash to burn. The voice of the average Iraqi would be lost…"
Putin and Bush warn 'evil axis' over nukes
Saturday 27 September 2003, 20:53 Makka Time, 17:53 GMT
The US and Russian presidents have sent a strong warning to Iran and North Korea over their nuclear programmes.
The joint warning came after a summit on Saturday between US President George Bush and Russian President Vladimir Putin that was marked by signs of an increasingly strong relationship, despite differences over Iraq.
[...] Bush highlighted the high degree of "trust" he had built with the Russian leader despite differences that they had, particularly over Iraq.
The US leader was careful to call for an end to hostilities and "terrorist" attacks in Chechnya.
"Terrorists must be opposed wherever they spread chaos and destruction, including Chechnya," Bush said, with Putin at his side.
"Vladimir and I had very frank discussions about Iraq. I understood his position. He understood mine, but because we've got a trustworthy relationship, we're able to move beyond any disagreement over a single issue. Plus, I like him. He's a good fellow to spend quality time with," the US leader declared.
The Bush Administration Embassy Row
When a new president sits down to decide who will represent the United States in countries abroad, the names of big campaign contributors almost always come up. To be sure, the president generally appoints career foreign service officers as envoys to developing countries and other nations requiring the presence of an experienced diplomat.
But ambassadorships to many of the more desirable locales (usually First World countries with strong ties to the United States, such as France, Italy and Austria) often are offered to the privileged few who contributed generous amounts of money to the president and his party during the campaign.
[...] Now it's President Bush's turn. Listed below are Bush's ambassadorial picks who contributed and/or raised generous amounts of money for Bush and the GOP in 1999-2000.
Seven soldiers killed in Taliban ambush

28/09/2003
A pickup truck carrying seven Afghan government troops has been ambushed by suspected Taliban insurgents in southern Afghanistan.
All the soldiers were killed according to an official.
The attack happened in the Mir Mundo area of the southern Helmand province about 50 miles north west of Kandahar.
No arrests have been made and nobody has claimed responsibility. Security forces later found a car which was apparently abandoned by the attackers.
Taliban and al-Qaida rebels have been launching increasingly bold assaults in recent months, raiding police stations, killing aid workers and confronting US troops in growing numbers.
N Korea calls Rumsfeld 'psychopath'
North Korea has launched a scathing attack on US Defence Secretary Donald Rumsfeld, calling him a "dictatorial psychopath".
The official KCNA news agency commentary went on to call him a "politically illiterate old man" who was "cursed and hated worldwide" because of his belief that only the US can dispense international justice.
The condemnation, outspoken even for the official news agency, followed Mr Rumsfeld's own negative comments about North Korea in a recent speech to US and South Korean business leaders.
He said: "While the situation in North Korea sometimes looks bleak, I'm convinced that one day freedom will come to the people and light up that oppressed land with hope and promise."
Pyongyang hurls insults at Rumsfeld
smh.com.au
September 28, 2003
North Korea called US Defence Secretary Donald Rumsfeld a "psychopath" and a "stupid man" yesterday, denouncing him for saying that one day freedom would come to the isolated Communist state.
Speaking before a group of US and South Korean businessmen last week, Rumsfeld predicted freedom would eventually "light up that oppressed land with hope and with promise", casting aside the dictatorship that has ruled the North for more than half a century. [...]
KCNA accused Rumsfeld and other "neo-conservatives" in the United States of "wantonly harassing peace and security in different parts of the world and igniting wars".
"He is cursed and hated worldwide for this," KCNA said. [...]
'Ethnic Bomb' Now Linked to Korean Intrigue
Exclusive to American Free Press
By Gordon Thomas
A top North Korean scientist, working on a race-based bomb, has vanished. Was he taken by Western intelligence operatives or did the Chinese nab him?
Has Dr. Ri Chae Woo, North Korea's world-ranking expert working on a "whites-only" racial/genetic bomb, been snatched in a combined CIA, MI6 and Australian secret service operation? Or has Ri been grabbed by the Chinese Secret Intelligence Service—so that the communist government can discover just how far Kim Jong II, North Korea's unpredictable dictator, has advanced his threat to launch the ethnic bomb upon the world?
Kim could precipitate a crisis, which would bring China into direct confrontation with the United States—something it is not yet ready to do.
The "bomb," which is more accurately characterized as a biological weapon, is designed to attack specific human genetic structures. Its dispersal methods vary, but most analysts expect it would be put in a warhead and launched on a missile. Mossad, the CIA and MI6 have all independently confirmed Ri and his team of microbiologists were developing an "ethnic bomb" designed to attack white races.
The news has already sent a shock wave through the closed world of microbiology used for covert purposes.
There are various genetic components for racial types: hair color and texture, skin and eye color all the way down to nose shapes.
Ri and his researchers were working on a genetic bomb that would be deadly accurate in its targeting. To achieve this, they needed to create a genetic profile of people who uniquely share common inherited variations of their dopamine-regulating genes regardless of their ostensible race, geography or ethnicity.
A secret report, prepared for Deputy Defense Secretary Paul Wolfowitz by a team of geneticists, states: "Consider what could happen with a virus or bacteria that only infected a certain type of person. Consider the political leverage a nation would have if it could credibly threaten the extinction of all people worldwide of a certain color. Targeting specific genotypes could transform bio warfare."
At Britain's Porton Down and at Fort Detrick, Md., the details are being urgently studied. "A whites-only ethnic bomb in the hands of bin-Laden or a rogue state like North Korea or Iran could have a dramatic effect on the current balance of power," said a microbiologist at Fort Detrick.
"No one yet knows how far the North Korean research has gone. But the indications strongly suggest the work is far more advanced than any similar research in the West," said a senior Israeli intelligence source.
The search to create a "whites-only" bomb began in the aftermath of the Korean War when U.S. prisoners were secretly experimented upon in North Korea.
Until recently, China has been prepared to use North Korea as another surrogate to threaten the West while the communist government continues to build its own arsenal to face the United States.
In a document CIA Director George Tenet prepared for President Bush, the intelligence chief wrote: "by 2015, China will have deployed tens to several tens of missiles with nuclear warheads targeted against the United States." All the major decision-making by the Bush administration neo-conservatives for the Pacific region has been based on that prediction.
But news of the "whites-only ethnic bomb" has forced the Pentagon to rethink its position over North Korea. There is growing intelligence that North Korean leader Kim Jong II could be planning his own pre-emptive strike—increasingly convinced that it will be only a matter of time before the Bush administration deals with undoubtedly the most powerful arm in the "axis of evil."
Using its own missiles, North Korea can already hit West Coast cities like Seattle and Los Angeles.
Working with Iran, Kim could provide biological warheads for Tehran's Shaab-3 missiles. They have a range of 1,000 miles, bringing Israel and Cyprus—where the United States and Britain had strategic listening posts—within range of an "ethnic bomb" or other germs.
But the scientist who was working to make this possible, microbiologist Ri, has vanished after leaving his lab complex deep underground in the Chuba-ri Chemical Corp. in the city of Anbyon. The site is heavily guarded.
Ri was last seen in his lab late in June. On the last weekend of that month, he said he was going to visit what is believed to be the nerve center of North Korea's biological warfare research program. It is concealed under a mountain near Sukho, close to the Chinese border. It is there that the "whites-only" ethnic bomb is being developed.
It is where Ri developed other biological weapons. Just as Iraq's notorious "Dr. Germ," Dr. Rihad Taha, used prisoners to test out her biological weapons, similar experiments are conducted at Sukho. It is these experiments that could lay him open to charges of war crimes—if he has fallen into the hands of the West.
But at least one person who knew Ri—Dr. Norbert Vollersten, who worked in North Korea and now leads international demonstrations against the Kim regime—believes that Ri would have anticipated the possibility of facing trial.
"There is every possibility that he would have brought with him important documents listing the stage of the research he was engaged upon," Vollersten said. "He would trade them for a new life in the United States."
There is a precedent. After World War II, top Japanese scientists who had conducted germ experiments on U.S. and British prisoners were granted immunity from prosecution if they agreed to reveal their work to scientists at Fort Detrick. Many of those scientists were later granted U.S. citizenship and new identities.
Ri, along with his wife and two teenage children, managed to cross the border into China last August.
Douglas Shin, another campaigner against the Kim regime, who now lives in Los Angeles, said: "There is an organization which has helped a number of scientists to defect from North Korea. We believe Ri had previous meetings with its people. We also think he had in his possession on the day he disappeared, over 100 pages of documents and photographs showing human experiments. Those documents are the crown jewels that America needs to nail North Korea."
"Despite its citizens starving, Kim has spent large sums of money on biological weapons," confirmed John Bolton, U.S. under secretary of state for arms control and international security.
As well as the "whites-only ethnic bomb" program, there is mounting evidence of how far advanced North Korea's biological program has become since it began to develop biological weapons in the 1960s.
Initial research had focused on anthrax, cholera and yellow fever. But both the CIA and MI6 claim that in the past five years, Ri has led a team working exclusively to develop the plague—the Black Death of medieval times—and smallpox. The only known repositories for smallpox are at the Center for Disease Control in Atlanta and at a similar laboratory in Moscow. Both are strictly monitored by the World Health Organization under the 1972 Biological and Toxin Convention (BWC) an international treaty signed by over 140 nations.
But the United States Army Medical Research Institute of Infectious Diseases, at Fort Detrick, has accumulated "credible evidence" that a number of terrorist groups or nations have obtained, or are trying to obtain, clandestine stocks of smallpox—and are actively trying to produce weaponized armaments based upon the virus. Israel and North Korea are placed at the top of the list. Both have refused to sign the BWC treaty.
"It is to try and discover how far advanced North Korea has become that makes Ri so important in the entire black world of biological warfare," said Douglas Shin.
The mystery of his disappearance began three weeks ago, in the bustling city of Guangzhou in southern China. The Australian government has its consulate in a high-rise office building in the city.
In the early hours of the morning on a day in September, a man was seen trying to enter the building. His physical description—middle-aged, stocky, bespectacled and with thinning hair—matched that of Ri.
The man was seen to reach the stairwell of the high-rise. But he never emerged again. The consulate was closed at the time. But earlier local residents had seen "foreigners coming and going from the upper floors where the consulate is situated," said one.
All the Australian government in Canberra will admit is that it would have been impossible for anyone to reach the consulate by the stairwell.
Had Ri been met in the stairwell by the combined team of CIA, MI6 and Australian security agents? If so, did they smuggle him out by some other means? And where did they take him from Guanzhou?
There have been some reports, so far never confirmed, that Ri was taken to the coast and spirited across to Taiwan. If so, it would be a remarkable feat. The sea in that area is heavily patrolled by Chinese navy gunboats and warships.
The other, and perhaps more plausible theory, is that Ri was grabbed by Chinese secret service agents. His fate will then be sealed: after interrogation he will be sent back to North Korea and certain death.
His wife and children have, according to U.S. intelligence sources, made their way out of China and could soon be in the United States.
A key question is whether Ri passed over his explosive documents to his wife as her "passport" to freedom in America.
Flashback:
Secretary of Defense Reveals Earthquake and Volcano Weapons
thememoryhole.org
This one might seem beyond belief, but we have it from none other than a sitting Secretary of Defense. In April 1997, then-Defense Secretary William Cohen was speaking at a terrorism conference at the University of Georgia. After some introductory remarks about the conference, Cohen takes questions from the media in attendance. A reporter asks a question based on the fake anthrax letters that had recently been sent to B'nai Brith. Cohen gives a strange answer, using the occasion to mention the exotic weapons being developed by terrorists (as well as--one would assume--governments).
Here's the exchange, taken verbatim from the transcript posted on the Defense Department's Website:
Q: Let me ask you specifically about last week's scare here in Washington, and what we might have learned from how prepared we are to deal with that (inaudible), at B'nai Brith.
A: Well, it points out the nature of the threat. It turned out to be a false threat under the circumstances. But as we've learned in the intelligence community, we had something called -- and we have James Woolsey here to perhaps even address this question about phantom moles. The mere fear that there is a mole within an agency can set off a chain reaction and a hunt for that particular mole which can paralyze the agency for weeks and months and years even, in a search. The same thing is true about just the false scare of a threat of using some kind of a chemical weapon or a biological one.
There are some reports, for example, that some countries have been trying to construct something like an Ebola Virus, and that would be a very dangerous phenomenon, to say the least. Alvin Toeffler has written about this in terms of some scientists in their laboratories trying to devise certain types of pathogens that would be ethnic specific so that they could just eliminate certain ethnic groups and races; and others are designing some sort of engineering, some sort of insects that can destroy specific crops. Others are engaging even in an eco- type of terrorism whereby they can alter the climate, set off earthquakes, volcanoes remotely through the use of electromagnetic waves.
So there are plenty of ingenious minds out there that are at work finding ways in which they can wreak terror upon other nations. It's real, and that's the reason why we have to intensify our efforts, and that's why this is so important.
Comment: So who is attempting to create these WMD's? Certainly we are not to believe that the terrorist of the moment, al-Qaeda has the resources to develop these kinds of things, straight out of a cheap sci-fi novel.
Remember that a psychopath always accuses others of what it is doing. Back in 1997 they were well on their way toward building the case for terrorists under everyone's bed, they just needed to wait until 9/11 to force the public to believe them.
See our Signs Supplement on ethnic specific weapons and 'The Fifth Column'
European gendarmerie?

The defence ministers of France, Germany and Poland have discussed the formation of a joint European gendarmerie. At talks in Germany's Baltic Sea resort of Heiligendamn, French minister Michele Alliot-Marie said this special force could be used in situations where civilian administrations were overburdened. German counterpart Peter Struck welcomed the idea, but said Germany could not contribute. It did not have personnel trained as "police soldiers".
US-Taiwan military hot line exposed: report
www.chinaview.cn
2003-09-28 08:41:52
BEIJING, Sept. 28 (Xinhuanet) -- According to a report on Taiwan's United Daily News (UDN) September 15, a consultant with US think-tank Rand Corp., disclosed that "Hotline to deal with military crisis" was set up between high-level officials of Taiwan army and the Pentagon in the latter half of 2002, which further proves US-Taiwan military cooperation has gradually moved from previous US arms sales to tactics cooperation and strategic alliance.
Shooting at Chinese fishing boat "a severe incident": FM
www.chinaview.cn
2003-09-28 17:39:31
BEIJING, Sept.28 (Xinhuanet) -- China lodged a representations to the Foreign Ministry of Vietnam Sunday on the Chinese fishing boats being chased and shot by Vietnamese armed boats.
"Chasing after and shooting at fishing boats under normal operation should be regarded as a severe incident," said a spokesperson from Foreign Ministry, adding that the Vietnamese side should stop the action.
Japanese orgy in Zhuhai hotel sparks Chinese fury
www.chinaview.cn
2003-09-28 08:45:21
BEIJING, Sept 28 (Xinhuanet)-- A hotel orgy involving nearly 400 Japanese male tourists and 500 Chinese prostitutes has sparked outrage on the mainland.
People were angry both because of the scale of the incident and the sensitive timing - two days before the 72nd anniversary of the start of the Japanese army's occupation of Northeast China in 1931.
"The Japanese are animals. They deliberately selected the date to humiliate the Chinese people," one netizen wrote, citing the fact that the Japanese had attempted to raise their national flag at the hotel but to no avail.
[...] Chinese staying at the hotel witnessed the process, during which many Japanese openly flirted with the Chinese women in elevators. News stories did not say why the Chinese failed to report the incident to the police immediately.
The hotel management denied it had anything to do with the sex rites, only saying that they must "serve every client well", and "prostitution is a common phenomenon in star hotels across the country".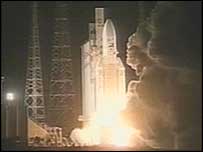 Ariane 5 blasts off carrying 2 telecommunications satellites and "smart 1" a craft destined for the moon
Europe's first mission to moon blasts off

28/09/2003
The countdown completed, the powerful Ariane 5 engines filled the jungle with a deafening roar and the rocket eased effortlessly from its launch pad. Then, as the solid rocket boosters fired, for a moment I saw the tropical night turn to day, filling the sky with an eerie glow, making the spaceport itself seem as if it was on another world.
As the rocket sailed up to the heavens, there was the most crucial part of the launch. That was the separation of the solid rocket boosters.
Two minutes into the launch they peeled off, descending like fallen angels into the depths of the Atlantic Ocean.
A relief for the launch crew, but as I headed back to mission control I saw the night's work had only just begun.
For them, another critical moment came half-an-hour into the launch. The job was now to deploy Smart 1 and the two telecommunications satellites in the payload. A delicate cosmic ballet, as one by one they left the comfort of their mothership to begin a solitary life in space.
Then 42 minutes into the launch sequence, the last spacecraft, Smart 1, emerged and readied itself for its epic voyage to the Moon.
Censored!

by Camille T. Taiara
The Inlander Online
September 25, 2003
If there's one influence that has shaped worldwide politics over the past year, as this year's list of "Censored!" stories shows, it's the extent to which the Bush administration has exploited the events of Sept. 11, 2001, to solidify its military and economic control of the world at the expense of democracy, genuine justice and the environment.
But President George W. Bush hasn't simply been responding to world events. The agenda his administration has followed fits perfectly with a clearly defined plan that's been in place for more than a decade.
The neoconservative blueprint for U.S. military domination is hardly a secret. A group called the Project for a New American Century — a think tank founded by hawks who now hold prominent jobs in the White House — released a version of it three years ago. The document is shocking in its candor: It asserts that the United States should be moving unilaterally to assert military control around the globe and that all that's necessary to jump-start the effort is a "new Pearl Harbor."
Yet none of the major news media in this country have reported on this document or on the fact that Bush is so closely following its script.
That's the biggest "censored" story in the nation last year, according to Sonoma State University's Project Censored, a 27-year-old program dedicated to shining some light on the shortcomings of the major news media.
Researchers at Sonoma State meticulously combed through news reports from 2002 and the first quarter of 2003 to find stories that didn't get the media attention they deserved. This year's big stories include the attack on civil liberties at home, Donald Rumsfeld's plan to provoke terrorists and treaty-busting by the United States.
In many cases, these stories got little or no play — or else were presented piecemeal, without any attempt to put the information in context.
"The stories this year reflect a clear danger to democracy and governmental transparency in the U.S. — and the corporate media's failure to alert the public to these important issues," says Project Censored Director Peter Phillips. "The magnitude of total global domination has to be the most important story we've uncovered in a quarter century."
What follows is a rundown of Project Censored's top 10 censored or underreported stories for last year: [...]
Second major fire at oil works as quake aftershocks rattle Japan

AFP
Sunday September 28, 8:12 PM

A second major fire was raging at an oil refinery in northern Japan as authorities announced that nearly 600 people had been injured by massive earthquakes and 60 aftershocks over the past three days.
The prefectural government of Hokkaido, northern Japan, said a total of 590 people had been injured in Friday's two huge quakes, the first of which measured 8.0 on the Richter scale, and aftershocks by late Sunday.
Idemitsu Kosan oil refinery head Kazufumi Ishida said he was "speechless" with regret after a tank containing inflammable naphtha caught fire at the installation, which houses about 110 tanks in the Pacific Coast city of Tomakomai.
It is the second fire at the refinery in three days after firefighters spent seven hours fighting an oil-tank blaze caused by Friday's earthquakes. [...]
N.S. braces for Hurricane Juan
Last Updated Sun, 28 Sep 2003 0:19:03
HALIFAX - People in Nova Scotia are preparing for power outages and flooding as Hurricane Juan swirls closer to the province.
The storm, which is expected to strike around 6 p.m. local time Sunday night, picked up speed late Saturday, according to the Canadian Hurricane Centre.
As of 9 p.m. Saturday, Juan had sustained winds of more than 165 kilometres an hour – about 30 kilometres faster than readings taken just hours earlier.
The change in intensity moved it to a Category 2 from a Category 1 storm. But officials predicted the winds would slow down as the hurricane roared across the cooler waters of the North Atlantic.
Isabel Victims Wait for Help to Arrive
By BOB LEWIS, Associated Press Writer
September 28, 2003
RICHMOND, Va. - Darrell Robinson thought he got hit hard when Hurricane Isabel toppled huge pines and oaks in his back yard, including one that crashed onto his roof. Then a tornado toppled the trees in his front yard five days later. Powerless after both the hurricane and the tornado and facing at least another week in the dark, Robinson and his family have come to expect the hard times and are learning to cope with them, as are thousands of other residents from North Carolina to Maryland.
"Where's the help? That's what we're looking for," Robinson said as he, his wife, Barbara Wisniewski-Robinson, both 37, and their 6-year-old daughter, Kendra, huddled around the dining room table in their darkened brick home. [...]
Just days after President Bush visited Richmond to thank FEMA workers on Monday, U.S. Rep. Randy Forbes, a fellow Republican, said FEMA and state agencies were slow getting water, ice and generators into cities and towns. [...]
Schrempp to Quit NYSE Board, Daimler Says
Israeli missiles seized from house in Delhi
Rajeev Sharma
Tribune News Service
New Delhi, September 25 - It was an embarrassment the Ministries of Defence and External Affairs could well have done without.
Delhi Police today recovered three Israeli air-to-surface non-explosive "missiles" from a house in South Delhi being illegally stored by a transporter.
A television channel picked up the story and reported that three "Israeli missiles" had been seized from a private transporter.[...]
CIA seeks probe of White House
Agency asks Justice to investigate leak of employee's identity
Interior given till '07 to explain Indian funds (U.S.)
But judge has little faith it'll happen
Robert Gehrke
Associated Press
WASHINGTON - A federal judge on Thursday said he will give the Interior Department another chance to account for money owed to American Indians, setting a 2007 deadline but expressing little confidence the department will act.
"It is not that the court believes Interior is incapable of formulating an adequate plan for an accounting; rather, it is that the court has no confidence that Interior is willing to actually implement an adequate accounting," U.S. District Judge Royce Lamberth wrote in his ruling. [...]

Gypsy wedding of the year stalled when bride bolts
ALISON MUTLER
Saturday, September 27, 2003
(09-27) 11:32 PDT SIBIU, Romania (AP) -- It was billed as the Gypsy wedding of the year. But the Saturday ceremony, launching a three-day party, got off to a bad start: The 12-year-old "princess bride" -- daughter of a self-proclaimed king -- stormed out of the church in protest in front of 400 guests.
"Leave me alone!" Ana Maria Cioaba screamed at reporters, swearing at them as she sought shelter in a nearby house. Her bridesmaids chanted slogans against the groom.
She returned to the church minutes later and -- though she would hardly look at him -- was duly married off to her 15-year-old groom, a sign of the persistence of the ancient practice of child weddings in the Gypsy, or Roma, culture. [...]
The adviser also said the bride would be punished -- and suggested that meant a beating -- for spoiling the lavish event. [...]
Father 'kept daughter, 6, locked in garden cage'

Polish police have detained the father of a six-year-old girl whom he apparently kept locked in a cage in his garden shed for years. [...]
Father, baby sitter convicted in death of 9-year-old
Associated Press
OLATHE, Kansas, Sept. 25 - A man whose adoptive son suffocated when he was disciplined by being wrapped from head to toe with duct tape was convicted with a co-defendant of murder and child abuse. [...]
Ectoparasite Problems? The Bedbugs Are Back
Resurgence Comes After Near Eradication In United States
KANSAS CITY, Mo. (AP) They creep quietly beneath bed sheets in the darkness of night, in search of a blood feast from an unsuspecting, slumbering host.
They engorge themselves with blood and disappear with the same stealth.
Once thought virtually eradicated in the United States, the bedbug is back. [...]
Comment: Parasites in power in the U.S., and now parasites invading U.S. beds once again. Coincidence? We think not.
Anti-indigestion pills blamed for food allergy cases
By Michael Day, Health Correspondent
The Telegraph
(Filed: 28/09/2003)
Indigestion pills, such as Rennie and Zantac, are contributing to the sharp rise in the number of people suffering from food allergies, according to a study from Austrian academics.
The research indicates that acid-reducing treatments, which also include Settlers, Pepcid and prescribed drugs such as Losec, allow food which has been only partially digested to enter the digestive system.
This can then trigger allergic reactions that range from a rash to fatal anaphylactic shock. [...]
Boy Finds Gun, Kills Sister, Police Say
AP
September 28, 2003
LANDOVER, Md. - A 4-year-old boy who found a loaded gun in the house shot and killed his 5-year-old sister and seriously wounded his 7-year-old brother Saturday, police said.
The children were home alone at the time, police spokeswoman Cpl. Diane Richardson said. [...]
Monster underwater marathon bid

The walk is expected to take two weeks
A former leukaemia sufferer has started a world record attempt to complete an underwater marathon along Loch Ness.
Mr Scott set a world record earlier this year by completing the London Marathon in the event's slowest time while wearing the ancient equipment.
The father-of-three from Rainham, Essex, hopes to raise more than £1m for cancer charity Children with Leukaemia by completing the stunt.
He said that his only concern was what to do if he met the loch's mythical monster. I've been told the big copper helmet could give quite a big head-butt to the monster
"If I do meet Nessie, I'm not sure who will be more scared, the monster or myself," he revealed.
"I've been told the big copper helmet could give quite a big head-butt to the monster, so it will be quite nice to make his acquaintance."
The former firefighter will make his way along the underwater shelves and ledges that run around the banks of the loch, about 30ft below the surface at two miles a day.
Beer Inspectors Say Best Year Yet at Oktoberfest
Sat September 27, 2003 10:54 AM ET
MUNICH, Germany (Reuters) - Drinkers at this year's Munich Oktoberfest are getting better value for money than ever, say inspectors enforcing strict German standards at the world's biggest beer festival.
Up to four two-man inspection teams patrol the 31-hectare Oktoberfest site to conduct snap tests to ensure that so-called "Mass" glasses contain a full liter.
The surface of the beer must be no more than 15 millimeters below the liter mark on the glass, otherwise inspectors hand out a formal warning. In serious cases, they can bar the license holder from selling beer. [...]
Ashcroft's tour not over yet; new appearances just announced
Note about Sept. 18-25 appearances: John Ashcroft gave no notice of these appearances. See the Bill of Rights Defense Committees' press release about the truly stealthy nature of his tour.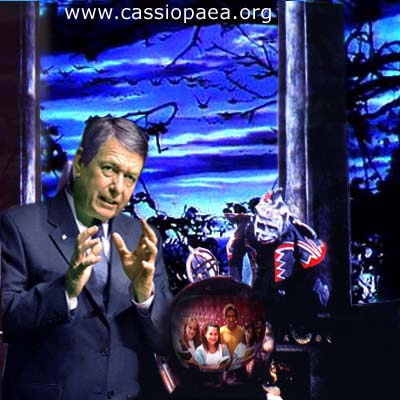 U.S. Uses Terror Law to Pursue Crimes From Drugs to Swindling
By ERIC LICHTBLAU
WASHINGTON, Sept. 27 — The Bush administration, which calls the USA Patriot Act perhaps its most essential tool in fighting terrorists, has begun using the law with increasing frequency in many criminal investigations that have little or no connection to terrorism.
The government is using its expanded authority under the far-reaching law to investigate suspected drug traffickers, white-collar criminals, blackmailers, child pornographers, money launderers, spies and even corrupt foreign leaders, federal officials said. [...]
[C]ritics of the administration's antiterrorism tactics assert that such use of the law is evidence the administration is using terrorism as a guise to pursue a broader law enforcement agenda. [...]

---
Remember, we need your help to collect information on what is going on in your part of the world!
We also need help to keep the Signs of the Times online.
Obviously, there are a lot of folks out there who do NOT like what we are doing - our own special brand of news coverage - and they are working day and night to create almost insurmountable problems for us, designed to grind us down and render our plans to be able to increase our production (which include a weekly radio show that is currently in the implementation stage) impossible to bring to fruition. We are coming under increasing pressure from many directions all at once.
Our need for financial support has never been greater, including support for legal initiatives to halt the madness of several of the para-COINTELPRO activities currently launched against us. These operations are designed to create a platform to justify utilizing police state tactics so as to silence, and even ultimately, destroy us.
Please: We need your help.
The campaign of lies and disinformation would be frightening under normal circumstances; considering the present state of the world and the machinations of the "National Security State," it is terrifying.
Please - if you have been helped by our work -
won't you help us NOW?

---

Check out the Signs of the Times Archives

Send your comments and article suggestions to us

---
Fair Use Policy
Contact Webmaster at signs-of-the-times.org
Cassiopaean materials Copyright ©1994-2014 Arkadiusz Jadczyk and Laura Knight-Jadczyk. All rights reserved. "Cassiopaea, Cassiopaean, Cassiopaeans," is a registered trademark of Arkadiusz Jadczyk and Laura Knight-Jadczyk.
Letters addressed to Cassiopaea, Quantum Future School, Ark or Laura, become the property of Arkadiusz Jadczyk and Laura Knight-Jadczyk
Republication and re-dissemination of our copyrighted material in any manner is expressly prohibited without prior written consent.
.