Printer Friendly Version
New Article! The Canary in The Mine
Pentagon Strike Flash Presentation by a QFS member
---

Picture of the Day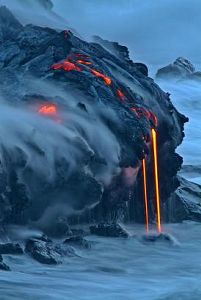 Lava from Kilauea volcano in Hawaii Volcanoes National Park enters the Pacific Ocean at dawn on Wednesday, Feb. 2, 2005, in Volcano, Hawaii. (AP)
ANKARA, Turkey (AP) - Russia needs to show a commitment to a free press and other "basics of democracy," and co-operate with former Soviet republics such as Georgia and Ukraine where democracy is taking hold, U.S. Secretary of State Condoleezza Rice said Saturday.

Rice, moving quickly through Europe on her first trip as U.S. President George W. Bush's chief diplomat, also said European diplomats seem eager to put in the past the estrangement caused by the U.S.-led war in Iraq.

Polish Foreign Minister Adam Rotfeld said as much after meeting with Rice in Warsaw. Poland was an early and durable participant in the invasion and occupation of Iraq. But the stationing of Polish troops there has proved unpopular at home and with Poland's neighbours.

"The unfortunate concept of old and new Europe is a total misunderstanding," Rotfeld said.

His comment was a reference to U.S. Defence Secretary Donald Rumsfeld's distinction between opposition in France, Germany and elsewhere to the Bush administration's policy on Iraq and help provided by countries such as Poland.

The description of France and Germany as part of "old Europe" caused bad blood in the run-up to the 2003 invasion.

Russia, also critical of the war, has retreated during President Vladimir Putin's tenure from some of the democratic advances since the collapse of communist rule. Putin has consolidated economic and political power and clamped down on the press.

"We have concerns, and we've made it clear, about internal developments in Russia," Rice said in Poland.

"It is important that Russia make clear to the world that it is intent on strengthening the rule of law, strengthening the role of the independent judiciary, permitting a free and independent press to flourish," Rice said. "These are all the basics of democracy."

She said Russia is a valuable ally and partner in many areas, including the fight against terrorism and efforts to curtail the spread of nuclear arms.

"We've made no secret" of U.S. displeasure, Rice told reporters en route to Turkey. "But we're not going to stop working on it, we haven't stopped talking about it."

Rice's eight-day trip is focusing on European ties and the prospects for peace in the Middle East. An additional goal is laying the groundwork for Bush's summit meeting with Putin on Feb. 24 in Slovakia. That was one reason for her lengthy dinner meeting Saturday in Ankara with Russian Foreign Minister Sergey Lavrov.

The backsliding of democracy in Russia could become an irritant in Bush's second term and a sour note as the White House presses for expansion of liberty in the Middle East and elsewhere.

Bush's inaugural speech last month contained what was perceived as a warning by some countries, including allies or partners with imperfect democratic credentials.

"We will persistently clarify the choice before every ruler and every nation: The moral choice between oppression, which is always wrong, and freedom, which is eternally right," Bush said.

"We will encourage reform in other governments by making clear that success in our relations will require the decent treatment of their own people," he said.

Rice said the United States had made its concerns clear to Russia even before that speech Jan. 20, and she reaffirmed that the address was not intended to represent a dramatic change in policy toward allies such as Saudi Arabia.

The United States wants to see Russia support "democratic processes elsewhere," including in its own backyard, Rice said. She said it is encouraging that after a rough start, Russia has reached out to the newly elected Ukrainian president and has improved ties with Georgia.

In Georgia, longtime leader Eduard Shevardnadze was forced from power by popular protests in late 2003, led in part by Zurab Zhvania, who became prime minister. After he was found dead Thursday following an apparent gas leak from a heater, the State Department said in a statement that he was "a catalyst for democratic change in Georgia, a dynamic leader and a friend."

The election in Ukraine strained U.S.-Russian relations as a result of Washington's refusal to recognize the fraud-tainted victory of a Kremlin-backed candidate. The Bush administration threw its support behind a Western-leaning reformer, Viktor Yushchenko, who won in a second round of voting.

Rice was travelling to Jerusalem for meetings Sunday with the Israeli and Palestinian leaders. She also plans a major speech in Paris, a venue chosen in part to respond to French criticism of American foreign policy.

Anti-war protesters greeted Rice outside her hotel in Berlin on Friday night, and there were small demonstrations Saturday in Turkey against Rice, Bush and the war.
ANKARA, Feb. 6 (Xinhuanet) -- Modern world can not accept terrorist acts perpetrated by terror groups like al-Qaida and the Kurdish Workers' Party (PKK), visiting US Secretary of State Condoleezza Rice said here Sunday.

Speaking at a joint press conference with her Turkish counterpart Abdullah Gul, Rice said she was aware of Ankara's decisiveness to eradicate terrorism in its region.

Rice pledged help to Turkey in this field since "Turkey and the United States share common interests and close relations."

For his part, Gul said Turkey and the United States are working together for global peace and stability.

"We are in constant exchange of ideas on economic developments and fight against terror," he said.

Cyprus, Iraq and the Palestinian-Israeli conflicts also topped their meeting agenda, Gul added.

Rice would head to Israel and the West Bank for talks with Israeli and Palestinian leaders later on Sunday.

Turkey is the fourth leg of Rice's week-long Europe and Mideast tour. She has visited Britain, Germany and Poland in her first overseas trip as US secretary of state.
ANKARA, Feb. 6 (Xinhuanet) -- Visiting US Secretary of State Condoleezza Rice told the Turkish private NTV channel Sunday that the northern Iraqi city of Kirkuk must be a place where all Iraqis could live without fear.
Her interview came amid Turkey's criticism of the US failure to heed Turkish concerns over tensions in the disputed Iraqi city, with Turkish military and government implying possible intervention in northern Iraq to stem what Ankara sees as Kurdish attempts to dominate Kirkuk at the expense of other residents of the ethnically-mixed city.
The criticism aroused tensions not only between Ankara and Washington but also between Turkey and the Iraqi Kurds.
In the interview, Rice stressed the US approach to Iraq's territorial integrity was clear. "We want to see an Iraq where all are represented and their rights respected. We want a unified, single Iraq," Rice said.
The United States encouraged all groups to live side by side peacefully in Kirkuk, Rice added.
On the outlawed Kurdish Workers' Party (PKK), Rice said the United States would not tolerate any form of terrorist attacks originating from northern Iraq.
"The United States regards the PKK/Kongra-Gel as a terrorist organization," said Rice, adding that "aside from military related ones, we will cut off the financial assistance provided to this terrorist organization."
The PKK, which wants to establish an independent Kurdish state in southeastern Turkey and northern Iraq, launched an armed campaign against the Turkish government in 1984.
Fighting subdued significantly in 1999 when Turkey captured PKK commander Abdullah Ocalan, but the group called off its unilateral ceasefire in 2004, threatening to wreck the fragile peace.
Rice also said the US administration expected Turkish people to understand the US firm stand in Iraq.
On Iran, Rice said the Iranians must take full advantage of the opportunity provided to them, saying "we believe that the Iranian topic could be resolved through diplomacy."
In regard to Israeli-Palestinian relations, Rice said "the Israelis and Palestinians must go back to the roadmap and take the necessary steps."
"Although we have a long road ahead of us in the Middle East, I am hopeful for the future," said Rice.
Rice was later received by Turkish President Ahmet Necdet Sezer at the Cankaya Presidential Palace in Ankara.
Rice is scheduled to meet Turkish Foreign Minister Abdullah Gul later Sunday and they will hold a joint press conference following the meeting.
Rice arrived in Ankara Saturday on a visit aimed at improving relations with its Muslim ally of NATO, where anti-American sentiments have been strong since the start of the war in neighboring Iraq.
Upon arrival, she met with Turkish Prime Minister Recep Tayyip Erdogan at the airport for talks over bilateral ties.
Relations between the United States and Turkey have been strained since Turkey's parliament in 2003 rejected a US request to use its land as a launch pad for the Iraqi war from the north, which most Turks strongly opposed.
Turkey is the fourth leg of Rice's week-long Europe and Mideast tour, which has taken her to Britain, Germany and Poland and will also take her to Israel and the Palestinian lands.
TEHRAN, February 6 (IslamOnline.net & News Agencies) – The Israeli intelligence services (Mossad) has set up in cooperation with US occupation troops radars and spying devices near the southern Iraqi city of Basra to monitor Iranian military and security activities, well-placed Iranian sources have revealed.
The radars have been fixed to 50-meter-high lampposts in the southern island of Um Al-Rosas, only 800 meters from the Iranian harbor of Khourmushar, the sources told the London-based Arabic language daily Al-Hayat on Sunday, February 6.
"The radars can be seen by the naked eye from Iranian soil," they added.
The spying devices can detect radio signals and intercept cellular calls as deep as 50 kilometers into the Iranian territories, the sources said.
The New Yorker veteran investigative reporter Seymour Hersh said Israeli intelligence and military operatives were quietly at work in northern Iraq, providing training for Kurdish commando units and running covert operations inside Kurdish areas of Iran and Syria.
A center of the Washington-based and Mossad-linked Middle East Media Research Institute (MEMRI) was opened in Baghdad, in a provocative move seen by Iraqi academics as the beginning of an Israeli scheme to infiltrate Iraqi society.
Last month, Hersh revealed that American commandoes have been conducting secret reconnaissance missions inside Iran at least since last summer.
A former high-level intelligence official told the acclaimed journalist that an American commando task force has been set up in South Asia and has penetrated Iran from Afghanistan to pinpoint targets for possible air strikes.
US Secretary of State Condoleezza Rice said in London on Friday, February 4, that an attack on Iran was not on the agenda "at this point in time."
In his State of the Union address on Wednesday, February 2, US President George W. Bush called Iran "the world's primary state sponsor of terror" and repeated accusations that Iran was trying to develop nuclear weapons.
Iran refutes the claim and maintains that its nuclear program is aimed solely at generating power for civilian use.
In a major breakthrough, the UN nuclear watchdog confirmed on November 29, that Tehran has suspended all uranium enrichment activities.
Iraq Pitfall
"The aim of the Senate review is to ensure that any weaknesses in American intelligence on Iran are being disclosed to policymakers," said Roberts.
In a related development, US Senators have launched a review of intelligence on Iran to avoid pitfalls that marked the path to the occupation of Iraq, Reuters reported Saturday, February 5, quoting The Los Angeles Times.
"We have to be more pre-emptive on this committee to try to look ahead and determine our capabilities so that you don't get stuck with a situation like you did with Iraq," said Republican Sen. Pat Roberts of Kansas, chairman of the Senate Intelligence Committee.
"The aim of the Senate review," Roberts added, "is to ensure that any weaknesses in American intelligence on Iran are being disclosed to policymakers, and that US spy agencies have adequate resources to fill gaps in collecting information on the Islamic republic."
Sen. John Rockefeller, the top Democrat on the committee, said in a statement cited by the paper: "One of the lessons we learned from Iraq was not to take all information at face value and to ask more questions in the beginning than in the end."
Sunday 06 February 2005, 18:26 Makka Time, 15:26 GMT
Al-Jazeerah.net
Turkmen and Arab political parties in the Iraqi city of Kirkuk have accused Kurds of fixing the result of provincial elections held on the 30 January.
Official results for the election held on the same day as Iraq's national vote have not yet been released.
But Turkmen and Arab parties in the northern city on Sunday said that Kurds from other parts of the country flooded the city on election day to inflate the community's vote.
According to local Kurdish media, the Kurdish list expects to get about 63% of the vote for the Tamim provincial council which includes Kirkuk.
"The elections lack credibility because of the major violations and the absence of international observers," a Turkmen candidate for the provincial election, Saad al-Din Arkaj, said after a meeting of Turkmen parties in Kirkuk.
Potential 'catastrophe'
Arkaj said the Iraqi election commission should review the whole vote count and investigate the complaints of Arab and Turkmen parties.
"The results fixed by the Kurds will cause a catastrophe," he warned.
"The Turkmen cannot accept this plot through which the Kurds want to join Kirkuk to Kurdistan."
An Arab candidate for the provincial council also called the election organisation a "plot". [...]
2/6/2005
AL-Jazeerah.com
Australian authorities demanded the repatriation of an Israeli diplomat with links to two Mossad agents who were detained for trying to fraudulently obtain a New Zealand passport.
The Sydney Morning Herald said that the expulsion of the Canberra-based diplomat - described as a consul in Israel – was covered up for many weeks.
It noted that the news was revealed in a report in the Israeli newspaper Ma'ariv, which said that the repatriation may be closely linked to last year's spy scandal in New Zealand.
Last year, a New Zealand court sentenced Uriel Kelman, 31, and Eli Cara, 51, to six months in jail and ordered them to pay $100,000 to the Cerebral Palsy Society for fraudulently trying to obtain a passport.
New Zeland's Prime Minister Helen Clark and Foreign Minister Phil Goff said at the time that there were "very strong grounds" to believe that the two men were working for the Mossad, Israel's intelligence services.
Israel never admitted that the men were spies but the case caused a major crack in Israel's relations with New Zealand.
After serving two months of their sentences, both men were deported in September.
The Herald said that one of the diplomat's tasks was to visit the two Mossad agents in the New Zealand jail.
It also said that a source close to the Israeli cabinet suggested that the reason for the incident must have been serious, given the friendly ties between Israel and Australia.
The paper added that the Australian Department of Foreign Affairs and Trade said that if Israel didn't withdraw its diplomat voluntarily, steps would be taken to consider him persona non grata and to start proceedings for his deportation.
In response, the Israeli Foreign Ministry ordered the diplomat, whose identity wasn't revealed, to leave the country and return home immediately, the Herald said, quoting unidentified sources.
WASHINGTON -- A U.S. senator demanded Wednesday that the CIA director release thousands of pages of documents detailing the agency's ties with former Nazis who aided in Cold War espionage against the Soviet Union, officials said.
Senator Mike DeWine of Ohio, Republican co-author of a 1998 bill ordering the disclosure of government records on Nazi war criminals, wants CIA Director Porter Goss to say publicly why his agency has not agreed to divulge the records.
DeWine has asked Goss to appear this month at an open hearing of the Senate Judiciary Committee, on which the Ohio lawmaker sits, a Senate aide said. The CIA had no immediate comment on the invitation.
"Senator DeWine wants an explanation from the CIA. Our hope would be to have [Goss] there and that's what we're working toward," said DeWine spokeswoman Amanda Flaig.
Congressional officials said DeWine and Democrat Carolyn Maloney of New York, lead sponsor of the 1998 bill, were also trying to broker agreement on the documents through closed-door dialogue.
The CIA has already released an estimated 1.25 million pages of documents about Nazi war criminals. Most are records of the agency's wartime predecessor, the Office of Strategic Services.
The Nazi War Crimes Disclosure Act of 1998 requires federal agencies to make public records of individuals alleged to have committed Nazi war crimes by turning them over to a special working group.
The working group, known formally as the Nazi War Crimes and Japanese Imperial Government Records Interagency Working Group, includes officials from the National Archives, the CIA, FBI, Pentagon and other agencies. Goss cosponsored the legislation during his tenure in the House of Representatives, where he led the chamber's intelligence committee.
But the CIA has refused to disclose documents about its postwar dealings with former Nazis who have not been accused of war crimes but belonged to organizations like the German Nazi party and the SS, congressional officials said. Some of the material is believed to deal with former Nazis who joined the Cold War effort against the Soviet Union in Europe, the officials said. The CIA defines the 1998 law to require only the disclosure of documents on war criminals.
"Any material identified in our files as dealing with the commission of war crimes has been released," a CIA spokesman said. But congressional officials and public members of the working group interpret the statute to require disclosures on anyone connected with organizations involved in war crimes.
"Where material has been withheld, the auditors from the working group have been able to see that material. This has not been a closed process in that respect," the CIA spokesman said.
But with the working group scheduled to dissolve at the end of March, lawmakers, including DeWine and Maloney, have joined other group members in pressuring the CIA for a fuller disclosure.
WASHINGTON - President Bush's budget for 2006 cuts spending for a wide range of public health programs, including several to protect the nation against bioterrorist attacks and to respond to medical emergencies, budget documents show.
Faced with constraints on spending caused by record budget deficits and the demands of the war in Iraq, administration officials said on Friday that they had increased the budget for some health programs but cut many others, including some that address urgent health care needs.
The documents show, for example, that Mr. Bush would cut spending for several programs that deal with epidemics, chronic diseases and obesity. His plan would also cut the budget of the Centers for Disease Control and Prevention by 9 percent, to $6.9 billion, the documents show.
The cuts are part of an attempt to control the federal deficit, while increasing spending on certain priority programs. Administration officials have said that in the budget, to be unveiled on Monday, Mr. Bush will propose that overall domestic spending, aside from entitlements, grows less than the rate of inflation next year.
But the administration is proposing to increase the Pentagon budget by 4.8 percent, to $419.3 billion in the 2006 fiscal year, according to Defense Department budget documents obtained by The New York Times. That sum does not include the costs of operations in Iraq and Afghanistan, now running about $5 billion a month. Within a few weeks, the administration is expected to request about $80 billion to cover those costs.
The president's approach to domestic programs is illustrated in the way he balances competing claims at the Centers for Disease Control.
Mr. Bush requests money to expand a national stockpile of vaccines and antibiotics. But the public health emergency fund of the centers, which helps state and local agencies prepare for bioterror attacks, would be cut 12.6 percent, to $1 billion.
In the event of an attack, states could use that money to distribute drugs and vaccines from the stockpile - for example, by conducting a mass immunization campaign against smallpox, anthrax or other infectious agents.
Kim A. Elliott, deputy director of the Trust for America's Health, a nonprofit advocacy group, said, "It's robbing Peter to pay Paul when you build up the national stockpile at the expense of bioterrorism preparedness activities at the state and local level."
Administration officials acknowledged that some of the proposed cuts would affect high-priority programs. But they said that the budget this year was exceptionally tight and that, in some cases, several programs served the same basic purpose.
Over all, the president's budget would reduce the Department of Health and Human Services' discretionary spending - the amounts subject to annual appropriations - by 2.4 percent, to $68 billion. According to documents, obtained from budget analysts who opposed the cuts, those figures do not include Medicare costs, which will increase sharply with the addition of a prescription drug benefit in 2006.
A Public Health Service program for "chronic disease prevention and health promotion" would be cut by 6.5 percent, to $841 million in 2006. The program finances efforts to prevent and control obesity, which federal health officials say has reached epidemic proportions.
The president's budget would also eliminate a block grant that provides $131 million for preventive health services. Under federal law, the money is used to "address urgent health problems," which vary from state to state.
Under the president's request, the budget of the National Institutes of Health, which doubled from 1998 to 2003, would rise by 0.7 percent, to $28.7 billion next year. That is much less than what would be needed to keep pace with the costs of biomedical research, which are rising more than 3.5 percent a year.
For the National Science Foundation, Mr. Bush will request $5.6 billion in 2006, an increase of 2.4 percent, budget documents show. Mr. Bush requested an increase last year as well, but Congress ended up making a small cut in the agency's budget for this year.
At the Food and Drug Administration, buffeted in recent months by concerns about drug safety, the budget would increase by 4.5 percent, to $1.9 billion. Most of the $81 million increase would go toward the evaluation of prescription drugs and the inspection of food shipments.
Mr. Bush says he wants a community health center in every poor county. The budget would increase spending for such clinics by 17.5 percent, to $2 billion. Budget officials said these clinics would care for 16.4 million people next year, up from 14 million this year.
The president is also seeking $718 million for a new effort to enroll more children in Medicaid and the Children's Health Insurance Program. Millions of uninsured children are eligible but not enrolled.
Budget documents also include these domestic proposals:
- The budget for training nurses, dentists and other health professionals would be cut 64 percent, to $160.5 million in 2006. The president would cut $100 million, or 33 percent, from a $301 million program that trains doctors at children's hospitals.
- Mr. Bush seeks a $38 million increase in programs promoting sexual abstinence, which would bring the total to $192.5 million in 2006, an increase of more than 50 percent since 2004.
- The Low-Income Home Energy Assistance program, which helps people pay their heating bills, would be cut 8.4 percent, to $2 billion. High prices for home heating oil make this a particularly contentious proposal.
- The Centers for Disease Control would receive $306 million, a 4.2 percent increase, for global health activities, including work on AIDS.
- Mr. Bush requests $120 million to deal with the threat of a global flu epidemic. That represents an increase of 21 percent.
The budget would also eliminate a $9 million program for the treatment of people with traumatic brain injury and a $9.9 million program to collect stem cells from blood found in the umbilical cord after childbirth. Scientists say such cells may prove useful in the treatment of many diseases, and do not raise the ethical issues involved in taking stem cells from human embryos.
Mr. Bush said Friday that he would curb spending for political as well as fiscal reasons. "People in Congress on both sides of the aisle have said, 'Let's worry about the deficit,' " he said in Omaha as he campaigned for his Social Security plan. "I said, 'O.K. we'll worry about it again.' My last budget worried about it. This budget will really worry about it."
Echoing a vow made in his State of the Union address, Mr. Bush said: "We're going to eliminate or vastly reduce 150 programs that aren't meeting needs, aren't meeting priorities and are not getting the job done. It's time to be wise with the people's money."
At the Treasury Department, Mr. Bush is seeking an increase of $500 million, or 7.8 percent, to police compliance with the tax laws. That would increase the enforcement budget of the Internal Revenue Service to $6.9 billion. The Treasury said the additional money would be used to examine more tax returns, collect past due taxes and investigate cases of tax avoidance.
The Defense Department is proposing to cut $55 billion from various programs over the next six years, with most of the reductions in the later years. Even so, the Pentagon budget is projected to exceed $500 billion by 2011.
The Pentagon intends to buy fewer FA-22 fighter jets, DD(X) destroyers, Virginia-class attack submarines and LPD-17 amphibious ships, used by the Navy to transport marines. It also plans to retire one of the Navy's 12 aircraft carriers, which Navy officials have said will be the carrier John F. Kennedy, based in Mayport, Fla.
The cuts are partly offset by $25 billion in increased spending for the Army, as it restructures its forces to rely on more readily deployable brigades instead of much larger divisions.
LONDON, Feb. 5 (Xinhuanet) --

China is very much on the track toward an exchange rate reform in response to the demand of the world's richest nations for a more flexible exchange regime, China's central bank chief told Xinhua on Saturday.

Zhou Xiaochuan, governor of the People's Bank of China, however, cautioned that the reform will be carried out in a measured way to guarantee stability of the renminbi, China's currency.

China sticks to its long-term goal of convertibility of the renminbi under capital account, he said in an exclusive interview with Xinhua.

To that end, China would reform the formulation mechanism of renminbi's exchange rate and gradually relax control over cross-border capital movement. But the Chinese currency must be kept stable at a rational and balanced level, and potential financial risks must be fended off, he emphasized.

Currently the renminbi is pegged to the US dollar at a stable rate of about 8.27 per dollar.

Zhou said China, for a little more than a year, has made substantive progress in preparing for a foreign exchange reform.

It has made efforts to prepare its commercial banks for a more flexible exchange rate in the future, relaxed foreign exchange controls, and improved its domestic foreign exchange market to familiarize its financial institutions and businesses with the environment of an open foreign exchange market, said Zhou.

As for whether China has a timetable for its exchange rate reform, Zhou said its pace will be in accordance with the need of China's overall economic reform.

The adjustment of renminbi's exchange rate depends on a stable macroeconomic environment, a healthy market scheme and a sound financial system, Zhou said.

China has yet to draw up a suitable reform plan to keep the renminbi stable at a rational and balanced level and has to take into account the impact of such a reform on regional and global economy, he said.

Zhou denied that the renminbi is significantly undervalued. China's international trade balance has only a modest surplus, he argued.

In 2004, China had an estimated trade surplus of 20 billion dollars, representing only less than 2 percent of its foreign trade total or its GDP, Zhou said.

On China's foreign exchange reserves, he said there are several factors behind their relatively rapid increase: China had a moderate current account surplus; the good performance of China's economy attracted both foreign direct investment and reinvestment of foreign-funded companies in China; the trend of capital outflow from China was reversed.

"These were nothing but normal," he explained.

On concerns that the possible appreciation of the Chinese currency might result in a mass inflow of hot money into China, he said the problem should not be exaggerated because China is exercising strict controls on capital account.

He said his country would work to ease restrictions on cross-border capital movement in a selective, step-by-step manner, creating conditions for renminbi's convertibility under capital account.

Zhou arrived in London to attend the Group of Seven (G7) finance ministers' and central bank governors' meeting.

He held bilateral talks with US Federal Reserve Chairman Alan Greenspan and Treasury Under-secretary John Taylor as well as other G7 finance officials.

In talks with Greenspan and Taylor, Zhou reaffirmed China's policy on reforming its exchange rate mechanism and briefed them on progress made in this endeavor.

The two American officials said they understood the Chinese stand and its cautiousness in the reform, said Zhou.
BEIJING, Feb. 6 --

Chinese authorities on Saturday again declined to set out a time-table to make their currency more flexible on the world's money markets and said they had not come under international pressure to revalue the yuan.

Major nations and especially the United States have repeatedly urged China to allow its currency to rise and the Chinese foreign exchange regime was also in focus at the Group of Seven meeting.

"We are determined to move towards a flexible exchange rate, but no timetable," Chinese central bank deputy governor Li Ruogu told reporters.

When asked if China will widen the currency band or swap the peg for a currency basket, Li said, "We will do whatever I think is possible."
BEIJING, Feb. 6 --

China's auto production is expected to grow by 20 percent this year to 6 million vehicles, possibly passing Germany as the world's No. 3 producer, an industry association said Saturday.

China is the world's fastest-growing auto market as rising incomes make it possible for millions to buy their first cars. Foreign auto makers are investing billions of dollars in expanding production in China to meet booming demand.

China produced 5.1 million vehicles last year, and the figure is expected to grow by 20 percent this year, said Zhang Xiaoyu, vice president of the China Federation of Machinery Industry, quoted by the official Xinhua News Agency.

Germany produced 5.5 million vehicles in 2004, the No. 3 producer behind the United States and Japan.

Auto sales grew by 15 percent last year, though that was below the growth rate of the previous year as customers waited for lower prices as China allows in more imports.

Prices are believed to have hit a low point, so sales should rise again this year, Zhang said.

"The market potentials have been delayed, which does not mean the lack of market demand," he was quoted as saying.
British intelligence officials played a crucial part in the secret abduction of UK citizen Martin Mubanga to Guantanamo Bay. There, he reveals today in an exclusive interview, he endured 33 months of ill-treatment and often abusive interrogation.
Documents seen by The Observer disclose that even the Pentagon's own lawyers now accept that the intelligence that consigned him to Guantanamo may have been deeply flawed. Mubanga, who was released without charge after his return to Britain on 25 January, now plans to sue the British government.
In his interview today, the first by any of the four Britons who returned from Guantanamo last month, Mubanga, 32, describes a horrifying catalogue of abuse:
- In one interrogation session, he was forced to urinate in the corner of the interview room while chained hand and foot.
- He was treated to a regime known as 'BI [basic item] loss'. This meant his thin mattress, trousers, shirts, towel, blankets, and flipflops were all taken away, leaving him naked except for boxer shorts in an empty metal box.
- Last autumn, while Pentagon lawyers were writing memos suggesting that Mubanga may not have had any involvement in terrorism at all and may not have been given a fair hearing, the Guantanamo authorities subjected him to the harshest treatment in his 33 months in Guantanamo, with three brutal assaults by the 'Instant Reaction Force' riot squad for trivial violations of the camp rules.
- Mubanga's worst moment came last March, when the first five British detainees were sent home. He had at first been told he would be joining them, but was instead confined in a block with prisoners he could not communicate with, and told he would be held there for many more years.
The disclosure that British intelligence was instrumental in consigning Mubanga to Guantanamo raises serious questions about the consistency of British policy towards the controversial US camp. In public, ministers, led by Lord Goldsmith, the Attorney-General, negotiated for months with the Pentagon for the release of British detainees.
Mubanga's solicitor, Louise Christian, said yesterday that she planned to take legal action against the government. His arrest, detention and transfer had clearly breached British, Zambian and international law, she said. 'We are hoping to issue proceedings for the misfeasance of officials who colluded with the Americans in effectively kidnapping him and taking him to Guantanamo.'
Mubanga, a former motorcycle courier, says he went to Afghanistan at the end of 2001 to study Islam. He was never, he insists, a sympathiser with al-Qaeda, and he condemned the 9/11 attacks. 'I do not approve of the killing of innocent men, women and children,' he said.
He says he fled to Pakistan after the beginning of the war against the Taliban, but says that someone stole his passport. A dual British-Zambian national, he phoned his family from Karachi and asked them to post him his Zambian passport. He says he used this in February 2002 to go to Zambia, where he was joined by his sister and stayed with other relatives.
However, on 2 March the Sunday Times claimed Mubanga had been arrested in Afghanistan, fighting with the Taliban - presumably this referred to the man who stole or was handed his passport. Soon afterwards, he was seized by Zambian security men.
He was held in a series of guarded motels, where he was interrogated for days by a female American official and a Briton who called himself Martin and said he worked for MI6. 'Martin' produced Mubanga's British passport, together with a list of Jewish organisations in New York and a military training manual that he claimed Mubanga had handwritten. They had been found with the passport in a cave in Afghanistan, he said. Mubanga pointed out that his handwriting was nothing like that in the manual, and said he had never seen the documents before, or been to any caves.
A few days later, Mubanga was loaded on to a plane by men in balaclavas and flown to Guantanamo. For more than two years, the claims made by the MI6 man - that he had been on a mission to reconnoitre targets in New York and had travelled to Zambia on false documents - were the main grounds for his detention.
Last October, this was confirmed by a Guantanamo Combatant Status Review Tribunal, a panel of military officers. Later, however, this decision was reviewed by a US military lawyer, who found it deeply flawed. His report shows that Mubanga had asked to call members of his family in his defence, saying they prove that he had not travelled to Zambia on false documents for a terrorist mission, but to visit relatives on his own passport.
Last night a Foreign Office spokesman said he could not comment on the activities of British intelligence or security agencies. He said Mubanga's 'transfer to Guantanamo Bay is a matter for the Zambian and American authorities'.
Catholic hero now faces Vatican inquiry
It was nearly 50 years ago, but José Barba winces as he remembers Father Marcial Maciel, founder and icon of the Legion of Christ, the secretive Roman Catholic order said to be second only in papal influence to Opus Dei.
'Oh, I felt so very unhappy,' he said, after describing one incident just before the priest said Mass one Easter Sunday. 'I wanted to run, but he was everything to us. He was Our Father and we thought he was a saint. I went to my room and I cried and cried, and then I went to Mass.'
The fear, pain, humiliation and resentment that Barba says once tormented him have faded over the years, but for the Catholic church the abuse he and others claim to have suffered threatens to erupt into a child abuse scandal that reaches the highest Vatican ranks.
Barba wants the church to recognise publicly the crimes he and many others claim Maciel committed. 'We want people to know that the founder of an institution so close to the Pope and who has written so much about chastity is in fact a pederast.'
Along with seven other former seminarians - all now in their sixties - this mild-mannered university lecturer has been trying to get the Vatican to investigate Maciel for years. Several of the eight plaintiffs approached bishops as early as the 1960s, only to be told to leave it all in God's hands. One of the group, Juan José Vaca, sent several complaints to the Vatican and got no response. The group lodged formal charges at the Vatican in 1998. A year later they were informed the case had been shelved with the extra-official justification that their suffering could not compare to the risk of disillusioning thousands of Catholics.
In December, however, the group was told that a prosecutor at the Vatican's Congregation of the Doctrine of the Faith is to head a formal probe that could lead to a trial. If it goes ahead, this could take the scandal over paedophilia in the church to a whole new level.
'This is a very delicate case,' says José Luis González, a Mexico-based expert on the Catholic hierarchy. 'None of the other scandals has involved someone so close to the Pope.'
Maciel, now 84, formed the ultra-conservative Legion of Christ in Mexico in 1941 in the wake of religious wars that pitted Catholics against the anti-clerical revolutionary regime and ended with an uneasy mutual tolerance. The order grew quickly, fed by deeply religious families happy to put their boys under the protection of its charismatic young leader. The recruits, too, were enthused by the prospect of a life fighting for God.
'At the time the idea of missionaries conjured up images of hunters and explorers and it sounded adventurous to us boys,' recalled Barba, who was 12 when he joined the Legion in 1949. 'We were told we were going to save the world from the communists, and that gave us a sense of importance.'
Maciel picked out his favourite pupils and took them to study, first in Franco's Spain and then in Rome. They lived in tightly controlled isolation, instilled with the belief that their leader was the epitome of holiness. But at the same time as preaching the strictest moral code for others, Maciel allegedly indulged an addiction to morphine and a warped sexuality.
Initiation typically began, the plaintiffs claim, with Maciel saying he had an illness in his groin. 'He would say he had received special dispensation from the Pope to have nuns massage out the pain, but that his total commitment to his chastity vows obliged him to ask us for help instead,' recalled Vaca, in a telephone interview from New York, where he teaches psychology in Mercy College. Vaca claims he was abused from the age of 12 until he was 24. He became a priest and stayed in the legion for a further 15 years.
The defining moment came, he says, when he was promoted to be head of the Legion in the US as a reward for successfully covering up a case of abuse involving one of his colleagues. [...]
Last November Maciel received a series of elaborate tributes in Rome for the 60th anniversary of his ordination. John Paul II congratulated him on his 'intense, generous and fruitful priestly ministry' and 'integral promotion of the person'.
A week later the group received a letter from their lawyer in Rome telling them the case had been reopened and 'is now being taken seriously'. The Vatican, however, will not even confirm the existence of an investigation.
In January, Maciel stepped down as head of the Legion, citing his advanced age.
The streets are filled with vipers who've lost all ray of hope
You know it ain't even safe no more in the palace of the Pope
- Bob Dylan
Is everything a conspiracy? No. Just the important stuff.
Since there's a lot of speculation these days about who will succeed Pope John Paul II, it seems a good time to recall the circumstances of the last papal succession. Because Luciani Albini, Pope John Paul I, was almost certainly murdered, by an international network of fascists and money launderers, with ties to far-right elements within military and intelligence agencies. (And isn't it just amazing, how often we find that convergence?)
He only served 33 days; what could he have done in that short time to deserve death? What kind of Pope was he becoming?
To the second question, there's the suggestion of an answer in this passage from David Yallop's In God's Name:
On August 28, the beginning of his papal revolution was announced. It took the form of a Vatican statement that there was to be no coronation, that the new pope refused to be crowned. There would be no sedia gestatoria, the chair used to carry the pope, no tiara encrusted with emeralds, rubies, sapphires, and diamonds. No ostrich feathers, no six-hour ceremony.... Luciani, who never once used the royal "we," was determined that the royal papacy with its appurtenances of worldly grandeur should be replaced by a Church that resembled the concepts of its founder. The "coronation" became a simple Mass. The spectacle of a pontiff carried in a chair...was supplanted by the sight of a supreme pastor quietly walking up the steps of the altar. With that gesture Luciani abolished a thousand years of history.... The era of the poor Church had officially begun.
That right there would have been enough to make the Vatican's power elite nervous, but surely not enough to seek the Pope's death. Not even his expressed interest in reconsidering the Church's position on birth control would have been enough for that. What was enough, was his intent to overturn the tables of the corrupt Vatican Bank, and purge the Vatican of the P2 Lodge.
This is one of those things that make being a "conspiracy theorist" seem entirely superfluous. Just try imagining P2: an elite, ultra-secretive, neo-fascist, Masonic cabal, involved in money laundering, assassination and false-flag terrorism. (The "Strategy of Tension," to discredit Italy's Communist Party. For instance, the engineering of Aldo Moro's kidnapping and murder, and the Bologna train bombing.) P2 counted among its members the future Italian President Silvio Berlusconi, and reputedly boasted honourary members like Henry Kissinger, George HW Bush and arch-neocon, Michael Ledeen.
I mentioned P2 last August, with regard to Ledeen's long history with the Italian far right and the linchpin of Italian military intelligence to the Niger "Yellow Cake" forgery. [For more on the significance of P2 to US intelligence and the "Octopus," refer to David Guyatt's excellent articles "Operation Gladio", "Holy Smoke and Mirrors" and "The Money Fountain."]
Licio Gelli was P2's Grandmaster, and can't even be called a neo-fascist. He was Old School: a member of the Italian Black Shirt Brigade which fought for Franco in the Spanish Civil War. During World War II, he spied on partisans in his native Italy for the Nazis, and obtained the SS rank of Oberleutenant. This same Gelli was a honoured guest of George HW Bush after the 1980 inauguration, and there is evidence that Gelli and P2 played a role in the October Surprise; even that Swedish Prime Minister Olof Palme was murdered on Gelli's orders because he'd refused to provide Swedish cover for the covert transfer of money and arms. In her October Surprise, Barbara Honegger writes that a P2 informant claimed to her that before Palme's death, Gelli sent a message to former Republican National Committee advisor (and also alleged "honourary" P2 member) Philip Guarino, assuring him that "the Swedish tree will be felled," and to "tell our good friend Bush."
Your head exploding yet? There's more. GHW Bush's reputed code name for October Surprise was "The White Rose," which was also the name of a far-right Cuban exile group with which the CIA's Bush was reportedly engaged during the ramp-up to the Bay of Pigs. Honneger reports that when Italian police uncovered the P2 control cell responsible for terrorism in Italy, they learned that its code name was "The Rose of Twenty." Gelli seems to have had a weakness for the flower.
And this may mean nothing, or I know what you did: in 1988, on the 25th anniversary of John F Kennedy's murder, Ted Kennedy marked the occasion in Runnymede England by placing, at the foot of his brother's memorial, a single white rose.
Gelli's network financed itself in part by purchasing and plundering banks, thanks to the likes of P2 brothers Michele Sindona and "God's Banker," Roberto Calvi. Mafioso Sindona, in 1968, had become a financial advisor to Pope Paul VI; Calvi was running Banco Ambrosiano; and another P2 member, American Bishop Paul "You can't run the Church on Hail Marys" Marcinkus, who bore the nickname "the Gorilla," was heading the Vatican Bank. For a while, it was a sweet operation.
As cardinal of Venice, Albini had butted heads with the bankers. As Pope, he could finally do something more. Most revelatory, he became privy to the secret list of Freemasons in the Vatican. For the first time, he learned of P2's penetration of the Church.
Yallop again:
If the information was authentic, then it meant Luciani was virtually surrouded by Masons.... The secretary of state, Cardinal Villot, Masonic name Jeanni, lodge number 041/3, enrolled in a Zurich lodge on August 6, 1966. The foreign minister, Monsignor Agnostino Casaroli. The cardinal vicar of Rome, Ugo Poletti. Cardinal Baggio. Bishop Paul Marcinkus and Monsignor Donato de Bonis of the Vatican Bank. The disconcerted pope read a list that seemed like a Who's Who of Vatican City.
Here's a good summation of what happened next:
With his bright intelligence and naive fearlessness, John Paul I penetrated to the heart of this maze of corruption within weeks of his coronation. On the evening of September 28, 1978, he called Cardinal Villot, the leader of the powerful Curia, to his private study to discuss certain changes that the Pope proposed to make public the next day.... Among those whose "resignations" would be accepted by the Pontiff the following day were the head of the Vatican Bank, and several members of the Curia who were implicated in the activities of Sindona and P2, and Villot himself. Moreover, Villot was told that John Paul I would also announce plans for a meeting on October 24 with an American delegation to discuss a reconsideration of the Church's position on birth control.

When Pope John Paul I retired to his bedroom on the evening of September 28, clutching the paperwork that would expose the Vatican's financial dealings with the Mafia and purge the Curia of those responsible, a number of very ruthless individuals had a great interest in seeing to it that he would never awaken to issue these directives.

When the Pope's housekeeper knocked at his door at 4:30 a.m., she heard no response. Leaving a cup of coffee, she returned fifteen minutes later to find the Pope still not stirring. She entered the bed chamber and gasped when she saw the Pope propped up in bed, still holding papers from the night before, his face contorted in a grimace. On the night table beside him lay an opened bottle of Effortil, a medication for his low blood pressure. The housekeeper immediately notified Cardinal Villot, whose first response to the news was to summon the papal morticians even before verifying the death himself or calling the Vatican physician to examine the body. Villot arrived in the Pope's room at 5:00 a.m. and gathered the crucial papers, the Effortil bottle, and several personal items which were soiled with vomit. None of these articles were ever seen again.

Although the Vatican claimed that its house physician had determined myocardial infarction as the cause of death, to this day no death certificate for Pope John Paul I has been made public. Although Italian law requires a waiting period of at least 24 hours before a body may be embalmed, Cardinal Villot had the body of Albino Luciani prepared for within 12 hours of his death. Although the Vatican refused to allow an autopsy on the basis of an alleged prohibition against it in canon law, the Italian press verified that an autopsy had in fact been performed on one of the Pope's predecessors, Pius VIII. Although the conventional procedure for embalming a body requires that the blood first be drained and certain internal organs removed, neither blood nor tissue was removed from the corpse; hence, none was available to assay for the presence of poison.
There's an old Kris Kristofferson song, entitled "They Killed Him." I learned it from a Dylan cover, on almost certainly his weakest album, Knocked Out Loaded. To be honest, it's pretty lousy. (If you haven't heard it, all you need to know is it has a children's chorus.) And yet, it chills me.
A verse:
Another man from Atlanta, Georgia
By name of Martin Luther King
He shook the land like the rolling thunder
And made the bells of freedom ring today
With a dream of beauty that they could not burn away
Just another holy man who dared to make a stand:
My God, they killed him!
My point here hasn't been to rehash the case for assassination. My point, I suppose, is simply my exasperation: that My God - they killed him, too!
This material can lead to despair. If they can whack the Pope, and get away with it, what hope do we have? I don't find it consoling to know of what they're capable; that they are, as Dylan sang in another song, "bound and determined to destroy all the gentle." That's not about justice. That's about being forewarned, and forearmed. And these days, that's almost as important as justice.
But it is a consolation of sorts to remember that these people are flesh, just as we are. Gelli is still alive, but since his extradition from France in 1998, he has been serving a 12-year sentence for his role in the Banco Ambrosiano affair. Marcinkus received Vatican immunity from Pope John Paul II, when it became apparent Italian authorities intended to prosecute him for his criminal stewardship of the Vatican Bank, and eventually left Rome for Sun City, Arizona. (A fascinating glimpse of Marcinkus today, here.) Sindona died in prison drinking poison coffee, possibly the same administered to the Pope. Calvi, after his string played out, met a peculiarly Masonic fate, hanging from a rope beneath London's Blackfriar's Bridge, his hands tied behind his back and 12 pounds of bricks stuffed in his pockets. (Naturally, originally deemed a "suicide.")
Our advantage is that there are more of us than there are of them.
Our greatest disadvantage: most of us still can't admit there is a them.
Ten-year-old Nuran Iyad Dib went to school as ecstatic as any schoolgirl should be. But this crisp winter day was special: she would receive her bi-annual report card.

As it turned out, she passed with flying colours, which meant a gift from her parents, who had been saving up their dwindling funds for this occasion. The teacher's comment on top of her report read: We predict a very bright future for Nuran.

But Nuran would have no such future, and her gift lies abandoned in a corner of her family's grieving home. On the afternoon of 31 January 2005, Israeli sniper fire ripped through her face as she stood in her school's courtyard, lining up for afternoon assembly.

The last thing Nuran's mother remembers of her daughter before she left for school that morning was hearing her say her morning prayers, during which she recited a verse about God having created death - and life - as a test for mankind.

In retrospect, Nuran's mother believes it was a premonition of what was to come.

"Then she left for school. She was a completely selfless child. She was thinking of her sisters till the last second. She came back after she had left the house, and said: 'Mommy, it's cold - please put some sweaters on my sisters before they leave'," her mother said.

"What more can I say except that she was a breath of fresh air in these hard times? Her name was Nur [light] and that's exactly what she was."

Her death has many here questioning Israel's commitment to a ceasefire amid a one-sided truce and virtual period of calm.

"We extended an olive branch to them and instead of reciprocating they cut our hand off," Nuran's mother cried, sitting in an unpainted cement-block bedroom with nothing but thin foam mattresses on the ground.

"What did she ever do to deserve such a fate? Or her sister, who saw Nuran die in front of her? Every night she wails out in her sleep: 'Bring me my sister, bring me my sister'".

Fifth child killed

Nuran was the fifth Palestinian child to be shot dead or maimed by Israeli occupation forces while on the premises of their UN-flagged schools in the past two years. She was also one of 172 children killed in Gaza this year alone - and one of 644 killed in Gaza since the start of al-Aqsa Intifada in September 2000. [...]

A day after the incident, Israeli authorities said their initial investigation indicated it was fire from jubilant Palestinian police celebrating the return of Hajj pilgrims, not Israeli sniper fire, that killed Nuran.

Pockmarked walls

But the pockmarked wall of the UNRWA school, which stands 600m away from an Israeli sniper tower and far away from residential blocks, tells a different story.

"There is nothing around us here, and there were no pilgrims that we know of celebrating that day. There is just an outpost a few hundred metres away - one from which sniper fire has frequently hit our school," school principal Siham al-Ghoff said.

Al-Ghoff says if the fire was indeed Palestinian, the bullet would not have hit Nuran in the face but rather landed on top of her head, as rifles fired in celebration usually point upwards.

Both Palestinian security sources and UN officials confirm the account, saying that the way the bullets were scattered, along with witness testimonies, point to Israeli gunfire.

"Everything is pointing to the fact that it was the Israelis. There were a number of shots, and the way they were scattered gives us an indication of the direction where they came from, and that corresponds with witness reports that the firing came from an [Israeli] APC or tank in the area," one official said.

For those wondering how much distance new Attorney General Alberto R. Gonzales will keep from the White House, here's an early clue: He's taking three White House lawyers with him to be his top aides at the Justice Department.
Gonzales, confirmed Thursday, said during his confirmation hearings: "I will no longer represent only the White House, I will represent the United States of America and its people. I understand the differences between the two roles."
But now comes word that Gonzales plans to name Ted Ullyot to be his chief of staff, D. Kyle Sampson as his deputy chief of staff, and Raul Yanes as counselor, according to a person with knowledge of the situation. All three have been lawyers in the White House counsel's office under Gonzales.
If the names sound familiar, it may be because Ullyot and Yanes were the coordinators of the White House's response to the investigation into the leak of CIA operative Valerie Plame's identity. That investigation is being handled by, uh, the Justice Department.
Gonzales, who had been called before the grand jury in the case, has recused himself in the Plame probe, as promised during his confirmation and as predecessor John D. Ashcroft had done. It remains to be seen whether Gonzales will also have Ullyot, Sampson and Yanes recused, or whether he will take further steps to shield Patrick J. Fitzgerald, the special prosecutor in the case, from political influence.
PARIS - French President Jacques Chirac's conservative government faced a major challenge to its economic policies on Saturday as tens of thousands of public and private sector workers protested over labour laws, pensions and schools.
With more than 50,000 taking to the streets in provincial cities, organisers said they hoped for a national turnout of at least 300,000 nationwide to ram home their message.
"The government would do well not only to hear but to listen to the workers," said the secretary-general of the CGT union, Bernard Thibault, at the start of the rally in Paris.
The protests come as parliament debates a government plan to allow staff in the private sector to increase overtime and work up to 48 hours a week, the maximum allowed under EU law. But managers must first agree the changes with unions.
Prime Minister Jean-Pierre Raffarin says rules must be relaxed to help cut stubbornly high unemployment, currently close to 10 percent, and make the world's fifth largest economy more competitive.
Four of France's five major unions called Saturday's protests against reforms they say would sound the death knell of the 35-hour week and result in longer hours without extra pay.
"Chirac, Raffarin, are you sleeping? Your workers are in the street," chanted demonstrators in Toulouse in southwest France.
The 35-hour week was introduced in 1998 by the previous Socialist administration in an effort to reduce joblessness. The party has called on Raffarin to abandon his reform and re-open negotiations with the unions.
"This reform will have very unfortunate consequences on the labour market as, at a time when we have three million unemployed, overtime will be increased which will deprive even more people of jobs," said Socialist party leader Francois Hollande at a demonstration in the western city of Rennes. [...]
Radar observations taken at the Arecibo Observatory in Puerto Rico on January 27, 29, and 30 have significantly improved our estimate for the orbit of asteroid 2004 MN4 and changed the circumstances of the Earth close approach in 2029. On April 13, 2029, the predicted trajectory now passes within 5.7 Earth radii (36,350 km or 22,600 miles) of the Earth's center - just below the altitude of geosynchronous Earth satellites. However, an Earth collision in 2029 is still ruled out. The asteroid's motion subsequent to the 2029 Earth close approach is very sensitive to the circumstances of the close approach itself and a number of future Earth close approaches will be monitored as additional observations are received. However, our current risk analysis for 2004 MN4 indicates that no subsequent Earth encounters in the 21st century are of concern.

In the accompanying diagrams, the most likely trajectory of asteroid 2004 MN4 is shown as a blue line that passes near the Earth on 13 April 2029. The second of the two figures is an enlarged view of the Earth close approach circumstances. Since the asteroid's position in space is not perfectly known at that time, the white dots at right angles to the blue line are possible alternate positions of the asteroid. Neither the nominal position of the asteroid, nor any of its possible alternative positions, touches the Earth, effectively ruling out an Earth impact in 2029. Based on albedo contraints by Andrew Rivkin and Richard Binzel (MIT), the diameter of the object is about 320 meters. At the time of the closest approach, the asteroid will be a naked eye object (3.3 mag.) traveling rapidly (42 degrees per hour!) through the constellation of Cancer. On average, one would expect a similarly close Earth approach by an asteroid of this size only every 1300 years or so.
Like most people my opinion of flying saucers and aliens was programmed by the mass media.
I thought they were possible but highly unlikely and speculative.
Now I know better, thanks to Dr. Stephen Greer's book "Disclosure: Military and Government Witnesses Reveal the Greatest Secrets in Modern History." (2001) His web site is www.disclosureproject.org
Stephen Greer is a country doctor from North Carolina who has a wife, four children, a dog and a faith in American values. Since 1992, he has collected video and written testimony from some 400 retired members of the U.S. military, intelligence and aeronautics industry including Presidential advisors, generals, pilots and two astronauts many of whom had Top-Secret clearance.
The gist of this overwhelming evidence is that every year we have thousands of visits from UFO's, which are tracked on radar at speeds ranging from 5000 to 20,000 mph. There are also thousands of signals reaching the earth from outer space.
Over the last 60 years many UFO's have crashed or have been shot down by missiles or laser beams. The US has recovered these spaceships and replicated some of the technology. It has recovered aliens both dead and alive.
The revelations contained in "Disclosure" have profound implications for the fate of humanity. They reveal that the laws of physics as we know them are obsolete. Space is not empty but an energy field that can provide an infinite supply of free energy and propulsion.
Thanks to extraterrestrial contact, the technology already exists to release humanity from its dependence on its dwindling reserves of polluting fossil fuels, which is the cause of war.
I am not asking you to believe this right away. People think they must either accept or reject a new idea. There is a third alternative: reserve judgment.
Keep in mind that your attitudes to UFO's were shaped by "experts" like Dr. Carl Sagan, who was on the CIA payroll. The CIA employs a small army of people to mislead you.
I urge you to get Dr. Greer's 570-page book. It may be one of the most important you ever read. You can send your address and $22 (incl. shipping) to this pay pal address: orders@disclosureproject.org It is also available from Amazon.
Nick Cook, the Aviation Editor of Jane's Defense Weekly, also confirms these conclusions in a book "The Hunt for Zero Point." He traces the development and suppression of zero gravity technologies over the last 80 years.
COVER-UP
Witnesses describe a massive and coordinated cover-up. People who have had UFO contact are ridiculed and warned that their career will end if they speak. Their lives and their family's lives are threatened. Many people have "disappeared."
A network of military and intelligence agencies along with major defense contractors is responsible for the cover-up. Generally speaking, they are not accountable to the President and Congress. Dr. Greer has met with many Senators who frankly admit they are "not in the loop."
The purpose of this cover-up is both economic and political. At the end of the Nineteenth Century, London-based bankers established their power and wealth on the basis of large international cartels. In the US, they used their control of the railroad to favor their agent J.D. Rockefeller with low rates enabling him to eliminate competition.
The same principle applied to the coal and steel cartels. Later they expanded to defense, chemicals, pharmaceuticals and media. They run the US from London through their American partners.
As my readers know, the goal of these bankers and their allies is to formalize a thinly veiled totalitarian world government. The presence of extraterrestrials and new technology is interfering with this plan. The bankers have trillions of dollars invested in old technology. They will release the new technology only if and when it suits them. In the meantime, they use it to keep us enslaved, and to ward off more advanced civilizations.
COORDINATION
How do they coordinate a cover-up that extends to so many countries? I don't know the answer to this but there is a disturbing possibility that national differences may be more apparent than real. Through Communism they took control of Russia and China. After World War Two, they took over Japan and continental Europe.
Witnesses describe secret meetings dedicated to the subject of extraterrestrials that involved an international cast. The New World Order has been here a long time. They are unveiling it gradually.
In the US alone, the cover-up must extend to hundreds of government agencies, military units, research labs and corporations. How is that coordinated?
Again, I do not know, but if I had to guess, I'd venture it is controlled by Freemasonry through their network, which I understand is well represented in these areas.
Dr. Greer quotes Senator Daniel Inouye: "There exists a shadowy Government with its own Air Force, its own navy, it's own fundraising mechanism, and the ability to pursue its own ideas of the national interest, free from all checks and balances, and free from the law itself."
Indeed the emerging picture is that the London bankers use this occult secret network to control the planet. This Satanic "religion" is indeed the secret guiding principle behind our ideas of "progress" and what is "modern."
PRISON PLANET
Many civilizations in the universe may be thousands of years in advance of ours. Increasingly they appear to view banker-controlled mankind as a potential menace, with reason. Strange as this may sound, the focus of UFO attention has been the bankers' nuclear installations. They appear to be actively resisting the US plan to put weapons in space.
Space-based weaponry is presented to the public as a deterrent against "rogue nations" like North Korea. In fact, it seems to have a dual purpose that has nothing to do with this. It is designed to prevent "alien influences" from liberating us from our mental, spiritual and economic bondage, at the same time as controlling us physically.
Apparently this scenario has been in place at least since the 1970's. According to the testimony of Dr. Carol Rossin, which is on line, Werner Von Braun warned her about it in 1974. He said the aim was "to control the Earth from space and space itself."
Dying from cancer, Von Braun enlisted Rossin, a fellow executive at Fairchild Industries, to help educate the public and decision-makers. He regarded space-based weapons as "dumb, dangerous, destabilizing, too costly, unnecessary and unworkable."
Significantly he outlined the five-step "scare tactics" used to justify them. First the public has been made to fear the Communists; then "terrorists"; then "rogue nations"; then "asteroids" and finally "extraterrestrials."
"Remember Carol, the last card is the alien card. We are going to have to build space-based weapons against aliens and all of it is a lie," he told her.
The program is slowly unfolding as Von Braun predicted. We are at the rogue nation, terrorist stage.
A 2002 report concludes: "The continued development of these space systems seriously undermines the claim that the U.S. missile defence project is purely defensive in nature. Instead, the dual use capability of both the SBL and kinetic kill vehicles makes them inherently threatening to the space assets and national security of other countries. ... The possibility of sparking an arms race in space, with seriously detrimental effects on global commerce, communications and security, should not be underestimated."
CONCLUSION
The "dual use capability" of US space weapons might also be designed to deter advanced civilizations that pose a threat to the Masonic banker's monopoly of power and wealth, and their satanic New World Order agenda.
Yes, it would be better if a large flying saucer landed on the field
during half time at the Superbowl and ETs emerged. But Dr. Stephen
Greer's book is credible. Don't dismiss it without reading it first.
Far fetched as it sounds, at the rate we're going, extraterrestrials
could represent degenerate mankind's best hope. Who knows what form Divine intervention can take? If we won't represent God, maybe a more advanced civilization will.
A Waikato resident is puzzled by a mystery dumping on her house.
Margaret Porter says the roof and windows of her Scotsman Valley home are covered in a substance which appears to be faeces
She has no idea where it has come from, but called in a Civil Aviation Authority inspector as her home is below a flight path.
Ms Porter says he told her the mess could not have been dumped from an aircraft, as it would have been reported.
Similar mystery muck has appeared on rooves around the country in the past two years, but no-one has found the official cause yet.
Mrs Porter says the substance is definitely some type of faeces which is splattered all over the place.
She says recent rain is helping her wash the muck off, and now she just wants to know where it came from.
Recombinomics Commentary
February 4, 2005
Efficient Human to Human Transmission of H5N1 in SE Asia
There have been probable cases of human-to-human transmission before but this is the first in which the person infected - the mother - contracted severe illness and died. It proves the virus can be passed from person to person without losing its lethality.
The above comment, with regard to the case cluster in Thailand, published in the New England Journal of Medicine, is not true. The current H5N1 pandemic, which began in December, 2003 has generated at least 9 familial clusters of cases, resulting in 11 likely human to human transmissions, and 8 of the 11 have died (one was in critical condition Jan 22). Unfortunately, the efficiency of human to human transmission of fatal H5N1 influenza is much higher than transmission of H5N1 from birds to humans.
The misconception quoted above, comes from repeated comments from WHO that human to human transmission of H5N1 is very rare. These comments are supported by a flawed database. Collecting and testing of samples, especially for index cases of familial clusters, is poor. Of the 9 clusters, no sample was collected from the index case in 4 instances, including the cluster published in the New England Journal of Medicine. However, the clinical presentation is quite clear and in each cluster a relative has been laboratory confirmed, so there is little doubt that the fatal cases of children or young adults were due to H5N1. However, WHO excludes these cases, thereby eliminating the cluster. These clusters however, answer many questions about human to human transmission of H5N1 this season and last, in Vietnam, Thailand, and Cambodia.
The clusters have been described previously. Three are from Vietnam from the beginning of last season. Two are from last summer (one from Thailand and one from Vietnam). Four are from this season (1 from Cambodia and 3 from Vietnam). In all 9 clusters the index cases died with bird flu symptoms and in each cluster there is at least one confirmed H5N1 case. Remarkably, all 9 clusters have a bimodal distribution of disease onset dates, separated by a week or more. The 9 clusters are composed of 21 cases. Of the 21 cases 18 have died (1 was in critical condition Jan22) and 15 have been laboratory confirmed as H5N1 positive. Of the 12 patients who were not index cases, only 1 developed symptoms on or about the same time as the index case. The other 11 developed symptoms a week or more later, strongly suggesting that they are human to human transmissions.
This transmission is far more efficient than transmission from birds to people. As has been noted previously, such a process is extremely inefficient. Last season over 100 million birds were culled, but there were only 44 official cases in Vietnam and Thailand. Adding in the missed cases as well as those members of a positive cluster keeps the total far below 100, so there were over 1 million birds culled for every reported human H5N1 case. This season, the culling has been limited, but since 1.1 million birds have been culled and there have been only 11 cases not tied to human transmission, the ratio is still 100,000 birds culled for each reported case. Thus, the efficiency of human to human transmission, 11 cases from less than 100 human cases, was over 1000 fold more efficient than bird to human.
Since the virus that is transmitted bird to human is virtually identical to the virus transmitted human to human, the difference in efficiencies is due to interactions between the hosts. Most of the culled birds had limited interactions with people. Many were culled by a limited number of workers, and none of the workers were reported as being infected. In contrast, the infected humans were related to an index case and in general they were caregivers and had unprotected close contact with the infected family member.
The transmission chain was limited because the disease was so severe. Most of the index cases were initially not diagnosed with bird flu so much of the contact with other family members was unprotected. However, after the index case died, the suspicion index was raised significantly when the next family member developed symptoms, so the H5N1 was not transmitted further because family members used more care to avoid infection and / or brought the subsequent case to the hospital where they were put into isolation.
However, the virus was quite lethal. All 10 cluster members infected at the time of the index case died, but 8 of the 11 infected by a family member also died (1 was in critical condition Jan 22), so the failure to transmit further was limited by better infection control, not by significantly reduced lethality of the transmitted virus.
Thus, it would be useful to issue a warning that H5N1 can be transmitted to close family members quite easily, especially if unprotected care is given. This is quite clear from the cluster data, when analyzed properly.
Floods, storms and droughts. Melting Arctic ice, shrinking glaciers, oceans turning to acid. The world's top scientists warned last week that dangerous climate change is taking place today, not the day after tomorrow. You don't believe it? Then, says Geoffrey Lean, read this...
Future historians, looking back from a much hotter and less hospitable world, are likely to play special attention to the first few weeks of 2005. As they puzzle over how a whole generation could have sleepwalked into disaster - destroying the climate that has allowed human civilisation to flourish over the past 11,000 years - they may well identify the past weeks as the time when the last alarms sounded.
Last week, 200 of the world's leading climate scientists - meeting at Tony Blair's request at the Met Office's new headquarters at Exeter - issued the most urgent warning to date that dangerous climate change is taking place, and that time is running out.
Next week the Kyoto Protocol, the international treaty that tries to control global warming, comes into force after a seven-year delay. But it is clear that the protocol does not go nearly far enough.
The alarms have been going off since the beginning of one of the warmest Januaries on record. First, Dr Rajendra Pachauri - chairman of the official Intergovernmental Panel on Climate Change (IPCC) - told a UN conference in Mauritius that the pollution which causes global warming has reached "dangerous" levels.
Then the biggest-ever study of climate change, based at Oxford University, reported that it could prove to be twice as catastrophic as the IPCC's worst predictions. And an international task force - also reporting to Tony Blair, and co-chaired by his close ally, Stephen Byers - concluded that we could reach "the point of no return" in a decade.
Finally, the UK head of Shell, Lord Oxburgh, took time out - just before his company reported record profits mainly achieved by selling oil, one of the main causes of the problem - to warn that unless governments take urgent action there "will be a disaster".
But it was last week at the Met Office's futuristic glass headquarters, incongruously set in a dreary industrial estate on the outskirts of Exeter, that it all came together. The conference had been called by the Prime Minister to advise him on how to "avoid dangerous climate change". He needed help in persuading the world to prioritise the issue this year during Britain's presidencies of the EU and the G8 group of economic powers.
The conference opened with the Secretary of State for the Environment, Margaret Beckett, warning that "a significant impact" from global warming "is already inevitable". It continued with presentations from top scientists and economists from every continent. These showed that some dangerous climate change was already taking place and that catastrophic events once thought highly improbable were now seen as likely (see panel). Avoiding the worst was technically simple and economically cheap, they said, provided that governments could be persuaded to take immediate action.
About halfway through I realised that I had been here before. In the summer of 1986 the world's leading nuclear experts gathered in Vienna for an inquest into the accident at Chernobyl. The head of the Russian delegation showed a film shot from a helicopter, and we suddenly found ourselves gazing down on the red-hot exposed reactor core.
It was all, of course, much less dramatic at Exeter. But as paper followed learned paper, once again a group of world authorities were staring at a crisis they had devoted their lives to trying to avoid.
I am willing to bet there were few in the room who did not sense their children or grandchildren standing invisibly at their shoulders. The conference formally concluded that climate change was "already occurring" and that "in many cases the risks are more serious than previously thought". But the cautious scientific language scarcely does justice to the sense of the meeting.
We learned that glaciers are shrinking around the world. Arctic sea ice has lost almost half its thickness in recent decades. Natural disasters are increasing rapidly around the world. Those caused by the weather - such as droughts, storms, and floods - are rising three times faster than those - such as earthquakes - that are not.
We learned that bird populations in the North Sea collapsed last year, after the sand eels on which they feed left its warmer waters - and how the number of scientific papers recording changes in ecosystems due to global warming has escalated from 14 to more than a thousand in five years.
Worse, leading scientists warned of catastrophic changes that once they had dismissed as "improbable". The meeting was particularly alarmed by powerful evidence, first reported in The Independent on Sunday last July, that the oceans are slowly turning acid, threatening all marine life (see panel).
Professor Chris Rapley, director of the British Antarctic Survey, presented new evidence that the West Antarctic ice sheet is beginning to melt, threatening eventually to raise sea levels by 15ft: 90 per cent of the world's people live near current sea levels. Recalling that the IPCC's last report had called Antarctica "a slumbering giant", he said: "I would say that this is now an awakened giant."
Professor Mike Schlesinger, of the University of Illinois, reported that the shutdown of the Gulf Stream, once seen as a "low probability event", was now 45 per cent likely this century, and 70 per cent probable by 2200. If it comes sooner rather than later it will be catastrophic for Britain and northern Europe, giving us a climate like Labrador (which shares our latitude) even as the rest of the world heats up: if it comes later it could be beneficial, moderating the worst of the warming.
The experts at Exeter were virtually unanimous about the danger, mirroring the attitude of the climate science community as a whole: humanity is to blame. There were a few sceptics at Exeter, including Andrei Illarionov, an adviser to Russia's President Putin, who last year called the Kyoto Protocol "an interstate Auschwitz". But in truth it is much easier to find sceptics among media pundits in London or neo-cons in Washington than among climate scientists. Even the few contrarian climatalogists publish little research to support their views, concentrating on questioning the work of others.
Now a new scientific consensus is emerging - that the warming must be kept below an average increase of two degrees centigrade if catastrophe is to be avoided. This almost certainly involves keeping concentrations of carbon dioxide, the main cause of climate change, below 400 parts per million.
Unfortunately we are almost there, with concentrations exceeding 370ppm and rising, but experts at the conference concluded that we could go briefly above the danger level so long as we brought it down rapidly afterwards. They added that this would involve the world reducing emissions by 50 per cent by 2050 - and rich countries cutting theirs by 30 per cent by 2020.
Economists stressed there is little time for delay. If action is put off for a decade, it will need to be twice as radical; if it has to wait 20 years, it will cost between three and seven times as much.
The good news is that it can be done with existing technology, by cutting energy waste, expanding the use of renewable sources, growing trees and crops (which remove carbon dioxide from the air) to turn into fuel, capturing the gas before it is released from power stations, and - maybe - using more nuclear energy.
The better news is that it would not cost much: one estimate suggested the cost would be about 1 per cent of Europe's GNP spread over 20 years; another suggested it meant postponing an expected fivefold increase in world wealth by just two years. Many experts believe combatting global warming would increase prosperity, by bringing in new technologies.
The big question is whether governments will act. President Bush's opposition to international action remains the greatest obstacle. Tony Blair, by almost universal agreement, remains the leader with the best chance of persuading him to change his mind.
But so far the Prime Minister has been more influenced by the President than the other way round. He appears to be moving away from fighting for the pollution reductions needed in favour of agreeing on a vague pledge to bring in new technologies sometime in the future.
By then it will be too late. And our children and grandchildren will wonder - as we do in surveying, for example, the drift into the First World War - "how on earth could they be so blind?"
WATER WARS
What could happen? Wars break out over diminishing water resources as populations grow and rains fail.
How would this come about? Over 25 per cent more people than at present are expected to live in countries where water is scarce in the future, and global warming will make it worse.
How likely is it? Former UN chief Boutros Boutros-Ghali has long said that the next Middle East war will be fought for water, not oil.
DISAPPEARING NATIONS
What could happen? Low-lying island such as the Maldives and Tuvalu - with highest points only a few feet above sea-level - will disappear off the face of the Earth.
How would this come about? As the world heats up, sea levels are rising, partly because glaciers are melting, and partly because the water in the oceans expands as it gets warmer.
How likely is it? Inevitable. Even if global warming stopped today, the seas would continue to rise for centuries. Some small islands have already sunk for ever. A year ago, Tuvalu was briefly submerged.
FLOODING
What could happen? London, New York, Tokyo, Bombay, many other cities and vast areas of countries from Britain to Bangladesh disappear under tens of feet of water, as the seas rise dramatically.
How would this come about? Ice caps in Greenland and Antarctica melt. The Greenland ice sheet would raise sea levels by more than 20ft, the West Antarctic ice sheet by another 15ft.
How likely is it? Scientists used to think it unlikely, but this year reported that the melting of both ice caps had begun. It will take hundreds of years, however, for the seas to rise that much.
UNINHABITABLE EARTH
What could happen? Global warming escalates to the point where the world's whole climate abruptly switches, turning it permanently into a much hotter and less hospitable planet.
How would this come about? A process involving "positive feedback" causes the warming to fuel itself, until it reaches a point that finally tips the climate pattern over.
How likely is it? Abrupt flips have happened in the prehistoric past. Scientists believe this is unlikely, at least in the foreseeable future, but increasingly they are refusing to rule it out.
RAINFOREST FIRES
What could happen? Famously wet tropical forests, such as those in the Amazon, go up in flames, destroying the world's richest wildlife habitats and releasing vast amounts of carbon dioxide to speed global warming.
How would this come about? Britain's Met Office predicted in 1999 that much of the Amazon will dry out and die within 50 years, making it ready for sparks - from humans or lightning - to set it ablaze.
How likely is it? Very, if the predictions turn out to be right. Already there have been massive forest fires in Borneo and Amazonia, casting palls of highly polluting smoke over vast areas.
THE BIG FREEZE
What could happen? Britain and northern Europe get much colder because the Gulf Stream, which provides as much heat as the sun in winter, fails.
How would this come about? Melting polar ice sends fresh water into the North Atlantic. The less salty water fails to generate the underwater current which the Gulf Stream needs.
How likely is it? About
evens for a Gulf Steam failure this century, said scientists last week.
STARVATION
What could happen? Food production collapses in Africa, for example, as rainfall dries up and droughts increase. As farmland turns to desert, people flee in their millions in search of food.
How would this come about? Rainfall is expected to decrease by up to 60 per cent in winter and 30 per cent in summer in southern Africa this century. By some estimates, Zambia could lose almost all its farms.
How likely is it? Pretty likely unless the world tackles both global warming and Africa's decline. Scientists agree that droughts will increase in a warmer world.
ACID OCEANS
What could happen? The seas will gradually turn more and more acid. Coral reefs, shellfish and plankton, on which all life depends, will die off. Much of the life of the oceans will become extinct.
How would this come about? The oceans have absorbed half the carbon dioxide, the main cause of global warming, so far emitted by humanity. This forms dilute carbonic acid, which attacks corals and shells.
How likely is it? It is already starting. Scientists warn that the chemistry of the oceans is changing in ways unprecedented for 20 million years. Some predict that the world's coral reefs will die within 35 years.
DISEASE
What could happen? Malaria - which kills two million people worldwide every year - reaches Britain with foreign travellers, gets picked up by British mosquitos and becomes endemic in the warmer climate.
How would this come about? Four of our 40 mosquito species can carry the disease, and hundreds of travellers return with it annually. The insects breed faster, and feed more, in warmer temperatures.
How likely is it? A Department of Health study has suggested it may happen by 2050: the Environment Agency has mentioned 2020. Some experts say it is miraculous that it has not happened already.
HURRICANES
What could happen? Hurricanes, typhoons and violent storms proliferate, grow even fiercer, and hit new areas. Last September's repeated battering of Florida and the Caribbean may be just a foretaste of what is to come, say scientists.
How would this come about? The storms gather their energy from warm seas, and so, as oceans heat up, fiercer ones occur and threaten areas where at present the seas are too cool for such weather.
How likely is it? Scientists are divided over whether storms will get more frequent and whether the process has already begun.
Sunday, February 6, 2005
ABS-CBN News
An earthquake measuring 4.8 on the Richter scale hit the island of Samar on Sunday afternoon, the Philippine Institute of Volcanology and Seismology reported.
PHIVOLCS said the tremor was recorded at 5:28 p.m. with the epicenter located at 38 kilometers east of Catarman, Northern Samar.
The earthquake was also felt in Tacloban City at about the same time. No casualty or damage has been reported.
The origin of the tremor is tectonic and its possible source is the Philippine Trench with depth of focus at 52.3 kilometers categorized as shallow, the PHIVOLCS bulletin said.
Intensity 4 ground movements were felt in Catarman, Northern Samar; intensity 3 in Tacloban City, Leyte; intensity 3 in Irosin, Sorsogon; and intensity 2 in Legazpi City.
ABS-CBN News
Nine people were found dead in two cars outside Tokyo, in what were believed to be the latest in a series of macabre suicide pacts involving charcoal burners that have swept Japan.
Six people, three men and three women mostly aged in their 20s, were found in the morning in a rented minivan parked on a farm road on the scenic peninsula of Miura at the mouth of Tokyo Bay, police said Saturday.
Hours later, the bodies of one man and two women, in their 30s and 40s, were found in a rented sedan on the grounds of a villa on a Pacific coast in Higashi Izu, some 100 kilometers (60 miles) southwest of Tokyo.
Police found several charcoal burners inside the two vehicles.
In the Miura case, the six dead included a 40-year-old women, police said.
They had apparently died of carbon monoxide poisoning or an overdose of sleeping pills a day earlier.
"We found four charcoal burners and sleeping pills as well as a number of notes suggesting suicide inside the vehicle," a spokesman for the Misaki police station said.
"It is highly possible that the six people from different domiciles have committed a group suicide," he added. One of the notes said, "I am tired of living. I am sorry." Another said, "Please spray my ashes around."
The two separate cases appear to be the latest in a string of such group suicides using traditional terracotta charcoal burners in Japan, many of which have involved strangers who met over the Internet to die together.
The charcoal burner is rarely used in modern living in Japan except at traditional-style Japanese or Korean restaurants.
Nearly 50 people have died in similar suicides since early October.
In December, the British Medical Journal (BMJ) warned that the rash of group suicides in Japan was a worrying sign of the Internet's potential for encouraging suicide pacts.
In an editorial in the magazine, London consultant psychiatrist Sundararajan Rajagopal noted that the trend was "in contrast to traditional suicide pacts, in which the victims are people with close relationships."
It could be the start of "a new, disturbing trend in suicide pacts, with more such incidents, involving strangers meeting over the Internet, becoming increasingly common," he said.
Japan has the highest suicide rate in the industrialized world, with 24.1 suicides per 100,000 people each year, according to the UN's World Health Organization (WHO).
Suicide rates rose after the economy began to slump in the 1990s. The country registered a record high of 34,427 suicides in 2003.
KABUL - The wreckage of a missing Afghan jet was found in mountains east of the capital Kabul with all 104 people on board feared dead, an interior ministry spokesman said.
"So far we don't think there are any survivors," interior ministry spokesman Lutfullah Mashal said. "The plane is completely destroyed."
But Transportation Minister Anayatullah Qasimi spoke of mounting a search and rescue operation.
"We heard for the first time that the plane has crashed so first of all our top priority is to make sure that if there are survivors we have to get to them," Qasimi said.
"It is a rescue and search operation. First we will take the passengers who are alive or injured, and then the bodies will also be carried as well."
The wreckage was found in mountains 20 kilometres (12 miles) east of Kabul at around 0930 GMT during a joint search operation by Afghan police, army and peacekeeping troops from the International Security Assistance Force (ISAF), he said.
The area has been blanketed by heavy snow this week and Afghan officials said bad weather was preventing search teams from reaching the wreckage on the ground to check for any possible survivors.
The private Kam Air Boeing 737 went missing on Thursday during a domestic flight from the western city of Herat to Kabul.
HUNTSVILLE, Ala. - The mother of three children found dead in a Huntsville apartment has confessed to starving her children, police said Saturday.
Nathshay Yvonne Ward, 33, was charged with capital murder Friday in connection with the deaths of her son and two daughters. She was being held without bail.
Officers found the bodies of Shanieka Y. Ward, 11; Latricia Ward, 9; and Christopher O. Ward, 8, on the floor in three bedrooms Friday, police spokesman Wendell Johnson said.
Officials said the children had been dead for at least several days.
Investigators would not elaborate on the details of Ward's confession.
When the children were found, "they did appear malnourished," Johnson said. [...]
"It was just her and those kids," she said. "She was quiet. Paid her rent on time."
The number of seafarers killed by pirates surged last year, even though the overall incidence of armed robbery on the high seas fell, an international watchdog said in its annual report out Monday.
Thirty mariners were killed in attacks, mainly in Nigeria and in the busy Malacca Strait separating Indonesia from Malaysia, the Piracy Reporting Centre of the International Maritime Bureau said.
The figure represented a significant rise on 2003, when 21 seafarers were killed.
Nigeria had the most deadly waters, with 15 seafarers killed while four people were killed in the Malacca Strait, the Malaysian-based centre said.
Worldwide actual or attempted piracy attacks declined to 325 from 445 in 2003, but violence against seafarers "continues and remains at high levels," the report said. [...]
Readers who wish to know more about who we are and what we do may visit our portal site Quantum Future
---
Remember, we need your help to collect information on what is going on in your part of the world!
We also need help to keep the Signs of the Times online.
---
Send your comments and article suggestions to us

---
Fair Use Policy
Contact Webmaster at signs-of-the-times.org
Cassiopaean materials Copyright ©1994-2014 Arkadiusz Jadczyk and Laura Knight-Jadczyk. All rights reserved. "Cassiopaea, Cassiopaean, Cassiopaeans," is a registered trademark of Arkadiusz Jadczyk and Laura Knight-Jadczyk.
Letters addressed to Cassiopaea, Quantum Future School, Ark or Laura, become the property of Arkadiusz Jadczyk and Laura Knight-Jadczyk
Republication and re-dissemination of our copyrighted material in any manner is expressly prohibited without prior written consent.