Printer Friendly Version
New Travel Log! The Quantum Future Group Goes to Rennes-le-Chateau
Pentagon Strike Flash Presentation by a QFS member
New Publication! 'The Wave' finally in book form!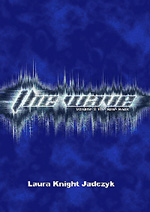 The Wave: 4 Volume Set
Volume 2
by Laura Knight-Jadczyk
With a new introduction by the author and never before published, UNEDITED sessions and extensive previously unpublished details, at long last, Laura Knight-Jadczyk's vastly popular series The Wave is available as a Deluxe four book set. Each of the four volumes include all of the original illustrations and many NEW illustrations with each copy comprising approximately 300 pages.
The Wave is an exquisitely written first-person account of Laura's initiation at the hands of the Cassiopaeans and demonstrates the unique nature of the Cassiopaean Experiment.
---
Picture of the Day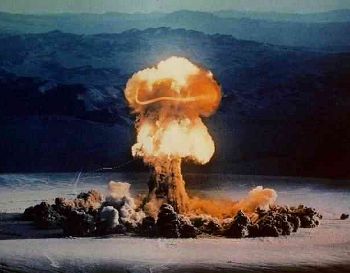 In 1945, J. Robert Oppenheimer declared, "I am become death, the destroyer of worlds," after he witnessed the first nuclear explosion under the Manhattan Project at Los Alamos National Laboratory. His statement, a line from the Bhagavad-Gita, displayed his own apprehensions with helping to create weapons capable of overwhelming destruction.
Almost 60 years later, Los Alamos, located in northern New Mexico, once again stands at a major crossroads in nuclear weapons development, but this time around lab officials do not openly harbor the same reservations as Oppenheimer. In fact, Los Alamos, in its own entrenched institutional interest, has been driving drastic changes in national nuclear weapons policy. Now that Bush has been re-elected and Congress has drifted farther right, these troublesome developments are sure to continue.
After almost a decade of management scandals and security failures at Los Alamos, the Department of Energy has decided to open management to outside competition, with the University of Texas System and several corporations such as Northrop Grumman and Bechtel eyeing the bid.
Opposition to Los Alamos has been visible at both UT and at the University of California System, the long-standing manager of the Lab.
Students, faculty and alumni have voiced opposition based on moral, as well as more mundane reasons—the rife security, management, and environmental problems and also whether management would, on balance, yield benefits over the costs and risks involved.
UT and UC have both asserted that management of Los Alamos brings research and prestige to the university that manages the Lab. However, any qualified researcher from any university, manager or not, already has access to working on or collaborating with research done at Los Alamos. Due to this, several faculty members and students question the professed research benefits to their respective universities that would result from a management contract. Additionally, "prestige" from management of this so-called "crown jewel" of American science is also dubious when Los Alamos is revealed for what it truly is: a bomb lab.
Proponents of the lab emphasize the few truly worthwhile projects such as HIV research, but downplay the overwhelming mission of the lab—maintaining the current nuclear stockpile and developing new nuclear weapons. In fact, out of a total DOE operating budget of $2 billion, the DOE budget request for fiscal year 2005 includes $1.36 billion for weapons programs, or about 79 percent of its total DOE budget, while other science programs receive a mere 3.4 percent or $59.8 million.
Perhaps more revealing, is that funding for science programs has dropped from roughly $75 million in FY 2003 to just below $60 million requested for FY 2005. During the same time period, funding for weapons programs at the lab has increased by about $150 million. Los Alamos has clearly not shifted gears from its historic role as a core component of America's nuclear weapons complex.
On the contrary, recent changes to nuclear policy have many experts concerned that a new nuclear arms race could soon unfold. The Bush Administration's nuclear initiative to develop a new class of weapons coincides with the competitive bid for Los Alamos as well as the congressional increases in lab funding. Researchers at Los Alamos, alongside those at Lawrence Livermore National Laboratory, are working to develop these new "mini-nukes." Despite the name, these weapons are not very "mini." They range from explosive yields of one-third to multiple times that of the bomb that was dropped on Hiroshima in World War II which killed approximately 100,000 civilians. And like most weapons, "mini-nukes" do not discriminate between combatants and non-combatants.
These new weapons are designed to deter so-called "rogue" states from possessing their own weapons of mass destruction capabilities
Advocates, including Los Alamos personnel, claim that "mini-nukes" provide a more credible deterrence than traditional nuclear weapons because they decrease the amount of "collateral damage" to civilian areas while still destroying targets such as airfields, underground tunnels and bunkers as well as enemy stockpiles of chemical and biological weapons
While the feasibility and possible benefits of these "mini-nukes" remain unclear at best, Los Alamos employees along with other officials have feverishly sought their realization. One seemingly obvious reason for the lab's enthusiasm is that a "mini-nuke" project would provide scientists and research with a reinvigorating mission and direction
A March 2002 article in USA Today pointed out the relative importance of this factor. Designing new nuclear weapons provides hands-on instruction for future generations of weapons scientists that are fast-replacing older Cold War personnel. Thus, the challenge allows Los Alamos and other national labs to gain a new technological edge and retain the top minds in research
However, persuading government leaders to dramatically change national nuclear policy has been no easy task for lab employees. Two analysts from Los Alamos, T.N. Dowler and J.S. Howard, authored a landmark essay for the Fall 1991 issue of Strategic Review calling for the development of what they referred to as "micro-nukes." Earlier that same year, they had lobbied and secured support for their plan from the Defense Science Board with a presentation entitled "Potential Uses for Low-Yield Nuclear Weapons in the New World Order." Unfortunately for Dowler and Howard, then-President George H. W. Bush called for a moratorium on new nuclear weapons development and testing in 1992. Subsequently, the nuclear weapons complex suffered from almost a decade of stagnation as it struggled to adapt to a post-Cold War era
The call for "mini-nukes" from Los Alamos employees continued. In 2000, Stephen Younger, then head of nuclear weapons work at the lab, wrote a paper supporting "mini-nukes" and their possible use in the future. Most recently, in October of 2003, four employees of Los Alamos authored an essay for the journal Comparative Strategy entitled "An Analysis of Reduced Collateral Damage Nuclear Weapons." This essay attempted to reconcile the development of "mini-nukes" with the Bush Administration's Nuclear Policy Review leaked to the public in January.
Los Alamos personnel argued that in order for the US to reduce its nuclear stockpile but still retain a credible nuclear deterrent against "rogue" states, greater diversity in available nuclear weapons would be required (i.e. "mini-nukes"). They also stated that developing such weapons would allow US forces to avoid undesirable "collateral damage." In 2003, Los Alamos marked the 60th anniversary of the lab's creation by producing its first plutonium pit (the core of a nuclear weapon) in 14 years. The Global Security Newswire referred to this as "a first step toward reconstituting a nuclear warhead production program," and by 2007 Los Alamos expects to produce 10 such pits a year.
Along with the resumption of pit production, the passage that same year of the Defense Authorization Act for fiscal year 2004 signals the implementation of a new, fundamentally different nuclear policy advocated by Los Alamos and the nuclear weapons complex. Most importantly, the congressional Act lowers the bar for future testing and repeals the "Spratt-Furse" provision banning low-yield nuclear weapons.
The development of "mini-nukes" could prove even more dangerous than nuclear weapons production during the Cold War. As Newt Gingrich stated in 2003 for USA Today, "This would be a weapon designed to be used. It would not simply be a weapon of deterrence, as current nuclear weapons are." The threshold for nuclear weapons use will be lowered because the US will be more willing to use smaller nuclear weapons on non-nuclear weapons states. This would open a Pandora's Box. In turn states with weapons may become more likely to use their weapons, and prod more states to acquire nuclear weapons as a deterrent to US "pre-emptive" war. On a downward spiral the US may then utilize "mini-nukes" to attack these new nascent programs.
The University of Texas and University of California Systems argue that management of Los Alamos is national service. What they really mean is that university management is active engagement with the warfare state by lending an academic gloss to activities many of the best and brightest might otherwise steer clear. Yet Los Alamos and its scientists and engineers are not simply just "following orders," in fact many of them are shaping an increasingly hostile American nuclear weapons policy from the bottom up. Whoever "manages" the Lab will be directly complicit in a new nuclear arms race. Los Alamos has shown over the years that it is a power unto itself and that, as evidenced by 60 years of University of California management, its main function as a weapons of mass destruction facility cannot be resolved or mitigated by university involvement.
Nick Schwellenbach is a former member and John Pruett is a current member of the student-based watchdog group, University of Texas Watch (http://www.utwatch.org)
The head of the International Atomic Energy Agency is convinced North Korea has built four to six nuclear bombs out of the nuclear material the agency had monitored there until 2002.
Mohamed ElBaradei, whose team of investigators was expelled from North Korea, said: "We know they have the fissile material ... I'm sure they have reprocessed it all."
He said enough time had passed for North Korea to solve the problems of turning the 8000 spent nuclear fuel rods the agency was monitoring into weapons-grade plutonium. "The production process is not that difficult."
He said his claim was not based on new intelligence but on the agency's extensive knowledge of the country. A spokesman for the US National Security Council, Sean McCormack, said he was unaware of any change in the official assessment of North Korea.
Dr ElBaradei's comments go beyond anything the CIA or the US President, George Bush, have said publicly and puts pressure on the White House to either take forcible action against North Korea or cut a deal.
The US insists North Korea has enough nuclear material to make only one or two weapons and that it cannot afford to sell its plutonium or conduct a nuclear test. However, that assessment is based on estimates from the early 1990s and has been contested behind the scenes.
A former senior State Department official, Robert Einhorn, said the comments would "certainly create some pressure" on Mr Bush. "Would the North Koreans ever sell their plutonium? It becomes more plausible if they think we are turning the screws on them," he said.
North Korea agreed in 1994 to freeze plutonium production but in 2002 renounced the deal and ejected the International Atomic Energy Agency after the US accused it of trying to produce highly enriched uranium.
Since then the US had been working with China, South Korea, Japan and Russia to negotiate the dismantling of North Korea's weapons program, but the talks stalled in September. They are expected to resume next year.
Last month the commander of US forces in South Korea, General Leon LaPorte, said he was increasingly worried "North Korea, in its desire for hard currency, would sell weapons-grade plutonium to some terrorist organisations".
Labor's foreign affairs spokesman, Kevin Rudd, said Dr ElBaradei's assessment was profoundly disturbing. [...]
Pakistan test-fired a medium-range ballistic missile capable of carrying a nuclear warhead but insisted it was not sending a signal to India amid continuing peace moves with its regional rival.
The Hatf-IV (Shaheen-1) missile, which can hit targets up to 700 kilometers (437 miles) away, was launched from an undisclosed location, a military spokesman told AFP.
The test was Pakistan's sixth this year and the second in 10 days. Pakistan and India, who carried out tit-for-tat nuclear detonations in 1998, both conduct regular missile launches.
Foreign office spokesman Masood Khan said the test was not meant to send any message to India. The two countries are engaged in a peace dialogue aimed at resolving all issues including the disputed Himalayan state of Kashmir.
"It is not a signal to India. Maintaining our nuclear deterrence is a national priority," Khan said. "Such tests are conducted periodically to validate technical parameters of our missile tests."
Pakistan had informed its neighbours before launching the indigenously developed missile, the military said, adding that the test was "successful".
The test was to validate "additional technical parameters" of the missile, which is already part of Pakistan's military inventory.
Pakistan tested a Ghaznavi short-range nuclear-capable missile on November 29.
The military said the recent tests were "indicative of the government resolve to consolidate and strengthen Pakistan's nuclear deterrence capability." [...]
MOSCOW : Russia revealed it was fitting its strategic bombers with cruise missiles capable of delivering a massive precision strike thousands of miles away -- giving away the first clear hint of its post-Cold War military strategy.

"Russia's long-range air force finally has a new weapon," the government's Rossiyskaya Gazeta daily announced in a headline. "We now have a strategic cruise missile with a non-nuclear warhead," the paper wrote.

"We have broken the US monopoly on the use long-range conventional cruise missiles," an unnamed senior air force commander told ITAR-TASS.

The technology appears to be similar to cruise missiles that the United States has long attached to its own intercontinental bombers like the B-2 Stealth bomber.

The announcement followed months of cryptic statements from President Vladimir Putin and his top generals that Russia was developing a new missile program that is a step ahead of any Western rivals -- including technology developed by the United States.

Putin declared last month that Russia had "conducted tests of the latest nuclear rocket systems" in a cryptic comment that puzzled military strategists but seemed aimed at Washington and its mooted missile defense shield that Moscow considers illegal.

Russia has been developing a range of new missiles capable of penetrating US defenses as a result.

Generals announced earlier this year the successful tests of a hypersonic intercontinental missile that has no officially-confirmed rival in the United States.

Moscow is also believed to be developing a multi-stage intercontinental ballistic missile that uses cruise missile technology to zigzag and avoid being shot down once it re-enters the earth's atmosphere.

Finally Russia announced that it was making its most feared and powerful trans-Atlantic missile mobile within the next two years.

But the latest technology announced Monday would see old Soviet-era conventional missiles be carried by strategic bombers with a global range.

The Russian government daily said tests of the new system were being conducted in military exercises now under way in southern Russia.

"This year, our strategic Tu-160 and Tu-95s bombers have been equipped with new non-nuclear precision weapons," ITAR-TASS quoted an unnamed Russian air force general as saying.

"These cruise missiles have a range of more than 3,000 kilometers (1,800 miles) and can miss a target by no more than a few meters while carrying a warhead of hundreds of kilotons," the source said.

The report failed to specify the type of missile being used.

The bombers currently carry an intercontinental ballistic missile called X-55 (AS-15 Kent according to Western classification) that was first deployed in 1983.

But Russian news reports said at least some of the planes will now be re-equipped with a new smaller missile which in Russian is called OFAB-500 and which carries a massive cluster bomb weighing 515 kilograms (1,130 pounds).

The pudgy weapon only has a top speed of 1,200 kilometers (720 miles) an hour but would be launched from bombers that can reach any spot on earth.

A military source told ITAR-TASS the first Tu-160 has been equipped with 45 tons of bombs -- or about 90 missiles.

"These new cruise missiles are a very precise weapon," the Krasnaya Zvezda (Red Star) official defense ministry newspaper wrote.

"The crew will be capable of delivering, as they say, a 'present' through an open window," the paper said.

However the Russian government daily pointed out that Moscow has a long way to go before it can catch up with Washington.

Rossiyskaya Gazeta estimated said the United States now has 5,000 non-nuclear-tipped cruise missiles with up to 700 of them attached to global B-52 and B-2 bombers.

The unnamed general told ITAR-TASS that Russia's technology was primarily aimed for "anti-terrorist operations" rather than a major war.
TOKYO : Japanese anti-war campaigners said they planned a "people's tribunal" over the atomic bombings of Hiroshima and Nagasaki that could symbolically hold the United States responsible for war crimes.

Some 30 academics, lawyers and peace activists are preparing for the trial to start next year on the 60th anniversary of the bombings, with the verdict likely to be read out in Washington in early 2006.

Defendants could be key US decision-makers including late president Harry Truman and secretary of war Henry Stimson, along with Robert Oppenheimer and other scientists and the military personnel who carried out the order.

"As the statute of limitations is not applicable to war crimes, the responsibility should lie with the present US government, too," the Hiroshima-based group said in a statement.

The group has invited international law experts to act as prosecutors and judges.

The activists said the failure to pursue criminal charges over the bombings in the final days of World War II led to the expansion of nuclear weapons and further wars, such as those seen in Afghanistan and Iraq.

"The bombing of Hiroshima and Nagasaki typifies two kinds of crimes against humanity, indiscriminate bombing and mass killing, both common phenomena in contemporary warfare," the group said.

Citizens of Hiroshima and Nagasaki "bear a moral responsibility to represent the voices" of all victims of indiscriminate bombing throughout the world, the trial's preparatory committee said. [...]
WASHINGTON - The Senate is expected to pass the 9/11 intelligence reform bill late this afternoon after the House passed the legislation 336-75 last night.
Four months after the Sept. 11 commission urged drastic changes to protect the nation from another terror attack, Congress neared final passage of the far-reaching legislation overhauling the nation's intelligence network and instituting new border and aviation security safeguards.
"We have walked a long and winding road to get to this day, but ultimately we've gotten to exactly where we wanted to be, which is on the verge of adopting legislation that will reform America's intelligence assets," said Sen. Joseph Lieberman, D-Conn., one of the lead Senate negotiators on the bill.
A compromise bill that seemed to be dead two weeks ago was getting a final vote in the Senate late Wednesday before being sent to President Bush for his signature.
The House passed the bill overwhelmingly on Tuesday after Bush endorsed it and House Republicans satisfied themselves that the measure would not negatively affect the nation's military.
The president "greatly looks forward to Senate passage and ultimately to signing the bill into law," White House spokesman Trent Duffy said late Tuesday as the president flew back to Washington from a visit with Marines at Camp Pendleton, Calif. [...]
WASHINGTON (Reuters) -- The following are the highlights of legislation that would enact key intelligence reforms recommended by the September 11 Commission.
The legislation:
- establishes the new Director of National Intelligence post to oversee the CIA and other U.S. intelligence agencies. The director is to be approved by the Senate and will have control over much of the budget for U.S. spy agencies. The Pentagon retains control over battlefield assets.
- establishes the National Counterterrorism Center to coordinate terrorism-related intelligence and conduct "strategic operational planning," which will include the mission, objectives, tasks and interagency coordination.
- creates a Privacy and Civil Liberties Oversight Board to ensure regulations and policies do not threaten privacy rights or civil liberties.
- requires the secretary of homeland security to develop and implement a national strategy for transportation security, including steps to improve aviation, air cargo and maritime security.
- calls for greater coordination and communication between all levels of government and emergency response providers.
- requires the Department of Homeland Security to increase the numbers of border patrol agents by at least 2,000 per year and customs and immigration agents by at least 800 per year for five years.
- tightens visa application requirements; requires a face-to-face consular interview of most applicants for non-immigrant visas between the ages of 14 and 79.
- increases criminal penalties for alien smuggling and allows deportation of any alien who received military training from a group designated as a terrorist organization.
- provides new authority to pursue "lone wolf" terror suspects who are not affiliated with foreign terror groups.
- authorizes funding for better technology and other federal support to improve efforts to fight money laundering and terrorist financing; requires better coordination and building on international coalitions to combat terrorist financing.
- supports public diplomacy in foreign policy; supports further financial assistance of Pakistan and Afghanistan; calls for strengthening and assessing the relationship between the United States and Saudi Arabia.
BOSTON, July 25 - The streets around the Democratic National Convention site resembled an armed camp on Sunday - helicopters overhead, bomb-sniffing dogs and their handlers, police officers and soldiers lining the intersections, many kinds of barriers, and an officially designated "Free Speech Zone" sealed off with cyclone fencing and razor wire.
It looked like an empty cage.
The designated demonstration area, a dank place under abandoned elevated tracks, failed its first test on Sunday when what will probably be the largest demonstration of the convention period simply walked right by it.
"We never intended to use it," said Rachel Nasca of Boston Answer, the main protest coalition, marching at the head of the line. "We never even bothered to take it to court. Did you see that thing?"
Indeed, the Free Speech Zone is rapidly becoming the hottest local issue of the convention, with most of the protest groups vowing to boycott it. The only protesters to embrace it were members of a pro-Palestinian group that says the cyclone fencing and barbed wire provide an ideal visual backdrop to their message of opposition to the Israeli occupation of the West Bank.
"We want to draw attention to what Palestinians have been subjected to for years," said Marilyn Levin of the group, United for Justice With Peace. "We can leave our cage, but Palestinians cannot leave theirs."
Sunday's demonstrators, mostly antiwar, numbering about 3,000 by police estimate, marched for about two hours in a big circle from the Boston Common over the top of Beacon Hill past the FleetCenter, the convention site, proceeding back past Government Center to the common, without serious incident. There was a brief scuffle with one of many anti-abortion protesters, who were also out in force.
[...] The demonstrators were escorted by hundreds of city and state police officers, preceded by policemen on bicycles pedaling at a gruelingly slow pace, and trailed by police S.U.V.'s, correction department detention wagons and even school buses, to be used in case of large-scale arrests. Lines of police - city to the left, state to the right - moved alongside, flanking the demonstrators, and there were phalanxes of officers at the intersections.
The police turnout was only one indication of the security precautions that have turned the FleetCenter into a virtual fortress. Helicopters and jet fighters patrol overhead, and Coast Guard and police gunboats cruise the harbor. National Guardsmen in camouflage patrolled around the convention center, which is surrounded by double rows of iron fencing.
[...] While the labor dispute was settled, the battle over the Free Speech Zone continues. After the American Civil Liberties Union and the National Lawyers Guild filed suit against the zone, Judge Douglas P. Woodlock of Federal District Court toured the site last week and said that while he intitially doubted the lawyers' claim that the site resembled "an internment camp," he concluded that the comparison was "an understatement."
"One cannot concieve of other elements put in place to create a space that's more of an affront to the idea of free expression than the designated demonstration zone," he said in a ruling on Thursday.
Nevertheless, Judge Woodcock said, there was no alternative. He told the lawyers: "There really isn't any other place. You're stuck under the tracks."
The manipulation of computer voting machines in the recent presidential election and the funding of programmers who were involved in the operation are tied to an intricate web of shady off-shore financial trusts and companies, shady espionage operatives, Republican Party politicians close to the Bush family, and National Aeronautics and Space Administration (NASA) contract vehicles.
An exhaustive investigation has turned up a link between current Florida Republican Representative Tom Feeney, a customized Windows-based program to suppress Democratic votes on touch screen voting machines, a Florida computer services company with whom Feeney worked as a general counsel and registered lobbyist while he was Speaker of the Florida House of Representatives, and top level officials of the Bush administration.
According to a notarized affidavit signed by Clint Curtis, while he was employed by the NASA Kennedy Space Center contractor, Yang Enterprises, Inc., during 2000, Feeney solicited him to write a program to "control the vote." At the time, Curtis was of the opinion that the program was to be used for preventing fraud in the 2002 election in Palm Beach County, Florida. His mind was changed, however, when the true intentions of Feeney became clear: the computer program was going to be used to suppress the Democratic vote in counties with large Democratic registrations.
According to Curtis, Feeney and other top brass at Yang Enterprises, a company located in a three-story building in Oviedo, Florida, wanted the prototype written in Visual Basic 5 (VB.5) in Microsoft Windows and the end- product designed to be portable across different Unix-based vote tabulation systems and to be "undetectable" to voters and election supervisors.
Yang, an engineering and computer services company subcontracted to NASA prime contractors like Lockheed Martin, was founded in 1986 by Dr. Tyng-Lin (Tim) Yang. Granted minority-owned "Section 8A" and woman-owned preferential status by the U.S. government, Yang's clients also include the Florida Department of Transportation (DOT). Yang's President, Li-Woan (Lee) Yang, is Tim Yang's wife. Feeney was the registered agent for another Yang company, Y & H Greens, Inc., a company that was dissolved in 1988 and operated from the Yangs' residence on Merritt Island. The Yangs also serve as co-trustees for an entity called Yang of Merritt Island, Ltd., founded on January 31, 2000, and also run from their residence.
In the autumn of 1999, Curtis, who served as a sort of technology adviser for Yang, first became aware of Feeney's interest in election rigging. Curtis said at one meeting, Feeney "bragged that he could reduce the minority vote and deliver the election to 'George.'" At the same meeting, according to Curtis, Feeney said he had "implemented a list that would eliminate thousands of voters that would vote for Democratic candidates" and that "a proper placement of police patrols could further reduce the black vote by as much as 25 percent."
Feeney's desire to manipulate the vote would be manifested in his home base of Volusia County in the 2000 presidential election. According to The Washington Post, at 10 p.m. on election night, Al Gore was leading Bush in Volusia County by 83,000 to 62,000 votes. One-half hour later, Gore's vote total had been reduced by 16,000 to 67,000 and an obscure Socialist candidate saw a sudden surge to 10,000 votes in a precinct with only 600 voters. The information on the Volusia optical scanner voting anomalies came from a leaked internal Diebold memorandum. In the end, Bush won Florida and the White House by a mere 537 votes in the most controversial U.S. presidential election in history.
Feeney had long been a voice in Florida GOP politics. He was gubernatorial candidate Jeb Bush's running mate in 1994, a race in which Democratic incumbent Lawton Chiles defeated Bush. Chiles once referred to Feeney as "the David Duke of Florida politics."
In 2002, Feeney asked Curtis if he could develop a touch screen voting machine "flip flop" program. According to Curtis, Feeney asked him, "Can you write a program to flip votes around on touch screen machines?" Curtis said Feeney wanted the program to merely reduce votes in heavily Democratic areas and flip Republican votes to 51 percent and keep Democrat votes to 49 percent. Curtis added that Feeney "did not want to win by a lot." In return, Curtis said Feeney offered him "big jobs." Curtis's main tasks at Yang were to develop the Florida DOT's Electronic Document Management System. He also worked on the Project Pipeline Information System at another one of Yang's major clients, Exxon Mobil's Coral Gables facility.
Curtis said he developed the voting program and eventually handed off his prototype to Feeney. The program was also reviewed by Curtis's senior coder, Hai Lin (Henry) Nee, who according to Florida Department of Transportation sources, was an illegal alien working in the United States. According Curtis, not only did Nee review the vote switching program code but he constantly downloaded sensitive data to his computer from NASA's computers. Nee, according to Curtis, moonlighted at an Orlando company called Azure Systems, described by The Orlando Sentinel as a "three person engineering firm" and one of a number of companies linked to Ting Ih-Hsu, a former Lockheed Martin employee. At the same time Nee was reviewing Yang's vote switching program, he was also being investigated by U.S. federal investigators for illegally shipping Hellfire missile parts to China. Oddly, although U.S. law enforcement agents had put Nee and his associates under surveillance for illegal exports of technology to China in 1999, he and his colleagues were not arrested until March of this year.
Curtis claimed that Yang's corporate bosses stressed that the company had "unlimited" sources of money that came "mostly" from China. According to Florida DOT employees, House Speaker Feeney pressured their agency to give money to Yang for nonexistent software. The sources also revealed that Feeney was aware that Yang was employing a number of illegal aliens on State of Florida and federal contracts.
Feeney's ties to Yang paralleled similar close ties to NASA. Feeney's wife Ellen has worked as an engineer for NASA's Kennedy Space Center since 1985. Jeb Bush ensured that Florida's 24th Congressional District was redrawn so that Feeney would have an easy time in his 2002 race against Democratic opponent Harry Jacobs. According to Florida state officials, who spoke on the condition anonymity, 500 Yang employees at the Kennedy Space Center were paid for their time when they agreed to picket against Jacobs. In addition, NASA administrator Sean O'Keefe, according to the same sources, lobbied extensively for Feeney within NASA. In addition, O'Keefe and his close friend and former Pentagon boss, Vice President Dick Cheney, made campaign appearances for Feeney at the Kennedy Space Center.
Feeney's close ties to Jeb Bush and Cheney paid off. In 2002, he was elected to the U.S. House of Representatives in a race that also saw the re-election of Jeb Bush. Early in "vote switch's" development stages, Feeney had told Curtis that he wanted the program "made to control Palm Beach" in 2002. Palm Beach County's Election Supervisor was still the controversial Theresa LePore, nicknamed "Madam Butterfly," who designed the infamous "butterfly ballots" in the 2000 election. LePore had once been an employee of Saudi multi-billionaire Adnan Khashoggi, a Saudi link that is tied to a huge multi- billion tranche of money distributed throughout off-shore trusts, accounts, and corporations with interlocking directorships that are controlled by Bush interests in Houston. It was this Bush-controlled money cache, originating in the East, and known in Houston by the name "Five Star" and other cryptonyms that was, according to U.S. intelligence insiders, used to fund the rigging of the 2004 election.
When he arrived in Congress, Feeney was given a seat on the House Science and Technology Committee, which oversees NASA's operations. Feeney was also appointed to the important House Finance and Judiciary Committees. He was also given a clean bill of ethical health by Florida's Ethics Commission, a panel that has a Republican majority. [...]
Wayne Madsen is a Washington, DC-based investigative journalist and syndicated columnist. He is the author of "Jaded Tasks: Big Oil, Black Ops & Brass Plates."
SAN ANTONIO - Clear Channel Communications Inc., the nation's largest radio station operator, has picked Fox News Radio to be the primary source of national news for most of its news and talk stations, officials announced Monday.

The five-year agreement initially covers more than 100 radio stations.
Fox will provide a five-minute top-of-the-hour newscast, a nightly news broadcast, and around-the-clock dedicated national news coverage. In return, Fox News Radio will have access to news produced by San Antonio-based Clear Channel's news network.
No terms of the deal were disclosed. But Fox, a unit of News Corp., says if all options in the agreement are exercised, its radio service could have more than 500 affiliates by the middle of next year.
"Working this closely with a premiere national news provider for the majority of our news/talk stations makes overwhelming sense," said John Hogan, chief executive officer of Clear Channel Radio. "Because of the breadth of this relationship, our local news directors will get a more customized and higher quality national news product — and that's great for listeners."
"This deal positions Fox News to become a significant player in the radio industry and is another example of our commitment to the medium," said Roger Ailes, Fox News chairman and CEO.
Clear Channel, which operates 1,200 stations, has been getting its national news feeds from a variety of providers.
MINNEAPOLIS (AP) - Border guards in International Falls, Minn., and other busy northern crossings will start fingerprinting foreign visitors by the end of the year as the Department of Homeland Security clamps down on the Canadian border.
Technology including motion-detecting sensors and land-and air-based surveillance of deserted stretches will also improve security, Asa Hutchinson, undersecretary for border and transportation security, said at a conference of law enforcement officials from eight Midwestern and western states and Canada.
Fewer foreigners cross into the United States from Canada than from Mexico, but they are from more countries and come for a wider variety of reasons. The Homeland Security Department aims to expand the collection of fingerprints and other digital biometric data to the 50 busiest land crossings by the end of the year. Fingerprinting has already started at Mexican border crossings in Arizona, Texas and California.
"The fact still is that a terrorist, and the terrorists of 9/11, came in not sneaking across a land border but with documentation at a port of entry," Hutchinson said. "That is obviously their preference. We have to continue to work on our ports of entry."
The fingerprinting technology - used already at airports and seaports - will be extended to all land border crossings by the end of 2005. Most Canadians won't be subjected to the scans because they don't need a visa to enter the United States.
The conference, which included representatives of tribal governments and the RCMP, was closed to media except for Hutchinson's speech and a brief question-answer with reporters. [...]
OTTAWA - Dirty-bomb detectors are being installed at the Ottawa International Airport under a federal project aimed at eventually adding them to air facilities across the country.
The move is intended to stem post-Sept. 11 fears a terrorist will slip a crude radiological device into luggage or onto an airplane.
Officials are particularly worried about the possibility of a dirty bomb packed with conventional explosives such as dynamite to scatter radioactive material stolen from a medical lab or industrial site.
The initial blast could kill or disable bystanders, while fallout may claim more victims and effectively shut down a public facility for weeks.
"The airport itself could be the target of, say, a dirty bomb," said Ted Sykes, a senior project manager.
"Or the airport and aircraft could be used as a means by which to move this stuff from one part of the country to another, or one part of the continent to another."
Fears were heightened last year when documents discovered in Afghanistan suggested Osama bin Laden's al-Qaida network may have successfully built a dirty bomb.
There is currently "limited capability" at Canadian airports to detect illicit radioactive materials, says a summary of the government project.
The $4-million pilot effort is part of the federal science community's efforts to improve preparedness for a chemical, biological, radiological or nuclear attack, a program known as the CBRN Research and Technology Initiative, or CRTI.
Project partners include the federal Health and Transport departments, the Ottawa police service, the Ottawa Airport Authority and private firm McFadden Technologies Ltd.
The prototype system will consist of both fixed sensors in the corridors of the Ottawa airport as well as roving detectors inside vehicles that patrol the grounds, said Sykes, a CRTI portfolio manager.
Initially, there will be three or four outfitted cars cruising the airport, with the first in place by the end of the year.
But it's too early for project staff to know how many mobile sensors are needed to cover the Ottawa facility, Sykes said.
"They're going to try to determine, is that the right amount? Do you need more, do you need less?" he said.
"And they'll combine this with the fixed-point sensors to have a system in place that could potentially help detect illicit transportation of material before that turned into a dirty bomb."
The project will use a geographical positioning system, cellular communication and mapping technology to enable staff in a central control room to monitor the various sensor readings.
A colour-coded scheme would help them interpret what each of the detectors is reading, Sykes said.
"Green is good, yellow means there's potentially an issue and red would mean you might have a hot radiological reading by one of the sensors."
The Ottawa pilot should be fully operational by next fall for a one-year testing phase, to wind up in September 2006.
The outcome will help determine the system's future and its potential expansion to other Canadian airports, Sykes added.
The CRTI program already includes a project to install dirty-bomb sensors in as many as 40 RCMP patrol cruisers in the national capital region.

Gaza City, Gaza Strip — Islamic militants set off explosives in a booby-trapped chicken coop Tuesday as Israeli troops approached, killing one soldier and wounding four, the army and militants said.
The deadly blast went off east of Gaza City and triggered a gun battle between soldiers and Palestinian militants. Israeli aircraft fired missiles at gunmen on two occasions, killing one and wounding three.
The fighting came after relative calm in Gaza following the Nov. 11 death of Palestinian leader Yasser Arafat.
The interim Palestinian leader, Mahmoud Abbas, has tried to persuade militants to suspend attacks on Israelis ahead of Palestinian presidential elections Jan. 9. The main militant groups, Hamas and Islamic Jihad, have not given a specific promise, but there had been expectations that they would not disrupt Mr. Abbas' efforts.
Hamas claimed responsibility for Tuesday's ambush, saying it had planted roadside bombs and land mines in the chicken coop and detonated them as the soldiers approached.
The military said one soldier was killed and four were wounded by the blast.
The Islamic Jihad militant group said one of its gunmen was killed in the Israeli air strike. Three Palestinians, including a 14-year-old boy, were wounded in the gun battle, hospital officials said. The firefight raged for more than an hour after the explosion. At one point, militants fired a rocket that exploded near an Israeli tank, causing no damage. [...]
According to Palestinian eyewitness accounts, the soldiers shot dead an injured Islamic Jihad terrorist, whom they came to arrest.

The commander of the Israeli Navy has decided to suspend a team from one of the IDF's most elite units, after a suspicion has been raised the unit killed a wounded Palestinian during an operation in Jenin earlier this week.
A preliminary investigation held by CO Central Command, Maj. Gen. Moshe Kaplinsky and head of the Navy, Maj. Gen. David Ben-Ba'ashat, has found several deficiencies in the unit's actions, prompting the latter to suspend the Navy Commando team until a full probe is completed.
According to Palestinian eyewitness accounts, it appears the soldiers arrived in the area in order to detain Mahmoud Kmayel, a wanted Islamic Jihad terrorist. During the operation, Kmayel attempted to escape but was shot by the soldiers who spotted him.
After a short while, the soldiers asked residents of a nearby house to evacuate Kmayel who was lying on the ground. The Palestinians tried to move him and even handed the soldiers his gun. According to their testimony, Kmayel was alive at the time and even spoke with them.
After bringing the injured terrorist closer the soldiers' position, they were ordered to leave the scene. The residents said that several minutes later they heard gunshots. When they approached, they realized Kmayel was dead.
Last weekend alone, over 70 Iraqis were killed in violence around their country. Yet these are only those reported as a result of spectacular, "newsworthy" incidents like car bombs or clashes between the resistance and occupation forces.
Iraqis are dying everyday from other things, like violent crime, kidnappings where families can't afford to pay the ransom, stray bullets…
It's all too easy to lose sight of what this means by looking only at the macro headlines; 32 Iraqis killed by a car bomb, 8 Iraqi Police killed when Police Station stormed, etc.
The numbers don't tell the story of families the dead are leaving behind.
There are no words to describe the sadness, nor the hopelessness felt, when meeting with a family left behind when their 30 year-old father was shot by US forces this past Fall.
In a small, one room house in Sadr City lives Sua'ad, a widow of 8 young children.
"I can do nothing but look at my children and cry," she says while weeping throughout the interview, "What are children to do without their father? A mother can care for them, but it will be different. No matter what I do, it will be different. Sometimes I need my husband for small things, and when he's not there I just want to cry."
Her husband, Abdulla Rahman, was killed when caught in the crossfire between occupation forces and the Mehdi Army.
She describes the day her husband was killed. US forces were attacking fighters in the area of Sadr City where they lived.
"His last day he worked his job of selling used clothing," she said quietly. Abdulla had come home for his break to eat with his family. He played with his 7 year-old son, then went outside to see what was happening when fighting broke out.
He returned shortly thereafter to tell Sua'ad he needed to go close his small shop. Roaring jets thundered overhead as bombs dropped, and small arms fire was audible down the street.
"His shop is all we have," explained Sua'ad, "I asked him not to go, but he said he would be right back."
But her husband never came back home…
"Some men told me he had been wounded, but when I found him at the head of the street he was dead," she said softly while weeping.
Abbas, a 17 year-old neighbor hobbles in on his new crutches. One of his legs was amputated because of wounds received from a cluster bomb that fell near his home.
Sua'ad's oldest child, Ahmed is just 14 years old. Their small house in the sprawling slum of Baghdad is nearly empty. Aside from infrequent handouts from neighbors, they have no income.
"He was our father, and we are needing him so much," she explains while holding her arms out while a small child sits in her lap, "His house needs many things. His children need many things. They are children. He was like my mother and my father and everything in my life."
She pauses to catch her breath. She never stops weeping.
"We are living alone now. I have four children with asthma. Sometimes they can't breathe and I can do nothing for them. All I do is stand with them and cry," she explains, "He was helping me by taking them to the hospital and bringing the medicines, but now I am knocking on the doors of the neighbors. Now we are really needing him."
She looks outside as tears run down her cheeks. Remembering him, she continues while staring out the window…
"He sacrificed everything for his children," she says softly, "This happens for all the good people in the world, not just me."
Her grief is mixed with anger towards the occupiers of her country…
"What can I say for the Americans? God will have the revenge for me. Now I have 8 orphans, and I am the 9th. As they make us orphans, God is going to kick them out of our country. All of these young men have been killed for nothing. They killed them but they did nothing wrong. My husband did nothing."
She sits in silence. The room is quiet, aside from one of her baby who is crying in the next room.
Sua'ad offers food, but it is time to go.
She walks to the front gate as we leave.
I look back once more.
She is still weeping.
CAMP BUEHRING, Kuwait - Disgruntled U.S. soldiers complained to Defense Secretary Donald H. Rumsfeld on Wednesday about the lack of armor for their vehicles and long deployments, drawing a blunt retort from the Pentagon chief.
"You go to war with the Army you have," he said in a rare public airing of rank-and-file concerns among the troops.
In his prepared remarks earlier, Rumsfeld had urged the troops — mostly National Guard and Reserve soldiers — to discount critics of the war in Iraq and to help "win the test of wills" with the insurgents.
Some of soldiers, however, had criticisms of their own — not of the war itself but of how it is being fought.
Army Spc. Thomas Wilson, for example, of the 278th Regimental Combat Team that is comprised mainly of citizen soldiers of the Tennessee Army National Guard, asked Rumsfeld in a question-and-answer session why vehicle armor is still in short supply, nearly two years after the start of the war that ousted Iraqi President Saddam Hussein.
"Why do we soldiers have to dig through local landfills for pieces of scrap metal and compromised ballistic glass to uparmor our vehicles?" Wilson asked. A big cheer arose from the approximately 2,300 soldiers in the cavernous hangar who assembled to see and hear the secretary of defense.
Rumsfeld hesitated and asked Wilson to repeat his question.
"We do not have proper armored vehicles to carry with us north," Wilson said after asking again.
Rumsfeld replied that troops should make the best of the conditions they face and said the Army was pushing manufacturers of vehicle armor to produce it as fast as humanly possible.
And, the defense chief added, armor is not always a savior in the kind of combat U.S. troops face in Iraq, where the insurgents' weapon of choice is the roadside bomb, or improvised explosive device that has killed and maimed hundreds, if not thousands, of American troops since the summer of 2003.
"You can have all the armor in the world on a tank and it can (still) be blown up," Rumsfeld said. [...]
During the question-and-answer session, another soldier complained that active-duty Army units sometimes get priority over the National Guard and Reserve units for the best equipment in Iraq.
"There's no way I can prove it, but I am told the Army is breaking its neck to see that there is not" discrimination against the National Guard and Reserve in terms of providing equipment, Rumsfeld said.
Yet another soldier asked, without putting it to Rumsfeld as a direct criticism, how much longer the Army will continue using its "stop loss" power to prevent soldiers from leaving the service who are otherwise eligible to retire or quit.
Rumsfeld said that this condition was simply a fact of life for soldiers at time of war.
"It's basically a sound principle, it's nothing new, it's been well understood" by soldiers, he said. "My guess is it will continue to be used as little as possible, but that it will continue to be used." [...]
LONDON : British police were probing why a top secret file detailing security arrangements for the visit of Pakistani President Pervez Musharraf to Britain this week was found abandoned on a London street.

The 17-page document was reportedly found by a delivery driver in a brown envelope on upmarket Curzon Street hours before Musharraf and his wife touched down at Heathrow from Washington on Sunday.

Titled "Visit of His Excellency General Pervez Musharraf, President of the Islamic Republic of Pakistan", the papers reportedly disclosed the security arrangements at the London hotel where the president and his entourage were staying.

The dossier containing maps showing Musharraf's movements, explaining how to identify undercover police, and giving details of police radio channels and secret police call signs, was given to the Daily Mirror newspaper.

"The documents did not detail personal protection arrangements for the president," said a spokesman from London's Metropolitan Police. "His personal protection was not affected.

"Our understanding is that they were found by a member of the public and handed in to the Mirror, who gave them to us yesterday," he said. "We have reviewed our policing operation, and liaised with the Pakistan High Commission."

An investigation has been launched by the the police's Directorate of Professional Standards into the circumstances surrounding the loss of the documents.

Musharraf is in London for talks with British Prime Minister Tony Blair.

The Pakistani High Commission and Blair's office did not comment on the security blunder.
SYDNEY : The head of Australia's major counter-terrorism force has called for extra powers to face increasing threats and warned terrorists are using new technology to wreak havoc far outside their own countries.

Australian Federal Police commissioner Mick Keelty said existing laws are inadequate and police need greater powers of interrogation to obtain information from suspects on who they work with and what they know about planned attacks.

In a speech to a major criminology conference in Melbourne, Keelty said police were currently encountering several constraints imposed by laws relating to evidence from overseas.

The Australian government has already significantly increased police powers, increased funding for its war on terror and signalled its intention to further strengthen laws after winning control of the upper house for the first time at the October 9 election.

But Keelty told the conference: "If society really expects law enforcement to prevent and disrupt terrorist activity, then we need to look at other models that are working or that are under development in other parts of the world."

He said counterparts overseas, such as in Britain and Northern Ireland, had a greater ability to obtain information from suspects than would be permitted in Australia.

"These include questions such as the person's identity and movements, what the person knows about a recent explosion or another recent incident endangering life and what they know about a person killed or injured in a recent explosion or incident," he said.

Australia's criminal justice system should, for instance, allow courts to admit evidence acquired in circumstances which may not strictly conform to domestic requirements, he said.

Australian police involved in the joint investigation with Indonesian police into the October 2002 Bali bombings were able under Indonesian laws to elicit information from suspects which allowed valuable evidence to be secured early.

But in Australia suspects have the right to remain silent when questioned by police about a serious offence.

"I believe, here in Australia we are at a point in the policy debate where it may be in the greater public interest for us to consider a similar system (to Indonesia)." [...]
Japan is warning the White House that there will be 'enormous capital flight' from the dollar if the Bush administration maintains its laissez- faire approach to the mounting currency crisis.
Tokyo fears that Japan's strongest economic recovery in a decade could be derailed by the sudden appreciation in the yen against the greenback.
The criticism of President Bush's inaction, by a senior member of the ruling Liberal Democratic Party, will be taken as a veiled threat that Japan could start to sell off its multi-billion-dollar holdings of US Treasuries. 'The Japanese government is going to ask for a strong dollar policy; if it continues to fall, there would be enormous capital flight from the dollar,' said Kaoru Yosano, chairman of the LDP's policy council, adding that Japan would be calling on its fellow G7 governments to demand the US deal with the massive fiscal deficit that has helped to prompt the dollar's decline.
Yosano's remarks echoed a warning from a senior Japanese Ministry of Finance official that if the US does not push up interest rates to make the dollar more attractive, 'the one-way sentiment on the dollar will have a negative impact on the flow of capital into the US.' He added that Japan is urging its European counterparts to join a campaign of coordinated currency-market intervention, saying: 'If the dollar is depreciating, we should have coordinated action: that has already been communicated to my European counterparts.'
Like Japan, the eurozone fears that its tentative recovery could be choked off by the fall in the dollar, which European Central Bank president Jean- Claude Trichet has called 'brutal'. However, the ECB has so far dismissed the idea of intervening.
Japan is taking a double hit from the decline in the dollar because the Chinese renminbi is pegged to the US currency, so Japanese exports are simultaneously becoming sharply dearer in both their major markets. Takeo Fukui, the chairman of Honda, admits, for example, that an appreciation of 1 yen against the dollar, if it lasts for more than three months, knocks 10 billion yen off the carmaker's profits.
Rome, Italy, - An earthquake was felt in the provinces of Treviso and Belluno. The epicentre was between the municipalities of Farra D'Alpago, Fregona, and Vittorio Veneto. No damage or injuries have been reported. According to the National Geophysics and Volcanology Institute, the earthquake took place at 3.19am, and had a magnitude of 3.
The family were walking close to Corfe Castle railway station
A grandmother was crushed to death by a falling branch in a tornado described by a coroner as "an act of God".
Pamela Hudson, 57, was walking with her husband and grandchild during a family holiday in Corfe Castle, Dorset, when a pine tree split and fell on her.
Firefighters pulled the boy free but Mrs Hudson, from Harpenden, Herts, was pronounced dead at the scene.
She was the first person in Britain to die in a tornado since 1913. A verdict of accidental death was recorded.
Mrs Hudson's husband, Ian, suffered a fractured right hand in the accident.
He told the inquest in Bournemouth: "The most striking recollection I have is of a terrific rushing noise which was different to a noise I had ever heard before and then almost instantly I found myself surrounded by tree branches.
"I noticed my wife was trapped under what presumably was the trunk of the tree... but there were no signs of movement from her. From that moment on it was absolute mayhem."
Meteorologist Robert Doe, a member of the Tornado and Storm Research Organisation, said the freak tornado left a five-mile trail of damage in its wake with one farmer losing the roof of a barn and another tree left completely uprooted.
It started at Corfe Common and travelled as far as Wareham Channel.
Coroner Sheriff Payne said: "It was clearly an exceptional event. Something that no human steps could have prevented happening. "

(Mexico City): Smoke and ash has been spotted coming out of the Volcano of Fire - also known as the Colima Volcano- in western Mexico.
Officials said a light coating of ashes has reached some towns in the area near the city of Colima, 430 miles (700 kilometres) northwest of Mexico City. But that there was no immediate danger.
It's the latest in a series of spectacular but non-threatening eruptions in the past few weeks. In October hot lava and rock came out of the volcano.
Since then scientists have reported frequent eruptions from its 12,533-foot (3,820-metre) peak. The eruptions have been caused by seismic activity, and scientists can't predict how long they will last.
Vulcanologists consider the Colima Volcano to be one of the most active and potentially the most destructive of the volcanoes in central Mexico.
Readers who wish to know more about who we are and what we do may visit our portal site Cassiopaea.org
---
Remember, we need your help to collect information on what is going on in your part of the world!
We also need help to keep the Signs of the Times online.
---
Send your comments and article suggestions to us

---
Fair Use Policy
Contact Webmaster at signs-of-the-times.org
Cassiopaean materials Copyright ©1994-2014 Arkadiusz Jadczyk and Laura Knight-Jadczyk. All rights reserved. "Cassiopaea, Cassiopaean, Cassiopaeans," is a registered trademark of Arkadiusz Jadczyk and Laura Knight-Jadczyk.
Letters addressed to Cassiopaea, Quantum Future School, Ark or Laura, become the property of Arkadiusz Jadczyk and Laura Knight-Jadczyk
Republication and re-dissemination of our copyrighted material in any manner is expressly prohibited without prior written consent.