Printer Friendly Version
Back to Signs Supplements
Today's Signs Page
Signs Supplement: UFOs - Part 1
---
August 13, 2002 - July 25, 2003
Panic-stricken Indian villagers are blaming UFOs for a spate of attacks that have killed several people and injured many others in Uttar Pradesh state. - In the past week seven people have died of unexplained injuries, while many others have been burnt. - Ramji Pal, was one such fatality, dying recently in Shanwa. His neighbor, Raghuraj Pal told The Associated Press that "a mysterious flying object attacked him in the night." "His stomach was ripped open. He died two days later." - But doctors have dismissed the stories as mass hysteria. "More often than not the victims have unconsciously inflicted the symptoms themselves," AP quoted Narrotam Lal, a doctor at King George's Medical College in Lucknow, the state capital, as saying. [Yeah, right!]
UFOs are destroying the plains of fertile central Greece, according to farmers who claim to have spotted alien aircraft landing in their fields.
A MYSTERIOUS flying object said to attack sleeping villagers has sparked mass hysteria and rioting across the north Indian state of Uttar Pradesh. Police shot dead one man and injured 12 others when a mob of hundreds stormed the police station in Barabanki, demanding protection against what they believe is an alien assailant terrorising villages. - The Times of India reported that the national intelligence bureau was sufficiently concerned to send its own agents, like Mulder and Scully from television's X-Files, to investigate the "alien" invasion. - After listening to villagers' descriptions of the muhnochwa , the agents constructed their own replica from the base of a mixer-grinder, fitted with coloured lights, and hoisted it onto a pole in an attempt to entice the extraterrestrial. Then they waited. At 1.05am they were rewarded with a flash of light &l! dquo;like a photocopier", which repeated three times. A videotape was said to show a flash of light passing across the screen. The agents concluded that the villagers were right and that they were indeed experiencing an extra-terrestrial invasion.
Contrary to belief that the illuminated 'flying monster' was either an insect or a remote-controlled device, Professor Ravindra Arora discovered that it was nothing other than balls of lighting that often fall on earth during dry spells. - He attributed much of the panic to superstitious beliefs that often dominate the minds of the vast rural population in this part of the country. At the same time, he was confident that the menace would end with the onset of monsoon.
It is not one of little green men or bald, bulbous-brained geeks. His is a rational vision, one built on hard facts and intelligent speculation, which is hardly surprising given that he is senior astronomer with the SETI Institute in California. Forget what you've seen on The X-Files, SETI (the search for extra-terrestrial intelligence) is the serious, scientifically based endeavour of looking for signs of other civilisations beyond Earth.
[...] When troublesome events started to occur, some people saw a spaceship hovering above the fourth generating unit of the Chernobyl plant. Eyewitnesses say that an UFO was there for six hours and that hundreds of people saw it. People started writing about it only two years after the catastrophe. Of course, such information appeared in magazines on ufology. As it is generally believed, serious people don't read such magazines and journals. [...]
Green Fireball over Europe, Multiple UFOs seen New York, New Jersey sphere and cross sightings, Pennsylvania UFO emits beam, Georgia UFO seen by family, Wisconsin lights, Illinois ten UFOs near O' Hare Airport, Missouri green triangle, New Mexico photos, Idaho sphere UFO, Washington disk, Canadian wedges, Chile UFOs photographed, UK lights in sky, and Borneo and Australia UFO reports in news. A Free UFO Symposium will be held at George Washington University on the 4th of November.
The British government will publish files on reported UFO sightings as part of a shake-up of its laws on freedom of information. Among the documents to be published is the "Rendlesham File," which deals with one of the country's best known sightings of an unidentified flying object.
Until now, only about 20 members of the public have seen the file, which relates to a sighting in Rendlesham Forest, Suffolk, eastern England, in 1980. According to some UFO enthusiasts, eyewitnesses including U.S. officers at a nearby military base saw a brilliantly lit spaceship land in the forest on two consecutive nights. Skeptics say the witnesses were fooled by the beam from a lighthouse on the nearby coast. The Rendlesham file has been available to the public for some time but only at the discretion of the Ministry of Defense.
Now, the government says it will publish it on the Internet before the end of this week, along with other files on reported UFO sightings. "These first steps mark important progress toward changing the culture of government and extending the public's right to know what is being done in their name," Freedom of Information Minister Yvette Cooper said in a statement.
The government says it intends to repeal or amend up to 100 pieces of legislation which currently prohibit disclosure of information. It aims to replace them with provisions of a new Freedom of Information Act, passed in 2000.
Much has been said about the "UFO" developments of the Third Reich; however, some important questions still remain. Were the Germans actually successful with these developments or not? According to some sources, an UFO crashed near the city of Freiburg in 1936. The UFO was found, and it's likely that German scientists with the assistance of Schutzstaffel (SS) managed to repair and even test the UFO's energy system and propulsion systems.
- With 20 years experience flying and repairing military and civilian helicopters, Roberts added cryptically, "Whatever that is – it's not something the general public knows about. I' ve seen some photos of military jets blowing small holes in clouds when they broke the sound barrier. But those photos don' t compare with what you have. That hole is huge and that's no jet!"
- I was taking photos of chemtrails on Nov. 20th, 2002 and accidentally got these two cylinders on video at two separate times on the same bright sunny day. Each video take is 30 seconds long.
- Local scientists are quietly working to give UFO sightings a measured look and lend legitimacy to those who spot them - The National Aviation Reporting Center on Anomalous Phenomena. Headed by former NASA scientist Richard Haines of Los Altos, the year-old group is one of several private organizations saying that UFOs deserve a measured, scientific look. With research helpers around the country, it's a confidential sounding board for professionals in the taboo-bound aviation field. Haines' focus is on helping flight and ground crews safely handle something many have experienced but few have talked about. "Everybody's so God-darned afraid of everything," Daniels said.
"How does science rationally deal with a phenomenon that stays with an airliner at high altitude (and) at high speed for 20 minutes?" he asked. "It automatically eliminates a long list of mundane phenomena." Haines' group has collected 1,300 pilot reports and is gathering more from government and private sources in many countries. "This is kind of snowballing," said Ted Roe of Vallejo, the group's executive director. "First off, we're learning that the phenomenon is distributed globally." [...]
It's all a magic show of the mind, most scientists tend to think. Few have ventured in. But Haines is attracted because he believes a conservative approach can gain on the mystery. A former NASA behavioral scientist who worked on manned moon missions and later helped design aircraft cockpit displays, he has published more than 70 journal articles in his specialty. He prides himself on his caution. [...]
Haines stands apart from the UFO culture and even from the acronym itself. He instead likes UAP, for unidentified aerial phenomenon. The coinage is picking up currency: Scientists and aviation experts adopted the acronym for a November conference at George Washington University in Washington, D.C., on aerial mysteries and interstellar travel.
"Visitors" from another world are creating an out-of-season tourist invasion at Loch Ness. After the Inverness Courier revealed unexplained lights had been seen - and filmed - on successive nights in the sky over Drumnadrochit, UFO research groups and individual enthusiasts from around Scotland announced plans to head to the area to carry out their own investigations. Former Royal Navy submariner Lee Close, of the Anglo-Scottish UFO Research Agency, was one of the investigators who contacted the Courier to appeal for more information on the sightings. Mr Close, whose group is currently researching 17 UFO sightings in the Fife and Dundee area, now wants to investigate the Loch Ness sighting.
Local people have reported strange objects in the sky above Dubbo recently prompting an appeal from the Independent Network of UFO Researchers (INUFOR) for anyone with similar sightings to come forward. On Tuesday January 14 about 8pm a family on a property between Dubbo and Parkes saw something in the evening sky they couldn't explain, according to INUFOR co-ordinator Moira McGhee. - It is not the first report of strange objects in the central western sky with Ms McGhee recounting a "spate" of sightings about six years ago. "A Queensland couple was travelling through Dubbo on the Newell Highway on their way home from a holiday in Victoria," she said. "They were travelling in a coach following behind a truck, and they were seated in the front seat, in earshot of the UHF radio. "The truck driver said 'can you see that mate' and the bus driver replied &lsqu! o;I sure can', and the couple looked up to see a giant glowing disc in the sky, much larger than the shops it was passing over." Ms McGhee is urging anyone with information about the recent glowing ball or any strange sighting in the sky to come forward and report it to INUFOR on (02) 4757 3848.
John Hoppe and his wife started ufowisconsin.com in September of 2001, and since then, almost 80,000 people have visited the site. The site has two goals: to further the awareness of the UFO phenomena and to track the UFOs in our state's skies.
"An UFO-related incident that occurred four years ago poses a troubling question whether any kind of cooperation is possible between Iraqi dictator Saddam Hussein and extraterrestrials," UFOlogist Joseph Trainor declared in his review UFO Roundup (issue 51 of December 17, 2002). "On December 16, 1998, during Operation Desert Fox against Iraq, a video clip aired on CNN showed a UFO hovering over Baghdad; it moved away to avoid a stream of tracer anti-aircraft fire. At that time we all thought it was another UFO sighting, although captured on videotape. But now, ufologists think it was much more than a mere incident."
Jack Sarfatti reported that Friday evening, December 6, 2002 "someone called the Art Bell radio show, claimed his connection with the military and informed that a UFO crashed in Iraq several years ago. The USA is currently searching for any pretext to invade Iraq. In fact, the USA is motivated by the greatest fear that Saddam will reverse-engineer the crashed alien spacecraft." It is allegedly said that the craft crashed during the Gulf War (1990-1991), or more recently (probably in December 1998). This became some kind of Iraq's Roswell. The USA is currently reverse-engineering the Rosewell craft and fears that Saddam's scientists may become even more successful than Americans in this or that sphere. It was said that these researches may give Iraq a considerable advance and even make it a leading super power.
Arab journalists failed either to confirm or to deny these rumors. Aiasha al-Hatabi replied to Joseph Trainor that "he heard nothing about a UFO crash in Iraq." In the words of Mohammed Daud al-Hayyat, "there are talks about extraterrestrials in Iraq, but nothing is said about any crash. It is rumored at a market in Sulaimaniya, to the south of Zarzi, that aliens are Saddam's guests. Where do they stay then? People mention some underground base. But Saddam has a palace in this valley, an old stronghold Qalaat-e-Julundi. Earlier it belonged to the royal family. After the revolution, the government took possession of the fortress, and now, like every palace in Iraq it is "a summer residence" of Saddam Hussein. The fortress is mentioned here for a very simple reason: it is practically impossible to penetrate into it. The citadel stands on a hill surrounded with ve! rtical precipices on three sides; the precipices plunge down to the Little Zab river. It is said that Saddam lets aliens stay there." -
Joseph Trainor came to a conclusion that something strange is actually happening in the valley of the Little Zab river, but it is not clear what exactly. It is not ruled out that Saddam intentionally spreads these rumors so that to scare people away from some important military object located in the old fortress of Qalaat-e-Julundi. [...]
Nevertheless, it is not the only information about a UFO crash in that area. Many years ago, on June 20, 1993, an information was published on FIDOnet's MUFONET BBS NETWORK, it was a letter of some Steve from Britain. He openly warned:
"The following information was published in Amateur Radio Packet BBS on June 13 by some short-wave transmitter for spreading all over the world. I know nothing about the man who published the information, I also cannot say whether his information is true. The man reported that some aircraft was found after it was brought down by F-16 over Saudi Arabia during raids in Baghdad."
The information itself said: "A high-ranking source admitted that US Air Force's F-16 brought down a UFO over Saudi Arabia during the Operation Desert Storm, and five countries are trying to conceal information about this fact. I don' t know details, but it was some plane unknown to me. Saudis who were with me at that moment, were scared so much that they asked American, British and French investigators to come to the crash site immediately."
Colonel Petrokov said that at that moment he was on a visit to Er Riyadh, where together with a Russian group he managed to examine the crashed aircraft before American troops participating in Desert Storm came to the crash site. He said:
"The aircraft was round and made of some material that I never saw myself. About one third of the craft was torn out by blasts of American missiles. Saudis didn't let us touch anything, but we managed to see appliances, mechanisms and other things that bewildered us absolutely."
Inscriptions on the control panel and on the scales were in some unknown language.
Anyone who grew up with the Clangers will have their own idea what creatures from another planet sound like. Now scientists are to investigate for themselves by analysing up to 200 "promising" noises from space that may indicate aliens of the non-knitted kind are contacting us.
The signals have been picked out by the world's biggest computing project. More than 4 million people have set up special "screensavers" that look for the signals when their PCs are idle.
Yesterday, the Search for Extraterrestrial Intelligence (Seti) group in California visited the giant Arecibo telescope in Puerto Rico to point it at the sources of notable "signals" picked out from five billion analysed in the past four years. But the scientists say intelligent life is not likely to be located for another 20 years at least. Dan Werthimer, Seti@Home's chief scientist, said: "These are the best signals that 4 million volunteers have found."
On Thursday, March 27, 2003, an oblong luminous UFO hovered over the holy city of Najaf (population 560,000), located about 100 kilometers (60 miles) south of Baghdad. A photo showing the unknown object, with a G.I. of the 3rd Brigade, 101st Airborne Division pointing at it with his forefinger, appeared in the newspaper Euronews, according to French ufologist Thierry Garnier.
"The journalist of Euronews does not mention anything about the object and attributed the destruction of the (Allied) tank to 'an accidental implosion,' Thierry reported. French ufologist Franck Marie said the image first appeared on the Euronews website at 1:30 a.m. on Friday, March 28, 2003, "but it was gone by 2 a.m."
UFO Roundup correspondent Mohammed Hajj al-Amdar stated, "The UFO's appearance caused great excitement among the Shiites who saw it. They said it had come from Allah's Gardens of Bliss to protect the Tomb of Ali." (Najaf is a holy city to Shiite Muslims because of the golden-domed mosque that stands over the grave of Ali, the son-in-law of the prophet Mohammed. The mosque miraculously escaped damage last week from the 101st Airborne's howitzer barrage.)
After more than 45 years of study and investigations and visits to 19 document archives, I am convinced that: a) Earth is being visited by alien spacecraft; b) The subject of flying saucers represent a kind of Cosmic Watergate; c) There are no good arguments against these conclusions; d) Visits to Planet Earth and 55 years of government cover-up of crashed saucers and alien bodies are, together, the biggest story of the past millennium.
I take a clear-cut, unambiguous stand that some UFOs are alien spacecraft but that some of these flying saucers are our own. I am absolutely convinced that the United States government has been withholding data about UFOs since at least 1947. That was the year when at least two crashed flying saucers - alien wreckage and bodies - were recovered in New Mexico. This does NOT mean everybody in the government knows all about saucers and nobody has talked. Security works on a need-to-know basis with compartmentalization of very highly classified matters. Of course, some people have talked, but without having any confirmatory classified documents to release.
After arduous effort, I have received some of the 6,000 pages of UFO-related documents that have been released - many of them with eight words to a page and paragraph after paragraph blacked out (until they graduated to whiteout several years later.) However, this amount is but a small percentage of what exists in the archives and files of various government agencies.
More than a decade ago, a Freedom of Information request submitted to the CIA by Citizens Against UFO Secrecy elicited the response that the CIA had no information about UFOs. An appeal was denied, but a federal court action forced the CIA to do a document search. Eventually it released about 900 pages of mildly interesting items. Clearly this was the tip of the iceberg since none were classified above "Secret" and since there were internal references to many other documents that were not released.
The CIA has a history of doling out dribs and drabs in hope that the requester will give up. Of greater importance was the release of a list of 57 UFO documents found in the CIA files but originating with a host of other agencies. Notable among the identified material were 18 UFO documents originating with the National Security Agency. But these documents could not be released by the CIA.
A Freedom of Information request was then made for the NSA documents, but was denied on the grounds of national security. A subsequent appeal was denied and federal court action followed. Finally, a federal judge ruled that the NSA had to search its files. The search yielded 239 UFO documents with 79 originating with other agencies, including 23 from the CIA, which supposedly had already done an exhaustive search. The NSA refused to release 156 of its UFO documents.
I then filed a Freedom of Information request for the 23 CIA documents identified by the NSA file search. After 35 months the CIA released just nine, which were all, believe it or not, press abstracts of Eastern European newspaper articles about UFOs! It refused to release its own 14 UFO documents on that list.
I appealed and - two years later - received tiny portions of three documents with the rest being withheld.
The now-famous extraterrestrial encounters and cover up at Roswell, N.M., have long been a focus of my work. I was the original civilian investigator of the case and co-authored "Crash at Corona," the definitive study of the Roswell incidents, and instigated the Unsolved Mysteries episode on television about Roswell.
Some attacks on the legitimacy of the Roswell crash have been made by people who accept the notion that Earth is indeed being visited by alien spacecraft but do not believe that Roswell represents the crash of such a vehicle. Much as I have tried to find good reasons for rejecting the reality of the Roswell incident, despite the enormous quantity of verbiage that has been published, I have been unable to do so. [...]
There is no question that the U.S. government recovered two crashed flying saucers and crews in the New Mexico desert in early July, 56 years ago. The government has been quite successful at withholding the physical remnants and the real paper trail.
Yes, Virginia, there really is a Cosmic Watergate!
If we are not alone in the Universe, why have we never picked up signals from an extraterrestrial civilisation asks New Scientist in this weeks issue? Known as the Fermi paradox after physicist Enrico Fermi, who first posed the question, this long-standing puzzle remains one of the strongest arguments against the existence of intelligent aliens.
But two physicists say they have come up with a solution. They suggest a way in which aliens could send messages to each other across space that not only disguises their locations but also makes it impossible for a casual observer to even distinguish the messages from background noise. Messages sent by this method could be criss-crossing our Galaxy without us ever knowing...
Paul Shuch, director of the SETI League in New Jersey, also points out that being able to disguise a sender's location would be extremely useful for secure military communications here on Earth. "In a few decades, when it's declassified, we may well find that such a technique is already in use."
UFO was observed in various parts of capital approximately from 5 pm to 7pm (Baku time). In the cloudless sky the large light stain similar to an extended "drop of milk" has appeared.
The object was not similar to a cloud, aboard the plane or the helicopter, as moved on a complex trajectory, Ekho newspaper report says. At 18:35 "drop" suddenly started quickly to leave, was not dissolved yet in the sky. The abnormal object has caused interest not only the people of Baku, but also Azerbaijani experts.
Professor Elchin Khalilov, chief of a commission on the abnormal phenomena at presidium of Academy of Sciences, shot the UFO on amateur. Mr. Khalilov has noted that they had already started to study the video.
"With similar UFO we face for the first time," he told to reporters. "It is already unequivocally clear, that the fixed object is not the plane, helicopter or other flying means. The UFO represents enough, slightly extended form. Thus is abundantly clear, that it is object of a technical origin."...
As Baku Today reported early this year, an UFO appeared on Baku on January 2. Some scientists claim that UFOs were also observed before and warned about natural disaster. Mr. Gasimov stated that UFOs hinder the prediction of earthquakes and researches carried out in this field.
"They don't want mankind reveal their secret. But there are some facts stating that UFOs keep in touch with the scientists. Though most approach these unserious, objects keep in touch with selected persons by the means of Morse alphabet or telepathy signals and transmit information related to the future," he told to journalists in January of this year. It seems UFO will become "normal guest" for Baku inhabitants soon.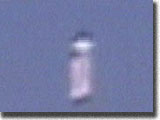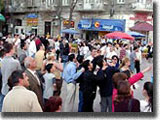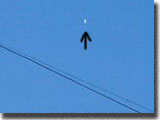 LILBURN - Round red objects about the size of silver dollars suddenly appeared and seemed to scan three people traveling home in a Ford SUV one night last month.
They didn't see a mother ship hovering above them on a rural stretch of highway called "Booger Bottom" near Greenville, Ga. No little green men popped in to chat. The 25-second visit was not your stereotypical sighting of an unidentified flying object. It was certainly no laughing matter for a 50-year- old Tucker man and his brother and sister-in-law from Warm Springs.
The 73-year-old female witness, who remains unnamed, went to the police and the GBI for help, but they didn't want any part of it. She called the National UFO Reporting Center and was hooked up with the Mutual UFO Network of Georgia. MUFONGA doesn't turn away people with odd stories. MUFONGA investigators use a scientific method to eliminate publicity seekers and natural occurrences from true unexplainable incidents. If they can't find a explanation for what occurred, they at least want to record the phenomenon.
MUFONGA investigators Olivia Newton of Lilburn and Jim Clifford of Lawrenceville were assigned the case.
Newton noted none of the witnesses gave them any reason to doubt the account. "We watch for body language, any discrepancies," Newton recalled. "They looked at us right in the eye and were very forthright. They said, 'surely you have heard of this before.'"
In her five years of investigating UFO reports, Newton had heard about a woman being paralyzed while a hovering object came toward her skylight and a 2-year-old boy who was being stalked by a possible spirit. "Most of them turn out to have natural explanations," Newton said, adding that Venus is often mistaken for a spaceship. Newton had never heard a story like this one.
"They all said it was not of this world. They felt it was intelligent. They felt they had sought them out for the sole purpose of scanning them. Scan. That was the word they used," Newton said. The trio was upset by the experience. The woman insisted they learn what the red objects were.
"She said, 'I've got to know what this is. Are they coming back after us? What if they cart us off?'" recalled Newton. When Newton and Clifford met with the Tucker man at a local Starbucks to discuss the case, he was visibly shaken, she said. He too refused to have his name used. The witnesses called the approximate 50 red objects that appeared inside the car "lights" but described them as solid to Newton. They said they only occurred on their bodies until they vanished instantly. The brother of the Tucker man told investigators he saw a red swirling object next to the vehicle on the driver's side before the lights appeared. He was sitting in the back seat facing his brother, Newton said. The Tucker man's testimony on the NURORC's Web site at www.UFOcenter.com said, "The floor board again was red hue as it was in the back seat. I looked out the window and over the dash board onto the hood and did not see any activity as was being awesomely and erratically displayed in the front and back seat."
According to the investigation so far, a train was not traveling on the nearby tracks. No airplanes were flying over the Greenville skies that night, Newton said.
Newton and Clifford walked around the area. No houses were close enough to the road to reflect light into the car. Newton said they couldn't find an area where practical jokers could have hidden and focused red lights constantly on the people for 25 seconds as the vehicle traveled 35 mph.
To help solve the mystery, Newton plans to seek a geologist's opinion and look into the origins of why that area is called Booger Bottom.
Locals told her the first name was once used for the "Boogey man," and the area was called that to scare off government officials searching for moonshiners.
Newton wants to make sure the area was not named for an earlier incident, which might be similar to what the witnesses experienced.
Cape Town - Is it a star or is it an unidentified flying object?
People living in the Boland were asking this question on Tuesday after observing an unusual light phenomenon in the Worcester area. Many people phoned regional radio stations with the news that they had seen a UFO...
A man named Deon was travelling on the N1 towards Worcester and phoned to say he saw a cigar-shaped UFO right below the moon.
It was apparently gliding above the clouds with a smaller but very bright light alongside. He said he had been looking at the lights for quite a while and it was most definitely not an aircraft. [...]
Cape Town - The unidentified flying object seen hovering in the sky on Tuesday, could have been two planets.
Numerous listeners telephoned Kfm 94.5 on Tuesday morning to say they saw a UFO at about 06:45 hovering in the sky above Worcester.
One listener told breakfast show DJ, Nic Marais, that he was driving on the N1 and saw a cigar-shaped UFO gliding above the clouds just below the moon in the Worcester area.
Doctor Dave Laney of the planetarium in Cape Town said on Wednesday that the shape of the UFO could indicate that the listeners saw the Mercury and Venus planets.
Laney said Mercury was on the right-hand side of Venus on the morning of May 27. Both were directly below the moon.
"Fast moving clouds could easily create the illusion that objects are moving in the sky. If Venus and Mercury were glowing mistily through the clouds, it could create the illusion of a cigar-shaped object", said Laney.
Laney said it was impossible that the alleged UFO could be an iridium torch. This phenomenon occurs when one of the panels of the numerous communication satellites circling the earth, reflects sunlight.
UFO's Found to Be Active over the Caspian Sea
As Baku Today already reported last month, on May 19 at 17:00 the inhabitants of Baku witnessed an unusual flying object in the sky.
02/06/2003 03:12
Baku Today
By Emin Allahverdiyev
It did not look like a plane or other type of vehicle. It appeared right in the center of the city. According to witnesses, the flying object was hanging in the sky for over two hours, it was white and stretched.
Never before had alien flying objects appear at such an early time and never before were they observed with by so many people.

This appearance of the UFO had a great impact on the city and rumors began to spread all over. Some of these rumors say that it was not a UFO, but something else… but what exactly, nobody could tell.

The head of the space seismology sector and member-correspondent of International energy-informational academy for the UN, Fuad Gasimov, commented on this recently in a local newspaper. Mr. Gasimov confirmed the fact, that the flying object that appeared in the sky on May 19 was truly an apparatus from another planet.
"This fact is not surprising. For a long period of time, all facts about UFO's were being denied," he said. "As usual, they were denied at the authoritative level, by famous scientists, who, by the way, were not scientists in fields relating ufology." [...]
UFO researcher George Filer said the number of sightings has remained fairly consistent for the last few months, but May had some of the most unusual encounters.
For instance, folks in Winnebago, Wis., reported seeing what looked like three flying Spaghettios hovering over Lake Winnebago on May 15 and May 20 and a trio of flying green cigars was spotted running amuck around North- ridge, Calif., on May 7.
Still, the most bizarre UFO sighting occurred in rural Ohio, where a group of 30 stick figures, each about 3-feet tall, broke up a wild party.
Filer admits these cases sound almost unbelievable but that won't sway him from doing further research because, in his words, "the strange ones are more likely to be true."
A group of investigators from the Victorian section of the Australian UFO Research Network will compile the footage with the aim of attracting an international TV market.
The members plan to spend as long as six nights during June staking out sites in the Grampians.
Spokesman Jason Groves, of Warrnambool, said that during the past three years there had been many reports of strange lights from in and around the Grampians. [...]
JEDDAH, 9 June 2003 - An unidentified flying object fell to earth in the southern Jizan region last Monday and experts believe that it could be part of a spy plane that invaded Saudi airspace.
Witnesses told Al-Watan daily that the object looked like a flying saucer and radiated light. A number of people in Arraith town, about 220 km northeast of Jizan, watched the strange object fall at about 9 a.m. on Monday.
The fall of the object sent shockwaves through the area and frightened cattle. People ran away from the object and observed it from a distance.
Abdul Rahman Al-Osaimi, governor of Arraith, told the Arabic daily that he visited the area where the object had fallen, adding that it had frightened the residents.
"The object is not big, but it scares people,"the governor said.
Informed sources told Al-Watan that security officers visited the site to inspect the object and interview witnesses.
If the UFO turned out to be a spy plane, it could bring back memories of stories of flying saucers frequently found during the Cold War period. The United States recorded some 850 flying objects crashed on its territory in those days.
Salman Al-Raithy, a resident of Arraith, told the daily that he had watched the object flying at a low altitude and then fall on the ground.
Wadi Amoud in Arraith saw a number of strange incidents over the past years.
It witnessed the emergence of poisonous carbon water from a well in the area, which the superstitious used to treat diseases, forcing authorities to cover the well. An old mass grave with the remains of people killed in battles was also found in the area.
A group which researches sightings of UFOs believes there may be a link to the Dudley earthquake last autumn.
Stourbridge-based UFO Research West Midlands today warned there could be a repeat of the earthquake at the end of July.
The warning follows research into a reported UFO sighting at the epicentre of the earthquake, recorded at 5.0 on the Richter Scale on September 23 last year, in Brick Kiln Lane, Gornal, two months before.
Uform member Peter Kimberley said Wombourne resident David Rose contacted the group after he photographed a strange object in the sky near Wombourne last July.
And a photo he took of buzzards at Kingswinford Railway in March had a mysterious rod-like object in the foreground.
"We are now intrigued to see if anything happens around the latter end of July," said Mr Kimberley.
The observation of the phenomenon was rather unique, as the object was filmed by several cameramen from all the sides
On the night of June 20, citizens of the Russian cities of Yekaterinburg and Pervouralsk observed an unidentified flying object high in the skies. Witnesses describe the phenomenon as something resembling a bright beautiful comet.
The strange object was moving underneath clouds. The UFO brightly lit the night sky and disappeared. However, many of the witnesses managed to take pictures of the phenomenon and filmed it.
For the time being, neither local astronomers nor emergency situation services have commented upon the phenomenon. It is not clear what effect the flying object exerted upon the witnesses. According to UralPolit.ru, the Air Defense hasn't issued any comments upon the event yet.
In fact, the observation of the phenomenon was rather unique, as the object was filmed by several cameramen from all the sides. [...]
Cloud-to-Earth lightning bolts are a well-known natural electrical occurrence. Now scientists have discovered and photographed for the first time enormous, 90-kilometer-high (55-mile), luminous, electric discharges that deliver large quantities of current from thunderstorms to the edges of the Earth's atmosphere. [...]
The Sci Fi Channel is campaigning to persuade the US government to be more forthcoming and aggressive in investigating UFO sightings.
The television network has hired a Washington lobbyist, received support from John Podesta, a former chief of staff for Bill Clinton, and sponsored a symposium on interstellar travel.
The network will premiere a documentary, Out of the Blue, on Tuesday that methodically lays out an argument that there is something out there.
It is very, very tough for people to take this subject seriously," said Ed Rothschild, a lobbyist for the Washington firm PodestaMattoon.
We thought the only way it was going to be seriously addressed is to have serious people talk about it, scientists."
George W Bush says there is mounting evidence to suggest there is alien life on other planets.
The US President used his budget document to declare that there may be "space aliens" to be discovered.
A passage entitled, "Where are the Real Space Aliens?", states that important scientific research over the last 10 years indicates that proof of "habitable worlds" in outer space is becoming more of a reality. [...]
The document says: "Perhaps the notion that 'there's something out there' is closer to reality than we have imagined."
The purpose of these files is to report the UFO eyewitness and photo/video evidence that occurs on a daily basis around the world and in space. Our UFOs headed for Mars, Massachusetts - a round bright white light flying, New York - crop circle investigation, Georgia - bright domed disc, Florida - three stationary, orange, rectangular lights, Bahamas - daylight disc, Mississippi - sun cloud and flying flashlight, Michigan - Jet flying too slow, Missouri -- hovering bright triangular shaped object, California - flying triangle, Washington - daylight disc sighting and photos, Argentina - cattle mutilation UK - UFO flap, Belgium - flying triangles return, Netherlands - UFO runway, Spain - UFO videotaped, Russian - fisherman see green UFO, Ukraine - cylinder UFO with diamond emblem, and Australia - bright light.
AZTEC, N.M. -- Were you looking into the New Mexico sky in 1947 or 1948? Did you see little green men or the smoldering wreckage of a strange ship? A pair of researchers trying to uncover the secrets of two purported UFO crashes wants to pick your brain.
Stanton Friedman, a ufologist and nuclear physicist, was the first person to investigate a farmer's field in Roswell where many believe an alien spacecraft crash-landed in 1947. He's also gathering facts from a lesser-known purported UFO 1948 crash in Hart Canyon north of Aztec.
Friedman is hunting for people who may have witnessed either craft's flight or wreckage, but he knows time is running out.
Norway's most renowned spot for mysterious aerial sightings, the village of Hessdalen in South Troendelag, is experiencing a dearth of sightings. The valley community's measuring station has registered 120-130 unidentifiable light phenomena since 1998, but only one in the past year, newspaper VG reports...
Strand said that they cannot explain the sharp drop in sightings but believes one key factor is technical problems connected to newly installed camera equipment.
"We are now in the process of reinstalling the equipment and then we believe that registered sightings will pick up again," Strand said.
IDAHO FALLS, Idaho -- Wander into the front yard of John Andersen's manufacturing plant, and you might think you are in a NASA warehouse or a CIA surveillance facility...
Andersen Manufacturing Inc. of Idaho Falls makes dishes, Andersen admits, with uses that exceed his wildest imaginations.
Some of the largest ones -- shiny aluminum alloy dishes, 21 feet in diameter -- are manufactured for some scientists in California who are scanning the skies in search of radio signals from aliens.
The Search for Extra- terrestrial Intelligence, SETI, is the official name, and the scientists are buying an army of these giant radio telescopes from Andersen. In fact, Andersen's products play such a crucial role in the ambitious program that his company has gained some national publicity.
The dishes, custom-ordered by SETI, will eventually form the Allen Telescope Array. The project is named after its chief sponsor, Microsoft Corp. co-founder Paul Allen. ..
Precision dishes are the biggest sector in Andersen's booming business. He has recently started making a dish the same size as those for the SETI for NASA's Jet Propulsion Laboratory. It will be used in communicating with outer-space exploration vehicles.
Meandering his way between machinery and several half-finished SETI dishes, Andersen is an enthusiastic believer in extraterrestrials and has full confidence in his products.
Taipei, July 7 (CNA) A white, oval unidentified flying object described as being the size of a basketball was sighted and videotaped by a Chiayi woman in southern Taiwan Sunday, and a "UFO specialist" did not rule out the idea that it could have been an object from outer space. [...]
It was the third reported UFO sighting over the past week in Taiwan, Lu said, claiming that the tape "could not be a hoax."
If you need convincing the truth is out there, what better authority than the British constabulary? In UFO Magazine (July), Gary Heseltine, detective constable No 1877 of the British transport police, presented the results of a year's work compiling police officers' observations of unidentified flying objects.
"The last 12 months have literally flown by," recounted DC Heseltine. But his feet were firmly on the ground as he presented a database bulging with encounters of the first, second and third kind - a total of 84 incidents, spanning the period from 1950 to 2002, involving more than 200 police officers. [...]
A bright flash in Tucson's eastern sky last night left authorities puzzled.
A few callers reported the flash about 8:45 p.m. to the Pima County Sheriff's Department, a dispatcher said.
Sheriff's deputies and the Tucson Airport Authority were unaware of the source.
A 250-mile range radar at the National Weather Service's Tucson office showed nothing unusual, senior forecaster Brian Francis said.
The Sheriff's Department received several calls, a dispatcher said.
A Triangular Problem
Sightings of "impossible" craft in the sky are universal. They are also universally ignored. Ignored, at least, by the official channels and sources of power in our society.
This is nothing new -- students of the UFO reality have always known this. Nor is the blanket of denial and disinformation associated with this topic anything unique. I have howled into the wind about this many times, decrying the inability and unwillingness of our mainstream media to discuss an entire range of topics. Yes, this is old news.
As strange as UFOs are, I often think that the silence of official channels is more surreal than the objects themselves. How can it be possible that so many thousands (millions?) of witnesses continue to be ignored?
One subset of the phenomenon, however, has broken through to the mainstream. Perhaps we should say -- ahem -- the 'fringes' of the mainstream. These are the infamous triangular craft. America's mainstream culture, ever rigid and narrow, yet acknowledges from time to time that such things exist. Frankly, it would be hard not to. The reports are simply too many and too clear. [...]
Hi Jeff
I received one photo the other day from the witness who took the video clip of this strange object. Today I received three more and was given permission to have them posted. If there is anyone who is interested in knowing more about these images, please contact Brian at HBCC UFO Research and I will pass along all messages to the witness. Here is the report:
Good afternoon,
Here's an interesting image from the footage - what do you make of it?

On the afternoon of July 6 , 2003 my husband noticed a gleam way over head. It looked odd, so I went and got my camcorder w/500 digital zoom . Couldn't see what it was until I zoomed in.

I recorded the most awesome 3 minutes of what was defintely an unidentified object. We looked through frame-by-frame and found some 'brow-raising' images.
I am a 31 year old skeptic and don't care for politics or red tape. I am the type of person that looks to the logical explanations in all 'unexplained' from paranormal to the unexplained - but this footage is like nothing I know which is on record to date. It isn't just a a sliver ball darting around - the footage has captured more detail than that; the object is defintely not a sliver ball.
I was in the Navy, have been on carriers/sub-tenders, I have seen aircraft ... stealth bomber ... etc. But I have never seen anything like this! And the footage shows (I was taping by a tree) you can see the object moving as the leaves in the same frame remain still. Also taped the moon to show I did not mistake the object for 'swamp gas reflecting off a weather balloon causing steam to rise in a dioxide mist.'
Let me assure you this footage is true.
This footage is so solid I am willing to sell all rights to it. I realize many are hoaxed projects - experts can sniff out a fake crop circle a mile away. I do feel this footage will be talked from all aspects of the UFO pros & cons for years to come.
Respectfully ,
(name withheld)

Brian Vike, Director
HBCC UFO Research
Canadian Toll Free UFO Hotline 1 866 262 1989 - Free call.
Editor: Canadian Communicator - Paranormal Magazine
email: <mailto:hbccufo@telus.net>hbccufo@telus.net
Website: http://www3.telus.net/public/wilbur8/hbcc_ufo_research.htm
[...] A mysterious flying object was seen to hover and reflect light for more than a minute before lifting off into the sky towards the Castlemilk and Glasgow area.
The sighting comes only two months after The Reformer reported that the Glasgow UFO Research Organisation (GUFORO) were still investigating reports from three people of a similar object seen in the area last summer.
The recent sighting was made by a medical professional in his 30s, who lives Cathkin.
He is now calling for anyone else who may have seen anything to report what they saw. [...]
Gareth Bicknell Investigates North Wales' Top 10 Ufo Sighting Spots ...
A Black Country UFO research group has had a big increase in reports of unexplained lights in the sky since the start of the hot spell. Stourbridge-based Uform says it is getting reports every day of sightings of unexplainable lights and objects in the sky.
Group member Yvonne South said there appeared to be increasing activity in the "Himley Triangle" around the epicentre of the Dudley earthquake in September last year. And two unusual events were reported in Dudley on Monday and Brierley Hill on Tuesday night. [...]
It was spring of this year, in March. We were on the Columbia Plateau not too far from the Tri Cities, Wa. / In Walla Walla County. About three p.m. / There were 2 of us at this event when we were buzzed by a black chopper,flying fast and low, so we ducked into the shadows I snapped a quick photo offhand.
We were visiting a sacred site (Native American) when the black chopper came upon us, very swiftly. They came from the south, headed North toward Spokane. We were there representing the Confederated Tribes and NAGPRA.
So, the fliers were there, flanking the copter. I saw your other material you posted which sparked my interest further, hence even though this happened in Wash state, I send it along to you anyhow.
Permission was granted to me to post the picture. Thank you very much to the witness who sent this along to me.
I also sent this report and photo along to a United States UFO Investigator.
Photo posted at my site under United States Sighting reports.
Brian Vike, Director
HBCC UFO Research
Two Tura Beach residents are seeking an explanation for curious light phenomena they witnessed in the southwestern sky on Sunday night.
Baden Cameron and his neighbours Tom and Yvonne Scott watched the rotating light disk, which varied from circular to elliptical, for about an hour between 9.30 and 10.30pm. [...]
Little did Socorro patrolman Lonnie Zamora know that a single incident recorded almost 40 years ago would change his life, and the city's, forever.
Around 5:45 p.m. on April 24, 1964, Zamora was in his patrol vehicle in hot pursuit of a speeder when he heard something that sounded like an explosion.
The five-year veteran patrolman stopped chasing the fleeing vehicle to investigate what he thought might have been the detonation of a shack of dynamite.
Zamora followed a narrow, gravel road beside a small arroyo, and radioed in that he was going to check on what looked like it might have been an overturned vehicle.
He drove further on the gravel road and then exited his patrol vehicle to get a better look.
What Zamora described next has been chronicled and analyzed by UFO experts around the world. Most reports refer to an egg-shaped object supported by legs, and the presence of two beings described as children or small adults.
A loud roar and the flash of a bluish flame sent Zamora to the ground for cover before he jumped up and ran to the other side of the gravel road.
Zamora heard a whirring sound and watched the object rise out of the arroyo; the "legs" he had seen earlier were no longer in view.
Not long after the object's disappearance, he was joined by State Police Sgt. Sam Chavez who had overheard Zamora's radio dispatch. The two officers began to scour the area for clues.
And thus began an investigation into one of the most widely circulated UFO stories ever, one that propelled tiny Socorro into the center of the unidentified flying object universe. [...]
Captured footage of three objects hovering above Francois Lake one night last year.
By JENNIFER LANG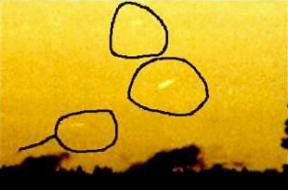 TERRACE's reputation as B.C.'s UFO capital is creating a new kind of tourism boom in the region.
Curious travellers from across North America are inquiring about the tourism facilities in communities across Highway 16, including Terrace, says a UFO researcher based in Houston, B.C.
"You would be surprised just how many emails I get over the months requesting information for our areas," says Brian Vike, editor of Canadian Communicator, a magazine specializing in the paranormal, and director of HBCC-UFO Research.
Earlier this year, Terrace cracked the top 10 in a national UFO survey, earning third place, just ahead of Houston, where Vike operates a toll-free UFO hotline so he can collect and investigate eye-witness reports.
Terrace recorded the third highest number of UFO sightings in the country last year, bringing national and international attention to the region, Vike says.
The resulting publicity means the northwest is rapidly emerging as one of the best places to see UFOs in Canada.
Savvy tourists know they're more likely to see a flying saucer than the elusive Kermode bear, the white form of a black bear that is the city's official symbol. [...]
Vike says 2003 is shaping up to be another record year for UFO sightings in the skies over Terrace, where 25 sightings were recorded last year, suggesting more national and international attention could be on its way.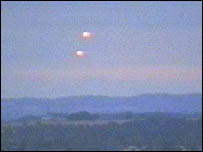 The cameraman spotted flashing lights in the sky
Strange flashing lights above the sky in Worcestershire has caused speculation the county was visited by aliens.
A BBC cameraman spotted three bright lights in the sky over the Malverns near the village of Hanbury on Tuesday and filmed them with a video camera. [...]
RESIDENTS in Croxley reported sightings of a UFO which circled above them for ten minutes before vanishing without trace.
Mervin Harris, from Forbuoys Newsagents on Baldwins Lane, Croxley, witnessed it yesterday (Thursday) at 4pm.
He said: "It went across in front of me."
Five locals are reported to have seen the strange craft.
Continue to Part 2

Readers who wish to know more about who we are and what we do may visit our portal site Cassiopaea.org
---
Remember, we need your help to collect information on what is going on in your part of the world!
We also need help to keep the Signs of the Times online.
---
Send your comments and article suggestions to us

---
Fair Use Policy
Contact Webmaster at signs-of-the-times.org
Cassiopaean materials Copyright ©1994-2014 Arkadiusz Jadczyk and Laura Knight-Jadczyk. All rights reserved. "Cassiopaea, Cassiopaean, Cassiopaeans," is a registered trademark of Arkadiusz Jadczyk and Laura Knight-Jadczyk.
Letters addressed to Cassiopaea, Quantum Future School, Ark or Laura, become the property of Arkadiusz Jadczyk and Laura Knight-Jadczyk
Republication and re-dissemination of our copyrighted material in any manner is expressly prohibited without prior written consent.