Printer Friendly Version
Back to Signs Supplements
Today's Signs Page
Signs Supplement: UFOs - Part 2
---
July 30, 2003 - February 10, 2004
[...] Mathews faced significant scrutiny shortly before the 1999 election, when he recounted for a newspaper reporter his recollections of what he believes was a UFO visit to his Varina farm several decades ago.
In an article, Mathews said he believed the UFO was responsible for the subsequent death of his dog.
Wade said that those comments further damaged the reputation of the Sheriff's Office.
"To me, it's embarrassing to go out in public and have someone say, 'Hey Sheriff, have you ever seen a UFO' That's happened to me a number of times." [...]
A MAN spotted two jellyfish like objects which he could only describe as UFOs flying over his Daventry home. On the same day an hour before a cameraman recorded footage of similar colour and shape vessels in the night sky in Worcestershire.
Adrian Dalton, 32, of Hemans Road, Daventry was standing in his back garden with his son on Tuesday, July 22 between 10pm and 10.30pm.
He first became aware of them when he saw two black objects in the distance which he thought were birds. Next thing, they were above his home.
He said: "They were like two brown jellyfish in the sky, they looked like they were swimming and I had not taken any drugs." [...]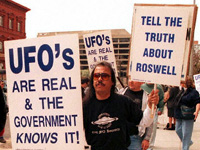 Flying saucers, UFOs, extra-terrestrial life - most people think it is all fiction. But for some it is all too real and an international conference was held in Perth in Western Australia to discuss the "hidden truths", information that a so-called secret government is withholding from the public. [...]
[...]Gloucester men Andy Lloyd, a charge nurse at Gloucestershire Royal Hospital, and his friends Dave and Martin Cosnette are all nationally recognised experts on UFOs. The three stargazers are reaching out to the public and setting up a hotline to report UFO sightings in Gloucestershire. [...]
"This year's bright appearance of Mars will be an added incentive and the increase in stargazers may turn up more reports of Unidentified Flying Objects."
Cameras will be rolling in Kecksburg today as the Sci Fi Channel continues production of its two-hour investigative documentary, "The New Roswell: Kecksburg Exposed." [...]
In an effort to shed light on the uncertain events of Dec. 9, 1965 -- when some people claim an unidentified flying object came to Earth in the Mt. Pleasant Township community -- the cable channel will sponsor what it bills as a "town meeting" at 10 a.m. in the Kecksburg fire hall. [...]
[...] On that serene and surreal evening, the forces of nature (and perhaps some other forces, depending on whom you ask) converged with our national pastime on the corner of the Bermuda Triangle, crafting a moment that, in terms of sheer oddity, may have no peer in baseball lore.
Some eyewitnesses have told the story hundreds of times to thousands of people. Most listeners refuse to believe it. Reporters and baseball historians have never taken it seriously enough to run with it -- perhaps in part because one of those present doesn't recall it even happening.
Can't really blame any of them. The tale is, in a word, unbelievable. And it's been buried among baseball's most obscure X-Files for nearly 29 years. [...]
Judy Messoline got tired of waking up with strangers, if not aliens, in her yard.
So four years ago she asked the Saguache County commissioners to allow her to build a UFO watchtower and campground. Then she could make some money on people who were already using her land to camp as they tried to spot aliens.
The San Luis Valley has long been considered a fertile ground for such searches, especially after claims of alien abductions, UFO landings and a wave of cattle mutilations. [...]
[...]Cronkite mentioned that he and the other reporters had been warned that photography of the missile test and any audio transmissions or recordings by the press were forbidden. They would have to give a written account of the event. Just as the test was ready to proceed, everyone was writing as fast as they could. As Air Force Security personnel walked around the perimeter of the test area with guard dogs and the news reporters watched, the missile was fired-up and about to be released. Just then, a large disc-type UFO appeared on the scene. [...]
A RETIRED policeman who now spends his time chasing UFOs is looking for help from Swindonians to complete his research.
John Hanson, 57, retired from the police force in 1995 after nearly 30 years of service.
[...] Mr Hanson, who lives in Alvechurch, Worcestershire, is appealing to the people of Swindon to help him solve a piece in the jigsaw.
The incident happened on the afternoon of November 24 1970 at Ridgeway Comprehensive School in Wroughton.
Mr Hanson - who is a consultant for the Flying Saucer Review - says hundreds of pupils and staff - witnessed a black metallic disc shoot across the sky, apparently chased by RAF fighters.
"This incident forms just a tiny fraction of multi UFO phe- nomenon that I have studied over the past decade. "I am very keen to hear from anyone who was at the school on that day." [...]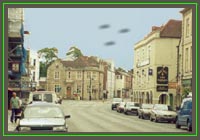 IN the mid-1960s a sleepy Wiltshire town became the unlikely epicentre of a UFO phenomenon.
Warminster, in West Wiltshire, became known globally for what was enigmatically called " The Thing ". The Thing took many forms by those who claimed to have observed it between 1965 and 1977. [...]
The latest report of a UFO over Hemel Hempstead was made today. There have been over 20 reports over the past two weeks of unexplained bright objects in the sky.
Today's report came from Deaconsfield Road where Ray Tomlin saw two strange objects giving off a bright orange light shortly before 1am.
He's mystified as they made no noise, but moved too fast to have been any sort of hot air balloon.
UNIDENTIFIED sightings of a mysterious object in the night sky over Loughton have left two women baffled. [...]
As submitted to the House Committee on Science and Astronautics at July 29, 1968, Symposium on Unidentified Flying Objects, Rayburn Bldg., Washington, D.C., by James E. McDonald.
"Then there are scattered instances in which substantial power distribution systems have failed at or very near the time of observation of aerial phenomena similar, broadly speaking, to one or another UFO phenomenon. I have personally checked on several such instances and am satisfied that the coincidence of UFO observation and power outage did at least occur. Whether there is a causal connection here, and in which direction it may run, remains quite uncertain.
Even during the large Northeast blackout, November 9, 1965, there were many UFO observations, several of which I have personally checked. I have inquired at the Federal Power Commission to secure data that might illuminate the basic question of whether these are merely fortuitous, but the data available are inadequate to permit any definite conclusions. In other parts of the world, there have also been reports of system outages coincident with UFO sightings. Again, the evidence is quite unclear as to causal relations."
The largest wave of UFO sightings occurred in 1965. From coast to coast strange low flying objects were reported almost nightly by people of all ages and walks of life. These sketches compiled by a NICAP researcher represent a small sample of hundreds of investigated cases in which truly unknown objects were judged to have been involved.
As the year progressed the number of reports rose dramatically. On the night of August 2 thousands of people in 4 midwestern states witnessed spectacular aerial displays by large formations of UFOs. That same night a multicolored disc was photographed in Tulsa Oklahoma while several persons watched it perform low altitude maneuvers. This picture was extensively analyzed, pronounced authentic, and later published by Life magazine and many newspapers.
But the year's most incredible development was yet to come. On the evening of November 9 hundreds of UFO sightings were reported throughout the northeast. In New York State luminous objects were seen hovering over 3 very significant locations.
A Niagara Falls power plant
A [Syracuse] relay station
and the heart of New York City
Within moments of the Syracuse sighting 9 northeastern states and parts of Canada experienced the largest power failure in history. Media accounts including those by NBC news, The Associated Press, and some local papers openly reported the UFO sightings and in a few cases suggested that they be investigated as a possible cause of the blackout. However, before this speculation could gain much momentum the Federal Power Commission announced that the problem had been caused by a broken relay in a Canadian power plant. This answer was accepted by the press and public and the UFO angle was quickly forgotten.
[...] On November 9, 1965 the northeastern region of the United States and Canada was abruptly plunged into blackness. The worst blackout on record came to be known as the 'Big Blackout'.[...]
Mass media coverage naturally focussed on the human aspect of the blackout and to a lesser extent, on the delay in determining the cause of the breakdown.
There was, however, an even more dramatic story.
UFOs had been reported in the vicinity of strategic hydro installations at the time of the blackout. The impressive number of
credible sightings led many researchers to consider the possible role these craft may have played in the power collapse.
The researchers included the late Dr. James E. MacDonald,(3) a physicist at the University of Arizona; former NICAP director Major Donald E. Keyhoe; and astronomer Dr. J. Allen Hynek, the current director of the Centre for UFO Studies.
Immediately following the breakdown, the U.S. Federal Power Commission and the Ontario Hydro-Electric Power Commission launched a full-scale investigation into the cause. At first, it was reported that the trouble originated with a mechanical breakdown in a high voltage line between Buffalo and Niagara Falls.
According to the [Toronto] 'Globe and Mail':
The report turned out to be false. Then a sub-station near Syracuse was reported to be the cause of the failure, but repairmen found it in perfect condition.
Finallly, six days after the blackout, Ontario Hydro engineers traced the trouble to the mammoth Sir Adam Beck No.2 Generating Station at Queenston, Ontariom north of Niagra Falls.
It seems that just prior to the blackout, power was flowing from Sir Adam Beck No.2. into Ontario, then across the border via Cornwall into New York State. In graphic terms, power was flowing clockwise in a loop around Lake Ontario.
At 5:16pm, a backup relay on one of the six lines linking Sir Adam Beck tothe rest of the province mysteriously tripped the line's circuit breaker, which acts much like a household fuse.
In quick succession the cut-off power jumped to the other five lines, causing an overload that tripped the circuit breakers on these lines as well.
A veritable tidal wave of electricity - 1.1 million kilowatts - flowed in the opposite direction into New York State. (5) Inexplicably, the relays on the New York lines failed to isolate and contain the overload. Within seconds, the entire grid of thirty-one interconnected power utilities of CANUSE (Canada-United States Eastern Grid) had broken down.
Although experts could pinpoint the origin of the blackout, they were baffled by the cause of the relay malfunction and the failure of the protective systems to contain the overload.
In the words of Ontario Hydro's system supervising engineer, Jim Harris: "It's incredible! I would have said this was impossible if I hadn't seen the evidence." (6)
The mystery deepened when it was discovered that the relay had not in fact malfunctioned, but had merely reacted to a sudden surge of power from an unknown source.
As stated in the final report of the U.S. Federal Power Commission: "The precise cause of the backup relay energization is now known." Where did the unexplained surge of power come from? To this day that question has remained unanswered.
Or has it? [...]
IT COULD have been a case for Mulder and Scully when glowing orbs were spotted in the Hanbury night sky at the end of July.
But several reports of hovering lights in the area and one onlooker managing to film the mysterious objects has now led to a UFO research organisation to launch a full investigation into the sightings.
Tom Hines, a BBC cameraman, was looking for a location to shoot a private film in the area when he spotted the lights at the end of July.
He filmed what he could see, and the eerie record of three lights suspended in the air has convinced Contact UFO Research International to take the sightings seriously. So much so that it is now doing more research to see if the lights could in fact be UFOs. [...]
E.T. might have tried to phone Ohio on Aug. 15, 1977. But nobody was listening at 11:16 p.m., and scientists in the years since haven't been able to figure out what, if anything, the extraterrestrial was saying.
A radio telescope dubbed ''Big Ear'' and operated by Ohio State University was scanning space from Delaware County when a booming 70-second burst was received from a point in the sky that tracked from the middle of the Milky Way. It had all the earmarks of an intelligent transmission. [...]
UFO expert Michael Soper was amazed to capture an object he believes could be an alien spacecraft on his own camera.
Mr Soper, of Ousley Close, Marston, Oxford, spotted the object on a photograph he had taken of a cloud at Middleton Cheney, near Banbury.
He suggested the object could have been an alien sheltering from solar storms which have been linked with the recent scorching weather conditions.
"I took a picture of a cloud which looked like a chicken about to take flight," said Mr Soper, 55, media spokesman for Contact International, a group which monitors UFO sightings across the world.
"When it came out I spotted a small egg shaped object with a bizarre plasma tail." [...]
[...] The blackout 38 years ago was similar to last week's outage in many ways. The "Great Northeast Blackout" of 1965 began at 5:16 p.m., near the end of a normal workday. The power grid broke up four seconds after the initial disturbance. New York, Ontario, most of New England and parts of New Jersey and Pennsylvania went black within five minutes, leaving 30 million people without electricity for as long as 13 hours.
In his 1979 book, UFO Canada, Yurko Bondarchuk writes some believers went so far as to accuse then-prime minister Lester B. Pearson for covering up alien involvement in the 1965 blackout.
"To shift attention from the UFO explanation, the 'broken relay' story was invented," Mr. Bondarchuk quotes U.S. ufologist Donald Keyhoe as saying. "Since this could be construed as blaming Canada, the prime minister must have been convinced it was best for both countries not to disclose the true situation." [...]
An unusually high number of UFO sightings have been reported across the Midlands due to the hot weather, say a group of alien spotters.
Cigar-shaped ships, beaming lights in the sky and a Tinkerbell-like being have all been reported to UFO society Contact since June.
Michael Soper, Contact's Midlands spokesman, said there had been 30 clear sightings of UFOs in the Birmingham area which could be put down to the temperatures. [...]
The purpose of these files is to report the UFO eyewitness and photo/video evidence that occurs on a daily basis around the world and in space. Did UFOs cause the Blackout? Maine - trooper claims a UFO taps power line in 1965, New York - Pine Bush story, Are we alone? New Jersey - Sam Sherman family spots UFO, FLORIDA - UFO flips over highway, Alabama - daylight rectangle UFO, Louisiana - Three orange lights traveling in formation, Ohio - UFO causes power outage and daylight rods videotaped, North Dakota - five see disk that moves faster than an airplane, Montana - five lights like a cross, Canada - UFO flap sweeps Ontario, Argentina - huge round object, UK - Glider pilots spot UFO, Netherlands - Portugal - fluorescent green triangle, Turkey - UFOs running wild.
A RETIRED aviation enthusiast says he has never seen anything like an unidentified object which flew over his back garden.
Douglas Wragg has been watching the skies for more than 50 years and knows everything there is to know about aircraft and weather balloons.
But on a clear day in Petts Wood, he says he witnessed a cylinder-shaped flying object which was "nothing to do with aviation".
Mr Wragg, 71, asked his wife, Pamela, to verify he was not hallucinating after tracking the object through his binoculars.
Describing it as like "two rolls of carpet covered in black plastic", one on top of the other, he initially thought it was a kite but ruled that out when it climbed to about 20,000ft.
He said: "I know a lot about aircraft but I've never seen anything like this." He contacted Biggin Hill airport to warn them because it appeared to be in the flight path. [...]
As the planet Mars has moved to its closest point to Earth in around 60,000 years, the number of 'UFO sightings' in Germany has soared, a researcher said yesterday.
"I'm hearing some of the most outrageous claims at the moment," said Werner Walter, who heads Germany's CENAP centre tasked with investigating reports about unidentified flying objects. [...]
A UFO was spotted over Whitehaven on Saturday night. [...]
"It was pear shaped and came in from the Solway Firth over the Valley. There were no navigation lights, just white lights all round it and some sort of fabrication linking the thing up. It was very unusual. I had never seen anything like it – and none of us had been drinking." [...]
UFO investigators are targeting Suffolk in their quest to find alien life. [...]
A strange yellow D-shaped object was spotted overhead by a man in his garden at Freston.
He watched in wonder as the UFO changed shape before it altered course and flew off at around 11pm on August 5. [...]
You've been hearing a lot about it.. The planet mars is the closest it's been to earth in nearly 60,000 years.
And people all over the globe have been out star gazing to get a glimpse of it.
But late last week, some in Calcasieu say they saw something else in the sky out of the ordinary, and they were able to capture it on home video. [...]
One Hundred and Fifty Seven Witnesses Speak Out - We Want To Know!

What can cause so many residents in various communities from Kamloops through to the Okanagan and the Kootenays in British Columbia left scratching their heads, wondering what it was they all witnessed. Also many people became very frightened and ran into their homes. The answers to the questions I have been asked have been hard to come by, but we certainly know something extraordinary did take place on July 28, 2003 in the early morning hours.[...]
Strange lights in the North-east night sky have baffled the experts.
Sixteen lights travelling rapidly across clear skies were spotted over two nights by a Fyvie resident.
Air traffic control bosses and aviation experts have ruled out aircraft or satellites, because the lights were travelling too fast to be planes or orbiting objects.
Astronomy experts say the lights could not have been "shooting stars" because they were travelling too slowly and from different directions.
One North-east UFO expert was at a loss to offer a straightforward explanation and said the mysterious sightings should be logged as genuine close encounters with unidentified flying objects. [...]
ROME TOWNSHIP, Ohio -- Maybe it is something for the X-Files.
Residents in the Rome Township, Proctorville and Chesapeake areas were not necessarily concerned, but were curious about the source of odd lights in the sky Sunday and Monday nights. Two lights appeared to circle as if chasing one another each night over Rome Township, prompting residents to peer skyward. Occasional blips or flashes also appeared at random, sometimes over Ohio 7 and sometimes over Ohio 243 or to the south, toward the Ohio River.
"They were just kind of circling around," said Roger Lambert, of Rome Township.[...]
[...] The strange object in the picture appears to have an entirely symmetrical structure, with two "broom like" extentions on either end of a classic 'cigar' or cylinder shaped UFO body. There is also a bright 'orb' of light below it.
Almost every conceivable UFO shape has been reported over time -- from cylinders to columns to snake-like or even 'organic' looking structures to the classic saucer or sphere. Could we be seeing yet another remarkable ship design in Mona's photo?
MORE Wishaw residents have come forward after having their own close encounters of the UFO kind.
In last week's Wishaw Press, we reported the sighting of a green light in the sky, above Craigneuk on Monday September 8, around 9.30pm.
The green light had been seen in the sky, at a height of around 400 feet, before shooting off in the Muirhouse direction. [...]
UFO researcher contacted by Airdrie and area residents
Paul Wells, Echo Editor
Airdrie Echo - While far from being Alberta's version of Area 51, a Canadian UFO investigator and researcher says Airdrie and area has been a veritable hotspot for reported sightings of late.
Brian Wilke, director of HBCC UFO Research who has appeared on countless radio shows as a UFO expert, says he's received numerous calls on his toll-free UFO hotline reporting sightings of strange flying objects in the immediate area.
"We have started receiving a number of telephone calls and e-mails from (Airdrie) area residents reporting many strange lights and objects in the night skies," Wilke said. [...]
A HOUSEWIFE from Wallasey claims that the area is a hotbed of UFO activity. Nikki Limb is the newly appointed Wirral representative of the Merseyside Anomalies Research Association (MARA), which was set up in 1996 to investigate and research UFOs and other strange incidents.
She says UFO sightings are extremely common in Wirral and many are regularly reported to her. She also claims to have seen UFOs herself.
[...] One of the strangest of MARA's incidents occurred on August 24, 1997, when they say a black sphere appeared to rise out of the river. The group claim that four witnesses in Wallasey saw something odd in the evening sky at about 7.30pm in the evening as they were sat in the garden with friends enjoying the clear weather.
One of the people noticed a black ball in the sky moving at high speed - apparently quicker than an aircraft. They watched this for about a minute and had enough time to get in the house to get binoculars. During the observation the object changed direction a number of times and also seemed also to change shape.
There have been 18 reported UFO sightings in the Myrtle Beach area since 1995. Seven of those sightings occurred this summer:
Steve Musson (38) and his wife Caron (36) had a close encounter when they spotted what they believe was a UFO spinning across the sky near the shopping area. They saw what Steve described as "a black shiny disc turning over and over in the sky."
The UFO was in the air above their Bodiam Way, Grimsby, home for several minutes before Steve went inside and grabbed his video camera.
The footage, which he gave to the Telegraph, shows an intriguing black object, which comes in and out of view and catches the light on regular intervals.
It is in view for just over a minute before it completely disappears. On the film Steve can be heard to say: "It's just gone. I can't see it." [...]
Whatever happened to UFOs? Remember when people used to see them all the time, streaking over their houses like flocks of grackles?
I remember as a child stretching out on a blanket in the backyard at night and staring at the heavens, waiting for that telltale UFO. My buddies and I saw one. Not a bullet, not a plane, but an authentic unidentified flying object darting across the heavens into the Milky Way. It sent chills up and down our spines.
In those days, in the '50s, everybody saw flying saucers or knew somebody who did. While the government said there were no such things, we knew differently and waited for the impending invasion of Little Green Men from outer space. Would they come in peace or war? [...]
Maybe we all grew up and realized there is nothing out there in space but the stars and, based on some of the things that are happening in the world today, the aliens landed a long time ago.
GAUTIER, Mississippi-- Charles Hickson has spent the last 30 years living with something most other people couldn't even imagine.
On Oct. 11, 1973, Hickson and Calvin Parker were fishing on the Pascagoula River, enjoying the cool fall evening. What seemed to be the beginning of a peaceful night turned to chaos when the pair suddenly found themselves in a close encounter with an alien craft and its occupants.
In 1973, media reports show a rash of UFO sightings across the country, including many reported by law enforcement officials that September and October in Alabama, Mississippi, Louisiana and Tennessee.
In October 1973 alone there were more than 500 sightings reported, said John Schuessler, international director and founding member of Mutual UFO Network, which tracks sightings and contacts with alien vessels and beings. [...]
People from around the country have reported seeing an Unidentified Flying Object in the skies of Bahrain emitting strange lights for about a minute at around 11pm on Friday.
Bahraini Mohammed Jaffer Al Hajer was sitting with six of his friends outside his home in Qurrayah village near Budaiya when they noticed the UFO in the distant skies. Al Hajer 'caught' the strange object on his digital video camera as the lights appeared twice – once when the UFO emitted a bright yellow light and the second time when it split into two before disappearing.
"We first noticed the strange light appear to the left of the Batelco tower in the village," he said. "We saw it again just above the tower when I reached for my camera and began to video tape it." Al Hajer videotaped the object for about 40 seconds before it disappeared. The pictures were not clear because of the high speed of the object and the low resolution of the camera, according to Al Hajer. People in Manama also reported seeing the UFO at the same time and placed it between Manama and Muharraq, in the same vicinity as Al Hajer claimed.
However, sources at Bahrain International Airport tower told the Tribune that the radars there did not register any abnormal activity during that time. [...]
HUNTSBURG, Ohio -- Gaze into the dark sky and you might be surprised at what is there.
The phrase UFO conjures up all kinds of thoughts. For some in Geauga County, it might have been more than a thought when they saw something glowing.
It was in Huntsburg in Geauga County late one August evening when nature's dark ceiling was the backdrop of strange movements in the sky, Bibb reported.
"A light hovering above our woods," said Michele Braun.
Braun and her daughter, Stephanie, recounted the story on Aug. 29. Neighbor kids had a backyard bonfire going. But in the distance away from the rising smoke came unusual movement. Those who saw it could neither judge its distance away nor its size, saying they only know what they saw.
"It would start off like a little ball, like a little white light coming toward us and then it come like a half-circle, a rod," Braun said.
From the backyard gathering, a boy grabbed his video camera. So Bibb offered the tale of his tape. It was an eerie sight unfolding, like a fiery ball which changes its shape, Bibb said. Rven the family dog became unnerved.
"Just like going in circles and then she jumped on my mom; on her shoulder and then on her head. Like it was weird," Stephanie Braun said.
Just off Chardon-Windsor Road in Huntsburg there have been other accounts of mysterious events, Bibb said. Sometimes people say the compass behaves wildly with their needles not always pointing north.
Are the events unexplainable? Bibb said, "Perhaps."
George W. Bush raised a few eyebrows during the 2000 presidential campaign when he responded to a question about releasing government files on unidentified flying objects. "It'll be the first thing he (Dick Cheney) will do," Bush said. "He'll get right on it."
Immediately upon assuming office, however, the Bush administration exhibited an impulse for even tighter controls on government information, long before the 9/11 security clampdown. From Bush's immediate suspension of the 1978 Presidential Records Act to Cheney's refusal to comply with a General Accounting Office request for the names of the Vice President's Energy Task Force members, patterns of concealment are consistent. Just last month, Bush signed Executive Order 12958, which gave the director of the Office of Science and Technology Policy the unprecedented authority to declare information "Top Secret." [...]
Soldiers encountered something strange in 'Coyne Incident'
CLEVELAND -- It was about 11 p.m. on Oct. 18, 1973, when an Army Reserve helicopter came perilously close to colliding with an unidentified flying object.
Arrigo "Rick" Jezzi, 56, who now lives in Cincinnati, was flying the Huey helicopter that night. Three decades later, he is still not sure what happened. [...]
Local residents reported an Unidentified Flying Object Friday night while attending a Unioto football game. An unexplainable series of lights lit up the night sky according to Lonnie Caplinger and his son Bruce. [...]
According to Bruce, he just happened to be looking up at the sky when he saw two bright lights that appeared to be moving toward him.
"Then of all of sudden, a third one appeared, then a fourth one, almost like a tear drop dropping out of the other one," he said. "They were in a horizontal line, four bright lights. Then they slowly turned orange and just disappeared." [...]
According to Lonnie, about 20 minutes after he witnessed the third series of lights, which happened in a period of 12 to 13 minutes, he saw what he thought were two fighter planes circling the area.
"Evidently they were from Wright Patterson (Air Force Base)," he said. "They came at a high rate of speed. They circled the area for several minutes and left."
Lonnie said the series of unidentified lights almost looked like a plane with four lights strung across the wing.
"But if it was a plane it was huge, huge, huge," he said. [...]
NEW YORK (Reuters) - The truth is out there, and the Sci Fi Channel is determined to find it, even if that means suing NASA, the Department of Defence, the U.S. Army and Air Force for documents related to unidentified flying objects.
Sci Fi, a U.S. cable channel that airs fictional programming such as Battlestar Galactica, as well as documentaries that explore the line between fact and science fiction, is part of a group pressuring the federal government to de-classify UFO information.
Last year Sci Fi joined forces with an investigative journalist, a Washington, DC law firm, and former President Clinton chief of staff John Podesta, to gain release of documents relating to an incident it calls "the new Roswell," a UFO sighting in Kecksburg, Pennsylvania in 1965.
"Now, one year later, despite serious effort to uncover the facts, NASA and the Department of Defence are still maintaining their wall of silence," said Sci Fi Channel president Bonnie Hammer. "Whether or not this has anything to do with UFOs the public has the right to know."
Now the Sci FI Channel is supporting what could turn into a series of lawsuits, first against NASA and then against the Department of Defence, the Army and Air Force, to get classified documents released to the public. [...]
NASA has agreed to turn over documents relating to the alleged crash of a UFO in Kecksburg, Pa., in 1965, the SCI FI Channel announced. The news comes a day after SCI FI said it would pursue legal action against the National Aeronautics and Space Administration to release its records on the incident.
NASA informed Lee Helfrich, attorney for the Channel-sponsored Coalition for Freedom of Information , that it is releasing 36 pages of documents, the Channel said. [...]
"I think it's fair to say that we have truly entered the realm of science fiction in Washington, D.C., when it's fair game to disclose the identity of a clandestine CIA agent, but not the records of an unexplained crash in Kecksburg, Pa., that occurred 38 years ago," Podesta said at a news conference this week.
On Dec. 9, 1965, witnesses described seeing a fireball in the sky, a controlled landing and the systematic military recovery of an object. The incident is the subject of the original SCI FI Channel documentary The New Rosell: Kecksburg Exposed , hosted by Bryant Gumbel, which premieres Oct. 24 at 9 p.m. ET/PT.
Tim Butler doesn't believe in flying saucers. His perception is more sophisticated. It was a flying boomerang that caught his attention. [...]
The boomerang, Butler said, was notable for what it didn't have: It lacked markings, a cockpit, portholes, a tail and dorsal fins, stabilizing equipment, propellers, engines, and rivets.
"It wasn't thermalling and didn't make a sound," he said. "There was no heat distortion behind the end. I thought it had to be a military drone at one point but there was no contrail, no propulsion." [...]
Astronaut Ed Lu returned on Monday from a six-month tour as science officer on the international space station with loads of memories and at least one nagging puzzle: what caused the mysterious flashes of light he saw while studying the Earth's aurora from orbit?
Lu, who was a research astrophysicist before becoming an astronaut in 1994, estimates that he spent 100 hours watching the northern and southern lights during half a year in space. The auroral light show, which takes place well below the station's 380km altitude, shimmers and pulses depending on natural variations in incoming solar particles trapped by the Earth's magnetic field.
On three occasions - July 11, September 24 and October 12 - Lu saw something markedly different: flashes as bright as the brightest stars, which lasted only a second then blinked off again. In one instance, he called crew-mate Yuri Malenchenko over to the window to see the bursts. Lu says they appeared very different from the random but harmless retinal flashes that many astronauts experience when heavy cosmic rays hit their eyeballs. [...]
It was a clear, cold early February morning when Amy Wilbur saw a flying orange orb in the sky.
Now, the only way she can describe it is by what it was not. [...]
Wilbur is not alone. Last year there were 483 reported sightings of Unidentified Flying Objects in Canada, four of those sightings came from New Brunswick, according to the web-based Canadian UFO survey which tallies sightings dating back to 1989. [...]
First came the UFO, a massive, saucer-shaped craft hovering low over the Pacific Northwest in the spring of 1967. Then, two days later, came the beeping a steady, two-beeps-to-the-second sound coming from no discernible source. Locals, some bearing rifles, flocked to the woods to hear, to puzzle, to perhaps solve the mystery.
The nighttime beeping continued for weeks. Police even thought they heard it on their radios. When the beeping began, cows and dogs grew agitated, then quiet. Even the loud-mouthed frogs shut up.
Civil defense experts prowled the woods to no avail. Bird-call experts analyzed poor-quality tapes of the sound and came up blank. Finally, at wit's end, local authorities turned to their last hope: the crack saucer-busters at the University of Colorado.
Within days, physical scientist Roy Craig, an investigator with the university's Air Force-financed Condon Project the nation's largest, most systematic investigation of UFOs to date was dispatched to the scene.
What he found was the stuff of history. [...]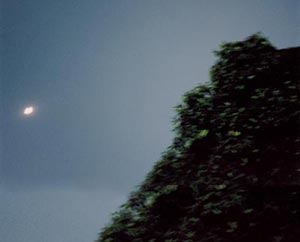 The skies above Japan are alive with extraterrestrial activity, according to the nation's foremost UFO research group and its fearless leader.
Matt Wilce examines the evidence.
Every January more than two million people crowd the grounds of Harajuku's Meiji Jingu to celebrate the New Year, but these revelers aren't the only beings checking out the shrine. On October 11, 1999, roughly 60 transparent rings appeared in the sky over the shrine and were witnessed and photographed by Junichi Kato and his OUR-J UFO group. On other occasions, unidentified shapes and lights have been spotted in the area with remarkable frequency, leading to its reputation as one of Japan's alien hotspots. [...]
[...] There seem to be rather a lot of spaceships hovering in the West's night skies. More than 200 police officers have come forward to say they have seen UFOs flying over the British countryside, a detective revealed yesterday.
And according to the bobbies' X-files experiences, for the past 50 years the West has been a buzzing hotspot for extra-terrestrial activity. [...]
ST.HELENS secured its lasting place in UFO history this week - via its own official entry in a mysterious X-Files style database.
Detective Constable Gary Heseltine, founder of the unique PRUFOS (Police Reporting UFO Sightings) records system, highlighted the almost-forgotten incident in the skies above the town as one of major " Defence Significance."
And - despite its initial logging on police files 25 years ago - Gary insisted that there was STILL NO convincing logical explanation for what happened above Bold Power Station in January 1978.
Then onlookers watched in disbelief as a shining light buzzed the installation, and appeared to dart down to take a closer look. But none were quite as astonished as two patrolling police officers who immediately logged in the spectacular sighting with disbelieving colleagues in the radio room.
DC Heseltine - a serving CID officer with British Transport Police in the South of England - explained last night: " The Ministry Of Defence still maintains that there has never been a case of Defence Significance. As a police officer, I find that position untenable and here is why.
"Having served in the Armed Forces I know that in the event of war in this country, all types of installation throughout Britain have been categorised for importance and vulnerability. For example oil fields, power stations, military installations are all key enemy targets which if hit would affect the infrastructure of Britain."
And he added later: " It follows that any attempt to survey or interfere with these types of installations would by definition have to be of 'Defence Significance.'"
The PRUFOS dossier contains 84 official sightings - reported by a total of 212 policemen and policewoman in the years between 1950 and 2002. And researcher Heseltine highlighted the St.Helens incident as one of the three MOST significant to take place at official installations during the Seventies while the Cold War was still raging.
But the serving sleuth claimed the speed of the craft over Bold indicated other-worldly powers, rather than a top-secret Soviet spy plane! Chronicled as No.44 in the database, the report observed: " Two uniformed officers - PCs Lowe and Roberts - observed a high speed UFO that hovered above Bold Power Station before darting across the landscape and doing likewise overFiddler's Ferry Power Station.
" This occurred during the Cold War and again multiple police witness corroboration was provided. Power Stations would be targeted in the event of war in Britain, and are thus regarded as key installations from a national defence point of view. "
Gary, who believes that Ets may have been monitoring the strategic strengths and weaknesses of various world powers, also highlighted two important instances of St.Helens style incidents.
In August 1976, a craft hovered over Buncefield Oil Terminal nr Hemel Hempstead for several minutes before vanishing.
The report - No.35 in the PRUFOS records - noted: " Checks with Luton Airport ruled out conventional craft."
Some years earlier in October 1967, two policemen spotted a stationary UFO hovering above HMS Dolphin - a submarine base - for several minutes.
UFO expert Heseltine - ones of scores of police officers to go public about strange phenomena - said later that the St.Helens incident indicated an extra-terrestrial visitation. [...]
[A] wave of strange shapes and lights have been seen in the region this year, according to UFO expert Michael Soper.
Contact International, an organisation which records and researches unexplained sightings, has already logged almost 50 separate sightings in the region this year.
A particular busy time came at the end of May, and then in early August when ten "objects" were seen. [...]
SALMON - The truth is out there, according to two longtime Salmon residents who say that unexplained lights have periodically flashed across the sky over the vast and remote Salmon-Challis National Forest.
UFO lore has hovered on Salmon´s horizon for decades, with the majority of sightings occurring in the unpopulated backcountry.
Chester Rackham, 79, who manned half a dozen fire lookouts in the Salmon-Challis for more than three decades, recalls seeing what he described as "fuzzy blue lights." He never received a plausible explanation. [...]
Additional witnesses come forward after recent article
Paul Wells
Echo Editor
Airdrie Echo - A British Columbia-based UFO researcher says a story which appeared in the Echo in September regarding sightings in the Airdrie area has spurred others to come forward with their experiences with strange lights in the sky.
Brian Vike, director of HBCC UFO Research and a regular contributor to TV and radio shows as a UFO expert, said numerous sightings of unidentified objects in the area over the past months has ensured that Airdrie has entered the lexicon of the UFO community.
"I do a weekly radio show (in B.C.) and I mentioned to the host that I have received a number of reports from the (Airdrie) area and we talked about the latest one, which came in on air," Vike said. [...]
LOCATION: Morehead, Kentucky (Rowan County)
DATE: Friday, November 21, 2003
TIME: Between 9 and 10:00 p.m.
SUMMARY
In effort to further explore the report of 'unidentified lights' and screaming sounds alleged in Morehead, Kentucky, an internet search was conducted to retrieve the address and phone numbers of residents of Adams Lane (law officer earlier contacted had advised of the search taking place near this location). [...]
The call was received by Dr. Virgil Davis, a U.K. college professor. [...]
While driving, they all spotted a soundless aerial object over a nearby open field that was described as an oval-shaped, white-colored light source as big as a pea held at arms length which moved 'like a hummingbird would move.' [...]
After driving the short distance to their house, they went to a second floor bedroom and looked out the window to the northwest where they continued to watch the object. It descended lower toward the ground and seemed to be settling in a nearby field where its color had shifted from a white to an orange. As the object got lower and lower to the ground, it became bigger and its color changed to a reddish light. [...]
"Right after that my 2-sons went back outside and heard the screaming. It was a female voice. They got in the car and within minutes had called from their cell phone to say that they had been hearing screaming sounds in the field where this thing came down," he said.
Dr. Davis paused from our conversation to check with one of his sons, asking if he could recount the nature of the screaming sounds. He said it was a desperate, blood curdling scream of a female voice that kept saying: "Help me, oh my God, help me!"
"Apparently several people had heard the screaming, I don't know how long it lasted," he said. [...]
Dr. Davis, who teaches psychology for the Ashland, Kentucky Community College branch of the University of Kentucky, also said that he had previously seen a UFO when he was in his Freshman year in college at Morehead State University in 1976. He said the object was similar to what he saw on Friday, November 21, 2003. [...]
THE appearance of a UFO in the sky above Kingsgate Retail Park last week caused spooked drivers to bump their cars.
Several people reported seeing a huge silver object in the area as they drove past at around 8.45am last Wednesday.
Drivers were so distracted by the bizarre sighting that at least two minor bumps were reported, as the attention of motorists wandered from the more mundane forms of transport before them on the road.
A local woman, who did not wish to be named, contacted the News to describe the experience of a friend who was driving towards the retail park at that time.
She said: "My friend saw something hovering, which was silver in appearance and looked like the dishes you see on the side of television transmitters.
"It was huge, and it was pulsating - he wasn't the only one who saw it, as you couldn't have missed it.
"He saw it and just thought: 'Good God', and was really quite shaken by the whole thing.
"Then the object just suddenly disappeared - it was so strange.
"My friend thinks the accidents at Kingsgate were a result of other people seeing this thing as well."
The sighting has also intrigued East Kilbride UFO Club, whose members were warned in advance that they might be about to spot something strange in the sky.
Colleagues in Cumbernauld had seen a similar object around half an hour previously, and alerted their South Lanarkshire counterparts that it appeared to be heading in their direction.
Lee Close, of the Anglo-Scottish UFO Research Agency, has been investigating last week's events in tandem with the local UFO club.
He said: "This is the first time I've come across a UFO causing a car crash, although I'm aware of it having happened in America before.
"People in Scotland tend to think: 'oh, there's something in the sky' and just carry on, so the fact that it's caused two fender benders is quite unusual.
"The fact that it's in daylight interests us immensely too - previously 95 per cent of sightings were at night, although they're now almost equal between day and night-time." [...]
Western Pennsylvania town marks UFO anniversary Tuesday
A mysterious object engulfed in a fireball streaked across the dusky sky while making itself visible to many witnesses.
Then it plunged to the ground.
Almost immediately, the U.S. military arrived at the scene to zone off the area around the object's resting place.
Despite the claims of many near the site, a U.S. Government investigation concluded that the phenomenon was most likely due to an un-recovered meteorite.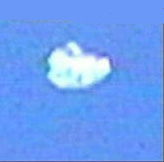 UFO magazine has released a documentary regarding the experiences & sightings of Anthony Woods which is named the "Journey." Featured in the documentary are some of Anthony's footages including the fleets from 2001 & 2002 + the sensational red objects with light that he filmed on march 27th 2002. It is available on video & DVD. Details & information can be found at http://www.ufomag.co.uk

THROUGHOUT the summer of 2002 I was fortunate enough to film several interesting sightings, some of my best footage since the fleets footage showing clear intelligence which happened in August -- in particular on the 13.8.02 I was lucky to film several very good sightings including a sphere that crossed the sky at tremendous speed passing through the clouds as it went over head & a double sphere sighting where both objects together instantaneously blinked out on film in less than one frame.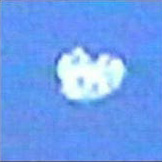 Another interesting sighting clearly shows intelligence happened several days later on the 16.8.02 above my parents home; I managed to film a sphere that hovered absolutely motionless for over 10 minutes high in the sky, eventually the object moved off slowly but I managed to get over twenty minutes of footage.
From my own experience of observing these objects it is evident they have the capability to be individual objects "when required" or they can morph or join up to make a larger craft. When they come together there seems to be some sort of energy or plasma substance that surrounds and holds them together. The more I see these objects the more I am certain they are living individual life forces of some sort rather than manufactured vehicles. [...]
THE mystery surrounding an apparent sighting of a UFO above a power station 25 years ago deepened further when an amateur radio operator raised the possibility the 'light in the sky' actually landed in a local farmer's field.
Robert Bennett revealed how in January 1978 he sat for five hours in his living room with three policemen, listening over the wires as enthusiasts and police tracked the craft across St Helens.
He claims that from conversations he heard between officers in his Nutgrove home and those on the ground, the UFO actually landed on a field in Rainhill.
The 71-year-old came forward with his version of events after former St Helens journalist, Ian Brandes, wrote in the Star of how the mysterious sighting had recently been logged in a X-Files style police database.
Ian revealed how Detective Constable Gary Heseltine had officially entered the sighting above Bold Power Station in the Police Reporting UFO sightings logging system. [...]
Airdrie Echo - Two recent Airdrie Echo articles on UFO sightings in and around Airdrie continue to spur on other residents to come forward with their stories of strange lights in the sky. [...]
KUALA LUMPUR, (AFP) - An unidentified flying object was sighted hovering over a quiet village in northern Kedah state near the Thai border, the second such sighting there in two years, a report says.
A nine-year-old boy saw a slow-moving disc-like object about the size of a car emitting a greenish light spinning in the air over Banggol Cicar village near the town of Baling for about four minutes before it disappeared, the New Straits Times said.
Mohamad Amirul Syafiq said at first he thought it was a plane about to crash. "I then called my friends to look at the object which was hovering just over the top of a coconut tree behind my house," he was quoted as saying.
Mohamad Faiz Alias, 12, said he thought Mohamad Amirul was joking.
"But we saw clearly the object in the air, emitting a bright light," Mohamad Faiz said. Kamaruddin Othman, 12, said he realised the object was not a plane because it was silent.
His father, Othman Ahmad, 54, said he also caught sight of the UFO before it disappeared.
Two years ago, a villager said he saw a UFO hovering in the air while on his way to the mosque for pre-dawn prayers, the paper said.
Even the animals seem to be sensing something strange.
Brian Vike, one of Canada's most experienced UFO sighting investigators, said the most recent reports of unusual activity in Airdrie and area have come from both humans and, vicariously, via humans through their canine companions.
"There are many reports of animals responding funny to an unusual object. Their senses are far superior ours,"Vike said.
"So it is a possibility that the pets around this one certain area were aware and frightened of something that was truly an unknown to them." [...]
TWINKLING Christmas stars may have been replaced by UFOs over Huddersfield.
Shocked pensioner Malcolm Stapp is adamant he saw a couple of flying saucers in the night sky.
Mr Stapp, 74, of Salendine Nook, said: "It sounds incredible I know, but I couldn't believe what I was seeing."
He had been watching a film on TV and was going to bed at 12.30am on Monday when he saw a bright light in the sky.
He said: "It was stationary over Huddersfield for at least 15 minutes. At one point another appeared travelling north and going very fast - a lot faster than the jets that fly over here. It was certainly not a helicopter or a plane."
He added: "Both UFOs were globular with lots of lights on them. [...]
(Huntington, Indiana) - Chip Olinger was warming up his car when he saw it. He radioed for an extra set of eyes; he got two.
Greg Hedrick and Randy Hoover looked skyward; the saw it, too. All three are Huntington law officers, guys who have seen just about everything. But this time, they didn't know what they were seeing. [...]
The object, seen from just north of the city Police Station, came out of the northwest to the steeple of the SS. Peter and Paul Catholic Church, then shot straight back north. It didn't make any noise, and it remained in their sight for less than a minute.
But it was big - described as the size of a hot air balloon or a backyard trampoline - and low enough that Olinger thought it was going to get hung up on the steeple of the Cherry Street church.
Normally, such an object passing over the city would have lit up emergency lines. But this one didn't. No one called 911; no one called city or county dispatch; and no one called the State Police.
The three officers may have been the only ones to see it. And for a few days, they didn't say anything about it. [...]
"It came from a long ways off," he said, describing the sighting a week later. "First it looked like a parachute that you can steer, black and curved, but there was nobody in it. It started rolling, a slow roll, and turned upside down. Then it looked like a giant set of bird wings. It did more rolls, and turned into an oblong circle that was orange." [...]
"It was so big, within no time at all I spotted it," Hoover said. "When I first saw it, it was going in a flat plane, hovering, moving slowly right toward the church."
Then it stopped, began moving in a circular motion, and turned bright orange, Hoover said. It went flat again, and hovered over the steeple. [...]
Olinger said the object changed shape three or four times. It moved in a straight line, tumbling as it moved, and made no noise. [...]
The bizarre and intriguing history of Britain's UFO phenomenon opens a new series of Timewatch.
Britain's X Files examines the amazing true stories of Britain's most famous UFO sightings and opens up the Government's secret files on UFO investigations.
Charting this extraordinary cultural phenomenon from the Fifties onwards, the programme takes in royal believers Prince Philip (who used his equerry, Peter Horsley, as his unofficial UFO investigator) and Lord Mountbatten, sceptical Prime Ministers and senior RAF officers.
Timewatch explores how flying saucers exploded into the national consciousness more than 50 years ago and finds out why the Government took so long to admit that something remarkable was going on.
In Britain's X Files, the Timewatch team also track down the eyewitnesses to Britain's most famous UFO cases and reveals the incredible true story of an encounter in 1955 between Prince Philip's equerry and a mysterious "alien" called Mr Janus. Charting the investigation and cover-up by the British Government, Timewatch explores whether rational explanations stand up to scrutiny. [...]
THREE UFOs have been spotted over West Cumbria during the festive season.
Revellers in Workington and Whitehaven have reported seeing shining balls and spooky triangles in the night sky.
Daley Rogers, of Hensingham, was left spellbound by a red object hovering overhead as he returned from Workington last week.
He said: "We were coming home and we could see something in the sky. It just seemed to stay there and when we got to the Hill Crest area there was a group of kids watching it. It seemed to drop something that was white and bright and exploded. Then, it took off. I don't know where it went."
Daley, 23, admits that although he wasn't frightened by the ball-shaped object, he's found it hard to get it out of his mind. "I have been thinking about it a lot," he said.
The 23-year-old is in good company, with at least six other people witnessing strange goings-on in the West Cumbrian skies over Christmas.
UFO expert Sharon Larkin, of Broughton Cross, near Cockermouth, said: "We have had sightings of a triangular-shaped craft and an orange ball over the Workington area.
"The triangle was going over the Stainburn bypass at around 10.30pm on a Sunday at the end of December. Before that it was sitting over Clifton. Then it headed off towards the Lake District.
"The orange ball was spotted over Broughton Moor last week."
Sharon, who logs UFO sightings in Cumbria and South West Scotland, says the area has a higher than average number of unexplained sightings. These include a "flying light" over Whitehaven Golf Club in September.
Sharon believes that around 20 per cent of the reported sightings are the real deal, with the rest being aircraft, satellites, cloud formations or hoaxes. Extra-terrestrial visitors are attracted to Cumbria because of the volume of water the county's lakes, the peace and tranquility of the area and the nuclear activity at Sellafield, she says.
"Different areas in the country have different numbers of sightings," she said. "The night sky in Cumbria is particularly alive.
"You do get some sightings in the summer but from September onwards, the skies are full of lights. With it getting darker earlier, people are more aware of what is going on over their heads."
More people have rung the Examiner to say they have seen UFOs over Huddersfield last week. [...]
When Vaughn Hobe first noticed a blinding light veering through the trees of his back yard and into his Liberty Township home in mid-December, he was mesmerized for nearly 20 minutes.
Ten days later, he discovered a 45-foot wide ring in the ice on Mud Lake, a private body of water abutting his property. It was surrounded by a 60-foot halo melted into the snow and overlapping onto the shore.
"It looked like something had come down with a cookie cutter and whoosh," Hobe said raising his hands to explain. [...]
Witnesses terrified, transfixed by an object hovering in sky
CHARLES PERRY
Times & Transcript Staff
When Danielle Cormier of Moncton read about a UFO sighting by a couple in northern Kent County in yesterday's Times & Transcript, she had no problem relating to the story.
Not only did she get a first-hand look at the unidentified flying object for approximately 45 minutes, but she had three friends with her to witness the experience.
Danielle, 21, said she and her boyfriend Terry Steeves, along with her best friend Peggy and the latter's then-boyfriend Ed, were leaving Shediac about 11:30 p.m. on a clear summer night last year to drive back to Moncton. She said they were on the ramp heading onto the four-lane highway when she glanced out the window and noticed a "brilliant star" which she thought was the North Star.
Then, suddenly, Ed brought the pick-up truck to a halt and she noticed that her three companions were staring out the window, "looking absolutely stunned, their faces white as though they had just seen a ghost," she said yesterday in an interview.
What she had perceived a few seconds earlier as the North Star was now hovering just above the tree line, characterized by three lights arranged in a triangle, with one on the top and two on the base, said Danielle. Apart from making slight movements up or down or to one side or the other, she said it remained there, "as though it was observing us," for the next 45 minutes. [...]
A UFO was spotted by a south Warwickshire mum on Wednesday morning. It hovered over Kineton at 7.50am and a nearby aeroplane seemed to disappear as it approached the object.
Clare Reed, 29, of Lodge Farm near Compton Verney, caught the strange aircraft on her camera as she took her two sons to school.
She said: "It looked really bizarre - like a huge flame with a whispy bit at the top and a black dot in the middle. I've never seen anything like it in my life."
Ms Reed's two sons Jamie, 13, and Jacob, 12, were in the car with her and were equally baffled by the sighting.
Ms Reed said: "They said 'wow, it's an alien', and we sat and watched for two minutes, trying to figure out what it was.
"There could be a perfectly logical explanation, but I don't have a wild imagination. I just don't know what it was. "
Ms Reed drove her car down the lane to try to get a better look, but she lost sight of the UFO.
Alfonso Salazar and Salvador Guerrero, aviation technicians in Mexico, say they shot videos of eight UFOs as they flew over Mexico City's International airport on Saturday. Since they work with planes, they knew these were not ordinary aircraft. And something was seen crashing into the ocean in Nigeria - but no airplane was found.
Scott Corales translated an article from the Mexico press, telling about the UFO videos. Salazar and Guerrero shot three separate videos on the same day. In the first one, they saw 6 UFOs flying in an inverted "J" shape. Later, they spotted a cigar-shaped UFO and later a round one. They say, "We were in the hangar area and suddenly saw the first six UFOs in the sky, and we recorded until the last one appeared…The speed they used to disappear was immediate, and more or less all of them were at an altitude of 12,00 feet."
Airport conditions in Nigeria are bad and crashes are not uncommon. However, rescue workers there could find no trace of an aircraft that witnesses reported seeing crash into the ocean on Friday.
Emmanuel Ijewere, of the Nigerian Red Cross Search operations, says, "We are tired of looking at water. We are now convinced that there was no plane crash." The Nigeria Aviation Safety Initiative (NASI) has classified the craft as an Unidentified Flying Object (UFO).
NASI's Jerry Agbeyegbe says, "Certainly an object was sighted crashing into the ocean, we have termed it for now as a UFO. We have advised government to intensify (the) search until we are absolutely sure that it was not a plane." (AFP)
Av Therese Olavsrud og Carin Pettersson
04.02.04 13:04
A new, unexplainable phenomenon has surfaced; why are the UFO sightings in northern Norway decreasing?
A number of unexplainable sightings have been made on the northern sky. There were 26 observations of UFOs in northern Norway in 2002, but last year the number decreased to 13.
"Unexplainable,"said Leif-Norman Solhaug, leader of UFO Nord-Norge. "Maybe people are just fed up with the hysteria. The 26 observations that were reported in 2002 were a decrease from the years before. There have normally been a number of observations made in northern Norway, but it has not turned. There is a weak decline in the rest of the country too."
Unidentified
UFO Norway has still registered a number of unexplainable observations.
Something which looked like a rocket was observed in Finnmark, an object similar to a boomerang of the size of an Boeing 747 was observed in Bodø, while a man in Evenskjer observed two stars which rotated around each other and then disappeared at a high sped in the direction of the Big Dipper.
"These are complicated observations and the Air Force has not registered any explainable activity on the sky, but in total the number of observations in northern Norway has decreased," Solhaug stated.
Embarrassing
However, he claims that the reason for the decline may be that people have become better at finding natural explanations, but Solhaug cannot guarantee that the natural explanations are logical.
"People think it's embarrassing to go public with such observations," Solhaug said. "It is important that we are taken seriously. Many of the observations reported are of a complicated nature and are difficult to explain."
Regardless, Solhaug has enough to do. Solhaug is off to talk two to persons from Andøya tonight. They claim they saw something they just could not explain Tuesday night as a lighted object flew over the sky, blinking in several different colors and making a horrid sound.
By IAN HABERFIELD
08feb04
THE tiny town of Beveridge, north of Melbourne, is fast earning a reputation as Australia's UFO hot spot.
Since Whittlesea Council released a photograph purportedly showing a UFO, other locals have come forward claiming to have seen flying objects.
Kilmore resident Peter Christie said he was taking his daughter, Elise, to a friend's house about 10pm on Saturday, January 10, when he noticed something flying in the west.
"I saw this round thing in the sky with lights coming out of it," she said. "It was sort of moving. It wasn't going very fast or anything.
"It had big, round lights coming out of it, it was too wide to be a plane . . . and it was nothing like a helicopter." She said there were several lights beaming outwards from the side of the object, parallel to the ground.
"We both said, 'no, that's definitely not a plane'," she said, adding that the object was in view for several minutes.
"We were going over a hill and there was one stage when we couldn't see anything. Then it appeared again. I wasn't scared. I was a bit shocked."
Mr Christie, who was driving, managed a few short glances at the object but agreed it was definitely not a plane.
"We didn't know what it was . . . and then we heard the news the other day," he said.
Elise said several people had greeted her comments about the sighting with scepticism. So she stopped talking of it until Whittlesea Council's photograph, with a disc-shaped object in the sky, was widely publicised late last month.
The release of Whittlesea Council's UFO photo sparked much interest and the council's website recorded more than 37,000 hits over three days.
Council traffic engineer Roland Rozario, who took the photo, was interviewed reporters from across the globe and websites reprinted his photograph.
Presenter: Cherie Beach
Researcher: Fiona Churchman
Tuesday, 10 February 2004
It was one of those ads you couldn't help noticing as you curled up on the couch and read Darwin's Saturday paper.
It read - In 1972, I saw a UFO at 5am over Darwin airport with 3 other gentlemen. After 31 years I would like to make contact again with the other witnesses. Two were security guards from Darwin airport, the other was 'Fred' whose father was the caretaker at the Darwin German Club. Please contact me...
What UFO? And was this a windup - or was the person who placed the ad serious?
That person is Rodney Jarvis who is writing a book about his strange experiences in Northern Australia and wants to include the story of the night he saw a UFO.
He realises the chances of contacting the other witnesses are slim.
"After more than 30 years, ever since I witnessed this UFO I guess every single week I've thought about it and I just thought well I'll give it a shot, perhaps out of the three other witnesses, one of them or someone who knows one of them might like to contact me just so we can compare our recollections of what actually happened," he said.
Rodney says he was at Darwin airport on that fateful night, sleeping in the car because he was waiting to catch an early flight and at 4.45 in the morning he woke up and looked out the window.
"I saw a very large orange light moving very slowly just above the tops of the houses that I could see in silhouette and as I was watching it the first thing I thought of was a helicopter.
"As it moved across to the left it immediately stopped and reversed back in the opposite direction and I thought well, a helicopter can't manouvre that quickly," he says.
That's when Rodney decided to wake his mate Fred, to show him what was happening.
"He was not sure what it was, we both got out of the car and he was absolutely terrified of it right from the start and as we watched it it continued to zigzag towards us," says Rodney.
"As it came over us it was climbing in altitude and as it passed over the top of us I put my hand in through the open window and flashed the car lights once, and it stopped, immediately above us."
Rodney says he felt then that this was a chance not in a lifetime but in two or three hundred lifetimes to see something like this and he wanted desperately whoever or whatever it was.
"Fred had the opposite reaction, when it stopped, he ran in panic and hid underneath the eaves of a building and he was screaming out get out of there you maniac, you don't know what that is get away.
"And I was thinking I just want to contact this craft or UFO or whatever it was".
AFter about 15 minutes, Rodney says two airport security guards came over to find out why they were flashing car lights at five in the morning, and he says they witnessed the UFO heading straight into the air and over the horizon.
Rodney is sticking to his story and is determined to find those who can back him up. [...]
Physics and Electrical Engineering Professor Paul Horowitz '65 says he's convinced that communicating with extraterrestrial life will soon be within scientists' reach.
Horowitz, who has taught physics at Harvard since 1974, is a leading figure in the official Search for Extra-Terrestrial Intelligence (SETI) - a national project devoted to identifying intelligent life outside our galaxy, with hubs at Harvard and Princeton. [...]
KENNEDY SPACE CENTER, Fla. -- In orbit, you don't want to hear someone say, "What was that?!"
Continue to Part 3

Readers who wish to know more about who we are and what we do may visit our portal site Cassiopaea.org
---
Remember, we need your help to collect information on what is going on in your part of the world!
We also need help to keep the Signs of the Times online.
---
Send your comments and article suggestions to us

---
Fair Use Policy
Contact Webmaster at signs-of-the-times.org
Cassiopaean materials Copyright ©1994-2014 Arkadiusz Jadczyk and Laura Knight-Jadczyk. All rights reserved. "Cassiopaea, Cassiopaean, Cassiopaeans," is a registered trademark of Arkadiusz Jadczyk and Laura Knight-Jadczyk.
Letters addressed to Cassiopaea, Quantum Future School, Ark or Laura, become the property of Arkadiusz Jadczyk and Laura Knight-Jadczyk
Republication and re-dissemination of our copyrighted material in any manner is expressly prohibited without prior written consent.