Printer Friendly Version
New Article! War As Mind Control
Pentagon Strike Flash Presentation by a QFS member
New Publication! The Wave finally in book form!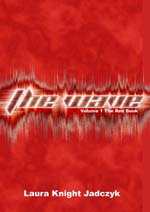 The Wave: 4 Volume Set
Volume 1
by Laura Knight-Jadczyk
With a new introduction by the author and never before published, UNEDITED sessions and extensive previously unpublished details, at long last, Laura Knight-Jadczyk's vastly popular series The Wave is available as a Deluxe four book set. Each of the four volumes include all of the original illustrations and many NEW illustrations with each copy comprising approximately 300 pages.
The Wave is an exquisitely written first-person account of Laura's initiation at the hands of the Cassiopaeans and demonstrates the unique nature of the Cassiopaean Experiment.
Pre-order Volume 1 now. Available at the end of November!
---
Picture of the Day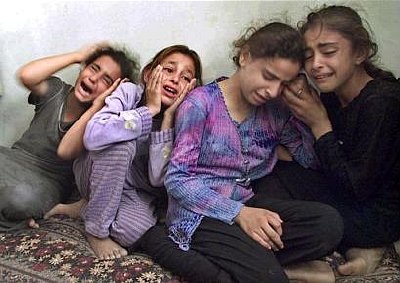 4 sisters of a Palestinian boy Murdered by the IDF using weapons given to them by, and with the sanction of, the US government.
Naomi Klein
Saturday December 4, 2004
The Guardian
In Iraq, the US does eliminate those who dare to count the dead
David T Johnson,
Acting ambassador,
US Embassy, London
Dear Mr Johnson, On November 26, your press counsellor sent a letter to the Guardian taking strong exception to a sentence in my column of the same day. The sentence read: "In Iraq, US forces and their Iraqi surrogates are no longer bothering to conceal attacks on civilian targets and are openly eliminating anyone - doctors, clerics, journalists - who dares to count the bodies." Of particular concern was the word "eliminating".
The letter suggested that my charge was "baseless" and asked the Guardian either to withdraw it, or provide "evidence of this extremely grave accusation". It is quite rare for US embassy officials to openly involve themselves in the free press of a foreign country, so I took the letter extremely seriously. But while I agree that the accusation is grave, I have no intention of withdrawing it. Here, instead, is the evidence you requested.
In April, US forces laid siege to Falluja in retaliation for the gruesome killings of four Blackwater employees. The operation was a failure, with US troops eventually handing the city back to resistance forces. The reason for the withdrawal was that the siege had sparked uprisings across the country, triggered by reports that hundreds of civilians had been killed. This information came from three main sources:
1) Doctors. USA Today reported on April 11 that "Statistics and names of the dead were gathered from four main clinics around the city and from Falluja general hospital".
2) Arab TV journalists. While doctors reported the numbers of dead, it was al-Jazeera and al-Arabiya that put a human face on those statistics. With unembedded camera crews in Falluja, both networks beamed footage of mutilated women and children throughout Iraq and the Arab-speaking world.
3) Clerics. The reports of high civilian casualties coming from journalists and doctors were seized upon by prominent clerics in Iraq. Many delivered fiery sermons condemning the attack, turning their congregants against US forces and igniting the uprising that forced US troops to withdraw.
US authorities have denied that hundreds of civilians were killed during last April's siege, and have lashed out at the sources of these reports. For instance, an unnamed "senior American officer", speaking to the New York Times last month, labelled Falluja general hospital "a centre of propaganda". But the strongest words were reserved for Arab TV networks. When asked about al-Jazeera and al-Arabiya's reports that hundreds of civilians had been killed in Falluja, Donald Rumsfeld, the US secretary of defence, replied that "what al-Jazeera is doing is vicious, inaccurate and inexcusable ... " Last month, US troops once again laid siege to Falluja - but this time the attack included a new tactic: eliminating the doctors, journalists and clerics who focused public attention on civilian casualties last time around.
Eliminating doctors

The first major operation by US marines and Iraqi soldiers was to storm Falluja general hospital, arresting doctors and placing the facility under military control. The New York Times reported that "the hospital was selected as an early target because the American military believed that it was the source of rumours about heavy casual ties", noting that "this time around, the American military intends to fight its own information war, countering or squelching what has been one of the insurgents' most potent weapons". The Los Angeles Times quoted a doctor as saying that the soldiers "stole the mobile phones" at the hospital - preventing doctors from communicating with the outside world.
But this was not the worst of the attacks on health workers. Two days earlier, a crucial emergency health clinic was bombed to rubble, as well as a medical supplies dispensary next door. Dr Sami al-Jumaili, who was working in the clinic, says the bombs took the lives of 15 medics, four nurses and 35 patients. The Los Angeles Times reported that the manager of Falluja general hospital "had told a US general the location of the downtown makeshift medical centre" before it was hit.
Whether the clinic was targeted or destroyed accidentally, the effect was the same: to eliminate many of Falluja's doctors from the war zone. As Dr Jumaili told the Independent on November 14: "There is not a single surgeon in Falluja." When fighting moved to Mosul, a similar tactic was used: on entering the city, US and Iraqi forces immediately seized control of the al-Zaharawi hospital.
Eliminating journalists

The images from last month's siege on Falluja came almost exclusively from reporters embedded with US troops. This is because Arab journalists who had covered April's siege from the civilian perspective had effectively been eliminated. Al-Jazeera had no cameras on the ground because it has been banned from reporting in Iraq indefinitely. Al-Arabiya did have an unembedded reporter, Abdel Kader Al-Saadi, in Falluja, but on November 11 US forces arrested him and held him for the length of the siege. Al-Saadi's detention has been condemned by Reporters Without Borders and the International Federation of Journalists. "We cannot ignore the possibility that he is being intimidated for just trying to do his job," the IFJ stated.
It's not the first time journalists in Iraq have faced this kind of intimidation. When US forces invaded Baghdad in April 2003, US Central Command urged all unembedded journalists to leave the city. Some insisted on staying and at least three paid with their lives. On April 8, a US aircraft bombed al-Jazeera's Baghdad offices, killing reporter Tareq Ayyoub. Al-Jazeera has documentation proving it gave the coordinates of its location to US forces.
On the same day, a US tank fired on the Palestine hotel, killing José Couso, of the Spanish network Telecinco, and Taras Protsiuk, of Reuters. Three US soldiers are facing a criminal lawsuit from Couso's family, which alleges that US forces were well aware that journalists were in the Palestine hotel and that they committed a war crime.
Eliminating clerics

Just as doctors and journalists have been targeted, so too have many of the clerics who have spoken out forcefully against the killings in Falluja. On November 11, Sheik Mahdi al-Sumaidaei, the head of the Supreme Association for Guidance and Daawa, was arrested. According to Associated Press, "Al-Sumaidaei has called on the country's Sunni minority to launch a civil disobedience campaign if the Iraqi government does not halt the attack on Falluja". On November 19, AP reported that US and Iraqi forces stormed a prominent Sunni mosque, the Abu Hanifa, in Aadhamiya, killing three people and arresting 40, including the chief cleric - another opponent of the Falluja siege. On the same day, Fox News reported that "US troops also raided a Sunni mosque in Qaim, near the Syrian border". The report described the arrests as "retaliation for opposing the Falluja offensive". Two Shia clerics associated with Moqtada al-Sadr have also been arrested in recent weeks; according to AP, "both had spoken out against the Falluja attack".
"We don't do body counts," said General Tommy Franks of US Central Command. The question is: what happens to the people who insist on counting the bodies - the doctors who must pronounce their patients dead, the journalists who document these losses, the clerics who denounce them? In Iraq, evidence is mounting that these voices are being systematically silenced through a variety of means, from mass arrests, to raids on hospitals, media bans, and overt and unexplained physical attacks.
Mr Ambassador, I believe that your government and its Iraqi surrogates are waging two wars in Iraq. One war is against the Iraqi people, and it has claimed an estimated 100,000 lives. The other is a war on witnesses.

Jeffrey Sachs
December 02, 2004
November 2004 has the dubious distinction of being tied with April as the bloodiest months in Iraq for American soldiers. In both months, at least 135 U.S. servicemen or women died. But it's anyone's guess as to which months were the bloodiest for Iraqi citizens. No one is counting their deaths—and the American media isn't reporting on it, either. Jeffrey Sachs of Columbia University's Earth Institute goes where the mainstream media doesn't tread: deep into a war where civilians are targets as often as insurgents.
Jeffrey D. Sachs is professor of economics and director of the Earth Institute at Columbia University.
Evidence is mounting that America's war in Iraq has killed tens of thousands of civilian Iraqis, and perhaps more than one hundred thousand. Yet this carnage is systematically ignored in the United States, where the media and government portray a war in which there are no civilian deaths because there are no Iraqi civilians—only insurgents.
American behavior and self-perceptions reveal the ease with which a civilized country can engage in large-scale killing of civilians without public discussion. In late October, the British medical journal Lancet published a study of civilian deaths in Iraq since the U.S.-led invasion began. The sample survey documented an extra 100,000 Iraqi civilian deaths compared to the death rate in the preceding year, when Saddam Hussein was still in power— and this estimate did not even count excess deaths in Fallujah, which was deemed too dangerous to include.

The study also noted that the majority of deaths resulted from violence, and that a high proportion of the violent deaths were due to U.S. aerial bombing. The epidemiologists acknowledged the uncertainties of these estimates, but presented enough data to warrant an urgent follow-up investigation and reconsideration by the Bush administration and the U.S. military of aerial bombing of Iraq's urban areas.

America's public reaction has been as remarkable as the Lancet study—for the reaction has been no reaction. The vaunted New York Times ran a single story of 770 words on page 8 of the paper (October 29). The Times reporter apparently did not interview a single Bush administration or U.S. military official. No follow-up stories or editorials appeared, and no New York Times reporters assessed the story on the ground. Coverage in other U.S. papers was similarly frivolous. The Washington Post (October 29) carried a single 758-word story on page 16.

Recent reporting on the bombing of Falluja has also been an exercise in self-denial. The New York Times (November 6) wrote that "warplanes pounded rebel positions" in Fallujah, without noting that "rebel positions" are actually in civilian neighborhoods. Another New York Times story (November 12), citing "military officials," dutifully reported that, "Since the assault began on Monday, about 600 rebels have been killed, along with 18 American and 5 Iraqi soldiers." The issue of civilian deaths was not even raised.

Violence is only one reason for the increase in civilian deaths in Iraq. Children in urban war zones die in vast numbers from diarrhea, respiratory infections and other causes owing to unsafe drinking water, lack of refrigerated foods, and acute shortages of blood and basic medicines at clinics and hospitals (that is, if civilians even dare to leave their houses for medical care). Yet the Red Crescent and other relief agencies have been unable to relieve Fallujah's civilian population.

On November 14, the front page of The New York Times led with the following description: "Army tanks and fighting vehicles blasted their way into the last main rebel stronghold in Fallujah at sundown on Saturday after American warplanes and artillery prepared the way with a savage barrage on the district. Earlier in the afternoon, 10 separate plumes of smoke rose from Southern Fallujah, as it etched against the desert sky, and probably exclaimed catastrophe for the insurgents."

There is, once again, virtually no mention of the catastrophe for civilians etched against that desert sky. There is a hint, though, in a brief mention in the middle of the story of a father looking over his wounded sons in a hospital and declaring that, "Now Americans are shooting randomly at anything that moves."

A few days later, a U.S. television film crew was in a bombed-out mosque with U.S. troops. While the cameras were rolling, a U.S. Marine turned to an unarmed and wounded Iraqi lying on the ground and murdered the man with gunshots to the head. (Reportedly, there were a few other such cases of outright murder.) But the American media more or less brushed aside this shocking incident, too. The Wall Street Journal actually wrote an editorial on November 18 that criticized the critics, noting as usual that whatever the United States does, its enemies in Iraq do worse—as if this excuses American abuses.

It does not. The United States is killing massive numbers of Iraqi civilians, embittering the population and the Islamic world, and laying the ground for escalating violence and death. No number of slaughtered Iraqis will bring peace. The American fantasy of a final battle, in Fallujah or elsewhere, or the capture of some terrorist mastermind, perpetuates a cycle of bloodletting that puts the world in peril. Worse still, America's public opinion, media and election results have left the world's most powerful military without practical restraint.

Saturday 04 December 2004, 11:50 Makka Time, 8:50 GMT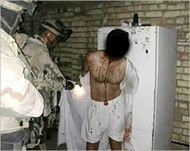 The US military has launched a criminal investigation into photographs that appear to show Navy Seals special forces in Iraq sitting on hooded and handcuffed detainees, and photos of what appear to be bloodied prisoners, one with a gun to his head.
Some of the photos have date stamps suggesting they were taken in May 2003, which could make them the earliest evidence of possible abuse of prisoners in Iraq.
The far more brutal practices photographed in Abu Ghraib prison occurred months later.
An Associated Press reporter found more than 40 of the pictures among hundreds in an album posted on a commercial photo-sharing website by a woman who said her husband brought them from Iraq after his tour of duty.
It is unclear who took the pictures. The navy says it is investigating after Associated Press (AP) provided it with copies of the photographs to get a comment.
Raids on civilians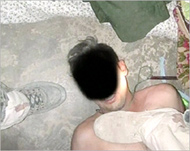 These and other photos found by the AP appear to show the immediate aftermath of raids on civilian homes. One man is lying on his back with a boot on his chest.
A mug shot shows a man with an automatic weapon pointed at his head and a gloved thumb jabbed into his throat. In many photos faces have been blacked out.
"These photographs raise a number of important questions regarding the treatment of prisoners of war (POWs) and detainees," Navy Commander Jeff Bender, a spokesman for the Naval Special Warfare Command in Coronado, said in a written response to questions.
"I can assure you that the matter will be thoroughly investigated."
The photos were turned over to the Naval Criminal Investigative Service, which instructed the Seal command to determine whether they show any serious crimes, Bender said on Friday.
That investigation will determine the identities of the troops and what they were doing in the photos.
Charges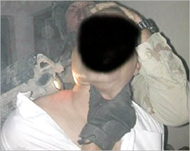 Some of the photographs recall aspects of the images from Abu Ghraib, which led to charges against seven soldiers accused of humiliating and assaulting prisoners.
In several of the photos, grinning men wearing US flags on their uniforms, and one with a tattoo of a Seal trident, take turns sitting or lying atop what appear to be three hooded and handcuffed men in the bed of a pickup truck.
A reporter found the photos, which have since been removed from public view, while researching the prosecution of a group of Seals who allegedly beat prisoners and photographed one of them in degrading positions.
Those photos, taken with a Seal's personal camera, have not been publicly released.
Though they have alarmed Seal commanders, the photographs found by AP do not necessarily show anything illegal, according to experts in the laws of war who reviewed photos at AP's request.
Geneva Convention
Gary Solis, a former Marine Corps prosecutor and judge who teaches at the United States Military Academy, said the images showed stupid and juvenile behaviour - but not necessarily a crime.
John Hutson, a retired rear admiral who served as the Navy's Judge Advocate General from 1997 to 2000, said they suggested possible Geneva Convention violations. Those international laws prohibit souvenir photos of prisoners of war.
"It's pretty obvious that these pictures were taken largely as war trophies," Hutson said.
"Once you start allowing that kind of behaviour, the next step is to start posing the POWs in order to get even better pictures."
At a minimum, the pictures violate Navy regulations that prohibit photographing prisoners other than for intelligence or administrative purposes, according to Bender, the Seal's spokesman.
All Naval Special Warfare personnel were told that prior to deployment, he said, but "it is obvious from some of the photographs that this policy was not adhered to".
Website
The images were posted to the internet site Smugmug.com
The woman who posted them said her husband had returned to Iraq. He does not appear in photos with any prisoners.
The navy goes to great lengths to protect the identities and whereabouts of its 2400 Seals - which stands for Navy, Sea, Air, Land - many of whom have classified counterterrorist missions around the globe.
"Some of these photos clearly depict faces and names of Naval Special Warfare personnel, which could put them or their families at risk," Bender said.

By Anne Penketh Diplomatic Editor
17 June 2004
The Bush administration's last remaining justification for the invasion of Iraq has been demolished by a private poll revealing that only 2 per cent of Iraqis regard the occupying forces as liberators.

Ray McGovern
December 03, 2004
On November 24, the New York Times revealed that a Defense Science Board panel directly contradicted President Bush's explanation of the motivation driving Al Qaeda. They don't hate our freedoms, they hate our policies. At a Capitol Hill briefing yesterday, Ray McGovern witnessed that, far from opening the floodgates of reality, terrorism experts—and the NYT—are avoiding the real message in the findings, putting us all at risk.
Ray McGovern's duties during his 27-year career at CIA included daily briefings of then-Vice President Bush and the most senior national security advisers to President Ronald Reagan. McGovern is on the Steering Group of Veteran Intelligence Professionals for Sanity (VIPS).
Yesterday's conference on "Al Qaeda 2.0: Transnational Terrorism After 9/11," sponsored by the New America Foundation and the New York University Center on Law & Security, was a gift to those wanting an update on informed opinion on the subject. The event also proved to be as highly instructive for what was not addressed as for the issues that were. The elephants known to be present remained largely unnoticed.
The cavernous Caucus Room of the Russell Senate Office Building was full to the gunnels. Panel after panel of distinguished presenters from near and far, from right to left—including authors Peter Bergen, Michael Scheuer, Jessica Stern and Col. Pat Lang— exuded and freely shared their expertise. But there was myopia as well.
The mosquitoes of terrorism were dissected and examined as carefully as biology students once did drosophila, but typing the generic DNA of terrorism proved more elusive. Worse, no attention was given to the swamp in which terrorists breed. Were it not for a few impertinent questions from the audience, the swamps might have avoided attention altogether. [...]
What About The Elephants?
Then came a rude question from the audience: Is it not striking that even in an academic-type setting like this, elephants must remain invisible? Is it not ironic, that the U.S. Defense Science Board, in an unclassified study on "Strategic Communication," completed on September 23 but kept under wraps until after the November 2 election, let the pachyderms out of the bag? Directly contradicting the president, a panel of the Defense Science Board gave voice to what virtually all in that ornate Senate Caucus Room knew, but were afraid to say. It named the elephants.
"Muslims do not 'hate our freedom,' but rather, they hate our policies. The overwhelming majority voice their objections to what they see as one-sided support in favor of Israel and against Palestinian rights, and the longstanding, even increasing support for what Muslims collectively see as tyrannies, most notably Egypt, Saudi Arabia, Jordan, Pakistan, and the Gulf States.
"Thus, when American public diplomacy talks about bringing democracy to Islamic societies, this is seen as no more than self-serving hypocrisy...
"...Nor can the most carefully crafted messages, themes, and words persuade when the messenger lacks credibility."
U.S. Support For Israel "Immutable"
Another questioner pressed the mismatch-context-message expert from RAND: "What can we do to change the context?" In answer he acknowledged that the United States has a bad reputation, but he insisted that this is "unavoidable" because our support for Israel, for example, is "immutable." The United States is also connected to what many Muslims consider "apostate" regimes, but it is difficult to escape what binds us, because we need their "tactical support." (Read: oil; military bases; intelligence.)
There was some wincing and squirming in the audience, but in the end it was left to Marc Sageman, a forensic psychiatrist, former CIA case officer, and author of the book Understanding Terror Networks (published earlier this year) to state the obvious on Israel and Iraq. Putting it even more bluntly that the Defense Science Board panel, he asserted:
"We are seen as a hypocritical bully in the Middle East and we have to stop!"
Now why should that be so hard to say, I asked myself. And I was reminded of a frequent, unnerving experience I had while on the lecture circuit in recent months. Almost invariably, someone in the audience would approach me after the talk and congratulate me on my "courage" in naming Israel as a factor in discussing the war in Iraq and the struggle against terrorism. But since when did it take uncommon courage to state simply, without fear or favor, the conclusions of one's analysis? Since when did it become an exceptional thing to tell it like it is?
Taking The Heat On Israel
I thought of the debate I had on Iraq with arch-neoconservative and former CIA Director James Woolsey, on PBS' Charlie Rose Show on August 20, when I broke the taboo on mentioning Israel and was immediately branded "anti-Semitic" by Woolsey. Reflecting later on his accusation, it seemed almost OK, since it was so blatantly ad hominem , and so transparent coming from the self-described "anchor of the Presbyterian wing of JINSA (the Jewish Institute of National Security Affairs)." A flood of e-mail reached me from all over the country—again, congratulating me on my "courage."
I still don't fully understand. And that was my candid answer to the question I dreaded, the one that so often came up during the Q and A sessions following my talks: Why is it that the state of Israel has such pervasive influence over our body politic? No one denied that it does; most seemed genuinely puzzled as to why. My embarrassment at my inability to answer the question is somewhat attenuated by the solace I take in the thought that I am in good company.
Gen. Brent Scowcroft, National Security Adviser to President George H. W. Bush, and now chair of his son's President's Foreign Intelligence Advisory Board, has been known to speak out on key issues when his patience is exhausted. For example, remember how, before the attack on Iraq, he described the evidence of ties between Iraq and Al Qaeda as "scant" when Defense Secretary Donald Rumsfeld was calling it "bulletproof?" Well, it sounds like he has again run out of patience. Scowcroft recently told the Financial Times that George W. Bush is "mesmerized" by Israeli Prime Minister Ariel Sharon. "Sharon just has him wrapped around his little finger," Scowcroft is quoted as saying. Scowcroft and I must have less to lose than those working for RAND.
Surgery At The Times
The Times gives off unfortunate signs of being similarly mesmerized and/or intimidated. This shows through quite often; I'll adduce but two recent examples: protecting bad policies and editing bin Laden.
To his credit, Thom Shanker of the Times broke the story on the findings of the Defense Science Board panel on November 24. However, the report was delivered to the Secretary of Defense on September 23—before the election. Faulting America's pro-Israel policies would have hurt both presidential candidates—but would have helped American national security.
Further, Shanker quoted the paragraph beginning with "Muslims do not 'hate our freedom'" (see above), but he or his editors deliberately cut out the following sentence about what Muslims do object to; i.e., U.S. "one-sided support in favor of Israel and against Palestinian rights," and support for tyrannical regimes. The Times did include the sentence that immediately followed the omitted one. In other words, the offending middle sentence was surgically removed from the middle of the paragraph.
Similarly creative editing showed through the Times' reporting on Osama bin Laden's videotaped speech in late October. Almost six paragraphs of the story made it onto page one, but the Times saw to it that the key point bin Laden made at the beginning of his speech was relegated to paragraphs 23 to 25 at the very bottom of page nine. Buried there was bin Laden's assertion that the idea for 9/11 first germinated after "we witnessed the oppression and tyranny of the American-Israeli coalition against our people in Palestine and Lebanon."
With that kind of support from the "newspaper of record," and with familiar national security faces, sans Colin Powell, in place for the president's second term, it is a safe bet we are in for the same misguided policies—only more so. The president's circle of advisers now has an even shorter diameter, and it is unlikely that Gen. Scowcroft's protégé, Condoleezza Rice, will seek his counsel as secretary of state any more than she did as national security adviser.
No Surprise
On the afternoon of Feb. 5, 2003, after Secretary of State Colin Powell made his embarrassingly memorable speech at the UN, my colleagues and I of Veteran Intelligence Professionals for Sanity (VIPS) drafted and sent a Memorandum for the president, which concluded with this observation:
"After watching Secretary Powell today, we are convinced that you would be well served if you widened the discussion beyond... the circle of those advisers clearly bent on a war for which we see no compelling reason and from which we believe the unintended consequences are likely to be catastrophic."
With the circle now narrowed, those widely known as "the crazies" as mid-level officials, when George H. W. Bush was in the White House, are now even more firmly ensconced—and in charge of things like wars.

by Mark Owen – Students for War November 24, 2004
The Federal Reserve is a system of private banks separate and distinct from the U.S. government. This banking system was originally conceived by John D. Rockefeller and J.P. Morgan. The FED, as it it known, is listed in the white pages along with Federal Express, the Federal Deposit Insurance Corporation, and other businesses. The bank produces Federal Reserve Notes. They use these notes/dollars to purchase government bonds. These notes are a fiat currency. Historically, all fiat currencies eventually crash due to hyperinflation from over-issuance. The supply of paper is limitless. There is no intrinsic value in paper currency after delinking from a gold standard. This is why they are referred to as bank notes. Legally, they can't be referred to as 'money.' They are mere tickets/tokens. Forced tender laws were passed in order to give the paper currency legitimacy. The only thing giving bank notes value is TAXATION. Gold and silver have intrinsic value due to scarcity and the fact that it takes work to produce them (mining, smelting etc). This is why they have been used as money for 5000 years. Precious metals are a good store of value. They retain their value over time and aren't subject to inflation. The fiat paper system is designed to create debt through inflation (devaluation of currency). Whenever there is an increase in the money supply without a corresponding increase in gold or silver backing, inflation results. Inflation is a subtle form of theft banks impose upon citizens.
Goodbye gold-
In the 1960s Lyndon Johnson borrowed billions from the French Rothschilds so he wouldn't have to raise taxes to finance the Viet Nam war. Rothschild agent Charles de Gaulle demanded repayment in gold, not greenbacks. When Richard Nixon was elected he noted that the treasury was almost depleted of gold and he removed the dollar from the gold standard. But the debt still stood. Nixon collateralized the debt with the mineral estate of the western U.S. and a land-for-debt swap was initiated. Much of the western States were given to the banks. This is when Nixon created the Environmental Protection Agency. Their mandate was/is to PREVENT American citizens from logging, farming, ranching or otherwise exploiting these lands being held for the banks. The Bureau of Land Management and other agencies are used to harass ranchers and farmers from the land.
So, what does the foregoing have to do with Middle East? Plenty.
All central banks of the world hold U.S. dollar reserves equivalent to the local currency in circulation to facilitate trade. The dollar is the biggest American export. It is impossible to overstate this. Also, when any country wishes to purchase oil, they must first convert their local currency to U.S. dollars and then purchase oil from the cartels. This is the arrangement hammered out between the U.S. and Saudi Arabia in 1974. The quid pro quo was that the U.S. armed the Saudis to the teeth.
In the last two years the euro currency has gained 30% relative to the U.S. dollar. The European banks are seeking to have the euro accepted as the new world reserve currency. Countries like China and Japan are sitting atop mountains of U.S. dollars that are being daily devalued. Since the U.S. dollar is printed by the FED at will and without restraint (and is not linked to gold), Americans are essentially getting the world's oil for free (it costs the FED around 4 cents to print a one hundred dollar Federal Reserve note). France and Germany would like a piece of the free oil pie.
FED chairman Alan Greenspan is forced to feed the recovery myth or risk a panic sell-off of dollars. This past spring he tripled the money supply to $50 billion per week. This is making even seasoned economists nervous. In August, Morgan Stanley chief economist Stephen Roach predicted a stock market crash on the scale of 1987s Black Monday. "The funding of America is an accident waiting to happen," he declared.
In speeches made outside of the U.S. (and only then) Greenspan has repeatedly warned of a possible 'systemic collapse' of the financial system. The printing of all of this paper is leading to massive inflation. All commodities have spiked from 10 to 90% over the last year. $15 dollar jeans available from Wal-Mart produced by slave labor in China somewhat disguise this fact. Another trick the money masters use to lull citizens is to periodically and surreptitiously ditch dinosaur industries from the DOW (like Kodak, this past spring) and supplant them with high-tech earners like Verizon, for instance. This is not to say that U.S. companies aren't investing billions of dollars in new production; they are. It's just that it's in China, not Ohio. China's quarter-trillion dollar export boom is America's import deficit. The debt-based credit inferno must create ever larger volumes of debt (credit) to prevent a financial implosion. The entire world growth since 2003 depends on the record FED money supply. Total U.S. debt now stands at $34 trillion. The U.S. GDP is $11 trillion. This means that debt is 3 times GDP, greater even than the depression of the 1930s. But happily for American citizens, the Federal Reserve of Cleveland commissioned a study recently on ways to diffuse this massive debt bomb. Options discussed included:
- doubling payroll taxes from 15.3% of wages to 32% immediately and forever
- raising income taxes by two thirds immediately and forever
- cutting Social Security and Medicare by 45% immediately and forever
- eliminating forever all discretionary spending on courts, highways and parks
Enter Saddam-
In November 2000 Saddam Hussein tried to barter Iraq's oil directly for euros. This would have cut America out of its enormous subsidy and started a stampede of other OPEC members to embrace the euro. This simply would not stand. 9-11 was the pretext used to boot Saddam. Bush couldn't get America's moms to sacrifice their children for dollar hegemony and the terrorist bogey was activated.
Fourteen huge, permanent bases are currently under construction in Iraq, along with the world's biggest embassy in Baghdad (3,500 employees, and counting). Bush will continue on a permanent war footing in the Middle East in order to protect U.S. dollar hegemony. There is no other option. All future wars will be run out of Iraq. Iran has been making noises lately about ditching the U.S. dollar in favor of the euro, as have the Saudis. They're next. The U.S. will dismantle OPEC and surround Saudi Arabia, keeping their hand firmly on the oil spigot. This is the essence of the petro-dollar warfare that we are witnessing, in a nutshell....

Go to JohnKerry.com and you will find absolutely nothing about the mounting evidence of vote fraud- why? There is no mention of the official voting receipts found in the garbage, or about the vote suppression in Ohio, or about the GAO starting an investigation into the 57,000 reported cased of voting 'irregularities' nationwide. 13 Members of Congress have asked for an investigation into the voting problems, heaven forbid JohnKerry.com mention that. Why is it that VoteNader.com and VoteCobb.org both address the voting problems right on the front page, but the Democratic ticket of Kerry and Edwards won't address the issue at all?
It seems like Kerry and Edwards didn't really want to win, almost like they're ready for a vacation. They're telling us, get over it, we lost, it's time to move on and unite behind our leader? What the bleep is that all about? I thought Kerry was our candidate because Bush was so bad we had to get rid of shrubbie. Then after this election where all of the computer 'glitches' favored bush, kerry just tucks tail and hides? Thousands of Americans were turned away from the polls thanks to Republican dirty tricks, so kerry gives up and tells us to get behind Bush? Setup.
We've wasted billions of dollars and destroyed hundreds of thousands of lives- now we're stuck in a war without end and the hatred of America at an all time high... and our guy, Mr. Anybody But Bush, is silent about vote fraud and suppression that clearly cost him the election. Doesn't that seem a little bit fishy?
Kerry is joined in silence by Edwards, Dean, Clinton, Gore and the official Democratic Party. They all remain silent in the face of undeniable evidence of vote fraud. And it's not just the voting machines without a paper trail, there are hundreds of sworn statements delivered by Ohio residents detailing various Republican tricks to prevent democrats from voting.
Why are Nader and Cobb raising money for recounts while Kerry refuses to pay for any of them? Is Kerry really fighting for the people? If he is, why does he have $51 million left over from his campaign? How can anyone think that not spending $50 million was part of a successful plan to win? Why did Kerry do that?
If you'd been reading news on the net before the election, you'd have known that some people were claiming Kerry was throwing the election all the way. That in fact, Bush and Kerry are distant cousins, and both members of the 'frat' Skull and Bones at Yale. (1) Think, is it just an amazing coincidence that the two main candidates were related, multi-millionaire boners? Is it possible for you to consider that, perhaps there really is an elite group of families running the country? Some call it the New World Order, it's like the Mafia x 1000, without the accents.
Understandably most Americans are reluctant to think that organized crime has taken over our government, that both candidates were puppets for evil behind the scenes masters. But folks, what if its true? Isn't it worth looking at? It's easier for people to tell themselves that Bush really won, stupid people voted for him and now we're stuck with four more years of war. This is easier because they can continue about their life as usual- recognizing that our gov't is corrupt might require them to change their daily lives. It's so much easier to say, "Oh well, too bad for those Iraqis and Iranians that will die, at least I still have my life as usual." Apathy- that's what is killing our country.
To acknowledge that the mafia has taken over is a scary concept, nonetheless, i ask you to see if the hat fits. In my opinion, this was a staged election all the way, with the express purpose of re-installing Bush to create the illusion of warmongering America, justifying more wars, more terror threats and more spying on Americans- Big Brother has arrived. Am I a 'conspiracy nut'? Think for yourself, which doesn't mean believe everything I say, but it means do not discredit it just because the mainstream media does. Are these thoughts really outlandish conspiracy, or just basic logic? [...]

The Associated Press
Dec. 1, 2004
Ex-New England campaign chairman cited for phone jamming
CONCORD, N.H. - President Bush's former New England campaign chairman was indicted Thursday on charges he took part in the jamming of the Democrats' get-out-the-vote phone lines on Election Day 2002.
James Tobin, 44, stepped down Oct. 15 after the Democrats accused him of involvement. At the time, he called the allegations "without merit."
In 2002, six phone lines run by the Democrats and the Manchester firefighters union were tied up for 1½ hours by 800 computer-generated hang-up calls.
Federal prosecutors said Tobin and other Republicans hired a company to make the calls to disrupt the organizations' get-out-the-vote efforts.
Tobin was charged with conspiracy to commit telephone harassment and aiding and abetting of telephone harassment. He could get up to five years in prison.
Calls to Tobin's lawyer and representatives of both parties were not immediately returned.
At the time of the jamming, Tobin was Northeast political director for the Republican Senatorial Committee, the party operation working to elect Republicans to the Senate.
Among the races affected by the phone-jamming was the Senate contest between Democratic Gov. Jeanne Shaheen and Republican Rep. John E. Sununu. Sununu ended up winning by about 20,000 votes.
Over the summer, Chuck McGee, former executive director of the state GOP, pleaded guilty to conspiracy and admitted paying $15,600 to a Virginia telemarketing company that hired another business to make the calls. A Republican consultant with the telemarketing company also pleaded guilty.
December 3, 2004: 12:37 PM EST
By Paul R. La Monica, CNN/Money senior writer
Kerik, the nominee to head the Department of Homeland Security, is on the stun gun maker's board.
NEW YORK (CNN/Money) - Some investors in stun gun maker Taser are betting that the nomination of Bernard Kerik to head the Department of Homeland Security could lead to some big government contracts for the company.
After all, Kerik is on Taser's board of directors.
Taser (Research) fans were all aflutter on investing message boards Friday morning with enthusiastic predictions, such as this one on Yahoo! Finance:
"KERIK Will Have Over 220,000 People Under him. He doesn't have to say it out, his divisions' chief will automatically suggest to get TASR Guns to flatter him, since they all knew his background at TASR....Buy."
But investors shouldn't get too excited.
For one, if confirmed, Kerik would need to step down from Taser's board, said Rick Smith, Taser's chief executive officer, in an interview Friday morning.
In a move to possibly pave the way for this, Kerik exercised stock options last month in order to sell about 102,000 shares of Taser stock, according to filings with the Securities and Exchange Commission.
Smith was quick to quell any concerns about whether Taser would receive favorable treatment from Kerik. But he added that Kerik might be more likely to endorse the use of weapons like Taser's stun guns because of his familiarity with them. In addition to serving on Taser's board, Kerik was formerly the commissioner of New York City's police department. [...]
Palestine Information Centre – Nov 28, 2004
The late PA chief Yasser Arafat was poisoned with a widely known toxic substance termed as "Acontine", which is usually extracted from an Asian plant called "Aconite", a report, issued recently by the British intelligence, disclosed.
The report said that the same substance, which could instantly dissolve in liquids, couldn't be forensically detected in human body 12 hours after its penetration into it.
The same poison causes fatal symptoms in the blood circulation, nervous, and digestive systems, according to the report.
It's probable that Arafat was gradually poisoned, as 3 to 5 mgs of that poison is enough to cause his death, it highlighted, and noted that one of his top aides might have sneaked such a substance into his meals during the holy month of Ramadan, causing his slow death as was the case with the former Algerian president Hawari Boumaddine.
Well-informed Palestinian sources, meanwhile, revealed that the US administration had refused to receive Arafat at "Mayo Clinic" hospital, as his illness coincided with the holding of the US presidential elections.
The administration had already been acquainted with the nature of Arafat's disease, therefore, it declined to receive him at that hospital so as not be embarrassed by his death, according to the sources.

Scotsman
JULIE WHEELWRIGHT
JON RONSON AND I ARE WALKING DOWN a grimy Soho street, deep in conversation about mind-control. It's a subject that lends itself to nuttiness, but the author of Them: Adventures with Extremists, who gatecrashed the sacred owl-burning ceremony at the exclusive American club, Bohemian Grove, challenged the Bildenberg Group and befriended the Ku Klux Klan, has an uncanny ability to discern the method within other people's madness. In his latest book, The Men Who Stare at Goats, which accompanies the Channel 4 series (Sunday, 8pm), his target is the American military.
Ronson began his journey into the US army's heart of cerebral darkness in London, where he got a tip from Uri Geller - the psychic famed for bending spoons on TV in the 1970s. "Under Clinton, the nuttiness was at the fringes but the dynamic changed when the Bushes got into power and it felt like the nuttiness was now at the core of things," Ronson tells me at his Soho club. "So I started asking around and then I heard about remote viewers and psychic spies and, right here on the roof terrace in this building, Uri Geller told me that he'd been 're-activated'."
I ask why the US military might have brought Geller back in from the cold. The simple answer is that Geller once belonged to an unofficial unit of psychic spies, formed in the 1970s to read the future and conduct experiments into the supernatural for the US military. Geller's tip led Ronson to Glenn Wheaton, a retired sergeant and former Special Forces psychic spy who confirmed that the military funded this unofficial unit. There was more to the psychics, however, than trying to "remotely access" Soviet weapons plans or predict China's next move. They were looking at new forms of warfare, including walking through walls, adopting a cloak of invisibility, even stopping an animal's heartbeat by staring at it.
Wheaton told Ronson about a "goat lab" where the staring took place and this led him to General Stubblebine III, the army's chief of intelligence in the 1980s. The General is a big fan of Geller and in Ronson's documentary lays out a whole trayful of twisted cutlery as evidence of his faith. Stubblebine, says Ronson, was so convinced about these ideas that he spent several weeks trying to conjure up a mental state that would enable him to walk through walls. He never succeeded, but became a powerful advocate of New Age thought.
Ronson is smiling across the table as we discuss the debleated goats he discovered at an army base in Fort Mead, North Carolina, but his story has the darkest of undertones. "It felt as if I was really finding this stuff out for the first time," he says. "No-one knows about the goats. They're completely new and the guy who told me immediately regretted it."
Such experiments, rumours of which have circulated in the military for years, now have chilling applications in Iraq and Cuba, where suspected terrorists are being interrogated. "What I'm really trying to say is that this stuff is funny and slapstick until it's implemented and then what you have is Abu Ghraib and Guantanamo Bay," says Ronson.
The US media may have chosen to joke about using the I Love You song from the popular children's show Barney as a weapon on Iraqi prisoners, but Ronson may have the real story. He believes popular music, even children's music, is being used as a form of mental torture that can be traced back to another ex-officer, Vietnam-vet and New Age guru Jim Channon. After the bruising of Vietnam, when enlistment was at an all-time low and the American military's reputation lay in tatters, Channon set out to reform it. He produced a manual called The First Earth Battalion, in which he advocated that instead of assaulting the enemy, US soldiers should carry lambs into battle and wear "sparkly eyes" while speakers would transmit "indigenous music and words of peace". The average grunt would become a Zen monk who would win hearts and minds; killing would become obsolete.
His ideas were widely taken up by officers doing their own soul-searching in the 1980s. Now they have re-emerged in frighteningly different scenarios on the front line. [...]
What Ronson has uncovered is not just monstrous, but so deeply weird that he may have a battle getting his readers to take the psychic spies seriously. When he showed his father footage of the Bohemian Grove owl-burning ceremony, complete with a human effigy, his comment was, "That didn't happen." Ronson throws up his hands in frustration. "I think what was going through his mind was that I'd employed 1,000 extras to don robes, but I can't even get Channel 4 to send me premium economy, let alone pay for that," he laughs.
But this time Ronson has corroboration from the Pentagon on his side. Even though sources who worked at Guantanamo Bay have revealed much more than the Pentagon has admitted about their use of strobe lights and loud music (Limp Bizkit, Rage Against the Machine and Eminem are on the playlist) to force prisoners into confessions, Ronson has been vindicated. Even his interviews with Psyops specialists at Fort Meade seem to suggest that the terrible abuses at Abu Ghraib prison really were part of an intelligence operation. "A lot of people in this story had military credentials," he says. "But whether they tell you lies, you'll have to decide for yourself. Denial, deception and half-truths ... it's part of their nature to deceive people."

WASHINGTON (Reuters) - The American Civil Liberties Union on Thursday accused the FBI and local police of spying on political and faith-based groups and formally asked the government for information about such FBI surveillance.
In Freedom of Information Act requests filed in 10 states and Washington, D.C., the ACLU sought information about the FBI's use of Joint Terrorism Task Forces and local police for what it called political surveillance.
It pointed to some documented examples of task forces' involvement in the investigation of environmental activists and anti-war protesters.
"The FBI is wasting its time and our tax dollars spying on groups that criticize the government, like the Quakers in Colorado or Catholic Peace Ministries in Iowa," said ACLU associate legal director Ann Beeson.
"Do Americans really want to return to the days when peaceful critics become the subject of government investigations?" she said. The ACLU is America's most prominent independent advocacy group for civil liberties.
The FOIA requests seek FBI files on groups and individuals targeted for speaking out or practicing their faith.
The FBI denied using the task forces -- a key element of the government's efforts to prevent another terror attack like those on Sept. 11, 2001 -- to spy on innocent individuals.
Asked about the ACLU action, an FBI spokesman said, "The FBI does not investigate individuals or groups that are engaged in exercising their constitutional rights of freedom of expression.
He added, "Only if they are engaged in criminal activity in support of a cause would we be interested in them."
In its FOIA request, the ACLU asked for information on procedures used by the task forces for monitoring people based on their race, religious affiliation, organizational membership or participation in protest activities.

By Tom Coghlan
04/12/2004
The Afghan authorities plan to invigorate the country's fledgling tourist industry by developing Osama bin Laden's Tora Bora mountain hideout as a visitor attraction.
Dr Hassamuddin Hamrah, the man in charge, believes that the caves which once housed bin Laden and his fighters, together with the remains of mangled Russian tanks and crashed helicopter gunships from the 1980s, will prove a tourist magnet. [...]

Saturday 04 December 2004
Global warming could lead to a big chill in the North Atlantic, at least if history is anything to go by, researchers reported.
Experts published evidence on Friday to support a popular theory that rising temperatures caused a big melt of polar ice 8200 years ago, causing a freshwater flood into the salty North Atlantic.
This would have changed the flow of the balmy Gulf Stream and, in just a few years, average temperatures plummeted, ushering in a deep freeze that lasted a century or more, researchers have proposed.
Writing in the 11 December issue of Geophysical Research Letters, Torbjorn Tornqvist, an assistant professor of earth and environmental sciences at the University of Illinois at Chicago, says he has evidence that this happened.
"Few would argue it's the most dramatic climate change in the last 10,000 years," Tornqvist said. "We're now able to show the first sea-level record that corresponds to that event."

NANCY, France, Dec 2 (AFP) - A 69-year-old man has been hospitalised in northeastern France with suspected bird flu, health officials said Thursday.
The man, who has not been named, had recently returned from a trip to Vietnam, they said.
"We are applying the principle of precaution because the patient had come back from Vietnam and showed symptoms that suggested bird flu," said Bertrand Demangeon, a doctor at the main hospital in Nancy.
The man was being kept in isolation in the intensive care unit.
Bird flu has been responsible for some 20 deaths in Vietnam in the last year, and there have been outbreaks in six other Asian countries.

Matthew Taylor, education correspondent
Thursday December 2, 2004
The Guardian
Doctorate could justify child sex, say abuse experts
An academic awarded a doctorate by Glasgow University for his thesis which described sex between adults and children as sometimes positive was criticised last night by child abuse experts.
Richard Yuill said his research, based on interviews with paedophiles and their victims, "challenged the assumption" that sexual relations between adults and under-16s were inherently abusive.
"The conclusions are that in such relationships I think you've got the good, the bad and the ugly, and that's where I stand on that," he said in the Times Higher Education Supplement.
But child abuse experts said his thesis would play into the hands of paedophiles who justified their actions by claiming their victims were willing participants.
Chris Harrison, a senior lecturer in social work at Warwick University said: "Whatever his intention, one of the things we know about sexual offenders is that they seize on this kind of thing and use it to support their position."
Mr Yuill, who was awarded his doctorate this week, interviewed paedophiles by describing himself as a "boylover" and said his work could challenge the law which states that children under 16 are incapable of giving informed consent to sex with adults.
"The law may well take that view," he said. "The only thing I'm reporting is that the research findings do not concur with that overall picture. A number of respondents would concur with the law ... but others found positive experiences or at least what I'd call neutral."
Glasgow University said last night the thesis did not represent its views but defended the decision to award the doctorate.
"This student and his research was the subject of a full investigation by senior university staff. His research material was examined by Strathclyde police who were satisfied that nothing of an illegal nature had taken place," it said.
But other academics criticised Mr Yuill's research.
Andrew Durham, author of the book Young Men Surviving Child Sexual Abuse said victims of abuse sometimes reported positive experiences, but this was often a result of manipulation by the abuser, or simply a coping mechanism.
"When I work with people who have been abused it often feels like you're talking to the abuser in the child's head," he said.
Natalie Cronin, head of policy at the NSPCC, said the suggestion that the research could result in a change in the law was unacceptable.
"The age of consent sends a clear message to adults and young people that sexual intercourse and sexual activity under 16 is wrong in law. This is the age at which young people can give sufficiently mature and informed consent to sex. The NSPCC does not agree with the introduction of a lower age of consent," she said.

By Jamie Doran
BBC Reporter/producer, Guinea Pig Kids
HIV positive children and their loved ones have few rights if they choose to battle with social work authorities in New York City.
Jacklyn Hoerger's job was to treat children with HIV at a New York children's home.
But nobody had told her that the drugs she was administering were experimental and highly toxic.
"We were told that if they were vomiting, if they lost their ability to walk, if they were having diarrhoea, if they were dying, then all of this was because of their HIV infection."
In fact it was the drugs that were making the children ill and the children had been enrolled on the secret trials without their relatives' or guardians' knowledge.
As Jacklyn would later discover, those who tried to take the children off the drugs risked losing them into care.
The BBC asked the Alliance for Human Research Protection about their view on the drug trials.
Spokesperson Vera Sherav said: "They tested these highly experimental drugs. Why didn't they provide the children with the current best treatment? That's the question we have.
"Why did they expose them to risk and pain, when they were helpless?
"Would they have done those experiments with their own children? I doubt it."
Power and authority
When I first heard the story of the "guinea pig kids", I instinctively refused to believe that it could be happening in any civilised country, particularly the United States, where the propensity for legal action normally ensures a high level of protection.
Central to this story is the city's child welfare department, the Administration for Children's Services (ACS).
The ACS, as it is known, was granted far-reaching powers in the 1990s by then-Republican Mayor Rudi Giuliani, after a particularly horrific child killing.
Within the shortest of periods, literally thousands of children were being rounded up and placed in foster care.
"They're essentially out of control," said family lawyer David Lansner. "I've had many ACS case workers tell me: 'We're ACS, we can do whatever we want' and they usually get away with it."
Having taken children into care, the ACS was now, effectively, their parent and could do just about anything it wished with them.
'Serious side-effects'
One of the homes to which HIV positive children were taken was the Incarnation Children's Center, a large, expensively refurbished red-bricked building set back from the sidewalk in a busy Harlem street.
It is owned by the Catholic church and when we attempted to talk to officials at Incarnation we were referred to an equally expensive Manhattan public relations company, which then refused to comment on activities within the home.
Hardly surprising, when we already knew that highly controversial and secretive drug experiments had been conducted on orphans and foster children as young as three months old.
We asked Dr David Rasnick, visiting scholar at the University of Berkeley, for his opinion on some of the experiments.
He said: "We're talking about serious, serious side-effects. These children are going to be absolutely miserable. They're going to have cramps, diarrhoea and their joints are going to swell up. They're going to roll around the ground and you can't touch them."
He went on to describe some of the drugs - supplied by major drug manufacturers including Glaxo SmithKline - as "lethal".
When approached by the BBC, Glaxo SmithKline said such trials must have stringent standards and be conducted strictly in accordance with local regulations.
Battle of wills
At Incarnation, if a child refused to take the medicines offered, he or she was force-fed through a peg-tube inserted into the stomach.
Critics of the trials say children should have been volunteered to test drugs by their parents.
When Jacklyn Hoerger later fostered two children from the home where she used to work with a view to adopting them, she discovered just how powerful the ACS was.
"It was a Saturday morning and they had come a few times unannounced," she said. "So when I opened the door I invited them in and they said that this wasn't a happy visit. At that point they told me that they were taking the children away. I was in shock."
Jacklyn, a trained paediatric nurse, had taken the fatal step of taking the children off the drugs, which had resulted in an immediate boost to their health and happiness.
As a result she was branded a child abuser in court. She has not been allowed to see the children since.
In the film Guinea Pig Kids, we follow Jacklyn's story and that of other parents or guardians who fear for the lives of their loved ones.
We talk to a child who spent years on drugs programmes which made them and their friends ill, and we discover that Incarnation is not an isolated case. The experiments continue to be carried out on the poor children of New York City.

Fortunately, there were no reports of serious injuries in the explosion and resulting fire.

(12/04/04 - HOUSTON) — State and federal environmental officials said they would continue to monitor the scene of a chemical plant explosion that shattered windows in nearby homes and sent massive plumes of smoke into the sky.
Houston fire officials told the Houston Chronicle for its Saturday editions that they didn't expect the blaze to have any lingering effects on the city's air quality.
The explosion happened shortly before 6 p.m. CST Friday at Marcus Oil & Chemical and was heard as far away as Alvin, 24 miles southeast of Houston.
Two of the more than 150 firefighters who responded to the fire suffered minor injuries, but no serious injuries were reported, said Tommy Dowdy, a district chief with the Houston Fire Department.
In addition, five people at a church across the street from the plant were hospitalized for to be treated for minor injuries, Dowdy said.
The cause of the blast remains under investigation. The U.S. Chemical Safety and Hazard Investigation Board is sending a team to the site for a preliminary investigation.
"I have no knowledge of what triggered it," Dowdy said. "We don't believe it is suspicious."
Dowdy said the fire was believed to have started near storage tanks on the grounds, but he said that the fire there had been put out by late evening. He said that he did not know what had been in those tanks.
The plant makes polyethylene waxes used in paint and printing ink.
"We were working and we heard something explode," plant worker Miguel Trejo said. "We don't know what exactly happened. We heard the noise and the fire department came in and sent us all out."
Dowdy said firefighters were trying to limit the amount of water they poured on the fire to prevent any runoff from the plant, a seven-acre facility located in a neighborhood of single-family homes, apartments and industrial plants.
Lenny Ogle, manager of a Shell station half a mile away, said the initial explosion shot flames about 75 feet in the air. "It was a ball of fire straight up in the air," he said.
Houston Fire Department District Chief Phil Boriskie said that the hazardous materials team was conducting an evaluation. He said that there were no reports of chemical exposure.
Danny Perez, who works for the Precinct 6 constable's office, was playing a video game at his home in Pearland when the explosion occurred.
"I was playing Grand Theft Auto, blowing up people, and all of a sudden, boom," he said. "It shook my house.

By Nigel Hawkes
Dec 03 2004
Timesonline.co.uk
Earth's defences may need to be boosted against risk of potentially deadly microbes returning on space probes
EARTH must take precautions to avoid contamination from lifeforms that must now be presumed to exist on Mars, leading scientists gave warning yesterday.
Potentially deadly microorganisms could be returned to Earth on a probe which is being planned to collect samples from the Martian surface.
The warning comes after a detailed scientific analysis of data sent back by the roving vehicle Opportunity which landed on Mars on January 25.
Jeffrey Kargel of the US Geological Survey said that protection of our own planet from alien forms of life requires the assumption that Martian life exists. "Before proceeding with sample returns or human missions to Mars, we must review measures for planetary biological protection."
His warning appears in Science magazine in an article accompanying the first formal publication of the mass of data from Opportunity, which continues to operate on the Martian surface.
The search for life on Mars, now more than a century old, is still not finally resolved. But the odds that life existed there and may still exist are shortening, according to planetary experts, Dr Kargel said.

WASHINGTON - After studying thousands of images from Mars, scientists now are convinced that liquid water once flowed on the surface of the red planet, increasing the odds that life may have existed there in the distant past.
As a result, space travelers should act as if there once were, and perhaps still are, living creatures on Mars that must be protected from destruction or contamination, according to Jeffery Kargel, a senior planetary scientist at the U.S. Geological Survey in Flagstaff, Ariz.
In an article in this week's edition of the journal Science, which will be out today, Kargel also pointed out the risk that earthlings could be infected by alien microbes brought home from Mars.
"Planetary protection considerations require the assumption that Martian life exists until we learn otherwise," Kargel wrote. "Before proceeding with sample returns or human missions to Mars, all possible care must be taken to avoid cross-contamination between the Earth and Mars." [...]

BY JIM NOLAN
TIMES-DISPATCH STAFF WRITER
Dec 4, 2004
Residents in the Bellevue neighborhood of Richmond's North Side were shaken and stirred yesterday by another mysterious boom.
The explosion was heard around 9:49 a.m. and prompted at least 35 calls to 911, said Richmond fire Lt. Keith Vida.
Reports placed the origin of the boom in the 1400 block of Wilmington Avenue.
Officials were unsure what caused the explosion. Vida said investigators searching the area were unable to find evidence of the household materials used in a number of the chemical-reaction explosive devices detonated in the area in the past month.
Two Ginter Park teenage boys have been arrested in connection with several of the explosions. Officials have said they are considering felony charges against four more suspects. Simply making or possessing the explosive devices is considered a crime.
To date, the booms have not injured people, nor have they caused serious damage to property. However, a number of homeowners in the area have reported cracks in their walls they attribute to the explosions.
Still, authorities are not convinced all of the booms can be accounted for by pranksters.
The city is expected to bring in special equipment over the next couple of days to help monitor the ground for possible seismic activity.
"We want to look above and below ground," Vida said. "We will continue the investigation."
LONDON (Reuters) - A Father Christmas will have a webcam in his grotto to overcome parents' concerns after a number of high-profile pedophile cases in Britain in the past few years.
The St Elli shopping center in Llanelli, south Wales, said children taking part in the traditional Christmas ritual of telling Santa their gift wishes would also sit beside him rather than on his knee.
"It's a sad sign of the times," St Elli manager Gilmour Jones was quoted as saying by the Guardian newspaper on Friday.
"But I'm afraid that it was either this or not having Santa's grotto at all."

Readers who wish to know more about who we are and what we do may visit our portal site Cassiopaea.org
---
Remember, we need your help to collect information on what is going on in your part of the world!
We also need help to keep the Signs of the Times online.
---
Send your comments and article suggestions to us

---
Fair Use Policy
Contact Webmaster at signs-of-the-times.org
Cassiopaean materials Copyright ©1994-2014 Arkadiusz Jadczyk and Laura Knight-Jadczyk. All rights reserved. "Cassiopaea, Cassiopaean, Cassiopaeans," is a registered trademark of Arkadiusz Jadczyk and Laura Knight-Jadczyk.
Letters addressed to Cassiopaea, Quantum Future School, Ark or Laura, become the property of Arkadiusz Jadczyk and Laura Knight-Jadczyk
Republication and re-dissemination of our copyrighted material in any manner is expressly prohibited without prior written consent.
.