Printer Friendly Version
New Article! War As Mind Control
Pentagon Strike Flash Presentation by a QFS member
New Publication! The Wave finally in book form!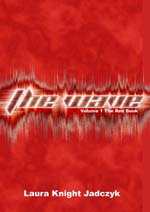 The Wave: 4 Volume Set
Volume 1
by Laura Knight-Jadczyk
With a new introduction by the author and never before published, UNEDITED sessions and extensive previously unpublished details, at long last, Laura Knight-Jadczyk's vastly popular series The Wave is available as a Deluxe four book set. Each of the four volumes include all of the original illustrations and many NEW illustrations with each copy comprising approximately 300 pages.
The Wave is an exquisitely written first-person account of Laura's initiation at the hands of the Cassiopaeans and demonstrates the unique nature of the Cassiopaean Experiment.
Pre-order Volume 1 now. Available at the end of November!
---
Picture of the Day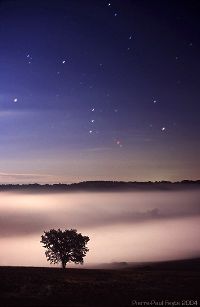 Orion
©2004 Pierre-Paul Feyte
As more and more information is uncovered about faked terror attacks, bogus threats to our safety, government and military covert operations, "secret wars" and the duplicity that seems to have defined the nature of almost every "ruling elite" over the past two millennia, we are forced to consider the possibility that there has been no public war fought whose officially stated objective could not have been achieved in secret, far from the gaze or awareness of the general public.
Consider the many secret campaigns, waged at the behest of successive US governments, that are only now, many years after the fact, coming to light. In Chile for example, the CIA were able to effect the overthrow of the democratically elected government of Salvador Allende and replace it with the 30-year-long brutal dictatorship of Pinochet. The benefits for the US administration at the time, were little different than if the US military had invaded Chile en masse and made the country an American protectorate - but they did not, simply because there was no need to.
Following on from this, we must then consider the possibility that every public, large-scale war of any significance that has been fought in recent history has been fought for a motive other than that which was officially stated. We might say that, as a general rule, one of the major goals of all wars (other than the basic death suffering and money-making) has been, and continues to be, the shaping of the perception of reality of a particular group of people or humanity as a whole, in order to accomplish the true, longer term and unspoken objectives of the war makers. [...]
by Elliott Minor
23/11/2004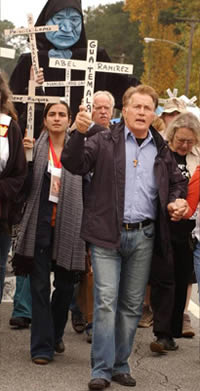 Martin Sheen, who has many times joined protests for causes he believes in, marched in Sunday's demonstration and rallied the crowd with a fiery speech. (Photo: AP)

COLUMBUS, Georgia -- At least 20 people were arrested Sunday while protesting a U.S.-run military school for Latin Americans, some of whose graduates they claim later committed civil rights abuses including murder.

Charges filed against the demonstrators range from trespassing to "wearing a mask," a violation of a rarely invoked 1951 law originally aimed at fighting the Ku Klux Klan.

Those arrested were among about a record 16,000 people who demonstrated outside the Western Hemisphere Institute for Security Cooperation at Fort Benning, calling for the school to be shut down.

Organizers of the protest said concern about the war in Iraq and President Bush's re-election boosted attendance at this year's event.

Oscar-winning actress Susan Sarandon addressed the group Saturday, and Martin Sheen, who plays the president in NBC's "West Wing" TV series, delivered a fiery speech Sunday.

"We gather to revive the memory of those who have died at the hands of this combat school," said the Rev. Roy Bourgeois, a Catholic priest. "How do you teach democracy behind the barrel of a gun? If they are so concerned about teaching democracy, then why not close this school and send these students to some of our fine universities."

Bourgeois is head of SOA Watch, which monitors the institution formerly known as The School of the Americas. The group has staged annual protests there since 1990.

SOA Watch and other critics allege the school's graduates have committed murder, rape and torture, including the murders of six Jesuit priests, their housekeeper and her daughter in El Salvador in 1989.

Seventeen of the arrests Sunday came after some protesters scaled chain-link fences onto military property, said Bill Quigley, legal adviser for the protest group.

The school trains soldiers, police and government officials. SOA Watch claims some of its graduates were involved in a string of human rights abuses in the 1980s and even now exploit the people and resources of Latin America.

As recently as October, a former Colombian army officer who graduated from the school had been accused of murdering a state official while still a member of the military. Maj. David Hernandez, who became the head of a paramilitary group, was killed in a clash with army troops.

Carlos Mauricio, Rev. Graylan Hagler, Father Roy Bourgeois, Davida Cody, Martin Sheen and others lead the funeral procession on Sunday, November 21, 2004. Photo by Craig Squires.

Defense officials have steadfastly disputed the group's claims about the school. In the past, Army officials have held news conferences to deny allegations, but days before Sunday's event the Army said it would have no comment.

Oscar-winning actress Susan Sarandon addressed the group Saturday, and Martin Sheen, who plays the president in NBC's West Wing TV series, delivered a fiery speech yesterday

Alternative News Blog Shut Down For DieBold Link

Signs of the Times and INTL News
From: INTL News by Joe Broadhurst
Dear Readers,
INTL NEWS by Joe Broadhurst is being shut down on purpose.
I am sorry to have to report this to you.
ServerFly.com has decided that they will no longer accept my credit card. There has been no problem up until now. I HAVE CONTACTED MY BANK AND THERE IS NO PROBLEM ON THEIR SIDE. I have contacted ServerFly.com and recieved only a response saying that I will be
shutdown in two days if the credit card doesn't work. I used this credit card TWICE TODAY and ONCE Yesterday.
This is the NEW AMERICA. If you like this site and you wish to express disatisfaction with their decision, email them at custserv@serverfly.com...
By tomorrow, they have said they are going to shut down the website.
People, as I search a trustworthy host overseas I beg you to think about what is actually happening before your eyes. They are SHUTTING DOWN SITES or DISABLING sites before our eyes now.
Perhaps the upcoming Electoral College Vote is a reason. Perhaps there are other reasons. Without proof, I can say nothing.
I KNOW that I am being shutdown for NO reason and it is ridiculous. I will return and I hope that you will return to find out what they do not want you to know.
Joe Broadhurst - INTL News by Joe Broadhurst
Ukraine in turmoil after vote
Thousands on the streets in protest at election result
Nick Paton Walsh in Kiev
The Guardian
Tuesday November 23, 2004
Ukraine's bitter presidential run-off vote was poised last night to tip over into civil unrest when four cities dismissed the victory claimed by the prime minister, Viktor Yanukovich, and hailed the opposition candidate, Viktor Yuschenko, as their new president.
More than 30,000 protesters filled Independence Square in central Kiev, setting up a large tent city and bringing the capital's main street to a standstill. Three cities in western Ukraine - Lviv, Ternopil and Ivano-Frankivsk - declared Mr Yuschenko the winner, dismissing official figures that gave the pro-Russian Mr Yanukovich victory by about 3%. An exit poll funded by western embassies put the pro-western opposition candidate ahead by 11%.
Zinovi Siryk, the head of the Lviv city parliament, said that he and 50,000 protesters in the city centre would "do everything possible to defend the Ukrainian constitution. A strike of all the city transport has just begun".
The city parliament in Kiev dismissed the results as illegitimate and it called on the national parliament to do the same. The capital and the west of Ukraine are opposition strongholds.
In the Russian-speaking east of the country, a rally in support of Mr Yanukovich was reportedly under way in the city of Donetsk.
Mr Yanukovich said the majority of voters had backed him for president in the run-off ballot at the weekend. He said those "urging people to fight on barricades" were "a small group of radicals" who "have set themselves the goal of splitting Ukraine by resorting to coercive pressure and unlawful action. Many Ukrainian mothers have asked me to prevent street riots in which our children might be injured.
"I assure you that we have enough reason, balance and sense of responsibility to prevent destabilisation."
Ukraine's security bodies warned that they would put down any lawlessness "quickly and firmly".
Opposition protests were fuelled by statements from the US, the EU and the Organisation for Security and Cooperation in Europe, which monitored the election. They called Sunday's vote illegitimate.
Senator Richard Lugar, President Bush's emissary to the elections, said a "corrupted and forceful programme of election day abuse was conducted with the leadership or consent of the government authorities". He said the vote gave rise to lists of "egregious assaults on democracy".
The OSCE's observers pointed to irregularities, citing a lack of transparency in the counting process. [...]
The US dollar fell to a fresh low against the euro on Tuesday, breaching the $1.31 barrier for the first time.
The cataylst was a hint from the Russian central bank that it plans to step up its policy of switching its foreign exchange reserves into euros, at the expense of the dollar.
Alexei Ulyukayev, the first deputy chairman of the Russian central bank, told reporters: "Most of our reserves are in dollars and that's a cause for concern. It's a real problem."
"Looking at the dynamics of the euro/dollar rate, we are discussing the possibility to change the reserve structure."
Russia, which had a record $113.1bn of foreign reserves as of November 12, is already believed to hold some 25-30 per cent of these reserves in euros, with the bulk of the rest in dollars.
Analysts speculated it could move towards a 50-50 split, or even push its euro holdings as high as 60-65 per cent, in line with the basket arrangement it is believed to prefer for the management of the rouble, at the expense of its current "dirty" float against the dollar.
More importantly, the Russian comments highlighted the prospect of Asian central banks with larger reserves following suit. China has an estimated 80 per cent of its $515bn of reserves in dollars, while Middle Eastern central banks were rumoured to be selling dollars and buying sterling on Tuesday.
"This reminds people that Asia still has the vast majority of its FX reserves in dollars and some reallocation of these reserves must be assumed," said Hans Redeker, head of currency strategy at BNP Paribas. [...]
Our security services have thwarted four or five September 11-style attacks on targets including Canary Wharf and Heathrow Airport, according to a report.
One plot is said to have involved pilots being trained to fly into target buildings, including London's famous financial centre and the world's busiest airport.
It is one of a number of attacks planned by al-Qaeda since 9/11 that have come to nothing after the authorities intervened, the reports - which cite top security sources - claim.
The disclosure comes as the Government prepares to unveil a series of tough law-and-order Bills in this morning's Queen's Speech, setting out the legislative programme for what is expected to be the final session of the current Parliament.
Tough new laws on terrorism could be passed if Labour wins a third term in power, Home Secretary David Blunkett has indicated.
Mr Blunkett said officials were looking at a range of measures - from jury-less anti-terror courts to allowing wire-tap evidence in trials - which could be implemented if Labour is re-elected at the General Election.
He said that civil orders - similar to anti-social behaviour orders - could be imposed against individuals who had not committed an offence but were suspected of "acts preparatory to terrorism".
In an interview with ITV1's Jonathan Dimbleby programme, to be broadcast later, he said that breach of such orders would be a criminal offence which could result in imprisonment.
Mr Blunkett said that the introduction of special terrorism trials with judges sitting alone without a jury was also being considered.
"I think there's a very strong case for translating what we have in the special immigrations appeals tribunal, that is the superior court of record, into the criminal justice system and there's widespread support for looking at that," he said.
He said that any decision on legislation would have to wait until after the General Election.
"It's not my intention to try and push a bill through this side of the General Election whenever the Prime Minister calls it," he said.
Mandy's children are having nosebleeds. Andy sleeps with metal plates by his bed. Beat bobbies are reporting strange illnesses. They all blame the new police radio system


The ill-fated Cornish revolt of 1497 began in the pretty, isolated village of St Keverne on the Lizard peninsula, as a protest over unjust taxes levied by London. Now, its population has rebelled once more against an idea imposed from afar, which they believe could have been far more damaging than any mere financial loss.

This time the population has had more success than in 1497, when its leaders were executed. They have won their point and become one of the few communities in the country to be without a Tetra radio mast. "It's not as though we aren't already chock-a-block with radio masts and aerials around here: there's the BT Satellite Earth Station at Goonhilly, and RAF Culdrose up the road," says John Gough, spokesman for the anti-Tetra campaigners. "But when we saw they were going to put up a Tetra mast, we decided to find out about it on the internet. We were immediately very concerned." More than 350 people out of a total population of only 1,600 lodged objections to the local planning committee, which rejected the application to erect the 50ft-high mast on farmland near the village.

It was the experiences of others elsewhere that motivated the St Keverne campaign. They learnt of stories like that of Andy Davidson in Worthing who, suffering headaches and insomnia, had to sleep with metal plates around his head; and of the 80 people around Dursley in the Cotswolds who claim to have suffered similar problems, one of whom has covered her bedroom windows with metal mesh to stop the symptoms. They also learnt of Mandy Keeling and her family in Bognor Regis, whose sickness and sleeplessness ended when the local Tetra mast was taken down.

You may not have heard of Tetra masts, but there's almost certainly one near you. If not, it's on the way. Tetra - Terrestrial Trunked Radio - is the new police communications network that is replacing their outdated, unreliable VHF system. It gives officers a mobile phone and two-way radio in the same handset, and is being implemented around the country by O2 Airwave, previously part of BT, which has a £2.9bn, 15-year contract with the Home Office to supply all 51 forces in England, Wales and Scotland through a network of around 3,500 masts. Around 40 forces have been supplied so far, but the system will not be fully operational until May 2006.

Around 70 per cent of Tetra masts have been, or will be, built on sites already in use; some replace old masts, others are added to existing ones. The remainder are new masts, such as St Keverne, requested by police to improve communications in remote areas. The Home Office says it chose the Tetra system, which is used in 65 countries, in preference to others such as the French-based Tetrapol, used in about 28 countries, because it is technically superior. It was criticised by the House of Commons Public Accounts Committee for failing to incorporate financial safeguards in case the health fears proved justified, and by the EC for refusing to accept tenders from non-Tetra operators.

But the programme's completion next year is unlikely to be the end of Tetra installations. O2 Airwave is short-listed for the contracts to supply the fire and ambulance services; this may lead to further masts. If Airwave is not awarded the multimillion-pound contracts when the decisions are announced over the next two months, it will be seen as a victory for anti-Tetra campaigners and evidence of a lack of official faith in the Tetra network.

Although the health fears surrounding Tetra are linked to concerns about mobile-phone masts, the symptoms that affect some people appear consistent - sleep deprivation, nausea, headaches, ear pressure, nosebleeds. They seem to stop when the Tetra exposure ends. They occur, it is claimed, because the masts transmit and receive signals on the 400 MHz frequency, which are pulsed at 17.65Hz. In 2000, the Government's report on mobile-phone safety by Sir William Stewart, a former chief scientific adviser, recommended that frequencies around 16Hz - the frequency at which the human brain transmits signals - be avoided as a precaution, even though there was no confirmed health risk.

Campaigners say the apparent link between cause and effect underlines their concerns about Tetra. In Bognor Regis 44-year-old Mandy Keeling began to vomit last New Year's Eve. "It was the day, I later learnt, that the Tetra mast 150 yards from my home began transmitting. I had two months of nausea, headaches and poor sleep. Doctors could do nothing. Then I heard about the mast. I was cynical about it at first. I thought, 'Pull yourself together.' I've lived here for 12 years, and there are other mobile masts, but none had made my brain vibrate." By now her two sons, aged nine and 19, were suffering, too; the younger one had nosebleeds.

She went knocking on doors and discovered neighbours had been affected as well. They campaigned to have the mast taken down; eventually, the company agreed. The mast was dismantled in May. Keeling was transformed: "I felt better within a month, and we're all perfectly healthy now. Except when I go near a Tetra mast somewhere else." [...]
The graves of Falluja show the reality of Iraq's occupation

In an ideal world, the US-appointed interim prime minister of Iraq, Ayad Allawi, would find himself answerable for his craven obeisance to his American overlords, instead of using this week's Sharm el-Sheikh conference as an excuse to condemn those who are fighting back against occupation.
A year and a half ago, CIA wings wafted him and his ilk back to long-suffering Baghdad, the ancient capital of a resilient Arab people, who had somehow survived two devastating wars, 13 years of history's most punitive sanctions, the all-consuming degradations of life under a totalitarian regime, the destruction and occupation of their country by a motley crew of US soldiers, British tag-alongs, "a coalition of the coerced and the bribed" - to use John Kerry's once radical phrase - and the harpies and carpetbaggers in the form of American private contractors, corporate swine, exiled Iraqi fraudsters, and professional torturers. Iraqis watched helplessly as their country's infrastructure was destroyed - electricity, sewerage, houses, hospitals, schools, libraries, bridges, roads - and as their national treasures were allowed to be looted, and their natural resources robbed.
Now they are bankrupt, riven with preventable disease, chafing under emergency laws and watching as respectable political figures are roughed up and arrested for their party's stance on the methods of the occupation. There has been a regression to Saddamite tactics - one Islamist politician's daughter and grandchildren were reported to have been arrested when he could not be found. Press freedom is muzzled, and directives are issued to the media to follow the interim-government line on Falluja, or else. But the graves of Falluja speak for themselves: "Ya Allawi, ya jaban. Ya 'ameel al-Amercaan. Sheel idak, sheel idak. Hatha shaabak mai reedak!"
This rousing chant, in Iraqi vernacular, which calls on Allawi to make himself scarce for being a coward and an American agent, is being chanted throughout the cities of Iraq in furious demonstrations. Al-Jazeera showed one of these last week, which may explain why Allawi scurried over to the more supine al-Arabiyya satellite station (which most Arabs sneer at, although not quite as hard as they do at al-Hurra, the Pentagon-financed and controlled propaganda station). There he denounced al-Jazeera yet again, having already closed down its offices more than three months ago, and harassed and insulted their journalists.
In this, he was merely following in the footsteps of his American taskmasters, who sought to blow al-Jazeera off the face of the earth, first in Kabul, then in Baghdad, for allowing Arabs to see what the US was up to. What with embedded journalists giving us asinine reports on all other stations, using marine-corps terms as though there were no others ever taught them, and with Tony Blair forbidding anyone to parody Bush, al-Jazeera has become more necessary than ever, simply because it lets Arabs speak their minds freely, with eye-witness reports of the most uncensored and unpackaged sort.
The fighting feminism on its For Women Only programme puts institutionalised western feminism to shame. All that manufactured outrage over the burka, which rose to a climax precisely as bombs fell on Afghanistan; where are the cries of outrage now, when Iraqi women are being incarcerated and raped in US dungeons, where tens of thousands of their menfolk are also being held; when they are being starved, denied drinking-water, bombed, buried alive in the rubble of their homes, maimed and killed? It will prove to be America's dirtiest war by far, and the one that destroys forever its sense of purpose and pride.
Three million people had to die in south-east Asia before that arrogant American imperial misadventure ended. How many now?
In this newspaper, Allawi's deputy prime minister called Falluja a necessary exercise, to root out "Saddam loyalists and foreign fighters", parroting Donald Rumsfeld's pathetic line that all the "terrorists" come from across the border, or are "dead-enders" from Ba'athist days. But the only deadly dead-ender is someone who could mendaciously argue thus.
All Iraqis watch as their homes and mosques are desecrated by soldiers who shoot injured men in the stomach in pre-emptive lunacy that mirrors that of their leader. They and a billion Muslims watched as Americans forbade families from burying their dead, and allowed stray dogs to gnaw the corpses of pregnant women and toddlers on the mean streets of what was once Falluja, during Id al-Fitr, Islam's Holy Feast. No one is taken in by the lies and arrogance and greed of this racist war.
Iraq is an occupied country, with a proud and stubborn people, who will never cease fighting till they are finally rid of their unspeakable latter-day oppressors.
Rana Kabbani is a writer and broadcaster

The other day, something quite remarkable happened. Ever since the election, news anchors warned of the "coming assault on Fallujah," the "final clampdown," the "major military offensive" that would put an end to the resistance in that city. Dire warnings were made for civilians to flee – civilians already weakened, exhausted and terrorized by a year and a half of U.S.-style "liberation" – to parts unknown, on some kind of magic carpet.
Because I've been taking care of my mother who is very ill, I could only imagine other elderly and sick people in Fallujah "fleeing" the city on walkers, attached to ponderous oxygen machines.
I looked at my own children and imagined how we'd feel if we were told to run away as fast as we could to who knows where, because U.S. bombers were headed our way. Having grown up in a military town, I know the panic that grips even seasoned residents when a bomber appears out of nowhere, flying extremely low and darkening the sky over your head. Before you can figure out what's happening, you feel the earth shake under your feet. You can't see them coming – that's the truly terrorizing part. By the time you see that dark bat-shaped jet, it's too late to run.
As TV and radio talking heads waxed poetic about the high-tech 500-pound bombs that would be dropped to "soften" human beings and "break the back of the insurgency," I felt that growing sense of dread that is by now familiar to anyone who doesn't rely on mainstream U.S. news sources. This dread, this feeling of waiting for the other shoe to drop, tightens the stomachs of those who were raised to take seriously "Thou shalt not kill" … that dusty old law around which the Bush administration has found a thousand loopholes.
I began to suffer insomnia, fear, and guilt because I could not turn off my empathy for all the families who were suffering, or about to be killed, or see their babies' legs blown off, because of my president's addiction to bullying with bombs and guns and expendable young men.
Then a couple of days ago, I learned that indeed the massacre had taken place. Fallujah was "quiet" at last. Some called it a ghost town. Quite a few young Americans died in the process. Reports varied on numbers killed, but all agreed that innocent people were killed while I was sleeping. Maybe as many as 800 civilians, but as many as – and the military said this with cheer, not with regret – 1,000 "insurgents" were killed. Whether the latter were actually insurgents or civilians or kids who happened to be in the way we have no way of knowing, now that the independent journalists have been scared away.
Staring at those numbers of people killed and children maimed while I was sleeping, I sat and waited. Nothing. No feeling. I was free of any sorrow, free of that depressing unease. At last I was joining the crowd. What a relief, to feel nothing! Even as a Christian, I could turn a blind eye to even the worst killing, and have a good day!
I closed my laptop and made breakfast, thankful to finally experience what my conservative Christian neighbors have enjoyed all along – a delightful numbness. No painful compassion, no vicarious suffering, no guilt.
Remarkable!
Blissfully Numb in Bush's Culture of Death
The "God-fearing Christian" who wrote to tell me that I was stupid for talking about Jesus because that means Christians shouldn't defend themselves under any condition, and that it was better to "take the fighting to the Iraqis than to have it happen here," and that, all things considered, he hoped I'd get beheaded, would be proud of me now. I'd passed over to the other side, the side of comfort and tranquility. The side where might really does make right.
You know, the winning side.
It's been great this week, feeling that I have arrived at long last at the pearly gates of the Culture of Death, yet I see no evil. Even when I heard yesterday a commander saying in an interview, "Well, we didn't get rid of the insurgency in Fallujah, but we definitely killed a lot of them," I felt at ease: The killings didn't bring peace, but at least a lot of people are dead now.
In the Culture of Death where our president assures us that the ends justify the means, I can finally see war as somehow Christian. I can visit www.presidentialprayerteam.org now without wondering why no prayers are solicited for an end to the killings of Iraqis by the U.S., as well as the other way around – and without worrying about the implications of millions of American Christians being told not only whom and what to pray for, but actually being given a script to follow when praying.
While only days ago I was horrified by the use of massive bombs on residential neighborhoods because U.S. intelligence "suspected" that maybe some "bad guys" were "holing up" in a "safe house" nearby (the same code words are used in every bombing of every country), I'm too numb to feel that now. Instead, I simply repeat to myself the hypnotic phrase that Bush and Rumsfeld and Allawi and military psy-ops experts sing in tune: "We don't target civilians."
Since that strange buzzing numbness began, I no longer hear in my head the true emphasis of that statement – "we don't target civilians" – a huge difference in meaning that has bothered me for far too long.
Even now that another war appears to be in the making, I'm not bothered. I know that "we have to take the fighting over there, if we don't want it over here." I know that 800 or 1,000 people doesn't mean a thing to most people, because those are big numbers – most of us have trouble visualizing 800 or 1,000 dollars or shoes or paper clips, let alone 800 or 1,000 dead bodies.
We simply can't keep up with the casualties anymore – the numbers, the fancy airstrikes, the glorious memorials to "our fallen," they just keep coming too fast, and in numbers that are too big for us to comprehend. "That does not compute," as the lovable robot on Lost in Space used to say.
As American citizens, we who feel responsible for what our government is doing in our name try to keep our eyes and hearts open to the truth. But after these last three years of ridding the world of evil by ridding it of people, it hurts too much, and we're hated for being liberally compassionate anyway, so we begin to falter.
We are weary now. In Bush's Culture of Death, the war is not only to "break the back of the insurgency," but to break the hearts of Americans. To make us stop hearing or seeing or caring what our military does to Iraqis and to our own young soldiers. The real battle to win hearts and minds is being waged right here: It is the American conscience that President Bush and his men are most determined to subdue – one way or the other. [...]
It is not yet Bush's second term. All available US troops are tied down in Iraq by a few thousand lightly armed insurgents. Go-it-alone Bush has isolated America from her allies. And the neocons want to spread their war to Iran.
The Bush administration is recycling the lies that it used to invade Iraq: Iran is acquiring nuclear weapons that will be given to terrorists. In a display of loyalty to a ruthless neocon administration calculated to win him appointments to corporate boards, outgoing Secretary of State Colin Powell told reporters that Iran was working on nuclear missiles.
The source for this effort to spread hysteria? One "walk-in" source with unverified documents. Most likely, the source is a member of an Iranian exile group given the assignment by neocons Richard Perle and John Bolton.
One might think that Powell would be suffering shame enough for lying to the UN about Iraq. Apparently not, as his last act against world peace is to spread neocon propaganda that Iran is going nuke.
The US media, now a tamed propaganda organ for the White House, dutifully repeated Powell's unverified claims, thus providing "reports" for Bush to cite as evidence that Iran was rushing ahead with the development of nuclear weapons.
The International Atomic Energy Agency conducts regular inspections in Iran. The IAEA recently issued a report stating that it has found no evidence of a nuclear weapons program in Iran.
Real evidence, however, is no match for neocon propaganda.
And the propaganda is pouring out of the well-oiled neocon machine. French, German and British agreements that confine Iran to the peaceful use of nuclear energy are in the way of the neoconservatives' intention to spread the war to Iran and must be discredited.
On November 20, Caroline Glick, deputy managing editor of the Jerusalem Post hysterically accused Europe of defending "Iran's ability to attain the wherewithal to destroy the Jewish state." Glick "exposes" France's efforts to prevent the outbreak of wider war in the Middle East as a trick: "France wishes only to box in the US to the point that the Americans will not be able to continue to fight the war against terrorism."
The neoconservative Heritage Foundation promptly broadcast Glick's hysterical rants into the Republican noise machine, reviving talk radio calls for nuking France, "America's oldest enemy."
Three years ago Ann Coulter was fired by National Review, a neocon publication, when she declared: "We should invade [Muslim] countries, kill their leaders and convert them to Christianity." Today such violent words are common parlance.
There is no evidence whatsoever in behalf of the claims the Bush administration is making about Iranian nukes. The purpose of these false claims is to create fear that will breech the public's opposition to a draft. The neocons are desperate for troops for their Middle Eastern War.
For a decade or longer, the neocons who control the Bush administration's foreign and military policies have been writing papers advocating a US-Israeli conquest of the Middle East. A moronic president has given them their chance.
Anxious to get their war underway, the neocons launched their invasion before they had the necessary manpower for the task. Bogged down in Iraq, the neocons are desperate to widen the war before the American public has enough of the pointless carnage and forces a withdrawal.
Thus, before the Iraqi war is finished, the neocon propaganda machine is at work creating fear that the US is in danger from Iranian nukes unless America preemptively attacks Iran.
Fool me once, shame on you. Fool me twice, shame on me. But Americans are perfectly set up to be fooled twice. Right-wing talk radio has conservative patriots absolutely demanding to be fooled. Christian rapture propagandists have conservative congregations waiting to be wafted up to heaven. The corporate media is with President Bush. Military types are determined to avenge the Vietnam loss by winning the war against Islam into which they have been conned.
Critics are dismissed as "enemies" who are "against us". Reason and common sense are not features of the Bush administration. It is all blind emotion, a replay of The Triumph of the Will.
Dr. Paul Craig Roberts was Assistant Secretary of the Treasury for Economic Policy during 1981-82.
BAGHDAD, Iraq (AP) - Some 5,000 U.S. Marines, British troops and Iraqi forces launched a new offensive Tuesday aimed at clearing a swath of insurgent hotbeds across a cluster of dusty, small towns south of Baghdad. [...]
But violence has continued unabated, as masked gunmen shot to death a Sunni cleric Tuesday in the second such attack against a member of the influential Association of Muslim Scholars, which has called for a boycott of the national elections.
The cleric, Sheik Ghalib Ali al-Zuhairi, was killed as he left a mosque after dawn prayers in the town of Muqdadiyah, 100 kilometers (60 miles) north of Baghdad, police said.
His assassination occurred a day after another prominent Sunni cleric was killed in the northern city of Mosul - Sheik Faidh Mohamed Amin al-Faidhi, who was the brother of the group's spokesman. It was unclear whether the two attacks were related. [...]
Al-Faidhi, the 41-year-old cleric killed in Mosul, was the head of a religious school and a popular figure who was well-liked by the Shiite and Kurdish communities in Mosul.
"He was against the American occupation to Iraq but he opposed the use of violence, preferring peaceful means and politics,'' said family member Mohammed Khadr. "His goal is to unite the Muslims around the world. He insisted on making Kurds part of the community in Mosul and he managed to do that.''
Mohammed Bashar al-Faidhi, the slain cleric's brother and the spokesman for the Association of Muslim Clerics in Baghdad, said he believes the Israeli intelligence agency Mossad was behind the assassination of his brother, along with "some Iraqi elements'' were involved.
"I don't mean that the Mossad itself was the one who carried out the assassination, but the Mossad used their agents to execute the plot. I don't rule out the possibility that there are Iraqi elements who have their own agenda at this point of time who were involved with the Mossad.'' [...]
WASHINGTON: The United States on Monday warned that terrorist attacks on US interests may be imminent in the Indian cities of New Delhi and Mumbai and said it would temporarily close some diplomatic offices in Mumbai as a precaution.
"Based on information received by the US government, terrorists may be planning attacks on US interests in India in the near future," the US embassy in New Delhi and consulate in Mumbai said in twin notices to Americans.
"Although not specific, the information suggests that an attack could be aimed at US interests in the cities of New Delhi or Mumbai (Bombay)," said the notices, copies of which were provided to AFP in Washington by the State Department.
Because of the potential threat, the US consular section in Mumbai as well as the Information Resource Center at the American Center in that city will be closed to the public on Tuesday, the notices said.
No closures of US government buildings in New Delhi were mentioned.
The notices offered few details about the threat information but said targets could include areas where foreigners are known to congregate and urged US citizens in India to boost their security precautions.
"Facilities associated with the United States or locations where US citizens and other foreigners congregate or visit, including residential areas, business offices, clubs, restaurants, places of worship, schools, hotels and public areas, could be targeted," they said.
"US citizens are encouraged to maintain a high level of vigilance and to take appropriate steps to increase their security," the notices said.
It said Americans requiring consular services in Mumbai should call the consulate or check the website to confirm when the facility would re-open.
It added that applicants for US visas with interviews scheduled for Tuesday at the consulate would not be required to make new appointments and that the mission would "make very effort to see them as soon as resources permit."
The unarmed Iraqi prisoner killed by a US marine during the battle of Fallujah made no movements apart from breathing before he was shot dead, the NBC journalist who filmed the incident said yesterday.
In a new and wrenching account of the episode inside a mosque on 13 November, the journalist Kevin Sites also indicated that at least two, possibly three other wounded prisoners left behind by the marines on 12 November were shot by another unit the following day.
The incident, shown on TV around the world, has created dismay and indignation, especially in the Arab world. The marine in question has been taken off active duty while the case is investigated by the US military.
Sites presents his story of what happened as "An Open Letter to the Devil Dogs of the 3.1". He said that upon his return to the mosque on 13 November, he saw "the same black plastic body bags containing the remains of the 10 insurgents killed the day before". He added: "More surprising, I see the same five men that were wounded from Friday as well. It appears that one of them is now dead and three are bleeding to death from new gunshot wounds. The fifth is partially covered by a blanket and is in the same place and condition he was in on Friday, near a column."
Sites said he looked closely at both the dead and the wounded, but there seemed to be no weapons. He then told a marine lieutenant that three were wounded the previous day.
At that point, however, one of the marines claimed that one of the wounded was pretending to be dead. Sites then saw the marine aim at the man. There were "no sudden movements, no reaching or lunging", but "he pulls the trigger. There is a small splatter against the back wall and the man's leg slumps down. "Well, he's dead now," says another marine in the background.
The NBC journalist stressed he had been extra-careful to present a balanced picture, saying that as an experienced war reporter he was well aware that dead and wounded insurgents could be booby-trapped.
"No one, especially someone like me, who has lived in a war zone, would deny that a soldier or marine could legitimately err on the side of caution under those circumstances," he writes, addressing the marines. "War is about killing your enemy before he kills you. I can't know what was in the mind of that marine. He is the only one who does."
But Sites added: "As an experienced war correspondent, who was aware of possible mitigating circumstances, it appeared to me very plainly that something was not right. I was not watching from a hundred feet away. I was in the same room. Aside from breathing, I did not observe any movement."
A moment later, the marine who fired the shot became aware that Mr Sites was in the room. "He came up to me and said: 'I didn't know sir - I didn't know.' The anger that seemed present just moments before turned to fear and dread."
Mr Sites said he wrestled with whether to broadcast the tape, or destroy it, but decided that "hiding [the incident] wouldn't make it go away."
There had been other people in the room and what happened was bound to come out, he concluded.

ABC News Online
November 22, 2004
The US military says Marines in Fallujah have shot and killed an insurgent who engaged them as he was faking being dead, a week after footage of a marine killing an apparently unarmed and wounded Iraqi caused a stir in the region.
"Marines from the 1st Marine Division shot and killed an insurgent who while faking dead opened fire on the marines who were conducting a security and clearing patrol through the streets," a military statement said.
The point-blank shooting on November 13 of a wounded Iraqi was caught on tape and beamed around the world.
It raised questions about the degree of military restraint and fanned Arab resentment.
The marine was withdrawn from combat and an investigation launched.
Military sources had said that the rules of engagement were looser during the operation launched in Fallujah, for fear that rebels would be disguised, fake death or wear suicide explosives belts.
The US military and Iraqi government troops are still carrying house-to-house searches in the rebel bastion but two weeks after it was launched, the largest post-Saddam military operation in Iraq is all but over.
According to US military figures, more than 1,200 insurgents have been killed in the intense fighting, as well as 51 US troops and eight Iraqi personnel.
Mon Nov 22
By KIM HOUSEGO, Associated Press Writer
CARTAGENA, Colombia - The Spanish colonialists who fortified this Colombian seaport 400 years ago to guard against pirates and rival imperial powers could only have dreamed of the security being implemented for President Bush visit here Monday.
About 15,000 Colombian security forces — backed by warplanes, helicopters, battleships and two submarines — will safeguard Bush's four-hour trip to discuss the nation's war on drugs. That is the same number of American troops deployed in the Fallujah offensive in Iraq.
"If something happened during the president's visit, we would lose everything — tourism, business. ... The country's image would suffer greatly," said Navy Capt. Nelson Fernandez, who is in charge of security.
Colombia is wracked by a 40-year-old Marxist insurgency and there is concern the rebels could try to attack Bush. [...]
(SH) - If you took a look at the Drudge Report Friday morning, as I did, you may have noticed two stories that had a certain similarity, although one of them was about a school teacher in Manchester, England, and the other about Linda Ronstadt, the singer.
The school teacher, according to an Agence France-Presse account on the Web site, wanted to persuade 250 high school students in a morning assembly that they should seize the day, that they should make every moment count.
So she told them the Earth was coming to an end. A meteor was racing toward the planet. Go home and say goodbye to your mothers and fathers, she advised.
The students - ages 13 and 14 - didn't get that she didn't mean it. They were scared to death, and some burst out in tears. The teacher stopped her tale and confessed the truth. The students apparently were not amused. Nor were their parents.
Next we come to an interview with Linda Ronstadt in USA TODAY, and we hear this singer railing about Americans so confused and benighted that they did this utterly stupid thing. They re-elected President Bush this past Nov. 2. Horrors await.
"People don't realize that by voting Republican they voted against themselves," she is quoted as saying, adding later:
"I worry that some people are entertained by the idea of this war (in Iraq). They don't know anything about Iraqis, but they're angry and frustrated in their own lives. It's like Germany, before Hitler took over. The economy was bad and people felt kicked around. They looked for a scapegoat. Now we've got a bunch of Hitlers."
The story has this in common to the one about the English school teacher: It has the potential of making straight hair go curly and curly hair go straight if anyone should believe it, although it is based on total fiction.
It is similar, too, in that Ronstadt seems to regard herself as having a teacher-student relationship with those she is addressing, the American people.
"I think you just have to carry on and do what you can to get information out to people," she told the USA TODAY reporter.
There are differences between the two stories, though.
One is that the schoolteacher knew her meteorite fantasy was just that, a fantasy, whereas Ronstadt actually seems to believe that the Bush administration is Hitlerian, which is to say, capable of the worst kinds of totalitarian abominations, such as the ushering of people into concentration camps.
It's not, of course. The administration may have made misjudgments, but not out of evil intent. Even if it were filled with the Nazi-minded, it would be hemmed in by our constitutional system of checks and balances.
The singer's imaginings wander even further into the wilderness. She seems to suppose the U.S. economy is on a par with the disastrous state of the German economy prior to Hitler's ascendancy, which is a bit like comparing a stubbed toe to a cracked skull. As for Americans being "entertained" by the war in Iraq, she should talk to a few, thereby discovering they hate the deaths of American troops and of innocent Iraqis. They hate the atrocities committed by the insurgents. They hate the expense of the war. But millions also believe it is a justified step in quelling the terrorist threat.
Another difference in the two stories is that the American people are not like the students in the classroom. For the most part, they are not going to buy such nonsense. Teacher Ronstadt found that out last June when she angered a Las Vegas audience with her dedication of a song to the Bush-bashing movie "Fahrenheit 9/11," and she and other scaremongers found it out again when the election results let them down.
Now the Ronstadts of this nation - and that includes not just a number of confused celebrities but also a host of liberal columnists, a bunch of academics and anyone who has seriously threatened to move to Canada - must recover from their fearful phantasms.
No meteor is going to hit the planet and Hitler does not reside in the White House. We Americans have our differences, but we can resolve them through a political system that continues to sail smoothly ahead, despite the icebergs some supposed were directly ahead.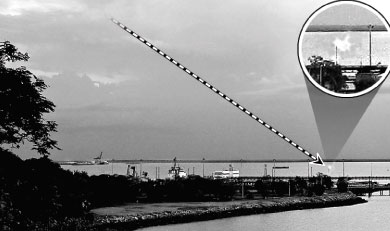 Territory scientists were last night studying what could be the first photograph of a meteorite hitting Earth.
The chances of an impact being captured on film are millions to one.
"If this is true, it's one of the most remarkable pictures ever taken,'' astronomy tutor Geoff Carr said yesterday.
The photograph was taken by keen amateur photographer Wayne Pryde as he stood near the Darwin Cenotaph on The Esplanade and looked down to Fort Hill Wharf on Monday evening.
The meteorite, which could have been as small as a grain of sand, would have been travelling about 30,000km/h.
Mr Pryde believes a tiny piece of space rock hit the top of a 20m lamp post on the wharf.
He said the explosion on impact could be seen clearly in the photograph.
The "tube'' created by the meteorite as it hurtled towards Earth is harder to pick out.
"I was taking a series of time-lapse pictures of the build-up of clouds,'' Mr Pryde said.
"I did not realise I had snapped the meteorite until later.'' [...]
He said most of the thousands of meteors heading towards Earth burnt up before landing.
"Nobody has ever photographed one hitting Earth,'' he said.
Mr Carr said the explosion could have been caused by lightning.
"But I doubt this very much - the trajectory is too straight,'' he said.

LONDON (AlertNet) - A sharp rise in the lava lake of Mount Nyiragongo, the volcano towering over the Congolese town of Goma, has prompted fears that molten rock could burst out of the volcano's crater as it did in January 2002, reports the UK newspaper The Guardian.
Seismic recordings and visual observations confirm a spike in the intensity of tremors and a climb in the level of the lava, The Guardian says.
But experts insist that an eruption is not imminent. They say the volcano could erupt in a matter of weeks or several hundred years.
"Nobody knows when it will happen," Dr. Jacques Durieux, a French volcanologist told the newspaper.
There are no plans to evacuate Goma at this time.
Dr. Durieux said it was unlikely that people would move in any case. Never in human history, he said, has a city relocated before a natural disaster. [...]
A magnitude-3.0 earthquake struck at 9:39 p.m. Sunday about two miles southeast of here, officials said.
There were no reports of injuries or damage.

The depth of the quake was about six miles and was followed by a 1.4-magnitude aftershock at 4:51 a.m. Monday.
LINDSAY, Okla. (AP) _ A minor earthquake rattled parts of central Oklahoma, authorities said Tuesday.
A temblor measuring 3.0 on the Richter scale occurred at 5:42 p.m. Monday, said Kenneth Luza, geologist with the Oklahoma Geological Survey in Norman.
Its epicenter was located in Grady County, about 4.4 miles northwest of Lindsay, Luza said. There were no reports of property damage or injuries, he said.
"The quake happened in an area that's part of a fault system that extends from Norman down through Grady and Garvin counties,'' Luza said.
Monday's quake was the largest so far in 2004. One of 2.6 magnitude that was recorded near Minco in September was part of a series of earthquakes in the Norman area.
A swarm of earthquakes was recorded near the McClain County-Cleveland County line in 2003, Luza noted.
AUSTIN, Texas - Tornadoes touched down Tuesday in eastern Texas, killing a woman, injuring three people, and destroying several homes after days of rain throughout the region.
Valerie Stewart, a dispatcher for the Hardin County Sheriff's Department, said there was "pretty extensive damage," but she was not aware of other injuries from a deadly late-afternoon tornado — one of four she said struck the county.
"Several trailers were wiped out," Stewart said. She did not know whether the woman who died lived in a trailer. [...]
(Philippines) - Shortly after Typhoon Unding moved out toward Vietnam leaving 49 people dead, 77 injured and 67 others missing, Tropical Storm Violeta entered the country and triggered flash floods in Aurora province that killed 17 people.
The National Disaster Coordinating Council (NDCC) said on Tuesday that the Southern Tagalog region has the biggest number of casualties with 31 dead, 75 injured and 66 missing, followed by Bicol region with 18 dead, two injured and one missing.
Damage to infrastructure, agriculture and fisheries was estimated at P384 million.
Reports reaching the NDCC said that four towns in Aurora were submerged in deep waters following the flash floods.
At least 10 people died in the town of Dingalan and four people perished in a landslide in Baler while in San Luis town, three others died of drowning. [...]
A woman with a history of depression told an emergency operator she had cut off the arms of her baby daughter, then waited calmly until police arrived.
Police found Dena Schlosser, 35, and the fatally injured baby after the child's father called a day-care centre and asked them to check on his wife and daughter in the Dallas suburb of Plano.
Day-care workers called the police-fire emergency number after talking with Schlosser, and an operator then phoned the mother.
The operator asked Schlosser if there was an emergency, according to tapes released by police. Schlosser calmly responded: "Yes."
"Exactly what happened?" the operator asked.
"I cut her arms off," Schlosser replied, as the hymn He Touched Me played in the background.
Child-protection authorities said the mother had shown indications of postpartum depression in the past, but there had been no signs of violence.
Police said when they arrived at the family's apartment, they found the nearly 11-month-old baby in a bedroom with her arms severed. Schlosser, covered in blood, was sitting in her living room. The child died at a hospital.
It was not immediately clear what instrument was used to sever the baby's arms or why the baby's father asked the day-care centre employees to check on his family.
Schlosser lived at the apartment with her husband and two older daughters, aged six and nine, who were at school at the time of the attack.
Neighbours said she seemed to be a loving, attentive mother.

(Filed: 23/11/2004)
By Marcus Warren in New York
Five hunters were killed and three wounded in a deadly shoot-out in the Wisconsin forests at the start of the state's deer hunting season.
A 36-year-old man, Chai Soua Vang, was in custody yesterday, suspected of opening fire on his fellow hunters after a row over access to a tree stand.
Vang allegedly went on an armed rampage through a forest in the north-west of the state on Sunday when challenged over his right to use the raised platform, murdering the five, one of them a woman, with a rifle.
"It was like he was chasing after them to kill them," said Tim Zeigle, of Sawyer County Sheriff's Department. "The bodies were a long way from one another."
Vang, a member of the exile Hmong minority from Laos, who aided the Americans in the Vietnam war, got lost in the woods after the shootings and was helped out by two other sportsmen unaware of the carnage nearby. As he emerged, he was arrested.
"When he was taken into custody, his gun was empty and I bet those guys are thanking their lucky stars," Mr Zeigle said.

Richmond Times-Dispatch
Nov 23, 2004
Investigators trying to unravel the cause of mysterious North Side explosion noises said this afternoon they found several "pressure-producing devices" that could have been used to create the booming heard over the past month.
Richmond Fire Capt. Mike Martin told reporters gathered on a corner near Laburnum Avenue and Hermitage Road, a few blocks west of a roped-off area, that several of the devices had been found, above ground and below ground.
Police had the neighborhood cordoned during the morning, blocking eastbound traffic on Laburnum and north-south traffic from Laburnum to Wilmington Avenue on at least two side streets. Police said the neighborhood was safe and there was no need for evacuations.
"We found some items that are of a suspicious nature," Martin said. "We have found evidence. It is a crime scene," he added, referring to the areas where the objects were found.
He described the objects found as "sort of an explosive device," but "more of a pressure-producing device." He said the objects are designed to create sound, and "damage if you are close to it." He said it was possible but generally unlikely that the items could be considered lethal.
They were found at "several locations in the general area," Martin said, but declined to give more specifics on the locations.
Martin stressed that all investigative avenues are being kept open, but that the devices found are being considered "some type of contributing factor" to the explosion noises that have rocked the neighborhood.
The pressure-producing devices, he said, would not create "a crater," but rather a "large amount of noise." Asked to describe the devices, Martin said they could be as small as four to five inches in diameter, or up to a foot. He said he knew of no known commercial applications for such equipment.
He indicated the items could have been home-made, but declined to answer further questions about their nature, citing the police investigation.
Martin said authorities had a meeting Monday night at which numerous possible causes were brought up, and discussion at that meeting led to the search this morning for the pressure devices.

WHANGAREI : A pod of dolphins were being praised Tuesday for providing a protective barrier around a group of swimmers who were being threatened by a great white shark off the northeastern coast of New Zealand.
Rob Howes and three other lifeguards were on a training swim about 100 metres off shore at Ocean Beach near here when the dolphins raced in and herded the group together.
"They started to herd us up, they pushed all four of us together by doing tight circles around us," Howe said.
When he tried to drift away from the group, two of the bigger dolphins herded him back.
He then saw why. A three-metre long great white shark was cruising towards the group about two metres below the surface.
"I just recoiled. It was only about two metres away from me, the water was crystal clear and it was as clear as the nose on my face," he said, adding he then realised the dolphins had moved in to protect the swimmers.
The group was surrounded by the dolphins for 40 minutes before they were able to make it back to shore. [...]
Tuesday, 23 November, 2004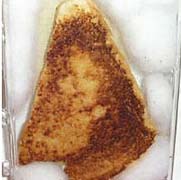 A decade-old toasted cheese sandwich said to bear an image of the Virgin Mary has sold on the eBay auction website for $28,000.
An internet casino confirmed it had purchased the sandwich, saying it had become a "part of pop culture".
Goldenpalace.com says it will take the sandwich on world tour before selling it and donating the money to charity.
Diane Duyser, from Florida, says the sandwich has never gone mouldy since she made it 10 years ago.
By the time the sandwich auction closed on Monday the sale had received over 1.7 million hits on the auction site.
'Mystical power'
"We will definitely use the sandwich to raise money for charity, and we hope it will raise people's spirits as well," said Richard Rowe, the casino's CEO.
"With the... thousands of search engine queries, it is obvious that this is something people want to know more about... and Golden Palace will help spread the word.
"We believe that everyone should be able to see it and learn of its mystical power for themselves."
Last week, Mrs Duyser told reporters the sandwich had brought her luck - including winnings of $70,000 at a casino near her Florida home.
Mrs Duyser says she noticed the image burned into her sandwich as she was about to tuck into it in autumn 1994.
"I went to take a bite out of it, and then I saw this lady looking back at me," she said, according to the Chicago Tribune newspaper.
"I hollered for him," she said, gesturing to her husband, Greg. "It scared me at first."
She says she has done nothing to preserve the sandwich except keeping it in a plastic box, but "it doesn't fall apart or crumble or anything".
Nevertheless, before auctioning her sandwich Mrs Duyser cautioned buyers that it was "not intended for consumption".
The item has inspired sellers to place dozens of spin-off items on the online auction site, including attempts at replica burnt toast, T-shirts, ornamental plates, and domain names.
One seller is even offering a "Virgin Mary" sandwich toaster - though the item description includes the caveat that the item "may or may not reproduce the Virgin Mary image".

And finally...
Johann Hari
22 November 2004
The Independent
G. Gordon Liddy is vibrating with rage. "Environmentalism is a form of pagan fundamentalism. These green wackos are fanatics like al-Quaida. Just like them," he quivers. "Osama believes there are 72 virgins waiting for him. The environmentalist believes human beings cause global warming. They both want to wreak havoc because of their mad beliefs. What's the difference?" I am lying on a hotel bed in New York City listening to Liddy's radio show and trying to figure out how I can possibly interview this man in half an hour. "Why should we listen to these fulminating feminists, proselytizing poofters, the environmentally ill, these multilateralist UN one-world government worshippers and other politically correct castrati?" he is demanding. "Why?"
I look again at the e-mail from his publicist. "You must be waiting outside his radio studio with a taxi at 2pm EXACTLY. Mr Liddy has asked me to inform you that if you are even a minute late, he will leave without you and the interview will be OFF." I feel a shiver of anxiety. Thirty years ago - as one of Richard Nixon's henchmen - Liddy was contemplating the murder of a liberal columnist he regarded as a traitor. Somehow I don't think we'll get along. Rats used to irritate Liddy, so to overcome his rage he roasted and ate one. Will I be roasted within the hour?
So I am pacing sweatily outside his radio studio in downtown Manhattan at EXACTLY 2pm, begging an obese Puerto Rican taxi driver to wait just two more minutes. I scrutinize every person who emerges from the studios in a frantic attempt to spot Liddy. Finally a tall man struts out. I approach him with an open hand. "Mr Liddy? Johann Hari from the..." The man shoves me backwards. I almost fall. How can we have started so badly? "Do you think I look like that old crook?" the man snarls. "Screw you, pal."
A moment later, a tiny old man with a huge bushy moustache shuffles out of the studio wheeling one of those shopping-bags-with-wheels beloved of grannies everywhere. I don't notice him because the Puerto Rican has declared, "I ain't waiting for no Liddy no more!" Before I can disentangle this web of double negatives, the old man steps forward and says, "I am Liddy." I look closely. His bald head is dry; it looks as though he is slowly developing scales.
And suddenly I am lifting the bag of G. Gordon Liddy - Nixon's rent-a-thug, the Watergate burglar, the far-right shock jock extraordinaire - into the boot of a taxi and reeling at his smallness. We are heading for Penn Station so Liddy can return to Washington DC; I am going to sit with him while he waits for his train. He turns to me and smiles. "So - where do we begin?" he says. I try to smile back and say as sweetly as I can, "How about with Adolf Hitler?"
The Fuhrer was G Gordon Liddy's first political hero. Liddy was a sickly, asthmatic child when he grew up in Hoboken, New Jersey, in the 1930s. The town was full of ethnic Germans who idolized Hitler. Liddy was made to salute the Stars and Stripes Nazi-style by the nuns at his school; even now, he admits, "at assemblies where the national anthem is played, I must suppress the urge to snap out my right arm." His beloved German nanny taught him that Hitler had - through sheer will-power - "dragged Germany from weakness to strength."
This gave Liddy hope "for the first time in my life" that he too could overcome weakness. When he listened to Hitler on the radio, it "made me feel a strength inside I had never known before," he explains. "Hitler's sheer animal confidence and power of will [entranced me]. He sent an electric current through my body." He describes seeing the Nazis' doomed technological marvel the Hindenberg flying over New Jersey as an almost religious experience. "Ecstatic, I drank in its colossal power and felt myself grow. Fear evaporated and in its place came a sense of personal might and power."
A-ha. So, Mr Liddy, do you feel that your early, formative love for Hitler shaped your political behavior later in life? "Oh, no," he says somberly. He renounces Hitler's war against the Jews as "evil" and flaunts his support for Israel's hard right as evidence he is not an anti-Semite. "It was part of my childhood, that's all," he says.
Really? That doesn't seem to match the historical record. In his autobiography, Liddy admits that, after reading the writings of the notorious anti-Semite Charles Lindbergh, Liddy decided to pick his wife on eugenic grounds. He held out for "a tall, fair, powerfully built Teuton." Isn't that behavior at the very least in the shadow of Hitler? "Of course not. Genetics is accepted by everyone." But a Teuton? My dictionary defines it as "descended from an ancient Germanic tribe. Often synonymous with Aryan." He waves his hand and says, "That's how we spoke then. This is political correctness."
Okay, so how about your fanatical Nietzschean emphasis on Will-power? He has written, "If any one component of man ought to be exercised, cultivated and strengthened above all others, it is the will; and that must have one objective - to win." He used to take his kids to see Leni Reifenstahl's Nazi propaganda movie 'The Triumph of the Will.' When he was a kid himself, he went to insane ends to test his will-power. He stood in front of approaching trains, telling himself he would not die because "I am a machine too." During lightning storms, in order to demonstrate to himself to power of his will, he would climb onto tall trees and yell, "Kill me! Kill me!" He even trained himself to kill animals in anticipation of becoming a brutal soldier. He describes beheading chickens with glee: "I killed and killed and killed, and finally I could kill efficiently and without emotion or thought. I was satisfied; when it came my turn to go to war, I would be ready. I could kill as I could run - like a machine."
It looks like a crazed rant on paper - but as we drive through the East Village, his tone is so reasonable, his voice so soft, he could be talking about the weather. "Yes, I believe the will is very important. It's how I have succeeded in life," he says. More important than, say, compassion or love? Before he can answer, the Puerto Rican yells, "Penn!" We get out and find a small coffee shop. It takes Liddy a while to negotiate his way onto the small stool; he seems like he is about to physically snap. He says that the US has shown insufficient Will (the way he says it, the word should always be capitalized) in its foreign policy too. While the Nixon administration was spraying tonnes of napalm and poison over Vietnam, he complained the policy was "too soft." He says now, "I wanted to bomb the Red River dykes. It would have drowned half the country and starved the other half. There would have been no way the Viet Cong could have operated if we had the will-power to do that."
But what about the millions of innocent people who would have been murdered? "Look at Dresden. Millions of people died there too." And it hits me: he just can't see them. They are un-people, specks of red dust on a distant map, obstacles to his Will. Their suffering is as irrelevant as that of the chickens he decapitated with such glee sixty years ago in New Jersey. "Once you start a war, you have to win," he continues. "Look at the time some of Julius Ceasar's emissaries were sent into Gaul, and they were killed by bandits. Caesar sent Roman troops to slaughter all the men who were left alive in Gaul. He sold all the women and children into slavery. From that point on, nobody touched a single one of Caesar's emissaries." I pause. Let me get this straight - you are advocating the selling of women and children into slavery as US policy?
"No. What I'm saying is we had better embrace the horror of war. If you aren't tough, if you don't pull out all the stops, you lose." So all of the conventions created in the wake of the Second World War - the Geneva Conventions, the very concept of war crimes - these are all just polite fictions to be crumpled? "Of course. The Seventh Infantry Division in 1945 used to drive their tanks around with the heads of defeated Japanese solders displayed proudly on the front. That's what we need to train our present-day soldiers to be." Returning to Vietnam, he adds that the French - the colonial power preceding the Americans - succeeded in Vietnam because "they were using the Foreign Legion, then manned almost completely by veterans from the most disciplined, ruthlessly efficient practitioners of all-out warfare in history: the Waffen SS."
And so we are back to Him, the dictator who hangs over Liddy's life like an old, angry ghost. Liddy's seems to believe - as his childhood icon did - that life is an eternal war against Absolute Enemies. There are no rules. There can be no restraint. Kill them or they kill you. This mindset is revealed neatly in the advice he gave to his children from the time they were toddlers. He told them to start fights or they would be beaten. When the kids' school explained that they had a strict non-violence policy, Liddy replied, "In the late 1930s French children were taught that philosophy while German kids were taught to be fierce in battle. Given the destruction of the numerically superior French armies by the Wehrmacht in about thirty days, I prefer the German approach. The school will just have to live with it."
This approach wasn't only for the Vietnamese and kids. Liddy extended it to Nixon's domestic political opponents too. He is famous in the US as the most fiercely loyal of Richard Nixon's "plumbers", one of the agents sent to illegally burgle, drug and libel the President's internal opponents. "The war in Vietnam was fought on the streets of America too," he says. "It was lost here at home, by people who didn't have the Will to win. We had to get the people who wanted America to lose." Including killing columnists? "If they were traitors as Jack Andersen was, directly helping the enemy, then yes."
This contempt for democracy and law led Liddy to the Watergate Hotel - and it changed the world. I received a second e-mail from his publicist that contained one line: "NO WATERGATE!!!!" I decide to plunge in anyway. Does he regret burgling the offices of the Democratic National Committee (DNC) and setting in chain the resignation of a President?
A vein twitches angrily on one of his scales, but he replies in a level voice, "No." He has a bizarre revisionist take on Watergate that places the blame for the disaster entirely on another Nixon henchman called John Dean. "The official version of Watergate is as wrong as a Flat Earth Society pamphlet," Liddy says, referring me to a conspiracy-theory book called 'Silent Coup: Removal of a President' by Len Colodny and Robert Gettlin. Its thesis is stark. The Watergate burglars - including Liddy - believed they were breaking into the offices of the DNC to plant a bug so the Republicans could hear the election plans of George McGovern. They were duped. The book's authors claimed John Dean - Liddy's immediate superior and the man who gave the orders to commit the burglary - ordered the burglary for his own reasons, nothing to do with Nixon. The DNC had evidence that linked Dean's then-fiancee with a prostitution ring - and Dean wanted it back. So - hey presto! - Nixon was innocent, and the victim of a wicked coup d'etat. Liddy has convinced himself he served five years in jail for nothing.
I fetch Liddy another decaff coffee. I glance back at him from the counter, and begin to think Liddy's thought should be seen less as an ideology than as a pathology. In order to demonstrate the strength of his Will, Liddy has at various points in his life burned cigarettes and candles into his flesh. By 1967 this was already causing small, permanent scars. By the time he was jailed, it nearly destroyed the tendons in his left wrist. As I place a cup in his right hand, I ask if it has ever occurred to him that this was actually a form of self-harm, a way of channeling something - self-hate or fear, perhaps - onto his body. He looks at me as if I am the crazy one. "It was a way of testing myself. Of making myself strong."
Liddy urges his listeners to show similar 'strength' in their own lives. He was condemned even by most of the American right in 1994 when he advised his listeners to deal with agents from the Bureau of Alcohol, Tobacco and Firearms (a strange, obsessive focus of hate on the American right) with "head shots, head shots... Kill the sons of bitches... Shoot twice to the belly and if the does not work, shoot to the groin area. Arm yourself. Get instructed in how to shoot straight. And don't register [your weapons] either." His caller replied, "And I'm aiming between their eyes." Liddy replied, "There you go. That way their flak jackets won't protect them."
Liddy's philosophy is a strange mixture of an anarchistic hatred of Government in the abstract and a cult-like worship of government when it is in the hands of the right. How can he be so fanatically patriotic yet believe in killing the agents of his democratically elected government? He claims he was only advocating the killing of agents if they illegally broke into somebody's home. "All I was doing is stating the US law," he says. "I never counseled anybody to shoot a BATF agent or anybody else who did not need shooting." His fans hear his clauses. For example, J.J. Johnson, the head of the far-right Georgia Republic Militia, welcomed Liddy's comments, disagreeing only about the head-shots. "With the right kind of ammunition, it doesn't matter where you hit 'em." After the Oklahoma bombing, many Hate Radio hosts toned down their statements. Liddy stepped them up: he declared that he used a cardboard cut-out of Hillary Clinton for target practice.
His rhetoric on global warming - the most important issue in the world - is similarly inflammatory. "Yes, there is such a thing as global warming," he admits. "And there is such a thing as global cooling too. They happen in great eons-long, periodic swings, and it has to do with the activity of the sun, not of humans." Really? You know better than 99 per cent of physicists and environmental scientists? "Environmentalists are like a guy who pisses into a river at bedtime and then blames himself for the flood the next day," he says mysteriously, before saying that we should embrace global warming as a Good Thing. "The effect of warming is to quintuple the yields of US crops and double our life expectancy! Bring it on!"
He boasts that he drives a massive SUV "which can carry three quarters of a ton, [has] 300-horsepower, and burns more gas than you could ever dream. If somebody in a little environmentally-friendly car crashes into me, it's all over. For him!" He also, for some reason, violently despises airbags, which he calls "killers." He brags he would like to "invite Ralph Nader over so I could serve him Spotted Owl Stew."
Despite his disgrace, one of Liddy's ideas is still at the heart of US policy today. He is one of the godfather of America's 'War on Drugs' - a wild rampage that continues to rip through the globe from Afghanistan to Colombia today. Liddy drafted the ideas for the Drug Enforcement Agency in 1971, and used it as an excuse to extend his gangster politics to Mexico and Turkey, amongst others. He describes him plans as "an exercise in international extortion, pure, simple and effective." The 'War on Drugs' continues in proud Liddy-style today. Only the last adjective - 'effective' - was never true. Predictably, he says the only problem with the 'War on Drugs' today is that it is too soft. "We have stopped prosecuting minor drug offences in the US." Really? The one million black men in jail or on parole for drug offences today might think differently. "No, we need to fight this war much harder," he says vaguely.
I'm not sure how much of this I can take. I am becoming desensitized to his madness; I haven't even furrowed my brow for the past five minutes. Does he really mean this stuff? And what's better - if he is spewing all this hate for effect, or if he really means it?
But this is how Hate Radio works in America. It numbs you to far right positions; it makes the most depraved politics banal and commonplace. So Ann Coulter talks affectionately of "the benefits of local fascism" and nobody blinks. Michael Savage describes Lindy England as "an American hero" and tells gay listeners, "I hope you get AIDS and die," and we simply avert our gaze. Even a mad criminal like G. Gordon Liddy is accepted as a normal part of the political furniture. Republican politicians appear on his show happily and nod along to his far-right patter. These 'hosts' have created a political culture where even John Kerry - who is, in European terms, pretty conservative - can be savaged as "far left" and denied the White House.
Liddy looks at his watch, gulps his coffee and begins slowly, carefully to get off his stool to catch his train. He looks so weak that I offer to carry his bag, and so I wander through Penn Station with an advocate of slaughtering millions of people, trying to make polite conversation. The last generation of Nixon warriors is about to pass into history, and Liddy is one of the few to remain politically active. I ask him how history will judge him. "Me? I hope it says G. Gordon Liddy was strong," he says, coughing slightly. "A strong man."
Readers who wish to know more about who we are and what we do may visit our portal site Cassiopaea.org
---
Remember, we need your help to collect information on what is going on in your part of the world!
We also need help to keep the Signs of the Times online.
---
Send your comments and article suggestions to us

---
Fair Use Policy
Contact Webmaster at signs-of-the-times.org
Cassiopaean materials Copyright ©1994-2014 Arkadiusz Jadczyk and Laura Knight-Jadczyk. All rights reserved. "Cassiopaea, Cassiopaean, Cassiopaeans," is a registered trademark of Arkadiusz Jadczyk and Laura Knight-Jadczyk.
Letters addressed to Cassiopaea, Quantum Future School, Ark or Laura, become the property of Arkadiusz Jadczyk and Laura Knight-Jadczyk
Republication and re-dissemination of our copyrighted material in any manner is expressly prohibited without prior written consent.
.