Printer Friendly Version
New! Article - 911 Eye-witnesses
New! Article - High Strangeness
New! Article - The Blair Belief Project
New! Pentagon Strike Flash Presentation by a QFS member
Picture of the Day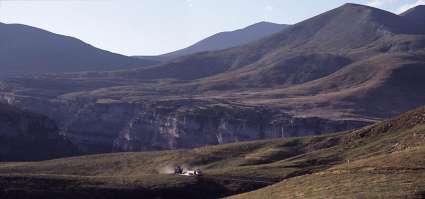 ©2004 Pierre-Paul Feyte
9/11 - The Basic Facts

SOTT Analysis
www.globalresearch.ca 24 April 2004
Did the World Trade Center towers undergo a deliberate "power-down" on the weekend prior to the 9-11 terrorist attacks? According to Scott Forbes, a senior database administrator for Fiduciary Trust, Inc. – a high-net investment bank which was later acquired by Franklin Templeton – this is precisely what took place. Forbes, who was hired by Fiduciary in 1999 and is now stationed at a U.K. branch office, was working on the weekend of September 8-9, 2001, and said that his company was given three weeks advance notice that New York's Port Authority would take out power in the South Tower from the 48th floor up. The reason: the Port Authority was performing a cabling upgrade to increase the WTC's computer bandwidth.
Forbes stated that Fiduciary Trust was one of the WTC's first occupants after it was erected, and that a "power-down" had never been initiated prior to this occasion. He also stated that his company put forth a huge investment in time and resources to take down their computer systems due to the deliberate power outage. This process, Forbes recalled, began early Saturday morning (September 8th) and continued until mid-Sunday afternoon (September 9th) – approximately 30 hours. As a result of having its electricity cut, the WTC's security cameras were rendered inoperative, as were its I.D. systems, and elevators to the upper floors.
Forbes did stress, though, that there was power to the WTC's lower floors, and that there were plenty of engineers going in-and-out of the WTC who had free access throughout the building due to its security system being knocked out. In an e-mail to journalist John Kaminski, author of The Day America Died (Sisyphus Press) and America's Autopsy Report (Dandelion Books), Forbes wrote: "Without power there were no security cameras, no security locks on doors, and many, many 'engineers' coming in and out of the tower."
Forbes didn't think much of these occurrences at the time, and said that he worked until Monday morning (September 10th) to get all the computer systems back online. Due to his IT-related duties on Saturday & Sunday, Forbes had Tuesday, September 11th off, and thus watched the World Trade Center towers collapse from his apartment. While doing so, he recalled, "I was convinced immediately that something was happening related to the weekend work."
In addition, Forbes says there were other peculiarities revolving around this unreported event, including:
1) Fiduciary employees trapped between the 90-97th floors of the South Tower told family members (via cell-phone calls) that they were hearing "bomb-like explosions" throughout the towers.
2) Video cameras positioned atop the World Trade Center which were used to feed daily images to local television stations were inexplicably inoperative that morning.
3) A Fiduciary employee who was on one of the lower floors and escaped immediately after the first (North) tower was struck, reported that he was amazed by the large number of FBI agents that were already on the streets surrounding the WTC complex only minutes after the initial strike.
4) Last but not least, Ann Tatlock, CEO of Fiduciary Trust and now a board member of Franklin Templeton, had just arrived at a conference hosted by Warren Buffet at the Offutt Air Force Base (home of the U.S. Strategic Command Headquarters in Omaha, Nebraska) when the 9-11 attacks took place. Coincidentally, later that day President George W. Bush flew into this very same base on Air Force One for "security reasons."
In the end, Forbes says that even though these disclosures could jeopardize his current employment, he has stepped forward because, "I have mailed this information to many people, including the 9/11 Commission, but no one seems to be registering these facts."
This is Chesire
First published on Thursday 20 September 2001
A WARRINGTON woman has spoken of the terror she felt when she realised her brother could have been involved in the devastating attack on the World Trade Center last Tuesday.
And she has paid tribute to his actions which saved at least four of his colleagues from certain death.
Scott Forbes, aged 40, works on the 97th floor of the south tower in the IT department of the Fiduciary Trust Company International - but on the day of the atrocity he was at home in Jersey City, waiting for an engineer to carry out repairs on his apartment. He could see the tragedy unfolding from his window as he witnessed the planes hit the twin towers, and he frantically called his workmates to tell them to get out of the building. He knows of four who escaped, but a further 95 are still missing. The plane which hit the south tower struck at around the 70th floor leaving the staff with a terrifying journey downwards through heat and smoke as they tried to make their escape.
Scott's sister, Frances Ireland, of Rydal Avenue, was at work when the terrorists struck.
"My husband rang me at the office as soon as the news broke," she said.
"I rang Scott's apartment to find out just what was going on and when he picked up there was a great sense of relief.
"Somebody was looking after him that day. If it had happened on the Monday or the Wednesday he would have been there.
"All this has made me feel so grateful for him to be alive, but I also feel guilty because so many other people have lost so much.
"Scott feels guilty because he has lost a lot of colleagues.
"They wanted to get trading going again as soon as possible so Scott and other employees from other companies are now under armed guard at a recovery centre in New Jersey because it is feared they are still a target."
By Sarah Foster
© 2001 WorldNetDaily.com
Rumors persist despite official denial from Jeb Bush administration
WHO KNEW? Jeb Bush signed Florida TWO YEAR emergency order 4 days BEFORE ATTACK
Those words, as frightening as they are shocking, headlined one of several Internet articles that appeared in the wake of the Sept. 11 terrorist attacks upon the World Trade Center and the Pentagon.
WorldNetDaily investigated. The articles provided links directly to the executive orders themselves, and these were exactly as described. Bush, through Executive Order 01-261, had activated units of the Florida National Guard on Sept. 7, four days before the kamikaze assault on the Trade Center. His second executive order, EO 01-262, did in fact delegate awesome powers to a non-elected official, the interim head of the Division of Emergency Management, the agency responsible for implementing Florida's Comprehensive Emergency Management Plan. Moreover, the governor issued it shortly after the attacks, strongly suggesting he had been apprised of events ahead of time and was ready to sign the order with a stroke of his pen as soon as he received an appropriate signal.
There was just one problem with the scenario: As of late September, there were no reports in either the press or on the Internet of properties being seized, of people being rousted from their beds and hauled away in the dead of night, or of soldiers patrolling the streets of Tallahassee, Tampa and other Florida cities. Although the Florida code acknowledges the implicit power of a governor to declare martial law, it wasn't clear from the information at hand whether he had actually done so by executive order. Officials in the Jeb Bush administration vehemently denied he had.
"Absolutely not," exclaimed Jim Loftus of the Division of Emergency Management, when asked if the state of Florida was under martial law. [...]
The executive orders
On Sept. 7, Bush signed EO 01-261, delegating to the adjutant general "all necessary authority … to order members of the Florida National Guard into active service … for the purpose of training to support law-enforcement personnel and emergency-management personnel in the event of civil disturbances or natural disasters and to provide training support to law-enforcement personnel and community-based organizations relating to counter drug operations."
The order is set to expire June 30, 2003, unless revoked earlier. In his letter, Woodring described it as a "routine" training order that "allowed the activation of select members of the National Guard to assist the Florida Department of Law Enforcement in training for port security and protection." It was issued to place "select members on active duty, so that if they were injured during the training they would be eligible for health and medical benefits only available to members on active duty."
Woodring said the order did not give the Florida National Guard any authority over civilian matters.
EO 01-262 was signed Sept. 11 and reads in part: "The scale of the destruction and the coordination, orchestration, and timing evident in these acts of terrorism suggest that they may be part of a larger pattern of acts of terrorism; … I hereby declare that a state of emergency exists in the State of Florida."
Bush delegated to the Florida Department of Law Enforcement the "operational authority to coordinate and direct the law enforcement resources of any and all state, regional and local governmental agencies …" and placed all law enforcement resources under the operational authority of FDLE as long as the order is in effect, which by statute is limited to 60 days unless the governor extends it or the legislature revokes it. This means the EO will expire Nov. 11.
William "Craig" Fugate, then-interim director, now director, of the Division of Emergency Management, an agency within the Department of Community Affairs, was designated state coordinating officer and delegated numerous powers to be exercised "as needed to meet this emergency." These include:
* "The authority to suspend the effect of any statute or rule governing the conduct of state business, and the further authority to suspend the effect of any order or rule of any governmental entity … any and all statutes and rules which affect … the conditions of employment and the compensation of employees. …
* "The authority to direct all state, regional and local governmental agencies, including law enforcement agencies, to identify personnel needed from those agencies to assist in meeting the needs created by this emergency, and to place all such personnel under the direct command of the State Coordinating Officer to meet this emergency;
* "The authority to seize and utilize any and all real and personal property as needed to meet this emergency, subject always to the duty of the State to compensate the owner;
* "The authority to order the evacuation of any and all persons from any location in the State of Florida, and the authority to regulate the movement of any or all persons to or from any location in the State. …"
The adjutant general was ordered to "activate the Florida National Guard for the duration of this emergency," and the National Guard was placed under the direction of the state coordinating officer (Craig Fugate) for the duration of the emergency.
"… all statutes, rules and orders are hereby suspended … to the extent that literal compliance with [them] may be inconsistent with the timely performance of emergency response functions," the order states. In reviewing the history of this EO, with its awesome grants of authority, what was noteworthy was not the speed with which Bush's aides were able to produce it for his signature, but the fact that similar executive orders – each declaring a state of emergency and with identical grants of authority – had been issued over half a dozen times in the past three years, with Florida residents apparently oblivious to the fact. [...]
Martial law in the classroom
WorldNetDaily contacted Rev. Chuck Baldwin, pastor of Crossroads Baptist Church in Pensacola, Fla., and host of the radio talk show "Chuck Baldwin Live." Baldwin is not one to dismiss allegations of martial law lightly. In April 1999, he denounced on the air a mock takeover of a nearby school by military troops.
"Does anyone remember the good old days when schools taught reading, writing and arithmetic?" he asked his radio audience at that time. "Nowadays, they teach political correctness, cultural Marxism and martial law. That's right, martial law.
"It seems that last week at the Hobbs Middle School in Milton, Fla., a mock military takeover was staged to demonstrate martial law. I am not making it up. Military personnel from the Navy, Marines and Coast Guard took part. The exercise began when these words thundered over the school intercom system: 'Military personnel, take your classrooms.' A Navy lieutenant who participated said, 'We're going for shock value.' The occupying force then proceeded to take over the teaching assignment for the day. Shock value? I guess so," declared the outraged minister. [...]
Infrastructure for oppression
But Don Harkins, editor and publisher of the Idaho Observer, a monthly conservative newspaper, fears there is plenty to be concerned about on the local as well as national level. He was interested – though not surprised – to learn that executive orders similar to EO 01-262 had been issued in the past and continue to be issued, and that the citizens of Florida were essentially unaware of the fact. While there may be no immediate danger in Florida of abuse of power by the governor and his officials, the "infrastructure" for an oppressive government is, in Harkins view, "in place," and the potential for abuse is very real. But then, Florida is not unique in this respect, he said.
Three years ago, Harkins had tried to alert his readers across the country to take note of what was happening in their own communities and state legislatures. Cities were passing ordinances granting city managers – who are appointed, not elected, officials – the power to declare states of emergency, and provisions were being placed in state statutes granting extraordinary powers to governors and agency personnel. He asked readers to check their county ordinances and state codes to see exactly what was in place and to send him the results so an overview could be developed. Few responded.
"I was very disappointed," Harkins recalled. "People wanted to complain about Bill Clinton, but only a few were willing to take the trouble to go to the library and find out what powers had already been granted so they'd know what to expect in the case of a really serious emergency."
In his view, "We should be looking at the ordinances at the city and county, at the governments close to home. All the mechanisms are in place, with overlapping law-enforcement jurisdictions, non-elected people moved into managerial positions and given incredible, fundamentally legislative authority. We're in deep trouble in terms of the infrastructure already being laid to oppress people or even to impose a martial law-style of regime. It's happening in every state – even at the city and county level, and people are hardly aware of it."
The ratcheting up of power
Robert Higgs – author of the classic 1987 study, "Crisis and Leviathan: Episodes in the Growth of American Government," and a senior fellow of the Independent Institute, a non-profit, public-policy research organization in Oakland, Calif. – has spent years analyzing the conditions and circumstances that prompt sharp expansions in government power at the expense of the rights of citizens. Higgs has shown that it is at times of crisis, such as war, an economic collapse or other turmoil, that government powers increase exponentially – "ratcheted" is the term he uses. But when the crisis is passed, while there is some "ratcheting down," conditions never return to the point they were before the crisis; there is always less freedom than formerly.
Did Higgs see any problems or possible threats to liberty in Florida or elsewhere through the kind of declaration of a state of emergency issued by Bush?
"That would depend entirely on the circumstances under which it was issued," he answered. "As you've discovered, some of these governors' orders are fairly routine. They are usually issued in the event of a catastrophe, a natural disaster of some kind. In those cases, it is a way of triggering some additional state resources and also of creating conditions through which a state can request federal assistance, things of that sort.
"I don't think there's anything grave about the normal way in which state governors exercise those powers," he explained. "But in conditions such as those that exist at the moment, they could be grave because we're not dealing with a natural catastrophe but with a threat from abroad that has got in among us, which is the ideal condition for frightening the people. [It is] also potentially a condition in which a state government or the national government might take extraordinary measures that would be very damaging to our liberties.
"So I think the present circumstances are potentially more a cause for concern than we are accustomed to," he said.
Americans, he said, should be "very much concerned" about a potential loss of liberty at this time, because "as a general proposition, given what has happened historically, these kinds of emergencies have been the occasion for all sorts of mischief, and we would be well-advised to watch what the government does at every level – local and state, as well as federal.
"It's much more dangerous when extraordinary powers are exercised at the federal level, but that doesn't mean the state powers are harmless," Higgs said. "Any time executive officers exercise extraordinary police powers there is reason to be concerned. It means that we don't have the ordinary checks and balances, we don't have the usual procedures for the government to exercise its powers or the usual protections.
"It's a time to watch out," he warned.
The Washington Times
September 10, 2001
Rowan Scarborough
Edition: 2
Section: A
Page: A1
An elite U.S. Army study center has devised a plan for enforcing a major Israeli-Palestinian peace accord that would require about 20,000 well-armed troops stationed throughout Israel and a newly created Palestinian state. [...]
The cover page for the recent SAMS (Army School of Advanced Military Studie) project said it was done for the Joint Chiefs of Staff. But Maj. Chris Garver, a Fort Leavenworth spokesman, said the study was not requested by Washington.
"This was just an academic exercise," said Maj. Garver. "They were trying to take a current situation and get some training out of it."
The exercise was done by 60 officers dubbed "Jedi Knights," as all second-year SAMS students are nicknamed.
The SAMS paper attempts to predict events in the first year of a peace-enforcement operation, and sees possible dangers for U.S. troops from both sides.
It calls Israel's armed forces a "500-pound gorilla in Israel. Well armed and trained. Operates in both Gaza [and the West Bank]. Known to disregard international law to accomplish mission. Very unlikely to fire on American forces. Fratricide a concern especially in air space management."
Of the Mossad, the Israeli intelligence service, the SAMS officers say: "Wildcard. Ruthless and cunning. Has capability to target U.S. forces and make it look like a Palestinian/Arab act."
On the Palestinian side, the paper describes their youth as "loose cannons; under no control, sometimes violent." The study lists five Arab terrorist groups that could target American troops for assassination and hostage-taking.
The study recommends "neutrality in word and deed" as one way to protect U.S. soldiers from any attack. It also says Syria, Egypt and Jordan must be warned "we will act decisively in response to external attack."
It is unlikely either of the three would mount an attack. Of Syria's military, the report says: "Syrian army quantitatively larger than Israeli Defense Forces, but largely seen as qualitatively inferior. More likely, however, Syrians would provide financial and political support to the Palestinians, as well as increase covert support to terrorism acts through Lebanon."
Of Egypt's military, the paper says, "Egyptians also maintain a large army but have little to gain by attacking Israel."
The plan does not specify a full order of battle. An Army source who reviewed the SAMS work said each of a possible three brigades would require about 100 Bradley fighting vehicles, 25 tanks, 12 self-propelled howitzers, Apache attack helicopters, Kiowa Warrior reconnaissance helicopters and Predator spy drones.
The report predicts that nonlethal weapons would be used to quell unrest.
U.S. European Command, which is headed by NATO's supreme allied commander, would oversee the peacekeeping operation. Commanders would maintain areas of operation, or AOs, around Nablus, Jerusalem, Hebron and the Gaza strip.
The study sets out a list of goals for U.S. troops to accomplish in the first 30 days. They include: "create conditions for development of Palestinian State and security of [Israel]"; ensure "equal distribution of contract value or equivalent aid" . . . that would help legitimize the peacekeeping force and stimulate economic growth; "promote U.S. investment in Palestine"; "encourage reconciliation between entities based on acceptance of new national identities"; and "build lasting relationship based on new legal borders and not religious-territorial claims."
Maj. Garver said the officers who completed the exercise will hold major planning jobs once they graduate. "There is an application process" for students, he said. "They screen their records, and there are several tests they go through before they are accepted by the program. The bright planners of the future come out of this program."
James Phillips, a Middle East analyst at the Heritage Foundation, said it would be a mistake to put peacekeepers in Israel, given the "poor record of previous monitors."
"In general, the Bush administration policy is to discourage a large American presence," he said. "But it has been rumored that one of the possibilities might be an expanded CIA role." [...]
The Washington Times


September 12, 2001


David R. Sands and Tom Carter
Edition: 2
Section: A
The devastating terror attacks that rocked New York and Washington yesterday will produce aftershocks that will be felt in U.S. foreign policy for decades to come.
President Bush faced intense pressure to respond to the attacks before U.S. officials could even hazard a guess as to who had orchestrated and carried out the world's worst act of terrorism.
"Everything changes," said Thomas Henriksen, a senior fellow at the Hoover Institution and a specialist on states accused of harboring terrorists. "Terrorism has always been remote, but now it has touched us."
"This was clearly not an isolated attack," former Secretary of State Henry Kissinger said in an interview yesterday on CNN. "It can't be dealt with by just one retaliatory blow."
Foreign policy experts predicted a vastly heightened sense of urgency in the global war against terrorism. With much of the early speculation focusing on Islamic fundamentalist groups with links to Saudi financier Osama bin Laden, the attacks could foreshadow a profound change in the dynamics of the Middle East peace process.
Some predict that current U.S. laws forbidding the use of assassination and infiltration of suspect terrorist groups abroad may be amended or repealed in the wake of the attacks.
"There was clearly an intelligence failure of massive, international proportions here," said George Friedman, chairman of the Texas-based forecasting service Stratfor. "It really raises question of whether our intelligence capabilities are up to par."
As expressions of sympathy and outrage poured in from leaders around the globe, several pointed to the attacks as proof of the need to coordinate the response to terrorism. Many of the calls came from states who fear the resurgence of militant Islamic fundamentalist movements on their own borders.
Said Russian President Vladimir Putin: "What happened today underlines the relevance of the offer of Russia to unite the powers of the international community in the fight against terrorism, the plague of the 21st century."
Scrambling for clues yesterday, U.S. officials said in private briefings they suspected the attacks were the handiwork of bin Laden, whom intelligence officials accuse of running an anti-American terrorist network from his sanctuary in Afghanistan. Afghanistan is run by the Taliban, a strict Muslim fundamentalist movement.
"We need to call our allies on the carpet, especially those like Pakistan and Saudi Arabia that recognize the Taliban," said Jim Prince of Control Risks Group, a former Middle East specialist for the House International Relations Committee and the Council on Foreign Relations.
Former Israeli Prime Minister Ehud Barak and Sen. Orrin G. Hatch, the Utah Republican who sits on the Senate Select Committee on Intelligence, suggested yesterday that the United States must strike hard at the Taliban if bin Laden and his supporters are linked to the attack.
"Bin Laden sits in Afghanistan," said Mr. Barak. "We know where the terror sites are. It's time for action."
Taliban spokesman Wakil Ahmed Mutawakel denied in a brief press conference in Kabul yesterday that his government had any knowledge of yesterday's events. He condemned the attacks but said his own government had been the target of terrorist activity as well.
Pakistan's military ruler, Gen. Pervez Musharraf, issued his own statement condemning the "brutal and horrible" attacks in New York and Washington.
"The world must unite to fight against terrorism in all its forms and root out this modern-day evil," Gen. Musharraf said.
Ariel Cohen, a defense analyst at the Heritage Foundation, noted that U.S. relations with both Saudi Arabia and Yemen have been strained over friction in the investigation of past terrorist attacks on U.S. targets.
"We may be in for a period of protracted turbulence in the Middle East because of these attacks," said Mr. Cohen, although he and others cautioned that the identities of the terrorists still had not been determined.
Stratfor's Mr. Friedman said Israel, which is dealing with its own wave of suicide bombers in the latest violent stand-off with the Palestinians, could emerge as a "big winner" from yesterday's events.
"I can see this changing the whole dynamic of the American approach to that conflict," he said.
"If [Palestinian leader Yasser] Arafat had been counting on U.S. pressure on Tel Aviv on the terms of a cease-fire, he can pretty much forget it now. The whole game has changed," he said.
Several analysts and lawmakers said Mr. Bush was under pressure to respond more effectively than President Clinton did after previous bin Laden attacks, which they said had barely dented the Saudi terrorist's network.
"This cannot be a Clintonesque response, a slap on the wrist," said the Hoover Institution's Mr. Henriksen.
Rep. Bob Barr, Georgia Republican, has authored legislation to lift the ban on assassinations of foreign leaders deemed a threat to the United States. "We have to be smart about our retaliation," said Mr. Barr. "It needs to be swift and decisive."
Virtually every observer agreed that the attacks have pushed intelligence and security to the top of the American foreign policy agenda.
"This is the kind of shock that can be a turning point," said Edward S. Walker Jr., president of the Washington-based Middle East Institute and former Assistant Secretary of State for Near Eastern affairs.
"The fact that we are so vulnerable to such an extraordinarily well-conceived attack is going to bring a sense of urgency and cooperation to the terrorism issue that wasn't there before," he said.
Comment: First of all notice that the date of this Washington Times article is the day after the 9/11 attacks. All of the information and quotes by government officials were taken from comments made on September 11th itself - the day when America had supposedly been blind sided, caught completely off guard by "surprise" "terrorist" attacks.
Notice the comment:
"President Bush faced intense pressure to respond to the attacks before U.S. officials could even hazard a guess as to who had orchestrated and carried out the world's worst act of terrorism."
Former U.S. Secretary of State George Shultz said yesterday that he was "startled" by a little-noticed State Department memo that was issued a week ago and warned that Americans "may be the target of a terrorist threat."
The memo, issued just four days before the attacks on New York and Washington, identified the threat as coming from "extremist groups with links to Osama bin Laden's al Qaeda organization."
"I have not idea what intelligence lies behind the warning," Shultz said, ''but they put this out because they had some sort of intelligence."
Shultz, who served as secretary of state under President Reagan, said he received a copy of the Sept. 7 "worldwide warning" in his San Francisco office on the day before the fatal attacks. The memo addressed concerns for Americans overseas and made no mention of any possible attack on U.S. soil.
Reached last night, U.S. Senator Dianne Feinstein said this was the first she had heard anything about the State Department warnings.
"Everyone should have been (alerted), but then you would have to ask whether they would have known what to look out for," Feinstein said.
"Of course," Feinstein said, "today is a different world, and I think a lot of things are going to change.
"Bin Laden's people had made statements three weeks ago carried in the Arab press in Great Britain that they were preparing to carry out unprecedented attacks in the U.S.," she said. "Whether that was the derivation of this (State Department ) bulletin, I don't know."
The warning dealt primarily with military bases in Japan and Korea.
But as Shultz pointed out, the mere fact that a warning was issued indicates that "something was cooking."
And indeed, in the one-page alert, the State Department said it had received information in May 2001 "that American citizens may be the target of a terrorist threat from extremist groups with links to Osama bin Laden's al Qaeda organization."
"Such individuals have not distinguished between official and civilian targets," the report said, adding, "As always, we take this information seriously. U.S. Government facilities worldwide remain on heightened alert." [...]
Officials at San Francisco International Airport said they weren't aware of the State Department warning - but someone in the airport security section knew of it and passed word of the warning onto Mayor Willie Brown when he called to check on the status of flight he was planning to take to New York.
"I didn't give it much thought at the time," Brown said. "It wasn't until after the attacks that I even remembered the call." [...]
WASHINGTON,

July 26, 2001


CBS News Correspondent Jim Stewart reports on Aschcroft's travel arrangements.
(CBS) Fishing rod in hand, Attorney General John Ashcroft left on a weekend trip to Missouri Thursday afternoon aboard a chartered government jet, reports CBS News Correspondent Jim Stewart.
In response to inquiries from CBS News over why Ashcroft was traveling exclusively by leased jet aircraft instead of commercial airlines, the Justice Department cited what it called a "threat assessment" by the FBI, and said Ashcroft has been advised to travel only by private jet for the remainder of his term.
"There was a threat assessment and there are guidelines. He is acting under the guidelines," an FBI spokesman said. Neither the FBI nor the Justice Department, however, would identify what the threat was, when it was detected or who made it. [...]
I believe in President George W. Bush. I've always believed him.
I believe the president invaded Iraq to secure liberty and democracy for the Iraqi people. I believe he had compelling evidence that Iraq was a significant threat to America and the world, and presented that evidence in a complete and balanced manner. Like 42 percent of Americans – and 62 percent of Republicans – I believe Saddam Hussein was involved in the September 11 attacks.
I believe we have enough troops on the ground in Iraq to ensure stability. I believe the rising American fatality rates, the rising casualty rates, and the rising American share of those coalition fatalities and casualties testify to the undeniable progress we're making there. I believe it is inappropriate and traitorous, however, for the media to broadcast pictures of American flag-draped caskets returning from Iraq.
I believed then-candidate Bush when he said during the 2000 campaign that America should not nation-build, and believe him now when he says our nation was divinely chosen for this task. I believe, as the president claims, that "free societies are peaceful societies," but that the political and civil rights in oppressive, undemocratic countries like Saudi Arabia and Pakistan are exempt from this standard. I believe Iraqis view Americans as liberators, and that once this swift, cheap war concludes the world will be more stable, our allies more cooperative, and our enemies fewer and less threatening.
I believe the best response against an Islamic fundamentalist network operating from a South Asian cave which used boxcutters to attack us is to invade a secular Arab dictator living in 11 palaces in a Middle Eastern country whose (supposed) weapon of choice was nuclear, chemical and biological weapons. I further believe that the best way to accomplish that mission was to land on air aircraft carrier in military garb and stand in front of a banner declaring it so.
I believe the president when he says he would have moved "heaven and earth" had he any "inkling" that terrorists were planning to attack America with hijacked airplanes. I believe the security briefing the president read five weeks before the attacks – which was entitled "Bin Laden Determined to Strike Inside United States," and specifically mentioned hijacked airplanes and New York City as a target – was an inkling-free, "historical" document. I believe we should re-double our investments in a missile defense system, which could have prevented the 9/11 attacks and will prevent future attacks like it from occurring.
I believe the president was right to oppose the formation of the 9/11 Commission, to change his mind but then oppose fully funding it, to change his mind but then oppose granting its request for an extension, to change his mind but refuse to testify for more than an hour, to change his mind but then testify alongside Vice President Dick Cheney so long as transcripts and note-taking were prohibited. I believe the investigation into the Abu Ghraib prison scandal shows it was the fault of a handful of misguided underlings who simply misunderstood a memo signed by the Secretary of Defense which authorized the use of dogs to interrogate prisoners.
Domestically, I believe income tax cuts for the wealthiest Americans are the solution to budget surpluses or deficits, high or low inflation, stable or unstable interest rates, expanding or shrinking trade deficits, widening or narrowing wealth gaps, increasing or decreasing poverty rates, rising or falling unemployment, prosperity or recession, wartime or peace. I believe record-setting budget deficits, record-setting trade deficits, and a burgeoning national debt are examples of the president's fiscally-conservative economic leadership.
I believe that a president who insists that hard-working Americans deserve tax breaks should continue to stand fast against cutting payroll taxes – the direct tax on hard work. Clearly, I do not believe that payroll taxes coupled with income taxes on work constitute "double taxation," but the dividend tax on assets does. I believe those who complain that one third of American children live in poverty, or that the wealthiest nation on the planet should feel sheepish about having 45 million uninsured citizens, deserve California Gov. Arnold Schwarzenegger's ridicule as "economic girlie men."
I believe the best way to improve local-run schools is to spend billions of dollars on a massive, federal testing program to tell us our schools are failing. I do not believe, however, that requiring local school districts to meet new, federal standards without resources is an example of an "unfunded mandate." I believe the president's education initiative will leave no child behind, much as his "clear skies" and "healthy forests" initiatives will make skies clearer and forests healthier.
Finally, I believe a white man of privilege who was accepted to Yale University despite a middling performance in prep school; was accepted to Harvard Business School despite a middling performance at Yale; was admitted to the Texas Air National Guard despite no flight background and an entrance exam score in the bottom quartile; was given funds by Osama bin Laden's father to start a failed oil company; and was chosen to serve as Texas governor and 43rd President of the United States despite a lifelong record of mediocrity, is a man with the moral authority to criticize affirmative action as a policy that gives opportunities to the undeserving.
Make no mistake: I believe that President Bush, just as he promised he would, has restored honor and integrity to the White House and united us as Americans.
A secret document obtained from inside Bush campaign headquarters in Florida suggests a plan - possibly in violation of US law - to disrupt voting in the state's African-American voting districts, a BBC Newsnight investigation reveals. Election supervisor Ion Sancho believes some voters are being intimidated.
Two e-mails, prepared for the executive director of the Bush campaign in Florida and the campaign's national research director in Washington DC, contain a 15-page so-called "caging list".
It lists 1,886 names and addresses of voters in predominantly black and traditionally Democrat areas of Jacksonville, Florida.
An elections supervisor in Tallahassee, when shown the list, told Newsnight: "The only possible reason why they would keep such a thing is to challenge voters on election day."
Ion Sancho, a Democrat, noted that Florida law allows political party operatives inside polling stations to stop voters from obtaining a ballot.
Mass challenges
They may then only vote "provisionally" after signing an affidavit attesting to their legal voting status.
Mass challenges have never occurred in Florida. Indeed, says Mr Sancho, not one challenge has been made to a voter "in the 16 years I've been supervisor of elections."
"Quite frankly, this process can be used to slow down the voting process and cause chaos on election day; and discourage voters from voting."
Sancho calls it "intimidation." And it may be illegal.
In Washington, well-known civil rights attorney, Ralph Neas, noted that US federal law prohibits targeting challenges to voters, even if there is a basis for the challenge, if race is a factor in targeting the voters.
The list of Jacksonville voters covers an area with a majority of black residents.
When asked by Newsnight for an explanation of the list, Republican spokespersons claim the list merely records returned mail from either fundraising solicitations or returned letters sent to newly registered voters to verify their addresses for purposes of mailing campaign literature.
Republican state campaign spokeswoman Mindy Tucker Fletcher stated the list was not put together "in order to create" a challenge list, but refused to say it would not be used in that manner.
Rather, she did acknowledge that the party's poll workers will be instructed to challenge voters, "Where it's stated in the law."
There was no explanation as to why such clerical matters would be sent to top officials of the Bush campaign in Florida and Washington.
Private detective
In Jacksonville, to determine if Republicans were using the lists or other means of intimidating voters, we filmed a private detective filming every "early voter" - the majority of whom are black - from behind a vehicle with blacked-out windows.
The private detective claimed not to know who was paying for his all-day services.
On the scene, Democratic Congresswoman Corinne Brown said the surveillance operation was part of a campaign of intimidation tactics used by the Republican Party to intimate and scare off African American voters, almost all of whom are registered Democrats.
I think even better than seeing John Edwards Sunday was talking to the best collection of people that area had to offer. I'm one of those people who can strike up a conversation with anyone so this gave me a whole crowd to work. I LOVED IT! Where I come from talking to complete strangers is considered normal, no one is a stranger for long. When I lived in Indiana, I got alot of strange looks for doing that but I made alot of friends too. My new found friends were ordinary working folks that some ignore but everyone has a story and I'm most comfortable around that group of people. Grocery clerks, gas station attendants, liberians....etc they are the kind that have the most facinating stories once you get them to open up. Conversation is kind of a lost art in America, we are all too busy to talk and meet each other. [...]
I met a Korean War vet who cried when I brought up Iraq. He said that Bush never should have sent our boys over there. He was wearing some VFW stuff so I asked him how things were at the VFW Hall. The Vet said they were divided over the the Iraq War and that there was always a lively discussion of it going on there often leading to arguements. The pro-war side was much larger last year but now has dwindled down to just a few diehards. He said he was ashamed to say that he did support the war at first because he believed the reasons we were told. When he got the impression that maybe things were not what they seemed, he went over to the local library and learned to do research on the internet. It was the first time in his life that he had ever used a computer. His wife first thought he was crazy when he started coming home with reports on what he had found out from reading foreign media reports. He said she now goes with him twice a week to the library to find out what our media won't tell us. They are getting a computer for each other for Christmas.
Back in the sunnier days of September, George W. Bush's political team was hoping that his lead would grow, as John Kerry was bedeviled by Swift boat ads questioning his Vietnam heroism and by taunting chants of "flip-flop." But Bush's clunky debate performances and weakening poll numbers mean it's time for Plan B.
Bush's Plan B looks to be a kind of "October/November Surprise," a coordinated strategy to suppress the vote in battleground states like Ohio and especially in Democratic strongholds. The heart of the plan will be to swarm the polls with Republican activists who will use challenges against individual voters to tie up the process, lengthen voting lines and cause time-strapped voters to give up and go home.
To some political historians, the scheme has the offensive smell of Jim Crow tactics used during the days of the segregationist South to keep African-Americans from voting. But the strategy has a more recent precedent, the disruption of recounts in Florida in November 2000 as Bush was clinging to a tiny lead.
To make sure that the recounts didn't change that result, the Bush campaign flew in Republican activists from Washington to stage noisy disruptions. One demonstration in Miami became known as "the Brooks Brothers riot," for the preppie clothes the rioters wore. With Republican demonstrators roughing up Democrats and storming the doors of the Dade County canvassing board on Nov. 22, 2000, the vote counters hastily abandoned their recount plans, effectively throwing out 10,750 uncounted ballots.
After their storm-trooper-style victory, the rioters celebrated at the Hyatt Regency Pier 66 in Fort Lauderdale, Fla. Crooner Wayne Newton sang "Danke Schoen," German for "thank you very much." Another highlight of the evening was a thank-you conference call from George W. Bush and Dick Cheney, who joked about the successful riot, according to the Wall Street Journal. [Nov. 27, 2000]
The tab for renting the hotel – $35,501.52 – was paid by the Bush-Cheney recount committee. [For details, see Consortiumnews.com's "Bush's Conspiracy to Riot."]
'October Surprises'
In preceding decades, there also has been a rich history of Republican "October Surprise" operations that have undercut the Democrats.
In 1968, for instance, historical records show that Richard Nixon condoned back-channel contacts with South Vietnamese leaders, promising them a better deal if they boycotted Paris peace talks called by President Lyndon Johnson. As South Vietnamese negotiators stayed away and Johnson's peace talks floundered in the days before the 1968 election, Nixon narrowly beat Vice President Hubert Humphrey.
Though Johnson was livid when he learned of Nixon's subterfuge, the Democrats kept quiet to avoid further dividing the country, according to former Johnson administration officials. The Vietnam War dragged on another four years as tens of thousands of more U.S. soldiers died as did hundreds of thousands of Vietnamese. [For an account of the 1968 case, see Robert Parry's Secrecy & Privilege: Rise of the Bush Dynasty from Watergate to Iraq.]
Nixon's success in 1968 may have contributed to his decision to undercut the Democrats again in 1972, when his political operatives waged a clandestine campaign to drive the strongest Democrats out of the race and to spy on the party's strategies. Nixon overreached, however, when a team of his burglars was caught planting bugs at the Democratic National Committee headquarters in the Watergate building.
Despite Nixon's ouster over the Watergate scandal -- the one time the GOP paid any serious price for a dirty trick -- the Republicans were back at it in 1980. This time, the Republicans were concerned that President Jimmy Carter might pull off his own "October Surprise" by managing to free 52 American hostages in Iran right before the election.
The evidence is now overwhelming that this fear led to a Republican operation – which included then-vice presidential candidate George H.W. Bush – to establish clandestine contacts with Iran's Islamic leaders. Those contacts, in turn, appear to have culminated in a secret deal for the American hostages to be released only after Carter lost to Ronald Reagan. [For details on this 1980 "October Surprise" case, including new incriminating evidence, see Secrecy & Privilege.]
In 1992, in a tough fight for reelection, the elder George Bush couldn't resist the temptation to try another "October Surprise." Trailing Bill Clinton in the polls, Bush ranted to his staff about the need to find information that would discredit Clinton. Under this White House pressure, State Department officials pawed through Clinton's passport file, looking for a rumored letter in which Clinton supposedly sought to renounce his citizenship.
Though no such letter turned up, assistant Secretary of State Elizabeth Tamposi drafted a baseless criminal referral, suggesting that a Clinton associate might have tampered with the file to remove damaging material. The criminal referral to the FBI was then leaked to the news media, enabling Bush to raise doubts about Clinton's loyalty.
Some Bush supporters went so far as to suggest that Clinton had been recruited by the Soviet KGB while a Rhodes scholar traveling in Eastern Europe over Christmastime 1969. But the Bush administration's passport gambit backfired, sparking an embarrassing campaign scandal that became known as Passportgate. [For details, see Consortiumnews.com's "Bushes Play the Traitor Card."]
Common Thread
The common thread through all these "October Surprise" cases is the determination of the Republicans to grab or hold onto power even if they must break the rules to do so. "First win and then worry about the consequences," their motto seems to be.
The Republicans also have found that the Democrats are hesitant to call them to account for campaign abuses that do come to light. The Democrats are either afraid of sore-loser charges or they believe that disclosure of the dirty tricks would undermine the American people's faith in the democratic process.
A key difference in the 2004 case, however, is that George W. Bush's campaign is being forced to reveal its plans before the election. As Kerry pulls even or ahead in some polls, the Bush campaign is finding itself with little choice other than to conduct this year's "October/November Surprise" out in the open.
Already, Republicans have challenged the eligibility of 35,000 voters in closely contested Ohio. The Republicans also have announced plans to send 8,000 activists to Ohio polling places to challenge newly registered voters. [Washington Post, Oct. 26, 2004]
The prospect is for these Election Day challenges to gum up the balloting, stopping not just questionable voters but also lengthening lines and extending wait times so many voters will grow discouraged and head home. Similar aggressive strategies to whittle down the Democratic vote have surfaced in Florida, another top battleground state.
Yet while these hardball tactics may succeed in depressing the Democratic vote, they also run the risk of reminding voters across the country about Bush's tainted victory in 2000. And unlike the Florida recount battle in November-December 2000, American voters can do something about what the Republicans are planning for this election: the voters can go to the polls on Nov. 2 and make the Republicans pay a price for what looks like voter suppression.
Indeed, maybe the only way to stop the GOP's historic pattern of "October Surprise" gambits is for American voters to demonstrate, once and for all, that messing with the people's right to vote won't be tolerated.
JEDDAH — Normally it is Washington that worries about stability in Arab countries.

These days, however, there is much official nail biting in Arab capitals over the threat of instability in the United States.

"What we are witnessing in the United States is their second civil war," says an Arab diplomat posted to Washington. "The difference is that this war is waged in the media, in churches, on the hustings, and inside many American homes."

That next week's presidential election is the closest in US history seems certain. What is causing concern in Arab and other capitals is that the intense passions unleashed by both sides could provoke instability and violence regardless of who wins.

Arab diplomats, speaking on condition of anonymity, claim that the Democrats, many of whom believe their party was robbed of victory in 2000, are determined to fight hard to dislodge President George W. Bush from the White House.

Fears that the "American street" might explode, in the fashion often attributed to the "Arab street," may well be exaggerated. But the possibility of US government becoming paralyzed for weeks, if not months, as a result of disputes over election results cannot be discounted.

Both President Bush and his Democrat challenger Sen. John Kerry start from a solid support base of around 40 percent of the electorate each. The remaining 20 percent consists of undecided or floating voters whose decision could affect the outcome in 12 states still up for grabs.

In the 2000 presidential election the closeness of the results in the state of Florida provoked a legal duel that was ultimately decided by the US Supreme Court. This time the experience of Florida could be repeated in many other states.

Both Republicans and Democrats have already set up legal headquarters in Florida, New Mexico, Arizona, Colorado, Nevada, Oregon, Wisconsin, Minnesota, Iowa, Ohio, West Virginia and New Hampshire. Most polls show the two candidates neck-and-neck in those states. That means the outcome could be decided by a few dozen or a few hundred votes. Some of the states have laws under which if the margin of victory is less than half of one percent a recount is automatically conducted. Others have no such laws, forcing the loser to take the matter to court on other grounds such as possible fraud.

The Florida fight in 2000 dragged on for more than a month. Similar fights in a dozen or more states could last longer. And that could put American decision-making on autopilot, so to speak.

"The prospect of the US being unable to take urgent decisions for months cannot be taken lightly," suggests an Arab diplomat. "Such paralysis could be dangerous in our region where the situation remains volatile. The war in Iraq, the dispute over Iran's nuclear ambitions, the UN fight with Syria over Lebanon, and the Israeli plan to withdraw from Gaza cannot be put on the backburner for months."

The calendar of events for the three months ahead is unusually full in the region.

• Three weeks after the American election Egypt will host an international conference, in Sharm al-Sheikh on the future of Iraq. A lame-duck US administration bogged down in domestic electoral disputes would lack the clout and he credibility to provide leadership.

• A few days after that the International Atomic Energy Agency will have to decide whether to refer Iran to the United Nations' Security Council for an allegedly illegal nuclear program.

• Also in November Hamed Karzai is scheduled to be sworn in as the first directly elected president of Afghanistan, and to form a new Cabinet. Again, the US is required to play a central role in bringing the rival factions together to ensure a smooth transition to a pluralist system in Kabul.

• Early in December UN Secretary-General Kofi Annan is scheduled to report on Syria's compliance with resolution 1559 that requires the withdrawal of foreign troops from Lebanon. Political paralysis in Washington could render action impossible, thus deepening the crisis in Lebanon.

• In January, Iraq is scheduled to hold elections for a Constituent Assembly to approve the draft of a new constitution for submission to popular vote in a referendum. The perception that the US is too pre-occupied with domestic electoral disputes to focus on Iraqi elections could encourage the forces that are fighting to disrupt the process of democratization in Baghdad.

• In February, Israel is expected to start withdrawing troops from Gaza. This would require American leadership in forming an international peacekeeping force.

If Bush wins the Democrats are certain to do all they can to delay the finalization of the results through litigation.

But even if Kerry wins, the transition might not be as smooth as in 2000. The Republicans are likely to retain control of the Senate; and that would give them the possibility of delaying the formation of a Kerry administration by vetoing his nominees for key posts.

"It may be exaggerated that we are biting our nails in worry," says an Arab official. "But we need contingency plans to cope with a situation in which the US is busy with its domestic fights."
Israeli troops withdrew today from the southern Gaza Strip refugee camp of Khan Younis, leaving behind a wide swath of destruction, officials said.
Troops killed 16 Palestinians and wounded 98 others in the raid, which began on Sunday night, to halt Palestinian mortar fire at nearby settlements.
The United Nations Relief and Works Agency said the army had destroyed 23 Palestinian homes during the raid. Also troops had ripped up roads, damaging the water and sewage pipes on the outskirts of the camp, witnesses said.
The army deliberately destroyed one of the houses, belonging to a Hamas militant, and others may have been damaged during the fighting, military officials said, speaking on condition of anonymity.
Early Tuesday, an Israeli aircraft shot a missile at a group of people, killing one Hamas militant and wounding seven other people, including two other militants, Palestinian hospital officials said. The military had no immediate comment.
Israel has told the United Nations to sack its expert on starvation after a report found that 22% of Palestinian children in the occupied territories are malnourished.
Itzhak Levanon, Tel Aviv's ambassador to the UN in Geneva, said on Monday that Swiss sociologist Jean Ziegler had exceeded his responsibilities by calling for political measures to be taken against Israel.
"He attacks Israel on every occasion and will start again at the UN General Assembly in two days' time. It's not the first time," Levanon said.
"We have asked the Commission on Human Rights to consider the possibility of ending his mandate."
Malnourished children
A UN Special Rapporteur on the Right to Food, Ziegler's latest report to be presented on Thursday shows that nearly a quarter of Palestinian children are malnourished and nearly half are dependent on food aid.
"Grave violations of the right to food have been recorded; they are clear," Ziegler said on Tuesday, adding there must be political pressure to affect a change.
He added that the European Union had one of the only means of pressure available to stop alleged violations of the Palestinians' right to food in the form of its association agreement with Israel.

EU political pressure
The agreement includes a clause which lays out respect for human rights as "an essential element" of the trade agreement. Ziegler said he had written to outgoing European Commission president Romano Prodi asking for the application of the clause.

Levanon said the UN rights expert had abused his mandate by calling on the EU to take measures against a sovereign state.

Israel has already called for the Swiss sociologist, who was appointed to the UN post in 2000, to be dismissed after he released a report on the situation in the occupied territories last year which was highly critical of the Israeli authorities.

The 53-member states of the UN Commission on Human Rights hold their annual assembly every spring.
THE former commander of the international peacekeeping force in Afghanistan warned today the surge in drug trafficking threatens to undermine stability there, calling it "the crocodile in the room".
But Lieutenant General Rick Hillier, the chief of staff of the Canadian army, acknowledged that curbing the drug trade will be difficult because the rewards for impoverished Afghans cultivating poppy far outweigh the risks.
"The drug issue, growing in an almost unconstrained manner, really threatens to be the crocodile in the room, and that could undermine the other efforts all throughout," he told reporters.
Lt-Gen Hillier, who commanded the NATO-led International Security Assistance Force (ISAF) from February to August, cited estimates that 3500 tons of opium are coming out of Afghanistan a year.
He described travelling through 50km of poppy fields on a visit to Fayzabad, the capital of Badakshan in northeastern Afghanistan.

"The problem is there is no easy solution to it. You simply can't go in and just eradicate. Because if you do, this is in fact, for many people it's a matter of survival."
He called for a comprehensive approach combining economic development with more effective policing aimed first at curbing the growth in opium production, and then reducing it.
Members of the Afghan government understood the stakes involved, he said.
"They believe that in the next six to 12 months if that drug production continues to grow in an unrestrained manner it is going to affect the international investment coming into that country," he said.
The drug trade also is a factor in dealing with two other threats to stability in Afghanistan, warlords and the Taliban and al-Qaeda extremists, who he said were "severely beaten but not broken".
"And unfortunately, worrying to us, we saw the links between all those pieces of threats I've talked about," Lt-Gen Hillier said.
Is Guilt Obsolete?
Published on Thursday, September 16, 2004 by CommonDreams.org
by Lisa Martinovic
Now that the various Abu Ghraib commissions have finished their unseemly tap dance around the assignation of blame, it's time to explore some of the subtler, far-reaching implications of the "scandal."

Before Abu Ghraib, before Fallujah, in fact just weeks before the whole shock and awe campaign was to launch, came news of a preemptive strike -- on memory. The stealth attack was initiated by clever scientists who thought not of a cure for infectious greed, or a vaccine against the plague of moral relativism, but instead prepared to market a pill that will help us forget what we cannot bear to remember.

To the unimpeded brain, painful memories provoke responses as varied as solemn reflection, incapacitating fear, or self-imposed exile to the bleak landscape of guilt and regret -- depending on our role in the precipitating event.

But with a very off-label use of the beta-blocker propranolol, doctors can stop the emotions associated with a traumatic event from embedding in the brain where they otherwise act like land mines; every time they're triggered, an explosion of memories forces us to relive the grief we suffered … or inflicted.

Scientists seeking to spare the rape victim her trauma forgot that what's good for the victim is good for the perp, forgot there might be a downside to sealing off access to a conscience -- the very capacity that defines us as human and endows us with compassion and empathy. Imagine: our internal moral compass, painstakingly honed by evolutionary forces over millennia, circumvented by one little pill.

And wouldn't this pharmacological end-run come in handy during the preemptive wars of the future? Handy for any soldier not sufficiently amputated from his emotions by military hardening and pre-battle infusions of sado-porn and methamphetamine; useful for those medics who cannot block the acrid stench of charbroiled flesh; and essential for the Special Forces operative who's not far enough away from collateral or intentional damage to pretend that this strike was surgical and he a mere technician.

So if he's close enough, and sober enough, his senses not dulled enough to keep him from taking in the enormity of his deed, he can instead take the warring-after pill and feel no pain, suffer no remorse, believe he was just doing his duty. He'll go home PTSD-free, kiss his wife, and get on with his life. He may still father deformed children and die of cancer the VA insists is unrelated to depleted uranium, but by God he'll die with no regrets at all.

But that was before shock and awe, before Fallujah, and before Abu Ghraib where American soldiers and their digital cameras proved that there was no big bonanza for the pharmaceutical companies because among the perpetrators there was no guilt that needed to be medicated, nor memories to be short-circuited.

To the contrary, the offending troops were so unconcerned with the legality and morality of their behavior that they chose to immortalize it, gleefully sharing those memories with friends and family. Pfc. Lynndie England apparently spoke for many when she testified to her belief that she had done nothing wrong. (It's not like we were beheading anyone.) Likewise, for Rush Limbaugh and a startling number of Americans, the whole episode was on par with a fraternity prank, little more than light amusement for the troops. Others among us pray that those same troops will someday discover that you can't dehumanize your enemy without diminishing your soul.

And those further up the chain of command? Apparently, if all you did was order the torture, or look the other way, or sign a Presidential Directive authorizing it in the name of national security, well you've got no trauma to get over, do you?

And, perhaps, no soul to wound.

In the end, we are all being poisoned by a culture that breeds generals who boast our god is better than theirs; a nation where lawyers are paid good money to decide who is eligible for civil rights and who for torture; and a press corps that laughs along with a president who jokes about not finding the weapons of mass destruction he dreamed up to justify a war he can't win.

In such a culture that little pill for guilt is obsolete.

Because we're Americans.

We have no regrets.

We're in a war on terror and our humanity is just so much collateral damage.

The use of memory-blunting pharmaceuticals has not been much reported, though it deserves to be. Even the President's Council on Bioethics has concerns. Check them out at http://www.bioethics.gov/reports/beyondtherapy/chapter5.html
As the British Government has approved sending its soldiers north to free up the US Army to attack Falluja, it is necessary to focus on what this coming onslaught will mean for the city and its people.
Falluja is already being bombed daily, as it is softened up for the long-awaited siege. It has been a gruelling year for its people. First, they were occupied by the US Army's 82nd Airborne, an incompetent group of louts whose idea of cultural sensitivity was kicking a door down instead of blowing it up. Within eight months of the invasion, the 82nd had killed about 100 civilians in the area and lost control of Falluja, leaving it to the US marines to try to retake the city last April.
After killing about 600 civilians, the marines retreated, leaving the city in the hands of 18 armed groups, including tribesmen, Islamists, Baathists, former criminals and an assortment of non-Iraqi Arab fighters.
Fallujans have now been offered a choice: hand over the outsiders they dislike (mostly Arabs) who are protecting them from the outsiders they really hate (the Americans), or get blown apart by the world's most lethal killing machine, the US marines.
Today, many Fallujans are tired even of their own mujahideen, but trust the US Army even less, and with good reason. Recently, a Bush Administration official told The New York Times the bombing was driving a wedge between the citizenry and the non-Iraqi fighters. If, indeed, the civilian population is being bombed for this end, this is a grave war crime.
Last April I found myself inching across a bridge into Falluja holding an old white T-shirt: in front of me, marines blocking the bridge, screaming at me to go back; behind me, Iraqis yelling at me to go forward so they could follow and rescue their families.
After a while, the marines opened the bridge, allowing hundreds of women and children to stream out, but stopped boys older than 16 and men younger than 60. Preventing civilians from leaving a battle is against the Geneva conventions - although battle doesn't capture what a meat grinder the city had become in that first week of the assault, when most civilian casualties were blown apart by precision, and often inaccurate, air strikes.
Falluja's doctors told me of "multiple blast wounds, lost limbs, abdomens blown open". Under the Geneva conventions, force must be proportionate and when these images appeared on Arabic TV - dead families stacked on top of each other - it looked anything but proportionate; it looked like mass murder. Against the advice of the marine commanders, the White House ordered a ceasefire. The resistance regrouped, re-supplied itself and fought on.
I made it back into Falluja in the second week of fighting using fake Iraqi ID.The countryside from Ramadi east to Falluja and then to Baghdad was in revolt. We had to pass through resistance lines to get to the marines and then through insurgents to get into the city. It was the marines who were surrounded, not the rebels. This is why the US needs British troops to free up its soldiers.
The US has more than enough troops to attack Falluja, but as soon as they do the area will once more erupt, and it will take everything the Americans have to control surrounding villages. The Iraqi President, Ghazi al-Yawar, has said there is a good chance that when the marines hit Falluja again, even Mosul, home to 3 million Sunnis, will explode.
The third time I went into Falluja mujahideen were busy attaching wires to bombs on street corners. Today the city is one giant improvised explosive device. But it is the snipers the people of Falluja fear more than anything else.
There is no doubt the marines can take the city. But the US has a habit of winning engagements while losing the war - while breaking the laws of war. This is what Britain's redeployment will help to unleash
CAIRO, Egypt — A video on a militant Islamic website today showed a captive it said was a Japanese man kidnapped by Abu Musab al-Zarqawi's group and threatened to behead him within 48 hours unless Japan pulls its troops from Iraq.
The man, who appeared in a white T-shirt, was identified only as someone connected to the Japanese armed forces. He spoke briefly in English and Japanese, before one of three masked militants standing behind him read a statement.
"They want to withdraw the Japanese troops from Iraq or cut my head," the man said.
One of the militants said Japan had 48 hours with withdraw the troops, "otherwise his fate will be the same as his predecessors, Berg and Bigley and other infidels," referring to the beheadings of British engineer Kenneth Bigley and U.S. businessman Nicholas Berg.
The video bore the logo of Al Qaeda in Iraq, the new name for al-Zarqawi's group, which has claimed responsibility for the beheadings of Bigley and Berg, as well as numerous car bombings and other attacks.
In Iraq, 380 tons of powerful explosives have been looted and may have fallen into the hands of insurgents. In an effort to deflect blame, administration officials are pushing the theory that when "U.S. forces...reached the Al Qaqaa military facility in early April 2003, the weapons cache was already gone."1 This theory is not credible.
According to an AP report, U.S. solders visited the Al Qaqaa in April 2003 and "found thousands of five-centimetre by 12-centimetre boxes, each containing three vials of white powder."2 Officials who tested the powder said it was "believed to be explosives."3 Yesterday, "an official who monitors developments in Iraq" confirmed that "US-led coalition troops had searched Al Qaqaa in the immediate aftermath of the March 2003 invasion and confirmed that the explosives, which had been under IAEA seal since 1991, were intact."4 Thereafter, according to the official, "the site was not secured by U.S. forces."5
It makes sense that the explosives were there when the U.S. solders arrived because, as the LA Times notes, "given the size of the missing cache, it would have been difficult to relocate undetected before the invasion, when U.S. spy satellites were monitoring activity."6
Sources:
1. "White House Downplays Missing Iraq Explosives," Los Angeles Times, 10/26/04.
2. "U.S. troops find signs of chemical readiness," Associated Press, 4/05/03.
3. Ibid.
4. "380 tons of explosives missing in Iraq," Associated Press, 10/25/04.
5. Ibid.
6. "White House Downplays Missing Iraq Explosives," Los Angeles Times, 10/26/04.
Before invading Iraq, the Bush administration knew that a huge facility, called Al Qaqaa, contained nearly 380 tons of deadly explosives.
They knew exactly where this facility was and what was there. But they took no action to secure or protect the site.
Due to the stunning incompetence of the Bush administration and their incomprehensible failure to plan, those explosives have now somehow disappeared (380 TONS! POOF!).
Those explosives could be used in major bombing attacks against American or Iraqi forces. The explosives, mainly HMX and RDX, could be used to produce bombs strong enough to shatter airplanes or tear apart buildings. The bomb that brought down Pan Am Flight 103 over Lockerbie, Scotland, in 1988 used less than a pound of the material of the type stolen from Al Qaqaa, and somewhat larger amounts were apparently used in the bombing of a housing complex in November 2003 in Riyadh, Saudi Arabia, and the blasts in a Moscow apartment complex in September 1999 that killed nearly 300 people.
There were "only" 760,000 pounds of this material at Al Qaqaa.
The International Atomic Energy Agency publicly warned about the danger of these explosives before the war, and after the invasion it specifically told United States officials about the need to keep the explosives secured, European diplomats said in interviews last week. (NY Times, today)
But: on freerepublic.com, the Republican blog site, I picked up this morning:
"We need to get on this one fast, people. Start smearing the NYT, smear the reporter, and focus on the WMD angle. This could be bad...reinforces the Dem media narrative that we didn't plan the war carefully. We need to silence this, fast! WHERE'S OUR SURPRISE!!??!!??"
That's the spirit! Yes, we know who the Republicans are. They don't care enough to even be concerned about what the threat might be to our soldiers.
I'm beginning to learn how to laugh uncontrollably and sob uncontrollably at the same time. I have never imagined, let alone seen in my life, that there could be such a simultaneous, mind-blowing display of hubris, ignorance, incompetence, arrogance, and just plain moron-level " intelligence".
The truth is coming out. It's available to anyone willing to ask a question. An astonishing 48% of the US electorate, it seems, is going to vote for the person in charge. Yet the media still haven't had a "field day" on this kind of information. I don't know which is more tragic.
BIOLOGICAL weapons that target selected ethnic groups could become part of the terrorists' arsenal unless governments and scientists act now, the British Medical Association warns.
Such designer weapons would be based on the growing ability of scientists to unravel and compare human DNA.
In theory, experts could engineer organisms to attack genetic variations commonly found in, say, Chinese or German populations.
Genetically engineered anthrax, smallpox and polio viruses are also "approaching reality", the BMA claims in a new report, Biotechnology, Weapons and Humanity II.
The report, released yesterday in London, adds that organisms designed to attack food crops and even human immune and nervous systems are serious threats.
For instance, the agent used by Russian authorities to end the Moscow theatre hostage crisis in 2002, a fentanyl derivative, is an example of a "bio-regulator" targeted against the human nervous system.
"All of the above are feasible or possible if anyone would be mad enough or evil enough to do it," commented University of Melbourne immunologist Sir Gus Nossal.
"There already exist potential biological weapons of enormous destructive power, chief among them smallpox and anthrax," added Professor Emeritus Nossal, who in 1979 announced the eradication of smallpox on behalf of the World Health Organisation.
He agreed with BMA head of science and ethics Vivienne Nathanson that, "If we wait too long it will be virtually impossible to defend ourselves (against biological weapons)".
According to the BMA report the "window of opportunity" to control the spread of powerful biological weapons is shrinking fast.
That's so, said the report's author, Malcolm Dando of Britain's Bradford University, because "the same technology being used to develop new vaccines and find cure's for Alzheimer's and other debilitating diseases could also be used for malign purposes".
Professor Dando said it was essential that governments worldwide beef up the international Biological and Toxin Weapons Convention when it comes up for review in 2006.
The BTWC prohibits signatory states from acquiring biological weapons and means of delivery them.
But eminent Australian microbiologist Frank Fenner questioned the effectiveness of the BMA recommendations.
"It's all very well to say governments ought to adhere to these suggestions, but they didn't adhere to them before and even now the US Government says it's not going to take any notice of the (BTWC)," he said.
According to Emeritus Professor Fenner -- who was central to the development of myxoma virus to control rabbits, as well as the WHO smallpox eradication campaign -- public health strategies designed to respond to biological weapons such as smallpox are more likely to be effective.
In Canberra, a spokesman for the Department of Foreign Affairs and Trade said Australia signed the BWTC in 1972 and ratified it in 1977.
ESSEX, Vt. (AP) - Local, state and federal agents met Tuesday with their Canadian counterparts for one of the first cross-border terrorism drills between the two countries.
They were trying to work through the details of how they would respond if a weapon of mass destruction were to be used along the Vermont-Quebec border. "We know how porous our border is," said police Lieut. Dan Begiebing, the commander of the St. Albans barracks, which covers the border with Quebec in Franklin County.
"It's something we take very seriously. Is Vermont a target? I don't think so. Could Vermont be a corridor (between Canada and the United States)? Absolutely," Begiebing said.
More than 150 people from Vermont and Quebec participated in the daylong meeting called Operation Border Safe. They spent the day responding to a mock incident that was played out on screens with audiovisual equipment.
"If they have to make a very fast-moving decision on either side of the border, how would they do that?" Marcel Savard, the head of the counterterrorism branch of the Quebec Provincial Police, said before the exercise began.
Participants worked through the difficulties that would follow an attack along the border, such as whether local firefighters or police can cross the border to respond to an attack on the other side.
And it goes beyond just firefighters and police. Legal teams from the U.S. attorney's office and the Vermont attorney general's office were there to answer legal questions.
The Department of Homeland Security has authorized similar exercises for all 16 states along the U.S.-Canadian and U.S.-Mexican borders. The Vermont exercise was the first.
The scenario that was played out at the Inn at Essex was developed by police and other agencies who work along the border and are aware of the threats they could face. But officials would not describe the specifics of the mock attack out of security concerns.
The Department of Homeland Security's Office of Domestic Preparedness paid about $75,000 US for the cost of the exercise. The Vermont State Police paid to rent the room where the exercise took place.
And as much as the mechanics of responding to an attack, the exercise gave officials on both sides of the border a chance to get to know each other.
Under existing law and practice, fire departments routinely cross between Vermont and Quebec to fight fires, but police and border agents from the United States cannot carry their weapons into Canada.
Savard said officials were considering a full-scale field exercise in the spring. [...]
Windsor, Ont. — Investigators say a man apparently stabbed himself, set himself on fire and then "intentionally" crashed a burning truck into a Children's Aid Society building on Tuesday.
The blazing pickup slammed into the front of the newly built facility just an hour before children and their families usually arrive at the centre.
"Oh, this was intentional," said Staff Sgt. Gerry Corriveau after surveying the wreckage. "He was trying to blow up the building."
Police and fire officials said the driver and his blue Ford pickup were already in flames when the truck smashed into the four-storey building's north facade around 7:30 a.m. causing $1.5 million in damage.
"The truck was on fire prior to its impact," Staff Sgt. Corriveau said. "In fact, the driver was on fire as well."
Nobody was hurt other than the driver, who was badly burned and is listed in critical condition.
Staff Sgt. Corriveau said only six employees were inside at the time of the crash.
After lining the truck's bed with aerosol spray cans and two gasoline cans, the 49-year-old driver lit a pair of propane tanks inside the truck's cab, police said.
He then sped toward the glass-walled building, but the truck didn't explode on impact.
The man suffered second-degree burns to 20 per cent of his body. He also stabbed himself at some point during the ordeal, said the head of the Windsor police arson unit.
"He's got what appears to be a self-inflicted stab wound to the side," said Staff Sgt. Stefan Kowal.
Police had yet to locate the knife as they were waiting for a warrant to search the truck's interior, Staff Sgt. Kowal said.
Staff Sgt. Corriveau said police had "some indication that the person involved was an ex-employee of the Children's Aid Society."
Local CAS executive director Bill Bevan would not divulge the man's name, but said he worked well with youngsters, with whom he sometimes lived in CAS-rented apartments.
"This person was a well-respected employee," said Mr. Bevan, who did not know what prompted incident. "We don't have any early guesses around that. Let's hope the individual survives, and they can tell their story and we can find out why they would ever think to do this."
SPRINGFIELD, Mo. - A small private plane crashed while approaching the airport here, killing two of three people aboard and seriously injuring the survivor, officials said.
The single-engine Cessna 182, which seats up to six people, was en route from Oklahoma to the Springfield-Branson Regional Airport when it crashed about a half-mile away Tuesday night, said Tony Molinaro, a spokesman for the Federal Aviation Administration in Chicago. The cause was not known.
Three people were aboard; two were killed and one was seriously injured, Molinaro said. Cox South hospital would not release that person's condition late Tuesday night. The crash victims were not immediately identified.
Gary Cyr, acting director of aviation at the airport, said the plane was trying to land when it crashed in a farm field.
"It appears that it hit trees initially, and then it hit the ground," Cyr said. He said the aircraft broke in half.
Cyr said there was no indication that anyone had radioed to report a problem.
Also Tuesday, a small airplane crashed in the woods in the central Wisconsin town of Marion, killing both people aboard. Authorities indicated the victims were a man and woman in their 50s from central Minnesota.
Investigators said the aircraft had filed a flight plan with the Minneapolis Air Traffic Control Center.
TOKYO (AP) - A 6.0-magnitude earthquake hit a quake-ravaged area of northern Japan on Wednesday, officials said. No injuries or damage were immediately reported.
The Japan Meteorological Agency said the quake was centred at a depth of 10 kilometres. The quake hit the same area where a 6.8-magnitude quake and a series of strong aftershocks struck Saturday, killing at least 31 people and injuring some 2,500.
The quake, which hit at 10:40 a.m. was strong enough to sway buildings in the Japanese capital.

The mystery of which fault line shifted to trigger the devastating earthquake in Niigata Prefecture on Saturday is gradually becoming clear. By closely studying the aftershocks and crustal movements, experts now suspect the Muikamachi fault line south of the quake's epicenter was the first to spur the jolt.
That fault had just caught the attention of researchers in August, when the Headquarters for Earthquake Research Promotion added it along with 10 others to its list of faults that need to be closely watched.
The state body said those 11 faults could cause potentially devastating earthquakes with a magnitude of 7 on the Richter scale.
A group of faults runs under the area near the epicenter of Saturday's quake.
Experts estimate the location of underground faults by mapping the aftershock area. Aftershocks from Saturday's quake stretch from south-southwest to north-northeast along the Uonuma hills, sandwiched by the Muikamachi and Tokamachi fault lines.
It was not clear if the Muikamachi fault slopes downward toward the east or the west.
But from crustal movement data provided by the Geographical Survey Institute, researchers now believe the fault line slopes from east to west-making it the likely source of the quakes that began Saturday.
The Muikamachi fault stretches north to an area on the eastern lower half of the aftershock area, but researchers are not sure how far the fault line extends north.
"We estimate the Muikamachi fault line stretches further north from the northern end of the already-known fault line,'' said Masakazu Otake, who heads the Coordinating Committee for Earthquake Prediction.
The Japanese archipelago lies in an area where the Continental Plate is pushing back westward pressure from the Pacific Ocean Plate.
Fault lines in Japan are active because the force from the Pacific Ocean Plate slips under the Continental Plate, pushing the Earth's crust around the faults.
The erosion of the crust led to the extraordinarily strong and frequent aftershocks.
Inland quakes and aftershocks tend to have shallow focuses, usually where a tectonic plate is thin at its edge.
The Japan Meteorological Agency says it may take about a week for the aftershocks to calm down.
Mass e-mails are annoying, but this one could be deadly.
A message getting wide circulation on the Internet has alarmed rescue experts, who say it offers misleading and dangerous advice about what to do in an earthquake.
It says that when the shaking starts, you should lie down next to something heavy and strong rather than duck under it. That is where a "triangle of life'' will supposedly form if the building collapses -- a void where you can be safe.
"Everyone who simply 'ducks and covers' when buildings collapse is crushed to death -- every time, without exception,'' says the e-mailed advice from self-styled rescue expert Douglas Copp. "People who get under objects, like desks and cars, are always crushed.''
However, people who study survival in quakes -- and those who dig survivors out -- say this is not true. They say "duck and cover'' is still the best practice, Copp is not credible, and people who follow his advice are putting themselves at more risk of being injured or killed.
Capt. Larry Collins, a search-and-rescue specialist with the Los Angeles County Fire Department, said he has been peppered with calls and e-mails from city and school officials who wonder whether Copp is for real.
"It's a serious public safety concern at this point,'' he said. "I'm really surprised he's been allowed to go this far.''
Not only is Copp's message dangerous, Collins said, but Copp himself is a danger at disaster scenes, where he poses as a rescue worker and tries to talk his way past the barricades.
Copp, 53, says his American Rescue Team International is "the world's most experienced rescue team.'' He claims to have crawled inside 875 collapsed buildings and worked with rescuers from 60 countries.
However, a series of articles last summer in the Albuquerque Journal questioned Copp's credentials and experience, including the assertion that he had been injured while rescuing people from the World Trade Center collapse.
Rep. Tom Udall, D-N.M., has asked the Justice Department to investigate whether Copp acted fraudulently in collecting more than $649,000 from the fund set up to compensate victims of the Sept. 11 attacks.
"Doug Copp? Stand clear,'' said Harold Schapelhouman of the Menlo Park Fire Protection District, who leads one of the Bay Area's three urban search-and-rescue teams. "This guy is causing us so many problems with people who are now questioning what to do. I wouldn't hold his credibility very high.'' [...]
A powerful Alaskan storm began sweeping across California on Tuesday, flooding homes in San Francisco, cutting power to thousands and leading to a record-breaking snowfall in the Sierra.
The University of California, Berkeley's Central Sierra Snow Lab reported that 48 inches of snow have fallen this month at Soda Springs by Tuesday afternoon, the most at the site for October since it began keeping records in 1945. That eclipsed the previous record of 36 inches in 2000.
Many Sierra ski resorts were reporting their earliest openings in years.
"It's snowing like a son of a gun," said Norm Sayler, owner of Donner Ski Ranch at 7,200-foot Donner Summit, just up the highway from the snow lab.
A surprise storm last week already had dumped 2-to-3 feet of snow.
The storm is expected to linger through Thursday, dropping several inches of rain across the state and 2 feet of snow or more in the mountains. The National Weather Service forecast called for intense rain in Southern California, prompting flash flood warnings and fears of mudslides in mountain areas scarred by wildfires over the past year. [...]
The Met Office has issued a flood alert as Ireland prepares for gale-force storms and heavy rains in the coming days.
The eastern and southern coasts are expected to be worst-hit by the storm, which will be exacerbated by high tides.
Met Eireann said the combination of these two factors and a low-pressure system approaching the south-west coast would create a high risk of floods.
ROOFS were torn from sheds, houses damaged, silos toppled, and trees uprooted when a heavy storm buffeted southern Queensland overnight.
Counter Disaster and Rescue Service acting Toowoomba area manager Bob Bundy said the storm began battering the Darling Downs towns of Millmerran, Tara, Elton, Clifton and Dalby - all west of Toowoomba - about 7pm (AEST) - refusing to let up for three hours.
He said Tara was the worst hit, struck by strong winds and heavy hail which left several roads closed by debris.
Six emergency service volunteers had worked for most of the night in Tara, while 10 were now clearing debris from roadways and houses.
"There is apparently a huge number of trees down, damage to sheds and that sort of thing," he said.
So far only two houses had been reported to have suffered minor damage during the storm.
But he said calls were still coming in from people who had only just assessed the damage to their properties.
STRONG winds and heavy rain in Melbourne have kept State Emergency Service crews busy, with about 100 calls for help this morning.
Heavy rain overnight and this morning, and south-westerly winds gusting up to 80km/h, had resulted in roof damage, mainly to homes in Melbourne's east, SES spokesman Peter Cocks said.
"Our volunteers are out there ... having a lot of people being affected by this heavy rain," Mr Cocks told radio station 3AW today.
"And of course, just to make it worse, the strong winds that are crossing Melbourne ... are creating a different range of hazards, with tree branches and trees being blown on to roads and lots of other debris flying around." [...]
A top NASA climate expert who twice briefed Vice President Dick Cheney on global warming plans to criticize the administration's approach to the issue in a lecture at the University of Iowa tonight and say that a senior administration official told him last year not to discuss dangerous consequences of rising temperatures.
The expert, Dr. James E. Hansen, director of the NASA Goddard Institute for Space Studies in Manhattan, expects to say that the Bush administration has ignored growing evidence that sea levels could rise significantly unless prompt action is taken to reduce heat-trapping emissions from smokestacks and tailpipes.
Many academic scientists, including dozens of Nobel laureates, have been criticizing the administration over its handling of climate change and other complex scientific issues. But Dr. Hansen, first in an interview with The New York Times a week ago and again in his planned lecture today, is the only leading scientist to speak out so publicly while still in the employ of the government.
In the talk, Dr. Hansen, who describes himself as "moderately conservative, middle-of-the-road" and registered in Pennsylvania as an independent, plans to say that he will vote for Senator John Kerry, while also criticizing some of Mr. Kerry's positions, particularly his pledge to keep nuclear waste out of Nevada.
He will acknowledge that one of the accolades he has received for his work on climate change is a $250,000 Heinz Award, given in 2001 by a foundation run by Teresa Heinz Kerry, Mr. Kerry's wife. The awards are given to people who advance causes promoted by Senator John Heinz, the Pennsylvania Republican who was Mrs. Heinz Kerry's first husband.
But in an interview yesterday, Dr. Hansen said he was confident that the award had had "no impact on my evaluation of the climate problem or on my political leanings."
In a draft of the talk, a copy of which Dr. Hansen provided to The Times yesterday, he wrote that President Bush's climate policy, which puts off consideration of binding cuts in such emissions until 2012, was likely to be too little too late.
Actions to curtail greenhouse-gas emissions "are not only feasible but make sense for other reasons, including our economic well-being and national security," Dr. Hansen wrote. "Delay of another decade, I argue, is a colossal risk."
In the speech, Dr. Hansen also says that last year, after he gave a presentation on the dangers of human-caused, or anthropogenic, climate shifts to Sean O'Keefe, the NASA administrator, "the administrator interrupted me; he told me that I should not talk about dangerous anthropogenic interference, because we do not know enough or have enough evidence for what would constitute dangerous anthropogenic interference."
After conferring with Mr. O'Keefe, Glenn Mahone, the administrator's spokesman, said Mr. O'Keefe had a completely different recollection of the meeting. "To say the least, Sean is certain that he did not admonish or even suggest that there be a throttling back of research efforts" by Dr. Hansen or his team, Mr. Mahone said.
Dr. Franco Einaudi, director of the NASA Earth Sciences Directorate at the Goddard Space Flight Center in Greenbelt, Md., and Dr. Hansen's supervisor, said he was at the meeting between Dr. Hansen and Mr. O'Keefe. Dr. Einaudi confirmed that Mr. O'Keefe had interrupted the presentation to say that these were "delicate issues" and there was a lot of uncertainty about them. But, he added: "Whether it is obvious to take that as an order or not is a question of judgment. Personally, I did not take it as an order."
Dr. John H. Marburger III, the science adviser to the president, said he was not privy to any exchanges between Dr. Hansen and the administrator of NASA. But he denied that the White House was playing down the risks posed by climate change.
"President Bush has long recognized the serious implications of climate change, the role of human activity, and our responsibility to reduce emissions,'' Dr. Marburger said in an e-mailed statement. "He has put forward a series of policy initiatives including a commitment to reduce the greenhouse gas intensity of our economy.''
In the interview yesterday, Dr. Hansen stood by his assertions and said the administration risked disaster by discouraging scientists from discussing unwelcome findings.
Dr. Hansen, 63, acknowledged that he imperiled his credibility and perhaps his job by criticizing Mr. Bush's policies in the final days of a tight presidential campaign. He said he decided to speak out after months of deliberation because he was convinced the country needed to change course on climate policy.
Dr. Hansen rose to prominence when, after testifying at a Senate hearing in the record-warm summer of 1988, he said, "It is time to stop waffling so much and say the evidence is pretty strong that the greenhouse effect is here."
NEVADA -- Eyewitness News has learned that the illness that has plagued the Flamingo hotel and casino is the norovirus. We were the first to tell you about the spreading illness at the hotel. And Tuesday, the health district told us that they've had as many as 250 unconfirmed cases of norovirus -- most were Flamingo employees, and some were guests.

The Flamingo says they will fog all the 3,500 rooms in the hotel with an anti-viral chemical. They will also leave a letter in each room telling new guests about the situation.

Norovirus is spread by humans, after being picked up by fecal-oral contact. Washing hands after using the restroom is a critical preventive measure.

The hotel is aggressively cleaning the property and is using foggers to spray a sanitizer in the air to penetrate hard to clean surfaces.
The biotechnology revolution is even shaking up the pet world.
First came a cloned cat. Then came the fish genetically engineered to glow.
Now, a Los Angeles company plans to strike it rich by exploiting the latest in biotechnology to create cats genetically engineered to be nearly free from the allergy-causing proteins that plague millions of people.
Allerca Inc. president Simon Brodie said by 2007 the company will use "RNA interference" to "silence" a gene in cats that produces the irritant, which is excreted through saliva and the skin.
Scientists researching everything from cancer to crops are using RNA interference to silence genes to create drugs, gene-searching tools and even a new way of decaffeinating coffee.
Now Brodie hopes to bring that same promise to the cat world and eliminate the need for allergic cat lovers to receive symptom-reducing shots while encouraging others put off by the allergy to buy a pet for the first time.
The company is now accepting $350 deposits for the British Short Hair breed of cats it plans to charge $3,500 a piece for in the United States and $10,000 each in Japan. Brodie said he hoped to ultimately sell about 200,000 of the genetically engineered cats a year. The four-person company has yet to engineer any cats, which will be spayed and neutered to prevent breeding with naturally born felines.
Using the genetically engineered pet fish as a guide, Brodie said he doesn't expect to run up against federal regulators. Neither the Department of Agriculture or the Food and Drug Administration stepped into regulate the Florida-bred GloFish - a common zebra fish that has been implanted with a fluorescent sea anemone gene - because it wasn't meant for human consumption.
Federal regulators with the two agencies couldn't be reached late Tuesday.
"Obviously, things can change," Brodie said. "But as long as people don't start eating cats and they don't enter the food chain, then we should be handled like the GloFish."
YAXCOPOIL, Mexico (Reuters) - One minute you're a big T-Rex, the next you're toast.
Challenging conventional theory, new scientific research suggests the dinosaurs may have been scorched into extinction by an asteroid collision 65 million years ago that unleashed 10 billion times more power than the Hiroshima nuclear bomb.
Earth's temperatures soared, the sky turned red and trees all over the planet burst into flames, said atmospheric physicist Brian Toon of the University of Colorado.
Among the few survivors would have been animals living in water or burrowed in the ground like turtles, small mammals and crocodiles.
"Essentially, if you were exposed you were broiled alive. That is probably what happened to the dinosaurs. They were big creatures that didn't have anywhere to hide," said Toon.
Scholarly debate over how the dinosaurs died is fierce and the theory put forward by Toon and others adds one more twist to the greatest forensic mystery of all time.
Despite opposition from some scientists, the idea that the dinosaurs were killed by an asteroid that slammed into Mexico's Yucatan peninsula has won general acceptance since it was first mooted in the early 1990s.
Under that argument, academics say the giant reptiles mostly froze or starved to death when a huge cloud of particles kicked up by the meteorite blocked the world's sunlight for months.
But Toon, the co-author of a study published in the Geological Society of America Bulletin in May, reckons the dinosaurs' end was even more dramatic.
Creatures living near ground zero would have been vaporized immediately while those in the Caribbean area and southern United States would have drowned in 330-feet-high (100-metre) tsunamis when the asteroid impacted near today's Gulf of Mexico shoreline at a speed of 33,750 mph (54,000 kph).
Then, a column of red-hot steam and dust soared thousands of miles (km) into space and most of it fell back toward Earth within a few hours, turning the heavens into hell.
GIANT FIRE
"The entire sky would be radiating at you. It would be like standing next to a giant fire; you'd be burned very severely," Toon said, whose research is based on mathematical and computer models.
Land dinosaurs all around the world perished from the intense heat of several hundred degrees Fahrenheit, said Toon.
He agrees with other scientists that the dust cloud later cooled and blocked out the sun, but says the land dinosaurs were already history by that time.
The darkness finished off many of the remaining marine reptiles and fish by killing plankton and disrupting the food chain, said Toon. [...]
Readers who wish to know more about who we are and what we do may visit our portal site Cassiopaea.org
---
Remember, we need your help to collect information on what is going on in your part of the world!
We also need help to keep the Signs of the Times online.
---

Check out the Signs of the Times Archives

Send your comments and article suggestions to us

---
Fair Use Policy
Contact Webmaster at signs-of-the-times.org
Cassiopaean materials Copyright ©1994-2014 Arkadiusz Jadczyk and Laura Knight-Jadczyk. All rights reserved. "Cassiopaea, Cassiopaean, Cassiopaeans," is a registered trademark of Arkadiusz Jadczyk and Laura Knight-Jadczyk.
Letters addressed to Cassiopaea, Quantum Future School, Ark or Laura, become the property of Arkadiusz Jadczyk and Laura Knight-Jadczyk
Republication and re-dissemination of our copyrighted material in any manner is expressly prohibited without prior written consent.