Printer Friendly Version
New! Article - 911 Eye-witnesses
New! Article - High Strangeness
New! Article - The Blair Belief Project
New! Pentagon Strike Flash Presentation by a QFS member
Picture of the Day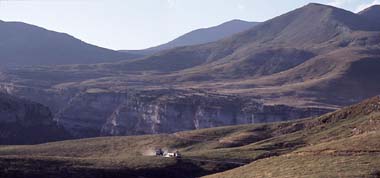 High Plateaus in Aragon
©2004 Pierre-Paul Feyte
Washington, Oct. 23 - President Reagan, voicing outrage over the ''despicable'' destruction of the Marine Corps headquarters in Lebanon, called on the nation today to be more determined than ever to keep a force in that country and resist ''the bestial nature of those who would assume power.''
The President, plunging into a day of emergency strategy meetings on the bombing, denounced the unidentified forces behind the attack and said the nation ''must be more determined than ever that they cannot take over that vital and strategic area of the earth.''
Administration officials, emphasizing that there would be no change in the United States' military role in Lebanon, said there was ''circumstantial evidence'' that fanatic terrorists aligned with Iran may have been responsible for the truck bomb that razed the four-story Marine Corps headquarters in Beirut, leaving 161 dead and 75 wounded.
The White House spokesman, Larry Speakes, said this evening that the Administration was also ''looking into'' Syria's possible role in the incident, but he did not cite any evidence. [...]
What Really Happened...
by Joseph Sobran
10-22-2
Yes, says Victor Ostrovsky, a former Israeli secret agent. In a new book, By Way of Deception: A Devastating Insider's Portrait of the Mossad, Mr. Ostrovsky says the Israelis had advance notice of the suicide attack that killed 241 Marines in Beirut in October 1983 but withheld the information from the United States in the hope that the attack would poison American Arab relations.
The Israeli government is desperately trying to block publication of the book, which also says the Israelis are "actively spying, recruiting, organizing and carrying out covert activities mainly in New York and Washington, which they refer to as their playground."
Although it can hardly succeed and will probably back fire, the censorship attempt enjoyed initial success in both the U.S. and Canada. Obliging courts in both countries have ordered that the book be at least temporarily suppressed When it comes to Israel, freedom of speech and of the press is considerably less than total, even in America.
Mr. Ostrovsky says Israeli agents heard he had written the book and tried to bribe and threaten him to dissuade him from going into print.
He is now in hiding. [...]
Mr. Ostrovsky's allegations should be shocking. Letting the troops of a benefactor nation be blown up in their own compound is hardly the act of a "reliable ally," as Israel is said to be.
But you have to wonder whether anyone will really be shocked. The act would be consistent with a long pattern of reprehensible Israeli behavior toward the U.S. Some of it has been widely publicized; no doubt the largest part of it has never been discovered.
If anyone ought to be stunned, it's the many pundits who echo Israeli propaganda to the effect that Israel is America's only valuable and trustworthy ally in the Middle East. If they mean what they say, they should be publicly changing their minds, or at least demanding a thorough investigation into Israeli conduct toward this country.
Congress ought to be shocked, too, to the extent that its all-out support for Israel has been sincere rather than venal and cowardly. But how many of our elected representatives will dare, or care, to ask tough questions about whether our ties to Israel have done serious damage to this country's interests?
Such questions are not only long overdue, they are especially urgent right now, when the United States may be on the verge of a full-scale war in the Middle East, and the Israel lobby is eager to see America launch hostilities against Israel's chief enemy, Iraq.
The path of least resistance is to say nothing, to go on pretending that the interests of the U.S. and of Israel are virtually identical, to keep repeating that Israel is our "reliable ally" and "strategic asset." Any politician or journalist who says otherwise, even for the good of America, does so at risk to his career. That's why there is so little open debate on these matters. Even our press isn't fully free.
And now the Israeli government has mounted a direct attack on press freedom in America itself. It will be instructive to see whether the press corps goes on acting unshocked.
Extract from 'By Way of Deception' by Victor Ostrovsky (pp. 322)
In the summer of 1983, this same informant told the Mossad about a large Mercedes truck that was being fitted by the Shi'ite Muslims with spaces that could hold bombs. He said it had even larger than usual spaces for this, so that whatever it was destined for was going to be a major target. Now, the Mossad knew that, for size, there were only a few logical targets, one of which must be the U.S. compound. The question then was whether or not to warn the Americans to be on particular alert for a truck matching the description.
The decision was too important to be taken in the Beirut station, so it was passed along to Tel Aviv, where Admony, then head of Mossad, decided they would simply give the Americans the usual general warning, a vague notice that they had reason to believe someone might be planning an operation against them. But this was so general, and so commonplace, it was like sending a weather report; unlikely to raise any particular alarm or prompt increased security precautions. In the six months following receipt of this information, for example, there were more than 100 general warnings of car-bomb attacks. One more would not heighten U.S. concerns or surveillance.
Admony, in refusing to give the Americans specific information on the truck, said, "No, we're not there to protect Americans. They're a big country. Send only the regular information."
At the same time, however, all Israeli installations were given the specific details and warned to watch for a truck matching the description of the Mercedes.
At 6:20 a.m. on October 23, 1983, a large Mercedes truck approached the Beirut airport, passing well within sight of Israeli sentries in their nearby base, going through a Lebanese.army checkpoint, and turning left into the parking lot. A U.S. Marine guard reported with alarm that the truck was gathering speed, but before he could do anything, the truck roared toward the entrance of the four-story reinforced concme Aviation Safety Building, used as headquarters for the Eighth Marine Battalion, crashing through a wrought-iron pate, hitting the sand-bagged guard post, smashing through another barrier, and ramming over a wall of sandbags into the lobby, exploding with such a terrific force that the building was instantly reduced to rubble.
A few minutes later, another truck smashed into the French paratroopers' headquarters at Bir Hason, a seafront residential neighborhood just two miles from the U.S. compound, hitting it with such an impact that it moved the entire building 30 feet and killed 58 soldiers.
The loss of 241 U.S. Marines, most of them still sleeping in their cots at the time of the suicide mission, was the highest single day death toll for the Americans since 246 died throughout Vietnam at the start of the Tet offensive on January 13,1968.
Within days, the Israelis passed along to the CIA the names of 13 people who they said were connected to the bombing deaths of the U.S. Marines and French paratroopers, a list including Syrian intelligence, Iranians in Damascus, and Shi'ite Mohammed Hussein Fadlallah. [...]
Extract from 'By Way of Deception', Ostrovsky, Victor and Hoy, Claire, St.Martin's Press, 1990
Fadel al-Badrani – Reuters October 24, 2004
FALLUJA, Iraq (Reuters) - Insurgent commanders in the Iraqi city of Falluja say they are not holding hostage Margaret Hassan, an aide worker who holds British and Iraqi citizenship, and condemned her kidnapping.
"This woman works for a humanitarian organisation. She should not have been kidnapped," the emir, or commander, of one group of Iraqi insurgents in the town, said on Sunday.
Many of the scores of kidnappings in Iraq since April have taken place around Falluja, a fiercely anti-American guerrilla stronghold 50 km (30 miles) west of Baghdad.
The U.S. military and Iraqi government officials say Falluja is a base for foreign militants loyal to declared al Qaeda ally Abu Musab al-Zarqawi, a Jordanian whose group has claimed responsibility for kidnappings and suicide bombings.
Commanders of five separate guerrilla groups interviewed in Falluja said they were not holding Hassan and had seen no evidence that Zarqawi's organisation had kidnapped her.
Zarqawi's Tawhid wal Jihad (One God and Holy War) group claimed responsibility for the kidnapping and beheading of two Americans and a Briton seized in Baghdad last month.
Hassan, who holds Irish, British and Iraqi citizenship, was seized on Tuesday. She appeared on a video on Arabic Al Jazeera television on Friday making a tearful plea for her life.
Hassan was sitting in a white room with no indication of which group was holding her.
Criminals sometimes take hostages in Iraq for ransom, or sell them to militant groups.
One guerrilla commander in Falluja said he believed Hassan may have been the victim of a criminal kidnapping.
"She had been living in Iraq for 30 years and she was a humanitarian. The resistance did not kidnap her because this would have left a bad impression of the resistance in the world," said the commander, who asked not to be named.
Hassan was seized from her car on her way to work by gunmen said by her husband to have included one in police uniform.
She was the eighth foreign woman to have been kidnapped in Iraq in the last six months. The others, including two Italian aid workers held for three weeks in September, have been freed.
A Falluja guerrilla commander said he did not see a political motive for abducting Hassan, who had worked in Iraq for the aid agency Care International since the early 1990s.
"If she was suspect, Saddam Hussein's intelligence agents would have found out a long time ago," he said.
Ehud Barak, the former Israeli Prime Minister, who supported the Bush Administration's invasion of Iraq, took it upon himself at this point to privately warn Vice-President Dick Cheney that America had lost in Iraq; according to an American close to Barak, he said that Israel "had learned that there's no way to win an occupation." The only issue, Barak told Cheney, "was choosing the size of your humiliation." Cheney did not respond to Barak's assessment. (Cheney's office declined to comment.)
In a series of interviews in Europe, the Middle East, and the United States, officials told me that by the end of last year Israel had concluded that the Bush Administration would not be able to bring stability or democracy to Iraq, and that Israel needed other options. Prime Minister Ariel Sharon's government decided, I was told, to minimize the damage that the war was causing to Israel's strategic position by expanding its long-standing relationship with Iraq's Kurds and establishing a significant presence on the ground in the semi-autonomous region of Kurdistan. Several officials depicted Sharon's decision, which involves a heavy financial commitment, as a potentially reckless move that could create even more chaos and violence as the insurgency in Iraq continues to grow.
Israeli intelligence and military operatives are now quietly at work in Kurdistan, providing training for Kurdish commando units and, most important in Israel's view, running covert operations inside Kurdish areas of Iran and Syria. Israel feels particularly threatened by Iran, whose position in the region has been strengthened by the war. The Israeli operatives include members of the Mossad, Israel's clandestine foreign-intelligence service, who work undercover in Kurdistan as businessmen and, in some cases, do not carry Israeli passports.
Asked to comment, Mark Regev, the spokesman for the Israeli Embassy in Washington, said, "The story is simply untrue and the relevant governments know it's untrue." Kurdish officials declined to comment, as did a spokesman for the State Department.
However, a senior C.I.A. official acknowledged in an interview last week that the Israelis were indeed operating in Kurdistan. He told me that the Israelis felt that they had little choice: "They think they have to be there." Asked whether the Israelis had sought approval from Washington, the official laughed and said, "Do you know anybody who can tell the Israelis what to do? They're always going to do what is in their best interest." The C.I.A. official added that the Israeli presence was widely known in the American intelligence community.
The Israeli decision to seek a bigger foothold in Kurdistan - characterized by the former Israeli intelligence officer as "Plan B" - has also raised tensions between Israel and Turkey. It has provoked bitter statements from Turkish politicians and, in a major regional shift, a new alliance among Iran, Syria, and Turkey, all of which have significant Kurdish minorities. In early June, Intel Brief, a privately circulated intelligence newsletter produced by Vincent Cannistraro, a retired C.I.A. counterterrorism chief, and Philip Giraldi, who served as the C.I.A.'s deputy chief of base in Istanbul in the late nineteen-eighties, said:
Turkish sources confidentially report that the Turks are increasingly concerned by the expanding Israeli presence in Kurdistan and alleged encouragement of Kurdish ambitions to create an independent state...The Turks note that the large Israeli intelligence operations in Northern Iraq incorporate anti-Syrian and anti-Iranian activity, including support to Iranian and Syrian Kurds who are in opposition to their respective governments.
In the years since the first Gulf War, Iraq's Kurds, aided by an internationally enforced no-fly zone and by a U.N. mandate providing them with a share of the country's oil revenues, have managed to achieve a large measure of independence in three northern Iraqi provinces. As far as most Kurds are concerned, however, historic "Kurdistan" extends well beyond Iraq's borders, encompassing parts of Iran, Syria, and Turkey. All three countries fear that Kurdistan, despite public pledges to the contrary, will declare its independence from the interim Iraqi government if conditions don't improve after June 30th.
Israeli involvement in Kurdistan is not new. Throughout the nineteen-sixties and seventies, Israel actively supported a Kurdish rebellion against Iraq, as part of its strategic policy of seeking alliances with non-Arabs in the Middle East. In 1975, the Kurds were betrayed by the United States, when Washington went along with a decision by the Shah of Iran to stop supporting Kurdish aspirations for autonomy in Iraq.
Betrayal and violence became the norm in the next two decades. Inside Iraq, the Kurds were brutally repressed by Saddam Hussein, who used airpower and chemical weapons against them. In 1984, the Kurdistan Workers Party, or P.K.K., initiated a campaign of separatist violence in Turkey that lasted fifteen years; more than thirty thousand people, most of them Kurds, were killed. The Turkish government ruthlessly crushed the separatists, and eventually captured the P.K.K.'s leader, Abdullah Ocalan. Last month, the P.K.K., now known as the Kongra-Gel, announced that it was ending a five-year unilateral ceasefire and would begin targeting Turkish citizens once again.
The Iraqi Kurdish leadership was furious when, early this month, the United States acceded to a U.N. resolution on the restoration of Iraqi sovereignty that did not affirm the interim constitution that granted the minority Kurds veto power in any permanent constitution. Kurdish leaders immediately warned President Bush in a letter that they would not participate in a new Shiite-controlled government unless they were assured that their rights under the interim constitution were preserved. "The people of Kurdistan will no longer accept second-class citizenship in Iraq," the letter said.
There are fears that the Kurds will move to seize the city of Kirkuk, together with the substantial oil reserves in the surrounding region. Kirkuk is dominated by Arab Iraqis, many of whom were relocated there, beginning in the nineteen-seventies, as part of Saddam Hussein's campaign to "Arabize" the region, but the Kurds consider Kirkuk and its oil part of their historic homeland. "If Kirkuk is threatened by the Kurds, the Sunni insurgents will move in there, along with the Turkomen, and there will be a bloodbath," an American military expert who is studying Iraq told me. "And, even if the Kurds do take Kirkuk, they can't transport the oil out of the country, since all of the pipelines run through the Sunni-Arab heartland."
A top German national-security official said in an interview that "an independent Kurdistan with sufficient oil would have enormous consequences for Syria, Iran, and Turkey" and would lead to continuing instability in the Middle East—no matter what the outcome in Iraq is. There is also a widespread belief, another senior German official said, that some elements inside the Bush Administration—he referred specifically to the faction headed by Deputy Secretary of Defense Paul Wolfowitz—would tolerate an independent Kurdistan. This, the German argued, would be a mistake. "It would be a new Israel—a pariah state in the middle of hostile nations."
A declaration of independence would trigger a Turkish response—and possibly a war—and also derail what has been an important alliance for Israel. Turkey and Israel have become strong diplomatic and economic partners in the past decade. Thousands of Israelis travel to Turkey every year as tourists. Turkish opposition to the Iraq war has strained the relationship; still, Turkey remains oriented toward the West and, despite the victory of an Islamic party in national elections in 2002, relatively secular. It is now vying for acceptance in the European Union. In contrast, Turkey and Syria have been at odds for years, at times coming close to open confrontation, and Turkey and Iran have long been regional rivals. One area of tension between them is the conflict between Turkey's pro-Western stand and Iran's rigid theocracy. But their mutual wariness of the Kurds has transcended these divisions.
A European foreign minister, in a conversation last month, said that the "blowing up" of Israel's alliance with Turkey would be a major setback for the region. He went on, "To avoid chaos, you need the neighbors to work as one common entity."
The Israelis, however, view the neighborhood, with the exception of Kurdistan, as hostile. Israel is convinced that Iran is on the verge of developing nuclear weapons, and that, with Syria's help, it is planning to bolster Palestinian terrorism as Israel withdraws from the Gaza Strip. [...]
"Israel's immediate goal after June 30th is to build up the Kurdish commando units to balance the Shiite militias—especially those which would be hostile to the kind of order in southern Iraq that Israel would like to see," the former senior intelligence official said. "Of course, if a fanatic Sunni Baathist militia took control—one as hostile to Israel as Saddam Hussein was—Israel would unleash the Kurds on it, too." The Kurdish armed forces, known as the peshmerga, number an estimated seventy-five thousand troops, a total that far exceeds the known Sunni and Shiite militias.
The former Israeli intelligence officer acknowledged that since late last year Israel has been training Kurdish commando units to operate in the same manner and with the same effectiveness as Israel's most secretive commando units, the Mistaravim. The initial goal of the Israeli assistance to the Kurds, the former officer said, was to allow them to do what American commando units had been unable to do—penetrate, gather intelligence on, and then kill off the leadership of the Shiite and Sunni insurgencies in Iraq. (I was unable to learn whether any such mission had yet taken place.) "The feeling was that this was a more effective way to get at the insurgency," the former officer said. "But the growing Kurdish-Israeli relationship began upsetting the Turks no end. Their issue is that the very same Kurdish commandos trained for Iraq could infiltrate and attack in Turkey."
The Kurdish-Israeli collaboration inevitably expanded, the Israeli said. Some Israeli operatives have crossed the border into Iran, accompanied by Kurdish commandos, to install sensors and other sensitive devices that primarily target suspected Iranian nuclear facilities. The former officer said, "Look, Israel has always supported the Kurds in a Machiavellian way—as balance against Saddam. It's Realpolitik." He added, "By aligning with the Kurds, Israel gains eyes and ears in Iran, Iraq, and Syria." He went on, "What Israel was doing with the Kurds was not so unacceptable in the Bush Administration."
Senior German officials told me, with alarm, that their intelligence community also has evidence that Israel is using its new leverage inside Kurdistan, and within the Kurdish communities in Iran and Syria, for intelligence and operational purposes. Syrian and Lebanese officials believe that Israeli intelligence played a role in a series of violent protests in Syria in mid-March in which Syrian Kurdish dissidents and Syrian troops clashed, leaving at least thirty people dead. (There are nearly two million Kurds living in Syria, which has a population of seventeen million.) Much of the fighting took place in cities along Syria's borders with Turkey and Kurdish-controlled Iraq. Michel Samaha, the Lebanese Minister of Information, told me that while the disturbances amounted to an uprising by the Kurds against the leadership of Bashir Assad, the Syrian President, his government had evidence that Israel was "preparing the Kurds to fight all around Iraq, in Syria, Turkey, and Iran. They're being programmed to do commando operations."
The top German national-security official told me that he believes that the Bush Administration continually misread Iran. "The Iranians wanted to keep America tied down in Iraq, and to keep it busy there, but they didn't want chaos," he said. One of the senior German officials told me, "The critical question is 'What will the behavior of Iran be if there is an independent Kurdistan with close ties to Israel?' Iran does not want an Israeli land-based aircraft carrier"—that is, a military stronghold—"on its border."
Another senior European official said, "The Iranians would do something positive in the south of Iraq if they get something positive in return, but Washington won't do it. The Bush Administration won't ask the Iranians for help, and can't ask the Syrians. Who is going to save the United States?" He added that, at the start of the American invasion of Iraq, several top European officials had told their counterparts in Iran, "You will be the winners in the region."
Israel is not alone in believing that Iran, despite its protestations, is secretly hard at work on a nuclear bomb. Early this month, the International Atomic Energy Agency, which is responsible for monitoring nuclear proliferation, issued its fifth quarterly report in a row stating that Iran was continuing to misrepresent its research into materials that could be used for the production of nuclear weapons. Much of the concern centers on an underground enrichment facility at Natanz, two hundred and fifty miles from the Iran-Iraq border, which, during previous I.A.E.A. inspections, was discovered to contain centrifuges showing traces of weapons-grade uranium. The huge complex, which is still under construction, is said to total nearly eight hundred thousand square feet, and it will be sheltered in a few months by a roof whose design allows it to be covered with sand. Once the work is completed, the complex "will be blind to satellites, and the Iranians could add additional floors underground," an I.A.E.A. official told me. "The question is, will the Israelis hit Iran?" [...]
Clawson told me that Israel's overwhelming national-security concern must be Iran. Given that a presence in Kurdistan would give Israel a way to monitor the Iranian nuclear effort, he said, "it would be negligent for the Israelis not to be there."
At the moment, the former American senior intelligence official said, the Israelis' tie to Kurdistan "would be of greater value than their growing alliance with Turkey. 'We love Turkey but got to keep the pressure on Iran.'" The former Israeli intelligence officer said, "The Kurds were the last surviving group close to the United States with any say in Iraq. The only question was how to square it with Turkey."
There may be no way to square it with Turkey. Over breakfast in Ankara, a senior Turkish official explained, "Before the war, Israel was active in Kurdistan, and now it is active again. This is very dangerous for us, and for them, too. We do not want to see Iraq divided, and we will not ignore it." Then, citing a popular Turkish proverb—"We will burn a blanket to kill a flea"—he said, "We have told the Kurds, 'We are not afraid of you, but you should be afraid of us.'" (A Turkish diplomat I spoke to later was more direct: "We tell our Israeli and Kurdish friends that Turkey's good will lies in keeping Iraq together. We will not support alternative solutions.")
BAGHDAD - At least 16 Iraqi police officers were killed and 40 others wounded Saturday in a car bombing outside a U.S. Marine base in western Iraq.

The bomb exploded outside the gates of the base near the city of Ramadi.
The U.S. military says no American soldiers were hurt in the attack.
Later, a suicide bomber blew up his vehicle near a checkpoint manned by Iraqi National Guards 100 kilometres north of Baghdad near Samarra, killing four guards and wounding six.
The bombings were carried out hours after the U.S. military claimed that it had captured an aide to Abu Musab al-Zarqawi in a raid early on Saturday in Fallujah.
American forces have stepped up operations in Fallujah in an effort to root out al-Zarqawi's group, which has been blamed in numerous suicide bombings and beheadings of foreign hostages.
U.S. warplanes struck several buildings in the city in an overnight raid, killing two people.
Elsewhere, five American soldiers were wounded when an explosive device destroyed an armoured vehicle in Baghdad, U.S. officials said.
The attack targeted a convoy travelling along the main highway leading to Baghdad International Airport.
The highway is the the scene of frequent attacks by insurgents and is considered one of the most dangerous roads in the country.
A suicide bomber has struck Kabul's most famous shopping district, Chicken Street, injuring seven people.
Three international peacekeepers are among the wounded and are believed to have been the target of the attack.
The BBC's Andrew North, at the scene, says the attack happened at about 1530 local time (1100 GMT) and that the bomber's body was lying in the street.
A spokesman for the hard-line Islamic Taleban movement has said it was behind the attack.
A spokesman for the Nato-led multinational force in Kabul said one of the peacekeepers was seriously hurt. He gave no further details on their nationality or gender.
It is the first suicide bombing in the Afghan capital since January, our correspondent says.
"The Taleban takes responsibility for the suicide attack in Kabul... We plan more attacks," spokesman Mufti Latifullah Hakimi told Reuters news agency.
Witnesses say a man approached several soldiers who had parked their vehicle outside a carpet shop.
He then detonated several hand grenades he was carrying, killing himself in the blast.
The ground and the carpet shop were spattered with blood. [...]
BAGHDAD, Iraq - The bodies of about 50 Iraqi soldiers were found on a remote road in eastern Iraq, apparently the victims of an ambush as they were heading home on leave, Iraqi authorities said Sunday. Also, a State Department security officer was killed during a mortar or rocket attack at a U.S. base near the Baghdad airport
Interior Ministry spokesman Adnan Abdul-Rahman said the Iraqi soldiers were believed to have been killed about sundown Saturday on a road about 95 miles east of Baghdad near the Iranian border.
There were conflicting reports on the exact number of dead, whether they were members of the Iraqi army or the Iraqi National Guard and whether they were all killed execution-style.
Iraqi government spokeswoman Maha Malik quoted witnesses as saying insurgents fired rocket-propelled grenades at about two vehicles carrying the unarmed troops.
Gen. Walid al-Azzawi, commander of the Diyala provincial police, said the bodies were laid out in four rows each, with 12 bodies in each row.
"After inspection, we found out that they were shot after being ordered to lay down on the earth," he said.
Al-Azzawi said he believed the soldiers had been training at the Kirkush military camp northeast of Baghdad.
An Associated Press reporter on the scene reported seeing the burned frames of two minibuses. Blood stains were visible on the ground, along with human remains. Witnesses said the attackers stole some buses. Police said they had found 51 bodies from the attack place.
A U.S. military source in the region confirmed the incident, but was uncertain of the number of dead. [...]
WASHINGTON - The CIA has secretly transferred detainees out of Iraq for interrogation after asking the US Justice Department to write a memo justifying the practice, which violates the Geneva Conventions, The Washington Post reported.
The CIA used the draft memo as legal support for the transfer up to a dozen detainees in the last six months, concealing the move from the International Committee of the Red Cross and other authorities, the Post said, citing an intelligence official familiar with the operation.
The daily said it had obtained a copy of the confidential memo, written by the Justice Department's Office of Legal Counsel, dated March 19, 2004 and stamped "draft."
The memo covers both Iraqi citizens and foreigners in Iraq, according to the Post.
It permits the CIA to take Iraqis out of the country to be interrogated for a "brief but not indefinite period," and allows permanent removal of persons deemed to be "illegal aliens" under "local immigration law," the daily said.
Article 49 of the Fourth Geneva Convention protects civilians during wartime and occupation, prohibiting "individual or mass forcible transfers, as well as deportations of protected persons from occupied territory... regardless of their motive."
In a footnote to the memo its author wrote that a violation of this provision constitutes a "grave breach" of the accord and a "war crime" under US federal law, the Post said.
"For these reasons, we recommend that any contemplated relocations of 'protected persons' from Iraq to facilitate interrogation be carefully evaluated for compliance with Article 49 on a case by case basis," the footnote says.
In a controversial move, the administration transferred many Al-Qaeda fighters captured in Afghanistan to a US naval base in Guantanamo Bay, Cuba, saying these "enemy combatants" were not protected under the Geneva Conventions.
But the US government had said that former members of Saddam Hussein's Baath Party and military, insurgents and other civilians in Iraq, were to be protected by the Geneva Conventions, the Post pointed out.
The CIA has not disclosed the identities or locations of prisoners captured in Iraq, the Post said.
"The Geneva Conventions are applicable to the conflict in Iraq, and our policy is to comply with the Geneva Conventions," White House spokesman Sean McCormick told the Post when asked about the memo.
The CIA was so sure Iraqis would warmly welcome American soldiers that it suggested smuggling small US flags into Iraq ahead of the 2003 invasion, in order them to wave at the soldiers.
The New York Times reported on Wednesday that the CIA was planning to film the event and distribute it throughout the Arab world.
The report said the plan was ruled out by Lieutenant General David McKiernan, the commander of allied ground forces, who was concerned about the Americans being perceived as an occupying army.
The idea was dropped, but the CIA believed that many of the towns were "ours," one former staff officer told the newspaper.
The Arab Human Rights Committee has expressed concern over arbitrary arrests of Gulf nationals in many countries of the region.
The committee in a statement on Friday said some Gulf states were misusing the "fight against terrorism" to overlook illegal detentions of its citizens.
In an interview with Aljazeera, committee spokesman Dr Haitham Manaa said the paranoia over security was resulting in illegal arrests at border checkpoints.
"The Saudi authorities have arrested nationals from UAE, Kuwait, Bahrain and Qatar," he said.
Illegal arrest
"We now face a case involving a Kuwaiti national who has been arrested by the Saudi authorities without any legal justification and is now jailed in Hayel prison, but regrettably the Kuwaiti government has not yet objected," Dr Manaa pointed out.
"As human rights activists, we hope that cooperation between Gulf states is based on mutual respect and guarantee of basic freedoms for the nationals," he said.
"But what is going on now is security cooperation at the expense of the dignity of Gulf citizens."
Dr Manaa also pointed out that more than 100 Saudi nationals are languishing in Syrian jails without access to lawyers.
"There are also many Gulf nationals in Saudi prisons and no one is allowed to intervene as their own countries have decided to keep silent," he said.
NEW YORK (AP) - U.S. arms inspector Charles Duelfer's report concluding Iraq might have resumed weapons-building "after sanctions were removed," left out the crucial fact the UN Security Council had planned controls over Baghdad for years to come, UN officials said Saturday.
The Security Council, led by the United States, decreed inspections and disarmament of Iraq were to be followed by tough, open-ended monitoring.
"It's been a little disturbing," said Demetrius Perricos, chief UN weapons inspector.
"All the arguments say that when sanctions ended, Saddam Hussein would have had a free hand. By the council's own resolutions that wasn't so."
Ronald Cleminson, a retired Canadian intelligence officer and veteran member of the UN commission that oversaw Iraq's disarmament, said he believes U.S. officials intentionally played down UN effectiveness and future monitoring plans.
Otherwise, "they could not have set up a scenario with which one goes to war," Cleminson said.
In his Oct. 6 report, CIA adviser Duelfer discredited President George W. Bush's stated rationale for invading Iraq, saying his Iraq Survey Group found no weapons of mass destruction. But he suggested Iraq might still have posed a threat.
Saddam "wanted to recreate Iraq's WMD capability - which was essentially destroyed in 1991 - after sanctions were removed," the report said, though adding no such formal plan was uncovered.
This Duelfer finding became a new focus for the Bush administration. Vice-President Dick Cheney told one audience Oct. 7: "As soon as the sanctions were lifted, (Saddam) had every intention of going back" to weapons-building.
An academic expert on the Iraq inspections regime was among those disputing this, noting lifting the UN Embargo would not have opened that door.
"This is not the case under Resolution 687 and later ones," said Yale University's James Sutterlin.
Years of Security Council resolutions preceding the 2003 U.S.-British invasion mandated UN arms monitors would remain in Iraq once Baghdad's WMD programs were shut down - as Duelfer now acknowledges they were in the 1990s. With unusual powers and the best technology, the monitors in this second stage would "prevent Iraq from developing new capabilities," said a blueprint for the Ongoing Monitoring and Verification (OMV) program.
Resolutions also stipulated UN trade sanctions would not be lifted until the ongoing monitoring program was in place - and lifted then only for civilian goods.
The Security Council, where Washington has a veto, would decide how long to keep monitoring in place. Perricos said it was expected to last years.
"You couldn't have disarmament and stop monitoring afterward," he said.
In 19 pages of Key Findings, however, while raising the prospect of future threats, the Duelfer report ignores this plan to prevent them.
The CIA and Duelfer had no comment this week when asked why the role of Ongoing Monitoring and Verification went unacknowledged.
Official U.S. statements consistently disregarding this follow-up stage in Iraq arms control seem to have had an effect.
"Most people don't understand that there was to be a permanent monitoring system in place to deter any return to WMD," said Jean Krasno of the City University of New York, co-author with Sutterlin of the 2003 book The United Nations and Iraq.
In 2002, the Bush administration had demanded and voted for renewed UN inspections in Iraq. Then, in the lead-up to war, it publicly questioned their effectiveness, even as UN experts were conducting 700 inspections and finding no WMD.
In early 2003, the inspectors said they could formally certify Iraqi disarmament with several more months' work, after which long-term monitoring would take over. In preparation, they set up a northern office in Mosul and bought $5 million US worth of high-technology surveillance cameras.
The U.S. attack then aborted the UN work.
The monitoring program would have covered hundreds of sites, from Iraq's nuclear complex to pesticide plants and breweries that might concoct chemical or biological weapons. It was originally envisioned as a $70-million-a-year operation with a staff of 350.
The inspectors would have been armed with sensors, sampling devices and remote video systems and would have continued onsite inspections and interviews of ex-weapon scientists. They also would have monitored sites via aerial surveillance, had the right to inspect vehicles and monitored Iraqi imports of civilian goods with potential military uses.
David Kay, Duelfer's predecessor as chief of the CIA weapons hunt, said: "OMV was discounted" because it was believed "that the Iraqis over time would find out how to manipulate the cameras, sampling methods, occasional visits."
The UN experts disputed this. Inspector spokesman Ewen Buchanan noted, for example, the remote cameras could even broadcast to analysts that they've been tampered with. Besides, the arms-control specialists said, Kay was discounting a system the world now knows disarmed Iraq without going to war.
"What happened in Iraq was that an international body of the UN went over, did the job and came out with results," Perricos said.
The Federal Government will reintroduce a package of bills to toughen Australia's anti-terrorism laws, when Parliament resumes in three weeks time for its first sitting since the election.
Attorney-General Philip Ruddock says at this stage he is not planning to revisit measures already defeated in the Senate, such as allowing children as young as 12 to be strip-searched.
He told Channel Seven there is an urgent need to pass three security bills which were still before the Upper House when the election was called.
Mr Ruddock says that includes giving ASIO and the Federal police more powers to use listening devices and intercept emails and preventing the release of classified information during terror trials.
"It can be quite an impediment to the organisations, such as ASIO, to outline the methods they use, the equipment that they have, to outline human intelligence that they may have received which could identify people who are still involved in providing information to them," he said.
"To do so in open court exposes to risk your ongoing inquiries."
Iran has turned down a European Union proposal that it stops enriching uranium in return for nuclear technology.
Diplomats had said that if Iran rejected the proposal, most EU countries would back a US demand that Tehran should be reported to the UN Security Council for possible economic sanctions when the International Atomic Energy Agency (IAEA) meets on 25 November.

"The EU proposal is unbalanced ... unlimited uranium suspension is unacceptable for Iran," foreign ministry spokesman Hamid Reza Asefi told a news conference.
Washington accuses oil-rich Iran of using its nuclear programme as a veil for developing an atomic arsenal. Tehran says it only wants to generate electricity.

French, British and German officials are to meet Iranian negotiators on Wednesday to discuss the European offer.
The EU "big three" have led a European effort at compromise that would avoid sending Iran's case to the UN Security Council.

The IAEA, the UN atomic watchdog body, has been investigating Iran's nuclear programme for more than two years.
It has uncovered many previously hidden activities that could be related to a weapons' programme, but has found no "smoking gun".
Recently, a radio commentator used the above phrase in regards to the upcoming presidential elections and each candidate's stand on the North American Free Trade Agreement (NAFTA). His point was, even though Bush has not been the most open of trading partners, that it was better to vote for him as the "known" candidate, rather than gamble on Kerry who's "unknown" and could be worse.
It's a take off on the often quoted "better the devil you know, than the devil you don't know", which highlights the curious Catch 22 that when making a choice between two evils, it's wiser to opt with the more familiar evil, because at the very least one knows what to expect.
This problem of offering "limited and confined choices" seems to be the very essence of the American two-party system, which effectively maintains the "illusion" of democracy. Give the sheeple a choice between two sides of the same coin, and whoever "owns" the coin is guaranteed to win.
The entire U.S. electoral system is based upon this lie of right versus left, and as long as the lie continues be accepted by the majority of American citizens and remains unchallenged within ourselves, we can expect that this culture of war and bloodshed will continue to be "business as usual".
The lie of "democracy" has been drilled into our heads virtually since the day we are born. Passed down from our parents, brainwashed by our educational system, propagated by the media, and supported by the hypnotic "consensus reality", the lie is so ingrained, that it to question it, is to question the very foundation of America itself.
We believe we are offered a choice, Democrat or Republican. The act of voting produces pleasurable feelings inside us. We feel we have voiced our opinion, made a significant difference.
Nothing could be further from the truth.
For Bush and Kerry serve the same master, who endeavors to consolidate more power by preserving the status quo at all costs.
"Democracy" is the lie we've been conditioned to believe.
The lie is so insidious, so deeply felt, that to even dare challenge it is to most certainly invite attack in the form of derision, disbelief and ridicule. What better way to convince people that they are free while still keeping them in chains, than to offer such a choice between the "lesser of two evils".
What the lie does not allow, and what might free us from this dualistic prison, is that of a THIRD choice. And by this we don't mean Ralph Nader, or any of the other "independant" candidates, for they too are an inseperable part of the lie. No, this third choice involves stepping outside the traditional constraints of voting Democrat or Republican or whatever, to the option of not voting or participating at all.
Consider this; if we know that our government is committing war crimes, and that both candidates have gone on record to say that they will continue to fight in this illegal war, then by voting for either candidate, we become complicit in the crime itself. By participating in the illusion of democracy, we become personally involved in the suffering of others in foreign countries. We become responsible for the horrible atrocities that the government we elect carries out in our name, because we continue to blindly support the process by which such suffering occurs.
If there is a God, and by this we are not talking about that monotheistic madman Jehova, Yahweh, or Allah, but a universal consciousness that permeates and animates the entire universe. If there is such a consciousness, it seems we are inseperable from it, as if the universe express itself through us, and the greatest gift we have been given is that of free will.
By exercizing our so-called "right to vote", we are in fact, voluntarily giving up our free will to others to make decisions for us. By voting for either Bush or Kerry, we are essentially asking them to kill and plunder in our name, to continue their psychopathic slaughter of other human beings by proxy. It is no different than as if we were the ones pulling the trigger.
In essence, by giving up our free will and abdicating our responsibility to the universe and ourselves, is perhaps the greatest crime of all, because we can actually do something about it.
A choice between two evils is no choice at all.
Better the Dubya you know?
Don't count on it.
The above article may be reproduced for educational, non-commercial purposes, as printed in its entirety and with proper credit given.
With only nine days to go and the polls showing Bush and Kerry still neck and neck, the result is once agin likely to turn on the minutiae of the voting system. But this time the whole country seems poised to descend into post-election chaos. Andrew Gumbel reports on the traumatising effects of this bitter campaign and how, as the world's most powerful democracy talks of exporting freedom to Iraq, it is at risk of becoming an object of international ridicule
No need to wonder if this year's US presidential election is headed for another meltdown: the meltdown has already started. The voting machines have already begun to break down, accusations of systematic voter suppression and fraud are rampant, and lawyers fully armed and ready with an intimate knowledge of the nation's byzantine election laws have flocked to court to cry foul in half a dozen states.
Nine days out from election day, we don't yet know whether the state-by-state arithmetic will lead to a post-election stalemate similar to the 36-day battle for Florida in 2000. It is, of course, possible that the margins of victory in the 50 states will be wide enough to avert the worst - even if overall conditions are likely to fall short of the usual definition of a free and fair election.
Given the nail-bitingly close numbers in the opinion polls, however, Election 2004 could just as easily produce a concatenation of knockdown, drag-out fights in several states at once, making the débâcle in Florida four years ago look, in retrospect, like the constitutional equivalent of a vicarage tea party.
Last week saw the start of early voting in Florida and a clutch of other states, and with it came a plethora of problems. In three heavily populated counties - around Tampa, Orlando and Fort Lauderdale - the network connection used to verify voter identifications broke down on the first day, creating hours of delay. In Jacksonville, where poor ballot design in 2000 knocked out the votes of 27,000 poor, predominantly black, predominantly Democratic voters, the county elections supervisor chose the first day of polling to resign, citing ill health. He had come under fire for failing to make early voting available in the city's African-American neighbourhoods - something his interim successor is now going some way to remedy.
Elsewhere, there were computer breakdowns during early voting in Memphis. Pre-election testing of electronic machines in Riverside County, California, and in Palm Beach County, Florida, led to multiple computer crashes. Elsewhere, machines have manifested problems handling basic addition - especially when asked to display instructions in a language other than English. Several county administrators have chosen simply to skip the non-English language part of the test.
In Nebraska, dead people were found to have applied for absentee ballots. In Ohio, a representative of the National Association for the Advancement of Colored People was found to have offered crack cocaine to a known drug addict in exchange for completed voter registration forms, which he duly submitted in the names of Mary Poppins, Janet Jackson and Jeffrey Dahmer, the notorious cannibal serial killer.
This is just the beginning. The Kerry campaign alone has signed up 10,000 lawyers around the country to oversee registration and absentee ballot procedures, keep tabs on computer voting companies, collect stories of alleged disenfranchisement or irregularities at the polls, and watch state elections officials with hawk-eyed attention for every ruling that might be construed as having a partisan, rather than a public interest intent.
"The lawyering won't start the day after the election," said Kendall Coffey, a Democratic Party lawyer in Miami who was deeply involved in the 2000 fiasco. "It's already under way." Florida Congressman Robert Wexler, who is deep in litigation with his state government over the failure of Florida's electronic voting machines to produce an independent paper trail, concurred. "The dangers are limitless," he said. "They are limited only by the inventiveness of those who would tamper with the system and create havoc."
It beggars belief that the world's most powerful democracy should find itself in this hole for the second time in a row - becoming an object of international ridicule, scorn and not a little alarm, even as the country's leaders talk idealistically about exporting American freedom and democracy to Afghanistan, Iraq and beyond.
After the last fiasco everyone from President Bush down vowed to fix the system and ensure another Florida could never happen. But three big things went wrong. First, the new generation of computer touchscreen machines - brought in at dizzying speed and at even more dizzying cost to replace the discredited old punch-cards - turned out to be poorly programmed, unverifiable, prone to all manner of failure and susceptible to undetectable foul play.
Secondly, the Bush administration dragged its feet about enacting funding its own new election laws. As a result, most states won't have their electoral procedures fully updated and coordinated until the next presidential election in 2008. That, in turn, is opening up furious arguments about the ill-defined rules for provisional ballots, absentee ballots, ID card requirements at polling stations and other seemingly esoteric bureaucratic niceties that could have a huge impact on turnout - especially among the poorer, less educated classes who have traditionally been ignored, if not excluded, by the two major parties.
Thirdly, the political leadership allowed itself to be deluded into thinking that the dysfunctions of the US electoral system were purely a matter of technology. Fix the machines, the thinking went, and everything else will be fine. What should have been glaringly obvious in 2000, and is even more glaringly obvious now, is that the failures of the electoral process were a direct result of the ferocity of broader political battles. The blithe incompetence of local election officials and their wonky machinery were side-effects of these battles, not the cause.
In 2000, much of the agony of Florida could in fact have been avoided if the parties had agreed to a state-wide manual recount - as happened in an equally close, but amicably resolved, Senate race in Washington state that year. It was the high stakes of the White House, not the messy accumulation of hanging, dimpled and pregnant chads, that sparked the crisis. And we know the stakes are infinitely higher this time, in what has been called the most important US election in memory.
There has been nothing to match the current passions in American politics since the Civil Rights era and the Vietnam War. Campaigns have never been dirtier, or more intensely fought or more expensive. Both major parties have vowed to do whatever it takes to win, and each has accused the other of engaging in out-and-out cheating.
The whole country - never mind the woefully inadequate electoral system - is now living on the edge of a nervous breakdown. Little wonder, then, if many are predicting some sort of collapse on 2 November. "Only a miracle, it strikes me, can prevent this election from descending into post-election chaos," John Dean, the Watergate-era White House counsel who knows a thing or two about electoral dirty tricks, wrote last week.
What has been striking is the sheer nastiness of the fight. In Oregon, Pennsylvania and Nevada - all swing states - a Republican political consulting group called Sproul & Associates has been accused of passing itself off as a non-partisan or even a Democratic civic organisation to collect voter registration applications outside libraries and supermarkets. In at least two instances now under criminal investigation, company employees have been accused of processing the applications of declared Republican voters while throwing the forms marked Democrat into the nearest rubbish bin. Sproul, which has received more than $600,000 (£330,000) from the Republican National Committee, has denied ever endorsing such practices. Still, the discarded voter registration forms have been paraded on television for all to see.
In Ohio and Florida, it is the Republican secretaries of state - who oversee elections - who have been accused of putting partisan preference above their solemn civic duties. Ohio's Ken Blackwell won points from voting rights activists earlier in the year when he chose not to go ahead with a massive state-wide buy of electronic voting machines. Since then, however, he has tried to insist that all voter registration forms be submitted on 80lb stock paper - a ruling struck down by the courts after he was accused of blatantly attempting to suppress the votes of likely Democrats.
He has also tried to make life harder for provisional voters, saying their ballots will be recognised only if they show up at exactly the right precinct. This too was struck down in court because it was deemed likely to suppress votes - especially among transient students and low-income workers. But Secretary Blackwell has continued to implement the policy in defiance of the court order, prompting a harsh rebuke from the judge.
In Florida, Secretary of State Glenda Hood has been repeatedly accused of doing the political bidding of the man who appointed her - Governor Jeb Bush, the President's brother. Her more recent exploits include directing county supervisors to throw out registration forms where applicants have signed a statement declaring they are US citizens but have forgotten to check a citizenry box elsewhere on the form. This, too, is seen as a vote-suppressing mechanism. It, too, is now in the courts.
Secretary Hood has also been waging a months-long campaign to ban what limited manual recounts the electronic voting machines permit. Her initial ruling was struck down by the courts, but now she has come up with a staggeringly devious rewrite. The state will now permit analysis of the computerised machines' internal audit logs in the event of a close race, she said, but if there is any discrepancy the county supervisors are to go with the original count. In other words: we will do recounts, but if the recounts change the outcome we will disregard them.
Secretary Hood's actions illuminate the real attraction of the electronic voting machines in the states where they have been introduced. They may work no better than the old punch-card machines - studies suggest they fail to record as many votes as their predecessors. In the absence of an independent paper trail, how- ever, all evidence of problems is hidden away in the binary code of an electronic black box and is, to all intents and purposes, invisible.
This raises intriguing and troubling questions about what a post-election contest might look like. One can reasonably anticipate - based on past experience - an avalanche of stories about voters turned away from polling stations, told they are on a felons list even if they have no criminal record, or kept waiting for hours because of technical glitches. No doubt people will tell some of those thousands of lawyers how they pressed the screen for one candidate, only to have the other's name light up.
The problem is, even if lawyers for the losing candidate are able to prove that the system failed, they will find it very difficult to talk specific numbers and demonstrate that enough votes were lost to alter the outcome.
How the courts will react to this hypothetical state of affairs is anybody's guess. They could accept the given election results, however flawed. They could allow the arguments to rage until December, when the electoral college is supposed to meet, or even into the new year, when an undecided election would be thrown into the House of Representatives.
Or they could be trumped, once again, by the Supreme Court. The most disconcerting possibility is that the highest court in the land could remove the electoral process from the voters altogether and turn it over to the state legislatures. Technically, they can do this under Article II of the Constitution, which offers no automatic right to vote. We know from the deliberations in 2000 that two, possibly five, of the nine justices have doubts whether the people should be the ultimate arbiters of presidential elections - a strict, literal reading of the Constitution that no modern Supreme Court countenanced before the current crop of ultra-conservatives. "After granting the franchise in the special context of Article II," the majority declared in its Bush vs Gore ruling, "[the state] can take back the power to appoint electors."
Were this scenario to play out it would leave the fate of many of the electoral battlegrounds in the hands of Republican-controlled state legislatures (in Florida and Ohio, for starters), who would promptly hand the election to George Bush. Talk about a nightmare scenario - which is why every elections official and every "small d" democrat in the land is praying it won't get that close.
Let's hedge this with all the usual qualifiers. Kerry could pull it out. The spread's within the margin of error. Respondents to polls are lying out of fear of John Ashcroft. Pollsters aren't reaching Kerrycrats with cell phones. But whatever way you cut it, after three debates in which polls assessed him as the victor, most polls say Kerry is lagging. As of now (October 20), the spread mostly ranges from an eight-point Bush lead to a dead heat. Worse, from Kerry's point of view, some postdebate numbers show him dropping among low-income workers and urban voters, once the lifeblood of the Democratic Party. Margins in crucial states like Ohio, Pennsylvania and Florida are razor-thin.
Why? Has a candidate or a party ever been more pleasantly caressed by the winds of history in an election year than John Kerry and the Democrats? A majority of Americans don't think Bush has done a particularly good job, and they've thought this for months, though more of them like Bush than like Kerry.
On Bush's watch the economy has performed poorly, and people are scared it will soon get worse. Headlines have blared the news: Real wages have fallen across the past year. Many people who lost jobs in the recession aren't getting them back. Under Bush the percentage of people with jobs has fallen by 2 percent, which translates into 4.5 million people. Middle-class income is falling. More are in poverty than ever before. The budget deficit is more than 40 percent of federal revenues, excluding funds ultimately committed to Social Security and Medicare.
Bush and his closest associates have been directly identified in almost all major mass media as perpetrators of one of the most colossal deceits in the history of propaganda, the concoction of Saddam's nonexistent WMDs as the pretext for attacking Iraq last year. Could any candidate have hoped for an October thunderclap as sonorous as that sounded by Charles Duelfer of the government's own Iraq Survey Group, that when the United States launched its attack Iraq did not possess weapons of mass destruction and had long since abandoned programs to produce them?
The war on Iraq itself is unpopular. It has carried other well-publicized scandals in its slipstream: the Plame investigation into the White House's outing of the identity of a CIA officer; the devastation to America's international stature wrought by the tortures ordered and perpetrated by Americans in Abu Ghraib and elsewhere; the Israeli spy scandal. In mid-month yet another October surprise was gifted to Kerry: a mutiny by US troops in Iraq, publicly accusing the Army of ordering them to risk death without adequate equipment.
So history has dealt Kerry all the high cards, save the one that bears his own face (against the scenic background of a billionaire wife and six houses). This card still lies on Bush's side of the table.
Only two men in US history have gone directly from the Senate to the White House, Warren Harding in 1920 and John F. Kennedy in the squeaker of 1960. This year the Democrats put two senators on the ticket, thereby burdening it with the deficits of incumbency endured by Bush. Few weapons in Bush's sparse armory in the debates were as effective as his riposte to Kerry's innumerable, pledge-laden plans for healthcare: "He's been in the United States Senate twenty years. Show me one accomplishment toward Medicare that he accomplished."
The evasions, compromises and contradictions in Kerry's political biography are there in the record to tally, and the Bush campaign has done so, to deadly effect. Kerry is a flip-flopper, and his votes show it. His leaps back and forth over the fence on the issue of the war across the past months have only compounded this career record. With the splendid gift of the fake WMDs placed before him, he has been incapable of unwrapping it. Worse, in early August he proclaimed that most likely he too, even if he had known the WMD threat to be bogus, would have authorized an attack on Iraq.
With the Bush Administration's overall record, particularly on the economic front, as poor as it is, one might have reckoned with near certainty that a hefty exchange of seats in the House, and even a handful in the Senate, would see a turnover of control from Republicans, with consequent splitting of power and a renaissance of vital important checks on the perils of a Bush second term.
But the Democrats have continued the disastrous displacement, familiar in Clinton-time, of resources away from winning back the Congress. To recapture the House the Democrats need to win twelve Republican-held districts. Overall, only sixteen Republican districts are in serious contention. Of these, two are rated as slimly tilting toward the Democrats, fourteen are tossups. In other words, recapture is a long shot. The Democrats have a slightly better chance in the Senate.
We are now witnessing the Democratic Party in very advanced decay. After the Clinton/DLC years, its street cred is conclusively shot. In formal political function the party is nothing much more than an ATM machine, spewing out torrents of cash, supplied by the unions and by corporations seeking favors, to the armies of consultants and operators who have lived off it for decades. Its right wing comprises people who could as easily be in the Republican Party, its center people incapable of standing on any principle. Its left, this season, is made up of the Anybody But Bush crowd, who last spring made the decision to let Kerry be Kerry, without a word of criticism, when he pledged a better war on Iraq and even a march on Tehran.
And if, against most current indications, Kerry wins? He has proffered almost nothing to look forward to, aside from a pledge, which can easily be aborted by a "crisis," to leave Social Security alone. With the Congress against him, he'll be mostly hogtied domestically. On the foreign front he's eagerly hogtied himself. No more compliant serf to the imperatives of Empire and to the government of Israel than Kerry has been visible this season.
A November 3 movement, to pressure Kerry if he wins, rebuild if he loses? Many on the left have argued that. But how will they know which way to march, when they started this year with all the wrong maps?
A pall hangs over this election, a shroud of darkness that oppresses the heart because its outcome guarantees no change, only the certainty of continued chaos if Bush should win and the unknown direction a Kerry victory might take, a direction that could continue the chaos America's mired in, a darkness, then, to appall. I read each day the crippling accounts of soldiers caught in a maelstrom of unseen death lurking on roof tops, in narrow alleys, behind cement walls and black windows, beneath tires littering the streets. I see pictures of burned out buses, sidewalks and curbs bathed with blood, faces twisted in pain, bits and pieces of flesh scattered about like fallen leaves, blown helter-skelter by the wind. Faces, I see suffering on so many faces, mothers weeping over their dying children, old women and men huddled in the debris left of their bulldozed home, medics carrying the lifeless body of a man whose hand rests beside his face held there by the torn shred of his sleeve, his arm gone, his body black with grime.
This is a world gone mad, a madness on all sides, the madness of greed that sees in oil the riches of Sultans and Kings, the madness of arrogant pseudo-philosophers who conjure beliefs of personal superiority that gives them license to conquer and enslave, the madness of ancient minds that dreamt of power and glory in covenants with gods, the madness of fanatics that fabricate fantasy out of indecipherable images lodged in pages of metaphors, the madness of little minds that grab onto faith as the golden ring that will bring them salvation, the madness of those born again to the child's world of impossible dreams forgoing in their new world the reality of this.
Today I read of depleted uranium, 1000 metric tons made from the deadly U238 isotope dropped on America's killing fields, that wafts on the wind like aerosol spray, a toxic death that sticks in human lungs, bringing a slow and painful death. I saw pictures of new born children bloated and bruised by scars, eyes missing, a nose of scar tissue and nostrils, no lips, the detritus of our advanced civilization scattered on hospital beds in Baghdad. I read of soldiers twisted in mind and spirit by no visible symptom except the phantom of our cursed nuclear waste that encircles them in their tank and haunts them the remainder of their lives. Our young return from this nightmare of devastation devastated themselves courtesy of our Commander in Chief.
And I read today that 24,010 Americans have been evacuated with wounds and injuries from our "war" zones, that 37,000 innocent men, women, and children in Afghanistan and Iraq have died and more than 500,000 have suffered wounds. And I hear the silence, the deafening silence of indifference that our compassionate conservative leader offers to those who suffer the consequence of his acts, and feel with them the utter helplessness of their plight. And I wait for a word from Kerry that he, too, hears their pain, that he will stop the slaughter in Afghanistan and Iraq and Palestine ... and I wait in vain; there is no condemnation, no plan to end the conflicts, no recognition that states terrorize, no acceptance of the right of people to fight the oppressor, no confession of wrong waged against the innocent that had not the intention or the means to threaten America.
I have heard these men, both Bush and Kerry, attest to their deep rooted religious principles, the depth of their faith in the teachings of Jesus, comforting the citizenry that they are fit for the White House because they believe. But I see nothing of Jesus in their behavior, nothing of the compassion that attended his ministry, nothing of the inclusiveness of his teachings, nothing of the love he proffered as the binding source of peace throughout the world.
I look in vain for this Christ in the Christianity practiced by the right wing, fanatical sects that preach the Book of Revelation, reveling in the glory they perceive to be their reward if they destroy the enemies they identify as the enemies of God. I wonder where in this acclaimed Christian land of TV Evangelists and literalist ministers is there a man who acts as Christ would act? I see none. I see only a God forsaken Tele-Evangelist land of vitriol and bigotry where none could say I "love the Lord my God with my whole heart and mind and soul, and my neighbor as myself." They have buried the teachings of Jesus in the quagmire of a malevolent and malicious God of the Old Testament, a God that would order one Semitic tribe to exterminate another. We have not moved beyond the racist hatred that blotted the landscape 2500 years ago.
I would have thought the founding fathers' voices would have turned us against such barbarity, for they knew that such religions were anathema to the rights of the people and to the fledgling Democracy they desired to create. They expunged such organized zealots of religion from civil discourse precisely because they knew its inherent destructive nature. But, no, we have the airwaves turned into streams of venom that flow from the mouths of the heralded self-worshipers whose mantra is hatred for their fellow man, the likes of Pat Robertson, Pastor John Hagee, Franklin Graham, Hal Lindsey, and, now, even our blessed generals who defile the houses of worship not with coins but with cursed bigotry in the person of General Boykin.
I wonder how any person can stand against the tribes that follow these accursed men? What voice can reach the soul of men, if soul they still have after their life of crime, that has been lodged deep in their bloody wallets made fat with their racist hatred for their fellows whose only sin is their belief in a God different from their own? They mount their campaigns on fear, fear lodged in a word that defies definition because it slips and slides, nay, it slithers through meaning like molten lava over rock burying it beneath layers of hot and passionate rhetoric, a word without substance or sense, a word seething with diffidence, anxiety, suspicion, even horror, the word is faith. No word evokes more fear and mistrust; no word has caused more chaos and wanton destruction, as the Crusades and the Conquistadors, rampaging through Central America, attest; no word can put people in such a state of doubt that they acquiesce to prophets of doom century after century; no word has been and continues to be more destructive in the mouths of fanatics. That is the destructive power of blind faith!
Fanatics have a way, whether they be the Imams guiding Hamas or the robed ministers of Robertson's TV Club or the ultra right Zionists in Israel, with those who abdicate responsibility to think for themselves, those who hand over their minds and conscience to them as they thunder their prophetic curses in dramatic tirades, bathing their flocks in fear and loathing. These fanatics in America, who exist through the courtesy of a democratic secular system that tolerates their presence if not their message, fetter the minds of their laity with absolute truths generated out of myths, negating thereby the very semblance of democratic thought that is premised on individual responsibility; and the lambs they lead to slaughter do not know it. These fanatics defy the laws of the secular state by determining for their congregations what political party they must support, what candidates they must vote for, and what policies they must accept. And for this defiance they pay no taxes!
But it's worse than that. These same fanatics literally compel their congregants, on fear of eternal damnation in Hell's fire, to strap themselves in the swaddling clothes of death and bring that gift to all around them, to support terrorists in the occupied territories of Palestine, to proclaim an enemy identified in the Book of Revelation, an Arab enemy who worships in the Islamic faith. And for this incitement to murder they pay no taxes and suffer no incarceration. What else do we call it but killing for Christ, killing for Allah, killing for Yahweh!
This is our dilemma. We Americans pay the bill; they act in our name. How can we, who speak with the conviction of our conscience, hope to remove the hatred a Hagee or a Robertson breeds against God's creatures? The pictures I saw today of dead and dying children in Iraq, pictures too horrific to be put in main stream newspapers or shown on TV, pictures that cry to the human soul that the pain and suffering must stop also cry out to every true Christian that Jesus' teachings never allowed for such wanton slaughter. Yet these are the innocent victims of our fanatical dependence on the preaching of these men who sit safely ensconced on their splendid chairs amidst tall vases of flowers, smiling beatifically for the cameras.
How can we witness Bush's acceptance, indeed his encouragement, of Ariel Sharon's savagery and not condemn his acts as anathema to the teachings of the Christ he proclaims as his God? How can we suffer in silence the ferociousness of Sharon as he spreads his hatred and nihilism over the bloodied landscape of the unholy lands of ancient Palestine? Our indifference, our silence blessed the rape of Rafah in May, God's month of renewal; our indifference and our silence blessed a summer of slaughter in the season of God's increase; and today, our indifference and our silence acquiesce to a season of harvest that gathers in the dead and maimed in Gaza.
Where is the voice of America that should cry against these killing fields, these American supported killing fields, these murderous rampages that defile the love Jesus begged we have for our neighbor, a love equal to that we have for ourselves?
Where are the Priests, the Rabbis, the Imams, the quiet Buddha monks, all who claim to love humankind? Why does silence reign? Whose voice are we afraid of? Where are the voices of our leaders, where is Kerry, where is Dean, where is Edwards? Why do we hear words of condemnation when we witness the wanton slaughter in Beslan of children in school yet hear not a word when the IDF slaughters the children in the kindergarten in Jabaliya or our missiles miss their intended target and destroy the lives of innocent people? Does one mother's weeping reach our ear and another goes unheard? I would that every mother's cry would reach our ears as it rents the sky that we might know what Christ meant when he said, "Love the Lord thy God with thy whole heart and mind and soul, and thy neighbor as thyself."
William Cook is a professor of English at the University of La Verne in southern California. His new book, Psalms for the 21st Century, was published by Mellen Press. He can be reached at: cookb@ULV.EDU
I find the cover page at the International Republican Institute web site concerning its recent polling in Iraq to be extremely disturbing. IRI is of course closely linked to the US Republican party and does the polling with US tax dollars (i.e. you and I are paying for it). The web site tries to spin the alarming results of the poll so as to emphasize the positives for the Bush administration. The only positive signs they can come up with, though, are that 64% of Iraqis remain optimistic that next year will be better than this; that 58% of Iraqis believe elections will be held in January; that 2/3s think a civil war unlikely; and that 52 percent of Iraqis believe that religion and state should respect one another but remain separate.
The authors of this screed go out of their way to debunk press reports that a majority of Iraqis favor religious parties, pointing out that few parties polled well. This statement is frankly dishonest; in fact the entire summary is deeply dishonest, and is designed to help Bush win the election. All Americans should be outraged at this misuse of supposed social science and of our tax money.
Before looking at the actual poll numbers, I can signal my disagreements with the summary. Optimism is relative and may or may not tell us much. It is not actually a good sign that over 40% of Iraqis either do not believe that elections can be held in January or don't know if they can.
The question is not how many think civil war likely. It is who thinks civil war is likely. If Kirkuk does, that is alarming, because they are the ones who would fight such a war. Obviously a civil war is far from the thinking of a largely Shiite city like Basra, of 1.3 million deep in the Shiite south.
Western observers are extremely imprecise in their language about religion and state. Many say that Grand Ayatollah Sistani favors a separation of religion and state, which is completely untrue. He wants Islamic law to be the law of the land, and wants his fatwas on "social issues" to be obeyed. He just doesn't want clerics to run the Islamic state-- he wants it to be laypeople. So the model is more like the Sudan (if Sudan had genuine elections) than it is like Iran. So how exactly the question was asked in Arabic would be key to the answer given and to what that answer actually means. If the Iraqis thought you were asking about clerical rule, then a bare majority is against it. If they thought you were asking about implementing Islamic law, the answer might be different. And, the most popular politicians are the ones who most want Islamic law. The poll does not even ask about Islamic law.
Although Iraqis did not strongly identify with parties, they have over and over made it clear in IRI and other polls who the most popular politicians in the country are. The men named for whom Iraqis would vote are Ibrahim Jaafari, leader of the al-Da`wa Party (founded in 1958 as a revolutionary Shiite organization aiming for an Islamic state) and Abdul Aziz al-Hakim, leader of the Supreme Council for Islamic Revolution in Iraq (the name says it all). Jaafari for some odd reason was not included in this most recent poll (perhaps in hopes that leaving him out of the choices would allow the IRI to deny the clear trend toward theocratic voting). I could not find the slide at the IRI site that gave al-Hakim by far the biggest lead among the rest, but it was reported in the press summaries of the poll.
Some 40% of Iraqis say they would be more likely to vote for a candidate endorsed by a religious leader. About 11 percent say they would vote for a candidate endorsed by a political party. But all the most important political parties in the Arab provinces (Da'wa, SCIRI, the Association of Muslim Scholars) are religious. So this result suggests that at least half of the population will vote as Sistani, Da'wa and so forth instruct them. Another 15% would vote as their tribal leaders say. But a large number of tribal leaders are loyal to particular clerics, so that this may not be such a separate group.
The IRI poll is skewed to begin with. Its sample is only 55% Shiite, whereas the population is almost certainly 65% Shiite. The sample is 34% Sunni and 9.3% "Muslim." Sunnis would be far more likely to represent themselves as just "Muslim" than are Shiites, and therefore the poll is likely to under-count Shiite views significantly. Since, in turn, Shiites are more likely to want a theocracy, given that the Sunni middle classes retain some Baath-era secularism, if Sunnis are over-represented then so would be secularists.
The "optimism" of the Iraqis, which keeps being touted by the US Right in justification of the mess they have made over there, is a more complex issue than they pretend. First of all, we don't know why they are optimistic about next year being better than this. It could be that they have been plunged into such unprecedented misery that they believe it cannot get worse. "Better" is a relative word, not an absolute one. Second, this poll shows 45% of Iraqis saying the country is headed in the wrong direction, a big jump from June. So the optimism is declining fast, and it is no longer the case that a majority is optimistic. Indeed, more are now pessimistic (45%) than are optimistic (41%). The way the question is asked can also influence the answer. What does "headed in the right direction" even mean to Iraqis? Did they use the word ittijah? Would it have made a difference if they had asked a question like, "Are current policies of the US and Allawi in Iraq likely to produce an improved situation over time?"
Not only are people in the Sunni Arab areas pessimistic, which could be expected, but so are people in Baghdad. And confidence in the northern mixed cities of Mosul and Kirkuk has plummeted. Kirkuk is obviously a tinderbox. Indeed, the only places where optimists form a majority are the deep south around Basra and the Kurdish regions. Even Kurdish optimism is declining from previous highs.
Some 34% of people in Mosul and Kirkuk believe that a civil war is possible or imminent! Since those are the likely sites of a civil war, that over a third think it a serious threat is quite alarming. Moreover, the people of a country are not a good guide to how likely civil war is. Virtually no one in Yugoslavia would have predicted a civil war in 1989. People can learn to hate really fast, in a week or two; and then observers later complain about "centuries-old hatreds," when in fact very often people had gotten along just fine for decades before the conflagration.
Suspicion of the United States is so great that 2/3s of Iraqis believe any civil war that breaks out would likely be instigated by America! And 22% believe that it would be instigated by Israel. More Iraqis blamed the US and its allies in Iraq for the current poor security situation than blamed foreign terrorists! And they were four times more likely to blame the US & coalition than to blame armed elements of the former regime!
About 55% say that the current interim government does not represent people like them. Only 8% enthusiastically say it represents them. Half of Iraqis blame the government for being ineffective, and only 44% think that it has been at all effective (the same 8% are enthusiastic). Allawi's effectiveness rating has fallen from 65% last July to 45% now.
Virtually none of the main points made by the IRI at its website about its own poll are valid in context, which does not exactly inspire confidence in the poll takers. The link to the poll results is given at the bottom of their page, in pdf. Go look at the slides yourself. It is not in fact a pretty picture.
DOWNTOWN - Cincinnati's headquarters for the Bush/Cheney re-election campaign was broken into overnight.
Money and a sign were taken from the office, on Seventh Street near Court Street. The thieves got in by breaking out a window.
The office was also ransacked, officials said. It also houses other Republican organizations.
No one had been arrested.
Political motivations turned criminal Thursday night or early Friday when vandals smashed a large glass door with a section of cinder block at the Republican Party headquarters in downtown Flagstaff.
A pile of shattered glass joined egg shells filling the entryway to the GOP offices, located on Humphreys Street across from Wheeler Park. Fliers with information criticizing President Bush were staked up outside the door.
It joined a spate of torn and damaged signs reported by both Republicans and Democrats throughout the Flagstaff area. On Sunday, the campaign for 1st Congressional District Democratic challenger Paul Babbitt reported a dozen signs torn and damaged at its volunteer office on Verde Street.
Local GOP coordinator John Echols said he received at 7 a.m. phone call from an employee at Enterprise Rent-a-Car next door reporting the vandalism. Echols arrived to find the smashed door, but little else in the way of damage. Still, police are considerting the crime as a felony because cost to replace the door is expected to exceed $1,000.
"Thankfully, none of the office had been vandalized," Echols said, but speculated that the vandals most likely intended to cause more damage. "I think they may have been spooked. We are on a major thoroughfare."
For Echols, it's nothing new. In 2002, someone threw a rock through a window at the Republican headquarters, then located at the Bashas' plaza at the north end of Humprheys Street.
"I still have that rock from two years ago," Echols said, pulling it out of the closest in his headquarters office.
Echols also reported that a number of Bush-Cheney supporters have had their signs torn down, and a few "have had swastikas painted on them."
Babbitt campaign communications director Carlos Vizcarra said that on Sunday, all of the signs posted out in front of the office had been slashed. "And we have had other signs that supporters have had stolen or torn up."
Vizcarra said it was hard to tell if the damage was politically motivated, but one Babbitt supporter told the campaign that his signs were destroyed but not the Bush-Cheney signs posted by his neighbor. [...]
An international human rights group said Thursday its observers for this year's US election found access to polling stations difficult in Florida and Ohio.
"One of the surprising things we learned is that most voting jurisdictions have no mechanisms for nonpartisan polling observation," said former Canadian Cabinet minister David MacDonald. "A system needs to be put in place that allows for international and domestic nonpartisan poll observation."
The observers, organized by Global Exchange, an international human rights organization, made an initial US visit last month, and will return on Oct. 29 for the Nov. 2 vote in Missouri, Ohio and Florida, the group said in a statement.
"We would like to urge the remainder of the election boards that we have contacted to certainly seriously consider allowing the observers, because we do not see any harm except increased accountability and transparency," said Australian observer Irene Baghoomians.
Conservative groups have opposed access to polls for observers from Global Exchange, saying the group is anti-US and biased against President George W. Bush.
"Global Exchange is a very shady group of leftist agitators whose number-one goal is to stir anti-American hatred both at home and abroad," said Tom DeWeese, head of the conservative American Policy Center.
In Florida, only Leon county has consented to the presence of observers in polling places, the group said, while Miami-Dade, Fort Lauderdale and Broward counties have not responded.
In Missouri, Columbia and St. Louis counties gave a green light to the observers and will allow them to recount ballots.
However, in Ohio, the observers have been given permission to observe voting only in Cuyahoga county, near Cleveland, Baghoomians said.
Republican Party officials in Ohio took formal steps yesterday to place thousands of recruits inside polling places on Election Day to challenge the qualifications of voters they suspect are not eligible to cast ballots.
Party officials say their effort is necessary to guard against fraud arising from aggressive moves by the Democrats to register tens of thousands of new voters in Ohio, seen as one of the most pivotal battlegrounds in the Nov. 2 elections.
Election officials in other swing states, from Arizona to Wisconsin and Florida, say they are bracing for similar efforts by Republicans to challenge new voters at polling places, reflecting months of disputes over voting procedures and the anticipation of an election as close as the one in 2000.
Ohio election officials said they had never seen so large a drive to prepare for Election Day challenges. They said they were scrambling yesterday to be ready for disruptions in the voting process as well as alarm and complaints among voters. Some officials said they worried that the challenges could discourage or even frighten others waiting to vote.
Ohio Democrats were struggling to match the Republicans' move, which had been rumored for weeks. Both parties had until 4 p.m. to register people they had recruited to monitor the election. Republicans said they had enlisted 3,600 by the deadline, many in heavily Democratic urban neighborhoods of Cleveland, Dayton and other cities. Each recruit was to be paid $100.
The Democrats, who tend to benefit more than Republicans from large turnouts, said they had registered more than 2,000 recruits to try to protect legitimate voters rather than weed out ineligible ones.
Republican officials said they had no intention of disrupting voting but were concerned about the possibility of fraud involving thousands of newly registered Democrats.
"The organized left's efforts to, quote unquote, register voters - I call them ringers - have created these problems," said James P. Trakas, a Republican co-chairman in Cuyahoga County.
Both parties have waged huge campaigns in the battleground states to register millions of new voters, and the developments in Ohio provided an early glimpse of how those efforts may play out on Election Day. [...]
Elections officials in Ohio said they hoped the criteria would minimize the potential for disruption. But Democrats worry that the challenges will inevitably delay the process and frustrate the voters.
"Our concern is Republicans will be challenging in large numbers for the purpose of slowing down voting, because challenging takes a long time,'' said David Sullivan, the voter protection coordinator for the national Democratic Party in Ohio. "And creating long lines causes our people to leave without voting.''
The Republican challenges in Ohio have already begun. Yesterday, party officials submitted a list of about 35,000 registered voters whose mailing addresses, the Republicans said, were questionable. After registering, they said, each of the voters was mailed a notice, and in each case the notice was returned to election officials as undeliverable.
In Cuyahoga County alone, which includes the heavily Democratic neighborhoods of Cleveland, the Republican Party submitted more than 14,000 names of voters for county election officials to scrutinize for possible irregularities. The party said it had registered more than 1,400 people to challenge voters in that county. [...]
ST. LOUIS - Authorities are investigating whether the shooting of an Indiana truck driver on Interstate 44 may be linked to eight other possible snipings at motorists in recent months along the stretch of freeway.
The truck driver was shot in the head Thursday and released from a hospital Friday. She was the first person injured in nine cases of vehicle windows inexplicably shattering in daylight since Feb. 26 along a 10-mile stretch of I-44 in and near Bourbon, about 70 miles southwest of St. Louis, an investigator said.
"Based on the pattern of other incidents, it's possible we may be dealing with a sniper-type situation," Bourbon Police Chief Bill Williams said Saturday. "We're not saying it is, but we'd be foolish not to acknowledge that it's a concern."
Amy Holder, 34, of Paris Crossing, Ind., was shot near her left temple while her husband rested in the semi rig's sleeper compartment.
Holder, screaming and bleeding, managed to pull the tractor-trailer to the shoulder. Her husband drove to a nearby gas station and summoned police, Williams said.
A bullet fragment found in the truck — the first actual evidence of a shooting in any of the suspected cases — has been forwarded to the Missouri State Highway Patrol for testing, Williams said.
The worries parallel those earlier this year in Ohio, where authorities investigated more than 20 shootings — including one death — along a five-mile stretch of Interstate 270 in Columbus. A suspect arrested in March in that case has pleaded not guilty.
By Severin Carrell
24 October 2004
The world faces a growing risk that terrorists will use new biological weapons created by genetic engineering, the British Medical Association will warn this week.
Advances in research make it more likely that virulent and lethal forms of influenza and laboratory-enhanced strains of smallpox could be used as weapons, the BMA claims.
The warnings are spelt out in a report on the threat posed by biological warfare, released tomorrow by the BMA. The association, which represents 128,000 GPs and medics, will call for international action to curb the threat posed by these weapons.
Dr Vivienne Nathanson, the BMA's head of science and ethics, said: "We have a small window of opportunity to make the world safer. The fact is that window is getting smaller."
The report lists a series of recent experiments creating lethal new viruses and bugs. The BMA will argue there are grounds for using biowarfare tests to find defences against threats from terrorist and rogue states. But it warns there are no international treaties to control these tests.
It is understood the BMA report will focus on recent tests including:
* Russian admissions that they created genetically enhanced anthrax.
* The creation by US scientists of a new type of smallpox - which is eradicated worldwide by a global vaccination programme - from the vaccine itself. This new bug, called SPICE, is 100 times more potent than the original.
* A new generation of weapons designed to attack the human nervous system or immune system with "catastrophic effects", perhaps using genetically modified natural toxins.
TOKYO, Japan -- A series of severe earthquakes in northern Japan left 21 people dead, more than 1,500 injured and at least 7 missing, the Kyodo news reported Sunday.
The first earthquake with a magnitude 6.8 on the Richter scale struck Ojiya, Niigata Prefecture, 125 miles (200 kilometers) northwest of Tokyo, just before 6 p.m. local time Saturday.
Up to 68,000 people have been evacuated in the Niigata Prefecture and, while the full extent of damage was still undetermined, at least 76 homes collapsed, landslides occurred in 37 places, and roads were damaged or blocked at 211 locations, the National Police Agency said.
Power was slowly being restored Sunday, but at mid-day officials said 129,000 homes were still without power, while 56,000 homes were without natural gas, CNN reported. However, the Tokyo Electric Power Co. said its nuclear plant in Kashiwazaki, Niigata Prefecture, was unaffected and running normally.
The Japan Meteorological Agency named the quake the "Niigata-ken Chuetsu Earthquake" and said more than 270 perceptible quakes took place Sunday, including about 30 strong tremors. An earthquake measuring 4.9 on the Richter scale, sturck in the Ojiya area again Sunday about 2:12 p.m. local time (1:12 a.m. EDT).
The agency also warned of more aftershocks and landslides due to loose ground caused by massive rainfall from Typhoon Tokage last week.
The killer earthquake that struck Niigata Prefecture Saturday evening registered a record high maximum acceleration in Japan, well above the figure recorded in the Kobe quake in 1995, a national research institute said Sunday.
Acceleration is an index used to measure the strength of vibrations in earthquakes.
An earthquake measurement device called, "K-NET," in Ojiya shows that the temblor registered the maximum acceleration rate of 1,500 gals, according to the National Research Institute for Earth Science and Disaster Prevention (NIED).
The figure far surpassed the maximum acceleration of 818 gals that the Kobe Marine Observatory recorded at the time of the Great Hanshin Earthquake on Jan. 17, 1995, which devastated Kobe and surrounding areas in Hyogo Prefecture.
Experts say people and objects are thrust upward if an earthquake with 980 gals or above strikes, suggesting that the record high acceleration is responsible for massive damage caused by the Niigata quake.
The earthquake moved the earth's crust in extensive areas, according to the government's Geographic Survey Institute (GSI).
The GSI estimated that the active fault that triggered the temblor shifted 1.4 meters horizontally after examining the movement of the earth's crust along the fault.
GSI officials noted, however, that the figure may be subsequently revised because no data at nine observation points near the focus of the quake are available because of a power failure.
(ENN) - An earthquake with a magnitude of 5.3 at Richter scale shook an area described as 100 kms northeast of Mekelle town on Friday, Ethiopian News Agency (ENA) reported.
Dr. Ataly Ayele, Geophysical Observatory Education Section Researcher at the Addis Ababa University, said the quake struck at exactly 3:00 pm on Friday.
The quake was felt in some parts of the Mekelle town but so far there has been no immediate report of causality or property damage.
Mekelle is located in some of the most seismically active areas in Ethiopia.
Dr. Ataly said an earthquake measuring 5.6 at the Richter scale shook the area two years ago in August. The quake hit areas are found in remote western Artaile, ENA said.
Reports show that some of the most significant earthquakes of the 20th century in Ethiopia are the 1906 Langano earthquake, the 1961 Kara Kore earthquake, the 1983 Wondo Genet earthquake, the 1985 Langano earthquake, the 1989 Dobi graben earthquake in central Afar and the 1993 Nazareth earthquake.
From the Weird Desk...
AP
October 24, 2004
SAN DIEGO - A Lear jet crashed in the mountains near the Mexican border early Sunday, shortly after taking off from a small air field in San Diego, authorities said.
Five people were believed to be aboard the plane when it crashed in mountainous, isolated terrain near the border, said Larri Frelow, operations manager for the Federal Aviation Administration.
Authorities could not immediately confirm whether anyone was killed, but emergency workers flying over the crash site in a helicopter reported seeing body parts, Frelow said.
The cause of the crash was not immediately known.
Emergency personnel were hiking to the largely inaccessible area, Frelow said. A San Diego police dispatcher said it would likely take several hours to get there.
The plane crashed around 12:30 a.m., about two miles east of Brown Field. It had been bound for Albuquerque.
The jet was a "lifeguard" aircraft used for transporting medical patients, but no patients were believed to be aboard when it crashed, Frelow said.
The identities of the pilot and passengers were not released.
A message left at Brown Field, where the plane had taken off, was not immediately returned.
The airstrip just north of the border is used as a port of entry for private aircraft arriving in California from Mexico and by military and law enforcement aircraft.
SOUTH CAROLINA - A single-engine vintage airplane crashed Saturday evening in western Lexington County, killing the pilot and a passenger, authorities said.
About 6 p.m., emergency officials began receiving calls about a plane sputtering and crashing in a wooded area between U.S. 1 and Summit, said Lexington County Sheriff James Metts.
Curtis Bell, 22, of Gilbert, who investigators think was the pilot, and Troy White, 39, of Irmo were killed in the crash. Autopsies are scheduled for today.
Metts said authorities had started receiving calls around 3 p.m. concerning a low-flying plane in the area.
The sheriff's department identified the airplane as a 1940s-era T-6. The plane took off from a private airstrip in the area.
According to the Boeing Co.'s Web site, the T-6 Texan was used to train fighter pilots during World War II.
Officials with the Federal Aviation Administration were at the scene of the crash late Saturday, said sheriff's spokesman John Allard. Accident investigation teams with the National Transportation Safety Board will be at the site on Monday, he said.
Witnesses who saw the plane before the crash debated what caused it to go down.
"It sounded like the motor wasn't getting enough gas," said Geraldine Price. She was outside with her husband, Ansel, when they saw the plane and heard what sounded to them like engine problems.
"He was trying to get it going up," Price said. "But it couldn't."
Metts, who is a licensed pilot, said the plane appeared to have stalled and fell in the wooded area. He said there were no clipped trees near the crash site.
"It was heading in the direction of the airstrip," Metts said.
The pilot might have been giving rides, he said.
A friend said Bell had always shown an interest in flying.
"That boy had been flying since he'd been in a car seat," said Bryan Couch, 20. "If I had to say anything about Curtis, I would say he loved the Lord more than anything and you could see it in everything that he did."
Couch said Bell was related to the owners of Bell Aviation Inc., which has offices at Columbia Metropolitan Airport.
A man was killed Saturday as the small plane he was piloting crashed into a shallow gully near a rural road in this mountain town.
The man's name was not immediately released, but authorities said he was from Florida. He died on impact when the single-engine Cessna crashed shortly after 11 a.m., said Henderson County Sheriff's Sgt. Randy Stepp.
The cause of the accident was being investigated. Fire Chief Jimmy Womack said the crash may have been due to engine failure, though the overcast, foggy skies might also have played a role.
The plane crashed into a narrow valley between rolling hills of pasture, only about four miles from the Hendersonville Airport but reachable by four-wheel drive or all-terrain vehicle.
Residents of the area said they heard the plane flying low, its engine sputtering, moments before the crash.
"I was wondering if it was a bigger plane because it was so loud," said Rhonda Lively, whose home was closest to the crash site.
NEVADA - A single-seat motorized glider based out of the Minden-Tahoe Airport crashed Sunday afternoon at about 12:45 p.m. killing the pilot. The broken craft was found in the Kirman Field area, between Stephanie Way and Sundridge east of the Carson River.
The plane apparently began to disintegrate while in the air. Part of a wing was found at Northern Nevada Correctional Center grounds, a couple miles to the north, according to police.
A search plane circled above scanning for other pieces of the wreckage.
"We started receiving calls from a number of people saying they had seen an airplane going down in the general area," said Sergeant Dan Britton of the Douglas County Sheriff's Department.
"An eyewitness said he heard an airplane engine revving high and then heard a loud popping noise, like a gun shot, and then he saw the plane fall apart," said Britton.
Members of the National Transportation Safety Board and the Federal Aviation Administration were on their way to begin the investigation into what went wrong, authorities said.
The name of the pilot has not been released pending notification of family.
The British Armed Forces has officially recognised its first registered Satanist, according to a newspaper report.

Naval technician Chris Cranmer, 24, has been allowed to register by the captain of HMS Cumberland.

The move will mean that he will now be allowed to perform Satanic rituals on board the vessel.

According to the Sunday Telegraph, Mr Cranmer realised he was a Satanist nine years ago.

Religious values

At the time he stumbled across a copy of the Satanic Bible, written by Church of Satan founder Anton Szandor LaVey.

He said: "I then read more and more and came to realise I'd always been a Satanist, just simply never knew."

Mr Cranmer, who is from Edinburgh, is now lobbying the Ministry of Defence to make Satanism a registered religion in the armed forces.

A spokesman for the Royal Navy said: "We are an equal opportunities employer and we don't stop anybody from having their own religious values."

The Church of Satan was established in San Francisco in 1966.

LaVey was its high priest until his death in 1997.

Followers live by the Nine Satanic Statements, which include "Satan represents indulgence instead of abstinence", "Satan represents vengeance instead of turning the other cheek" and "Satan represents all of the so-called sins, as they all lead to physical, mental, or emotional gratification".
(AGI) - Messina, 23 October - A joint summit of the inter-institutional work group of the civil protection forces and the technical consultants of the Mistretta prosecutor's office (Messina) will take place tomorrow morning. Their task will be to try and understand what is happening in Canneto di Caronia, in the province of Messina, where many families have reported cases of plumbing pipes suddenly perforated, attributing this occurrence to the dispersion of electrical current. The same thing had happened at the beginning of 2004 when a series of mysterious fires had taken place. Stray current, has this time affected Caronia's aqueduct which has no cathodic protection. The technicians of the prosecutor's office and the civil protection forces will examine the broken tubes and will try to draw some initial conclusions on this anomalous incident which is filling local families with fear and uncertainty.
Staring out from an ancient piece of pottery, the mysterious face of a bearded man has given scientists a unique glimpse of what the first settlers of Fiji may have looked like.
Researchers say the "extraordinary discovery" is a vital clue in mapping out how the South Pacific came to be inhabited some 3,000 years ago, suggesting the first direct link to islands some thousands of kilometres away.
Thought to be the work of the Lapita people - a long-lost race which originated near modern-day Taiwan then migrated to Polynesia - the fragment is also at least 200 years older than any other piece found in Fiji.
"This is the first time that a clearly recognisable face design made in three dimensions on a piece of Lapita pottery has been found in Fiji," said a statement from the University of the South Pacific, based in the archipelago.
Preliminary analysis shows that the eerie-looking face consists of a prominent raised nose, the left eye and what might be eyelashes, said Roselyn Kumar of the University of the South Pacific's Institute of Applied Sciences.
There are also designs that suggest what might be head-hair, and crescent shapes on the base which were possibly intended to represent beard-hair.
The find therefore gives researchers an opportunity to gaze on the countenance of Fiji's first inhabitants, from whom modern Polynesians are believed to be descended.
But equally significant is that it is the first time that a facial design has been found on Lapita pottery outside a group of islands north of Papua New Guinea - which are some 3,400 kilometres away from Fiji.
"As such it represents an extraordinary discovery," the university said.
The find made it possible to conclude that the early people of Fiji had at some stage come from the far-off island chain, named the Bismarck Archipelago, Geography Professor Patrick Nunn said.
It could go some way towards settling the long archaeological debate on settling of Polynesia - a vast triangle of islands from Hawaii in the north, to New Zealand in the south-east and Rapanui or Easter Island in the east.
The new face fragment was found near Natadola Beach, west of the Fijian capital Suva, in the tourist area of Viti Levu island.
Readers who wish to know more about who we are and what we do may visit our portal site Cassiopaea.org
---
Remember, we need your help to collect information on what is going on in your part of the world!
We also need help to keep the Signs of the Times online.
---

Check out the Signs of the Times Archives

Send your comments and article suggestions to us

---
Fair Use Policy
Contact Webmaster at signs-of-the-times.org
Cassiopaean materials Copyright ©1994-2014 Arkadiusz Jadczyk and Laura Knight-Jadczyk. All rights reserved. "Cassiopaea, Cassiopaean, Cassiopaeans," is a registered trademark of Arkadiusz Jadczyk and Laura Knight-Jadczyk.
Letters addressed to Cassiopaea, Quantum Future School, Ark or Laura, become the property of Arkadiusz Jadczyk and Laura Knight-Jadczyk
Republication and re-dissemination of our copyrighted material in any manner is expressly prohibited without prior written consent.
.