Printer Friendly Version
New! Article - High Strangeness
New! Article - The Blair Belief Project
New! Pentagon Strike Flash Presentation by a QFS member
Picture of the Day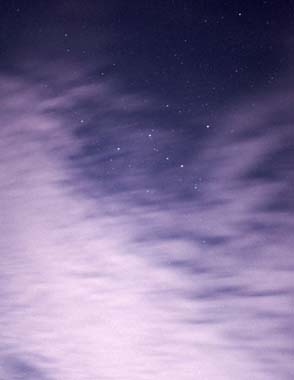 Misty Cassiopaea
©2004 Pierre-Paul Feyte
LA Times
Robert Scheer
October 19, 2004
The agency is withholding a damning report that points at senior officials.

It is shocking: The Bush administration is suppressing a CIA report on 9/11 until after the election, and this one names names. Although the report by the inspector general's office of the CIA was completed in June, it has not been made available to the congressional intelligence committees that mandated the study almost two years ago.
"It is infuriating that a report which shows that high-level people were not doing their jobs in a satisfactory manner before 9/11 is being suppressed," an intelligence official who has read the report told me, adding that "the report is potentially very embarrassing for the administration, because it makes it look like they weren't interested in terrorism before 9/11, or in holding people in the government responsible afterward."
When I asked about the report, Rep. Jane Harman (D-Venice), ranking Democratic member of the House Intelligence Committee, said she and committee Chairman Peter Hoekstra (R-Mich.) sent a letter 14 days ago asking for it to be delivered. "We believe that the CIA has been told not to distribute the report," she said. "We are very concerned."
According to the intelligence official, who spoke to me on condition of anonymity, release of the report, which represents an exhaustive 17-month investigation by an 11-member team within the agency, has been "stalled." First by acting CIA Director John McLaughlin and now by Porter J. Goss, the former Republican House member (and chairman of the Intelligence Committee) who recently was appointed CIA chief by President Bush.
The official stressed that the report was more blunt and more specific than the earlier bipartisan reports produced by the Bush-appointed Sept. 11 commission and Congress.
"What all the other reports on 9/11 did not do is point the finger at individuals, and give the how and what of their responsibility. This report does that," said the intelligence official. "The report found very senior-level officials responsible."
By law, the only legitimate reason the CIA director has for holding back such a report is national security. Yet neither Goss nor McLaughlin has invoked national security as an explanation for not delivering the report to Congress.
"It surely does not involve issues of national security," said the intelligence official.
"The agency directorate is basically sitting on the report until after the election," the official continued. "No previous director of CIA has ever tried to stop the inspector general from releasing a report to the Congress, in this case a report requested by Congress."
None of this should surprise us given the Bush administration's great determination since 9/11 to resist any serious investigation into how the security of this nation was so easily breached. In Bush's much ballyhooed war on terror, ignorance has been bliss.
The president fought against the creation of the Sept. 11 commission, for example, agreeing only after enormous political pressure was applied by a grass-roots movement led by the families of those slain.
And then Bush refused to testify to the commission under oath, or on the record. Instead he deigned only to chat with the commission members, with Vice President Dick Cheney present, in a White House meeting in which commission members were not allowed to take notes. All in all, strange behavior for a man who seeks reelection to the top office in the land based on his handling of the so-called war on terror.
In September, the New York Times reported that several family members met with Goss privately to demand the release of the CIA inspector general's report. "Three thousand people were killed on 9/11, and no one has been held accountable," 9/11 widow Kristen Breitweiser told the paper.
The failure to furnish the report to Congress, said Harman, "fuels the perception that no one is being held accountable. It is unacceptable that we don't have [the report]; it not only disrespects Congress but it disrespects the American people."
The stonewalling by the Bush administration and the failure of Congress to gain release of the report have, said the intelligence source, "led the management of the CIA to believe it can engage in a cover-up with impunity. Unless the public demands an accounting, the administration and CIA's leadership will have won and the nation will have lost."

WASHINGTON - The White House has demanded that the US intelligence budget be kept fully secret on national security grounds, just before crucial talks between congressional negotiators on a post-September 11 overhaul of the US intelligence community.
"Disclosing to the nation's enemy, especially during wartime, the amounts requested by the president, and provided by the Congress, for the conduct of the nation's intelligence activities would harm the national security," national security adviser Condoleezza Rice and White House budget director Joshua Bolten wrote in a letter Tuesday to chief House-Senate negotiators.
Analysts said the White House demand had dampened the hopes of those who have waged a persistent fight for greater transparency in the US intelligence community.
The White House request came after the Senate and House of Representatives came up earlier this month with vastly different versions of a bill aimed at reorganizing the Central Intelligence Agency and other parts of the intelligence community in order to make them more efficient.
The Senate bill calls, among other things, for doing away with a decades-old practice of keeping secret the amount of money the US government spends annually on spy operations abroad. It stops short, however, of disclosing specifics.
The House measure would preserve the status quo, despite pleas by government transparency advocates, who for years have been insisting on disclosing the overall size of the intelligence budget.
Rice and Bolten came down strongly on the side of the House.
Their letter contained no explicit veto threat, and it was not immediately clear what would happen if the disclosure provision survived the negotiation process.
Estimates of the US intelligence budget have often circulated in the media but have been officially confirmed only on two recent occasions. [...]
Unofficial estimates of the US intelligence budget continue to be published, though. This year's it is believed to have reached a record 40 billion dollars.
The disclosure plan, championed by Democratic Senator Joseph Lieberman and moderate Republican Susan Collins, has come under intense fire from the administration's Senate allies from the very start.
Republican Ted Stevens, for example, has warned that excessive transparency could result in the United States having even fewer human intelligence sources overseas than it has now.
The White House also came out Tuesday against a proposal to grant Congress the right to appeal decisions by government agencies to classify documents.
The practice has been under fire in light of the September 11 attacks and the fiasco over Iraq's alleged weapons of mass destruction. Many members of Congress have accused the administration of preventing adequate oversight of government agencies by making too much information inaccessible.
But Rice and Bolten remained firm in their refusal to entertain such demands.
"The authority to make such decisions is clearly vested in the president and his designated subordinates under the Constitution," they wrote.
BALTIMORE - The Washington bureau chief for Sinclair Broadcast Group said he was fired Monday after he criticized the company's plans to produce a news program based on a documentary critical of John Kerry's Vietnam-era anti-war activities.

Jon Leiberman said he was fired by Joseph DeFeo, Sinclair's vice president for news, and "escorted out of the building."
"I was told I violated company policy by divulging information from a staff meeting to The (Baltimore) Sun in this morning's edition," Leiberman said late Monday.
That staff meeting took place Sunday at Sinclair's headquarters in Hunt Valley, Leiberman said. It was announced that the news division would produce an hourlong special based on the documentary "Stolen Honor: Wounds That Never Heal," he said.
The documentary features former prisoners of war accusing Kerry, a decorated veteran who took up the anti-war cause upon returning from Vietnam, of prolonging the war and worsening their plight.
Earlier this month, Sinclair ordered its 62 TV stations across the country to pre-empt regular programming to air the documentary.
"They're using the news to drive their political agenda," Leiberman said. "I don't think it served the public trust."
Leiberman, 29, criticized his employer in an interview with The Sun published Monday. "I have nothing to gain here — and really, I have a lot to lose," he said in that interview.
Sinclair in a statement late Monday said that "we are disappointed that Jon's political views caused him to violate company policy and speak to the press about company business."
"We have no further comment on the actions of a disgruntled employee or an ongoing personnel matter," the statement said. "Viewers can grade Leiberman's opinion versus the reality when the finished product is aired."
The reporter, who was tapped by Sinclair last year to start the company's four-person Washington bureau, said he had a contract that ran through next August. Sinclair told him that he was fired for cause and would receive no severance and his benefits ended immediately, Leiberman said.
He added that Sinclair would not waive his noncompete agreement, which means he cannot work for a broadcast outlet in any market that has a Sinclair station.
Leiberman started with Sinclair in 2000 as a reporter for WBFF-TV in Baltimore, Sinclair's flagship station. He said late Monday, "I don't like not knowing where my next move will be and how I'm going to take care of my family."
He added: "I really feel like I can sleep at night and I can be OK with my decision" to criticize Sinclair publicly. ... I know I stood up for the principles of objectivity. In journalism, all we have is credibility and objectivity."
Also Monday, a Vietnam veteran filed a libel lawsuit claiming he was falsely portrayed as a fraud and a liar in "Stolen Honor: Wounds That Never Heal."
Faith against reason
The US election has exposed a growing conflict between two world views. Can they co-exist in one country?
Jonathan Freedland in New Jersey
Wednesday October 20, 2004
The Guardian
Here it comes again, that sinking feeling. Four years ago I travelled across the US, following the presidential campaign, and came away alarmed that Al Gore was not doing enough to win an election that should have been his. Now I have that same queasy feeling - except this time it's not only about the simple matter of who will win and who will lose on November 2. Now it's a deep concern about what is happening to the United States itself.
Start with the contest. Of course, after the 2000 melodrama, only an idiot would dare predict the outcome of this election. The polls are a statistical breath apart - though the latest all nudge in President Bush's direction - and the electoral college system means any number of twists are possible. Holding the states that should be reliably his, coupled with even a small uptick in Democratic turnout in the single state of Ohio, could still win the presidency for John Kerry.
But the intangible, unscientific indicators - of mood, of atmosphere - leave me anxious. The events I saw on Monday are a good example. The morning was spent in Marlton, a small town in the rural south of New Jersey. The community centre there was packed for a Bush rally, filled with the usual cast of characters - the local pols, the dedicated volunteers, the women in stars-and-stripes sweaters. I was expecting enthusiasm from this loyal Republican audience. What I saw was fervour.
The ear-splitting applause began before the candidate was in the room, stirred by the thunderous sound of Marine One - the presidential chopper - overhead. Once Bush entered, it was uncontained. He was received as a hero, his every sentence greeted with a rapturous ovation.
His theme was "A Safer America"; his argument, that only he could protect the US. His opponent was weak, proposing a "strategy of retreat". He would "take the fight to the enemy". His opponent "had chosen the easy path of protest and defeatism", he stood firm and resolute: "We will not let up in this fight."
Every statement, delivered and punched home by Bush, brought a new wave of euphoria. "You'll keep us safe!" shouted one man. "Amen!" said another, before finally the room erupted in a chorus: "U-S-A! U-S-A! U-S-A!"
The very sight of Bush in New Jersey was a mark of confidence: the state, which has not voted Republican since 1988, should be firmly in the Kerry column. But that self-belief was entirely in keeping with the mood of the crowd. Asked if Bush was going to win the election, none hesitated: absolutely.
Later that day, Kerry's running mate was performing in the next-door state of Pennsylvania. That the energy would be of lower voltage here was obvious; John Edwards is not at the top of the ticket. The contrast was striking, all the same. Edwards is a smooth, effective performer, but the room was hardly electrified. People wandered in and out; the applause was strong but not fervent. Asked if they thought they would win on November 2, these Democratic loyalists ummed and erred: they hoped so but were not certain.
You can hardly blame them. America's centre of gravity has moved rightward, creating a set of shibboleths that cannot be challenged. If liberals established a few forbidden zones in the last 20 years under the rubric of so-called political correctness - making it off-limits to demean women, gays and ethnic minorities - then the right has now erected some barriers of its own.
First among these taboos is the military. No politician can utter a word that seems to question the armed services: so Kerry does not mention the Abu Ghraib scandal. Next is 9/11, which has been all but sanctified in American discourse. Because of that event, the US has re-imagined itself as a victim nation: witness the yellow-ribbon bumperstickers, usually bearing the slogan "Support America". (Ribbons were previously reserved for the suffering: red for Aids, pink for breast cancer.)
As a result, any action taken in the name of 9/11 cannot be questioned. Oppose the Patriot Act, with its restrictions on civil liberties, and you are a friend of the terrorists - and, if you are a Democratic congressional candidate, Republicans will air TV ads against you placing your face alongside that of Osama bin Laden.
Show concern for international opinion, and you are some kind of traitor. Kerry spoke French to a Haitian audience in Florida on Monday, the first time he had done so in public for many months: even to appear to have links with the outside world is a negative in today's politics, which has become all about America first.
All this is partly caused by, and certainly reinforces, that gut feeling of certainty that animates today's American right. Bill Clinton used to joke that when Democrats are in the White House, they think they are renting it. Republicans believe they own the place.
The proof came during the Clinton years, culminating in the impeachment process: Republicans fundamentally did not accept the legitimacy of a Democratic president. Something similar was on display in Florida in 2000: the Republicans were determined and disciplined, convinced power should belong to them. That's what I saw in that hall in Marlton and why I am anxious about these next 13 days: when it comes to the dogfight of winning this close contest, I suspect the Republicans will simply be more ruthless about seizing the prize. But this political sense of entitlement has an extra edge, one embodied by the president himself. For his inner certainty is about more than partisan affiliation. It is a question of faith.
George Bush is a born-again Christian, one of the 42% of Americans who describe themselves that way. Other presidents were religious, but Bush seems to have created something new - what even some of his allies call "the faith-based presidency".
A striking profile in Sunday's New York Times magazine interviewed a clutch of Republican insiders who had discovered that belief is the organising principle of the Bush White House. Advisers, even cabinet members, are simply meant to believe in the wisdom of the president, whatever countervailing evidence there may be. Bush's former environment secretary, Christine Todd Whitman, is quoted: "In meetings, I'd ask if there were any facts to support our case. And for that, I was accused of disloyalty!" Senators are told not to worry about the complexities of Iraq; the president's "instincts", his "gut" tells him he's doing the right thing.
"This instinct he's always talking about is this sort of weird, Messianic idea of what he thinks God has told him to do," Bruce Bartlett, a Republican and former official in Bush's father's administration, tells the magazine. At a recent campaign event, one voter told Bush he truly believed God was now in the White House: the president did not argue.
Most revealing of all is the phrase used by a Bush aide to dismiss the inquiries of the New York Times writer. The journalist is told he lives in "the reality-based community". People like him worry about observable facts, while the Bush camp lives in a different universe, a realm where belief shapes reality.
Look hard enough and you can see this mindset in the current Bush campaign. The Bush-Cheney billboards with the single slogan: One Nation Under God. The unwavering certainty of the supporters in Marlton. Bush's inability to name a single mistake of his presidency. There can be no doubt; they are doing the Lord's work.
Bush is a subtle enough politician not to make his campaign an overt religious crusade. But he communicates, through nods and winks, to his evangelical base: they know the mission he is on. He uses their language, answering a question on abortion by referring to a "culture of life", one of their favoured phrases, or nodding to a 19th-century supreme court ruling often cited in their own literature.
This is a revolutionary shift for a country that was founded on the separation of church and state. If Bush wins on November 2, the chances are strong that the shift will accelerate, perhaps even towards permanence.
Thanks to mortality, three or four spaces are likely to open up in the next four years on the nine-person Supreme Court. The next president will get to pick whether those judges are liberals or conservatives.
In 2000, Bush said his favourite supreme court justices were the ultraconservatives, Antonin Scalia and Clarence Thomas. If he named four more in their image, giving them a majority on the court, then the face of modern America could be changed within a few years.
Such a bench would no longer deem abortion a constitutional right; it would allow individual states to ban it, which they would do, across swathes of the country. If past Scalia-Thomas decisions are any guide, laws on everything from clean air to access for the disabled, affirmative action for ethnic minorities to gay rights would all be struck down. (When the supreme court last year heard the case of a gay man arrested for having sex in his own home, Scalia and Thomas sided against the man and with the police.) Crucially, Thomas has argued that the Constitution's ban on established religion might not apply to the individual states.
The campaign has hardly been fought on this ground. If anything, John Kerry has had to go along with the intrusion of religion into politics - insisting on his own Catholic credentials, telling audiences that he was once an altar boy. But the tension is there.
It has manifested itself in the issue of research using embryonic stem-cells. Kerry says it should continue, using new lines of cells if necessary; Bush wants no more lines to be created, no more of what he calls the destruction of life. Kerry says stem cell research might have found a cure for Ronald Reagan's Alzheimers or for Christopher Reeve's paralysis. Bush says the work will have to stop.
As the faithful streamed out of the Evesham Recreational Centre in Marlton, a Kerry-Edwards bus with a loudhailer was taunting them from across the road: "Don't be scared of science, guys. Please guys, we need science."
It seemed an odd kind of election slogan, but it might be right to the point. For the clash under way now is about more than Bush v Kerry, right v left. It seems to be an emerging clash of tradition against modernity, faith against reason. The true believers pitted against the "reality-based community".
That leaves two questions, one for the future, one for November 2. For the future: how long can these two competing world views, so far apart from each other and so sharply divided, co-exist in the same country? For November 2: which of these two camps is going to be absolutely determined to win?
Flu vaccine shortages along with an "emotionally charged" presidential election are fueling the nation's anxiety, one expert said.

Vaccine shortages and the presidential elections combine to "polarize" the nation, Dr. Catherine Deering, a registered nurse and psychology professor, said. In anxious times, people tend to cluster in groups and form extreme views. That is heightened by the presidential election.

"This is the kind of behavior you see that leads to riots and uprisings," Deering said. "The more people worry and become anxious about it, the more the snowball effect."
The Federal government is challenging an American soldier's bid for refugee status in Canada. A government official confirmed the feds will oppose a refugee application from Jeremy Hinzman because he "does not fit the criterion for status refugees."
Refugee cases are heard by an independent tribunal and the federal government intervenes in hearings only when there's a novel legal argument or high public profile.
Jeffry House, a Toronto lawyer representing three U.S. military deserters under the watchful eye of the U.S., said the Immigration and Refugee Board is expected to rule within weeks on whether his clients can base their claim on the legality of the Iraq war.
Hinzman's hearing begins Dec. 6.
"No soldier can be required to violate the law, and that includes international law," House said. "If it's justified to bomb a country, that's one thing, but if it's not justified, then it's no different than blowing the heads off babies."
Hinzman is one of four American soldiers claiming refugee status in Canada.
WASHINGTON - Federal investigators believe the second World Trade Center tower fell much more quickly than the first because it faced a more concentrated, intense fire inside, officials said Tuesday.
The detailed hypothesis was discussed at a meeting of investigators with the National Institute of Standards and Technology, part of the Commerce Department.
NIST investigators are preparing a report, to be released later this year, detailing how and why the towers collapsed after being struck by fuel-filled jetliners on Sept. 11, 2001.
Lead investigator Dr. Shyam Sunder said Tower 2 collapsed more quickly than Tower 1 because the fire was more concentrated, weakening sections of interior and exterior support columns more quickly.
Tower 1 was struck first and stood for 103 minutes, almost twice as long as Tower 2, which remained standing for only 56 minutes.
"In Tower 2, you had a large concentration of combustible debris in the northeast corner, and the fire there was a more persistent fire," said Sunder.
The flames stayed strong in part because the impact of the plane stripped away much of the fireproofing along the floors, investigators said.
NIST probers now suspect the stripping effect of the collision was far more decisive in the course of the fire than whether individual floors had more or less fireproofing material.
Investigators also say the towers would have probably remained standing were it not for the raging fires inside, which weakened the steel supports. The jet fuel from the planes burned away within minutes, but the office material and the plane debris continued to burn and break down the structural integrity of the buildings.
As the fire continued, the heat and extra stress on the interior support columns caused them to compress downward. When the building's steel skin couldn't handle the extra weight, it began to buckle.
Investigators have singled out an Associated Press photograph that they said may provide evidence to support their theory of how the buildings collapsed. The photo, taken shortly before the collapse of Tower 2, shows a "kink" in the building's corner at the 106th floor.
VICTORIA (CP) - The provincial government passed a bill Tuesday aimed at protecting British Columbia residents from the long arm of the USA Patriot Act.
However, NDP MLA Joy MacPhail said the Liberal government rammed through a bill that fails to stop American officials from accessing private data on B.C. residents that might be held or managed by subsidiaries of U.S.-based firms.
"This government has now brought in legislation that gives carte blanche to the U.S. government having access to information from hundreds if not thousands of public bodies."
The government also passed the bill without waiting for a report on the implications of the Patriot Act by B.C.'s Information and Privacy Commissioner.
Critics have warned the Patriot Act, enacted in the aftermath of the Sept. 11, 2001 terrorist attacks on the World Trade Centre and the Pentagon, would allow the FBI to look at such data.
But Attorney General Geoff Plant refuted suggestions the government should have waited for the privacy commissioner's report, which has been delayed twice because of the sheer volume of submissions received.
The report is now due at the end of this month.
Plant said the government did not want to delay the amendments.
"The time to enact legislation is now because we're in session," said Plant.
"We think we have some good ideas for how to protect the privacy rights of British Columbians and they're in the bill. If the commissioner comes up with other ideas I'm sure we'll take a look at them."
MacPhail said the biggest problem in the amendments is that they don't apply to hundreds if not thousands of public contracts or public bodies such as B.C. Hydro.
She said that's a big enough loophole "to drive an FBI convoy through."
The legislation amends the Freedom of Information and Protection of Privacy Act to, among other things, restrict storage and access of information outside Canada and threatens heavy fines on those who improperly disclose it.
The legislation was prompted when critics of the B.C. Liberal governments' plan to contract out handling of health-care records grew alarmed that two U.S.-owned companies were in the running.
They warned that under the USA Patriot Act, American police and security services could get at those records if they were stored in the United States.
And even if they weren't, the critics claimed, a U.S.-based company bound by American law would feel compelled to comply with any demands for access.
The government has called the threat "minimal and largely theoretical." [...]
Section 215 of the Patriot Act allows a special court to secretly issue an order requiring "the production of any tangible things" to the FBI. This can include an individual's personal information.
Anyone served with such a secret order is prohibited from disclosing to anyone else that the order exists or has been complied with.
Jodi Stokol – The Jerusalem Post October 18, 2004
"Israel and Jordan are on the edge of a human and ecological disaster that could have consequences all the way to Greece," said Mordechai Vanunu Monday in an interview with the French newspaper Le Figaro in Jerusalem.

"The Dimona nuclear reactor should have had a lifespan of 25 years and this makes 40 years that it is in service," said Vanunu. "It isn't for nothing that the government distributed pills to the people who live near Dimona."

Vanunu was released from prison six months ago after serving 18 years for divulging state secrets regarding Israel's nuclear reactor in Dimona.

In his interview, Vanunu defended his views that have been received as anti-Semitic and claimed that anti-Semitism is no longer an issue for Jews.

"Certain people accused me of anti-Semitism," he said. "But as long as you are Jewish, you are considered Israeli in this country.

"During the first half of the 20th century there was a real problem of anti-Semitism. Today refugees of all the wars are spread around the world and the Jews aren't anything but a minority. They are no longer in danger. They no longer need refuge."

Vanunu lambasted Israel's method of approaching the current conflict with the Palestinians, and explained his reasoning for giving away state secrets.

"In Israel, the Bible became a tool to take the land from the Palestinians. The slightest prescription of the Torah is respected in every aspect of our daily life without having the least respect for the life of the Palestinians. I had to free myself of that.

"What Israel needs is a real democracy. The day when there will be a Palestinian prime minister and head of Mossad, I will be proud to belong to this country. But for now, Israel is a racist Jewish state where an anti-Palestinian apartheid reigns. I no longer want live in Israel. "

Vanunu is currently forbidden from leaving the country and talking to foreign journalists, although this is not the first interview that Vanunu has given to the foreign press

In the interview to the French newspaper Vanunu challenged the French government to absolve itself of responsibility for augmenting Israel's nuclear capabilities.

"If France hadn't offered the reactor, Israel wouldn't have developed the nuclear capacity that pushed Israel to feel so strong vis-a-vis its Arab enemies," Vanunu said.

"Israel wouldn't have dared to fight the whole Arab world and would have understood that to survive in the Middle East it should have made peace with its neighbors.

"Because of the atom, the Hebrew state is taken for a nuclear superpower. France gave the reactor. France has the right today and the obligation to reclaim inspections from the International Atomic Energy Agency. This would be its contribution to peace."

Vanunu suggested that war would be imminent if, instead of France, Israel is able to control nuclear inspections.

"If Israel reclaims inspections from the International Atomic Energy Agency in Iran, it isn't because they feel menaced, it's only to turn the attention away from its own nuclear program. Then, it will attack Pakistan."

Vanunu also described how he spent his time in prison with a focused and steady mind.

"The Israelis wanted to burn me," confided Vanunu calmly, the interview with Le Figaro said. "They tried to make me crazy, to discredit me. But I never cracked. I read, studied, listened to opera. For Yom Kippur I put on Wagner in my cell. This was my method of staying free, of showing them that I wasn't theirs and was, therefore, sturdy."

"Israel tricked the entire world by making them believe that the Dimona nuclear reactor was used only for peaceful ends," explained Vanunu. "As a result of my revelations the world understood that Israel was no longer a good enemy, weak compared to the Arab strengths. The world also saw that Israel had cheated."

"I felt a moral need to tell the truth. Certain people think that I did a service to Israel by revealing its true strength. I also maybe prevented Israel's nuclear suicide".
GAZA, Oct. 20 (Xinhuanet) -- A total of 2,500 Palestinian children have been arrested since the intifada (uprising) against an Israeli occupation began four years ago, the Palestinian Ministry of Prisoners said in a report on Wednesday.

Of the total, 391 children were still in the Israeli Jails, and more than 400 were under 18 when they were arrested.

According to the report, 7 percent of the jailed children were ill and needed health care, while 83 percent were school students.

It said that one Palestinian child was sentenced to life imprisonment, three to 15 years, four to between five and nine years and many others to between one and three years on charge of belonging to Palestinian organizations.

Some children were sentenced to between six and 18 months for throwing stones at Israeli soldiers.
BRUSSELS, Oct. 20 (Xinhuanet) -- France, Germany and Britain, the three big countries of the European Union (EU), have decided to make new efforts towards the peaceful resolution to Iran's nuclear issue, sources close to the matter said here Wednesday.

Senior officials from the EU's Big Three are to meet Iranian representatives in Vienna later this week to persuade Tehran to give up its nuclear enrichment plans.

They will meet with Hassan Rohani, secretary-general of Iran's Supreme National Security Council, the sources said.

Under the joint efforts of the three countries, Tehran agreed in 2003 to suspend its uranium enrichment plans.

The EU's Big Three hold that Iran should fulfill its commitments and avoid miscalculation that could lead to a very serious situation.

Meanwhile, Iran insisted that it would not give up its right to enrich uranium and that it has no plans to build nuclear weapons.

Washington, however, claimed that Iran intends to develop nuclear capabilities and has pushed for a tougher line with Tehran.

The EU has recently toughened its own stance on Iran's nuclear issue, indicating that October 31 is the deadline for Iran to comply if it wishes to avoid sanctions.
President Bush has said that he would "accept" an "Islamic Iraq," according to AP.
If free and open Iraqi elections lead to the seating of a fundamentalist Islamic government, "I will be disappointed. But democracy is democracy," Bush said. "If that's what the people choose, that's what the people choose."
Given that Bush has ensconced the Christian right in many of his administration's policies, I suppose we should just check with Iyad Allawi as to whether "if free and open American elections lead to the seating of a fundamentalist Christian government," he would be willing to "accept" that.
Really, the president cannot help patronizing the Iraqis. A while ago he talked about them taking off their "training wheels," as though high-powered Iraqi physicists, lawyers and physicians were somehow reduced to little children just because the US has 138,000 troops in their country.
I think it can be fairly argued that the Bush "war on terror" has actually spread Islamic fundamentalism. (Bush coddling of Ariel Sharon's harsh policies in Palestine has also contributed).
Since Bush began acting aggressively in the region, the United Action Council of (often pro-Bin Laden!) fundamentalist parties in Pakistan has come to power by itself in the Northwest Frontier Province, in coalition in Baluchistan, and has 17% of the seats in parliament! Despite Pakistan's unwarranted reputation for "fundamentalism," in fact most Pakistanis are Sufis or traditionalists who dislike fundamentalism, and the latter parties seldom got more than 2-3% of seats in any election in which they ran. Until Bush came along.
In Iraq, a whole series of Muslim fundamentalist parties-- al-Da`wa, the Supreme Council for Islamic Revolution in Iraq, the Sadrists, the Salafis, and now al-Qaeda, have been unleashed by Bush. They seem likely to win any election held in Iraq, since the secularists remain disorganized.
In the parliamentary elections in Afghanistan now slated for spring 2005, the Taliban or the cousins of the Taliban are likely to be a major party, benefiting from the Pushtun vote.
We could go on (a similar story of new-found fundamentalist strength could be told for Indonesia, e.g.) The real legacy of Bush to the Muslim world will likely not be secular democracy, but the provocation of Muslim publics into voting for the Muslim fundamentalists on a scale never before seen in the region.
But then since Bush wants to subvert the separation of religion and state in the United States, with his theologically (!) driven stem cell policy and his hand-outs to cults like the Moonies, at least he is being consistent when it comes to his Middle East policy.
The EU's five largest member states agreed on Monday to begin including biometric indicators in European passports, in a move lauded as a step towards greater security.
Italian Interior Ministry officials told reporters on Monday that the five nations had reached a broad agreement on the introduction of digital fingerprinting and face-recognition biometrics to make EU passports more difficult to forge. The agreement follows Washington's decision to impose visa restrictions on European visitors to the US beginning on 26 October 2005 if they did not have biometric data on their passports.
Interior ministers from Britain, France, Germany, Spain, and Italy said in a statement following informal talks in Florence that they were hoping to introduce the new biometric data into passports issued in their countries starting in 2006. The five EU countries hope the initiative will eventually be adopted throughout the rest of 25 EU member states.
The issuing of biometric passports is part of a US law designed to tighten border security after the 11 September 2001 terrorist attacks. For the past three weeks, the Bush administration has been busy signing controversial agreements with EU countries on handing over passenger data to the US. The Netherlands, which holds the EU presidency, and France, were the first European countries to sign the bilateral agreements said to strengthen "anti-terrorism" cooperation.
The accords establish transatlantic videoconferencing to allow US authorities to "interview" terror suspects abroad. They also lay the foundation for cooperation in tracking suspect bank accounts. The issue has met with strong opposition from the European Parliament, which fears that the privacy of European citizens would be violated.
One of the new security measures involves sharing airline passenger data on European citizens with the US government, including the names, addresses, and credit card details of passengers within 15 minutes of departure for US destinations. [...]
by Vasili Sychev
October 17, 2004
In the not-so-distant future, a new kind of weapon could appear that would change the balance of political power in the world.

This main principle behind this weapon: seek and destroy according to genetics.

American scientists have declared that in ten years they will succeed in creating a radically new type of biological weapon. This weapon would be capable of infecting people according to a genetically predetermined marker such as skin color or eye shape. Infection could have a delayed effect or only begin once a certain type of medicine was taken. A recent closed seminar held by the CIA was devoted to the topic. The event took place as part of the Project for the New American Century.

A slow sickness

Scientists have been exploring the possibilities of selective biological weapons for some time now. This is roughly how these weapons would work. Genetic information is implanted into bacteria's "programming," reflecting the gene structure or gene combination of a certain targeted group of people. Once the programmed bacteria enter someone's system, they "recognize" their target and kill the person. If the genetic structure of the infected person does not correspond, the microbe dies without harming him.

Even specialists will have a hard time differentiating bacterial ethnic cleansing from a regular epidemic, if only because the countries leading the development of these weapons could purposefully misinform the public. There will be few direct clues...

Another difficulty is that this weapon could have a delayed effect. It could be turned on by a trigger mechanism, meaning it could target not only specific people but also people under very specific conditions. This means that illness could be delayed not just by days but for an indefinite period of time. Yet the moment the infected person, say, comes down with strep throat and takes antibiotics, the bacteria begin to multiply, leading to a severe illness that eludes diagnosis.

"It is already possible today to create antibiotic resistant cultures," Alexander Prozorov, a professor in the microorganism genetics lab at the Russian Academy of Science Institute for General Genetics, told Expert. The most striking examples of this type of culture are streptomycin-dependent bacteria that only grow in the presence of the antibiotic streptomycin. This will make it hard for doctors to do much, as traditional pharmaceuticals won't help. On the contrary, treatment will only make the patient sicker.

Political germs

Yet the most terrifying new possibility is the hypothetical biological weapon that could infect people according to genetic markers. Not only would it allow for genocide; it would be created specifically for that purpose. A recent report by the British Medical Association stated that "the rapid progress in genetics could become the basis for ethnic cleansing on an unheard of scale in the near future."

Three years ago, ideologues like US Deputy Defense Secretary Paul Wolfowitz and PNAC Director William Crystal were already discussing genetic weapons. They recommended that the Pentagon consider the possibility for using this type of weapon not only to successfully wage war, but also to reconfigure world politics. According to a PNAC report, genetic weapons could completely change the politics of the entire planet: "cutting-edge biological warfare targeting a certain genotype could turn the reign of terrorism into a politically useful tool."

According to information from PNAC, Israel has also recently begun to work actively on mutagenic weapons. Israel geneticists confirm that Arabs carry a unique gene that no one else in the world has. This gene forms the basis for the Israeli research, believe American experts.

Things look far more frightening, in fact. Genetic weapons could do more than destroy an ethnic group. They could kill according to a person's "usefulness" or "talents." American journalist and bestselling author Thom Hartmann has argued that it would even be possible to kill those with the gene for attention deficit disorder. This means that if you are easily distracted and have a hard time concentrating (there could be other selection criteria as well), you could end up marked for destruction.

We will survive

Fortunately, it is not as easy to create a selective biological weapon as some scientists are claiming. Though it may be possible to create bacteria that multiply only when a person takes a specific medication, the creation of an effective genetic weapon that would not harm the developers themselves seems unrealistic in the foreseeable future.

"It is hard to imagine how a microbe would determine the presence or absence of a certain gene or its structure. Even a researcher armed with the last word in scientific technology has a hard time doing this. It would be impossible for bacteria to accomplish such a task," believes Prozorov.

And so on. Even if bacteria could learn how to identify specific genes, how would this information be transformed into infection? That bacteria multiply in the presence of certain antibiotics is clear, but how would information about eye and hair color turn into certain doom for the world's blue-eyed blonds? For this kind of weapon to become a reality, its creators would have to stuff the bacteria with a powerful "computer" to identify genes and at the same time arm them with the means to begin an infection.

There is one more reason why this kind of biological weapon is unlikely to be as effective as the ideologues would wish. As Nazi doctor Josef Mengele put it, "Scratch a Frenchman and find an African." Humanity has existed for many millennia. In the context of all our past tribal and intertribal connections, it is not far from the truth to say that we are all brothers. "Over the many years of human existence, ethnics groups have intermingled to such an extent that the genetic structures determining ethnic identity have blurred and become difficult to recognize," notes Prozorov.
SALT LAKE CITY - The Army is planning to expand the nation's leading biological and chemical defense testing site in Utah's remote western desert to make it a training ground for counterterrorism operations.
The seven-year plan released Friday for the Dugway Proving Ground includes building a mock city for urban chemical and biological attack exercises and refitting existing facilities for use in counterterrorism training. A permanent annex would be built at the facility used to conduct biological defense trials.
Dugway is the only Army installation large and remote enough to conduct realistic testing of biological and chemical systems without endangering public safety.
In 1991, Dugway began anthrax testing, eventually testing several deadly germs to find a way to detect biological agents in times of war. Dugway now stores the pathogens in a secure laboratory.
The environmental impact of the proposed expansion has concerned some Utah residents, who say the military is trying to hide its plans by taking care of public disclosure requirements with small-print declarations in the legal notices sections of newspapers.
Officials of the installation did not return telephone calls seeking comment Friday.
The final plan will be forwarded to the Pentagon for approval. The public has 30 days to review it.
The Chicxulub meteorite impact is largely credited with the extinction of 50 percent of the world's species, including the dinosaurs. But could there have been more than one meteorite impact 65 million years ago?
Astrobiology Magazine -- Rather than a single meteorite impact 65 million years ago, could Earth have been hit with a scattershot of several rocks from space?
It may have happened before. There is evidence that about 35 million years ago, at least five comets or asteroids collided with Earth. If the effects of a single large meteorite impact seem overwhelming, imagine how life on Earth would reel from a barrage of rocks from space.
One way such impact clustering happens is to have a single bolide break up as it approaches a planet. The comet Shoemaker-Levy 9 provides a recent example. Before striking the planet Jupiter in 1994, the comet was torn into 21 different pieces by Jupiter's immense gravity. These fragments struck Jupiter over 5.6 days, some creating large fireballs as they entered Jupiter's vast gaseous atmosphere.
Earth's gravity is no where near as powerful as Jupiter's, so the same scenario would not happen to Earth. Yet many asteroids are thought to be rubble piles, loosely bound by gravity, and such an asteroid could rip apart as it approached our planet.
But if an asteroid "rubble pile" broke up before it entered Earth's atmosphere, the pieces would only result in one crater, or at most two, because most of the pieces would fall into the same hole.
"Once such a rubble pile enters Earth's gravity it's too late," says Christian Koeberl, a geochemist at the University of Vienna in Austria. "It would only get into the attraction field of Earth's gravity a few hours before it hits at best, and this is not time enough to spread it out appreciably."
However, having an asteroid break up as it approaches Earth is not the only way to end up with multiple craters.
Within the asteroid belt that orbits the sun between Mars and Jupiter, collisions between asteroids sometimes occur. The resulting fragments can then rain down on Earth. Simon Kelley, a geologist at the Open University in England, says that such a collision occurred 470 million years ago, and many of those fragments traveled to Earth. In fact, some of the fragments still are impacting Earth today.
A similar shower of fragments can come from a collision within the Oort cloud, a comet-filled region in the outer-most portion of the solar system. Kelley says such a cometary shower may be responsible for the cluster of impact craters dated to be 35 million years old, including two of the largest impact craters on Earth: the 100 kilometer Popigai crater in Siberia, and the 90 kilometer Chesapeake Bay crater off the shore of Maryland. This cometary shower is thought to have lasted for 2 to 3 million years.
Looking over the Planetary and Space Science Centre's Earth Impact Database, several of the crater dates overlap. Much of this overlap reflects the limitations of current dating techniques, where ages can't be narrowed down further than hundreds of thousands of years. But it is possible that some of the craters point to a multiple impact scenario.
The Boltysh crater in the Ukraine may be proof that multiple impacts occurred during the Cretaceous-Tertiary (K-T) extinction. Kelley has dated the crater to be about 65 million years old.
The Boltysh crater had previously been assigned ages ranging from 88 million to 105 million years old, a variation that arose due to the different dating methods used. Kelley used Argon-Argon dating to determine the correct age for the crater. The crater rocks melted in the heat of impact, and when they cooled they trapped argon out of the air. Different isotopes of argon decay at different rates, so by measuring the ratio of argon isotopes, Kelley was able to estimate when the rocks melted, within a margin of error of plus or minus 600,000 years.
The margin of error prevents scientists from saying Boltysh was definitely part of the same meteorite strike as Chicxulub. And Kevin Pope of Geo Eco Arc Research points out that while Chicxulub has been linked directly to the K-T boundary and extinctions by the stratigraphy of its ejecta, the same is not true for Boltysh.
"Craters the size of Boltysh form every few million years, so the fact there is a crater this size close to the boundary is no surprise," says Pope.
The Boltysh crater measures only 24 kilometers in diameter - compared to Chicxulub's nearly 200-kilometer-wide monster - so even if the smaller meteorite that made this crater hit around the same time as Chicxulub, its effects wouldn't have been as catastrophic.
But if Boltysh did occur around the same time as Chicxulub, it could aid in our understanding of the K-T extinction event. Craters can act as time capsules, preserving information about the environment at the moment of impact.
Comet Shoemaker-Levy left enormous scars on Jupiter. Credit: NASA
An aerial view of Meteor Crater, Arizona.
Like Chicxulub, the Boltysh crater is buried underground. But while Chicxulub filled with seawater, the Boltysh crater became a fresh water lake. Kelley is writing a paper with Dave Jolley at the University of Sheffield on the microflora and fauna they have found in the Boltysh crater fill. They hope to determine how rapidly life recovered in the vicinity of the impact, and how that recolonization occurred.
As for other K-T impact craters, Kelley notes that the record is very poorly dated. He plans to study other craters, currently dated to be from the Devonian (around 380 million years ago) to the Eocene (34 million years ago), to see if their ages are accurate. By determining the correct dates for impact craters, scientists will be able to better understand how often multiple impact events have occurred in the past.
So do multiple impacts play a role in mass extinctions? Kelley says that as far as we know, they don't. For instance, Kelley says there is no evidence that the barrage of comets 35 million years ago led to a mass extinction event.
"The effects would have been truly devastating locally, but they didn't amount to global catastrophes," says Kelley. "You can argue that minor extinctions are associated, but not a K-T-like event."
A single large meteorite impact like Chicxulub may be more harmful to life than a cluster of several smaller meteorites or comets spread out over a million years or less. Yet determining why certain species die out can often be difficult. Extinctions are a natural part of the cycle of life, and may occur due to a whole host of interrelated factors, including competition for food, climate change, and even sea level change. Perhaps tossing a few meteorites into the mix also can upset the scales, tipping some species too far off balance to recover.
Rock recordings
A Telegraph Column By Dave Brooks
Published: Wednesday, Oct. 20, 2004
When Mount St. Helens started blowing its top this month, TV cameras and tourists rushed to watch.
Jeff Johnson, a volcanologist at the University of New Hampshire, rushed out west, too - but he went to listen.
Johnson, 31, a self-described "volcano junkie" who publishes research papers with titles like "Volcanic Acoustic Efficiency of Strombolian Eruptions," is one of a small but growing number of scientists who analyze volcanoes based not on the way they make the ground move, but the way they make the air move.
"A lot of people use seismometers to tell when a volcano is awakening, how activity is proceeding, maybe even predict eruptions. . . . My specialty is recording the sound waves and analyzing that," he said.
"This can help answer plenty of esoteric questions, science issues - not just hazard monitoring. The biggest question is, how are eruptions fueled? How does gas get out of magma and erupt?"
Since we can't lower ourselves into an erupting volcano to see what's going on, scientists have long looked at earthquake patterns for indirect evidence. Johnson and others of his ilk want to add to that evidence by listening to acoustic patterns.
They take microphones - some specialized models costing up to $6,000, and some tweaked everyday mikes for a few hundred bucks - and stick them around volcanoes to record low-frequency "infrasound" in the range of 1 hertz to 20 hertz. These noises can't be heard by people, but they contain valuable clues about what's happening with all that super-heated rock and gas.
"The biggest problem is wind noise," Johnson said. "Low-frequency sound can be easily obscured, so we have to work to get (microphones) out of the wind, such as behind a ridge. Snow is a real good filter; you can bury them, or even bury them in ground a little bit."
Using arrays of separate microphones and combining signals to identify unwanted noise is another method under study. [...]
As for Mount St. Helens, he doesn't expect to see it again anytime soon - but doesn't think he'll miss out.
"My opinion is that Mount St. Helens will continue to erupt in this manner for the foreseeable future. I think it could continue for months or years," he said.
If it does, he'll be listening.
The biggest typhoon to hit Japan in more than a decade roared over the country's main island Wednesday, with heavy rain and fierce winds leaving at least 16 people dead and 12 others missing, officials said.

Typhoon Tokage also injured at least 62 people, police said, after becoming a record 10th major storm to land on the archipelago in the past year. The typhoons have claimed at least 118 lives.

Packing windspeeds of 144 kilometers (89 miles) per hour, Tokage triggered landslides and sent objects flying while bullet trains between Tokyo and Osaka had to be cancelled.
Six … long … years.
Solar physicist David Hathaway has been checking the sun every day since 1998, and every day for six years there have been sunspots. Sunspots are planet-sized "islands" on the surface of the sun. They are dark, cool, powerfully magnetized, and fleeting: a typical sunspot lasts only a few days or weeks before it breaks up. As soon as one disappears, however, another emerges to take its place.
Even during the lowest ebb of solar activity, you can usually find one or two spots on the sun. But when Hathaway looked on Jan. 28, 2004, there were none. The sun was utterly blank.
It happened again last week, twice, on Oct. 11th and 12th. There were no sunspots.
"This is a sign," says Hathaway, "that the solar minimum is coming, and it's coming sooner than we expected."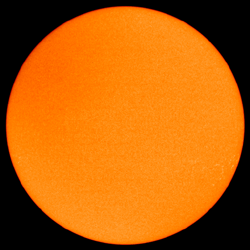 The blank sun on Oct. 11, 2004, photographed by the ESA/NASA Solar and Heliospheric Observatory.
Solar minimum and solar maximum--"Solar Min" and "Solar Max" for short--are two extremes of the sun's 11-year activity cycle. At maximum, the sun is peppered with spots, solar flares erupt, and the sun hurls billion-ton clouds of electrified gas toward Earth. It's a good time for sky watchers who enjoy auroras, but not so good for astronauts who have to be wary of radiation storms. Power outages, zapped satellites, malfunctioning GPS receivers--these are just a few of the things that can happen during Solar Max.
Solar minimum is different. Sunspots are fewer--sometimes days or weeks go by without a spot. Solar flares subside. It's a safer time to travel through space, and a less interesting time to watch polar skies.
Hathaway is an expert forecaster of the solar cycle. He keeps track of sunspot numbers (the best known indicator of solar activity) and predicts years in advance when the next peaks and valleys will come. It's not easy:
"Contrary to popular belief," says Hathaway, "the solar cycle is not precisely 11 years long." Its length, measured from minimum to minimum, varies: "The shortest cycles are 9 years, and the longest ones are about 14 years." What makes a cycle long or short? Researchers aren't sure. "We won't even know if the current cycle is long or short--until it's over," he says.

Above: Astronomers have been counting sunspots for centuries. This plot shows sunspot numbers from 1610 to 2000. Data are also available for the current cycle (1996-2004): click here.
But researchers are making progress. Hathaway and colleague Bob Wilson, both working at NASA's Marshall Space Flight Center, believe they've found a simple way to predict the date of the next solar minimum. "We examined data from the last 8 solar cycles and discovered that Solar Min follows the first spotless day after Solar Max by 34 months," explains Hathaway.
The most recent solar maximum was in late 2000. The first spotless day after that was Jan 28, 2004. So, using Hathaway and Wilson's simple rule, solar minimum should arrive in late 2006. That's about a year earlier than previously thought.
The next solar maximum might come early, too, says Hathaway. "Solar activity intensifies rapidly after solar minimum. In recent cycles, Solar Max has followed Solar Min by just 4 years." Do the math: 2006 4 years = 2010.
By that time, according to NASA's new vision for space exploration, robot ships will be heading for the moon in advance of human explorers. If Hathaway and Wilson's prediction is correct, those robots will need good shields. Solar flares and radiation storms can damage silicon brains and electronic guts almost as badly as their organic counterparts.
For now, says Hathaway, we're about to experience "the calm before the storm." And although he's a fan of solar activity--what solar physicist isn't?--he's looking forward to the lull. "It'll give us a chance to see if our 'spotless sun' method for predicting solar minimum really works."
Solar Max will be back soon enough.
HANOVER - An earthquake measuring 4.5 on the Richter scale shook parts of northern Germany Wednesday, causing a minor scare but no damage or casualties, authorities said.

Police and fire officials were inundated with concerned calls after the earthquake in Lower Saxony state was felt in the northern cities of Hamburg and Bremen.

In some places people ran onto the streets after buildings shook shortly before 9 a.m.

The earthquake's epicentre was near the town of Neuenkirchen in the Lueneburg Heath region south of Hamburg, with the tremor felt within a 40-kilometre radius. Another, much weaker, tremor followed.

Although minor earthquakes in Germany are not uncommon, Manfred Henger, from the Federal Geoscience and Raw Materials Institute, said Wednesday's quake was "a surprise for this region".

The last earthquake of similar strength in northern Germany was near Soltau, measuring 4 on the Richter scale, on 2 June 1977.
BEIJING - An earthquake has rocked a densely populated city in southwestern China, destroying more than 20,000 houses but killing no one, a local official said on Wednesday.
Twelve people were injured, one critically, in the tremor early on Tuesday morning, Xinhua news agency said, adding that tents had been provided for the homeless.
The earthquake, measuring 5.0 on the Richter scale, rocked Baoshan in Yunnan province, with the epicenter about six miles from the city center, Xinhua said.
The collapsed buildings were mainly mud-built homes but included schools and some 1,000 students had to stay at home, it said.
"We suffered a 4-scale aftershock and we're now evaluating the damage," the official said, adding that he had heard of only five people injured.
Earthquakes are common in China. In December, a tremor measuring 6.1 on the Richter scale struck the remote northwestern region of Xinjiang. At least 10 people, mostly herdsmen, were killed and 700 mud and brick houses destroyed.
SAN FRANCISCO - Heavy rains in northern California knocked out power to at least 144,000 customers on Tuesday and forced the evacuation of 200 residents, many in areas where wildfires burned as recently as a week ago.
The unusually early winter storm was concentrated over Napa and Sonoma counties north of San Francisco, where winds gusted to nearly 60 mph and some hilly and mountainous regions received more than a half-inch of rain per hour.
"It's coming down hard and the winds are just incredible," said Lt. Kevin House of the El Dorado County Sheriff's Department.
About 200 residents in hamlets along the South Fork of the American River were told to clear out Sunday because authorities feared mudslides could occur on hillsides cleared of vegetation by fires.
Just last week, a 37,000-acre fire burned in Napa and Yolo counties, and another wildfire covered 7,700 acres in the Eldorado National Forest.
"There's no vegetation holding anything up on the hill anymore because it all got burned out," House said.
Many of the evacuees had been allowed to return home just two days earlier as the fire danger abated. Some were staying at a temporary shelter, officials said.
Pacific Gas & Electric Co. said most of the power outages were in pockets across northern California.
Officials said the storm was headed toward southern California, where up to 6 inches of rain were expected in some areas. Emergency crews were bracing for potential flooding and mud and rock slides, particularly in areas ravaged by last October's disastrous wildfires.
"If it comes down slowly and easy, it's a blessing. If we get a deluge all at once, it's a curse," Marvin McMain said Tuesday as he filled sandbags to protect his home in the San Bernardino Mountains.
CHATTANOOGA, Tenn. (AP) - Strong storms continuing to surge across the U.S. South dumped more than 12 centimetres of rain in Tennessee on Tuesday, causing flash floods and at least one death.
A day after tornadoes destroyed homes in Arkansas and Alabama and left three dead in Missouri, heavy rain caused a Tennessee driver's vehicle to hydroplane, jump a guardrail and overturn. Police said the woman died instantly.
Rain also swamped a water-treatment plant in Waynesboro, Tenn. Officials said residents were not affected but water from other sources was being delivered to hospitals and nursing homes.

At Tennessee State University in downtown Nashville, rain caused a nine-metre section of portico over the main entrance of a building to collapse. No classes were in session because of fall break and no one was injured.
Elsewhere, residents were cleaning up from Monday's tornadoes, which claimed three lives in southeastern Missouri.
Three family members died and other relatives were injured when a tornado destroyed three homes and a farm shop near the small town Cooter, the Pemiscot County Sheriff's Department said Tuesday.
The tornado touched down Monday night on Don Tims' property, killing his sister, his brother-in-law and his father.
Tims, his wife and sister-in-law were also in hospital. Three or four children in the homes were treated for minor injuries.
"We had a problem finding some of the victims," Sheriff's Deputy Ferrell Stewart told the Kennett Daily Dunklin Democrat newspaper.
"One was found across the roadway from the residence."
Parts of the trailers were found two kilometres away, he said.
In Arkansas, authorities said at least 118 buildings were damaged and about 15 people were injured in two tornadoes. No deaths were reported.
With her trailer destroyed and her daughter injured, Virginia Ragan burst into tears Tuesday.
"The wind started crashing in," she said, standing amid the rubble that was once her home.
"I thought, it's just a storm, it's just a storm. But then the trailer started raising up."
"The windows were busted."
Strong thunderstorms swept into metro Atlanta late Tuesday morning, and forecasters warned the risk of severe weather will continue through the afternoon and into tonight.
The National Weather Service said isolated severe thunderstorms are possible, mainly north of a line from Columbus to Atlanta to Blue Ridge. The greatest threat will be damaging winds, the Weather Service said.

At noon, a line of storms stretched from Birmingham, Ala., eastward through downtown Atlanta to Athens. Other strong storms were moving through the northwest corner of Georgia.
It was not yet known whether the stormy weather contributed to the late-morning crash of a twin-engine plane near downtown Atlanta. [...]
Heavy rain and high winds in excess of 90 kilometres per hour caused havoc on the mid-north coast of NSW overnight, police said today.
State Emergency Services (SES) received more than 50 telephone calls from residents in the Coffs Harbour district as adverse weather conditions damaged buildings and vehicles.
Motorists were stranded as storms battered the area, causing flooding and debris from fallen trees and powerlines to block roads, NSW police said.
An SES spokesman said the service was continuing to receive calls as people woke this morning to the aftermath of the storms.
"Coffs Harbour has been a bit wild and woolly overnight and SES volunteers have responded to some 50 calls for help," he said.
"It appears there has been some pretty strong wind - exceeding 90 kilometres per hour - and there have been a number of trees uprooted and limbs fallen."
The spokesman said the service would send in workers from other areas during the day to help with the clean up. [...]
BANGKOK, Thailand (AP) - Twenty-three tigers have died from avian flu at a private zoo in Thailand after being fed the carcasses of chickens infected with the disease, a government official said Tuesday.
The tigers had been dying at the Sriracha Tiger Zoo in central Chonburi province since Sept. 14, said Charal Trinvuthipong, director of the Bird Flu Prevention and Elimination Center. The animal park was forced to close its doors to the public while authorities investigated.
"We've discovered that all 23 dead tigers had bird flu," he said. "We've found that another 30 tigers are sick. We believe that the tigers contracted bird flu because they ate chicken carcasses, and we believe the carcasses had bird flu."
Veterinarians are checking for the disease at chicken farms in the province, where the zoo got the birds that were fed to the tigers, he added. "We have to order the farms to cull all the chickens," Charal said.
The more than 400 tigers at the zoo are regularly fed raw chicken, a zoo official said.
During this year's first wave of avian flu, a clouded leopard and a white tiger died of the virus at another zoo in Chonburi, the same province where the tiger facility is located.
News of the latest tiger deaths came as the government prepared to cull ducks, which are thought to play a major role in spreading the deadly H5N1 strain of bird flu. That strain has killed 31 people in Thailand and Vietnam and forced the culls of tens of millions of birds this year.
Although the virus has most commonly been found in chickens, scientists fear it could mutate by linking with a human flu virus, sparking a global pandemic.
After Thailand announced its first probable case of human-to-human transmission of bird flu, Prime Minister Thaksin Shinawatra vowed to fight the outbreak and rid the country of the disease by the end of October.
International experts, however, have said the virus seems to be entrenched in the region and it is likely to take years to control its spread.
Wild birds are thought to be responsible for spreading the disease and reintroducing it to areas where it had been brought under control, and ducks are believed to be able to carry the virus without succumbing to it.
Deputy Prime Minister Chaturon Chaisaeng said the government would buy ducks from farmers before December - the height of flu season - and cull them. He suggested the same plan might later be applied to fighting cocks and free-range chickens.
Cock fighting is hugely popular in Thailand, and owners have resisted previous culls by hiding their expensive birds.
From the Weird Desk...
Xinhuanet
2004-10-20 06:41:51
WASHINGTON -- A small plane crashed in Atlanta, capital of the southeastern US state of Georgia, on Tuesday killing the two people aboard, media reports said.
The twin-engine plane, which took off from a nearby airport, was heading for Florida, in a rainstorm when it went into a nosedive, clipping an auto-body shop and cashing in its parking lot. No one on the ground was injured.
The reports quoted a National Transportation Safety Board investigator as saying that the plane had sent out a distress signal but the cause of the accident was not immediately known.
The crash occurred in the city's historic Sweet Auburn neighborhood, near the birthplace of Martin Luther King Jr., a well-known black human rights activist in the 1960s.
SEATTLE - A two-seat Czechoslovakian fighter-trainer jet with two men aboard left Boeing Field around midday Tuesday and vanished en route to Idaho after reporting flight-control problems over the Cascade Mountains.
A search for the single-engine L-39 registered to Rocky Stewart of Hollister, Calif., was launched by the aviation emergency services division of the state Department of Transportation.
That effort, based at Bowers Field in Ellensburg, was suspended at nightfall, spokeswoman Nisha Hanchinamani said.
Stewart's wife, Patti, said in a telephone interview she didn't know who would have been on the plane with her husband or any other details.
The plane was bound for Lewiston, Idaho, said division coordinator Tom Peterson.
"When the pilot got over the Cascades, he said he was having flight-control problems. Then we lost radar and radio contact with him," said Mike Fergus, a Federal Aviation Administration spokesman in Seattle. [...]
Emergency crews searched woods and open fields early Wednesday for possible survivors of a commuter plane crash that killed at least eight people but left two others with only broken bones.
The American Airlines-affiliated Corporate Airlines plane, a twin-engine turboprop, crashed in the woods a few miles short of the Kirksville airport where it was preparing to land. Five people were missing, and the cause of the crash had not been determined.
One survivor, a 44-year-old woman, was walking around when rescuers arrived at the crash scene, and a 68-year-old man was found alive in brush about 25 feet from the fuselage.
"We see car accidents with worse injuries coming in here every week," said Dr. Charles Zeman, director of trauma services at Northeast Regional Medical Center. "This is truly a miracle."
Zeman said the male survivor broke his left hip and a bone in his lower back. The woman suffered a compound fracture of right arm and mild to severe burns over 8 percent of her body. Both were in stable condition.
Several of the victims were on their way to a medical conference, said Philip Slocum, dean and vice president for medical affairs at the Kirksville College of Osteopathic Medicine.
Sgt. Brent Bernhardt of the Missouri State Highway Patrol said rescue workers were holding out hope the five missing -- all passengers -- also survived the crash and would be discovered in the daylight.
"We had officers out there all night," he said. "I'm confident that they did a good search, but I can tell you the area is heavy brush, it's hard to see through. When the daylight arrives, it's going to help us out tremendously."
The wreckage was scattered over an area about one mile across, but the two survivors were discovered "so close to the plane we're imagining the others probably should have been close to the plane if they survived," Adair County Chief Deputy Larry Logston said.
The plane -- Corporate Airlines Flight 5966 -- was on a regular route from St. Louis with 13 passengers and two crew members aboard when it crashed shortly after 7:50 p.m., said Elizabeth Isham Cory, a spokesman for the Federal Aviation Administration in Chicago.
The plane clipped treetops before crashing on its belly. Emergency crews found the fuselage engulfed in flames and largely intact, with the wings broken off nearby, Logston said.
All eight of those known dead were found in the fuselage, some still in their seats and the two crew members in the cockpit area, he said.
At least two victims, and perhaps a third, were from the Englewood Cliffs, N.J.-based Arnold P. Gold Foundation, the conference's sponsor, Slocum said. Also on board were faculty members from Florida, Ohio and Utah, he said. He declined to release their identities.
"There's been a lot of tears. It's very painful," Slocum said.
Al Maglio, a photographer who said he arrived at the same time as highway patrol officers, said a woman ran up to the emergency workers, told them she had been in the plane and said, "It came apart before it hit the ground."
The last communication from the Jetstream 32 indicated it was on a normal approach to Kirksville Regional Airport in northeastern Missouri, and there was no mention of any problems, Cory said.
National Transportation Safety Board investigators arrived at the airport Wednesday morning and recovered both of the plane's flight data recorders.
Thunderstorms were reported in the area at the time of the crash, but it wasn't immediately known what conditions were like where the plane went down or if weather was a factor.
Corporate Airlines, based in Smyrna, Tenn., provides 70 flights from 13 cities in the Midwest to St. Louis and Nashville as AmericanConnection, affiliated with American Airlines.

An investigation will be held into a fatal light plane crash in southern inland Queensland.
Emergency crews found the wreckage of the home-made plane, along with the pilot's body, 20 kilometres south-west of St George.
It is believed the man encountered a medical problem at about 11:30am (AEST) this morning and lapsed in and out of consciousness.
St George pilot Michael Kennedy was in the air and trying to bring the pilot and the plane down safely.
"They just wanted me to try and keep tabs on the aircraft, try and make contact with the pilot and basically, you know, sort of be there and see if I could be of any assistance at any stage," Mr Kennedy said.
Air safety investigators are not expected to reach the crash site until tomorrow.
KULA, Hawaii (AP) - Federal investigators arrived on Maui today to begin looking into a fatal plane crash on the western slope of Haleakala.
Authorities say an official with the National Transportation Safety Board was at the site today looking for clues into what caused the crash of the twin-engine Cessna 310 Sunday night.
The plane crashed in a remote pasture at about the 37-hundred-foot level of Haleakala.
The pilot, who was thrown from the wreckage, was identified as Ward Mareels, owner of Wardair Aviation of Kailua.
The Maui County medical examiner says the pilot had extensive injuries and likely died on impact.
PENNSYLVANIA - State police are trying to determine what caused a Sunday plane crash that killed a Locust Grove pilot at Hartwood Airport.
Daniel G. McFadden, 50, crashed about 2:05 p.m., shortly after takeoff at the Stafford County airport, state police Sgt. F.L. Tyler said yesterday.
He was flying alone in his 1959 Beechcraft H50, which is a twin-engine, fixed-wing plane.
Witnesses told police the plane climbed to an altitude of about 100 feet, then suddenly banked left and nosedived into the end of the runway, Tyler said.
McFadden was pronounced dead at the scene. Tyler did not know where the pilot was headed or how much flight experience he had.
Trooper Anna Dishman, with help from the Federal Aviation Administration, is investigating what caused the crash.
The airport's last accident occurred in October 2002, when a pilot ran out of fuel and crashed into a stand of trees. The man suffered minor injuries when his single-engine Cessna went down. He was later charged with reckless flying.
The plane that carried three Yamhill County teens to their deaths Thursday did not break up in flight, run out of fuel or encounter bad weather, investigator Tom Little of the National Transportation Safety Board said Monday from his Seattle office.
But that doesn't put investigators much closer to solving the mystery. Right now, Little said, "We don't have a clue."
Lt. Ed Stallard of the Lincoln County Sheriff's Office said preliminary investigation suggested the plane might have crashed as early as 5:30 or 6 p.m. He said it came in nose first and landed upside down in heavy timber, touching off a fire.
One of the teens reportedly used a cell phone to call a friend during the flight, saying they were on their way back to McMinnville, where they were due in about 7.
However, Little said he could not yet pinpoint a time frame for the crash or confirm that a call had been placed during the flight.
The three were flying a 1971 Piper Cherokee PA-28 140, a single-engine four-seater rented from Cirrus Aviation in McMinnville. It crashed in a remote and heavily forested portion of eastern Tillamook County, about 35 miles southwest of McMinnville. [...]
AT least two Zimbabweans are believed to have perished in a plane crash which occurred in Canada last Thursday when an MK Airline Boeing 747 cargo plane crashed on taking off from Halifax Airport in that country.
The crash claimed the lives of all crew members aboard, including the two Zimba-bweans. [...]
WASHINGTON - Federal investigators have finished the physical investigation at the site of a plane crash in Hermiston. They say it could be a few days before they know what caused 58-year-old Steve Caldwell's stunt plane to crash Thursday. Caldwell was performing aerobatic maneuvers over the Hermiston Airport when he crashed.
"He never pulled up and we heard a thud after that," says eyewitness James Kirby. "But it didn't register what it actually was."
Caldwell was a long-time Hermiston resident and ran a business out of the Hermiston Airport.
ILLINOIS - The pilot of a small plane was killed Thursday night when he crashed in a residential area near Joliet Municipal Airport, authorities said.
The plane left the airport about 7:50 p.m, made a 180-degree turn and was heading back for an unknown reason when it crashed near town homes on Springwood Drive across from the airport.
There were no passengers and no one on the ground was injured, police said.
Investigators with the Federal Aviation Administration and National Transportation Safety Board were headed to the scene.
Two people were injured when a light aircraft apparently crash-landed in a field next to an airstrip today, police said.
The incident, in which one man suffered serious injuries, happened at Manor Farm, Wadswick, near Corsham in Wiltshire, just after 3.30pm.
One man, who was able to stagger out of the plane, received non life-threatening leg injuries but another is in a more serious condition with head injuries, Wiltshire Police said.
Both have been taken to the Royal United Hospital in Bath after being treated at the scene by paramedics.
Aviation authorities and police will be carrying out an investigation starting tomorrow morning.
No witnesses have been identified yet, a police spokeswoman added.
SAN DIEGO — A civilian stunt plane crashed in front of horrified spectators watching the start of the annual Miramar Air Show today, killing the pilot and indefinitely suspending the aviation exhibition, officials said.

The prop-driven aircraft went down on the northern San Diego Marine Corps station as the flier was performing a diving maneuver just after 10 a.m., USMC public affairs Lt. Al Eskalis reported.

The wreck sent smoke billowing into the air, but no flames, according to witnesses.

Pilot Sean de Rosier was believed to be the only occupant of the aircraft, possibly a Skyrocket stunt plane. [...]

"He came down, getting air speed back, and he just didn't pull up soon enough," Rideg told KGTV. "He started to pull the nose up, but he was too close to the ground, and he pancaked in." [...]
MADISON, CONNECTICUT — The pilot and a passenger were killed when

their single-engine plane crashed into a house on Monday, minutes after the pilot reported the engine stopped working

, a spokesman for the Federal Aviation Administration said.

Three people in the house, including a child, were not injured, FAA spokesman James Peters said.

The pilot radioed a "mayday" to Bradley International Airport in Windsor Locks at about 5:50 p.m., reporting the engine stopped working. [...]

The plane, a 1978 Piper Warrior, left Nantucket and was headed to Danbury Airport, Peters said. It is registered to the Danbury Flight School. A woman who answered the phone at the flight school would not talk about the incident, but confirmed the plane is based at the school. [...]
CORVALLIS, Ore. - Chris van Rossman's television came with a VCR, DVD player and CD player - plus a hidden feature that had a rescue team beating a path to his door.
On the night of Oct. 2, the TV began emitting the international distress signal - the 121.5 megahertz beep emitted by crashed airplanes and sinking boats.
The signal was picked up by a satellite, relayed to an Air Force base in Virginia, then to the Civil Air Patrol, then to officials in Oregon. Most signals are false alarms, but they're all checked out, and soon, men in Air Force uniforms, a police officer and Mike Bamberger, a Benton County Search and Rescue deputy, were at van Rossman's apartment door.
"I have a pretty spotless record, so I wasn't overly concerned - just a little confused," van Rossman said. "The police officer asked if I was a pilot or had a boat or anything."
They left when he said "no," but came back when they narrowed the location of the signal to a wall in van Rossman's hallway, Bamberger said.
The solution to the mystery was nailed when van Rossman turned off the TV before answering the door the second time. The signal stopped, too. An inspection of the television confirmed it was the source.
"Their equipment was just bouncing everywhere as they turned it on and off," van Rossman said.
Neither investigators nor officials at Toshiba Corp. know exactly what caused the problem, Bamberger said Tuesday. Toshiba plans to replace the television and examine the offending one.
"We have never experienced anything like this before at Toshiba," said spokeswoman Maria Repole.
In the meantime, van Rossman is keeping the set unplugged - to avoid a fine of up to $10,000 per day if his TV cries wolf again.
The girl who wept stones: it sounds like something out of a Gabriel Garcia Marquez novel. But according to reports from Jharkhand state in eastern India it is all too real.
A 15-year-old girl called Savitri been admitted to hospital suffering from tiny stones that emerge from the corners of her eyes. Doctors say they have never seen anything like it, and they cannot explain it.
At the girl's village in Jharkhand, they have two explanations. Either she is possessed by an evil spirit, or she is an incarnation of a goddess. But for Savitri, the condition is anything but a blessing. Before the stones emerge, she suffers from excruciating pain in her head. Tiny stones emerge from her ears, nose and mouth as well.
"In some cases, stones have come out from the nose and the ear of some people," said Dr Ragho Saran, an ear, nose and throat specialist who has treated Savitri. "But this is the first time I have even heard of stones coming out of the eyes. Stones are formed due to the high level of calcium in the body. But they are generally found in the gall bladder and kidney."
Savitri and her family are desperate for a cure. Her bedside at the Rajendra Institute of Medical Science has been overrun by reporters, but the family say no one has been able to offer medical help.
Readers who wish to know more about who we are and what we do may visit our portal site Cassiopaea.org
---
Remember, we need your help to collect information on what is going on in your part of the world!
We also need help to keep the Signs of the Times online.
---

Check out the Signs of the Times Archives

Send your comments and article suggestions to us

---
Fair Use Policy
Contact Webmaster at signs-of-the-times.org
Cassiopaean materials Copyright ©1994-2014 Arkadiusz Jadczyk and Laura Knight-Jadczyk. All rights reserved. "Cassiopaea, Cassiopaean, Cassiopaeans," is a registered trademark of Arkadiusz Jadczyk and Laura Knight-Jadczyk.
Letters addressed to Cassiopaea, Quantum Future School, Ark or Laura, become the property of Arkadiusz Jadczyk and Laura Knight-Jadczyk
Republication and re-dissemination of our copyrighted material in any manner is expressly prohibited without prior written consent.
.