Printer Friendly Version
New! Signs Supplement: The Suicide Bombing Cycle
New! Pentagon Strike Flash Presentation by a QFS member

Picture of the Day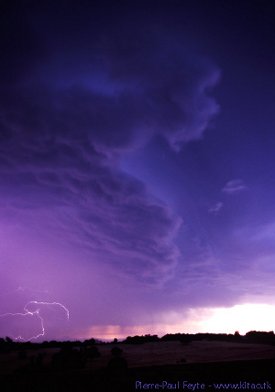 Fin d'Orage
©2004 Pierre-Paul Feyte

NEW YORK (Reuters) - Surveillance powers granted to the FBI under the Patriot Act, a cornerstone of the Bush Administration's war on terror, were ruled unconstitutional by a judge on Wednesday in a new blow to U.S. security policies.
U.S. District Judge Victor Marrero, in the first decision against a
surveillance portion of the act, ruled for the American Civil Liberties Union in its challenge against what it called "unchecked power" by the FBI to demand confidential customer records from communication companies, such as Internet service providers or telephone companies.
Marrero, stating that "democracy abhors undue secrecy," found that the law violates constitutional prohibitions against unreasonable searches. He said it also violated free speech rights by barring those who received FBI demands from disclosing they had to turn over records.
Because of this gag order, the ACLU initially had to file its suit against the Department of Justice under seal to avoid penalties for violation of the surveillance laws.
Although the ACLU's suit was filed on behalf of an Internet access firm, the ruling could apply to other entities that have received FBI secretive subpoenas, known as national security letters.
The ACLU said that the Patriot Act provision was worded so broadly that it could effectively be used to obtain the names of customers of Web sites such as Amazon.com or eBay, or a political organization's membership list, or even the names of sources that a journalist has contacted by e-mail.
"This is a landmark victory against the Ashcroft Justice Department's misguided attempt to intrude into the lives of innocent Americans in
the name of national security," said ACLU Executive Director Anthony Romero.
"Even now, some in Congress are trying to pass additional intrusive law enforcement powers. This decision should put a halt to those efforts," he said.
PATRIOT ACT
He said the suit was one of the ACLU's legal battles to block certain sections of the Patriot Act that went "too far, too fast." [...]
Patriot Act II
Final Piece of Police State Puzzle Ready
By John Tiffany
American Free Press
September 26, 2004
The Bush administration's allies in Congress, led by J. Dennis Hastert of Illinois, the speaker of the House, have launched another assault on constitutionally protected civil liberties with a bill many are calling Patriot Act II (PA II). However, it is not to be confused with the 2003 version of Patriot Act II.
But according to the Associated Press, in a draft of the House GOP legislation, many of the provisions are similar to the draft copy of the "Domestic Security Enhancement Act of 2003" that leaked out of the Justice Department in January 2003.
Many Democrats and civil libertarians charge the new PA II authorizes heavy-handed infringements on civil liberties. House Democratic leaders and civil liberties advocates said on Sept. 22 that the Republican bill ostensibly responding to the findings of the 9-11 commission would go well beyond the panel's recommendations. It would call for broad new powers for law enforcement agencies, they said, and would include new authority to conduct electronic surveillance in terrorism investigations.
Among the provisions, said AP, are measures on the deportation of aliens who are suspected of being linked to foreign revolutionary groups which have been labeled as terrorists, mandatory pretrial detention for terrorism suspects, warrants against non-citizens even when a target can't be tied to a foreign power and enhanced penalties for threats or attempts to use chemical or nuclear weapons.
John Feehery is a spokesman for Hastert. Feehery told AP that criticism of the bill was unwarranted as of the evening of Sept. 22, because the legislation was still not in final form and was not ready for release to the public. A spokesman for House Majority Leader Tom DeLay (R-Texas) agreed on Sept. 22 that House members were still working on a final version of the legislation.
But critics warn that the proposed law is aimed against the entire U.S. population, not a minority of Arab immigrants.
Comment: Did you catch that? The law "is aimed against the entire US population..."
The proposal, they say, would grant the government the power to strip citizenship of native-born Americans and deport them without any evidence of wrongdoing, even though this would be contrary to the Constitution.
Comment: What's that? You say you're not a terrorist? You didn't do anything wrong? Well, your government doesn't care! You can be deported anyway - if you're lucky. If you aren't lucky...
It would also allow for secret arrests, secret trials and secret torturing of "suspects." Habeas corpus, Americans' most sacred right, would be eliminated.
Comment: As in the time of the Nazi reign of terror, we imagine that the "secret torture" will make the Abu Ghraib abuse look like a picnic.
The law would also remove all restrictions on police spying on citizens.
Patriot Act II would create 15 new death penalties, one of which could be applied to acts of protest. Under the Hastert measure's definitions, anti-war protesters could be deemed terrorists. In fact, any dissident could be spied on, harassed, and imprisoned indefinitely for exercising their legal and constitutionally protected rights.
This legislation would give the government the same power that Stalin and Julius Caesar gave themselves, said one detractor.
While terrorism certainly is a threat that must be addressed, curtailing the civil liberties of innocent Americans is by no means a way of doing so.
AFP readers will recall that the first so-called Patriot Act was passed without the members of Congress being allowed to view the draft of the bill. Those who wanted it to be read and debated were told to vote for it or they would be blamed for the next terrorist outrage. It passed overwhelmingly.
Many experts fear similar tactics will be used to pass PA II, keeping the public ignorant of the proposed law's existence until it is too late.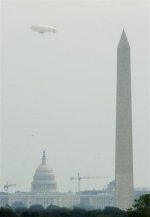 WASHINGTON (AP) - Here's a head-turner for a security-nervous city: A large white object was spotted in the skies above the nation's capital in the pre-dawn hours Wednesday.
Pentagon police said the Defense Department is testing a security blimp - fully equipped with surveillance cameras. The white blimp was spotted early Wednesday morning hovering at various times over the Pentagon and the U.S. Capitol.
The 178-foot-long device, which is expected to remain in the skies until Thursday, is conducting a mission for the Defense Department.
Authorities say the airship is equipped with infrared cameras designed to provide real time images to military commanders on the ground. The equipment on the blimp already is being used to protect troops in Afghanistan and Iraq.
The Army says the device will make at least one 24-hour flight in the District of Columbia area. It has been in the region since last week, and is also being used for test runs over the U.S. Marine Corps Base in nearby Quantico, Va., and the Chesapeake Bay.
PLAYAS, N.M. -- The Phelps Dodge mining company pictured a suburban utopia with a Southwestern flavor when it built this town for its employees from scratch in the early 1970s. It incorporated a six-lane bowling alley, a rodeo ring, a helicopter pad, a shooting range and a swimming pool into the community of 259 ranch-style homes.
But the company shut its nearby copper smelter because of sluggish prices in the late 1990s. And these days, more animals than people can be found wandering the streets.
Quail, javelinas and the occasional mountain lion strut through empty cul-de-sacs with names like Chaparral, Lomitas and Ocotillo. Weeds and creosote bush poke through the asphalt.
So the residents of Playas, all 50 or so of those remaining from the peak of 1,000, say they are more than ready for their town to become a target for pickups laden with explosives and simulations of suicide bombs, water-supply poisoning and anthrax attacks.
In what might be the beginning of Playas' renaissance, the Department of Homeland Security is channeling $5 million to a small New Mexico engineering school to buy the entire town. The school, in turn, aims to turn the town into one of the country's top locations for anti-terrorism training.
'Too quiet'
"I wish they'd hurry up and start hiring people," Carol Davis, 51, a part-time emergency medical technician, said in front of her spacious home, with the Chiricahua Mountains in the distance. "It's too quiet out here right now. I'd like a job driving an ambulance or something."
No one denies that steady jobs are scarce. A sign hanging on the Western Bank window sums up the level of local economic activity: "Bank hours: Friday only, 9:30 a.m. to 4:30 p.m. Drive-thru only."
Davis' husband, Alan, is part of a skeleton crew of 13 Phelps Dodge employees who watch over the shuttered smelter 10 miles south of town, ensuring that electricity and water still flow to the facility, which is on standby status. The smelter, about 40 miles north of the Mexican border, is called "La estrella del norte" ("star of the north") by migrants using its flashing lights as a beacon for crossings into the United States.
The isolation of Playas is part of the allure for New Mexico Tech, which expects to complete the purchase in the next few weeks.
The town is nestled in the empty desert plains, near where Gen. John J. Pershing once searched in vain for Pancho Villa, the Mexican revolutionary and bandit who attacked the border town of Columbus in 1916. The nearest city, El Paso, is three hours away on a winding highway where every other automobile seems to be a sport-utility vehicle operated by the Border Patrol.
"Playas is not your typical ghost town with a saloon and a couple of storefronts, which is what made it so attractive to us," said Van Romero, vice president for research and economic development at New Mexico Tech, based in the town of Socorro.
The university, which has 1,800 students, has undergone its own transformation in recent years, training more than 90,000 emergency workers to respond to terror attacks since the Oklahoma City bombing of 1995. Begun in the late 19th century as the New Mexico School of Mines for mining engineers, it was renamed the New Mexico Institute of Mining and Technology, reflecting in part its new mission. Altogether, it is receiving $20 million in grants from the Department of Homeland Security for anti-terrorism programs.
Playas will be used mostly to train security, medical and military personnel to prevent attacks as well as respond to them. "The town has all the characteristics of a contemporary American community: the churches, the bank, the health clinic, even the baseball diamonds," Romero said. "Plus, it's mainly empty."
It also has some unusual features for a town its size. Amenities include an airstrip capable of handling small jets and underground electric wiring connecting every home to the grid. There is also the Feelgood Lounge, the town's watering hole, and the Copper Pins bowling alley. Phelps Dodge is including about 1,200 acres of land surrounding Playas in the sale.
The lack of skyscrapers is not considered a problem. Romero said he would leave those simulations to Texas A&M, which operates a facility in College Station, Texas, called Disaster City, where high-rises can be collapsed in a mock disaster setting.
Some in town remain wistful about the Playas they knew. "We used to be a place where all the families looked after each other," said Cheryl Wright, 49, an accountant and a third-generation Phelps Dodge employee. "There was a South African wife of one of the supervisors who used to have teas on her lawn for all the wives. It was so idyllic then; now it's kind of dull."
A cheap home
Many houses are slowly being eroded by the sandstorms that ravage the "bootheel" part of New Mexico. The doors of some homes have been kicked in by migrants looking for a place to escape the elements on their way to more prosperous destinations.
Still, Playas is cheap for those who remain. The Phelps Dodge employees pay the company just $50 a month in rent for subsidized homes, some sprawling over more than 2,000 square feet, while those who do not work directly for the company pay about $350 a month.
A little anxiety creeps into the conversation when locals discuss their future jobs.
"I'd like to know what they're going to do with us," said James Noel, 57, a subcontractor who tends the lawns and thickets of prickly-pear cactus at the entrance to Playas. "I like it out here, the wide-open spaces. I'd like to stay."
Romero, the administrator at New Mexico Tech overseeing the project, said he would not ask residents to leave before the "attacks."
"On the contrary, we'd like to have them stay," he said in a telephone interview from his office in Socorro. "We figure about 200 jobs should be created by our transformation of Playas, and some of those opportunities should go to the people living there. We're going to make it as safe as possible for them."
Many people who once called Playas home have drifted to where the work is. Some moved to Johnson Atoll, a U.S. possession 800 miles southwest of Hawaii in the Pacific, to work on a project destroying chemical weapons.
A list posted at the entrance of the Copper Pins attests to another opportunity: war. The roster of about 20 names shows military affiliations and postings, with Kandahar, Kuwait City, Baghdad and Kabul figuring prominently.
When it put the town on the market, Phelps Dodge fielded inquiries from religious organizations and retirement communities as well as New Mexico Tech. The company is getting nearly 60 percent more than the $3.2 million it originally sought.
Pleased with the deal, Phelps Dodge is hoping to repeat its success. Interested parties are invited to bid for another abandoned company town: Kitsault, British Columbia. The asking price is $5.4 million.
WASHINGTON (Reuters) - U.S. drivers could again face $2 a gallon gasoline now that crude oil has topped a record $50 a barrel, government experts said on Tuesday.
U.S. crude oil futures hit an all-time high of $50.47 per barrel this week as rebel threats against Nigerian oilfields threatened supplies already pinched by hurricane-related drilling shutdowns in the Gulf of Mexico.
The average retail gasoline price is likely to rise above $2 per gallon in the next three weeks as the effect of higher crude oil prices filters through from refiners to drivers, the U.S. Energy Information Administration (EIA) said. [...]
Democrats renewed attacks on the Bush administration on Tuesday for failing to keep energy prices in check.
Campaigning in Pittsburgh, Democratic vice presidential candidate John Edwards berated the Bush administration's close energy industry ties and called for U.S. consumers to cut their dependence on foreign oil suppliers like Saudi Arabia.
"What are the odds that George Bush and Dick Cheney are ever going to do anything to move this country to energy independence?" Edwards asked. "It will not happen while they are in office."
President Bush is a former Texas oilman and Vice President Cheney once headed oil services firm Halliburton Co. [...]
WASHINGTON (Reuters) - Health insurance premiums for workers are rising around three times faster than their wages, and health costs eat up a quarter of earnings for more than 14 million Americans, according to a survey on Tuesday.
While benefits are being cut, health insurance premiums are rising, the report from the nonprofit Families USA found.
"Working families were squeezed by runaway health care costs over the past four years," said Families USA executive director Ron Pollack.
"As a result, workers are paying much more in premiums but are receiving less health coverage, wages are being depressed; and millions of people have lost health coverage entirely."
The cost of health insurance premiums rose by nearly 36 percent on average from 2000 to 2004 in 35 states, said the group, which bills itself as a nonpartisan watchdog on health care issues. Average earnings rose just 12 percent over the same time.
The Families USA report found that health insurance plans provided by employers are covering fewer health services and workers are paying higher deductibles and copayments.
"Family health premiums paid by employers and workers rose from $7,028 in 2000 to $9,320 in 2004. The average amount paid by workers for this coverage rose from $1,433 to $1,947 during that period -- an increase of 35.9 percent," the group said in a statement.
"And, the number of Americans who had total health costs that consumed more than one-quarter of their earnings rose from 11.6 million in 2000 to 14.3 million in 2004 -- an increase of almost 23 percent. The overwhelming majority of these people (10.7 million) had health insurance."
More than 60 percent of Americans get their health insurance through an employer, according to Census Bureau statistics. But the number of people without insurance rose last year from 43 million to 45 million and some experts say rising insurance costs are in part to blame.
Families USA said it found 85.2 million people went without health insurance for some time during 2003 and 2004.
"In 2003-2004, one out of every three Americans under 65 years of age went without health insurance for some period of time. Over half of these people were uninsured for at least nine months," the group said.
"The number of people who were uninsured at some point in 2003-2004 exceeds the combined population of 32 states and the District of Columbia," Pollack added. "This is an epidemic that requires immediate attention."
Seymour Hersh, the non plus ultra of investigative journalism (most recently responsible for bringing the Abu Ghraib scandal to light) presaged that the U.S. military draft would return at the American Society of Magazine Editors Tuesday. This blurb was printed (in all places) on the Women's Wear Daily website.
DARK PROPHET: Seymour Hersh, the dean of American investigative journalism, was in top form Tuesday when he addressed a lunch gathering hosted by the American Society of Magazine Editors. The prolific New Yorker writer shared his gloomy views on the current administration and the prospects for stability in Iraq with a crowd that included Elle editor in chief Roberta Myers, Playboy editor in chief Chris Napolitano and Newsweek editor Mark Whitaker. "The question I keep thinking about is how did eight or nine neocons, utopians, take control of the government?" Hersh said by way of warm-up. He predicted that President Bush would be forced to reinstate the draft in a hypothetical second term, said the Pentagon had failed to account for billions of dollars, and called the abuses at Camp X-Ray in Guantanamo Bay "much worse than Abu Ghraib." He also had choice words for Henry Kissinger ("At least you knew there was some rationality somewhere. There isn't with these guys.") And as for Bill Clinton ("I admire Clinton — he was the first president since World War II to bomb white people.") By the time Hersh declared, "The insurgency is us, baby," most listeners were all but ready to take the advice he claimed to give anyone who asks: "Sell short and buy some property in Tuscany.
Boulder - The table placards began showing up at the University of Colorado student center this week: "YOU'RE GONNA GET DRAFTED."
The hundreds of tiny placards, attributed to Students for Kerry, scold: "You blew it. You didn't vote last time. ... Now you're gonna get drafted."
At the University of Denver, students have been talking about the draft for weeks.
At the Auraria Higher Education Center, home to three colleges, students talk about a potential draft in the food court.
But is the specter of the nation's first military draft since 1973 an election-season scare tactic targeting college students? Or is it a realistic possibility as the war in Iraq rages on?
It depends on whom you ask.

"My students have been talking about it for a long time," said Arthur Gilbert, professor of American foreign policy in the DU graduate school of international studies. "One thing that always excites students is the draft. A lot of students are registering to vote."
A bill reinstating the draft and closing the college loophole introduced by Rep. Charles Rangel, D-N.Y., has little support with only 14 co-sponsors, and it remains stuck in a House Armed Services subcommittee.
Under the bill, the draft would apply to men and women ages 18 to 26. Exemptions would be granted to those who have yet to graduate from high school, but college students would have to serve.
The Bush administration has repeatedly denied a draft is in the works, and Defense Secretary Donald Rumsfeld told CNN, "We're not going to reimplement a draft. There is no need for it at all." A draft would require an act of Congress and the signature of the president.
But the Boulder placards claim "WOMEN AND STUDENTS ARE NOT GOING TO BE EXEMPT THIS TIME. MAYBE NOT EVEN RICH KIDS."
"We're excited about the students' grassroots support in Colorado, and while John Kerry does not take the position that George Bush would reinstate the draft, I think it shows students' anxiety," said Kerry spokeswoman Laura Capps.
"John Kerry's position is not to reinstate the draft," she said.
Colorado Kerry campaign spokesman Steve Haro said that the placards and the event were not funded or supported by the Kerry campaign.
The reaction of Boulder students Tuesday to the idea of a draft ranged from a surge of patriotism to assertions that the rumors were inflammatory eleventh-hour propaganda to feelings that a draft is the only remedy for a military stretched thin in an unpopular war.
"I'd go. I feel obligated," said Ryan Ferreri, 20, a CU sophomore from Westminster who said he will vote for Bush. "People died for my right to be free, so I'd do the same."
Ryan Polk, a 19-year-old CU sophomore from Arvada, doesn't think the draft will be reinstated. "Even if Bush wanted it, I don't think Congress would pass it. I think this is a lot of hype and propaganda from the left," he said.
"I don't like the draft," said Justin Potts, a 22-year-old CU architecture student from Denver. "I don't believe in fighting a war, and I especially don't agree with this war." He said he won't vote for Bush.
Some students, such as Chris Taylor, 19, of Aurora, are opposed to a draft based on their fathers' Vietnam draft and wartime experiences.
"I've been getting e-mails from Dad, and he's really worried for me and my sister, who just turned 19," said Clayton Barker, 22, a CU senior from Santa Rosa, Calif. He noted that the Smart Border Declaration signed by Canada and the United States in 2001 may keep would-be draft dodgers in the country.
Paula Pant, 20, from Nepal, who grew up in Cincinnati, says Rangel's bill is "symbolic - to make a point about the situation we're in, and I don't think anyone is expecting it to get much support. I have to question how much validity it has."
But other students, such as CU-Denver student David LaPolt, 27, think the need for a draft may be viable. They point to intense Army recruiting, offers of $10,000 bonuses to sign up, extended tours of duty and reports of coercive tactics for re-enlistment.
"There are a lot of reasons not to do this for political purposes, but in the end those reasons will be trumped by the need for manpower," said DU professor Gilbert, who thinks a draft may be reinstated.
"Those troops have to come from somewhere. Getting the manpower you need in Iraq over the long haul may be extremely difficult otherwise."
Beverly Cocco has spent most of her life protecting children in Philadelphia.
She spends most of her time worrying about other people's kids. But as Election Day approaches, it's her own two grown sons who Beverly is most worried about.
"I go to bed every night and I pray and I actually get sick to my stomach," she says. "I'm very worried; I'm scared. I'm absolutely scared; I'm petrified."
Beverly is petrified about a military draft – and she's not alone. There's an undercurrent of anxiety; mass e-mails are circulating among parents worried their kids could be called up.
"I think there's a good possibility," Beverly says.
But neither President Bush, nor Sen. John Kerry has said he will re-institute the draft. In fact they both say they won't.
Kerry says, "I will give us a foreign policy that absolutely makes it unnecessary to have a draft for this country."
Kerry says he'll try to get allies of the U.S. to send troops that could relieve American soldiers.
The Bush campaign says expecting great numbers of foreign troops to help out is pure fantasy. The president wants to train more Iraqi troops to take over for the Americans. And, he says, despite the war on terror, there will be no draft.
"The war on terror will continue," says the president. "It's going to take a while and no, we don't need a draft."
But Beverly's not buying it. She's a Republican, but also a single-issue voter.
Would she vote for a Democrat? "Absolutely," she says. "I would vote for Howdy Doody if I thought it would keep my boys home and safe."
In fact, there are at least three votes in this house riding on the draft: Beverly's and her sons' Carmen and Nick.
Are her sons worried about being drafted? "Yeah," says Nick. "It's the talk; the talk's there. Though people aren't actually coming out and saying it, it's there."
What worries the Coccos is the continuing need for more troops in dangerous places. And the machinery for a draft is already in place: all men have to register when they turn 18. Beverly Cocco is so concerned she is involved with the organization "People Against the Draft."
The head of the Selective Service believes he could start drafting people quickly.
"I think we could do it in less than six months if we got the call," says Selective Service Director Jack Martin.
This time, Martin says there would be no long deferments for college students and a lot more people could be eligible for the draft than before: men and women ages 18 to 26 could be called up.
There hasn't been a draft since 1973, but that's not much comfort to Beverly Cocco.
So she is keeping a sharp eye on the political traffic. She's a Bush supporter today, but if she doesn't like what she hears between now and November, she could easily cross over.
WASHINGTON - If matching presidential candidates to their positions on basic issues were like a "Jeopardy!" category, most Americans wouldn't earn a single dollar.
More than half of those polled by the National Annenberg Election Survey didn't know President Bush alone favors allowing private investments of some Social Security money. Nearly as many didn't know that only Democratic candidate John Kerry proposes getting rid of tax breaks for the overseas profits of U.S. companies.
Importing drugs from Canada? That's a Kerry issue, but nearly half either didn't know or thought Bush also supported changing federal law to allow for drug imports from Canada.
Making abortions more difficult to obtain? Nearly one-third of those surveyed didn't know Bush alone supports more restrictions on abortion.
Eliminating the tax on estates? Two-thirds didn't know that's a Bush proposal.
After two years of presidential campaigning and hundreds of millions of dollars in political ads, many voters remained clueless about those and other policies, according to the survey. Annenberg analyst Kate Kenski blamed the candidates for not stressing their points of view and the news media for focusing on character assessments and the race itself.
"It's disappointing that people don't know where the candidates stand, given how much money's been spent on the campaigns," said Kenski, a senior research analyst. "In the absence of good information, voters guess and often guess incorrectly."
The poll of 1,189 adults was taken from Sept. 21-26 and has a margin of sampling error of plus or minus 3 percentage points.
George W. Bush is a fake cowboy. From media accounts, you'd reckon that the president was a buckaroo to the bones. He plays up the image, big-time, with $300 designer cowboy boots, a $1,000 cowboy hat, and his 1,600-acre Prairie Chapel Ranch in Crawford, Texas. He guns his rhetoric with frontier lingo, saying that he'll "ride herd" over ornery Middle Eastern governments and "smoke out" enemies in wild mountain passes. He branded Saddam Hussein's Iraq "an outlaw regime" and took the vanquished dictator's pistol as a trophy. As for Osama bin Laden, Bush declared, "I want justice. And there's an old poster out West, I recall, that says, 'Wanted: Dead or Alive.' " Britain's liberal newspaper The Guardian noted that "such language feeds the image overseas of Mr. Bush as a hopelessly inarticulate, trigger-happy cowboy."
But liberals from both coasts and Europeans who derisively call Bush a "cowboy" foolishly insult not Bush, but one of America's prime ennobling myths. Instead of ridiculing the myth exploited by George W. Bush, they may want to measure him against it.
"The idea of the American cowboy is the direct lineal descendant of the chivalric knight," observes Bonnie Wheeler, a medievalist in cowboy country. "The only serious difference is that your status doesn't depend on your social class." Editor of Arthuriana, the journal of Arthurian studies, Wheeler teaches at Southern Methodist University in Dallas.
"Our president," she says, "is neither a knight nor a cowboy. He doesn't believe in taking care of the little guy, nor does he have the restraint or dignity of the cowboy."
Children of Bush's generation grew up knowing of the Cowboy Code, which echoed the chivalric one. It was written by screen cowboy Gene Autry. In real life too, this lifelong Democrat was the kind of white-hat cowboy our president presents himself to be. Autry was the son of an itinerant cattle driver and horse trader in rural Texas and Oklahoma. He was a recreational small-aircraft pilot, but during World War II he paid for his own flight lessons on larger planes so he could serve in the Air Transport Command on the war front, instead of being stuck at a domestic base. Ultimately he flew explosive supplies (ammunition and fuel) over the Himalayas. A grateful U.S. Army bestowed a singular honor on Autry: He alone was allowed to wear his cowboy boots in uniform.
This is about more than having a big ranch. Like the knight, the cowboy is an ideal to which people aspire, Wheeler says, regardless of its mundane historical origins. And Autry's code still carries resonance in red states. Voters there, including the Wild West swing states of Colorado and Nevada, might want to think twice about returning a soft-handed wannabe to the White House. Here's how Bush stacks up against the Cowboy Code:
1) The Cowboy must never shoot first, hit a smaller man, or take unfair advantage. The doctrine of preemptive war, the centerpiece of Bush policy in Iraq and for the "war on terror," is one for the black hats. In 1902, five years before Gene Autry was born, Owen Wister's bestselling novel The Virginian elevated the cowboy to a national symbol. "It's not a brave man that's dangerous. It's the cowards that scare me," a card dealer observes early in the book. "I never like to be around where there's a coward. You can't tell. He'll always go to shooting before it's necessary, and there's no security who he'll hit." When the Virginian is forced into a climactic duel, the villain shoots first. Only then does the Virginian return fire and make a clean kill.
Though the Virginian continually countered dastardly deeds done by the villain Trampas, he always acted magnanimously when he had the upper hand. American Cowboy magazine asked its readers to explain why we still need cowboys, noting that, thanks to western movies, "for decades, folks of all descriptions have admired and tried to emulate him." U.S. Army Corporal Randy Melton of the 1st Cavalry Division replied from Baghdad, "If those guys who did all that crazy stuff to the 'terrorist POWs' grew up sitting on a horse instead of in front of a TV playing video games, maybe they would have conducted themselves with a little more dignity." Melton added, "Every time my platoon corralled a couple of 'bad guys,' it's easy to get angry with them. But we always treat them with dignity, whether they deserve it or not."
Unfortunately, the sadistic abuse of prisoners at Abu Ghraib and the violations at Guant·namo Bay and Afghanistan didn't start with a few young soldiers raised on Mortal Kombat. According to probes by the Army itself, it stems from specific policies crafted in the White House and carried out by Pentagon generals and consultants.
2) He must never go back on his word, or a trust confided in him. Soldiers commit their lives to the commander in chief's judgment and care. Bush sent them into a war of choice, not necessity, and one based on misleading rhetoric, and they landed in Iraq without so much as enough sets of body armor to shield them. At the same time, he pushed to cut soldiers' pay and cut veterans' benefits. The Bush administration has also extended terms of service, effectively drafting soldiers who've already done their duty.
On the home front, the Bush administration has used the Patriot Act to prune back the very liberties he swore to uphold and protect.
3) He must always tell the truth. Ersatz cowboy George W. Bush hasn't. The two key issues facing America today are the war and the economy. He misled the nation into the Iraq war with false claims of imminent danger. He promised that his tax cuts wouldn't result in deficits and then said deficits would be "small and short term." The federal deficit is now enormous, estimated at over $400 billion, and looks likely to last years.
4) He must be gentle with children, the elderly, and animals. Children are being ground under the heels of those fancy boots. Bush is relaxing safeguards against the neurotoxin mercury, which is particularly dangerous to the growing brains and nervous systems of fetuses and children, and the Clean Air Act has been stripped of key provisions to control coal-fired power-plant emissions known to cause respiratory illnesses like asthma.
The number of children living in poverty has risen, yet he proposes in his 2005 budget to freeze funding for the Child Care and Development Block Grant. Head Start's budget would also be frozen, and the $247 million Even Start literacy program would be eliminated. More children will be left behind. Budgets for a host of other education programs would be frozen, cut, or eliminated by Bush's proposals.
"This administration wants to require low-income mothers to work more hours to receive benefits," says Bethany Little of the Children's Defense Fund. "What exactly is going to happen to those children is a mystery to us." She adds, "I don't think there's anything gentle about denying children child-care access, early-childhood education in high school, good public schools, living wages for families, and standing health care."
As for the elderly, Bush is catering to his religious-right constituents by blocking stem cell research to fight Parkinson's and Alzheimer's. His efforts to privatize Social Security put most seniors' pensions at risk. And he has also hampered efforts to legalize cheaper generic drugs and pharmaceutical imports from Canada.
"The Medicare Drug Bill was a lucrative deal for pharmaceutical companies," says Susan Murany, executive director of the Gray Panthers. "We didn't consider it a win for consumers at all, we considered it a win for drug companies."
When it came to animals, the Virginian rued the pain the cattle industry inflicted on the beasts, even before the age of industrial farming. He delivered a beat-down to a man who was ruthless with "hawses." He "gentled" his own horses for riding and took care of a mentally disturbed chicken. Really. Bush, on the other hand, enjoyed putting firecrackers inside living frogs and tossing them into the air when he was a boy.
Now that Bush is an adult, he and his appointees haven't proposed adding a single species to the "endangered" list. And his approach to natural habitats has been "disastrous," says Brad DeVries of the Defenders of Wildlife Action Fund. "The needs of wildlife go by the wayside when they get in the way of energy development, logging, or mining."
Perhaps most galling, DeVries says, is the Bush administration proposal "to allow the importation of endangered animals and their body parts as hunting trophies and zoo animals and other uses."
Ron Reagan Jr. summed it up nicely in a TV discussion last year. Describing Bush Jr.'s faux-cowboy lifestyle, the son of the late cowboy actor-turned-president remarked, "You know, George Bush sallies forth in his pickup truck to go torment small animals."
5) He must not advocate or possess racially or religiously intolerant ideas. At this moment, Bush operatives are working to keep blacks off the voter rolls in Florida. And since 9-11, Bush has used language that evokes the Crusades.
"There's a seismic gap between some of the president's very needed symbolic acts and initiatives on the street," says C. Welton Gaddy, president of the Interfaith Alliance and a Baptist pastor in Monroe, Louisiana. Gaddy cites the broad sweeps that jailed Muslim immigrants and statements by Attorney General John Ashcroft asserting the superiority of Christianity.
"One of the surprising things to emerge," Gaddy notes, "was that the president met with conservative Christians about the preemptive strike on Iraq but refused to meet with bishops of the Methodist church because they didn't support it. Same with the National Council of Churches."
Bush and Dick Cheney also tried to draft conservative Christian denominations into their re-election bid by suggesting that congregation membership rosters be used for political mailings.
6) He must help people in distress. AIDS is ravaging nations across the globe; more die each year than Osama bin Laden could dream of killing. Yet the Bush administration blocks from its aid programs vital, World Health Organizationñapproved generic drugs made in the developing world that cost one-fifth as much as the drugs produced by the big pharmaceutical manufacturers. Critics say Bush's budget slashes U.S. funding for the Global Fund (to fight AIDS and other infectious diseases) by 64 percent.
7) He must be a good worker. Even the Virginian hit the books, albeit to impress a pretty schoolteacher. But Bush, though he married a librarian, is famously incurious. By the time he'd served three years in office, he'd taken more vacation days than Bill Clinton took in eight. Those days in Texas (mostly in Crawford, a comfortable Waco suburb and not a hardscrabble frontier) took up more than 40 percent of his termóuntil 9-11. Bush was on his suburban ranch, the 9-11 Commission noted, when he received notice that Osama bin Laden was coiling to spring an attack upon the U.S.

Part of a cowboy hero's work ethic is that he "always gets his man." But Bush interrupted the hunt for bin Laden to invade Iraq, where he hauled in Saddam Hussein.
8) He must keep himself clean in thought, speech, action, and personal habits. In Bush's 2000 campaign, he said to running mate Cheney, "There's Adam Clymer, major-league asshole from The New York Times." More recently, it was rumored that after Cheney's infamous "Go fuck yourself" to Senator Pat Leahy, the born-again Christian Bush joked at a cabinet meeting, "Fuck 'em all!"
9) He must respect women, parents, and his nation's laws. The apple fell far from the tree; Bush's mom is pro-choice. But, as documented by the National Organization of Women, regressive Bush policies threaten abortion rights, Title IX sports, and affirmative action. His economic policies have hurt the livelihoods and security of working women and their families. Radical-right Supreme Court appointments in his second term could make things worse for decades.
Not that his attitude toward women is a surprise. In his twenties he was known as a "cuntsman," and one recollection of his days at Yale is that, according to The Guardian (U.K.), "He walked up to a matronly woman at a smart cocktail party and asked, 'So, what's sex like after 50, anyway?' "
Bush's only real black mark, as far as obeying laws, is a fine for drunken driving in Maine, but his administration is run through with corruption and insider privileges.
10) The Cowboy is a patriot. George W. Bush didn't fight in the jungles of Vietnam, nor did he fight in the streets to end that waste of lives. Instead, he used his father's connections to land a safe position in the National Guard and even then shirked his duty.
Dian Malouf, a native of "brush country" and author of Cattle Kings of Texas, is chronicling the last of the cowboys for a photo book due this winter called Seldom Heard. Like other Texans, she knows that state residency doesn't confer cowboy status.
"I'm in Midland lots, and I haven't seen a Midland cowboy yet," she says, speaking of the wealthy oil town where Bush was raised. "Bush and Cheney are not cowboys by any stretch of the imagination. Cowboys are silent types, remote but genuine, with serious integrity and caring. They are a bit rough and work hard, and they don't want to call attention to themselves the way George W. Bush kind of does. I know and admire and respect cowboys." She adds, "Wearing boots does not make someone a cowboy."
(Derry, New Hampshire) - According to a petition filed last Thursday by 9-11 widow Ellen M. Mariani in the Rockingham County Courthouse, her administratrix resignation signature obtained under allegedly questionable circumstances by an attorney who was helping her answer an estate challenge by step-daughter Lauren Peters--is "null and void" due to improper notarization.
Interestingly, the estate takeover attempt orchestrated by multiple Massachusetts, New York and New Hampshire attorneys is also linked to a law firm representing President Bush and his brother Jeb--but also Mariani's in-state attorney who happens to be the godmother to a child of her former law partner and Bush-appointed U.S. attorney Thomas Colantuono, a former Republican New Hampshire state senator.
According to the document, the New Hampshire widow petitioned the court last Thursday that Peters attorney Jon Levenstein "demanded in a letter (I have) in my possession that I comply (cancel her original December 20, 2001 wrongful death suit against United Airlines and go into the 9-11 Victim Compensation Fund) 'in case something unforseen happened to me,' which I interpreted as a possible threat."
Mariani said "I asked Mr. (Robert) Morgan for a copy of my resignation...but he refused, saying 'I have to have it notarized first.' "But the New Hampshire widow also told us last night that she had to wait six days before receiving a copy of the resignation document signed at 11:00 pm last Tuesday evening, September 21.
A justice of the peace and register of probate working in presiding Judge Christina M. O'Neill's Rockingham County courthouse, Andrew Christie, Jr. (a commissioned notary public himself), told TomFlocco.com, "That's highly irregular. I would never have done that," when we asked him whether it was legal for a licensed notary public to obtain a signature but fail to swear-in and identify the individual--while also failing to sign, stamp and affix the notary seal on the court document in the individual's presence and leave a copy of the signed and notarized document with the signer.
"When I filed my court petition to Judge O'Neill, I had to hold up my right hand and swear that I was the person filing the document before Justice Christie would stamp, sign and affix a seal to the petition," said Mariani.
"I even had to show Justice Christie my drivers license. But those proper legal procedures never happened when Mr. Morgan insisted on my resignation signature at 11:00 at night after wearing me down for five hours with military combat stories at a local restaurant just as they closed."
The outspoken widow of 9-11 victim Louis Neil Mariani previously filed a Racketeering Influenced Corrupt Organization (RICO) suit against President Bush and other high government officials, seeking evidence, information and accountability for failures and lack of decisive action before and during the attacks on September 11.
"My signature was on a separate page with Robert Morgan signing as notary; but there was no commission expiration date and no evidence of a standard New Hampshire notary license, and he never administered an oath or asked to see my drivers license," said Mariani.
"The space for a date indicating when I signed the document was left blank and Mr. Morgan crossed out the words notary/justice of the peace and substituted 'commissioner of deeds' in place of notary public," according to Mariani, adding "there was no visible indication when his commission expired."
Mariani decided to tell Judge O'Neill about the strange circumstances involved in obtaining her signature to resign from administering and controlling her late husband Neil's estate by filing a court Motion/Petition last Thursday-- after which she personally served copies via mail to each attorney involved, as required by law.
"I have no way of knowing whether additional clauses, pages or words have been added or removed without my knowledge or permission," Mariani told us during an interview at a Londonderry, New Hampshire restaurant last week.
"Mr. Morgan never presented me with a contract for representation before asking for my signature; and the court clerk told me he hasn't even registered with the Rockingham Court as my co-estate attorney," she said, adding "I am concerned about how I was represented in this matter."
Mariani continued, "Mr. Morgan wanted to bring my other New Hampshire attorney Rebecca Rutter to the meeting to get me to sign away my estate to Lauren Peters; but I would not meet with her after I recently discovered that the only way she could have a bigger conflict of interest was if President Bush appointed Rebecca as U.S. attorney instead of her law partner, Tom Colantuono."
According to public court records, Mariani told Judge O'Neill: "Your Honor, I am concerned that my public testimony and the so-called errors of my attorney Phillip Berg will never be placed into the court record for your consideration. Mr. Morgan and Miss Rutter have told me they do not know the official reasons yet; but they said they will provide them after I have signed all the necessary documents that will remove me from control of my husband's estate."
According to Mariani, Robert Morgan, the attorney representing her legal interests, "insisted that I 'sign the document and resign now because you are really only a glorified clerk. So just let it go, enjoy your life now, and admit that Mr. Berg's mistakes reflected back on your judgement since you hired him to assist in your husband's estate.' "
The court records also revealed that Phillip Berg claimed not to have made any legal errors in the case according to Mariani--absent a court-adjudicated legal opinion from Judge O'Neill--since Mariani said:
"No one on either side of this case presented me with legal documentation as to the nature of these so-called grave errors and fatal flaws which Phillip Berg committed. Mr. Berg even told me last night (last Wednesday) that 'these legal claims and accusations are not valid. I did nothing wrong.' " Mariani said in the petition that "Rebecca Rutter and Robert Morgan told me that I was going to lose the MOTION TO REMOVE ELLEN M. MARIANI AS ADMINISTRATRIX anyway."
The petitiion also said "They told me to just accept it and not fight it because my Pennsylvania attorney had made several mistakes, one of which was filing on my behalf a RICO lawsuit against President Bush and other high government officials....apparently, for some reason, Rebecca Rutter, Robert Morgan (and opposing counsel) Thomas Pappas and Charles Capace did not want me in court this morning to testify in front of you, Your Honor."
Mariani also told Judge O'Neill "Lauren Peters went to Boston and met with Daniel Bakinowski, an attorney with the Greenberg Traurig law firm. The Greenberg firm represented President Bush in the 2000 election vote recount and currently represents the President's brother, Florida Governor Jeb Bush. I believe this to be a conflict of interest."
Foretelling what eventually happened, Mariani's court petition said "Mr. Bakinowski told Rebecca Rutter, 'Don't worry. We're going to take her into court and remove her.' And that's what they had planned and it happened to me today. I wanted Rebecca to report this telephone conversation to your court, and she refused. But she also said 'If you publicize anything about Dan Bakinowski's telephone call, I will quit.' "
Mariani told us she is guardedly optimistic that Judge O'Neill will consider all the facts surrounding her case and declare the resignation agreement null and void, and that she will retain her position as administratrix of her late husband's estate."
WASHINGTON (Reuters) - A U.S. intelligence report before the Iraq war warned that an American invasion could lead to rogue elements fighting the new Iraqi government and U.S. forces, sources familiar with the report said on Tuesday.
While the classified report did not call it an insurgency, it raised the possibility of guerrilla warfare in a postwar Iraq, sources said.
Intelligence reports compiled in January 2003 predicted that an American invasion would result in a divided Iraq prone to internal violence, and increased sympathy in the Islamic world for some terrorist objectives, the New York Times reported on Tuesday.
The assessments were compiled from the views of various intelligence agencies by the National Intelligence Council which reports to the CIA director.
There was a "big stack" of prewar intelligence reports that said there was a high degree of possibility of insurgency and unrest, and that "winning the peace will be harder than winning the war," one source familiar with the reports said on condition of anonymity. [...]
BAGHDAD (AFP) - At least 49 people were killed, most of them children, in a series of devastating car bombs that left a trail of carnage in Baghdad and northern Iraq, medics and the US military said.
The attacks were unleashed as another 10 hostages, including two Indonesian women, were reported kidnapped while Britain and France were scrambling to try to secure the release of their nationals held hostage by Islamic militants.
The bloodiest attack in Iraq was a twin car bombing at the site of a ribbon-cutting ceremony for a new water pumping station in the poor Al-Amel neighbourhood in southwest Baghdad.
Many curious children had gathered to watch the ceremony when the bombs went off, sending clouds of black smoke billowing into the air.
"The attacks today were those of a desperate enemy," said Lieutenant Colonel James Hutton of the US military's 1st Cavalry Division. "There is no conceivable justification for attacking innocent Iraqi civilians who were attending the opening of a water pumping station."
A bloodied witness said he helped carry out 32 bodies of children from the rubble.
There were scenes of hysteria and chaos at Baghdad's Yarmuk hospital where doctors said they received 41 bodies from the bombings. Iraq's Health Minister Alaadin Sahab Adwan later put the toll from the attacks at 42.
The US military said 10 US soldiers were also wounded in the attack and that a third car bomb went off in the area at the same time near an Iraqi national guard checkpoint.
The attacks followed another car bombing west of the capital that killed one US soldier and two Iraqis and wounded 13 including three soldiers, according to the military.
Bloodshed also spread to northern Iraq with four killed and 16 wounded in a car bombing in Tall Afar, where US and Iraqi forces battled insurgents in early September.
In other violence, a soldier with US-led forces whose nationality was not immediately known was killed in a rocket attack on a US military support base near Baghdad.
The Iraqi government and US-led forces have blamed foreign fighters for many of the car bombings accusing groups including alleged Al-Qaeda operate Abu Mussab al-Zarqawi of wanting to plunge the country in a never-ending cycle of death and kidnappings to derail elections scheduled for January 2005.
Iraq's Deputy Prime Minister Barham Saleh vowed that his government was determined to retake rebel cities like Fallujah by November and to hold elections as planned. [...]
The government is spending millions of pounds to keep a record of passengers travelling to and from the UK.
Project Semaphore is another strand in the government's e-borders scheme to create high-tech border controls.
The £15m scheme will see passenger information stored electronically and linked to databases kept by law enforcers.
The government will combine the e-borders scheme with biometric ID cards to track individuals entering the UK.
Anti-terror
Initially the system will target six million passengers a year travelling on a number of international air routes, identified by borders agencies and the police as risky.
Passport information and the passenger details collected when air tickets are booked will be routinely stored electronically.
The details can then be checked against police and intelligent service databases.
"Project Semaphore, which will be underway by the end of the year, is a key first step in putting in place comprehensive electronic analysis of passenger travel data, which will be crucial to being able to register entry and exit without gross inconvenience to passengers," said Home Secretary David Blunkett in a statement.

"Access to information about passengers before they travel will help in the fight against illegal immigration, particularly document and identity abuse. It will also aid law enforcement and counter terrorism," added Immigration Minister Des Browne.
Many countries are concerned with tighter surveillance at their borders in the light of increased terrorist threats.
The UK project is very similar to one being implemented in the US this week.
US-VISIT will collect, assess, process and retain passenger details and biometric information on visitors to the US.
The project has come under fire from privacy and human rights groups.
Head of Privacy International Simon Davies sees great similarities between the two schemes.
Tracking movements
"Project Semaphore appears to be a mini version of the US system for sharing information across borders," he said.
"The motivations appears to be to create a hard outer shell for the country but the purposes extend beyond anti-terrorism and immigration controls," he added.
The fact that the system will be linked to internal databases could potentially allow checks on other things such as criminal or benefits records, he said.
Linking the system to the proposed ID card scheme will create "a seamless identity check, tracking a person at the border and their movements internally", said Mr Davies.
The huge amount of information stored could lead to more people being turned away at the border.
Low risk
"The fate that befell Yusuf Islam (formerly the singer Cat Stevens) will happen to a countless number of other travellers," predicted Mr Davies.
The government is convinced that the system will prove more convenient for travellers and citizens alike.
"Technology will allow us to speed through low risk passengers, helping British business and visitors to the UK," said Mr Browne.
BEIJING - China yesterday slammed Taiwanese Premier Yu Shyi-kun for threatening to fire missiles at Shanghai in the event of an attack by the mainland.
'Yu Shyi-kun's remarks are a serious provocation and clamour for war,' Mr Li Weiyi, spokesman for the Taiwan Affairs Office of the State Council, told a regular press conference.
The United States on Monday also mildly rebuked Taiwan, with State Department spokesman Adam Ereli saying that 'we would prefer to see comments that focus on dialogue as opposed to references to the use of force or other unilateral moves'.
Last Saturday, Mr Yu spoke about launching a missile counter-attack on Shanghai should China fire missiles at Taiwan. He was defending his government's plan to spend NT$610 billion (S$31 billion) on advanced weapons from the United States.
'The best scenario will see a 'balance of terror' being maintained across the Taiwan Strait so that national security is safeguarded,' he said in response to protests against the proposed purchase of anti-missile systems, submarines and anti-submarine aircraft.
'If you fire 100 missiles at me, I should be able to fire at least 50 at you. If you launch an attack on Taipei and Kaohsiung, I should be able to launch a counter-attack on Shanghai,' Mr Yu added.
China's spokesman yesterday slammed the Taiwanese Premier's remarks as 'war-provoking behaviour', and said they 'thoroughly exposed the nature of the Taiwan authorities, which is to fake peace but truly seek independence'.
He also hit out at Taiwan's weapons purchase plans, accusing it of seeking independence through armed force.
'This again proves that separatist forces are seriously threatening peace in the Taiwan Strait region,' he said.
Responding to Mr Li's remarks, Taiwan said yesterday that it had no intention of provoking China and was seeking weapons from the US for defensive purposes only.
'Beijing's sabre-rattling and missile threat only moves the two sides of the Taiwan Strait farther apart,' Taiwanese Cabinet spokesman Chen Chi-mai was quoted as saying by the Central News Agency.
This latest war of words comes as Taiwan's parliament is due to debate the arms purchase, which the Chen Shui-bian administration has said is needed to counter the military threat from China, including more than 600 missiles aimed at the island.
Taiwan itself recently test-fired missiles that have the capability to hit Chinese coastal and interior cities, according to Taiwanese news reports.
Taiwan has been under pressure from the Americans to do more to defend itself, including purchasing more weapons and improving its defence capability.
US analysts have warned that the perception that Taiwan was doing little to defend itself could undermine Washington's support for it.
But over the weekend, thousands of Taiwanese took to the streets to oppose the arms purchase. They were of the view that this would lead to an arms race and even war.
Meanwhile, a Taiwanese lawmaker said Taiwan may have the technology to mass produce mid-range missiles capable of striking Shanghai in two years.
His remarks added teeth to the Taiwanese Premier's warning that the island will retaliate if China attacks.
Taiwan began a seven-year development programme for mid-range missiles in 1980, but it was forced to stop by the US in 1981, according to Mr Lee Wen-chung, parliament's defence committee chairman.
'We still have a secret budget for the development of the missiles,' he told Bloomberg News, but did not elaborate.
BEIJING - Dozens of North Koreans believed to be seeking political asylum scaled the wall of the Canadian embassy in Beijing Wednesday, making it into the compound.

A group of 44 people, some wearing construction hats as a possible disguise, used three metal ladders to climb the three-metre high wall, which is topped with sharp spikes.
The suspected refugees included men, women and children. They were being interviewed by Canadian diplomats to confirm their nationalities, said Ambassador Joseph Caron.
"We are in the process of speaking to them to determine who they are and what they expect of us," he said.
"It would appear there were some North Koreans in the group," Caron said, adding that none of the people were injured.
He says the Canadian government is talking with the government of China.
"All of this has to be determined in context of discussion with Chinese authorites, with our own authorities in Ottawa, and act in accordance with our practices, international law and humanitarian concern for these people," said Caron.

One Chinese police officer outside the embassy, which is located at a busy street corner, said all but one man were successful in their attempt to scale the wall. The man was taken away by police.
The Chinese security team appeared to have been caught off-guard, making a late attempt to stop the North Koreans from making it over the wall, CNN reported.
Hundreds of North Koreans seeking asylum in South Korea have broken into foreign embassies and consulates in China since 2002.
MILWAUKEE -- A man in prison on drug offenses was charged Wednesday with threatening to blow up a federal building in downtown Milwaukee with a delivery truck filled with explosives.

Steven J. Parr, 39, was charged the same day he was to be sent to a halfway house in Janesville.
U.S. Attorney Steven Biskupic said Parr expressed hatred for the federal government and spoke about retaliating against law enforcement when he got out of prison.
"We consider him extremely dangerous," he said.
It was unclear when Parr planned to take action, or if he had the materials and resources to carry out such an attack.
Parr allegedly planned to blow up the Reuss Federal Plaza, a 14-story blue building that houses more than 800 federal employees and multiple agencies, including the Internal Revenue Service and the Department of Defense.
Parr's cellmate alerted federal authorities in two letters dated Aug. 23, a criminal complaint said. The cellmate, whose name was withheld, said that Parr has extensive knowledge in bomb-making and considers Unabomber Ted Kaczynski one of his heroes, the complaint said.
He also said Parr considered himself a "separatist" and often talked about Timothy McVeigh, who bombed the federal building in Oklahoma City in 1995.
The cellmate said Parr picked the Reuss Federal Plaza because of its proximity to the street and the amount of glass in the building to make a big impact. The letter also said Parr owned "The Anarchist Cookbook" and a notebook with chemical formulas for bombs.
A partial transcript of a secretly taped conversation between Parr and his cellmate quoted Parr as saying the incident would "sure change the attitude of the country" and "make a wonderful statement."
Two women who had lived with Parr told FBI agents his hobby was bomb-making and he had made explosive devices in the garage or in his home.
Parr was serving a two-year drug sentence. Prior to his arrest Wednesday, he was scheduled to spend 90 days in the halfway house before being released under extended supervision, the complaint said.
Parr made an initial court appearance Wednesday. It was not immediately known if he had a defense attorney.
The charge carries a maximum penalty of life in prison
Oslo — A passenger on a commuter plane in northern Norway attacked both pilots and at least one passenger with an axe as the aircraft was landing Wednesday, police said.
The pilots suffered serious but not life-threatening injuries and were able to land the Kato Air Dornier 228 safely in the northern town of Bodoe, state radio network NRK reported.
The attacker, who was wielding a fire axe that was part of the aircraft's emergency equipment, was arrested after it touched down, police official Bjarte Wala told the Associated Press. Seven passengers were on board.
"The two pilots were injured. I know that at least one passenger was also injured, but I don't know if there were others," Mr. Wala said by telephone from Bodoe.
The aircraft was flying from the northern town of Narvik to Bodoe, about 850 kilometres north of Oslo.
Mr. Wala said the attack happened just before 11 a.m. as the plane was making its final approach.
"Despite their injuries, the pilots managed to land the plane safely," he said. "We don't know the extent of their injuries yet."
Mr. Wala said he had no immediate information about a motive for the attack, the events leading up to it, or personal details about the suspect.
The plane will remain grounded at the Bodoe airport for an investigation.
KEWANEE, IL -- Pat Lee was working outside the Tool Time Rental building on South Main Street Saturday when he heard a bang.
A rock had struck the south side of the building, about five feet from where Lee had been working.
The rock, according to Tool Time owner Pete Cali, was a meteorite.
When it fell to earth, the rock struck the side of the building at an angle, and didn't cause any visible damage to the exterior.
Had the meteorite struck a couple of feet farther north, it probably would have punched through the roof of Cali's building, he said.
The rock was about four inches across. When it hit the building it shattered into several pieces.
It doesn't look like your garden-variety rock. There are small holes in it, which look like wormholes and may have been caused by the intense heat caused by friction as the rock fell through the earth's atmosphere.
There are also tiny metallic flakes in the rock, which Cali said are gold.
For that reason, and because some people collect such things, the meteorite may have some value. Cali said he read of a metorite found in Texas fetching $1,100.
VANCOUVER, Washington (CNN) -- The U.S. Geological Survey issued a volcanic advisory Wednesday for Mount St. Helens with officials warning of a heightened possibility of a small to moderate eruption.
There was no immediate timetable for when an eruption could occur.
Geologists at the Cascades Volcano Observatory said the area could remain under the volcanic advisory for days or even weeks.
"We think there is a heightened possibility that we could see an explosion," said Cynthia Gardner, acting scientist in charge at the observatory. "We are expecting that either nothing could happen or perhaps we could have an explosive event."
She said if a small to moderate eruption occurred, rocks could be hurled up to 3 miles from the volcanic dome and ash could spew up to 10,000 feet in the air and be carried about 10 miles downwind.
"The concern there is an ash and aviation hazard," she said, noting that volcanic ash can clog a plane's engine and cause other problems.
The U.S. Forest Service has closed access into the crater and access to areas above 4,800 feet around Mount St. Helens. Trails on the north side of the crater have been closed.
The advisory that was issued is the third of four levels -- with the fourth being eruption.
Late last week, seismologists began recording "swarms" of earthquake activity from the volcano -- and the activity has increased since then.
Seismologist Seth Moran said the quakes will occur in great frequency, then taper off before ramping up again. The strongest quakes so far have been around magnitude 2.5, recorded earlier Wednesday.
"It's hard to say where this is going to go," Moran said. "There's nothing like this that has happened in the last 18 years."
He said the seismic activity is similar to activity in 1985 and 1986 when there was a rapid activity of quakes before minor eruptions. In those cases, the quakes occurred consistently, without tapering off.
There were other minor eruptions from 1989 to 1991 that occurred with very little warning.
Scientists currently are monitoring the seismic activity, as well as volcanic gasses being emitted and the swelling and contracting of the volcanic dome.
Gardner said the volcano is emitting "very little gas" -- an indication that an eruption would be small to moderate.
"It's a puzzle, and it's keeping us on our toes," said U.S. Geological Survey geologist John Major. "It's showing signs of an eruption, but not to the size and magnitude of 1980."
With an earthquake measuring a magnitude of 5.1, Mount St. Helens erupted on May 18, 1980. The north face collapsed in a massive rock debris avalanche.
The nine-hour eruption blew over or killed nearly 230 square miles of forest and sent a mushroom cloud of ash thousands of feet into the sky.
That eruption killed 57 people.
Groups of very small, shallow earthquakes -- most under magnitude 2 and called "swarms" by seismologists -- are now taking place on the mountain, the scientists said.
Small quakes are not uncommon in the fall, as rainwater seeps into the ground and turns into steam when it reaches hot magma, scientists said. Magma is lava that has not yet escaped from the volcano.
If the steam has no outlet, they said, it can build until a small explosion occurs. But they can't rule out the involvement of something other than steam.
Bill Steele, with the University of Washington's seismology lab, said scientists are looking at seismological recordings from stations off the mountain to try to determine what the latest swarms might mean.
Mount St. Helens has been an active volcano for about 40,000 years with intermittent periods of dormancy.
The last 2,500 years, however, have seen shorter periods of dormancy and a change in the type of rocks expelled by the volcano.
PARKFIELD, Calif. (AP) - Two aftershocks measuring magnitude 5.0 and 4.5 hit Parkfield this morning, among the strongest of the more than 500 aftershocks roiling the area where a 6.0 earthquake occurred the day before.
The aftershocks were centered five miles northwest of Parkfield at 10:10 and 10:12 a.m. Since the 6.0 quake at 10:15 a.m. Tuesday, there have been six aftershocks of 4.0 or greater.
The strong earthquake that shook Central California today -- without causing any significant damage or injuries -- could be a boon to researchers who hope intense scrutiny of the state's earthquake capital may help predict future temblors.
The initial quake struck about halfway between San Francisco and Los Angeles, seven miles southeast of Parkfield and 21 miles northeast of Paso Robles, according to the U.S. Geological Survey. A major quake in the same area killed two people last year.
The area of the San Andreas fault where the quake struck is a seismic hot spot that has produced similar temblors every two or three decades and is among the most-monitored quake sites in the world.
"It's going to be a lot of data that we can look at,'' said Andy Snyder of the U.S. Geological Survey. "It ensures a good payoff for all the work that's been done by the USGS, all the university groups and foreign research institutes that have set up experiments here.''
At least 12 people have been killed and several are reported missing after a powerful tropical storm struck south-western Japan.
Tens of thousands of others were forced to flee their homes as Typhoon Meari's gusts of up to 67 mph (108km/h) damaged houses and caused widespread flooding.
The town of Miyagawa in the prefecture of Mie was particularly badly hit as landslides destroyed several homes.
The record eighth typhoon this year left thousands of homes without power.
More than 350 flights were cancelled and train and ferry services in the affected area were suspended, stranding thousands of people, local media reported.
The storm weakened on Thursday morning as it was moving north-east at 37mph (60km/h) near the city of Ichinoseki, north of the capital, Tokyo, Japan's Meteorological Agency said.
It said Meari, which means "echo" in Korean, was expected to be downgraded around midday on Thursday.
Buried in mud
The storm mad landfall on the southernmost main island of Kyushu early on Wednesday, before progressing northeast over large swaths of the country.
"This is the heaviest rain I've ever had in my life. I can't sleep because I am worried about my house," the Mainichi newspaper quoted a resident in Miyagawa as saying.
Officials said at least six people were missing in the town, where mud and rock loosened by rain buried several homes.
Hundreds of rescuers - including army units - suspended their search for the six because of the risk of further landslide and were due to resume the operation on Thursday, officials said.
About 100 people were rescued on Wednesday from a home for the elderly in Mie where they were stranded by waist-high floodwaters. The bodies of two men were also found in a swollen river.
Several deaths were also reported in the south-western prefecture of Ehime.
'Typhoon year'
Japan has been battered by a record eight typhoons this year, breaking the past record of six in 1990.
More than 20 people were killed and some 700 others were injured as the deadly Typhoon Songda swept up across Japan.
In August, Typhoon Megi killed at least 13 people in Japan and South Korea.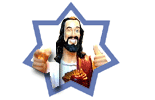 MONTERREY, Mexico (Reuters) -- A fiberglass statue of Jesus that washed up on a sandbar in the Rio Grande three weeks ago is attracting scores of devout pilgrims to a police department lost-and-found and being hailed as a miracle.
Police in Eagle Pass, Texas, said up to 40 people a day are coming to pay homage to the five-foot-tall figurine, known as "The Christ of the Undocumented," which was found by U.S. Border Patrol agents in the river.
"Some come to pray, and some come and just touch it," police lieutenant Daniel Morales said by telephone on Monday. "We have never experienced anything like this before, and interest is growing by the day."
The border city, which lies opposite Piedras Negras in northern Mexico, has a large Mexican community. Many arrived illegally by way of the river, and most are devout Roman Catholics.
Morales said the life-like statuette, which turned up without a crucifix base, would probably be given to a church in the border city if no-one came forward to claim it within 90 days.
---
Remember, we need your help to collect information on what is going on in your part of the world!
We also need help to keep the Signs of the Times online.
---

Check out the Signs of the Times Archives

Send your comments and article suggestions to us

---
Fair Use Policy
Contact Webmaster at signs-of-the-times.org
Cassiopaean materials Copyright ©1994-2014 Arkadiusz Jadczyk and Laura Knight-Jadczyk. All rights reserved. "Cassiopaea, Cassiopaean, Cassiopaeans," is a registered trademark of Arkadiusz Jadczyk and Laura Knight-Jadczyk.
Letters addressed to Cassiopaea, Quantum Future School, Ark or Laura, become the property of Arkadiusz Jadczyk and Laura Knight-Jadczyk
Republication and re-dissemination of our copyrighted material in any manner is expressly prohibited without prior written consent.