---
Printer Friendly Version
New Movie Review: Alien vs. Predator
Picture of the Day

Grand cumulonimbus le 16 août 2004
©2004 Pierre-Paul Feyte
UPDATE: The Exclusive SOTT 'Pentagon Strike' Flash Presentation created by a QFS member has been so popular that the maximum bandwidth for the original site where it was located has been easily surpassed.
We are working on a solution and hope to have the presentation posted again tomorrow.
In the meantime, if any of our readers have a copy and are able to pass it along or post it to other sites, please do so and let us know!
September 11th 2001 Revisited - Day of Infamy, Day of Deceit
US Companies Providing Indirect Service to Terrorist Websites, Report Says

By Julie Stahl
CNSNews.com Jerusalem Bureau Chief
August 27, 2004
Jerusalem (CNSNews.com) - American Internet Service Providers are being used indirectly by the Palestinian Islamic Jihad and other terrorist groups to market their terrorist messages, Israel's Intelligence and Terrorism Information Center at the Center for Special Studies said in a report this week.
But following an inquiry by CNSNews.com into the allegations, two of the companies listed in the report said they were now in the process of correcting the situation.
"Palestinian and international terrorist organizations make massive use of the Internet to spread propaganda supporting terrorism and as a means of maintaining contact between organizations and headquarters, their infrastructures and their target populations," the report said.
As a case study, the report lists six separate websites belonging to the Palestinian Islamic Jihad, at least four them hosted by two different American Internet Service Providers.
The Palestinian Islamic Jihad appears on State Department's list of terrorist organizations as well as on the European Union's list of terror groups. [...]
Comment: We firmly believe Israel's Intelligence and Terrorism Information Center when they state that "Islamic Jihad and other terrorist groups are using US ISPs". Why? Because Israel's Intelligence and Terrorism community is behind most of the fake terror attacks and threats, including the attacks on September 11th 2001.
Remember Odigo?
Click here to comment on this article
Odigo says workers were warned of attack
By Yuval Dror
Apr 04 2004
Odigo, the instant messaging service, says that two of its workers received messages two hours before the Twin Towers attack on September 11 predicting the attack would happen, and the company has been cooperating with Israeli and American law enforcement, including the FBI, in trying to find the original sender of the message predicting the attack.
Micha Macover, CEO of the company, said the two workers received the messages and immediately after the terror attack informed the company's management, which immediately contacted the Israeli security services, which brought in the FBI.
"I have no idea why the message was sent to these two workers, who don't know the sender. It may just have been someone who was joking and turned out they accidentally got it right. And I don't know if our information was useful in any of the arrests the FBI has made," said Macover. Odigo is a U.S.-based company whose headquarters are in New York, with offices in Herzliya.
As an instant messaging service, Odigo users are not limited to sending messages only to people on their "buddy" list, as is the case with ICQ, the other well-known Israeli instant messaging application.
Odigo usually zealously protects the privacy of its registered users, said Macover, but in this case the company took the initiative to provide the law enforcement services with the originating Internet Presence address of the message, so the FBI could track down the Internet Service Provider, and the actual sender of the original message.
Comment: The rumour that Odigo had been warned of the 9/11 attacks was denounced as anti-Semitism after the attack because it implied that the force behind 9/11 was not "Islamic terrorists." In the two and one-half years since, much evidence has come out to suggest that this is in fact the case. The Bush administration has yet to produce the slightest hard evidence that the hijackers were the men they claim or to show the slightest proof that the attackers were part of the mythical al Qaeda.
Notice the ridiculous explanation by the CEO of the company that received the message. It is not clear whether "Odigo" is an American company, an Israeli company or an Israeli-American company. Whatever the case, Odigo, at the time of the 9/11 attacks, had an office in the WTC itself, as well as offices in Herzliya in Israel. The article states that the ISP information was eventually given to the FBI, and we assume that the FBI checked into the ISP and the sender, so who was it? Well, perhaps we don't need the FBI to make the first obvious connection. In the article we notice that that two employees of Odigo that received the warning immediately contacted Israeli intelligence. While the article above does not state it, this would seem to suggest that the two employees were in the Israeli office, and that the message originated either in Israel or somewhere else in the Middle East.
The Israeli offices of Odigo are noteworthy for their location - Herzliya, a resort city to the north of Tel Aviv, which was named after one of the founders of the Zionist movement, Theodor Herzl. Most significant however is that the actual office building of Odigo in Herzliya is right next to the "Herzliya Interdisciplinary Centre", a private university financed by US donors, mainly the trader Marc Rich, the Israeli criminal and lobbyist that Clinton was "forced" to pardon. Thierry Mesan has this to say of the centre on his " Reseauvoltaire" site" (translated from the original French):
[...] the Herzliya Interdisciplinary Centre, a private university near Tel Aviv and financed by US donors, mainly the trader Marc Rich (Glencore). It comes from the International Institute on Politics and Counter-Terrorism that has made its specialty to the supposed links between Palestinian resistance movements, Al Quada, and the "Axis of Evil." The institute is notoriously linked to the secret services of the Israeli army, and two of its former directors sit on the Institute's Board of Directors: Generals Shlomo Gazit and Eli Zeira. The offices of the Institute are next to those of the private telecommunications firm Odigo that announced the attacks on the World Trade Centre two hours before they were perpetrated.
Interesting indeed. We find it unlikely that a internet messaging business would be located so close to the heart of Israeli intelligence without there being some co-operation between the two.
If we look at 9/11 from the point of view of who benefited, there are only two countries in the world - Israel and the United States. Israel has used the attacks to justify their ruthless murder of Palestinians; the United States to justify their intervention in the internal affairs of Afghanistan and Iraq.
Ironically (or perhaps not), the following "elite US Army" report, detailing the US military's role in policing a peace accord between Israel and Palestine and the creation of a Palestinian state, was issued one day before 9/11 and contains a very significant analysis of the Mossad.
Click here to comment on this article
Flashback: U.S. troops would enforce peace under Army study
Rowan Scarborough; THE WASHINGTON TIMES
September 10, 2001
An elite U.S. Army study center has devised a plan for enforcing a major Israeli-Palestinian peace accord that would require about 20,000 well-armed troops stationed throughout Israel and a newly created Palestinian state.
There are no plans by the Bush administration to put American soldiers into the Middle East to police an agreement forged by the longtime warring parties. In fact, Defense Secretary Donald H. Rumsfeld is searching for ways to reduce U.S. peacekeeping efforts abroad, rather than increasing such missions.
But a 68-page paper by the Army School of Advanced Military Studies (SAMS) does provide a look at the daunting task any international peacekeeping force would face if the United Nations authorized it, and Israel and the Palestinians ever reached a peace agreement.
Located at Fort Leavenworth, Kan., the School for Advanced Military Studies is both a training ground and a think tank for some of the Army's brightest officers. Officials say the Army chief of staff, and sometimes the Joint Chiefs of Staff, ask SAMS to develop contingency plans for future military operations. During the 1991 Persian Gulf war, SAMS personnel helped plan the coalition ground attack that avoided a strike up the middle of Iraqi positions and instead executed a "left hook" that routed the enemy in 100 hours.
The cover page for the recent SAMS project said it was done for the Joint Chiefs of Staff. But Maj. Chris Garver, a Fort Leavenworth spokesman, said the study was not requested by Washington.
"This was just an academic exercise," said Maj. Garver. "They were trying to take a current situation and get some training out of it."
The exercise was done by 60 officers dubbed "Jedi Knights," as all second-year SAMS students are nicknamed.
The SAMS paper attempts to predict events in the first year of a peace-enforcement operation, and sees possible dangers for U.S. troops from both sides.
It calls Israel's armed forces a "500-pound gorilla in Israel. Well armed and trained. Operates in both Gaza [and the West Bank]. Known to disregard international law to accomplish mission. Very unlikely to fire on American forces. Fratricide a concern especially in air space management."
Of the Mossad, the Israeli intelligence service, the SAMS officers say: "Wildcard. Ruthless and cunning. Has capability to target U.S. forces and make it look like a Palestinian/Arab act."
On the Palestinian side, the paper describes their youth as "loose cannons; under no control, sometimes violent." The study lists five Arab terrorist groups that could target American troops for assassination and hostage-taking.
The study recommends "neutrality in word and deed" as one way to protect U.S. soldiers from any attack. It also says Syria, Egypt and Jordan must be warned "we will act decisively in response to external attack."
It is unlikely either of the three would mount an attack. Of Syria's military, the report says: "Syrian army quantitatively larger than Israeli Defense Forces, but largely seen as qualitatively inferior. More likely, however, Syrians would provide financial and political support to the Palestinians, as well as increase covert support to terrorism acts through Lebanon."
Of Egypt's military, the paper says, "Egyptians also maintain a large army but have little to gain by attacking Israel."
The plan does not specify a full order of battle. An Army source who reviewed the SAMS work said each of a possible three brigades would require about 100 Bradley fighting vehicles, 25 tanks, 12 self-propelled howitzers, Apache attack helicopters, Kiowa Warrior reconnaissance helicopters and Predator spy drones.
The report predicts that nonlethal weapons would be used to quell unrest.
U.S. European Command, which is headed by NATO`s supreme allied commander, would oversee the peacekeeping operation. Commanders would maintain areas of operation, or AOs, around Nablus, Jerusalem, Hebron and the Gaza strip.
The study sets out a list of goals for U.S. troops to accomplish in the first 30 days. They include: "create conditions for development of Palestinian State and security of [Israel]"; ensure "equal distribution of contract value or equivalent aid" . . . that would help legitimize the peacekeeping force and stimulate economic growth; "promote U.S. investment in Palestine"; "encourage reconciliation between entities based on acceptance of new national identities"; and "build lasting relationship based on new legal borders and not religious-territorial claims."
Maj. Garver said the officers who completed the exercise will hold major planning jobs once they graduate. "There is an application process" for students, he said. "They screen their records, and there are several tests they go through before they are accepted by the program. The bright planners of the future come out of this program."
Comment: Is it possible that some elements within the Israeli intelligence communities and government were aware that a US-inspired peace initiative was on the cards and decided to take decisive action to prevent that from ever happening? The fact that this is exactly what the 9/11 attacks have engineered lends credence to such a theory, as the following article, published on September 12th 2001, makes clear.
Click here to comment on this article
Flashback: Attacks change shape of U.S. foreign policy
David R. Sands and Tom Carter; THE WASHINGTON TIMES
September 12, 2001
The devastating terror attacks that rocked New York and Washington yesterday will produce aftershocks that will be felt in U.S. foreign policy for decades to come.
President Bush faced intense pressure to respond to the attacks before U.S. officials could even hazard a guess as to who had orchestrated and carried out the world's worst act of terrorism.
"Everything changes," said Thomas Henriksen, a senior fellow at the Hoover Institution and a specialist on states accused of harboring terrorists. "Terrorism has always been remote, but now it has touched us."
"This was clearly not an isolated attack," former Secretary of State Henry Kissinger said in an interview yesterday on CNN. "It can't be dealt with by just one retaliatory blow."
Foreign policy experts predicted a vastly heightened sense of urgency in the global war against terrorism. With much of the early speculation focusing on Islamic fundamentalist groups with links to Saudi financier Osama bin Laden, the attacks could foreshadow a profound change in the dynamics of the Middle East peace process.
Some predict that current U.S. laws forbidding the use of assassination and infiltration of suspect terrorist groups abroad may be amended or repealed in the wake of the attacks.
"There was clearly an intelligence failure of massive, international proportions here," said George Friedman, chairman of the Texas-based forecasting service Stratfor. "It really raises question of whether our intelligence capabilities are up to par."
As expressions of sympathy and outrage poured in from leaders around the globe, several pointed to the attacks as proof of the need to coordinate the response to terrorism. Many of the calls came from states who fear the resurgence of militant Islamic fundamentalist movements on their own borders.
Said Russian President Vladimir Putin: "What happened today underlines the relevance of the offer of Russia to unite the powers of the international community in the fight against terrorism, the plague of the 21st century."
Scrambling for clues yesterday, U.S. officials said in private briefings they suspected the attacks were the handiwork of bin Laden, whom intelligence officials accuse of running an anti-American terrorist network from his sanctuary in Afghanistan. Afghanistan is run by the Taliban, a strict Muslim fundamentalist movement.
"We need to call our allies on the carpet, especially those like Pakistan and Saudi Arabia that recognize the Taliban," said Jim Prince of Control Risks Group, a former Middle East specialist for the House International Relations Committee and the Council on Foreign Relations.
Former Israeli Prime Minister Ehud Barak and Sen. Orrin G. Hatch, the Utah Republican who sits on the Senate Select Committee on Intelligence, suggested yesterday that the United States must strike hard at the Taliban if bin Laden and his supporters are linked to the attack.
"Bin Laden sits in Afghanistan," said Mr. Barak. "We know where the terror sites are. It's time for action."
Taliban spokesman Wakil Ahmed Mutawakel denied in a brief press conference in Kabul yesterday that his government had any knowledge of yesterday's events. He condemned the attacks but said his own government had been the target of terrorist activity as well.
Ariel Cohen, a defense analyst at the Heritage Foundation, noted that U.S. relations with both Saudi Arabia and Yemen have been strained over friction in the investigation of past terrorist attacks on U.S. targets.
"We may be in for a period of protracted turbulence in the Middle East because of these attacks," said Mr. Cohen, although he and others cautioned that the identities of the terrorists still had not been determined.
Stratfor's Mr. Friedman said Israel, which is dealing with its own wave of suicide bombers in the latest violent stand-off with the Palestinians, could emerge as a "big winner" from yesterday's events.
"I can see this changing the whole dynamic of the American approach to that conflict," he said.
"If [Palestinian leader Yasser] Arafat had been counting on U.S. pressure on Tel Aviv on the terms of a cease-fire, he can pretty much forget it now. The whole game has changed," he said.
Several analysts and lawmakers said Mr. Bush was under pressure to respond more effectively than President Clinton did after previous bin Laden attacks, which they said had barely dented the Saudi terrorist's network.
"This cannot be a Clintonesque response, a slap on the wrist," said the Hoover Institution's Mr. Henriksen.
Rep. Bob Barr, Georgia Republican, has authored legislation to lift the ban on assassinations of foreign leaders deemed a threat to the United States. "We have to be smart about our retaliation," said Mr. Barr. "It needs to be swift and decisive."
Virtually every observer agreed that the attacks have pushed intelligence and security to the top of the American foreign policy agenda.
"This is the kind of shock that can be a turning point," said Edward S. Walker Jr., president of the Washington-based Middle East Institute and former Assistant Secretary of State for Near Eastern affairs.
"The fact that we are so vulnerable to such an extraordinarily well-conceived attack is going to bring a sense of urgency and cooperation to the terrorism issue that wasn't there before," he said.
Click here to comment on this article
Comment: As we can see, the attacks were immediately seized upon by Israel and Jewish Neocons in Washington as justification to initiate one of their decades-old plans to reshape the Middle East. Did they really know the attacks were going to happen, have they really been lying to the world about what they know? Well, we will let Rumsfeld speak for himself...
Flashback: Secretary Rumsfeld Interview with Parade Magazine
Friday, Oct. 12, 2001
Q: This is a question that's been asked by many Americans, but especially by the widows of September 11th. How were we so asleep at the switch? How did a war targeting civilians arrive on our homeland with seemingly no warning?
Rumsfeld: There were lots of warnings. The intelligence information that we get, it sometimes runs into the hundreds of alerts or pieces of intelligence a week. One looks at the worldwide, it's thousands. And the task is to sort through it and see what you can find. And as you find things, the law enforcement officials who have the responsibility to deal with that type of thing -- the FBI at the federal level, and although it is not, it's an investigative service as opposed to a police force, it's not a federal police force, as you know.
But the state and local law enforcement officials have the responsibility for dealing with those kinds of issues. They [find a lot] and any number of terrorist efforts have been dissuaded, deterred or stopped by good intelligence gathering and good preventive work. It is a truth that a terrorist can attack any time, any place, using any technique and it's physically impossible to defend at every time and every place against every conceivable technique.
Here we're talking about plastic knives and using an American Airlines flight filed with our citizens, and the missile to damage this building and similar (inaudible) that damaged the World Trade Center. The only way to deal with this problem is by taking the battle to the terrorists, wherever they are, and dealing with them.
Click here to comment on this article
Flashback: All 911 Airports Serviced by Same Israeli Security Firm
RMN Agents Forum
It's one of those times when an innocuous comment in an unrelated news report triggers a revelation. In the article at http://afrocubaweb.com/news/israelispying.htm there is the following paragraph.
"To make the situation worse, a private security company called ICTS, owned by an Israeli, Ezra Harel, and registered in the Netherlands, was employed at Charles de Gaulle airport to screen passengers boarding US planes. Most of its personnel are ex-Shin Bet officers. The company covers security at Boston's Logan airport, where the American Airlines plane came down after flight attendants and passengers overpowered Reid."
The point of thie article was that ICTS knew Reid was dangerous, but allowed him on board a flight from Tel Aviv to Paris. Maybe they did and maybe they didn't. But the idea that an Israeli owned company had inside access to the airport used to launch an abortive terror attack brought to mind the strange message Odigo Systems, another Israeli owned company with offices near the World Trade Towers, received that warned of the impending attacks before the hijacked planes had even left the ground.
So, I went back to another story that had surfaced briefly, reported here about how at least one hijacker had smuggled a GUN aboard one of the hijacked planes. Even prior to 9-11, getting a gun on board a passenger plane represented a serious lapse of security. I wondered why this story of a gun was being concealed behind talk of box cutters and screwdrivers.
Then I went back to the first article and its mention that ICTS handled security at Logan International Airport, from which two of the 9-11 hijacked planes had departed.
Sure enough, a visit to ICTS' own web site at www.icts-int.com/ confirms that ICTS is in fact an Israeli owned company, and that it sells services to every airport from which the hijacked planes operated, including security, sometimes through wholly owned subsidieries like Huntleigh USA Corporation.
It has been suggested that the incredible feat of hijacking four aircraft without a single arrest at the gate would require the resouces of a nation-state. This is even more true with the revelation that at least one gun had managed to be aboard a hijacked plane. One company had automatic inside access to all of the airports from which hijacked planes departed on 9-11, and to the airports used by Richard Reid, the shoe bomber. An Israeli company. One that Mossad agents could easily find employment with without the management knowing who they were or what their purpose really was.
But one thing is clear. By virtue of the Odigo warning, someone knew enough about the planned attacks to warn Odigo before the planes had even departed the airport gates, yet they did not call the Israeli security company at the airports which could have stopped the flights from leaving.
Think about that one for a while.
"Evidence linking these Israelis to 9/11 is classified. I cannot tell you about evidence that has been gathered. It's classified information." -US official quoted in Carl Cameron's Fox News report on the Israeli spy ring.
"Investigators within the DEA, INS and FBI have all told Fox News that to pursue or even suggest Israeli spying ... is considered career suicide." - Carl Cameron, as quoted in The Spies Who Came In From The Art Sale
"While I agree with you, if I say anything about US geopolitical interests with Israel, I might as well clean off my desk. - Unnamed reporter as quoted in American Media Censorship and Israel
Click here to comment on this article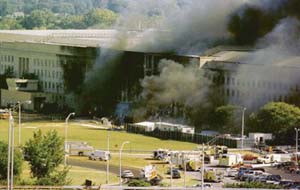 Flashback: The Attacks Of 11 September Who Profits From The Crime?
A terrifying conclusion: the official version is a lie.
Whence the agonising questions: what caused the explosion that went off at the Pentagon and led to one hundred and twenty-five deaths? What became of American Airlines Flight 77 and its sixty-four passengers? - And above all, why lie? Of what secret is this bloody con trick the smokescreen? - What "conspiracy" at the highest summit of the State lies hidden behind this "phantom plane" which did indeed exist, but which was diverted from its path… in what direction? - The clearly established fact of a first deception at Washington leads one to ask questions about the attacks in New York. The entire world looked on horrified, their eyes riveted to the television screen. Surely no deception was possible here? And yet…
How explain that an article warning of an imminent terrorist attack by Osama bin Laden appeared on the internet site of the New York Times on 9 September, but not in the paper edition, and was then withdrawn from the site to avoid embarrassing questions?
How explain that two employees of the Israeli-American firm, Odigo, with offices in the Twin Towers, received an email warning of an imminent terrorist attack two hours before it took place?
How is it that with a budget of more than 30 billion dollars devoted to the intelligence service, not one of the main American agencies managed to detect the imminent threat: neither the FBI nor the CIA nor the NSA (National Security Agency)? Are we dealing with an enormous breakdown or a deliberate decision to remain passive even while keeping highly alert?
A first clue in favour of this last hypothesis is provided by the strange confession of George Bush on 4 December 2001, relating how he watched a live television broadcast of the first crash into the World Trade Centre:
"I was in Florida. And my Chief of Staff, Andy Card – actually, I was in a classroom talking about a reading programme that works. I was sitting outside the classroom waiting to go in, and I saw an airplane hit the tower – the TV was obviously on. And I used to fly myself, and I said, well, there's one terrible pilot. I said, it must have been a horrible accident But I was whisked off there, I didn't have much time to think about it. And I was sitting in the classroom [busy for half an hour, specifies Emmanuel Ratier, reading a book about goats, which is plainly staggering after the first impact!], and Andy Card, my Chief of Staff, who is sitting over here, walked in and said, "A second plane has hit the tower. America is under attack.""
"It is one of two things, comments Ratier: either the president of the most powerful country in the world had no idea what he was talking about despite all the details, or he was fully informed of the attack about to take place and watched it on a private television circuit." For there was no reason for a television network to film the Twin Towers in a live broadcast at the time of the first attack. The pictures of this were taken by amateurs and were broadcast by the television networks well after the president had left the school he was at. "They were, therefore, secret pictures, concludes Meyssan, broadcast live in the security communication room installed in the school ready for his visit."
But "who profits from the crime?"
The cumulative force of all the evidence leaves no place for doubt. "The existence of a conspiracy within the US Armed Forces to perpetrate the attacks of 11 September.
The famous video of bin Laden's "confessions" claiming responsibility for the crash on the Pentagon, confirms the Abbé de Nantes' intuitions according to which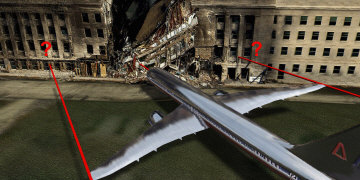 Bush was in communication with bin Laden. They have spared one another by virtue of an agreement to wage a "phoney war"; everything passes off as if the two protagonists were bound by a pact of non-aggression preventing them from directly attacking one another (Resurrection no 11, November 2001, p. 3).
If bin Laden accredited the lie of the "phantom Pentagon plane", it is because he effectively remains, even today, the secret ally of the United States.
On 7 October 2001, war broke out. Not only the air raids on Kabul, but the war of press releases. Bush against bin Laden.
"Victory in Afghanistan" is supposed to have been won, but the war continues. Against whom? Against "terrorism". What is "terrorism"? It is not a State, nor an organisation, nor a doctrine, but a mode of action, observes Meyssan. The expression "War on terrorism" makes no more sense than "War on war". At a concrete level, George Tenet, director of the CIA, presented Bush on 15 September 2001 with a "Worldwide Attack Matrix". Approved by Rumsfeld, this secret war has been launched against anything that stands in the way of the absolute supremacy which the United States is on the way to exercising over the entire universe.
Was the war in Afghanistan a reprisal for the attacks of 11 September? Or were these attacks a windfall for the people who had already planned this war a long time back?
Rereading the message which President George W Bush addressed to his people on the evening of 11 September, one might think that the war in Afghanistan was an act of legitimate defence:
"America was targeted for attack because she is the brightest beacon for freedom and opportunity in the world. And no one will keep that light from shining. Today, our nation saw Evil, the very worst of human nature. And we responded with the best of America", etc.
It is all there, even, and above all, an appeal to the Bible, with a quotation from Psalm 23: "Even though I walk through the valley of the shadow of death, I fear no evil, for You are with me." God is with America, as He was with David… And too bad if appearances make her look more like Goliath…
The day afterwards, 12 September, in the course of a press conference, President Bush preached the Crusade of the democracies: "The deliberate and deadly attacks which were carried out yesterday against our country were more than acts of terror. They were acts of war. This will require our country to unite in steadfast determination and resolve. Freedom and democracy are under attack […]. This enemy attacked not just our people, but all freedom-loving people everywhere in the world." And the president declared his determination: "We will rally the world." Whether they like it or not.
In fact the Anglo-American forces, were already in place well before the attacks. From the beginning of September they were deployed on "manoeuvres" in the Sea of Oman, ready to invade Afghanistan and overthrow the Taliban regime. As if by chance… The only thing missing was the casus belli: "The United States has always been reluctant to take the initiative in a war, recalls Thierry Meyssan. In the past, they have always worked hard to present their military engagements as legitimate reprisals. With the attacks of 11 September, they found a perfect opportunity…"
Found or created? Old Henry Kissinger answered this question when, immediately after the president's televised speech, he declared that he expected from the government "a systematic response" to the attacks of 11 September "which, one hopes, will end the way that the attack on Pearl Harbour ended – with the destruction of the system that is responsible for it. That system is a network of terrorist organisations sheltered in capitals of certain countries."
That same day, the United Nations Security Council recognised the USA's right to violate the sovereignty of States which protect the agents of attacks, in order to arrest these terrorists and arraign them before international justice (Resolution 1368).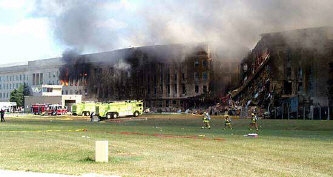 "Posing as the spiritual leader of America and the civilised world", writes Meyssan, President Bush decreed that Friday 14 September 2001 should be a National Day of Prayer and Commemoration for the victims of the terrorist attacks of 11 September 2001. President Bush ascended the pulpit and pronounced a "homily" in the presence of a cardinal, a rabbi and an imam: "Our responsibility to History is clear: to answer these attacks and rid the world of Evil." How? Through implacable revenge: "Our nation is peaceful, but fierce when stirred to anger."
"By manipulating religious sentiment, the American government has not only sacralized the victims of the attacks but also its own version of the facts. Henceforth, throughout the world, any contestation of the official truth will be considered as a sacrilege." (Thierry Meyssan, p. 87) The falsehood is there in all its enormity, not Meyssan's lie, but that of Bush, for "no plane crashed into the Pentagon."
The ultimatum addressed by President Bush to the Taliban on 20 September before a full session of Congress, was but the first stage of a "war on terrorism" which, little by little, will lead to conferring on the president full powers… over the world! The special law, the USA PATRIOT Act, adopted by Congress after three weeks of debate, abolishes fundamental freedoms for a period of four years in the land of Human Rights!
Numerous measures were taken to strengthen the secret-défense: "President George Bush personally contacted Congress leaders to ask them not to endanger national security by creating a commission of inquiry into the events of 11 September. To save face as well as to turn the page, parliamentarians decided instead to create a commission of inquiry… into the measures taken since 11 September to prevent further terrorist activities."
Ratier notes with astonishment that there exist no video recordings or photographs of the Pentagon crash, although the Pentagon is visited every day by thousands of tourists, cameras and video-recorders slung across their shoulders. The FBI seized the video films from a hotel and a service station, both situated right next to the Pentagon, whose cameras may have contained images of the plane landing (or on the contrary shown that no plane ever did land…)
Not one of the eight black boxes (two per plane) are of any use, it would appear, although they are designed to withstand crashes and fires: "We do not know what was said in the cockpits either by the crew members or by the hijackers." (the FBI spokesman to CNN) What is known, on the other hand, is that the four planes all followed routes very different from their flight plans. According to the procedures of the FAA (Federal Aviation Agency), as soon as a plane deviates from the corridor assigned it, the agency immediately attempts to make contact with the pilots. Should this not succeed, the alarm is sounded and the entire regional airspace is placed under surveillance. It appears that the transponders were turned off. Yet another reason to activate the emergency procedures. For the plane does not disappear from the radar screens; these continue to follow its trajectory, and the alarm is raised. Now, on 11 September, the fighter planes remained grounded.
"A SPACE PEARL HARBOUR"
The expression is Donald Rumsfeld's. It can be read in a report issued on 11 January 2001 by the commission he headed, responsible for evaluating the organisation and planning of the security of the United States in matters of space: "History is replete with instances in which warning signs were ignored and change resisted until an external, "improbable" event forced resistant bureaucracies to take action. The question is whether the US will be wise enough to act responsibly and soon enough to reduce US space vulnerability. Or whether, as in the past, a disabling attack against the country and its people – a "Space Pearl Harbour" – will be the only event able to galvanize the nation and cause the US government to act."
Is Rumsfeld a prophet? On 11 January 2001, eight months before the attacks of 11 September, he held up the threat of suicide planes, like those of the Japanese air force in 1941, sixty years earlier, as "the only event able to galvanize the nation and cause the US government to act". Did you say: Pearl Harbour? In other words: suicide planes? The man is a prophet! Or else, it was he who created the event…
Why "space"? Because, according to the report of the Rumsfeld Commission, "space" is the new theatre of operations – distinct from that of the air – which the United States must appropriate.
In a press conference given at the Pentagon at the end of the afternoon of 11 September, in the presence of the Democrat and Republican leaders of the Senatorial Commission for Defence, Rumsfeld took Democrat Senator Carl Levin to task:
"You and other Democrats in Congress have voiced fear that you simply don't have enough money for the large increase in defence that the Pentagon is seeking, especially for missile defence, and you fear that you'll have to dip into the Social Security funds to pay for it. Does this sort of thing convince you that an emergency exists in this country to increase defence spending, to dip into Social Security, if necessary, to pay for defence spending – increase defence spending?"
For the last twenty-five years, Abbé de Nantes has repeatedly sounded this warning: "The Free World, the West, Christendom, call it what you like, this vast worldwide reality under the leadership of the USA is being betrayed, surrendered and dismantled by the USA itself at its highest echelons of power." (French CRC no 100, December 1975, page 11) He has denounced by name the Council of Foreign Relations (CFR), a branch of international high finance which aims to control American politics and to enslave France through the intermediary of Europe (French CRC no 112, December 1976, p. 5-6), and also the Trilateral Commission and its mastermind Zbigniew Brzezinski (French CRC no 122, October 1977, and passim). And again in December 1982, he was under no illusion when he wrote: "But no one will tell the truth." (French CRC no 184, p. 7-8)
And now that Yugoslavia is in its death throes, whose turn is it next? France's? "The Americans have been betraying France since 1918, wrote the former ambassador Albert Chambon. Since 1918 they have been seeking to suppress the French nation and to create a new world order which will do away with the ancient nations and France in the first place." (quoted in the English CRC no 328, p. 12)
Click here to comment on this article
Investigators Simulate WTC Floor Fire

By TARA BURGHART
Associated Press Writer
August 25, 2004, 8:40 PM EDT
NORTHBROOK, Ill. -- Federal officials re-created a floor system of the World Trade Center and conducted a fire test on it Wednesday as part of an investigation into the towers' collapse on Sept. 11, but results didn't immediately provide clear answers.
A 17-by-14-foot slab of concrete was placed in a furnace, where flames soon licked at the steel trusses, fireproofing material and metal decking underneath the floor.
Images from inside the furnace of buckling trusses and cracking concrete were beamed onto a video screen for journalists, engineers and family members of victims invited to view the test, conducted by the National Institute of Standards and Technology at Underwriters Laboratories in suburban Chicago.
The floor system failed after about an hour and 15 minutes because of excessive temperatures on the trusses and concrete. A test last week of the floor system as it was actually installed in the towers passed the 2-hour fire rating required by New York City code in the 1960s, when the trade center was built. [...]
Click here to comment on this article
"When Israels Mossad set out to break me, it found its helpers here at home"
by Victor Ostrovsky
Victor Ostrovsky published two books on his experiences as a former Intelligence agent working for the State of Israel: By Way of Deception and The Other side of Deception.
In these he recorded his personal observations made within Israel's external security service, The Mossad. He wrote an article on what subsequently happened to him for the authoritative journal, The Washington Report on Middle East Affairs (October/November 1997, pp 37, 84-85).
Here we reproduce the article:
"We will get to him by other means, we will break him economically", stated the chief of the Mossad, Israel's CIA, to a Knesset committee after the failure of the government of Israel's attempt to ban publication of my first book, By Way of Deception, in the U.S. and Canada. This statement made on camera was purposely leaked to an Israeli reporter and printed in the weekend edition of Ma'ariv, Israel's leading daily newspaper, with the military censor's approval. Since that day, Israel's foreign intelligence agency has waged a war of attrition against me with the enthusiastic cooperation of its cabal of North American Zionist organizations.
For years as a Canadian-born, Israel-raised former Mossad caseworker I was unwilling to accept the possibility of a wide conspiracy against me. After all, my book had finally been published. What more harm could I do to the country I had left in disgust to return to the land of my birth. Only hitting rock bottom has finally jolted me out of this state of innocence - and optimism that a change of luck is just around the corner. I'm now convinced that I am the target of a broad collusion between elements of the Israel government and their gofers, mostly in the American Jewish community.
Following publication of my By Way of Deception I wrote a spy novel, Lion of Judah, using the spycraft I'd learned with the Mossad as background. The book described a fictional Mossad operation aimed at thwarting a secret peace process underway in the Middle East. (The book was written and published before the real-life, year-long secret negotiations that led to the Oslo accord came to light.)
In the book I revealed considerably more about Mossad techniques than I had in By Way of Deception. But, despite the wide publicity garnered by my first book due to the Israeli government's unsuccessful effort to suppress it, my second book was ignored.
Radio and television interviews that were scheduled by my publisher were canceled almost as soon as they were booked. A speaker's bureau in Toronto, which seldom had trouble arranging speaking engagements with student and other groups eager to have me as a speaker, found that the engagements were cancelled before I could appear. In fact, the cancellations occurred each time a loal B'nai B'rith Anti-Defamation League (ADL) chapter got wind of them, and they always did.
But, of course, the less I spoke, the more time I had to write. In 1995, when my third book, The Other Side of Deception, another work of non-fiction, was published, the efforts against me were stepped up.
So, on Oct. 21, 1995, I was surprised to be invited by Canadian Television (CTV) producer Ron Fine to do a guest appearance on "Canada AM", the widely viewed Canadian version of "Good Morning America". Scheduled to appear on the same program, via satellite from Israel, was Israeli journalist Yosef Lapid, the former head of Israeli television.
An Appeal To Murder
Lapid had earned his 14 minutes of North American media fame by appealing openly on the Israeli television show "Popolitica" for the Mossad to seek me out in Canada and kill me for writing my books. He had followed this with an article making the same appeal in the Tel Aviv daily Ma'ariv headlined "By Virtue of Murder" [see accompanying article].
On cue, Lapid repeated, as I listened, his call for my assassination on the Canadian television show, but this time with a twist. He said that, since Israel's Mossad could not kill me in Canada without causing a diplomatic incident, "I hope that there would be a decent Jew in Canada who would do the job for us".
My reaction was horror mixed with relief. Now it was going to be hard for media gatekeepers to pretend that there were not "ugly Israelis" every bit as vicious and fanatical as the Iranian ayatollah who had called for the assassination in Britain by a British Muslim of author Salman Rushdie.
Along with the producers of the show, a large percentage of the Canadian public had just seen for themselves a former Israeli government official calling upon Canadian Jews to murder me on Canadian soil for the books I had written. But, to my astonishment, there seemed no inclination by the Canadian media to follow up the story when it was an Israeli rather than an Iranian inciting the murder of a published author. I had never felt more alone and isolated in my life.
Mt spirits brightened when a reporter from USA Today viewed the tape of the "Canada AM" show and was outraged. "I'm going to write a story about this", he declared, and proceeded to interview me for over an hour. Then, while I was still in his office, his editor told him by telephone to kill the article. "It's not a story", the editor said. The silence around me intensified.
It was a year later that Israeli Prime Minister Yitzhak Rabin was assassinated by a right-wing zealot who got his legitimization for murder from an extremist rabbi and his marching orders from the likes of Lapid. If by Lapid's rules I should be killed according to category "D" [see the acompanying article], in the eyes of Yigal Amir, Rabin's assassin, so should Rabin. I have no doubt in my mind that all those like Lapid who make their own rules as to who may live and who must die are partners in Rabin's murder.
A radio host named Tim Kern from a station in Denver, Colorado, called me up for an interview. Several days later he sent a file on me he had received from the "Mountain state regional office of the Anti-Defamation League of B'nai B'rith". The ADL communication suggested that the station drop the interview, claiming that I am an unreliable subject. This sequence was repeated over and over at radio and television stations in the United States and Canada. Ironically, supposedly separate Jewish organizations around the United States kept coming up with the same wording in their efforts to shut me up.
The same people who presumably would praise someone from the CIA or the U.S. armed forces who exposed serious wrongdoing in those institutions were now hard at work to smother my criticisms of an intelligence agency for a foreign country that, to put it as charitably as possible, does not have America's best interests at heart. The Americans who call me a traitor to Israel for exposing the Mossad's efforts to kill the peace process hail as a hero Jonathan Pollard, a traitor to the U.S. who spied on the American government for Israel.
In an attempt to break the vicious cycle, I decided to sue in a Canadian court Yosef Lapid for inciting my murder and "Canada AM" for airing his incitement to the public. I assumed that bringing the issue to public attention would expose the attempts of organizations in both the U.S. and Canada that in fact are agents of Israel to suppress the truth through intimidation and, if necessary, economic or physical terrorism.
After accepting a hefty retainer and completing the preparations for trial, my lawyer, Paul B. Kane of Perley-Robertson, Panet, Hill and McDougall in Ottawa, Canada, informed me that he could not continue with the case. His explanation was that the safety of his staff would clearly be jeopardized if he proceeded.
Then HarperCollins, my publisher, informed me it was keeping the last portion of my advance, some $46,000, against advertising. I pointed out that since this was something I had never agreed to, they had no right to do it. "Sue us", was their response.
At the same time, my daughter, a television producer, was denied a job she had been offered in a Vancouver television station after its Toronto head office learned of her relationship to me.
Then my Canadian publisher, Stoddart, informed me it had decided not to publish my newest spy novel, Dominion of Treason, and also that it was holding back all the monies coming to me from By Way of Deception and Lion of Judah.
Meanwhile I had suggested to my agent in Toronto a new (fifth) book on the American militia movement. I proposed to interview supporters of the movement to ascertain their motivations, and then define the movement in terms of its members rather than simply labeling them as the enemy and shutting the door on them. I believe the growth of misunderstanding and mistrust within a nation, and particularly between regions as is the case between America's Eastern seaboard on the hand and its Midwest and Far West on the other, is courting disaster.
My agent was enthusiastic about the proposed project . We called it We the People. For several months he told me how this proposed book was being received in literary circles of New York. Then he dropped out of sight, and I have not been able to make contact with him to this day. I know he is in his office and doing business, but he will not return my calls.
In 1996, a new, New York-based agent struck a light at the end of a very long, dark tunnel. Regnery Inc., a Washington-based publisher, signed a contract with me for a tongue-in-cheek guide to espionage called The Spy Game. They had some suggestions, however, for making the book more serious on the grounds that readers don't regard spying as a laughing matter.
As I was in the final stages of the first draft, however, my house burned to the ground. The fire marshal's report declared it arson. No one was hurt, since we had moved out several weeks earlier and I was using only one room in the house for writing. Luckily, aside from the house itself, very little was lost - only my computer and several boxes of documents.
As I was sifting through the ashes of what used to be my bedroom, however, I realized that things were starting to get out of hand. By then, under the Likud government of Prime Minister Binyamin Netanyahu, both the Israeli ambassador to the U.S. and the Israeli ambassador to Canada were former Mossad officers. I couldn't identify the perpetrators of the fire, or blame it on one group or another, but it was clear to me that those who had vowed to break me "economically" were becoming more confrontational and taking greater risks.
After several days of soul-searching I realized I could no longer allow my wife, who had stood by me through thick and thin, to remain in the line of fire. This was my battle, my choice. Knowing full well she would not abandon me, as almost everyone else had, I told her I needed to be alone, to sort things out for myself.
Our separation lasted several weeks. But we both realized we couldn't remain apart.
So I wasted no more time and re-wrote The Spy Game, having kept my notes on Regnery's suggested revisions with me. The work on the book was moving along well, and most of the editing had already been completed. The publisher, through his project editor, asked that I add a chapter on espionage and the Internet and also bring in some biographical material on myself. I complied and he expressed his satisfaction in a letter to me.
On July 9 of this year the Regnery publicity department faxed me a copy of their catalog page depicting my book, slated to be released in October. One day later, on July 10, 1997, I received a letter from Regnery informing me that the company had decided not to publish my book. I felt as though I had been hit by a freight train.
It suddenly occurred to me, for the first time, that the forces of racism, bigotry and apartheid may win, even here in North America. In calling out, finally, for help, I suddenly fear that I may only be shouting into the wind.
To all who believe that "it can't happen here", I say beware.
It is immensely satisfying to take a stand and speak out against coercion and tyranny. But eventually there may be a price to pay.
And when that day comes, and the bill is handed out, you may find that although your friends cherish you, they may choose to do it from a distance. I wonder now if the thousands who have called and written still think of me as a prophet and a hero, or only a fool?
Comment: We urge all those who have not done so, to obtain copies of Victor Ostrovsky's books "By way of deception" and "The other side of deception" Read the stories, understand the mind set and MO of the Mossad and then consider them in terms of the current "war on terror". Things will begin to become much clearer.
Click here to comment on this article
Caving in to Sharon

Mike Whitney August 26, 2004
ZDNet
"Everybody has to move, run and grab as many hilltops as they can to enlarge the settlements because everything we take now will stay ours... Everything we don't grab will go to them." Ariel Sharon; as Israeli Foreign Minister
"When we have settled the land, all the Arabs will be able to do about it will be to scurry around like drugged cockroaches in a bottle." Raphael Eitan, Chief of Staff of the Israeli Defence Forces, New York Times, 14 April 1983.
Less than one week ago, Uri Avnery, peace activist and former member of the Israeli Knesset, offered these prescient thoughts about election season in the US and its affects on Israeli politics:
"…the months before the American elections are a kind of open season for Israel. The basic assumption is that no candidate for the White House would dare to provoke the American Jewish voters at election times. They are an extremely well organized and highly motivated political bloc, ready to donate heaps of money, which gives them political clout well beyond their numbers."
Avnery probably had no idea how prophetic his words would be.
Understanding Bush's vulnerability, Ariel Sharon blind sided the President by announced the building of 1,000 new units in the West Bank.
Bush, who has repeatedly committed himself to the Road Map as well as to Palestinian statehood, quickly reversed himself and caved in to everything "The Man of Peace" wanted.
Ironically, the announcement came on the same day that:
"The 115-member developing states of the Non-Aligned Movement condemned Israel's "Apartheid Wall," saying it infringes Palestinians' rights, and urged all of its members to act "individually or collectively" to impose sanctions both against Israeli settlements and international companies that participate in settlement activity, including construction of the Wall."
Not that this would have had any affect on Bush's decision. The wishes of the broader world community rarely enter into the machinations of the superpower or its proxy, Israel.
Needless to say, the information of the Non-Aligned Movements' condemnation was unreported in America's "free press"; there's no sense in recording the frustrations of those who rail against the actions of trusted ally, Israel.
When the UN General Assembly overwhelmingly condemned Israel's Apartheid wall just months earlier (following the unanimous ruling of the World Court) the coverage was equally lacking. The American media continues to be a reliable partner in the facilitation of unjust policy.
The actions taken by the Non Aligned Movement, the World Court and the UN illustrate that there's no real argument about these issues; nor is there any significant disagreement about the 1967 internationally established borders.
Israel's settlement policy is universally condemned as an unlicensed intrusion on Palestinian land and an incitement to regional violence.
These things have already been resolved to everyone's satisfaction. Now, it is simply a matter of whether Israel will follow the dictates of international law or continue to defy UN resolutions with impunity?
The Oslo Ruse
During the eight years of the Oslo negotiations, Israel never slowed its settlement of either the West Bank or the Gaza Strip. Ironically, the steepest increases in home building actually occurred under "liberals" Peres and Barak. (A lesson to Kerry supporters that he may in fact carry out the Bush policies with even greater zeal than the president) Much like politics in the US, the faces at the head of government may change, but the brutal policies remain unaltered.
Oslo provided welcomed cover for the inexorable colonization of Palestinian land and the systematic destruction of Palestinian identity. Noam Chomsky who has observed the process as carefully as anyone says that Oslo was intended "to establish a 'neocolonial dependency' for the Palestinians which would be permanent. That is what was promised at Camp David." (Noam Chomsky, "Hegemony or Survival" Owl Books, page 170)
The ultimate goal of Oslo was to disguise the ever-increasing repression in the territories while the carefully managed public relations gambit (the "peace talks") continued.
There was no "olive branch", just a well placed "boot heel" under which a population of three million were required to survive.
As former Israeli Defense Minister Moshe Dayan said many years earlier, "We have no solution, you (Palestinians) shall continue to live like dogs, and whoever wishes, may leave." (Ibid., page 184)
His words should be boldly inscribed over every checkpoint in the West Bank.
The "facts on the ground" that we see in the West Bank now, were announced as early as 1968 in the Allon Plan; a plan that precluded any Palestinian state between the Mediterranean Sea and the Jordan River. However concealed, (by political necessity) these have always been the long-range goals of the Israeli state.
The practical application of this plan is modeled on South Africa's Apartheid system of small population reserves or "Bantustans". In fact, this is how the West Bank is divided right now. Israel's "apartheid wall only adds some of the finishing touches.
Bush's acceptance of new settlement in the West Bank is a tacit endorsement of this apartheid system. It puts Bush at odds with the world community, international law, UN resolutions and 30 years of American Middle East policy. It applies the Presidential Seal to the final dissolution of the Palestinian state.
Bush's capitulation to Sharon should come as no surprise. He is intimidated by Sharon. We all remember when Sharon was carrying out his vicious operation in Jenin and Bush angrily ordered an immediate withdrawal. Sharon, of course, just brushed off the blustery president and carried on his rampage. Bush was left slinking away like a wet cat.
Things haven't changed…they've only intensified.
Sharon says a 1,000 homes…Bush says 2,000…Why not?
The building all takes place under the rubric of "natural growth"; a cheerful sounding euphemism that puts a benign face on the colonization.
We know all about that in America…we orchestrated our own lethal campaign under the equally friendly-sounding, "Manifest Destiny". It legitimized the butchering of 8 million Native Americans who got in the way of God's Will.
It was the most horrific act of genocide in the 19th century, but, fortunately, the history books have been effectively purged of any detail that casts the onslaught in a critical light. Most of that grisly tale has been faithfully scrubbed from the public record and replaced with apocryphal tales of hardship and heroism.
Israel's "natural growth" cannot compare to the barbarity that characterized America's move Westward, but the language is equally deceptive; camouflaging the cruelty of continued expansion.
Already, according to B'Tselem, (Israeli Peace Group) Israeli settlements control 42% of the West Bank; leaving only 12% of what was original Palestine. The ongoing development insures that the Palestinian state (promised by Bush and Powell) will be a virtual impossibility.
While Bush's submission to Sharon signals the demise of the Road Map, it is not really a departure from previous US policy. Prior administrations simply kept their ambitions hidden behind a curtain of diplomacy. The difference now, is that both Bush and Sharon are boldly stating the ultimate objectives.
There was no "terrorist incident" that precipitated the dramatic shift in policy. Bush and Sharon are so drunk with hubris they didn't even attempt to rationalize their actions in terms of their "all purpose" excuse, terrorism.
That should prove to skeptics that the occupation never had anything to do with terrorism; that was simply the pretext for further settlement. Now, that Sharon has done away with the pretenses, we should expect to see him despoil the West Bank according to plan.
As for Bush, his string of broken promises remains intact. There's simply no commitment "so great" that George W won't discard it when the opportunity arises. His pledge to the Road Map is just another pitiable addition to a long litany of lies.
Click here to comment on this article
An armor-clad Big Apple

Call it Fort New York.
Street barricades are going up, heavily armed antiterror squads are making unannounced rounds, bomb-sniffing dogs are inspecting cars and trucks, Coast Guard boats are patrolling the Hudson, and new high-tech helicopters are hovering in the skies over Manhattan. That's not to mention the thousands of officers who've been taken off their desk jobs to ride the rails underground. And the Republican convention doesn't even start until Monday. In the ramp-up to what officials are calling the most "intense and comprehensive" security effort ever to protect a national political convention, the New York Police Department - in conjunction with the US Secret Service, state, and other federal agencies - are putting on a show of force designed to give any Al Qaeda operative pause.
While there's been no new intelligence indicating that a terrorist threa! t is imminent, the Joint Terrorism Task Force continues to comb through the hundreds of Al Qaeda files and computer disks discovered last month in Britain and Pakistan that indicated New York financial institutions had been thoroughly cased. They are also analyzing all new intelligence that comes in "24/7."
Click here to comment on this article
Comment: On the one hand, one could look at this militarisation of New York as a sensible and responsible reaction to an obvious threat, but only in the case where one lacks pertinent facts and desires to maintain one's illusory comfort zone intact. Once one is exposed to, and accepts, the reality of the situation - that the entire "terrorist" threat has been carefully fabricated by the US government and other unnamed forces - the fear mongering and it's concomitant mobilisation of "civil defence" forces assumes a very different and more sinister meaning.
Given the evidence that the "terrorist" threat is bogus, what might be the real reason for the clamp down on civil liberties and the sudden appearance of the phrase "domestic terrorism"? Despite the lofty credentials we attribute to ourselves as a highly evolved species, it appears that we are as easily manipulated as, say, the average sheep...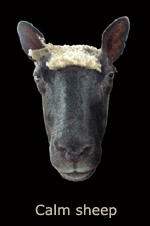 The average human being
Flashback: Friendly faces calm stressed sheep

Helen Pilcher
24 August 2004
Exposing isolated sheep to photos of other sheep lowers their stress levels, shows a recent study. Researchers suggest the practice could be used to soothe solitary and sick animals and hope the work will help elucidate the brain mechanisms behind the ability to link faces with emotion.
Like many of us, sheep do not like being alone. They are also excellent at recognizing individual faces, and can remember the features of up to 50 sheep and 10 humans over a two-year period.
So Keith Kendrick and colleagues from the Babraham Institute in Cambridge, UK, wondered if photos of sheep faces could be used to appease lonely bleaters. Their findings are reported in the Proceedings of the Royal Society of London
The team took 40 sheep of a Welsh lowland breed called Clun Forest, and isolated them one at a time in a funnel-shaped enclosure. For the first 15 minutes, four identical pictures of a white inverted triangle were projected on to the rear wall. For the next 15 minutes, the animals were shown either four photos of an unfamiliar sheep face or four photos of an unknown goat face.
As soon as the animals were left alone, their heart rates began to soar. At the end of the first 15 minutes, adrenalin and stress hormone levels had increased, indicating clear signs of stress.
But after 15 minutes of simulated sheep company, the animals became calmer. Heart rates fell to pre-isolation levels. Stress hormone and adrenaline levels more than halved, and the number of unhappy bleating noises dropped by 20-fold.
The animals seemed to ignore the triangle pictures, but they actively spent time looking at the sheep photos and even moved to be close to them. "The face pictures affected every single measure of fear and stress that we took," says Kendrick. [...]
Comment: Now simply turn this around and consider that exposing "sheep" to images and "ideas" that generate stress and fear would have exactly the opposite effect - discombobulation, irrational thinking, susceptibility to being manipulated etc. The point is, we are little different than the sheep in this study. The "appearance" of a threat or safety is all that is required to convince us that what we are seeing is reality when, in fact, it is merely an illusion.
How do we avoid being toyed with in this way? First, we must make conscious and deliberate efforts to remove from ourselves the tendency to believe only that which we want to believe. We must begin to "tune" our "reality reading instruments" in order to be in a position to recognise the difference between truth and lies. We begin this reworking at the source, with our personal lives and relationships. We must reassess our beliefs about literally everything, we must seek out and introduce new, objective data about every situation and assign to each element that which it is due; we must stop lying to ourselves. As Mouravieff says in the first volume of Gnosis:
[...] Having reached this point, man has entered a path. He is placed face to face with Life: his own life, with its own soluble and insoluble problems.

This is his first esoteric test. This test consists of a general reassessment of values. The results obtained depend upon the objectivity and courage .brought to the task. One must exert a conscious effort upon oneself so as : not to 'dodge the issue' or lie to oneself during this reevaluation. One must consider and analyze those about one, face facts and attribute their intrinsic value to them without compromise or pity for oneself or others. One must, naturally, keep the results of this re-evaluation to oneself.

This done, one must draw certain conclusions. Is one losing interest in exterior life, which unfolds exclusively under the sway of factors of influence 'A', and to what extent? Is the centre of gravity of the Personality being displaced towards the magnetic centre? Is a real emphasis being given to it? ( Fig.20 ).
At this time, a choice must be made.

It would be better to withdraw before crossing the first Threshold than, having cut oneself off from the region of bourgeois happiness, to wish to regain it later. The Way is a one-way street. After the Threshold there is only one option: either to progress on the Way or to fall. From now on, any return to the original state will be forbidden. Gnosis Vol. 1 P 217
Click here to comment on this article
Flashback: The IRS Claims New Patriot Act Type Powers to Punish Political Dissenters
November 28,2003

In a precendent-setting case, the IRS wielded new power to punish the political speech of those who "espouse views" the government considers "inconsistent" with government-held beliefs. In a hearing originally closed to the public in a secret tribunal on a military island, but moved to a public location after protests from the press and the public, the IRS wants to wield this power against a former IRS whistleblower, who was forced to resign upon his discovery of fraud in the agency.
The IRS claims it can exercise this authority in a secret proceeding without allowing a person the opportunity to cure any alleged mistakes, the opportunity to prepare a defense by knowing the exact facts they are accused of, without any opportunity for discovery, without any opportunity to call witnesses necessary for their defense, without any opportunity to cross examine their accusers, without any opportunity to testify at their own hearing about the merits of their position, without being forced to testify against themselves without such an assertion being held against them, and without even an opportunity for a hearing on the evidence.
This power of this little office with a Napoleonic vision goes even beyond the Patriot Act type authority and stories of FBI monitoring of war protestors. Too Hoover-ish to be true in modern America? Just read the case of the IRS against Joe Banister scheduled for a "hearing" -- a hearing where the IRs prohibited Banister from introducing any witnesses or presenting any evidence as to his defenses, and even discussing the sincerity, the truth or the "reasonableness" of his positions -- on December 1 in the city by the bay, in the Tax Court chambers of the federal courthouse in San Francisco. History is being made.
Click here to comment on this article
General Ashcroft's Detention Camps

September 4 - 10, 2002
Nat Hentoff
Jonathan Turley is a professor of constitutional and public-interest law at George Washington University Law School in D.C. He is also a defense attorney in national security cases and other matters, writes for a number of publications, and is often on television. He and I occasionally exchange leads on civil liberties stories, but I learn much more from him than he does from me.
For example, a Jonathan Turley column in the national edition of the August 14 Los Angeles Times ("Camps for Citizens: Ashcroft's Hellish Vision") begins:
"Attorney General John Ashcroft's announced desire for camps for U.S. citizens he deems to be 'enemy combatants' has moved him from merely being a political embarrassment to being a constitutional menace." Actually, ever since General Ashcroft pushed the U.S. Patriot Act through an overwhelmingly supine Congress soon after September 11, he has subverted more elements of the Bill of Rights than any attorney general in American history.
Under the Justice Department's new definition of "enemy combatant"—which won the enthusiastic approval of the president and Defense Secretary Donald Rumsfeld—anyone defined as an "enemy combatant," very much including American citizens, can be held indefinitely by the government, without charges, a hearing, or a lawyer. In short, incommunicado.
Two American citizens—Yaser Esam Hamdi and Jose Padilla—are currently locked up in military brigs as "enemy combatants." (Hamdi is in solitary in a windowless room.) As Harvard Law Professor Lawrence Tribe said on ABC's Nightline (August 12):
"It bothers me that the executive branch is taking the amazing position that just on the president's say-so, any American citizen can be picked up, not just in Afghanistan, but at O'Hare Airport or on the streets of any city in this country, and locked up without access to a lawyer or court just because the government says he's connected somehow with the Taliban or Al Qaeda. That's not the American way. It's not the constitutional way. . . . And no court can even figure out whether we've got the wrong guy."
In Hamdi's case, the government claims it can hold him for interrogation in a floating navy brig off Norfolk, Virginia, as long as it needs to. When Federal District Judge Robert Doumar asked the man from the Justice Department how long Hamdi is going to be locked up without charges, the government lawyer said he couldn't answer that question. The Bush administration claims the judiciary has no right to even interfere.
Now more Americans are also going to be dispossessed of every fundamental legal right in our system of justice and put into camps. Jonathan Turley reports that Justice Department aides to General Ashcroft "have indicated that a 'high-level committee' will recommend which citizens are to be stripped of their constitutional rights and sent to Ashcroft's new camps."
It should be noted that Turley, who tries hard to respect due process, even in unpalatable situations, publicly defended Ashcroft during the latter's turbulent nomination battle, which is more than I did.
Again, in his Los Angeles Times column, Turley tries to be fair: "Of course Ashcroft is not considering camps on the order of the internment camps used to incarcerate Japanese American citizens in World War II. But he can be credited only with thinking smaller; we have learned from painful experience that unchecked authority, once tasted, easily becomes insatiable." (Emphasis added.)
Turley insists that "the proposed camp plan should trigger immediate Congressional hearings and reconsideration of Ashcroft's fitness for important office. Whereas Al Qaeda is a threat to the lives of our citizens, Ashcroft has become a clear and present threat to our liberties." (Emphasis added.)
On August 8, The Wall Street Journal, which much admires Ashcroft on its editorial pages, reported that "the Goose Creek, South Carolina, facility that houses [Jose] Padilla—mostly empty since it was designated in January to hold foreigners captured in the U.S. and facing military tribunals—now has a special wing that could be used to jail about 20 U.S. citizens if the government were to deem them enemy combatants, a senior administration official said." The Justice Department has told Turley that it has not denied this story. And space can be found in military installations for more "enemy combatants."
But once the camps are operating, can General Ashcroft be restrained from detaining—not in these special camps, but in regular lockups—any American investigated under suspicion of domestic terrorism under the new, elastic FBI guidelines for criminal investigations? From page three of these Ashcroft terrorism FBI guidelines:
"The nature of the conduct engaged in by a [terrorist] enterprise will justify an inference that the standard [for opening a criminal justice investigation] is satisfied, even if there are no known statements by participants that advocate or indicate planning for violence or other prohibited acts." (Emphasis added.) That conduct can be simply "intimidating" the government, according to the USA Patriot Act.
The new Steven Spielberg-Tom Cruise movie, Minority Report, shows the government, some years hence, imprisoning "pre-criminals" before they engage in, or even think of, terrorism. That may not be just fiction, folks.
Returning to General Ashcroft's plans for American enemy combatants, an August 8 New York Times editorial—written before those plans were revealed—said: "The Bush administration seems to believe, on no good legal authority, that if it calls citizens combatants in the war on terrorism, it can imprison them indefinitely and deprive them of lawyers. This defiance of the courts repudiates two centuries of constitutional law and undermines the very freedoms that President Bush says he is defending in the struggle against terrorism."
Meanwhile, as the camps are being prepared, the braying Terry McAuliffe and the pack of Democratic presidential aspirants are campaigning on corporate crime, with no reference to the constitutional crimes being committed by Bush and Ashcroft. As Supreme Court Justice Louis Brandeis prophesied: "The greatest menace to freedom is an inert people." And an inert Democratic leadership. See you in a month, if I'm not an Ashcroft camper.
Click here to comment on this article
Dissent is dangerous in the land of the free: And Michael Moore is an anti-American traitor.
by Steven Laffoley
August 25, 2004
A young pastor with a peace pin, a retired landscaper with a bumper sticker, and a poorly dressed filmmaker with a populist streak. In America, they are dangerous dissenters. At least, many now believe so.
Freeport, Maine is a wonderland of American consumer capitalism. Its pristine 19th century buildings on a narrow main street give the familiar comfort of small town America — with the comfortable familiarity of big mall brand names: L.L. Bean, Abercrombie and Fitch, The Gap, Polo. And times are good among the wealthy in America. The street is jammed with well-dressed people carrying bags in both hands.
First Parish Church is also on the main street. It too was built in the nineteenth century. Out front, on the grass, sits a white, wooden peace sign three feet across. Inside, curved pews and arches pull the viewer's attention to the front stained glass window. Below that, two men talk by the pulpit. They see me and come to talk.
Ted is in his early sixties and wears a tee shirt and ball cap with the local fire department insignia. He speaks with a thick, Maine accent. Next to Ted stands the Reverend, John. He is younger, not yet 40. Passionate about their church, they describe it in detail — its history and its congregation of 100 or so.
After a while, I ask them about the peace sign on the grass. Reverend John tells me it was made by local high school students celebrating the life of Martin Luther King. I ask how the tourists, given the war, have reacted to the sign. The two men talk of some hostility, some vandalism. I ask about the congregation and where they stand on the war. "Split down the middle," says Ted.
"We work," offers Reverend John, "to find, common ground." He is uncertain, though. Common ground in America isn't so common. Ted says he supports the president, the war. But he is restrained. He notices the peace pin on my notebook. We talk for a while more, and then Ted leaves. Reverend John and I continue talking as we walk toward the exit.
At the door I ask, "Where do you stand on the war?"
He sighs and then glances past me to the street. No one is near. "If I weren't the pastor," he says pointing at my notebook, "I'd be wearing that pin." He has to be careful, he says. He wants to keep his job. We nod at each other as though we're sharing a conspiracy.
John is scared. Dissent is now unchristian.
The next morning, at the hotel, I have a coffee in the common room. I'm alone until an older man enters. Bald, with a barrel chest and a red face, he greets me heartily, "Good mornin'." He gets his coffee, sits on the opposite couch, and starts talking. "I'm Lou," he says, "from St. Louis." Lou is a retired landscaper who talks rapidly of his family, his life and his recent travels around America. While sipping his coffee, he notices my peace pin. He leans forward and lowers his voice. "Takes guts to wear that," he says.
Again, I share conspiratorial whispers. Lou "admits" he is a moderate Democrat. "Back home, after a lot of thought," he says, "I put a 'Kerry for President' bumper sticker on my truck. It was weird. On the highway, people were honkin' at me and givin' me the finger. Occasionally, someone would drive by and give me thumbs up. But truthfully, I got nervous. I thought someone might pull a gun."
Lou is scared. Dissent is now undemocratic.
Late that night, I watch news on MSNBC. The commentator is yelling. A quote from filmmaker Michael Moore flashes on the screen. It reads: more American soldiers may have to die before America realizes this war is wrong.
The commentator is spitting bile. "Michael Moore," he shouts into the camera, "is calling for the death of Americans. He is anti-American. A traitor. Why isn't the Democratic Party disavowing this dangerous dissenter? Why isn't Senator Kerry distancing himself from Michael Moore? Does he agree with him?"
The commentator is flushed with rage. Dissent is now un-American.
In the local newspaper, buried on page 12, I read that the Bush administration is test flying the conditions necessary for postponing the November election. A terrorist attack? A hurricane? An earthquake, perhaps?
I find myself wondering: is the "dissent" of pastors, landscapers, and filmmakers enough?
It is then that I realize: I am scared. After all, in America, dissent is now dangerous.
Comment: Dissent is dangerous as America continues its descent into tyranny. For over two years we have been chronicling the rise of theocracy in America - the loss of rights, the lies, the manipulations. Soon it will be too late. Time is running out. The election will change nothing.
Members of the Bush administration, along with Israeli intelligence, organised an attack against the US on September 11, 2001.
That is not a wild-eye conspiracy theory. That is a fact.
Let it sink in.
9/11 was an inside job.
The evidence is there, all around you.
"Dissent is now dangerous."
What's next?
Click here to comment on this article
By Kurt Vonnegut
I, like probably most of you, have seen Michael Moore's Fahrenheit 9/11. Its title is a parody of the title of Ray Bradbury's great science fiction novel, Fahrenheit 451. This temperature 451° Fahrenheit, is the combustion point, incidentally, of paper, of which books are composed. The hero of Bradbury's novel is a municipal worker whose job is burning books.
And on the subject of burning books: I want to congratulate librarians, not famous for their physical strength or their powerful political connections or their great wealth, who, all over this country, have staunchly resisted anti-democratic bullies who have tried to remove certain books from their shelves, and have refused to reveal to thought police the names of persons who have checked out those titles.
So the America I loved still exists, if not in the White House or the Supreme Court or the Senate or the House of Representatives or the media. The America I love still exists at the front desks of our public libraries.
And still on the subject of books: Our daily sources of news, papers and TV, are now so craven, so unvigilant on behalf of the American people, so uninformative, that only in books can we find out what is really going on. I will cite an example: House of Bush, House of Saud by Craig Unger, published near the start of this humiliating, shameful blood-soaked year.
In case you haven't noticed, and as a result of a shamelessly rigged election in Florida, in which thousands of African Americans were arbitrarily disenfranchised, we now present ourselves to the rest of the world as proud, grinning, jut-jawed, pitiless war lovers, with appallingly powerful weaponry and unopposed.
In case you haven't noticed, we are now almost as feared and hated all over the world as the Nazis were.
With good reason.
In case you haven't noticed, our unelected leaders have dehumanized millions and millions of human beings simply because of their religion and race. We wound and kill 'em and torture 'em and imprison 'em all we want.
Piece of cake.
In case you haven't noticed, we also dehumanize our own soldiers, not because of their religion or race, but because of their low social class.
Send 'em anywhere. Make 'em do anything.
Piece of cake.
The O'Reilly Factor.
So I am a man without a country, except for the librarians and the Chicago-based magazine you are reading, In These Times.
Before we attacked Iraq, the majestic New York Times guaranteed that there were weapons of mass destruction there.
Albert Einstein and Mark Twain gave up on the human race at the end of their lives, even though Twain hadn't even seen World War I. War is now a form of TV entertainment. And what made WWI so particularly entertaining were two American inventions, barbed wire and the machine gun. Shrapnel was invented by an Englishman of the same name. Don't you wish you could have something named after you?
Like my distinct betters Einstein and Twain, I now am tempted to give up on people too. And, as some of you may know, this is not the first time I have surrendered to a pitiless war machine.
My last words? "Life is no way to treat an animal, not even a mouse."
Napalm came from Harvard. Veritas!
Our president is a Christian? So was Adolf Hitler.
What can be said to our young people, now that psychopathic personalities, which is to say persons without consciences, without a sense of pity or shame, have taken all the money in the treasuries of our government and corporations and made it all their own?
Click here to comment on this article
Rumsfeld to Escape Abu Ghraib Blame From the Commission He Appointed

A commission appointed by US Secretary of Defence Donald Rumsfeld is due to publish its report on the Abu Ghraib prisoner abuse scandal in Iraq. The panel was appointed by Mr Rumsfeld at the height of the scandal in May. Leaks suggest Mr Rumsfeld will be faulted for not exercising sufficient oversight of interrogation policies.
They also suggest senior Pentagon officials will be criticised for failing to recognise deteriorating circumstances at the Abu Ghraib prison. However, defence officials briefed on the report told the New York Times that Mr Rumsfeld would escape direct accusations of misconduct and of ordering polices that encouraged prisoner abuse.
Click here to comment on this article
Rumsfeld held to blame for sadistic abuse at Abu Ghraib

The ultimate blame for the wanton abuse of prisoners at Abu Ghraib prison in Iraq goes all the way to the Pentagon's top civilian and military command, a panel has found. Although the group criticised the Defence Secretary, Donald Rumsfeld, its chairman said he should not resign because his forced departure would "be a boon to America's enemies".
Comment: There was once a time when blatant abuse of power and the attempt to cover it up would lead to the immediate impeachment or dismissal of a President or member of government - no longer it seems. People like Rumsfeld can now do as they like in the knowledge that they are afforded immunity from prosecution by claiming that "this is just what the terrorists want". The problem is that there are no terrorists, save those in the White House and other government buildings around the world.
Click here to comment on this article
Abu Ghraib Tactics Inspire Torture in Neighbour Egypt

In what may be the first concrete example of the effects of the Abu Ghraib prison torture scandal in Iraq, lawyers and human rights groups in Egypt, a major U.S. ally in the Middle East, say that local police are increasingly resorting to new torture tactics similar to those used by U.S. soldiers in Iraq. Several lawyers and human rights groups told IPS in phone interviews over the past two weeks that the Egyptian State Security Police used methods that mirrored those in Abu Ghraib, like stripping some detainees naked -- a rare practice in Egyptian prisons, even though the country has a long record of human rights abuses and prison torture.
Comment: Take heart! American style freedom and democracy is spreading around the Middle East, just as the sorry excuses for human beings in the White House promised.
Click here to comment on this article
U.S. Forces Kill 3 Afghan Civilians at Checkpoint

U.S. soldiers sprayed a pickup truck with bullets after it failed to stop at a roadblock in central Afghanistan, killing two women and a man and critically wounding two other people, the latest in a string of civilian deaths at the hands of American forces.
The shooting occurred Saturday evening on a road in Ghazni province when the pickup truck ran through a joint U.S.-Afghan military checkpoint, the American military said. Soldiers searched the pickup but did not find any weapons.
The deaths came just two weeks after Afghan and American leaders met to discuss ways to improve relations between the military coalition and the people they are here to protect.
Click here to comment on this article
China's President Hails Deng Xiaoping

Speaking to hundreds of top leaders and ordinary citizens, China's President Hu Jintao hailed Deng Xiaoping as the architect of China's economic reforms on Sunday, the 100-year anniversary of the late supreme leader's birth. Hu praised Deng as a man who always made the people's interests a priority. The speech was broadcast live on state television.
"In his whole life comrade Deng Xiaoping kept his words: to spare no efforts to do things that are good to the people," said Hu, whose hourlong tribute at the Great Hall of the People — the seat of China's legislature — was punctuated by bursts of applause.
Click here to comment on this article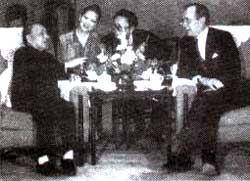 Megalomaniacs unite. Nutcase Bush Snr and madman Deng Xiaoping chat amicably in 1989
Deng Xiaoping blamed for massacre at square

China's former leader Deng Xiaoping, who died in 1997, "resolutely backed" the Tiananmen Square massacre 15 years ago, former premier Li Peng has said in a rare commentary on the bloodbath he has long been blamed for. Li was prime minister when Chinese soldiers were ordered into Tiananmen Square in Beijing to quell a monthlong rally by students demanding more democracy in communist China.
He, along with Deng, have been the target of blame for the resulting massacre on June 4, 1989. HONG KONG China's former leader Deng Xiaoping, who died in 1997, "resolutely backed" the Tiananmen Square massacre 15 years ago, former premier Li Peng has said in a rare commentary on the bloodbath he has long been blamed for. Li was prime minister when Chinese soldiers were ordered into Tiananmen Square in Beijing to quell a monthlong rally by students dema! nding more democracy in communist China.
Click here to comment on this article
Grad Student Bhuwan Singh Found Dead
By Beckett W. Sterner
EDITOR IN CHIEF
This story was published on Tuesday, May 11, 2004.
Graduate student Bhuwan Singh was found dead on Friday afternoon, said MIT Police Chief John DiFava.
Singh's body was found in a storage room near his lab and office in Building 13 said Seth Horowitz, press officer for the Middlesex District Attorney's office. He died from asphyxiation, Horowitz said.
"We don't believe that there was foul play," and "we're not operating under the circumstances" that the death was suspicious, he said.
"There isn't any indication of violence or foul play," DiFava said.
The DA does not typically release the full medical examiner's report on the death when there are no signs of crime, such as death by natural causes, accident, or suicide.
Academics, friends key to Singh
Chandra Singh, Bhuwan's father, said at the memorial service yesterday that Bhuwan admired Mother Theresa the most, even more than Albert Einstein.
However, both Bhuwan and his younger brother Barun Singh G, current Graduate Student Council president, excelled in academics. Bhuwan enrolled in Auburn University after finishing 10th grade and entered the PhD program at MIT at age 21, according to the biography given at his memorial. Barun followed a similar path.
"I never imagined that there would be a day I would doubt that I didn't understand something very basic" about my son, Bhuwan's father said at the memorial service.
It was not clear that Bhuwan wanted "to continue to be the best at something that didn't give him happiness," he said, referring to academics.
Each person who spoke at the memorial service stressed the incredible generosity and support that Bhuwan gave to everyone he met.
He was involved with both the GSC and the dormitory government at Ashdown, where he lived. Housemaster Terry P. Orlando said that Bhuwan was fundamental to the happiness and sense of community of the dormitory.
Bhuwan "would do anything for anybody else," to make their lives better, no matter what the sacrifice to himself, Barun said at the memorial.
"He was probably a better brother than I could ever have asked for," and "you would want everyone remembering him being happy... cheering people up" as he always did, Barun said.
According to this website, he was grad student working in a project called
Superconducting Circuits and Quantum Computation
"Superconducting circuits are being used as components for quantum computing and as model systems for non-linear dynamics. Quantum computers are devices that store information on quantum variables and process that information by making those variables interact in a way that preserves quantum coherence. Typically, these variables consist of two quantum states, and the quantum device is called a quantum bit or qubit.
Superconducting quantum circuits have been proposed as qubits, in which circulating currents of opposite polarity characterize the two quantum states. The goal of the present research is to use superconducting quantum circuits to perform the measurement process, to model the sources of decoherence, and to develop scalable algorithms. A particularly promising feature of using superconducting technology is the potential of developing high-speed, on-chip control circuitry with classical, high-speed superconducting electronics. The picosecond time scales of this electronics means that the superconducting qubits can be controlled rapidly on the time scale and the qubits remain phase-coherent.
Superconducting circuits are also model systems for collections of coupled classical non-linear oscillators. Recently we have demonstrated a ratchet potential using arrays of Josephson junctions as well as the existence of a novel non-linear mode, known as a discrete breather. In addition to their classical behavior, as the circuits are made smaller and with less damping, these non-linear circuits will go from the classical to the quantum regime. In this way, we can study the classical-to-quantum transition of non-linear systems."
Comment: Another mysterious death of a researcher involved in work on a very interesting subject. We have to wonder about the intelligence and/or the investigative skills of local law enforcement officers when, in cases like these, they repeatedly state that "they do not suspect foul play". Do they really think that unless the victim is found tied up with 100 stab wounds and perhaps a note that says "this was a murder", they need not suspect "foul play"? Are they really unaware that government intelligence agencies have, for decades, been developing ways to kill people while making it look like an accident?
Click here to comment on this article
Georgian President warns of war with Russia

Georgian President Mikhail Saakashvili has reportedly said war with Russia is close and it is necessary to prepare the people of Georgia for such an eventuality. "We are very close to a war (with Russia), the population must be prepared," he told the Liberation newspaper. Denouncing military aid from Russia to rebels in Georgia's breakaway region of South Ossetia, Mr Saakashvili stressed that he had "no intention of provoking [a war]".
He also called for an international conference to discuss the status of South Ossetia. "Russia says it is opposed to this but I think its position is evolving," he said.
Georgia pulled troops back from the separatist pro-Moscow region last week after an unprecedented show of force that infuriated Russia and worried Washington.
Click here to comment on this article
Najaf peace march turns bloody
August 26 2004 at 07:57PM
By Michael Georgy
Najaf, Iraq - They had marched to Najaf to support a mission by Iraq's top Shi'a cleric to end the fighting consuming the holy city.
But at least 15 of Ayatollah Ali al-Sistani's supporters were shot dead during their peace march and 65 ended up in hospital suffering from bullet wounds.
"There were thousands of us. The police told us to sit down and they would provide security. Suddenly they started shooting all around and I could see wounded people," said Mahdi Jaber, who came to Najaf from Samarra to support Sistani.
Some of the participants said gunmen joined their march and opened fire on police, who then started shooting everywhere and prompting thousands of people to scatter.
Others said the police fired first.
Whatever the case, those who came to catch a glimpse of the moderate Sistani after he returned from medical treatment in London to try to restore peace to the shattered city merely got a first-hand view of the chaos gripping Najaf.
Ambulances rushed to the scene but could only rescue a limited number of people because they were halted by sniper fire around Medina street, a front line that separates Shi'ite militants from US and Iraqi government forces.
Staff at the overwhelmed al-Hakim hospital, including some who wept at the bloodshed, loaded corpses with bullet holes in the head on stretchers in the courtyard. As one was piled on another, blood dripped down onto the cement.
"Go look at the morgue, it's full," said a hospital worker.
As new victims were rushed into the bare emergency room, one man sat in a wheelchair after being treated for his wounds and explained how the march was suddenly caught up in the violence.
"We wanted to follow Sistani through Najaf or go to the Imam Ali shrine," said Hazim Kareem, from Baghdad.
"The police would not let us and you know we are religious, so we kept arguing and suddenly gunmen joined the march and started firing at police. Then the police went crazy and fired everywhere."
Others with high hopes were also bitterly disappointed.
Haythim Bandar and his brother Abbas travelled to Najaf from Kut to do what they could to help restore Najaf to its former status as a sacred city with throngs of pilgrims visiting the Imam Ali shrine, which is now home to many of radical cleric Moqtada al-Sadr's militants battling US and Iraqi forces.
By the end of the day Haythim was standing outside the hospital calling home to tell his family that Abbas had a bullet lodged near his spinal cord.
"Don't worry. He is in the care of God now," he said.
Three men whose brother was shot dead in the street wandered out of the emergency room weeping as they sunk their faces onto their car hood.
The brothers blamed Iraqi Prime Minister Iyad Allawi, Sistani and Sadr for the loss and were so traumatised they called for the return of the days when a dictator oppressed the Shi'ites of Najaf.
"May God curse the fathers of Sistani and Sadr. Bring back Saddam Hussein," said one of the men.
Outside the gates, a car drove off with a corpse in the half open trunk, its feet hanging over the side
Click here to comment on this article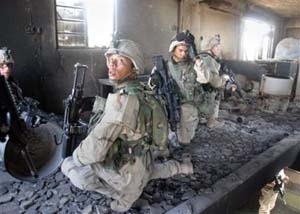 'Why did you bring us? This is a slaughter'
Ghaith Abdul-Ahad in Kufa
Friday August 27, 2004
The Guardian
They came one wave after another: Shia demonstrators with banners and pictures of their ayatollahs and imams running towards the hidden line of men who were marked only by flying bullets.
Beating their chests and shouting "Allahu akbar" (God is most great) at first they appeared not to realise the barrage they were confronting.
When two or three men fell injured their colleagues picked them up and retreated.
Only when the gunfire became heavy and bullets started whizzing overhead, peppering the electricity poles and shredding leaves on the trees did the reality of their predicament dawn.
They were facing an onslaught.
A few tried to restart the human waves shouting: "If you denounce and betray your brothers today God will do the same on judgment day."
But the number of injured just increased. Every few seconds a group of men carrying a body ran past looking for an ambulance.
Many ran for cover, some grabbing the hands of their sons. More than 50 crouched in the front garden of one house sticking together against a wall. During any lull in the shooting they took their chance to scramble from one house to another and then to a back street where locals offered them water.
Some of the demonstrators had turned out to welcome back Grand Ayatollah Ali al-Sistani, while others were there to show support for Moqtada al-Sadr. All were trying to reach the gold-domed shrine of Imam Ali.
As the barrage faded, the divisions between the demonstrators began to appear.

"Why did you bring us here in the first place? This is a slaughter. If you knew this would happen why didn't you tell us to bring our weapons with us?" said a man as he was tried to get some water from a tap in the street.
"It is all Sistani's fault," said Ali Mizahim. "He told us to come here and he betrayed us again."
A small group sat under a tree and attempted to grasp what had happened: "We didn't come here for this. This is suicide. [Sistani] told us to wait," said Hussien al-Khafaji, a 50-year-old man from Hilla.
"What should we have done? Just wait to see our brothers being slaughtered in the shrine?" asked a young man with a Moqtada badge on his chest. A man shouted: "Withdraw - your brothers, the mujahideen, will take your revenge."
Comment: "To plunder, to slaughter, to steal, these things they misname empire, and where they make a wilderness, they call it peace." - Tacitus, Roman historian, c. 55-120 A.D.
Click here to comment on this article
Bush Admits Iraq 'Miscalculations' - NY Times
Reuters
Aug. 27, 2004 — NEW YORK (Reuters) - President Bush acknowledged for the first time on Thursday that he had miscalculated post-war conditions in Iraq, the New York Times reported.
The paper quoted Bush as saying during a 30-minute interview that he made "a miscalculation of what the conditions would be" in post-war Iraq.
But he insisted that the 17-month-long insurgency was the unintended by-product of a "swift victory" against Saddam Hussein's military, the Times reported.
Bush said his strategy had been "flexible enough" to respond. "We're adjusting to our conditions" in places like Najaf, the paper quoted him as saying.
The Times said Bush deflected further inquiries as to what had gone wrong with the occupation.
According to the Pentagon, 969 U.S. troops have died in Iraq since the invasion, 828 of them since April 30, 2003. An additional 6,690 service members have been wounded, most of them during the occupation.
In an interview published on Friday in USA Today, Bush said that Americans will re-elect him to a second term even if they disagree with his decision to invade Iraq.
Bush said voters "know who I am and I believe they're comfortable with the fact that they know I'm not going to shift principles or shift positions based upon polls and focus groups."
Comment: So? Are all of our American readers "comfortable" with the fact that Bush does not care what the polls say? That he does not care about public opinion? Yes? Well, are you also happy about the fact that there is clear evidence that the man is a psychopath...?
Click here to comment on this article
His supposed intellectual failings are the butt of countless jokes, but so far the question of George Bush's brainpower hasn't hampered his electoral prospects. Why not? In the latest of his dispatches for G2, former New York Times editor Howell Raines asks how important intelligence really is in an American president.
Friday August 27, 2004
The Guardian
Pocono Summit, PA. It was here, in the parking lot of Cramer's building supply, only 15 miles from a Nascar racetrack, in a pivotal battleground state, on the back of a battered work van, that we saw the first one. "Somewhere in Texas," the bumper sticker said, "a village is missing its idiot." The next Bush-is-thick sticker showed up at Home Depot on the back of an equally battered pick-up driven by a tough-looking kid dressed for construction work. It said:
BUSH
LIKE A ROCK
ONLY DUMBER
These are signs of the fierce conviction of some voters - and the secret fear of a quieter and perhaps larger group - that George Bush is not smart enough to continue as president. Indeed, if an unscientific survey of bumper stickers, graffiti and letters to the editor in this conservative mountain region of eastern Pennsylvania is an indicator, doubts are spreading, and probably not in a way helpful to the Republicans.
Yet the subject is seldom taken head on by the mainstream newspapers and network news. The discourse about presidential intelligence appears mainly on the internet, in the partisan press, among television comics and at the level of backyard jokes and arguments. The White House has shown a devious brilliance in keeping a contrived debate on John Kerry's "fitness" to be commander-in-chief in the headlines, at the expense of any prolonged journalistic examination of the far more important question of Bush's mental capacity. That uncomfortable question will surely be glossed over when the Republican national convention starts next week in New York.
After four decades of newspapering, including coverage of the "dumb" Ronald Reagan and the "smart" Jimmy Carter in 1976 and 1980, I am not unsympathetic to the problems of reporters and editors trying to inform the public on this touchiest of competency issues. As Richard Reeves commented memorably in a 1976 article comparing Gerald Ford to Bozo the Clown, the rules of conventional journalism make it almost impossible to report that a presidential candidate "had nothing to say and said it badly to a stunned crowd". Big news organisations are captives of our own rules of fairness. Voters are doubly disadvantaged - by a paucity of information in the campaign coverage and by the elusive nature of the evidence about the kinds of intelligence that matter in our leaders.
For example, my generation of White House correspondents was accused of covering up Ronald Reagan's supposed stupidity and his reliance on fictional "facts" derived from Errol Flynn movies and the John Birch Society, the rightwing organisation founded in 1958 to combat the perceived infiltration of communism. In 1981, Clark Clifford, the Democratic "wise man", entertained Georgetown dinner parties with the killer line that Reagan was "an amiable dunce". Twenty years later, we know that Clifford got indicted for bank fraud and the dunce ended the cold war and the entire Soviet era.
This lesson of history raises questions of seeming importance. What is presidential intelligence, and how much does it really matter? Most astute Americans can recite the lists of ostentatiously brilliant presidents who faltered (Wilson, Hoover, etc) and apparent plodders who triumphed (Truman). When I was covering the Reagan White House in 1981, all his top aides were wholesaling Oliver Wendell Holmes' famous comment about FDR possessing "a second-rate intellect and a first-rate temperament". In the end, Reagan confounded scholars, journalists and voters alike. Even so devoted a cheerleader as Peggy Noonan, a Reagan speechwriter, sees him as flawed by "detachment". His diligent and tormented biographer, Edmund Morris, does not even list "intelligence" as an index entry under Reagan, Ronald Wilson. Such entries are also missing from such solid journalistic biographies as those by Lou Cannon and Lawrence Barrett. Morris, in his obituary essay about Reagan in the New Yorker, referred in one paragraph to his instinctive "intelligence" and in the next to his "ignorance".
To be fair, innate intelligence has to do with capability and ignorance to do with variables such as educational opportunity and personal diligence. But the conundrum remains. Is intellect important in presidents? If Americans can't solve the question definitively in the matter of John Kerry and George Bush, we damn sure ought to make an educated guess.
One highly imperfect but salient way to do so is at the level of campaign tactics. Does anyone in America doubt that Kerry has a higher IQ than Bush? I'm sure their SATs and college transcripts would put Kerry far ahead. Yet at this point in the campaign, Bush deserves an A or a high B instead of a gentleman's C when it comes to neutralising Kerry's knowledge advantage. That much was apparent even before the campaign got mired in the current argument over the nasty television commercials questioning Kerry's record of heroism as a Swift Boat commander in Vietnam.
Over the course of the summer Bush, or more likely his political adviser, Karl Rove, dictated the subject-matter of the campaign by successfully triggering Kerry's taste for complicated ideas and explanations. Kerry is telling voters that we live in a complex world. Americans know that, but as an electorate, they are not drawn to complexity. Kerry's explanations about his conflicting votes on the Iraq war and how he would have conducted it are wondrous as rhetorical architecture. They are also signs that Bush has trapped him into having the wrong conversation with the voters. Last week, Bush trumped Kerry's intricate explanation of his conflicting votes on funding the Iraq war by going on Larry King Live and saying over and over that a president must be resolute, and that he will be. Meanwhile, his wife Laura seemed to make a sale with the outrageous claim that her husband's restrictions on stem cells are not really hurting medical research.
Whatever his IQ, George Bush as a candidate is a one-trick pony. The story of the campaign so far is that Kerry is letting him get by with his single trick - endless repetitions of "I make a decision; I stick to it; that's what presidents do." As astute an observer as David Broder has written that Bush's twin millstones - the war and a job-losing economy - may bring about his defeat. I'm not so sure, mainly because Kerry and his running mate, John Edwards, keep talking about what the White House wants them to talk about instead of messages that the bumper-sticker guys at Cramer's and Home Depot need to repeat to their buddies. They have yet to force Bush outside his one-trick comfort zone.
That pattern continued this week as Rove demonstrated his mastery of the "Willie Horton strategy" perfected by his mentor, the late Lee Atwater. In 1988, Atwater famously destroyed the campaign of Massachusetts governor Michael Dukakis, the Democratic nominee, with a series of "independent" ads claiming that Dukakis had improperly paroled a convicted rapist and murderer named Willie Horton. This year, wealthy Bush supporters close to Rove have funded a front organisation called Swift Boat Veterans for Truth to carry out an "independent" attack on Kerry's well-documented record as a decorated battle commander in Vietnam.
Kerry's demand that Bush condemn the commercial and Bush's hair-splitting refusal to do so dominated the news all week. Bush refers to Kerry's Vietnam service as "noble" while carefully avoiding a specific, direct denunciation of the veterans' grossly misleading ad. There's a good reason for this. The president does not want to identify with these worms who sponsored the ads, but he wants their commercials to keep eating away at the apple of Kerry's much stronger reputation as a warrior.
Happily for the White House, this contrived debate over Kerry's war record diverts voters from a truly important national-security question related to the intellectual capability of the incumbent. Was George W dumb enough to be talked into adopting a flawed strategy for a phoney war by Donald Rumsfeld and Dick Cheney? The facts and authorship of these blunders are beyond dispute. Cheney and neo-conservative theorists wanted to make war on Iraq, not al-Qaida. Rumsfeld wanted to do it with a much smaller force than the military needed. What we don't know is why Bush went along.
Bush's former press secretary, Karen Hughes, in her awkwardly named book Ten Minutes from Normal, assures us that what "Bush does best of all" is "ask questions that bore to the heart of the matter". She says that during the 2000 campaign, she and a "brilliant" issues staff "never once succeeded" in anticipating all of Bush's penetrating questions. "He has a laserlike ability," Hughes writes, "to reduce an issue to its core."
In regard to Iraq and the war on terror, there's little evidence of such Bush interventions in the public record or the report of the 9/11 Commission. We have been told instead that the then director of central intelligence, George Tenet, misled Bush by assuring him that Saddam Hussein's possession of weapons of mass destruction was "a slam dunk".
The millions of us who did not witness this and other potentially laserlike interactions must rely on speculation as to how Bush's mind works. The most informative writing I've seen on that score was an essay published over a year ago in the Atlantic Monthly by Richard Brookhiser, the historian and conservative columnist sympathetic to Bush. "Bush has intelligence, energy and humility," he writes, "but does he have imagination?"
Brookhiser goes on to worry that Bush's limited information "habitat" could cut him off from the ideas necessary to feed presidential creativity in activities like running a major war. ("Habitat" is a wonderfully chosen word in that it invokes the territoriality of White House advisers in general. Can we imagine Rumsfeld, the alpha-male advocate of hi-tech warfare, inviting the commander of an armoured division into the cabinet room to tell the president why it's stupid not to take more tanks to Iraq?)
Brookhiser goes on to speak of Bush's reliance on "instinct" and the fact that Bush's religious "faith means that he does not tolerate, or even recognise, ambiguity". The comments sent my memory reeling back to the Reagan campaigns and what the cartoonist Garry Trudeau called "the search for Reagan's brain". Trudeau's meaning, of course, was that Reagan didn't have one, but these days the phrase is to me more evocative of the journalistic gropings of the White House press corps to explain what, if anything, was going on inside that big, smiling, glossy-haired head. In a filing cabinet I had not opened in over 20 years, I found my own attempt - a 6,000-word draft of "reflections" on "Reagan's mind". I had never turned the piece in to my editors at the New York Times because I felt I had not solved the mystery as to the quality of Reagan's intellect.
I was not the first, nor will I be the last writer to break his pick on that stone. But in reviewing what I wrote in 1982 after two years of close observation of Reagan on the campaign trail and in the White House, I saw a couple of points that seemed worth revisiting as Reagan's self-appointed heir seeks a second term. I characterised Reagan as a "political primitive" who valued "beliefs over knowledge" based on verifiable facts. The White House spin was that this was a positive in that it represented "rawbone American thinking". I also noted that Reagan had a "high tolerance for ambiguity" as to the outcome of policies that proceeded from such rough-hewn thought.
That strikes me as a different - less troubling - trait than what Brookhiser sees as Bush's refusal to recognise the mere existence of ambiguity. In general, I've come to feel that what we have in George Bush is a shadowy version of Reagan's strengths and an exaggerated version of his intellectual weaknesses.
In 1982, at the height of my journalistic desire to explain Reagan's brain, I went to see David Gergen, then a presidential assistant in charge of communications. His was not an easy job, since it included such tasks as explaining Reagan's decision to throw thousands of the most disabled Americans off social security assistance. We're not talking "welfare queens" here. We're talking blind people in wheelchairs.
I told Gergen I wanted to write a piece for the sophisticated reader about exactly how Reagan's mind worked. With a twinkle in his eye, Gergen said, "It will be a long, long time before we can have that conversation."
It hardly seems worth the trouble now. Reagan is in the pantheon, and the American nation and its allies and adversaries escaped mutual assured destruction. Now the US is at war in Iraq in a conflict that could yet metastasise into regional strife or global terrorism. We'll never know how much Reagan thought and how much he gambled in regard to security and economics. My guess is the answer would be pretty scary. So for the 150,000 US troops in Iraq, for the 99% of taxpayers who will not get a five-figure windfall, for the millions of urbanites unsettled by talk of suitcase nukes, it's still worth asking how Bush's mind really works.
Comment: By reducing "intelligence" to a single idea, Raines misses the point completely. A predator has the intelligence of the predator. It is a cunning that predicts the moves of the prey. Bush has this form of "intelligence". It is the intelligence of the psychopath. This is not the intelligence of someone who is able to manipulate abstract ideas or who can build complex models of complex situations, playing with several variables at the same time...unless it is for the hunt.
After reading them through, listen to these quotes by clicking on the links. They are rather astonishing. Reading Bush is one thing, but hearing him speak, fumbling, the vacuity, the empty stare of his mouth, is to peer into a, uhh, black hole through your, uhh, ears. Or his ears. My god! We've been contamerated!
You're free. And freedom is beautiful. And, uhh, you know, it'll take time to restore chaos, and order, but we -- but we will.
-- There's nothing quite like restoring chaos, Washington, D.C., Apr. 13, 2003

Americans are serving and sacrificing to keep this country safe and to bring freedom to others. After the attacks of September the 11th, 2001, this nation resolved to fight terrorists where they dwell. We resolved to arm the terrorist enemy.
-- The White House website quietly changed "arm" to "disarm", but forgot to take down the video of the event. Charleston, West Virginia, Jul. 4, 2004

You know, let me let me talk about al Qaeda just for a second. I -- I made the statement that we're dismantling senior management, and we are. Our people have done a really good job of hauling in a lot of the key operators: Khalid Sheik Mohammed, Abu Zubaydah, Ramzi ahh -- Ramzi al Shibh, or whatever the guy's name was.
-- Eventually he got around to saying "Binalshibh", White House, Jul. 30, 2003

The goals for this country are peace in the world. And the goals for this country are a compassionate American for every single citizen.
-- Having more trouble with making sense, Washington, D.C., Dec. 19, 2002

The Iraqi regime is a threat to any American and to threats who are friends of America.
-- Fort Hood, Texas, Jan. 3, 2003

You said we're headed to war in Iraq -- I don't know why you say that. I hope we're not headed to war in Iraq. I'm the person who gets to decide, not you.
-- Discounting the roles of Congress and an inquisitive press in order to look tough in front of a reporter (and avoid answering the question), Crawford, Texas, Dec. 31, 2002
Oh, yeah. Don't mess with me! I'm the one who decides. Not you! Not Congress!
This next quote is one of our favourites. It is from this summer, and the laughter in the audience is laughter at the president, not with him, although that little fact goes right over his head -- or is it right through it?
REPORTER: What do you think tribal sovereignty means in the 21st century, and how do we resolve conflicts between tribes and the federal and state governments?
DUBYA: Yeah -- tribal sovereignty means that, it's sovereign. It's -- you're a -- you're a -- you've been given sovereignty, and you're -- viewed as a sovereign entity. [Laughter emanates from the audience]
REPORTER: Okay.
DUBYA: And, therefore, the relationship between the federal government and tribes is one between -- sovereign entities.
-- Washington, D.C., Aug. 6, 2004
More laughter. Funny, charming kinda guy? Look at it in this light:
The fact is, regardless of all studies and new therapies, psychopaths are "hard-wired" for life-long bad behaviour.

Leland M. Heller, M.D., writes that people who have this disorder have symptoms which include lying, cheating, cruelty, criminal behaviour, irresponsibility, lack of remorse, poor relationships, exploitation, manipulation, destructiveness, irritability, aggressiveness, and job failures.

Many do not exhibit criminal behaviour, but act antisocially in socially acceptable professions.

Alcohol makes the disorder worse, and psychopaths are very prone to substance abuse. The causes are often "poor parental discipline, association with "bad" kids, and poor bonding with parents..." [Heller, 75]. But the causes can also be mostly biological.

Another characteristic is their unusual word usage, because they can't distinguish between neutral and emotional words. One psychopathic individual told me that he was "deftly afraid of needles" once, but the word deftly implies "skill." Instead of saying "deathly afraid," he said "deftly," and never noticed it was wrong. (See Hare's book for more interesting examples of this).

Strangely enough, many find the psychopath's verbal deftness quite charming, and psychopaths do tend to talk a lot, especially when they're pouring on the charm. [Psychopathy]
Psychopathy is funny stuff, isn't it? Especially when he is going to war and making big profits for his backers.
People were nervous during the recession. Then we got attacked, and I'm going to talk a little bit about making America safer. But we got attacked on September 11th. It hurt our economy. In other words, you're in a recession, then we have an attack.
-- Well, that makes sense (especially the shift from "we" to "you" and back to "we"), Smoketown, Pennsylvania, Jul. 9, 2004
Bush is clear that he isn't affected by the recession: "you" are.
You know, I was campaigning in Chicago and somebody asked me, is there ever any time where the budget might have to go into deficit? I said only if we were at war or had a national emergency or were in recession. Little did I realize we'd get the trifecta.
-- Charlotte, North Carolina, Feb. 27, 2002
Listen to 'em laugh at the joke in the second quote. They're all in on it. They won the "trifecta", stuffing the "winnings" robbed from the US government into their pockets. But then Bush has been the president who says openly what many people have been saying since Marx, that capitalism is war on the working class:
The law I sign today directs new funds and new focus to the task of collecting vital intelligence on terrorist threats and on weapons of mass production.
-- At the signing of the September 11th Commission Bill, Washington, D.C., Nov. 27, 2002
Those weapons of mass production, would those be the ones filling the Earth with useless junk?
But looking at what Bush says seriously, we see he is telling us the truth. He knows that he isn't suffering and that "you" are. He knows that "we are resolved to arm the terrorist enemy". He knows that "it'll take time to restore chaos" in Iraq. These are the signatures left by those who are committed to the downward spiral of evolution, the spiral that leads to sleep, to becoming "One" with matter, not spirit. The truth comes out in a twisted and distorted way, as if the subconscience is speaking, bypassing the brain.
Next we see Bush trying to think on his feet, or is that with his feet.
REPORTER: In the last campaign, you were asked a question about the biggest mistake you'd made in your life, and you used to like to joke that it was trading Sammy Sosa. You've looked back before 9/11 for what mistakes might have been made. After 9/11, what would your biggest mistake be, would you say, and what lessons have you learned from it?
DUBYA: I wish you would have given me this written question ahead of time, so I could plan for it. John, I'm sure historians will look back and say, gosh, he could have done it better this way, or that way. You know, I just -- I'm sure something will pop into my head here in the midst of this press conference, with all the pressure of trying to come up with an answer, but it hadn't yet.
-- I guess we can forget about introspection, too, Prime Time Press Conference #3, White House, Apr. 13, 2004
Poor, ole Goerge. Having to own up to a mistake is just too damn difficult. He has to react without the help of his handlers, alone on the stage. You can feel the panic. He is feeling cornered. "I'm the PRESIDENT!"
If this were a dictatorship, it'd be a heck of a lot easier... just so long as I'm the dictator.
-- During his first trip to Washington as President-Elect, Washington, D.C., Dec. 18, 2000
Isn't this in fact what is happening right now?
Click here to comment on this article
Tensions Escalate Between Israel, Iran
Fri Aug 20
By JOSEF FEDERMAN
Associated Press Writer
JERUSALEM - Iran threatened this week to attack Israel's nuclear facilities. Israel ominously warned that it "knows how to defend itself." Tensions between the two arch enemies have suddenly escalated, underlining the other great enmity that has been bubbling on the sidelines of the Arab-Israeli conflict for more than two decades.
Suspicions that the Iranian regime is moving forward with a nuclear arms program deeply worry Israel, which considers Iran the greatest threat to the Jewish state. Israeli officials say they want to avoid escalating the situation, however, and there is no sign Israel is building up for an attack like the one that destroyed Iraq's Osirak nuclear reactor in 1981.
Experts say the two countries are unlikely to go to war anytime soon, despite the heated-up rhetoric coming out of Iran and the intensified efforts by Israel to isolate the Iranian regime diplomatically.
Iran and Israel once had close ties, but they have been foes since the 1979 revolution that ousted Iran's shah and installed an Islamic government. Iranian leaders routinely call for Israel's destruction, while Israelis accuse Iran of supporting anti-Israel terrorists.
The heightened tensions arose from the U.S.-led campaign to organize international pressure on Iran to rein in its nuclear program. [...]
Click here to comment on this article
Anti-ballistic missile test misses target off California coast
LOS ANGELES (AP) - An anti-ballistic missile under development by Israel and the United States missed its target Thursday in its latest test off the California coast, a spokesman said. A test last month off California was a success.
The Arrow missile failed to intercept an air-launched missile over the Pacific and both fell into the water, said Chris Taylor, spokesman for the U.S. Missile Defense Agency.
"The engineers don't yet know what happened,'' Taylor said.
It was the 13th Arrow intercept test and the eighth test of the complete weapon system. Officials have not said how many of the tests have been successful.
Last month, an Arrow successfully hit a missile launched from a platform on the ocean range off Point Mugu, 45 miles northwest of Los Angeles.
The Arrow system was first deployed by Israel following the Gulf War, when Iraq fired 39 Scud missiles at Israel.
In Thursday's test, the Arrow was trying to hit a short-range, air-launched target. Taylor would only describe the target as representative of a threat that Israel might encounter.
Click here to comment on this article
Police turn up hundreds of boxes of evidence from crime lab
By ROMA KHANNA
Copyright 2004 Houston Chronicle
Aug. 26, 2004, 3:27PM
The Houston Police Department has discovered evidence from 8,000 criminal cases that was improperly stored in its property room, Police Chief Harold Hurtt said today.
The discovery adds to HPD's ongoing problems with its crime lab.
The 280 boxes containing evidence from cases processed between 1979 and 1991 were found in the property room in August 2003, but they were not opened until last week.
The boxes include evidence -- such as bloody clothing, human body parts and a fetus -- from homicides and other cases.
Hurtt said the department will methodically go through all of the items to look for new evidence in old cases. He expects the process to take about a year.
The boxes were located as part of the department's ongoing efforts to improve its crime lab and evidence-processing capabilities. Hurtt said they sat unopened for a year because the labels on the boxes indicated they were from several hundred closed cases.
The boxes actually could contain evidence from thousands of open and pending cases, Hurtt said.
Click here to comment on this article
4 killed, 39 wounded in two bomb explosions in northeastern India
GAUHATI, India (AP) - A passenger bus and another carrying paramilitary soldiers and their families were blown up Thursday in separate explosions in insurgency-racked Assam state, killing four people and wounding 39, officials said.
No group claimed responsibility for the blasts, but the inspector general of police, Khagen Sharma, blamed militants of the United Liberation Front of Asom. The blasts came within hours of each other in the neighbouring districts of Kokrajhar and Goalpara in western Assam.
The first bomb was hidden in an unclaimed piece of luggage and exploded as the bus stopped at Gossaigaon to let passengers off, said A. K. Bhutani, a local administrator. Gossaigaon is a town about 250 kilometres west of Gauhati, Assam's capital.
One passenger died at the scene and at least 33 others were injured, Bhutani said.
Hours later, another bomb exploded near Satipara village in Goalpara district, blowing up a bus carrying Border Security Force soldiers and their families. The bomb was planted under a culvert.
Two soldiers and a child were killed, and six other people were injured, Sharma said. The soldiers were travelling with their families on holiday, he said.
Satipara is 200 kilometres west of Gauhati, Assam's capital.
Click here to comment on this article
MOSCOW, Aug. 26, 2004
(CBS/AP) A top Russian official acknowledged Thursday what many citizens already suspected — that terrorism was the most likely cause of two jetliners crashing minutes apart, a feeling reflected in a newspaper headline warning that "Russia now has a Sept. 11."
A day after officials stressed there were many possibilities besides terrorism, presidential envoy Vladimir Yakovlev told Russia's ITAR-Tass news agency that the main theory "all the same remains terrorism."
Yakovlev said the planes' flight recorders provide no clues to the disaster. He said both boxes had shut off abruptly without any indication of trouble, a sign U.S. aviation experts said was strong evidence of explosions.
Also, Transport Minister Igor Levitin confirmed Sibir airlines' report that its crew activated an emergency signal shortly before the plane disappeared from radar. Visiting the crash site, however, he said that details were slim because "no verbal confirmation from the crew was received" saying what the problem was.
Officials previously said there was no indication of trouble from a Volga-Aviaexpress airliner that also crashed late Tuesday, although people on the ground reported hearing a series of explosions.
CBS News has learned that investigators believe a woman suicide bomber may have been the cause of one of the crashes.
CBS News Correspondent Richard Roth says it's believed a woman was likely responsible -- wearing an explosive belt that could have passed through security undetected unless she was frisked. And women here rarely are.
Officials say a woman with a Chechen name is the only crash victim whose body has not been claimed, Roth reports, adding there is ''no information'' she was a terrorist.
Russian media also raised questions about a possible link between the crashes and an explosion a few hours earlier at a bus stop on a road leading to Domodedovo airport, where the two doomed planes took off. Without citing evidence, the reports suggested the blast, which wounded four people, might have been an effort to distract attention. [...]
Click here to comment on this article
Explosives Found in Russian Jet Wreckage
The Associated Press
MOSCOW Aug. 27, 2004 — One of two Russian airliners that crashed nearly simultaneously was brought down by a terrorist act, officials said Friday, after finding traces of explosives in the plane's wreckage. A Web site connected to Islamic militants claimed the action was connected to Russia's fight against Chechen separatists.
The planes, with 90 people aboard, went down within 20 minutes of each other Tuesday night.
"According to preliminary information, at least one of the air crashes ... has been the result of a terrorist act," a spokesman for the Federal Security Service, Sergei Ignatchenko, the ITAR-Tass news agency reported.
No results from the investigation of the other crash a Tu-134 with 44 aboard that went down about 120 miles south of Moscow have been announced.
Another security service spokesman, Nikolai Zakharov, said the explosive found in the remains of a Tu-154 that carried 46 people appeared to be hexogen an explosive officials said was used in the 1999 apartment bombings that killed some 300 people in Russia, an attack blamed on Chechen separatists. The Tu-154 crashed en route to the Black Sea resort city of Sochi.
Despite the suspicious timing of the crashes and the fact they took place five days before an election in Chechnya opposed by separatists, Russian officials had kept open the possibility they were caused by bad fuel or human error.
A Web site connected to Islamic militants published a statement on Friday signed the "Islambouli Brigades" claiming responsibility for the crashes. A group with a similar name has claimed responsibility for at least one other attack, but the authenticity of Friday's statement could not immediately be confirmed.
The statement said five "mujahedeen" holy fighters were aboard each plane.
The Federal Security Service declined to comment on the statement. [...]
Click here to comment on this article
Powder at centre of Sydney airport scare harmless
August 27, 2004 - 1:35AM

White powder found in the bathroom of a Virgin Blue plane which sparked a security alert at Sydney Airport last night is thought to be harmless, authorities said.
"In this day and age we have to treat these things seriously," NSW Fire Brigades spokesman Ian Krimmer said.
"Fortunately our testing proved conclusively that there was no danger ... to any of the passengers."
After a crew member on the flight from Melbourne found the suspicious powder in the bathroom, the pilot requested that the hazardous materials plan be activated at Sydney Airport.
Police and fire brigade units surrounded the plane when it landed about 6pm (AEST) and cordoned off the area.
When initial tests determined there was no risk of contaminating the outside area, 145 passengers and six crew were evacuated from the plane.
Superintendent Krimmer said Hazmat crews had tested the substance on board.
"We determined there was no immediate risk in terms of chemical hazards to the public or the environment," he said.
Click here to comment on this article
Cuba breaks diplomatic ties with Panama following release of 4 exiles
09:03 PM EDT Aug 26
HAVANA (AP) - Cuba broke diplomatic ties with Panama on Thursday after Panama pardoned four Cuban exiles who the government accuses of trying to kill President Fidel Castro and perpetrating a string of other terrorist actions.
"The revolutionary government announces that as of this minute, 4:15 p.m., diplomatic relations between the Republic of Cuba and the Republic of Panama are broken for an indefinite time," the government said in a statement delivered to international journalists by e-mail two hours later.
Panamanian President Mireya Moscoso pardoned the four Cuban men Thursday, just a few days before she is to leave office, despite Havana's threat to cut diplomatic ties over such a move. Pardoned were Luis Posada Carriles, Gaspar Jimenez, Guillermo Novo and Pedro Remon.
Moscoso said she wanted to prevent a future government from extraditing the four when they finish their terms.
Posada, a 76-year-old former CIA operative, faces criminal charges in Venezuela as well as Cuba.
"The president of Panama, accomplice and protector of terrorism, will carry the historic responsibility of this repugnant and treacherous action, and will also be responsible for the new crimes these assassins could commit in the future," the Cuban statement read.
Click here to comment on this article
Tainted flu vaccine discovered
Holds up shipment of half of U.S. supply
Thursday, August 26, 2004
SAN FRANCISCO, California (AP) -- The nation's supply of vaccine for the impending flu season took a big hit Thursday when Chiron Corp. announced it had found tainted doses in its factory.
The company said it will hold up shipment of about 50 million shots -- about half the supply U.S. health officials had hoped to have on hand this year -- while it investigates what went wrong and determines whether the vaccine is safe to use.
"There's no product that is going to go into the arms of the American public that will not have been deemed to have met the highest standards of safety," chief executive Howard Pien said.
Pien said the company hopes to ship between 46 million and 48 million doses by early October, about month later than usual.
About 1 million doses have already been shipped, but no vaccines have yet reached the public, Pien said. Vaccinations usually begin in September and continue through the flu season.
Officials with the Centers for Disease Control and Prevention, which oversees the nation's flu vaccine program, did not immediately return calls for comment.
Chiron would not give details on the nature of the contamination, which Pien said was found in a small number of batches at the company's factory in Liverpool, England.
The company supplies about half the nation's flu vaccine. Aventis Pasteur supplies most of the rest.
Click here to comment on this article
In Austin, It's No Shots, No School

District launches campaign now to be sure parents know that all students must be immunized before school year begins in fall
By Melissa Ludwig
AMERICAN-STATESMAN STAFF/Friday, May 21, 2004
Though the school year is not quite over, Austin school district officials are warning parents that children without all required immunizations will not be able to enroll next year.
Tracy Diggs, coordinator of student health services, said 18,000 students showed up on the first day of school last year without their shots, a number the district whittled down to 7,000 by sending letters to parents and holding free shot clinics.
This year, parents of an estimated 19,000 students with incomplete immunization records must get those shots before school starts, Diggs said. She said the district will send a letter in Spanish and English to every parent whose child needs a shot, with a list of times and locations for shot clinics over the summer, most of them free.
"We are trying to make it as easy as possible on parents so they can get it done early. We want them to be back-to-school shopping in August, not standing in line waiting to get an immunization," Diggs said.
In March, Attorney General Greg Abbott issued an opinion saying schools should adhere to a Texas Department of Health policy blocking enrollment for children who have not had all their shots. In previous years, the district followed a Texas Education Agency policy that allowed 30 days from the start of school to get immunized, Diggs said.
In the past, Diggs said, students have not shown up when schools organized free shot clinics, but the district is hoping to raise awareness by sending parents clinic information, doing public service announcements and making the process as "user-friendly" as possible.
For parents who don't want their children immunized, a state law that went into effect last September allows parents to apply for a waiver from the Texas Department of Health. Parents who can produce a notarized waiver do not have to get their children immunized before enrolling them, Diggs said.
Department spokesman Doug McBride said about 4,400 children across the state have received waivers, a small fraction of the state's 4.3 million children in public schools this year.
"We are strong believers in the value of vaccinations as a way to prevent illness and disease, but the objection for reasons of conscience is a legal option parents have," he said.
Click here to comment on this article
Number of poor in U.S rises for third straight year
WASHINGTON (AP) - The number of Americans living in poverty increased by 1.3 million last year, while the ranks of the uninsured swelled by 1.4 million, the Census Bureau reported Thursday.
It was the third straight annual increase for both categories. While not unexpected, it was a double dose of bad economic news during a tight re-election campaign for President George W. Bush.
About 35.8 million Americans lived below the poverty line in 2003, or about 12.5 per cent of the population, according to the bureau. That was up from 34.5 million, or 12.1 per cent in 2002.
The rise was more dramatic for children. There were 12.9 million living in poverty last year, or 17.6 per cent of the under-18 population. That was an increase of about 800,000 from 2002, when 16.7 per cent of all children were in poverty.
Click here to comment on this article
And now for some good news...
Some days we run a series of articles that we have collected in order to illustrate a point. We didn't go looking for the following articles. They found us. The theme should be apparent.
Europe warned to expect massive earthquake as anniversary nears
RUSSELL JACKSON
EUROPE is due for another huge earthquake like the one which hits Portugal in 1755 killing an estimated 60,000 people, it was revealed today.
New evidence shows that the activity in the Earth's crust which triggered the Great Lisbon quake is continuing.
But it may be a few hundred years before another disaster happens.
Research indicates that powerful earthquakes are likely to occur in the region at 1,000 to 2,000-year intervals.
The 1755 earthquake hit Lisbon as worshippers in Portugal and south-western Spain gathered for mass on All Saints' Day, toppling packed churches.
The earthquake also triggered a tsunami - or giant wave - five to ten metres high. Recent evidence suggests that the quake was triggered by one of the great plates that make up the Earth's crust sliding under another beneath the Straits of Gibraltar.
Expert Dr Marc-Andre Gutscher, from the European Institute of the Sea in Plouzane, France, said this "subduction" process still appeared to be continuing today.
Writing in the journal Science, he said: "An active subduction zone off southern Iberia poses a long-term seismic risk."
Earthquake experts are planning expeditions to the region as the 250th anniversary of the disaster nears.
Five oceanographic cruises are planned in 2004 and 2005, and three proposals have been submitted for drilling beneath the sea floor.
Click here to comment on this article
Chances of huge Kanto quake 70% in 30 years
The Asahi Shimbun
There's a 70 percent chance an earthquake big enough to destroy buildings and trigger landslides will hit the southern Kanto region, centering on Tokyo, within the next 30 years, according to a government panel studying the issue.
Within the next 10 years, there's a 30 percent probability of such a Richter-scale magnitude 7 temblor, and a 90 percent chance within the next 50 years, the Earthquake Research Committee said this week.
A quake of this size could register as high as 6 on the Japanese intensity scale of 7 in some places.
However, a magnitude 8 quake like the Great Kanto Earthquake of 1923, which devastated the region, has only a 0.8 percent chance of striking within the next 30 years.
The high probability of a magnitude 7 quake, said panel member Kunihiko Shimazaki, was due to the size of the area-much of Tokyo and Kanagawa, Saitama, Ibaraki and Chiba prefectures-considered by the panel.
"A temblor might hit anywhere in the extensive area we studied,'' said Shimazaki, head of the committee's long-range assessment group and a professor at the Earthquake Research Institute of the University of Tokyo.
"So the probability for any particular area isn't that high,'' he added.
The committee is studying the probability and size of quakes expected to occur along the Pacific coast trenches. This week's announcement focused on the Sagami Trough, south of Sagami Bay and the southern Kanto region.
Running northwest to southeast off the South Kanto coast, the Sagami Trough marks a point where the Philippine Sea Plate subducts beneath the continental plate.
Earthquakes equal in magnitude to the Genroku Earthquake of 1703 and the Great Kanto Earthquake are expected to occur along this trough.
However, because earthquakes as powerful as the quake of 1703, estimated at magnitude 8.1, occur on average only every 2,300 years, there is virtually no chance one of that size will hit within the next 50 years, the panel report said.
There is a 0.8 percent chance a temblor the size of the Great Kanto Earthquake-which normally occurs every 200 to 400 years-will strike within the next 30 years and at most a 5 percent chance within 50 years, the panel said.
Click here to comment on this article
Mt. Vesuvius Called Most Dangerous Volcano
By Rossella Lorenzi, Discovery News
Aug. 27, 2004 — Italian experts warn that by 2100, Mount Vesuvius, the only active volcano on the European mainland, will most certainly repeat its most dramatic performance, which buried Pompeii and the nearby towns of Herculaneum and Stabiae on Aug. 24, 79 A.D.
Reporting on volcano hazard potential at the 32nd World Geological Conference in Florence, Italy, University of Rome's Franco Barberi described Vesuvius as the world's most dangerous volcano.
Vesuvius erupts dramatically in cycles, and has erupted about three dozen times since 79 A.D. The 1913-1944 event is thought to have been the end of an eruptive cycle that began in 1631. In 1944, lava destroyed some orchards and homes and 26 people were killed. The volcano hasn't blown its top since then.
"The volcano is quiet, there is no warning sign of an imminent eruption. But we have to be prepared. Most probably, the next one will be a sub-plinian eruption, similar to the 1631 eruption," Barberi said.
At that time, the lava flow killed about 3,000 people, making it the worst eruption since 79 A.D.
More than 500,000 people live in the danger "red zone," which comprises 18 towns squashed within a four-mile radius between the volcano and the sea.
With such an explosive eruption, people living in the red zone will have less than 24 hours to evacuate the area. For most of them there will be little hope of survival.
"In very densely populated areas evacuation becomes a very difficult operation," said Barberi.
The pool of potential Vesuvius victims would affect a territory much larger than the red zone, Barberi said. About 200,00 people would be covered by ash, while hundreds of thousands would be involved in the disaster because of the panic.
"Finally, regional authorities have taken important measures for safety and prevention, mainly by trying to thin out the number of people living in the danger zone, thus reducing the time for the evacuation," Barberi said.
The 700 million euro ($580 million) emergency measure centers on a monitoring plan and a cash offer of $35,000 for anyone willing to move outside the danger zone. Already thousands of families have accepted.
A recent estimation on hazards from pyroclastic flows in the Vesuvian area confirmed Barberi's warning.
In a simulation of both concentrated and diluted pyroclastic density currents, Giuseppe Mastrolorenzo, Sergio Rossano of the Osservatorio Vesuviano and colleagues from Naple University found the hazard constrained within 15 kilometers from the volcano.
Further research showed that no one within that reach could survive.
"Morphological and histochemical analyses on human and animal biological tissues provide evidence on the exposure to temperatures between 200°C and at least 600°C at a distance ranging from a few kilometers to about 12 kilometers from the volcano," the researchers said.
Click here to comment on this article
Santa Maria Times
Earthquakes always seem to take us by surprise. One minute we're leading a normal, everyday life, the next minute the ground is shaking and things are falling off walls, or worse.
In that context, earthquakes on the Central Coast really shouldn't be much of a surprise. We know the ground is unstable. We know the Big One may be just around the corner. Many of us have earthquake kits stowed in a safe closet or in the trunk of the car.
City governments should make the same kind of preparations, yet many of them do not. Guadalupe is a case in point. Only this week, months after the quake that devastated downtown Paso Robles, did the Guadalupe City Council create an ordinance requiring the retrofitting of unreinforced masonry buildings to meet quake safety standards. And that move came after several downtown Guadalupe buildings were damaged in that last big temblor.
Still, a lot of business property owners in Guadalupe don't like the process the City Council has chosen to deal with future disasters. At this week's meeting, the council approved the retrofitting ordinance, but at the same time granted business owners more time to get the work approved and done, in some cases stretching the process out as far as 10 years.
In a further conciliation with angry business owners, the council also created a retrofitting task force, whose mission is to study the problem, find solutions and identify funding sources to help business owners pay for the retrofitting work.
We understand that such work can be a financial burden, especially in a small town like Guadalupe, where even a few days of being shut down can make or break a business owner's profit picture.
But days of being shut down won't amount to much if a major earthquake hits the region, and shakes down those unreinforced masonry buildings.
The City Council is taking some heat for approving a retrofitting ordinance, but members should stand their ground. Earthquake safety is a civic and community priority and responsibility, as residents of Paso Robles learned in a most deadly way.
City and business leaders need to come together on this issue and work out their differences. This is no place for political squabbles that could pose a threat to public safety.
Click here to comment on this article
Earthquake may rock foreign lands
By Glennda Chui
San Jose Knight Ridder Newspapers (KRT)
August 27, 2004
SAN JOSE, Calif. — Scientists warn that the world is heading for a catastrophic earthquake that will kill at least 1 million people.
It won't be the magnitude 10.5 that tipped California into the sea in a recent TV miniseries; quakes don't get that big. The real danger is not in the United States or other parts of the industrialized world at all.
Rather, it's in the huge cities of the developing world, where the building codes that protect the United States either don't exist or are rarely enforced. As those cities grow, millions of people are moving into flimsy buildings within easy reach of major faults.
It wouldn't take a big quake to bring those buildings down. A moderate one would do. A magnitude 6.7 quake in Tehran, Iran, would kill 200,000 to 400,000 people and knock down more than 80 percent of the city's buildings, according to a recent scenario.
In contrast, the slightly larger quake that rocked the San Francisco Bay area in 1989 killed just 62 people.
If explosive growth continues in the world's most vulnerable cities, a million-fatality quake is likely to strike at least one of them within the next century, causing death and injury on a scale never seen before, according to Roger Bilham, a geophysicist at the University of Colorado.
He says there are now 35 metropolitan areas in the world with populations of 2 million or more within 125 miles of an earthquake zone. They include greater Los Angeles, with a population of 12 million, and the Bay Area, with 7.3 million people.
If the Big One hits a national capital or an unstable region, the political and economic repercussions could rock the globe long after the shaking stops, experts say. Among the possible targets are Tehran; New Delhi, India; Jakarta, Indonesia; Manila, the Philippines; Mexico City and the tinderbox republics of the former Soviet Union.
"The presidents of these countries are just trying to keep the lid on," said Brian Tucker, founder of GeoHazards International in Palo Alto, Calif., which works to reduce risk in developing countries. "It's in our self-interest to make sure these countries can develop without being set back by natural disasters."
There's no way to prevent or predict an earthquake. The best way to limit death tolls is to strengthen buildings, roads and bridges and ban construction in hazardous areas. But in countries so poor that people have trouble putting food on the table, planning and retrofitting take low priority.
"People typically say, 'I know my building is going to fall down, but I can't afford to move elsewhere,'" said Ross Stein, a geophysicist with the U.S. Geological Survey in Menlo Park, Calif., who has worked extensively in Turkey. "When you don't have any options, what you want to do is shut it out, not deal with it."
In the face of a problem that can seem both overwhelming and intractable, a few scientists and engineers have been working at a grass-roots level to raise earthquake awareness and improve building practices in mega-cities.
"It's like pissing in the wind," Bilham admits. But he adds that there is room for optimism.
With the world's supply of housing set to double in the next 50 years, adding a billion new homes and apartments, "we actually have a wonderful opportunity to fix the problem" by constructing buildings that will stand up to earthquakes, Bilham said. "In fact, it only costs 10 percent more to put up an earthquake-resistant house."
Yet people rarely make that investment, he said: "It's partly graft, and partly people really taking the low bid. It's appalling, it's shameful, that we live on a planet where we allow it. The buildings that people live in are their burial points."
Two earthquakes last year show what a difference strong buildings can make.
On Dec.22, the 6.5 San Simeon quake on the central coast of California rocked buildings from Orange County to San Francisco. Yet it claimed only two victims when an old clock tower fell.
Four days later, a 6.6 quake struck the ancient mud-brick city of Bam in Iran, killing at least 26,200 people — nearly one of five people in the area. Seventy percent of the city was flattened.
Comment: So, a media blitz on natural catastrophes. Interesting how it works: The danger is discussed in great detail, and then set off into the future. Far enough away in some cases that only our children will have to worry, in other cases, it is our descendents. Yet the seed is planted; these events are going to happen...sometime.
When they do occur, those left will be told that science can't be exact in these predictions, there is always room for error. Sorry. Don't blame us. It was only by chance that we happened to be in our reinforced, underground bunkers....
Click here to comment on this article
Charley - Modern-Day Body Snatchers Discovered
By Michael Edward
Rumor Mill News Agents Forum
8-27-4
Before bringing you the investigative update on the mobile home park "body snatchers" of Charlotte and Desoto Counties, I'm going to first address the Florida State employee who was driving the brown Ford Taurus with the yellow Florida State official tag, No. 201104, heading south on King's Highway through Lake Suzy at 7:45 p.m. on Wednesday, August 25:
You don't know us (yet), but we were in one of the two cars you ran off the road as you drove at high speed down the middle of that two-lane road through our residential area. Does that help jog your memory? You were behind the Chevrolet Silverado pickup that had the red and blue windshield strobe lights and non-official "civilian" Florida tags. I guess you didn't think either car you nearly crashed head-on into would turn around and follow you to the red light at I-75... but surprise! I pulled up behind you and the other victim of your reckless driving adventure pulled up in front of you in the right lane (next to the Chevrolet pickup). It was nice of you to wait so patiently for the light to turn green, as did the pickup you were still behind that no longer had any strobe lights flashing. That's right... you've been caught abusing your authority and recklessly endangering lives while you were doing it. I'm sure your State boss will be having a talk with you shortly... as well as a criminal judge.
Now, let's talk about the notorious "body snatchers" of Southwest Florida. Ever since Friday afternoon, August 13, we have wondered what happened to the bodies we had seen at the two former mobile home parks located in Charlotte County, let alone those many bodies in other mobile home parks residents, National Guard soldiers, and Sheriff's Deputies had sworn to us they personally observed. As I stated in an earlier report, we were there before any rescue or emergency services were on the scene... within 2 hours after Charley had passed through our area. We know what we saw as we are retired from either military or civilian law enforcement (or both), with the exception of a minor family member who was with us that night.
A couple of days ago, it just happened that I ran into the son of a junior officer who had served with me for many years in the U.S. Army Military Police Corps. His son is a RA Officer assigned to the Florida National Guard and was in Desoto County when we met... neither of us at first knowing the common tie between his retired Army father and myself. As fate would put it, we ran into each other trying to free a horse tangled up in some barbed wire on a side road off U.S. 17 south of Arcadia. He had stopped in his Humvee to offer assistance.
After we realized our uncanny "family" ties, I asked him if he knew what happened to all the bodies I had observed a week before in the mobile home parks. I also told him what we had seen when we later returned to that area and asked him, as I had already concluded, if this was a military operation. His reply was "you saw what you saw," and then he proceeded to explain what he had been doing since he arrived early Saturday morning, August 14. I can relay to every reader that, because of the honor of the "Esprit de Corps" between Military Police officers, what you are about to read may seem surreal, but it is none-the-less the truth that you will surely not hear in the mainstream controlled media.
By 10:00 p.m. on Friday, August 13, both Washington City and Tallahassee knew of the real devastation and of the many hundreds of local EDS/EMS confirmed deaths in the wake of Hurricane Charley. As a part of the emergency S.O.P, specific MP (specialist) command units were sent to Charlotte County from Ft. Leonard Wood and Ft. Stewart, most arriving just before dawn on Saturday, August 14. Their specific orders were to secure all the mobile home parks from the local and State authorities, and to seal off these areas from all but "authorized" personnel. By the time JEB BUSH arrived on Saturday, this had been fully accomplished in both Charlotte and Desoto Counties. Every County Deputy, city Police Officer, and all other local Emergency Services personnel had been "relieved" from their mobile home park duties by the Military Police command and re-assigned to other areas.
As part of the operation, a curfew was set into place beginning Saturday evening for all areas affected by Charley. It remains in effect tonight as I finish writing this report. This curfew had (and still has) a two-fold purpose. The first and most obvious purpose was to control order during darkness, a very legitimate necessity. A multiple fatality tractor trailer and car accident at a US-41 intersection gave strength to the curfew due to traffic lights being inoperable.
The second purpose was to carry out search, recovery, and transport operations by "authorized" Federal teams. While residents were kept off the public streets, perimiters were established and non-residents were denied entrance, the mobile home parks were lit up by Army field generator units, searched, and bodies recovered. Those bodies were then transported out of the area on I-75 in refrigerated trucks marked "Emergency Response Services" with magnetic signs on the doors. These were some of the very same trucks that brought supplies into the area from Lakeland, Florida. It also serves to illustrate why there were so many refer semi's sitting in Lakeland that were not yet authorized to go to the Port Charlotte area, and why some were sitting for a day or two at a time at the bulk center drop-off on I-75 at the rest stop in Charlotte County.
Who - from police to other local and State personnel guarding the streets - would question the presence of these trucks both entering and exiting the area as FEMA "distribution" points were being constantly supplied 24 hours a day?
This is how it has all been carried out:
Bodies were recovered, placed into standard issue body bags (as well as large black "trash" type bags for body parts), loaded into military 2-1/2 and 5 ton covered troop carriers, sent to either of two secured "transfer" areas located near I-75, then loaded into the refer semi's for their journey to military installations throughout North America. The truck drivers never knew what their cargo was as they were not only kept away from the actual loading, but each trailer was well sealed and locked. No-one knew the better and there was no suspicion since it all just looked "routine."
If you want an "official" body count from the local morgues, don't bother as there are no bodies there other than from hospital and accidental deaths after August 13. There is nothing clever about how the removal of the 30 mobile home park bodies was carried out... it's the standard operational procedure for military operations of this type. Whenever a civilian population is involved in the immediate area of recovery, they are isolated by curfews or secure perimeter lines from seeing night operations being carried out. This is nothing new, and every war Veteran should remember seeing this carried out in the field of operations, just as it goes on in Iraq today. But the difference here is that Charlotte and Desoto Counties are not considered war zones.
In order to verify what I was told above, our growing group of Vets spoke with a dozen or so National Guard patrols as they stopped by our neighborhood. While a few were reluctant to say anything to us, some were not hesitant to talk about everything they had seen... from dead fish to a body seen floating down the Peace River. Are any who told us about the bodies revealing national secrets? One Corporal answered that question when he said, "I thought everyone knew about the bodies. Isn't it on the news?" When we told him the "official" death toll was around 20, he laughed at us and accused us of playing games with him. He genuinely had no idea that the public had no idea of the truth.
But of course there's no cover-up. As one email I received today put it, since I can't give him a single name of any of the dead bodies I personally saw, then I can't be believed. I guess I didn't realize that I was supposed to check the bodies for picture ID when we stumbled on them that Friday evening. No-one told us that in order for our eye-witness accounts to be believed or to be considered authentic, we would have to know the name and address of every corpse we saw on the side of the road.
A worse tragedy (if anything could be worse than what has already been revealed) in all this "body snatching" going on is the extremely high death toll of migrant workers. In Desoto County, especially on or near US-17 where the eye of Charley followed to the Northeast, most mobile homes and all sub-standard housing was occupied by migrant fruit pickers and undocumented farm laborers. They didn't legally or officially "exist" in the first place, so don't expect their deaths to "exist" either.
But of course there's no conspiracy. There are only 25 or so official deaths throughout the entire State as a result of Hurricane Charley. If you believe that, I have some swamp land in Florida you might be interested in buying.
Michael Edward
Click here to comment on this article
Frances a Fast-Growing Hurricane, Far Out at Sea
Thu Aug 26
MIAMI (Reuters) - Hurricane Frances was born in the Atlantic Ocean on Thursday but the rapidly growing storm was many days from threatening any populated area.
The fourth hurricane of the Atlantic season was on a track that would put it well north of Antigua, Anguilla and the other vulnerable islands of the northeastern Caribbean by next Tuesday.
At 5 p.m. (2100 GMT), the center of Hurricane Frances was 1,005 miles east of the Lesser Antilles at latitude 13.7 north and longitude 46.4 west, the U.S. National Hurricane Center (news - web sites) said.
The storm system was moving to the west-northwest at about 16 mph (26 kph). Its top sustained winds were 80 mph (129 kph) and could be near 100 mph (160 kph) by Friday, forecasters said.
Forecasters have predicted the 2004 Atlantic hurricane season, which runs from June 1 to Nov. 30, would be a busy one. Already, six tropical storms or hurricanes have formed and the busiest part of the season, from late August to early October, has just begun.
An average hurricane season sees about 10 tropical storms, with about six becoming hurricanes.
Frances formed as a tropical storm on Wednesday, just 12 days after Hurricane Charley struck southwest Florida. Charley was the worst hurricane to hit the state in 12 years and caused an estimated $7.4 billion in insured damages.
Click here to comment on this article
Flash floods hit northern India
Last Updated Thu, 26 Aug 2004 10:34:53 EDT
NEW DELHI - Indian military helicopters have been plucking survivors out of the water after flash-floods swept away 29 people on Thursday morning in the northern Indian state of Uttaranchal.
But more than 20 of those people, feared dead in the rushing waters of the Kailashu river at Akrouli village, have been rescued. The bodies of two others have been recovered.
They had been sleeping outdoors and had taken refuge from the rushing waters in a trolley, when the vehicle itself was washed away.
Of 30 people who were in the trolley, one managed to escape and swim to safety.
Officials in the area say the river continues to rise because of heavy rains.
Hundreds of people have died this year and millions have been affected by monsoon flooding in parts of India, Nepal and Bangladesh.
People who live in the area say flooding, a regular occurrence during monsoon season, could be controlled if governments would co-operate on managing water resources.
Click here to comment on this article
Typhoon unleashes devastation on Asia

Associated Press
Shanghai — Typhoon Aere crashed into mainland China on Thursday, unleashing torrential rains and prompting the nearly a million people to seek safety, as the death toll climbed to 35 after a mudslide killed 15 villagers in Taiwan.
Aere came ashore on the mainland late Wednesday after battering northern Taiwan, where up to 1,500 millimetres (1.5 meters) of rain fell over the past 21⁄2 days in some areas. State television in China showed footage of howling winds and pounding rain. Cars plowed through flooded streets littered with uprooted metal barriers.
Officials in Taiwan said the mudslide in a remote northern mountain village buried all of the homes in just 10 seconds, killing 15. The island's death toll rose to 30 after officials reported a man died when flood waters washed away his riverside home in central Taiwan.
Another five people were reported dead in the Philippines.
Apart from one man reported missing in eastern China's Zhejiang province, no casualties were reported on the mainland.
It was the second-strongest storm to hit China this season after Typhoon Rananim, which killed 164 people and devastated the southern Chinese coast. [...]
Click here to comment on this article
Heavy rains flood Anchorage streets, intersections

(Published: August 26, 2004)

Intense downpours flooded several streets and intersections around Anchorage late Thursday afternoon, stranding a few motorists in rising water, according to Anchorage police. Residents, commuters and patrol officers were calling in dozens of reports to police dispatch, including one of "a large lake" at A Street and Benson Boulevard near Wal-Mart.
The National Weather Service issued an urban flood watch for Anchorage for the evening. [...]
Click here to comment on this article
By Amy Coopes
August 26, 2004
IT may have caused a stir on earth, but a bright light over south-western NSW last night was not a meteor, an astronomer said today.
Police stations from Mount Druitt to Goulburn received dozens of phone calls reporting an extremely bright light and two explosions about 11.30pm (AEST) yesterday.
Goulburn police sergeant Joe Fitzpatrick was on patrol in his police car when he saw an intense light in the sky to the north-west.
"It was a bluey-green colour ... certainly bright enough to attract the attention of all those around me," Sgt Fitzpatrick said.
The moving light brightened for several seconds and then burned out, he said.
"When I first saw it I thought it was a firework or a flare. I'd compare it to the PolAir helicopter turning its light on," he said.
The light was most likely caused by nothing more than space junk burning up, said astronomer Vince Ford, from Canberra's Mount Stromlo Observatory.
"Sounds like a bit of space junk, a piece of old rocket casing or a fuel cell," Mr Ford said.
"My best guess: a small bit of aluminium rocket casing, causing an extremely bright blue-green light as it burned (out)."
He said the metal was unlikely to have made a sound entering the atmosphere 30km above Earth.
With tens of thousands of pieces of discarded shuttle materials congesting earth's atmosphere such sightings were becoming more frequent, Mr Ford said.
"What many people believe to be shooting stars are actually stray nuts and bolts burning up on re-entry," he said.
Although up to 10 meteors were visible in an hour in a dark sky, spotting a piece of space junk as large as last night's sighting was still reasonably rare, he said.
Comment from a reader: This second published report on the sightings in south eastern Australia seems to be an odd one. Firstly it says witnesses reported their sighting with an extremely bright light and two explosions about 11-30pm Wed, 25th, and further down quotes an astronomer on the government payroll in Canberra saying it was most likely space junk who then says that metal was unlikely to make a sound from 30km above the earth after he already said "it sounds like a bit of space junk". Odd dismissal especially after witnesses reporting "two explosions". Gosh, isn't it reassuring to have a government astronomer's final word on the matter. "not a meteor".
To which we add, yesterday they said it was part of a minor meteor shower. Nothing to get worked up about. Today it isn't even that. Back to sleep, people. There is nothing to worry about. You've already forgotten about Vesuvius and earthquakes in Europe and Tokyo. After all, they're all at least 50 years away!
Click here to comment on this article
Man found dead in bed after 2 years
Aug 26 2004 04:20 PM CDT
WINNIPEG - Residents of a Winnipeg condominium building want to know how one of their neighbours could have lain dead in his apartment for two years without anyone's knowledge.
The remains of Jim Sulkers, 53, were found Wednesday in the bed of his River Heights condominium.
"We received a call, in fact, from family members who were concerned," says Const. Shelly Glover. "The family does not reside here in the city of Winnipeg."
The medical examiner says he died of natural causes. The exact date of death couldn't be determined, but a newspaper in Sulkers' room was dated November 2002.
Sulkers suffered from multiple sclerosis and had been living on a disability pension. Neighbours say he was friendly, but a loner. He had lived in the condo complex since the mid-1980s. [...]
Click here to comment on this article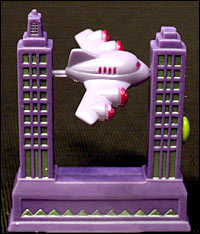 Co. Pulls Toys Depicting 9-11 Attack
By Associated Press
August 27, 2004
MIAMI -- Small toys showing an airplane flying into the World Trade Center were packed inside more than 14,000 bags of candy and sent to small groceries around the country before being recalled.
Lisy Corp., the wholesaler that distributed the candy, said Friday that the toys were purchased in bulk from a Miami-based import company.
The toys came in an assortment purchased sight unseen from L&M Import in Miami and included the toys depicting the Sept. 11, 2001, attack on the twin towers, whistles and other small toys, said Luis Pedron, Lisy's national sales manager. The invoice said the toy was a plastic swing set.
"I hate to blame the importer. He probably did not know what he was getting. He brings them in 40-foot containers. But whoever made it knew exactly what they were making," Pedron said.
Pedron said Lisy did not notice the small plastic figurines until two people complained, but there is no mistaking what the toys represent: At the bottom of each is the product number 9011.
"When we found out what happened, we recalled them immediately," said Pedron, who said the toys do not reflect the company's view. "I was offended by them."
The company's 100 distributors sent out the candy bags. Most are sold to small Hispanic and Mexican groceries, Pedron said. He estimated about 90 percent of the bags have been collected.
Anna Rodriguez, who bought a bag of the candy for her grandson, said she was stunned when she saw the toy.
"It makes me angry," she told television station WFTV. "I was offended because I couldn't believe that someone would give something like that to a kid."
Pedron said he is saving the toys to return to the distributor.
A woman who answered the telephone at L&M and refused to give her name said Friday she did not know anything about the toy.
Comment: We agree, the toys were defective. The plane clearly has windows and is therefore not an accurate representation of the planes that hit the WTC.
Click here to comment on this article
---
Remember, we need your help to collect information on what is going on in your part of the world!
We also need help to keep the Signs of the Times online.
---

Check out the Signs of the Times Archives

Send your comments and article suggestions to us

---
Fair Use Policy
Contact Webmaster at signs-of-the-times.org
Cassiopaean materials Copyright ©1994-2014 Arkadiusz Jadczyk and Laura Knight-Jadczyk. All rights reserved. "Cassiopaea, Cassiopaean, Cassiopaeans," is a registered trademark of Arkadiusz Jadczyk and Laura Knight-Jadczyk.
Letters addressed to Cassiopaea, Quantum Future School, Ark or Laura, become the property of Arkadiusz Jadczyk and Laura Knight-Jadczyk
Republication and re-dissemination of our copyrighted material in any manner is expressly prohibited without prior written consent.