---
Printer Friendly Version
New Movie Review: Alien vs. Predator
Picture of the Day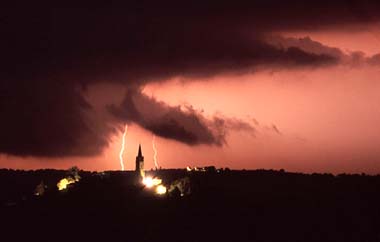 Storm over the village of Blaziert
©2004 Pierre-Paul Feyte
UPDATE: The Exclusive SOTT 'Pentagon Strike' Flash Presentation created by a QFS member has been so popular that the maximum bandwidth for the original site where it was located has been easily surpassed.
We are working on a solution and hope to have the presentation posted again tomorrow.
In the meantime, if any of our readers have a copy and are able to pass it along or post it to other sites, please do so and let us know!
Rumsfeld can be faulted for Iraq abuse: panel
www.chinaview.cn 2004-08-25 11:18:47
WASHINGTON, Aug. 24 (Xinhuanet) -- US soldiers guarding the Abu Ghraib prison near Baghdad are mainly blamed for the Iraqi prisoners abuse, but senior commanders and defense officials up to Defense Secretary Donald H. Rumsfeld can be faulted for failed leadership and oversight, a four-member investigation panel said in a report released on Tuesday.
"There is both institutional and personal responsibility at higher levels" over the abuses, and "military and civilian leaders at the Pentagon share this burden of responsibility," the panel headed by James Schlesinger, the former US secretary of defense, said in the report.
The report said there was direct responsibility on soldiers and commanders in the field rather than in Washington.
"There was direct responsibility for those activities on the part of the commanders on the scene up to the brigade level," because they did not adequately supervise what was going on at Abu Ghraib, and there was indirect responsibility at higher levels, because the weaknesses at Abu Ghraib were well-known and corrective action could have been taken and should have been taken, Schlesinger said at a Pentagon press conference.
There was "chaos at Abu Ghraib" and "sadism on the night shift," he said.
Schlesinger said Rumsfeld's office could be faulted for inadequate supervision, but he objected to the suggestion that Rumsfeld should step down.
The report did not suggest that Rumsfeld ordered any of the abuses or encouraged them, but indicated that his policies created some confusion at lower levels of the military.
Click here to comment on this article
Comment: What a sorry, sick, and perverted whitewashing of the vile and criminal activities of a gang of psychopaths! The US refuses to recognise the jurisdiction of the International Court because it doesn't want its soldiers subjected to international condemnation for torture, it commissions internal reports on how to get around the Geneva Conventions, it refuses to recognise the people it captures as soldiers, but none of this was meant to create an atmosphere where torture was accepted policy. Oh no, it was "deniable plausibility" or some such bureaucratic maneuver.
Meanwhile, there is an election campaign on where the main issue is whether or not John Kerry deserved his three purple hearts in Vietnam.
Excuuuuuuuse me!
Where are the American people? What the hell are they doing? How can they allow this crap to continue?
Oh, yeah. They're at home watching Fox News...
Trying to gauge the 'Fox Factor': Critics slam Fox News for toeing White House line. But do Americans expect more spin with their news?
TIM HARPER
WASHINGTON—As U.S. and Iraqi fighters surrounded Moqtada al-Sadr in Najaf last week, Fox News viewers were given three takes on what the Americans should do next.
Or, as Fox likes to put it, what the "good guys" should do about the "bad guys."
Over the afternoon, the foreign policy debate went something like this:
Retired U.S. Army Col. David Hunt told the cable network al-Sadr should be brought out "on a plate."
Bernard Kerik, a former New York City police commissioner and an adviser to the Bush campaign, said: "I think it's time, he's got to be taken out."
Retired Maj.-Gen. Robert Scales: "He's simply got to go down."
Fox did bring on Michael O'Hanlon, a respected analyst at the non-partisan Brookings Institution to discuss al-Sadr and all interviewers did acknowledge that the U.S. military mustn't storm a holy shrine.
But was it the "Fair and Balanced" coverage that the Fox slogan promises?
No, says a growing legion of critics that condemns the network for parroting Republican ideology, waving the flag and glorifying American military might.
It is a view that has gained increasing currency with the surprising popularity of Outfoxed, filmmaker Robert Greenwald's detailed look at Fox's slavish adherence to the White House line.
Democrats have seized on the issue, with members of Congress demanding that Rupert Murdoch, chair of the network's parent company, abandon a campaign of "improving the president's standing with the American people on the basis of not news, but disinformation."
The right-wing network that has learned that, as a former producer says, "there is money in the flag," is under unprecedented attack.
But with a multiplicity of news sources available during this election season, some observers suggest that more and more Americans want — even expect — their news with a spin.
Instead of the oft-cited Red (Republican) and Blue (Democrat) states, they say, the country is really breaking down into adherents to Red and Blue media.
The left in this country has author/comedians Al Franken and Bill Maher and filmmaker/ author Michael Moore of Fahrenheit 9/11 fame. The right counters with a lineup that includes the Fox mainstays, Rush Limbaugh and a stable of other radio ranters. And rarely do these two solitudes interact.
With the presidential election a mere 10 weeks away, switching the channel may be too easy because some believe there is a "Fox Factor" lurking in this campaign.
The Pew Research Centre, in a major poll released last week, found that, for the first time since the Vietnam War era, foreign affairs and national security issues have emerged as two factors that could decide the race between incumbent George W. Bush and Democratic challenger John Kerry.
However, a poll published last fall found that 33 per cent of respondents who used Fox as their prime news source believed the U.S. had found weapons of mass destruction in Iraq. Sixty-six per cent believed Saddam Hussein had ties to Al Qaeda and had a hand in the Sept. 11 terrorist attacks.
Of those who said their prime news source was the moderate National Public Radio network, only 11 per cent said last autumn they believed weapons of mass destruction had been found and 16 per cent believed Saddam was linked to Al Qaeda.
"You'd be amazed how many Fox viewers think Saddam was flying one of the planes that morning," says Ed Wasserman, a professor of journalistic ethics at Washington and Lee University in Lexington, Va.
"Those numbers are horrifying. The use of facts on the network is so corrupt that, on the central issues of the day, viewers are being deceived.
"Now, if you talk to Fox journalists, they will tell you they never reported any of those things. But whatever category the Bush White House wants to put their initiatives in, that's the way the network reports them.
"Their reports from Iraq still use the logo 'War on Terror.'"
Andrew Kohut, director of the Pew Research Centre, says any argument that Americans are more or less ill-informed on electoral matters than in the past is "specious."
Says Kohut: "There is more partisanship in the media than in the past, but people still say they want objectivity and not spin.
"It is not that difficult for people to get a reasonable view of the world, because there are more sources of news."
Kohut also says the stakes are so high in this election that more Americans are making the effort to become informed.
Still, his polling also indicates that Republicans, predisposed to believe what they hear on Fox, increasingly turn to that network for their news, while Democrats increasingly turn to CNN.
(Fox has higher ratings when viewership is measured at any point during the day, but CNN has more total viewers on any given day. In the crucial Sunday talk-show arena, Fox places behind NBC, CBS and ABC. It had 1.64 million viewers last Sunday, compared with the 4.28 million who watched Tim Russert on NBC's Meet The Press.)
A Pew study released in June found that respondents calling themselves conservatives turned to local news (66 per cent), their daily newspaper (61 per cent) and Fox (41 per cent).
Those identifying themselves as liberals got their information and analysis from daily newspapers (56 per cent), local TV news (54 per cent), network evening news (36 per cent), National Public Radio (33 per cent) and CNN (30 per cent).
In another sign that much of the media are preaching to the converted, the Pew study found that 20 per cent of conservatives get their political news from religious radio shows, compared with 7 per cent of liberals.
Twenty-one per cent of conservatives relied on combative conservative Bill O'Reilly of Fox (The O'Reilly Factor), compared with 2 per cent of liberals.
Conversely, 14 per cent of liberals sought information from the Comedy Channel's satiric Daily Show With Jon Stewart, compared with 2 per cent of conservatives.
Last Thursday, a little slice of Fox (the network that O'Reilly says Ottawa is afraid to allow into Canada) included these highlights:
Analyzing the situation under a "So long Sadr?" logo, retired Col. Hunt told viewers that, if Iran had anything to do with the Najaf standoff, U.S. officials should fly over to Tehran, show them a little videotape of "Shock and Awe" and ask them whether they "wanted a piece of this."
However, he went on to say that he was not advocating an invasion of Iran.
Empty seats at the Athens Olympics indicated that Osama bin Laden must be smiling somewhere because he had scared tourists away from Greece, said host Neil Cavuto.
Howard Safir, another former New York City police commissioner, said he thought another terrorist attack would help Democrats because terrorists believe the Democrats would be softer on them and "I happen to agree with the terrorists."
A discussion on the FBI allegedly harassing protesters in advance of next week's Republican convention in New York featured author Michelle Malkin (whose most recent book, In Defence Of Internment, defends the wartime rounding-up of Japanese-Americans) excoriating the "whiners on the left" from the American Civil Liberties Union and the New York Times.
No "whiners" were there to defend themselves, but host John Gibbons said he thought it would be a good idea if the FBI was tricking protesters into promising not to assemble on the New York streets, then arresting them if they showed up.
To be fair, the network's reporting on the advertising controversy over Kerry's Vietnam service record was largely even-handed, even though a Kerry's spokesperson, Stephanie Cutter, told the Washington Post the campaign received calls from concerned war veterans every time one of Kerry's critics popped up on Fox last week.
Last month, Fox News catapulted itself back into controversy with its coverage of the Democratic convention, which largely consisted commentators talking over speeches and engineering confrontations with left-wing opponents.
The network has promised "No Spin" coverage of next week's Republican gathering.
Click here to comment on this article
Mark Thatcher arrested over 'coup plot'

25 August 2004

Sir Mark Thatcher was arrested today over claims that he was involved in a plot to overthrow the government of Equatorial Guinea. [...]
Comment: Psychopathy apparently can run in families then...
Click here to comment on this article
Q&A: the Equatorial Guinea 'coup'
The arrest of Sir Mark Thatcher this morning has again cast attention on the murky background to an alleged coup attempt in Equatorial Guinea. Matthew Tempest looks at what's known about the affair
Matthew Tempest, political correspondent
Wednesday August 25, 2004
What happened in Equatorial Guinea?
In the event, not much - the alleged participants of the attempted coup against the country's president, Teodoro Obiang Nguema M'basogo, were detained at Harare airport in Zimbabwe in March.
Sixty-four men were arrested on board a plane apparently en route to Equatorial Guinea, although they were unarmed. Two days later a further 15 men were arrested, allegedly an advanced party and believed to be led by a South African man called Nick du Toit. Two separate trials of the men are taking place, one in Zimbabwe and one in Equatorial Guinea. One of the suspects, a German man, died in prison in Equatorial Guinea after what Amnesty International described as suspected torture.
Why would there be a coup?
The underlying motive is most likely connected to the discovery of oil in the formerly impoverished state. Production has increased tenfold since the mid-1990s, making Equatorial Guinea the third largest oil power in sub-Saharan Africa.
Before that the tiny west African state, consisting of a few islands and a patch of mainland between Gabon and Cameroon, had been a Spanish colony, gaining independence in 1968. Since then it has been the subject of a number of coup attempts, not least against the current leader, President Obiang, who dubs himself as "God".
Despite the oil boom, most of Equatorial Guinea's 500,000 inhabitants live in abject poverty.
Who is President Obiang?
He took power in a bloody coup in 1979, killing his own uncle to take the presidency. Born in 1942, he received military training in Spain.
In July this year, one of President Obiang's aides took to the airwaves on state-run radio to declare that the president was to be regarded as the country's "God".
The Foreign Office described the country's human rights record as "poor", adding: "The use of torture, arbitrary detention and restrictions on freedom of speech and assembly has been widespread and systematic."
In 2002, President Obiang's Democratic Party of Equatorial Guinea (PDGE) apparently attempted to restrict political opposition ahead of the presidential elections.
About 140 people, including opposition party leaders, were rounded up and tried in connection with an alleged coup attempt. Many were thought to have been tortured and international observers condemned the trial.
President Obiang's officials said he won almost 100% of the vote in the election.
What happened in March?
After the seizures of the two groups of men, Mr du Toit told a court in Equatorial Guinea that he had been recruited by Simon Mann, an old Etonian and founder of mercenary firm Executive Outcomes. Mr du Toit said he had been helping with recruitment, acquiring weapons and logistics in an attempt to install the exiled opposition leader, Severo Moto, as president.
Who is Simon Mann?
As well as being an old Etonian, he is a former member of the SAS, head of a firm of mercenaries, and a neighbour of Sir Mark Thatcher in the exclusive Cape Town suburb of Constantia. The 51-year old is now on trial.
In a letter from prison on March 31, Mr Mann told his wife, Amanda, and his legal team: "Our situation is not good and it is very URGENT. They [the lawyers] get no reply from Smelly and Scratcher [who] asked them to ring back after the Grand Prix race was over!
"We need heavy influence of the sort that ... Smelly, Scratcher ... David Hart and it needs to be used heavily and now. Once we get into a real trial scenario we are fucked."
"Scratcher" is thought to be Sir Mark and "Smelly" Ely Calil, the Chelsea-based oil billionaire accused by Equatorial Guinea of helping to organise the coup. Mr Calil has denied any involvement. David Hart was Mrs Thatcher's unofficial adviser during the miners' strike and served as special adviser to Michael Portillo and Malcolm Rifkind in subsequent Tory administrations.
Another name now linked to the case is Lady Thatcher's former spin doctor, Tim Bell, who is now "advising" Mr Mann's friends. Lord Bell has said that as far as he was aware neither Sir Mark nor Mr Hart were involved in the alleged coup.
What happens next?
Sir Mark is due at a magistrates court in Cape Town later today.
But the repercussions could go much wider than just the son of the former British prime minister - President Obiang has alleged that an unnamed former British cabinet minister was involved in the plot.
Of some relevance is whether the government of Equatorial Guinea will now attempt to extradite Sir Mark.
Click here to comment on this article
Iraq's senior Shia cleric returning to Najaf to end standoff
Last Updated Wed, 25 Aug 2004 09:33:20 EDT
BAGHDAD - Iraq's most influential Shia cleric arrived back in Iraq on Wednesday and was heading to his war-scarred home city of Najaf, in a bid to end fighting threatening Shia Islam's holiest site in the country.
Grand Ayatollah Ali al-Husseini al-Sistani crossed the border from Kuwait into Iraq and arrived in Basra early Wednesday morning.
The return of the 73-year-old cleric raised hopes he would use his moderating influence to help end the violent standoff in Najaf that has already claimed hundreds of lives.
Al-Sistani was planning to return to the holy city of Najaf to "rescue it from its ordeal," an aide to the cleric had earlier told the Associated Press.
He is due to arrive in Najaf on Thursday, to renew his calls for both sides to cease fighting in Najaf and spare the shrine, aides said.
In the meantime Sistani was calling on supporters of his initiative to come to Najaf.
"We ask all believers to volunteer to go with us to Najaf," Sistani said in a statement from Basra. "I have come for the sake of Najaf and I will stay in Najaf until the crisis ends," he said.
His arrival in Iraq came as U.S. and Iraqi troops continued their advance in the centre of the rebel city to within 330 yards of the Imam Ali shrine, the holiest Shia site in Iraq.
[...] It was unclear on Wednesday whether Sadr was still holed up inside the Imam Ali shrine.
Police said Sadr, who has not been seen in public for days, has fled the city. His aides, however, vigorously denied that, saying al-Sadr was in a secret hideout in Najaf.
Click here to comment on this article
In Najaf, even the dead are suspected of carrying guns
(Filed: 24/08/2004)
American troops search coffins as a matter of routine at holy city's sprawling cemetery, reports Toby Harnden
For the Salman family, not even the battle raging in the holy city of Najaf could prevent them burying their dead yesterday at the Wadi al-Salam cemetery, the world's biggest necropolis and hallowed ground for Shia Muslims.
An artillery shell exploded 600 yards away as Radhi Salman 25, his son Rassaq, 11, and daughter Najwa, two, were lowered into the arid ground. A gravedigger waved a white cloth at an aircraft overhead.
"Hurry up," he urged the Salmans. "The other day the Americans fired at a funeral group."
It had been too dangerous to take the bodies first to the besieged Imam Ali shrine, the golden dome of which could be seen a mile away, as custom dictates.
Relatives said that Rahdi, a farmer, and his children were killed at 4am in a village near Baghdad when an American convoy was ambushed and a Humvee machine gunner raked the street. They had been sleeping in the garden because of the heat.
The cemetery, whose Arabic name means Valley of Peace, is a vast city of a million dead Muslims. It stretches for miles to the north of Najaf and in normal times 1,000 funerals take place there every week.
"Corpse traffic", the business of bringing bodies from as far afield as India, Pakistan and Bahrain, was one of the prime sources of income in the Shia city of 600,000. But since fighting began between the Mahdi army, led by the cleric Moqtada al-Sadr, and American forces there have been only a few burials daily.
The Mahdi army has used parts of the cemetery to stage attacks against the Americans. As the three Salman coffins were being taken down from van roofs, eight soldiers from the 1st Cavalry Division approached nervously.
"Seen anyone with any weapons?" one asked. "The Mahdi army are just two clicks away from here." The troops kicked in the door of the funeral office and entered to search it. Abdul Kadhil, 55, a cousin of Mr Salman's father, said: "The Americans are beasts. They should respect human beings. I was happy when they came to free us from Saddam Hussein but now I see them for what they are: invaders."
Near the graveyard entrance soldiers had stopped a Toyota van with another coffin tied to the roof. Specialist Brian Phillips, 21, was ordered to open the lid.
"Oh my Jesus Christ," he exclaimed. "He's got a f****** bullet hole right through his face. It's disgusting."
He jumped down from the van and vomited in a clump of bushes.
The mother of the dead man began wailing and shouting.
"Hey," Staff Sgt Brandon George shouted. "Grandma over there is freaking out. Calm her down." He explained: "The problem is that we've found some coffins with weapons in them."
He ordered his translator to ask if any of the relatives were members of the Mahdi army. Digital photographs were taken of the body.
Some in the funeral party said the man had been killed in a family feud; others claimed he had been shot by an American helicopter. With strong suspicions that he had been a Mahdi fighter, the relatives were told to stay put for further questioning.
The soldiers, brought down from Baghdad to support the marines, said they were waiting to go home to America after eight months in Iraq.
When did they think the battle for Najaf would be over? "That's what we're all asking," said Specialist Jeremy Clark.
Back at the grave, Mr Salman's father, his dishdasha robe torn and stained with blood, wandered in a delirium. "Radhi, my son, you are my eyes, my life," he cried as in the distance a pall of smoke rose from another bomb. "What am I going to do?"
Click here to comment on this article
What exactly is so "radical" about Moqtada Sadr?
Saturday, August 21 @ 10:06:20 BST
By Arab Media Watch chairman Sharif Hikmat Nashashibi.
August 21, 2004

As US forces run amok once again in Iraq, faithfully aided by the puppet regime of Iyad Allawi, the spotlight has again fallen on rebel Shia cleric Moqtada Sadr. While the media cannot resist calling him "radical", it is in fact very difficult to find any basis for this description. A consistent centerpiece of his policies has been his staunch opposition to the occupation of his country. "There can be no politics under occupation, no freedom under occupation, no democracy under occupation," he said this month. What is so radical about that? If his Mehdi Army were patrolling and bombing London, New York or Washington, I would be astonished to find media descriptions of US and British resistance as "radical".

His opposition to foreign occupation cannot be explained away as support for Saddam Hussein, who persecuted the Shias so ruthlessly. Sadr and his family were vehemently opposed to the dictator and his regime, and for this they paid a heavy price – Sadr's uncle was executed in 1980, and his father and two brothers were shot dead in February 1999, forcing him to go underground.

Nor can he be accused of being a tool for outside forces. Frequent accusations of ties with Iran's government have fallen flat recently, with the US administration and Iraqi interim government admitting there is no evidence of such a link.

Although Sadr's opposition to occupation has been consistent, he only turned to armed resistance over a year after the invasion of his country. During that time, his sermons called for non-violent resistance and he stopped short of invoking a jihad against occupation forces.

While death and insecurity have reigned in Iraq, when Baghdad fell Sadr supporters took control of many aspects of life in the Shia sector of the city and in the south of the country, appointing clerics to mosques, guarding hospitals, collecting garbage, operating orphanages, and supplying food and essential supplies to Iraqis hit by the hardships of war. I cannot imagine anything less "radical" than garbage collection, hospital security, the welfare of orphans or feeding the hungry, especially since the occupation authorities resolutely failed in their responsibility under international law to provide such basic and vital services. [...]
Click here to comment on this article
Rice couches questionable appeal for dialogue with Muslim world in jargon of US religious extremists
by Anisa Abd el Fattah
(Tuesday 24 August 2004)
Apparently to US National Security Advisor Condoleeza Rice, Ariel Sharon's spokesperson in the Bush administration, a Muslim moderate is the opposite of what she calls, "Islamic extremists." She is obviously non-receptive to the view of most Muslims that there is no Islamic or Muslim extremism that is threatening the United States. Fundamental interpretation of the Qur'an is not threatening the United States, and is not terrorism. Those supposed al-Qadea imposters who attacked the United States were not Muslims, and their claim to be Muslim is believed only by those who are seeking a pretense upon which to mount an assault on Islam. Even the ideas conveyed by supposed Al-Qadea operatives are not derived from the Qur'an, but rather are based upon excerpts taken out of context and used to advance ideas that are foreign to Islam, and rejected by most, if not all Muslims. They could do the same with any religious text, or idea. To imagine that such gratuitous and obvious exploitation would become the pretext for a multi-billion dollar international war against the legitimate religion of more than a billion people is preposterous.
Rice is also seemingly oblivious to the truth that there is a US religious extremism that is very threatening to the Muslim world, and so this is perhaps where the dialogue, if there is to be one, should begin.
Ms. Rice should have perhaps begun her appeal by explaining to us why it is acceptable for Christian and Jewish religious extremists in our government, to wage a war against Islam under the guise of fighting terrorism? She might also explain to us why US taxpayer money is being used to establish a Jewish only state in Israel that persecutes Christians and Muslims, and violates their human and religious rights as a matter of public policy? Increasingly, Americans, including Muslims, are wondering why US taxpayer money can be used to establish a religious and non-democratic Jewish state that by its very definition is opposed to the free exercise of religion by non-Jewish people. This is especially strange when we consider that our US Constitution prohibits the establishment of national ideologies, or national religion here in the US, even with our own tax dollars.
At issue in any dialogue that might ensue between Ms. Rice's constituency, who are religious extremists, and the people of the Muslim world, is Christian and Jewish fundamentalism and religious extremism. The potential impact of religious extremism in the US or Israel, upon the people of the rest of the non-Christian and non-Jewish world must be addressed. Is Christian and Jewish religious extremism any less offensive or threatening to the world than what she calls, "Islamic extremism"?
Strange indeed that the US can claim to be embroiled in an ideological battle with Islamic extremists when the US is prohibited from professing a national ideology. Claiming that the United States is a nation founded upon Judeo-Christian values is the way Christian and Jewish religious extremists in the United States are attempting to in fact establish a religious government here. These people ignore completely the Mayflower pact, and the US Constitution, and also our founder's insistence that we not claim to be a religious nation, but rather we profess to be a nation that recognizes that there is a God. We are a nation where people have a right to freely worship God as they see fit, so long as their worship does not compromise the freedom of others to also worship God, as they believe He should be worshipped. This is true for people throughout the world. The US constitution implies recognition of the inalienable right of every human being to pursue happines! s. This must include the right to believe in and worship the God of their choice, as they choose, and even not to believe in God, or worship Him at all, if that is what they choose.
Christian and Jewish religious zealots in the United States hope to use our tax dollars to establish their ideological dominance over other Americans, and also the rest of the world. Their extreme, and wrong interpretation of the Bible, is the basis of the ideology from which they extract their premise for an international war against Islam now, and later any religion, or ideal that does not suit their idea of an acceptable belief. The teachings of Jesus are foreign to these zealots, who have embraced now discredited understandings of the Old Testament with new fervor. They have turned their backs to the New Testament emphasis on a universal God of all men, and peace, mercy and compassion between believers and non- believers. This is a revival of the Christianity that justified the slavery of Blacks, native Americans and Latinos, based upon Old Testament teachings referring to Noah's supposed curse of his son Canaan, saying "Cursed be Canaan," (Gen. 9:25.) A! s a result of this supposed Old Testament insistence that all Cushites (Africans and non-whites), the descendants of Ham, were cursed to be the slaves of Noah's other children, non Caucasian people throughout the world were considered savages and heathens, and people without souls. Accordingly, neither the Church of England, nor the Old Catholic Church recognized any moral obligation to uphold the human rights of non-whites, unless they accepted to be "saved" by entering the Church, and coming under the authority of either the Queen of England, or the Pope.
This is the same strain of Christianity that fueled the Spanish inquisition, and the colonialism, and many of the wars of the 20th century, and also the historic slave trade. Ms. Rice has obviously forgotten the Christianity of the hooded Knights who rode through the old south lynching and killing Blacks, claiming as justification the same Old Testament interpretations that she and her colleagues now use to condemn Islam. Condoleeza Rice and her male counter part, and colleague, Black syndicated columnist Armstrong Williams, denigrate Islam. Williams wrote on his website "A Muslim anywhere is a threat to Jews everywhere," and admitted that his good friend Ariel Sharon had taught him this idea, a bigoted idea that Williams obviously saw fit to not only adopt, but also to advocate.
It is strange indeed that the United States Institute for Peace, a taxpayer funded institute that supposedly pursues international peace by mandate from the American people was the staging ground for Rice's bigoted retort to the Muslim world. Considering that she is not an elected official, the people of the Muslim world should look upon her ranting as just another example of the many challenges that currently face our nation, and the world. A challenge that will only be overcome once people like Rice understand that we all enjoy equal and inalienable religious rights, that are not subject to, or dependant upon either she or Ariel Sharon for acceptance, or sanction.
Rice's call for dialogue with the Muslim world appears as phony as her claim that the US should be at war with Islamic "extremism." By couching her appeal in the language of Christian and Jewish extremism, she made it very clear that no real dialogue is either desired or actually intended, and also that she is very capable of making sure that one never happens.
Click here to comment on this article
Iraqi cleric slams war coverage
By Ahmed Janabi
Monday 23 August 2004
The secretary general of al-Irshad and al-Fatwa Association in Iraq has accused world media of colluding with US-led occupation forces in imposing a media blackout on Iraqi resistance operations.
Shaikh Mahdi al-Sumaidaai accused the media of deliberately distorting the "honourable" image of Iraqi resistance and persisting with the information and figures provided by the US authorities.
"I call on world media to stop twisting the news and portraying Iraqi resistance actions as the mere killing of Iraqi citizens," he told Aljazeera.net.
"If media provide one hour of honest coverage to what the Iraqi resistance are doing on a daily basis, I bet you the mothers and sisters of US soldiers in Iraq will pour into the streets of America screaming at Bush to pull the troops from Iraq," he said.
He accused the US and its "traitor agents" of planning attacks against Iraqis and their religious sites, saying Iraqi resistance fighters attack only foreign military in the country.
Witness
Umar Zaidan, an Iraqi journalist and editorial secretary of the Iraqi newspaper al-Basaer said there was a media blackout on armed operations against US-led occupation forces in Iraq.
"Apart from the fact that I am an editorial secretary of a newspaper, I am a citizen of al-Ramadi city known for constant attacks on US forces, and I have witnessed many attacks on US soldiers and installations.
"For example early in this month, I witnessed an attack on a US check point at al-Ramadi's eastern entry. There were at least 20 either killed or wounded, but the news reported only two casualties," Zaidan told Aljazeera.net.
He accused some media organisations of word manipulation to hide the truth.
"Usually we use the word 'casualties' at the beginning of an incident when the situation is not clear.
"But after we get enough information we say a number of dead and a number of wounded, and sometimes we should elaborate how serious the wounds are, but with US forces in Iraq it is always casualties and the number always less than the truth," he said.
Tactical reason
Aljazeera.net spoke to Lieutenant-Colonel TV Johnson, public affairs officer of the First Marines Expeditionary Force who said the amount of information given to the media was based on tactical necessities.
"It is something all armies do in war time. You do not want the enemy to know about your actual loss, and whether he was successful in the attack he carried out on your troops or not," he said.
Click here to comment on this article
Israel makes "skunk bomb" for Palestinian protests
08/25/2004 09:07
JERUSALEM (Reuters) - Israel's army has developed a pungent new weapon for driving back Palestinian protesters -- the skunk bomb.
The stink bomb, containing a synthetic version of the odor skunks release to deter predators, has been developed for breaking up protests and stone-throwing confrontations without causing casualties, security officials said Wednesday.
The foul-smelling weapon was invented as part of efforts to replace rubber bullets, which have killed scores of Palestinians during a nearly four-year-old uprising.
The new device, which is not yet operational, releases a cloud so pungent that according to initial tests it permeates clothes for five years, the officials said.
Palestinians said such a weapon could be particularly unpleasant for devout Muslims since they cannot pray with clothes that smell and would have to throw them away.
Israel's army has often been accused of using excessive force in fighting the Palestinian uprising and security officials said it was trying to work with foreign and local firms to develop nonlethal measures.
Another weapon which is close to being operational is a fiberglass tank shell that disintegrates in the air, causing an enormous explosion but no casualties.
At least eight Palestinians were killed in May when a tank fired a shell too close to a crowd in the Gaza Strip that the army was trying to disperse.
Click here to comment on this article
Georgia's crackdown on separatist provinces may provoke war with Russia
07:37 PM EDT Aug 24
FRED WEIR
MOSCOW (CP) - War clouds are gathering over the former Soviet Caucasus region as Georgia's U.S.-backed President Mikheil Saakashvili moves to re-unite his fractured nation by pressuring two separatist provinces that have close ties to Russia.
Daily battles between Georgian troops and local separatist fighters have been reported from South Ossetia, a mountainous region of about 100,000 which straddles the most important pass through the Caucasus Mountains and enjoys close relations with the neighbouring Russian republic of North Ossetia.
Last Friday, Georgian troops withdrew from strategic heights they claimed to have seized in fighting the day before, but experts say the conflict is drifting toward fullscale war.
"Unless Russia and the U.S. manage this situation very carefully, it can fly completely out of control," says Vitaly Naumkin, director of the independent Centre for Strategic and International Studies in Moscow.
"There is no sign that enough attention is being paid to it in Moscow or Washington."
Unlike a previous cycle of civil wars in the early 1990s, when the pro-Moscow republics of Abkhazia and South Ossetia won de facto independence from Georgia, the current tensions threaten to draw Russia directly into any fresh conflict.
The United States, nervous over the security of the Baku-Ceyhan oil pipeline across Georgia which is slated to begin pumping Caspian crude to western markets next year, backs Saakashvili's bid to restore central authority - as long as it doesn't erupt into open warfare.
Saakashvili, a youthful, U.S.-educated lawyer, led a revolt to overthrow former Georgian leader Eduard Shevardnadze last year and was subsequently elected on pledges to end official corruption, rebuild the economy and reunify the country.
He scored a major success in May by peacefully driving out the strongman of another wayward Georgian region, Adjaria, and bringing it back under central government control.
Saakashvili insists his goal is to extend his democratic "Rose Revolution" and rule of law to all of Georgia.
"These current tensions in South Ossetia began as a result of our successful and resolute efforts to put an end to the criminality and illegality that for too long was the norm in the South Caucasus," Saakashvili said last week.
Saakashvili has replaced the regular border police with U.S.-trained Georgian troops. Violent incidents between them and Russian "peacekeeping" troops stationed in the area for the past decade appear to be multiplying.
Saakashvili accuses Moscow of meddling in South Ossetia, with the eventual aim of annexing it to Russia.
Once a single ethnic space, Ossetia was divided between Russia and Georgia by Soviet dictator Joseph Stalin in the 1930s, a symbolic move that carried few consequences within the monolithic U.S.S.R.
But as the Soviet Union broke up, South Ossetia declared independence, defeated an invading Georgian army, and petitioned Moscow -so far unsuccessfully -for reunification with Russian North Ossetia.
Tensions are also on the rise in Abkhazia, a mainly Muslim republic of about 95,000 which, like South Ossetia, is ethnically and linguistically distinct from Georgia.
Abkhazia won its independence, with covert Russian aid, following a civil war in the early '90s.
The tiny republic is a sub-tropical Black Sea zone of beautiful beaches and soaring snow-capped mountains, where about 700,000 Russians vacation each summer.
In early August, Saakashvili ordered the Georgian navy to blockade the region and open fire on any "smugglers" trying to dock.
Russian Defence Minister Sergei Ivanov lashed back, saying any attack on a Russian vessel would be tantamount to "piracy" and could draw a military response from Moscow.
Experts say Russian President Vladimir Putin, who co-operated with Saakashvili's drive to re-incorporate Ajaria into Georgia last May, may find himself hobbled by a myriad of ties that have developed between Russia and the two secessionist Georgian republics over the past decade.
Most Abkhazians and South Ossetians have taken out Russian citizenship and earn their living by trading with Russia.
"Russian policy under Putin is much more responsible than it was under (former president Boris) Yeltsin," says Irina Zvigelskaya, a professor at the official Institute of Foreign Relations in Moscow, which trains Russian diplomats.
"But we cannot walk away from these people and the interdependence that have built up between them and Russia, and Saakashvili is not making Putin's position easier by launching all these provocations," she says.
"Certain forces in the Russian government believe Russia must not allow itself to show weakness again, especially not in the Caucasus," where Russia faces an ongoing revolt by its own Chechen minority, she says.
Click here to comment on this article
Russian Computer Expert Predicts Internet Terrorist Attack
MosNews
24.08.2004 09:35 MSK
Terrorists will paralyze the Internet on August 26, a Russian expert in antivirus programs said on Tuesday.
Speaking at a conference hosted by Russian Information Agency Novosti, Aleksandr Gostev from Kaspersky Labs said information on this terrorist attack was published on special websites. He did not elaborate.
First of all, the United States and Western Europe will suffer from the attack, Gostev was quoted by the agency as saying. The head of the labs, Yevgeny Kaspersky, reminded the audience that similar attacks had earlier paralyzed the Internet in South Korea. He added that it would be "impossible" to stop terrorist organizations if they "get down to business".
The executive director of Dr.Web antivirus lab, Mikhail Bychinsky, quoted by Lenta.ru web agency said he had not heard of such an attack. "I do not believe in mass internet attacks because the main servers are defended, and Kaspersky Labs has been foretelling doomsday for a long time."
Click here to comment on this article
S.C. Democrats use draft images to sign up voters
By JIM DAVENPORT -- Associated Press
COLUMBIA, S.C. (AP) -- A state Democratic Party effort to sign up new voters mixes images of a military draft notice with a voter registration form, calling on people to make a choice between the two.
The first page of the mailing shows a draft notice with orders to report to a military induction center. The next shows a helicopter with troops in the foreground beneath a headline that says "Officials in Washington are calling for more troops in Iraq." Below, the mailing asks "Which form would you rather fill out?"
Republicans say the mailing is off-base.
"That's the worst of all political worlds -- when you have a deceptive, despicable tactic of saying you are going to be drafted to go to war if you don't register to vote," said Katon Dawson, state Republican Party chairman. "In a time of war, to use that piece of mail, I think speaks volumes of where they are as a party."
South Carolina Democratic Party Chairman Joe Erwin said "it's a powerful piece" that is designed to grab the attention of potential voters.
"I can understand why they think it's despicable, but, sorry, we really do need to get potential voters' attention," he said, adding that the mailing strives to let people know that "their vote impacts what our role in the war may be down the road."
The Democratic Party is trying to recoup some of its losses in the 2002 elections that cost them the governor's mansion and a shot at replacing Republican Sen. Strom Thurmond with a Democrat. This year, the seat of retiring Democratic Sen. Ernest "Fritz" Hollings is up for grabs and voters will have to fill every seat in the General Assembly.
A bill Hollings introduced before the Iraq war that calls for a draft has no co-sponsors and has gone nowhere.
Comment: With John Kerry vying with George Bush for who is the better War President, it seems naive to think that voting for the Democrats will somehow stave off the inevitable military draft. No matter what the outcome of November's election, U.S. citizens can be assured that more and more of their young men and women will continue to be shipped off overseas to die for no apparent reason.
Click here to comment on this article
John Kerry as the Warchurian Candidate
by Jeremy Scahill
Tuesday, August 24, 2004
CommonDreams.org
On the closing night of the Democratic National Convention in Boston, John Kerry took to the podium, raised his hand in a military salute and declared, "I'm John Kerry, and I'm reporting for duty."
There couldn't have been a more fitting end to the convention and the official launching of Kerry's bid for the White House. Since September 11 and the start of George W. Bush's "war on terror," Kerry has consistently reported for duty. In fact, Kerry has served as one of Bush's top legislative foot soldiers.
During the DNC in Boston, former President Bill Clinton extolled Kerry's virtues, firing up the house with a rhetorical riff about how John Kerry has always said "Send me!" when asked by Uncle Sam to do his duty, from his service in Vietnam to the his career in the Senate. Kerry, the crowd was told, has always said... dramatic pause... (everyone in unison now) "Seeeend Meee!"
Let's pick up where Clinton left off. When President Bush asked Senators to vote for the USA Patriot Act, John Kerry said, "Send Me!" When he asked for a blank check to attack Afghanistan, John Kerry said, "Send Me!" When Bush looked for senators to make fraudulent claims about Iraq possessing weapons of mass destruction, Kerry said, "Send Me!" When the president looked for Senate approval to invade Iraq, Kerry said, "Send Me!" When Bush sought more support for Israel's apartheid wall, Kerry said, "Send Me!"
With all of the bashing of Ralph Nader for having the audacity to run for president and the Democrats continuing to blame him for Bush taking power, it is important to note that Kerry did not say, "Send Me!" when the Congressional Black Caucus needed one senatorial signature to reopen the question of the illegitimate 2000 elections.
The Boston convention was a meticulously orchestrated show. Speeches were vetted, the slightest anti-war message relegated to a non-primetime slot and party dissidents kept off the platform. But under the tons of confetti, balloons and printed signs cheering on Kerry, there was tremendous frustration and disillusionment among the 4,300 delegates inside.
Several polls indicated that 9 out of 10 delegates were anti-war. Yet, the vast majority of the speeches, particularly those given in primetime, did not reflect those sentiments. In their major addresses in Boston, both Kerry and John Edwards called for more U.S. troops and a doubling of Special Forces. Bush was not criticized for invading and occupying Iraq - he was bashed for how he did it. The message was, "Dems do war better."
So marginalized was the peace camp at the DNC that some Kucinich delegates had their signs confiscated or were told to remove their pink scarves that read, "Peace Delegate." Medea Benjamin from Code Pink was dragged off the floor of the convention by police for holding up a pink banner reading: "End the Occupation of Iraq."
That apparently was not one of DNC Chair Terry McAuliffe's approved messages for the day.
Not one speaker at the podium inside the convention said anything about the razor-wired "protest pen" outside the convention that one federal judge called an "internment camp." There was no mention either of the camouflaged U.S. Army reserve soldiers around the convention's perimeter, patrolling bridges and train overpasses. So much for posse comitatus.
What is clear is that disgust and outrage at the Bush administration is so severe that the Democrats could field Mr. Potato Head and he'd get about as much support as Kerry.
This year could have marked a watershed moment in U.S. history. The Democratic Party could have run on a real anti-war platform with a real anti-war candidate who would stand a good chance of winning in November. The message to the world would have been significant. Instead, the hawkish Democratic leadership successfully pushed through a candidate out of step with the vast majority of his supporters who just want to end one of the most violent and repressive administrations in U.S. history. Such is the state of our democracy.
With John Kerry on the ticket, the Democrats have ensured a victory in November for the small but powerful pro-war special interest. Kerry is their sleeper, their private Manchurian candidate. They face a win-win scenario. Even if Kerry wins, the initial euphoria sparked by a Bush-free White House will eventually be replaced by this reality: no matter what Kerry and Edwards may have said from the podium in Boston, for most of the world neither help nor hope is really on the way. [...]
Click here to comment on this article
By William Rivers Pitt
t r u t h o u t | Perspective
Tuesday 24 August 2004
[...] 522 days ago, the administration of George W. Bush began the 'Shock and Awe' bombing campaign in Iraq, an opening salvo that has broadened into a conflict which has left well over ten thousand innocent Iraqi civilians dead. According to the rhetoric that loosed those bombs 74 weeks ago, we went into Iraq because:
* Iraq was in possession of 26,000 liters of anthrax, 38,000 liters of botulinum toxin, 500 tons of sarin, mustard and VX gas, 30,000 munitions to deliver these agents, unmanned aerial drones to deliver these agents, mobile biological weapons labs, and uranium 'yellowcake' from Niger for use in the development of nuclear bombs.
* The Iraqi government of Saddam Hussein enjoyed operational relationships with Osama bin Laden and his al Qaeda terrorists, and were involved in the attacks of September 11. Because of this relationship, Hussein would happily hand over the aforementioned weapons of mass destruction for bin Laden to use against the United States.
* The Iraqi people desperately want a democratic government, and will welcome the United States as liberators.
* Saddam Hussein was a bad man.
Let's take these one at a time.
* No weapons of mass destruction have been found. The few 'unmanned aerial drones' were pathetic model-airplane specimens apparently made from tongue depressors and Q-tips, none of which had a prayer off getting off the ground. The 'mobile biological weapons labs' were in fact helium weather balloon launching platforms sold to Iraq by the British in the 1980s. The 'yellowcake' story was based upon fabricated evidence, and has led to a political scandal involving the exposure of a deep-cover CIA agent whose husband had the gall to call Bush a liar in the public prints.
* No relationship whatsoever has been established between Hussein and bin Laden. In fact, bin Laden despised Hussein because Hussein was a self-styled Socialist, Godless to the core, who killed every Islamic fundamentalist he could get his hands on. The U.S. has, in fact, done bin Laden a great service by disposing of his Iraqi enemy. Now, the stage is set for an Islamic fundamentalist takeover of Iraq, something bin Laden would very much like to see. As for Hussein giving bin Laden weapons of mass destruction, well...you can't give what you don't have.
* It is entirely possible the Iraqi people would have embraced democracy, if that is what Bush's plan actually had in mind. Unfortunately for them, the whole push for democracy was a farce to begin with; Bush wanted to establish a government-by-remote-control in Iraq, so as to maintain control of the oil fields and the development of military bases. In a nation where the Shia enjoy a 60% majority, a democratic vote would have elected a Shia government, which would have then had the temerity to act as it pleased, regardless of American desires. It was never going to happen, and it never will happen, so long as Bush's people man the stick.
* Saddam Hussein was indeed a bad man, whose fortunes were created and augmented by the U.S. government over a period of 20 years. We knew he was developing and using chemical weapons. We helped him do it. We didn't care, so long as he was gassing Iranians. Beyond that, the math is pretty straightforward. If the U.S. is going to adopt an Invade Every Country Run By A Bad Man foreign policy doctrine, everyone reading these words who approves of the notion better haul ass down to their local military recruiting office. We're going to need every warm body we can get. How about you, and right now. Go.
These guys went:
Army Spc. Armando Hernandez, age 22; Army Spc. Anthony J. Dixon, age 20;Marine Cpl. Dean P. Pratt, age 22; Army Spc. Justin B. Onwordi, age 28; Marine Sgt. Juan Calderon Jr., age 26; Army Pfc. Harry N. Shondee, Jr., age 19; Marine Capt. Gregory A Ratzlaff, age 36; Army Sgt. Tommy L. Gray, age 34; Marine Lance Cpl. Joseph L. Nice, age 19; Marine Gunnery Sgt. Elia P. Fontecchio, age 30; Army Spc. Donald R. McCune, age 20; Marine Sgt. Moses D. Rocha, age 33; Army Pfc. Raymond J. Faulstich Jr., age 24; Marine Sgt. Yadir G. Reynoso, age 27; Marine Lance Cpl. Larry L. Wells, age 22; Army Spc. Joshua I. Bunch, age 23; Marine Cpl. Roberto Abad, age 22; Army Pfc. David L. Potter, age 22; Marine Lance Cpl. Jonathan W. Collins, age 19; Army Capt. Andrew R. Houghton, age 25; Marine Lance Cpl. Tavon L. Hubbard, age 24; Marine Staff Sgt. John R. Howard, age 26; Army Capt. Michael Yury Tarlavsky, age 30; Marine Lance Cpl. Kane M. Funke, age 20; Marine Lance Cpl. Nicholas B. Morrison, age 23; Army 1st Lt. Neil Anthony Santoriello, age 24; Marine Corps Pfc. Geoffrey Perez, age 24; Marine Corps Pfc. Fernando B. Hannon, age 19; Army Spc. Mark Anthony Zapata, age 27; Army 2nd Lt. James Michael Goins, age 23; Army Sgt. Daniel Michael Shepherd, age 23; Army Pfc. Brandon R. Sapp, age 21; Army Sgt. David M. Heath, age 30; Army Spc. Brandon T. Titus, age 20; Marine Lance Cpl. Caleb J. Powers, age 21; Army Spc. Jacob D. Martir, age 21; Marine Sgt. Harvey E. Parkerson III, age 27; Marine Lance Cpl. Dustin R. Fitzgerald, age 22; Army Pfc. Henry C. Risner, age 26; Pfc. Kevin A. Cuming, age 22; 1st Lt. Charles L. Wilkins III, age 38; Pfc. Ryan A. Martin, age 22.
Now they are dead. They never found weapons of mass destruction, they never found a connection between Saddam and 9/11, they never got the chance to create a democracy, and they were never fully informed that part of their mission was the removal from power of a former employee of the United States government.
In Iraq today, 780,000 cubic yards of human and industrial waste is dumped into the Diyala River every day by one sewage plant. The Diyala joins the Tigris seven miles downstream. There isn't anything the plant can do about it; it is shattered from the war. Power, water, road, health care and educational infrastructures are completely wrecked. The World Bank estimates that it will cost $55 billion to repair all of this damage, and it will take over four years to do it.
$24 billion in U.S. tax money has been allocated to 'rebuild' Iraq. According to Christian Parenti, who has reported from Iraq on the reconstruction process for The Nation magazine, "Only $5.3 billion had been allocated to specific reconstruction contracts as of late June 2004. According to a report from the White House Office of Management and Budget, of the $18.4 billion reconstruction honey-pot approved last fall only $366 million had been spent by late June - that is, invested in Iraq. Instead of creating 250,000 jobs for Iraqis, as was the original goal, at most 24,000 local workers have been hired."
"Most amazing of all," writes Parenti, "the OMB report showed that not a single cent of US tax money had been spent on Iraqi healthcare, water treatment or sanitation projects - though $9 million was dithered away on administrative costs of the now defunct Coalition Provisional Authority. Most of the little that has been invested in healthcare, water treatment and sanitation has come from Iraqi oil revenues, managed for most of last year by the Development Fund for Iraq, a US controlled successor to the UN-run Oil for Food program. In all, the CPA spent roughly $19 billion of Iraqi oil money - on what exactly is not quite clear."
And we wonder why there is an 'insurgency.' We wonder why a nobody named Moqtada al-Sadr has emerged as an Iraqi version of Thomas Jefferson, fighting the good fight against imperial usurpers. We wonder why so many Iraqis flock to his banner, pick up a weapon, and shoot Americans.
Sit in the dark for a year, be unemployed because all the jobs have gone to non-Iraqis, have no place to see your children schooled, have no place to bring your children if they get sick, drink water that tastes like something you squeezed into your toilet, and stand a good chance whenever you step outside of being shot by a sniper, blown up by a laser-guided bomb, or run down by a Bradley Fighting Vehicle, and you might think about picking up a weapon, too.
This is how terrorists and suicide bombers are created. Desperation is the seed, time is the fertilizer, and rage is the crop reaped by American soldiers sent far from home to die because they were lied to, as were we all. [...]
Click here to comment on this article
Study Says Illegal Migrants Cost U.S. $10 Billion a Year
Analysis by think tank also concludes that a program to legalize the undocumented would nearly triple that figure.
By Ricardo Alonso-Zaldivar
Times Staff Writer
August 25, 2004, 7:57 AM PDT
WASHINGTON -- Illegal immigrants cost the federal government more than $10 billion a year, and a program to legalize the undocumented would nearly triple that figure, a study released today concludes.
The analysis by the Center for Immigration Studies, which opposes efforts to legalize an estimated 8 million to 12 million migrants, comes as Republicans are bracing for a fight over immigration at their convention next week in New York.
Some Republican conservatives are pushing for language in the party platform that strongly opposes amnesty for illegal immigrants. But business-oriented Republicans want to significantly loosen immigration restrictions.
In the middle is President Bush, who has proposed a massive guest worker program granting temporary legal status to the undocumented, of whom a majority are Mexicans.
"The fundamental problem is that the modern American economy is based on skills, and that makes it very difficult to bring unskilled workers in and not sock taxpayers with a huge cost," said political scientist Steven A. Camarota, the study's author.
"The fiscal impact of a legalization program needs to be an important consideration," he added.
Other immigration researchers challenged some of the study's assumptions about what illegal immigrants cost the government.
Based on Census data, the report compared households headed by undocumented immigrants with those headed by citizens and legal residents. Federal benefits for U.S.-born children of the undocumented were counted as a cost of illegal migration.
The study included some findings that run counter to stereotypes. For example, it concluded that illegal immigrants do not constitute a significant drain on welfare programs, receiving much less in social services than do citizens and legal residents.
However, it found that the undocumented also pay nearly 75% less per household in federal taxes, on average. Some work off the books, but the majority who pay taxes are low-wage workers with little income tax liability.
"The primary reason they create a fiscal deficit is their low education levels and resulting low incomes and tax payments, not their…heavy use of most social services," the study said. "The vast majority of illegals hold jobs. Thus, the fiscal deficit they create for the federal government is not the result of an unwillingness to work."
The study found that federal programs for the elderly clearly benefit from illegal immigration.
Social Security and Medicare reap a $7 billion annual windfall from payroll taxes paid by undocumented workers. That accounts for about 4% of the total annual surplus in the two programs. But the balance sheet may eventually shift in the other direction. Under a recent agreement, Mexican retirees will be able to claim credit for Social Security taxes paid while working in the United States.
Legalizing the undocumented would bring them out of the underground economy and increase the amount they pay into Treasury coffers. But it could well make them eligible for more government benefits.
The study estimated that paying for added benefits would swamp any increase in tax collections, increasing the net cost to the federal government to $29 billion a year.
However, a leading immigration researcher challenged the fine print behind the report's assumptions.
Jeffrey Passel, a demographer at the Urban Institute think tank, said a significant share of the costs attributed to illegal immigrants represent general expenses on domestic programs. The government would incur these costs for such things as building roads and paying bureaucrats' salaries with or without the presence of undocumented workers.
"Most of that money is not money that would be saved if you could magically make these people disappear," said Passel.
Click here to comment on this article
EPA: U.S. waterways contain polluted fish
By JOHN HEILPRIN
Associated Press Writer

WASHINGTON — One of every three lakes in the United States, and nearly one-quarter of the nation's rivers contain enough pollution that people should limit or avoid eating fish caught there.
Every state but Alaska and Wyoming issued fish advisories covering some and occasionally all of their lakes or rivers in 2003, according to a national databased maintained by the Environmental Protection Agency and updated every year.
Though the number of advisories rose to 3,094, up from 2,814 in 2002, according to figures released Tuesday, EPA Administrator Mike Leavitt said the increase was due to more monitoring, not more pollution.
Nearly all the advisories involve contaminants such as mercury, dioxins, PCBs, pesticides and heavy metals, including arsenic, copper and lead. Currently they cover 35 percent of the nation's lake acreage and 24 percent of river miles. [...]
Click here to comment on this article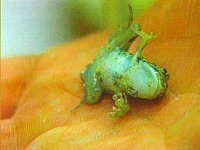 Minn. Frog Found With 5 Legs, 23 Toes
Some Experts Disturbed By Discovery
Local6.com
2:13 pm EDT August 25, 2004
A 9-year-old Minnesota girl found a five-legged frog with 23 toes near Stewartville, Minn., according to a report.
Three of the frog's legs appear to be normal, but the fourth has another leg as an offshoot, with three feet attached to it.
Cori Praska and a friend found the deformed frog in the southeastern part of the state.
This find is disturbing to some experts at the Quarry Hill Nature Center.
"It does concern me and mutations like this shouldn't happen that often," Greg Munson of the Quarry Hill Nature Center said.
Munson says 27 other frogs found by Praska were normal.
Experts say the animals are particularly sensitive to pollutants, which can be absorbed through their skin. Because of that, deformed frogs are considered a sign of environmental problems.
Watch Local 6 News for more on this story.
Comment: Pollutants, what pollutants? Never mind about those crazy mutated frogs that keep popping up - smoking is what is killing all of us!
Click here to comment on this article
Man caught more than he bargained for while fishing
By JOHN W. GONZALEZ
Copyright 2004 Houston Chronicle
Aug. 25, 2004, 7:01AM
It'll be freshwater fishing from here on out for Bob Cullins of Hemphill.
The 79-year-old East Texan is recovering in Beaumont's Dubuis Hospital from a monthlong, life-threatening bout with flesh-eating bacteria, which entered his body while he was saltwater fishing along the Bolivar Peninsula on July 27.
"I don't want anybody to have to go through what I've been through," Cullins said by phone Tuesday. He's one of at least 40 Texans stricken this year by the bacteria, eight of whom have died.
Cullins said he'd never heard of vibrio vulnificus until he almost lost his arm and his life to the bacteria. He believes he was infected through a minor scratch on his arm.
"I had my son-in-law and grandson with me, and I was getting the shrimp out of the bait bucket, mostly dipping down in there with my right arm and getting the bait all evening," Cullins said.
"When I got back to the renthouse at Crystal Beach, my arm got to feeling funny between the elbow and the wrist. I had a little old scratch on it. I imagine that's where the bacteria got in there. That's the only thing I can figure," he said.
Within hours, his arm was severely swollen and discolored, and the following day he went to Beaumont for emergency treatment. Weeks later, antibiotics, surgeries and skin grafts have limited the damage to Cullins' arm, but he's not sure when he'll be released. [...]
Cullins came forward after hearing about a Houston dentist who died after being exposed to the bacteria while fishing at Port O'Connor. State officials said most of this year's fatalities involved consumption of tainted raw oysters. At least 32 Texans, including Cullins, have survived their injuries. [...]
Click here to comment on this article
By FRANK JULIANO
Connecticut Post
Wednesday, August 25, 2004 - 8:22:01 AM EST
MILFORD — A Foran High School student-athlete is fighting for his life after contracting a rare — and sometimes fatal — bacterial infection.
Jon Tartaglia, 17, a linebacker on the Foran football team, has had both legs and part of one arm amputated since Monday in his battle with necrotizing staphylococcus, or gaseous gangrene.
The staph infection is apparently related to a more-well-known flesh-eating bacteria, necrotizing fasciitis, that consumes human skin and is also resistant to modern antibiotics.
The necrotizing staphylococcus that kills muscle tissue apparently took hold while Tartaglia battled mononucleosis earlier this summer, friends said Tuesday. [...]
Click here to comment on this article
U.S. Prepares for Possible Flu Outbreak
Closing Schools, Rationing Medicine May Be Needed if New Flu Strain Sparks Outbreak, U.S. Says
The Associated Press
WASHINGTON Aug. 25, 2004 — Closing schools, restricting travel and rationing scarce medications may be the nation's first protections if a powerful new flu strain spurs a worldwide outbreak because it will take months to brew a vaccine, say government preparations for the next pandemic.
Specialists say it's only a matter of time before the next one strikes, and concern is rising that the recurring bird flu in Asia could be the trigger if it mutates in a way that lets it spread easily among people.
There have been three flu pandemics in the last century, the worst in 1918, which killed more than half a million Americans and 20 million people worldwide.
It's impossible to predict the toll of the next one. But estimates suggest a bad one could kill up to 207,000 Americans, says the nation's new response plan, obtained Wednesday by The Associated Press.
That's almost six times more lives than regular flu claims every year. Millions of sick patients could swarm doctors' offices and hospitals, and the country could suffer an economic and social wallop from disruption of transportation, commerce, even routine public safety.
The Pandemic Influenza Response and Preparedness Plan, to be released Thursday by the Department of Health and Human Services, stresses ways to speed up vaccine production, limit the spread of such a super-flu, and care for the ill.
It's just a first draft, open for public comment through October as the government struggles to decide exactly how to respond to the earliest signs of a pandemic.
"We recognize that we need more treatments and we need more vaccine capability," Dr. Julie Gerberding, director of the Centers for Disease Control and Prevention, said in an interview.
"But it's also important to remember good, old-fashioned isolation and quarantine have a special role to play in any pandemic," she said. "One of the things we have to do now, before we're in the middle of this situation, is do our very best to make sure people understand what would be the first steps, why they'd be necessary, and what they can do to minimize the disruption." [...]
Click here to comment on this article
Six horses electrocuted in Pierce County
By Brandon Sprague
Seattle Times reporter

ROY, Pierce County — Ione Mangan awoke early Sunday morning to the sound of her horses' shrill and frightened screams.
"Fort Lewis is close by so at first I thought we were under attack," she said.
But when she looked outside, the 73-year-old horse breeder saw an altogether different vision of hell: The metal fence around her horse pasture was lit up with red flames, shooting 10 feet into the sky. Popping blue flames danced on the ground in the heavy rain. In the middle of it all were Mangan's two Arabian stallions and one mare.
"There was no place for the horses to go," she said. "They couldn't get away from it."
Those horses — along with three others belonging to a neighbor — were electrocuted in the freak accident that authorities said was caused when a driver hit a power pole four blocks away from the pasture where the horses died.
The pole at 288th Street East and 8th Avenue East apparently caused a 12,000 volt power cable to land on Mangan's metal fence, setting it ablaze.
The electricity was then carried across by the raindrops hitting the pasture.
Mangan said the electricity surging from the cable blew out the circuit breakers in her house and "kept going down the road." When she tried to go outside, a neighbor told her to get back, saying, "It's loose power out here."
"The electricity jumped from fence post to fence post," she said, adding that an aluminum flag pole in one neighbor's yard some 900 feet away had melted.
"It was a mess," she added. "We lost our horses, but we were very lucky not to lose any people."
Bob Vellias, chief of the Pierce County Fire District 17 in Roy, said he saw bright flashes from the electrical arcing power lines
s he approached Mangan's property after 2 a.m. He said calls to the station reported that the chains in the gate were glowing red from the heat. Sue Veseth, a spokeswoman for Tacoma Power, said the company took the power offline after 10 minutes. She said the electrical system performed "according to the way it was expected" but added that the company was doing further analysis.
In the end, the rains put out the electrical fires that surrounded the pastures, Vellias said. But by then the three other horses in neighboring pastures — one as far as 2,700 feet away, Mangan said — were also dead. [...]
Click here to comment on this article
Moderate earthquake hits Tibet
Agence France-Presse
Beijing, August 25
An earthquake measuring 5.8 on the Richter scale has jolted a mountainous area in Tibet, reported the Chinese state media on Wednesday.
The tremor hit Nagqu prefecture north of the Tibetan capital of Lhasa at 6.05 pm (1005 GMT) on Tuesday, said the Xinhua news agency.
The prefecture is sparsely populated, and no reports of casualties or serious damage had been received as of Wednesday afternoon, according to the agency.
It is the second earthquake to rattle Tibet in little more than a month, after one measuring 6.7 on the Richter scale was reported in mid-July.
Click here to comment on this article
Hurricane Charley Leaves Cuba $1 Billion Bill
August 15, 2004
HAVANA (Reuters) - Hurricane Charley caused more than $1 billion in damage to Havana and its surrounding provinces when it roared through western Cuba on Aug. 13, killing four people, a leader of the ruling Communist Party said on Wednesday.
The storm demolished 4,177 houses and damaged almost 70,000 other homes, Politburo member Pedro Saez said in comments published by Cuban newspapers Granma and Rebel Youth.
Charley has been nicknamed the "lumberjack" hurricane because its 105 mph (169 kph) winds uprooted or snapped more than 8,000 trees in Havana, and destroyed 300 hectares (7,400 acres) of tree plantations outside the city, he said.
It was the worst storm to hit Cuba since Hurricane Michelle in 2001 plowed through the center of the island in 2001, leaving 200,000 homeless and $1.8 billion in damages.
Saez, the party's first secretary for Havana, said Charley's most painful impact was to leave 2 million inhabitants without water for days on end because pumping facilities had no power.
Large parts of the city's westside, as well as Havana and Pinar del Rio provinces had no electricity for 11 days due to the downing of 28 high-voltage towers from a power plant in Mariel.
Some 23,000 hectares (56,800 acres) of bananas, citrus and other fruit were flattened in Havana province, where cattle, chicken and pig farms were badly damaged.
Cuba rejected an offer of $50,000 in aid made by the State Department, calling the amount a "ridiculous and humiliating charity."
A government statement issued on Sunday called the U.S. gesture "hypocritical" in view of the economic sanctions Washington has maintained against Cuba for four decades.
Click here to comment on this article
East China evacuates 249,000 people as Typhoon Aere approaches
SHANGHAI (AFP) Aug 24, 2004
East China's Zhejiang province has evacuated some 249,000 people as Typhoon Aere is forecast to make landfall in the coastal province Wednesday, state media said.
Xinhua news agency said nearly 31,500 fishing boats in the province were also called back to port as a precaution.
Click here to comment on this article
Chinese Lady Dai leaves Egyptian mummies for dead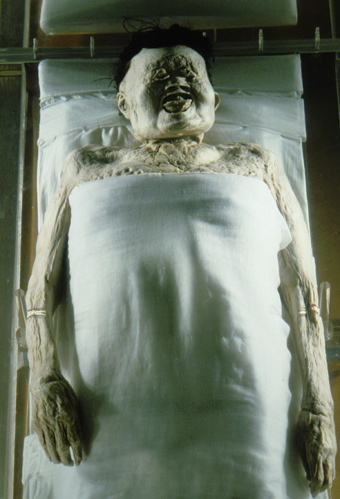 By Yu Chunhong (chinadaily.com.cn)
Updated: 2004-08-25 08:59
People all over the world think of Egypt when talking about body preservation and mummies, but how many people know that the best preserved bodies in the world are actually in China?
According to some scientists, what the ancient Chinese were able to achieve in body preservation leaves the Egyptians in their dust. The body of Lady Dai of the Western Han Dynasty, housed in the state of the art Hunan Museum, attracts flocks of visitors every day. When people gaze at the body, they cannot help but wonder, how did they do it?
[...] In 1971, at the height of the cold war, workers digging an air raid shelter near the city of Changsha uncovered an enormous Han Dynasty-era tomb. Inside it they found over 1,000 perfectly preserved artefacts, as well as what some claim is the most perfectly preserved corpse ever found.
The tomb belonged to Xin Zhui, the wife of the ruler of the Han imperial fiefdom of Dai. Xin Zhui, the Lady of Dai, died between 178 and 145 BC, at around 50 years of age. The objects inside her tomb indicted a woman of wealth and importance, and one who enjoyed the good things in life.
But it was not the exquisite lacquer dinnerware, the exotic foods or the fine fabrics that have paved her way to the immortality that is bought by fame, but the extraordinarily well-preserved state of her remains. Lady Dai is a mummy more famous than all other mummies as the legend and mystery of how ancient Chinese morticians preserved her remains for so long has baffled and amazed scientists for many years."
The body is so well preserved that it can be autopsied by pathologists as if it were only recently dead.
When Lady Dai was found her skin was supple and her limbs could be manipulated; her hair was intact; her type A blood still ran red in her veins, and her internal organs were all intact.
The mystery of Lady of Dai has not yet been solved. Archaeologists and pathologists are still pondering the possible reasons behind her state of preservation. Was it the elaborate tomb construction that protected the body? Or, more controversially, it could have been the mysterious liquid that the body was immersed in. Is this strange substance an elixir of immortality?
Click here to comment on this article
Asia faces water catastrophe: scientists
PARIS (AFP) Aug 25, 2004
Farmers are driving Asian countries towards an environmental catastrophe, using tube wells that are sucking groundwater reserves dry, New Scientist says.
Tens of millions of these wells have been drilled over the past decade, many of them beyond any official control, and powerful electric pumps are being used to haul up the water at a rate that far outstrips replenishment by rainfall, the British weekly says in next Saturday's issue.
The extraction is providing many countries with a lavish harvest in thirsty crops like rice, sugar cane and alfalfa, but the boom is bound to be shortlived, it says.
Indeed, water tables are falling so dramatically that within a short time, some landscapes could become arid or even be transformed into desert, it says, quoting scientists at a worldwide water conference.
Click here to comment on this article
Sheep put brave face on stress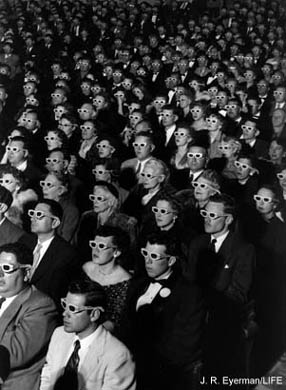 Sheep in experiment
Wednesday, August 25, 2004 Posted: 1436 GMT (2236 HKT)
LONDON, England -- Sheep have shown researchers why stressed-out people are comforted by the sight of a friendly face.
Scientists at the Babraham Institute in the eastern English city of Cambridge discovered that when sheep were isolated, showing them faces of familiar sheep helped to soothe them.
The findings released on Wednesday helps explain why many people carry photos of loved ones in their wallets, researchers believe.
The scientists, led by Professor Keith Kendrick, placed 40 sheep on their own in a darkened barn and showed them various faces.
Their stress levels were monitored by looking at the number of times each sheep bleated, its movement within the barn and its heart-rate.
Blood samples were also taken to measure the levels of cortisol and adrenaline, which are chemical indicators of stress.
When the sheep were shown faces of sheep familiar to them, they became less stressed, and showed fewer signs of agitation than when they were shown goat faces or triangles, researchers found, according the UK's Press Association.
Click here to comment on this article
Crop Circle Tan Hill, Wiltshire England - 28/07/2004
Crop Circle Connector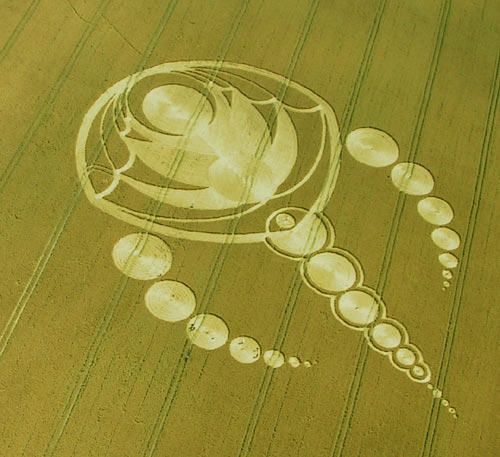 Click here to comment on this article
From CNN Correspondent Aneesh Raman
Wednesday, August 25, 2004 Posted: 0935 GMT (1735 HKT)
THAMKRABOK, Thailand (CNN) -- Learning how to be American is part of the curriculum in Thamkrabok, a refugee camp north of Bangkok.
The lesson this week focuses on how to stock an American kitchen and use western toilets, with a touch of English language teaching thrown in.
Click here to comment on this article
---
Remember, we need your help to collect information on what is going on in your part of the world!
We also need help to keep the Signs of the Times online.
---

Check out the Signs of the Times Archives

Send your comments and article suggestions to us

---
Fair Use Policy
Contact Webmaster at signs-of-the-times.org
Cassiopaean materials Copyright ©1994-2014 Arkadiusz Jadczyk and Laura Knight-Jadczyk. All rights reserved. "Cassiopaea, Cassiopaean, Cassiopaeans," is a registered trademark of Arkadiusz Jadczyk and Laura Knight-Jadczyk.
Letters addressed to Cassiopaea, Quantum Future School, Ark or Laura, become the property of Arkadiusz Jadczyk and Laura Knight-Jadczyk
Republication and re-dissemination of our copyrighted material in any manner is expressly prohibited without prior written consent.