---
Printer Friendly Version
So, our secret is out. Our hardworking, stoic facade has been breached. Yes, we admit it, for the first time in 444 consecutive days, yesterday the Signs team abdicated their responsibilities and set out on a Pyrénéean adventure. It wasn't so much that we had had enough of our daily confronting of the inexorable decline of our world and needed to get away, but rather that we had promised long ago to accompany Pierre Paul Feyte, (the celebrated nature photographer and author of the Signs page "Pictures of the Day") to experience first hand the isolated splendor and majesty of the Pyrénées mountains, that he had so often talked so much about.
So we set off at 8 am, arriving back home at 11.30 pm. What happened in between can only be described as a quest of Homeric proportions. Conditions were unforgiving, trials were relentless, heroism was the hallmark. Yet rather than go into details here, we will allow the reader to walk with us retrospectively, by way of our travel log.
---
Picture of the Day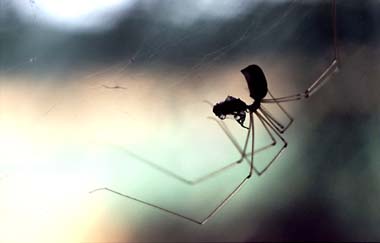 Bush and Kerry Battle it Out
©2004 Pierre-Paul Feyte
Do any of you read the American mainstream press? We read websites from all over the world every day to collect the information we bring to you here, and every day we are astounded at the level of disinformation, lies, and propaganda found in the American media. Democrat or Republican? Invade Iraq alone or with the support of their international allies? Continue in Iraq alone or with the help of NATO? Did Bush believe Saddam had WMDs or was he misled? Ariel Sharon is a man of peace.
The Democratic National Convention has just ended. Kerry and Edwards are on the campaign trail, vowing to get rid of Bush. Unfortunately, their platform is the platform of war, continuing the neocon agenda with a "kinder, gentler" face. There is no intent to change American policies vis-à-vis Israel, certainly the black hole upon which American troubles in the Middle East are built. There is no recognition that, in spite of its power, the US is one country among many in the world, countries that must work together and honour different cultures and goals. The goal of the US, the goal of Kerry and Edwards, is to impose its will on the rest of the world.
It isn't possible to negotiate with a psychopath. The US is the psychopath of nations.
How can any people vote when they are so misled? How can they draw conclusions on world affairs when they are unable to assess the data critically? How can they assess the data when the data is hidden from them? How can they claim to live in a democracy when their politicians are bought off by corporations whose only goal is maximising of profits for their shareholders (or severance pay for top management when they are exposed are psychopaths?) How can people vote for real change when it isn't on the ballot, when they have been inculcated with psychopathic values their whole lives in order to stay afloat in the vicious jungle that is American society.
The US is an illusion. It's history is an illusion. It's role as the defender of the oppressed around the world is an illusion. The self-image of the American people is an illusion. Slowly, day by day, the gulf between the illusion and the reality is growing, and one day, the already tenuous link will snap, and the rebound will knock the American people for a loop. If they are lucky, they may wake up, that is, if the blow is enough of a shock to rouse them from their slumber. A large number may well refuse to admit that the problems they face are internal problems. They will prefer to continue to believe, in the face of all the evidence, that their enemies are external: "Islamic terrorists", the French, old Europe, and supporters of Saddam. They will prefer to believe the illusions, to place the blame on others, even when the truth stares them in the face.
However, the dream that the US could wake up is based upon an erroneous idea of the world we live in. Nothing can save America. It is as it is because it is the reflection of our world, a reflection of the conscious development of a path of service to the self. The American dream is based upon the idea that anyone can succeed, if they are willing to pay the price, to outfox, out-manuever, and con those around them. This is the American ideal. It is being exported around the world in the guise of neo-liberalism, the opening of world markets to American goods, culture, and ideology. Lie because if you don't, they'll lie to you. Take advantage of your opponents' weaknesses, because he is doing the same.
These are not new values. They are the values of empires dating back into the past. Did we really think that we were exempt? Did we really believe that technical or economic progress equated with the development of human BEing? With the development of the human soul?
The Associated Press released a "news" item today (7/21/04) that we all need to take a closer look at.

The writers of the piece were John Solomon and Ted Bridis.

The headline is:

VIDEO SHOWS PENTAGON HIJACKERS PASSING THROUGH AIRPORT SECURITY

The story goes on to say that a Dulles Airport surveillance video shows four of the five hijackers being checked out before boarding the plane. Flight 77.

The article lists the alleged hijackers. Nawaf al-Hazmi, Salem al-Hazmi (Nawaf's brother), Khalid al-Mihdhar, Majed Moqed and Hani Hanjour (credited with being the pilot).

The article says that AP obtained the video from a law firm named Motley Rice which is involved in a law suit representing some of the families of the 9-11 victims.

WAIT A MINUTE!

I have the passenger manifest of crew members and passengers aboard Flight 77 and you can get it, too. Just go to this informative website: http://www.whatreallyhappened.com/hijackers.html The first thing you will notice is that there are NO Muslim names on the manifest. No al-Hazmis. No al-Mihdhar. No Moqed. No Hanjour.

So, where did these names come from? From the FBI? The FBI also stated afterwards that Salem al-Hazmi was still alive in Saudi Arabia but that his passport had been stollen by a pick pocket three years earlier in Cairo. Yet, nobody named al-Hazmi (and there were suposed to be two of them) is listed on the Flight 77 Passenger Manifest.

So what's THAT all about? Obviously, the FBI didn't get the names from American Airlines. And, since everyone was supposed to have died (and vaporized!) who were the witnesses?

If all of this information is so flakey, where did John Solomon and Ted Bridis get their data? Their article says that the five hijackers ... "were permitted to board the fateful flight that later crashed into the Pentagon".

How do they know that? Why did their editors permit this scenario to be presented as a factual account and fuse it into the 9-11 myth? Who ARE their editors?

When more and more information is arising to refute the "Fanatic Wahabi Story" why is Associated Press making a last ditch effort to give substance to this obvious hoax? Is it because the 9-11 Commission's report comes out tomorrow? A report that appears to be whitewashing the White House's involvement.

Is the AP story the product of a "leak" to reenforce the conclusions of the Commission?

Are the American people being duped one more time?

Why not write to the Associated Press and ask them?

Keep on keeping on!

Gus
Click here to comment on this article
Man tells public about FBI's 'intimidation of activists'
By NIKOLAUS OLSEN
Coloradoan Online
Friday, July 30, 2004
When an agent from FBI stops by to have a conversation, never, ever answer any questions without a lawyer present.
That is what a 45-year-old computer programmer from Fort Collins found out last week when it happened to him.
"I was scared, very scared," Paul Bame said.
The agent called him at home on July 22 and left a message. The next day, as Bame returned from lunch, a company security guard said there was someone there to meet him.
"I had been in terror since the call," Bame said.
The agent said Bame, who has been arrested twice on petty offenses at anti-globalization protests -- in Washington in 2000 and Miami last year -- came up on a computer. The agent began asking questions about Bame's knowledge of any plans to hurt anyone at this year's national political conventions.
After a short standoff, Bame told the agent he would not answer any questions without his lawyer present. The agent left and has not contacted Bame's lawyer.
"It leads me to believe it was about the intimidation of activists," Bame said at a public forum Thursday, which he organized to discuss the incident.
Bame's questioning came the same week that members of the FBI's Joint Terrorism Task Force questioned young activists in Denver about the same thing.
On Wednesday, a FBI spokesman admitted agents had been interviewing people as a part of an investigation into plans to disrupt the conventions.
Security has been tight at the Democratic National Convention in Boston, which wrapped up Thursday, and is expected to be equally so at the Republican gathering in New York on Aug. 30 through Sept. 2.
Despite its concerns about the conventions, the agency denied it was working to discourage people from their right to protest.
"The FBI does not conduct investigations or interviews designed to discourage anyone from exercising their First Amendment right to assemble and peacefully protest," spokesman Joe Parris said.
"However, violent criminal acts are not protected by the Constitution, and the FBI has a duty to prevent such acts and to identify and bring to justice those who commit them."
Comment: In other words, the FBI's job is to bring the perpetrators of violent criminal acts to justice after such crimes are committed. Yet, based on all the data presented on the Signs Page since the 9/11 attacks, it is clear that no US agency - including the FBI - has even come close to revealing the identities of the real terrorists.
Preventing such acts from occurring in the first place is simply not possible, unless the entire country is placed into a state of lockdown in which the government and its agencies act in a ruthless, fascist manner. The FBI will certainly not prevent violent acts by confronting those it thinks might break the law and asking, "Hey, are you going to hurt people?" How do you prove to the authorities that you aren't going to do something in the future?
This is the same type of twisted logic employed before the invasion of Iraq. To avoid US actions, Saddam was supposed to prove that he no longer possessed weapons of mass destruction. How do you prove you don't have something? And perhaps more importantly, why is the burden of proof placed on the accused?
Bame said he's never engaged in anything that would be considered a violent act. The agent made reference to a recent report by the Sept. 11 commission that criticized U.S. intelligence, including the FBI, for not doing more to prevent attacks, Bame said.
Comment: Here we see further evidence that the conclusions of the 9/11 commission are simply being used to clamp down even more on ordinary Americans who are doing nothing wrong - unless dissent is now considered a violent act.
He has since been the subject of media interviews and reports about his experiences. At Thursday's forum, Bame said he welcomed the media coverage because it gets the word out about what the FBI is doing.
One person attending the forum said she couldn't understand why more people aren't outraged at the FBI's recent tactics.
"To me it's appalling that people are not upset," said Susan Kelker, 52. "A lot of people don't like it. I don't understand the apathy."
The Associated Press contributed to this report.
Click here to comment on this article
9/11 Panel Urges Congress to Enact Reform
By KATHERINE PFLEGER SHRADER
Associated Press Writer
July 31, 2004
WASHINGTON - Senators promised swift consideration of proposals to revamp the nation's intelligence structure after leaders of the Sept. 11 commission warned that bureaucratic wrangling leaves America dangerously vulnerable to another terrorist attack.
At a rare hearing Friday during the Senate's typically quiet August recess, Senate Governmental Affairs Committee Chairwoman Susan Collins, R-Maine, urged fellow lawmakers to "be bold but not reckless" in considering a reorganization that would amount to a "fundamental overhaul of our intelligence structure and a sea change in our thinking."
Added the committee's top Democrat, Joe Lieberman of Connecticut: "We're going to get this job done and get it done with unprecedented thoughtfulness and speed."
As Congress continued its debate, a working group appointed by President Bush was meeting Friday about a possible administration package of changes. A senior White House official, who spoke on the condition of anonymity, said the panel was close to presenting its recommendations to Bush.
Among ideas prompting discussion is the establishment of a new national intelligence director, a major proposal from the National Commission on Terrorist Attacks Upon the United States. The official said the administration's internal debate has centered on the scope of that person's authority and the individual's working relationship with the CIA.
Without providing specifics, the official said the working group is looking at options that could go beyond the commission's recommendations and indicated that one focus might be in the area of protecting privacy rights and civil liberties.
"Reform is not easy," Bush said at a campaign stop in Springfield, Mo. "Achieving reform requires taking on the special interests, requires challenging the status quo."
During the Senate hearing, the 9/11 commission's chairman, Thomas Kean, and vice chairman Lee Hamilton acknowledged institutional resistance to change will make reforms difficult but said the status quo is not an option.
The panel has recommended more than 40 changes, but Friday's hearing focused on creating a new national counterterrorism center and the job of intelligence director, who would oversee the 15-agency intelligence community.
"We have concluded the intelligence community is not going to get its job done unless somebody really is in charge," Hamilton, a former Democratic congressman from Indiana, told the committee. "That is just not the case now, and we have paid the price."
Intelligence reform has become a key issue in the fall election, with Kean, Hamilton and other commissioners vowing to keep the pressure on Congress and the Bush administration to make changes.
Democratic presidential candidate John Kerry has endorsed the commission findings. Bush created the working group, which he instructed to draft executive orders that could immediately implement some of the proposals.
The commission's report recounted numerous intelligence missteps in the months preceding the 2001 terror hijackings that killed almost 3,000 people in New York, the Pentagon outside Washington and a Pennsylvania field.
The 10 commissioners, traveling in pairs, are embarking on a nationwide tour next week to share their report with the public and to draw attention to the need to overhaul U.S. intelligence gathering and use. Kean said the commission is seeking private donations to continue its work past Aug. 26, when it is scheduled to dissolve under the law that created it.
Collins and Lieberman support the proposed national intelligence director and national counterterror center. But both are examining details about how to make the two ideas work.
Congressional critics are surfacing as well. Sen. Carl Levin, D-Mich., questioned whether the new national intelligence director would be too close to the White House to provide independent analysis. He said he has reservations about what the counterterrorism center would mean for the command structure at the Defense Department.
The hearing was the first of at least 15 that will be held in coming weeks by more than a half-dozen House and Senate committees.
Comment: Levin seems to have hit the nail on the head. An intelligence czar who is close to the president would direct US agencies according to the wishes of the administration. It is also rather peculiar that a commission that is touted as so important would be running out of public funding when - as the following article demonstrates - America has plenty of money for very expensive soldiers of fortune. The fact that Bush created the working group, requested draft executive orders that could be quickly passed into law, and provided only a limited amount of funding indicates that the commission has one purpose: to expand the power of Bush and his cronies before the election. Now, why might that be?
Click here to comment on this article
Business Booming for Soldiers of Fortune
Katherine Stapp
NEW YORK, Jul 30 (IPS) - Despite scandals over human rights abuses and war profiteering, private military contractors are expanding their presence overseas, and may even be involved in helping to draft the next U.S. defence budget.
Currently more than 20,000 privately contracted employees are at work in Iraq, feeding U.S. troops, providing security, and rebuilding the occupied nation's shattered infrastructure.
Although private military contractors, known as PMCs, were implicated in the torture scandal at Baghdad's Abu Ghraib prison, and are the target of congressional probes into over-billing, more than 150 U.S. companies have been awarded contracts worth up to 48.7 billion dollars for work in post-war Afghanistan and Iraq, according to research by the Washington-based Centre for Public Integrity.
That figure represents an increase of 82 companies and more than 40 billion dollars since the centre first issued a study of contracts awarded to PMCs last fall.
In a separate report released Jul. 29, the centre also found that three private companies -- Booz Allen Hamilton, Perot Systems Government Services and Miltec Systems Co -- are headhunting for analysts to work in the development of the U.S. defence budget..
"The trend is rising and has been driven by many factors: the drive to privatise state services, the vast disparity between the pay PMCs get and those employed by the state -- PMCs earn perhaps five times as much -- leading to a real shortage within the armed forces of the U.S. and U.K," says William Bowles, a journalist who has written extensively on PMCs.
"It's (also) a method of hiding the real level of casualties," he added in an interview.
Some high-profile killings in Iraq have involved contractors, like Paul Johnson, the Lockheed Martin engineer beheaded by Islamic militants in June, and the four employees of Blackwater Security who were killed and dragged through the streets by a mob in Fallujah.
Lesser known are the more than 100 other contractors, including about 40 employees of controversial giant Halliburton, who have also lost their lives in Iraq since fighting officially ended more than one year ago.
Casualty numbers from the war itself are hard to come by, but Robert Fisk and Patrick Cockburn reported in South Africa's 'The Star' Apr. 16 that "at least 80 foreign mercenaries -- security guards recruited from the United States, Europe and South Africa and working for American companies -- have been killed in the past eight days in Iraq".
Independent experts say one of the main problems with PMCs is the lack of transparency in the bidding for their contracts, combined with scant oversight of how they spend the money.
Halliburton, the military services company with close ties to Vice President Dick Cheney, has been probed by Congress and the accounting firm KPMG for overcharging for some 167 million dollars worth of gasoline imports from Kuwait, as well as a variety of other abuses associated with its 5.6-billion-dollar troop support and military logistics (LOGCAP) contract.
Bechtel Corp, which won a 680-million-dollar deal to rebuild Iraq's water and sewage system, was one of only six firms to take part in a secretive bidding process. According to the Centre for Responsive Politics in Washington, the company gave 1.3 million dollars in campaign contributions over the last three years, mostly to Republicans.
"Ironically, we set up a process to take advantage of the private market, but we're getting the worst of it," said Peter Singer, a scholar at the Brookings Institution who is an expert on military privatisation.
"It's more about who you know, not who can do the best job for the best price," he said in an interview. "The oversight has been quite terrible, so we're not seeing any cost savings."
One of the most controversial tasks delegated to private contractors has been interrogation of Iraqi detainees. This week, victims of abuse at Abu Ghraib, including the widow of one detainee who died of torture, filed a lawsuit in U.S. federal court against two PMCs: CACI and Titan. Employees of the firms were allegedly present during the abuse of prisoners.
According to an Army Inspector General's report, more than one-third of the 31 interrogators provided by CACI lacked any "formal training in military interrogation policies and techniques." The company still has 19 interrogators working in Iraq. [...]
"Most people, including many people in the military, find it stunning to turn over an integral, mission-critical role like interrogation in a military prison to a private contractor," said Singer.
Comment: Indeed, we imagine that many US military leaders are rather unhappy with the way that their jobs are being "outsourced" - at greatly increased expense to the average taxpayer...
The United States is not only reliant on private contractors for work overseas, but also at home. This year the government will spend 275 billion dollars -- more than 10 percent of the federal budget -- on contracts to carry out its daily business.
In his book 'The True Size of Government', Paul Light of the Brookings Institution estimates the federal budget funds a "shadow government" of nearly 12 million contractors, about one-half of them in defence. That means contractors outnumber civil servants and military personnel by two to one.
And as the military has trouble finding young people to sign up during wartime, and some seasoned troops leave for far more lucrative jobs in the private sector, Pentagon officials expect the role of contractors to expand further.
Brian Hilferty, a spokesperson for Lt Gen Franklin L Hagenbeck, the Army's top personnel officer, told IPS that private contractors would also be used to recruit new soldiers.
As the use of contractors grows, so does the cost of U.S. occupation. Last week Congress approved an additional 25 billion dollars for wars in Iraq and Afghanistan and seven percent more for the rest of the Pentagon's programmes, in a 417.5-billion-dollar defence bill.
In a victory for the Pentagon, legislators backed down on language requiring the military to reveal the private security contractors it hires for work in Iraq, Afghanistan and Guantanamo Bay (a prison for detainees in President George W Bush's "war on terrorism") in Cuba.
Comment: It seems that at least some of "We the People" would like some answers, and yet their "representatives" in Washington are too busy trying to please their fuhrer.
Click here to comment on this article
By Chris Floyd
Published: July 30, 2004
America calls its soldiers who fought in World War II "the greatest generation." They are hymned by Hollywood, celebrated by publishers and politicians, hailed at every turn. And for their troubled descendants, whose military misadventures stretch from My Lai to Abu Ghraib, the clean-limbed victors of the "last good war" do indeed shine out like heroes from a lost golden age.
Yet despite the vast tonnage of celluloid and printer's ink devoted to their praise, what is perhaps the truest, highest measure of their worth has been almost universally neglected. And what is this hidden glory, which does more honor to the people of the United States than every single military action ordered by their corruption-riddled leaders during the past 50 years? It's the fact that in the midst of history's most vicious, all-devouring, inhuman war, only about 15 percent of U.S. soldiers on the battlefield actually tried to kill anyone.
In-depth studies by the U.S. Army after the war showed that between 80 percent and 85 percent of the greatest generation never fired their weapons at an exposed enemy in combat, military psychologist Lieutenant Colonel Dave Grossman reports in Christianity Today. Many times they had the chance, but could not bring themselves to do it. They either withheld their fire altogether or else shot into the air, to the side, anywhere but at the fellow human beings -- their blood kin in biology, mind and mortality -- facing them across the line. This reluctance is even more remarkable given the incessant demonization of the enemy by the top brass, especially in the Pacific, where the Japanese -- soldiers and civilians -- were routinely portrayed by military propaganda as simian, subhuman creatures fit only for extermination.
Yet even with official license given to the most virulent prejudice, even with the sanction of a just cause (self-defense against aggression), even with the incitements of mortal fear, of grief and anger over slain comrades, even with all the moral chaos endemic to warfare, U.S. soldiers killed only with the greatest reluctance, in the direst extremity. These were not "warriors," bloodthirsty automatons with stripped-down brains and cauterized souls, slavering in Pavlovian fury at the bell-clap of command. No, they were real men, willing, as Grossman notes, to stand up for a cause, even die for it, but not willing, in the end, to transgress the natural law (implanted by God or evolution, take your pick) that says: Do not kill your own kind -- and every person of every race and nation is your own kind.
You would think that this apotheosis of human transcendence, achieved, in the best democratic fashion, by ordinary conscripts -- farmboys and dock workers, factory hands, bank clerks, guitar players, teachers, cab drivers, hobos, card sharks, college men -- would have been inscribed on plates of gold and fixed to the walls of the Capitol for all time, a blazon of national greatness. Just think of it: Soldiers who hated to kill, who went out of their way to avoid killing or even firing their weapons, who held on to their essential humanity in the face of the severest provocations -- and yet still won battle after battle, marching to victory in history's greatest war.
But far from celebrating this example of genuine glory, the military brass were horrified at the low "firing rates" and anemic "kill ratios" of U.S. soldiery. They immediately set about trying to break the next generation of recruits of their natural resistance to slaughtering their own kind. Incorporating the latest techniques for psychological manipulation, new training programs were designed to brutalize the mind and habituate soldiers to the idea of killing automatically, by reflex, without the intervention of any of those "inefficient" scruples displayed by their illustrious predecessors.
And it worked. The dehumanization process led to a steady rise in firing rates for U.S. soldiers during subsequent conflicts. In the Korean War, 55 percent were ready to pump hot lead into enemy flesh. And by the time the greatest generation's own children took the field, in Vietnam, the willingness to slaughter was almost total: 95 percent of combat troops there fired with the intent to kill.
Today, in the quagmire of occupied Iraq, the brutalizing beat goes on. "Kill, kill, kill, kill, kill, it's like it pounds in my brain," a U.S. soldier told the Los Angeles Times last week. Another shrugged at the sight of freshly killed bodies. "It doesn't bother me at all," he said. "I'm a warrior." Said a third: "We talk about killing all the time. I never used to be this way ... but it's like I can't stop. I'm worried what I'll be like when I get home." A few military officials are beginning to worry, too, noting the high rates of suicide, mental damage and emotional torment among combat veterans.
But the warlords of the White House -- notorious battlefield shirkers who prefer to do their killing by remote control -- have little regard for the cannon fodder they churn through in their quest for dominance and loot. "Training's intent is to re-create battle, to make it an automatic behavior among soldiers," said Colonel Thomas Burke, Pentagon director of mental health policy. Any efforts to mitigate the moral schizophrenia induced by this training would undermine "effectiveness in battle," he added.
Yet strangely enough, this "warrior ethos" has singularly failed to produce the kind of lasting victories won by those 15-percenters of yore. Could it be that the systematic degradation of natural morality and common human feeling -- especially in the service of dubious ends -- is not actually the best way to achieve national greatness?
Comment: The intense forms of social control over the US population began in earnest after WWII, although the pieces were being put into place decades before. See our Cosmic COINTELPRO Timeline for more.
Click here to comment on this article
Open Season: Disposable Americans - Death of an American Father & Son
By Laura Dawn Lewis
When Americans travel abroad we feel pretty safe, especially when visiting the countries of our allies and friends. After all, as citizens of the most powerful country in the world, most governments take extraordinary measures to avoid disrupting their relationship with us. Killing one of our citizens with its military sullies diplomatic relations resulting in international condemnation, sanctions or worse. Recently one country emerged where killing an American civilian or our military personnel receives vague notice, a cursory condemnation and usually no investigation. In fact, our government goes to extraordinary lengths to protect this country when it kills American citizens. Its reputation supercedes American lives.
The country of course, Israel. When confronted with the hypocrisy of America's treatment of all other nations by one set of rules and Israel's exemption of such, our government and media immediately cite our "special relationship". Special is right, the United States now represents the epitome of a battered wife. Lie, cheat, steal or kill, we forgive, forget and beg for more. The rest of the world refers to us a whipped, with reason. This emergence of American citizens as ducks in an Israeli shooting gallery involves more than the most recent murders and extends to American soil with origins dating to 1967. Through decades of US government acquiescence and media self-censorship a pattern emerged, supplanting the value of an American life and labeling us as disposable citizens to protect Israel's reputation. Both the US Government and the US media share responsibility for the disposable nature of American lives.
MURDER MISSED BY OUR MEDIA
Two weeks ago an American father and son were murdered in their home at 3 AM in front of the mother and two siblings in Gaza by Israeli Defense Forces, (IDF). You're right. You didn't hear about it; they were not terrorists, agitators or militia. They were simply an American family trying to improve life under the world's most brutal ongoing occupation. The reason for the media blackout will become apparent later in this article. We became aware of it July 8th when the following e-mail from a source in Palestine dropped into our inbox:
"In a press conference for the sorrowing mother and her daughter and son, the mother said that when she called the American embassy, they told her that her family's name is not listed in their files as residents in the West Bank. The woman then told them that could not be true because during the Gulf War, the embassy called them and offered help in leaving the territories, or providing masks against gas, in case they do not want to leave the West Bank.
The woman said 'How come we were American citizens then, and we are not American citizens now?'"
Dr. Salah and his son were murdered July 6, 2004.
Click here to comment on this article
Media Manipulation Report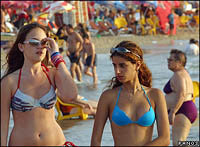 Gaza Beach? Or Tel-Aviv Beach?
Alan Johnston
BBC correspondent, Gaza
Thursday, 29 July, 2004
The beach is the troubled Gaza Strip's only playground and one of the few places where people can go to ease the stresses and strains of daily life.
But inexperienced swimmers and strong currents make it especially tough work for lifeguards.
It is a midsummer afternoon, and Gaza Beach is a heaving mass of people.
For the lifeguards in their ramshackle wooden tower, this is the toughest time.
They are on high alert as they battle to control the unruly masses in the waves - blasting on whistles and shouting into megaphones.
"You in the boat! Move away! Move away from the swimmers. Move away!
'Lots of trouble'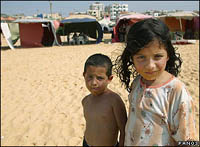 Gaza Beach? Or Tel-Aviv Beach?
Soon there's terrible evidence as to how real the dangers are.
Three lifeguards go racing into the waves. They run back up the beach carrying an unconscious boy.
There are frantic efforts to revive him on the sand beneath the tower. But his life is slipping away. He's taken to hospital, but later we hear that he died.
A huge lifeguard called Sameh did his best to save the boy, and he is saddened as he sits down to explain.
"Friday is very difficult," he says. "It's the day off in Gaza and the beach is the only place for people to go - so everybody comes down here and we have lots of trouble. There's a huge crowd of people - and most of them just don't listen to what the lifeguards tell them."
Deadly currents
Part of the problem is that poverty-stricken Gaza has no pools where people can learn to swim. They have to start in the sometimes dangerous currents at the beach.
It all adds together to make a very tough place to be a lifeguard.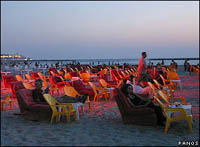 Gaza Beach? Or Tel-Aviv Beach?
Vast crowds. Huge numbers of non-swimmers. Deadly currents - and it doesn't make it any easier that the women all go in fully-clothed to preserve their modesty.
But in fact the lifeguard heroes of Gaza Beach have a fantastic record. The drowning I witnessed earlier was actually the first for years while the guards were on patrol. After they go off duty in the evening it is a different story. About 20 people drowned last summer.
But as long as the lifeguards are around, you can have the time of your life on Gaza Beach.
Huge families come down - eight, 10 or even 15 strong. They pitch camp and let the kids go wild - yelling and screaming as the waves come crashing in.
'Therapy'
Above them hundreds of kites hang in the wind. There are camel rides. Sweet potatoes roast away in blazing ovens that go trundling along the beach on donkey carts. And all the time the cafes pound out Arabic pop music.
Gaza Beach? Or Tel-Aviv Beach?
Every summer many tens of thousands of people come to enjoy the beach from refugee camps that are among the most crowded places on earth. It's the Strip's only playground, and the people of Gaza love it.
"The sea is my favourite thing - the best thing," says 13-year old Rami, from Gaza City. "There are other places - but there's nothing like the beach. I always come to the beach and I feel more free here than in other places."
"I swim every day when the sea's not rough," says Eyad Surraj, one of Gaza's leading psychologists. "It means therapy for me - to be able to exercise with such an open space in front of you. And it can alleviate the anxieties and the aggressive feelings that accumulate in people.
"It's almost the only place in Gaza where they can enjoy some space together - where they can swim and enjoy time with friends."
Well over a million people live in the Gaza Strip. None of them are allowed to leave without Israeli permission - which is always hard to get.
People here often call the Gaza Strip a prison - but Gaza beach is their great escape.
Comment: We would like, for a moment, to focus on the above article. It is a perfect example of "useless news" and the way in which the mainstream media subtly slants and implants ideas into the mind of the population. The report comes from a BBC correspondent on assignment in the Gaza Strip. The BBC is lauded as being one of the few remaining liberal news outlets among the mainstream world press, and for its "objective" reporting on world events. The truth, however, is that the BBC is controlled by the same people that crank out the lies and disinformation that dominate the airwaves and the printed media in the US and elsewhere around the world.
Because the BBC is supposedly a state institution, funded by taxpayers money, most people tend to think that its news reports are more objective and impartial than the private media corporations that reflect the interests and opinions of the board of directors only. The problem is that the evidence suggests otherwise, which then also forces us to reconsider just who it is that can wield such power as to not only influence businesses, but state government-run institutions and, by implication, governments also. Which again brings us back to the words of Victor Marchetti, a former high-ranking CIA official, in his book The CIA and the Cult of Intelligence where he stated that:
"There exists in our world today a powerful and dangerous secret cult. [...] This cult is patronized and protected by the highest level government officials in the world. It's membership is composed of those in the power centers of government, industry, commerce, finance, and labor. It manipulates individuals in areas of important public influence - including the academic world and the mass media. The Secret Cult is a global fraternity of a political aristocracy whose purpose is to further the political policies of persons or agencies unknown. It acts covertly and illegally."
And nowhere more than in the working of the mainstream media, and some alternative news sources too, do we see the effects of this "secret cult".
While American media corporations can simply ignore any significant world event that does not fit with the message that they are told to convey, and still expect the average citizen to lap it up, European news services must tread a little more carefully. Due to the fact that there still remains a (limited) capacity for critical thinking among some members of the European public, the BBC and other European news sources are forced to give the appearance of objective reporting - but the mere appearance is more than enough it seems.
What is clearly missing from the above, more or less "pleasant", account of life in Gaza, are the answers to the points raised by it. For example:
WHY are "well over a million" people confined to a tiny strip of land.
WHY is a strip of beach the ONLY place Palestinians in Gaza can go to relax and enjoy themselves?
WHY are there are no public swimming pools in "poverty-stricken Gaza" where Palestinians can learn to swim to avoid drowning in the sea?
WHY are none of the 1.3 million Palestinians allowed to leave the little strip of land that Israel saw fit to begrudgingly bequeath to them?
WHY are anxieties and agressive feelings accumulating in people in Gaza, what is causing this?
WHY do Palestinians living in Gaza call it a "prison"?
The entire report screams for these questions to be answered, but none are forthcoming from the "impartial" and "objective" BBC editor's desk.
The closest that the above journalist comes to the truth is to say that Gaza is "poverty-stricken", but even this is designed to convey the idea that the plight of the Palestinians in Gaza (and the West bank) is the result of some natural selection. "Poverty" has "struck" the people of the Gaza strip. Nothing is said of the brutal and repressive policies of Ariel Sharon, his IDF assassins and their supporters in Washington who "strike" innocent Palestinians every day.
Despite the upbeat last line in the above report then, there is, and can be, no escape for the Palestinian people. 1.3 million men, women and children are deliberately confined like animals in an ever shrinking cage built by Ariel Sharon and his buddies in Washington and the Pentagon. The Palestinians will continue to suffer and die, just as long as the world's media continues to either ignore their plight or bring us subtly skewed manipulative reports such at the one above from the "objective" BBC.
Since we are on the topic of the "independent media" in the U.K. and it's reporting of the "ISraeli-Palestinian Conflict", the following makes very interesting reading, and provides some answers to the questions that the spineless editors in the BBC will not touch.
Click here to comment on this article
Bad News from Israel

Book review by Inayat Bunglawala
This is a book that comes highly recommended. The veteran investigative journalist John Pilger has praised its authors as "pioneers in their field" and insisted that "every journalist should read this book; every student of journalism ought to be assigned it" (New Statesman, 28 June 2004).
In a remarkable and scientific study of the manner in which the main UK terrestrial news broadcasters (BBC and ITV) cover the Israeli-Palestinian conflict, Professor Greg Philo and Dr Mike Berry of the Glasgow University Media Group, have detailed how that news coverage tends to promote the Israeli perspective while ensuring that viewers remain ignorant of the actual causes that lie behind that long-running tragedy.
To compile their data, the authors brought journalists, academics and ordinary viewers together to study the influence of news on public understanding. More than 800 people were interviewed and researchers examined around 200 news bulletins.
According to the authors, television news is the main source of information on the Israel-Palestine conflict for about 80% of the population. Their research found that on British television, particularly on BBC1, there was a preponderance of official 'Israeli perspectives'. Israelis were interviewed or reported more than twice as much as Palestinians. There were also a large number of statements broadcast from US politicians who tended to strongly support Israel. These in turn were interviewed twice as much as politicians from Britain, with the strange result being that many British viewers will perhaps have come to know more about the US position on the Middle East than their own government's position.
The most important of the omissions the authors found was the almost total lack of context and history in the reporting. Scant effort was made to provide information about the motives or rationale behind the actions of either side. The research reveals that television viewers - and one wonders, perhaps many British Muslims - are largely unaware of the origins of the conflict and are therefore confused by what they are told and see in nightly reports. There are substantial gaps in their knowledge, with few showing any awareness of the 1967 occupation let alone the 1948 founding of the Israeli state on Palestinian lands. Some viewers told the researchers they saw today's conflict as a border dispute between two countries instead of a modern regional superpower that had dispossessed much of the indigenous population and had been grabbing more Palestinian territory ever since.
Comment: And some still suggest that this "blotting out" of history is not premeditated!!
How did this situation arise where dedicated news organisations have failed to impart the most basic information to their viewers? Senior BBC journalists told Philo and Berry that they were explicitly instructed by their news editors at TV Centre in Wood Lane, London, not to give explanations about the causes of the conflict - the focus was to be on "bang-bang action" (p102).
Comment: And here we come to an important point. The reason that "bang bang" is emphasised, rather than instructive historical explanation, is two-fold. The first reason, clearly, is that a simplistic "black and white" portrayal of complex events is conducive to deception and furtherment of an agenda. Secondly, and equally importantly, "bang bang" "resonates" with the general mental and emotional maturity of most citizens.
The simplistic approach is taken for one reason, but it works for a dfferent, if related, reason - People like it. They want it. It is simple. Easy. It reinforces their illusion that they are in control of their lives and their destiny. Simply put, we are not. We are, more or less, an experiment. Happy now?
Because no historical background is provided - such as the Palestinians having lost their homes - in much of the news coverage there was a tendency for viewers to see the Palestinians as initiating trouble and the Israelis are then presented as "responding" or "retaliating" (p162).
The viewers are not told about Israel's ongoing illegal occupation of Palestinian lands, the increasing number of illegal Jewish settlements that are designed to exert military and strategic control over the Palestinians or the hardship caused by the Israeli expropriation of scarce water resources. There is little mention of the daily humiliations and economic deprivation endured by the Palestinians.
During a focus group discussion a middle class male from Glasgow explains how shocked he was when he heard that the illegal Jewish settlements controlled over 40 percent of the West Bank: "I had absolutely no idea it was that percentage. I was gob-smacked when I heard it. I saw them as small, embattled and surrounded by hostile Palestinians - that's entirely thanks to watching the TV news" (p220).
The authors also found a strong emphasis on Israeli casualties on the news, relative to Palestinians (even though the Palestinians had suffered around three times the number of deaths as the Israelis). In one week in March 2002 which the BBC reported as having the most Palestinian casualties since the start of the second Intifada, there was actually more coverage on the news of Israeli deaths.
In a passionately argued comment piece for The Observer (20 June 2004), the former BBC Middle East correspondent, Tim Llewellyn, excoriated the BBC News Management saying that: "The [BBC news management] is, by turns, schmoozed and pestered by the Israeli embassy. The pressure by this hyperactive, skilful mission – and by Israel's many influential and well-organized friends - is unremitting and productive."
The consequence, Llewellyn says, is widespread viewer ignorance about the predicament of the Palestinians.
"That 37 years of military occupation, the violation of the Palestinians' human, political and civil rights and the continuing theft of their land might have triggered this crisis is a concept either lost or underplayed. Nor are we told much about how Israel was created, the epochal dilemma of the refugees, the roots of the disaster...The result is that the Israelis have identity, existence, a story the viewer understands. The Palestinians are anonymous, alien, their personalities and their views buried under their burden of plight and the vernacular of 'terror'. I am not confident of change. The reasons for this tentative, unbalanced attitude to the central Middle East story are powerful...The general BBC and ITN attitude is to bow to the strongest pressure. The Arabs have little clout in Britain, and their governments and supporters have much responsibility to bear for not presenting their side of the story and for abysmal public relations."
Philo and Berry point out, however, that the reporting is not universally biased in favour of Israel and single out Channel Four News for its attempts to tell a more balanced story to its viewers. The BBC correspondent, Orla Guerin, too, has been the target of pro-Israeli lobby groups for daring to give airtime to show images of Palestinian suffering.
The publication of Bad News From Israel has predictably attracted the ire of Zionists. In a dismissive review, the Jerusalem Post described the book as "a modest study conducted by an unknown academic" (2 July 2004). Apart from the honourable exceptions of The Guardian and The Observer, most of the UK press seem to have taken the decision to ignore this book's publication. In fact, this book represents the largest study ever undertaken in this area. Also, Professor Philo has been with the Glasgow Media Group for over 25 years and is the author of a number of publications including Market Killing (Longman, 2000).
In an area where there is so much disinformation and even calculated attempts to prevent the truth being given an airing, this is a vitally important book that will help remove the scales from a lot of peoples' eyes. Indeed, in an added bonus, the first ninety pages of this book are devoted to a superb concise history of the Israeli-Palestinian conflict from the perspective of both Israeli and Palestinian sources. It is a gripping and frequently shocking read.
Pilger got it slightly wrong. EVERYONE who wants to know why the Israeli-Palestinian conflict continues to generate such heat should buy this book. An essential and truly enlightening guide to arguably the world's most important conflict and the way it has been presented to us by TV news. You will never watch another TV news bulletin in the same way again. You may even decide to do something about the pro-Israel bias in much of the British media. Now that would really upset the Zionists.
Click here to comment on this article
Gee, the Globe and Mail need a lesson in honest commentary
by Greg Felton
(Thursday 22 July 2004)
[...) On July 14, editorial page editor Marcus Gee wrote a column defending Israel's Wall, but demonstrated virtually no comprehension of the subject.† It featured the same failures described in the Glasgow study, so at least it can serve as a example of the insidious threat posed by the zionist lobby. Let's examine some of his statements.
Overlooking the origins of the conflict
• "For decades, the world has been waiting for a settlement to the century-long dispute."
Wrong. The basis for settlement was reached on May 11, 1949, when Israel was admitted to the United Nations on condition that it grant Palestinians the right to return to their homes and receive compensation for lost land and property. Israel's presence is proof of its acceptance of these terms. What has been lacking is the ability of the UN to enforce it.§
• "Two parcels of land are in question, the Gaza Strip and the West Bank."
Gee does not mention East Jerusalem—a significant omission since Israel claims jurisdiction over the entire city and its illegally expanded boundaries in violation of international law.
• "Every serious blueprint for a peace settlement has acknowledged that some big settlements near the ceasefire line would be annexed to Israel."
What Gee considers "serious" is laughable. Under international law every Jewish settlement is illegal, a fact that the International Court of Justice just reaffirmed. Because Israel's occupation is illegal, any wall to protect them is also illegal. To this Gee has nothing to say; all he can do is denigrate the ICJ ruling and pretend that reality didn't exist.
Contextualizing Israeli but not Palestinian actions
• "The barrier of wire fences, concrete walls and trenches that snakes over the West Bank hills was designed mainly to keep out terrorists, and it has."
This misdirection from international law to "terrorism" is a typical zionist tactic. It's meant to give the illusion that Palestinians start the violence by omitting any mention of the Israeli atrocities that make such extremes inevitable. As stated above, there'd be no "terrorism" if Israel were made to honour its international agreements; instead, the world has abandoned the Palestinians to the cruelty of their tormentors, which means that sacrifice bombings are the only means of self-defence the Palestinians have left. Gee may be pleased that the wall has kept out Palestinian sacrifice bombers, but it will not keep out Israeli terrorists. To blame the Palestinians for the violence, willfully misrepresents cause and effect.
Preponderance of official Israeli perspectives
• "When Prime Minister Ariel Sharon announced earlier this year that Israel would pull out of Gaza, the Palestinians suspected a trick. It should be obvious by now that Mr. Sharon is dead serious… This week, he thumbed his nose at Likud party hard-liners and started negotiating with Shimon Peres of the Labour Party on forming a coalition to push the Gaza withdrawal through."
Gee does not mention any Palestinians by name, and he belittles their arguments. Gee paints Sharon as a paragon of peace and tolerance, but nowhere does he mention the history of Israeli duplicity that justifies Palestinian suspicions.
Emphasizing Israeli casualties
• "Palestinian attacks within Israel are down by 80 percent this year. But the barrier is also roughing out the future border between Israel and a Palestinian state… Palestinian violence has forced two conclusions on the Israeli public. The first is that they cannot hold onto the occupied territories while remaining a democratic [sic] state. The second is that they cannot negotiate withdrawal with a Palestinian leadership that seeks their destruction. Given those facts, Israelis feel they have no option but to act unilaterally."
Notice he makes no mention of Israeli attacks, or Israeli attempts to seek the destruction of Palestine. As far as Gee is concerned, Israel is not an aggressor state; it's just a po' l'il victim. I called Gee to find out how he could so grossly misrepresent history and hold Israel above international law. Throughout our phone call, Gee acted as if he were reading a prepared script of standard zionist disconnects: "Don't you think Israel has right to defend itself. More than 1,000 Israelis have been killed."
The real figure is around 900, but that's beside the point. The number of Palestinians killed by Israelis from Sept. 29, 2000, to July 21, 2004, is 3,148—more than 300 percent higher. Palestinians wounded from live ammunition (7,026), rubber/plastic bullets (6,135), tear gas (6,168) and other weapons (7,466) total 26,795.** At length I said he only cared about Jewish dead, after which he hid behind the charge of bigotry and hung up.
As you can see, Gee's column is worthless, as is Gee himself as a Middle East columnist. In 2002, he received B'nai Brith Canada's Award of Distinction for Excellence. [sic!] For the sake of transparency, the Globe and Mail should append this tag to all of Gee's columns, lest readers mistakenly take them at face value.
Click here to comment on this article
Study: Fear shapes voters' views
Responses to candidates differ after thinking about tragedy
Friday, July 30, 2004
WASHINGTON (Reuters) -- President George W. Bush may be tapping into solid human psychology when he invokes the September 11 attacks while campaigning for the next election, U.S. researchers said on Thursday.
Talking about death can raise people's need for psychological security, the researchers report in studies to be published in the December issue of the journal Psychological Science and the September issue of the Personality and Social Psychology Bulletin.
"There are people all over who are claiming every time Bush is in trouble he generates fear by declaring an imminent threat," said Sheldon Solomon of Skidmore College in Saratoga Springs, New York, who worked on the study.
"We are saying this is psychologically useful," said Solomon.
Jeff Greenberg, a professor of psychology at the University of Arizona in Tucson, said generating fear was a common tactic.
"A lot of leaders gain their appeal by helping people feel they are heroic, particularly in a fight against evil," Greenberg said in a telephone interview from Hawaii, where he presented the findings to a meeting of the American Psychological Association.
"Sometimes that may be the right thing to do. But it is a psychological approach, particularly when death is close to peoples' consciousness."
For their first study, Solomon, Greenberg and colleagues asked students to think about either their own death or a neutral topic.
They then read the campaign statements of three hypothetical candidates for governor, each with a different leadership style. One was charismatic, said Solomon.
"That was a person who declared our country to be great and the people in it to be special," Solomon, who worked on the study, said in a telephone interview.
The others were task-oriented -- focusing on the job to be done -- or relationship-oriented -- with a "let's get it done together" style, Solomon said.
Fearing doom, choosing charisma
The students who thought about death were much more likely to choose the charismatic leader, they found. Only four out of about 100 chose that imaginary leader when thinking about exams, but 30 did after thinking about death.
Greenberg, Solomon and colleagues then decided to test the idea further and set up four separate studies at different universities.
"In one we asked half the people to think about the September 11 attacks, or to think about watching TV," Solomon said. "What we found was staggering."
When asked to think about television, the 100 or so volunteers did not approve of Bush or his policies in Iraq. But when asked to think about Sept. 11 first and then asked about their attitudes to Bush, another 100 volunteers had very different reactions.
"They had a very strong approval of President Bush and his policy in Iraq," Solomon said.
Solomon, a social psychologist who specializes in terrorism, said it was very rare for a person's opinions to differ so strongly depending on the situation.
Another study focused directly on Bush and his Democratic challenger, Massachusetts Sen. John Kerry.
The volunteers were aged from 18 into their 50s and described themselves as ranging from liberal to deeply conservative. No matter what a person's political conviction, thinking about death made them tend to favor Bush, Solomon said. Otherwise, they preferred Kerry.
Comment: With us it works a little differently. Every time we think of Bush, we cannot help but think of the death and suffering he has spread around the world. Come to think of it, every time we think of any US president we tend to see images of death and destruction. Strange, eh?
While the conclusions of the above report are not very surprising, what is surprising is that so few people would ever believe that their thinking can be so easily influenced by the people that control them. But then, they don't believe in "people that control them", so there is little hope.
Click here to comment on this article
by Abid Ullah Jan
(Tuesday 27 July 2004)
[...] The purpose of the 21st century fascist's anti-Islam campaign in the name of "ideological war" is to divert attention from the fact that Al-Qaeda is not an organization. It is a movement fueled by an equal and opposite reaction to the US's one-sided policy that supports Israeli aggression, oppression, occupation and ethnic cleansing on the one hand and props up despotic leaders in the Muslim world on the other. By casting it in cold-war terms as an "ideological struggle" which "threatens our freedom", these fascists can successfully continue the disinformation campaign that began under the previous Bush administration and continued under the present Bush: that Islamic "fundamentalists" — now "Islamists" — are attacking the US because they "hate our freedom".
This is so despite the fact that in every interview and public statement the "terrorists" have mentioned US policy in the Middle East, and in none of them have mentioned freedom, or democracy as their enemy. It is the US policies, not the way the Americans live that they despise. Unlike the Islamophobes' double speak, "terrorists'" stated goals are their real goals, and removal of freedom and democracy is not one of them. Removal of the negative American influence and undue interference in their countries' internal affairs and in the region is.
In the face of spreading fascism in the Western societies, general public has to make important distinctions. At the moment, there are two kinds of movements on in the Muslim world: one against ending the US influence, injustice and undue interference. The second is to establish self-rule on the basis of basic principles of the Qur'an and Sunnah for living a collective life.
The first is a reaction to the injustice perpetrated through direct occupations such as the Israeli occupation of Palestine and the US occupation of Iraq and Afghanistan. The second is a reaction to the indirect US occupation both through apparently religiously devout House of Saud and the self-declared "moderate" Muslim dictators like General Musharraf. Muslims rightly feel that the answer to their social, political, economic and cultural problem lies in following the basic principle of Islam for governance — not in living under one or another kind of US sponsored authoritarian regime.
Equating the first reaction with terrorism is as much inanity as it is irrelevant because it is a reaction to injustice and occupations. These occupations would not have been possible without using terror tactics and the all military power available. This reaction is not going to come to an end regardless of any amount of condemnations or the use of force unless the root causes — the injustice and occupations — are not removed. So a violent reaction is a natural consequence and should not be treated as an unexpected surprise that can be addressed in isolation.
Equating the second reaction ­— the movements to establish Islamic rule ­— to a war on freedom and democracy is either super-inanity or a deliberate attempt to mislead the world. Unlike the Islamophobic fascists, Muslim activists who consider their work as an ideological struggle do not dream of carpet bombing the US cities or nuking its allies into submission to the ideology of Islam. The reason is that a successful movement to establish a model Islamic state does not need "shock and awe" kind of terrorism, over-throwing regimes in the West, establishing Abu Ghraib and Guantanamo kind of concentration camps and imposing paid-slaves like Iyad Allawi or Karzai.
Establishing a successful model of governance in the Muslim world is in itself sufficient to prove the 21st century fascist wrong in their words and deed. It will most likely attract the western masses to rush to liberate themselves from their respective tyrannies. That's why focus of the Islamophobic fascist campaigns is not to allow Muslims to establish an alternative model in the first place. The more Muslims realize their need to live by Islam, the more the paranoia of the Islamophobic-fascists will increase, making the world a dangerous place than it ever was in human history.
Click here to comment on this article
White House Projects Highest Deficit Ever
By ALAN FRAM
Associated Press Writer
July 31, 2004
WASHINGTON - This year's federal deficit will soar to a record $445 billion, the White House projected Friday in a report provoking immediate election-season tussling over how well President Bush has handled the economy.
The administration's annual summertime budget update forecast shortfalls falling to $331 billion next year, then fading to $229 billion by 2009. For each year, the red ink was smaller than the White House envisioned six months ago.
The analysis was released the same day the Commerce Department said economic growth slowed this spring to an annual rate of 3 percent, well below the 3.8 percent spurt that many economists expected. The slowdown was caused by a spending cutback by consumers in the face of high gasoline costs, the department said.
Administration officials hailed the budget figures as a solid improvement over the deficits analysts forecast early this year, and said they were on their way to their goal of halving this year's shortfall in five years. The White House estimated a $521 billion budget gap for 2004 in February, while the nonpartisan Congressional Budget Office predicted a $477 billion deficit.
"This improved budget outlook is the direct result of the strong economic growth the president's tax relief has fueled," said White House budget director Joshua Bolten.
He conceded that the red ink remained at "unwelcome" levels, but said the report was still "good news" because of the reduction from earlier estimates. [...]
Click here to comment on this article
Reagan defense sec. confirms legal analysis Bush was AWOL
*****WORLD EXCLUSIVE*****
By John Byrne | Raw Story Editor
Lawrence J. Korb, Assistant Secretary of Defense for Manpower, Reserve Affairs, Installations and Logistics under Ronald Reagan from 1981-1985, confirmed RAW STORY's legal analysis of President Bush's Guard Service in a telephone call Friday afternoon.
The analysis, which proves that President George W. Bush was absent without leave from the Texas Air National Guard in 1972, is available here.
Given proof that Bush missed five months of Guard training sessions, he said that Bush would be considered AWOL.
"If you don't show up, you're absent without leave, by definition," Korb said.
Click here to comment on this article
World trade deal 'within reach'
World Trade Organization members negotiated through the night in Geneva to resolve key issues, after failing to meet a Friday midnight deadline.
They aim to get an outline deal on global free trade which could add some $520bn to the world economy by 2015.
Such a deal would deliver a framework for formal talks on liberalising world trade, allowing negotiations which fell apart in Cancun last year to resume.
The talks, involving 147 countries, are focusing on farm subsidies and tariffs.
Click here to comment on this article
Woman, 27, is latest victim of attacks on Russian journalists
By Andrew Osborn in Moscow
31 July 2004
Natalia Romanova, a well-respected financial journalist at the weekly Russian business magazine Company, had just walked into the stairwell of her apartment inn Moscow with her day's shopping when an attacker struck.
The man waiting for her said nothing, stole nothing and betrayed no emotion. Instead, he silently administered a savage beating to the 27-year-old reporter, repeatedly punching her in the face and head. He left her body crumpled on the floor, her face a bloodied mess. She is still in hospital today.
Police have opened a criminal investigation into Wednesday's attack, made public yesterday, but Ms Romanova's colleagues think they know why she was beaten so viciously. Her attack, they suspect, is the latest in a long line of assaults, some of which end in death, on Russia's beleaguered journalistic community.
Earlier this month, Paul Klebnikov, the American-born editor of the Russian edition of Forbes magazine, was murdered and the corpse of an Armenian journalist, Paul Peloyan, was found dumped on Moscow's outer ring road.
Sixteen journalists have lost their lives in dubious circumstances in Russia since 2000. Police in St Petersburg are currently searching for Maxim Maximov, an investigative reporter who has been missing for over a month.
Ms Romanova's boss and chief editor, Andrei Grigoriev, believes she was targeted because she wrote something that offended someone in Russia's powerful and often shadowy business world.
Click here to comment on this article
Continued concern about Russian oil flow pushes prices to record $43.80 US a barrel

Grant Robertson
Calgary Herald
July 31, 2004
CALGARY - Oil prices reached another record Friday -- racing towards $44 US per barrel -- as market watchers blamed the increase on unfounded fears that global crude supplies could be disrupted.
Ongoing concerns about a potential slowdown in Russian oil production pushed crude to $43.80 US per barrel, an increase of $1.05.
It was the second time in three days that crude prices closed at heights not seen in the 21 years oil has traded on the New York Mercantile Exchange.
"There's a great deal of tension in the market," said Jim Steele, a commodities analyst at Refco Energy Markets in New York.
"Even though supply has not actually been disrupted, the market is in many ways behaving as if they expect disruption -- though none has yet materialized."
Oil prices are more than 40 per cent higher than they were a year ago, driven also by terrorist fears in the Middle East and persistent gains in global consumption levels.
The world uses about 80 million barrels of oil equivalent a day -- a number that is rising faster than expected this year due to rapid economic growth in China and North America's appetite for fuel.
At the outset of 2004, economists figured daily consumption would increase by about one million barrels of oil a day. But that estimate -- along with subsequent forecasts -- has been torn up and rewritten several times.
The latest estimates by the International Energy Agency, released this month, say consumption will rise by 2.49 million barrels per day in 2004.
That trend has surprised economists, since record oil prices are having no effect on consumers.
"People keep driving their cars the same way they did before the run-up in prices," said Carlos Samur, chief economist for Petro-Canada.
Oil prices spiralled upward this week on reports out of Moscow that the government had ordered Russia's largest oil producer, Yukos, to halt production.
Yukos, which owes the Russian government an estimated $4.5 billion in unpaid taxes and fines was told to stop selling property -- which the company interpreted as an order to shut down its crude sales.
But fears that Yukos, which pumps two per cent of the world's crude, would take its oil off the market were lessened Friday when the government gave the company several concessions.
While the instability at Yukos had a direct impact on oil prices, and continues to cause worry, some analysts question whether the threat of a shutdown is real.
"The Russian government is not going to shut in Yukos production. There's just no way," said analyst Wilf Gobert of Peters & Co. in Calgary.
"They need the hard currency that's generated by producing and exporting oil."
However, such speculation circulating through the markets has fed off itself, said Steele in New York.
Oil markets could use a quiet period without a disruption in Iraq or elsewhere to break that trend, he added.
Click here to comment on this article
Frenchmen Say Guantanamo Detention Was Like Hell
By Laure Bretton
Jul 30, 2:52 PM (ET)
PARIS (Reuters) - Two Frenchmen described as hell Friday their more than two years of detention in the U.S. military prison at Guantanamo Bay, their lawyer said after meeting them for the first time.
Mourad Benchellali and Nizar Sassi had concerns "about the interrogation techniques and medical experiments" at Guantanamo, Jacques Debray said outside the headquarters of the DST domestic intelligence service where the two men were being questioned.
A letter from Sassi said "bizarre" medicines had been given to inmates at night and that one caused some prisoners to break out in spots, Debray told reporters. He gave no other details.
"Each of (the two men) used the same expression, 'We have emerged from hell'," Debray said.
"This is huge for them because it's the first time in two-and-a-half years that they have been able to talk to someone other than a soldier or a police officer, apart from their fellow detainees."
Debray said he would request a full medical examination for his clients when they were brought before anti-terrorism judges Saturday.
Under French law, defense attorneys have access to clients only after 72 hours of detention. Lawyers can see case notes once suspects are brought before an examining magistrate.
Two other former Guantanamo detainees, Imad Kanouni and Brahim Yadel, are being questioned alongside Benchellali and Sassi at DST headquarters.
All four were detained by French authorities on their return to France from the U.S. base in Cuba Tuesday aboard a military plane.
The four were captured during the U.S.-led war in Afghanistan and held by American forces on suspicion of having fought for the ousted Taliban government.
President Jacques Chirac said this week the four had been returned to France after lengthy talks with U.S. authorities and pledged they would face French justice.
Three other Frenchmen remain in Guantanamo.
Comment: It seems the prisoners were being used for medical experiments. Surely they were not being vaccinated just so they could be tortured and/or killed... The parallels between the Nazis and the Neocons are increasing daily.
Click here to comment on this article
Cover-Up of Iraq Bridge Incident Admitted
By ROBERT WELLER
Associated Press Writer
July 30. 2004 8:32PM
Three Army commanders admitted Friday that soldiers were told to cover up an incident in which two Iraqi civilians were forced off a bridge over the Tigris River, where family members say one of them drowned.
The commanders, all testifying under immunity, said they don't believe anyone died.
Capt. Matthew Cunningham said soldiers under his command admitted forcing the Iraqis to jump into the river Jan. 3 as punishment for being out after curfew. He said the soldiers told him they had the Iraqis "get wet" and that "they wanted to make them miserable a little bit and walk home."
He said it was a bad decision, but soldiers needed non-lethal ways to make their presence felt. He called the suggestion that anyone drowned a "smear campaign" and said soldiers saw the civilians getting out of the river safely.
Cunningham also testified he and other commanders told the soldiers to clam up because they feared higher-ups would use the incident against them. "We were not covering up anything that injured anybody," he said.
The testimony came on the third and final day of a hearing to determine whether three soldiers will be court-martialed.
Family members in Iraq say Zaidoun Hassoun, 19, drowned and they will exhume his body to prove it; a cousin, Marwan Hassoun, survived. The Army's lead investigator in the case said this week that the area has been too dangerous to confirm the death through an autopsy.
Sgt. 1st Class Tracy E. Perkins, 33, and Sgt. Reggie Martinez, 24, are charged with involuntary manslaughter, as is 1st Lt. Jack M. Saville, 24, whose hearing will be held Sept. 9. The third defendant at this week's hearing, Spc. Terry Bowman, 21, is charged with assault for allegedly pushing Marwan Hassoun into the water.
The soldiers are assigned to Fort Carson's 3rd Brigade Combat Team, which is part of the 4th Infantry Division based at Fort Hood, Texas.
The hearing officer, Capt. Robert Ayers, will make a recommendation whether the men should face a court-martial. The four soldiers face 5 1/2 years to 26 1/2 years in prison if they are convicted.
Defense attorney Capt. Joshua Norris urged a recommendation against manslaughter charges. "No body, no evidence. No case. Nobody's dead," he said. [...]
Comment: Cover-ups seem to be the name of the game as far as the US government is concerned, and yet those who dig up facts to support any theory that is not in line with the official version of events are branded conspiracy theorists!
Click here to comment on this article
McGee admits to jamming phones
He could face up to 5 years in prison
By SARAH C. VOS
Concord Monitor
July 29. 2004 8:11AM
Protesters line the steps ouside the U.S. District Courthouse in Concord yesterday as Chuck McGee, former executive director of the state Republican committee, pleaded guilty to jamming Democratic phone banks on Election Day 2002. JIM COLE / AP photo
Zoom
Charles McGee, the former executive director of the New Hampshire Republican State Committee, admitted yesterday to jamming Democratic party phone lines on election day in November 2002.
McGee, 34, was the second person to plead guilty to a felony for the more than 800 hang-up phone calls that an Idaho company made to five state Democratic party offices and the Manchester Professional Firefighters Association, a group that was offering rides to the polls. The calls blocked phone lines for 85 minutes.
Earlier this month, Allen Raymond, who was president of the Virginia-based GOP Marketplace, pleaded guilty to the same charge: conspiring to make harassing telephone calls without identifying the caller's identity. Raymond admitted to paying the Idaho firm $2,500 to make the phone calls.
U.S. Trial Attorney Todd Hinnen said the investigation into the phone-jamming was ongoing but declined to say whether anyone else would be charged.
McGee's attorney, Patrick Donovan, said that McGee pleaded to the charge because he wanted to take responsibility for what happened and would cooperate with investigators.
"It was criminal and not Christian, and he's looking forward to putting this to an end and moving on with his life,"Donovan said.
McGee came up with the phone-jamming plan as a way to give Republicans an edge over Democrats, using a lesson from his days in the military, Hinnen told the U.S. District Court Judge Joseph DiClerico. "One of the best ways to disrupt the enemy is to disrupt their ability to communicate," Hinnen said.
McGee contacted several vendors that the state party had used before, but the vendors were either unwilling or unable to make the repeated hang-up calls that McGee wanted, Hinnen said. Then, a visiting official from a national political organization suggested that McGee contact GOP Marketplace. Hinnen did not name the official.
Hinnen told the judge that McGee discussed his plan with a high-ranking state Republican Party official before sending a $15,600 check to GOP Marketplace. He said the same official later called the plan off.
In a phone interview yesterday, John Dowd, the former chairman of the New Hampshire Republican State Committee, said McGee told him of the phone-jamming plan late in the afternoon of Nov. 4, the day before the election.
Dowd said that he told McGee that the plan troubled him and he needed to think about it. Dowd said yesterday that he had no idea that the plan was illegal. [...]
Comment: And we imagine that we are also supposed to believe that Bush had a plan all set up to steal the 2000 election, but it was called off at the last minute. Never mind the fact that Bush DID steal the election by - at the very least - disenfranchising voters and enlisting the help of the Supreme Court...
Click here to comment on this article
Military spying on soldiers [Australia]
By Cameron Stewart and Michael McKinnon
July 31, 2004
MILITARY police have stepped up the war against rogue soldiers in the ranks by eavesdropping on private telephone calls and emails, and using electronic tracking devices to monitor the movements of people and vehicles during investigations.
The hi-tech covert surveillance, revealed in confidential defence documents, means military police are now catching crooked soldiers by employing methods similar to those used by the civilian police and by ASIO.
The Howard Government is expected to further beef up the powers of the nation's 673 military police as part of efforts to improve the troubled and much-maligned military justice system.
An Australian Defence Force-commissioned report recommending tougher investigatory powers for military police has been completed amid growing concerns about drug use and bastardisation in the ranks.
The report by Ernst & Young, which has not yet been considered by the Government, coincides with a sweeping Senate inquiry into the effectiveness of the country's military justice regime.
But defence documents obtained by The Weekend Australian under Freedom of Information laws reveal that the military police have already acquired a raft of Orwellian capabilities to monitor rogues in the ranks. [...]
Click here to comment on this article
ID cards edge closer to reality in Britain

Britain's government won cautious backing from a parliamentary committee over plans to introduce national identity cards, alarming rights groups who say they infringe civil liberties. Home Secretary David Blunkett is floating legislation that would see high-tech ID documents -- incorporating microchips with biometric information such as fingerprints or an iris scan -- phased in from 2007.

"This ID card scheme should go ahead, but the government must take serious note of the criticism we make of the way the plan is being developed," said John Denham, chairman of the cross-party Home Affairs Select Committee. "We need more clarity on the way the card and the register will work in practice."
Click here to comment on this article
Typhoon Namtheum slams into Japan, bringing torrential rain
AFP
Saturday July 31, 4:58 PM
A strong typhoon has slammed into southwestern Japan, bringing torrential rain, strong winds and high waves to the Pacific coast.
The Meteorological Agency said Typhoon Namtheum hit Kochi prefecture in the Shikoku region, 600 kilometers (375 miles) southwest of the capital Tokyo, shortly after 4:00 pm (0700 GMT).
It was moving northwest at a speed of 20 kilometers per hour and packing a maximum wind speed of 126 kilometers per hour, it said.
Weather and emergency officials issued warnings for possible landslides and other natural disasters in Shikoku and the Chugoku and Kyushu regions, also likely to be touched by the typhoon as it heads towards South Korea.
In the 24 hours to 3:00 pm Sunday, the agency expected the regions to see rainfall of up to 500 millimeters (nearly 20 inches).
There were no reports of major injuries because of the storm.
In Hyogo prefecture, 450 kilometers southwest of Tokyo, strong wind blew a canopy off an office building and an 86-year-old building manager broke his nose in the accident, police said.
The storm forced more than some 127 domestic flights to be cancelled, national broadcaster Japan Broadcasting Corporation (NHK) said.
Other major media reported dozens of people in the Shikoku region had voluntarily evacuated their houses and left for schools and other temporary shelters.
Click here to comment on this article
Wash. Wildfire Burns Four Buildings
By SHANNON DININNY
Associated Press Writer
July 31, 2004
ELLENSBURG, Wash. - High winds that fanned a wildfire across up to 300 acres in the eastern Cascade foothills began to die down, but firefighters said they didn't expect the blaze to be out for some time.
Pushed by 25 mph gusts Friday, the fire burned four buildings and forced the evacuation of about 200 residences. No injuries were reported.
"The fire's still rolling," Kittitas County Undersheriff Clayton Myers told 90 to 100 evacuees at a high school.
The fire started about noon Friday near Interstate 90 between Cle Elum and Ellensburg. Myers said its cause was unknown but considered suspicious, the fourth suspicious Kittitas County fire in the past week.
Cleo Aho, 68, of Cle Elum, said firefighters came to her door and gave her five minutes to get her cat and dog and leave her home.
"It's not long enough," she said. "Five minutes goes so fast ... You don't think it's ever going to happen to you."
Helicopters dropped water and planes spread fire retardant around the edges of the two housing developments. Myers said every piece of fire equipment available was at the scene to try to protect homes, some of which are cabins.
Authorities hoped to direct the fire from nearby timber and toward open prairie.
Friday morning, authorities in central Washington ordered the evacuation of 100 houses after a wildfire near Lake Chelan grew to 9,800 acres in 24 hours. The fire was burning about 2 1/2 miles from the nearest home.
On Thursday, it destroyed a dock and picnic shelter at a campground, said Mike Ferris, a Forest Service spokesman.
The lightning-sparked fire, which began Monday, burned only 145 acres as of Thursday before raging across grassy hillsides, brush and trees.
In Oregon, high winds Friday fanned a wildfire burning near the Warm Springs Indian Reservation to 11,000 acres. The blaze was 40 percent contained, and no homes were threatened, officials said.
In Nevada, a wildfire started by a truck crash in the Humboldt-Toiyabe National Forest was 70 percent contained Friday. The fire blackened 290 acres on steep mountain slopes about 35 miles northwest of Las Vegas.
No structures burned, but five firefighters suffered minor injuries and 15 homes were evacuated, along with a Girl Scout camp and a youth correctional facility. Many residents in the 350-home Kyle Canyon community left voluntarily.
Click here to comment on this article
Lukas Grunwald
July 30, 2004
RF-ID tags, those small and almost invisible radio frequency price tags, are the source of much controversy these days. Businesses tout their cost effectiveness in controlling and tracking inventory, while security experts question their confidentiality. Lukas Grunwald, an RFID expert and a contributor to the German magazine Heise, gave a chilling talk about RF-ID vulnerabilities.
RFID tags are being used by supermarkets and other companies trying to manage their supply chain. The are fairly durable and can withstand a good deal of radiation and washing. The tags can contain up to 128 bytes of information.
Lukas warned that blind adoption of RFID is leaving gaping security holes for hackers to exploit. He released a program called RFDump which lets you read and display all metadata within an RFID tag and also modify the user data using a text or hex editor. He wrote this program to demonstrate how consumers can protect themselves by wiping out RFID data after purchasing a product, but he said it can be also used for other malicious projects.
What are some vulnerabilities of the reprogramming RFID tags? One big problem could be prescription drugs being mislabelled, leading to dangerous drug interactions. Lukas said that traditional barcodes will show signs of tampering, while RFID tags will not. Hackers could essentially reprice an entire row of products without the supermarket knowing any better.
Another vulnerability that people don't think about is that someone can scan your trashcan and find out all the products that you have used in the last week. The big problem with RFID privacy is that companies usually don't turn off or tell you how to turn off the RFID tag after you buy the product. [...]
Click here to comment on this article
What was that cloud in Richland?
Pittsburgh Post-Gazette
Friday, July 30, 2004
Authorities from Allegheny and Butler counties say residents had nothing to fear from a mysterious yellowish-green cloud that appeared yesterday morning near Bakerstown in Richland.
There was no confirmation of a chemical release, which had been suspected earlier yesterday after authorities received numerous 911 calls about the cloud. Officials from the state Department of Environmental Protection, Butler County Emergency Services, an Allegheny County hazardous materials team and local police and firefighters were dispatched in northern Allegheny and southern Butler counties shortly before noon yesterday and detected no chemical releases.
Local residents complained of a chlorine or sweet smell in the air, but there were no evacuations, ill effects or hospitalizations, officials said. Local police asked citizens to remain indoors while it was being investigated, but apparently the cloud dissipated quickly. By the time some emergency response teams arrived, it was gone with the wind.
Allegheny County health officials said tests revealed air quality was normal and they received no reports of chemical accidents at local industries or escaped chlorine at swimming pools.
The National Weather Service suspects the cloud may have been the result of an inversion.
Comment: We didn't know that inversions can result in yellowish-green clouds that smell of chlorine. We did know, however, that tests of chemical and biological agents on an unsuspecting American public have occurred many times over the years. See our Cosmic Cointelpro Timeline for more information.
Click here to comment on this article
Meteorite from Oman records its lunar origins, history
Scientists have pinpointed the source of a meteorite from the moon for the first time. Their unique meteorite records four separate lunar impacts.
[...] The scientists conducted a battery of laboratory tests to piece together a detailed history of the meteorite, named Sayh al Uhaymir (SaU) 169. They summarize SaU 169's history:
* At 3.909 billion years ago, plus or minus 13 million years -- An asteroid collides with the moon, forming the 1160 km (720-mile) diameter Imbrium impact basin. Crushed and molten rocks mix and solidify to form the main rock type in meteorite SaU 169.
* At 2.8 billion years ago -- A meteorite hits the moon, forming the 25 km (15-mile) diameter Lalande crater south of the Imbrium basin. The impact blasts material, including the main rock type in SaU 169, from depth and deposits it as an ejecta blanket around the crater. The ejecta there mixes with other lunar soil.
* At 200 million years ago -- Another impact brings the rock that will become a meteorite to within a half-meter (20 inches) of the lunar surface.
* At fewer than 340,000 years ago -- Another impact hits the moon, producing a crater a few kilometers in diameter and ejects SaU 169 from the moon. The scientists studied NASA images and identified a young, 3 km (1.8-mile) diameter crater 70 km (43 miles) north-northeast of Lalande as the meteorite's likely launch site. Jull measured beryllium 10 in SaU 169 and determined the meteorite's moon-to-Earth transit time at around 300,000 years. He also measured carbon 14 in SaU 169, which shows the meteorite fell in present-day Oman around 9,700 years ago, plus or minus 1,300 years.
''Without the Apollo and Luna sampling programs, and especially the huge advance in knowledge of the Moon acquired during investigations in the last 20 -- 30 years, we would only be able to tell that SaU 169 is an exceptional lunar rock,'' the scientists said on their Website. ''Without background information from such missions as Clementine and Lunar Prospector, we could never have linked ages and chemical data with lunar surface information.''
''SaU is a rock which demonstrates impressively how rocks can travel, like a ping-pong-ball, from one body to another,'' they said.
Click here to comment on this article
Ancient city site jeopardized by sand
www.chinaview.cn 2004-07-31 09:35:09
HOHHOT, July 31 (Xinhuanet) -- Heicheng, the largest and best preserved ancient city site along the Silk Road that linked China with Central and Western Asia, is being devoured by flowing sand.
About 25 km to the southeast of Dalai Hubu Township in north China's Inner Mongolia, the archeological site is well known for its ten-meter-high city walls and a pagoda dating back to the Xixia Dynasty (1038-1227).
Given that the dynasty established by Dangxiang, a branch of the Qiang nationality, left no official written documents, Heicheng has been viewed as priceless by archeologists worldwide.
[...] After its founding in 1949, the People's Republic of China initiated two large-scale archeological research projects in 1983 and 1984 respectively. From then, archeologists excavated hundredsof tombs owned by Muslims of the Yuan Dynasty (1271-1368) crucial to the study of Islamic culture's spread in China.
Click here to comment on this article
01 aug 04
ANIMALS in a Chinese zoo are helping predict earthquakes.
"About a week before an earthquake, animals' behaviours would become obviously abnormal," seismologist Xu Jing said.
And the more abnormal the animals act, the stronger the earthquake would probably be, he said.
Keepers at Anshan Zoo, in northeast China, have been asked to contact scientists whenever the animals act strangely.
It is believed more than 100 kinds of animals can "predict" earthquakes, including pigs, cattle, dogs, cats, chickens and snakes. Some are restless, while others appear dazed.
Click here to comment on this article
By Lucy Sherriff
Published Thursday 29th July 2004 16:28 GMT
A group of scientists has come up with a new explanation for the origins of spicules - jets of plasma that shoot up from the solar surface at speeds of around 90,000 kilometres per hour: the solar matter is propelled into space by sound waves entering the solar atmosphere.
Using observational data from two satellites (TRACE and SOHO) and an the Swedish Solar optical telescope, scientists at Sheffield university and the Lockheed Martin Solar and Astrophysics lab, have determined that the jets occur periodically, about every five minutes or so.
Professor Erdélyi von Fáy-Siebenbürgen then developed a computer simulation of the events, incorporating the effects of compression waves, or sounds waves, in the sun. He explained that the compression waves are most likely caused by two things: the oscillation of the sun itself, and convection cells - areas of rising and falling solar matter. Convection cells on Earth cause thermals, breezes, thunderstorms and other weather patterns. In the sun, they cause compression waves..
The compression waves are usually damped before they reach the solar atmosphere, von Fáy-Siebenbürgen said, but occasionally they get through. When this happens, the compression of the atmosphere forms a shock wave, propelling matter upwards in the form of a plasma jet. The research solves an astrophysical puzzle that has baffled scientists for over 120 years since the spicules were first discovered.
His model produced jets at virtually identical intervals: "I would say it is around 99 per cent accurate," he told The Register today. "We were very surprised by the accuracy of the model. It is something we are very proud of," he said.
Although relatively small compared to full scale solar flares, spicules are interesting for the same reasons: they may contribute to the solar wind. This flow of highly charged particles causes the Aurorae Borealis and Australis, but can also knock out satellites and even bring down electrical systems on Earth during particularly vigarous solar storms.
Click here to comment on this article
Women Say Dentist Made Them Swallow Semen

Former employees of a dentist claim the man made female patients unwittingly swallow his semen during visits to his office. Dr. John Hall is accused by the state dental board of violating dentistry's standard of care, engaging in immoral conduct, and committing sexual assault or battery. Six former patients say he tricked them into swallowing his semen.
A seventh claims he jumped on top of her in the dental chair and "began to gyrate against her lower body in a sexual manner." The dental board suspended Hall's license Nov. 5, after police began investigating allegations by two former employees. In February, it conditionally restored his license, barring him from being alone with female patients.
Comment: Just keep telling yourself, "there are no psychopaths...."
Click here to comment on this article
---
Remember, we need your help to collect information on what is going on in your part of the world!
We also need help to keep the Signs of the Times online.
---

Check out the Signs of the Times Archives

Send your comments and article suggestions to us

---
Fair Use Policy
Contact Webmaster at signs-of-the-times.org
Cassiopaean materials Copyright ©1994-2014 Arkadiusz Jadczyk and Laura Knight-Jadczyk. All rights reserved. "Cassiopaea, Cassiopaean, Cassiopaeans," is a registered trademark of Arkadiusz Jadczyk and Laura Knight-Jadczyk.
Letters addressed to Cassiopaea, Quantum Future School, Ark or Laura, become the property of Arkadiusz Jadczyk and Laura Knight-Jadczyk
Republication and re-dissemination of our copyrighted material in any manner is expressly prohibited without prior written consent.