---
Printer Friendly Version
New Book!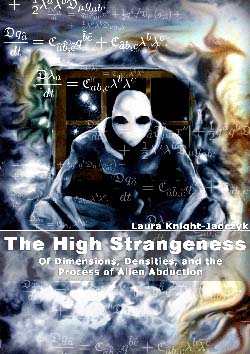 The High Strangeness of Dimensions, Densities and the Process of Alien Abduction
Anyone who wants to understand the hyperdimensional reality which is the "home" of alleged aliens, should pick up Laura Knight-Jadczyk's latest book, The High Strangeness of Dimensions, Densities and the Process of Alien Abduction.
With diligent research and a relentless drive for the facts, Laura strips away the facade of alien abductions masquerading as mind control and mind control masquerading as alien abductions. She then goes on to show how the Evil Elite rulers of the planet have merged, at the highest levels, with the Overlords of the Matrix Control System that underlies the structure of our reality.
Now, after 9-11, the fusion of the two worlds is almost complete. We have little time left, and the Controllers know it, and they have made plans…
Those who prefer the nourishment of truth over the poison of New Age myths, those who want a real peek at what is behind the Stargate Conspiracy, should get this book. Today. Read it - and weep.
Available at the end of August. Pre-order your copy now!
---
Picture of the Day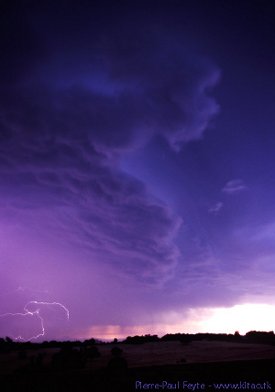 Orage à l'aube le 6 juillet 2004
©2004 Pierre-Paul Feyte
Questions Persist Despite 9/11 Investigations
By Terry McDermott Times Staff Writer
Mon Jul 26, 7:55 AM ET
With countless police, intelligence and journalistic examinations and two special congressional inquiries, the Sept. 11 attacks have been among the most investigated criminal acts in history.
The release last week of the final report of the independent 9/11 commission offered the nation a comprehensive overview of the origin and execution of the attacks. What the nation does not have are answers to all the outstanding questions, some of them fundamental:
Who provided the nearly half a million dollars it cost to carry out the attacks? How could the man who is alleged to have recruited several of the hijack pilots have done this while under investigation by at least three intelligence services - those of the United States, Germany and Morocco? Who, if anyone, assisted the hijackers during their time in the United States?
Some unanswered questions fall more in the category of perplexing curiosities:
Why did Mohamed Atta and another hijacker drive from Boston to Portland, Me., the day before the attacks, then fly back to Boston the next morning, almost missing the flight they intended to hijack?
Still other questions have less to do with the plot itself than the ground from which it sprung:
How did it happen that a single family of Pakistani expatriates in Kuwait, by most accounts an ordinary, pious family devoted to good works, produce five men - the plot mastermind, Khalid Shaikh Mohammed, and four of his nephews - who played roles in the attacks?
Many of the open questions might never be resolved. As commission Chairman Thomas H. Kean acknowledged, "There are still some unanswered questions because obviously the people who were at the heart of the plot are dead."
The independent 9/11 commission, formally known as the National Commission on Terrorist Attacks Upon the United States, performed best on the issues it investigated firsthand, which largely were the U.S. government's actions and inactions. Most of its 1,200 interviews dealt with this subject. For information on the plot itself, the commission dealt primarily with reports of investigations by others.
That other reporting by necessity relied on sources of varying credibility. The account of the origin and details of the hijack plot itself come almost entirely from hostile interrogations of two men - Mohammed and one of his deputies, Ramzi Binalshibh, both of whom are in U.S. custody, but neither of whom has shown much willingness to talk about matters that might implicate others.
Binalshibh, for example, has told his interrogators that two events in the plot were instigated by separate chance encounters on German trains. One of the events pertained to the decision of the Hamburg-based hijackers to travel to Afghanistan in 1999. Binalshibh said the decision was made after a chance meeting on a train with a man who told him to contact a third man who could tell him how to join the jihad. The man on the train approached him because he spoke Arabic and had a beard, Binalshibh said. Investigators, trained to distrust coincidence, wondered at the odds of that.
Also, according to footnotes in the commission report, much of the information on the personalities of the lead hijackers comes from a single German source, a Hamburg teenager who knew the hijackers but did not speak Arabic.
Here are some of the open questions and what, if anything, is known about their answers.
- Who provided the nearly half a million dollars the attacks cost?
The money was passed from Mohammed to the hijackers by electronic transfer and courier through the United Arab Emirates. Where Mohammed got the money is unknown. He said it came from Osama bin Laden's personal fortune, but investigators have found that the Al Qaeda leader's wealth has been vastly overestimated and that almost all of the organization's estimated $30-million-a-year budget was funded by donations.
Who made the donations to Al Qaeda is unknown. Mohammed first came to the attention of American investigators for his fundraising activities in the Persian Gulf, leading some to suspect he might have raised much of the relatively modest 9/11 sum on his own.
- How could Mohammed Haydar Zammar, a Syrian-born citizen of Germany, have safely recruited the Hamburg pilots when he was under investigation as a possible Al Qaeda operative?
Zammar was under surveillance that included having his telephones tapped at the very time he was to have been recruiting the pilots. At one point, American attempts to learn more about Zammar became so disruptive that German officials threatened to throw an American spy out of the country. The Germans nonetheless passed a steady stream of intelligence about Zammar to the Americans. The Islamist scene in Germany was so active throughout the 1990s that, in addition to the Germans and the Americans, intelligence operatives from Syria, Morocco and other Arab governments kept watch on it.
The question about Zammar raises a larger issue on the role of a network of Syrian expatriates across Europe, particularly in Germany and Spain, who had frequent contact with the Hamburg hijackers and with Al Qaeda over many years. Many of the Syrians had been members of the Muslim Brotherhood, a group that has had great influence on the evolution of radical Islamist theory in the last half a century. Were they witting helpers of the hijackers or, as many of them claim, simply Muslims trying to serve the dictates of their religion by assisting their brothers?
- Also in Hamburg, what role if any was played by an associate of the hijack pilots named Mohammed bin Nasser Belfas? Belfas, coincidentally or not, was on a trip to the United States in 2000 and applied for and received a Virginia driver's license at the same office and by the same fraudulent means employed by several of the hijackers.
- What were the relationships, if any, of the hijackers to other Al Qaeda cells in the United States?
There is little evidence. There was a network of men in Southern California who assisted two hijackers who lived there, but no links between the men who provided the help and Al Qaeda. There are peculiarities, like Atta's trip to Maine, that could be explained by the need to meet contacts, but no known evidence to support such supposition.
The most readily accepted explanation of the Maine trip is that Atta thought he would reduce his exposure to security by going through a smaller airport, and Portland was the nearest airport with regular service to Boston. The opposite appears to have happened. Rather than reducing his security exposure, Atta doubled it, passing through security checkpoints in Maine and in Boston.
Different hijackers made numerous trips to Las Vegas. Again, there is no evidence that they met other parties there, but no compelling explanation of why they went or what they did there.
- What was the role, if any, of Zacarias Moussaoui, the Frenchman originally accused in U.S. courts of being the so-called 20th hijacker?
Khalid Shaikh Mohammed said Moussaoui had no intended role in the Sept. 11 attacks. Others still think he might have been a potential pilot replacement. The title of 20th hijacker has subsequently been passed on to a series of men, including Binalshibh, who intended to become a pilot but could not receive a U.S. visa; Zakariya Essabar, a Hamburg associate who also applied unsuccessfully for visas; one of Mohammed's nephews who also was turned down for a visa; and a Saudi man turned away at immigration in Florida.
If Moussaoui was intended to be part of a second wave, what happened to it? Mohammed said he originally intended to plan more attacks, but became too busy. This conveniently eliminated the need to identify who would have carried them out.
- When did the Germany-based pilots first go to Afghanistan? Did Al Qaeda leader Osama bin Laden really choose them for their roles in the attack based on a single meeting when the plot was already in motion in late 1999, as the 9/11 commission report maintains? There are implications that at least some of the Hamburg men traveled to Afghanistan to train in the Al Qaeda camps prior to this, but little evidence.
- How did Marwan Al-Shehhi, one of the Germany-based pilots, meet the others? He lived in Bonn, hundreds of miles from Hamburg, then suddenly appeared in Hamburg as a close associate and housemate of Atta and Binalshibh. One possible explanation is that Shehhi met the others during earlier trips to Al Qaeda camps.
- Why did Al-Shehhi fly to Morocco in January 2001, and to Egypt in April?
- Were Binalshibh and hijacker Khalid Almihdhar involved in the bombing of the U.S. destroyer Cole in Yemen? Both were in Yemen when the attack occurred in October 2000.
- Why do officials of the United Arab Emirates continue to insist that they questioned hijacker Ziad Samir Jarrah at U.S. request in January 2001, when he was en route from Pakistan to Germany immediately after meeting with Bin Laden? According to documents obtained by the Los Angeles Times, the Americans have acknowledged to other intelligence services that the UAE informed them of the Jarrah interrogation but said that it was a routine check.
UAE officials said the interrogation was hardly routine, that it lasted several hours and Jarrah told them he was about to travel to America to learn to fly. The officials said they passed this information to the U.S., but would not say to whom specifically, and that the Americans told them not to hold Jarrah.
- What were the roles of Essabar and fellow Hamburg resident Said Bahaji, both of whom fled Hamburg to Afghanistan in the days prior to Sept. 11 and are presumed alive and at large?
- Why on the morning of Sept. 11 did the State Department watch list have 61,000 names on it and the Federal Aviation Administration's no-fly list have 12 names? The FAA maintains it could not economically employ a list as large as that maintained by the State Department.
- One of the most closely examined aspects of the Sept. 11 plot was a meeting of Al Qaeda operatives in Kuala Lumpur, Malaysia, in January 2000. American intelligence agencies had advance notice of the meeting and tracked at least two of its participants to Malaysia - Almihdhar and fellow hijacker Nawaf Alhazmi. Beyond saying they lost track of them afterward, the CIA has not given a satisfying explanation of how agents let them slip away. Neither has there been any explanation of how it came to pass that Almihdhar was met upon arrival at Kuala Lumpur by an Iraqi national employed as a greeter at the airport.
Comment: Yesterday, we ran the following story:
There is evidence of foreign intelligence backing for the 9/11 hijackers. Why is the US government so keen to cover it up?

Michael Meacher
Thursday July 22, 2004
The Guardian

Omar Sheikh, a British-born Islamist militant, is waiting to be hanged in Pakistan for a murder he almost certainly didn't commit - of the Wall Street Journal reporter Daniel Pearl in 2002. Both the US government and Pearl's wife have since acknowledged that Sheikh was not responsible. Yet the Pakistani government is refusing to try other suspects newly implicated in Pearl's kidnap and murder for fear the evidence they produce in court might acquit Sheikh and reveal too much.

Significantly, Sheikh is also the man who, on the instructions of General Mahmoud Ahmed, the then head of Pakistan's Inter-Services Intelligence (ISI), wired $100,000 before the 9/11 attacks to Mohammed Atta, the lead hijacker. It is extraordinary that neither Ahmed nor Sheikh have been charged and brought to trial on this count. Why not?

Ahmed, the paymaster for the hijackers, was actually in Washington on 9/11, and had a series of pre-9/11 top-level meetings in the White House, the Pentagon, the national security council, and with George Tenet, then head of the CIA, and Marc Grossman, the under-secretary of state for political affairs. When Ahmed was exposed by the Wall Street Journal as having sent the money to the hijackers, he was forced to "retire" by President Pervez Musharraf. Why hasn't the US demanded that he be questioned and tried in court?

Another person who must know a great deal about what led up to 9/11 is Khalid Sheikh Mohammed, allegedly arrested in Rawalpindi on March 1 2003. A joint Senate-House intelligence select committee inquiry in July 2003 stated: "KSM appears to be one of Bin Laden's most trusted lieutenants and was active in recruiting people to travel outside Afghanistan, including to the US, on behalf of Bin Laden." According to the report, the clear implication was that they would be engaged in planning terrorist-related activities.

The report was sent from the CIA to the FBI, but neither agency apparently recognised the significance of a Bin Laden lieutenant sending terrorists to the US and asking them to establish contacts with colleagues already there. Yet the New York Times has since noted that "American officials said that KSM, once al-Qaida's top operational commander, personally executed Daniel Pearl ... but he was unlikely to be accused of the crime in an American criminal court because of the risk of divulging classified information". Indeed, he may never be brought to trial.

A fourth witness is Sibel Edmonds. She is a 33-year-old Turkish-American former FBI translator of intelligence, fluent in Farsi, the language spoken mainly in Iran and Afghanistan, who had top-secret security clearance. She tried to blow the whistle on the cover-up of intelligence that names some of the culprits who orchestrated the 9/11 attacks, but is now under two gagging orders that forbid her from testifying in court or mentioning the names of the people or the countries involved. She has been quoted as saying: "My translations of the 9/11 intercepts included [terrorist] money laundering, detailed and date-specific information ... if they were to do real investigations, we would see several significant high-level criminal prosecutions in this country [the US] ... and believe me, they will do everything to cover this up".

Furthermore, the trial in the US of Zacharias Moussaoui (allegedly the 20th hijacker) is in danger of collapse apparently because of "the CIA's reluctance to allow key lieutenants of Osama bin Laden to testify at the trial". Two of the alleged conspirators have already been set free in Germany for the same reason.

The FBI, illegally, continues to refuse the to release of their agent Robert Wright's 500-page manuscript Fatal Betrayals of the Intelligence Mission, and has even refused to turn the manuscript over to Senator Shelby, vice-chairman of the joint intelligence committee charged with investigating America's 9/11 intelligence failures. And the US government still refuses to declassify 28 secret pages of a recent report on 9/11.

It has been rumoured that Pearl was especially interested in any role played by the US in training or backing the ISI. Daniel Ellsberg, the former US defence department whistleblower who has accompanied Edmonds in court, has stated: "It seems to me quite plausible that Pakistan was quite involved in this ... To say Pakistan is, to me, to say CIA because ... it's hard to say that the ISI knew something that the CIA had no knowledge of." Ahmed's close relations with the CIA would seem to confirm this. For years the CIA used the ISI as a conduit to pump billions of dollars into militant Islamist groups in Afghanistan, both before and after the Soviet invasion of 1979.

With CIA backing, the ISI has developed, since the early 1980s, into a parallel structure, a state within a state, with staff and informers estimated by some at 150,000. It wields enormous power over all aspects of government. The case of Ahmed confirms that parts of the ISI directly supported and financed al-Qaida, and it has long been established that the ISI has acted as go-between in intelligence operations on behalf of the CIA.

Senator Bob Graham, chairman of the Senate select committee on intelligence, has said: "I think there is very compelling evidence that at least some of the terrorists were assisted, not just in financing ... by a sovereign foreign government." In that context, Horst Ehmke, former coordinator of the West German secret services, observed: "Terrorists could not have carried out such an operation with four hijacked planes without the support of a secret service."

That might give meaning to the reaction on 9/11 of Richard Clarke, the White House counter-terrorism chief, when he saw the passenger lists later on the day itself: "I was stunned ... that there were al-Qaida operatives on board using names that the FBI knew were al-Qaida." It was just that, as Dale Watson, head of counter-terrorism at the FBI told him, the "CIA forgot to tell us about them".

Comment: While the links between the CIA and ISI are important, the blinders and the implications of this piece are rather startling. He can't see what is right in front of his eyes: that ISI was working for the Americans! We think there is much evidence that shows there was a "sovereign foreign government" involved, but that government was Israel. Pakistan was being manipulated.
Again, if other secret services know how Atta got the money, if millions of internet readers know how he got the money, if the rest of the world knows how he got the money, then how come the 9-11 commission doesn't know how he got the money? It's sort of like the fact that the whole rest of the world knew that there were no weapons of mass destruction, but it is now claimed that the US secret services didn't know, and most especially, George and the warmongers didn't know - so what's up with that? The only conclusion to draw is that either the leaders of the most powerful nation on earth are so stupid that they need a keeper, or they are lying. Perhaps both of these conclusions are true in a way - see our special report about Mossad and moving companies, which sheds more light on the events of 9/11.
Click here to comment on this article
Clueless 9-11 Commission Cheats American Public
[...] The 9-11 Commission Report [is] a deliberately misleading government whitewash derided by all Americans with an IQ higher than fifty. [...]
Starting with the 'conclusive' Dulles Airport video footage suddenly released by the media on the eve of 9-11 Commission Report publication, first ask yourself where you ever viewed airport security camera footage completely devoid of camera identification numbers, and without any date:time clocks. Just this single terminal at Dulles Airport has well over 100 such cameras, every one of them with an individual camera ident number and date:time clock of its own.
On-film data is essential of course, because it would be extremely difficult to track a target around the airport without these basic tools, and absolutely impossible to sort out the precise time and date of an event that occured more than two years before, which is exactly what the 9-11 Commission now claims to have done. Clever, huh? [...]
Those 'experts' who might wish to claim that the ident numbers and date:time clocks were edited out of every single frame for extra clarity, had best forget it. I have personally examined every available frame blown up over twenty times, and there is not a trace of editing. No matter where or when this footage was filmed, what you see is what you get.
It actually does get worse than this. Unwilling to believe that anyone is the U.S. Government would be stupid enough to publish such crude forgeries, I spent a small fortune on mobile phone calls to Washington to ensure that ALL of the footage I had viewed was included in this 'Dulles Airport security video package'. Indeed it was, right down to the cab you see parking outside the terminal in the center top photograph.
In order to understand the sheer treachery of the 9-11 Commission, we need to get a little technical for a couple of paragraphs. Dulles Airport is located at Latitude 38:53:27 N and Longitude 77:00:40 W. On the morning of 11 September 2001, sunrise was at 06:46 AM, Noon (when the sun is at its highest point in the sky) was at 1:05 PM, and sunset was at 7:23 PM. To quote the US Naval Observatory:-
"Sunrise and sunset conventionally refer to the times when the upper edge of the disk of the Sun is on the horizon, considered unobstructed relative to the location of interest. Atmospheric conditions are assumed to be average, and the location is in a level region on the Earth's surface."
End of technical lesson, but I feel sure you can see where all this is leading. Take another much closer look at the photographs at the top of this page, which are unedited extracts from the 9-11 Commission's alleged 'hijacker' video footage. Better still, play back a full size copy on your VCR and freeze- frame at the appropriate points.
The 9-11 Commission is asking you to believe that this video was filmed just 32 minutes after "the upper edge of the Sun is on the horizon" at sunrise. Oh, sure! Do you see the footprint size shadow underneath the cab, and the brilliant sunshine streaming in through the open doors? On a full-screen picture you can even see the miniscule short [near vertical] shadows of the people standing outside the doors.
What these factors prove in unequivocal scientific terms, is that this video footage was filmed at Dulles Airport sometime between 11:30 AM and 2:30 PM, though of course we do not know on which day or even which week. However, if this footage had been filmed as claimed at 7:18 AM, the shadows would have been fully three times as long, and the light intensity at least 50% less.
Hard science and the use of basic astronomical tables have thus defeated the 9-11 Commission's trump disinformation, which in turn was ruthlessly fed to you by the willing and thoroughly subverted American media. Why these men were filmed at Dulles in the first place is now of only minor interest, because we have proved they were not involved in the events of 11 September 2001, but the other possibilities are chilling.
Click here to comment on this article
The 911 Commission Report is Full of Holes
585 pages- it's too much to read, so don't even bother folks. They produced this monstrosity to convice you that they've REALLY researched, and you don't have time to look into this like we did, so just trust us: The gov't did their best, but they just weren't prepared for such an attack. [...]
Reader comment from above site: Almost every "average American" has access to the internet and a good portion of the truth as told through the alternative media. If 70 percent of America knew the truth about the activities in which our government is currently engaged, either every incumbent would be voted out of office or the goverment would collapse in 2 days.
Click here to comment on this article
Intel Jobs For 9/11 Commission Boys
Fox May Oversee Chicken Coop Security
Panel Chiefs Are Seen as Candidates for Post
by Philip Shenon NY TIMES
The chairman and vice chairman of the commission that investigated the Sept. 11 attacks said in an interview broadcast yesterday that they had established an "extraordinary partnership" and did nothing to tamp down speculation that they might be candidates for a newly created post of national intelligence director. The establishment of such a post was the commission's central recommendation. [...]
Asked yesterday on the NBC program "Meet the Press" whether they would consider some sort of joint appointment if proposed by President Bush, neither Mr. Kean nor Mr. Hamilton rejected the idea.
"I'd do anything with Lee Hamilton," said Mr. Kean, who was among the most popular governors in New Jersey's history and who retired from politics in 1990 to accept the presidency of Drew University in Madison, N.J. "We've established a partnership here that is extraordinary."
"Extraordinary," agreed Mr. Hamilton, who served 34 years in the House and is now the director of the Woodrow Wilson Center in Washington. "That's a very speculative question. I'd have to think about it. I've had a marvelous experience working with Tom Kean, and I think it's been a productive one, but that's a presidential call." [...]
Underscoring the political pressure on the administration to act quickly on the recommendations - or at least to be seen as responding aggressively to the security shortcomings highlighted by the commission's report - White House officials said Mr. Bush might endorse some of the proposals within days. [...]
But the White House and Congress are under pressure to move quickly to act on the commission's findings, especially in light of recent intelligence warnings that Al Qaeda intends to strike before the November elections.
And given that trial balloons in Washington often turn into policy decisions if they are to the political advantage of the White House and lawmakers, members of the commission and its spokesman said in interviews yesterday that Mr. Kean and Mr. Hamilton might offer just what is needed: wise bipartisan leadership of intelligence agencies that the commission's report identified as dysfunctional. [...]
In interviews on the Sunday morning television talk shows, Mr. Kean, Mr. Hamilton and other members of the panel said that Congress needed to move quickly on the commission's recommendations, including the creation of the national intelligence director's job, a position that would oversee the nation's 15 intelligence-gathering agencies.
"I would say before the election," said Bob Kerrey, a Democratic member of the panel and a former senator from Nebraska. Appearing on "This Week" on ABC, Mr. Kerrey said, "The question is, do you want to wait more time, until the United States of America gets attacked, and then turn to the recommendations of the report?"
Click here to comment on this article
Baghdad is a city that reeks with the stench of the dead

Robert Fisk – The Independent July 28, 2004
The smell of the dead pours into the street through the air-conditioning ducts. Hot, sweet, overwhelming. Inside the Baghdad morgue, there are so many corpses that the fridges are overflowing. The dead are on the floor. Dozens of them. Outside, in the 46C (114F) heat, Qadum Ganawi tells me how his brother Hassan was murdered.
"He was bringing supper home for our family in Palestine Street but he never reached our home. Then we got a phone call saying we could have him back if we paid $50,000. We didn't have $50,000. So we sold part of our home and many of our things and we borrowed $15,000 and we paid over the money to a man who was wearing a keffiyeh scarf round his head.
"Then we got another call, telling us that Hassan was at the Saidiyeh police station. He was. He was blindfolded and gagged and he had two bullets in his head. They had taken our money and then they had killed him".
There is a wail of grief from the yard behind us where 50 people are waiting in the shade of the Baghdad mortuary wall. There are wooden coffins in the street, stacked against the wall, lying on the pavement.
Old men – fathers and uncles – are padding them with grease proof paper. When the bodies are released, they will be taken to the mosque and then buried in shrouds. There are a few women. Most stare at the intruding foreigner with something approaching venom. The statistics of violent death in Baghdad are now beyond shame. Almost a year ago, there were sometimes 400 violent deaths a month. This in itself was a fearful number to follow the Anglo-American invasion of Iraq. But in the first 10 days of this July alone, the corpses of 215 men and women were brought to the Baghdad mortuary, almost all of them dead from gunshot wounds. In the second 10 days of this month, the bodies of a further 291 arrived. A total of 506 violent deaths in under three weeks in Baghdad alone. Even Iraqi officials here shake their heads in disbelief. "New Iraq" under its new American appointed Prime Minister is more violent than ever.
Qadum Ganawi puts his hand on my arm. "Listen", he says. "My brother only had two tiny children. One is only a year old. We have sold our house and borrowed $15,000. How can we ever pay this back? And we have nothing for it but the grief of losing my dear brother.
"He was a car importer so they thought he was rich. He wasn't. And you know his wife is Syrian. She want to Syria for a holiday with the two babies. She is there now. She doesn't know what has happened to her husband."
Trucks are arriving in the street besides us, a pick-up and a small lorry with corpses for autopsy. Tony Blair says it is safer here. He is wrong. Every month is a massacre in Baghdad. Thieves, rapists, looters, American troops at checkpoints and on convoys, revenge killers, insurgents, they are shooting down the people of this city faster than ever.
One man was shot dead by a US soldier as he overtook their convoy on the way to his Baghdad wedding. We found out only because his marriage was to have been celebrated in a hotel occupied by journalists. Another death I discovered only when an old Iraqi friend called on me last week. He wanted me to help him leave Iraq. Quickly. Now.
"I work for the Americans at the airport but I think I'm done for if I stay." Why? "Because my uncle worked at the airport for the Americans, just like me. My uncle was Abdullah Mohi. He was driving home the other night but they stopped him a hundred metres from his house. Then they took a knife and cut his throat. We found him drenched in blood at the steering wheel." Abbas looks at me with dead eyes. "Should I go to Jordan? Help me"
At the mortuary, a big, tall man, Amr Daher, walks up to me. "They killed one of our tribal leaders from the Dulaimi tribe," he says. "This morning, right in the middle of Al-Kut Square, just a couple of hours ago". Selman Hassan Salume was driving with his two teenage sons when three gunmen came alongside in a car and shot him dead. Both his sons were wounded, one seriously.
Hospital records tell only part of the story. In the blazing heat of an Iraqi summer, some families bury their dead without notifying the authorities. Some remain unidentified for ever, unclaimed. The Americans bring in corpses. When they do there are no autopsies. The morticians will not say why. But the Ministry of Health has told doctors there should be no autopsies in these cases because the Americans will have already performed the operation.
Not long ago, six corpses arrived at the Baghdad mortuary after being brought in by US forces. Three were unidentified. Three had names but their families could not be found. All had suffered, according to the American records, "traumatic wounds to the head", the normal phrase for gunshot wounds. There were no autopsies. Death is now so routine even the most tragic of deaths becomes a footnote. A US tank collides with a bus north of Baghdad. Seven civilians are killed. The Americans agree to open an investigation. It makes scarcely a paragraph in the local press. Four days ago, a US M1A1 Abrams crossing the motorway at Abu Ghraib collided with a car carrying two girls and their mother, all of whom were crushed to death. It did not even make the news in Baghdad.
No wonder the occupying powers – or the "international forces" as we must now call them – steadfastly refuse to reveal the statistics of Iraqi dead, only their own. Even the deaths we do not know about during the past 36 hours make shocking reading. At Mahmudiyah, south of Baghdad, gunmen killed two Iraqi police officers travelling to their station. In Kirkuk, an Iraqi policeman, Luay Abdullah, was shot as he waited for a lift home after guarding an oil pipeline. A Kurdish woman and her two children were killen when someone sprayed their home in Kirkuk with gunfire. A Kurdish peshmerga guerrilla was murdered in a drive-by shooting.
A former government official was killed in Baghdad. Then yesterday afternoon, a senior civil servant at the Iraqi Interior Ministry in Baghdad was shot dead. In the town of Buhriz, hours of fighting between insurgents and US troops left 15 dead, according to the Americans. All, they said, were gunmen, although it almost always transpires that civilians are among the dead in such battles.
American documents say insurgent groups "have become more sophisticated and may be co-ordinating their anti-coalition efforts, posing an even more significan threat". There is an increase in drive-by shootings. And, a chilling remark this, for all would-be travellers in and out of Baghdad, the Americans believe "recent attacks on air assets suggest that all types of aircraft, civilian, fixed-wing and military … are seen as potential targets of opportunity".
So the war is getting worse. The casualties are growing by the week. And Mr Blair thinks Iraq is safer.
Click here to comment on this article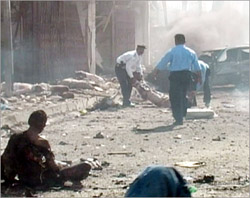 Scores killed in Iraq bomb attack
Wednesday, 28 July, 2004
Dozens of Iraqis were injured in the car bombing
At least 68 people have been killed in a car bomb explosion outside a police station in Iraq, exactly one month after the transfer of sovereignty.
Witnesses said a suicide bomber drove a car into a crowded market area, as men queued to join the police.
Dozens of people were also injured in the morning attack in Baquba, 65km (40 miles) north-east of Baghdad.
More than 160 Iraqis have been killed in attacks since the interim Iraqi government took power on 28 June.
There were other casualties on Wednesday, including seven Iraqi soldiers and 35 insurgents killed in fighting south of Baghdad.
Burning wreckage
Among those killed in the car bombing were 21 people travelling in a minibus, a health ministry official said. [...]
Comment: Again, the very obvious problem with ascribing these attacks to Iraqi fighters is that it is neither logical nor reasonable to suggest that so called "Iraqi militants" would target their own people. By creating such chaos they are simply providing justification for the continued presence of the US military which they claim to want to eject. Confused? So are we, and we are forced to disbelieve that "official story" about who is behind these attacks and look to who benefits most from them. Certainly not Iraqis, certainly not real Iraqi militants. The well known aspirations of Israel, and the Zionist chicken-hawks in Washington however, are greatly benefited by attacks such at these. So who really are these foot soldiers that carry out the plans of those determined to push Iraq and the Middle East into all-out conflagration? - Mossad and their phony Arab Army.
Click here to comment on this article
SADDAM'S 'STROKE' Ex-dictator's lawyer says he had brain scan and could die
Exclusive By Gary Jones In Amman, Jordan
Jul 28 2004
SADDAM Hussein has suffered a minor stroke and could die before his trial, his defence lawyers claim.
The multinational legal team is still awaiting permission to visit the deposed Iraqi ruler.
A letter demanding their doctor be given access to the former dictator was yesterday sent by Jordanian lawyer Mohammed al-Rashdan to Salem Chalebi, the head of the Iraqi prosecuting authorities.
Mr al-Rashdan said: "Our information is that he's in very poor health. We understand from the International Committee of the Red Cross that our client has had a brain scan to discover how badly he has been affected by the stroke. We believe he could die because of his health problems.
"We also think an attempt may be made on his life.
"We're very worried that we won't have a client to defend." He added: "Under the Geneva Convention we're entitled to have access to our client. But all our requests have been ignored."
In a form letter delivered by the Red Cross in January to his wife Sajida, living in Qatar, Saddam put a cross in boxes for "good health" and "slightly wounded".
"His finger appears to have been wounded, possibly by gunshot, when he was captured," said Mr Rashdan. "But we believe his health has deteriorated.
"We believe any trial could be months, if not years away - I think Bush and Blair would be happier if he died from ill health."
Comment: No doubt Bush and Blair would prefer Saddam, er, the double of Saddam, to die rather than go to trial. Saddam's wife also said that the man in custody in Baghdad was not her husband. Meanwhile we hear stories of poetry writing and gardening while Saddam Whozat is in prison.
Click here to comment on this article
France tries to block NATO training for Iraqi security forces: NATO sources
www.chinaview.cn 2004-07-28 23:41:25
BRUSSELS, July 28 (Xinhuanet) -- France is blocking the accord of the North Atlantic Treaty Organization (NATO) to train Iraqi security forces as alliance ambassadors are striving to reach consensus on the issue, NATO sources said Wednesday.
NATO leaders promised to provide such training at a summit in Turkey last month, but left the details to be hammered out. Francewas Europe's fiercest opponent of the US-led war on Iraq.
"It looks like France is blocking an alliance consensus," one source said.
"Over 20 allies support this. Two or three were undecided at the beginning of the week, and it was France who is just saying ' no' and by saying 'no' is blocking consensus," the source said.
The US is pushing hard for an accord. Two high-level meetings were scheduled at the 26-nation alliance's headquarters in Brussels Wednesday to try to reach a deal.
[...] The sources said that France is determined not to hand US President George W. Bush a show of international support for his Iraq policy before the Republican Party's pre-election convention,which opens at the end of August.
Comment: Those nasty Frenchies are at it again, trying to stop democracy in its tracks. They are also making trouble trouble for those poor, put upon Zionists in Israel...
Click here to comment on this article
NEWS ANALYSIS: In wake of U.N. vote, Israel looks with trepidation at united Europe
By Leslie Susser

JERUSALEM, July 26 (JTA) — If Israeli officials thought the accession of 10 new countries to the European Union would produce a more pro-Israel E.U. foreign policy, the recent U.N. General Assembly vote against Israel's West Bank security barrier was a dose of cold water.
Now some high-ranking Israeli officials fear the E.U.'s unanimous vote against the fence was a sign that an energized and united Europe will take a stronger stand than ever on Israeli-Palestinian affairs, and could even move the United States away from its traditional support for the Jewish state.
Calling the July 20 vote a watershed, these Israeli officials say a more confident and assertive Europe may pressure the next U.S. administration to impose a deal on Israel and the Palestinians. They also may impose economic sanctions on Israel or even back calls for a single binational Israeli-Palestinian state — one that, through simple demographics, would become a majority Arab state in a few years time.
[...] The vote proves the union is a political bloc with a common foreign policy, he said in an interview with Ha'aretz, noting that even would-be E.U. members, like Turkey, Bulgaria and Romania, had voted the same way.
This single, clear European voice is precisely what some Israeli officials fear. Until now, they note, Israel has been able to maneuver between E.U. countries with which it has closer ties, such as Germany and Britain, and countries that traditionally take a more pro-Palestinian line, such as France. If Europe continues to speak with a single voice, that kind of maneuvering may no longer be possible.
Some Israeli officials expect the worst: They predict the European Union will pressure whoever is elected U.S. president in November to exert more pressure on Israel to resolve the Palestinian conflict, and that either Bush or Kerry — seeking a Middle Eastern success to make up for the imbroglio in Iraq — may well be receptive.
The officials point out that unlike the United States — which if necessary will resort to unilateral action against "rogue states" — Europe sets great store by the application of international law. The officials fear this could be further exploited by the Palestinians, following up on their success against the fence in the International Court of Justice.
Beyond that, the officials fear that if there is no progress in resolving the Israeli-Palestinian dispute, Europe may press for a single Israeli-Palestinian state, which quickly would have a Palestinian majority.
Comment: Expect to see more and more "anti-Semitic" attacks in France in the months to come...perpetrated by the Zionists themselves. It is longstanding Zionist policy, going back to the 1930s, to side with "anti-Semites" in order to create a climate of fear for Jews outside of Israel. It was a Zionist tactic then to convince Jews that they needed a "homeland"; it is still the tactic to try and populate it. The Likudists know that the US is in their pocket, Europe is less so.
Click here to comment on this article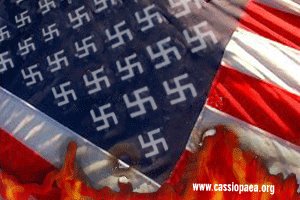 Two Pepper Sprayed Over Phone Call At Fla. Movie
Pair Arrested At Theater
local6.com
6:50 am EDT July 27, 2004
ST. PETERSBURG, Fla. -- A college student who took a cell phone call from her mother in a movie theater was pepper sprayed by an officer and charged with disorderly conduct, along with her boyfriend.
Warronnica Harris, 23, was at the Muvico theater at BayWalk Saturday night, watching the opening credits to Catwoman when her cell phone rang.
"It was my mom calling me," Harris said. "It was a family emergency."
Harris said she spoke so quietly that her mother couldn't hear her. Then Officer John Douglas shone a flashlight in her eyes.
He asked Harris and her boyfriend, Terrell "KC" Tolson, 25, to leave. He pushed Harris in the hallway, then pepper sprayed both of them in the lobby, the couple said. Neither Harris nor Tolson has a criminal record.
Police denied their account, saying Harris refused to end her cell phone conversation, yelled at the Douglas and refused to leave the theater. Her boyfriend also refused to leave and threatened the officer, police said.
Witnesses said the pair did nothing wrong.
Marcia Gray, a 49-year-old Tampa accountant, was in the lobby when the couple were pepper sprayed.
"The man turned and asked the officer why he was making them leave and the cop just maced him in the face," Gray said. "They weren't yelling or touching him. The man bent over and the girl asked why he maced her boyfriend. Then the cop maced her, and she dropped her soda."
Comment: Police in the US can get away with anything, including murder. It happens rather frequently now. The heat is being turned up almost daily, and most Americans still have no idea that they are in the soup.
Click here to comment on this article
CAIRO, July 5 (Reuters - by Alistair Lyon) - If Yasser Arafat unilaterally proclaims a Palestinian state this year, he can expect swift recognition from his Arab allies, anger from Israel and the United States, and indecision from Europe.
The Palestinian leader, under mounting pressure at the approach of a September 13 deadline for a final peace with Israel, has few cards left in a dwindling stack.
The Palestinian Central Council, the PLO's mini-parliament, on Monday endorsed his promise to declare statehood after the deadline, with or without an agreement with the Jewish state.
Arafat, heeding U.S., Arab and European pressure, deferred such a declaration in May last year after months of threatening one-sided action, narrowing his room for manoeuvre this time.
Israel has derided the idea of a unilateral declaration and vowed to stymie it.
"I can tell them that a Palestinian state will not be created as long as Israel does not recognise it,'' said Justice Minister Yossi Beilin, an architect of the 1993 Oslo peace accords, on Tuesday. "It will stay on paper even if the entire world recognises a unilateral Palestinian state.''
He recalled Arafat's 1988 declaration of a state that never materialised -- for Palestinians a bitter, as well as triumphal, moment with its implied recognition of Israel's right to exist.
One of Arafat's sternest Palestinian critics broadly agreed.
"It really doesn't matter whether he declares a Palestinian state or not, because he'll have a state without real borders -- they're controlled by the Israelis -- no real sovereignty, no real country -- it will be cut up into cantons and he won't have east Jerusalem,'' Edward Said told Reuters in Beirut.
"He won't be able to get rid of the settlers and won't have control over the water, air or sea. Aside from all that, he'll have a state of sorts,'' the Palestinian writer said, describing Arafat's move as "a sign of both exasperation and weakness.''
Click here to comment on this article
Palestinian Man Severely Beaten at a Checkpoint

George Rishmawi-IMEMC & Agencies, July 28, 2004
The Israeli Information Center for Human Rights in the Occupied Territories (B'Tselem) reported that Mahmoud Al-Hanini 23, from Beit Furik near Nablus was severely beaten up at Beit Furik checkpoint on Tuesday.
The reason, according to eyewitnesses, was that Al-Hanini insisted on praying at the checkpoint as he had already been held for a long time when the prayer time began.
In the past three years of the Intifada, B'Tselem has recorded hundreds of assault cases against Palestinians committed by Israeli soldiers at different checkpoints.
This assault was committed less than 24 hours after an Israeli soldier assaulted and shot a young Palestinian at Beit Eiba checkpoint because the soldier claimed that the Palestinian called him a liar.
Currently, the Israeli police are probing this case after an Israeli women from an organization doing a Checkpoint Watch, filed a complaint and demanded an investigation.
B'Tselem said this kind of assault is part of the daily routine that hundreds of Palestinians go through.
The army rarely initiates investigations into assaults cases, said B'Tselem. This time there was media pressure and, more specifically, the incident was reported by the Israeli media, B'Tselem added.
The soldiers started beating Hanini with their helmets as he prepared himself for prayer . Because of excessive bleeding Hanini went unconscious. Eyewitnesses said troops did not allow him to receive first aid.
Click here to comment on this article
'Truth told' about Madrid attacks
Spain's former Interior Minister Angel Acebes has defended his government's actions in the wake of the 11 March train bombings in Madrid.
Mr Acebes, speaking at parliament's commission of inquiry into the attacks, rejected claims that his administration had hidden the truth.
He said "others" had taken advantage of the bombings to discredit the Popular Party government.
The conservative party lost the general elections three days after the attacks.
Mr Acebes said that after the attacks, which killed 191 people, his government had acted with "maximum transparency" but others had launched an election strategy to pour scorn on the government and take advantage of the dramatic situation.
Mr Acebes has been criticised at the commission hearings for jumping to blame Basque militants Eta in the wake of the attacks.
Investigation
Critics have suggested the government rushed to blame Eta out of fear that an al-Qaeda link - and implications of retaliation for Spain's support for the war in Iraq - could cost it the general election. [...]
Comment: The truth will never be told in the mainstream press about the Madrid bombing.
Click here to comment on this article
Cynthia McKinney, critic of Israel, wins Democratic primary in Georgia
By Matthew E. Berger

WASHINGTON, July 21 (JTA) — Cynthia McKinney is one step closer to returning to Congress.
The former Georgia lawmaker, who has been targeted by Jewish donors in the past because she is perceived as anti-Israel, surprised many by avoiding a runoff and winning outright Tuesday's six-person Democratic primary for her old seat in the U.S. House of Representatives.
Jewish donors, concerned about McKinney's re-emergence, had anticipated backing McKinney's opponent in a runoff next month, but now are faced with the likelihood that McKinney will return to Washington after winning in November in a heavily Democratic district.
McKinney, who represented the 4th congressional district for 10 years before losing to Denise Majette in the primary two years ago, received 51 percent of the vote Tuesday.
Liane Levetan, a Jewish state senator, received 21 percent, and Cathy Woolard, a former Atlanta city council president, garnered 19 percent.
McKinney, Georgia's first black congresswoman, will face Republican Catherine Davis, who also is black, in November.
The resurrection of McKinney's career comes as a surprise to many Jewish donors, who spent time and money to defeat her two years ago after a controversial tenure in Congress. McKinney had consistently angered many Jews because of her anti-Israel comments and vocal opposition to votes supporting Israel's right to self-defense. [...]
Shortly after the Sept. 11, 2001 terrorist attacks, McKinney asked a Saudi prince for a $10 million donation he had pledged for disaster relief. New York City Mayor Rudolph Giuliani had rejected the money because the prince suggested U.S. support for Israel provoked the attacks.
McKinney also suggested that President Bush knew of the terrorist plot to attack the World Trade Center, but didn't prevent it because he wanted a pretext for war. Some voters said recent information about faulty intelligence validated McKinney's views.
McKinney has enjoyed strong support from the Arab and Muslim community, which views her as a prime backer of a Palestinian state. A review of her Federal Election Commission filings shows a slew of Arab surnames, and she received $1,000 from the American-Arab Anti-Discrimination Committee.
Levetan received $5,000 from the pro-Israel Hudson Valley Political Action Committee.
Some Jewish leaders hope McKinney's changed demeanor on the campaign trail will carry through to Washington if she wins in November.
If not, analysts said, there's always the chance to target her again — in 2006.
Click here to comment on this article
Belief in Hell Boosts Growth: Fed Report
By Alister Bull
Tue Jul 27, 4:13 PM ET
WASHINGTON (Reuters) - Economists searching for reasons why some nations are richer than others have found that those with a wide belief in hell are less corrupt and more prosperous, according to a report by the Federal Reserve Bank of St. Louis.
Researchers at the regional Federal Reserve bank acknowledged the importance of productivity and investment in the economic process but looked at some recent unconventional efforts to explain differences in national prosperity.
The St Louis Fed drew on work by outside economists who studied 35 countries, including the United States, European nations, Japan, India and Turkey and found that religion shed some useful light.
"In countries where large percentages of the population believe in hell, there seems to be less corruption and a higher standard of living," the St. Louis Fed said in its July quarterly review.
For instance, 71 percent of the U.S. population believe in hell and the country boasts the world's highest per capita income, according to the 2003 United Nations Human Development Report and 1990-1993 World Values Survey.
Ireland, not far behind the United States in terms of income, likewise has a healthy fear of a nether world with 53 percent of the population acknowledging hell's existence.
FIRE AND BRIMSTONE
"I'm not surprised," said the Rev. Eileen Lindner, deputy general secretary of the U.S. National Council of Churches, when told of the results.
"The expectation that there is a cultural belief in hell or perpetual and eternal punishment for wrongdoing will act as a disincentive to wrongdoing," she said.
The St Louis Fed's researchers took a two-step approach to linking religion and the economy.
"A belief in hell tends to mean less corruption and less corruption tends to mean a higher per capita income," they wrote. It correlated the belief in hell findings of the World Value Series with a measure of corruption produced by Transparency International.
It then looked at the relationship between corruption and per capita gross domestic product and found "a strong tendency for countries with relatively low levels of corruption to have relatively high levels of per capita GDP."
"Combining these two stories ... suggests that, all else being equal, the more religious a country, the less corruption it will have and the higher its per capita income will be."
The researchers also noted the long tradition among classical economists to equate a society's honesty, and the strength of the rule of law, with economic vitality.
"Adam Smith wrote that one of religion's most important contributions to the economic development process is its value as a moral enforcement mechanism," they said.
Fed Chairman Alan Greenspan offered a contemporary echo of this view, arguing in a speech earlier this year that modern business still relies on the word of those with whom it deals as he slammed the recent run of corporate governance scandals in the United States for eroding that trust.
None of which cut any ice with nonbelievers.
Ellen Johnson, president of American Atheists Inc., called the study the latest gimmick from the religious establishment to drum up government support.
"Religious people cannot rely on their theology to promote what they do so they turn to other things," she said.
"I cannot imagine what the belief in mythological beings or things that don't exist can do for business. What about the pornographic industry? That is probably very good for growth."
Comment: Seems pretty clear that the leaders of the US do NOT believe in Hell, though they certainly encourage their followers to do so. Machiavelli wrote:
"To see and hear [the Prince], he should seem to be all mercy, faith, integrity, humanity, and religion... for men in general judge more by the eyes than by the heads, for everyone can see but very few have to feel... Let a prince therefore aim at conquering and maintaining the state, and the means will always be judged honourable and praised by everyone, for the vulgar is always taken in by appearances."
Machiavelli saw religion and its teachings of faith, hope, charity, love, humility and patience under suffering as factors that render men weak and cause them to care less about worldly and political things, and thus they will turn political power over to wicked men who are not influenced by such ideals.
Power and authority can be most easily obtained where people obey because they believe that obedience is morally appropriate. Machiavelli taught that authority is preferable to coercion because coercion is a terribly inefficient method to compel obedience. It requires enormous resources to hold a gun against the heads of the masses. Because, in the end, raw power is inadequate in holding a whole population in line by the use of force. Therefore, an astute prince would harness the power of emotions and manage the passions rather than guide men through reason. The prince must make use of the human passions of love, hate, fear, desire for glory and power, boredom and, most certainly the fear of Hell.
Click here to comment on this article
'Sieg Heil' Website Gives Lesson on Holocaust
Tue Jul 27, 9:38 AM ET

FRANKFURT (Reuters) - German neo-Nazis seeking to access racist propaganda on the Internet will now receive a lesson on the Holocaust when visiting a Web Site named after the Nazi victory salute "Sieg Heil."
All traffic to the former neo-Nazi Web Site "siegheil.de" has been redirected to "shoa.de," a site providing information on the origins of anti-Semitism and a detailed account of the Nazis' murder of some six million Jews.
Germany's central registration authority for web addresses, Denic, revoked the license of the former operator of siegheil.de at the request of the German Internet watchdog jugendschutz.net, a spokesman for the group said.
Click here to comment on this article
Oil Hits $43, YUKOS Told to Stop Sales
By Andrew Mitchell
July 28, 2004
LONDON (Reuters) - Oil prices hit their highest level in at least 21 years on Wednesday after bailiffs ordered beleaguered Russian oil giant YUKOS to stop sales, threatening further strain on tight international supplies.
The news intensified concerns over the lack of spare capacity in the international oil system, as the OPEC cartel pumps at its highest level for a quarter of a century to meet strong global demand growth.
Gains accelerated after a weekly U.S. government report showed just a small build in crude stocks and a fall in gasoline inventories even though crude imports into the country were at the highest weekly level ever.
U.S. light crude rose $1.21 to $43.05 a barrel -- topping peaks hit in early June and the highest price since the New York Mercantile Exchange launched the contract in 1983. London Brent crude rose $1.06 a barrel to $39.60 a barrel, its highest level since October 1990, ahead of the first Gulf War.
Prices jumped after a company source said Russian bailiffs told YUKOS' four production units, which together pump 1.7 million barrels a day of oil, to halt sales of property -- including oil.
YUKOS said it had not complied with the order and was continuing to operate while it sought clarification of what chief executive Steven Theede called a "misinterpretation."
YUKOS has said it faces imminent bankruptcy as courts seek to enforce a $3.4 billion tax debt for 2000.
The company pumps around a fifth of crude supply in Russia -- the world's second biggest oil exporter behind Saudi Arabia after five years of rapid production growth.
STRETCHED TO THE LIMIT
The lack of a supply cushion in the event of an attack against the Middle East oil infrastructure has encouraged heavy buying from big money speculative funds.
If the YUKOS turmoil prevents Russian production from meeting forecasts for further growth, the global oil supply system will be even more pressed to meet rising demand, analysts say.
OPEC has already jacked up production to 30 million barrels per day -- the highest level since 1979 -- to meet breakneck consumption growth in China and the United States.
Saudi Arabia has led the supply increase, eager to stop prices rising to a level that would hurt world economic growth and stunt fuel demand.
Allowing for inflation, prices are about half those during the oil price shock that followed the 1979 Iranian revolution. Crude averaged $80 a barrel during 1980 when adjusted for inflation to 2003 prices, according to oil major BP. [...]
Click here to comment on this article
Amazon fires alter climate, rainforest
Wednesday, July 28, 2004 Posted: 10:06 AM EDT

BRASILIA, Brazil (Reuters) -- Burning of the Amazon jungle is changing weather patterns by raising temperatures and reducing rainfall, accelerating the rate at which the forest is disappearing and turning into grassland, scientists said on Tuesday.
Wide-scale burning by loggers and farmers of the Amazon has risen sharply over the past two decades, changing the region's cloud cover and reducing the amount of rain in some deforested areas that are turning into grassland or savanna.
"All the models indicate the same thing, 'savannization,"' Pedro Leite Silva Dias of the University of Sao Paulo said at a conference on research on Amazon deforestation.
Silva Dias said the worst-case scenario for the Amazon, a continuous tropical forest larger than the continental United States, is that at current burning and deforestation rates, 60 percent of the jungle will turn into savanna in the next 50 to 100 years. The most likely outlook is that 20 to 30 percent will turn into savanna, according to forecasting models.
Destruction of the Amazon, home to up to 30 percent of the globe's animal and plant species, reached its second-highest level last year. An area of 5.9 million acres (2.38 million hectares), bigger than the state of New Jersey, was destroyed as loggers and farmers hacked and burned the forest in 2003.
About 85 percent of the Amazon is still standing.
The Amazon experts are presenting the latest findings of the Large Scale Biosphere-Atmosphere Experiment in Amazonia, the world's largest experiment on jungle deforestation.
The experiment, which includes U.S. space agency NASA, has found increasing evidence that the Amazon is slowly getting drier due to burning, with unpredictable consequences for its survival and weather patterns.
The experiment has monitored the Amazon since 1998, using research towers and a unique satellite image system.
As the climate becomes drier and reduces the colossal amount of water vapor over the Amazon, the effects will spread internationally, the experts said.
"Clouds over the Amazon are not in their normal state. The repercussions of this are going to be felt far away," said Meinrat Andreae of Germany's Max Planck Institute of Chemistry. "This leads to significant changes of global (cloud) circulation."
Experts have found that burning of the Amazon, accounts for 75 percent of Brazil's greenhouse gas emissions, making Brazil one of the world's top 10 polluters.
The scientists said the Amazon's climate is already getting hotter due to global warming. Burning in the area itself is accelerating that process.
Click here to comment on this article
Fires reduce parts of southern France to smouldering moonscape
Wed Jul 28,10:21 AM ET
NIMES, France (AFP) - Residents and tourists in parts of southern France were contemplating vast tracts of still-smouldering and blackened land left behind by scrub fires, including one huge blaze that threatened the 2,000-year old city of Nimes overnight.
More than 3,000 hectares (7,400 acres) have been consumed since the fires first broke out last weekend in dry wooded areas frequently at risk in the hot summer months.
Authorities suspect several of them were started deliberately or through criminal negligence. At least three firemen have been hurt.
The most recent flared up Tuesday 15 kilometres (10 miles) northwest of Nimes. Fanned by winds gusting at 70 kilometres (40 miles) per hour, it licked at the outer suburb of Marguerittes, destroying several houses, forcing evacuations and cutting a motorway, officials said.
Around 700 firemen backed by eight water-bombing aircraft and desperate locals battled throughout the night to contain the fire, a task still underway Wednesday.
"You'd think you were on the moon," a municipal official in charge of local historic sites, Vivian Mayor, said as he surveyed the razed land with eyes reddened by soot and sadness.
"There are no flowers, no insects. You can't hear any sounds of the bush. It's a catastrophe for the flora and fauna," he said.
The destruction was all the more heartbeaking for the region because it had planted many of the trees and plants wiped out this time since a similar blaze in 1989. [...]
Click here to comment on this article
Oil futures hit record amid supply worries
Last Updated Wed, 28 Jul 2004 10:30:07 EDT
NEW YORK - Oil futures surged to a record high on Wednesday amid concerns Russia's biggest oil producer may have to stop production.
The September futures contract hit $43.05 US in morning trading before slipping back to $42.80 US a barrel.The previous high for crude futures was $42.45 US a barrel, reached June 2.
Click here to comment on this article
Monsoon death toll in South Asia surpasses 1,200 as disease sets in
01:12 PM EDT Jul 28
PARVEEN AHMED
DHAKA, Bangladesh (AP) - Deaths from monsoon rains across South Asia reached 1,238 on Wednesday as Bangladesh remained awash in the worst floods in six years, and water-borne diseases began taking their toll.
Diarrhea caused by drinking dirty water has killed 46 people and afflicted about 80,000 this month, according to the government's Health Directorate. Relief workers warned that the situation could worsen as rivers around Bangladesh's inundated capital, Dhaka, continued to swell.
The annual monsoon flooding, fed by melting snow and torrential rains, has left millions across South Asia marooned or homeless. At least 731 people have died in India, 102 in Nepal and five in Pakistan, according to reports from officials, compiled by The Associated Press.
Click here to comment on this article
French Jews prepare to emigrate
By Caroline Wyatt
BBC correspondent in Paris
Two hundred French Jews are emigrating to Israel on Wednesday in a journey likely to add to the current diplomatic tensions between Israel and France.
The chill in relations was set off by Israeli Prime Minister Ariel Sharon's call to French Jews to flee to Israel.
This is to escape a rise in anti-Semitism in France which many blame on its five million Muslims.
However, French politicians believe that Mr Sharon may have a wider political agenda.
Desecrated signs at a French Jewish cemetery in April 2003
France has seen a spate of attacks against Jewish targets
The Jewish community in Paris has organised a special ceremony at the airport to bid farewell to those leaving for a new life in Israel.
Around 2,000 French Jews make this journey every year - some for religious reasons, others to find work and some because they say the fear of anti-Semitic attack has made their lives intolerable.
The number of threats and attacks on Jews has risen sharply in the wake of the second Palestinian uprising.
But politicians in France believe these families are being used as pawns by Israel in a wider political game.
Mr Sharon's plan to greet the immigrants personally at Tel Aviv airport has gone down badly in France, where relations with Israel are already exceedingly chilly.
Click here to comment on this article
Athens installs Patriot missiles
Dozens of Patriot missiles have been put in place around Athens as the Greek capital began rolling out its security operation for next month's Olympics.
Anti-aircraft missiles are in place at three Athens sites, including Tatoi airfield near the athletes' village, and elsewhere around Greece.
It is part of a 1.2bn-euro security plan ($1.bn), the most costly in the history of the games.
Hundreds of surveillance cameras are also being installed around Athens.
The Greek authorities said the US-made Patriot missiles were progressively installed from 1 July, and would remain in place until after the games end on 29 August.
Zeppelin airship
Three police helicopters and a Zeppelin airship, also equipped with surveillance cameras, will operate almost around the clock during the Olympics, a police source told Reuters news agency.
Patriot missiles and other anti-aircraft devices will also positioned at other cities in Greece.
Russian-made S 300 anti-aircraft missiles are protecting the city of Heraklion on the southern island of Crete, Greek Air Force spokesman Constantinos Prionas told AFP news agency.
The Associated Press said Patriot missile sites were also being installed in the northern city of Thessaloniki and one on the Aegean Sea island of Skyros.
Click here to comment on this article
Powerful earthquake shakes Papua
JAKARTA (AP): A powerful earthquake rocked Indonesia's easternmost province of Papua on Wednesday but there were no reports of injuries or damage, witnesses and officials said.
The 6.1 magnitude quake was centered just off the northern coast of Papua under the Pacific Ocean, according to the Meteorology and Geophysics Agency.
It was felt in town of Manokwari on the northern coast of Papua, around 3,200 kilometers (2,000 miles) northeast of Jakarta. There were no reports of injuries or damage.
Click here to comment on this article
Volcano shakes itself from 12-year slumber, surprising scientists
By PETER PORCO
Anchorage Daily News
(Published: July 28, 2004)
Mount Spurr, the volcano on Anchorage's doorstep, is kicking up once again, the first time since it erupted 12 years ago, scientists said this week.
Tiny earthquakes by the hundreds have been rumbling beneath the mountain across Cook Inlet from the city, according to the Alaska Volcano Observatory in Anchorage.
The observatory on Monday raised its official level of concern from Code Green, or "No eruption anticipated," to Yellow, meaning "An eruption is possible in the next few weeks and may occur with little or no additional warning."
Click here to comment on this article
Freak waves spotted from space
BBC
Thursday, 22 July, 2004, 18:19 GMT
Esa tasked two of its Earth-scanning satellites to monitor the oceans with their radar
The shady phenomenon of freak waves as tall as 10 storey buildings had finally been proved, the European Space Agency (Esa) said on Wednesday.
Sailors often whisper of monster waves when ships sink mysteriously but, until now, no one quite believed them.
As part of a project called MaxWave - which was set up to test the rumours - two Esa satellites surveyed the oceans.
During a three week period they detected 10 giant waves, all of which were over 25m (81ft) high.
Strange disappearances
Over the last two decades more than 200 super-carriers - cargo ships over 200m long - have been lost at sea. Eyewitness reports suggest many were sunk by high and violent walls of water that rose up out of calm seas.
But for years these tales of towering beasts were written off as fantasy; and many marine scientists clung to statistical models stating monstrous deviations from the normal sea state occur once every 1,000 years. The waves exist in higher numbers than anyone expected
"Two large ships sink every week on average," said Wolfgang Rosenthal, of the GKSS Research Centre in Geesthacht, Germany. "But the cause is never studied to the same detail as an air crash. It simply gets put down to 'bad weather'."
To prove the phenomenon or lay the rumours to rest, a consortium of 11 organisations from six EU countries founded MaxWave in December 2000.
As part of the project, Esa tasked two of its Earth-scanning satellites, ERS-1 and ERS-2, to monitor the oceans with their radar.
The radars sent back "imagettes" - pictures of the sea surface in a rectangle measuring 10 by 5km (6 by 2.5 miles), which were taken every 200km (120 miles).
Around 30,000 separate imagettes were produced by the two satellites during a three-week period in 2001 - and the data was mathematically analysed.
Esa says the survey revealed 10 massive waves - some nearly 30m (100 ft) high.
"The waves exist in higher numbers than anyone expected," said Dr Rosenthal.
Ironically, while the MaxWave research was going on, two tourist liners endured terrifying ordeals. The Breman and the Caledonian Star cruisers had their bridge windows smashed by 30m waves in the South Atlantic.
Sailors often whisper of monster waves when ships sink mysteriously The Bremen was left drifting for two hours after the encounter, with no navigation or propulsion.
Now that their existence is no longer in dispute, it is time to gain a better understanding of these rogues.
In the next phase of the research, a project called WaveAtlas will use two years' worth of imagettes to create a worldwide atlas of freak wave events.
The goal is to find out how these strange cataclysmic phenomena may be generated, and which regions of the seas are most at risk.
Dr Rosenthal concluded: "We know some of the reasons for the rogue waves, but we do not know them all."
Click here to comment on this article
A reader sent us the following:
There's been a handful of stories on the web lately about strange bird behaviour. It might tie into this magnetite they also have in their bodies and use for navigation, as bees do. I collected some of the stories in a document over the past two days. This is a part of the file I have so far, with stories where it seems their 'navigation systems' weren't working properly:
Psychotic Pigeons Take Over Island: It's like a scene from Hitchcock's 'Birds'

Tuesday, July 27th, 2004

GUAHARA ISLAND, NEAR TIHJUAJA (): [...] But what's causing the pigeons to flock to the island? Experts believe they have been blown off course and confused, landing wherever they can. One scientist thinks the shock waves from the Concorde is to blame. A report in New Scientist magazine reports that pigeons have a built in compass that allows them to navigate using the Earth's magnetic field and sun as a guide. The Concorde, the scientist believes, has caused an imbalance that has left the pigeons with no idea which way to go.

Click here to comment on this article

1,500 homing pigeons get lost during race

Thursday, July 22, 2004

STOCKHOLM, Sweden -- Organizers of a race for homing pigeons were still scratching their heads in wonder Thursday after about 1,500 of the birds, famous for their ability to find their way home, went missing during the contest.

Click here to comment on this article

Calif. Pelican Deaths Puzzle Wildlife Officials

Tue 20 July, 2004

LOS ANGELES (Reuters) - California's endangered brown pelicans are mysteriously starving to death during a bumper year for anchovies, their preferred prey, wildlife officials said.

Hundreds of the ungainly sea birds appear to have flown off course in search of food during their annual migration from the Baja California peninsula to British Columbia, with young pelicans turning up in Arizona deserts, biologists said.

Click here to comment on this article

Lost pelicans spotted in Minnesota: North Dakota birds found in Becker and nearby counties

Sunday, July 18, 2004

Where have all the American white pelicans gone? To Becker and neighboring counties, for starters. For unknown reasons, virtually the entire population of 35,000 pelicans at Chase Lake National Wildlife Refuge north of Medina, N.D., left about a month ago.
These above are from the last 10 days, the next two are older ones:
Mass starling suicide baffles experts

27th Oct, 2003

Wildlife experts in the German city of Stuttgart are baffled after a flock of starlings made a mass suicide attempt leaving dozens of birds dead.

Pedestrians watched as hundreds of birds flew over the city before suddenly nose-diving to the ground from a height of 65 feet.

Bird expert Guenther Schleussner, from the Wilhelma Zoological and Botanical Gardens in Stuttgart, said the scenes were like something from a horror film.

"I've never seen anything like it in my life," he added.

Around 100 dead and injured birds covered the busy Steinhalden Street. Residents out for a Sunday stroll reporting a loud "thud" as the flock of kamikaze starlings hit the pavement.

The ornithologist added: "It's unbelievable, I'm stunned. This kind of behaviour in birds is very, very unusual."

Schleussner said the incident could have been down to a sudden squall or simply a "freak accident".

Click here to comment on this article

Public Weighs in on AWOL Pigeon Mystery

Source: CNN, 1998-10-09

PHILADELPHIA (AP): [...] About 1,600 pigeons vanished out of 1,800 competing in a 200-mile race from northern Virginia to Allentown, Pa., on Oct 5. And 600 out of 700 birds were missing after a 150-mile race on the same day from western Pennsylvania to Philadelphia.
Some of the stories cite the Concord flights, others telephone towers...etc as explanations for these behaviours. Reading these stories I found myself thinking that maybe the birds are responding to the magnetic field of the world going more and more out of balance.
I also came across a lot of stories over the past two days about colonies of birds dying off in large numbers....from penguins in the Falklands to Herons in the US, where toxins or some type of influenza or starvation (warmer temperatures changing their natural feeding environment) were cited as the cause.
Don't know, just a lot of sad and strange bird stories lately.
Click here to comment on this article
A definitive review and close reading of medical peer-review journals, and government health statistics shows that American medicine frequently causes more harm than good. The number of people having in-hospital, adverse drug reactions (ADR) to prescribed medicine is 2.2 million. Dr. Richard Besser, of the CDC, in 1995, said the number of unnecessary antibiotics prescribed annually for viral infections was 20 million. Dr. Besser, in 2003, now refers to tens of millions of unnecessary antibiotics.
The number of unnecessary medical and surgical procedures performed annually is 7.5 million. The number of people exposed to unnecessary hospitalization annually is 8.9 million. The total number of [doctor caused] deaths ... is 783,936. The 2001 heart disease annual death rate is 699,697; the annual cancer death rate, 553,251. ... It is evident that the American medical system is the leading cause of death and injury in the United States.
Click here to comment on this article
R. JONATHAN TULEYA
07/24/2004
WEST CHESTER -- The attorney representing the man accused of shooting two sheriff's deputies began to lay the groundwork for an insanity defense for his client.
Walter J. Rosengarth, 64, allegedly wounded the officers who had arrived at his home on the 400 block of Pierre Drive in East Marlborough on July 24, 2003, to serve him with an eviction notice. After the shooting, Rosengarth barricaded himself into his residence during a three-and-a-half-hour standoff with state police.
On Friday, his attorney, Christian J. Hoey, filed a motion at the Chester County Courthouse to determine Rosengarth's criminal responsibility.
Next, Common Pleas Court Judge Howard F. Riley Jr. will decide whether the defendant will get a hearing to determine if he was criminally insane at the time of the shooting.
If he is found to be insane, Rosengarth will be acquitted of criminal responsibility. He would be committed to a mental hospital and the case would not go to trial.
If Riley denies the hearing request or the hearing takes place and determines the defendant was criminally liable, the case will go to trial. Rosengarth could still enter an insanity plea at that time.
Hoey's motion included three written evaluations supporting his claim that Rosengarth was insane at the time of the shooting -- two from psychologist Gerald Cooke and two from psychiatrist Dr. Robert L. Sadoff.
Cooke described Rosengarth as experiencing "paranoid schizophrenic psychotic delusions" during the incident.
"He did not appear to be hallucinating," Cooke wrote in a letter to Hoey on Jan. 12, "but was acting under the belief that he was the victim of a conspiracy ..(I)t is my opinion that because of his paranoid delusion, he did not know what he was doing was wrong."
Sadoff reached a similar conclusion.
"Although he appears to be competent to proceed (to trial) in that he does know the nature and consequences of his legal situation and can work with counsel in preparing his defense," Sadoff wrote in a Feb. 9 letter, "it is my opinion that he would be in a stronger position had he the benefit of treatment and improvement in his psychotic condition."
Rosengarth told both analysts stories about being poisoned by a neighbor, suffering from cancer though he never had been diagnosed and seeing a UFO hovering near Kennett Square.
"He looked up, saw the UFO and said a prayer that the UFO would reverse itself and come back and, sure enough, it did," Sadoff wrote. "He said when it did, he froze and stopped. But then, he said he saw a message in the sky and he heard God talking to him ..the message in the sky was written in large capital letters, 'Satan is real.'"
Hoey also filed a second motion on Friday to suppress videotaped statements Rosengarth made to police after his arrest. During the questioning, the defendant admitted to shooting at state police officers.
"And when you shot those guns, did you shoot at police or sheriffs?" interrogators asked.
"At them, no ..No, it wasn't directly at them ..It was ... to get them the hell out of here," Rosengarth replied, according to a transcript of the interrogation. "I asked them to leave several times."
"But you realized that where you were firing, there were officers nearby?" police asked.
"Yes," Rosengarth replied.
The defendant also told police he would have shot officers had they attempted to enter his home with their guns drawn.
Riley has placed a gag order on the case, preventing Hoey and Chief Deputy District Attorney Robert L. Miller from discussing it with the media.
The standoff at Rosengarth's home began around 11:30 a.m. when four sheriff's deputies arrived to serve the man with an eviction order. The bank had foreclosed on the property for nonpayment of real estate taxes and had sold it at a sheriff's sale for $96,000 in December 2001, according to court records.
A judge ordered Rosengarth evicted from the home in June 2003.
At first, Rosengarth refused to open the front door for the deputies. Rosengarth then allegedly opened fire on the officers from inside of the residence, first hitting Deputy Joseph Smida in the face. Deputy James Boyd drew his department-issued Glock .40-caliber handgun to return fire and was shot in the hand.
Smida had to be airlifted to Temple University Hospital and Boyd was taken by ambulance to Jennersville Regional Hospital.
Shortly after 3 p.m. the defendant ended the standoffby waving a white flag and walking peacefully from his home.
Police recovered a cache of weapons from Rosengarth's home, including an M-1 rifle, a .45-caliber semi-automatic pistol and an AR-15 semi-automatic assault rifle.
Rosengarth has been charged with multiple counts of attempted homicide, aggravated assault and related offenses.
Click here to comment on this article
Mysteries of the deep at Lake Tahoe
Tom Stienstra
Sunday, July 25, 2004
[...] I was told another crazy, unverified story this past week about Tahoe's darkest legend of all. As the story goes, a fisherman snagged something for a moment in the deep water just offshore of the South Shore casinos, but it easily broke free. When he reeled up his line, to his shock, on his hook was the top of a human ear.
This might sound crazy, but in the past 25 years, I've heard different versions of this story at least a dozen times. In one account, a fisherman snags up, gets it loose, and reels up a partial hand where two of the fingers had been lopped off Mafia-style. It is a tale passed around called "The Legend of Three-Fingered Tony."
Many have told me that, if you were to take a submarine down 900 feet just off South Shore, you would see hundreds of bodies suspended in the water, preserved perfectly like an underwater wax museum, most wearing clothes from the 1920s, '30s and '40s.
The legend is that this is where the Mafia killers dumped bodies after executions. Some fishermen even call the spot The Grave. At Tahoe, many locals talk as if everybody knows about this, that there are lots of gangsters down there, wearing pinstriped suits, with sneers on their faces and bullet holes in their foreheads.
This makes sense. It has long been verified that Tahoe is a lake that does not give up its dead. That is because the lake is so deep, with an average depth of 989 feet, and so cold, with the temperature hovering just above freezing. So that prevents the creation of gases that would otherwise bloat and float corpses to the surface as in other waters.
This reality brings bizarre possibilities.
Lake Tahoe, as first theorized by the famed geologist Josiah Whitney, was created by a colossal earthquake where a center block of land collapsed between two faults. It might be possible that another massive earthquake here would disrupt the underwater currents and suddenly float all the suspended corpses to the surface at once.
Another possibility is that the bodies will remain submerged for eons of time, just as the woolly mammoths were preserved in glaciers from the last ice age 14,000 years ago.
Even famed oceanographer Jacques Cousteau is said to have had a brush with something horrific in a deepwater dive in the mid-1970s. "The world isn't ready for what was down there," is the quote most commonly credited. Cousteau never released any photographs or data from the dive, adding to the mystery and legend. [...]
Click here to comment on this article

Chupacabra? Strange Animal Found in Elmendorf
7/28/2004
Walker Robinson
A rancher in Elmendorf, southeast of San Antonio, found a strange creature attacking his livestock, and local animal experts say identifying it is a tough call.
Devin Macanally says he has lived on his ranch for 15 years and has never seen anything like it.
"It was eating mulberrys under a tree," he said.
It is a strange dog-looking creature with a blue color that he says began a killing spree. Devin first knew something was up when his chickens started disappearing. At one point, 35 were gone in just one day.
Macanally finally shot and killed the creature, and he was blown away at what he saw.
"First thing that came to my mind, is surely everybody's gonna think this is a chupacabra," he laughed. "But it's so odd because it has no hair."
At the nearby Deleon's Grocery and Market, customers come in to check out pictures of it. One woman says it is exactly how her grandmother described the dreaded chupacabra.
People at the San Antonio Zoo say they have not seen anything like it. Terry DeRosa with the zoo says at a feather-light 20 pounds, he thinks it might be a wild mexican dog.
"It may be one of the hairless dogs that perhaps you see in Mexico," he said.
Devin says he would like to know for sure. He says he is hoping someone can help identify it, possibly by DNA.
Click here to comment on this article
Firewalkers burnt feet 'are a mystery'
BY ANDY SIBCY
IT'S a mystery why so many people are suffering burned feet after walking on red hot coals at the weekend, the Islander who led the event said today.
Experienced firewalking instructor Mathew Howard-Houston insisted there seemed to be no obvious reason why up to one third of the 60 firewalkers have attended Accident and Emergency.
It was reported yesterday that doctors and nurses had treated and dressed several pairs of feet following a Breakthrough Breast Cancer fund-raising fire walk on Friday at Ransoms Garden Centre.
'I really cannot explain it that much,' said Mr Howard-Houston. 'There are one or two things that can happen, but I think it's great that they raised so much money for charity.
Comment: Does this mean that the coals were actually fake but the walkers' feet were burned anyway?
Click here to comment on this article
---
Remember, we need your help to collect information on what is going on in your part of the world!
We also need help to keep the Signs of the Times online.
---

Check out the Signs of the Times Archives

Send your comments and article suggestions to us

---
Fair Use Policy
Contact Webmaster at signs-of-the-times.org
Cassiopaean materials Copyright ©1994-2014 Arkadiusz Jadczyk and Laura Knight-Jadczyk. All rights reserved. "Cassiopaea, Cassiopaean, Cassiopaeans," is a registered trademark of Arkadiusz Jadczyk and Laura Knight-Jadczyk.
Letters addressed to Cassiopaea, Quantum Future School, Ark or Laura, become the property of Arkadiusz Jadczyk and Laura Knight-Jadczyk
Republication and re-dissemination of our copyrighted material in any manner is expressly prohibited without prior written consent.
.