---
Printer Friendly Version
New Book!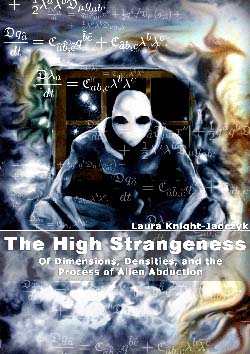 The High Strangeness of Dimensions, Densities and the Process of Alien Abduction
Anyone who wants to understand the hyperdimensional reality which is the "home" of alleged aliens, should pick up Laura Knight-Jadczyk's latest book, The High Strangeness of Dimensions, Densities and the Process of Alien Abduction.
With diligent research and a relentless drive for the facts, Laura strips away the facade of alien abductions masquerading as mind control and mind control masquerading as alien abductions. She then goes on to show how the Evil Elite rulers of the planet have merged, at the highest levels, with the Overlords of the Matrix Control System that underlies the structure of our reality.
Now, after 9-11, the fusion of the two worlds is almost complete. We have little time left, and the Controllers know it, and they have made plans…
Those who prefer the nourishment of truth over the poison of New Age myths, those who want a real peek at what is behind the Stargate Conspiracy, should get this book. Today. Read it - and weep.
Available at the end of August. Pre-order your copy now!
---
Picture of the Day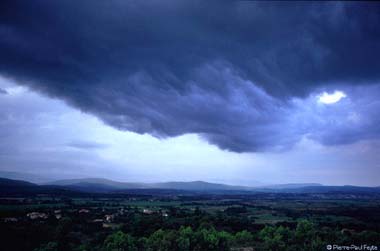 St Martin de Londres
©2004 Pierre-Paul Feyte
Bush Considers Speedy Moves on 9/11 Report
By Caren Bohan
Jul 26, 6:03 PM (ET)
CRAWFORD, Texas (Reuters) - President Bush and his top advisers discussed ways to speed enactment of the Sept. 11 commission's recommendations and could move within days on measures that do not have to go through Congress, U.S. officials said on Monday.
Bush is under political pressure in an election year to respond to the commission's recommendations amid fears of another attack. While at his Texas ranch, where he is spending the week, Bush spoke via video conference with top aides about the 9/11 report.
The president hoped to put some of the measures on a "fast-track" through executive order, White House spokesman Claire Buchan said.
On some of the recommendations, "the president could certainly act within days," Buchan said.
Vice President Dick Cheney, national security adviser Condoleezza Rice, Homeland Security Secretary Tom Ridge, Attorney General John Ashcroft, White House Chief of Staff Andrew Card and Deputy Secretary of State Richard Armitage were among those on the call.
Rice was to travel to Texas later in the day to discuss the report with Bush.
The commission report, released last week, found that "deep institutional failings" by the U.S. government led to the Sept. 11, 2001 attacks on the United States that killed nearly 3,000 people.
The president originally opposed the creation of the commission.
Cheney signaled that the administration may not rush to embrace all aspects of the report. "We're at the beginning here of what should be a great debate," he told donors in Kennewick, Washington.
Of the 9/11 report, Cheney said: "I don't agree with absolutely everything that's in it."
Democratic presidential challenger John Kerry has largely embraced the commission's recommendations for restructuring the government, but Bush last week had said he wanted to study the report before deciding on what to do.
'TIME NOT ON U.S. SIDE'
One factor adding to pressure on Bush was a warning by commission Chairman Thomas Kean that "time is not on our side" in heading off another attack on U.S. soil. Kean has said that al Qaeda is determined to launch an attack and if it can, it will try to use nuclear, chemical or biological weapons.
A contentious issue that Bush will need to tackle will be whether to endorse the creation of a new post of national intelligence director, which would oversee all U.S. intelligence agencies.
Some members of Bush's administration have expressed misgivings about that proposal but in recent days some officials have signaled greater openness to it. One concern would be ensuring the position's independence from the White House, said one official who spoke on condition of anonymity.
Signaling the urgency with politicians are responding to the commission's report, Congress is planning to hold rare hearings during its August recess to discuss it. Senate leaders said they hoped to have a bipartisan bill ready by Oct. 1 addressing the proposal for a national intelligence director.
Bush has focused his campaign for re-election largely on the argument he has made America safer after the Sept. 11 attacks.
The president had a big advantage in the polls over Kerry on the issue of homeland security, but lost some of it because of unease over the war in Iraq. One of Kerry's key aims is to chip away at that even further, his aides have said.
Click here to comment on this article
US-led war brought terrorism to Iraq
By Agence France Presse (AFP)
Tuesday, July 27, 2004
VIENNA: The US-led invasion brought terrorism to Iraq and caused more problems than it solved, UN envoy Lakhdar Brahimi said in an interview published Monday by the Austrian daily Salzburger Nachrichten.
He also said he believed Iraq could become a normal country, but that the interim government faced a challenge in proving it was not "a puppet of the Americans, which is difficult to do when there are 150,000 foreign soldiers in the country."
Brahimi, visiting Austria at the invitation of Foreign Minister Benita Ferrero-Waldner, said "the war in Iraq was useless, it caused more problems than it solved, and it brought in terrorism."
He said attacks on US-led forces were carried out by Al-Qaeda terrorists with the support of foreign fighters as well as by people loyal to the ousted Iraqi dictator Saddam Hussein. But there was "a large group of Iraqis who will attack any foreign occupation force out of patriotism," he said.
Brahimi expressed confidence in Iraq's ability to return to normal, but said "the question is, how long that will take and how much it will cost."
Click here to comment on this article
There is evidence of foreign intelligence backing for the 9/11 hijackers. Why is the US government so keen to cover it up?
Michael Meacher
Thursday July 22, 2004
The Guardian
Omar Sheikh, a British-born Islamist militant, is waiting to be hanged in Pakistan for a murder he almost certainly didn't commit - of the Wall Street Journal reporter Daniel Pearl in 2002. Both the US government and Pearl's wife have since acknowledged that Sheikh was not responsible. Yet the Pakistani government is refusing to try other suspects newly implicated in Pearl's kidnap and murder for fear the evidence they produce in court might acquit Sheikh and reveal too much.
Significantly, Sheikh is also the man who, on the instructions of General Mahmoud Ahmed, the then head of Pakistan's Inter-Services Intelligence (ISI), wired $100,000 before the 9/11 attacks to Mohammed Atta, the lead hijacker. It is extraordinary that neither Ahmed nor Sheikh have been charged and brought to trial on this count. Why not?
Ahmed, the paymaster for the hijackers, was actually in Washington on 9/11, and had a series of pre-9/11 top-level meetings in the White House, the Pentagon, the national security council, and with George Tenet, then head of the CIA, and Marc Grossman, the under-secretary of state for political affairs. When Ahmed was exposed by the Wall Street Journal as having sent the money to the hijackers, he was forced to "retire" by President Pervez Musharraf. Why hasn't the US demanded that he be questioned and tried in court?
Another person who must know a great deal about what led up to 9/11 is Khalid Sheikh Mohammed, allegedly arrested in Rawalpindi on March 1 2003. A joint Senate-House intelligence select committee inquiry in July 2003 stated: "KSM appears to be one of Bin Laden's most trusted lieutenants and was active in recruiting people to travel outside Afghanistan, including to the US, on behalf of Bin Laden." According to the report, the clear implication was that they would be engaged in planning terrorist-related activities.
The report was sent from the CIA to the FBI, but neither agency apparently recognised the significance of a Bin Laden lieutenant sending terrorists to the US and asking them to establish contacts with colleagues already there. Yet the New York Times has since noted that "American officials said that KSM, once al-Qaida's top operational commander, personally executed Daniel Pearl ... but he was unlikely to be accused of the crime in an American criminal court because of the risk of divulging classified information". Indeed, he may never be brought to trial.
A fourth witness is Sibel Edmonds. She is a 33-year-old Turkish-American former FBI translator of intelligence, fluent in Farsi, the language spoken mainly in Iran and Afghanistan, who had top-secret security clearance. She tried to blow the whistle on the cover-up of intelligence that names some of the culprits who orchestrated the 9/11 attacks, but is now under two gagging orders that forbid her from testifying in court or mentioning the names of the people or the countries involved. She has been quoted as saying: "My translations of the 9/11 intercepts included [terrorist] money laundering, detailed and date-specific information ... if they were to do real investigations, we would see several significant high-level criminal prosecutions in this country [the US] ... and believe me, they will do everything to cover this up".
Furthermore, the trial in the US of Zacharias Moussaoui (allegedly the 20th hijacker) is in danger of collapse apparently because of "the CIA's reluctance to allow key lieutenants of Osama bin Laden to testify at the trial". Two of the alleged conspirators have already been set free in Germany for the same reason.
The FBI, illegally, continues to refuse the to release of their agent Robert Wright's 500-page manuscript Fatal Betrayals of the Intelligence Mission, and has even refused to turn the manuscript over to Senator Shelby, vice-chairman of the joint intelligence committee charged with investigating America's 9/11 intelligence failures. And the US government still refuses to declassify 28 secret pages of a recent report on 9/11.
It has been rumoured that Pearl was especially interested in any role played by the US in training or backing the ISI. Daniel Ellsberg, the former US defence department whistleblower who has accompanied Edmonds in court, has stated: "It seems to me quite plausible that Pakistan was quite involved in this ... To say Pakistan is, to me, to say CIA because ... it's hard to say that the ISI knew something that the CIA had no knowledge of." Ahmed's close relations with the CIA would seem to confirm this. For years the CIA used the ISI as a conduit to pump billions of dollars into militant Islamist groups in Afghanistan, both before and after the Soviet invasion of 1979.
With CIA backing, the ISI has developed, since the early 1980s, into a parallel structure, a state within a state, with staff and informers estimated by some at 150,000. It wields enormous power over all aspects of government. The case of Ahmed confirms that parts of the ISI directly supported and financed al-Qaida, and it has long been established that the ISI has acted as go-between in intelligence operations on behalf of the CIA.
Senator Bob Graham, chairman of the Senate select committee on intelligence, has said: "I think there is very compelling evidence that at least some of the terrorists were assisted, not just in financing ... by a sovereign foreign government." In that context, Horst Ehmke, former coordinator of the West German secret services, observed: "Terrorists could not have carried out such an operation with four hijacked planes without the support of a secret service."
That might give meaning to the reaction on 9/11 of Richard Clarke, the White House counter-terrorism chief, when he saw the passenger lists later on the day itself: "I was stunned ... that there were al-Qaida operatives on board using names that the FBI knew were al-Qaida." It was just that, as Dale Watson, head of counter-terrorism at the FBI told him, the "CIA forgot to tell us about them".
Comment: While the links between the CIA and ISI are important, the blinders and the implications of this piece are rather startling. He can't see what is right in front of his eyes: that ISI was working for the Americans! We think there is much evidence that shows there was a "sovereign foreign government" involved, but that government was Israel. Pakistan was being manipulated.
Click here to comment on this article
by Kim Petersen
www.dissidentvoice.org
July 25, 2004
We want our land to be freed of the enemies; we want our land be free of the Americans. -- Osama bin Laden, 1999

They hate our freedoms. -- President George W. Bush, 2001

If you know the enemy and know yourself, you need not fear the result of a hundred battles. If you know yourself but not the enemy, for every victory gained you will also suffer a defeat. -- Sun Tzu
The philosophy of the sixth century Chinese military strategician Sun Tzu is relevant to a glaring disconnect between two aggrieved parties. Bush, after overcoming his apparent initial befuddlement (recorded for posterity) to the attacks on 9-11, defiantly voiced his anger. Hatred of American freedoms, according to Bush, had spurred some Muslims to carry out an unprovoked attack on US soil. This claim is ludicrous; and it is refuted by the 9-11 commission's final report that identifies 9-11 mastermind Khalid Shaikh Mohammed's motivation for the attacks as his "strong disagreement with American support for Israel." (1)
In 1996 Osama bin Laden summoned the Muslim Brotherhood to action.
It should not be hidden from you that the people of Islam had suffered from aggression, iniquity and injustice imposed on them by the Zionist-Crusaders alliance and their collaborators; to the extent that the Muslims blood became the cheapest and their wealth as loot in the hands of the enemies. Their blood was spilled in Palestine and Iraq. …

It is now clear that those who claim that the blood of the American solders (the enemy occupying the land of the Muslims) should be protected are merely repeating what is imposed on them by the regime; fearing the aggression and interested in saving themselves. It is a duty now on every tribe in the Arab Peninsula to fight, Jihad, in the cause of Allah and to cleanse the land from those occupiers. Their wealth is a booty to those who kill them.
Bin Laden's grievances about the injustices perpetrated against Arabs and Muslims by the US and Israel were already in the public realm. It is irrefutable that US and Israeli Zionists are carrying out ethnic cleansing and genocide against Palestinians. Former US Secretary of State Madeleine Albright even infamously admitted in a television interview that the destruction of hundreds-of-thousands of Arab children was a worthy price in achieving American objectives in Iraq. So bin Laden's stated grievances were public and also corroborated by US and Israeli officials. It is a verifiable fact, that the US and Britain have stripped away the freedoms of the Arabs, whether directly, through Israel, or by the complicity of backing Arab despots.
Bin Laden also addressed Americans:
Terrorizing you, while you are carrying arms on our land, is a legitimate and morally demanded duty. It is a legitimate right well known to all humans and other creatures. Your example and our example is like a snake which entered into a house of a man and got killed by him.

The youths hold you responsible for all of the killings and evictions of the Muslims and the violation of the sanctities, carried out by your Zionist brothers in Lebanon; you openly supplied them with arms and finance. More than 600,000 Iraqi children have died due to lack of food and medicine and as a result of the unjustifiable aggression (sanction) imposed on Iraq and its nation. The children of Iraq are our children. You, the USA, together with the Saudi regime are responsible for the shedding of the blood of these innocent children.
Osama bin Laden's remarks are transparent. He claims the right of resistance. There exists a compelling case for the moral, legal, and political right of Palestinians to resist occupation. (2) Bin Laden implored Muslims "to do whatever you can, with one own means and ability, to expel the enemy, humiliated and defeated, out of the sanctities of Islam."
Therefore, even though American civilians are not targeted in our plan, they must leave. We do not guarantee their safety, because we are in a society of more than a billion Muslims. A reaction might take place as a result of US government's hitting Muslim civilians and executing more than 600 thousand Muslim children in Iraq by preventing food and medicine from reaching them. So, the US is responsible for any reaction, because it extended its war against troops to civilians. This is what we say. As for what you asked regarding the American people, they are not exonerated from responsibility, because they chose this government and voted for it despite their knowledge of its crimes in Palestine, Lebanon, Iraq and in other places and its support of its agent regimes who filled our prisons with our best children and scholars. We ask that may God release them.
Citizens' Responsibility for their Government
Because the U.S. army and Israeli military have indiscriminately targeted Arab and Muslim civilians, Bin Laden, feels that US civilians should bear responsibility for having chosen a government that conducts such atrocities.
Inescapably, this parameter of responsibility could apply on Israel, where a large number of Israelis cast votes leading to the election of the murderous war criminal Ariel Sharon. Israeli Jews gave an indication of the general sentiment held towards Palestinians when 63.7% of poll respondents opined that the government should encourage Palestinians to leave. (3) What is most amazing is that these respondents haven't yet realized that the Israeli government has been actively seeking to displace the Palestinians all along. The poll represents nothing less than a euphemism for ethnic cleansing. [...]
Your Government at War
Remorseless killing falls definitionally within sociopathology. Many US officials are on record as expressing insouciance to Iraqi sensibilities.
General Colin Powell, Chairman of the US Joint Chiefs of Staff, was unconcerned over the number of Iraqi casualties in the 1991 phase of the attack on Iraq. Said he, "That's not really a number I'm terribly interested in."
US Brigadier General William Looney [sic] stated in a Washington Post interview in 1999, "[Iraqis] know we own their country. We own their airspace... We dictate the way they live and talk. And that's what's great about America right now. It's a good thing, especially when there's a lot of oil out there we need."
The attitude ostensibly extends to the top. Commander-in-Chief Bush was reported to say following the March 2004 killing of four US mercenaries in Fallujah: "I want heads to roll."
The bloodlust is not confined to Republicans and generals. George Stephanopoulos, in his book All Too Human, captured President Bill Clinton's reaction to the fighting in Somalia.
"We're not inflicting pain on these fuckers," Clinton said, softly at first. "When people kill us, they should be killed in greater numbers." Then, with his face reddening, his voice rising, and his fist pounding his thigh, he leaned into Tony [Lake], as if it was his fault. "I believe in killing people who try to hurt you. And I can't believe we're being pushed around by these two-bit pricks."
The attitudes of US officials are symptomatic of a sociopathic government. It is pervasive through the ranks. Many US fighters operate in this insouciant killing mode. "I enjoy killing Iraqis," said Staff Sgt. William Deaton. "I just feel rage, hate when I'm out there. I feel like I carry it all the time. We [servicemen] talk about it. We all feel the same way." (7) Lance Cpl. Tom Browne shares a simple solution to make the killing of Iraqis easy: "I don't even think about those people as people." (8)
Click here to comment on this article
Soldiers tell stories about Iraq
By NATALIA MUÑOZ
The Republican
07/26/04
NORTHAMPTON - When his turn came to speak at the community dialogue on the Iraq War, Staff Sgt. Jimmy Massey of the United States Marines Corps chewed his gum slowly and slowly scanned the 150 people in the audience.
What he was about to say required deliberation.
"We shot a man with his hands up," he said, "We even shot women and children."
Massey was one of three Iraq War veterans to speak yesterday at a forum sponsored by the Veterans Education Project and the American Friends Service Committee.
The event, held at the Veterans of Foreign Wars, Michael Curtin Post, in the Florence neighborhood, offered the audience and opportunity to hear first-hand experiences of veterans who hold varying opinions on the war in Iraq.
Air Force Reserve Tech. Sgt. Pablo Rodriguez, a Northampton police officer, and Army National Guard Sgt. Richard Riley of Amherst, spoke about their experiences in Iraq.
Both Rodriguez and Riley said they were proud to serve in Iraq, and if called they would go back.
"I'm glad I had an opportunity to serve," said Rodriguez, who did security details at the Baghdad Airport.
Riley, who served with the Guard's 180th Engineering Detachment, built bridges as well as housing and other facilities for GIs in Iraq and Kuwait.
Massey told the audience of his disillusionment with the war. The only one of the three to engage in combat, the 12-year veteran from North Carolina said he was fully prepared to kill or be killed. But that was before the war.
Today he said he takes five different anti-depressant and anti-anxiety pills to help him deal with Post Traumatic Stress Disorder.
Firing on civilians and securing oil fields was not the duty he signed up for, he said.
"Why are Marines learning to shut down oil wells - are we the Environmental Protection Agency now?" he asked as he told the audience of his realization that this war was not one he agreed with.
He started asking questions and was reassigned to combat duty.
"I'm in the desert, I'm gung-ho, ready to kill," he said, putting "your tax dollars to work. Unfortunately, your tax dollars went into a lot of civilians. I was there. I pulled the trigger.
"My main purpose in life, for 12 years, was to meet the enemy on the battlefield and destroy him," he said. "When I left to go to Iraq I didn't care whether or not I died. If you die in combat, that's an honor."
There were days when he thought to himself, "Today is a good day to die," said Massey, who received an honorable discharge.
But earlier in the evening, as people streamed into the hall and the sun lit up his face he realized yet again, "I'm glad to be in the sun."
Click here to comment on this article
By PAUL KRUGMAN
The New York Times
July 27, 2004
It's election night, and early returns suggest trouble for the incumbent. Then, mysteriously, the vote count stops and observers from the challenger's campaign see employees of a voting-machine company, one wearing a badge that identifies him as a county official, typing instructions at computers with access to the vote-tabulating software.
When the count resumes, the incumbent pulls ahead. The challenger demands an investigation. But there are no ballots to recount, and election officials allied with the incumbent refuse to release data that could shed light on whether there was tampering with the electronic records.
This isn't a paranoid fantasy. It's a true account of a recent election in Riverside County, Calif., reported by Andrew Gumbel of the British newspaper The Independent. Mr. Gumbel's full-length report, printed in Los Angeles City Beat, makes hair-raising reading not just because it reinforces concerns about touch-screen voting, but also because it shows how easily officials can stonewall after a suspect election.
Some states, worried about the potential for abuse with voting machines that leave no paper trail, have banned their use this November. But Florida, which may well decide the presidential race, is not among those states, and last month state officials rejected a request to allow independent audits of the machines' integrity. A spokesman for Gov. Jeb Bush accused those seeking audits of trying to "undermine voters' confidence," and declared, "The governor has every confidence in the Department of State and the Division of Elections."
Should the public share that confidence? Consider the felon list.
Florida law denies the vote to convicted felons. In 2000 the state hired a firm to purge supposed felons from the list of registered voters; these voters were turned away from the polls. After the election, determined by 537 votes, it became clear that thousands of people had been wrongly disenfranchised. Since those misidentified as felons were disproportionately Democratic-leaning African-Americans, these errors may have put George W. Bush in the White House.
This year, Florida again hired a private company - Accenture, which recently got a homeland security contract worth up to $10 billion - to prepare a felon list. Remembering 2000, journalists sought copies. State officials stonewalled, but a judge eventually ordered the list released.
The Miami Herald quickly discovered that 2,100 citizens who had been granted clemency, restoring their voting rights, were nonetheless on the banned-voter list. Then The Sarasota Herald-Tribune discovered that only 61 of more than 47,000 supposed felons were Hispanic. So the list would have wrongly disenfranchised many legitimate African-American voters, while wrongly enfranchising many Hispanic felons. It escaped nobody's attention that in Florida, Hispanic voters tend to support Republicans.
After first denying any systematic problem, state officials declared it an innocent mistake. They told Accenture to match a list of registered voters to a list of felons, flagging anyone whose name, date of birth and race was the same on both lists. They didn't realize, they said, that this would automatically miss felons who identified themselves as Hispanic because that category exists on voter rolls but not in state criminal records.
But employees of a company that prepared earlier felon lists say that they repeatedly warned state election officials about that very problem.
Let's not be coy. Jeb Bush says he won't allow an independent examination of voting machines because he has "every confidence" in his handpicked election officials. Yet those officials have a history of slipshod performance on other matters related to voting and somehow their errors always end up favoring Republicans. Why should anyone trust their verdict on the integrity of voting machines, when another convenient mistake could deliver a Republican victory in a high-stakes national election?
This shouldn't be a partisan issue. Think about what a tainted election would do to America's sense of itself, and its role in the world. In the face of official stonewalling, doubters probably wouldn't be able to prove one way or the other whether the vote count was distorted - but if the result looked suspicious, most of the world and many Americans would believe the worst. I'll write soon about what can be done in the few weeks that remain, but here's a first step: if Governor Bush cares at all about the future of the nation, as well as his family's political fortunes, he will allow that independent audit.
Comment: Indeed, what would a tainted election do to America's sense of itself and its role in the world? Well, let's see... What has happened since Bush stole the election in 2000?? Since when have any of the Bushes shown the slightest consideration for the "future of the nation", that is, anyone outside of their clique of elitists? They are setting things up so that they control the election. They certainly won't give up that control because some so-called liberal journalists are opposed.
Click here to comment on this article
ELENA SASSOWER JAILED FOR ASKING A QUESTION DURING A PUBLIC JUDICIARY HEARING
NewsWithViews.com
July 25, 2004
On May 22, 2003, Elena Sassower quietly waited through two hours of speeches during a U.S. Senate Judiciary Committee Judicial Confirmation Public Hearing. Sassower respectfully requested to testify and go on record in opposition of President Bush' nomination of NY Court of Appeals Judge, Richard Wesley, for a lifetime federal judgeship. Sassower is a co-founder and coordinator for the NY based Center for Judicial Accountability, Inc., which monitors judicial misconduct.
Chairman Senator, Saxby Chambliss adjourned this hearing without asking if anyone present wanted to be heard. Ms. Sassower spoke up and said, "Mr. Chairman, there's citizen opposition to Judge Wesley based on his documented corruption as a New York Court of Appeals judge. May I testify?"
No sooner were the words out of her mouth, than the D.C. Capitol Police hand cuffed Ms. Sassower, put her under arrest and incarcerated her for 21 hours. She was eventually prosecuted by the U.S. Attorney's Office and was found guilty of "Disruption of Congress" on April 20, 2004 and sentenced to six months in a Washington D.C. Capitol Jail. Additionally, Judge Brian F. Holeman of the D.C. Superior court fined her $500. The probation office recommended community service.
Sassower, refused to accept what she deemed cruel and unusual conditions after her sentencing June 28, 2004. At the conclusion of her sentencing, Sassower's attorney, Mark Goldstone, exclaimed, "Judge Holeman offered Ms. Sassower a long list of unconstitutional conditions for her immediate release, which she rejected. These conditions included her being placed on probation for two years, ceasing electronic, verbal and other communications with her NY Senators Clinton and Schumer for two years, to stay away from all Capitol office buildings, requiring her to report all her activities as Coordinator of the Center for the next two years, do 400 hours of community service, and write letters of apology to Senators Clinton and Schumer and their staffers as well as Judge Wesley (the nominee about whom she sought to present opposition testimony to the US Senate Judiciary Committee) saying how remorseful she was."
Goldstone also commented, "Seems reminiscent of the old Soviet Union.... These are conditions you put on someone who attacks a senator with a knife."
Supporters ask the question: Where in the Standing Rules of the Senate does it state that any citizen who asks a question at a public hearing in the Senate should be arrested?
Standing Rules of the Senate -- Chapter 26: Committee Procedure
5.(B)(6)(d) Whenever disorder arises during a committee meeting that is open to the public, or any demonstration of approval or disapproval is indulged in by any person in attendance at any such meeting, it shall be the duty of the Chair to enforce order on his own initiative and without any point of order being made by a Senator. When the Chair finds it necessary to maintain order, he shall have the power to clear the room, and the committee may act in closed session for so long as there is doubt of the assurance of order.
Another question supporters want an answer to: Where in the D.C. Code does it state any citizen who asks a question at a Congressional public hearing should be arrested for "Disruption of Congress?"
10 D.C. Code Section 503.16(b)(4) . . . (b) It shall be unlawful for any person or group of persons willfully and knowingly: (4) To utter loud, threatening, or abusive language, or to engage in any disorderly or disruptive conduct, at any place upon the United States Capitol Grounds or within any of the Capitol Buildings with intent to impede, disrupt, or disturb the orderly conduct of any session of the Congress or either House thereof, or the orderly conduct within any such building of any hearing before, or any deliberations of any committee or subcommittee of the Congress or either House thereof.
Sassower, by all reports waiting politely until Senator Chambliss finished speaking and then requested in a respectful tone she be allowed to testify for the record. Supporters say this draconian action against Sassower is nothing more than an overt attempt by the government to stiffle her free speech rights under the First Amendment.
Sassower was not allowed any stay or bail; she is currently serving her six month sentence.
Click here to comment on this article
Poll reveals Arabs' true feelings on US
By Benjamin Duncan in Washington, DC
Monday 26 July 2004, 10:38 GMT
In yet another blow to the Bush administration's efforts to counter anti-American sentiments in the Middle East, a new poll shows rising bitterness in the region toward US foreign policy.
The poll, Impressions of America, was commissioned by the Arab American Institute (AAI) and conducted in June by Zogby International. It surveyed nearly 3300 Arab citizens in Morocco, Saudi Arabia, Jordan, Lebanon, the United Arab Emirates (UAE) and Egypt.
The number of Arabs with a favourable opinion of the United States dropped significantly in every country except for the UAE, compared with a similar poll taken in 2002.
In Egypt alone, 98% of those surveyed expressed a negative view of the US, a 22% increase from two years ago. The favourability rating was highest in Lebanon, where 20% said they had a positive view of the US and nearly 70% said otherwise.
AAI president James Zogby said US policies on Iraq and the Israeli-Palestinian conflict were primarily responsible for the heightened animosity. The vast majority of Arabs surveyed in all six countries said they had an unfavourable view of American policy on both issues.
"There is an anger and a frustration and even an alienation from America" that is driving Arab public opinion, Zogby said.
Detestable war
When asked why they did not like the US, many Arabs polled said it was because of how the American government treated "Arabs and how you are killing Arabs," Zogby said.
The growing perception in the Arab world that the US has targeted Arabs and Muslims in Bush's War on Terrorism has become a "third issue in shaping attitudes toward the United States", he said.
"That almost equals and, in some cases, surpasses [US] policies on the Palestinians and Iraq," he said.
Despite their dislike of US foreign policy, the poll showed many Arabs still admire American values and products, Zogby said, contradicting the theory that "they hate us because of our values".
"Arabs and Muslims liked many qualities and features of America," he said. "But they detested our policies."
Technology triumphs
In Jordan, a country where 78% of Arabs expressed an unfavourable opinion of the US overall, 83% said they liked American science and technology and nearly 60% had a favourable view of US democracy and education.
Such attitudes toward American values are, in part, influenced by information sources, according to the poll, which found that most Arabs derive their primary source of knowledge about the US from the Arab media.
Comment: Most Americans "derive their primary source of knowledge about the US" from the American media. Many of them don't seem to even know that alternative news sources exist.
Arabs who had either visited the US or learned about it by watching American television had more favourable views toward American values. Such factors did not, however, influence Arab opinions on US policy, Zogby said. [...]
Comment: You mean Arabs who were brainwashed by the propaganda that the controlled American media spews forth each day actually had more favorable views towards America?? In addition, the suggestion that watching American TV leads to more favourable views of American values is downright ridiculous. What kind of values would be conveyed by violent dramas and mindless "reality TV" programs?
Click here to comment on this article
America - a nation of corporate email snoops
By John Leyden
Published Tuesday 27th July 2004 17:16 GMT
Forget Big Brother, US conglomerates are paying low-tech snoopers to read workers' emails.
According to research from Forrester Consulting, 44 per cent of large US companies (20,000 workers and above) pay someone to monitor the firm's outgoing mail, with 38 per cent regularly auditing email content. According to the study - reported without question in the mainstream press - companies' motivation was mostly due to fears that employees were leaking confidential memos.
Click here to comment on this article
Twisting Arafat Until He Is Dead Or Gone
The Israelis probably prefer Arafat dead at this point; but not at their own hand, at least not directly. Indeed, many of those who used the "Oslo Peace Process" to end Intifada I probably thought Arafat would have either been assassinated or died by now, leaving behind a "peace process" legacy as did Anwar Sadat when he was gunned down by his own soldiers just a few years after reluctantly signing on-the-dotted-line at Camp David I.
But now even Shimon Peres has said in public -- in his own convoluted and disingenous way of course -- that Arafat's days are numbered. A few more suicide bombers Peres now says will lead to the "collapse of the Palestinian Authority". It seems more a prediction than a warning at this point.
For as Peres is surely aware, Israeli policies are quite purposefully so provocative, so repressive, so bloody, that nothing short of massive force by Arafat against his own people -- closely coordinated with the CIA and the Israelis -- can prevent more counter-attacks at least against the Israeli settlers.
The main Israeli goal was to use Arafat to end the Palestinian Uprising which has been ongoing ever since the 1970s actually but erupted more violently in the late 1980s; then to get him to sign away various Palestinian rights enshrined in many U.N. resolutions and "end the conflict" in exchange for a rump and everywhere controlled "Palestinian State" which he and his cronies could administer and everywhere rake in the money. In exchange for giving them what they wanted -- and after all Sharon himself is repeatedly on record favoring such a contorted "Palestinian State" -- as well as for "controlling" his own people and legitimizing a financial pay-off and "resettlement elsewhere" "solution" for the millions of refugees, the Israelis were prepared to arm and empower this new "client regime" in their midst; urging the Americans, the Europeans, and the rich Arabs to cough up billions in payoff and "resettlement" money.
But now the goal is changed. Arafat wasn't strong enough in the end to sign the "agreements" they put in front of him -- that was what Camp David II was really all about last summer, turning Arafat into a discredited Sadat. And now Arafat is not strong or credible enough to force his own people to submit to brut Israeli power and machinations. Thus Arafat's reasons for being, from the Israeli point-of-view, are no more.
Now they want to more severely twist Arafat until he is either dead, preferably at the hand of other Palestinians provoked beyond their long restraint; or until he is sufficiently diminished in credibility and influence so that it won't matter that much anymore where he is or what his crumbled and fractured PLO of old says or does.
Click here to comment on this article
Ignore Sharon, French Jews are integrated
By Ribal Dayekh
Special to The Daily Star
Tuesday, July 27, 2004
[...] The haste of those engaging in public condemnation only aggravated passions among many in the Muslim community who felt that they had, once again, been made scapegoats. The hoax was a perfect gift for Israeli Prime Minister Ariel Sharon, who declared nine days ago: "We see the spread of the wildest anti-Semitism" in France. Sharon said his advice to French Jews was that moving to Israel was "a must and they have to move immediately."
This was not the first time Sharon spoke about the need for French Jews to leave for Israel, but rarely was he so blunt. There is irritation in France at the idea that life for Jews is becoming dangerous - especially as the government has made every effort to punish anti-Semitism. Over 31,000 pupils attend Jewish schools; Jewish studies have become increasingly significant, as have Hebrew and Yiddish classes. There is an active Jewish press, four Jewish radio stations in Paris and many more outside, a Jewish television station and a second one in the pipeline, plus several Jewish websites. France's theatre and movie industry often deal with Jewish topics. Judaism is a visible element of the French landscape.
[...] Despite this, French Jews are generally well integrated. Indeed, one of the biggest worries among Jewish leaders is that so many in the community marry out of their faith, and that religion is observed on just a few of the most important holidays. France has one of the largest Jewish communities outside Israel, as well as one of the most ancient. It is believed to number 700,000 people - the precise number is unknown, partly because the French census does not categorize religious or ethnic affiliation. Many in the community have been very successful, such as Economy Minister Nicolas Sarkozy and former minister Dominique Strauss-Kahn, rock star Jean-Jacques Goldman and writer and philosopher Simone Veil, to name only a few. Sharon's appeal to French Jews to emigrate has polarized the Jewish community far more than it has been polarized in decades.
The real reasons behind Sharon's appeal are still unclear. There is deep-rooted suspicion that he is trying to boost immigration to Israel from one of the largest Jewish communities outside, given the fear that in 10-15 years Arabs will outnumber Israel's Jewish population. There is also suspicion that Sharon is attempting to stigmatize France, one of the most publicly pro-Palestinian of European states. Whatever the reason, the reality of French Judaism is considerably more complex than the Israeli prime minister has depicted it.
Click here to comment on this article
Four French Guantanamo detainees repatriated
www.chinaview.cn 2004-07-27 18:16:11
PARIS, July 27 (Xinhuanet) -- Four French nationals detained by the United States in its prison complex at Guantanamo Bay, in Cuba, were handed over to the French authorities on Tuesday and will arrive in Paris later in the day, the Foreign Ministry said in a statement.
"After discussion between France and the United States on the subject of the French detainees in Guantanamo, the US Authorities decided to hand over to France at its military base of Guantanamo four of the detainees, who will be repatriated to France today," said the statement.
Click here to comment on this article
US admits detaining teenagers in Iraq
www.chinaview.cn 2004-07-27 01:25:29
BERLIN, July 26 (Xinhuanet) -- The US army admits for the first time to having detained adolescents in its prisons in Iraq, according to a German press report.
The TV magazine "Report Mainz," to be broadcast Monday evening on the ARD network, quoted Lieutenant Colonel Barry Johnson, a spokesman for the US troops in Iraq, as saying that they still imprisoned 58 Iraqis in the age of from 14 and 17.
The Iraqi adolescents are held in the prisons of Abu Ghraib and"Camp Bucca" and the length of their average imprisonment is half a year, Johnson said.
Johnson denied that those adolescents were tortured and promised that US authorities would look into accusation of mishandling if it arose.
Comment: Sure, and then the poor dopes on the front lines will take the fall for their superiors. Should the privates or pfc's doing the dirty work be let off? Of course not. But the chain of command must be investigated and those who set the policy, those in the Pentagon and the White House, should be brought to trial. Bush and his crew are war criminals, and yet in the US, they are getting off.
Click here to comment on this article
North Koreans arrive in secret following mass defection
July 27, 2004

SEOUL, (AFP) - More than 200 North Koreans have arrived in South Korea behind a wall of secrecy as the government played down the biggest influx yet of defectors from the Stalinist state.
Officials said the mass arrival was "sensitive" and refused to discuss details, disclosing only that an Asiana Airlines flight airlifted the North Koreans from a Southeast Asian nation.
"This is a very unusual situation which shows how sensitive the whole thing is," said a spokesman for the foreign ministry.
Another batch of more than 200 refugees from the same country, bringing the total to around 450, is expected to arrive on Wednesday.
The North Koreans landed at Seongnam military airport south of Seoul around 9:00 am (0000 GMT).
Journalists were excluded from the airport and dozens of riot police manned the main entrance. Six tour buses with windows curtained carried the defectors out of a rear gate and headed south.
Media reports said the defectors would be debriefed by representatives from government agencies, including the National Intelligence Service, before being moved to resettlement centers.
The Unification Ministry which handles South Korea's ties with the communist North said the unusually secretive reception for the defectors was organized at the request of the third country. [...]
Officials denied, however, that Seoul imposed a blanket of secrecy on the influx of defectors to appease Pyongyang which is notoriously sensitive about its image.
"The main reason is that the third country in Southeast Asia strongly insisted that they want to keep this matter very low profile," said a ministry official. [...]
About 5,000 North Koreans have defected to the South since the Korean War ended in 1953. The number has been rising in recent years, to 1,285 in 2003, up from 1,140 in 2002 and 583 in 2001.
In the first six months of the year, 760 North Koreans arrived, mostly via China where tens of thousands of North Koreans are said to be in hiding.
Hundreds more are believed to be gathering in various Southeast Asian nations, including Vietnam, Thailand and Cambodia.
Unification Minister Chung Dong-young said he expected the number of North Koreans in South Korea to exceed 10,000 within a few years, according to Yonhap news agency. [...]
Click here to comment on this article
Iran warns Israel of harsh retaliation
Monday 26 July 2004, 22:49 Makka Time, 19:49 GMT
Iran has responded to regional and Israeli threats of attack by vowing to destroy Israel if it attacks the Islamic Republic's nuclear facilities.
Public relations head of the Revolutionary Guards, Commander Seyed Masood Jazayeri, was quoted by the Iranian student news agency ISNA as saying Iran would not initiate a conflict.
However, he said that in retaliation to any attack Iran has proved itself to be "harsh, assertive, hard-hitting and destructive".
"The United States is showing off by threatening to use its wild dog, Israel," he said.
"They will not hesitate to strike Iran if they are capable of it. However, their threats to attack Iran's nuclear facilities cannot be realised. They are aware Tehran's reaction will be so harsh that Israel will be wiped off the face of the earth and US interests will be easily damaged," he warned.
Iran's effort to generate nuclear power is seen by Israel and the US as a cover for nuclear weapons development, allegations that Iran denies.
Iraqi threats
Meanwhile, US-appointed interim Iraqi Defence Minister Hazim Shaalan warned of invading Iran if it did not stop interfering in his country's internal politics.
"I've seen clear interference in Iraqi issues by Iran," the minister said in an interview with The Washington Post in Baghdad on Monday.
"Iran interferes in order to kill democracy."
Shaalan accused Iran of taking over some Iraqi border posts and sending spies and saboteurs into Iraq. He said former fighters in Afghanistan had been helped by Iran to get into Iraq.
However, he did not provide evidence supporting his claims.
Click here to comment on this article
North Koreans arrive in secret following mass defection
July 27, 2004

SEOUL, (AFP) - More than 200 North Koreans have arrived in South Korea behind a wall of secrecy as the government played down the biggest influx yet of defectors from the Stalinist state.
Officials said the mass arrival was "sensitive" and refused to discuss details, disclosing only that an Asiana Airlines flight airlifted the North Koreans from a Southeast Asian nation.
"This is a very unusual situation which shows how sensitive the whole thing is," said a spokesman for the foreign ministry.
Another batch of more than 200 refugees from the same country, bringing the total to around 450, is expected to arrive on Wednesday.
The North Koreans landed at Seongnam military airport south of Seoul around 9:00 am (0000 GMT).
Journalists were excluded from the airport and dozens of riot police manned the main entrance. Six tour buses with windows curtained carried the defectors out of a rear gate and headed south.
Media reports said the defectors would be debriefed by representatives from government agencies, including the National Intelligence Service, before being moved to resettlement centers.
The Unification Ministry which handles South Korea's ties with the communist North said the unusually secretive reception for the defectors was organized at the request of the third country. [...]
Officials denied, however, that Seoul imposed a blanket of secrecy on the influx of defectors to appease Pyongyang which is notoriously sensitive about its image.
"The main reason is that the third country in Southeast Asia strongly insisted that they want to keep this matter very low profile," said a ministry official. [...]
About 5,000 North Koreans have defected to the South since the Korean War ended in 1953. The number has been rising in recent years, to 1,285 in 2003, up from 1,140 in 2002 and 583 in 2001.
In the first six months of the year, 760 North Koreans arrived, mostly via China where tens of thousands of North Koreans are said to be in hiding.
Hundreds more are believed to be gathering in various Southeast Asian nations, including Vietnam, Thailand and Cambodia.
Unification Minister Chung Dong-young said he expected the number of North Koreans in South Korea to exceed 10,000 within a few years, according to Yonhap news agency. [...]
Click here to comment on this article
Turkey to provide aid support to Palestinians: Turkish FM
www.chinaview.cn 2004-07-27 19:40:26
ANKARA, July 27 (Xinhuanet) -- Turkish Foreign Minister and Deputy Prime Minister Abdullah Gul said Tuesday that the country will provide support to the Palestinians.
Gul said in a statement that within the framework of the plan, the Turkish government will send foodstuffs, medicine and medical equipment worth 1 million US dollars and donate three ambulances to the Palestinian government and people.
"The humanitarian aid will be sent to Palestine via Syria and Jordan," said Gul.
Click here to comment on this article
Castro lashes out at Bush's charges
www.chinaview.cn 2004-07-27 15:48:01
SANTA CLARA, Cuba, July 26 (Xinhuanet) -- Cuban leader Fidel Castro Monday denounced US President George W. Bush's charges that the Cuban government encourages sex tourism and is involved in human trafficking.
Addressing the nation on the 51st anniversary of the Cuban revolution, Castro said the accusations were aimed at justifying steps taken by the Bush administration last month to undermine Cuba's economy and to restrict visits and cash remittances from Cubans in the United States.
Since the victory of the Cuban revolution, 90 percent of the Cubans leaving the country have gone to the United States legally and the Cuban government never obstructed them. But the US government has instigated illegal immigration and regards the immigrants as refugees, he said.
Before Cuba's revolution, about 100,000 women were involved in prostitution because of poverty, discrimination and unemployment, but since 1959, the Cuban government has banned all prostitution and educated and given jobs to women, the Cuban leader stressed.
Click here to comment on this article
Dr. Eugene Mallove, Torch Bearer for Cold Fusion, Slain
Editor of Infinite Energy magazine brutally killed May 14. Left MIT faculty position in 1989 in protest over what he considered to be rigged data intended to debunk Cold Fusion.
By Marc J. Plotkin and Marc Whitford
Pure Energy Systems News
May 15, 2004
NORWICH, CT, USA
Dr. Eugene Mallove, the tireless spokesperson for integrity and honesty in cold fusion research, whose persistent efforts finally persuaded the U.S. Department of Energy to give the phenomenon a second look after 15 years of denial and stonewalling, was killed in Norwich, CT on 14 May 2004. Few facts are known, but preliminary information suggests that it may have been a robbery or possibly a landlord-tenant dispute. Local police are still investigating. There is no word on the identity or motives of the assailant(s) and there is no evidence currently of a political connection to his murder.
Dr. Mallove's contributions to Cold Fusion and new energy research cannot be overstated. His passion for integrity and relentless search for the truth emerged fully in 1989 when he resigned in protest from the Massachusetts Institute of Technology over their manipulation of test data to make a Pons-Fleischmann replication study appear to show a negative result.
More than anyone, Dr. Mallove was the public face of Cold Fusion proclaiming in many public appearances the existence of overwhelming peer-reviewed scientifically-based evidence for Cold Fusion. Gene, as he was known to his friends and colleagues, was courageous when he stood face-to-face against numerous vocal detractors and skeptics from the mainstream scientific establishment for over a decade. He tirelessly knocked down every hollow argument put forward by skeptics with hard data, logic, and solid research results.
The author of several books, in 1991, he published "Fire and Ice", which helped rescue the field of cold fusion from oblivion when it was publicly banished in the public relations scandals after Pons-Fleischman's announcement of Cold Fusion in June 1989.
His greatest accomplishment and legacy will be the 52 bi-monthly magazine issues of Infinite Energy that he founded and edited. Infinite Energy magazine is a compendium of scientific research into all branches of unconventional energy research from contributors around the world. Many of the authors simply couldn't get published elsewhere, but had the courage and foresight to get most papers peer-reviewed before they were published. His magazine has thousands of loyal subscribers from over 40 countries including Russia and China.
Gene traveled to dozens of international conferences, most of the time at great personal sacrifice simply to network with energy researchers and benefactors from around the world. He knew nearly everyone in the unconventional energy community worldwide. Gene has been a champion of cold fusion for many years highlighted by his organizing last summer's successful International Conference on Cold Fusion (ICCF-10) held in Cambridge, Massachusetts from 24- 29 August 2003. Gene's presence has been the rare voice of scientific reason in a field filled with many phony claims and charlatans. [...]
Gene tirelessly climbed every mountain with courage and grace articulating truth in a field meriting serious scientific investigation of anomalous energy phenomena despite constant criticism from ignorant skeptics who refused to examine even the best peer-reviewed data. One of the best examples of his battles was when he eviscerated Professor Bob Park's book "Voodoo Science."
"Gene's vision was of a world with abundant energy produced without fossil fuel or nuclear waste. It is now up to us to fearlessly make that vision a reality," is the sentiment of his colleagues who remain.
Comment: So yet another scientist with a taste for the truth dies in strange circumstances. We are no longer simply seeing a pattern here, but rather clear evidence of an outright campaign to conceal important facts and information that have the potential to transform humanity's view of itself. As such, we should not be surprised that such extreme measures are being taken, after all, humanity is not, and never has been, the director of its own destiny. That job lies squarely in the hands of a select few - the earthly representatives of our hyperdimensional controllers.
It appears that Dr. Mallove was unaware of the extent of determination that exists to ensure that humanity remains in its ignorant state. He failed to realise that attempting to marry "science and the mysterious" was a step too far for 'The Powers That be'. As if to further provoke their fury, he spoke openly about "new energy technology" that would do away with war and hunger - two of the main tools that are used to control billions. That is not to say however, that Dr mallove actually knew anything. We note that one of the main tactics used by TPTB, is to direct attention at a bogus theory by killing the main exponent(s) of that theory.
From Eugene Mallove's website:
It has been far too difficult (so far) to persuade venture capital to invest in new energy technology that is not quite ready yet for "prime time," so the vicious Catch 22 ("We won't invest because it is not successful already"!) must be broken. We appeal to the humanitarian and charitable instincts of those in a position to invest charitably in the most fundamental aspect of our future: The triumph of truth over falsehood on the frontiers of science— in which the new energy field, in our view, will be the first paradigm-shattering example.

What we have today in the fiery menace of hydrocarbon fuels and its associated geopolitical nightmare is very ugly indeed.

There is almost no area of human activity that would not be dramatically affected by the advent of new energy technology— especially matters of war or peace and health and the environment. Therefore, providing tax-deductible support to the New Energy Foundation should be thought of as a significant investment in your future, that of your loved ones, and civilization at large. If you doubt this, just try to imagine our world 10, 20 or 50 years hence without the advent of a dramatic source of new energy such as cold fusion (low-energy nuclear reactions), aether energy (or Zero Point Energy / space energy / vacuum energy, if you prefer), or some other very powerful new physics energy source! It's not a pretty picture. What we have today in the fiery menace of hydrocarbon fuels and its associated geopolitical nightmare is very ugly indeed.

Furthermore, a future of abundant, clean energy has almost zero chance of emerging from the well-intentioned, beneficial, but limited world of wind-power, photovoltaics, and other conventional renewables— not to mention from the so-called controlled hot fusion program, which is lavishly funded with billions of dollars by governments to the exclusion of new energy.
Not only was Dr Mallove talking about doing away with war, he also seems to have crossed that most sacrosanct of lines for any member of the scientific community - applying scientific theory to the idea of alien life..
The below is a review from Amazon for one of Dr Mallove's books, "The Quickening Universe"
Mallove reflects on the awesome prospect that intelligent life may play a significant role in the destiny of the universe. He speculates about well-founded cosmological theory that life may ultimately transform the universe for its own designs, just as it has already gained planet-wide control of the terrestrial biosphere. The Quickening Universe is a reflective scientific tour of the marvelously inventive cosmos that has come to life - quickened - and is now examining itself to discover meanings in its origins and destiny.

This is an informed and poetic synthesis of scientific wonders that endlessly provoke our imagination: a probably infinite cosmos that emerged about 15 billion years ago from perhaps absolute nothingness; the unfathomable sense in which the laws of physics seem to "ordain" life - not a particular kind of life but organized complexity; eons of evolution that have led to beings here (and almost certainly in many other places) who can perceive beautiful laws of physics and mathematics and who have an equivalent thirst for artistic beauty; the staggering realization that the universe does not "know" its own state of being at the level of the quantum microcosm; and the supreme enigma, the grand illusion of time.
Of course, we should also understand that there may be more to this than meets the eye. Essentially there are two main logical possibilities as to why Dr Mallove is no longer with us:
a) He was onto something that had to be kept from the public.
b) He was killed because someone else was onto something, and the killing was arranged in order to focus the attention on the wrong path.
c) He was attempting to make free and public a new form of energy that certain corporations are planning to sell. As should by now be aware, in our modern enlightened civilised world, for certain people in positions of power, having someone killed is almost as easy as ordering a pizza.
Which was the case - we can't tell. Generally speaking we are sure that "cold transmutations" are possible. But how exactly? That is the BIG secret.
Click here to comment on this article
By Greg Smith
Norwich Bulletin
May 17 2004
Some colleagues wonder if scientist could have been slain over his research into cold fusion.
NORWICH -- News of the death of a prominent scientist from New Hampshire in Norwich Friday has spread across the country, prompting a flood of condolences -- along with some conspiracy theories.
Few new details have been released about the circumstances of the death of Dr. Eugene F. Mallove, 56, formerly of Norwich.
City police said they are being assisted by state police and the New London County State's Attorney's Office.
Police have compiled a large volume of information through press coverage and investigation throughout the weekend, according to Norwich Police Capt. Franklyn Ward.
Mallove, who lived in Pembroke, N.H., was discovered Friday shortly before 11 p.m. at a family-owned home at 119 Salem Turnpike, which he was at one time renting to tenants, according to neighbors.
His death was ruled a homicide by blunt force trauma to his head and neck, according to the report by the Office of the Chief State Medical Examiner.
Police said the assault occurred during a suspected robbery. Mallove's green mini-van was discovered hours later in a Foxwoods employee parking lot in Norwich, miles from the scene.
An internationally acclaimed researcher into alternative energy and a 1965 Norwich Free Academy graduate, Mallove was a champion of the cold fusion theory, which says it's possible to get energy essentially without cost or pollution.
Despite major opposition to the theory, Mallove had worked tirelessly contacting scientists throughout the world to spark more research into cold fusion and other types of alternative energy, friend and engineer Marc Whitford said.
Whitford, of Columbia, Md., called Mallove a visionary and "one of the most important leaders in the free energy field. He had the vision of a world without the need for fossil fuel or nuclear waste."
Mallove founded the New Energy Foundation, which publishes the bimonthly Infinite Energy magazine and maintains a science laboratory in Concord, N.H.
Other prominent scientists on the verge of breakthroughs have died mysteriously, Whitford said.
"Unfortunately ... there's always going to be questions of whether his death was assassination or a street crime," he said.
Click here to comment on this article
New figures reveal hidden epidemic of self-harm
By Maxine Frith
The Independent
27 July 2004
Britain is facing a spiralling epidemic of self-harm, shocking new figures indicate. More than 170,000 people a year - most of them teenagers and young adults - seek hospital treatment after deliberately hurting themselves in apparent expressions of despair, research has found.
The disturbing trend is exposed by figures collated by the Government's drugs and treatment assessment body, the National Institute for Clinical Excellence (Nice). It is the first time such figures have been compiled and highlights mounting concern over the rising numbers of young people turning to self-harm, in which they cut, burn or mutilate themselves in an attempt to relieve mental anguish. When experts examined the number of total years of life lost due to different conditions, self-harm and suicide was third only to heart disease and cancer.
Experts warned that the true picture was much worse even than the figures indicated, and that many hundreds of thousands more may be self-harming but failing to seek treatment.
While the rise in suicide has been well documented, the growing problem of self-harm remains a taboo subject within the health service. In an attempt to break that taboo Nice is tomorrow to release new guidelines for the treatment of people who self-harm.
The figures emerged as a damning report was published into the death of 22-year-old Sarah Lawson, who had a history of severe mental health problems and self-harming. Sarah was given an overdose by her father, James, after she was thrown out of a psychiatric unit at the end of a week in which she had tried to kill herself three times.
Mr Lawson took the agonising decision to help his daughter die after the family was driven to the brink by the lack of help available to her. The independent review of her case condemned the mental health services as dysfunctional, fragmented and patchy and said Sarah had been failed by the system.
Mental health campaigners say the case highlights the alarming lack of care available to the hundreds of thousands of young people who harm themselves. Marjorie Wallace, chief executive of the mental health charity Sane, said: "This really has become an epidemic and the way in which people who self-harm are treated is a national scandal. These are people who are pushed to the bottom of the treatment queue, made to feel it is their own fault and denied any real understanding of their condition."
She added: "The problem is spreading. We are not just talking about young girls cutting themselves any more: we have heard of young men gauging their flesh, drinking acid, removing genitalia. These are people in desperate need of help and we are punishing rather than treating them."
Tomorrow's report is the first effort by Nice to estimate the scale of the self-harm problem in Britain. A recent survey found that 13 per cent of all 15 and 16 year-olds had self-harmed at some point in their lives, and that 7 per cent had done so in the past year.
Dr Tim Kendall, co-director of the National Collaborating Centre for Mental Health, which has helped to draw up the treatment guidelines, said: "The 170,000 a year who attend A&E are really the tip of the iceberg. They are probably mainly people who have taken overdoses, but there are many, many more who may be cutting themselves or harming in other ways who do not go to hospital but try to patch themselves up.
"Even the people who attend hospital are not being treated in the way they should be, because there is not enough understanding of their problems. In some parts of the country, the treatment they receive is appalling. We have heard of people who have turned up at A&E having cut themselves, and are stitched up without anaesthetic by nurses who tell them that they cut themselves without anaesthetic, so why should they get it now?"
Half of the people who attend A&E after self-harming are sent away without any psychological assessment or follow-up. "These are people who have often been abused or neglected and have very serious problems, yet we are just patching them up and sending them away," Dr Kendall said.
Click here to comment on this article

Meteor In The Sky Over Southern Austria?
In the southern Austrian province of Carinthia, a "very bright" appearance of light has been observed on 2.35 on Monday, 26. July. According to local astronomers at the observatory in Klagenfurt, the phenomenon was, "with high degree of probability", an unusually large meteor.
Several eyewitnesses claim that the size of the apparition was comparable to the full moon.
The article claims that meteors burning in the atmosphere can be expected to be observed two or three times per year at most. However, the article goes on that on 2.17 (correct time?) another "unusual light apparition" has been seen in the sky. The astronomer of the observatory explains that this was caused by one of the 70 satellites belonging to the telephone system "Iridium", which fly at a height of 300 km above ground and can be "as bright as the street light of a car" when the sun's light is caught on its surface.
Click here to comment on this article
Something weird is going on below us
Satellites in low-Earth orbit over Southern Africa are already showing signs of radiation damage
BONNY SCHOONAKKER
SOUTHERN Africa is experiencing weird vibes, according to scientists studying one of the more profound upheavals awaiting planet Earth.
This forthcoming revolution is a reversal in the Earth's magnetic field, an event that occurs every 500,000 years or so.
Signs that the reversal is about to happen again are nowhere more apparent than over Southern Africa, according to Dr Pieter Kotze, head of the geomagnetism group at the Hermanus Magnetic Observatory in the southern Cape.
Satellites in low-Earth orbit over Southern Africa are already showing signs of radiation damage suffered as a result of the Earth's magnetic field weakening above our part of the planet. The field forms the magneto sphere, which, like the Earth's ozone layer, protects the planet from the sun's harmful radiation.
Other symptoms destined to become apparent in the years ahead include the aurora australis, or southern lights. Usually seen only over the South Pole, these will become visible closer to the equator as the Earth's magnetic field weakens and disappears. Eventually, on past form, the field will reappear but with magnetic north and south pole changing places, as they have done for billions of years.
According to an article in the New York Times this week, the change will be devastating for migratory animals such as loggerhead turtles, which use the Earth's magnetic field to migrate 8 000km around the Atlantic. Bees, swallows, cranes, salmon, homing pigeons, frogs and eagles may also lose their way between breeding and feeding grounds.
Humans will suffer, too. The (temporary) disappearance of the magnetic field ahead of its reversal will lead to increased occurrences of radiation-induced cancer, Kotze said.
Commenting on the New York Times report, Kotze said that the decay in the Earth's magnetic field was becoming increasingly apparent in "the South Atlantic anomaly", a huge deviation in the Earth's magnetic field discovere d with the help of the Hermanus Magnetic Observatory.
This month, the European Space Agency (ESA) approved a multimillion-euro space mission, called Swarm, to measure the anomaly, which stretches from Southern Africa towards South America.
The ESA's scientists believe that this anomaly, as revealed by the occasional "geomagnetic jerk" to which our part of the world is prone, will provide a clue to predicting the next "flip" in the Earth's magnetic field, now 250,000 years overdue - as these things go. Three ESA satellites, flying in low-Earth orbit (400km to 500km up) after their launch in 2009, will measure the variation over Southern Africa.
The observatory has also recorded a faster-growing deviation between true north and magnetic north over Southern Africa during the past 10 years, drifting steadily westward. Taken together, the blip and this drift point to an imminent reversal in the Earth's north-south magnetic alignment.
"W e should be able to work out the first predictions by the end of the [Swarm] mission," Gauthier Hulot, an ESA geophysicist and a colleague of Kotze's, told the New York Times.
The discovery of the "anomalous field behaviour over Southern Africa" drew wide attention, reported the US newspaper, because "it seemed consistent with what the [ESA's] computer simulations identified as the possible beginnings of a flip".
Kotze said that, "these are all indications that we have conditions similar to the last reversal, 780,000 years ago. So it means that we are due for another one soon." In geological terms, however, "soon" could mean anytime between tomorrow and the next 3,000 years.
Kotze said the anomaly was the result of "things happening" far below the Earth's surface.
At the boundary between the mantle and the outer core (more than 3,000km below Southern Africa) disruptions were occurring in the flow of the Earth's liquid outer core (mostly iron), he explained. This created "a reverse dynamo situation", which is becoming increasingly apparent as variations in the magnetic field above the Earth's surface.
Click here to comment on this article
Hundreds of Bodies Found as Indian Floods Recede
July 27, 2004
PATNA, India (Reuters) - Hundreds of bodies have been found in eastern India in the last three days as waters receded from the worst flooding in more than a decade, officials said on Tuesday.
Touring Bihar, Prime Minister Manmohan Singh warned that millions of people in one of the country's poorest states could face disease and hunger in the wake of the flooding.
"The threat of epidemic spreading is real," he told a news conference, ordering a team of government doctors to visit the region.
At least 630 people are now confirmed dead in the two worst-affected Indian states of Bihar, in the east, and Assam in the northeast.
In Bihar, state relief minister Ram Vichar Rai said more than 320 bodies had been found in remote areas in the last 72 hours and he said the toll could rise sharply.
Singh flew over marooned parts of northern Bihar. He said the floods had caused massive damage and left a crisis in their wake.
"We must ensure people do not die of hunger, we will have to construct houses and ensure farmers are taken care of," he said.
Last year, nearly 500 people died in Bihar of water-borne diseases such as diarrhea after the floods ended. Officials said the floods were worse this year.
Television pictures showed people marooned on rooftops and in trees near the town of Samastipur in northern Bihar. A few were swimming in muddy brown water looking to salvage foods dropped by military helicopters.
Newspapers have reported looting of food by marauding mobs in the towns of Sitamarhi and Darbhanga in northern Bihar.
Click here to comment on this article
Deluge Washes Away Bangladesh's Crops, Export Hopes
Sharier Khan
OneWorld South Asia
DHAKA, JULY 27 (OneWorld) - More than 320 people have died and at least 30 million are gripped by disease and starvation due to a massive flood that has turned a quarter of Bangladesh into a vast water world, destroying crops and hitting the country's thriving export economy.
The raging river waters, fed by the monsoon rain, have laid waste to crops in 42 of the country's 64 districts.
"You cannot imagine that underneath what looks like a vast sea lies my paddy field. My crops were standing just three days ago; I wasn't prepared to see my fields submerged like like this," laments farmer Shamsu Mia of Manikganj district, near the capital Dhaka.
Adds Mohammad Kashem, who cultivates fisheries in a pond in the Kanchpur area in suburban Dhaka, "All my fish were swept away."
Flood waters have damaged over 700 kilometers of dams in different places of the country. Experts say it could take at least US $20 million to repair the damage.
But the Water Development Board (WDB) fears the worst is yet to come.
"If the flood waters linger, more embankments will be damaged and the amount of loss will increase further," warns the WDB's chief engineer (monitoring) Amir Khasru. [...]
According to a Health Ministry report, a total of 17,669 people have fallen sick and 14 have died since July 14 due to waterborne diseases or illness. Unofficially, the tally is at least five to six times higher. [...]
But what could really hurt is a blow to the country's bottomline. Bangladesh's main foreign exchange earner, the readymade garments manufacturing sector, is hemorrhaging. Production in many factories has stopped or drastically reduced either because floodwaters have entered the units or because many workers can't get to work.
Villagers who have taken shelter in elevated portions of highways, embankments and rooftops say it's one of the worst floods in living memory. But similar deluges have occurred in the country back in 1988 and 1998 when two-thirds of Bangladesh was under water. The 1998 flood killed more than 700 people and rendered 21 million homeless.
According to back of the envelope calculations by the Agriculture Ministry, the crop damage totals around US $330 million. It reports that out of about 700,000 hectares of farmland in 38 districts, crops in at least 525,000 hectares may have been destroyed. [...]
Click here to comment on this article
Portuguese firefighters battle blazes as southern Europe sizzles
Mon Jul 26, 4:28 PM ET

LISBON (AFP) - Hundreds of firefighters continued to battle against wildfires in Portugal on Monday after scorching weekend weather triggered blazes across southern Europe.
More than 1,100 firefighters were battling some 20 blazes which raged in 14 of Portugal's 18 regions as temperatures soared above 40 degrees (104 degrees Fahrenheit) across much of the country for the third consecutive day.
Firefighters were also trying to bring a dozen fires under control in neighboring Spain reports said, where four people have died as a result of a heatwave, while the fire risk remained extremely high in already hard-hit southern France.
One Portuguese fireman suffered serious burns and a fire truck was destroyed by flames near the central town of Castelo Branco, news agency Lusa reported.
There were no other reports of injuries in any of the fires.
More than 200 firefighters alone were at the scene of the largest blaze which was burning on the Serra da Arrabida mountain range some 30 kilometres (20 miles) south of Lisbon.
It first broke out at the popular weekend get-away on Sunday, prompting the evacuation of three nearby beaches and two camp sites, but was considered put out early Monday.
Just after noon on Monday however the blaze restarted prompting police to once again evacuate the three beaches because the wind-fueled flames were moving towards the Atlantic ocean, firefighters said.
The fire has destroyed more than 1,000 hectares (2,500 acres) of land, including a large part of a protected area which is rich in Mediterranean plants and birds, the mayor of the nearby city of Setubal told state television RTP.
"Watching this mountain burn is seeing a unique spot in the world burn," Carlos de Sousa said.
Meanwhile Spanish firefighters were battling 12 blazes, including seven which broke out on Monday in the southern province of Huelva, Spanish television network Telecinco reported.
Weather forecasters said the heatwave gripping Spain and Portugal is set to last until at least Wednesday.
Four people have died as a result of the high temperatures sweeping parts of Spain in recent days, local officials said.
Wildfires in parts of southern France have also burned nearly 2,900 hectares of land over the weekend and forced the evacuation of some 2,000 residents. [...]
Click here to comment on this article
July 27, 2004 - 3:25PM
Some 1,400 people have fled the slopes of a volcano in the eastern Indonesian island of Flores after it began rumbling and spewing fumes and ash, an official said.
"As of 9:00 am, we have provided shelter for at least 1,409 people who have fled or have been evacuated from the slopes of Mount Egon," said Silvanus Tibo, the head of the refugee coordinating centre in the town of Maumere.
He said the 1,703-metre volcano began rumbling and belching smoke and ash late Sunday, sparking panic among villagers.
The volcano emitted a column of fumes that reached some 1,500 metres while the stench of sulphur blanketed its slopes.
Click here to comment on this article
By HENRY FOUNTAIN
Published: July 27, 2004
[...] The space that Earth travels through is full of dust, tiny particles believed to come from comets and asteroids. By some estimates, Earth picks up on the order of 1,000 tons of dust every year.
But some times are dustier than others. For instance, a 2.5 million year period about 35 million years ago was extremely dusty - under-the-bed and behind-the-refrigerator dusty. Scientists know this because they've discovered sedimentary rocks in an Italian quarry dating from that time that have high levels of a helium isotope that is carried on dust particles.
In 1998, a research team proposed that this increase in dust was the result of a shower of comets, and that the dust would have come from the Earth passing through numerous comet tails. The scientists also suggested that two large craters in Siberia, which date from the same period, were caused by impact with a comet.
But new research by German and Belgian scientists, reported in Science, casts doubt on these ideas. Rather than examining the Italian rocks, these researchers looked at one of the craters. They analyzed the rock melted by the impact and concluded that the object that hit the Earth most likely was an asteroid from the inner asteroid belt.
Instead of a comet shower, the researchers say, the event causing the dusty conditions was probably a major collision in the asteroid belt. The collision would have produced Earth-crossing fragments - two of which could have caused the craters - and lots of dust, much of which would have been swept up by Earth over the period.
Click here to comment on this article
Dead whales after NATO exercises
Monday, July 26, 2004 Posted: 3:55 PM EDT

FUERTEVENTURA COAST, Spain (Reuters) -- Two dead whales have landed in Spain's Canary Islands, raising fears they may have been hurt by NATO military exercises off Morocco and that more could have died, officials said on Friday.
The two whales arrived in the area within 24 hours and were dead for several days before their bodies drifted ashore, said Tony Gallardo, environmental expert with the local government of the island of Fuerteventura, one of the Canaries, which lies only about 100 km (60 miles) off the southern Moroccan coast.
"There is a strong suspicion that their deaths were related to the NATO exercises that finished a few days ago," Gallardo told Reuters.
Naval and air force units from 10 countries involving 20,000 troops and more than 20 warships took part in U.S.-led NATO military exercises off Morocco from July 11 to 16. [...]
Click here to comment on this article
IBM gets nod to build supercomputer
Government picks Big Blue for military machine that could be among the world's 10 fastest computers.
July 27, 2004: 7:34 AM EDT
NEW YORK (Reuters) - International Business Machine Corp. said it had been selected to build a supercomputer for the Department of Defense that would be used by the military for war simulation, weather forecasting and other applications.
The computer will be deployed at the Naval Oceanographic Office Major Shared Resource Center in Mississippi, IBM said.
IBM did not disclose the exact financial terms of the deal but said it was valued in tens of millions of dollars. [...]
IBM expects the computer to be ranked among the world's 10 fastest computers when the next list of the top 500 computers is released. [...]
Click here to comment on this article
"Papa" is the daddy of ancient language
www.chinaview.cn 2004-07-27 16:20:00
BEIJING, July 27 (Xinhuanet)--The word "papa" may have been one of the first utterances by our distant ancestors when language first developed many thousands of years ago.
A study by two linguists shows that the word "papa" is present in almost 700 out of 1,000 languages.
The study covered 14 major language families. It found that "papa" meant father, or male relative on the father's side, in 71 per cent of cases.
One explanation could be that there is a common root extending as far back as 100,000 years, when humans might have all spoken a similar proto-language.
But another explanation says the word may have come out independently, perhaps because these are sounds that babies find easy to say.
Click here to comment on this article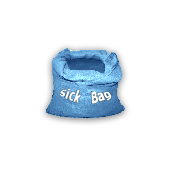 France gets first drive-thru boulangerie

PARIS, July 25 (AFP) - Taking a leaf out of the book of fast-food joints such as McDonald's, a shop owner in a Paris suburb has opened France's first drive-through boulangerie, selling take-away breads and patisseries to rushed motorists, according to a report in Le Parisien newspaper.
The outlet, located in a former service station on a busy highway in Port-Marly, west of the capital, already counts up 200 customers a day and the owner, Jocelyne Joly, was quoted as saying she saw that number increasing tenfold within months.
France has adopted fast-food ideas from the United States to cater to millions of foreign tourists and its residents, but they co-exist alongside traditions such as proper sit-down meals in restaurants and daily trips to local boulangeries.
Click here to comment on this article
---
Remember, we need your help to collect information on what is going on in your part of the world!
We also need help to keep the Signs of the Times online.
---

Check out the Signs of the Times Archives

Send your comments and article suggestions to us

---
Fair Use Policy
Contact Webmaster at signs-of-the-times.org
Cassiopaean materials Copyright ©1994-2014 Arkadiusz Jadczyk and Laura Knight-Jadczyk. All rights reserved. "Cassiopaea, Cassiopaean, Cassiopaeans," is a registered trademark of Arkadiusz Jadczyk and Laura Knight-Jadczyk.
Letters addressed to Cassiopaea, Quantum Future School, Ark or Laura, become the property of Arkadiusz Jadczyk and Laura Knight-Jadczyk
Republication and re-dissemination of our copyrighted material in any manner is expressly prohibited without prior written consent.
.